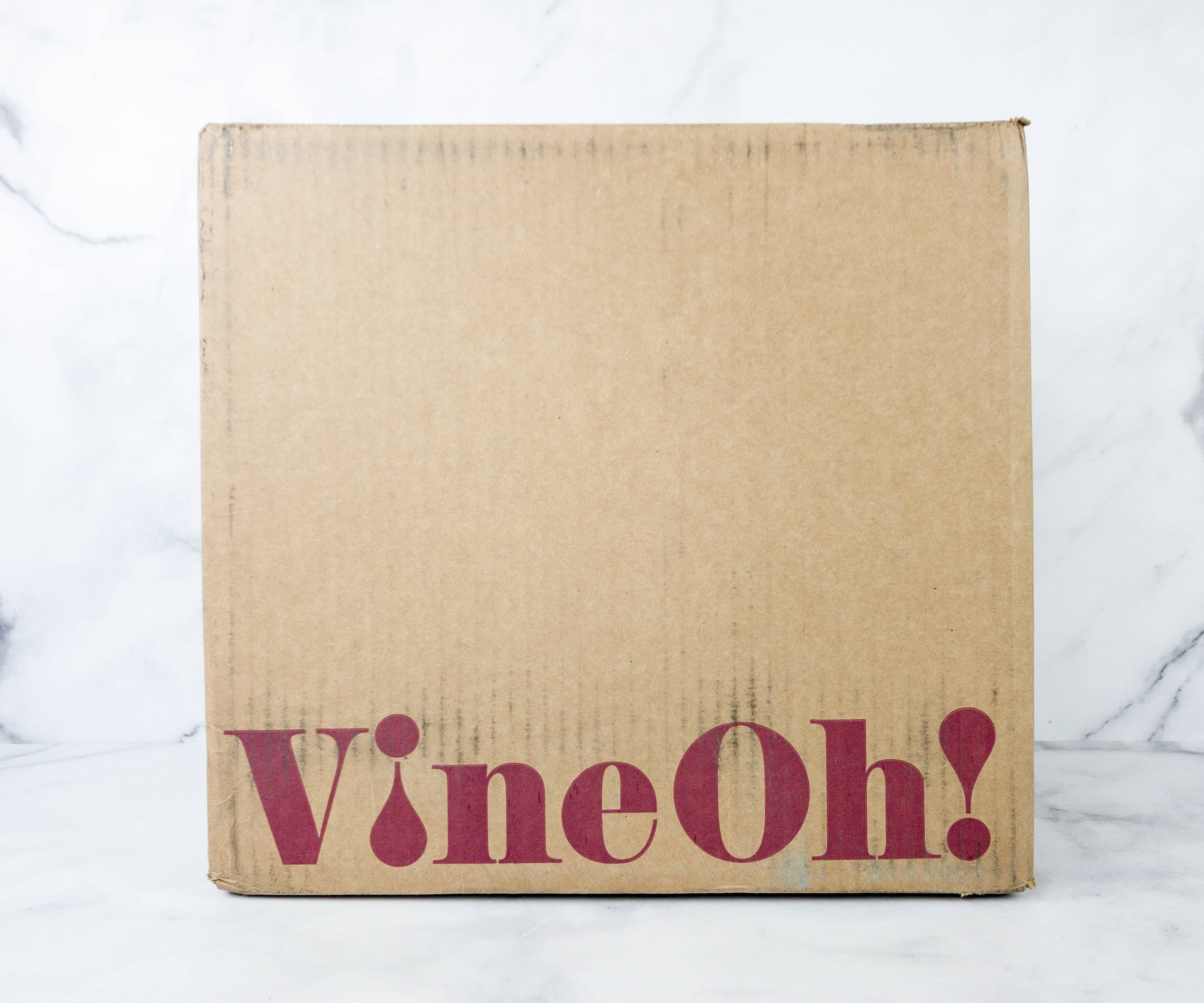 Vine Oh! is a quarterly subscription box and one of the first wine subscription boxes to include lifestyle items for women. Each seasonal box will include 2 bottles of premium wine, plus 5-6 full-size items that are fun, rejuvenating and delicious. Subscribers can choose their wine type preference: white wine, red wine, red & white wine, or sweet wine. Every box will have a retail value of $120 or more!
This box, the Vine Oh! Summer Fun! Box, is still available!
DEAL: Save $10 off + FREE extra bottle of wine + FREE shipping on your first box with coupon code HELLOWINE. For a limited time, use this same code to get an extra free bottle FOR LIFE!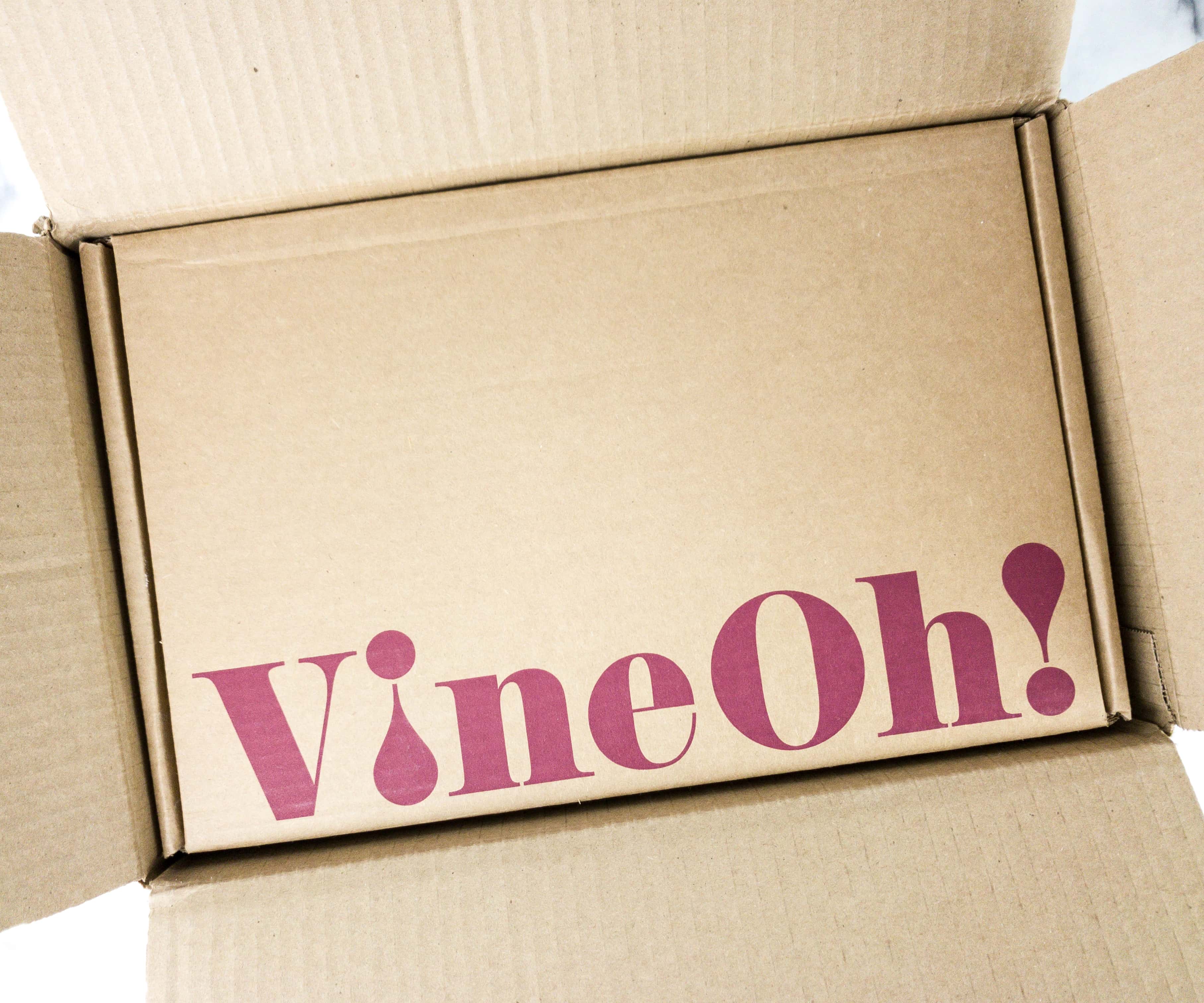 This box is also great for gifting! You can change the shipping address each quarter, so you can keep the first one for yourself, and then send the next boxes to friends or loved ones!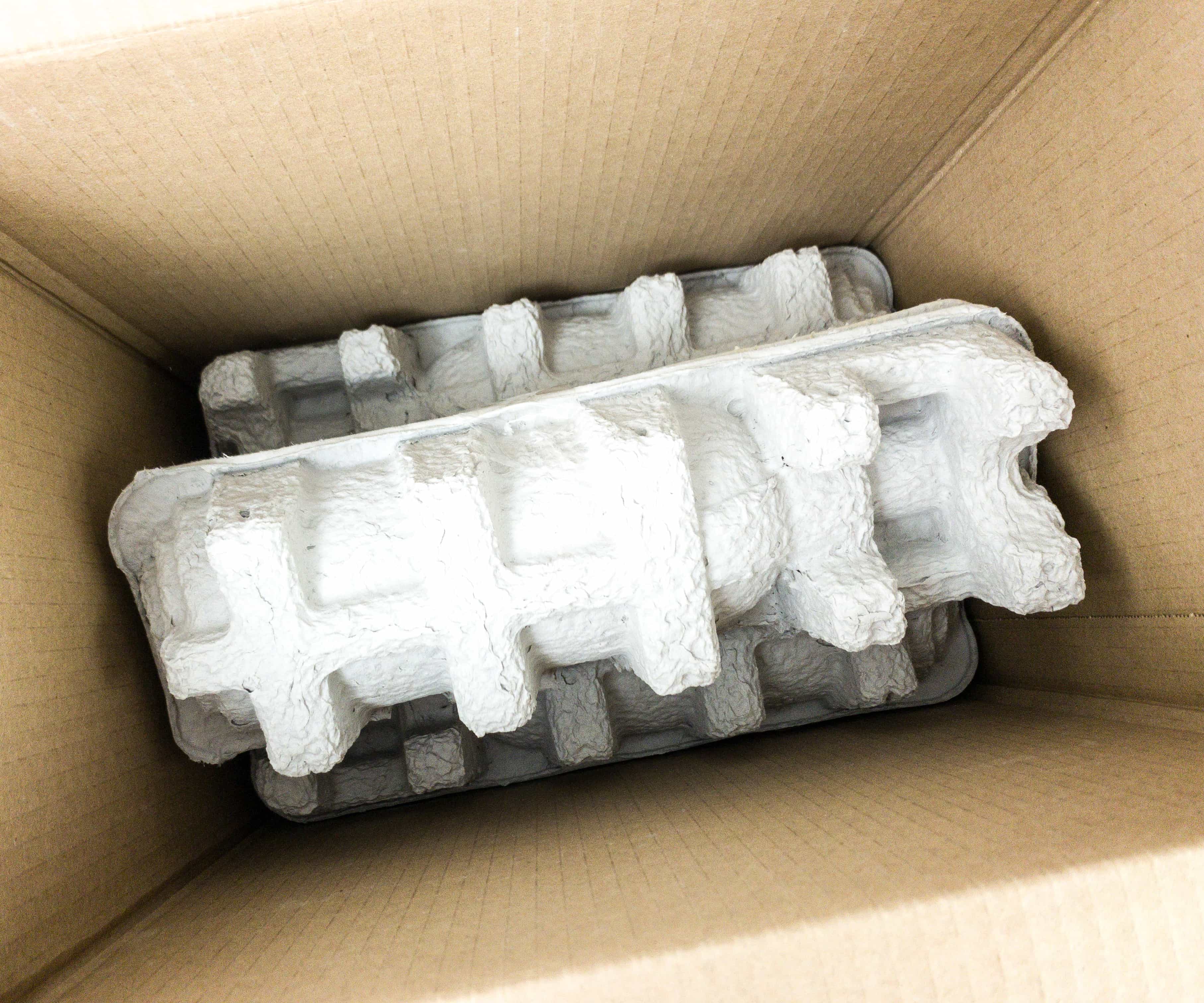 The wines come in customized packaging to keep them safe during transit.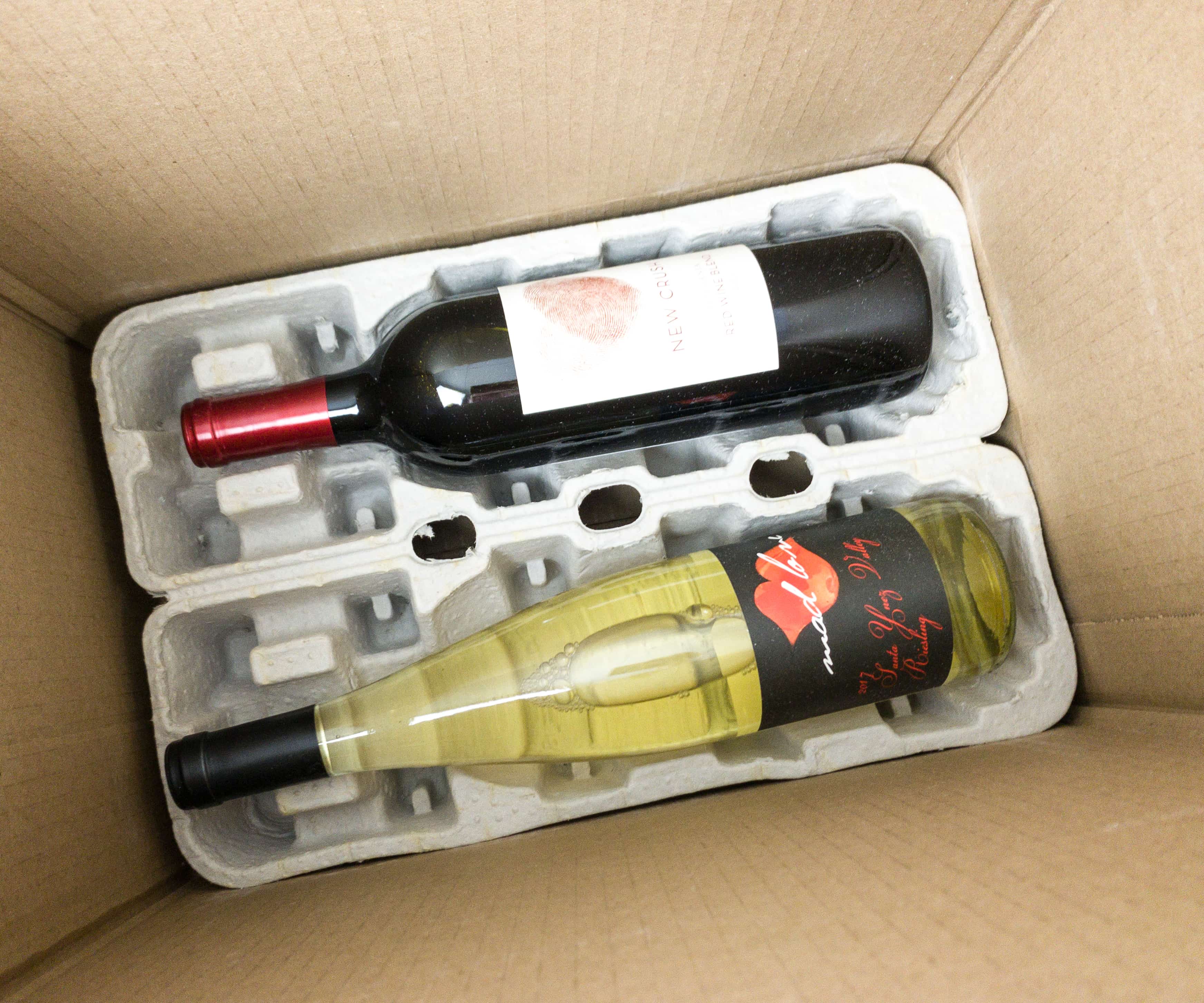 I got the wines in great condition!
Of course, we got a list of all the items included in the box. This box's theme is Oh! Summer Fun!
The cards look so appealing with the loud pink exclamation point as the brand signature.
They came in this cute pink sleeve.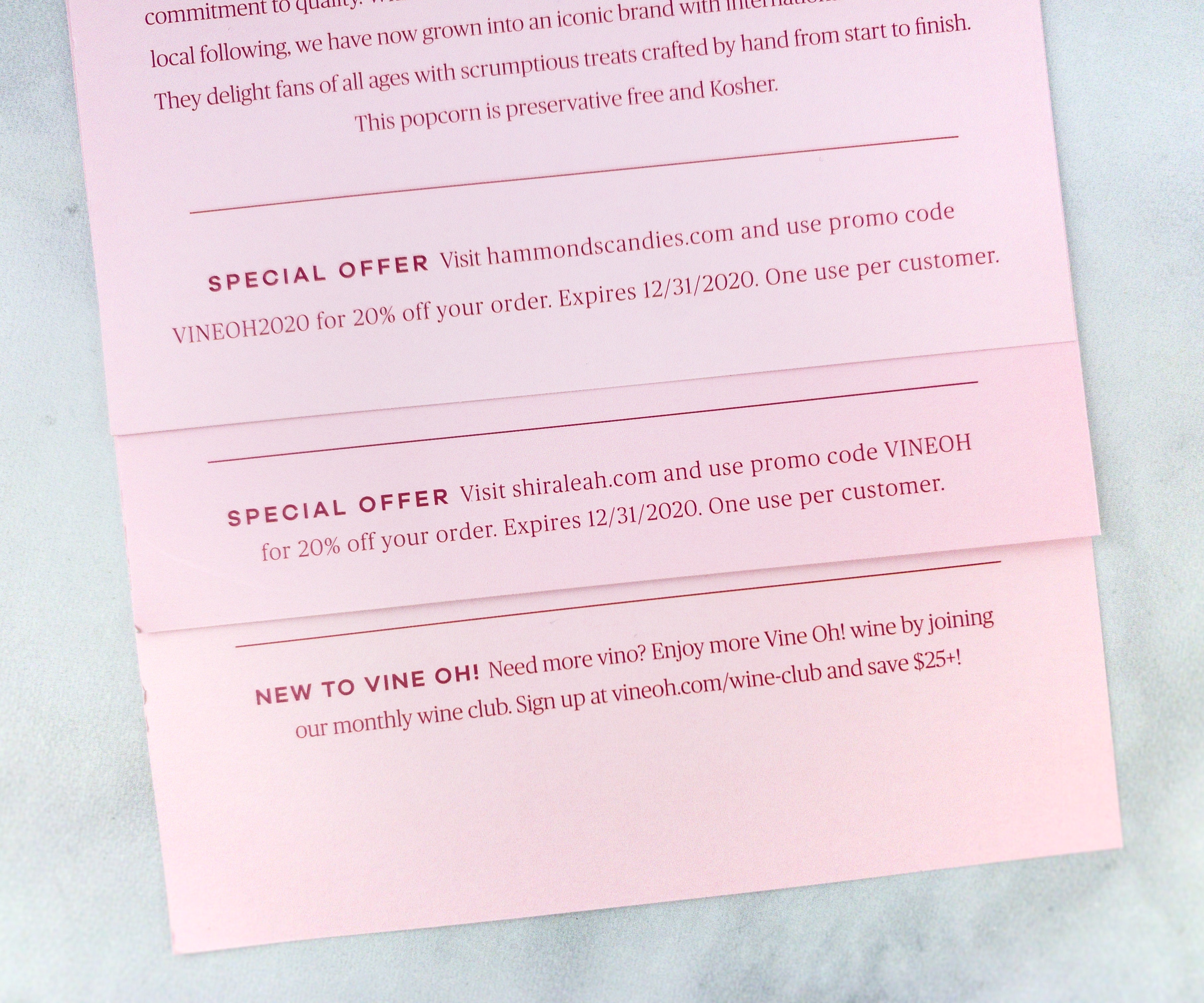 The cards also have coupons for Vine Oh! subscribers!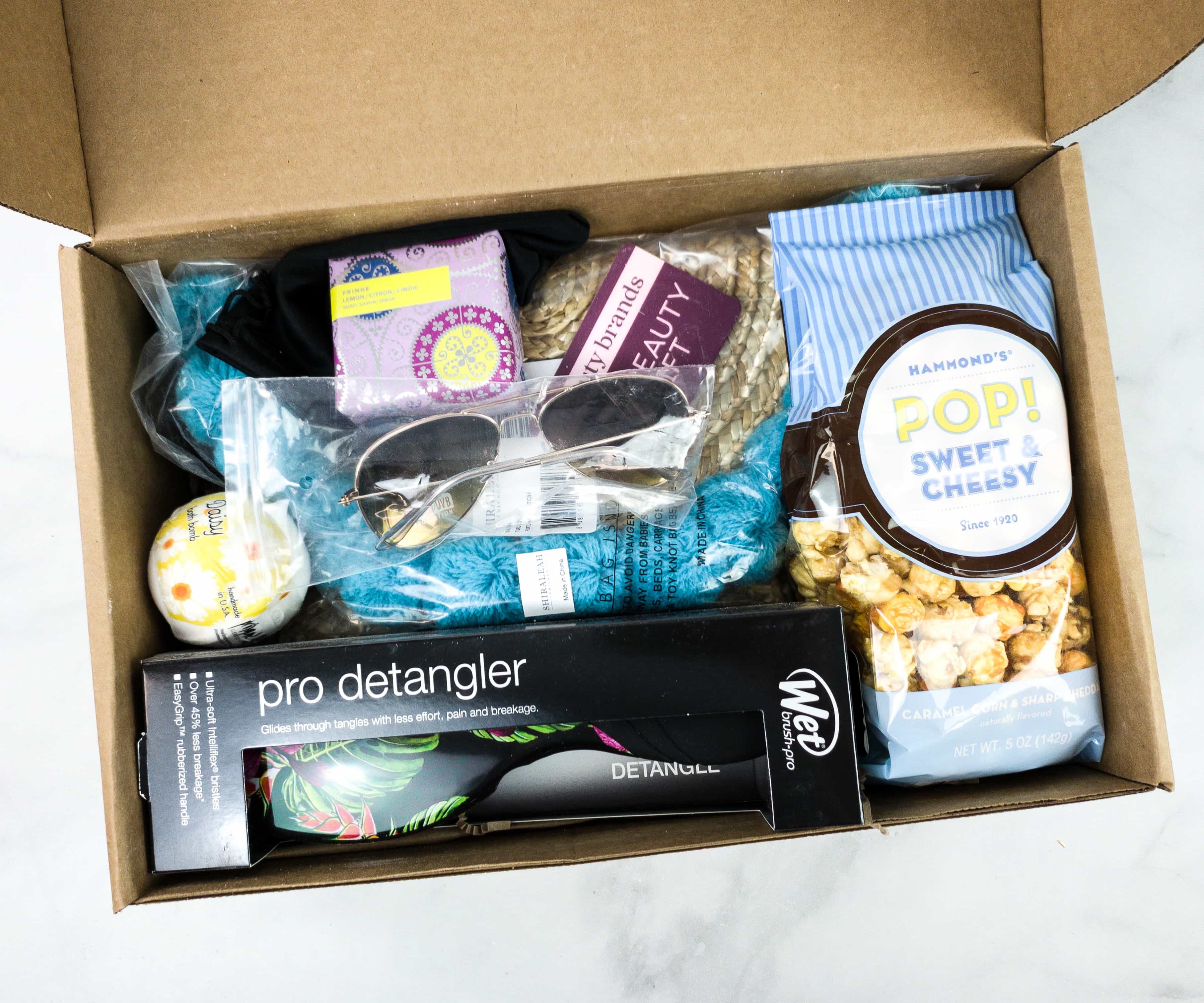 I can't wait to check everything out!
Everything in my box!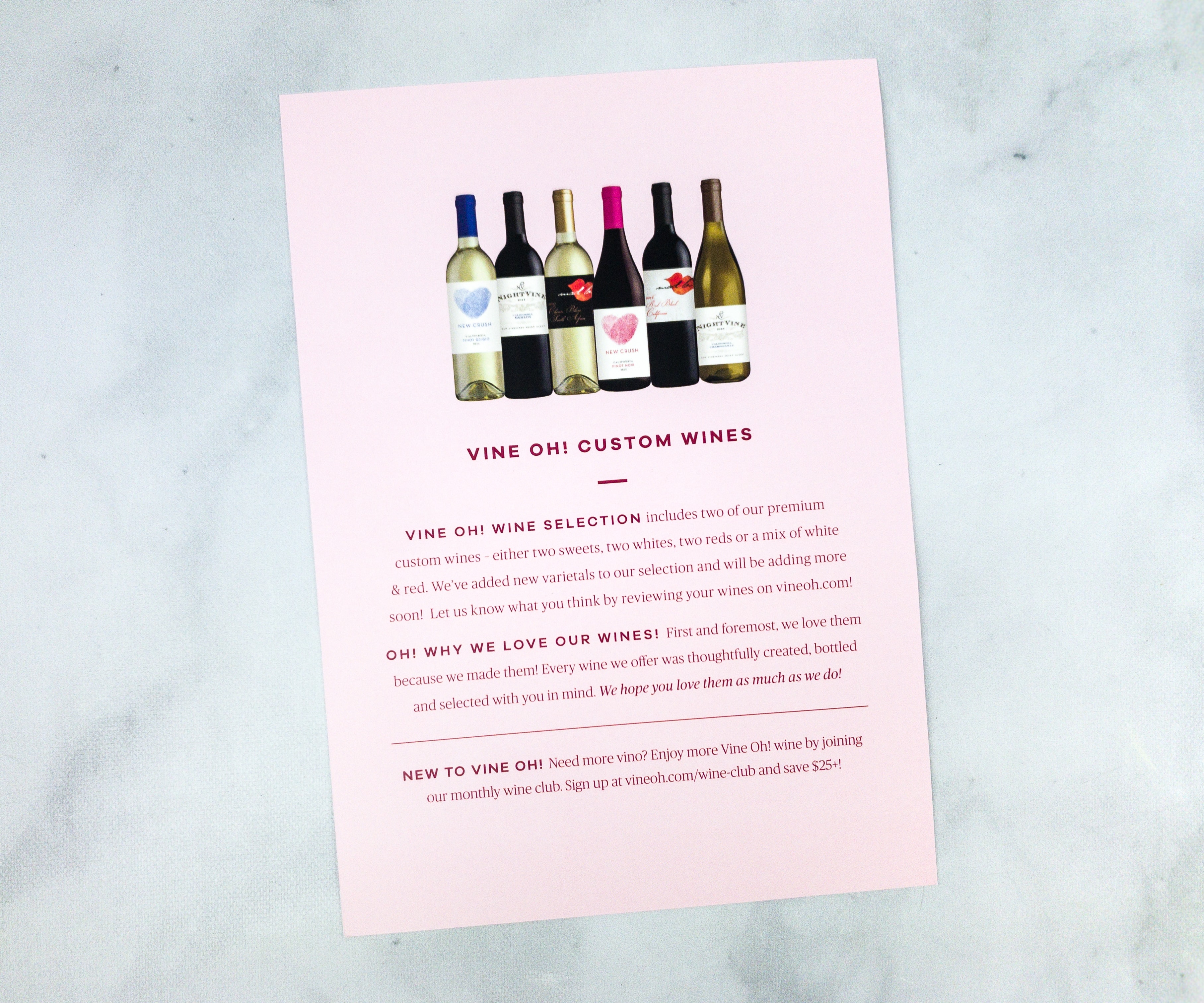 This card discusses Vine Oh! Custom Wines.
VINE OH! WINE SELECTION includes two of our premium custom wines – either two sweets, two whites, two reds or a mix of white &red. We've added to new varietals to our selection and will be adding more soon!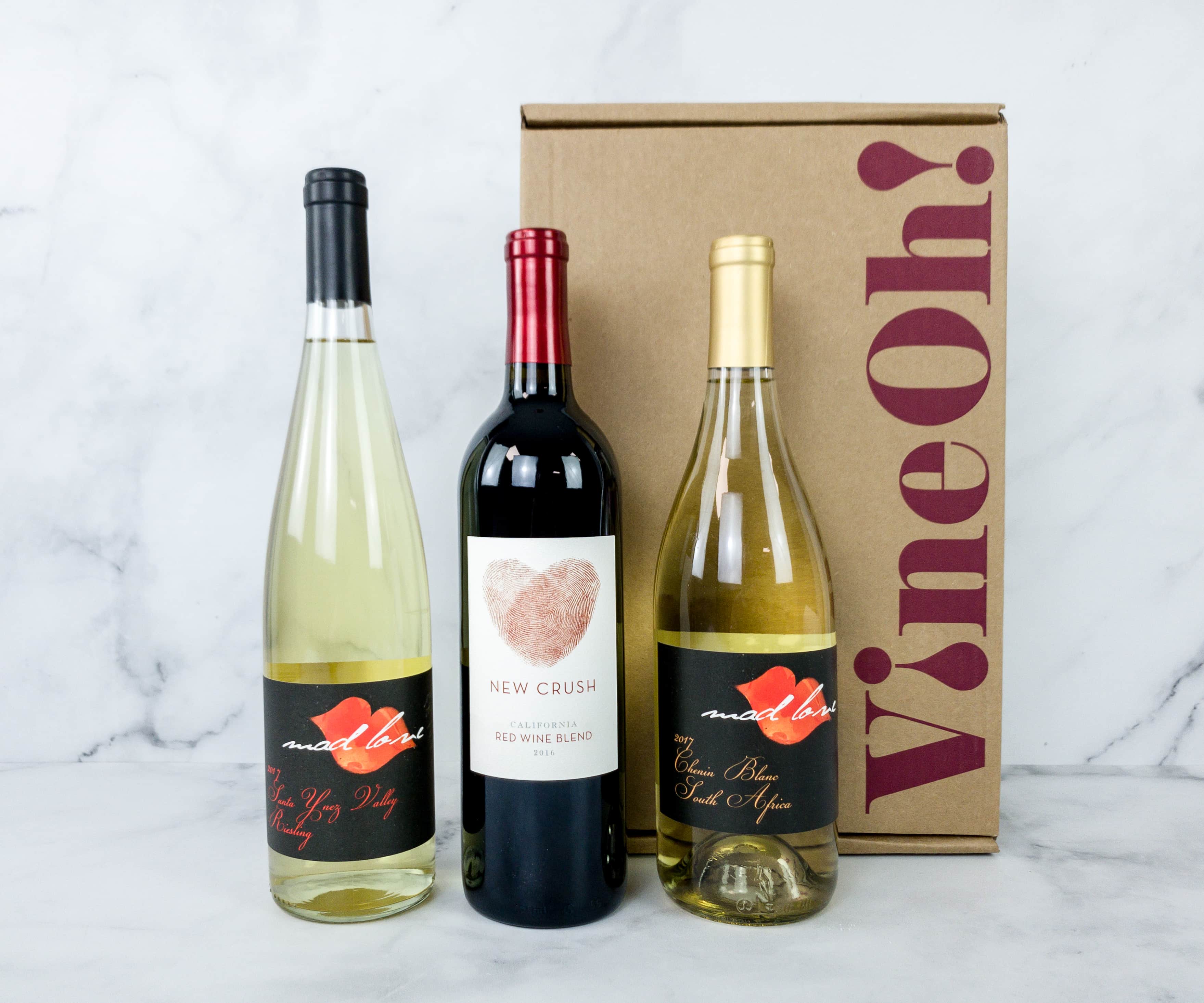 These wines look so good I can't wait to try them!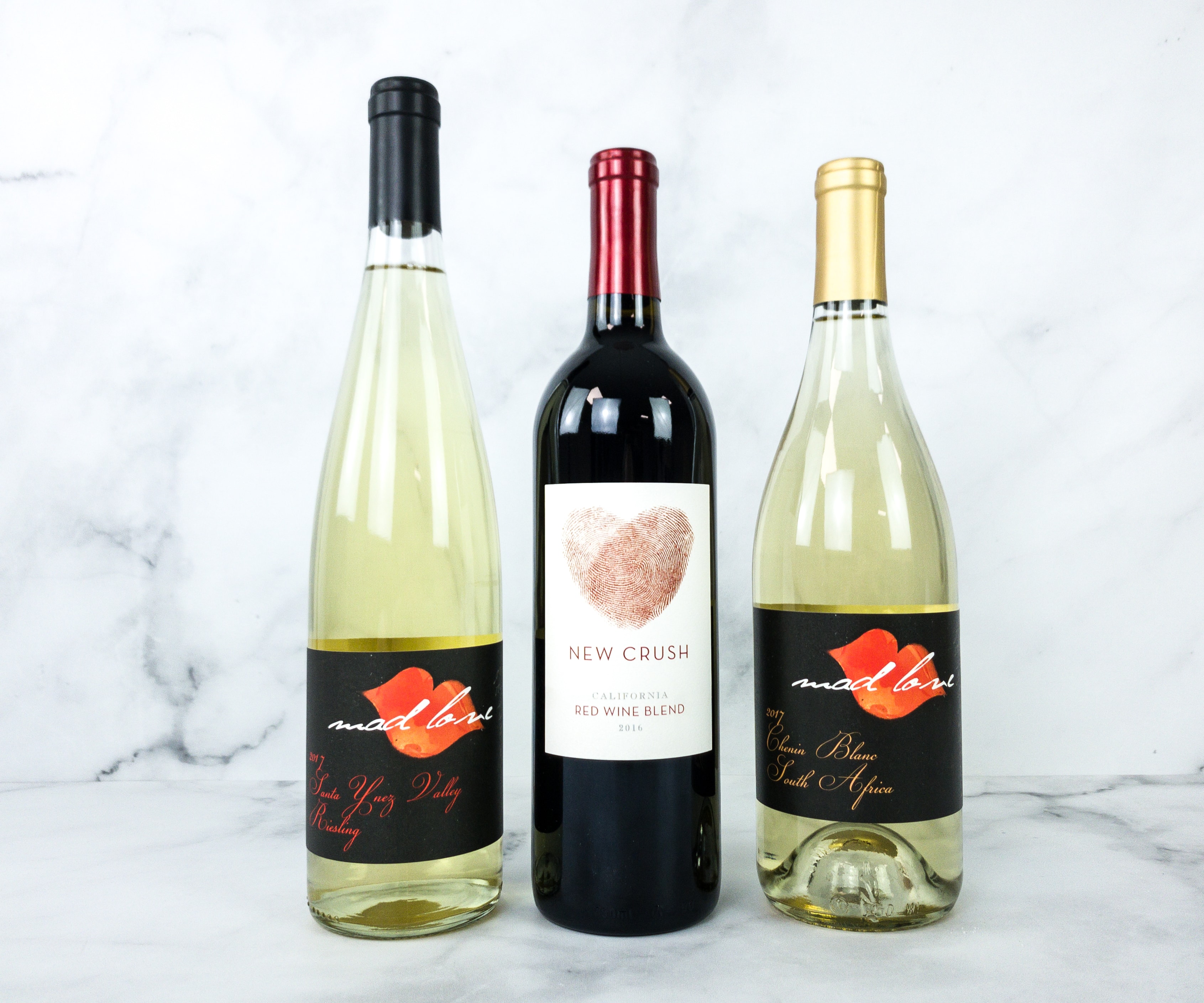 I have three bottles in this month's box! One bottle of red wine, and two bottles of white wine.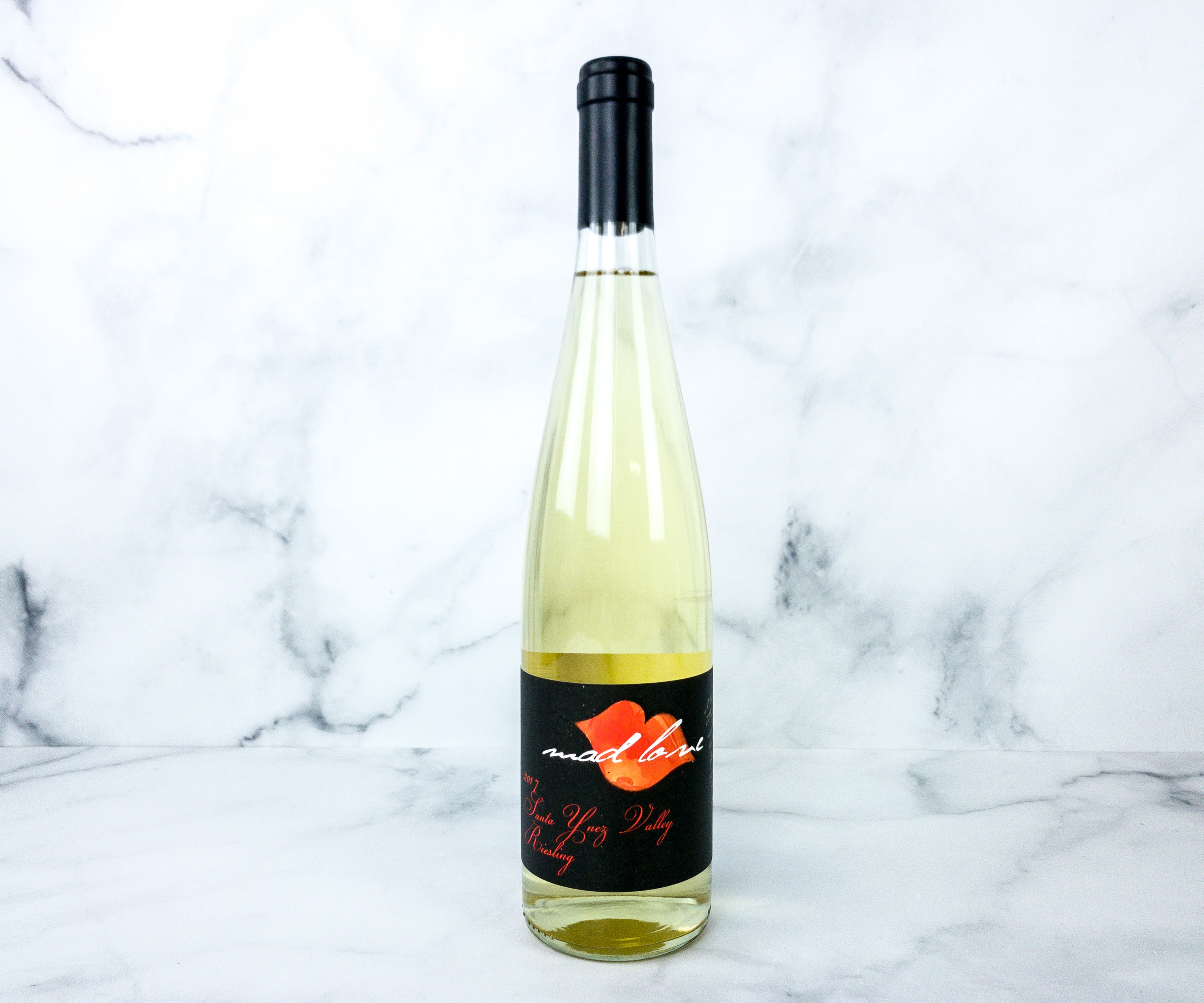 Mad Love 2017 Santa Ynez Valley Riesling ($24) This bottle of white wine is made from Riesling which is a white grape variety.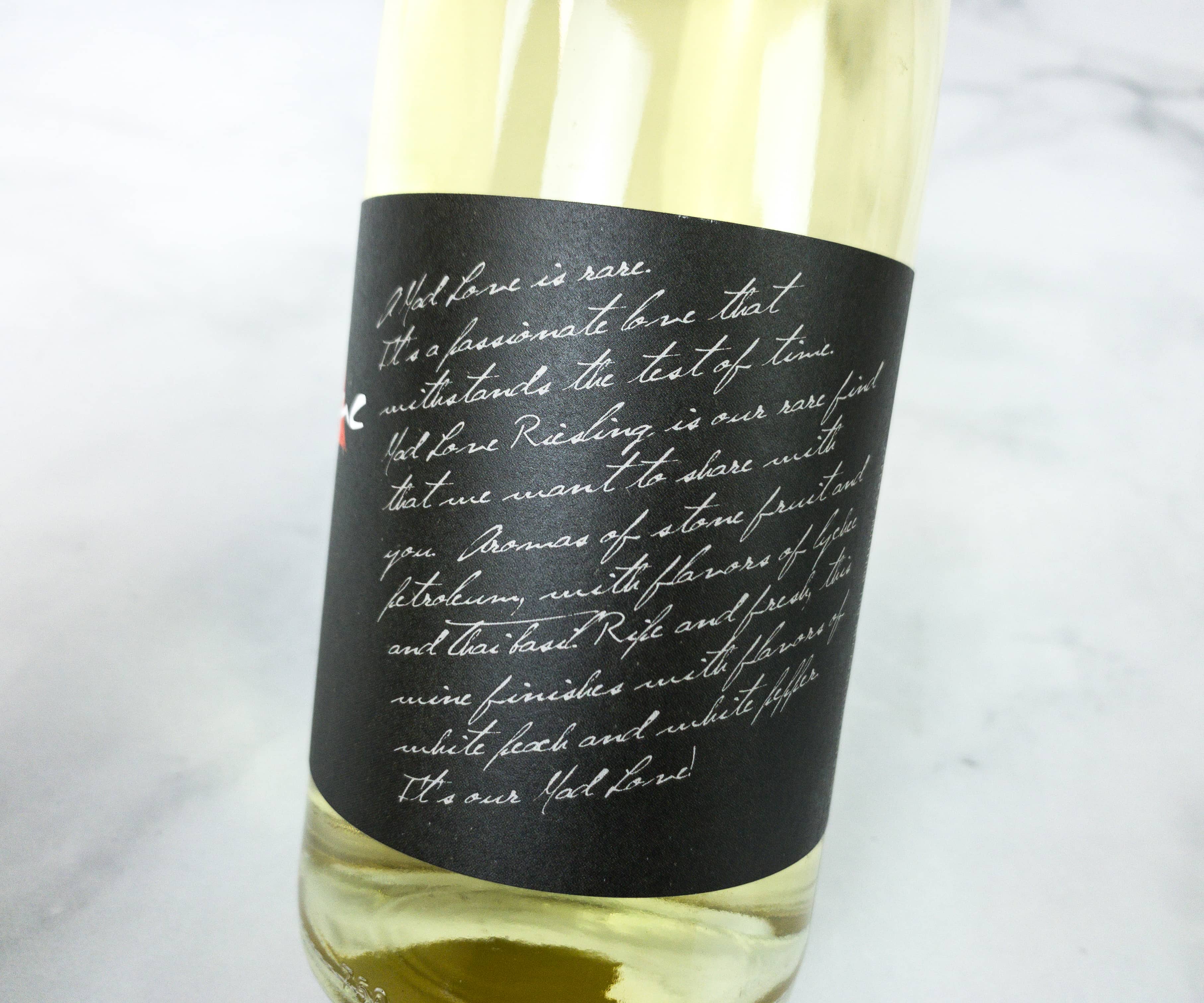 It has a fresh taste with hints of fruits and herbs that work wonderfully together.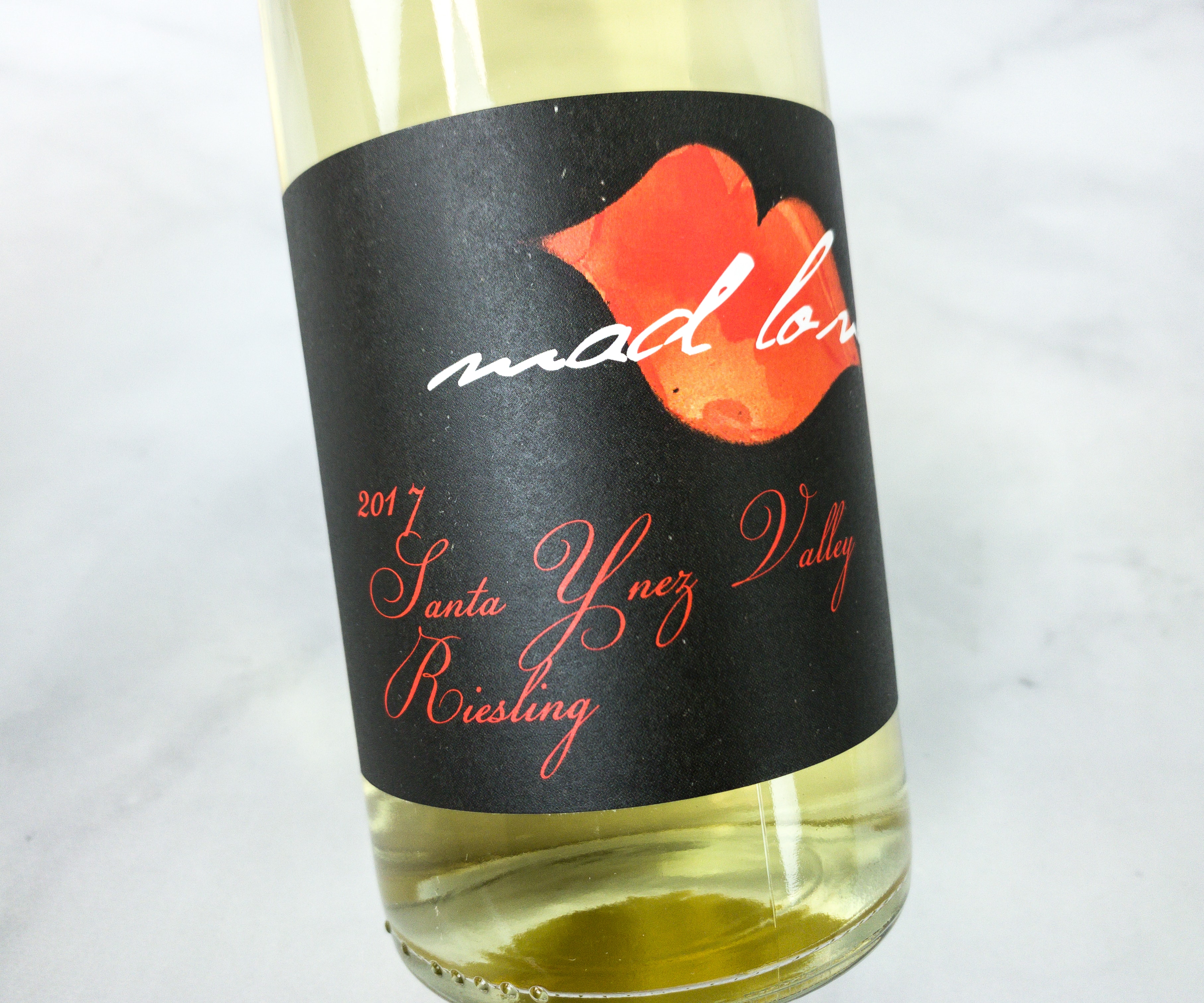 This makes an awesome pair with different kinds of cheeses!
New Crush California Red Wine Blend ($24) The bold flavors of this red wine keeps me wanting more!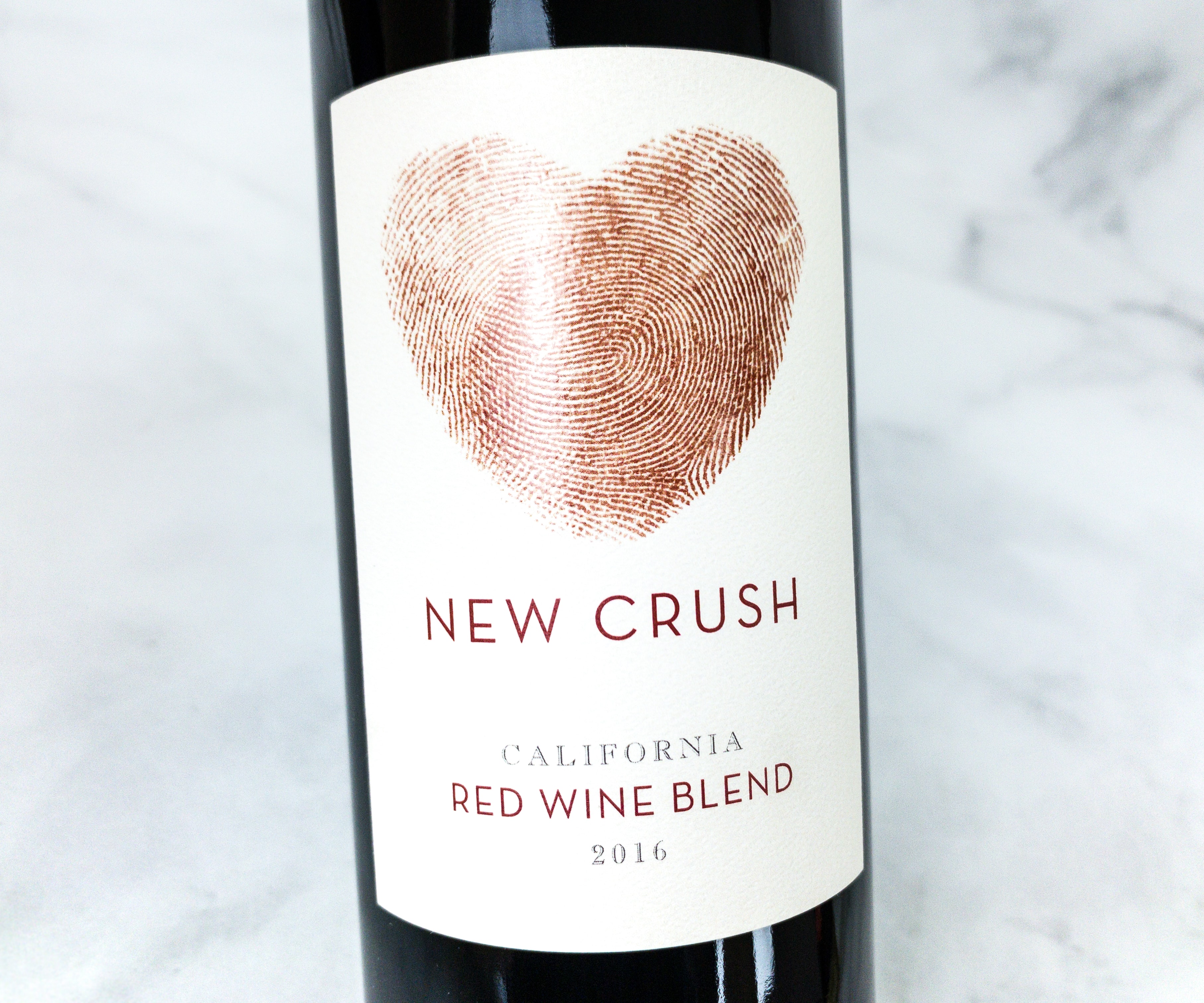 It has a hint of oakiness which compliments the deep flavor so well.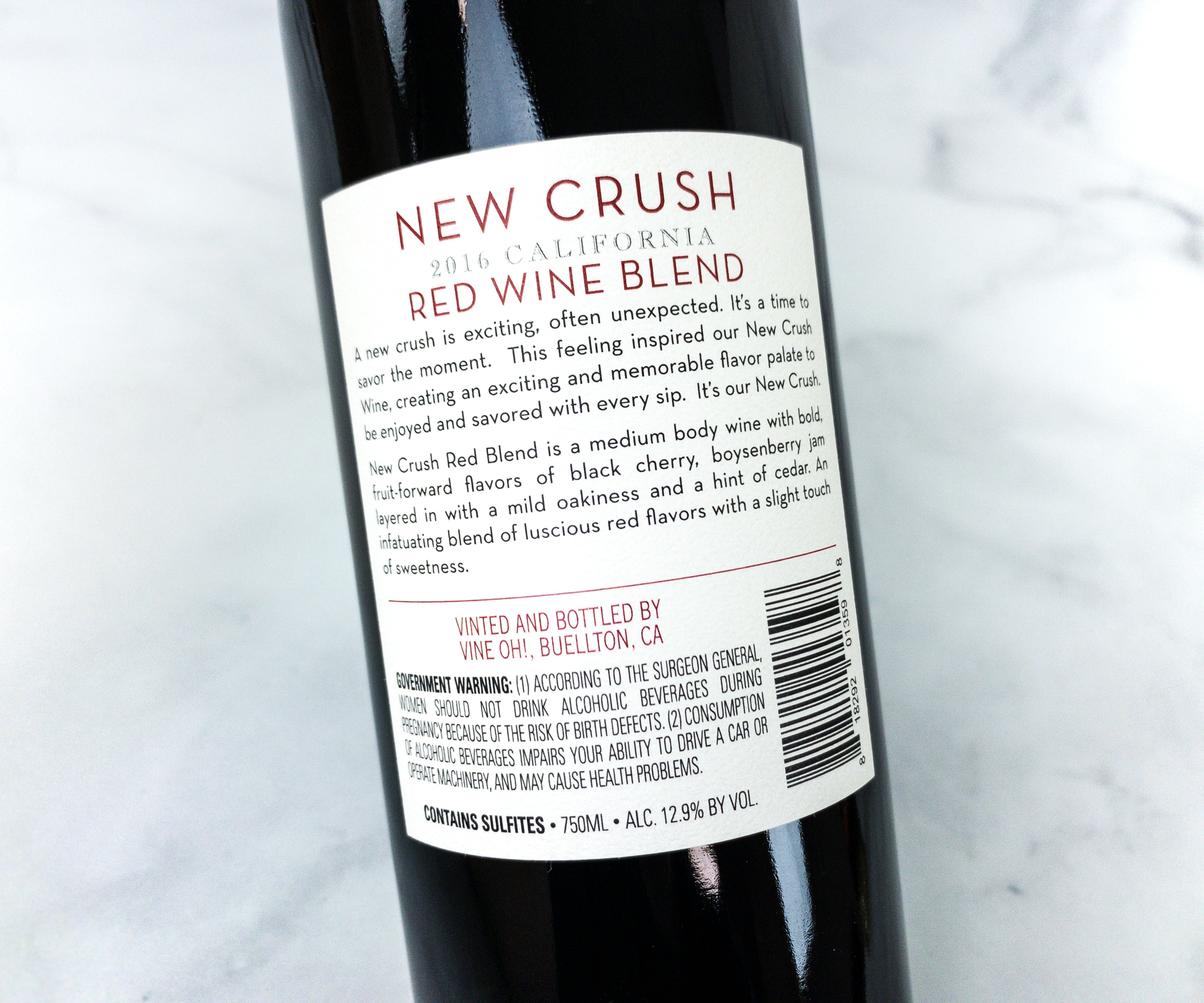 An excellent pair to steak and pasta dinners, this red wine has just the right amount of sweetness at the end!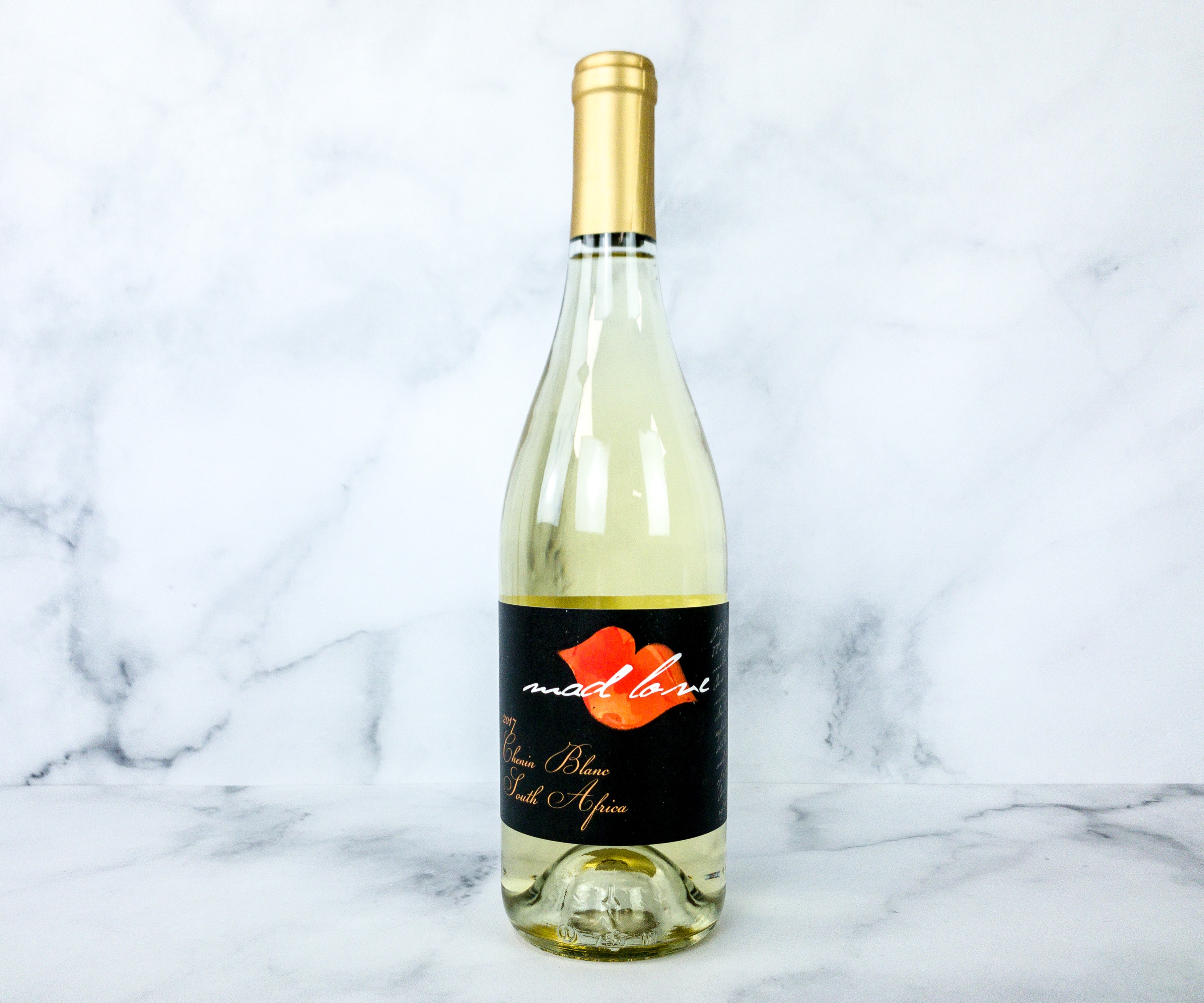 Mad Love 2017 Chenin Blanc South Africa ($24) The last bottle in the box is this Chenin Blanc, from a white grape variety.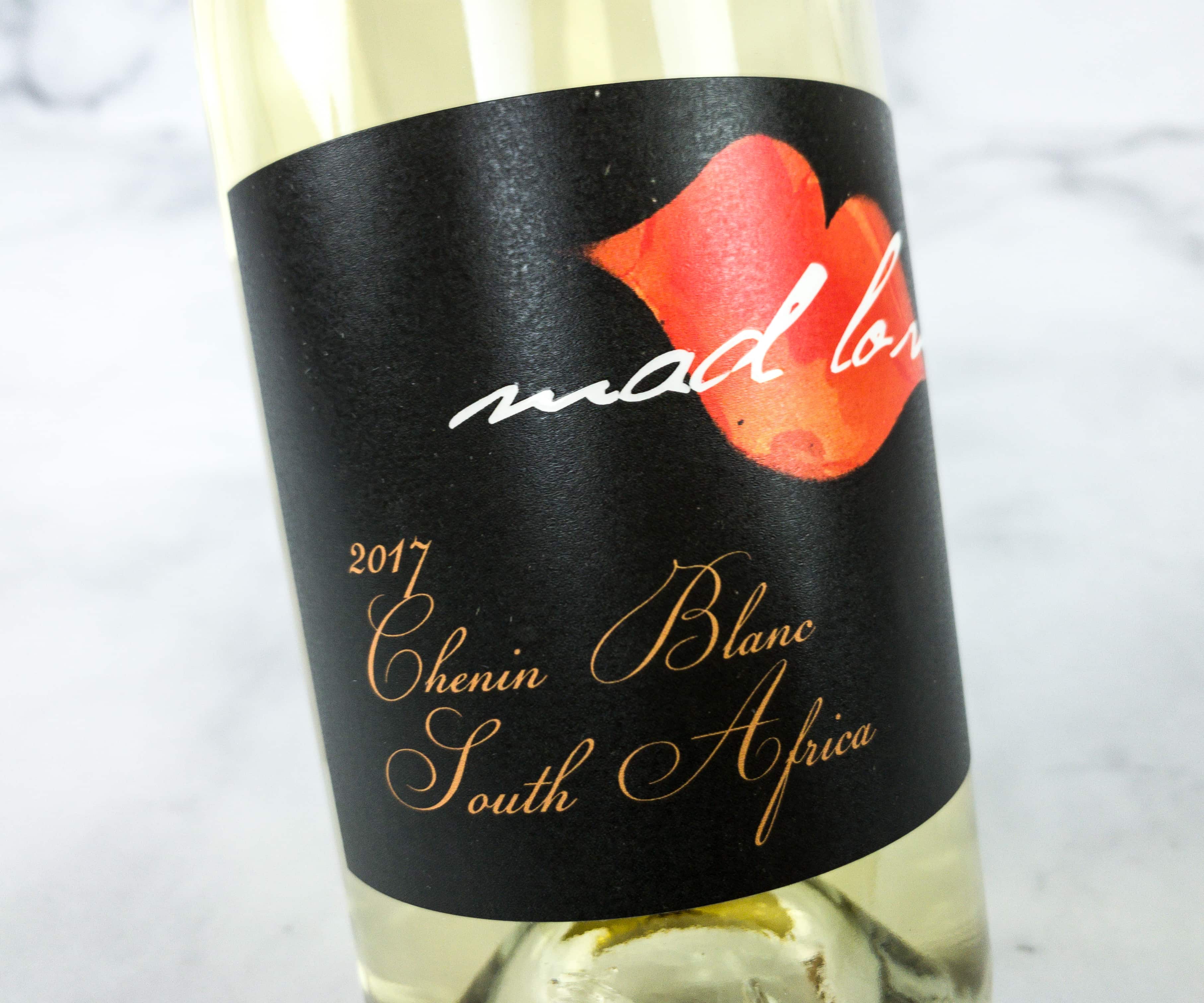 I love how sweet this wine is. It's very smooth and refreshing.
It will be a great pair for chicken dishes or even salads!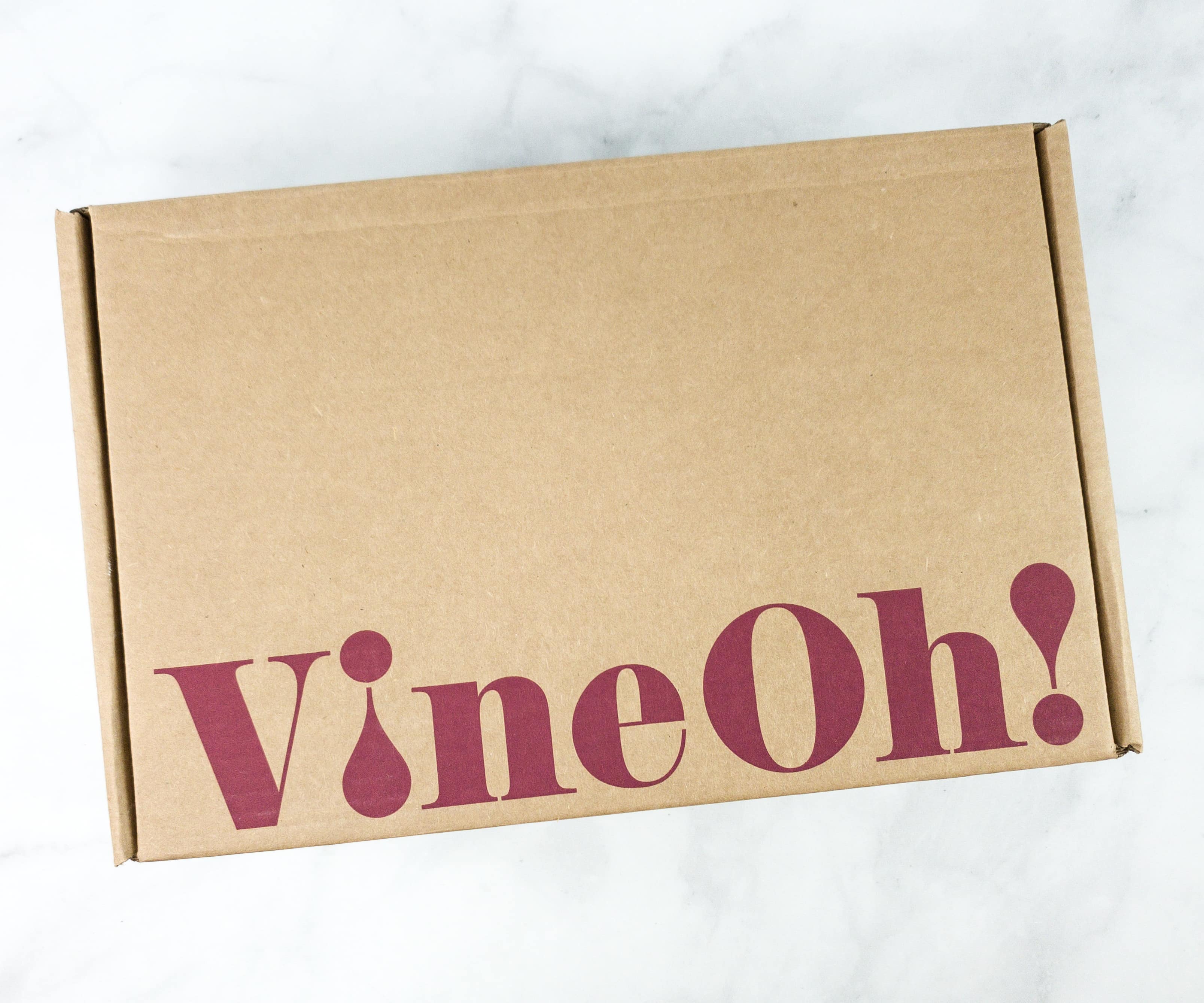 Now, we move on to the goodies included with this month's wine selection.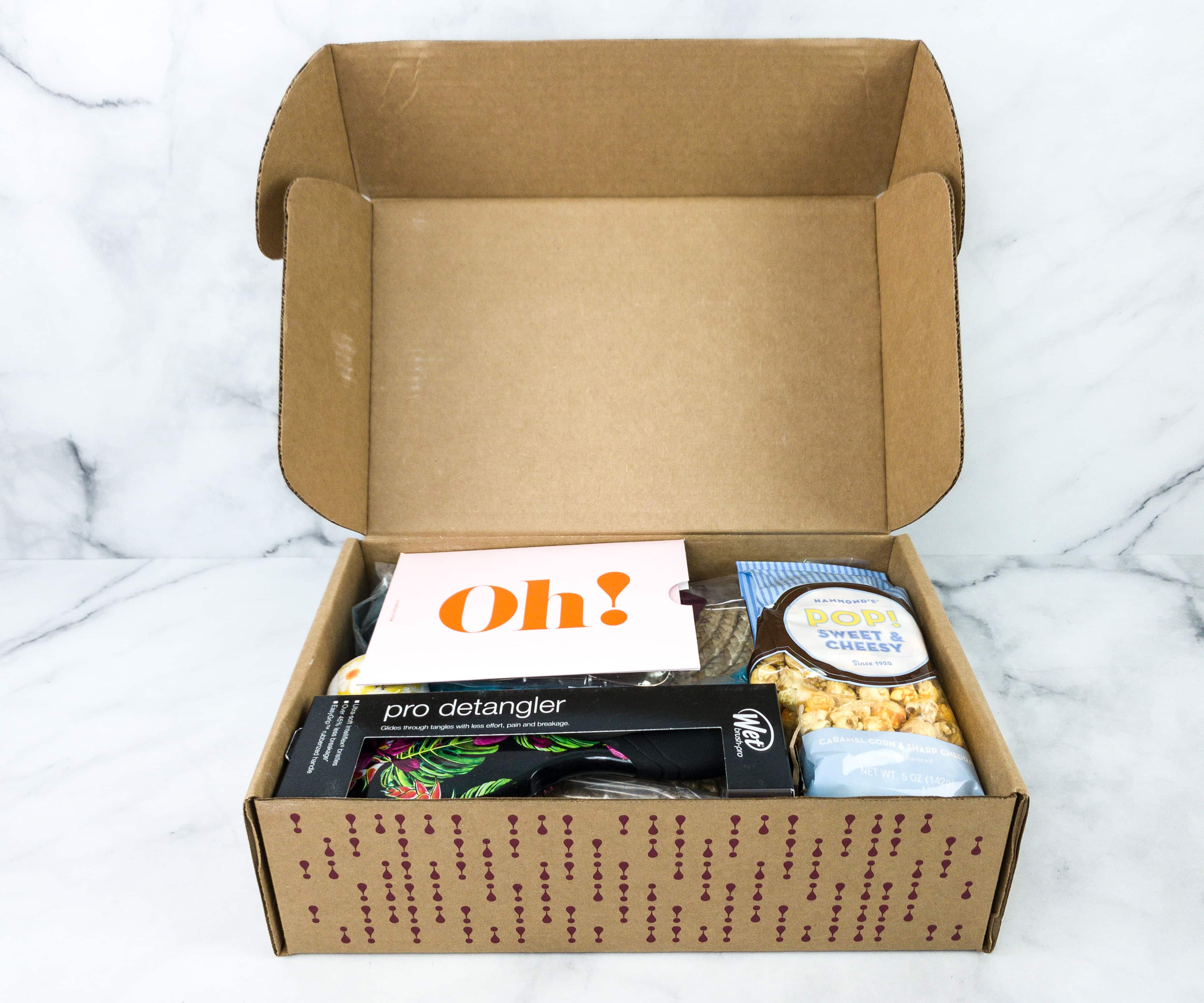 I'm so excited to dig in!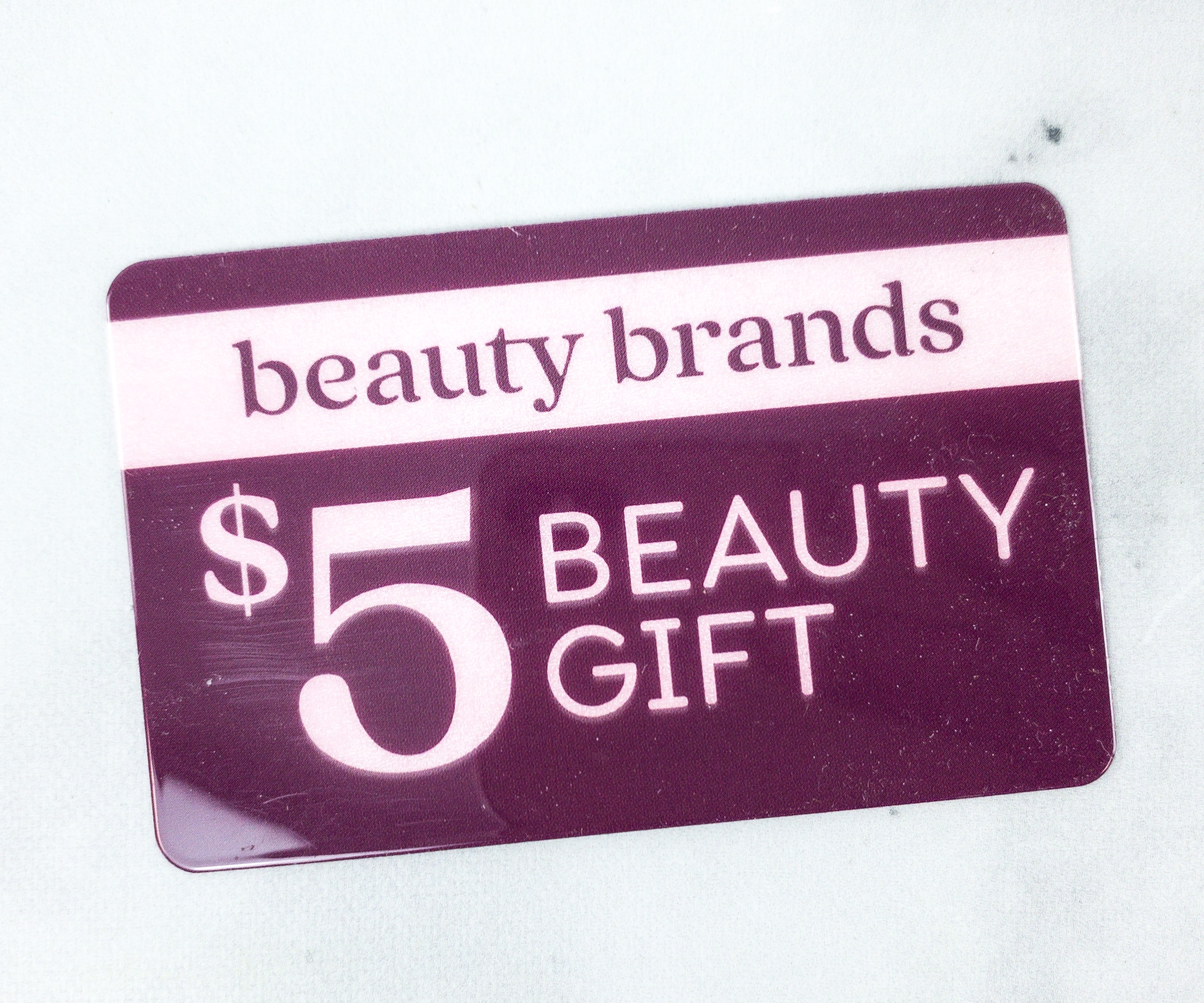 We also got this discount card from beautybrands.com.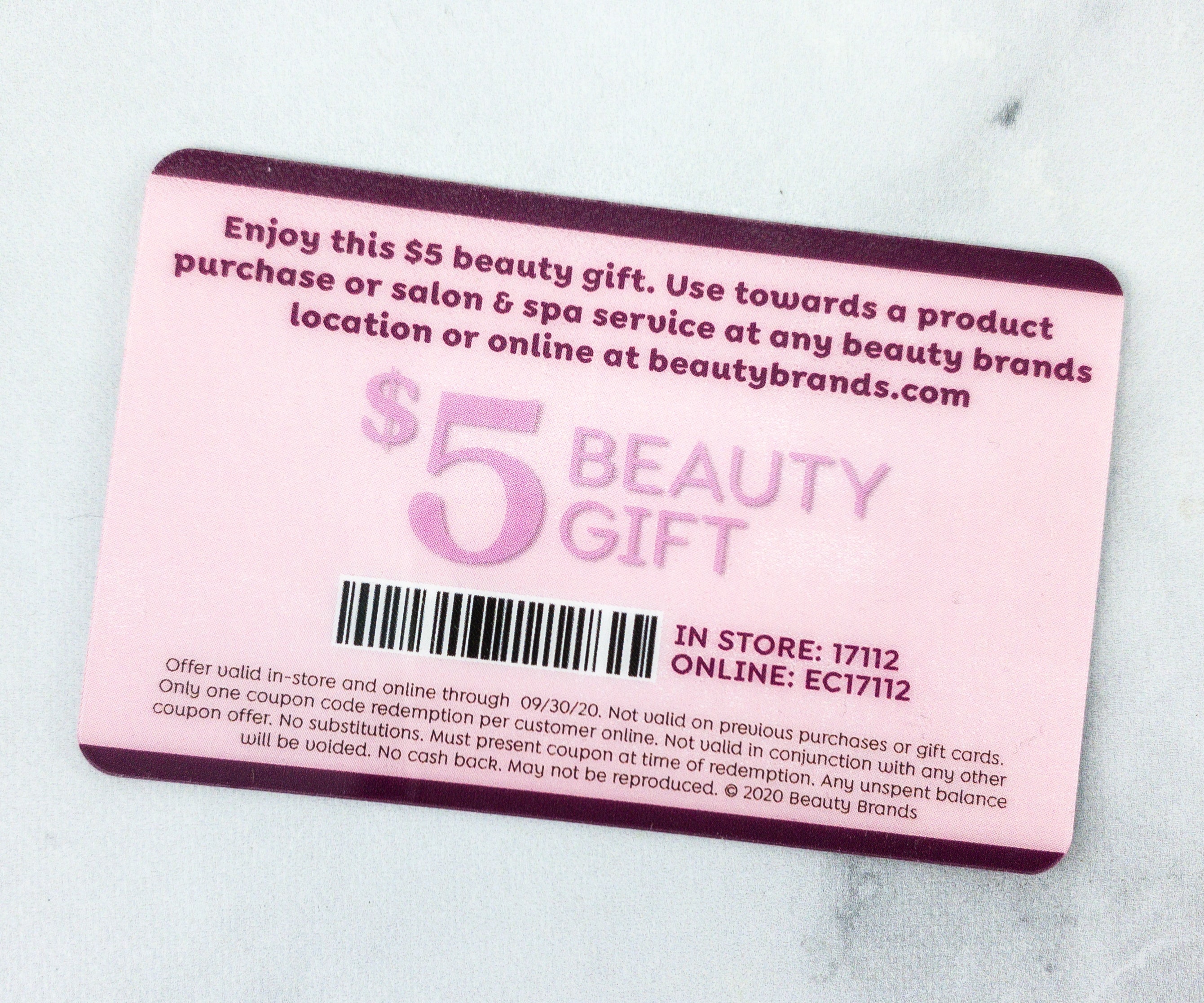 It gives us $5 off of any product purchase or salon and spa service at any Beauty Brands location or their website!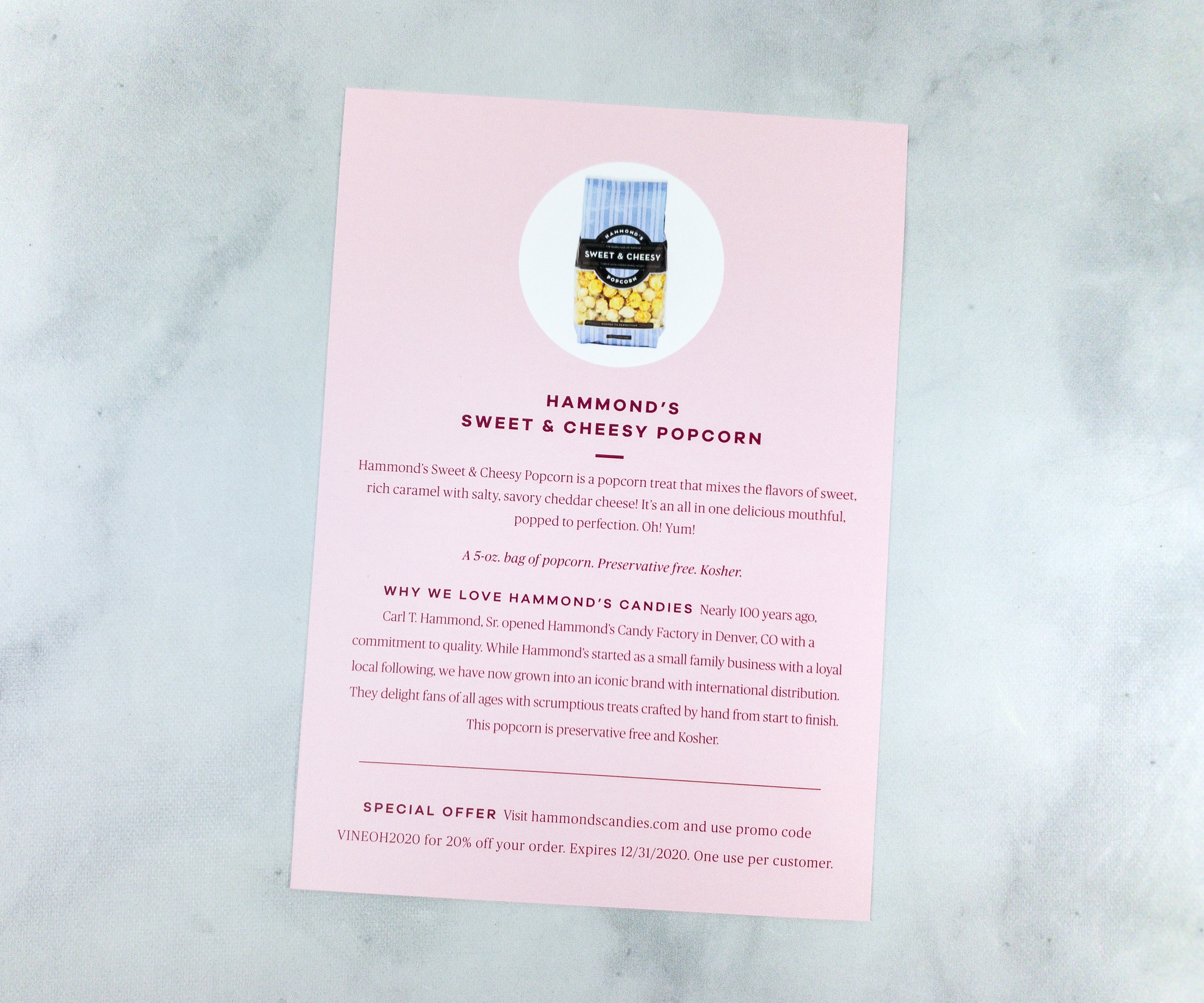 Hammond's Sweet & Cheesy Popcorn – SIMILAR ($4.95) We love popcorn and this one is super good!
It's a unique flavor as it's both sweet and savory from the cheese and caramel! I love that this doesn't have those big kernels that get stuck in my teeth.
I love Chicago mix and I can't stop eating it! This also pairs well with wine!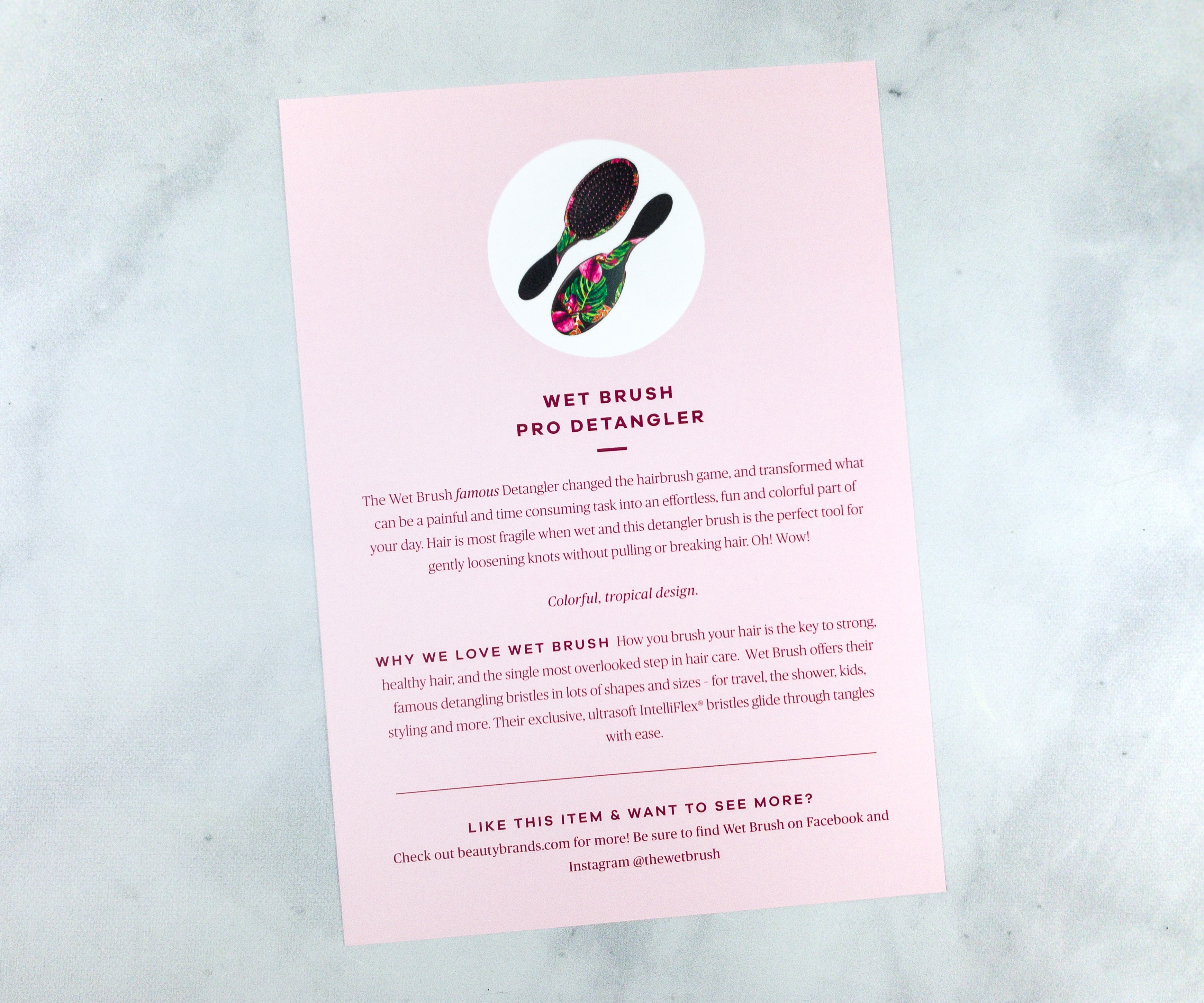 Wet Brush Pro Detangler ($15) To keep my hair tangle-free, they included a hair brush in the box!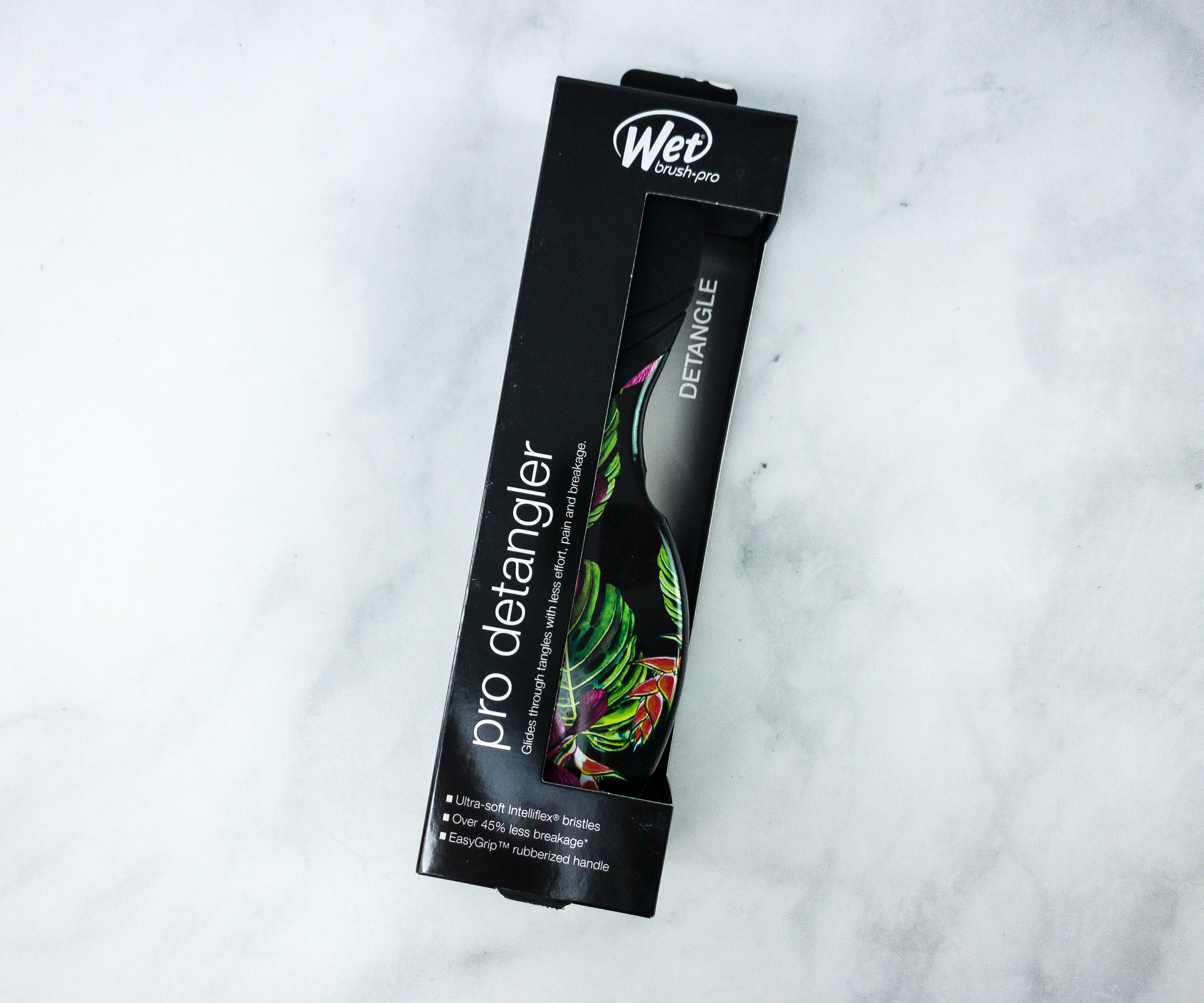 It came in its original packaging which is a box where you can see the product inside.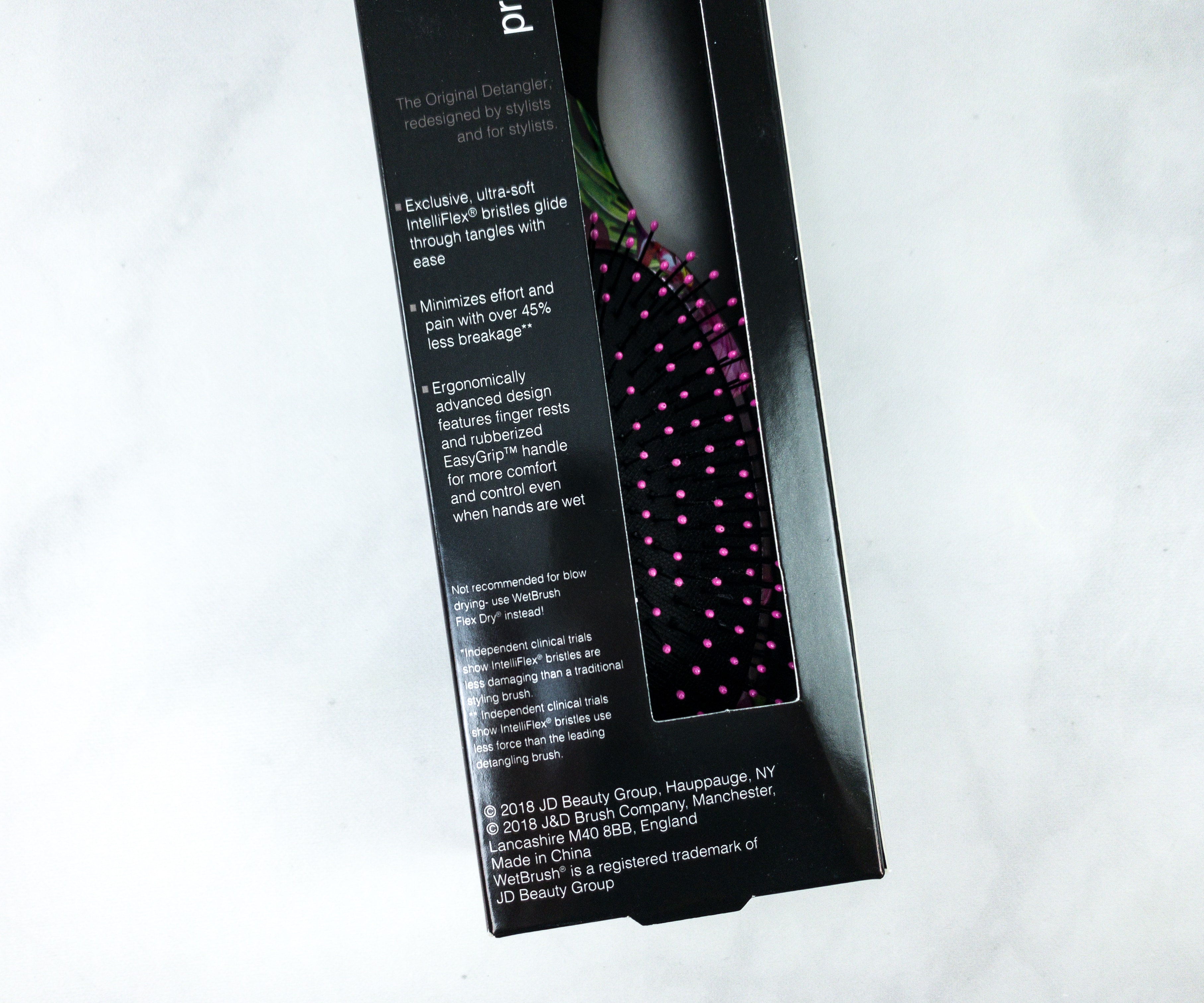 You can even feel the bristles from inside the packaging as they also put a window at the back.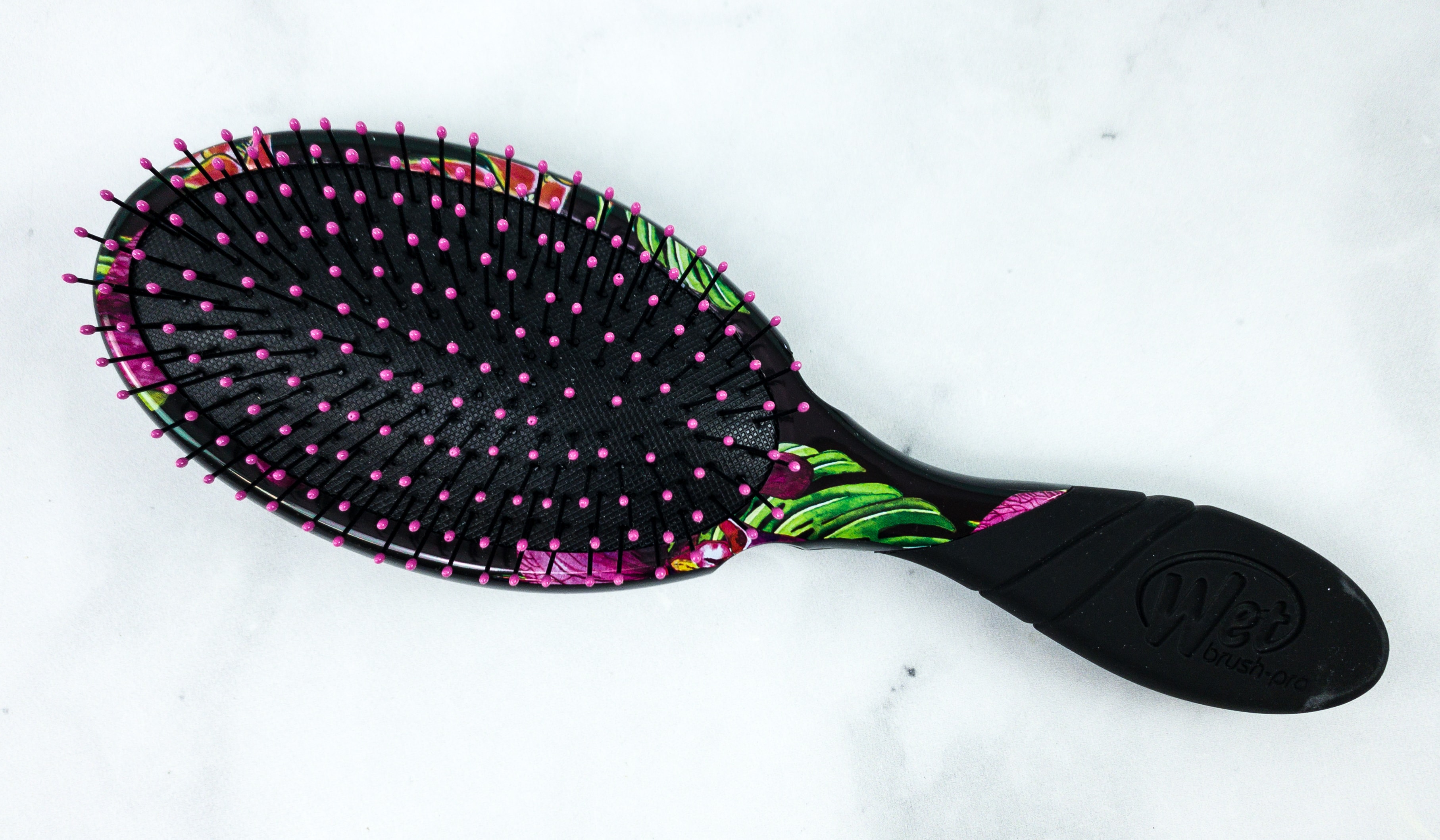 The brush itself is a decent size. Not too big and not too small, perfect for detangling the average size head.
The bristles are soft and they are placed in a cushion so it will feel like a scalp massage when you brush your hair!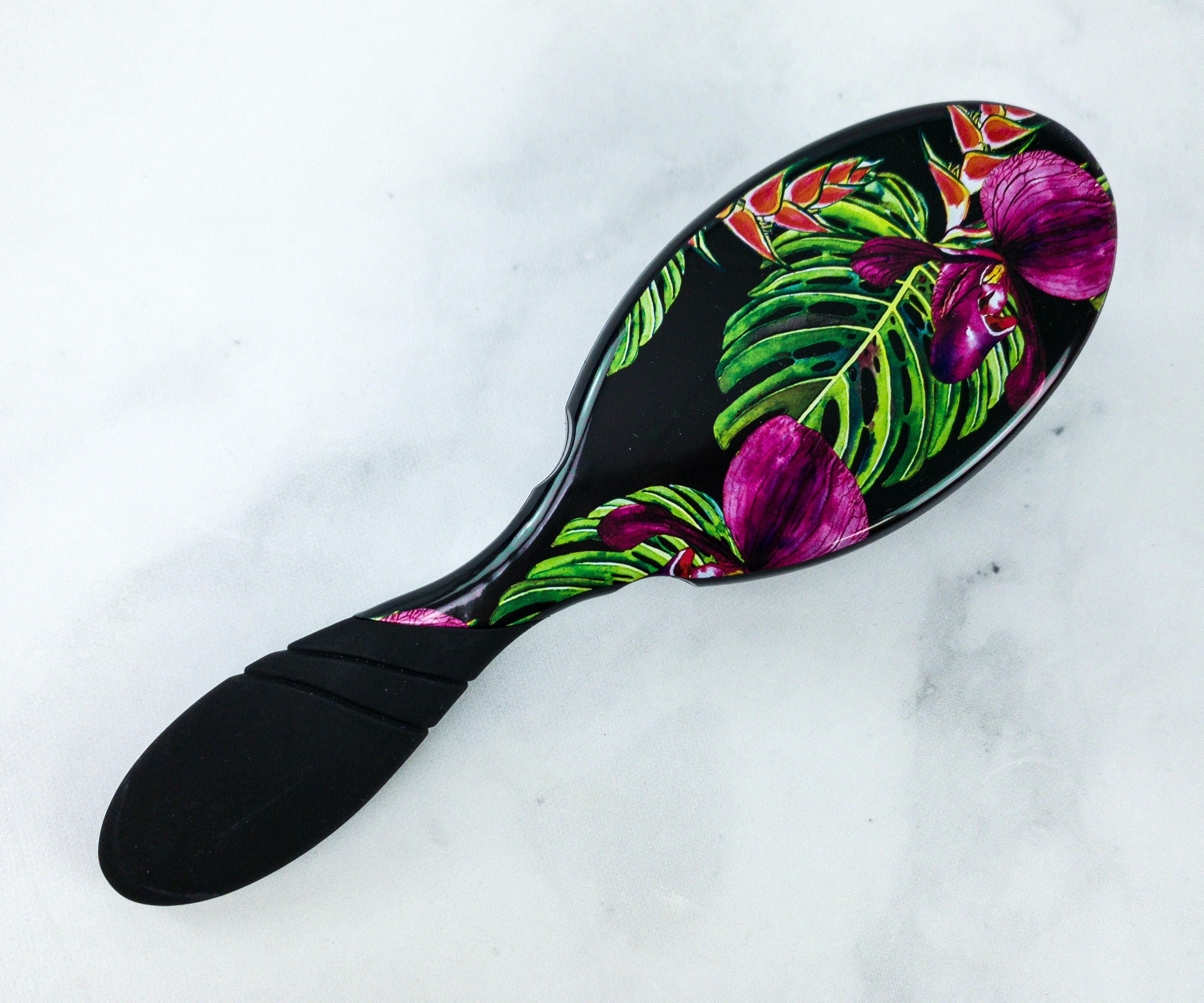 I really like the tropical vibe design of this brush. There is also a rubber grip on the handle so you get better hold of the brush while using it. The Wet Brush is magic and I needed another.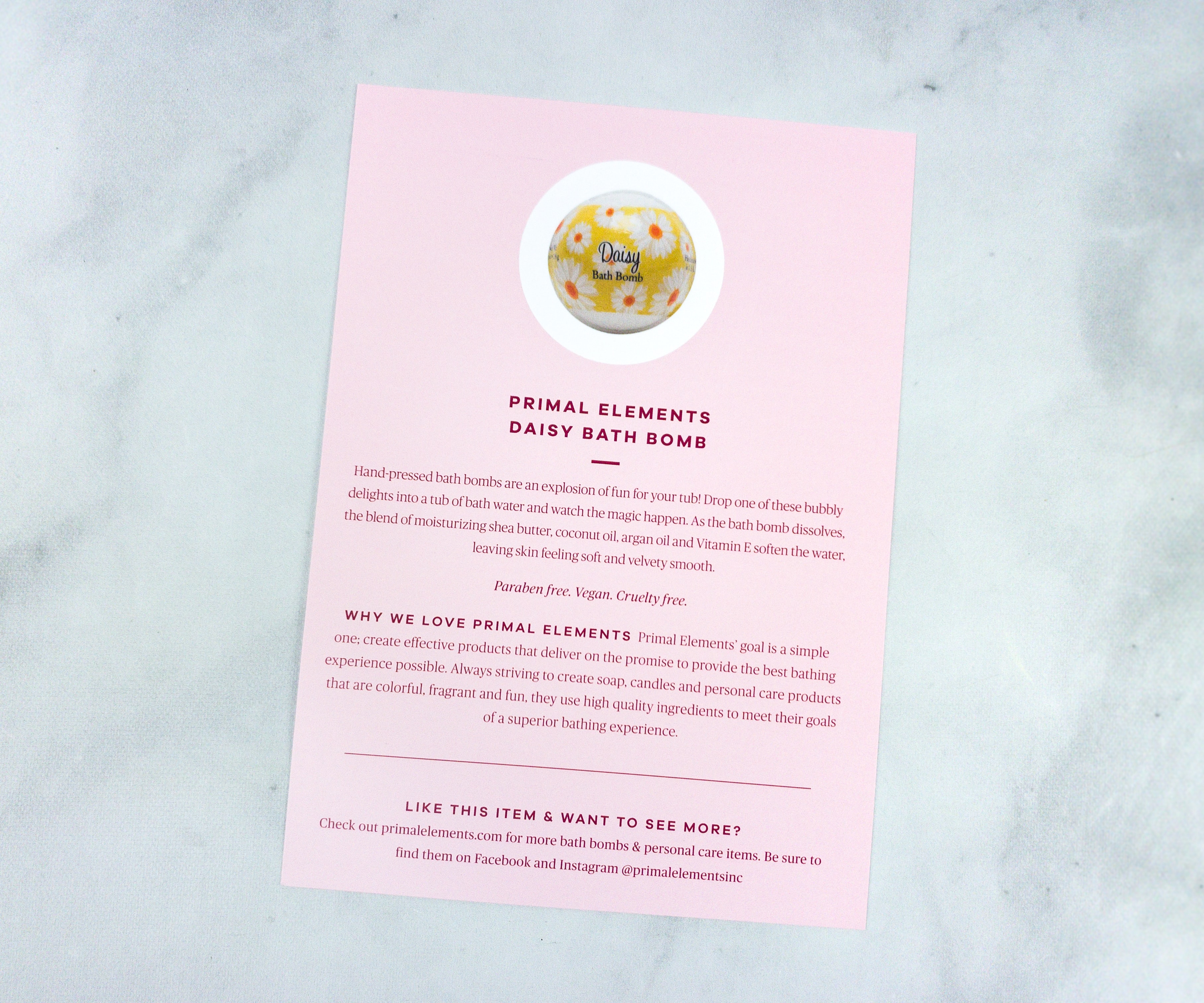 Primal Elements Daisy Bath Bomb ($7) I love treating myself to a nice long bath and this bath bomb just made it extra special!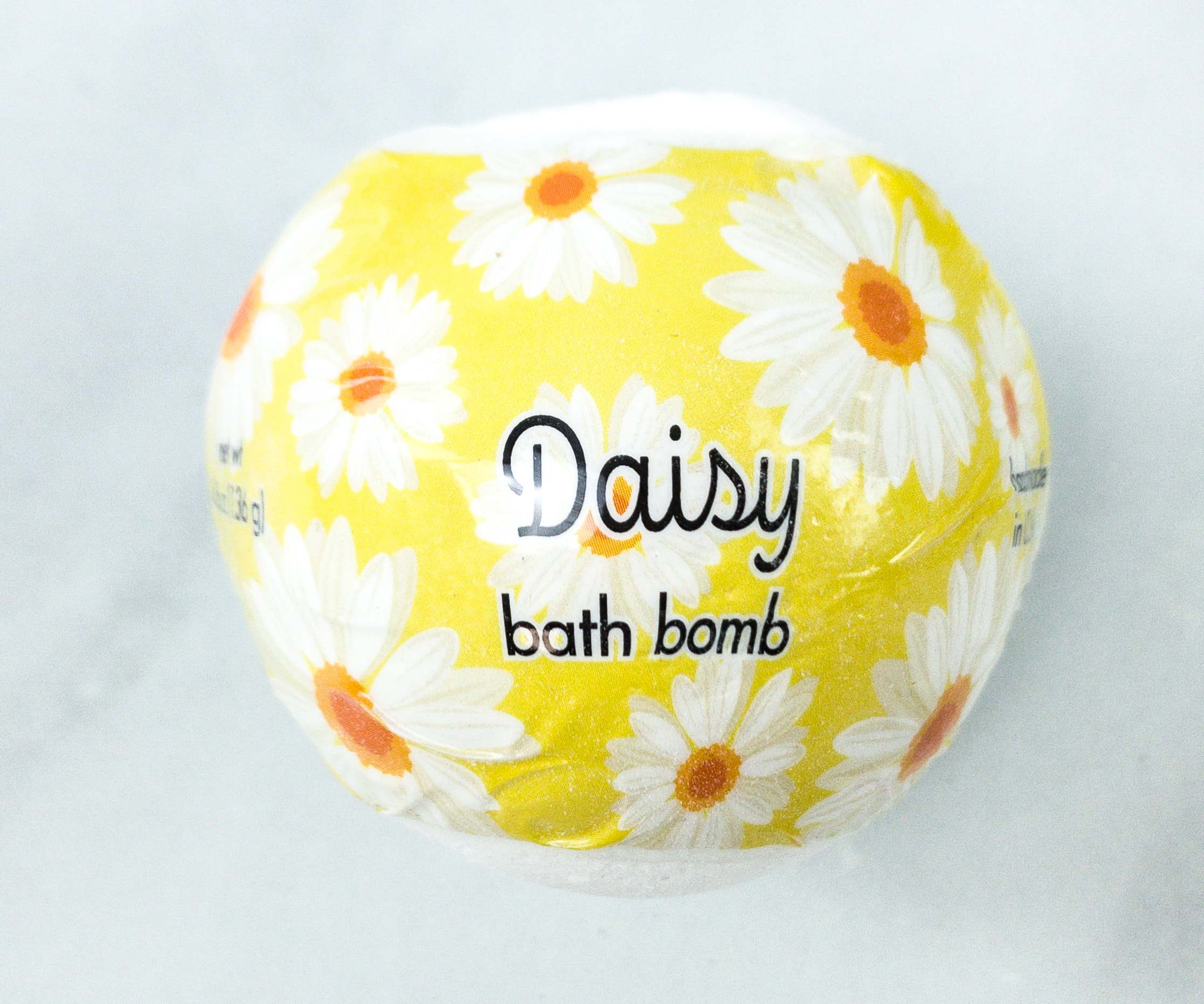 This Daisy Bath Bomb smells like heaven! It's has a light floral fragrance that stays in the skin for a long time. I like throwing bath bombs in the tub. They're super relaxing to watch, plus they have amazing things in store for your skin!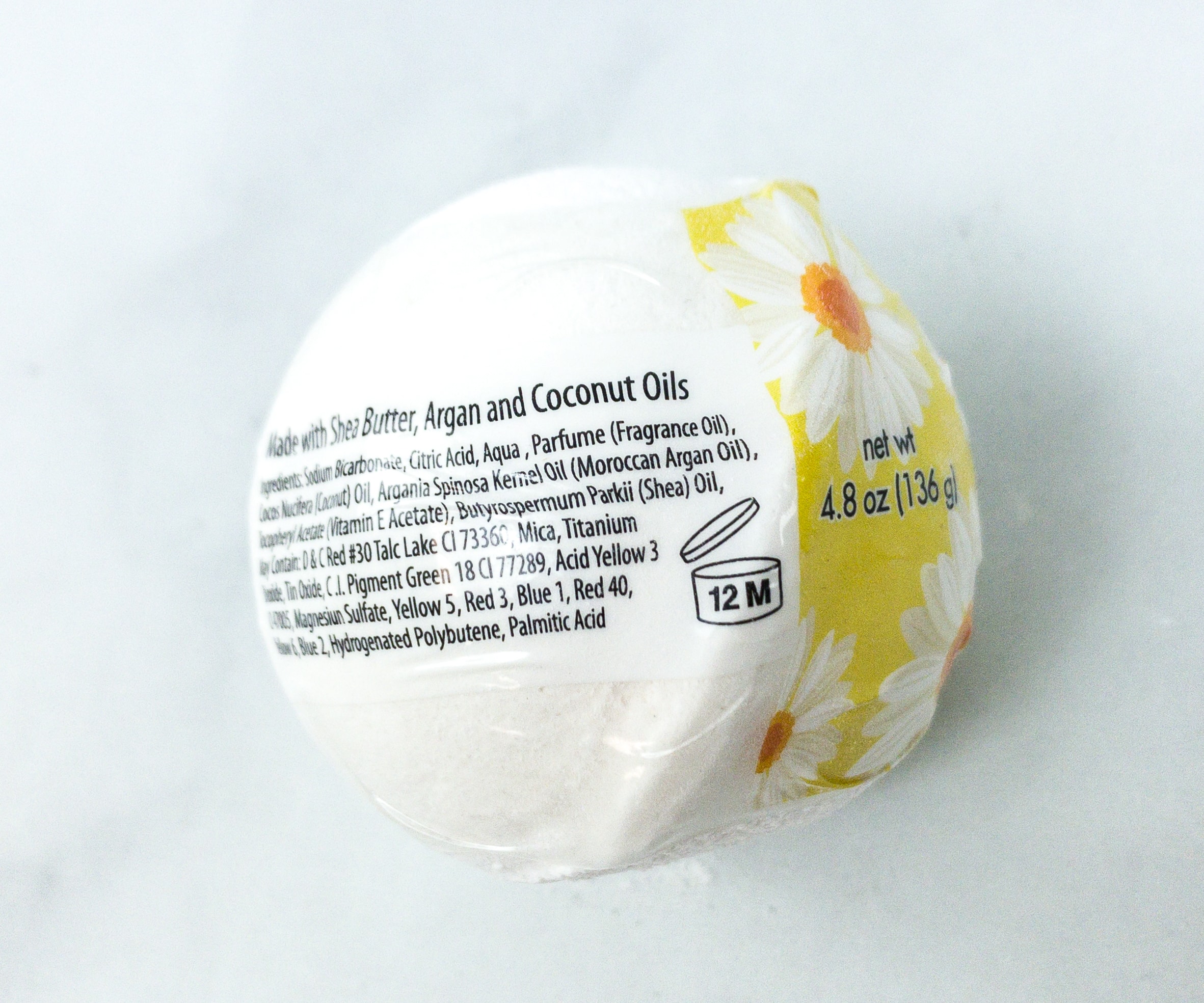 This specific bath bomb is formulated with shea butter, argan, and coconut Oils! All these provide amazing skincare benefits as they hydrate and moisturize the skin plus they help with the skin's elasticity. A nice hot bath, this bath bomb, and a glass (or two!) of wine is my idea of a perfect night cap!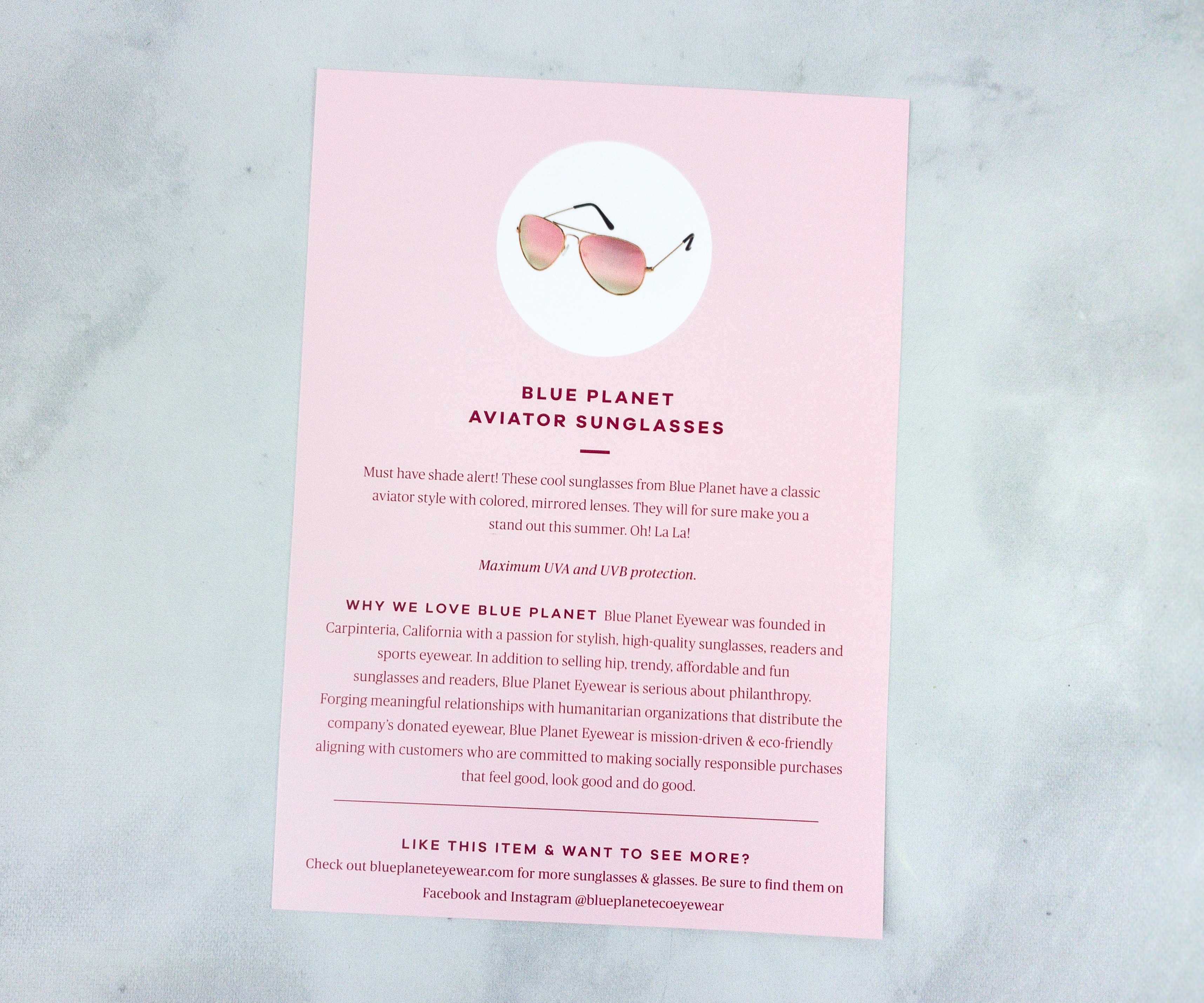 Blue Planet Sunglasses ($20) To keep me stylish this summer, here's an aviator sunglasses!
It came in a black drawstring pouch that I can also use as a carrying case.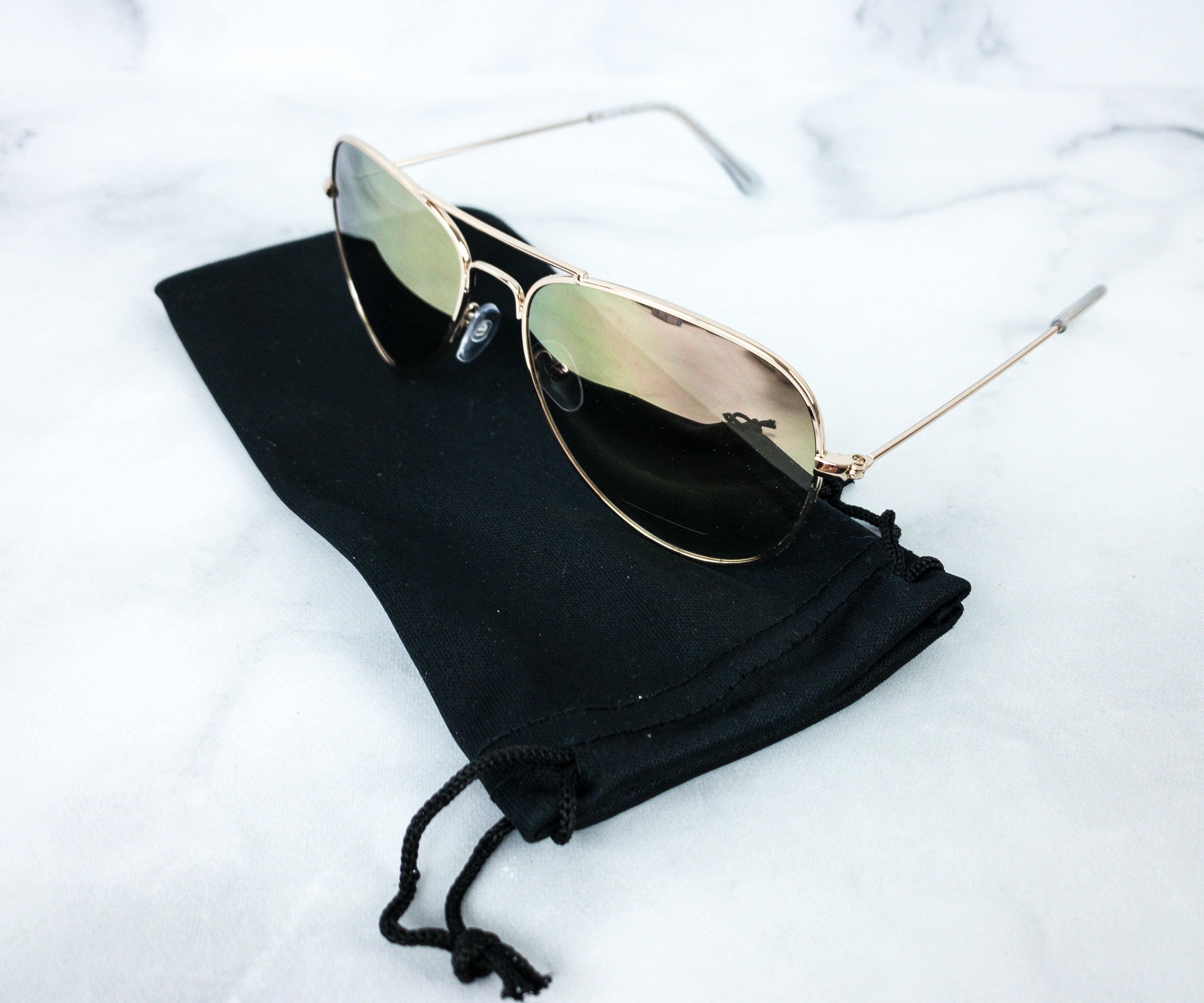 It has a gold frame which flatters just about any skintone. It's a great item to have specially during summer as it will come very handy whenever you're out and about! The fact that the brand Blue Planet is eco-friendly makes me happier to wear these sunglasses!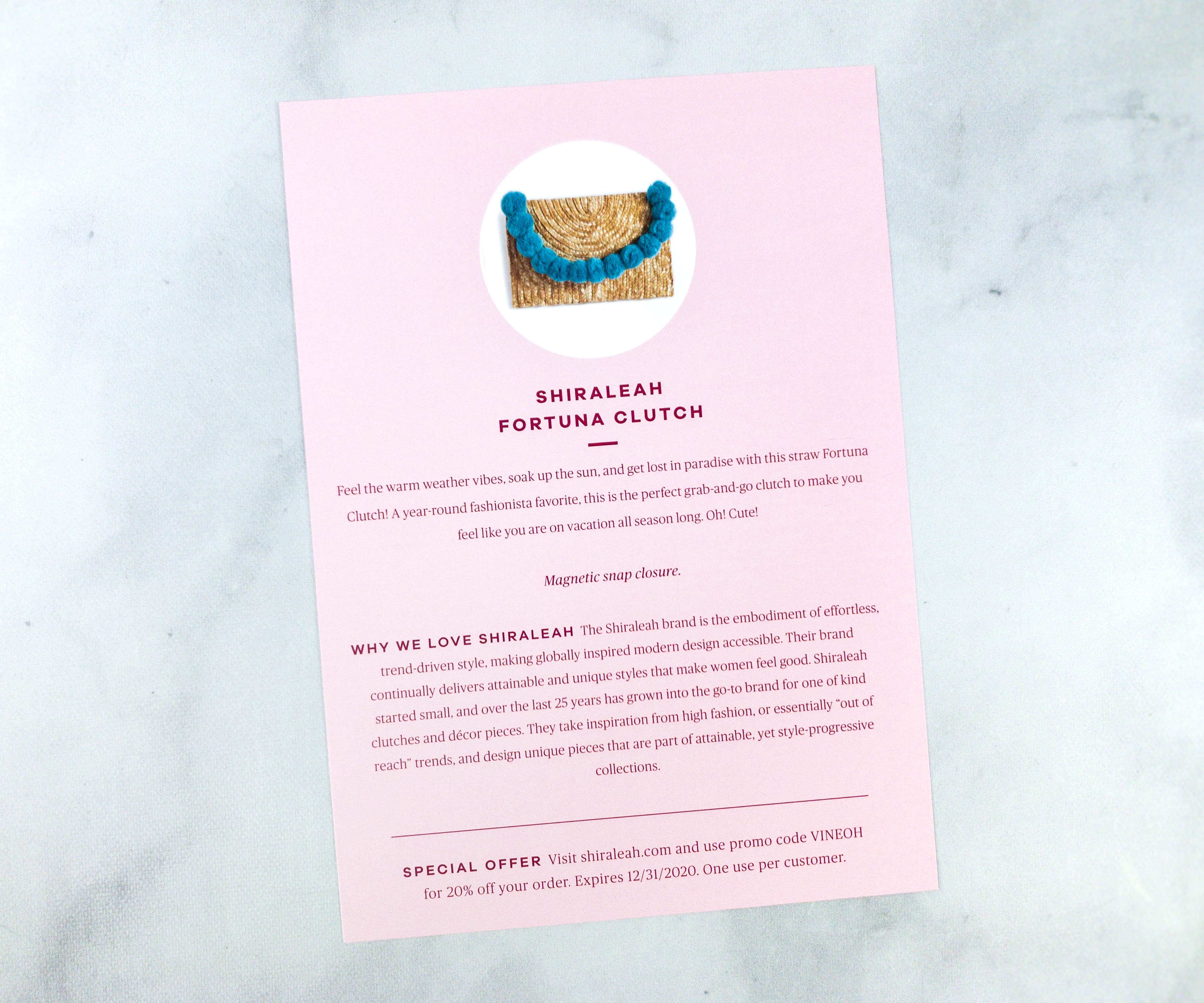 Shiraleah Fortuna Clutch – SIMILAR ($31) This pouch looks very boho chic to me!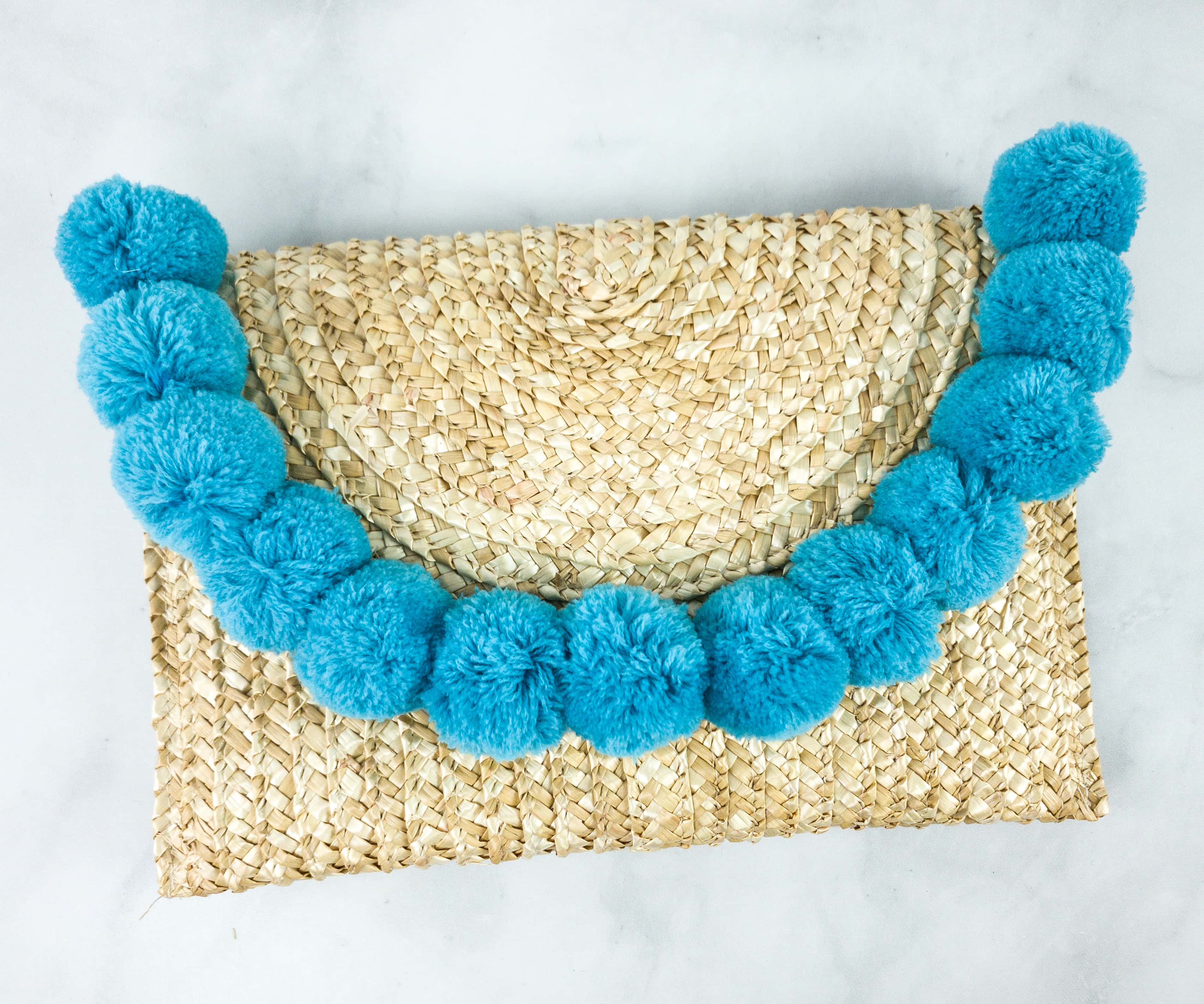 It has little blue pompom balls lining the opening flap which adds character to the whole piece.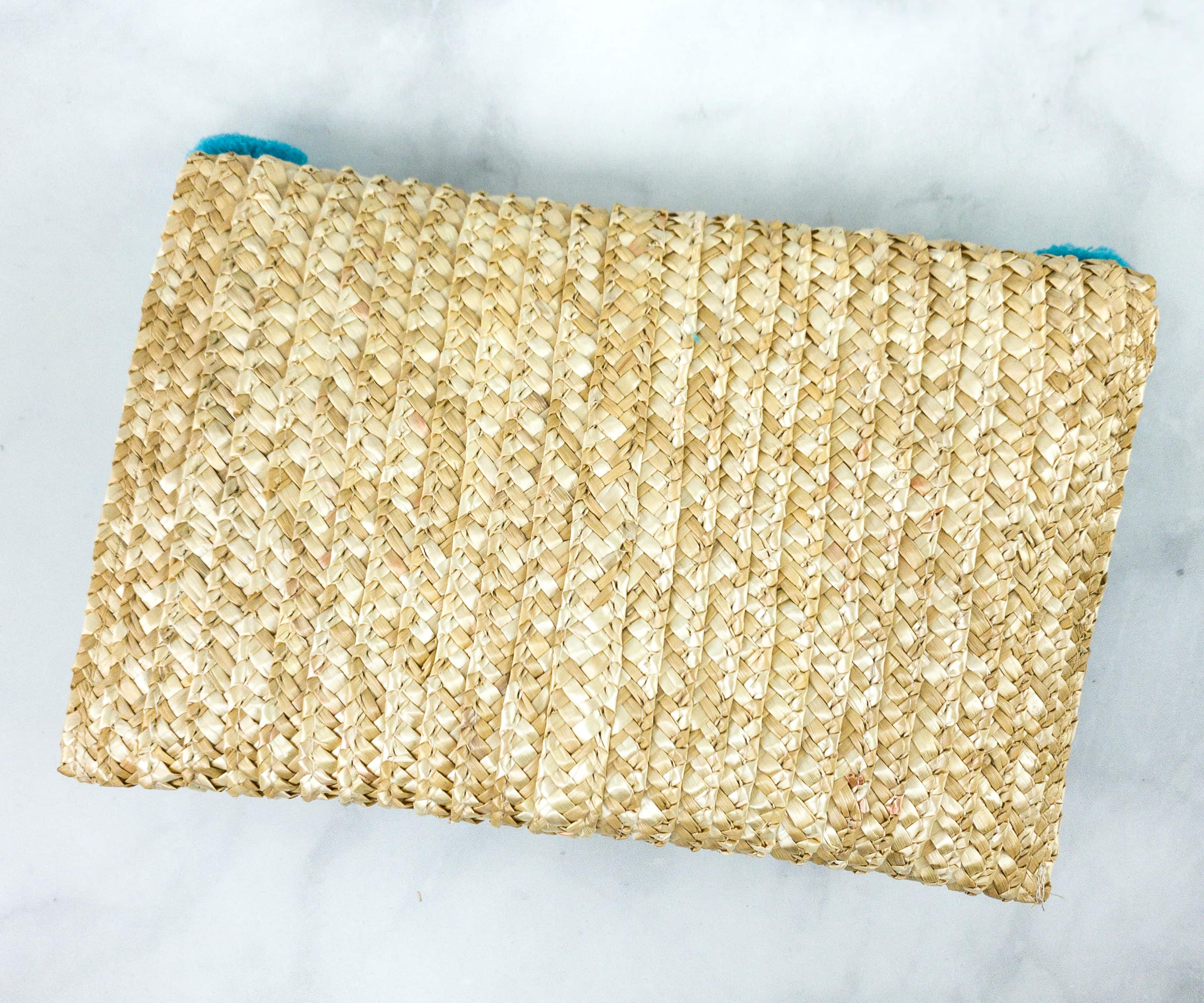 The clutch itself is simple. It is made up of raffia straw.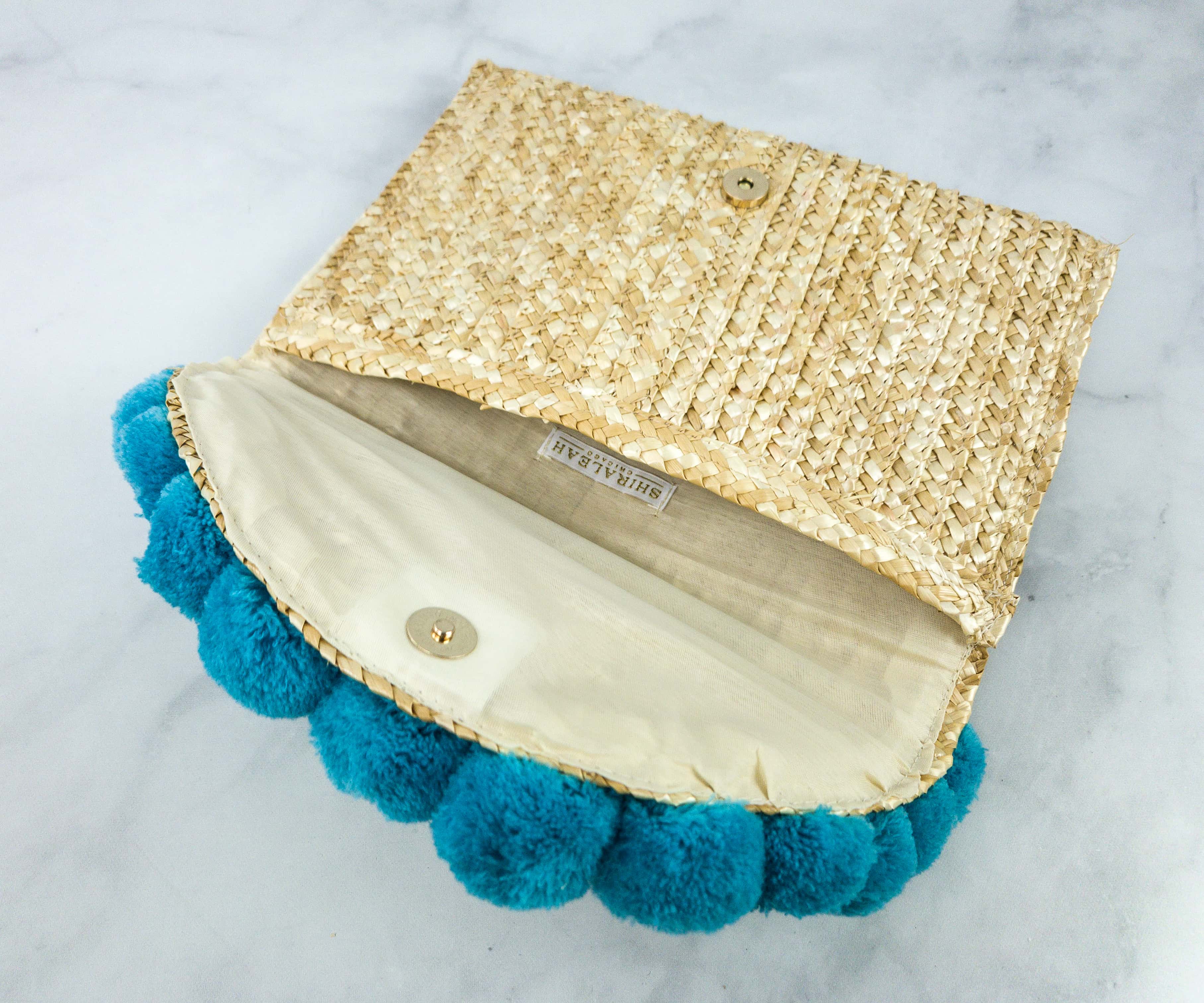 It has a magnetic enclosure so you're sure that the items you keep inside stay safely tucked in!
Fringe Lemon Soap. The soap bar comes in a pretty purple packaging.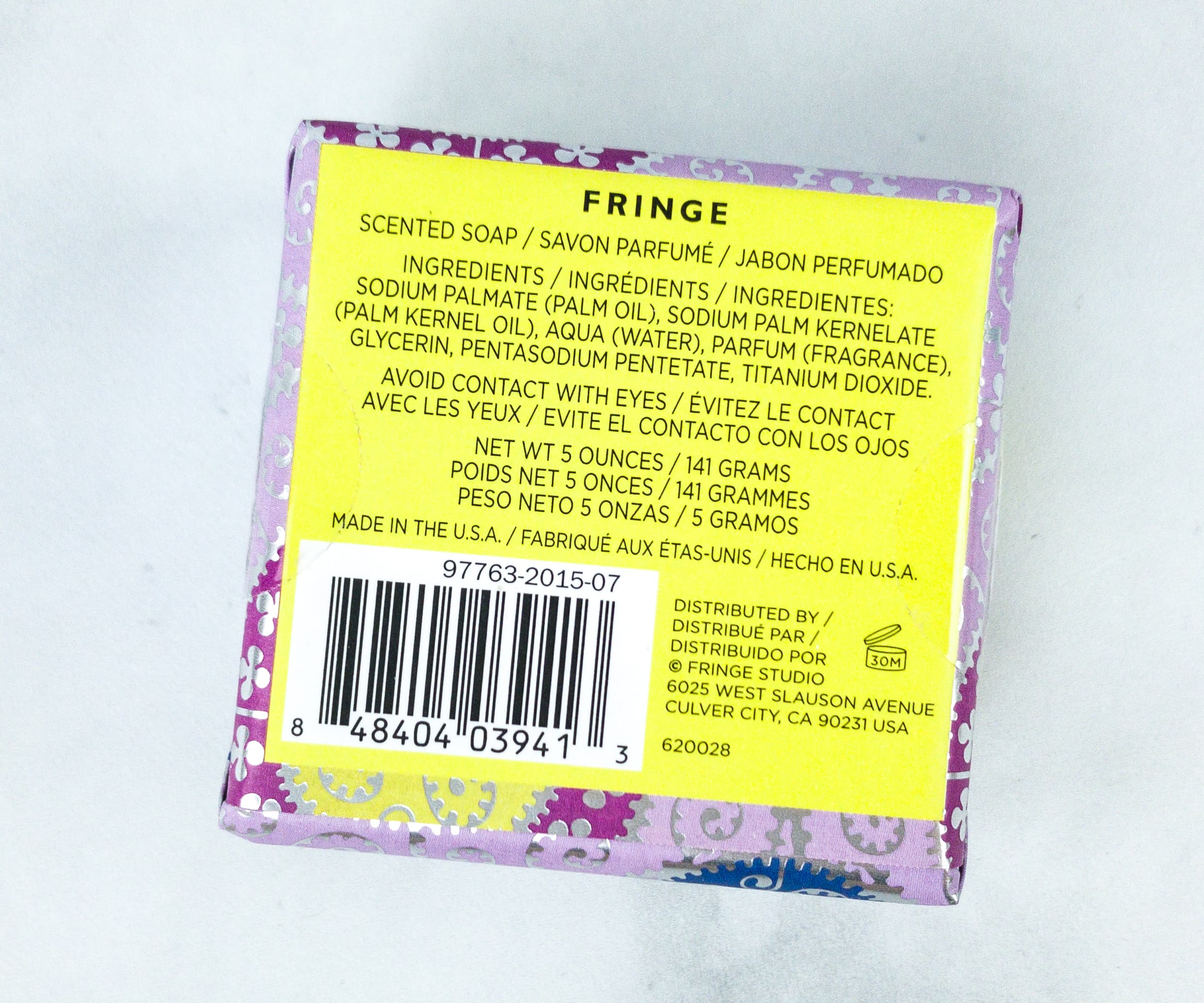 It boasts a citrus fragrance that I really like. The scent is very energizing and I love how it lingers on the skin even after hours of being out and about!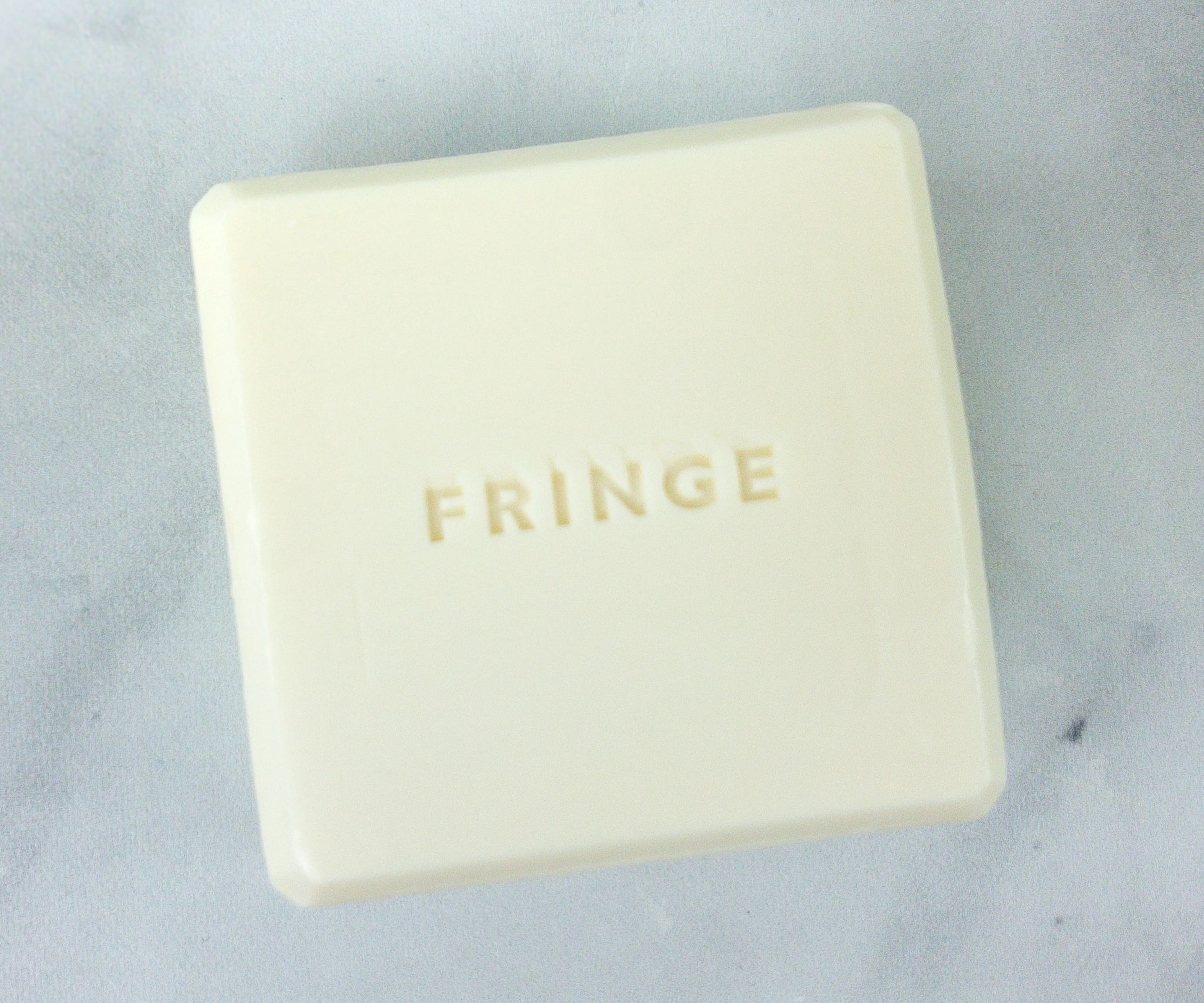 Formulated with palm oil, this soap keeps the skin hydrated by restoring moisture and sealing it in, preventing further dryness! It's also great for sensitive skin!
I got another box full of amazing goodies from Vine Oh! They never fail to make me giddy with excitement as every box they send is full of products that I really enjoy! I really love this month's wine selection, especially that sweet Chenin Blanc! For the goodies, everything was awesome! I got to enjoy the sweet and cheesy popcorn with the wine, and the bath bomb surely gave me an exquisite me-time. I also really liked the soap! Vine Oh! is such an amazing subscription, whether you're getting it for a friend or for yourself!
What did you think of Vine Oh?