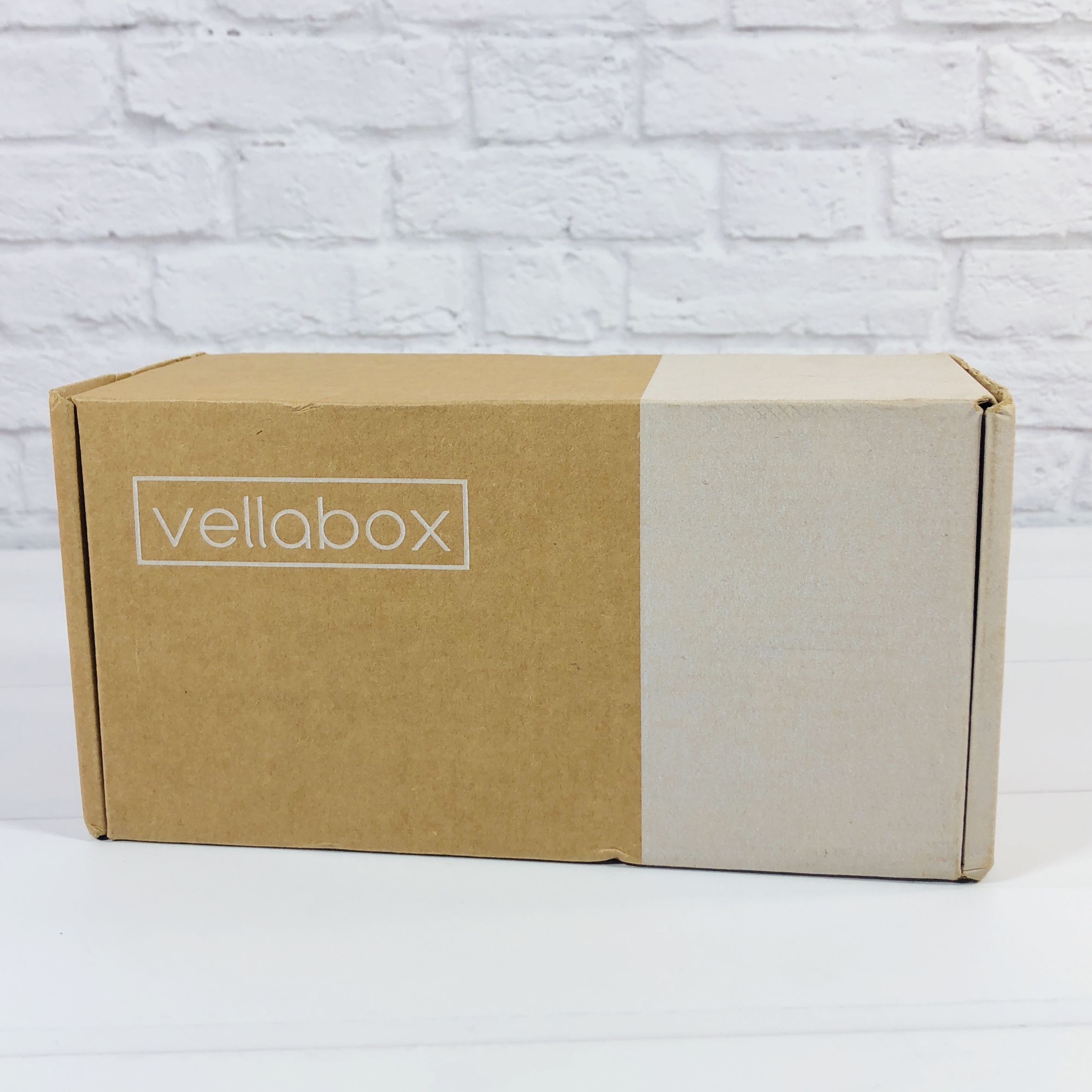 Vellabox is a monthly candle subscription! The candles are always in seasonally inspired scents and are created by the finest American artisans. Each box features a different candle brand. The candles are from small businesses and are made of all-natural wax, cotton braided wicks, and premium fragrance oils. Vellabox also includes a surprise lifestyle gift in every box!
Our Vellabox Candle Curator handpicks the candles and guarantees that they are always all-natural, seasonally relevant and bound to bring warmth and joy to any space. The surprise gift in your box each month is chosen carefully to align with our team's health-centric values.
DEAL: Get $5 off any purchase! Use coupon code HELLOSUB5.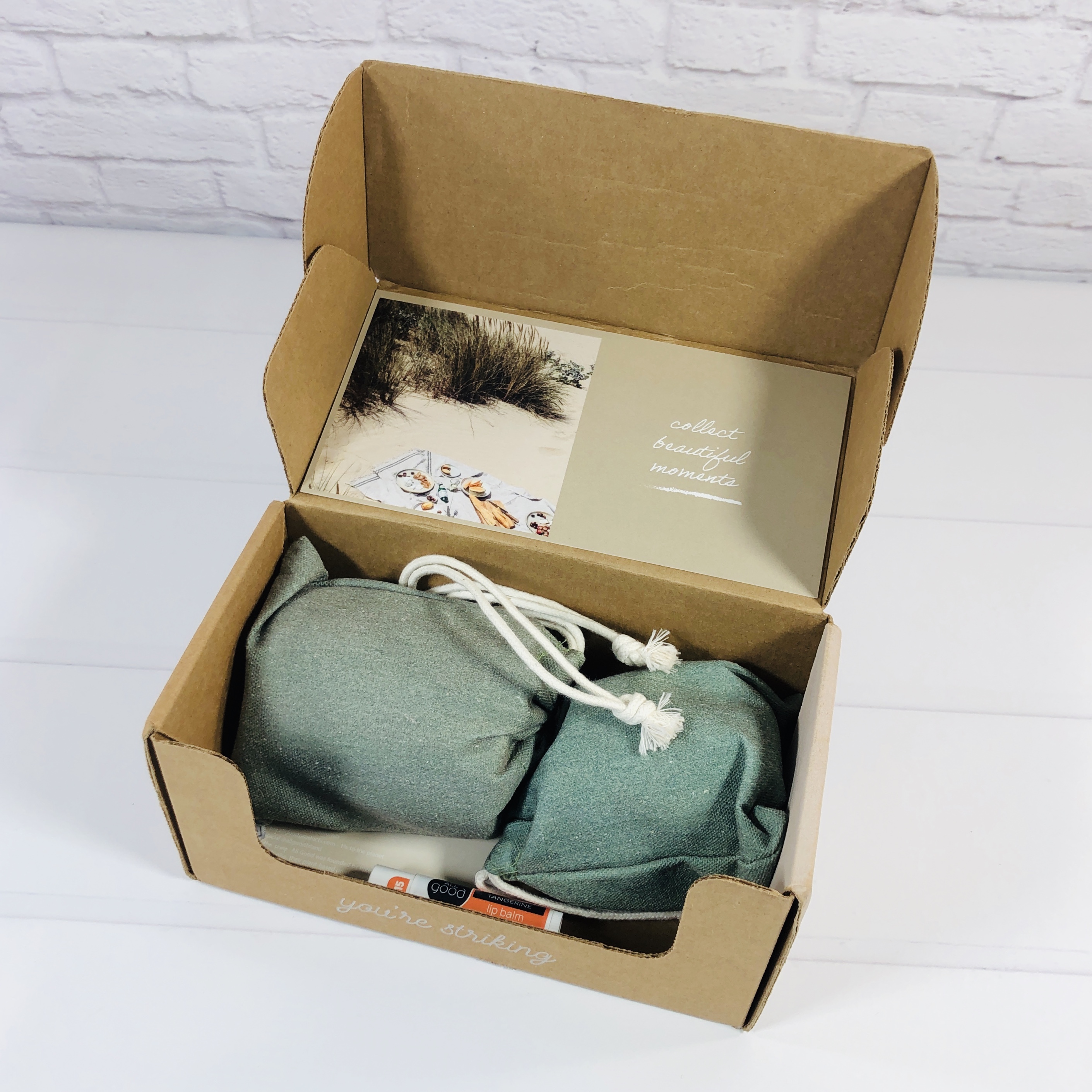 The first thing you need to do is decide which level you prefer. You can choose from The Lucerna Box ($10) which includes a 4 oz candle monthly, The Ignis Box ($20) with an 8 oz candle monthly, and The Vivere Box ($30) with an 8oz + a 4 oz candle monthly. Each level receives the bonus lifestyle gift, and the biggest box includes free shipping.
I am reviewing The Vivere Box.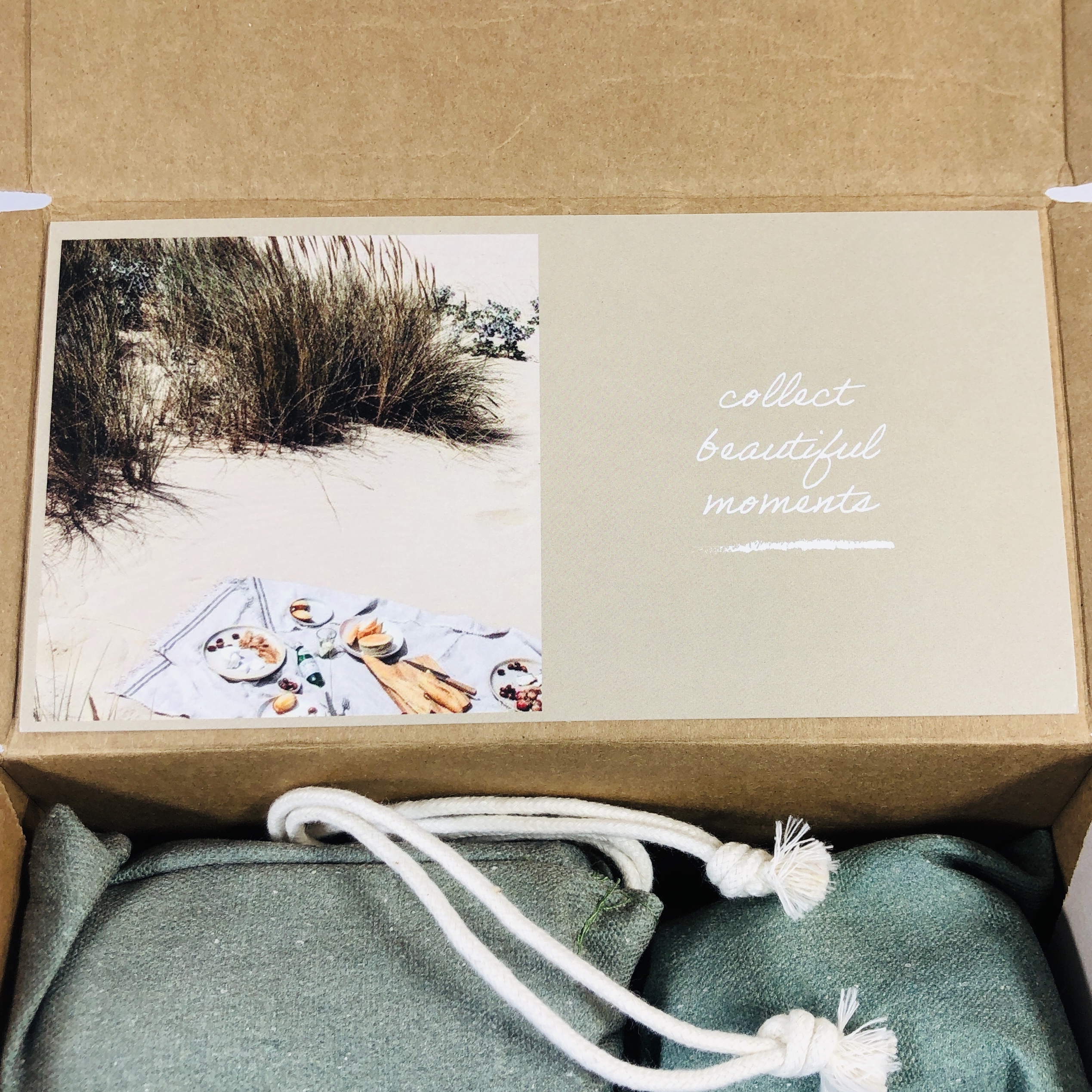 The inside of the box had a pretty card, it would make for nice desk art too.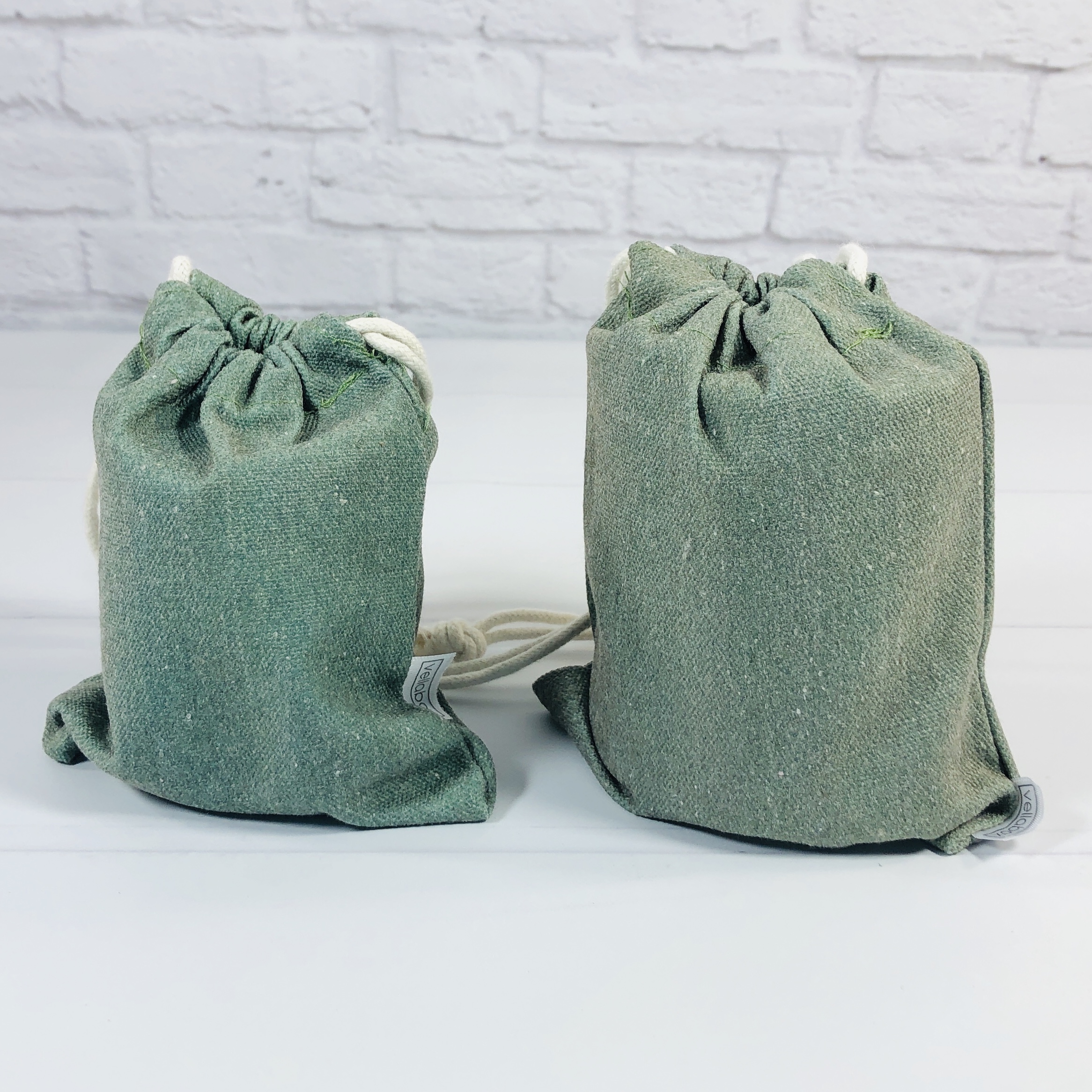 Both of my candles were in reusable drawstring bags.
I found a card inside that discussed the featured brands for June!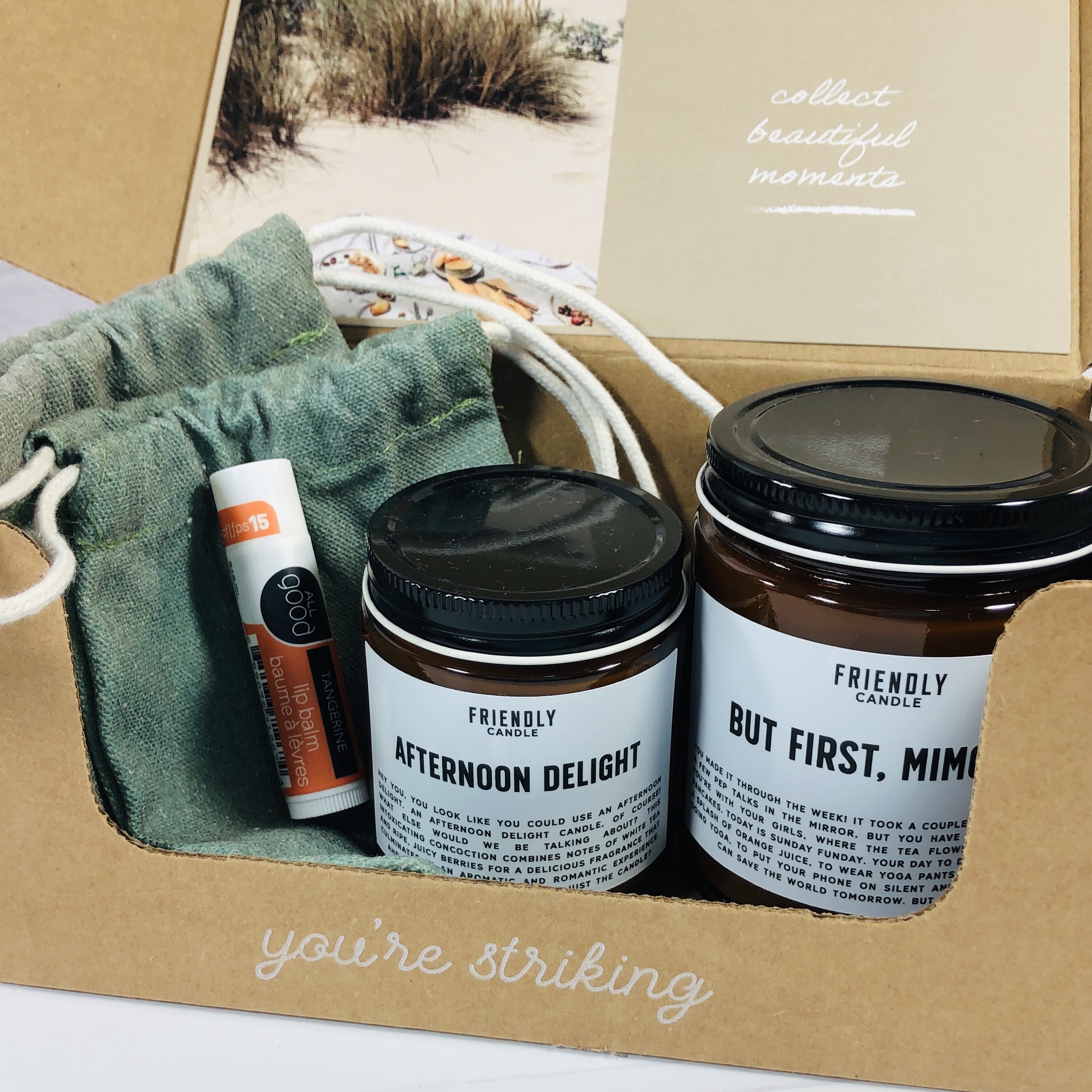 Everything in my box! I'm reviewing The Vivere Box and it includes one 8 oz candle (the same size from The Ignis Box) and one 4 oz candle (the same size from The Lucerna Box), plus a bonus item.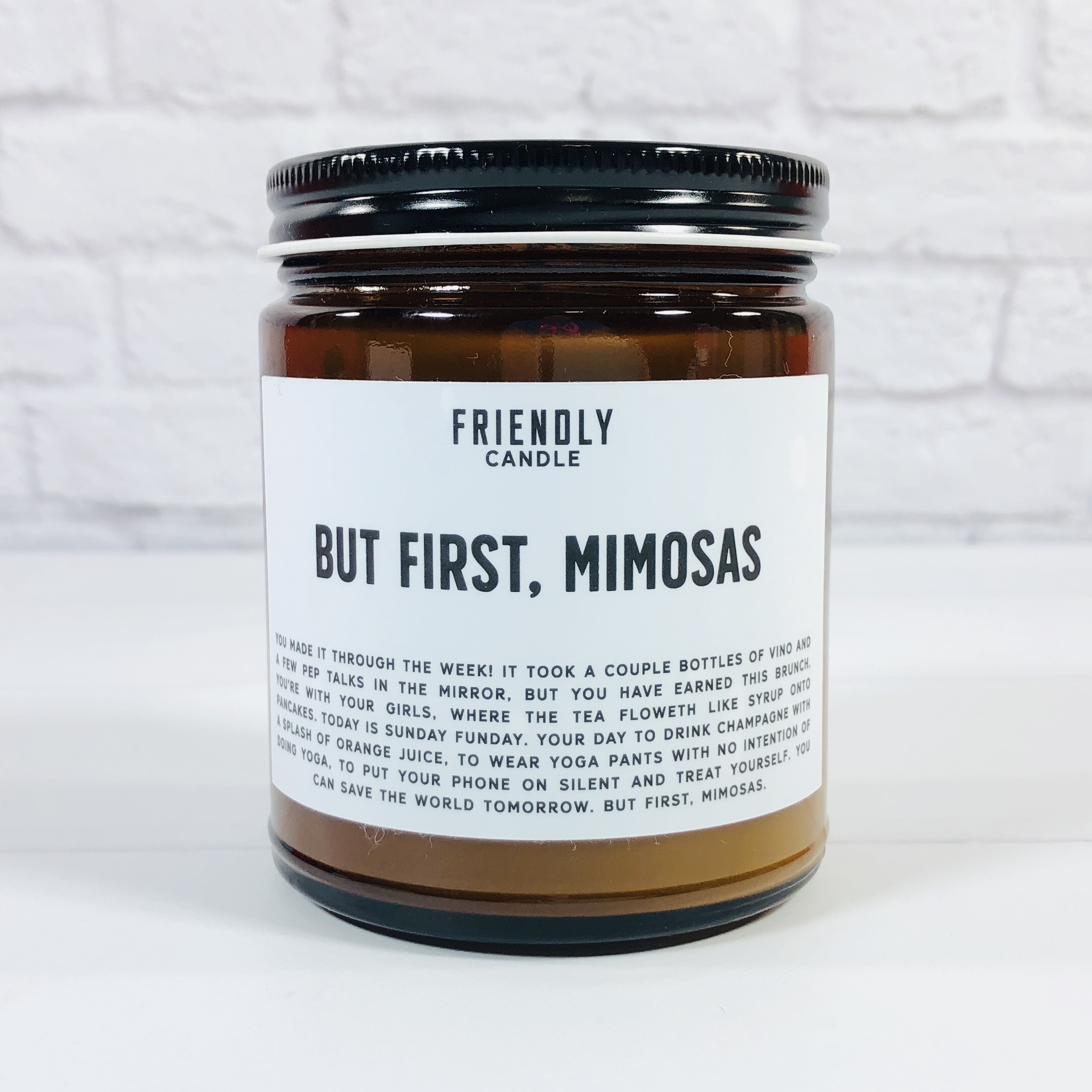 Friendly Candle But First, Mimosas is our 8 ounce offering and I'm just going to go ahead and put the words from the front of the jar right here, because it is too true:
You made it through the week! It took a couple bottles of vino and a few pep talks in the mirror. But you have earned this brunch. You're with your girls, where the tea floweth like syrup onto pancakes. Today is Sunday Funday. Your day to drink champagne with a splash of orange juice, to wear yoga pants with no intention of doing yoga, to put your phone on silent and treat yourself. You can save the world tomorrow. But first, mimosas.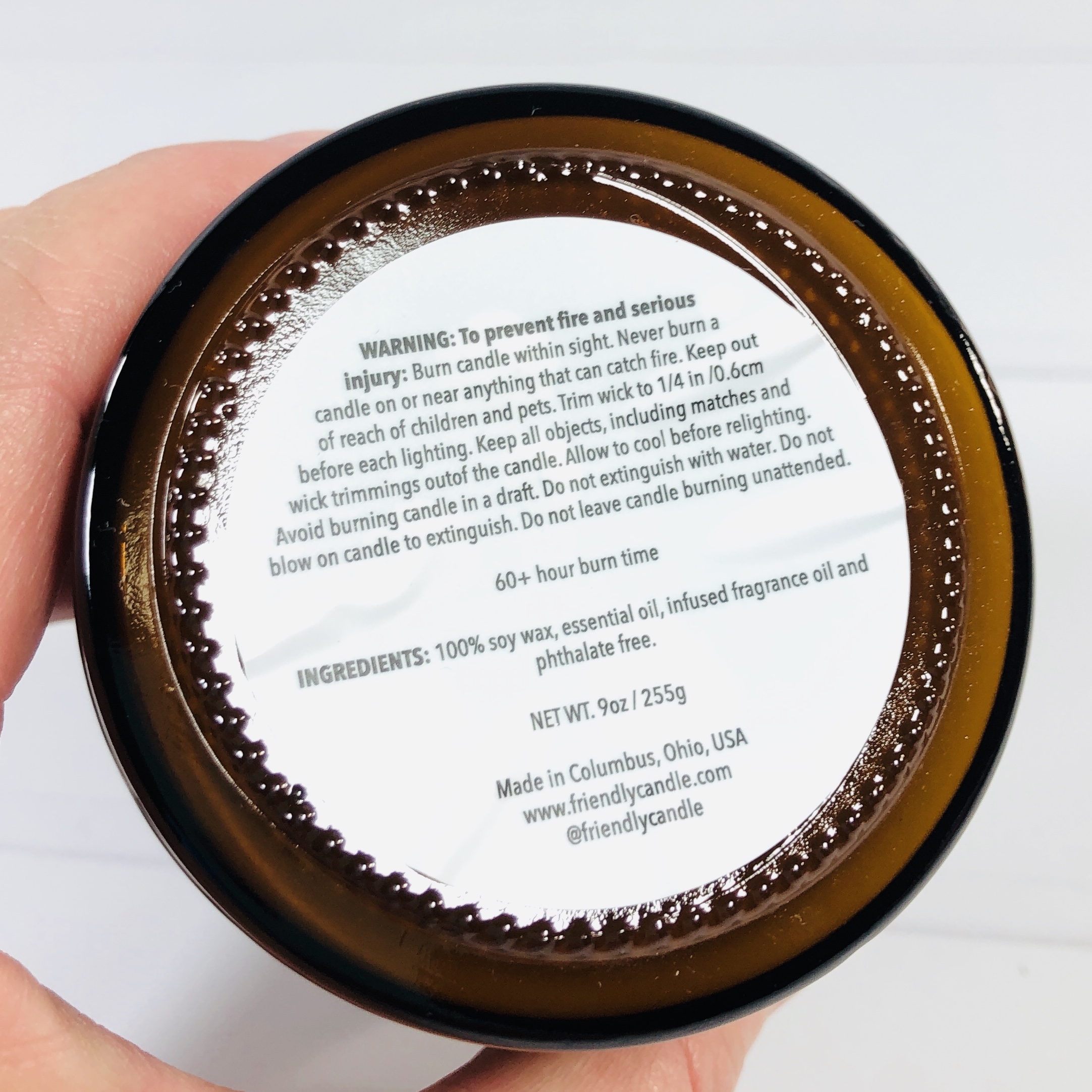 Well, well, the bottom says this is a 9 ounce candle so bonus! It has a 60 hour burn time and is made of soy wax, essential oils, and phthalate-free fragrance. Make sure to stay close by when burning candles and watch out for little ones of the 2- or 4-legged variety.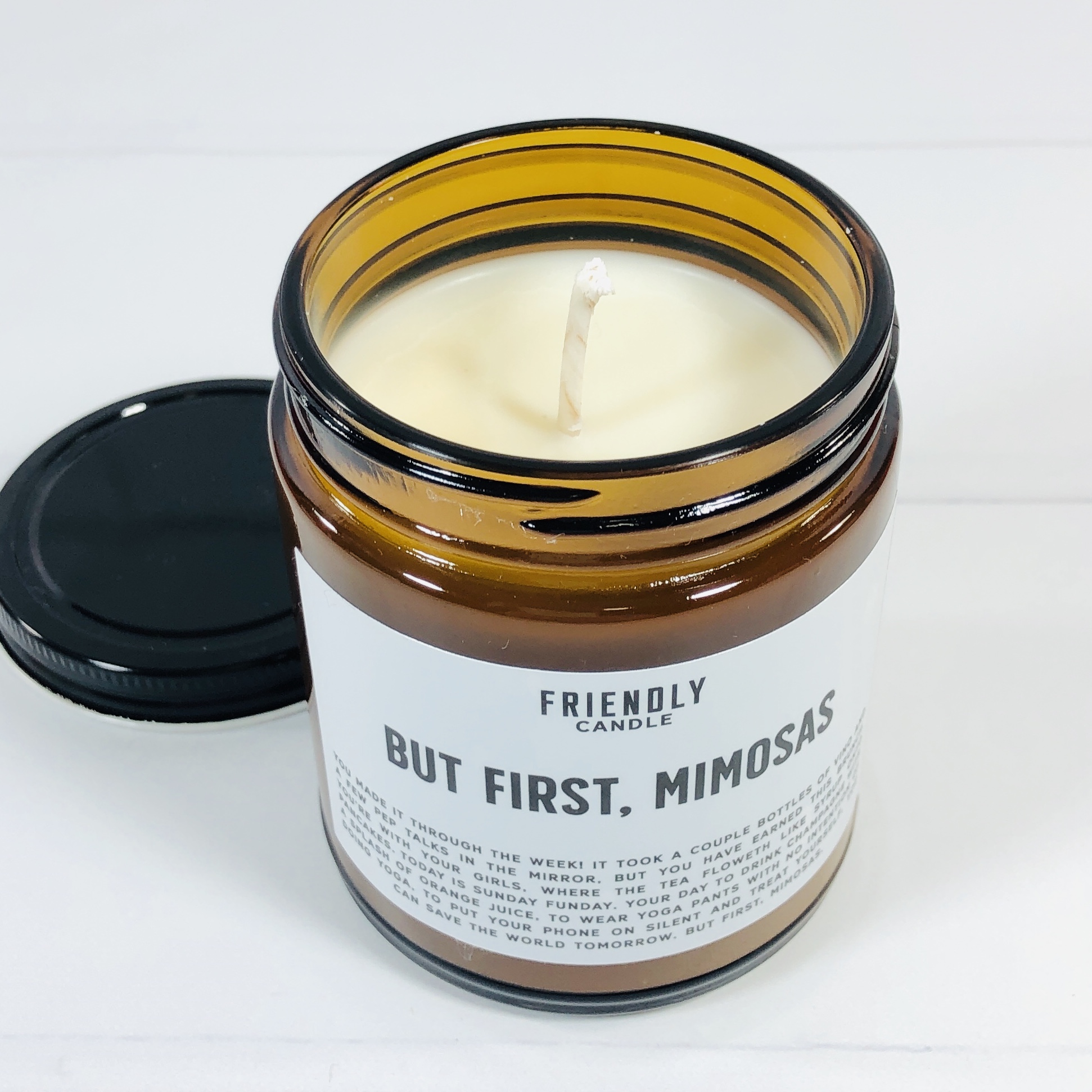 I loved the fruity fragrance of this candle, which is perfect for summer! Scent notes include mandarin and mimosa but I think it smells like ripe fruit and something sweet and smokey. I sat on the couch while this one burned and it was noticeable but not overwhelming, perfect for relaxing while watching TV.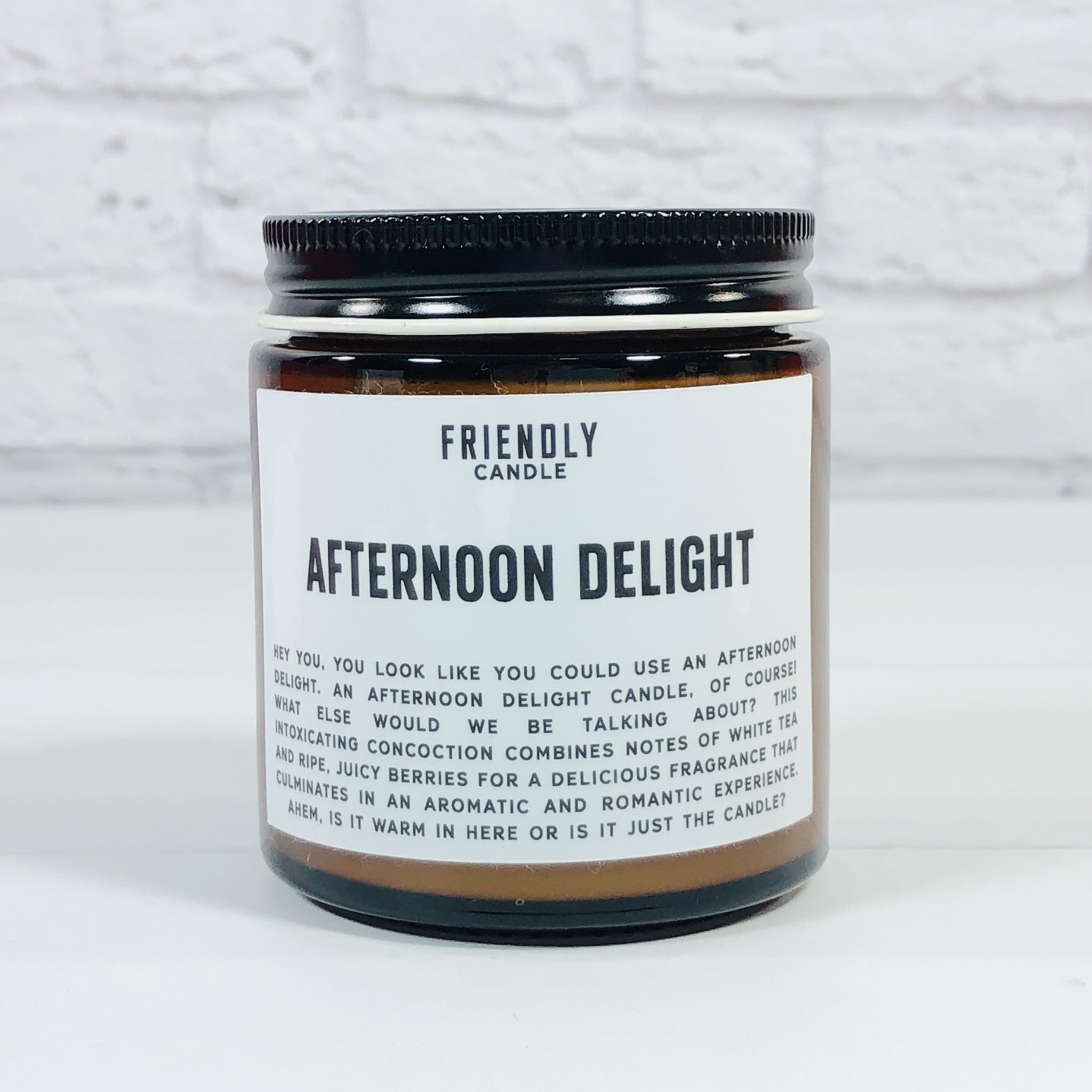 Friendly Candle Afternoon Delight I had to laugh when I saw the name of this candle because this was the title of a song I would hear on the radio when I was a kid, but didn't know the meaning of it until much, much later.
Hey you, you look like you could use an afternoon delight. An Afternoon Delight candle, of course! What else would we be talking about? This intoxicating concoction combines notes of white tea and ripe, juicy berries for a delicious fragrance that culminates in an aromatic and romantic experience. Ahem, is it warm in here or is it just the candle?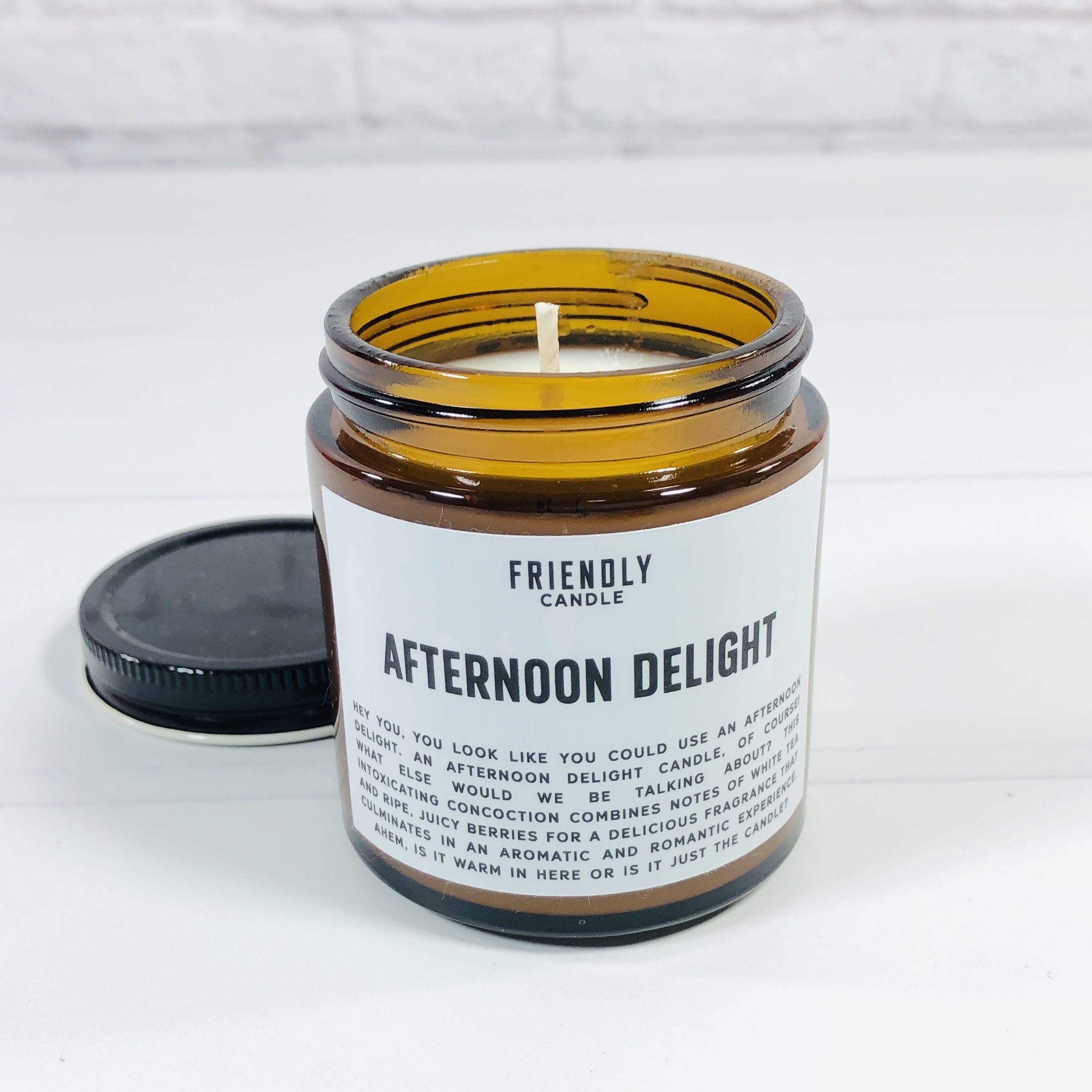 This 4 ounce candle is supposed to burn for around 30 hours and while I didn't think it was as strong as the larger candle, it might get stronger as I keep burning it down. The cold scent is sweet and has notes of berries and white tea. Don't worry about the name, you can burn it any time of day (or night). Sky rockets optional.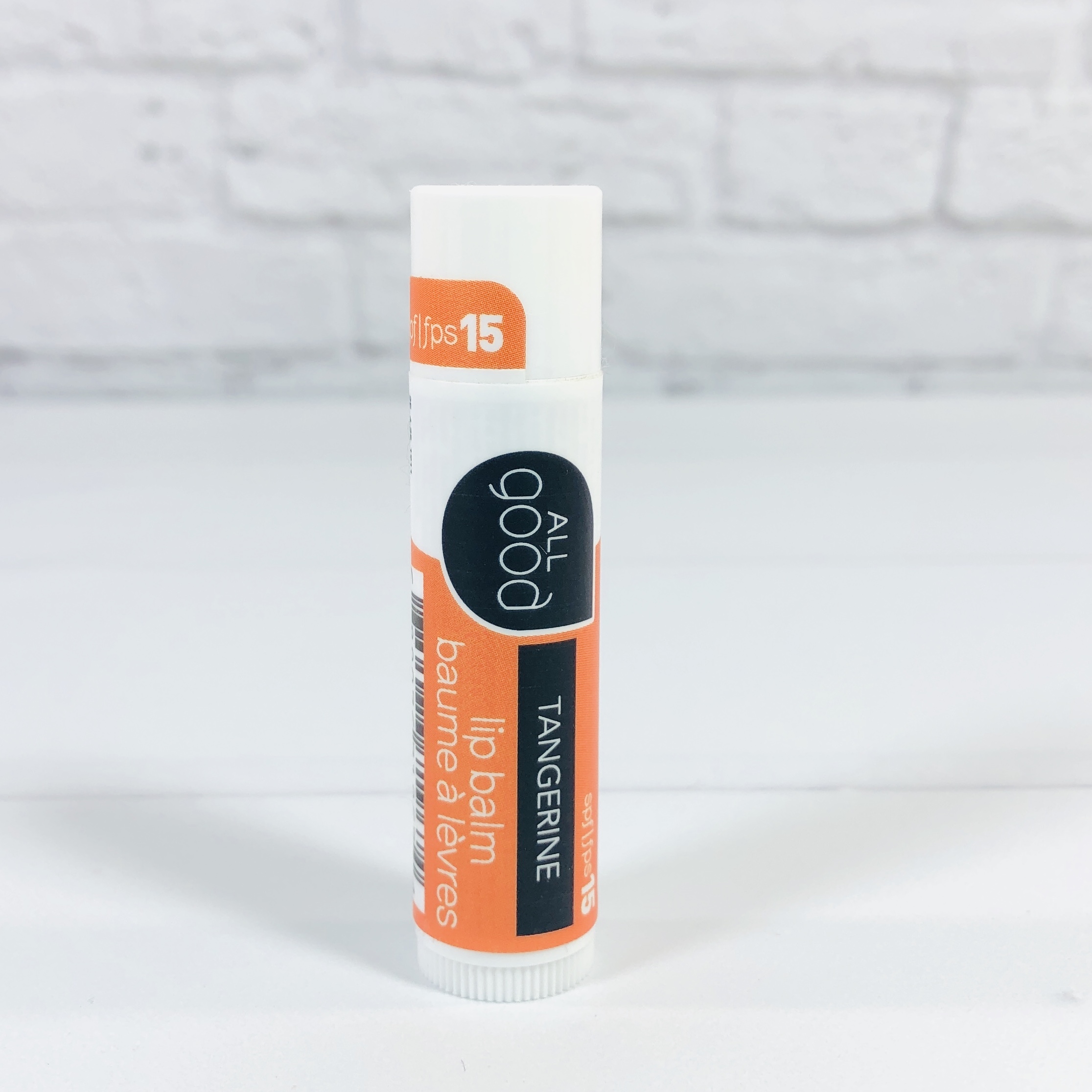 All Good Lip Balm in Tangerine ($7.30) The bonus item for June is this all-natural lip balm that has zinc oxide to provide SPF 15 protection. NOTE: Flavors may vary, as the card didn't specify.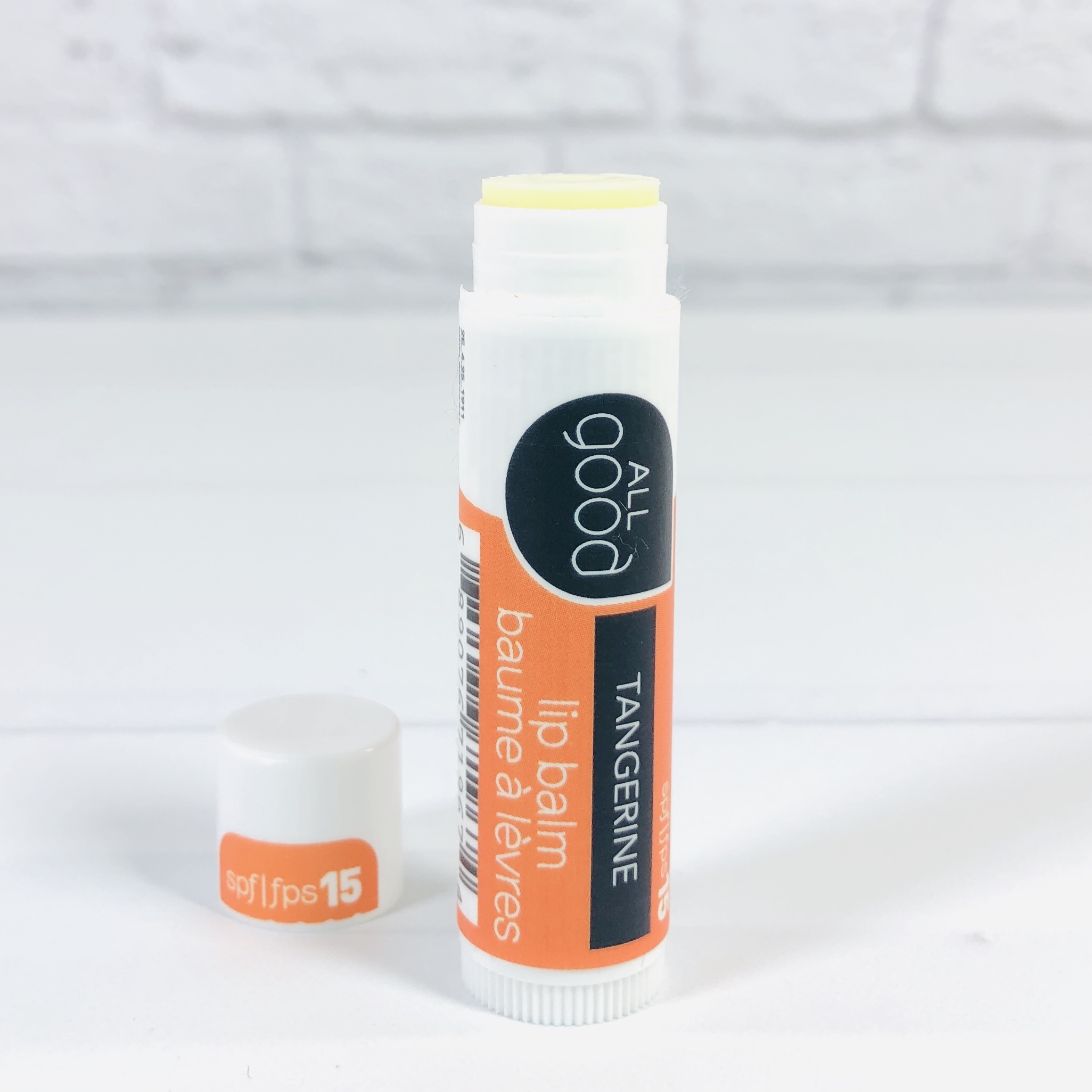 The tangerine flavor is fruity and sweet and guess what, I wouldn't mind having a candle with this scent! It glided on smoothly and left my lips soft and protected.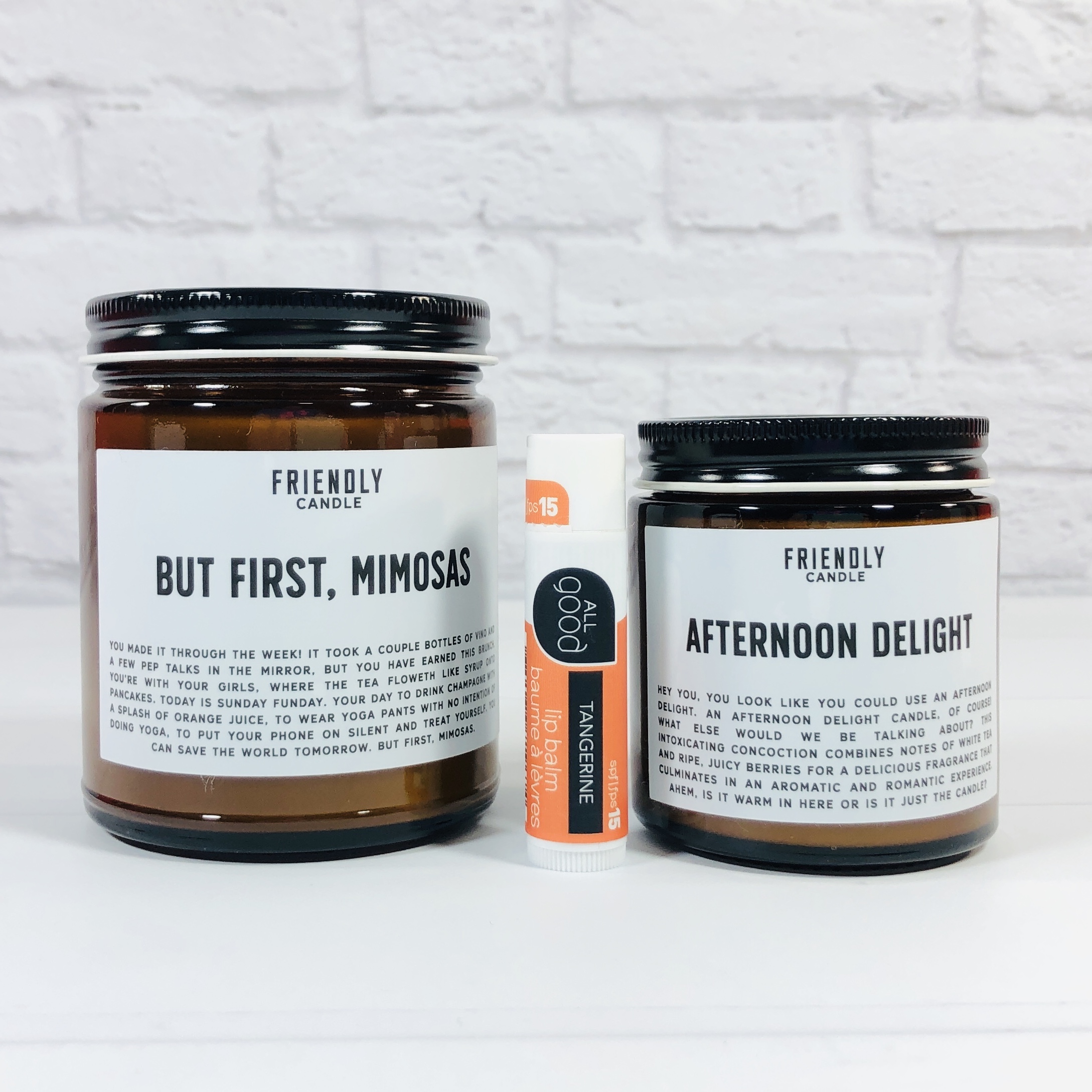 VellaBox has quickly become one of my favorite subscription boxes! I love the candles and they always look simple, smell pretty, and seem perfect for any decor. The Friendly candles had cute names and the fragrances were lovely – light and fruity and perfect for the season! The lip balm was a cool bonus, and even the canvas bags that the candles came in can be reused to hold trinkets or you can put them to use organizing a purse or jewelry drawer.
What do you think of this box?