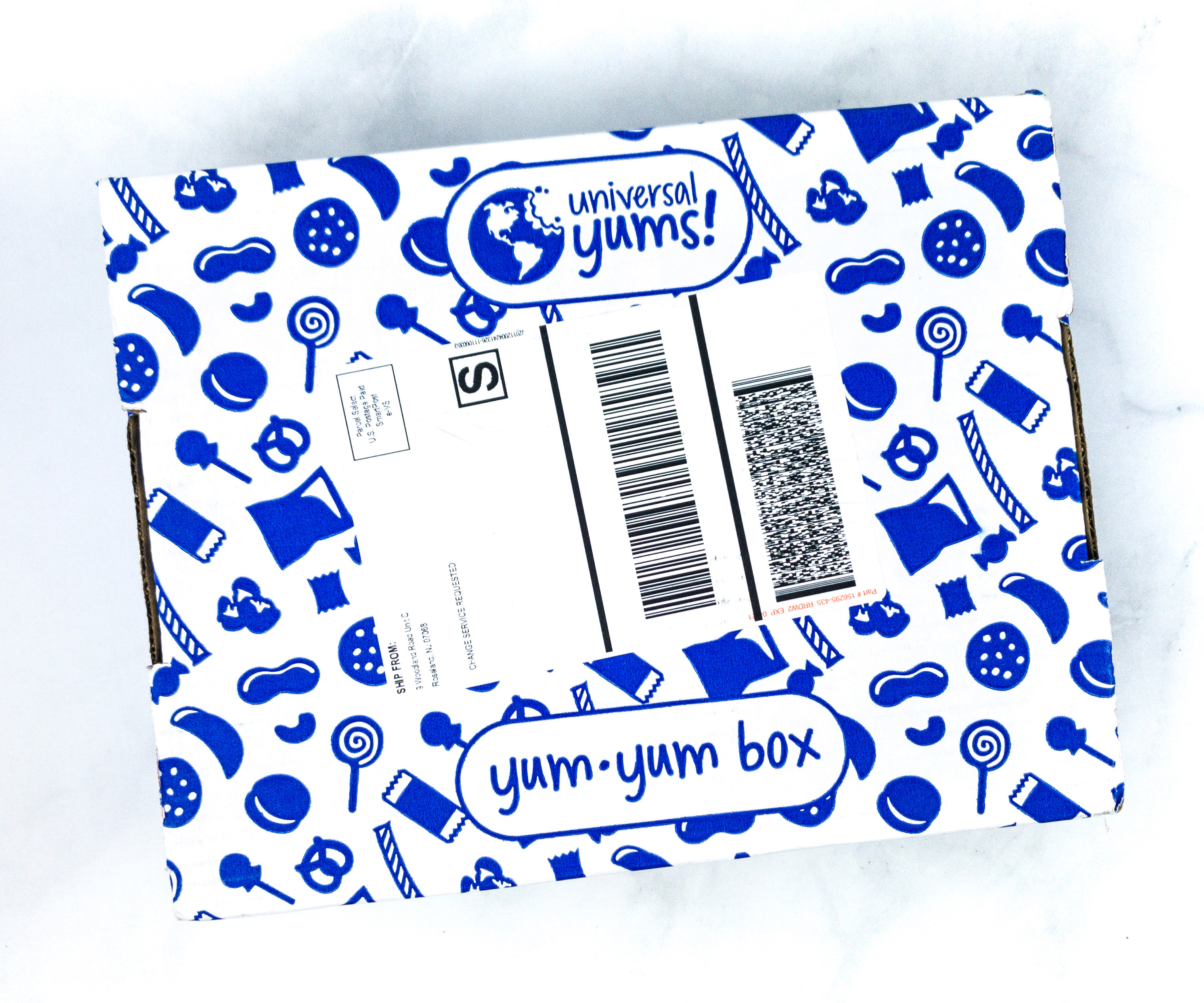 Universal Yums is an international snack subscription! Featuring a new country each month, the box contains unique and delicious snacks that are either difficult or impossible to find in US stores. They promise to always include a variety of sweet and savory snacks, all with the featured country's distinct flavors and spices. Each box also comes with an interactive guidebook containing an explanation of why they chose each snack, as well as trivia, games, recipes, and other cultural features!
There are three available box sizes:
Yum Box – 6+ snacks plus a 12-page booklet for $14 a month
Yum Yum – 12+ snacks plus a 16-page booklet and other bonus content for $25 a month
Super Yum Box – 20+ snacks plus a 20-page booklet and other bonus content for $39 a month
This is the review of the Yum Yum box!
DEAL: Save 10% on a 6+months Universal Yums subscription!! No coupon code needed, just use this link to sign up!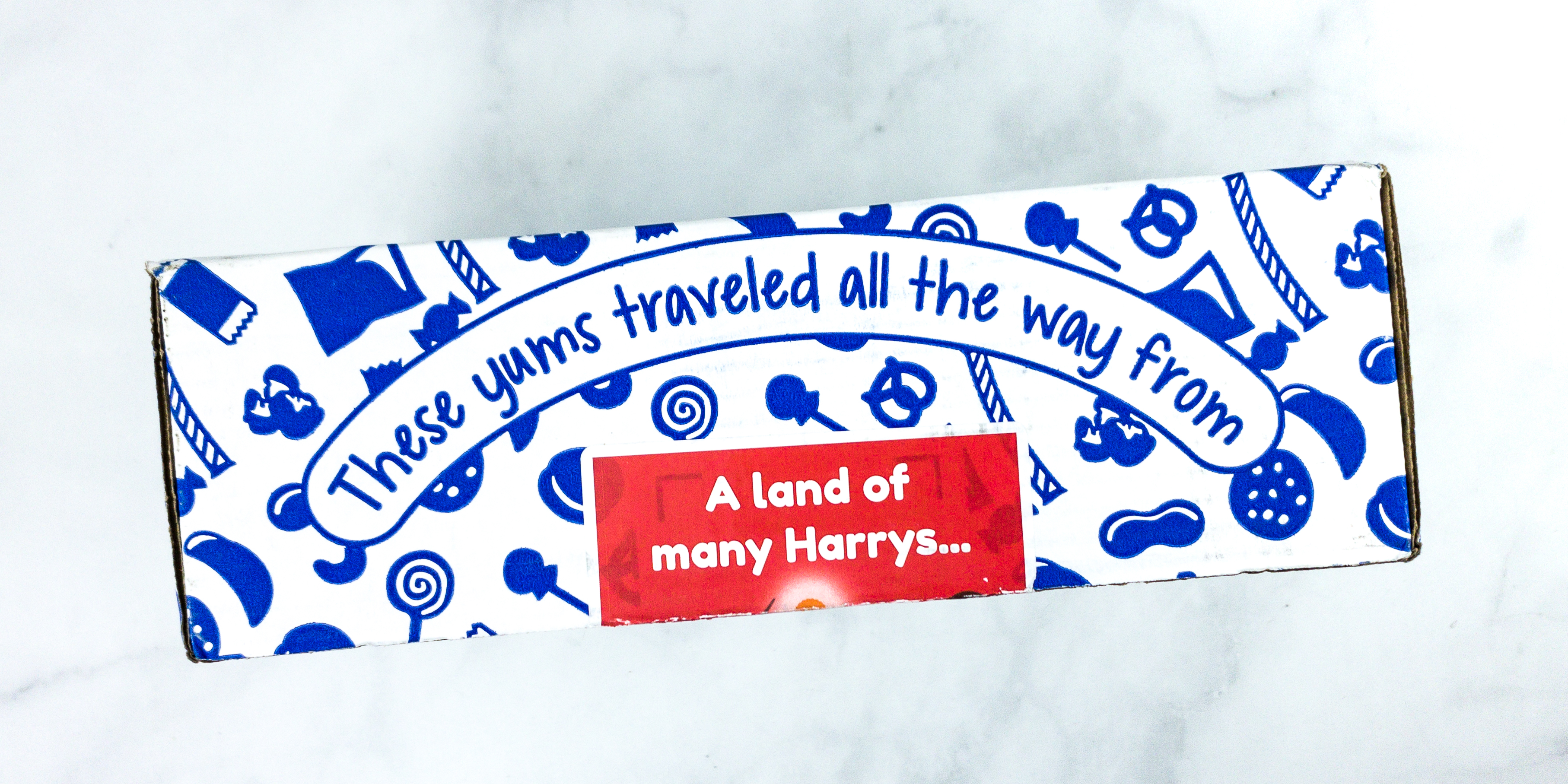 The sticker seal usually gives us a hint about the featured place.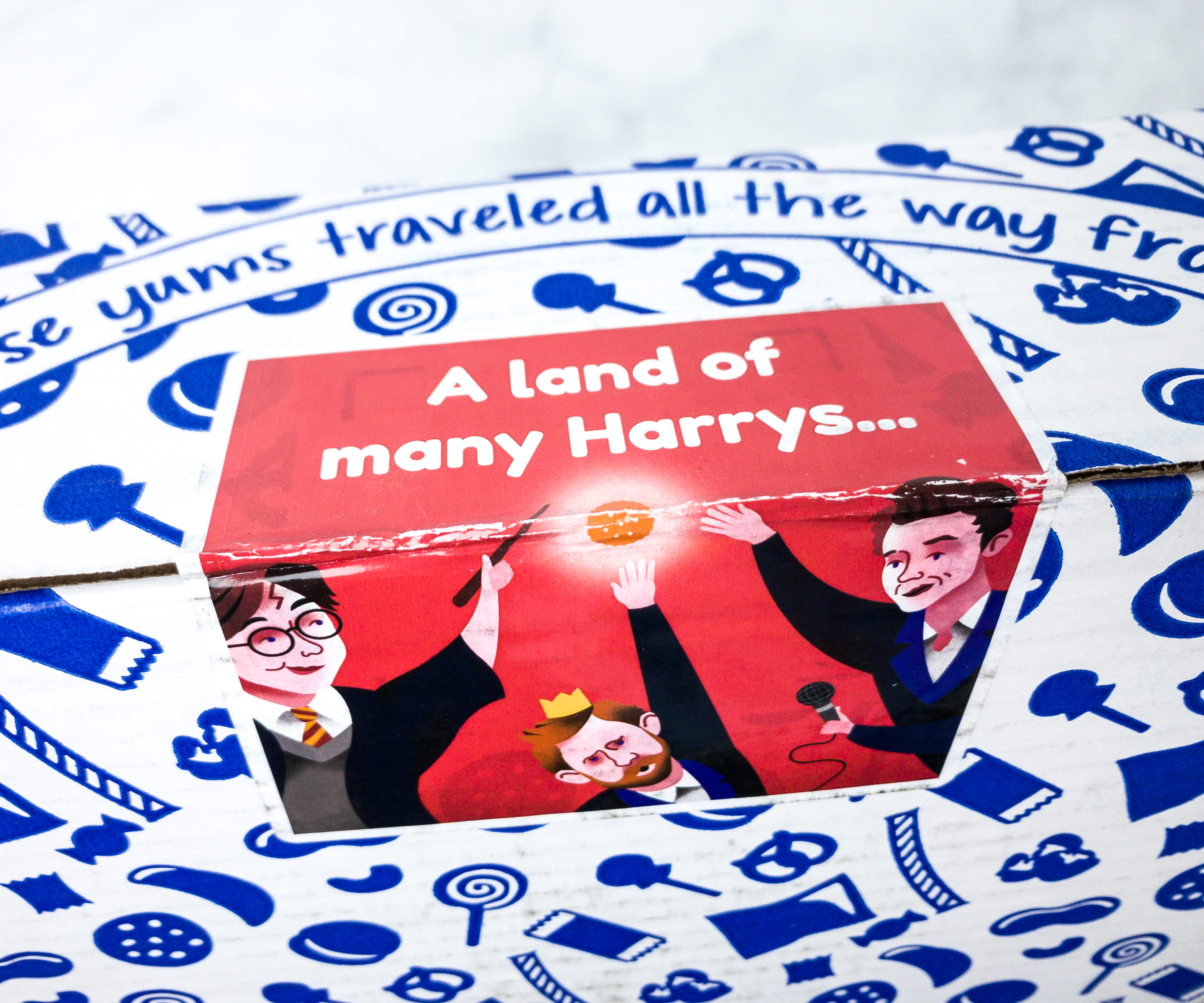 The sticker says that this month's featured place is "A land of many Harry's"!
The featured place this month is the UNITED KINGDOM!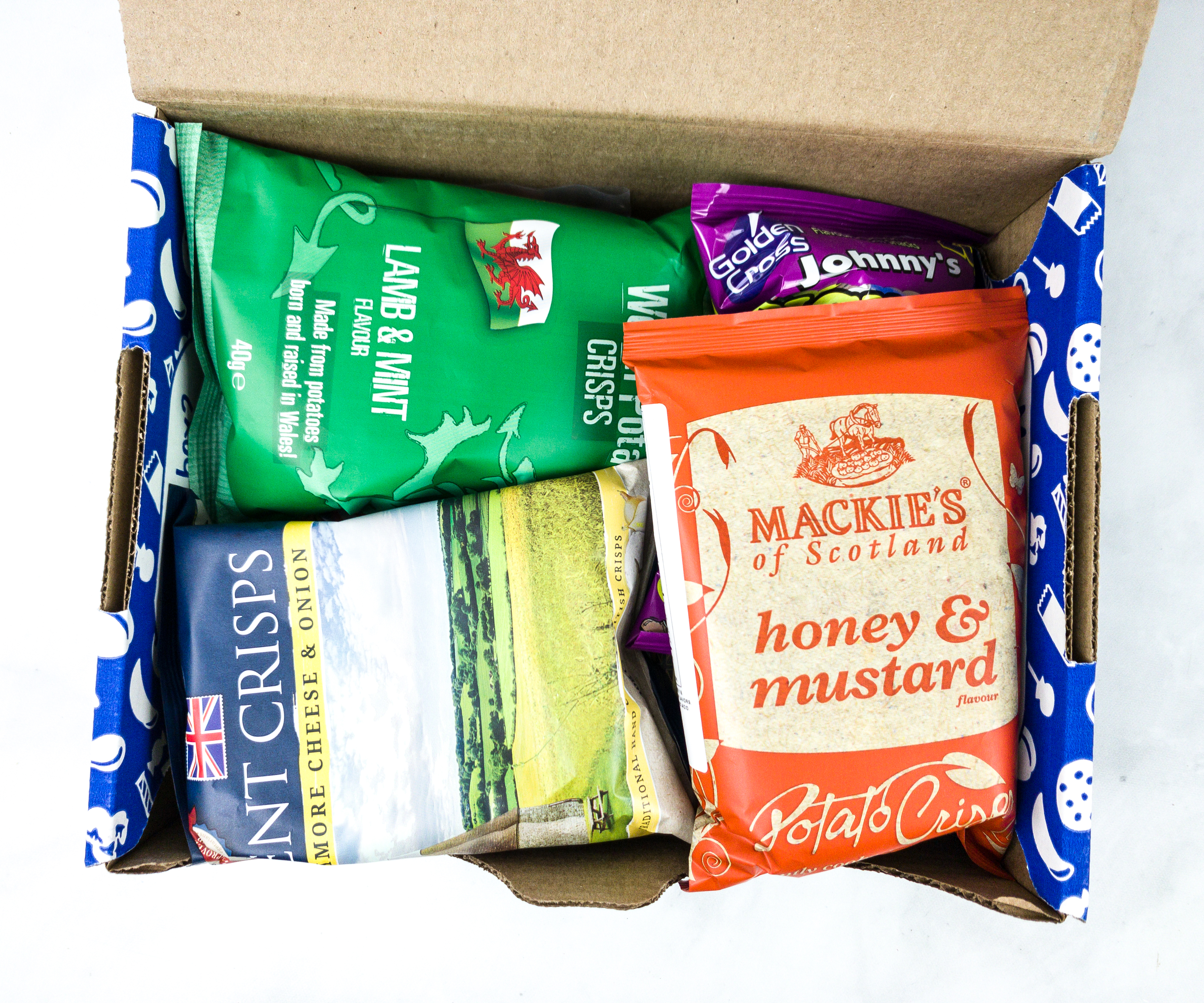 The box is full to the brim!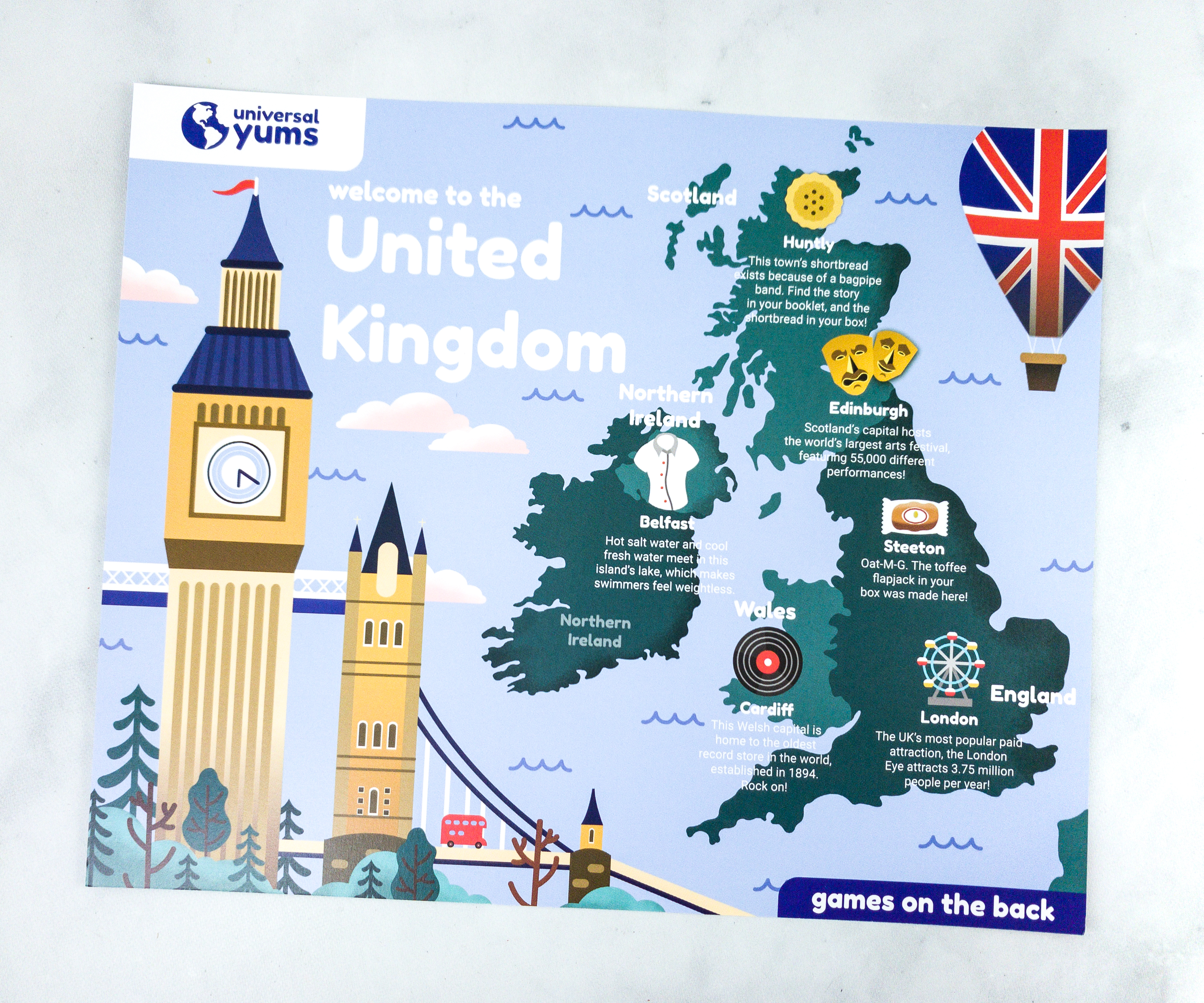 This colorful map shows an illustration of the UK. It gives us a brief overview of the country.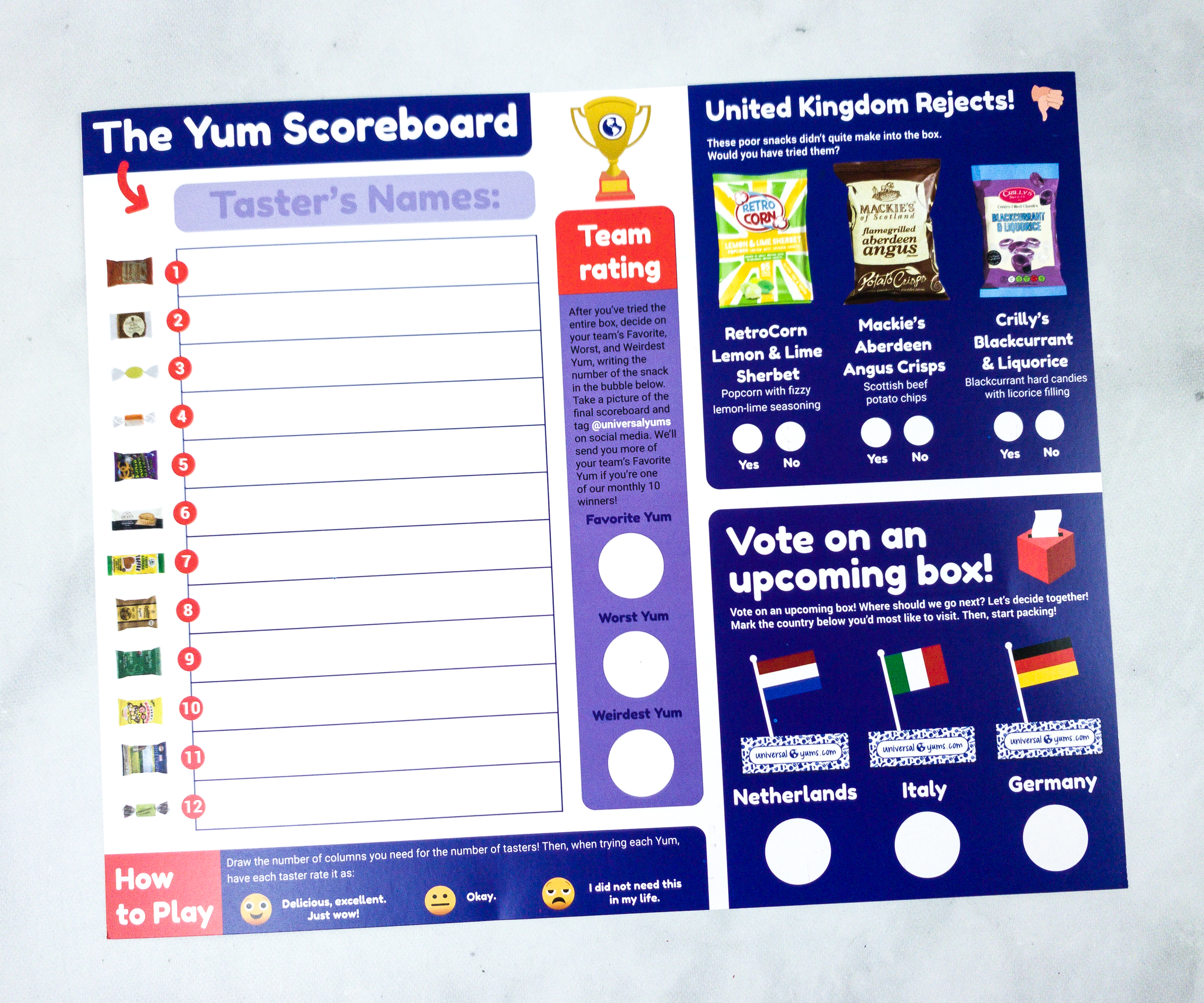 There's a sheet for The Official Yum Awards, where you can rate the snacks!
Aside from the sheet, we also got an awesome booklet!
At the back, we get to see items that are available in The Yum Shop!
Inside the booklet, there are more details about the United Kingdom like fun facts and tourist spots. There is even a recipe for their classic Cottage Pie!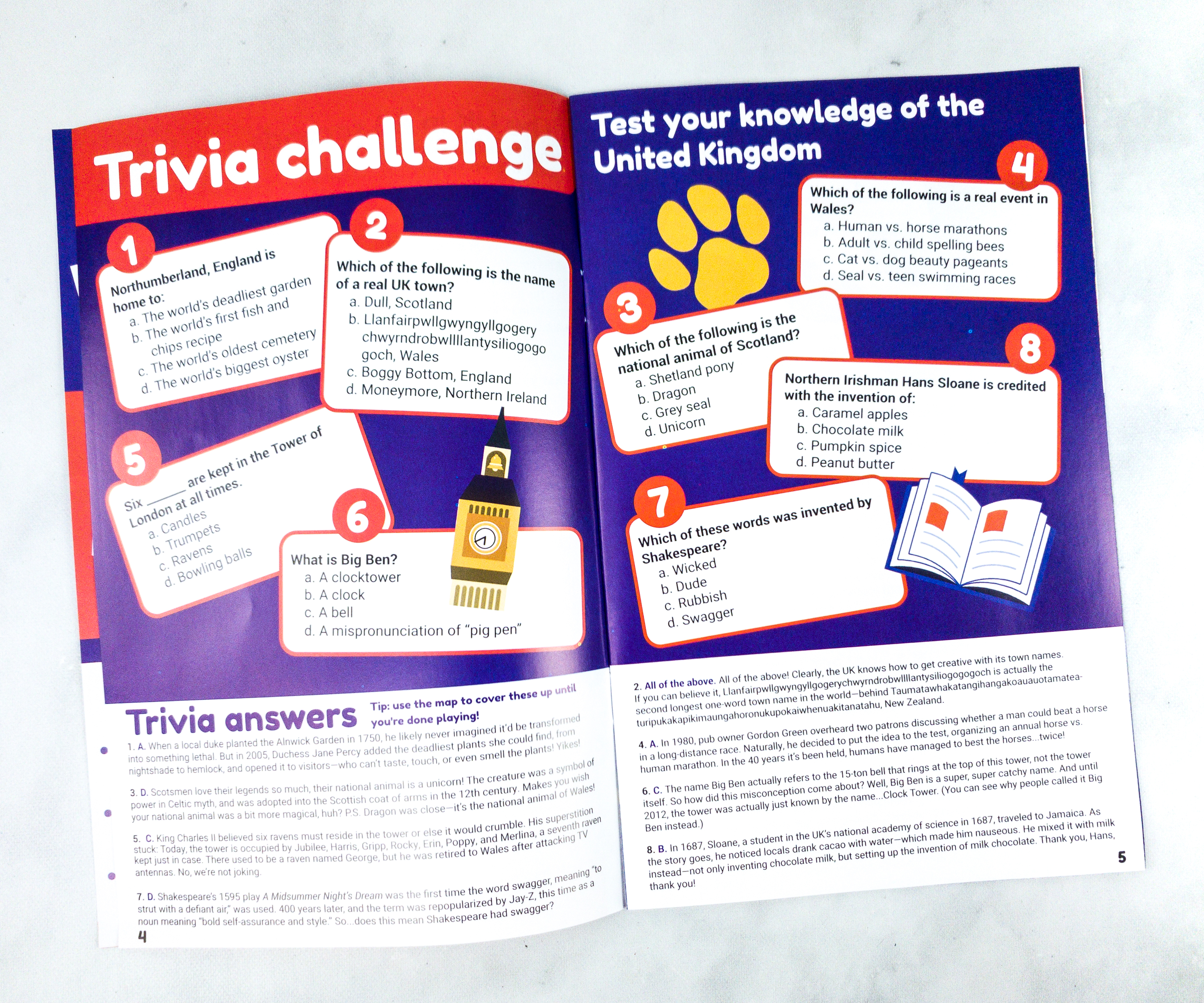 There is also a trivia page where you can test your knowledge about this beautiful place!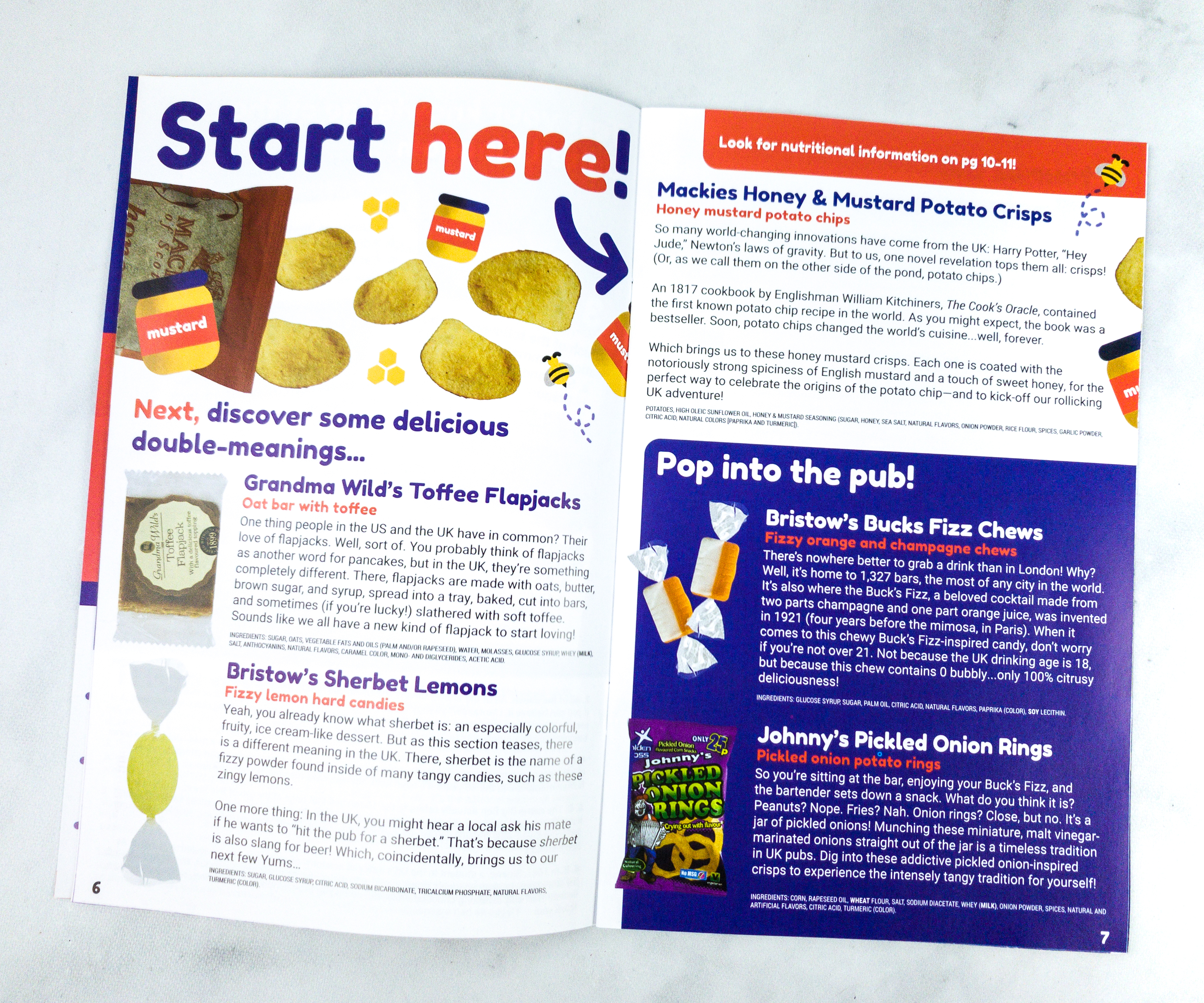 They also listed down the snacks in this box.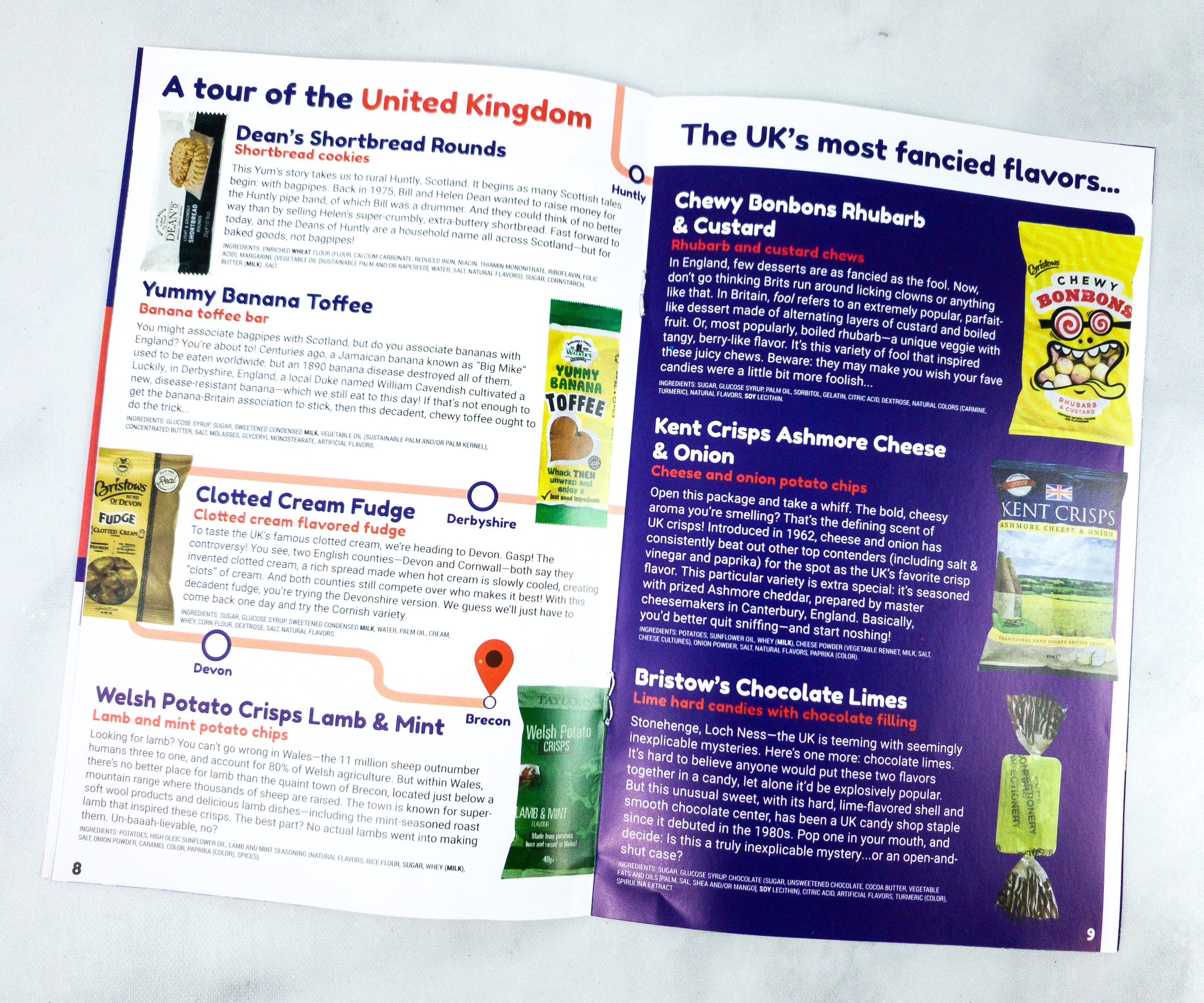 Each snack comes with a photo and a long description in the booklet!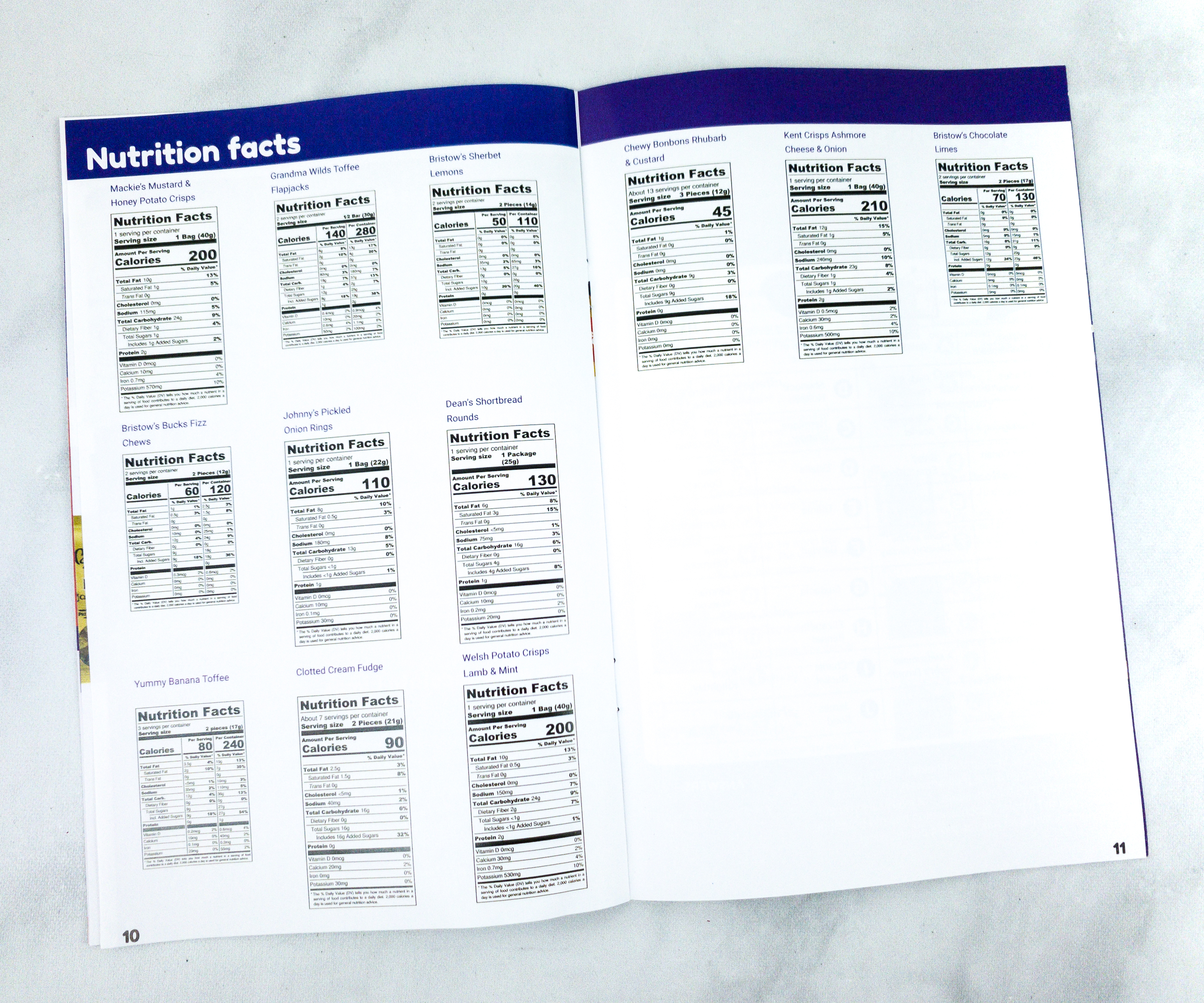 This month, they also included the Nutrition Facts of each item.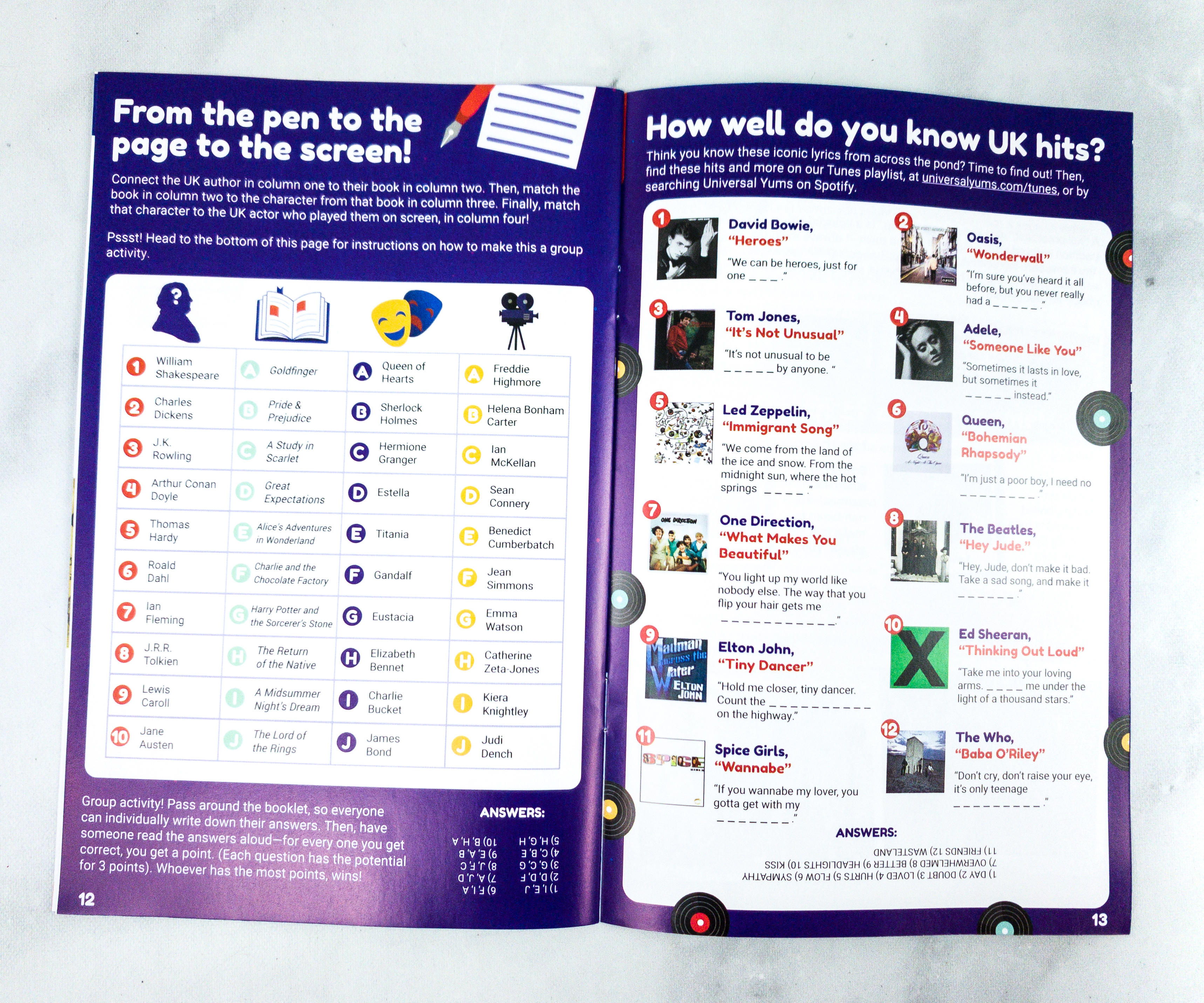 There are even fun games you can play with friends inside the booklet!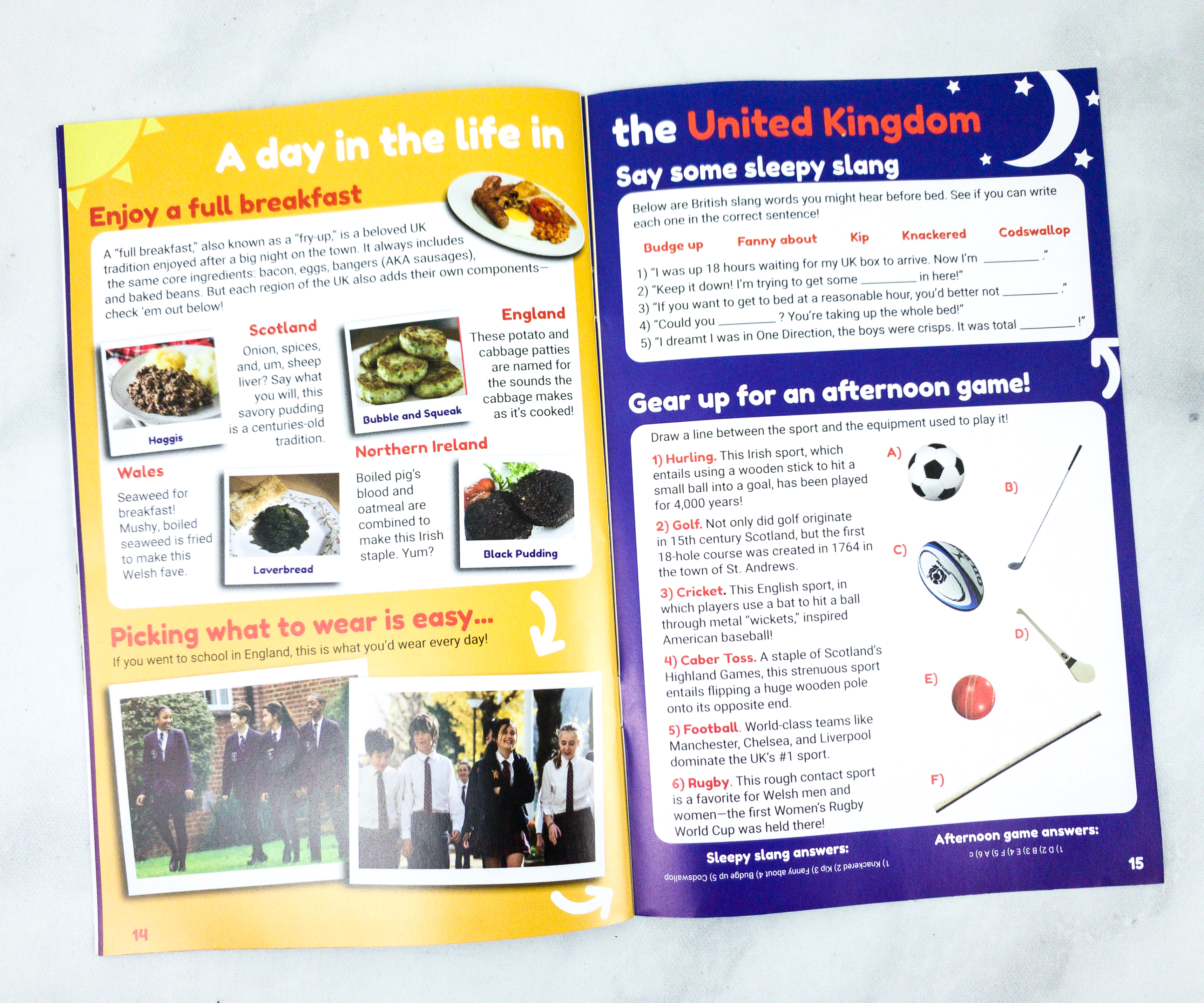 We loved reading this before taking a bite on this month's yums!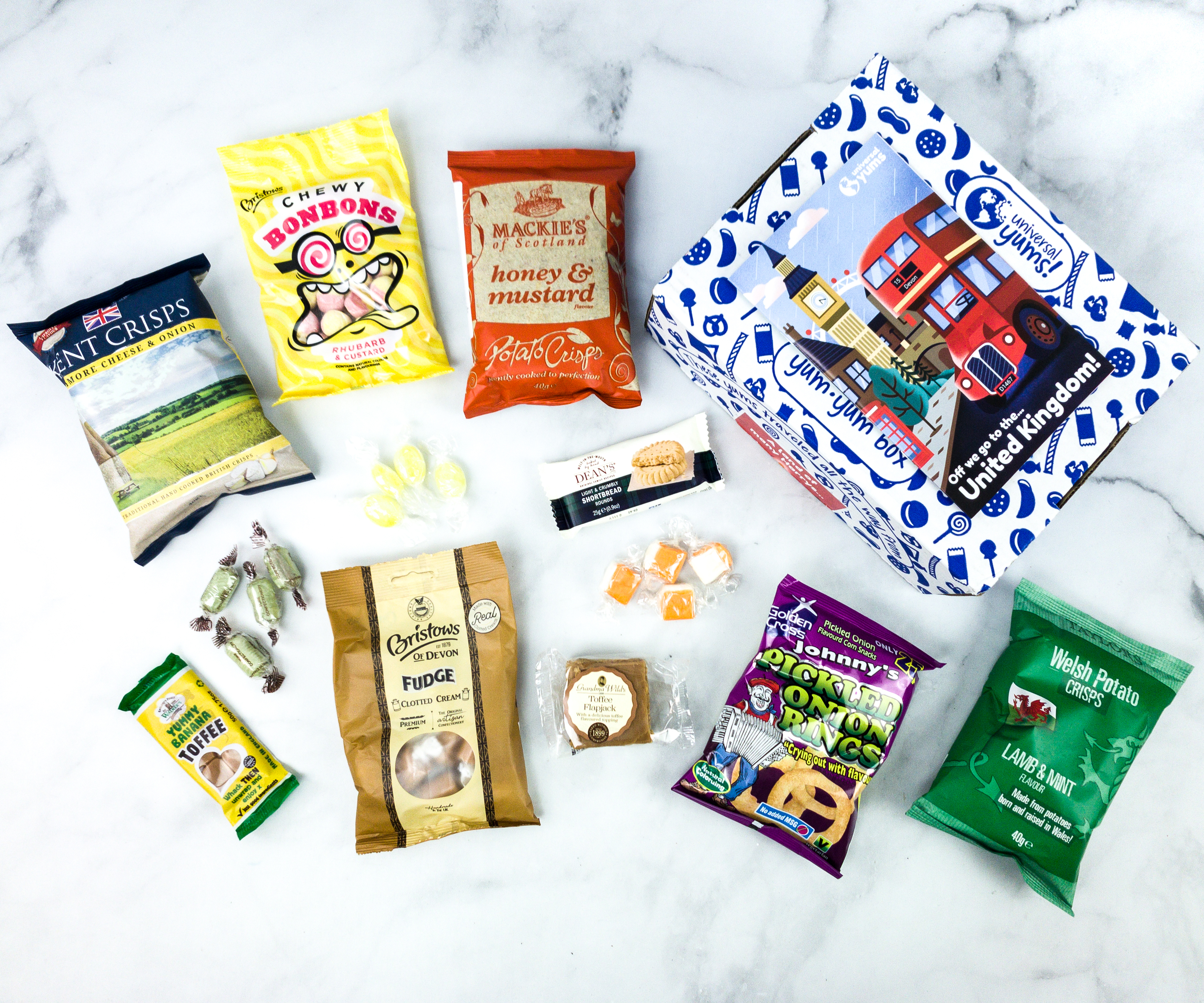 Everything in my box!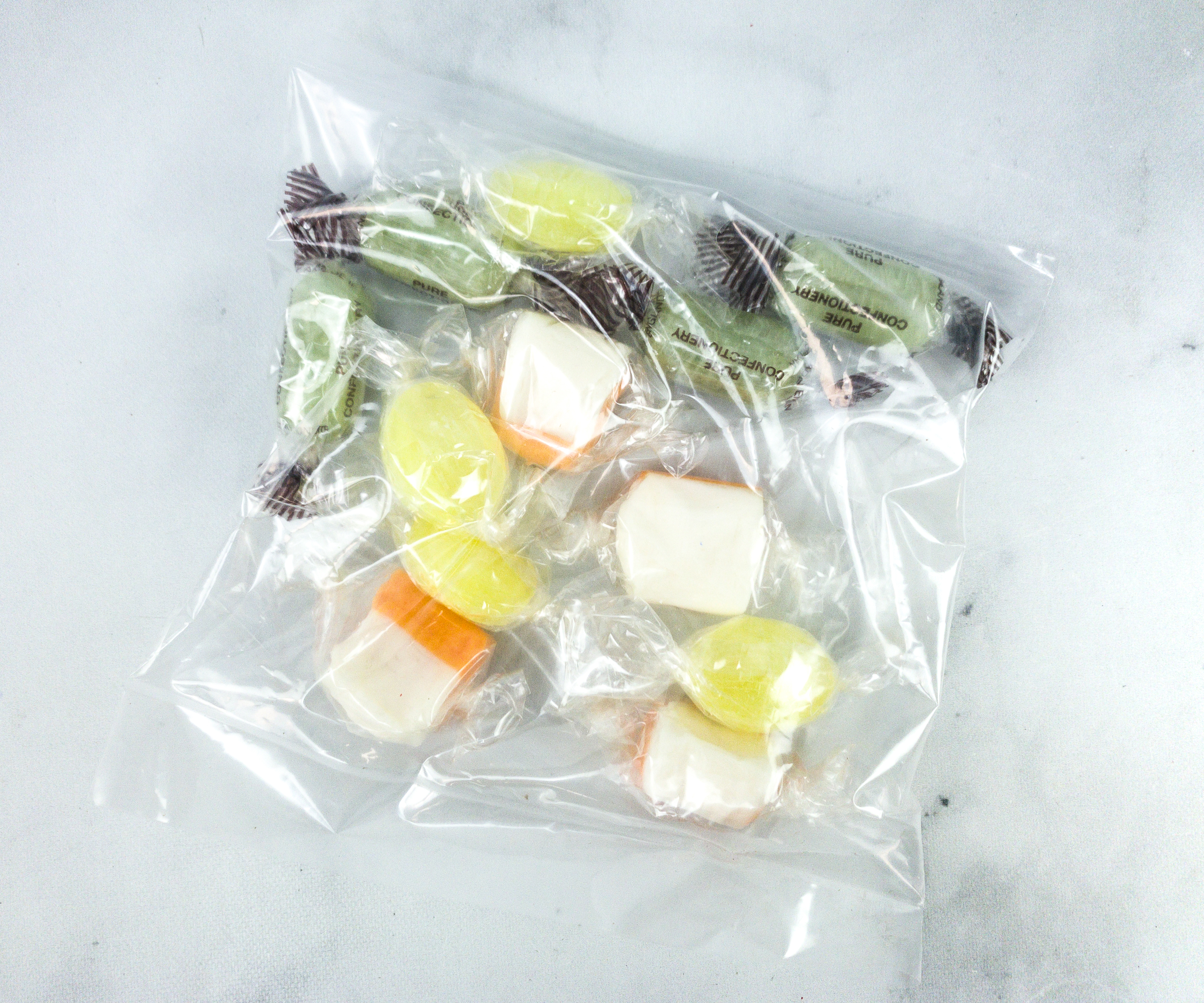 We didn't get the usual printed Yum Bag this month. Instead, we got the candies in a clear plastic pouch!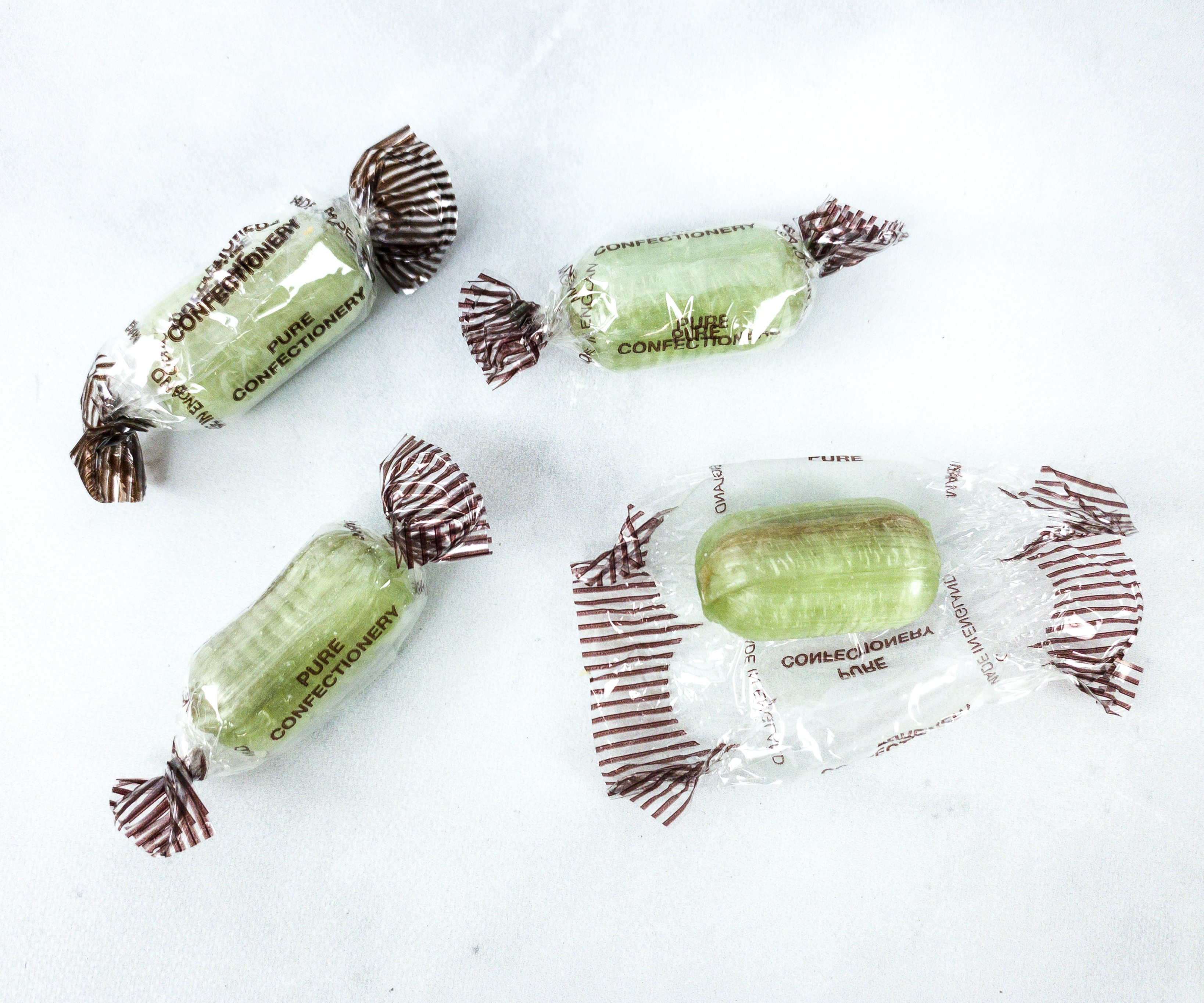 Bristow's Chocolate Limes Lime Hard Candies with Chocolate Filling. These semi-hard candies are really good! The candy itself is lime-flavored so you get that sweet and tangy flavor that will make your mouth water. Once the hard candy is gone, you'll then get a burst of creamy chocolate!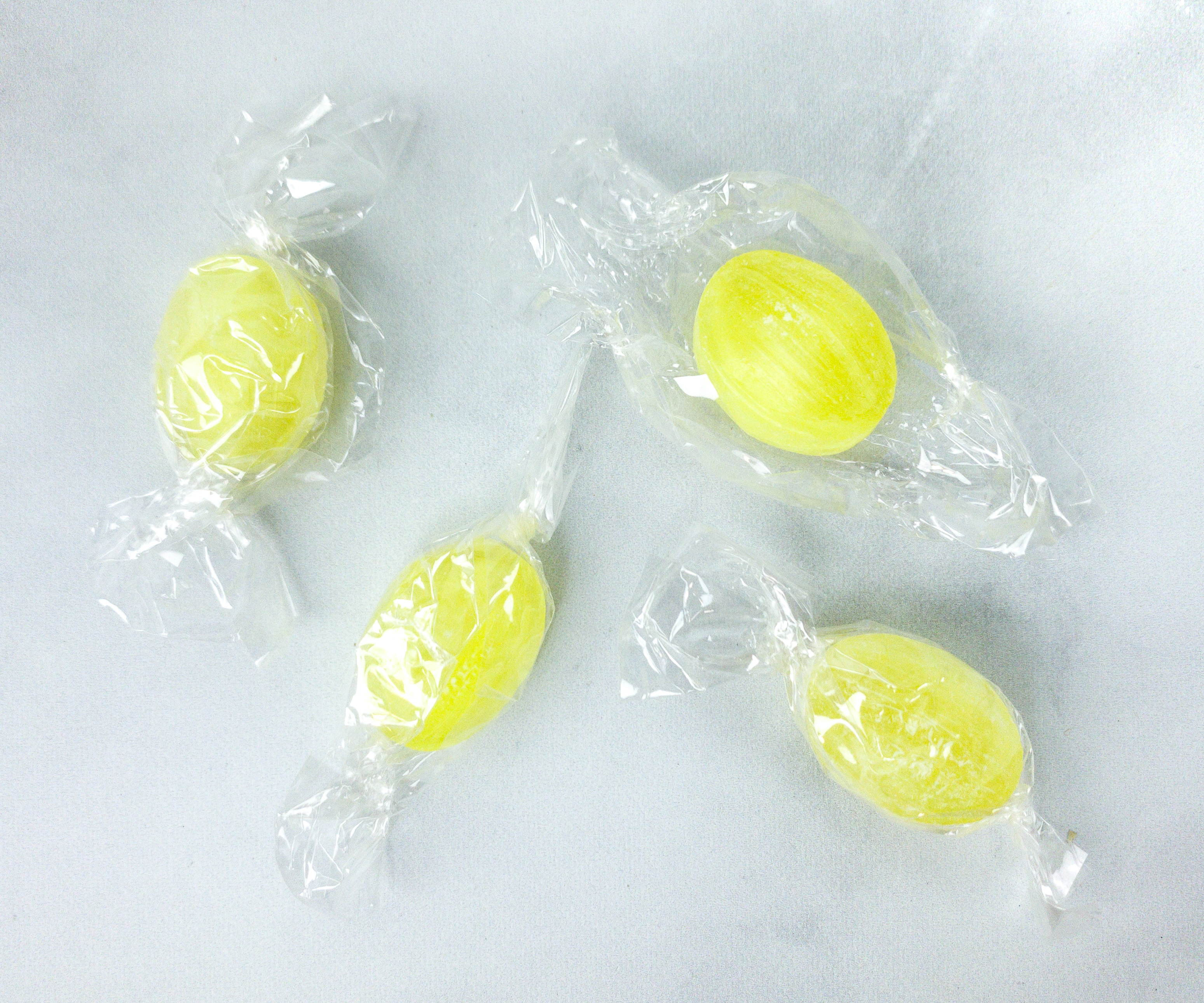 Bristow's Sherbet Lemons Fizzy Lemon Hard Candies. These lemon candies are sweet but the lemon cuts through the sweetness, balancing out the flavors!
Bristow's Bucks Fizz Chews Fizzy Orange and Champagne Chews. Aside from hard candies, they also included delicious chews in the Yum Bag! The mix of orange and champagne flavor in this candy is strong. I love this and I wish I have more! They got amazing candies out there, that's for sure!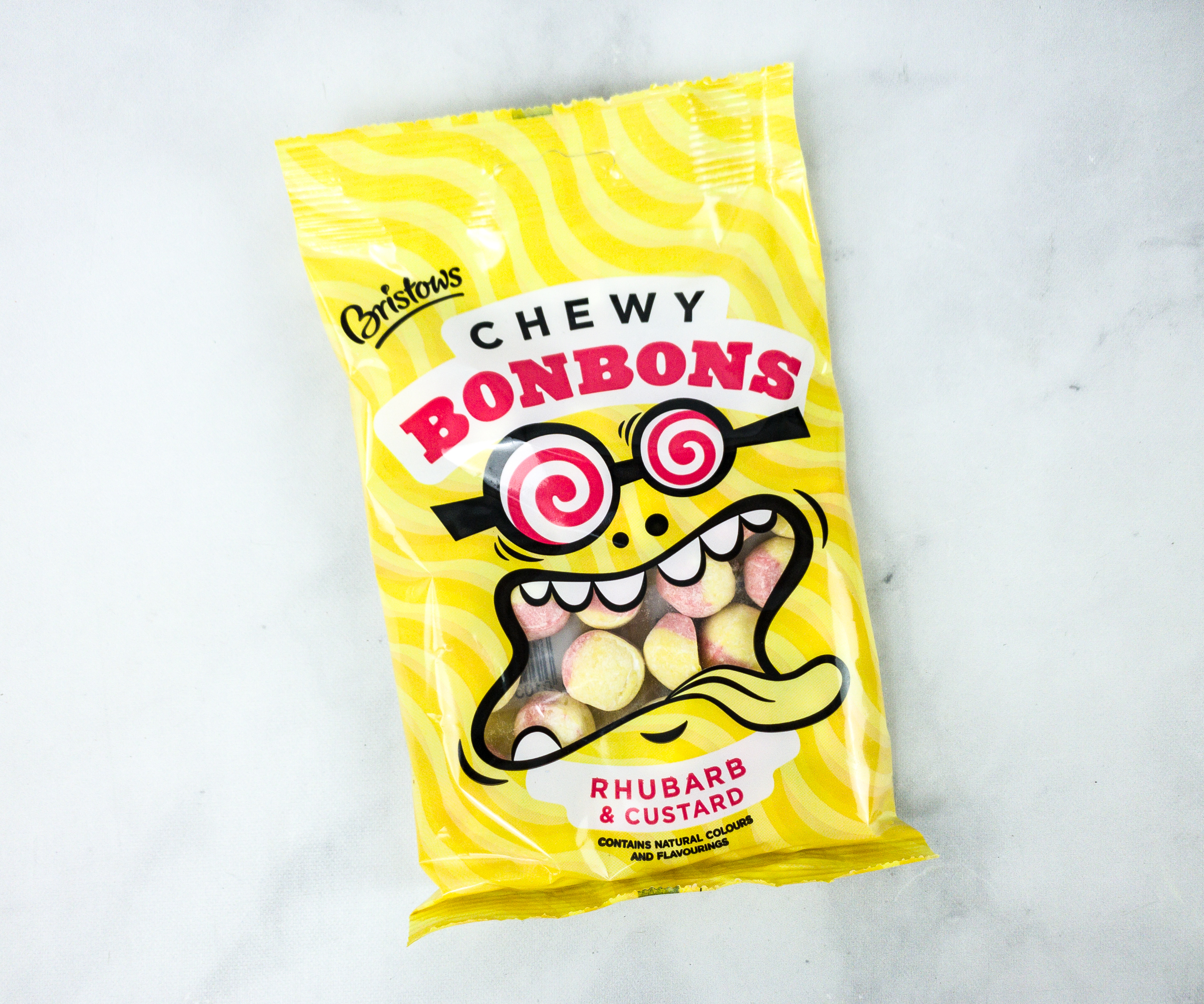 Chewy Bonbons Rhubarb & Custard Chews. Bonbons refer to sweet and small confections. This one is the soft kind, and its burst of flavors is never-ending. The creamy custard and tart rhubarb make an unexpectedly tasty combination!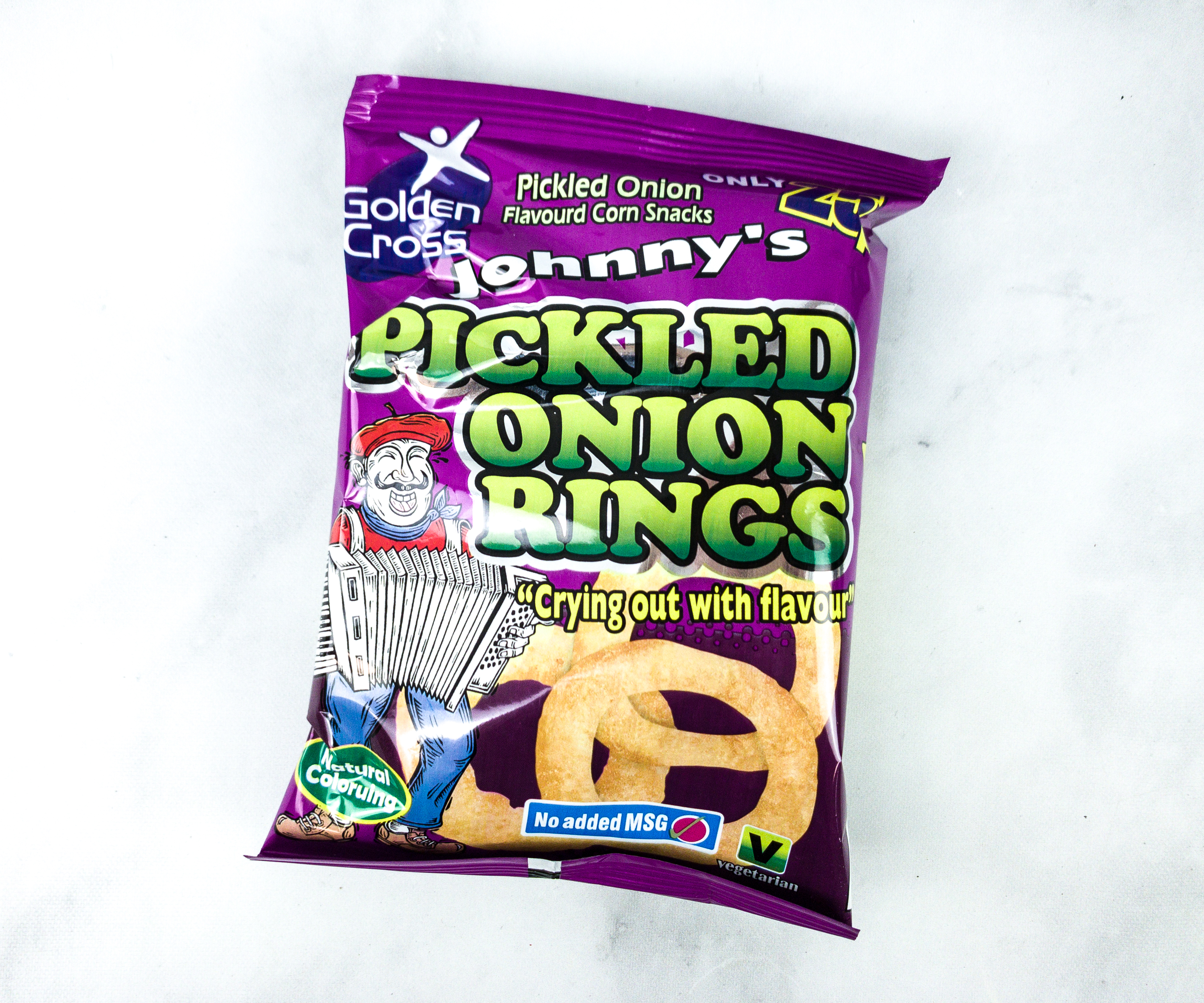 Johnny's Pickled Onion Rings Pickled Onion Potato Rings. Potato rings are a perfect snack when watching TV! This one from the UK is tangy and flavorful. They weren't joking when they said it's "crying out with flavour"! They were puffy and dilly and fun and a new fave!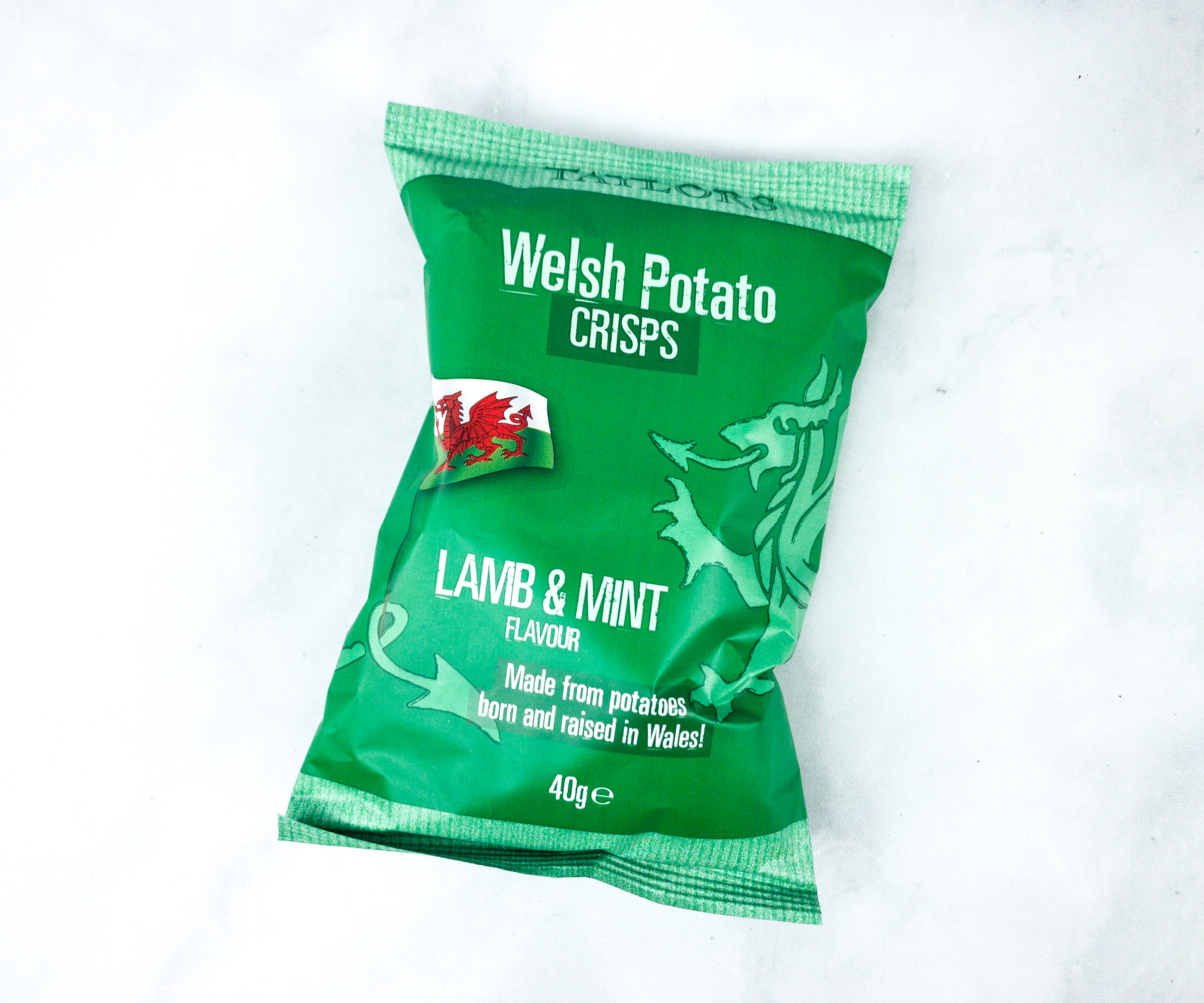 Welsh Potato Crisps Lamb & Mint. This is another one of those weird flavored snacks that we don't usually have here in the US. It did smell like lamb and mint, and they are super minty. Also, the potato slices were thick yet crunchy! This is not a snack I'd reach for again, but I tried it!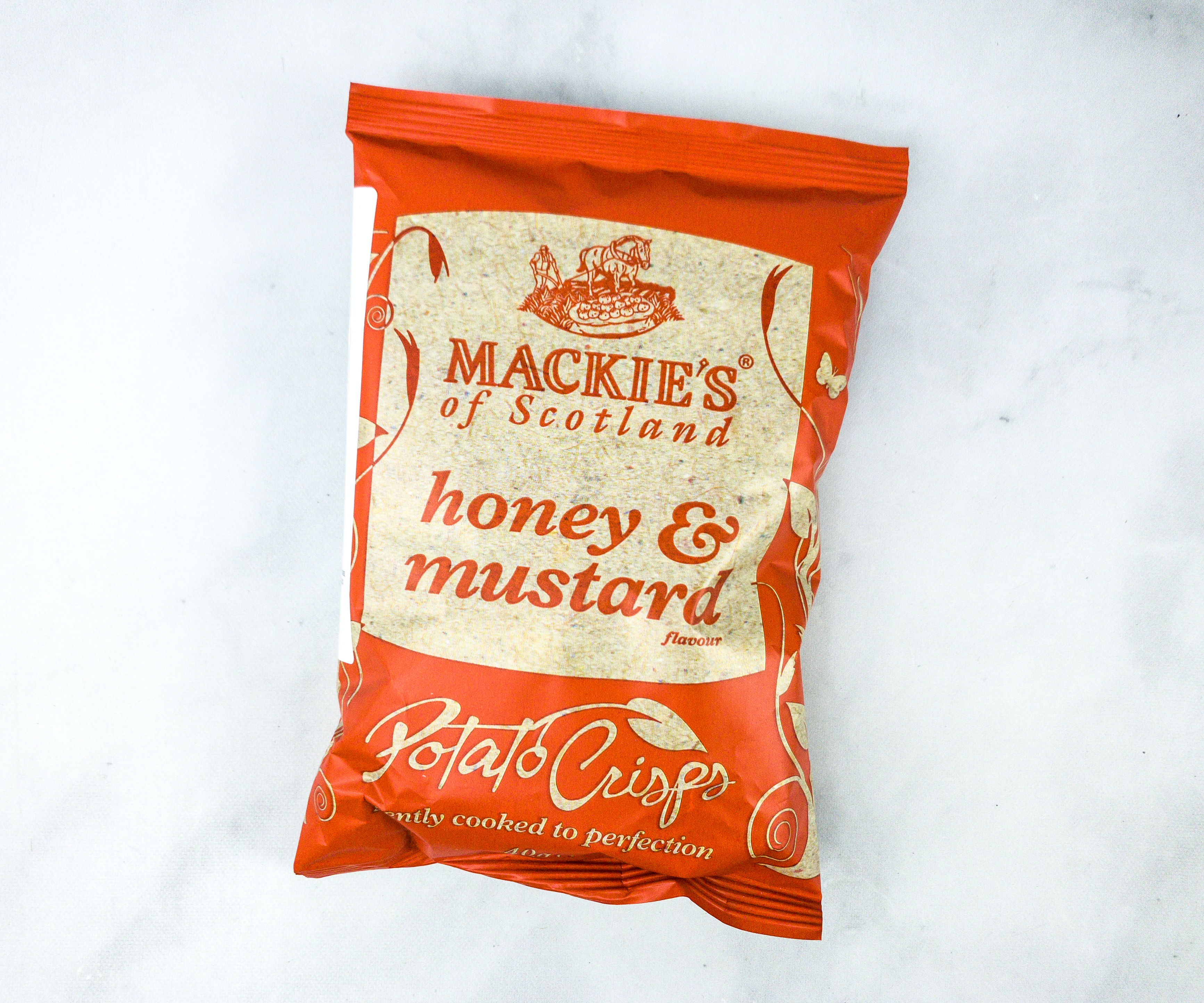 Mackies Honey & Mustard Potato Crisps. Here's another bag of chips and this time it has a distinct taste of vinegar. There is also a light spicy flavor that just goes away quickly. My husband likes this and I think it's a good beer match!
Kent Crisps Ashmore Cheese & Onion Potato Chips. Upon opening, I can really smell the pungent cheese odor so I was hesitant to try it but it's actually pretty good! The cheese flavor is very distinct but it mellows down and you can really taste the potato!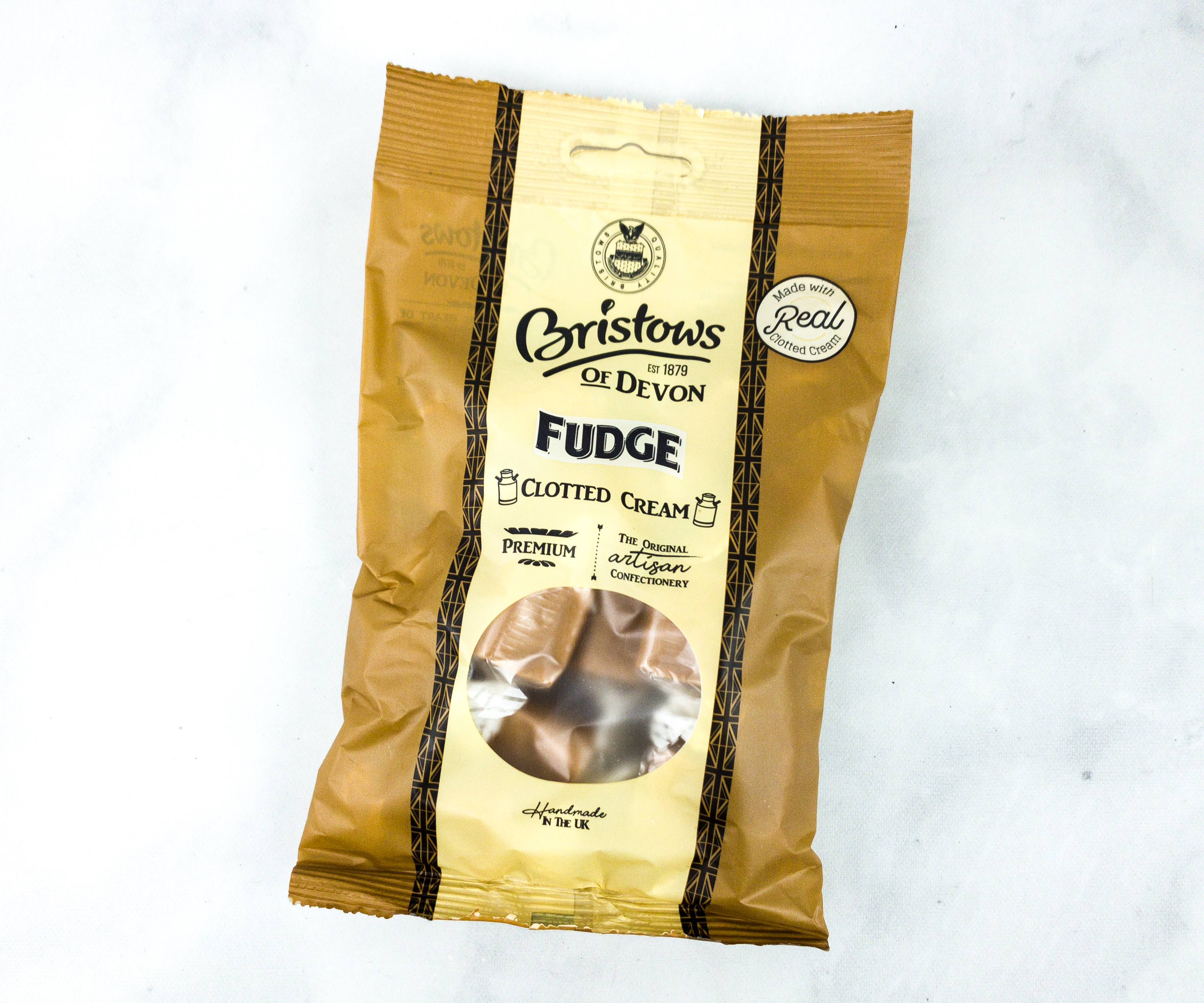 Clotted Cream Fudge Clotted Cream Flavored Fudge. British confectionery is really good and this pack of cream flavored fudge is another proof.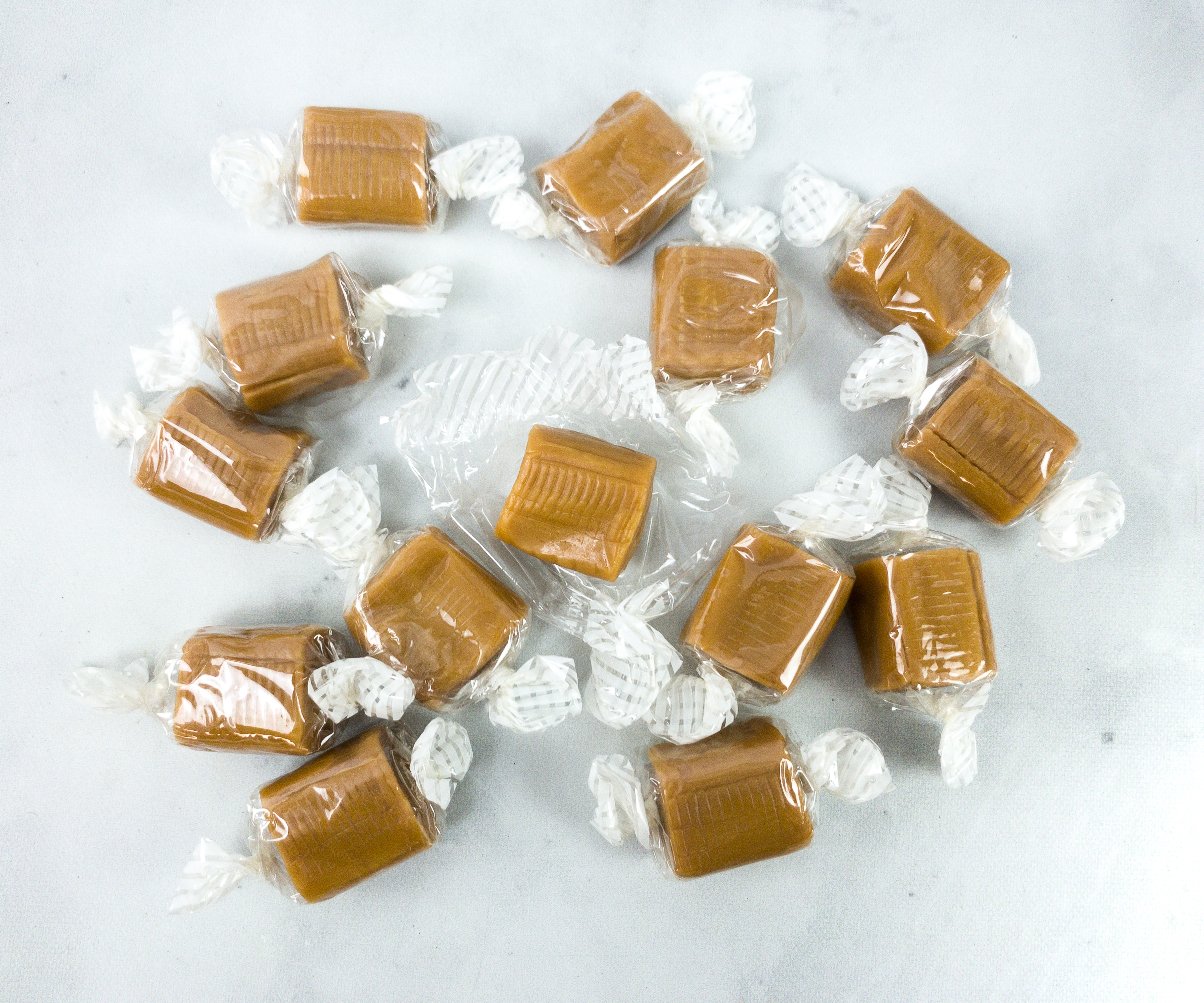 The candies came individually packed, which is good. The flavor is sweet, rich, and creamy! They're something to chew and nibble on and I can't stop eating them.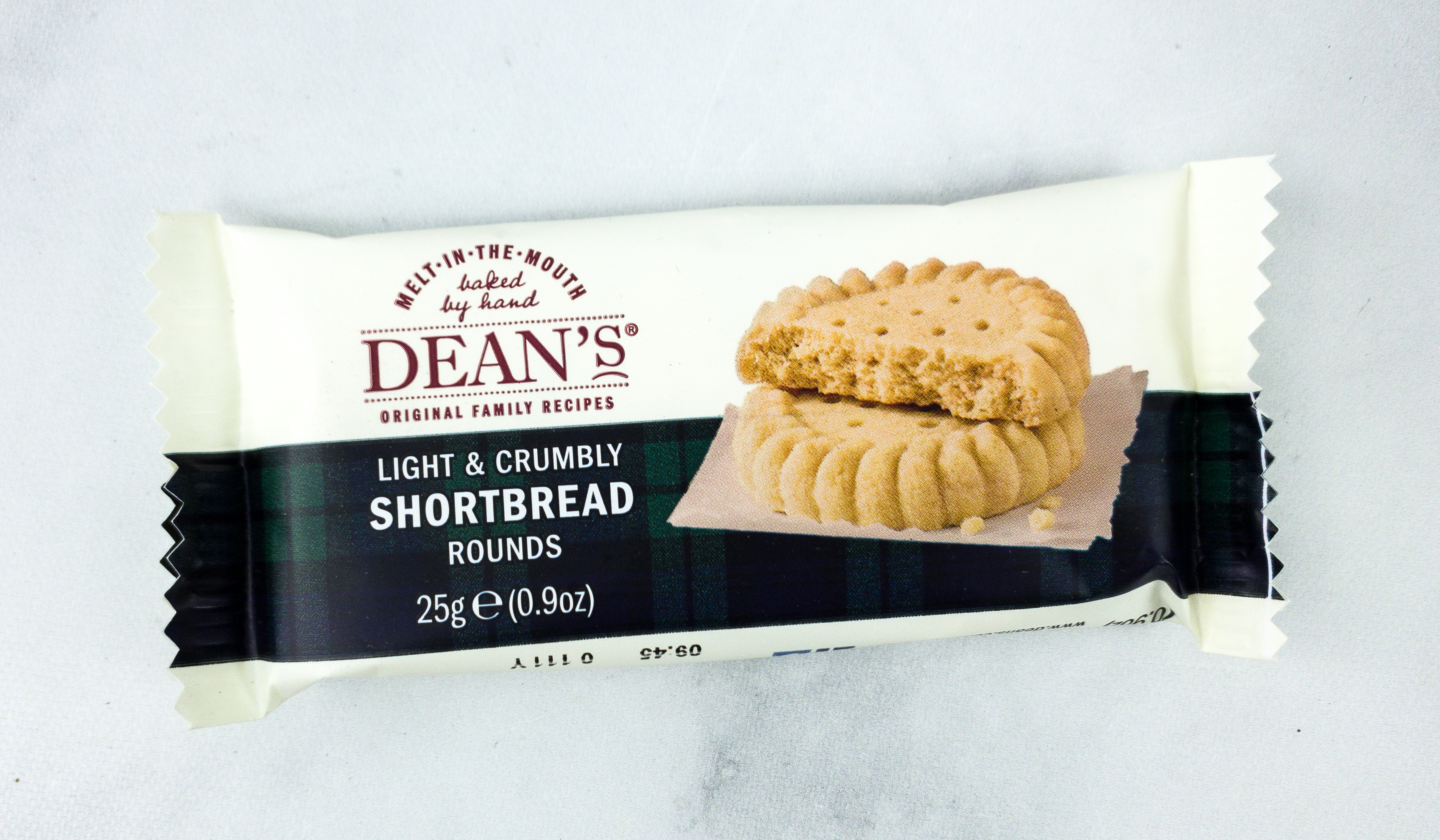 Dean's Shortbread Rounds Shortbread Cookies. This is a perfect tea time snack! The biscuit, true to its claims, is light and crumbly. The flavor was pretty bland and it doesn't overpower the flavor of whatever tea it is that you're pairing it with. Instead, it compliments and highlights the flavor so it's really good for me!
Yummy Banana Toffee Banana Toffee Bar. Banana and toffee is a combination that we find hard to resist!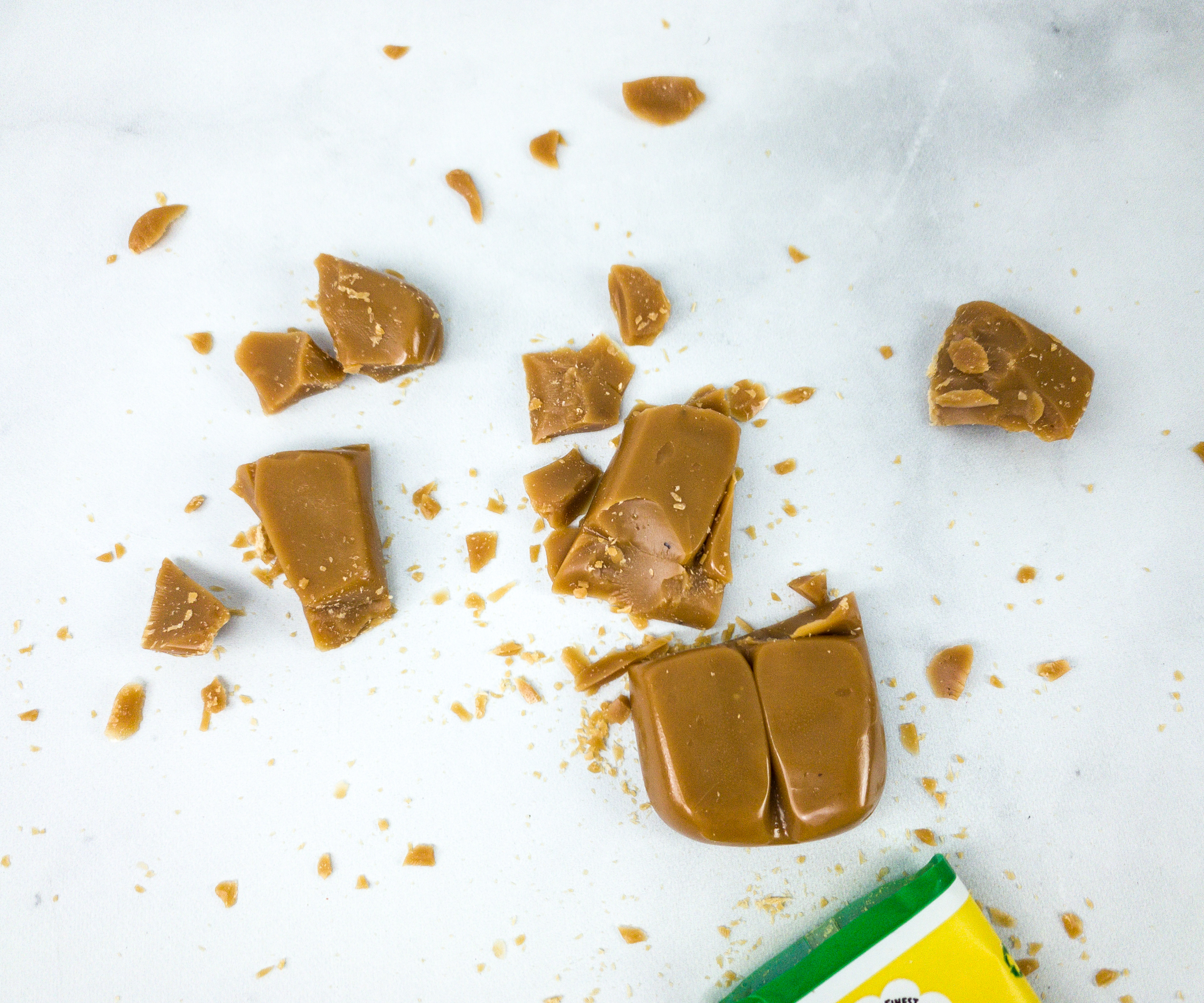 The toffee easily breaks. Still, the kids love it because it's sweet and the banana flavor is really there in every bite. I love banana everything so this is also another favorite!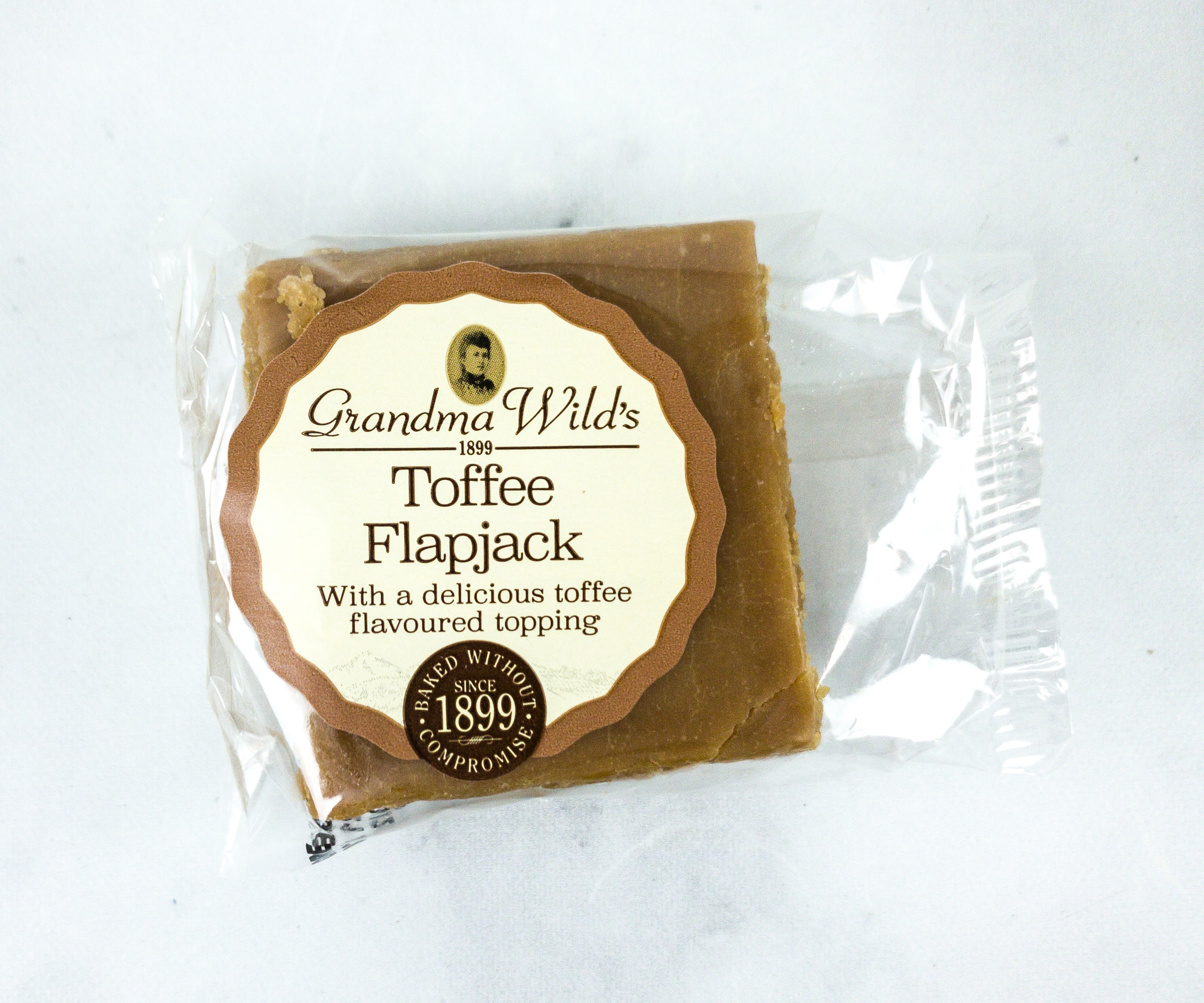 Grandma Wild's Toffee Flapjacks Oat Bar with Toffee. This flapjack is made with a traditional recipe from a family business.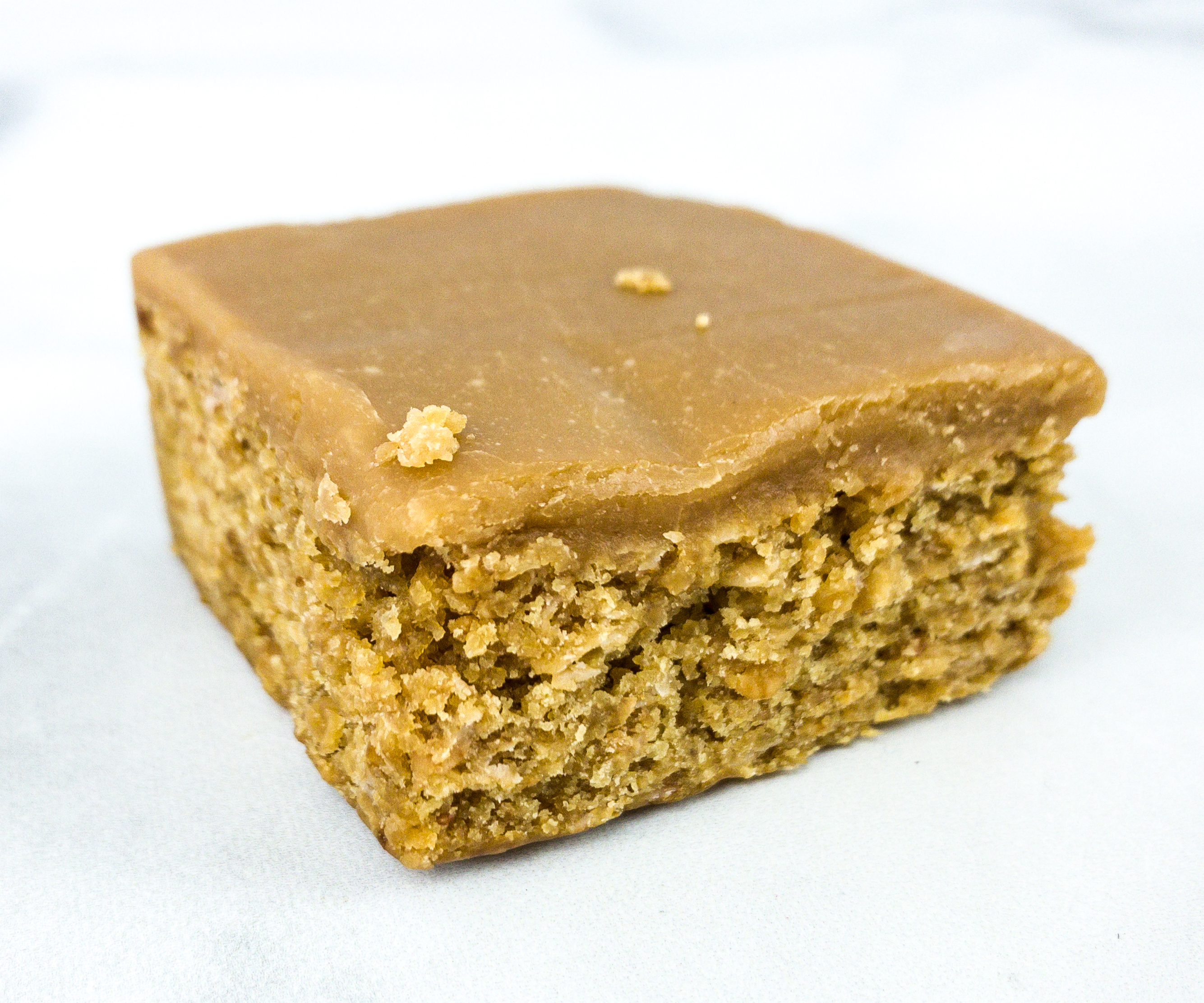 It tastes like a granola bar with a toffee twist. Also, you could easily identify the oats in there. This will be a good match for tea!
It's another Universal Yums experience this month as we tasted snacks from the United Kingdom! I really liked their candies, both the hard ones and the soft and chewy ones. The chips were also pretty good, with unique flavors at that. I'm having a hard time picking a favorite but my top two are the dill onion rings and the banana toffee! My husband really liked the honey and mustard potato crisps and lemon hard candies, and the orange and champagne chews. while the kids were obsessed with the cream fudge and banana toffee bar! Universal Yums is such an amazing way to explore snacks from different places all over the world with each month featuring a new destination. It's a great box whether you're sharing it with the family or just keeping everything to yourself!
Have you tried Universal Yums? What do you think?