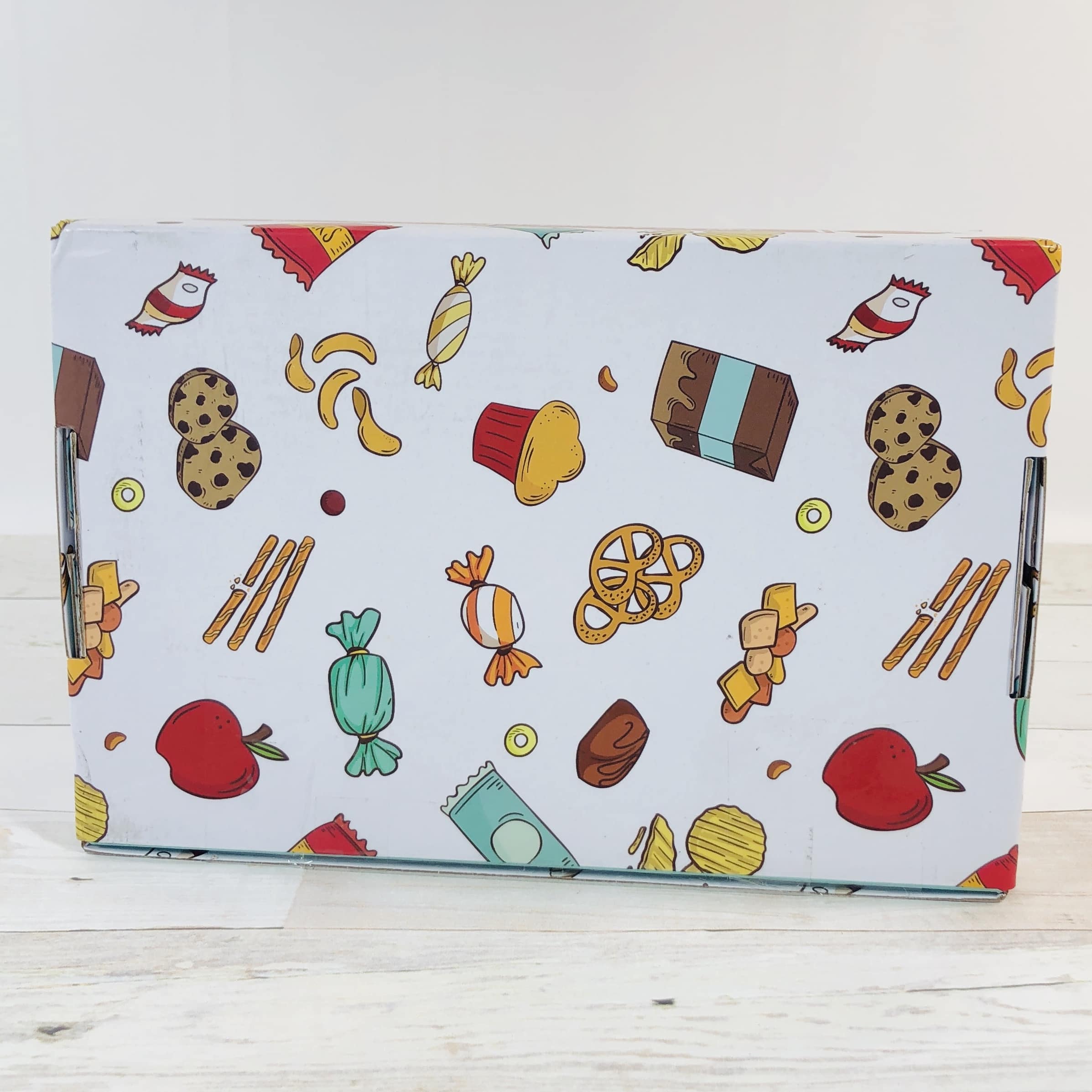 Try My Snacks is a unique subscription box that delivers snacks from a different country every month. Each box contains anywhere from 5 – 20+ snacks per box (depending on the plan), a 12+ Page booklet that includes fun facts about the country, snack information, puzzles, and more. They also include a coin/bill from the country in every box & offer FREE shipping to the USA. A portion of every order is donated to the ASPCA to help end animal abuse.
Tailored Just For You

Each box is tailored to your palettes needs. You tell us what you like and don't like and we'll take care of the rest. Besides, what's the point of trying something new if in the end it'll just go in the trash? Our interactive & fun quiz will make sure that doesn't happen.
Start by choosing which subscription level fits your needs. Then answer a few questions like whether or not you like coconut and if you want a drink ($4.95 upcharge). There are additional charges in the questionnaire, like if you want rush delivery ($5) or a chilled ice pack so your chocolate doesn't melt ($4.95). You can also tell them if you are allergic to peanuts and there is a place to write in other allergies.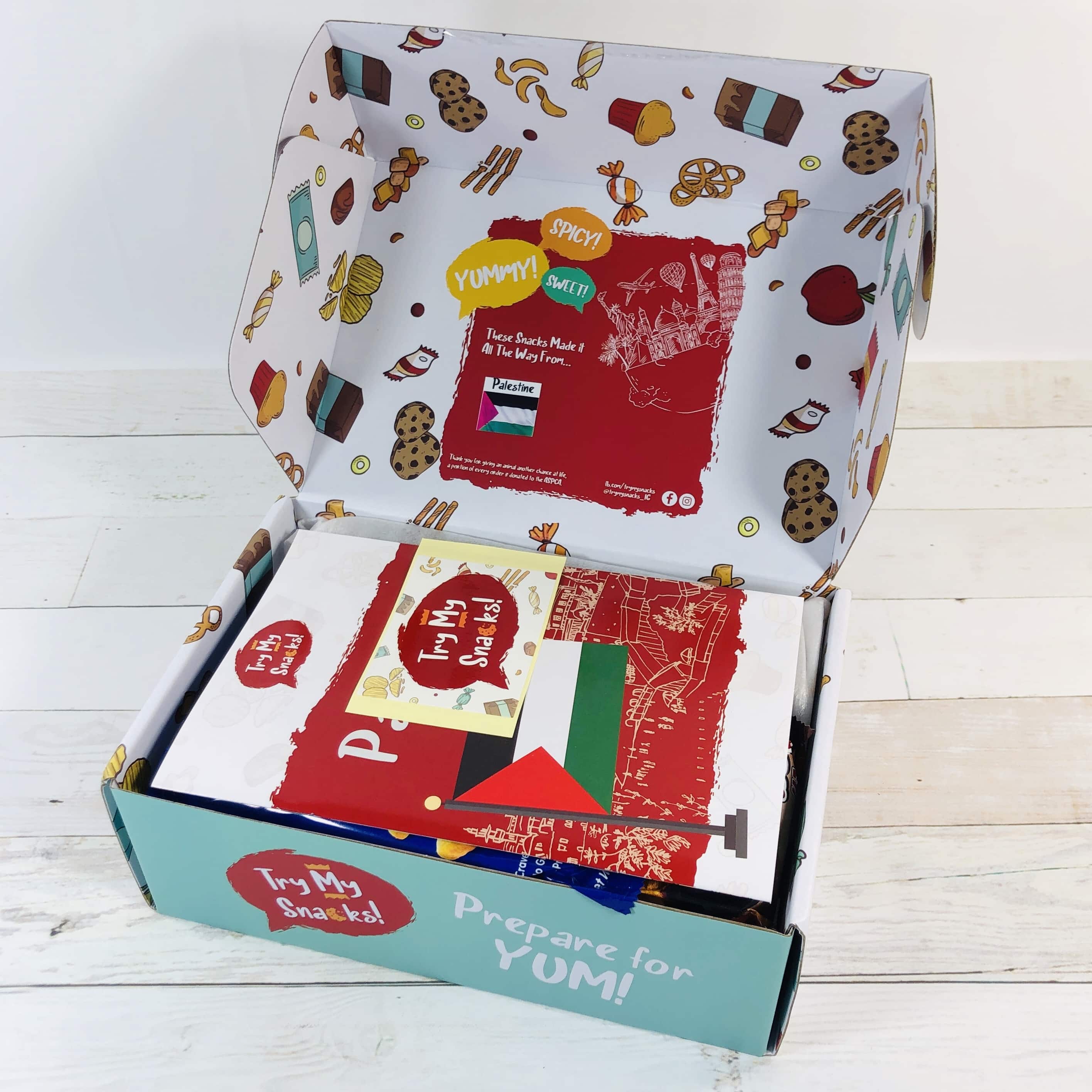 This is my first shipment from Try My Snacks!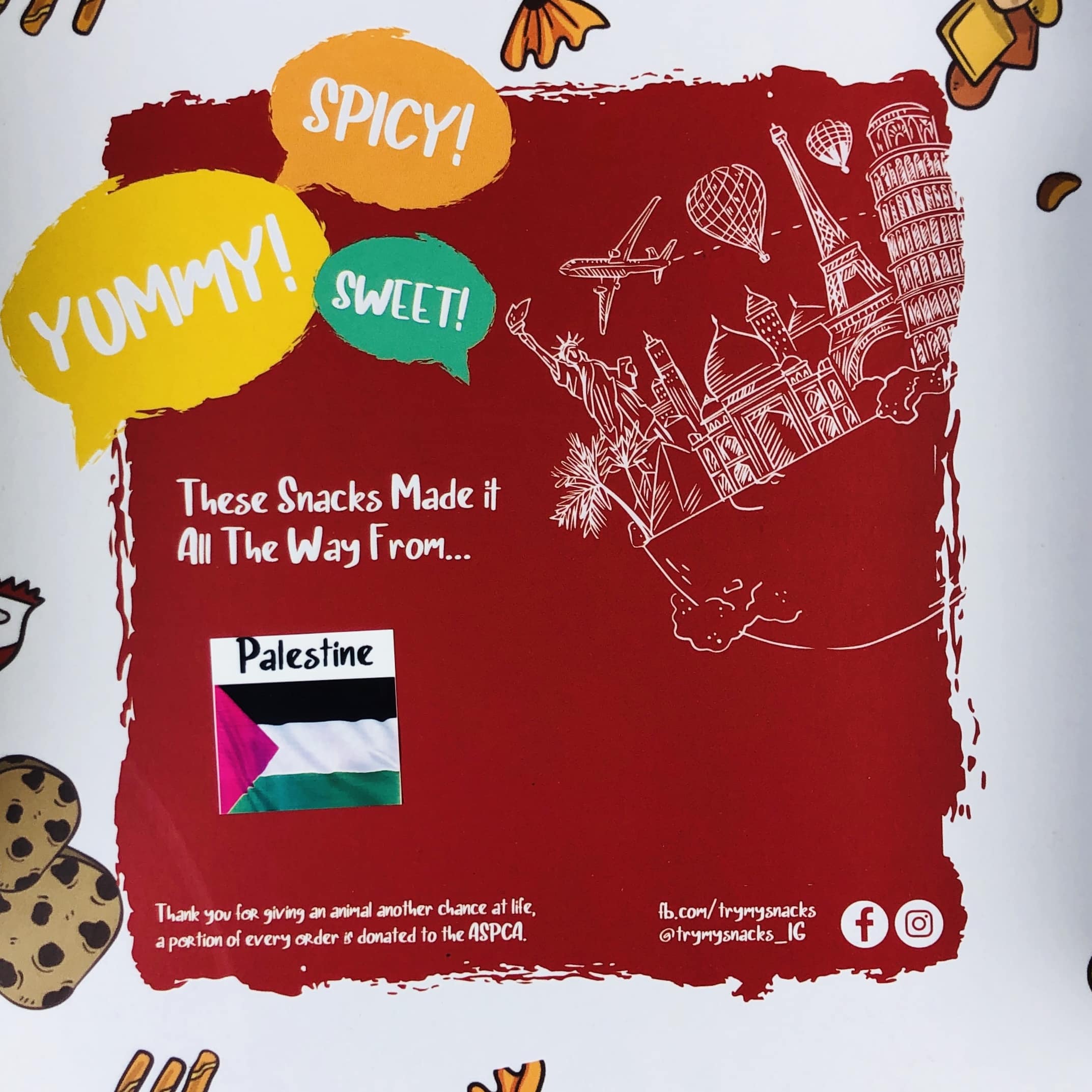 This time we are exploring the flavors of Palestine!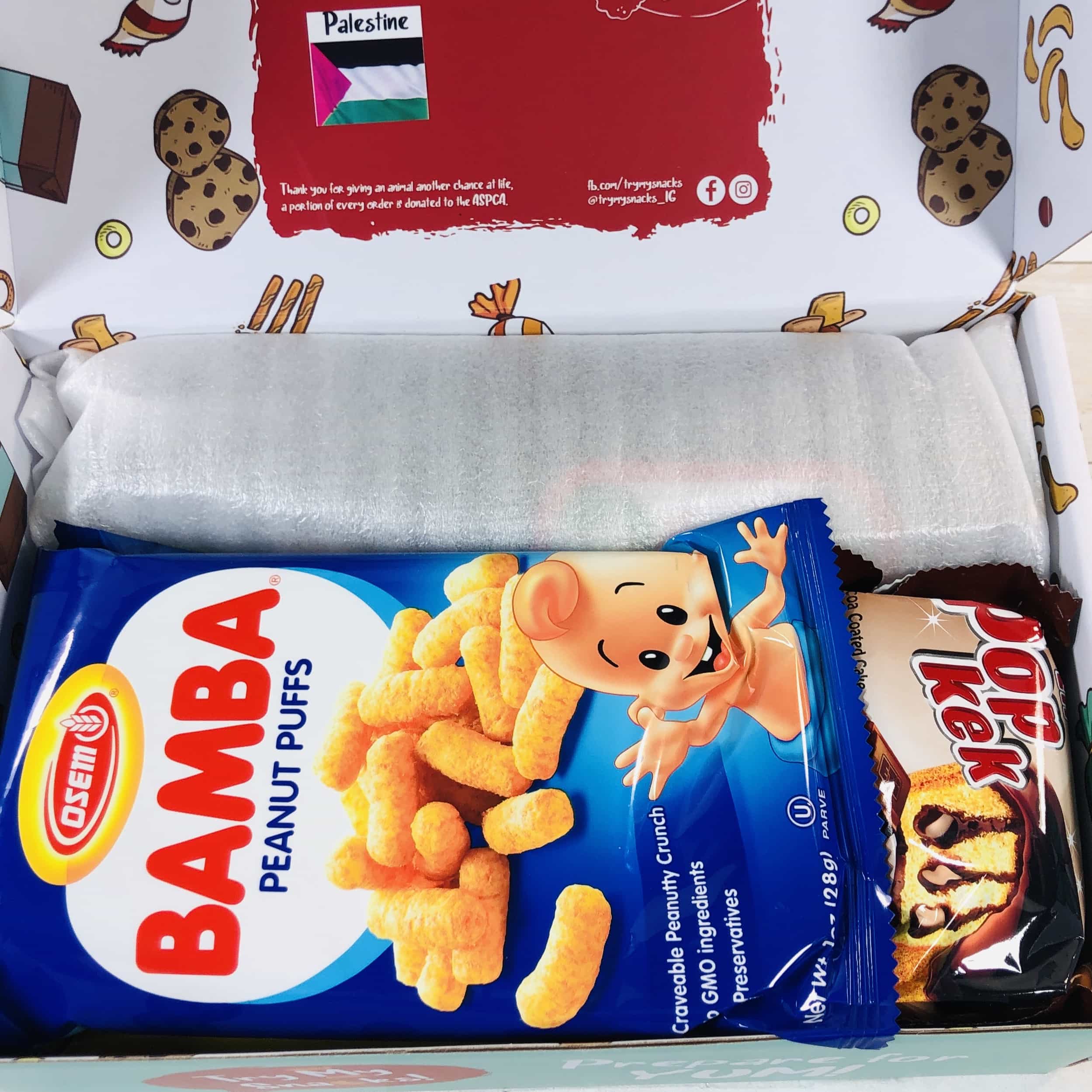 I received mostly sweet treats but there was a salty snack on top.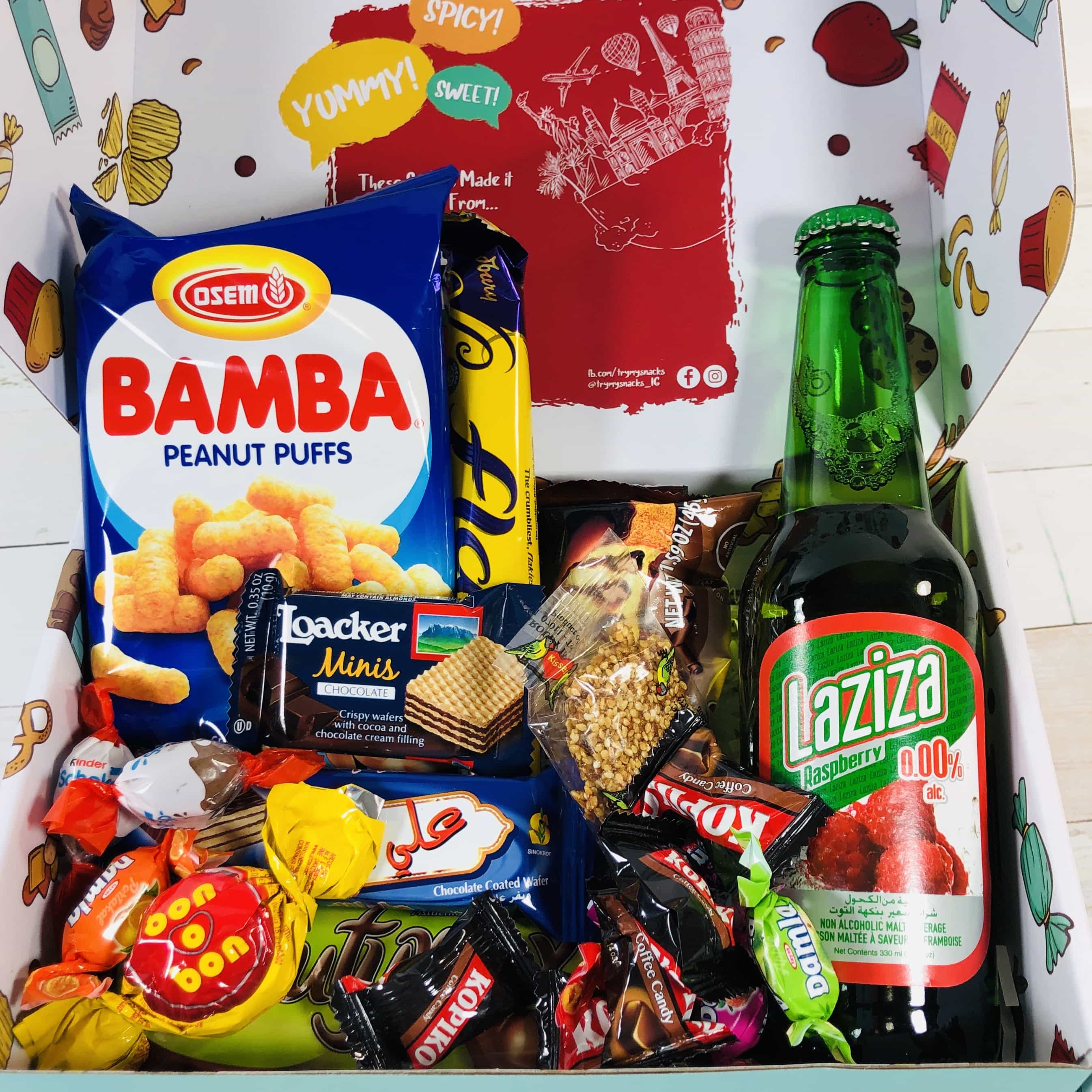 Everything in my box!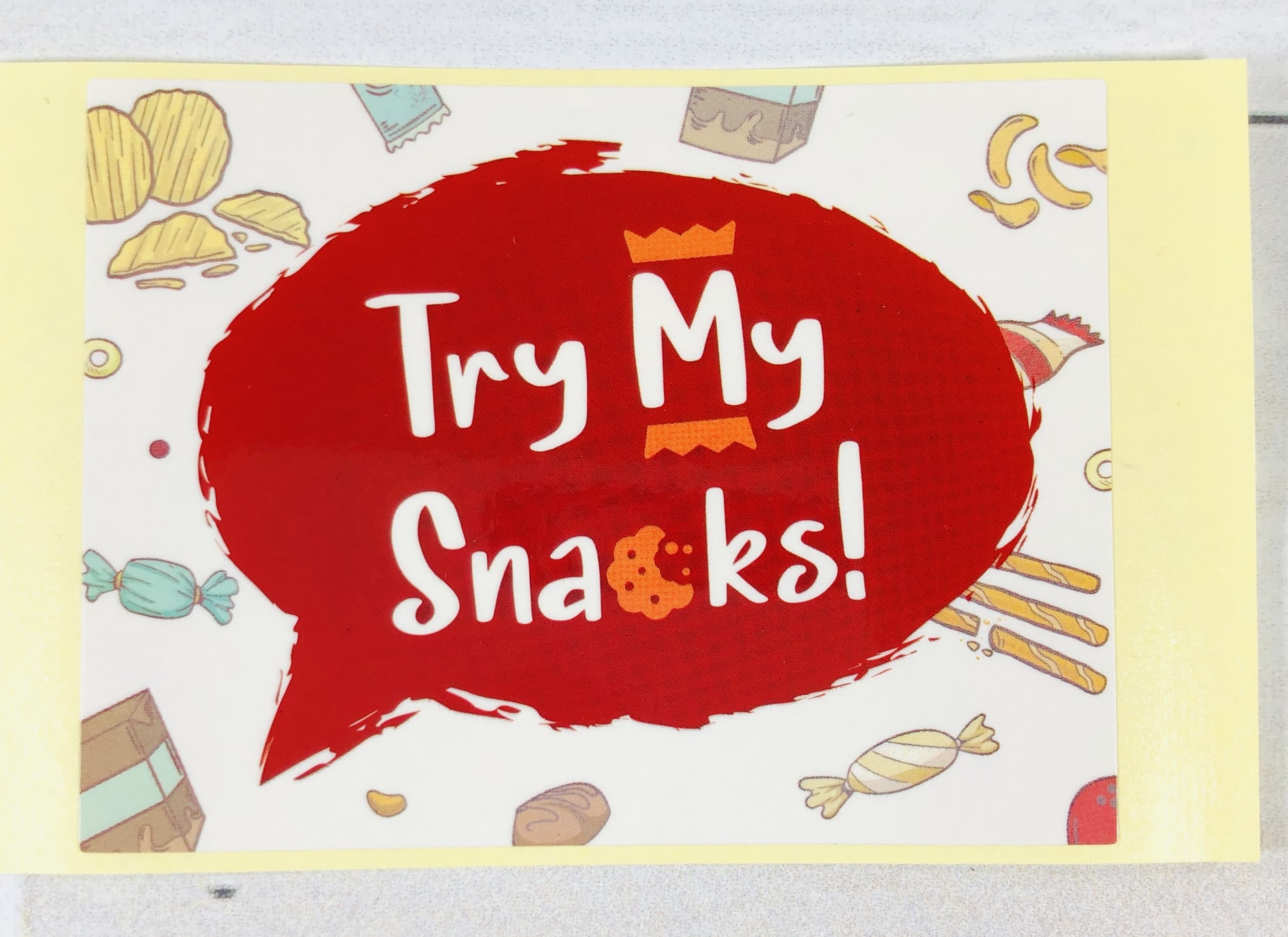 I received a vinyl sticker.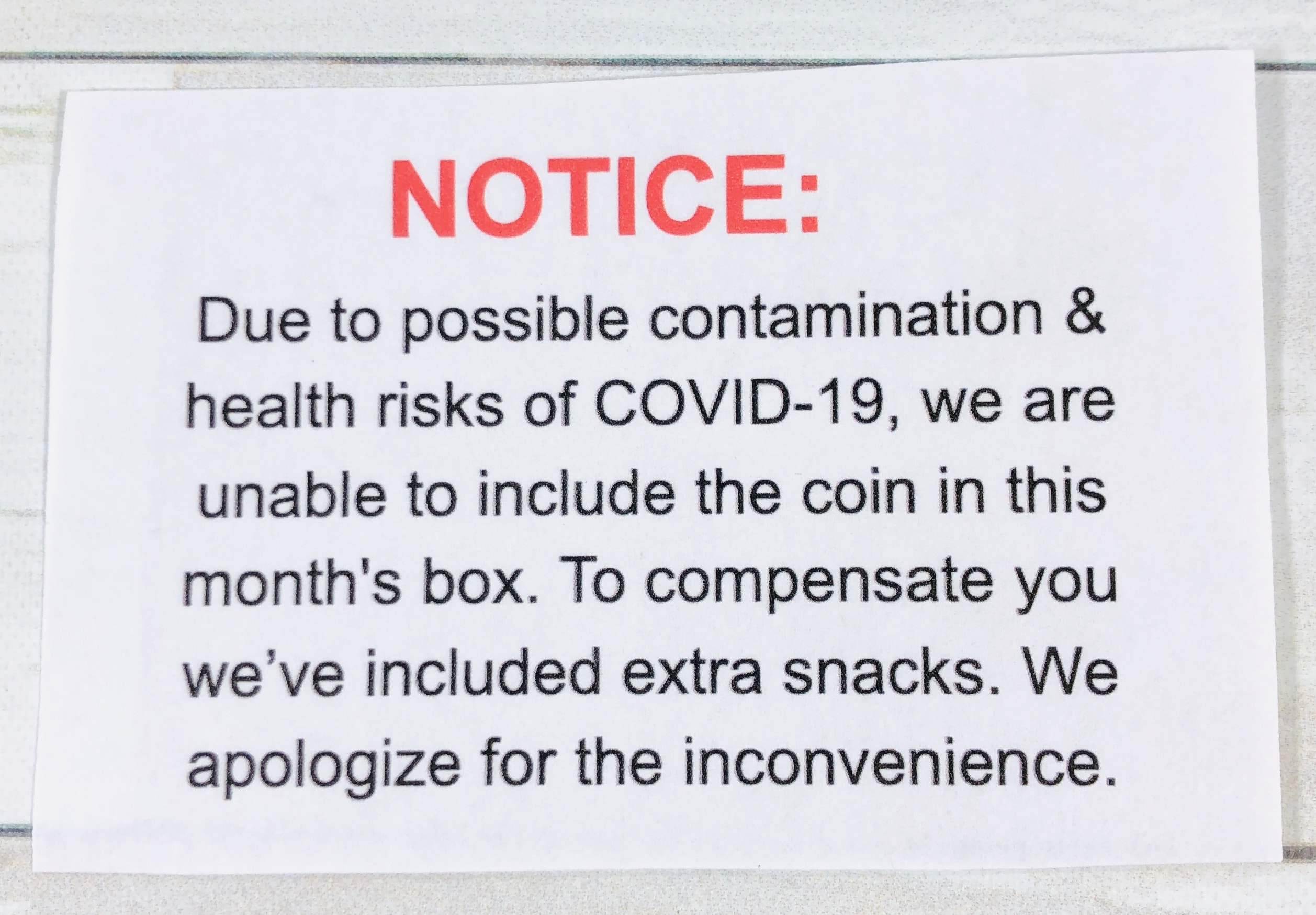 Try My Snacks usually sends a coin from the featured country, but that has stopped due to concerns over Covid-19.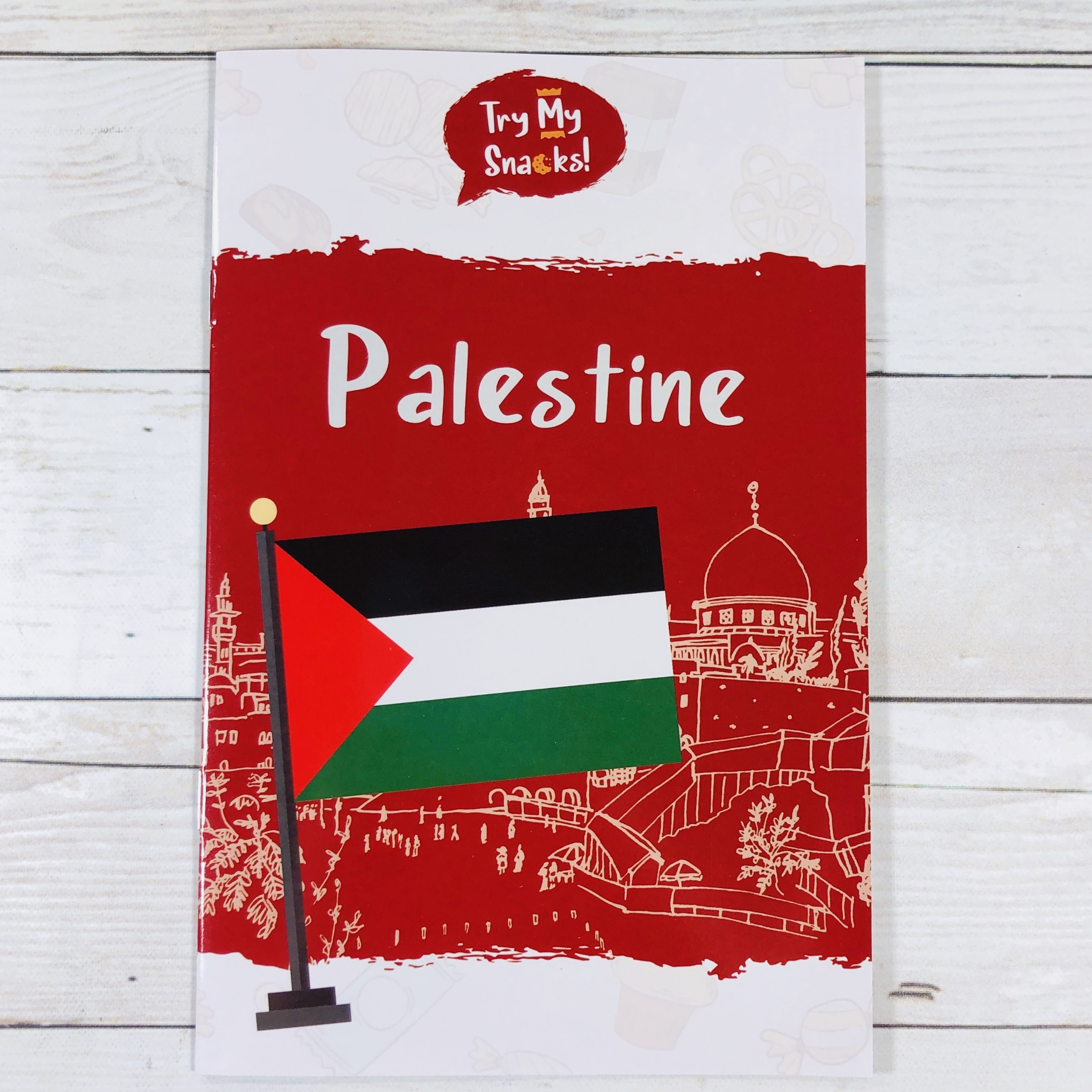 I received a glossy booklet.
The inside mentioned some facts about Palestine and discussed the currency.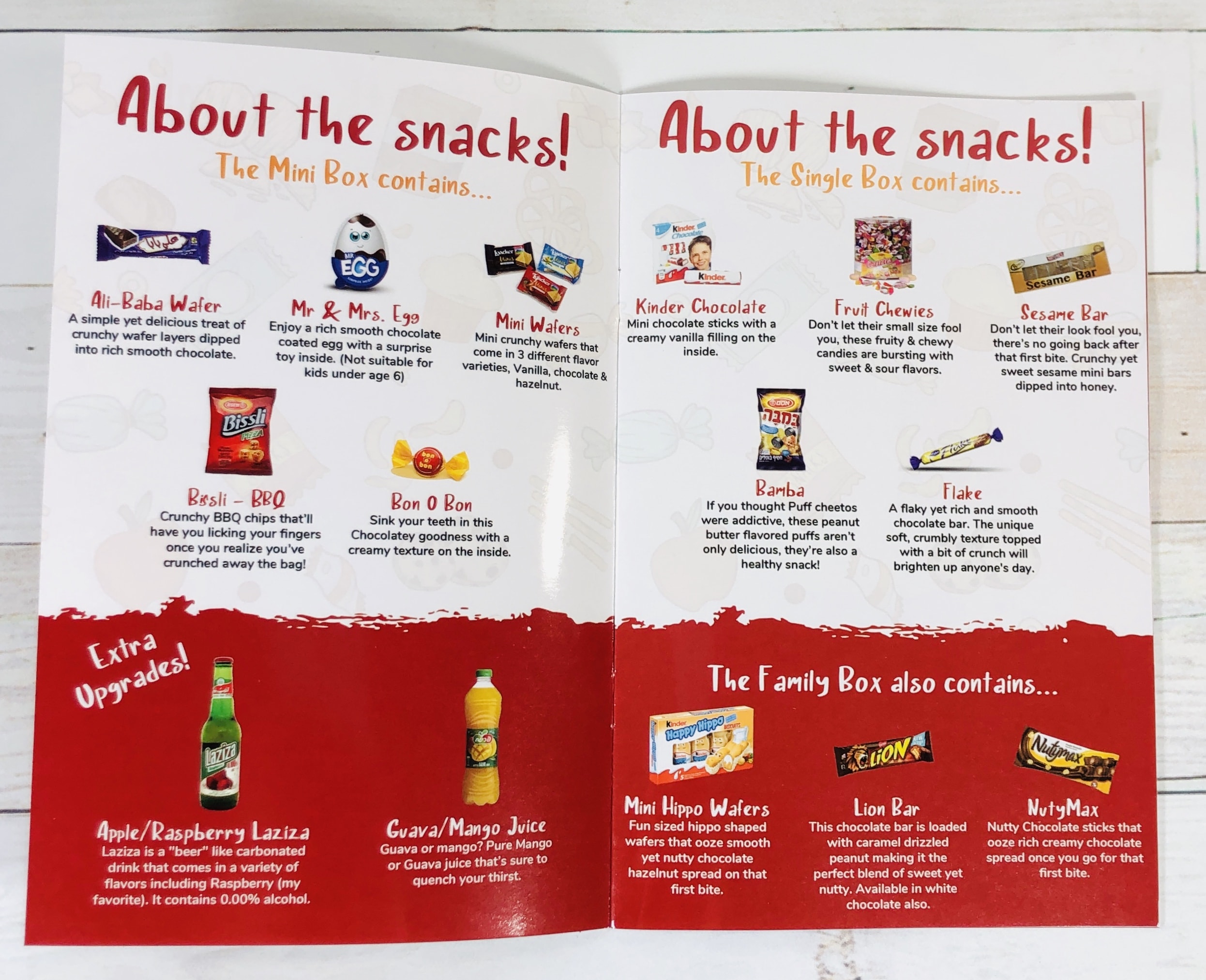 The next two pages discussed the snacks and showed what you would get in each subscription level, along with the bonus drink upgrade. I would assume that each level builds upon itself, so if you order the Family Box, you should receive all of the snacks from the Mini and Single boxes too. I am reviewing the Single Box with a soda upgrade but my box doesn't have everything shown on these pages.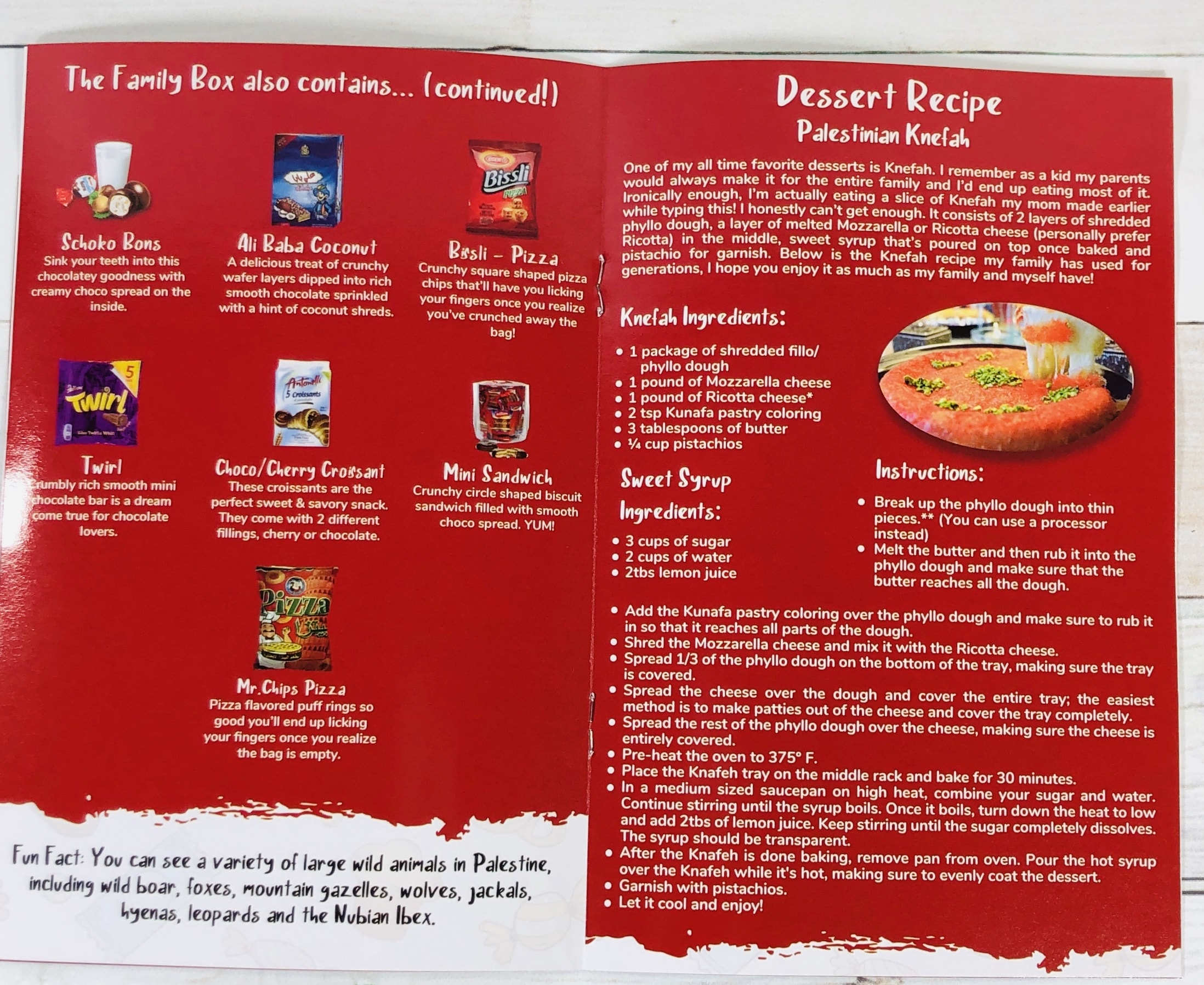 The next page listed more snacks that could be found in the family box. My box was a mix of all three, but didn't include all of the items from any one level, and left me confused. I liked that there was a recipe included.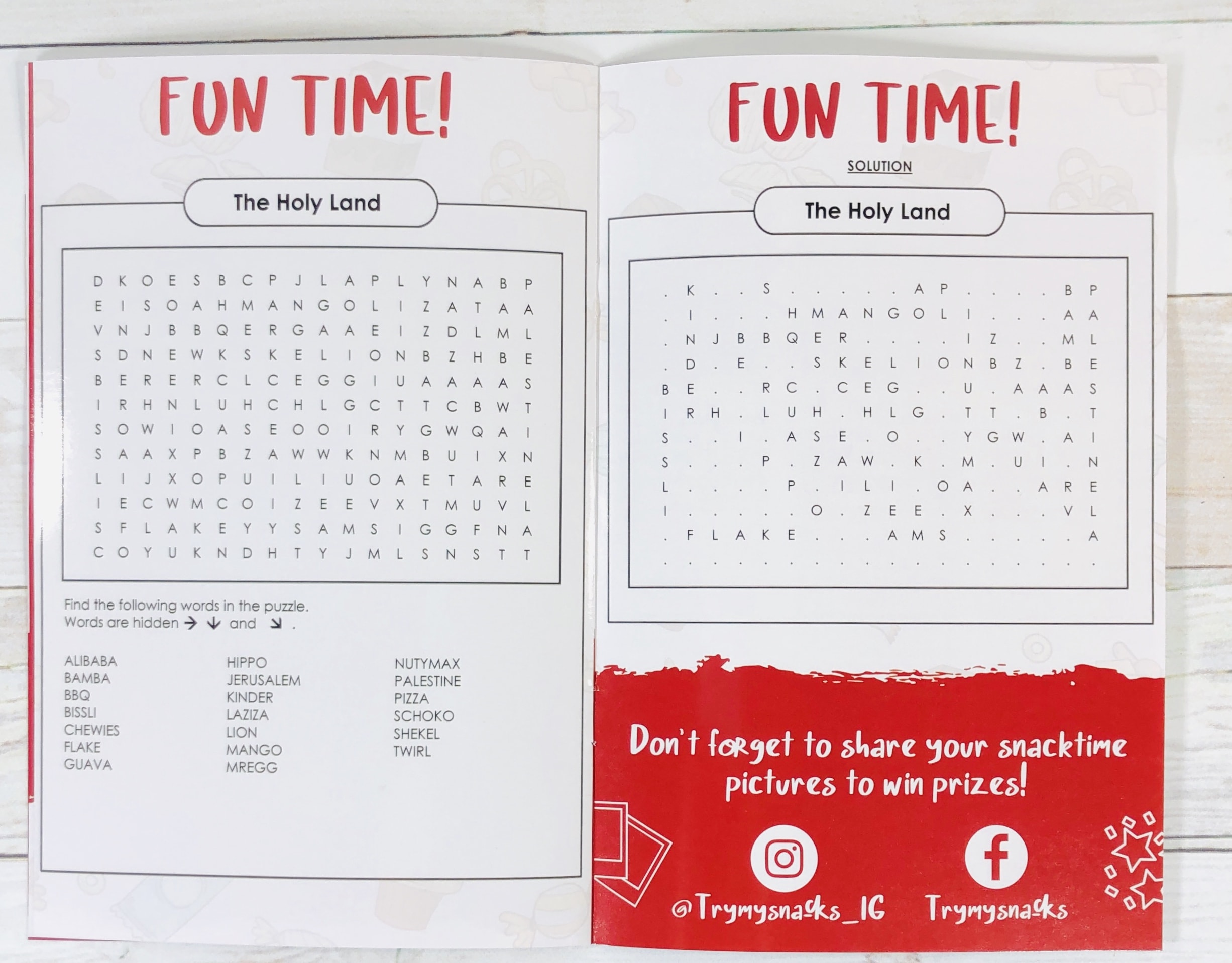 Next we have a puzzle, with the solution conveniently placed next to to it.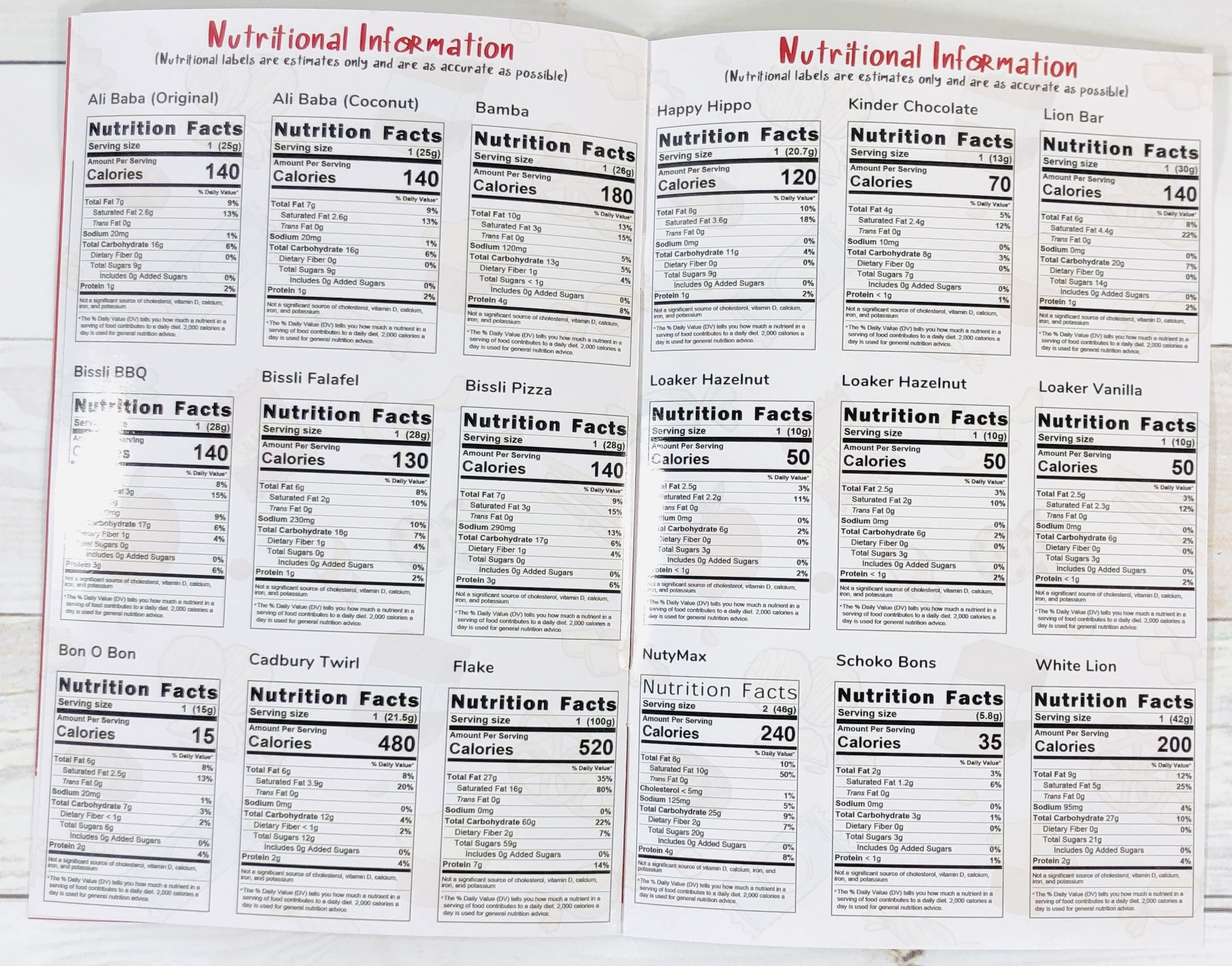 Finally we have some nutrition facts that may not be 100% accurate. Also, it has some items that weren't featured at all.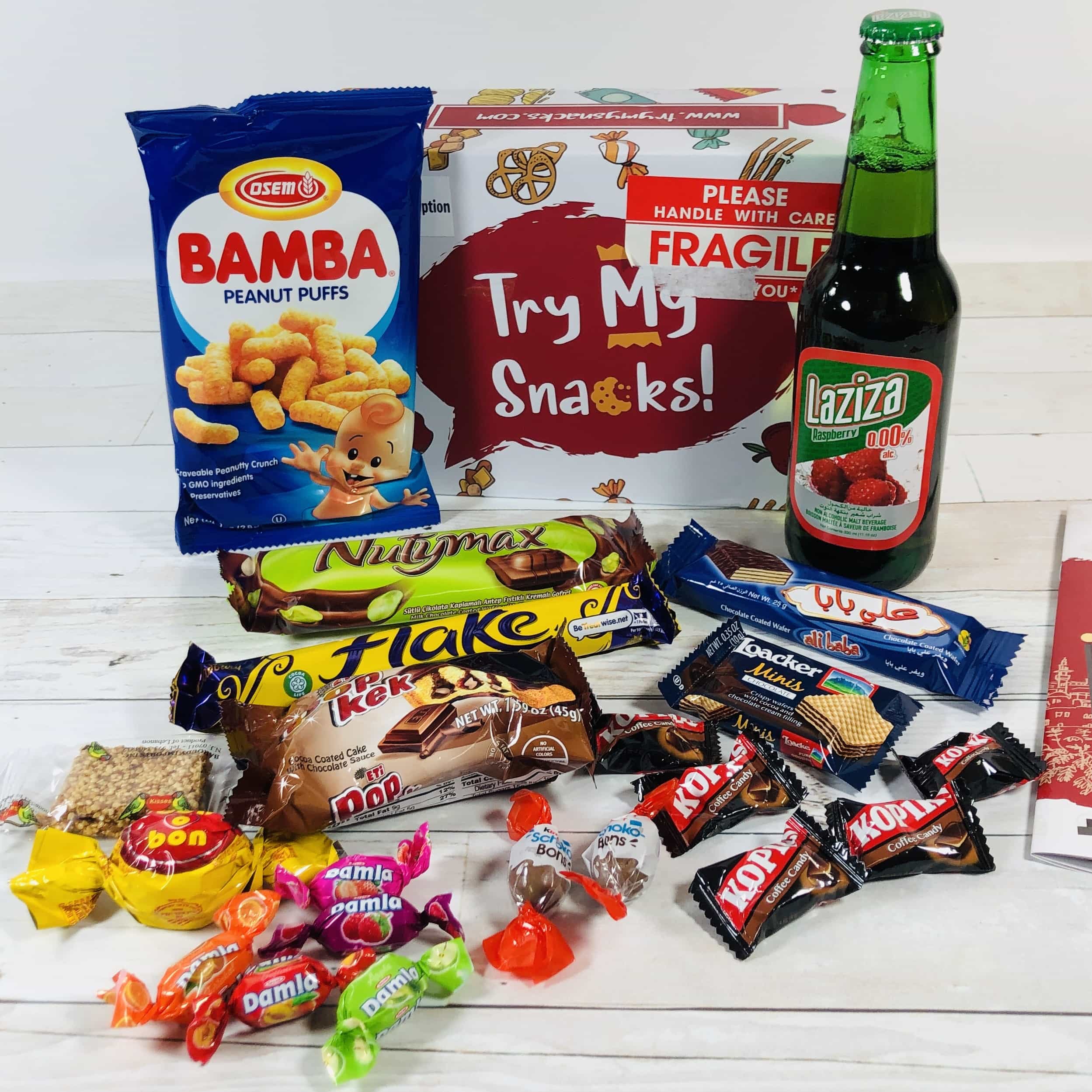 I'm not too picky about my snacks, as long as they are good, and these look very tasty. I see one of my all-time favorite candies, a Cadbury Flake, and I know that one is from England!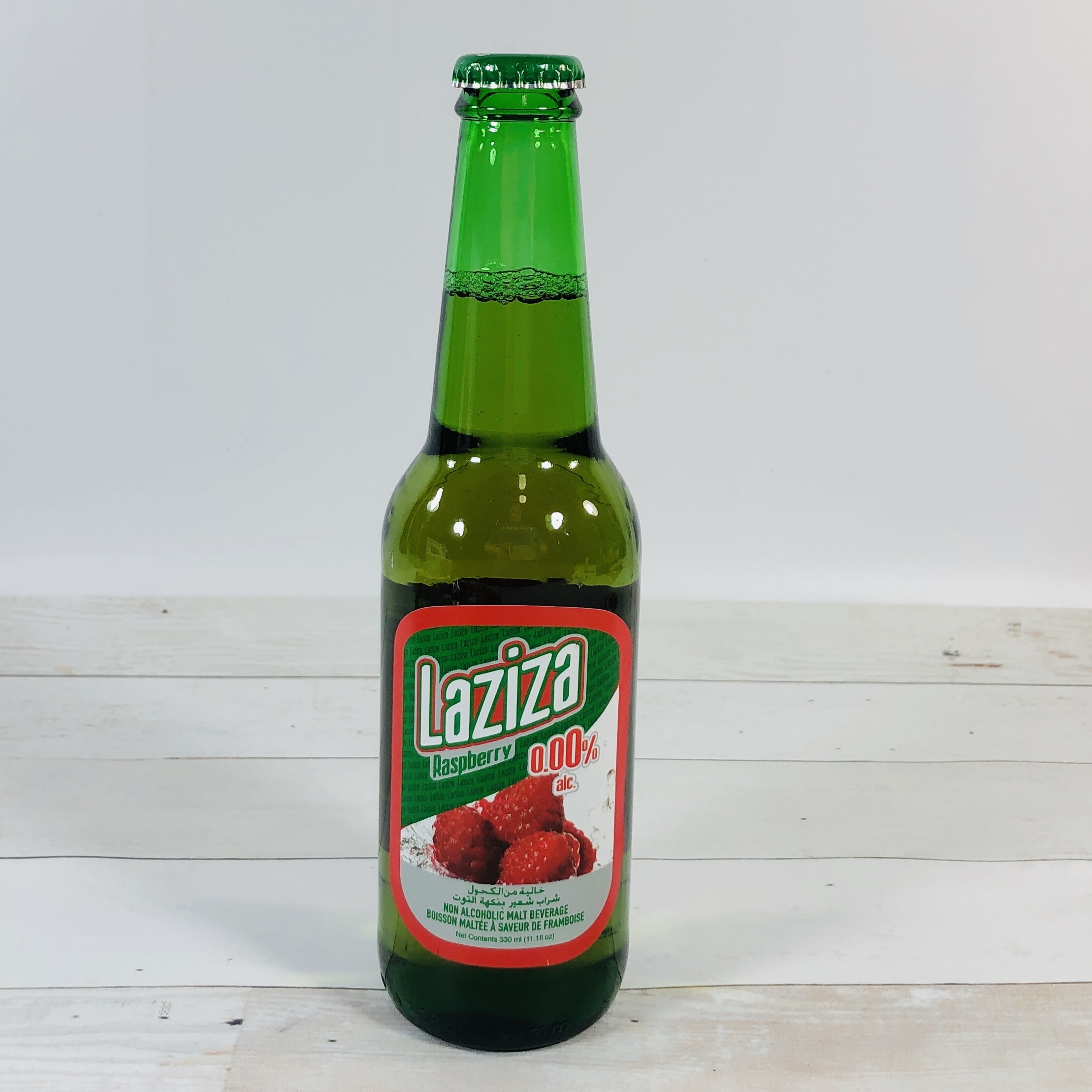 Raspberry Laziza If you opt for a beverage you can choose between sodas or juice and I chose soda. This one is a non-alcoholic "malt beverage" and I was worried it might taste like Near Beer or any beer (I don't drink beer) but it tastes like a raspberry soda. It sort of reminded me of the non-alcoholic carbonated apple or grape juice that I buy for New Year's Day, not super fruity.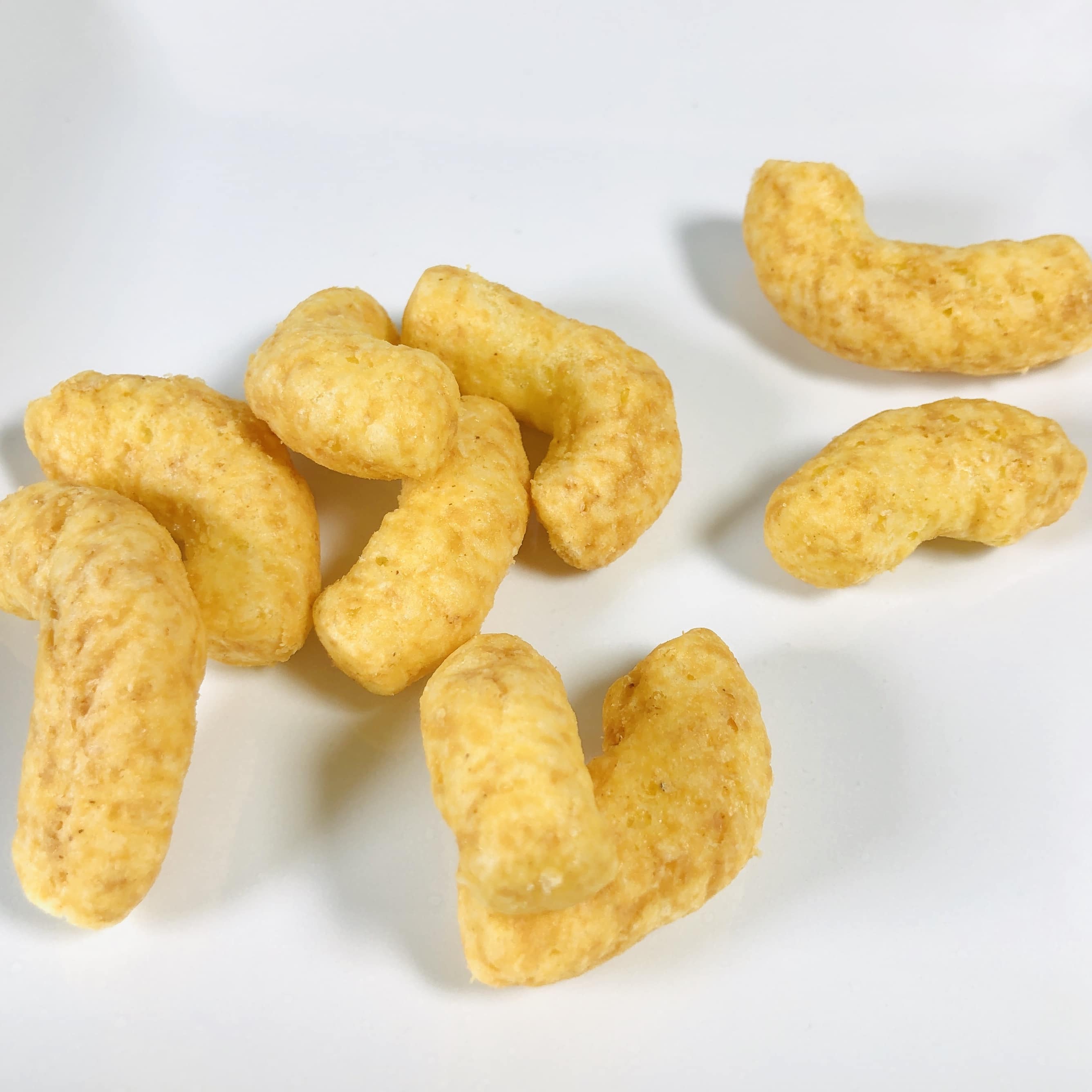 Bamba Peanut Puff Oh my gosh, do we have something like this in the U.S.? Because we (well, I) need it! It's like an unsweetened peanut butter flavored Cheetos puff, so good. See the baby on the package? This is a snack from Israel, where parents use it as baby food to introduce peanut butter to their children. It melts quickly, like Pirate Booty, but is much tastier.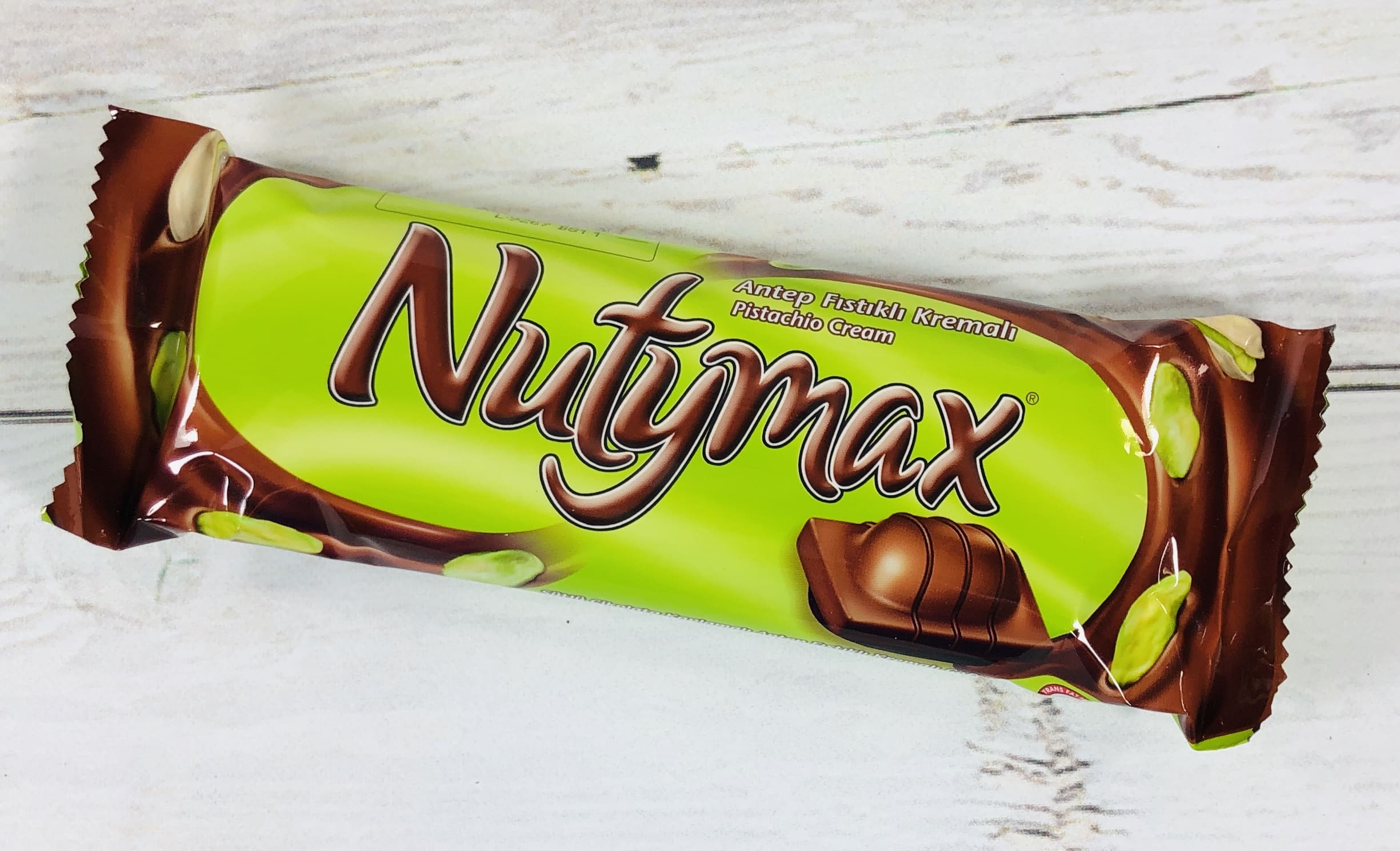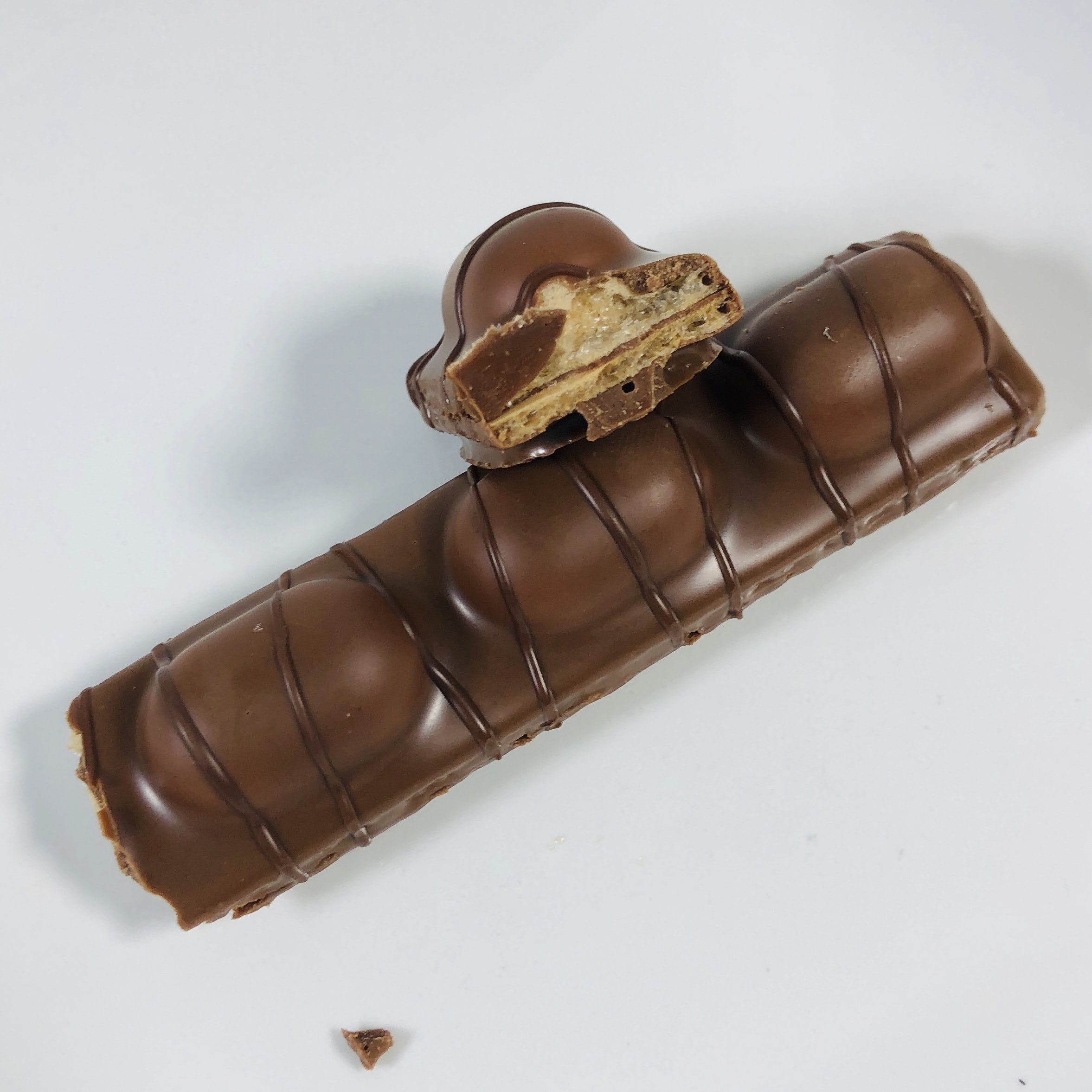 Nutymax Pistacio Cream is a wafer cookie with a chocolaty coating and a creamy nut-flavored filling inside. There were two individually wrapped packs inside, so eight segments total (four are shown in the photo).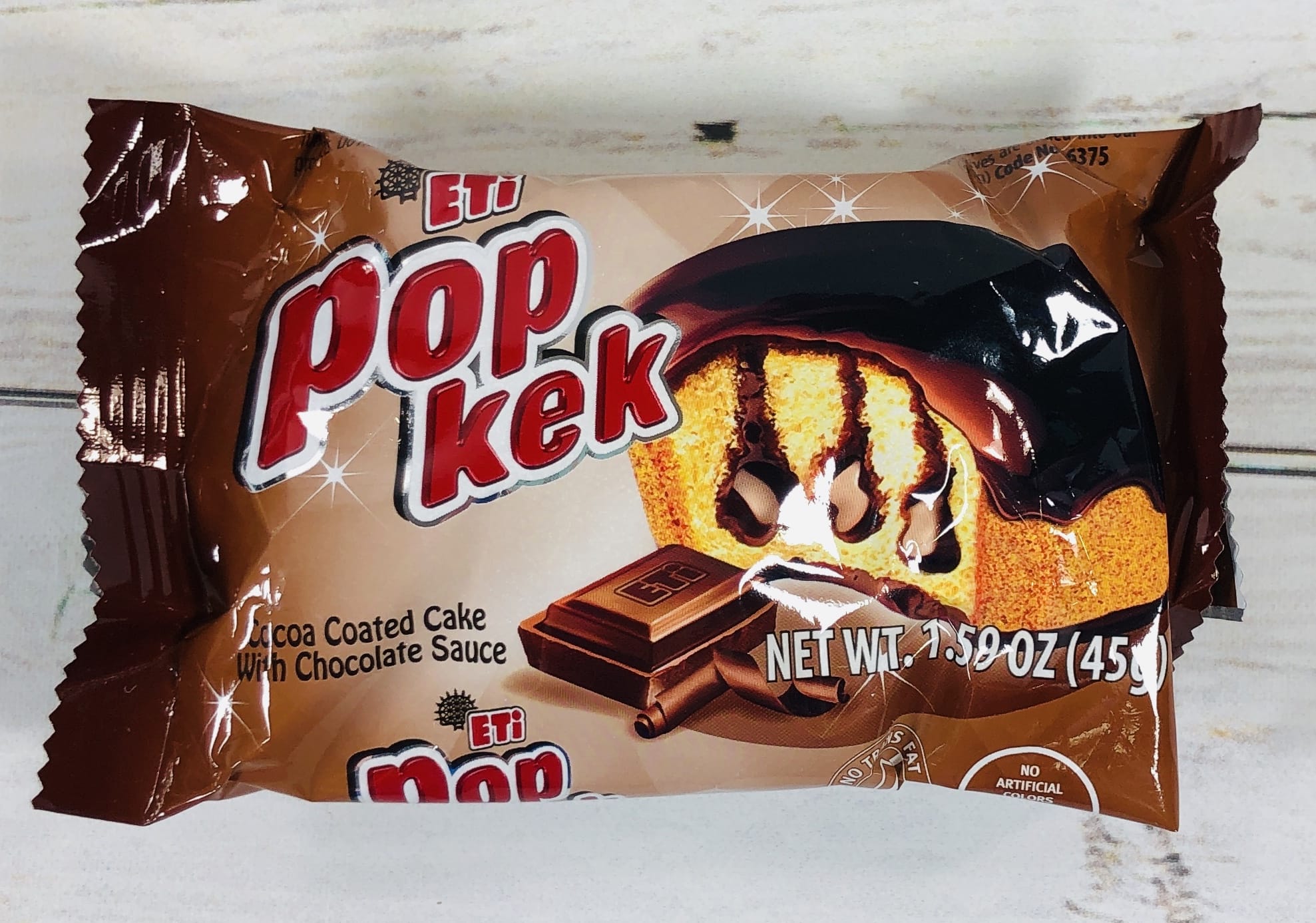 ETi Pop Kek are from Turkey and half the chocolate covering was left on the inside of the package. It's a moist yellow cake with a soft filling and chocolate covering, not bad and very sweet.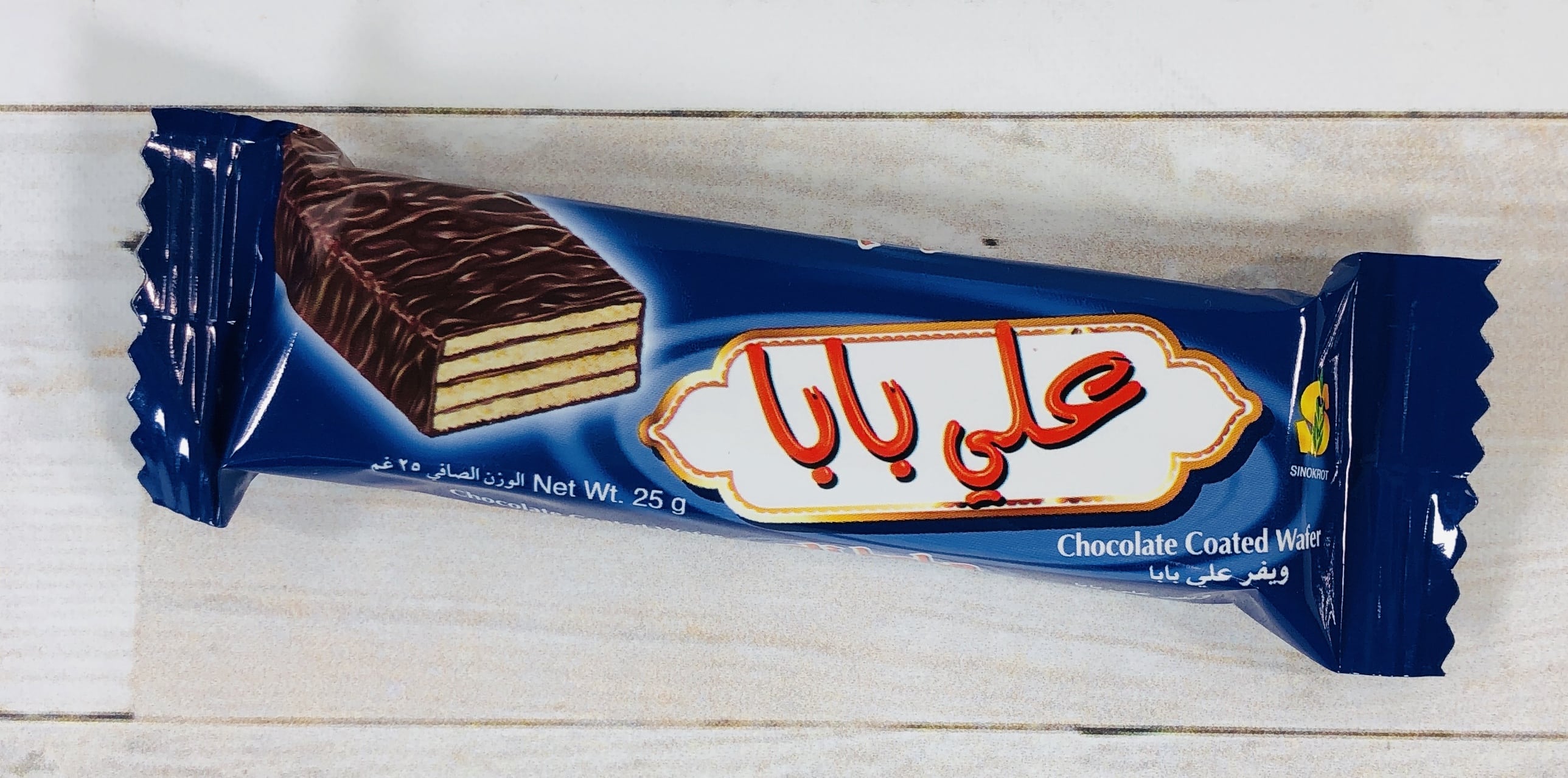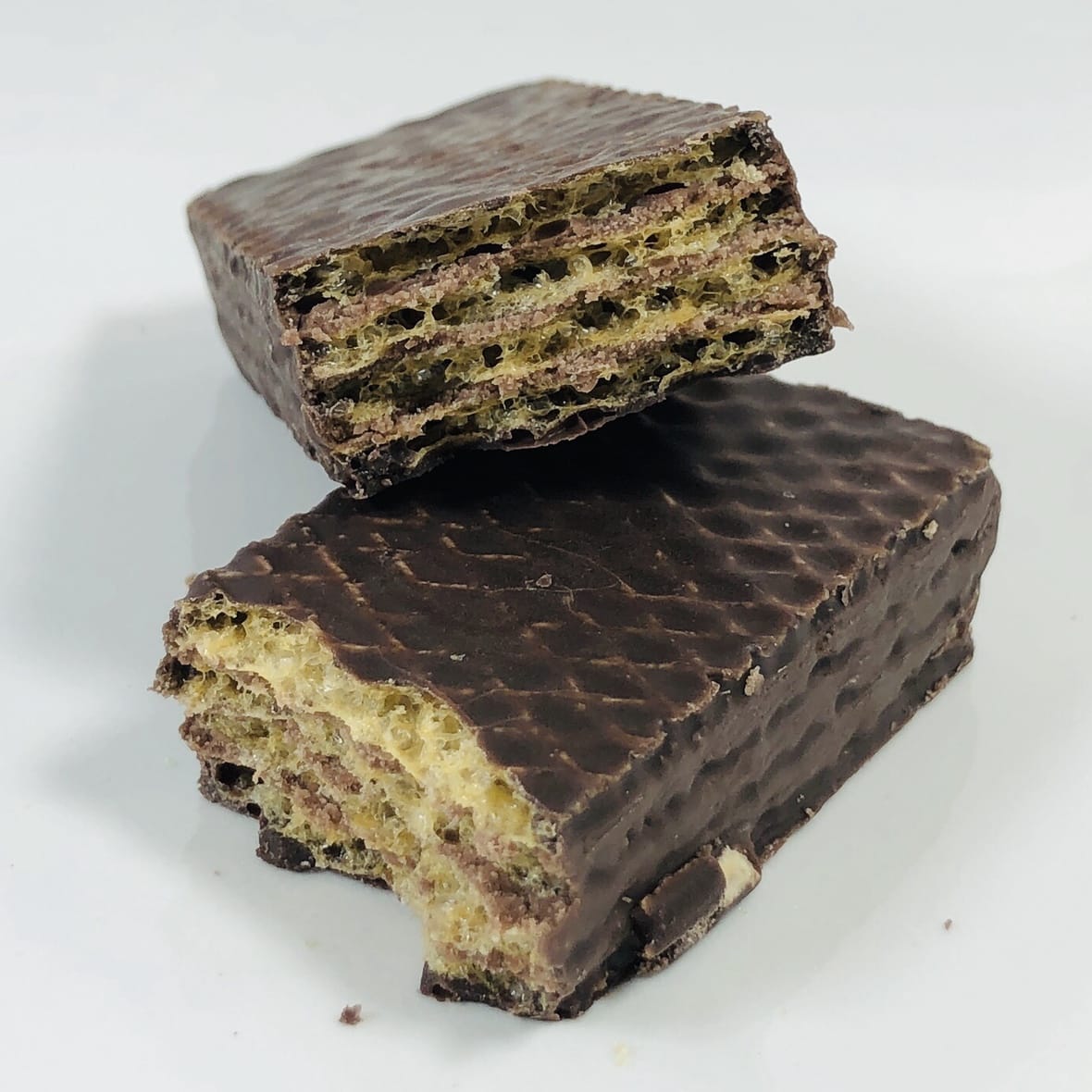 Ali-Baba Chocolate Coated Wafer is covered with chocolate and has a chocolate cream filling. Crispy and light.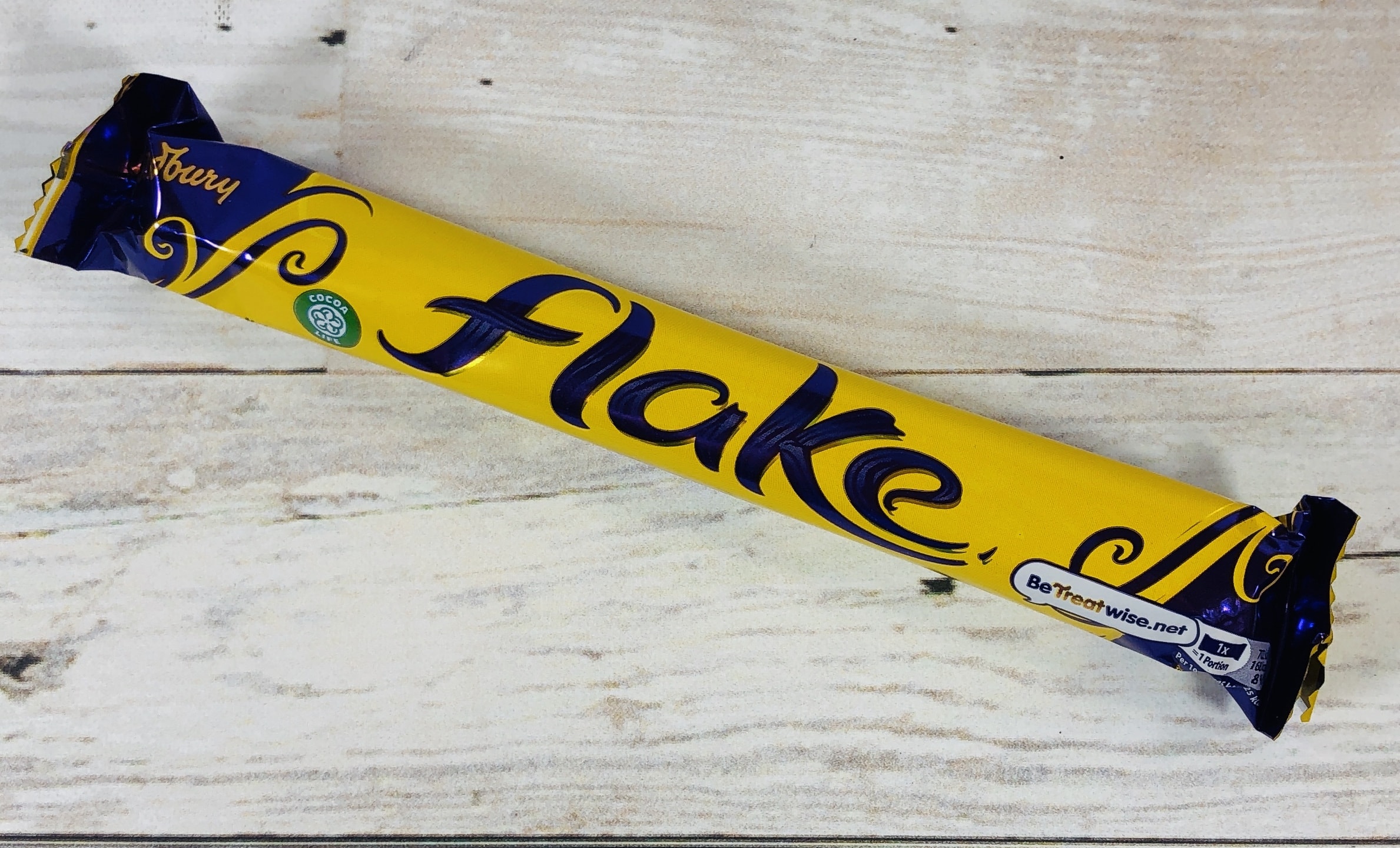 Cadbury Flake is one of my all-time favorite candies, and I know it's from England. I first had it in the U.K., where they stick it into a soft-serve vanilla ice cream cone, usually called Mister Whippy. I was so excited when I found I could buy it at the store. It's just good chocolate, and it flakes when you touch it, with those layers just melting in my mouth.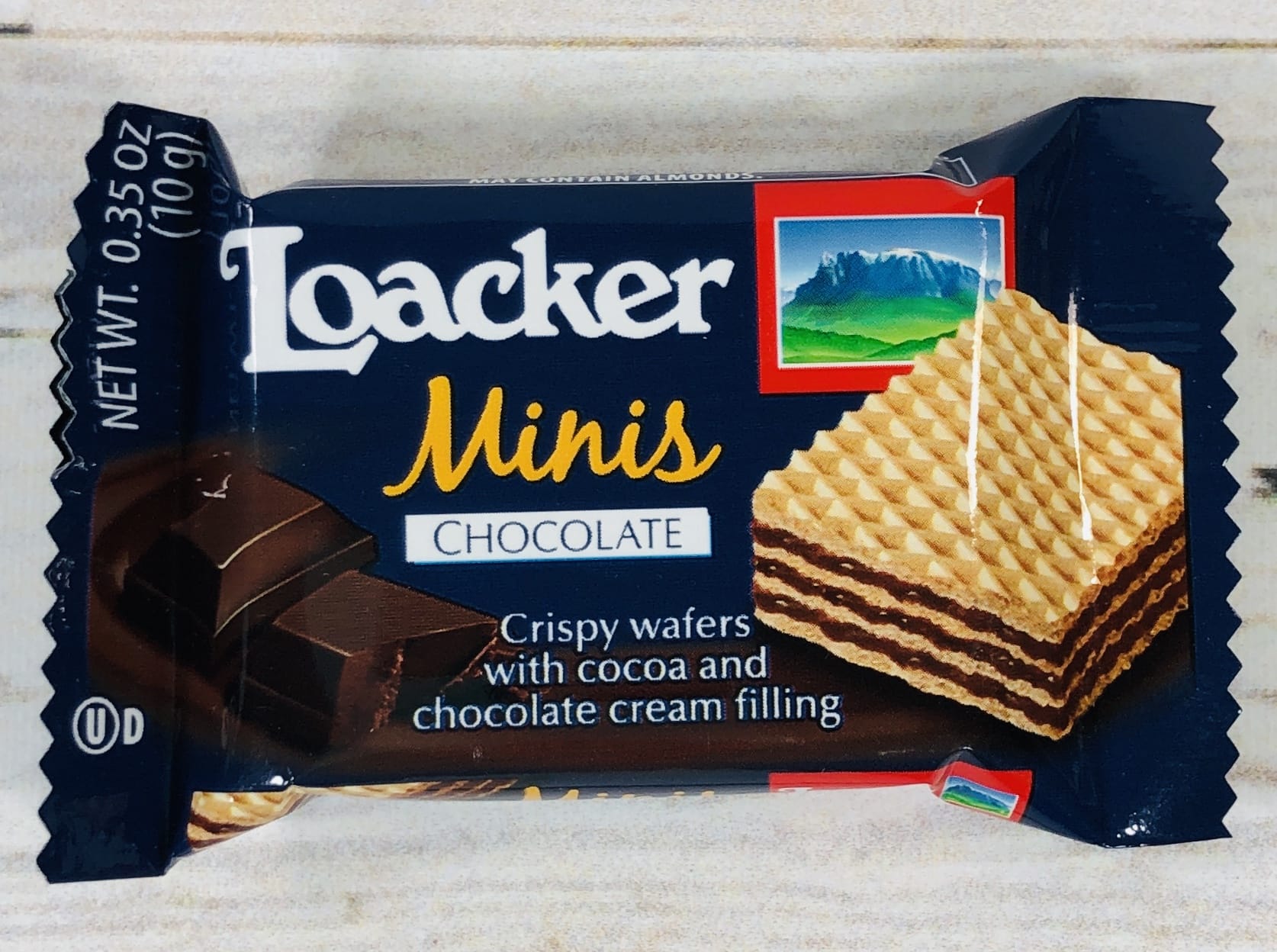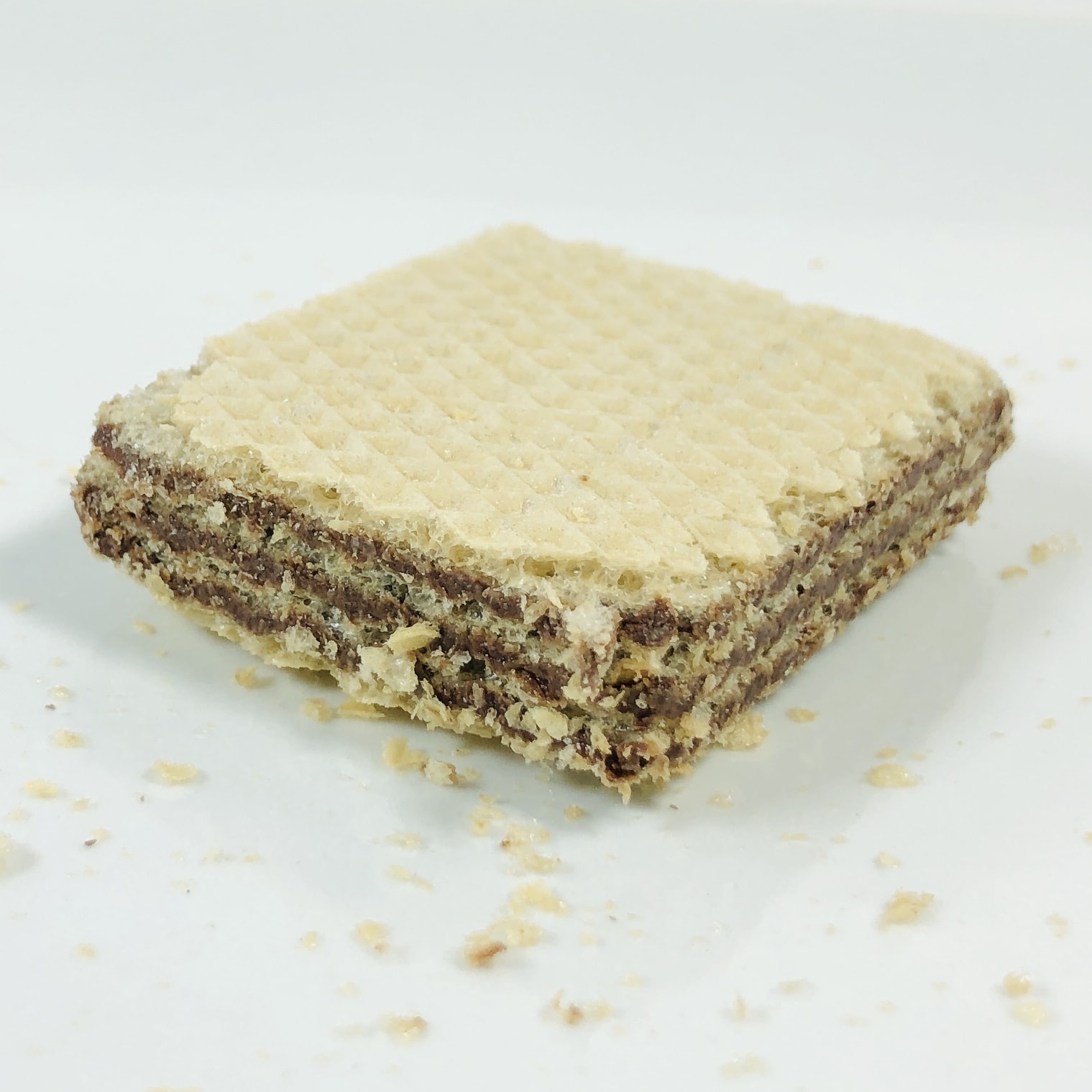 Loaker Mini Chocolate Wafers  are from Italy and are a basic cream-filled wafer cookie.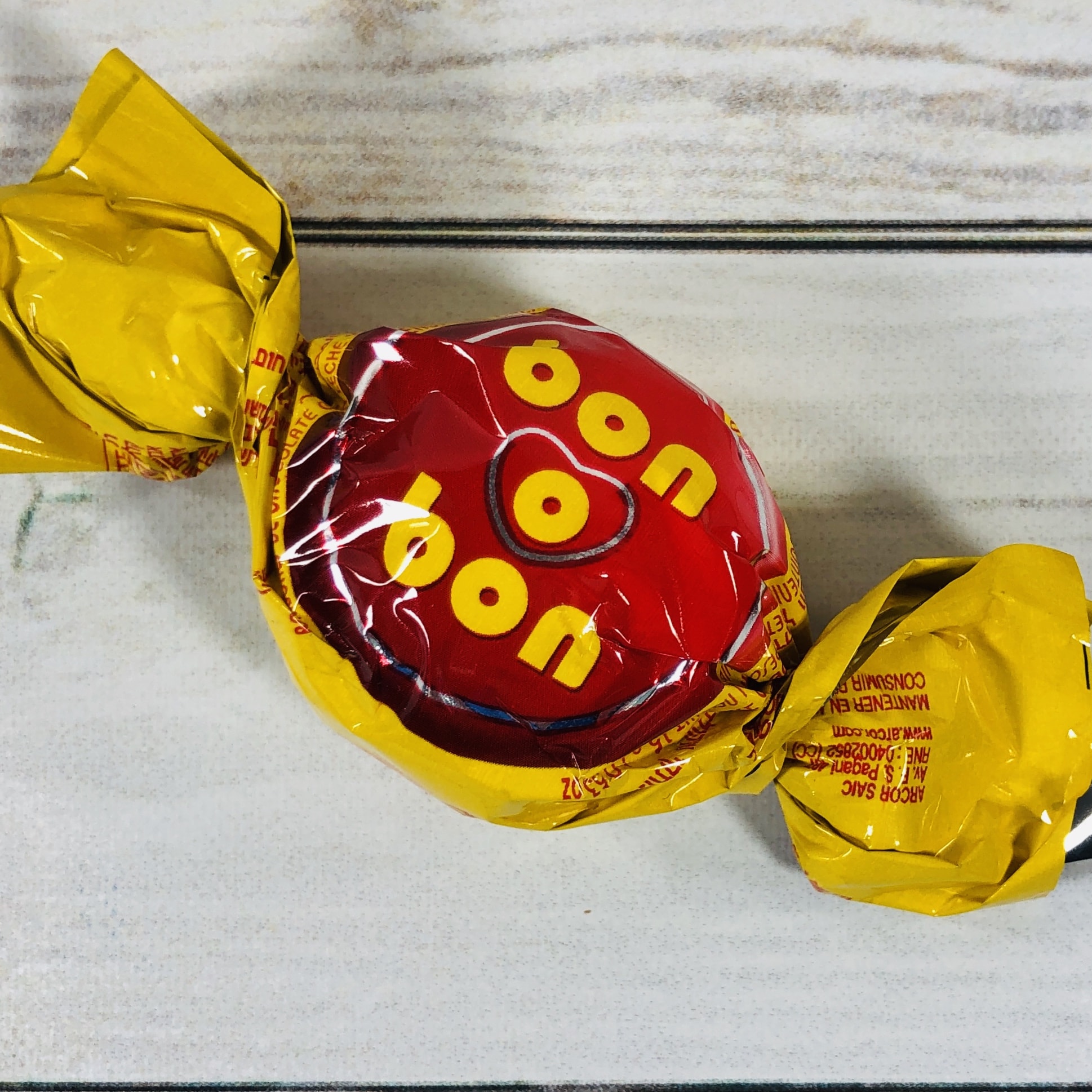 Bon O Bon is from Argentina and the funny thing is that I've tried this before from a Japanese snack box, they sure get around! It's a chocolate covered wafer cookie that is filled with a creamy peanut butter filling, much fluffier than a Reese's PB cup.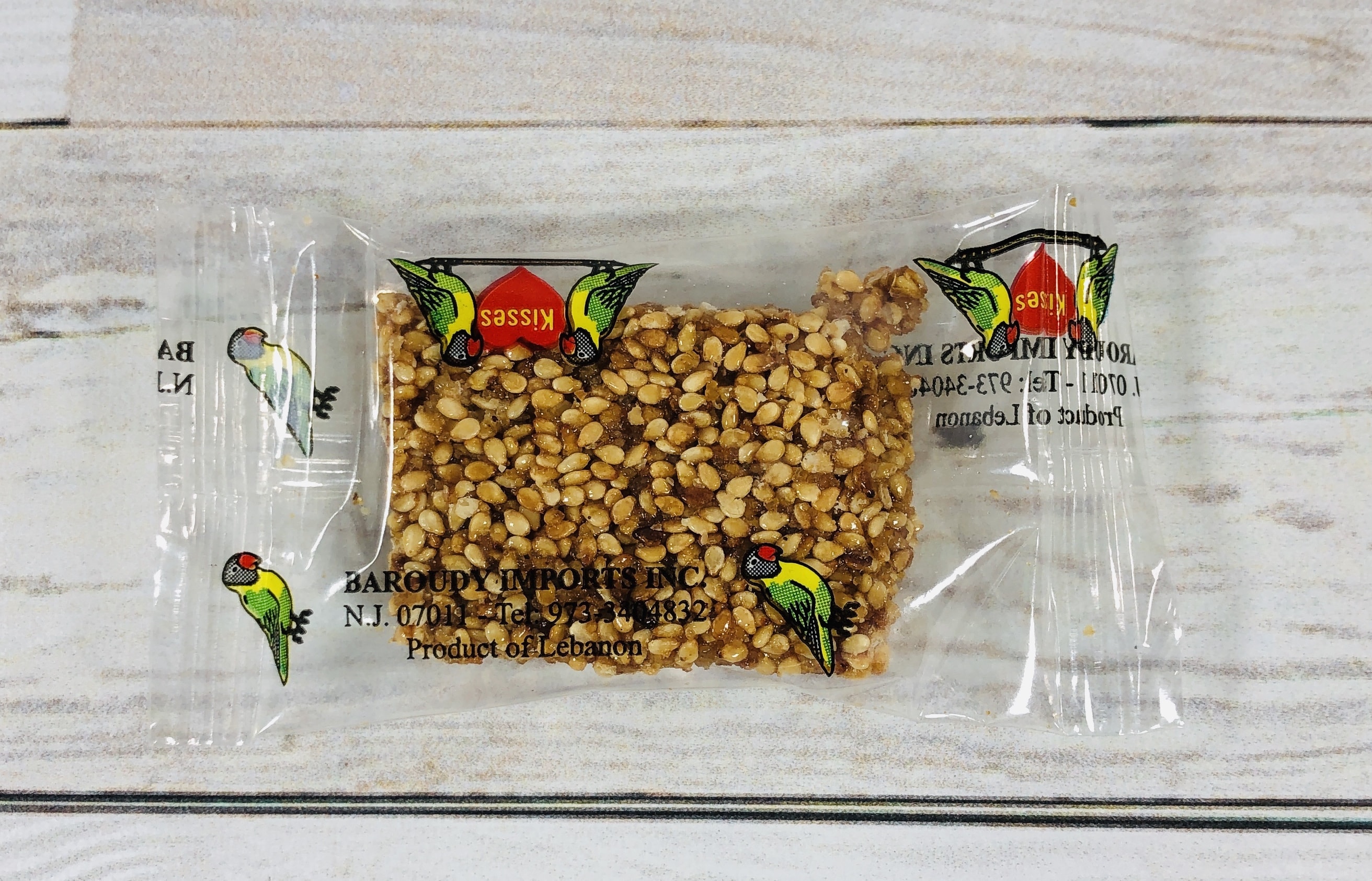 Kisses Sesame Bar is from Lebanon and it is sesame seeds combined with a crunchy candy to hold it together, like sesame brittle. The sesame seeds seem toasted and this is a crunchy sweet and nutty snack.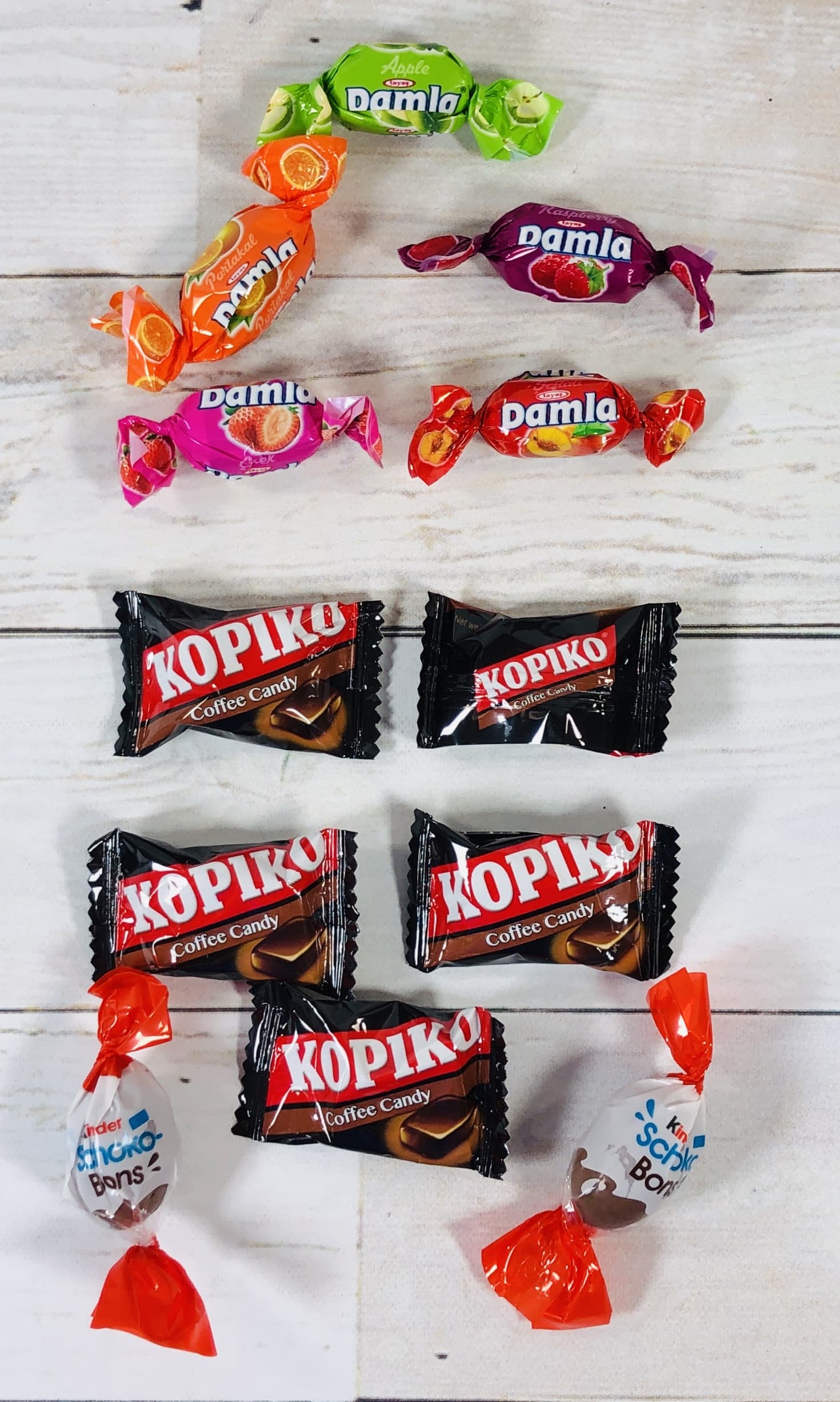 Damla Fruit Chews reminded me of Starburst candies, and taste sweet, fruity, and are chewy. From Turkey.
Kopiko Coffee Candy  are classic hard candies that taste like coffee. From Indonesia.
Kinder Schoko-Bons look like chocolate eggs but the inside has a creamy filling with pieces of crushed hazelnut. I believe these are from Germany.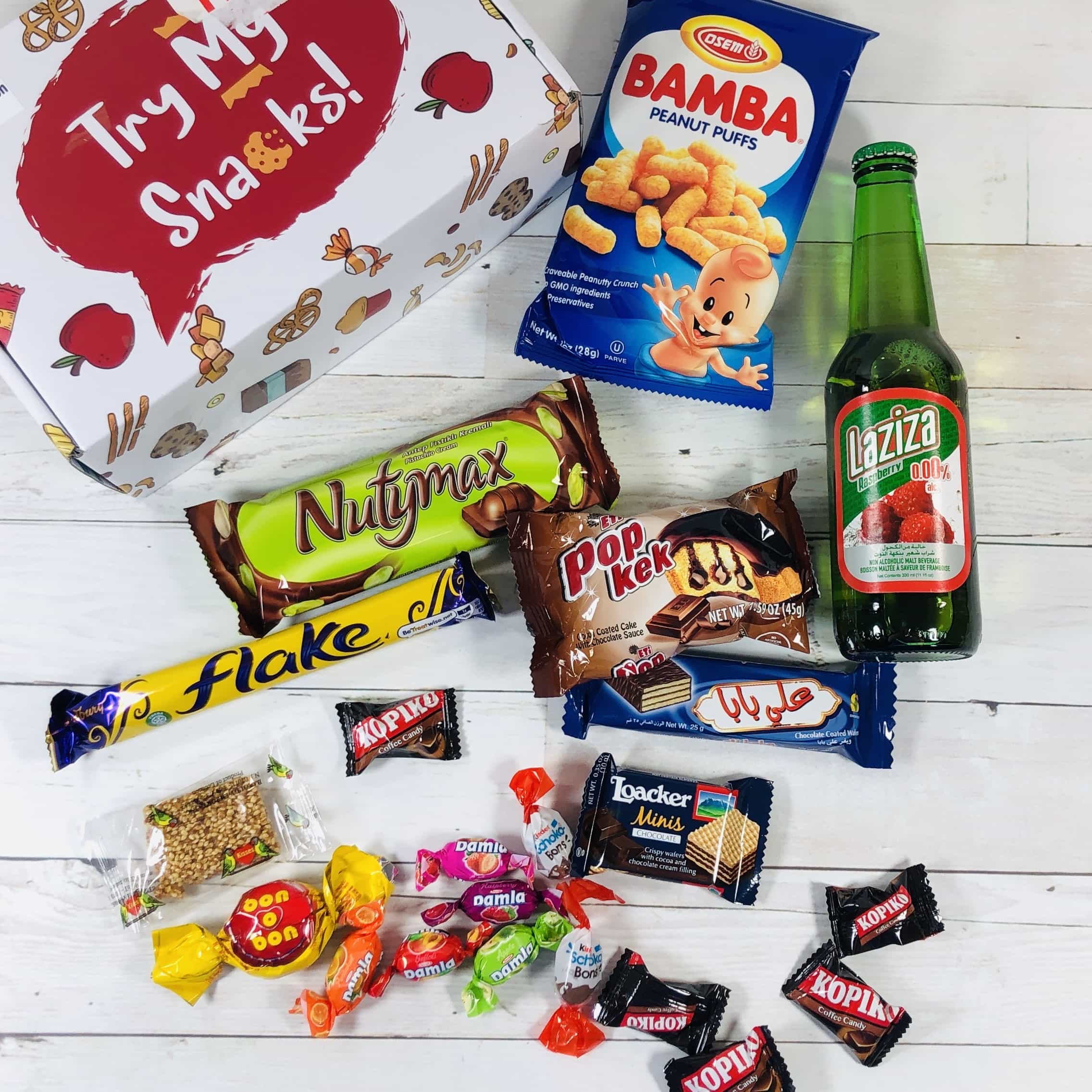 I liked the assortment of products I received in my very first Try My Snacks box! I wish it had contained a couple more salty snacks (chips or crackers) but chocolate is always good. I was confused by the booklet, which listed the snacks found in each subscription level, but then again, this is a box that is supposed to send snacks that are curated to your tastes. All of the snacks were not exactly from the featured country and some of them weren't listed in the booklet at all. I enjoyed learning about Palestine and the recipe was appreciated too. I really wish school was in session because one of my students is from Palestine and I would have loved discussing this with him!
Any thoughts about this box?