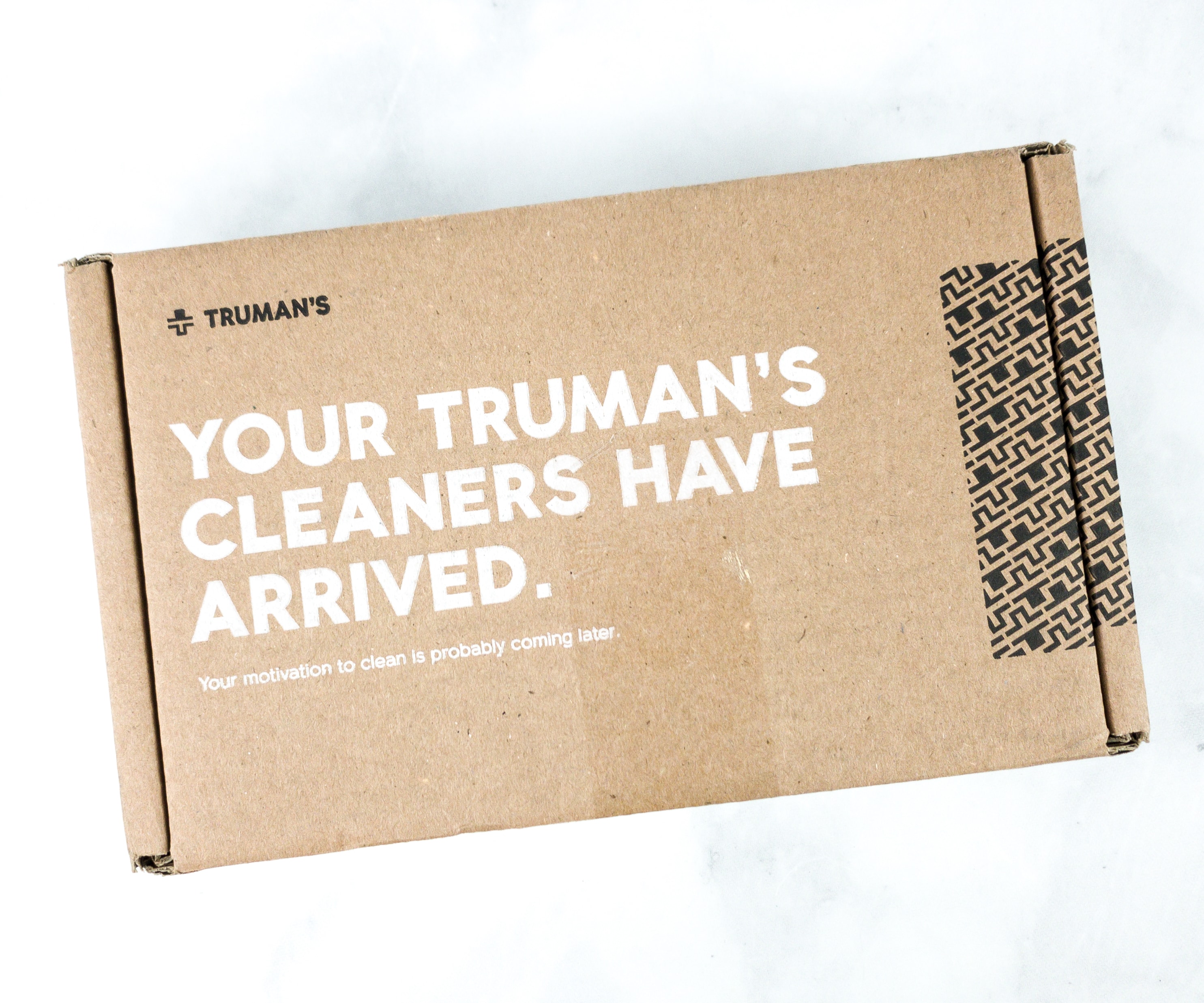 Truman's offers non-toxic, eco-friendly home cleaning products to cover every single cleaning need for your home. They have membership bundles, as well as individual products. Membership bundles come with a subscription which you can cancel or customize anytime. Other membership perks include member pricing (20% off+ everything), plus free shipping on all products. Members even get a dedicated text-based customer service line. Here are all the current Membership Bundles available:
Truman's Home Care Membership Bundle – $29
The Toilet + Dish Membership Bundle – $25
The Toilet + Laundry Membership Bundle – $25
The Ultimate Toilet Membership Bundle – $21
This is the review of Truman's newest membership club, the Home Care Membership Bundle. The membership costs $29 per month for a family plan and $29 every 2 months for a single plan. It will include everything you need to clean your dishes, laundry, and toilet bowls! Plus, it's eco-friendly, non-toxic, and plastic-free.
DEAL:  Use the coupon code GETTRUMANS at checkout to get 25% off your first purchase!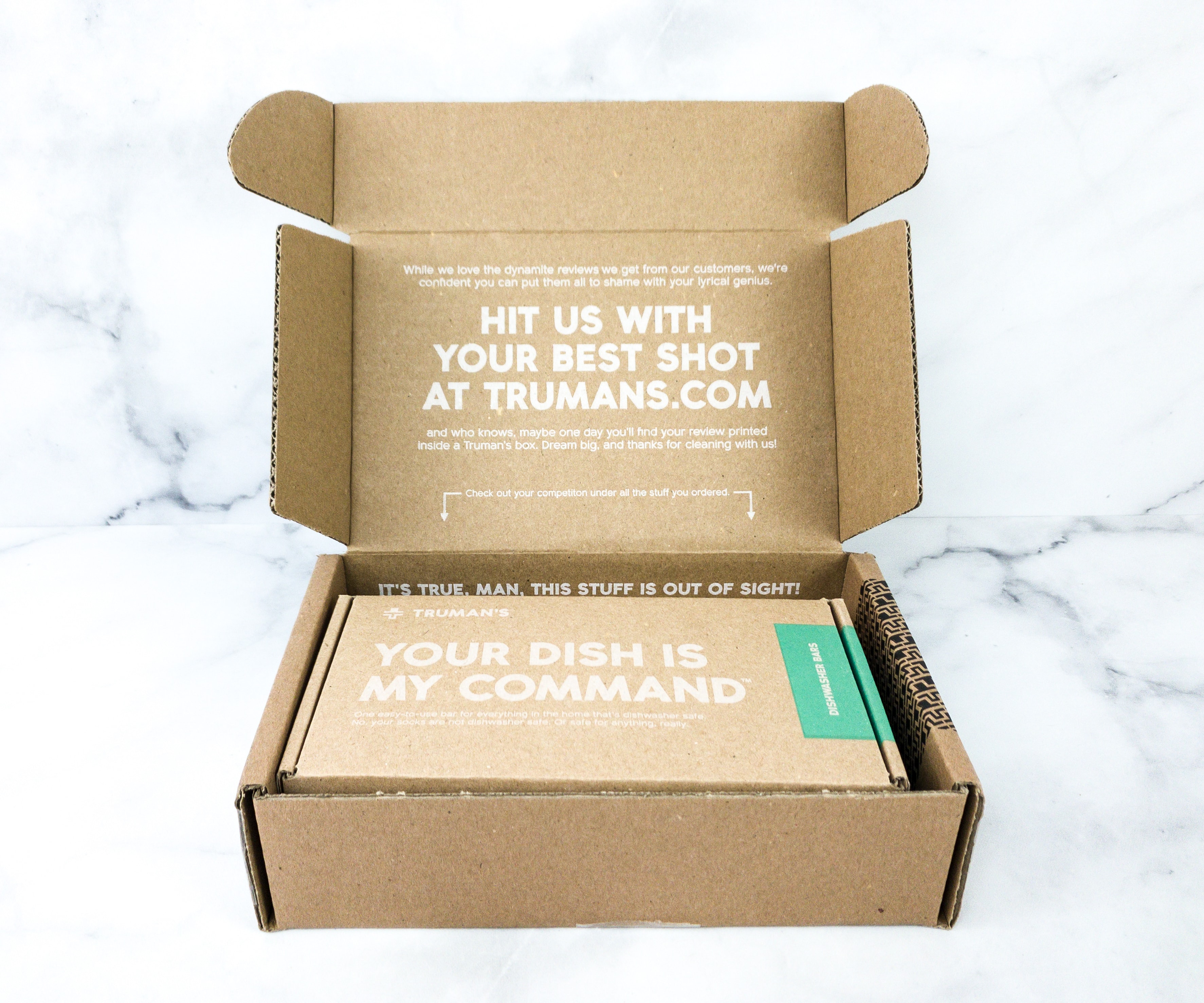 The interior packaging is made from 100% post-consumer recycled cardboard that is both recyclable and compostable.
Truman only uses ingredients from the CleanGredients list!
CleanGredients is the definitive database of chemical ingredients whose formulations have been pre-approved by the U.S. EPA to meet the criteria of their Safer Choice Standard.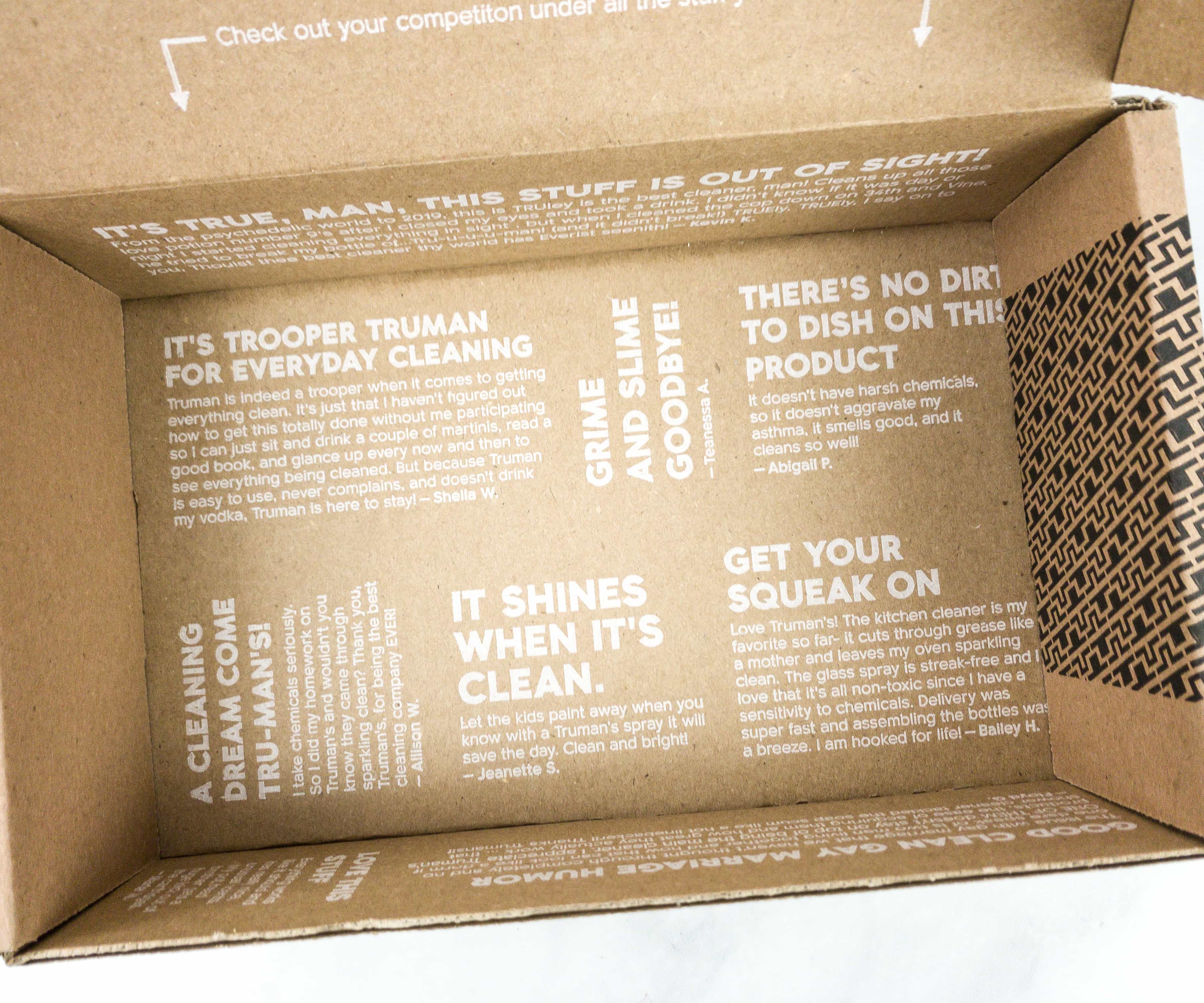 The interior of the box has reviews from other members!
They also included a card in the box with a thank you note.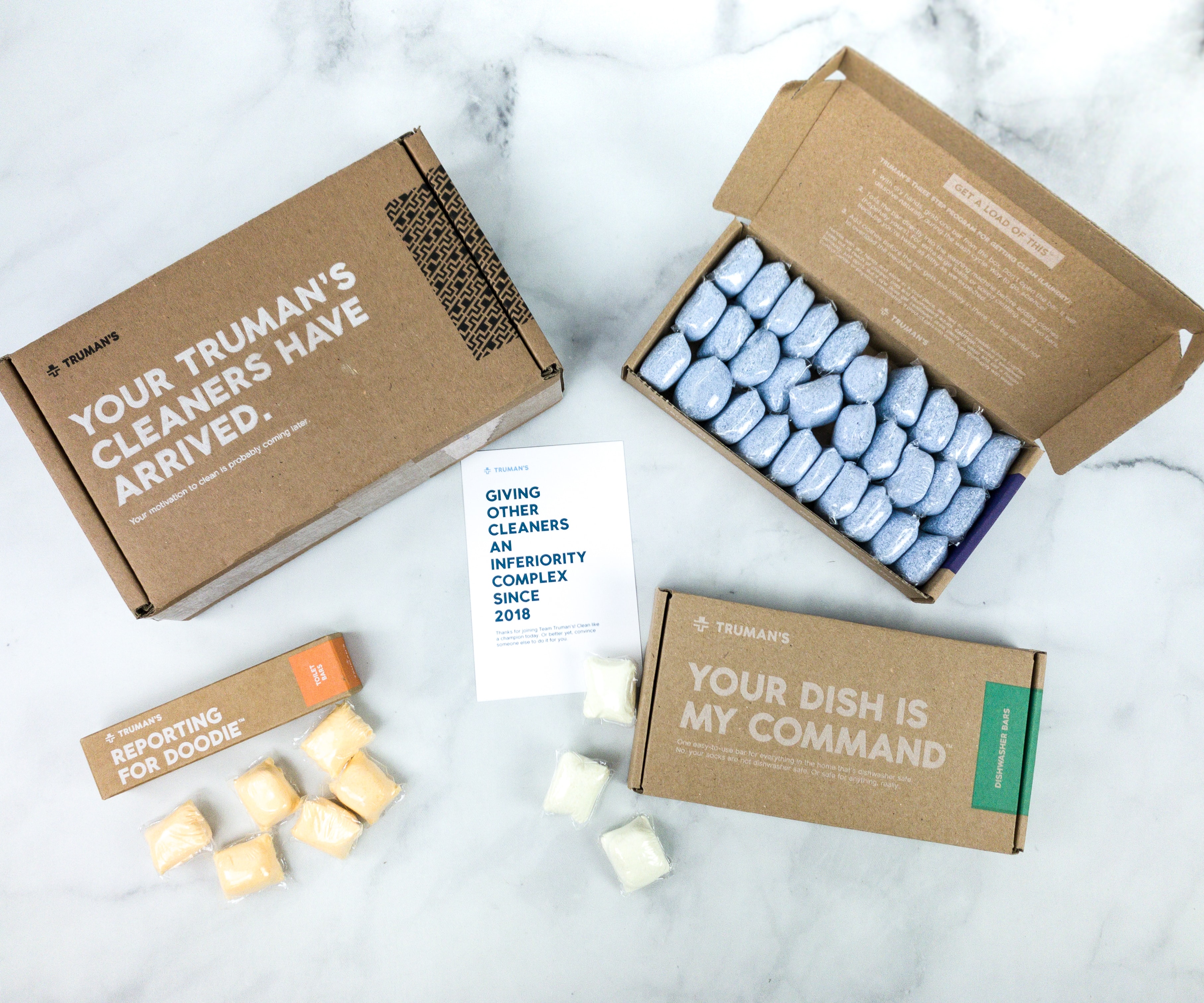 Everything in my box!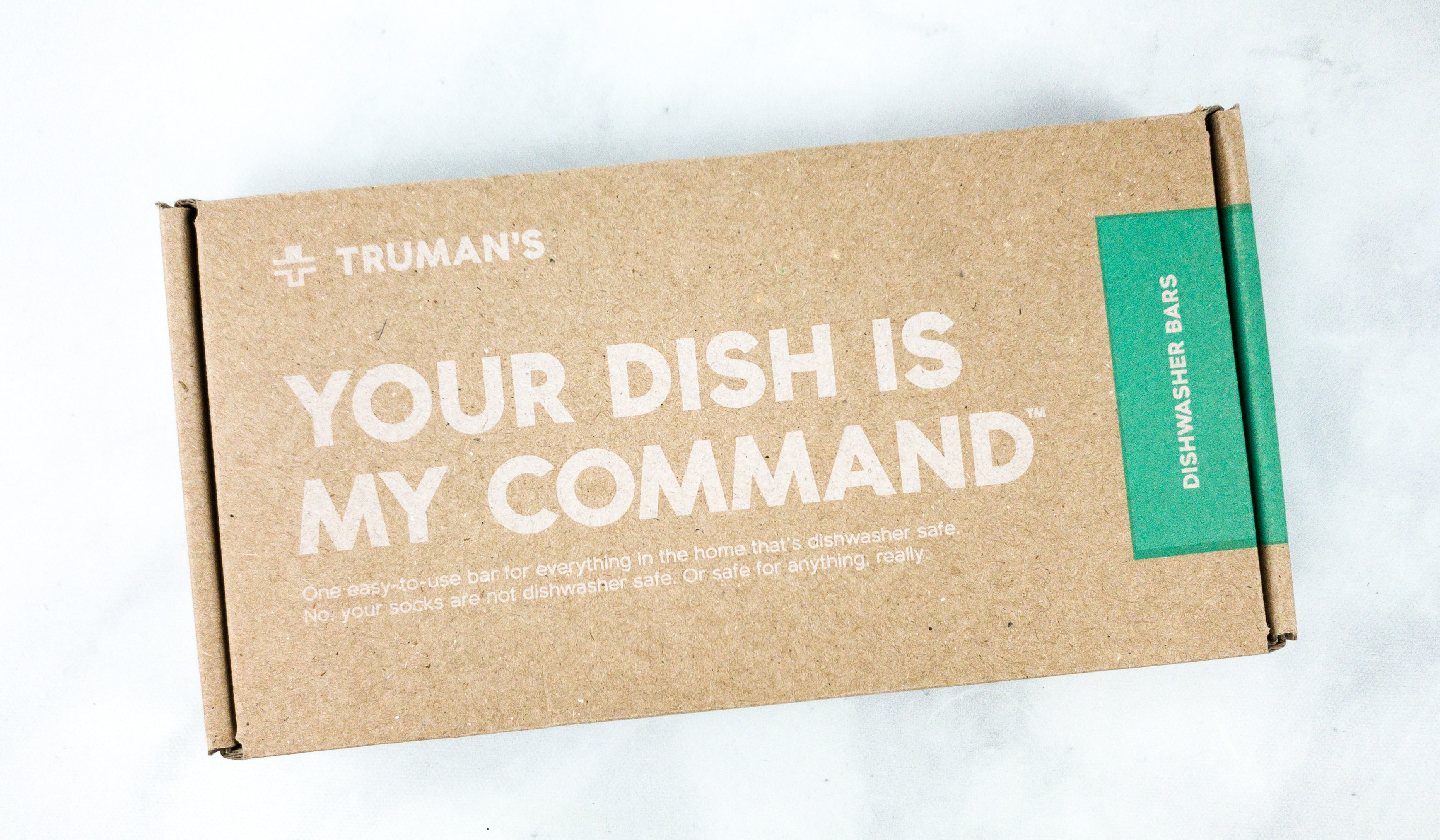 30 Your Dish Is My Command Dishwasher Bars. These dishwasher bars are perfect for keeping dinnerware squeaky clean. The box contains 30 fragrance-free dishwasher bars, and they're non-toxic! Note – Truman's calls "bars" what everyone else calls "pods." I'm not sure of the reason for that linguistic choice, but it's fine by me!
Ingredients for the dishwasher bars: sodium carbonate, sodium metasilicate, sodium carbonate peroxide, sodium gluconate, sodium citrate, laureth-7, hexyl glucoside, enzymes (amylase, protease lipase), silicon dioxide, curcumin & lemon rind extract, and polyvinyl alcohol film.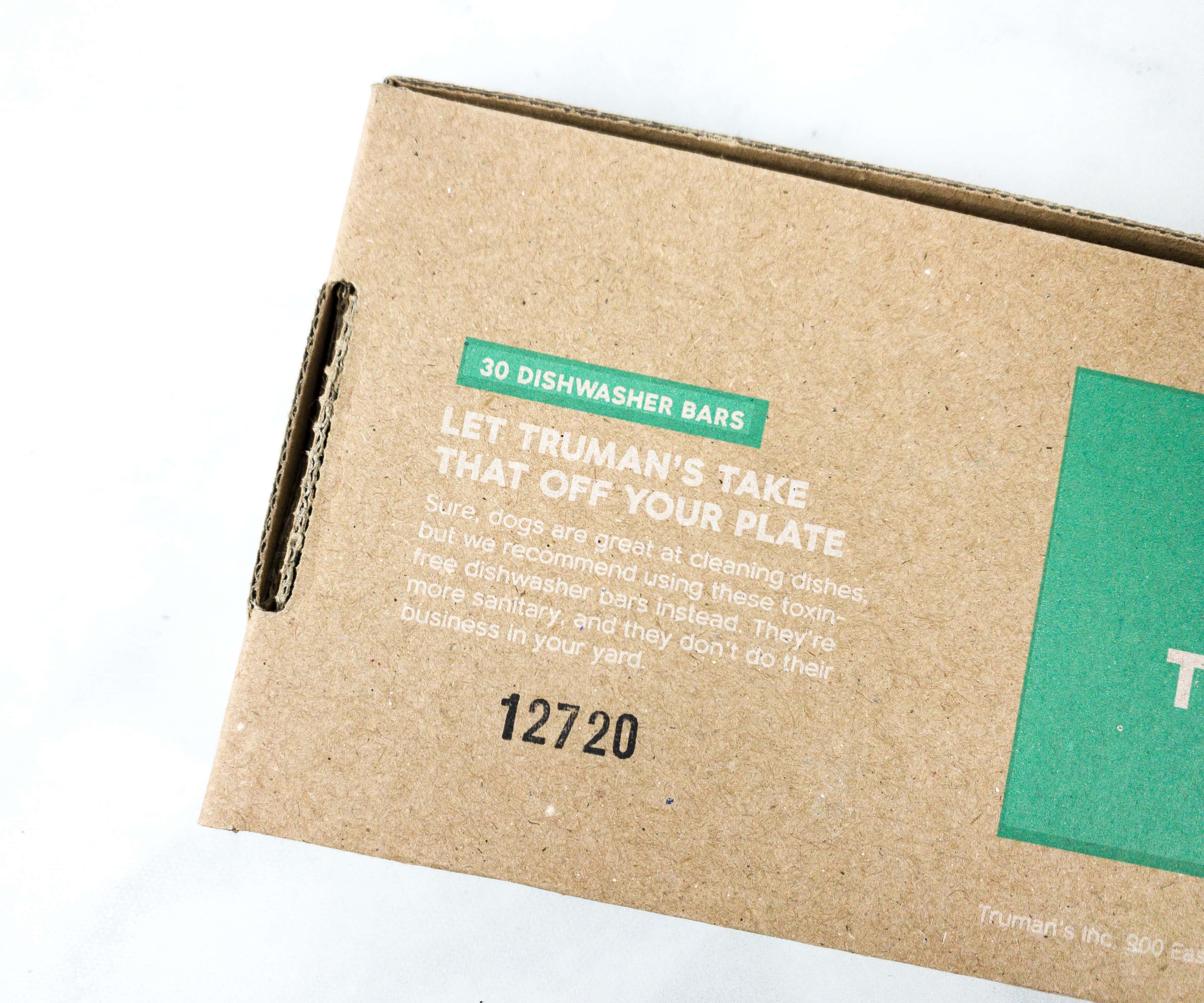 They're developed with non-GMO enzymes for advanced food removal and they also have spot-free drying power, making glasses shine. The bars are even septic-safe and free from dyes!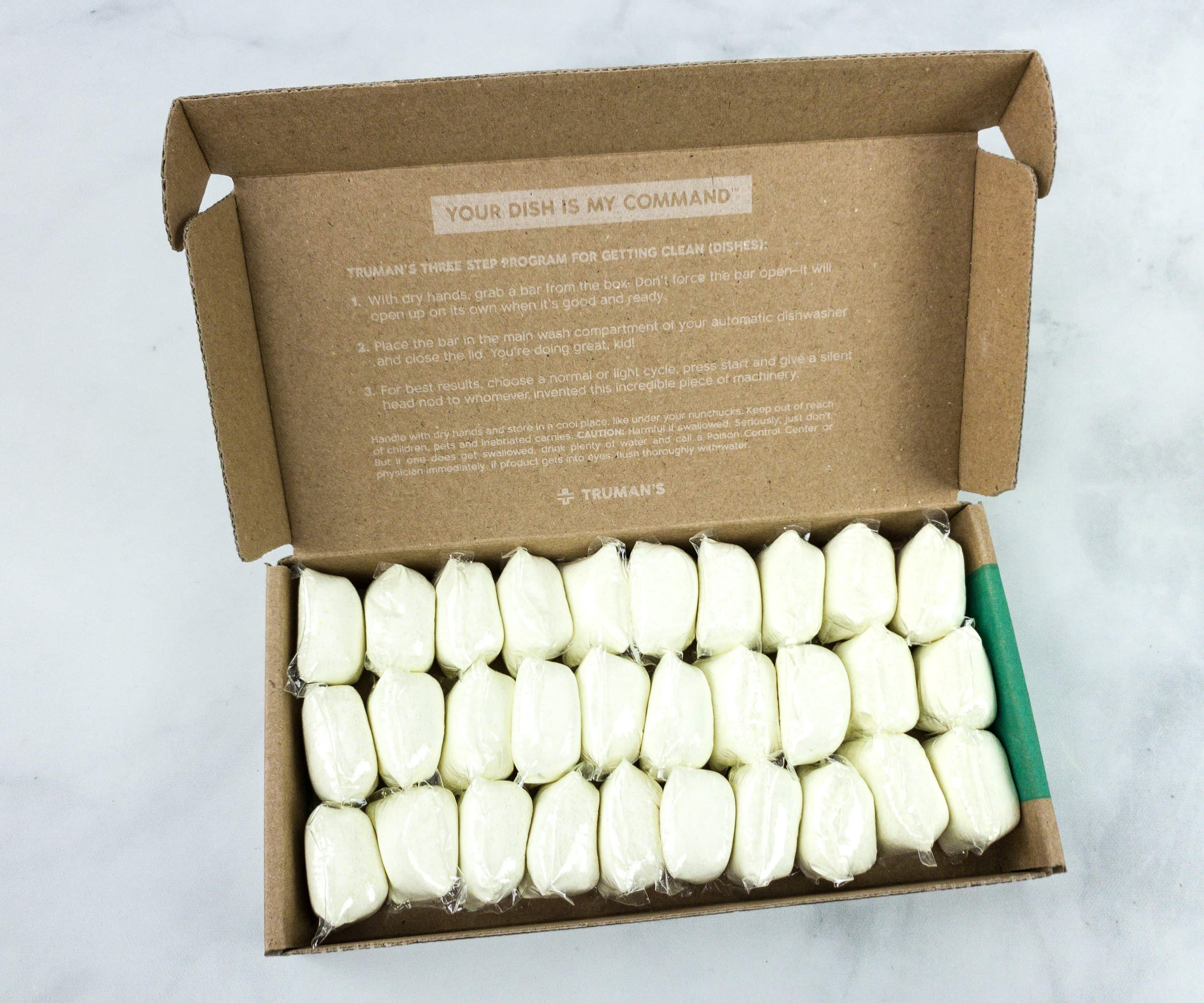 Aside from being toxin-free, the bars are waste-free as they are dissolvable. Each bar provides a deep clean without harmful and agitating chemicals.
To use, handle the bars with dry hands and store them in a cool place. Grab a bar from the box and place the bar in the main compartment in the dishwasher and close the lid, then let the automatic dishwasher do the job. For best results, use a normal or light cycle.
30 Get a Load of This Laundry Bars. Here's a non-toxic alternative to your usual laundry detergent, Truman's laundry bars!
Ingredients for laundry bars: sodium carbonate, sodium carbonate peroxide, sodium metasilicate, lauryl glucoside, sodium gluconate, sodium citrate, laureth-7, sodium coco sulfate, zeolite, enzymes (amylase, protease lipase), silicon dioxide, beet and blueberry extract, and polyvinyl alcohol film.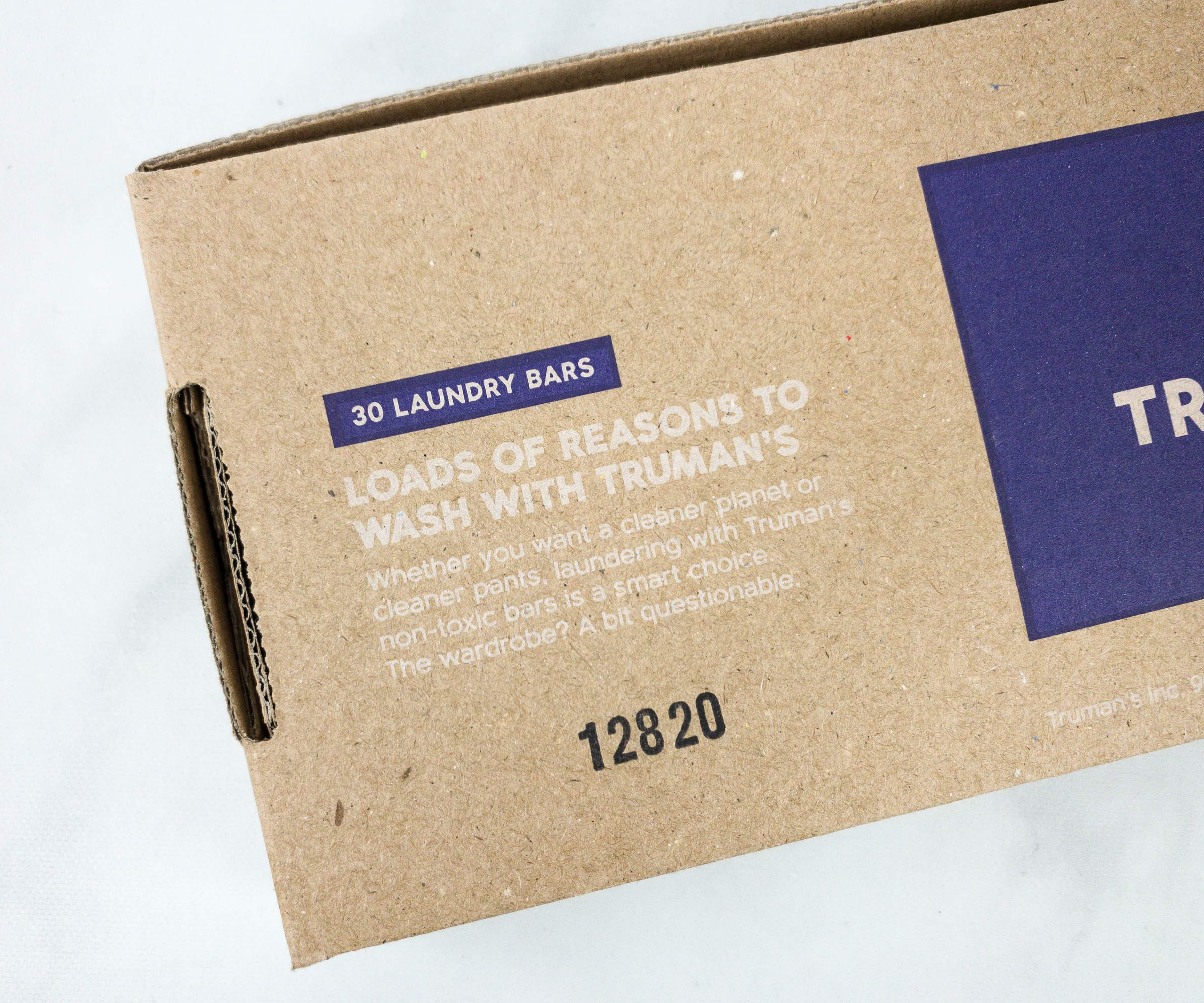 The box also has 30 fragrance-free laundry bars that work on even the toughest stains on clothes using integrated antimicrobial technology. It doesn't contain harmful, toxic, strong-smelling, and agitating chemicals.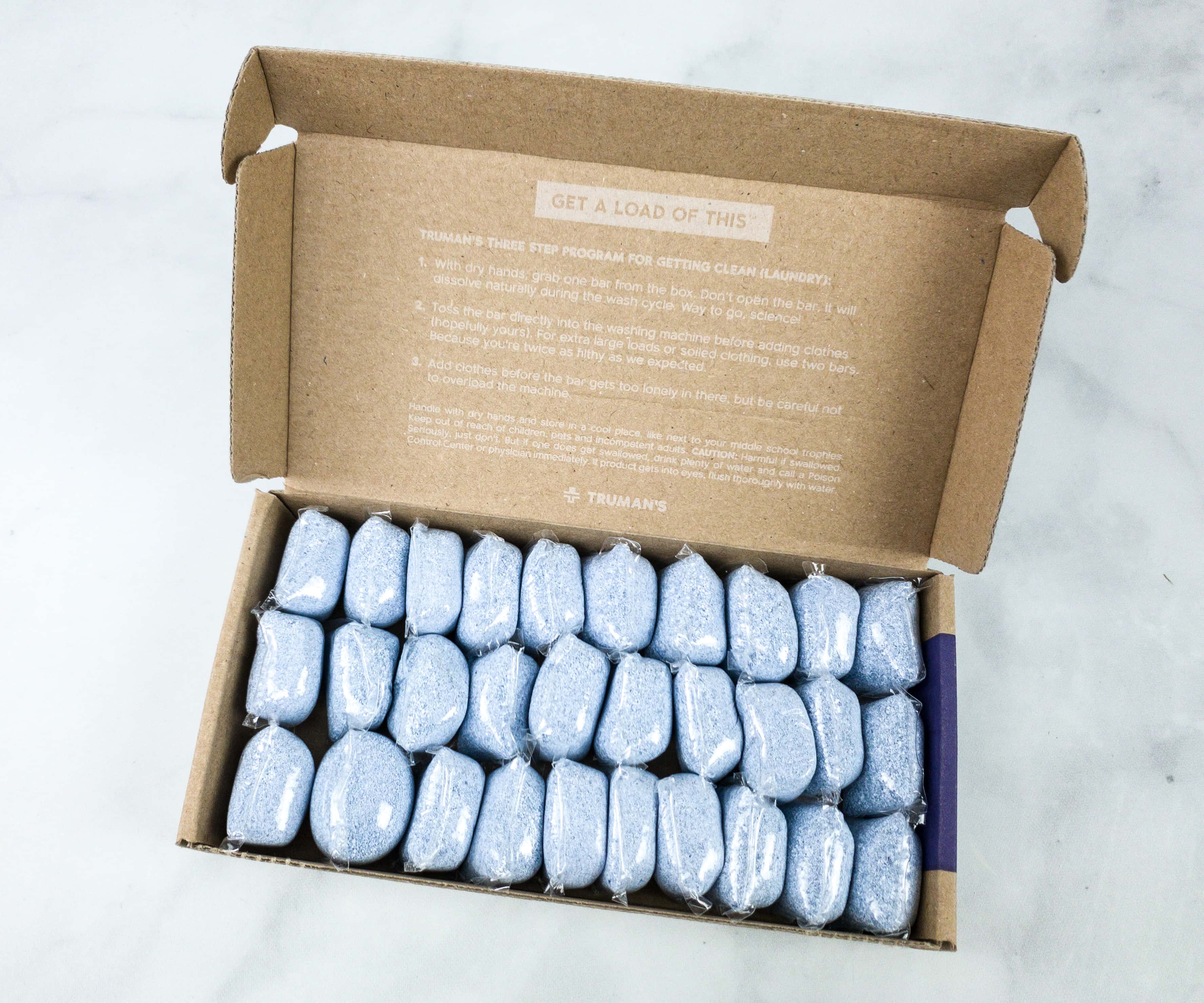 Like the dishwasher bars, the laundry bars are also septic-safe, and dissolvable. They come in dissolvable packaging
Same as the dishwashing bars, these should also be handled with dry hands. Just toss one in your washing machine before adding your clothes, and if you really got loads of laundry or your clothes are soiled, you can use two bars.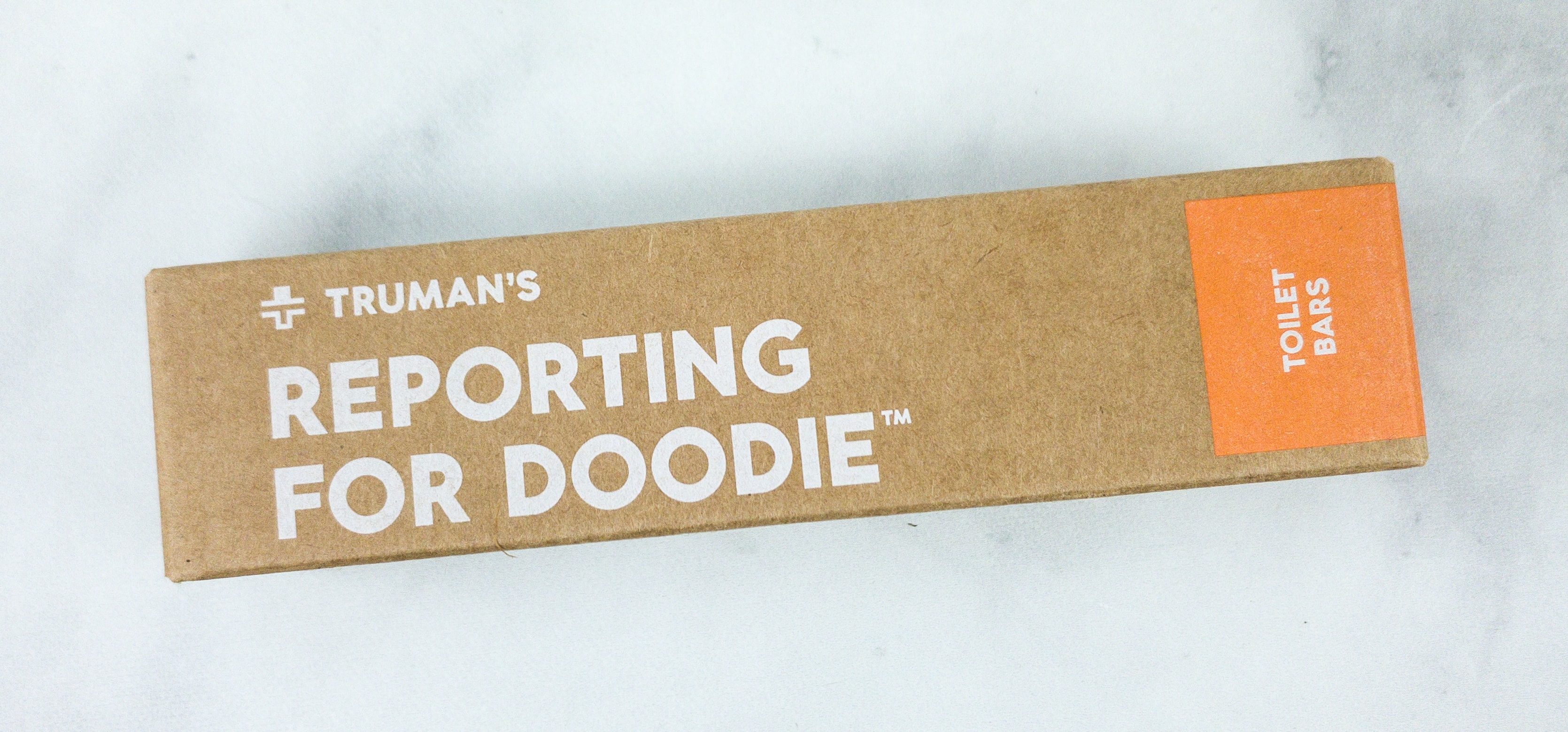 6 Reporting for Doodie Toilet Bars. Cleaning the toilet is a tough job, and Truman makes it more bearable with these toilet cleaning bars. These bars are made with safe materials and they're not reeking of strong chemicals simply because they contain none of them!
Ingredients for toilet bars: sodium bicarbonate, dextrose, citric acid, sodium gluconate, sodium coco sulfate, enzymes (amylase, protease), silicon dioxide, carrot extract, and polyvinyl alcohol film.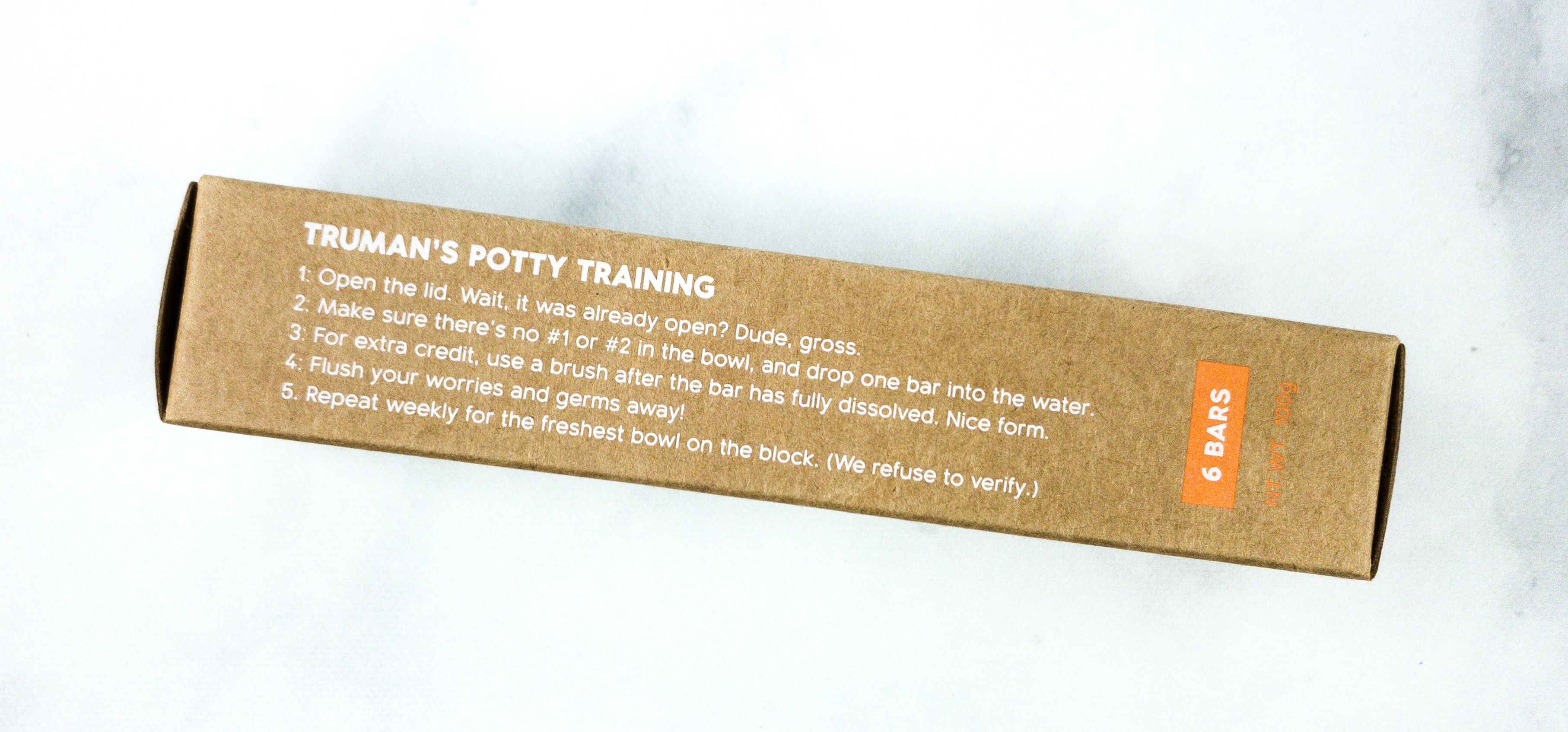 The box even has a potty training instruction, a.k.a. how to use the bar. This box contains 6 bars that are also fragrance-free.
After using the toilet, just dissolve a toilet bar on it. Wait for it to completely dissolve and use a brush to give the bowl a swirl, then flush it away. You can do it on a weekly basis. This is a great swap for caustic and toxic chemicals, and I am not sure that I've seen any other places with a toilet-specific cleaner. I'm here for it!
We were delighted when we tried Truman's Starter Kit, and we felt the same with their newest offering, the Home Care Bundle. It's another set of cleaning wonders from Truman's and this time they come in dissolvable bars that can be used with the dishwasher, washing machine, and toilet bowl. This is an ideal cleaning alternative for the home because everything is made with safe ingredients and they're also zero-waste and use sustainable packaging! It's also perfect for households with kids and pets, like ours!
Are you getting anything from Truman's?