The BAM! Pop Culture Box is a mystery box that contains authentic celebrity autographs and exclusive fan art, along with prop replicas, comics, and other collectibles! They release only 2,500 Pop Culture boxes monthly and your membership also includes entrance into the BAM! Community, the chances to win exclusive giveaways, merch, sales, and access to exclusive BAM! content. Boxes start at $26.99!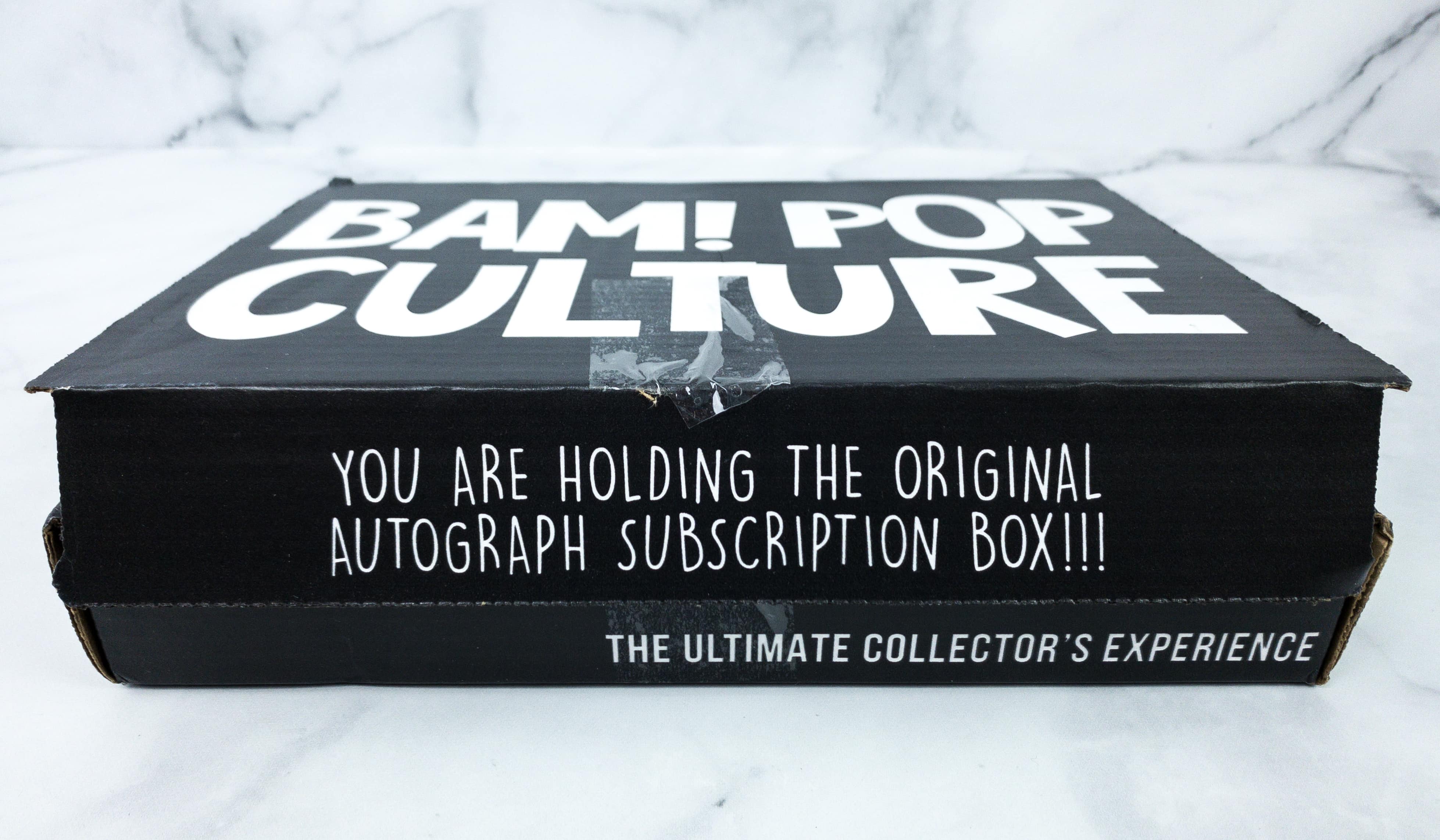 The box was sealed with tape. There's also a text on one side of the box that says:
You are holding the original autograph subscription box!!!
Everything inside the box is protected by a black tissue paper and each item is also packaged neatly.

There's a note that says there's going to be a digital handout instead of the printed copy.

This is the digital handout for Volume #5, Box #4!

There's also a BAM! scratch card! You win if you match 3 symbols in the 3 scratch boxes!
Also, it comes with a card that says that one of our items has been leveled up and a variant, which means that there are fewer made than the regular item!

Everything in the box!

Fan Art Pin. Subscribers will receive a fan art pin! The pin I got from this box is Donkey Kong from Super Smash Bros.!

Since Donkey Kong is enormous, it comes with two posts with clutches to ensure that it will be fully supported while in use.

This is the 9th pin, out of the only 99 produced!

It looks like DK is ready for action! And yes, this item is the one that is leveled up! Awesome!

Movie Prop. The movie prop this month is something from Christopher Nolan's Batman Trilogy!

It's a Gotham Police Department Badge!

Aside from the well-designed badge, which makes it one of our favorite movie props from this box, it also comes with a ball chain necklace and the metal snap can be opened to expose the safety pin inside.

Artist Select Card.  For this box's continuity item, I got another artist select card that features Joker! However, I wasn't able to get the paired card with this one in box #3, which is supposed to be Batman.
The back of the card includes the artist's autograph. It's a creation of the artist, Hal Moore.

Art Print. I got another art print, and it looks like a melted popsicle version of Spiderman!

It's the 792nd print out of 1000 produced.
The next item is sealed and protected in plastic.

Fan Art Print. This month's fan art print is made by first-time artist Steve Jencks, and it's a crossover of some characters from various comics!
The Fan Art Print also comes with a Certificate of Authenticity, complete with a certification number.

Signed Photo. The featured celebrity who signed this month's character photograph is Joe Dinicol as Ragman from Arrow!

The image has the Certification number printed on it, located at the lower right corner of the photo. Also, it comes complete with a Certificate of Authenticity.
If you love getting authentic geek items that have been signed by the actors who played the characters, or movie props that will remind you of how amazing a film was, you should definitely consider getting this box! This month is cool as I got one of the most fantastic movie props which is the Gotham PD badge from Christopher Nolan's Batman Trilogy. I also like the DK pin, and I'm glad that it was leveled up! I just wish to still get the pairing artist select card (from box #3) for the card in this box. Despite the disappointment with the paired artist select card, I'm okay with another art print.
Have you tried The Bam! Box yet?