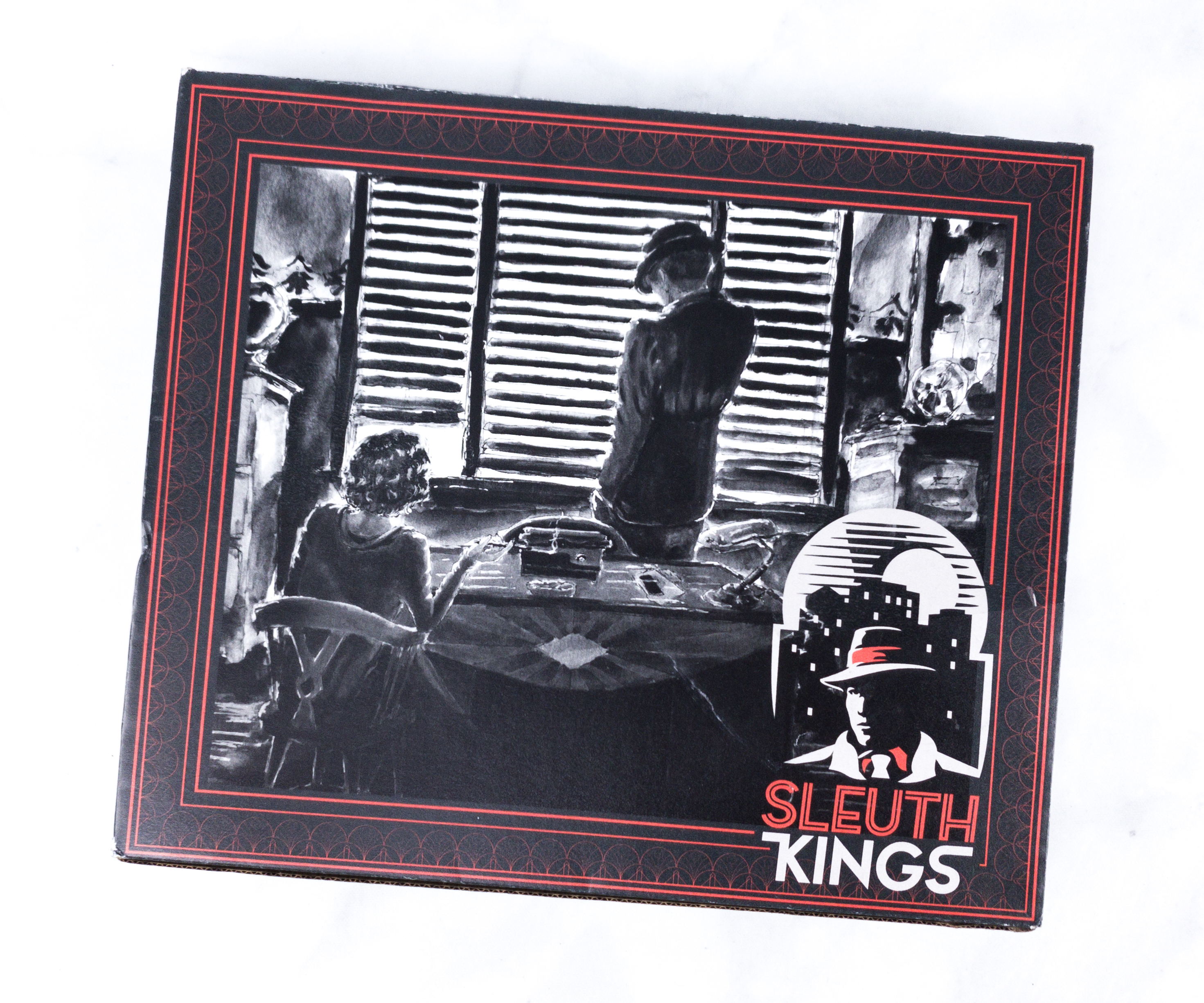 Sleuth Kings is an interactive monthly mystery box. Every month, a physical case file arrives full of evidence, puzzles, ciphers, and more. Plans start at $29.95 per month and they also have 3-month and 6-months prepay options. You will work hand-in-hand with Sullivan King, the lead detective, via email as you solve the case.
Each month's case is a new, stand-alone mystery that takes approximately 2-3 hours to complete. Each case includes an epilogue -a  follow-up letter from the client as well as a small gift. For every 4 cases you solve, you'll be rewarded with a FREE bonus case that revolves around the hunt for Sullivan's father.
DEALS:
Get $8 off first purchase Use coupon code HELLOSK .
Get 10% off of your order! Use coupon code HELLO10.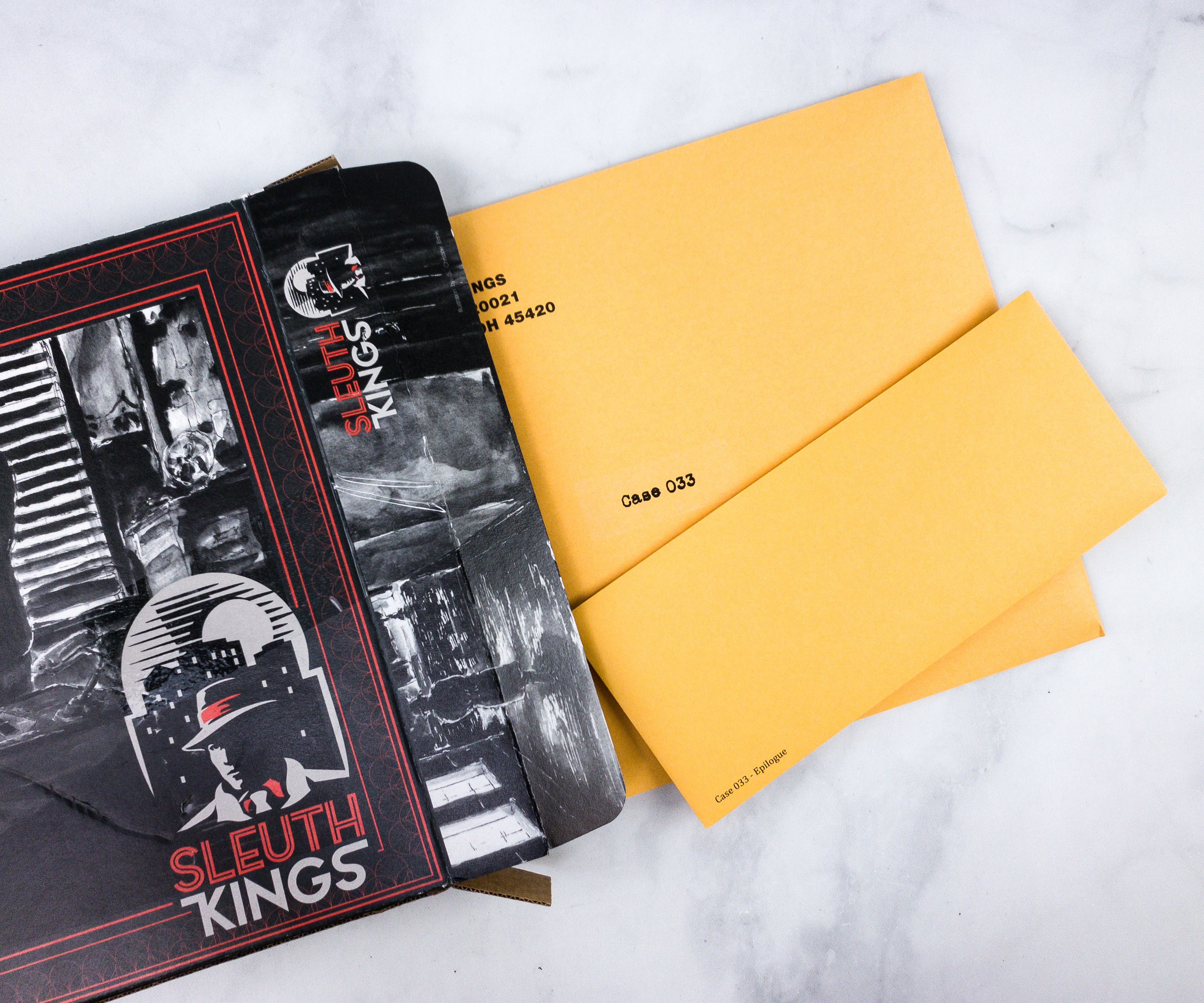 This is the review of Mystery Box Case 033 DEATH OF A STUNTMAN.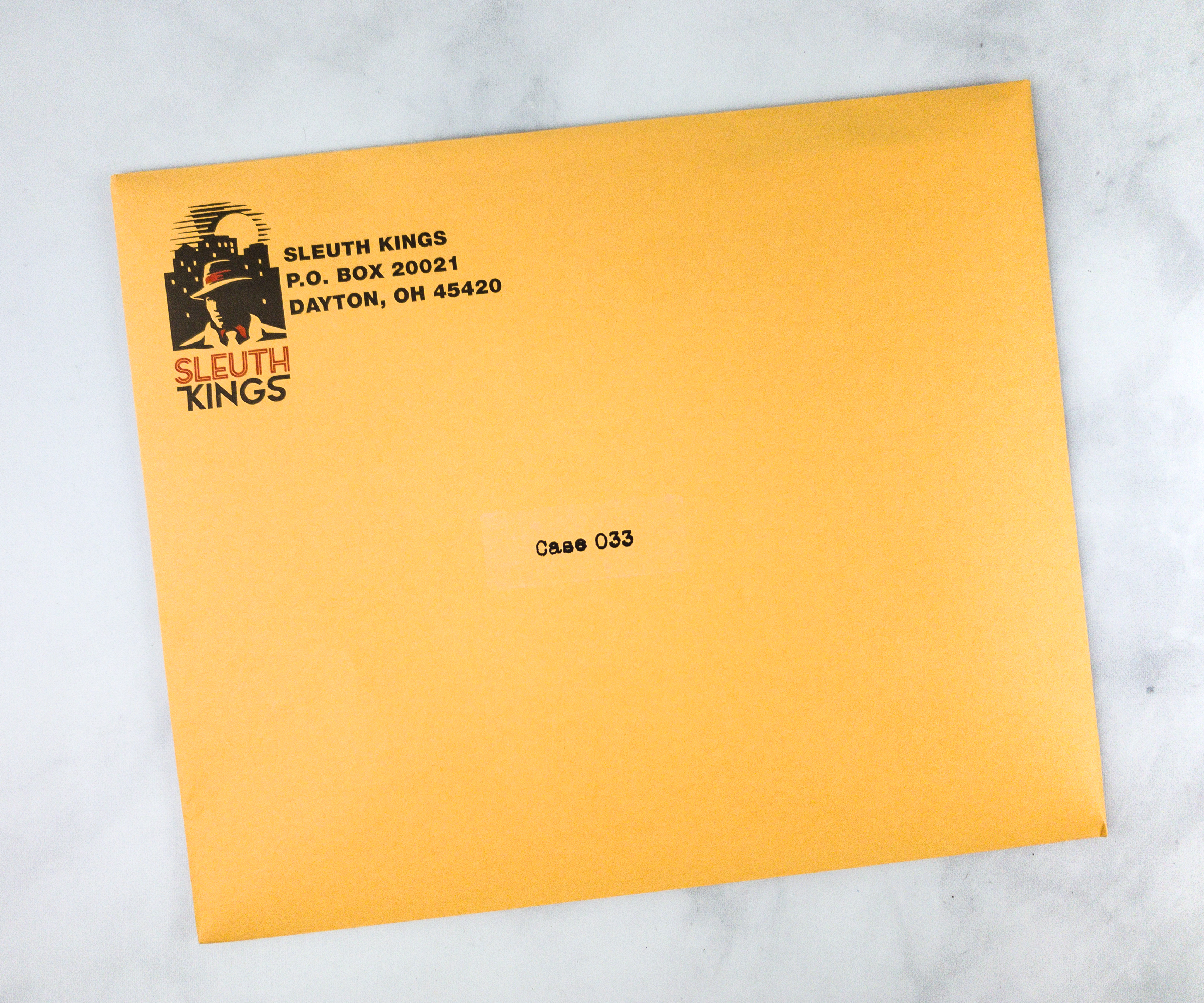 The mystery comes in an envelope. The only things written on it are the Sleuth Kings P.O. box address and the case that you will be working on.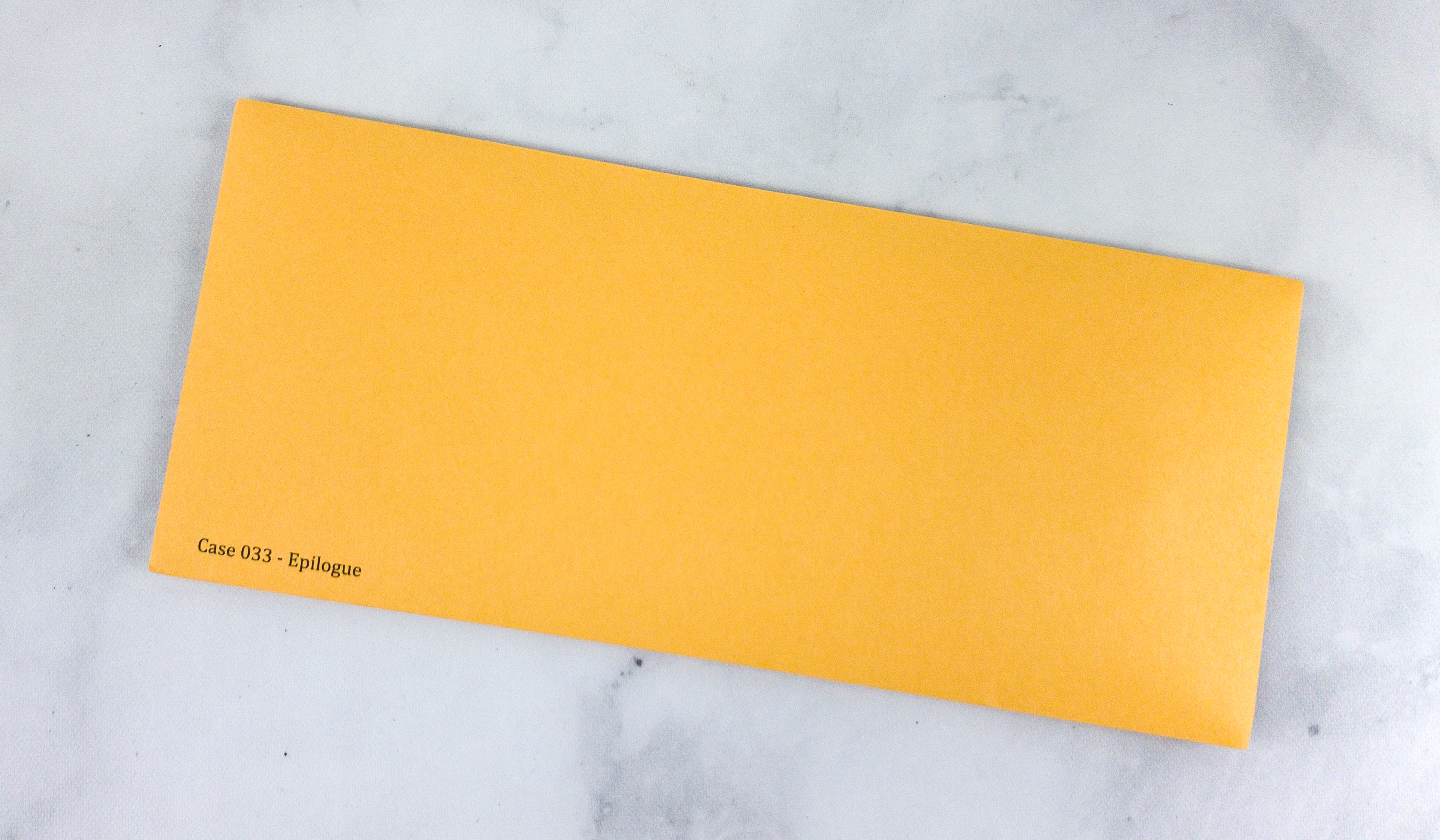 The epilogue is included and separated in another envelope.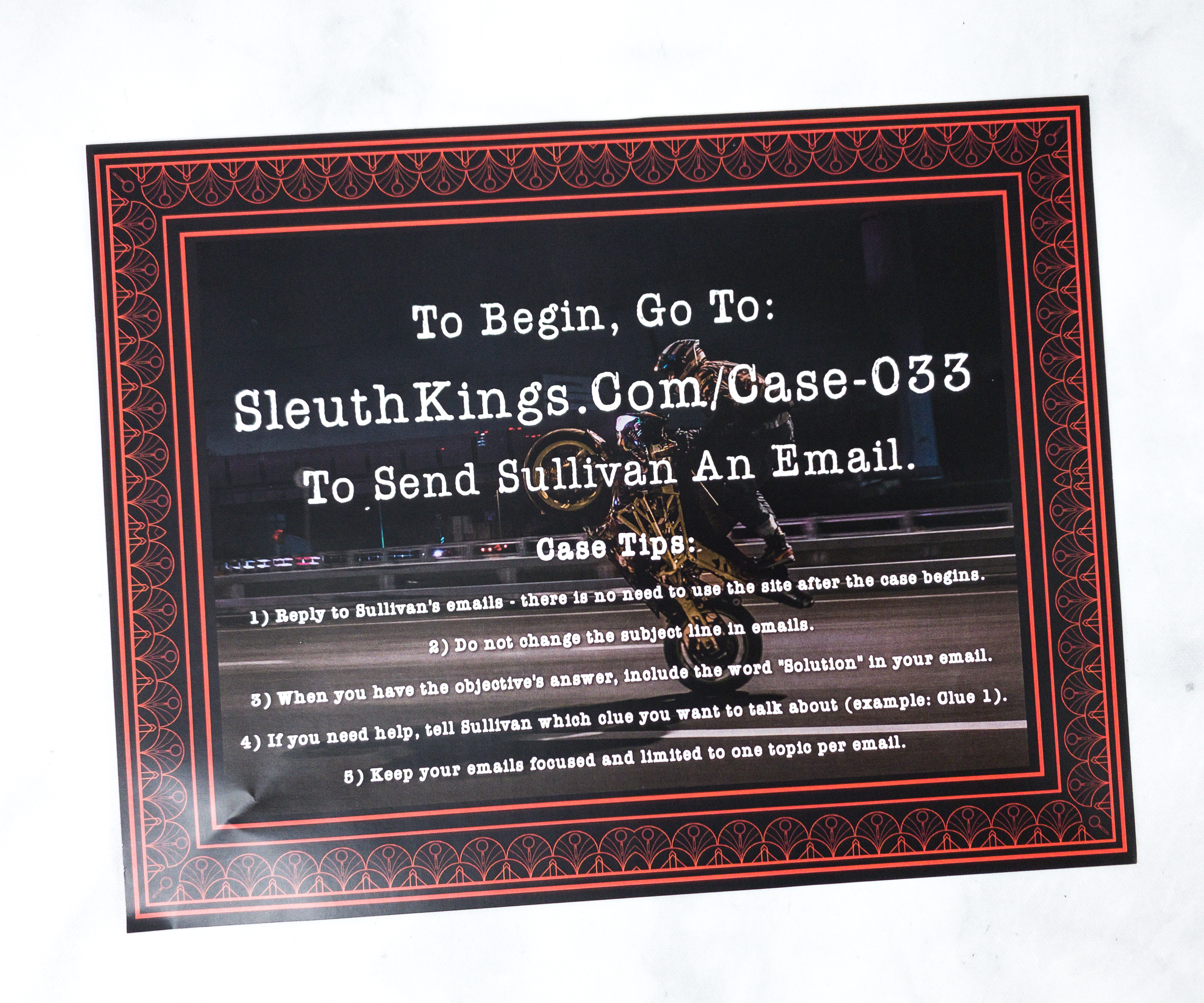 To begin with your adventure, you need to login to their website and send Sullivan an email.
The files are neatly arranged in a white folder, with Sleuth Kings branding in front. All the files are organized inside the folder, they are even separated by paper clips.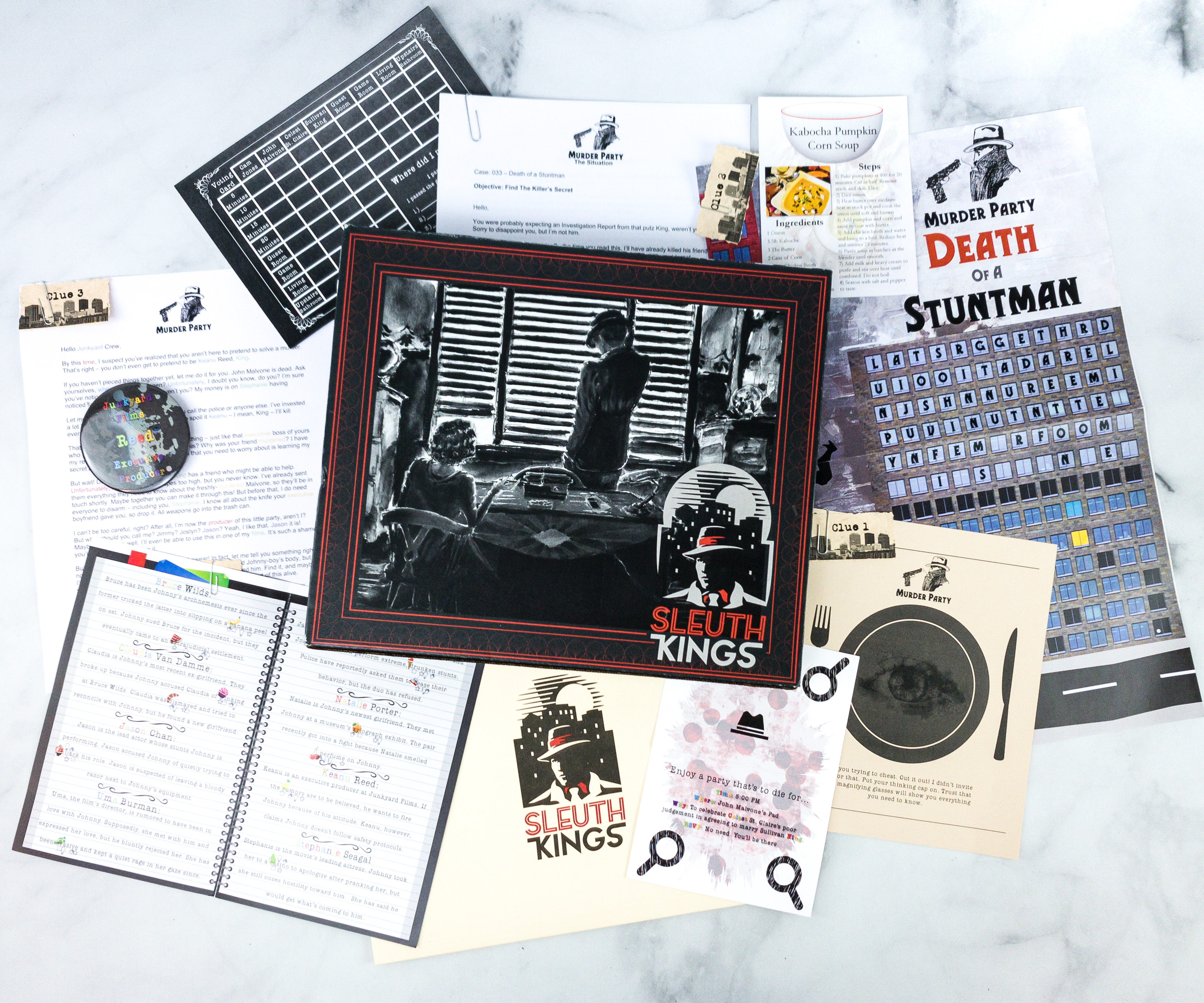 Everything in my box!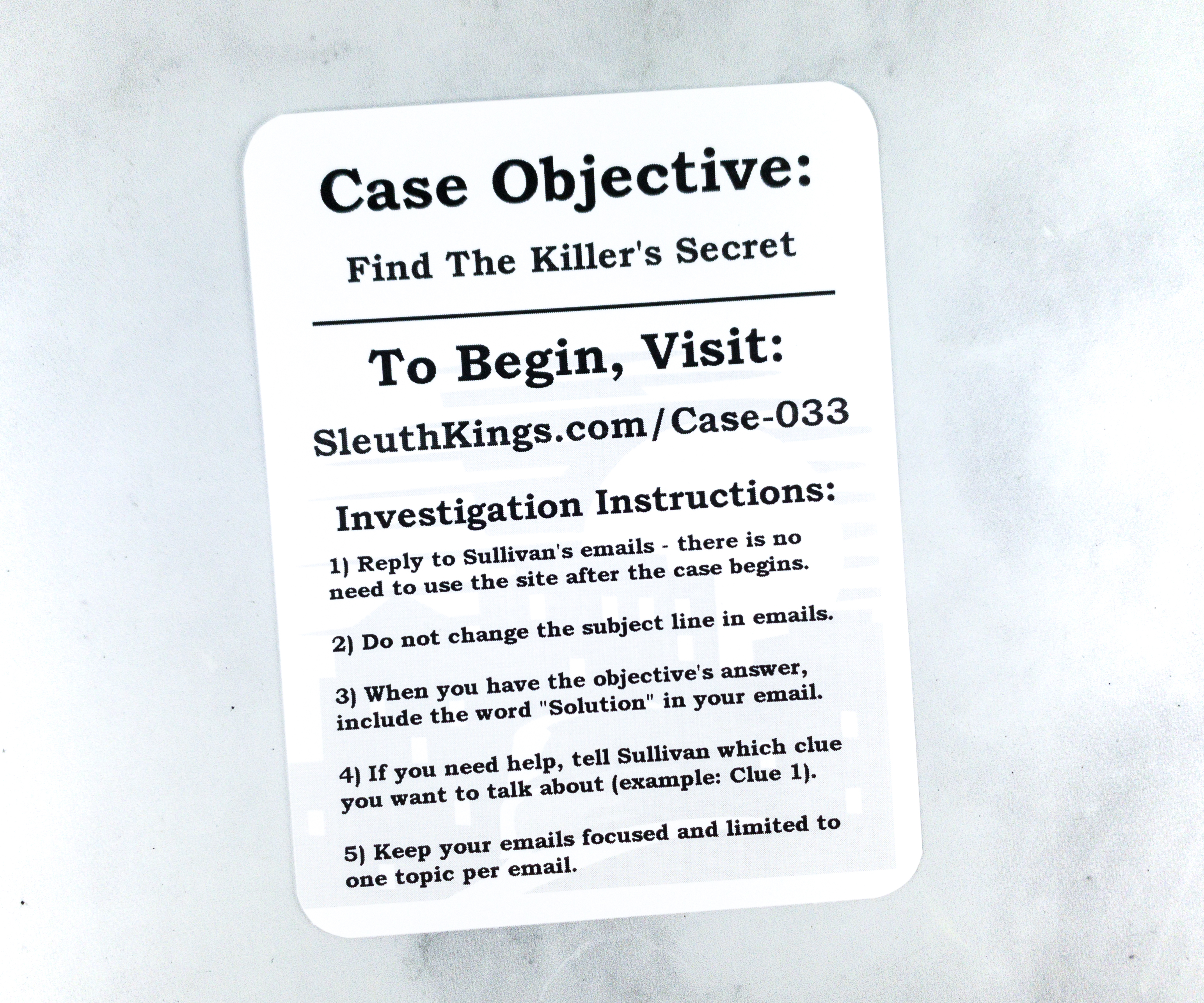 The case objective is written on a card. We have to find the killer's secret.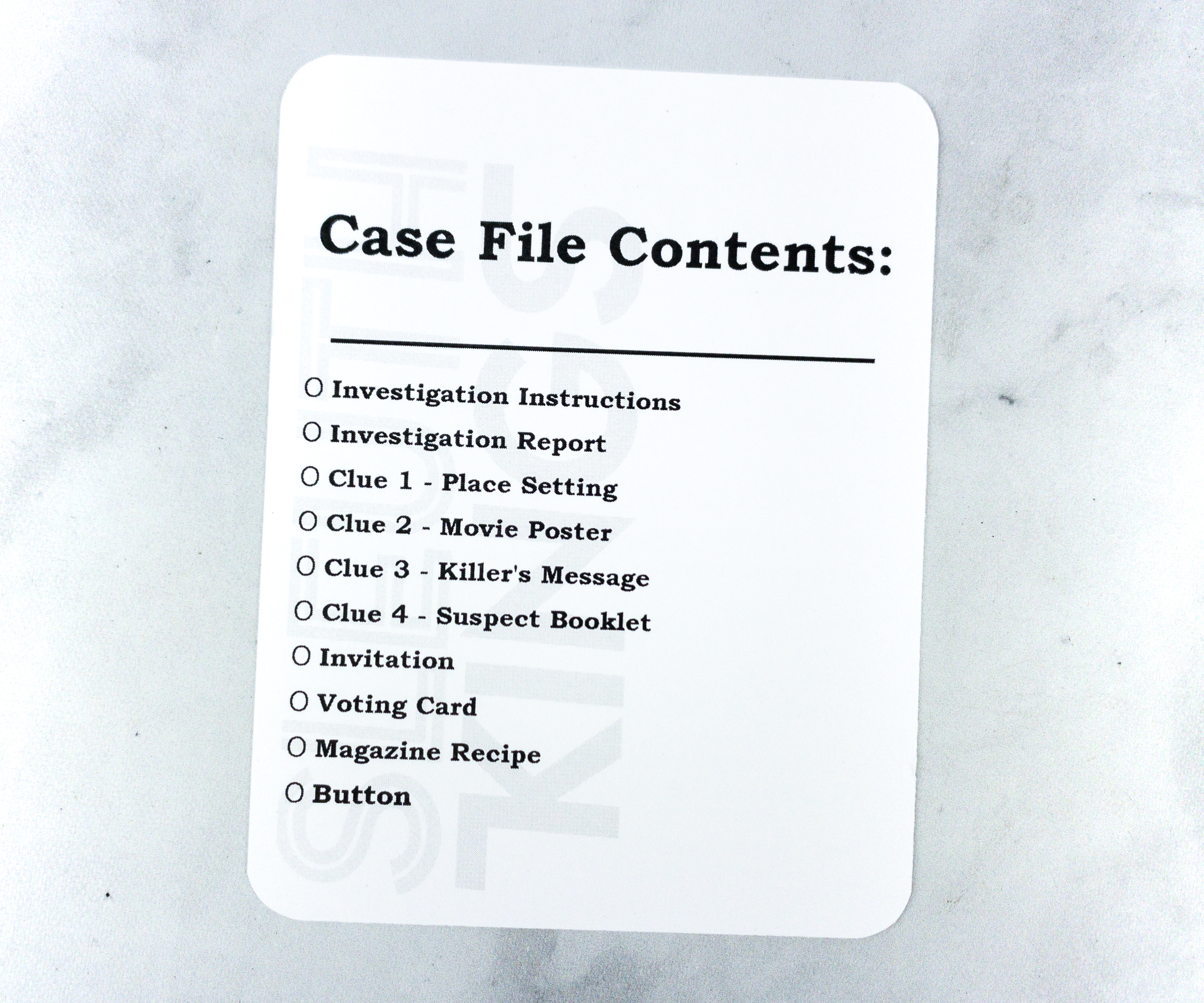 It also lists the contents of the case file: investigation instructions, investigation reports, clues, and more.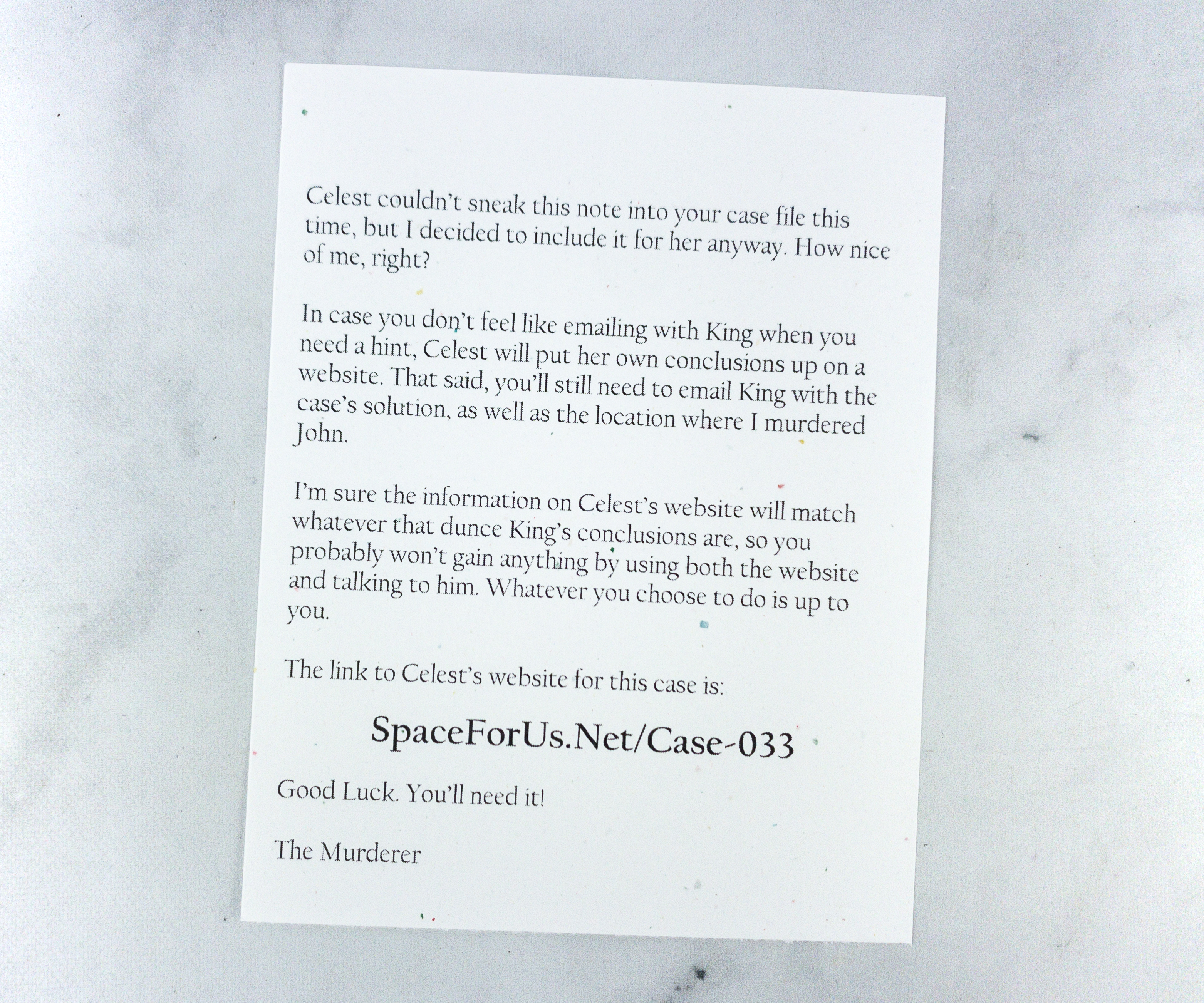 We also got a snuck-out letter from Celest St. Claire. We can use her help in solving this case by taking a look at the information on her website.
The investigation instruction sheet names the client, the case you will be working on, and the whole situation.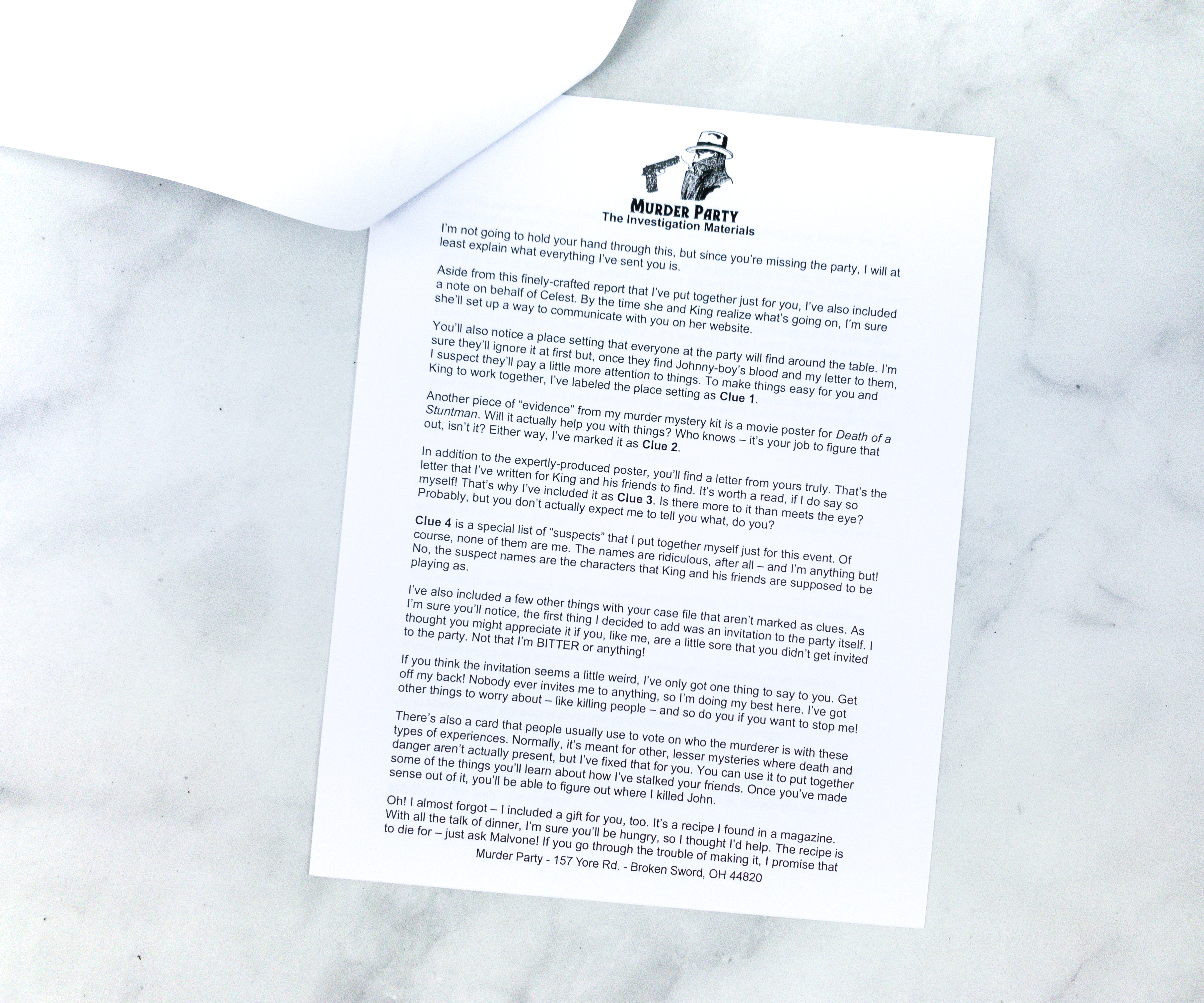 I suggest that you read them thoroughly to fully understand the case and also to know where to start the whole investigation.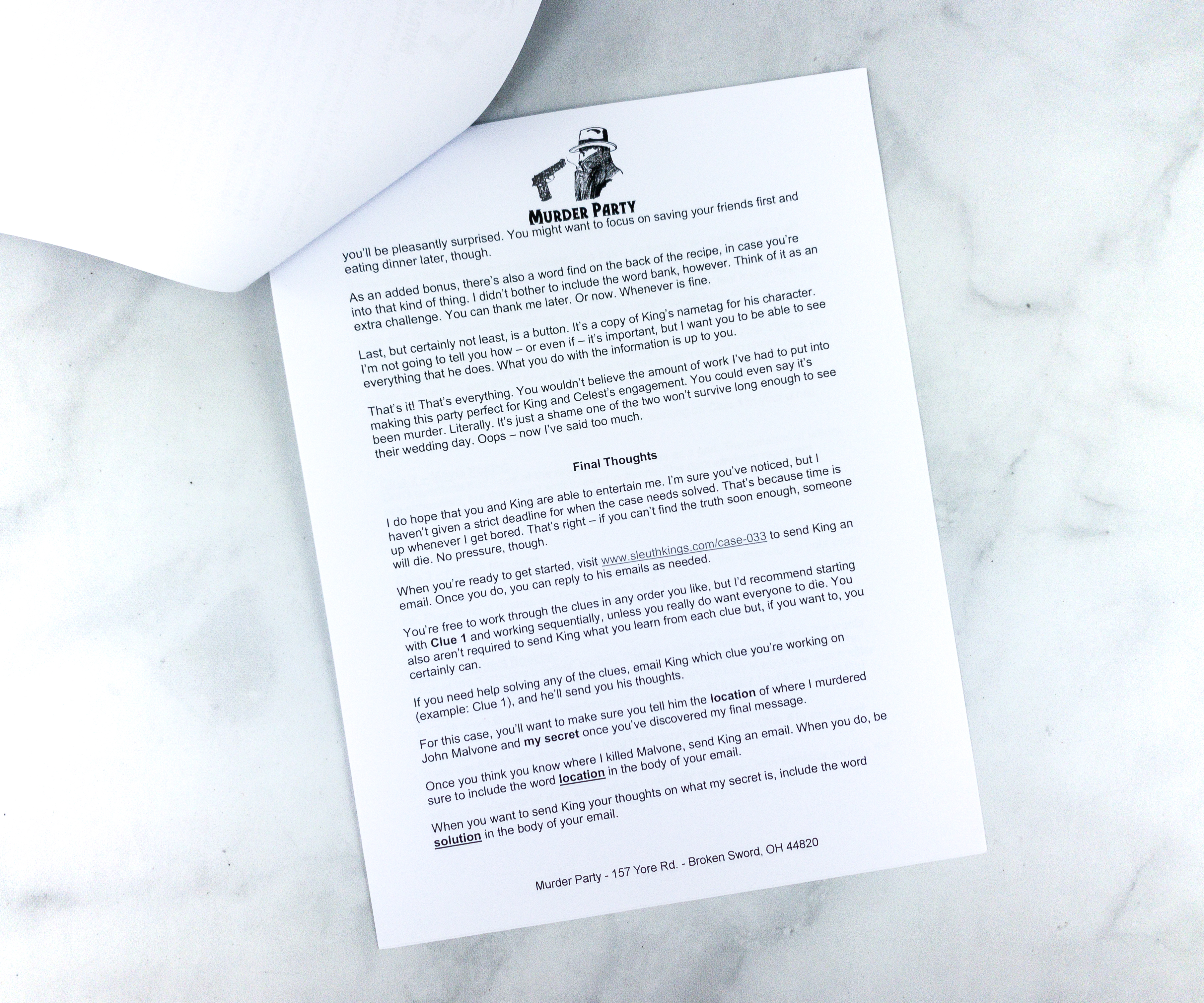 In this case, we just need to know the location where John Malvone was killed and the killer's secret.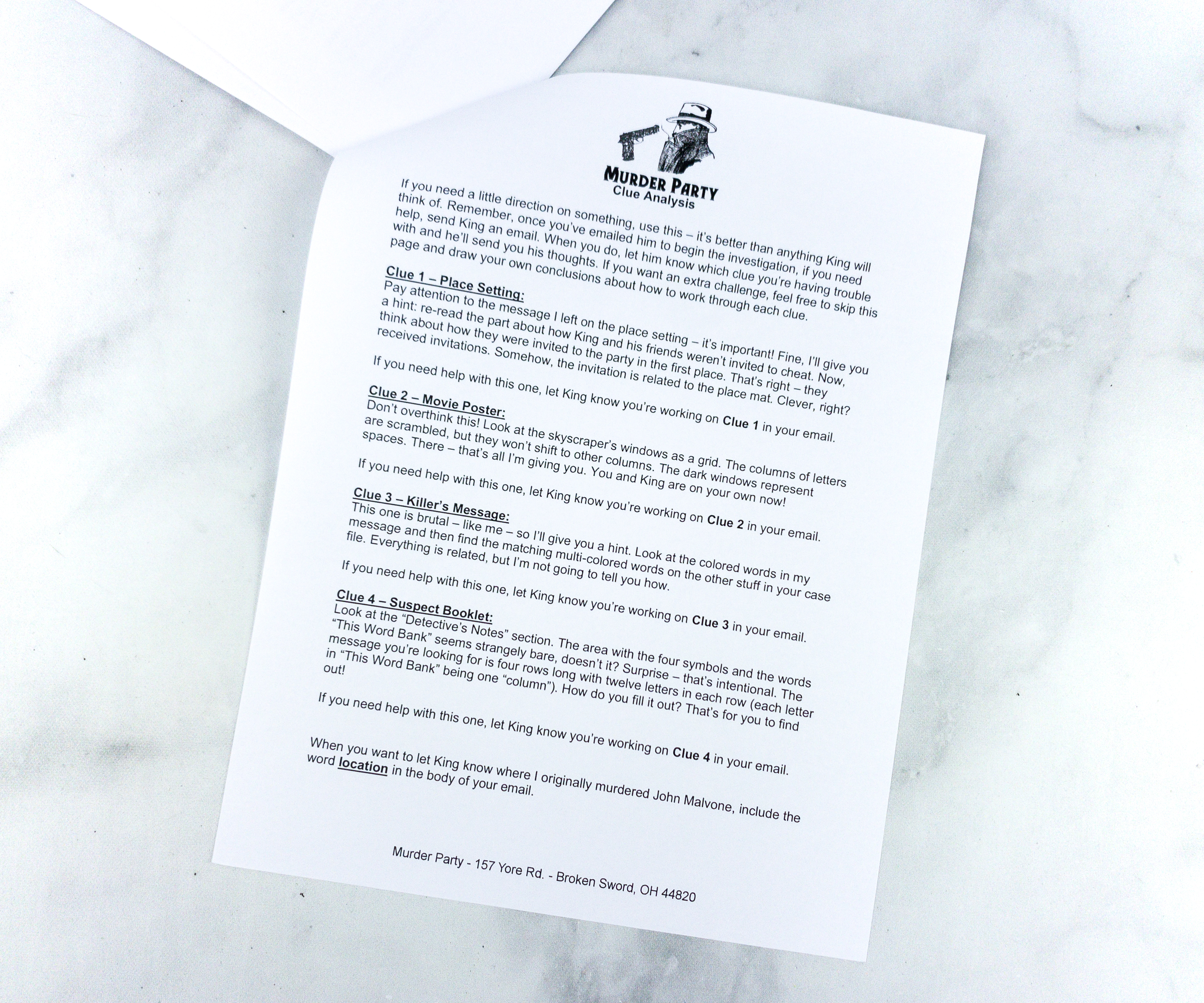 There are also clue analysis, where each clue item's use is hinted or explained.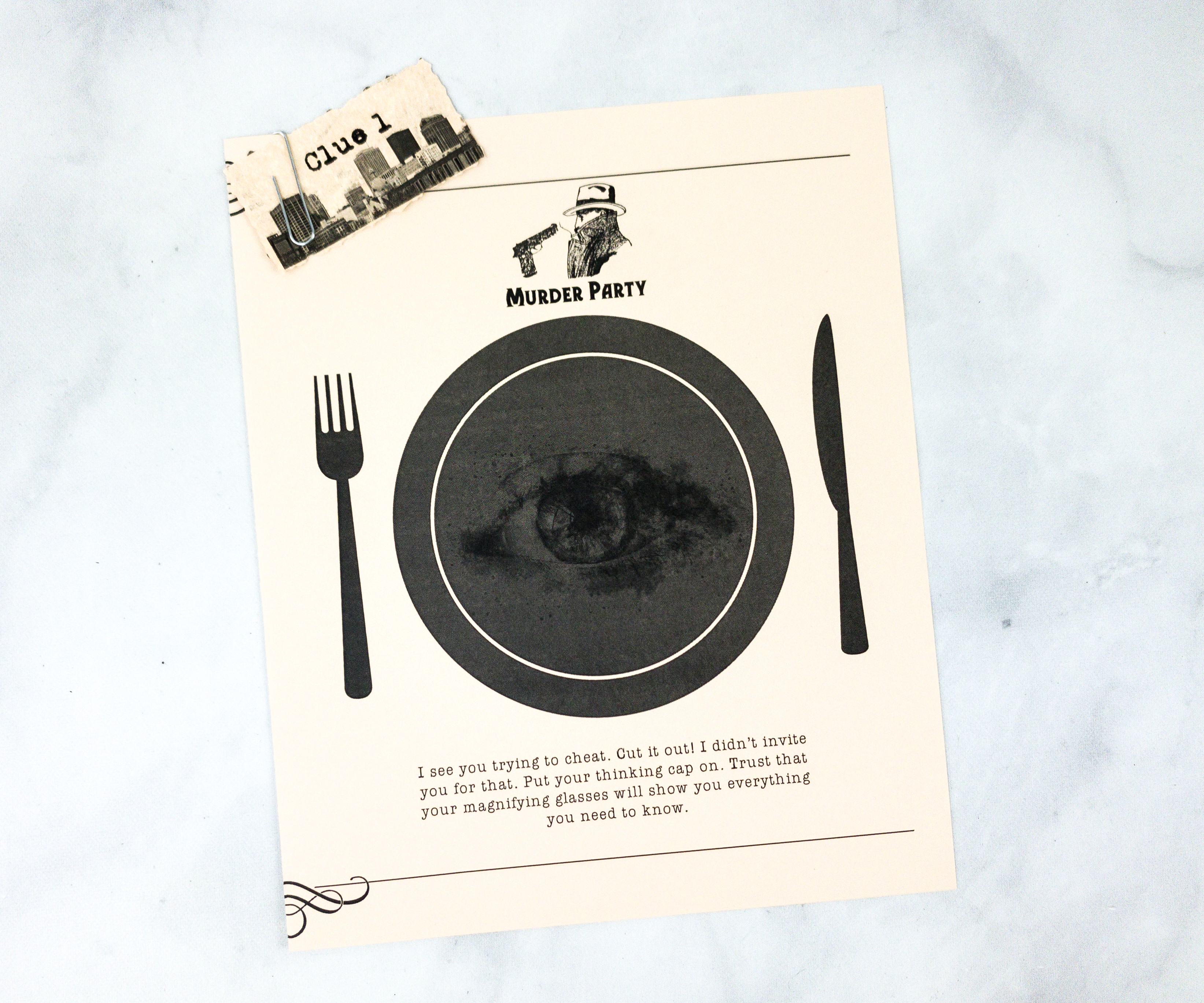 Our first clue is a place setting, which appears to look like an invitation to the Murder Party.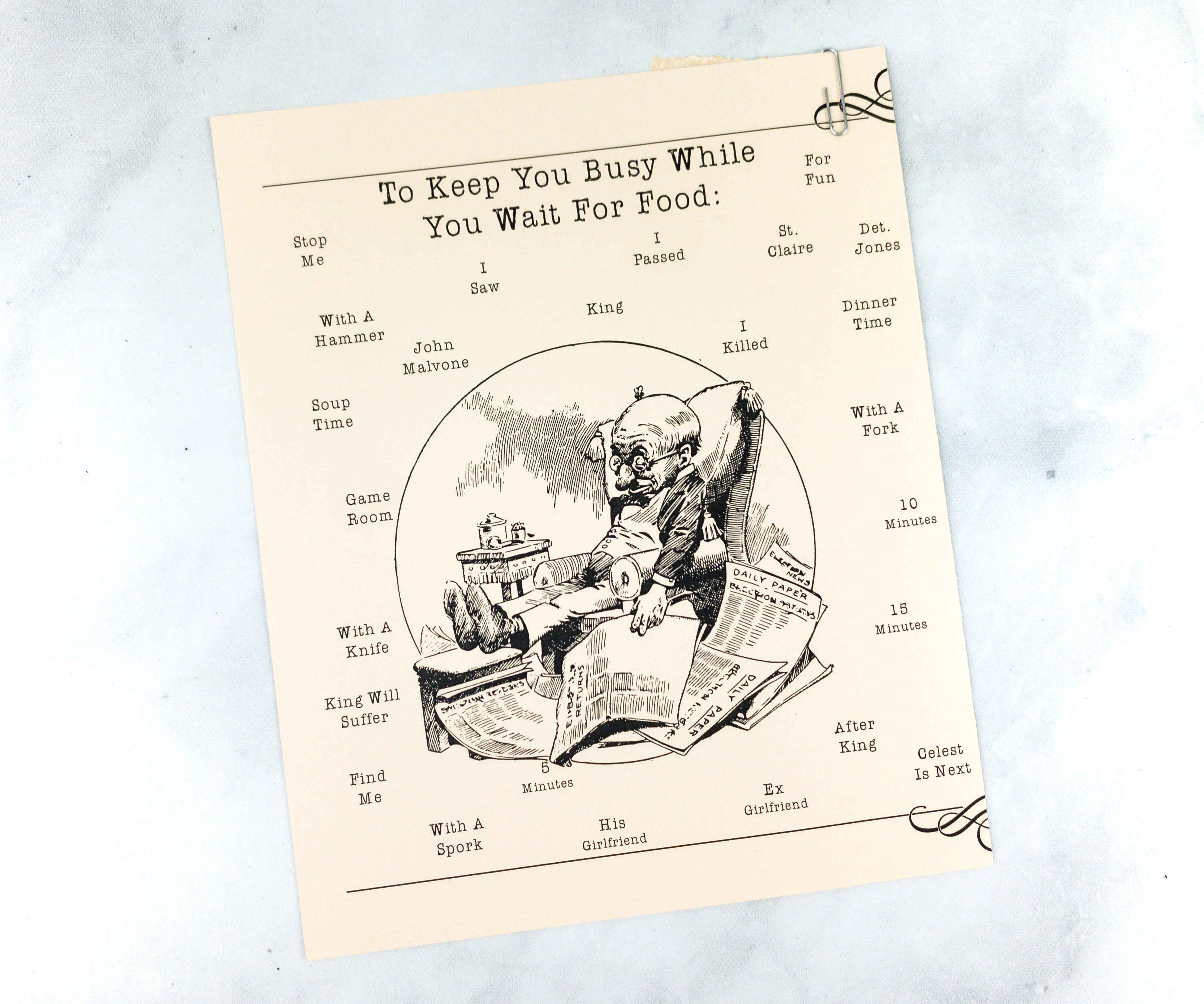 There's something at the back of the card that will keep the guests busy while waiting for their food. There are phrases that I think have something to do with the case.
The second clue is a movie poster for a movie titled Death of A Stuntman. The skyscraper's windows can be used as a grid. There are also columns of scrambled letters and dark windows. It looks like a word puzzle.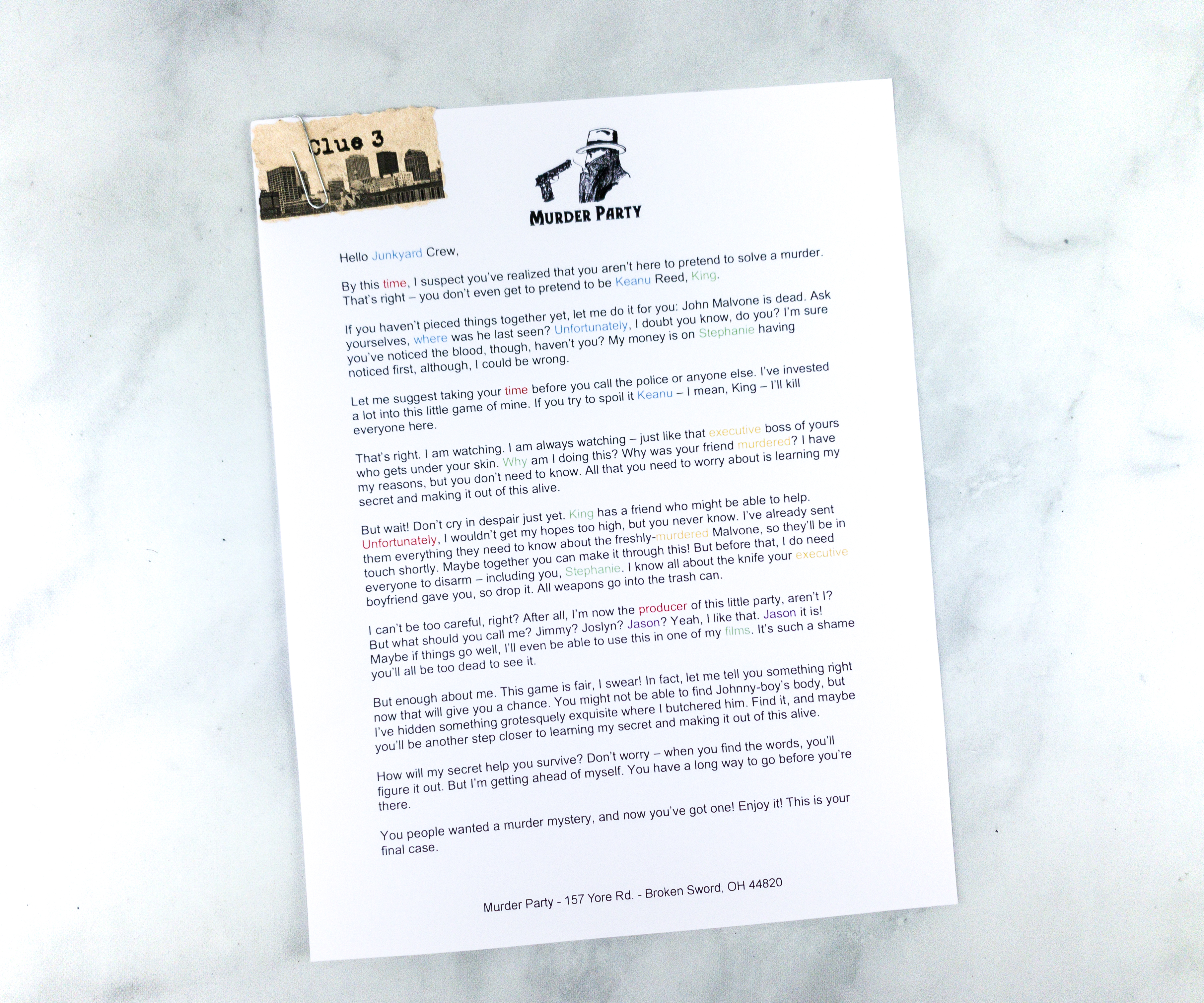 The third clue is the killer's message. The colored words are easy to notice and these give us hints for this case.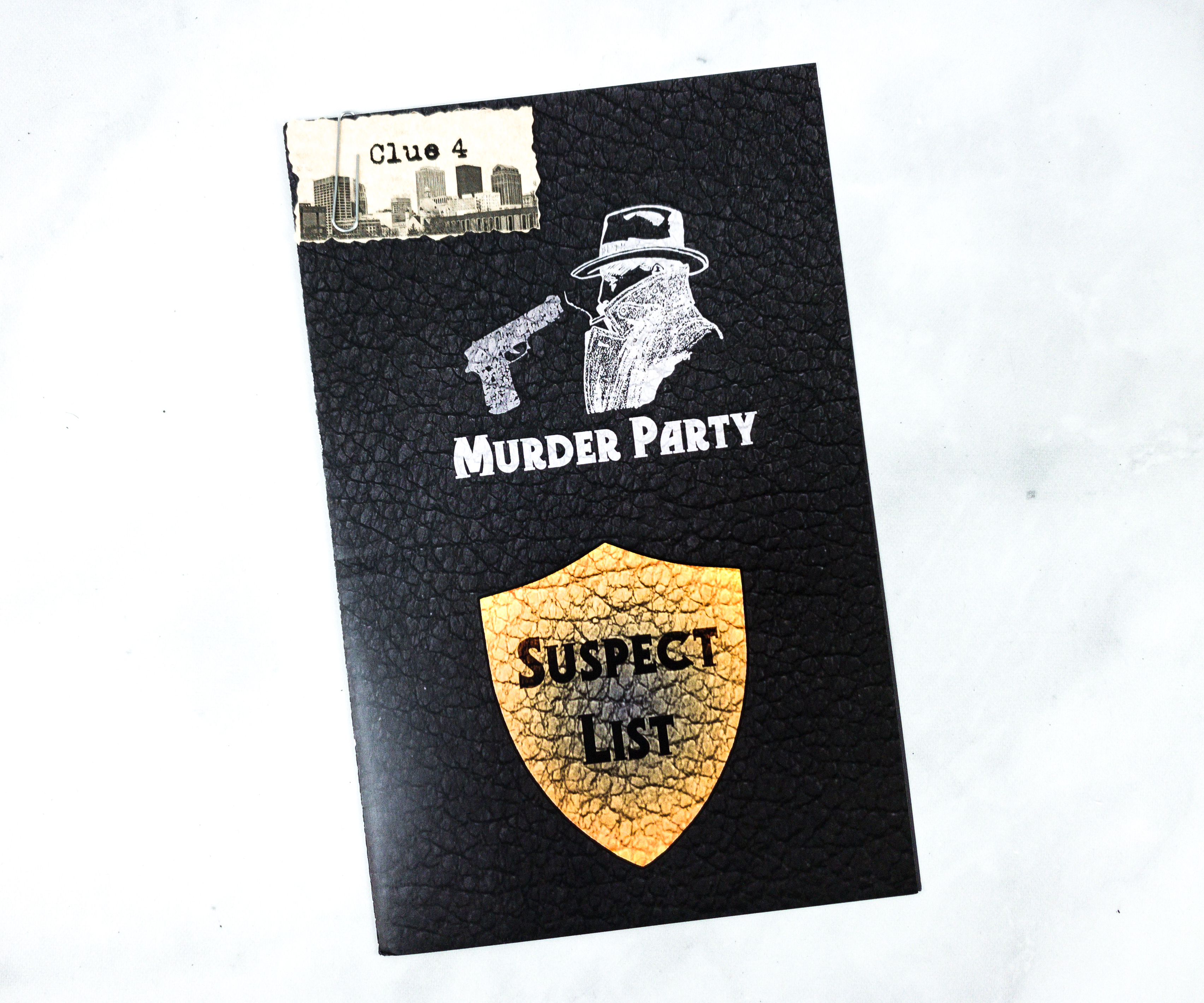 The last clue is a Suspect Booklet.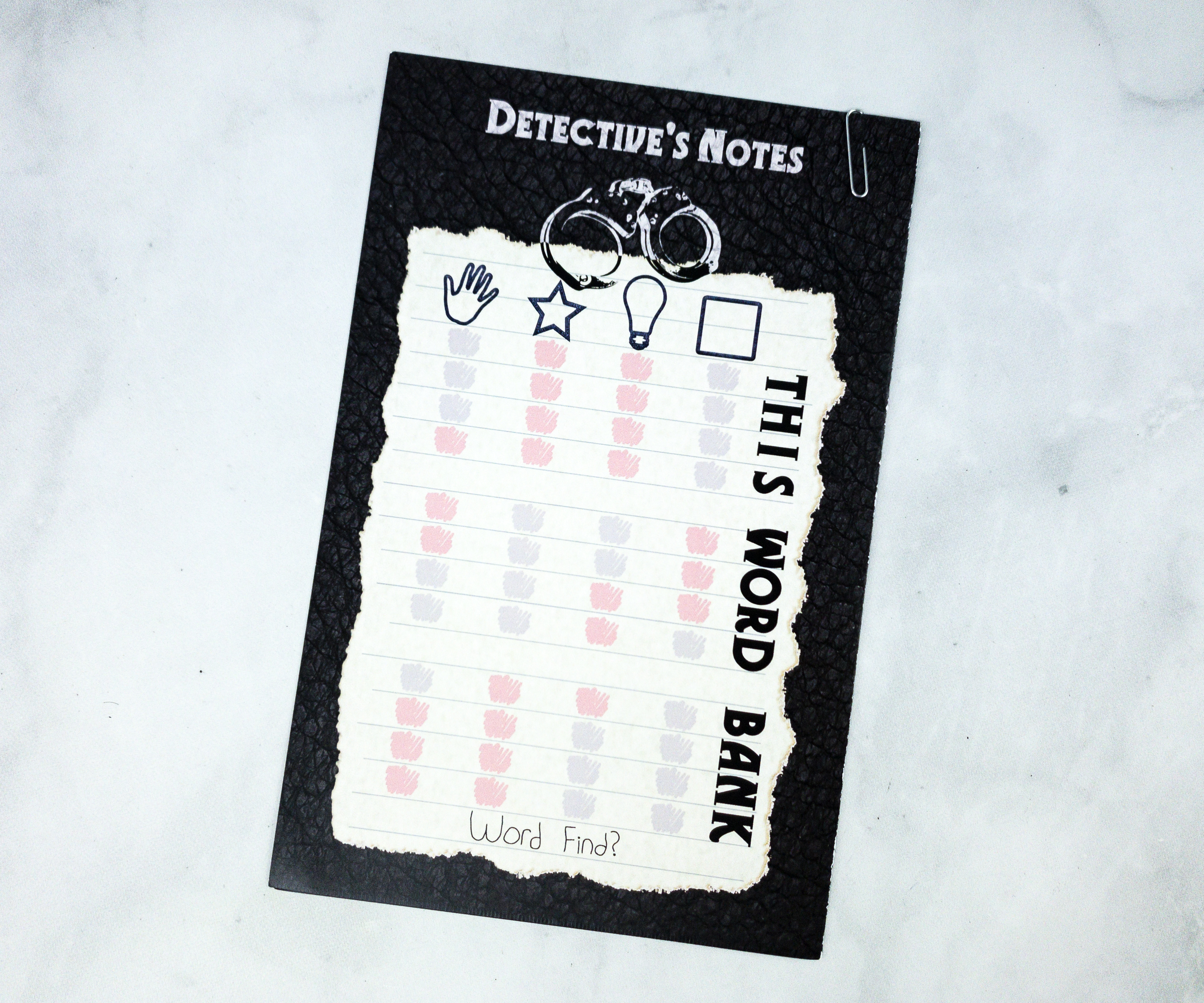 Inside, there are detective notes which indicate a word bank.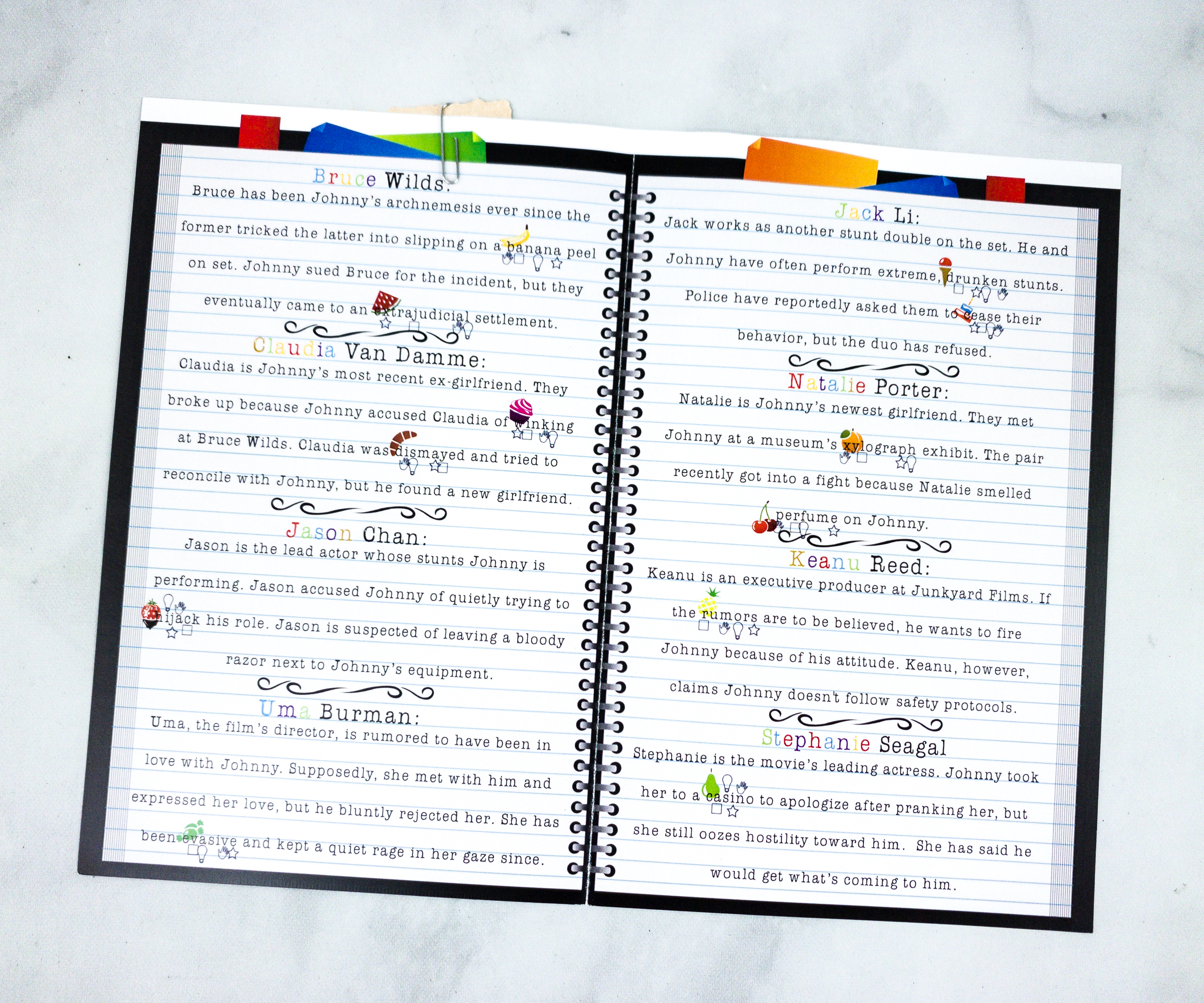 When you open the booklet, there are also names of people, and I think they're the suspects. There is brief information about each of them and there are some letters from the sentences that have colored images on them. I think this is related to the Detective Notes part of this booklet.
The invitation looks creepy with a handprint and splattered blood pictured on it.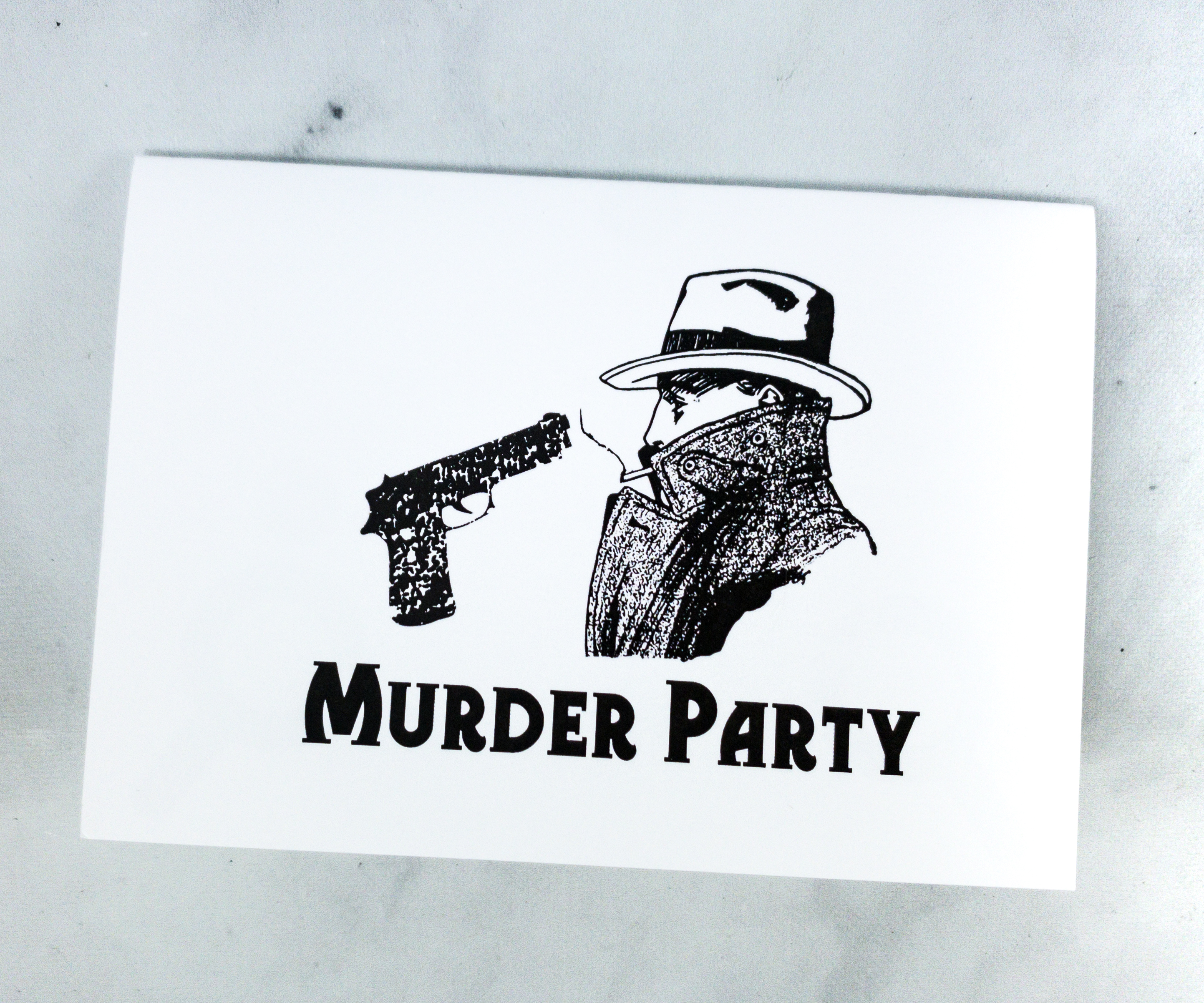 It has the Murder Party symbol that also comes in some of the clues.
The invitation also included the time, place, and why there's a celebration. It's apparently a party for Celest.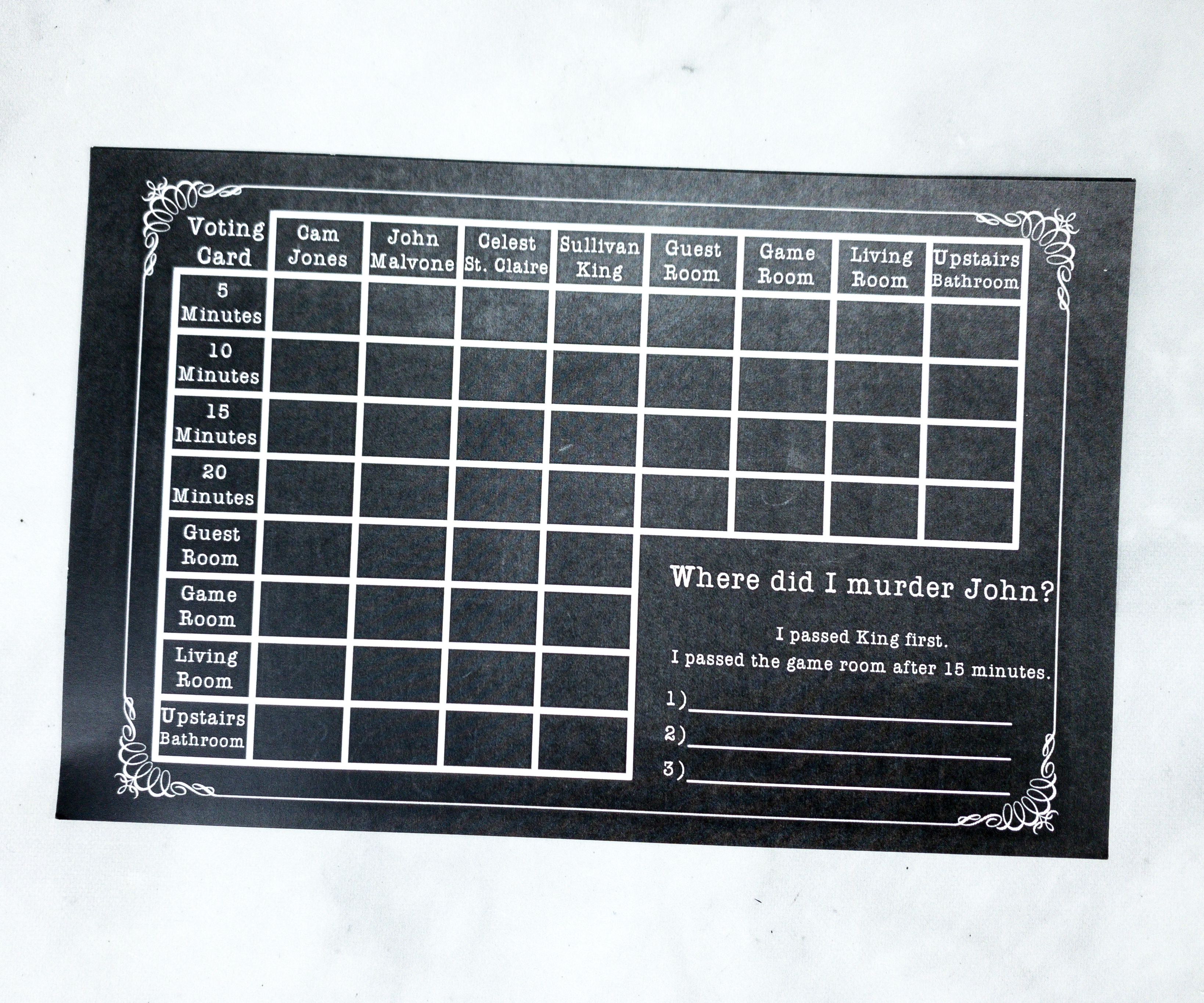 There's also a voting card to know where the killer murdered John Malvone.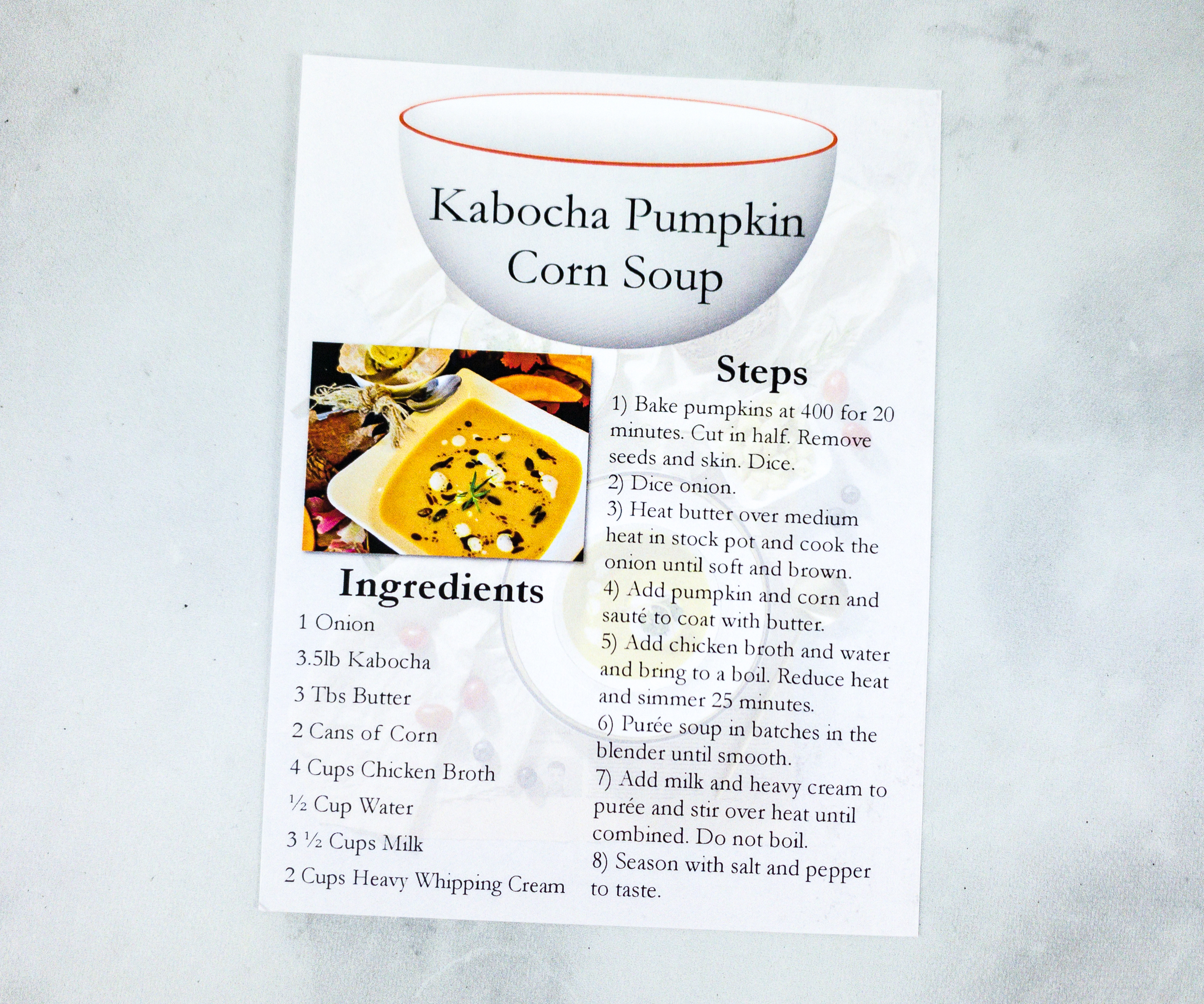 There's also an included magazine page that has a recipe for Kabocha Pumpkin Corn Soup.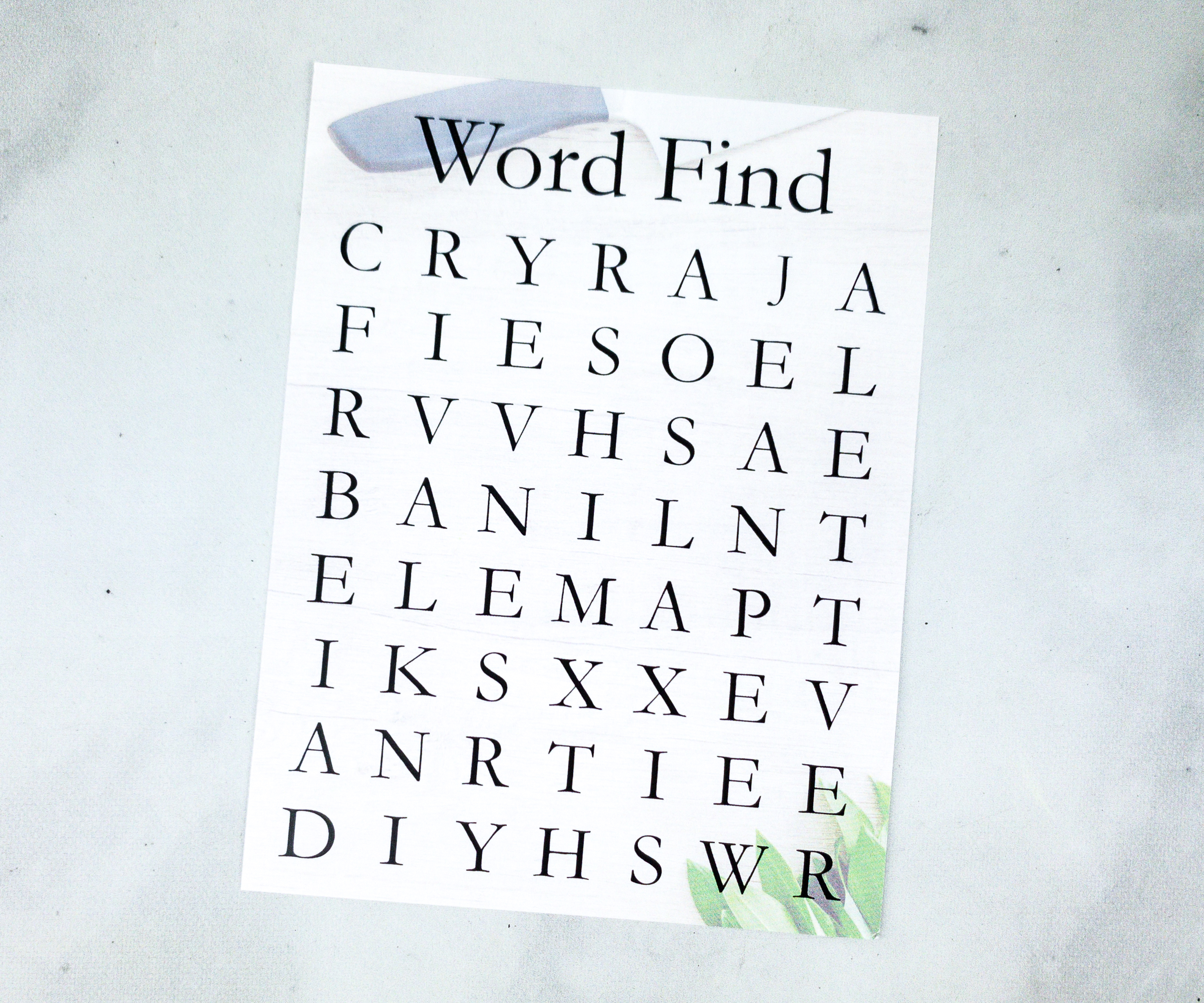 The flip side has another word game, which is a word find.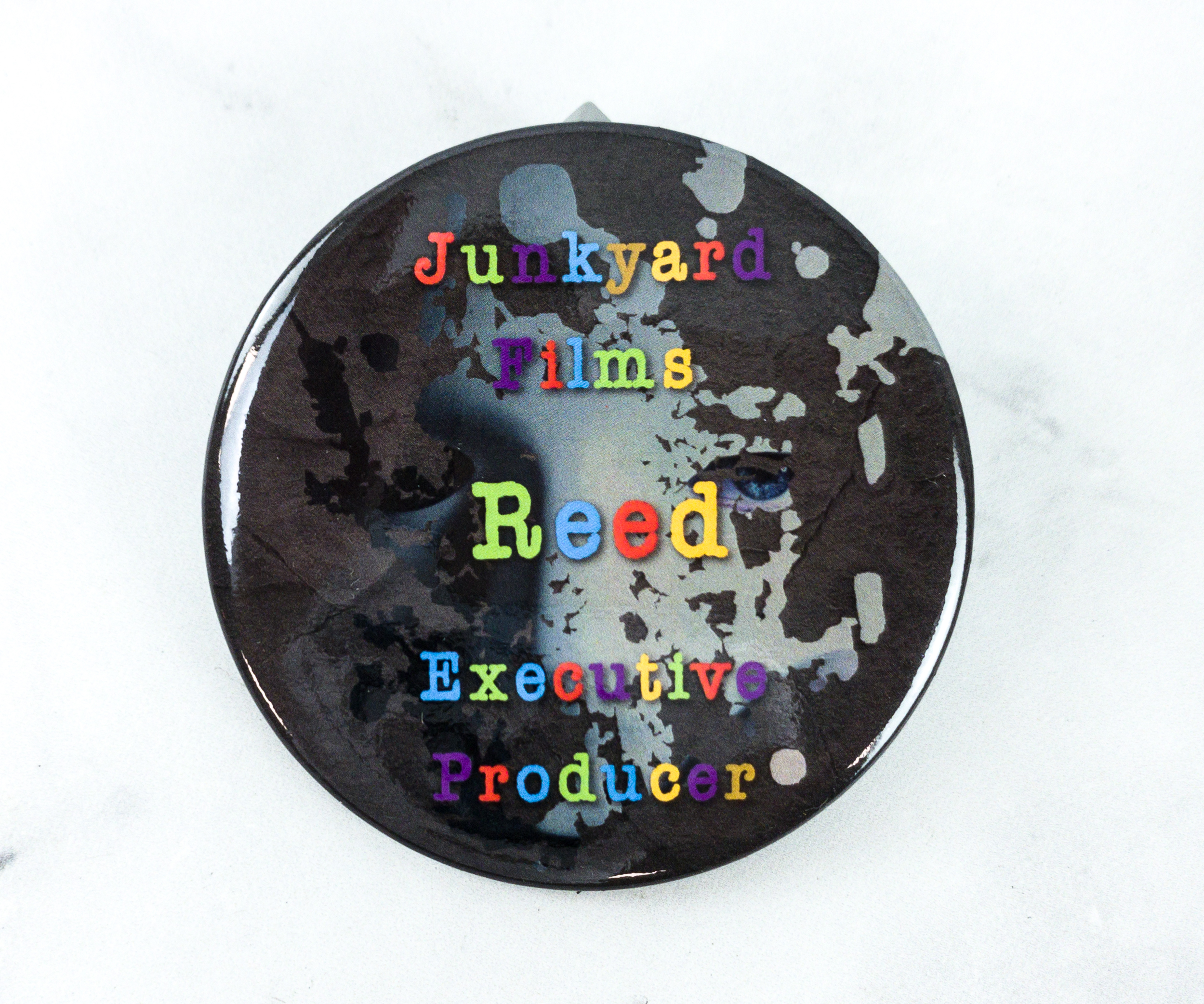 This button pin has the film production company that produced the movie Death of A Stuntman, and the name of the executive producer, Reed. The letters come in different colors.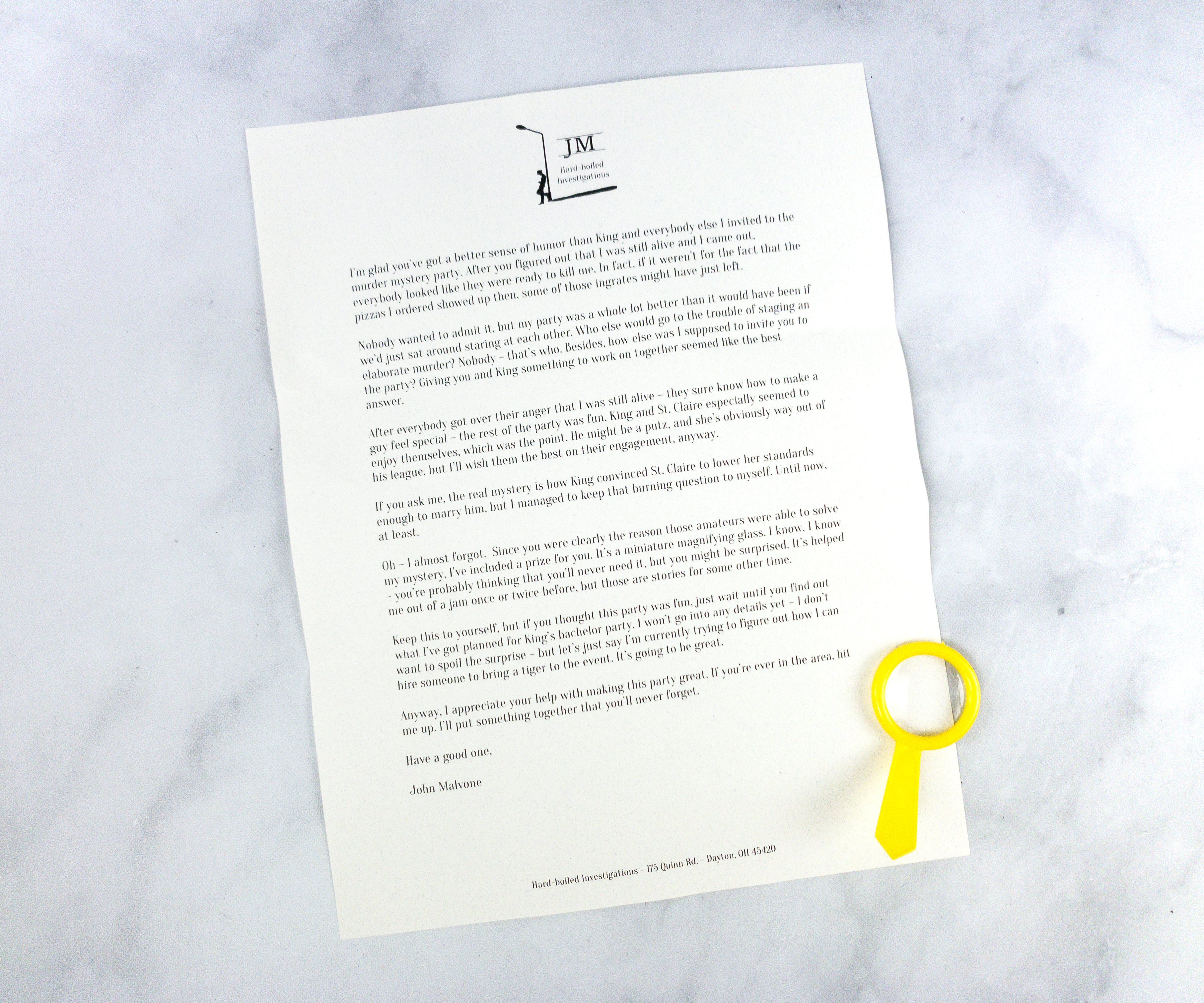 After solving the case, we can finally open the Epilogue envelope. Inside is a letter from the murdered man, John Malvone! It appears that it is just a game and he's very much alive! The party for the newly engaged couple King and St. Clare was made into a murder mystery investigation to make it more fun. Also with this letter is a mini magnifying glass. I'm also excited about what they prepared for Sullivan King's Bachelor Party!
This is really fun and I like how John Malvone threw this party! Sleuth Kings is really amazing when it comes to mystery games and puzzles, and this one turned out really great! It's cool because what seems like a murder mystery turned out to be a unique party for the engaged couple Sullivan and Celest. We became fans of this couple and we're happy to know where their relationship is heading, and Sleuth Kings still included it in their cases!
What do you think of the Sleuth Kings box?