Pug Box is a monthly subscription built for adorable pugs and their owners! Each monthly box contains fun toys and delicious treats for the dog, as well as a cool pug-themed item for the human. The regular Pug Box is priced at $27.50 a month and contains 4-6 items, while the Premium Pug Box is $36.50 a month and contains 5-7 items.
This is a review of the Premium box!
DEAL: Get $5 off on your first box! Use coupon code HELLO5.
The items arrived in a brown box with Pug Box branding.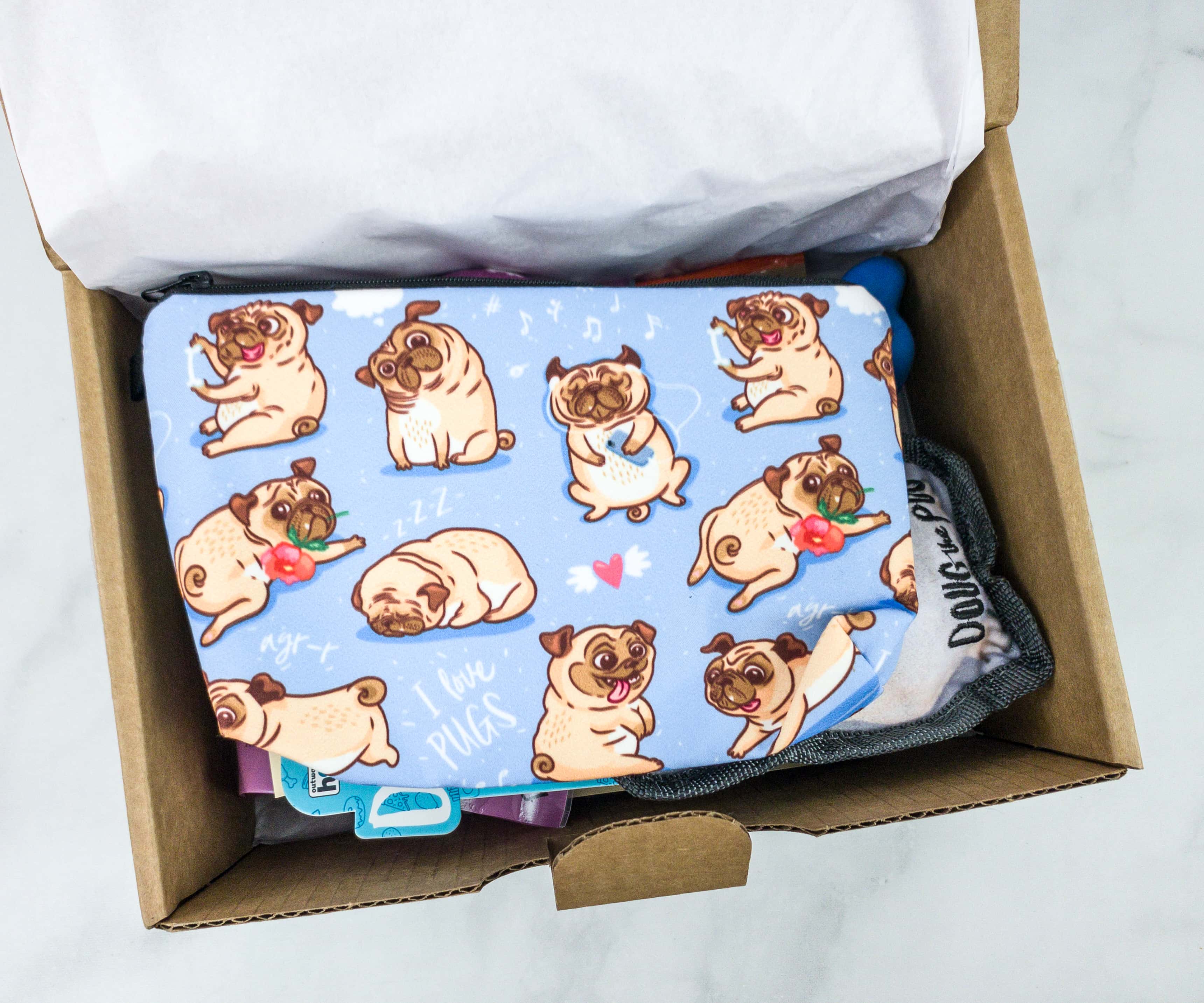 They were also wrapped in tissue paper.
This pamphlet has all the details about this month's items.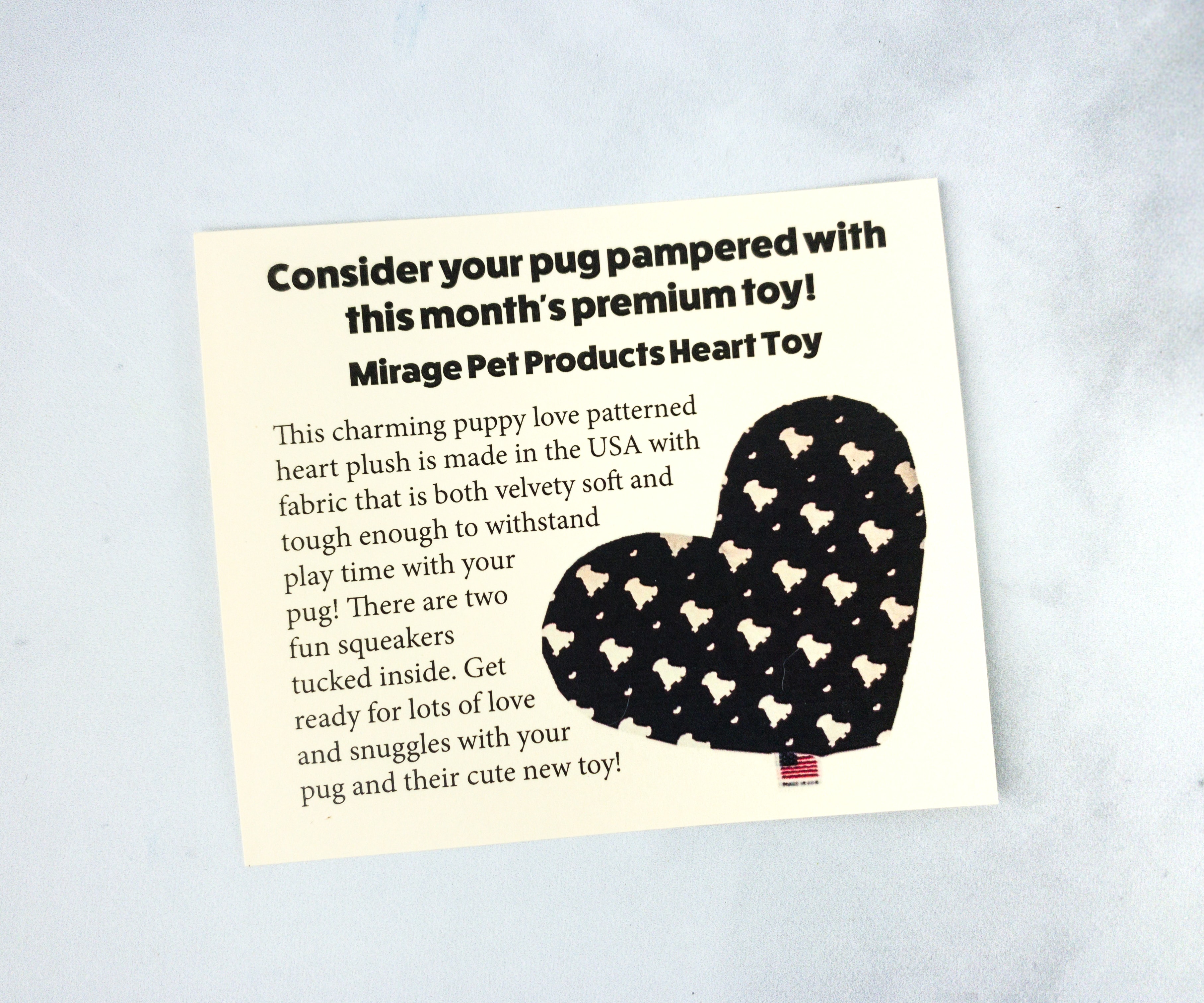 There's also another card that features this month's premium item, Mirage Pet Products Heart Toy!
Everything in my May 2020 box!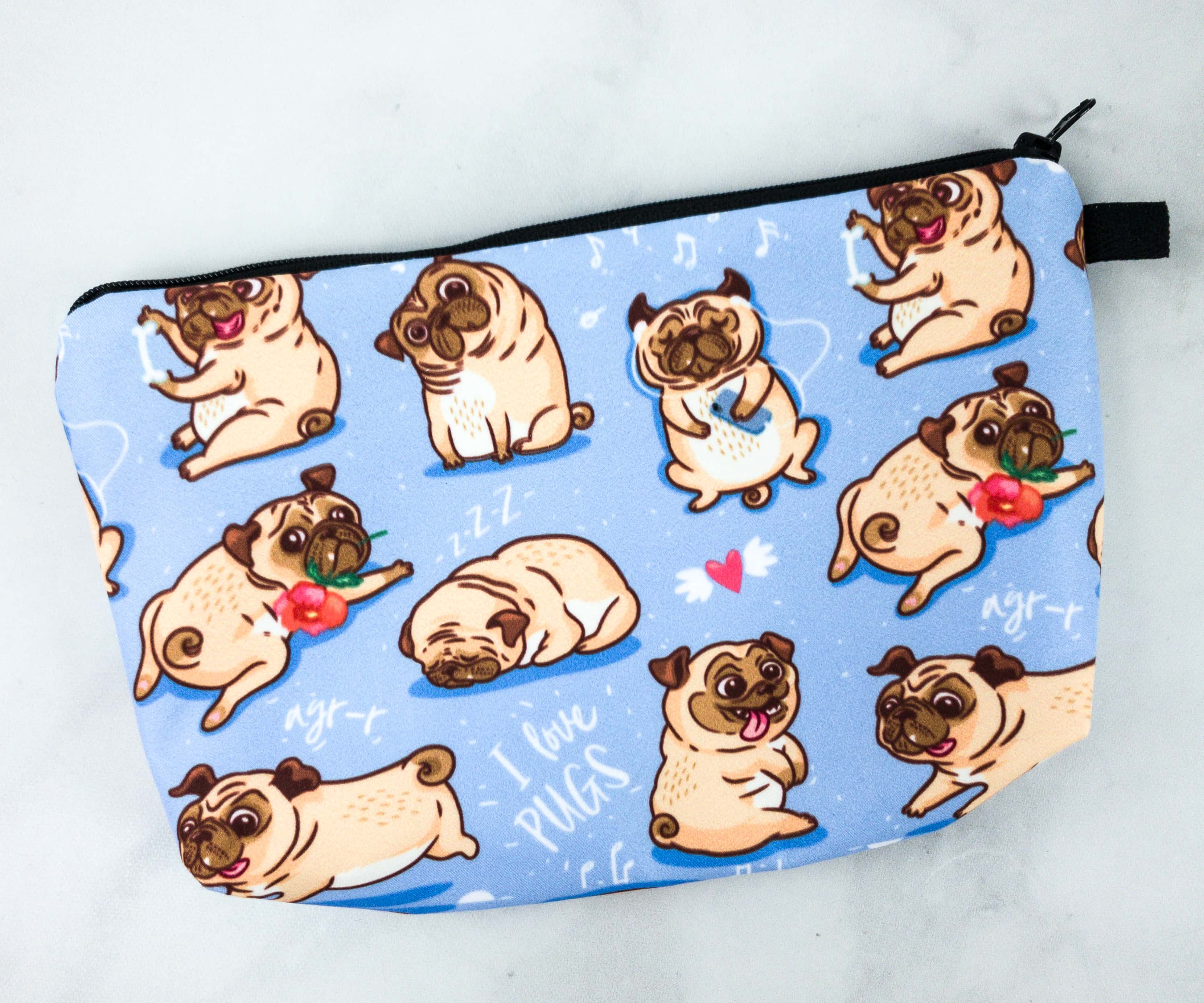 Pouch. This month's item for humans is a super adorable pouch featuring pugs in different positions! It's perfect for stashing makeup items, pens, and other small items.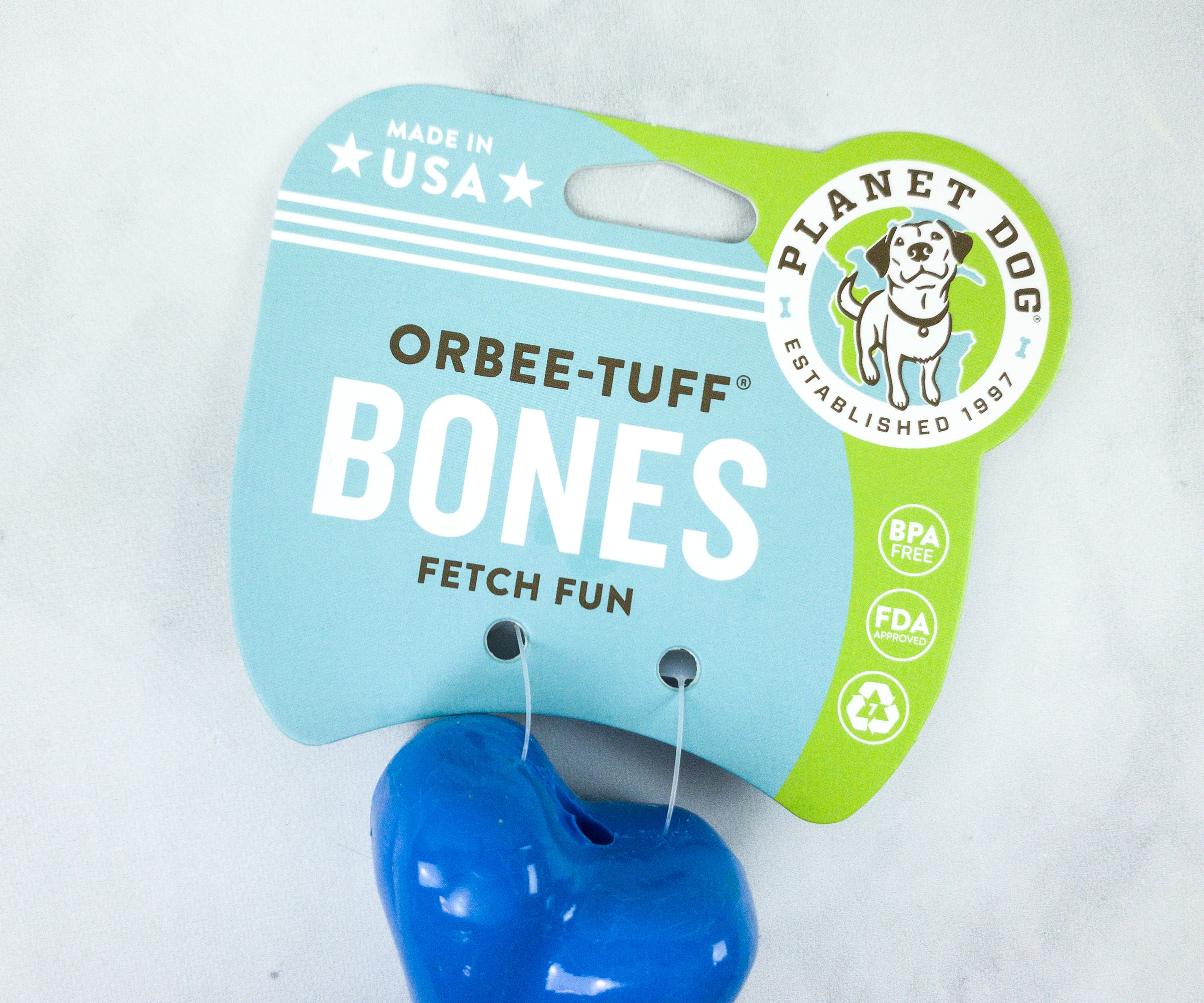 Planet Dog Orbee Tuff Bone ($14.97) This blue-colored bone is not just a toy but also a treat dispenser!
It's BPA and phthalate-free, so it's safe for our dogs. The toy even floats on water and it's also pretty bouncy!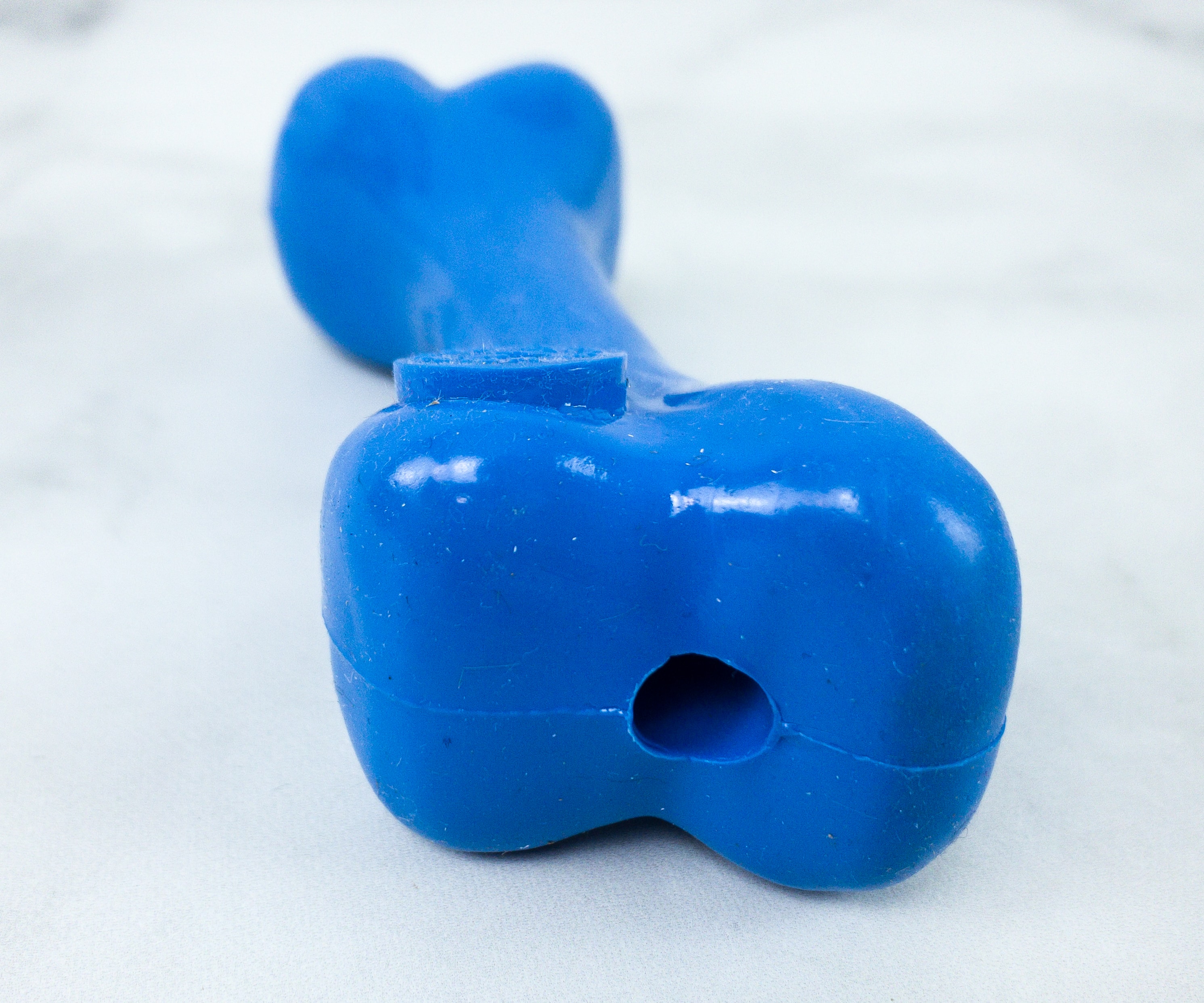 There's a hole on the side of the bone where you can insert a treat. It's also easy to clean, just rinse it with soap and water and it's good to go.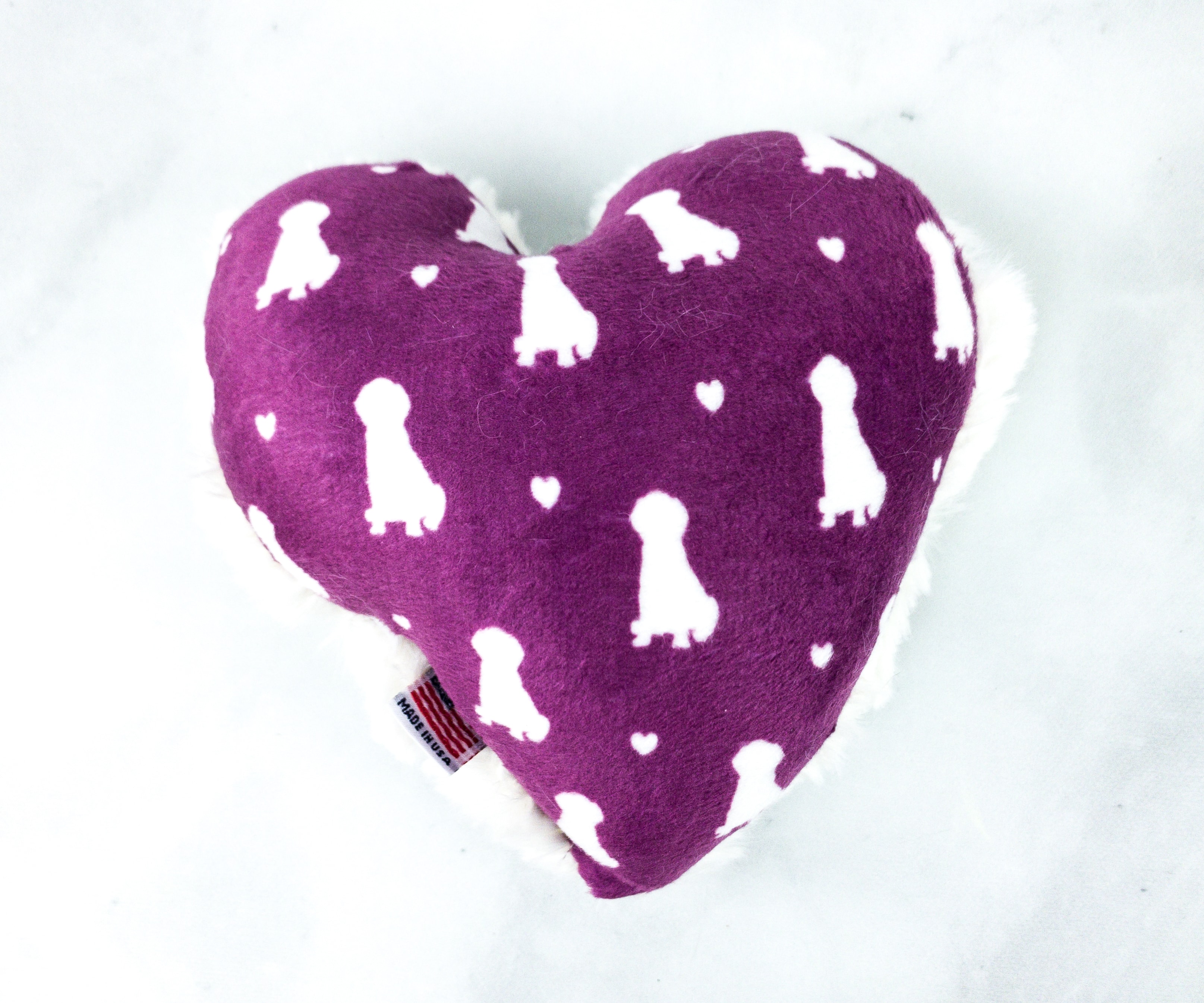 Mirage Pet Products Heart Toy. The featured premium toy this month is a cute heart-shaped pillow! We wish it's for humans but it's actually made just for dogs. One side is purple-colored and comes with silhouettes of a dog.
The other side is white, soft, and fuzzy. The toy even comes with two squeakers inside to make playtime more fun and exciting!
Outward Hound Doug the Pug Dog Toy ($6.99) Here's a fun toy for fetch play and even just for cuddling! It's free from stuffing so there's no mess, and it even has squeakers to keep them entertaining for dogs.
One side features a printed photo of Doug the Pug plus an embroidered logo.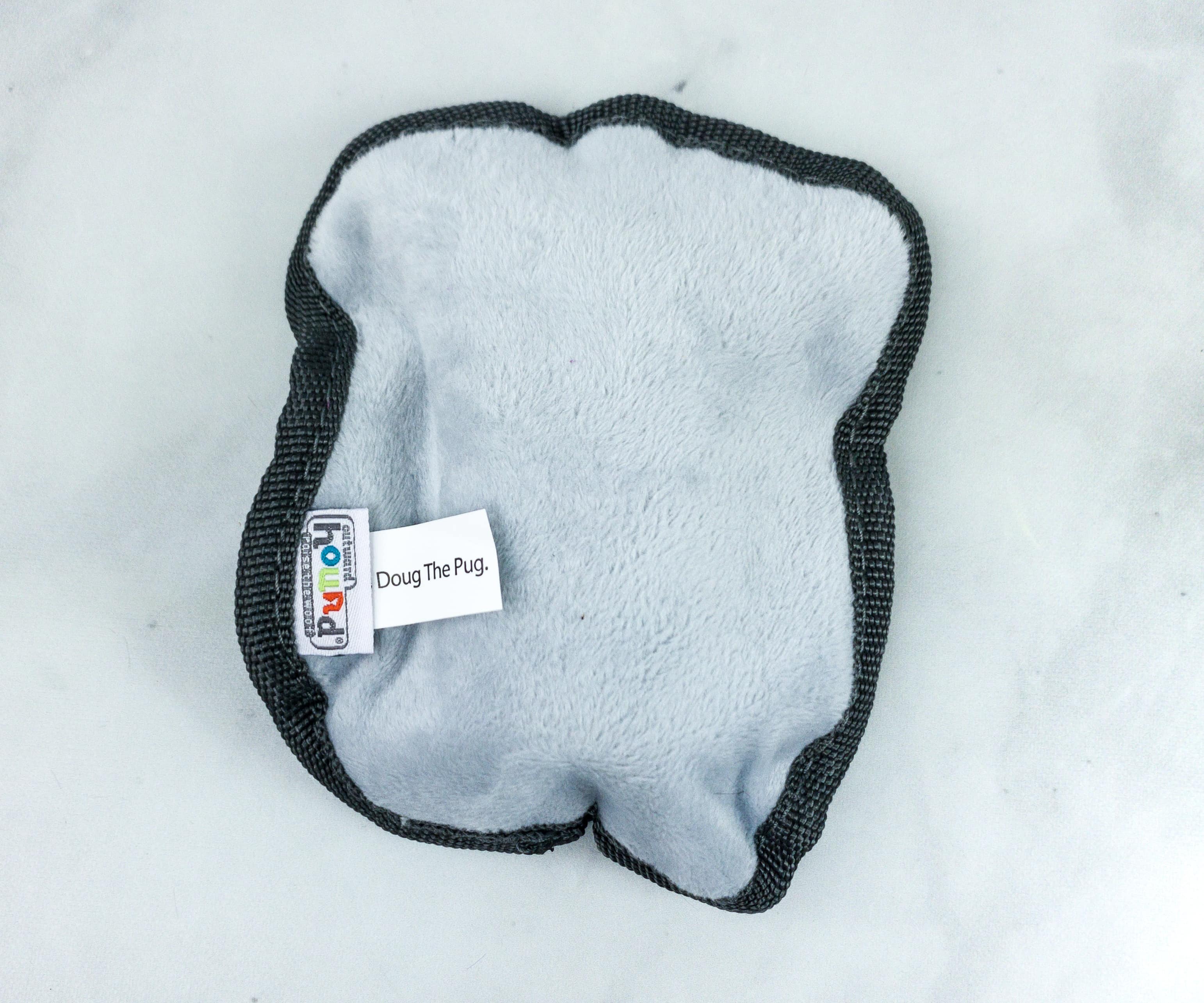 The other side is made with plain and soft fabric! The edges are also reinforced, so the toy is pretty sturdy although it's small.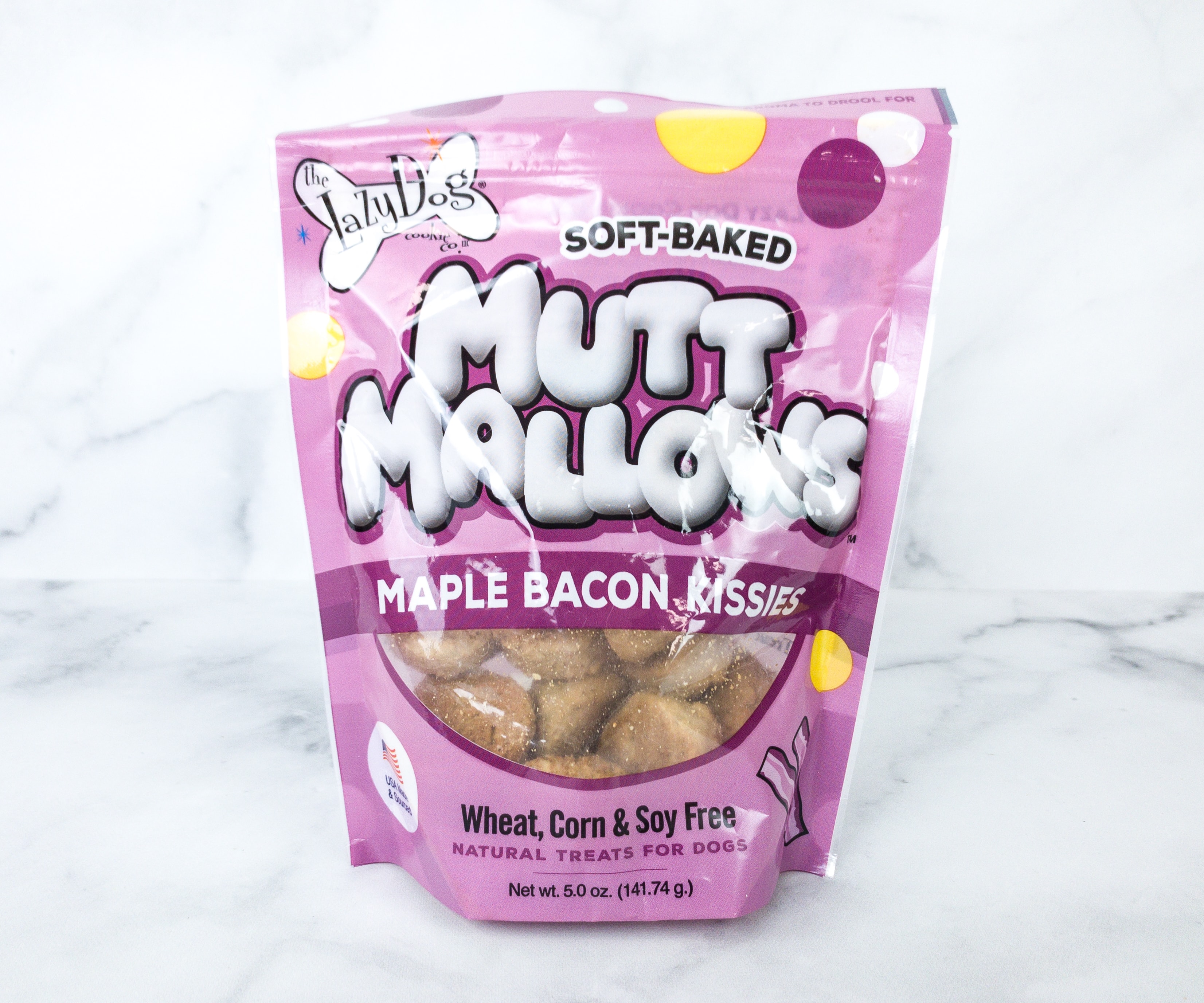 The Lazy Dog Cookie Co. Mutt Mallows Maple Bacon Kissies ($5.99) Now, we're onto the dog snacks! This bag of treats features maple bacon kissies!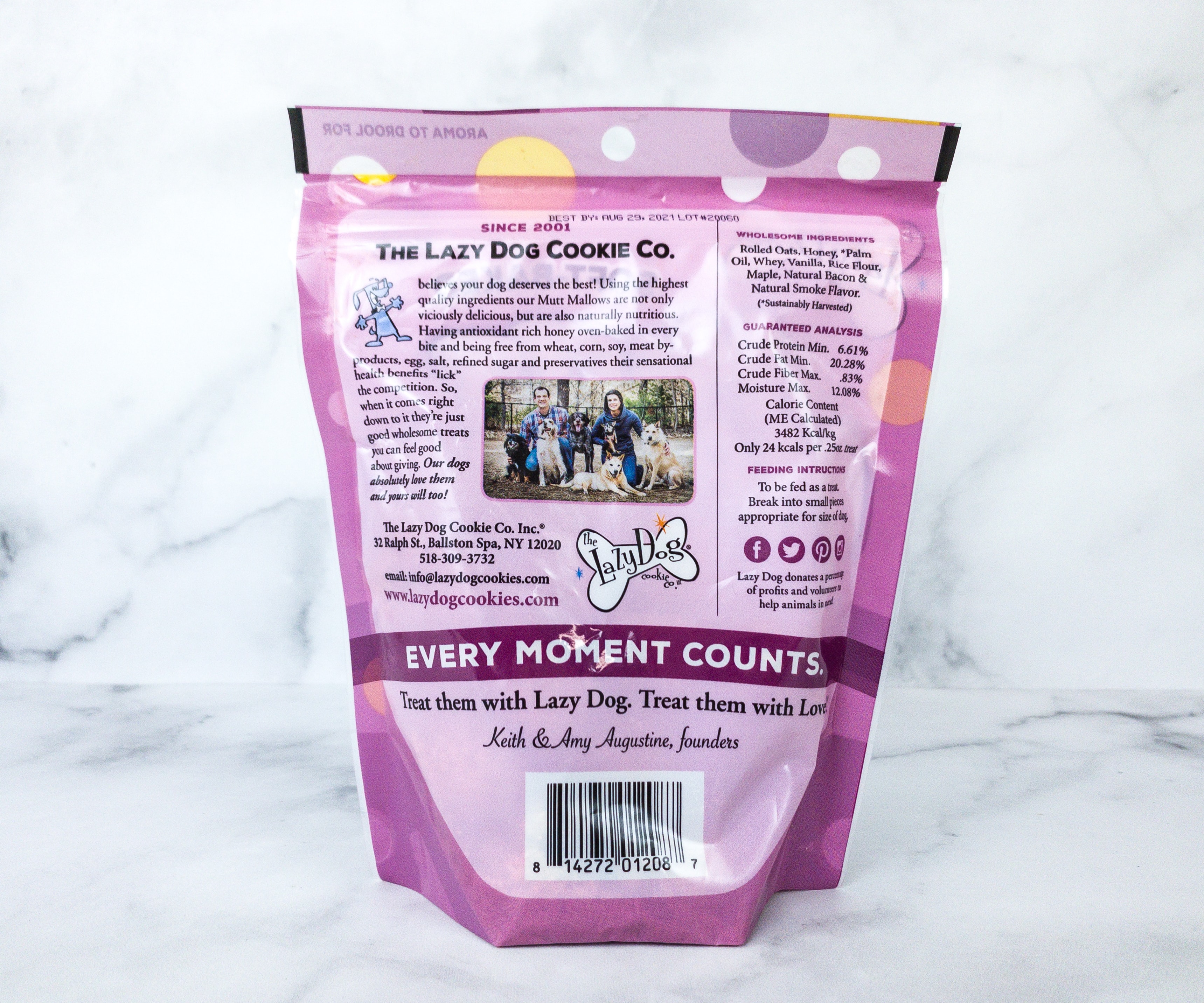 According to the label, they are free from wheat, corn, and soy!
Each treat is button-shaped! These are healthy treats for dogs as they're made with rolled oats and honey!
Buddy Biscuits Soft & Chewy Treats in Peanut Butter. We also have this bag of peanut butter treats for dogs! Peanut butter is not just tasty for dogs, they are also packed with protein and healthy fats that are necessary for a dog's growth.
The ingredients used for these treats are wholesome! They don't contain anything harmful for dogs like corn, soy, and artificial flavors.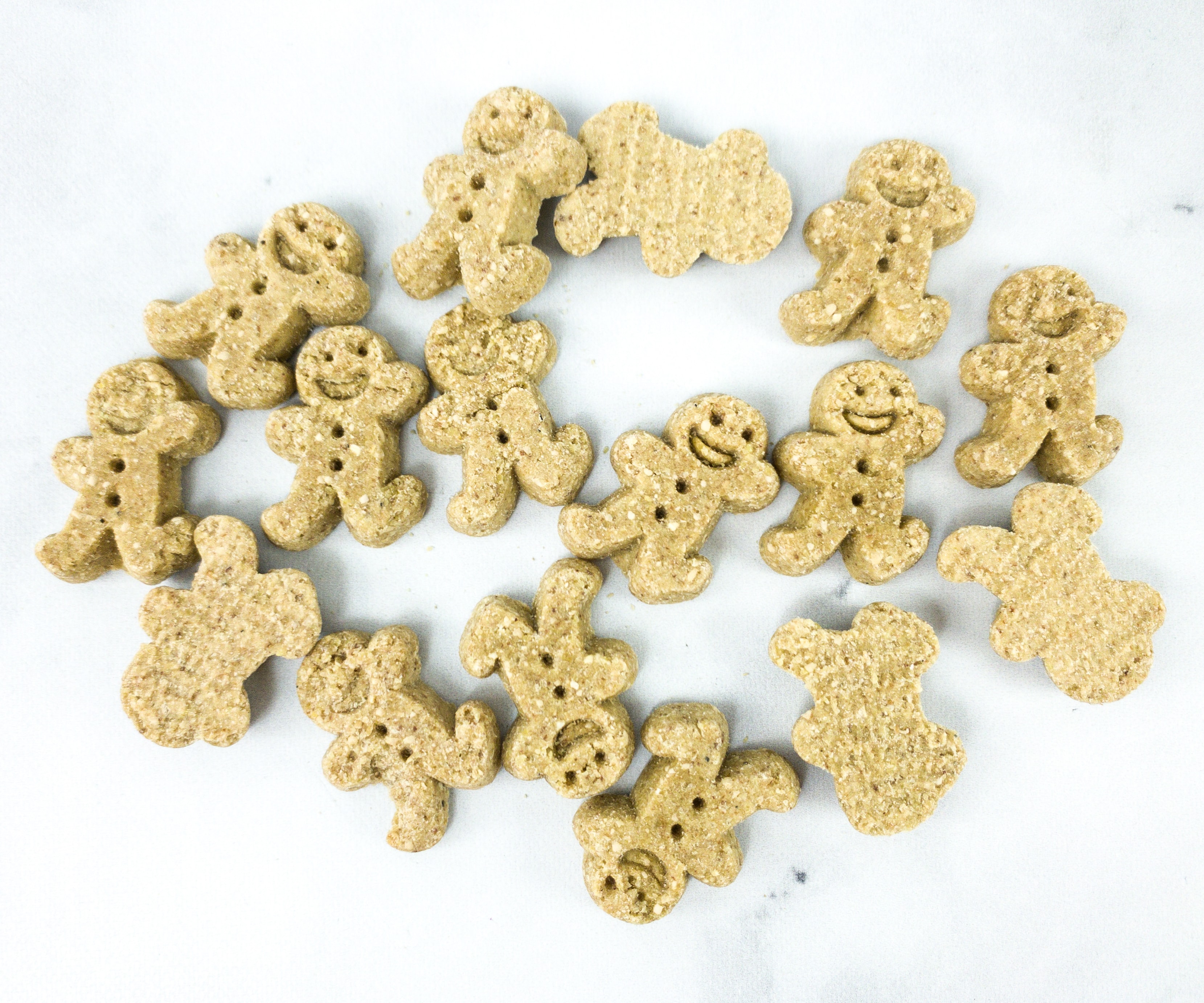 Each piece is shaped like a gingerbread man! They're crunchy and chewy, perfect as training treats, or even just a simple snack.
Everything in this month's Pug Box was a hit for us and our pups, from the toys to the treats. The toys were fun, especially the bone-shaped treat dispenser. The treats were also pretty good and our pups liked both the peanut butter snacks and the maple bacon kissies. The box even includes an item for humans and this time, it's a nice pouch with adorable pug prints. It was a good box overall, whether for pug lovers or dog lovers in general!
What do you think of this month's Pug Box?