Petit Vour is a monthly vegan beauty subscription box that sends luxurious, non-toxic, vegan beauty products. Petit Vour has two levels to choose from: the Beauty Box is $18 a month for 4-5 cruelty-free and non-toxic beauty products, mostly deluxe sample sized but with the occasional full-sized item; the Plus Beauty Box is $25 a month for 5-7 products. Each box will have a value of $50+ ($100+ for the Plus). Petit Vour has around 30 ingredients that they pledge NOT to put in boxes and of course, each item must be vegan and cruelty-free. You can find that list of banned ingredients here.
The Petit Vour Beauty Box is made for the beauty devotee whose lifestyle leans toward compassion.
Each month we'll share the best in plant-based beauty, culled from beauty's kindest. Inside you'll find generously-sized products (personalized to your beauty profile) for you to apply, blend, buff, lather, soak, and spray.
DEAL: Save 25% on your first box with coupon code FIRSTBOX!
I am reviewing the original Beauty Box!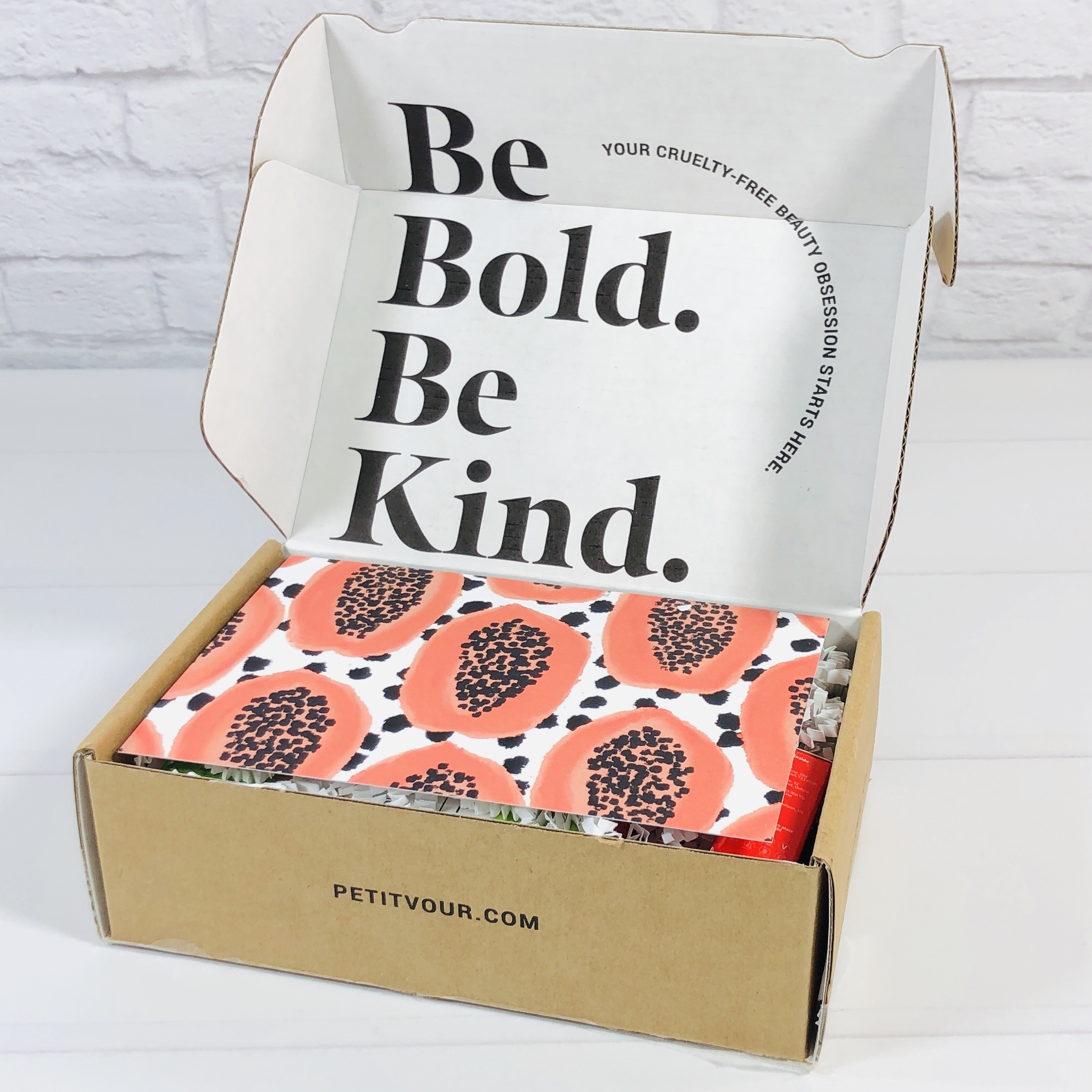 Be bold. Be kind.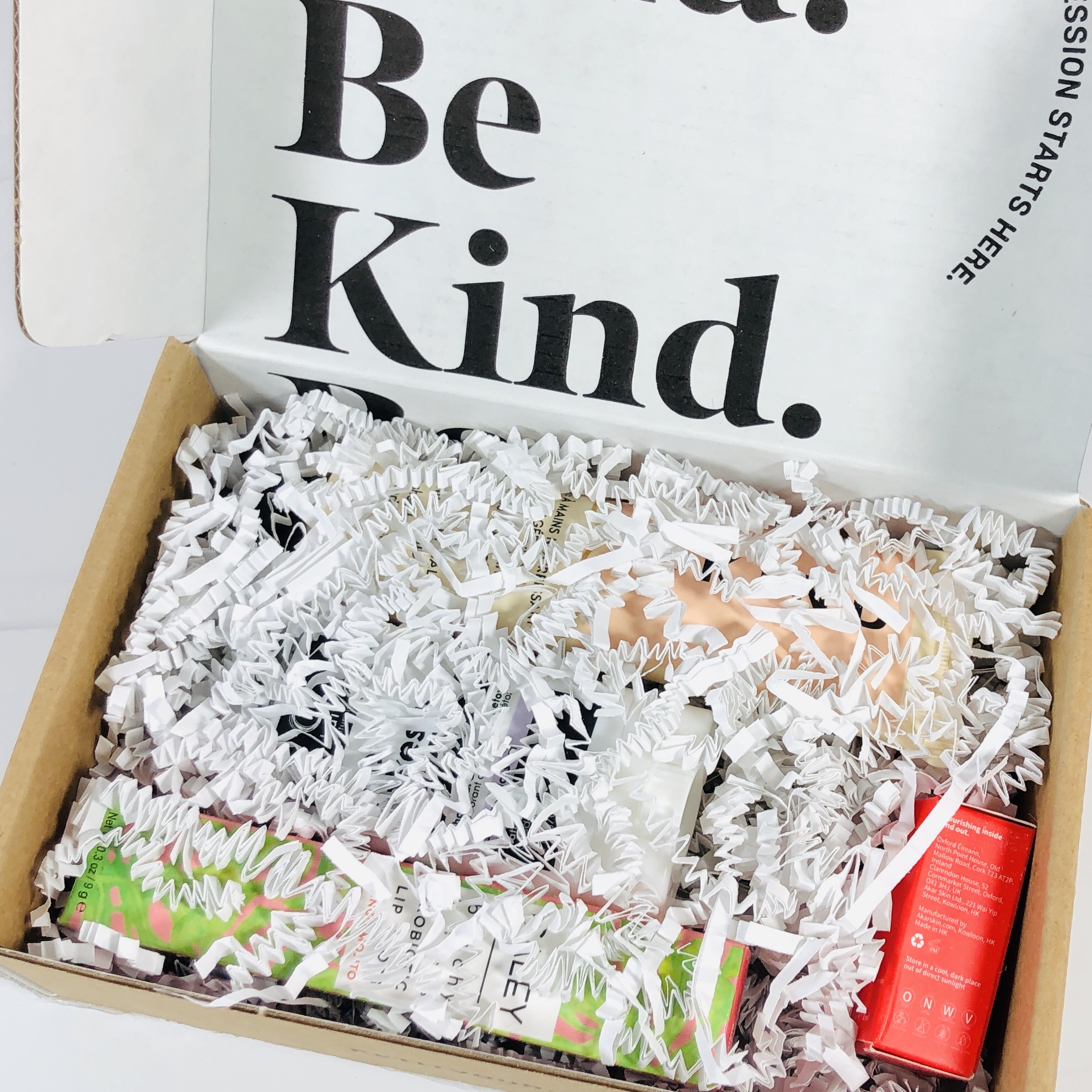 The items were packed in white paper squiggles.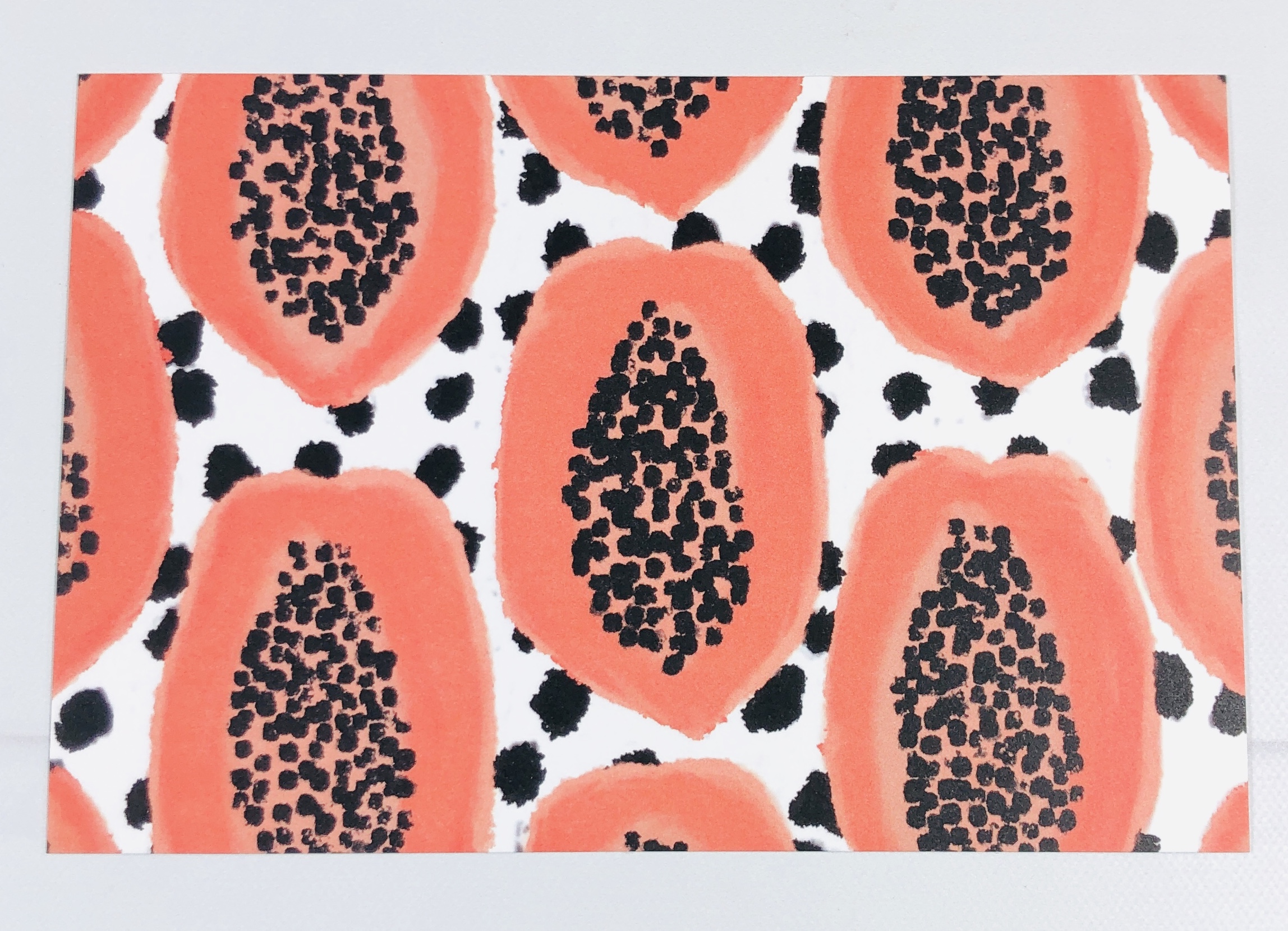 Petit Vour sent a product information card with papayas decorating the front.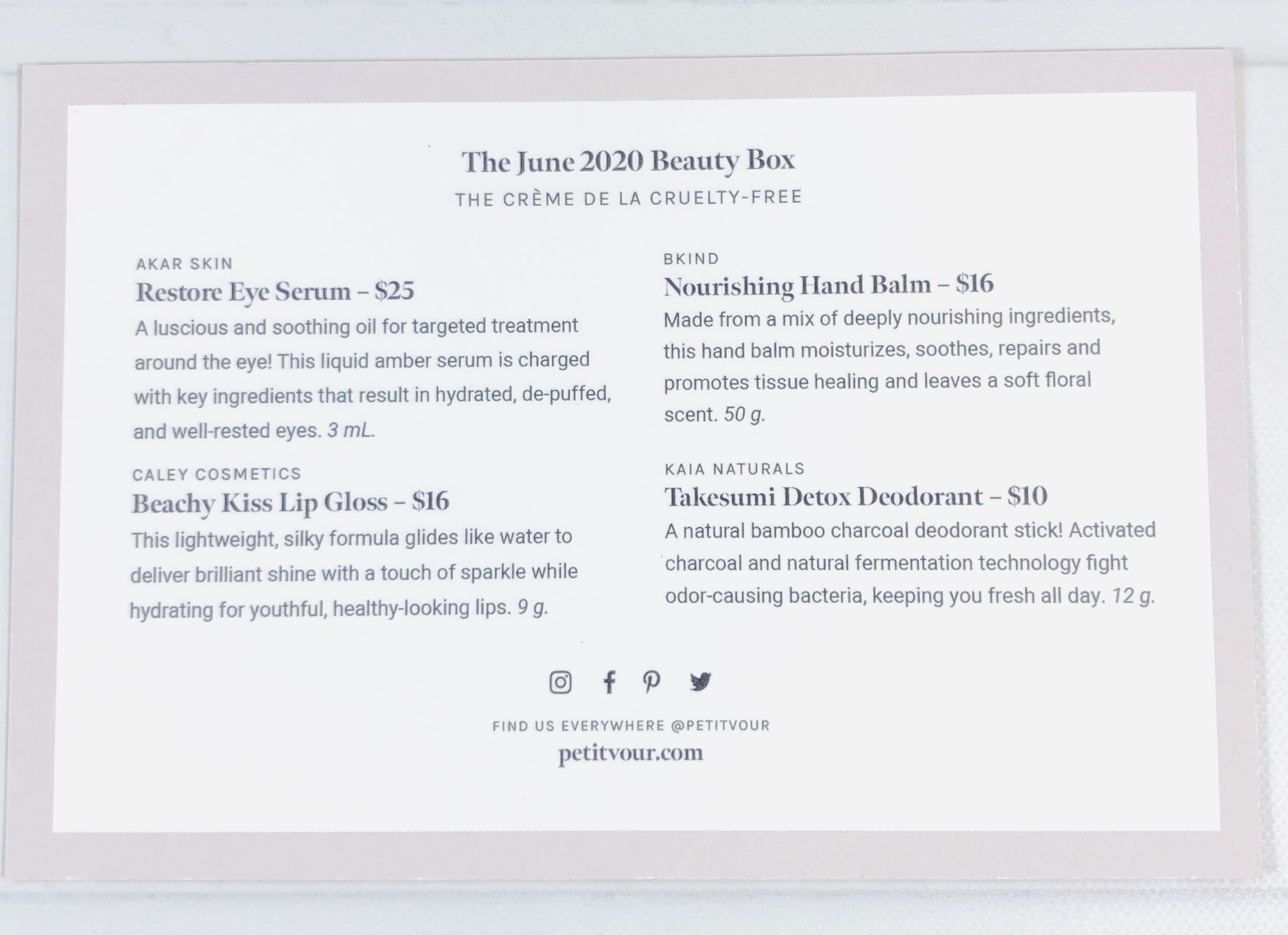 The back of the card listed each item, some info about the item, and the value.
A couple of the items came in their original boxes.
Everything in my box! Petit Vour is one of my favorite monthly boxes and I couldn't wait to try my new goodies!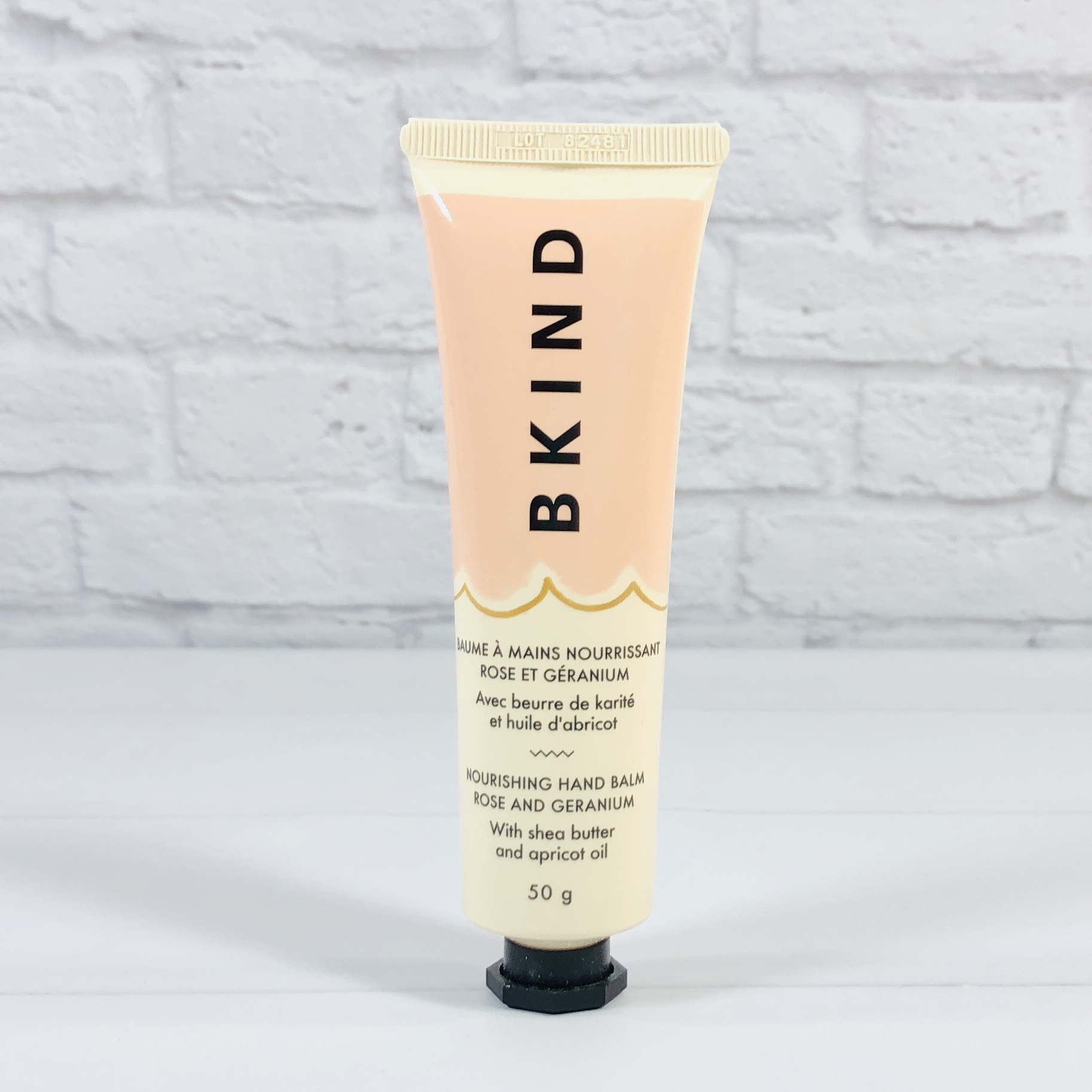 BKind Nourishing Hand Balm ($16) I couldn't find this product on the BKind website, maybe it's new? It was a lot thicker than I was expecting, truly a balm and not merely a cream. It is thick and smells like geranium but isn't strong or fake. This will be my nighttime hand protector until further notice.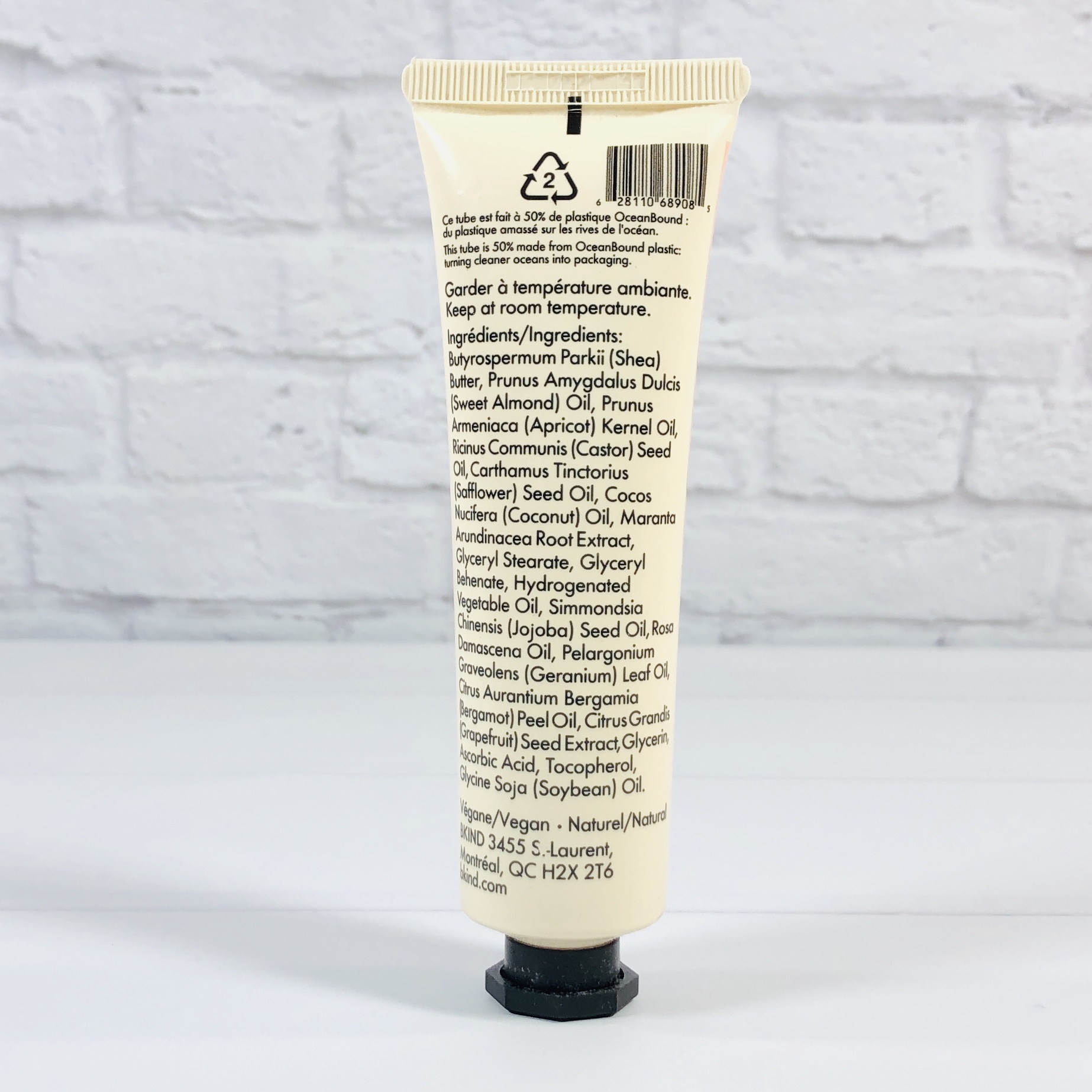 Ingredients include shea butter, sweet almond oil, and coconut oil. It left a coating on my hands that I wouldn't want to get on my phone or keyboard but my hands will be protected while I sleep.
Caley Cosmetics Beachy Kiss Lip Gloss ($16) I received Mango Mojito but there are a total of 4 scents available and your scent/flavor/color may vary.
Mango Mojito: fruity, mango-citrus flavor, sheer coral glimmer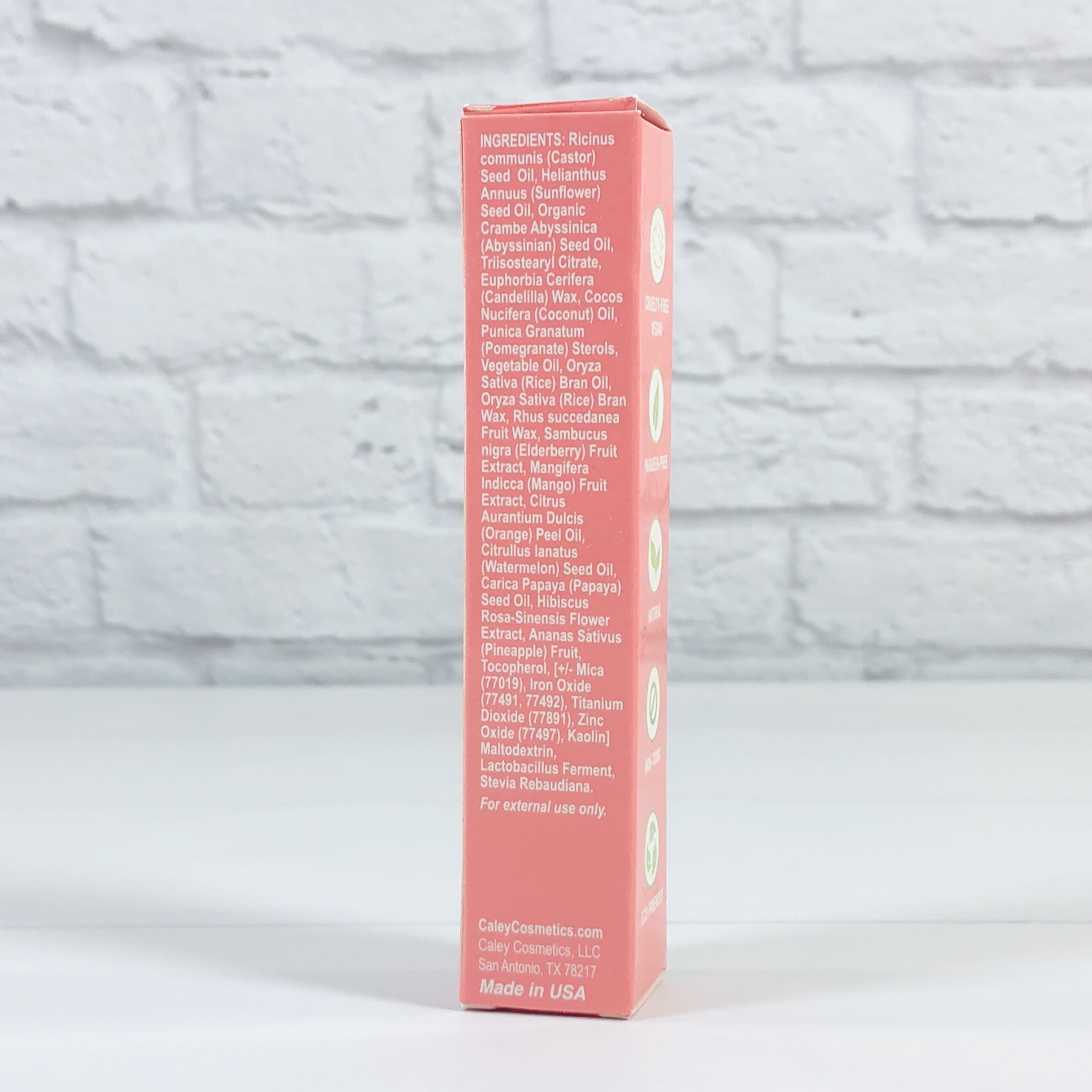 Ingredients include various oils such as sunflower and castor seed, rice bran wax, and hibiscus extract.
There's not much to show in a swatch but the gloss is slightly shimmery and it's a fun look and flavor for summer. I detected a hint of citrus and it was sweet and fruity. It felt more like a lip oil than a sticky gloss. It is perfect for warm summer days, very carefree and fun, but I bet it would look great with some darker lip liner underneath if you prefer some more color.
Kaia Naturals Takesumi Detox Deodorant ($10) According to this brand's website, it takes 2-4 weeks to "detox" when moving from a standard antiperspirant to a natural deodorant like this one. They claim that the charcoal in this product pulls toxins from the pores but most of what I've read says this simply isn't true and the skin isn't a filtering organ, that's the job of the kidneys and liver. The job of sweat is to cool your body off. I am all for reducing exposure to chemicals in beauty products but I personally don't believe in over the top claims.
Ingredients include arrowroot powder, silica (which may clog the pores, go figure), aloe, and essential oils. Baking soda can sometimes cause a reaction so they didn't put it in here. It is a deodorant and not an antiperspirant, so it may help reduce odor but it probably won't keep everyone from sweating.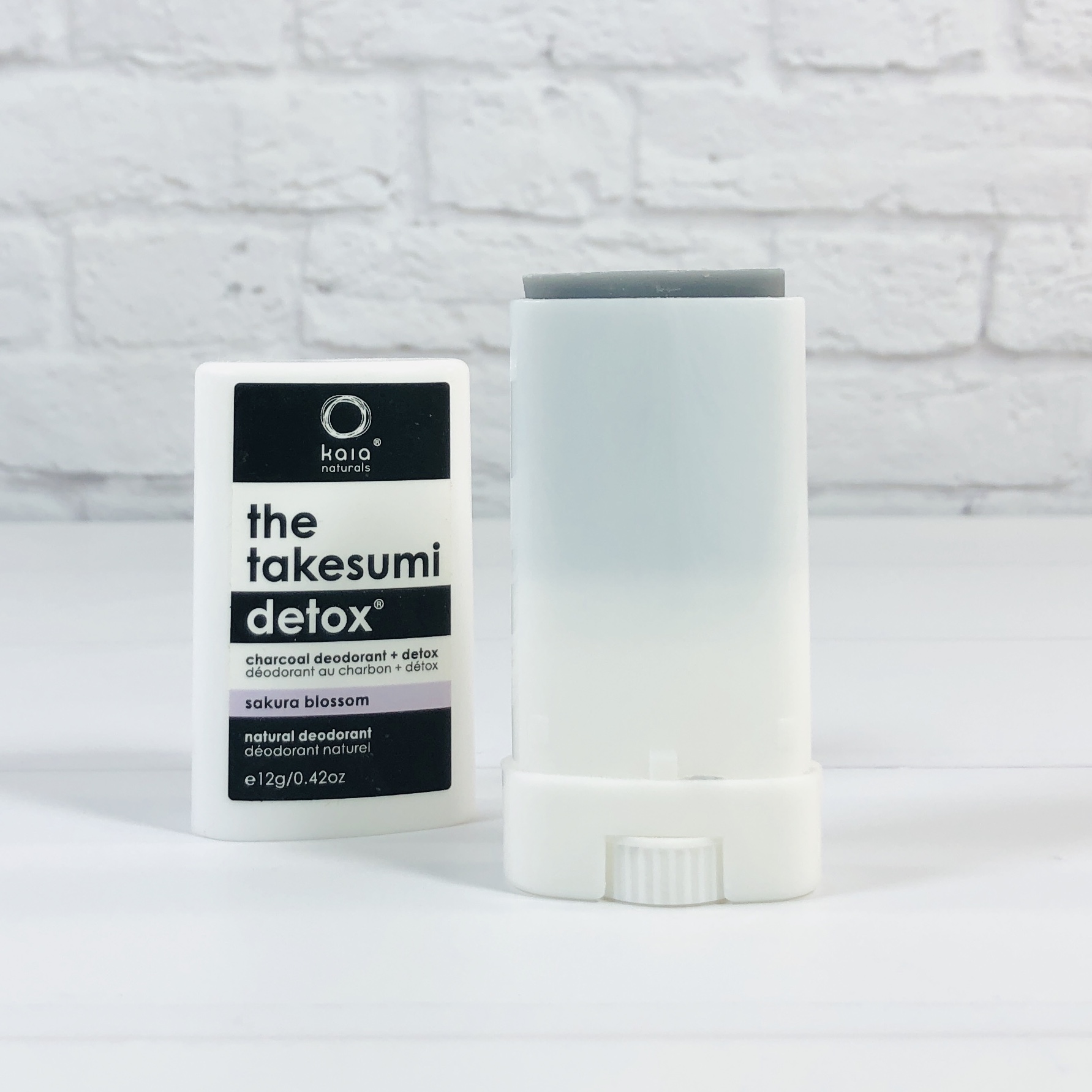 The scent is described as "lively – spring – blossom". It smells like floral perfume and kept the stink away for most of the day. Obviously it didn't stop wetness, since that's not its purpose.
Akar Skin Restore Eye Serum ($25.50) I usually get eye creams in boxes so an oil seems like a cool product for those of us who are looking for more slip.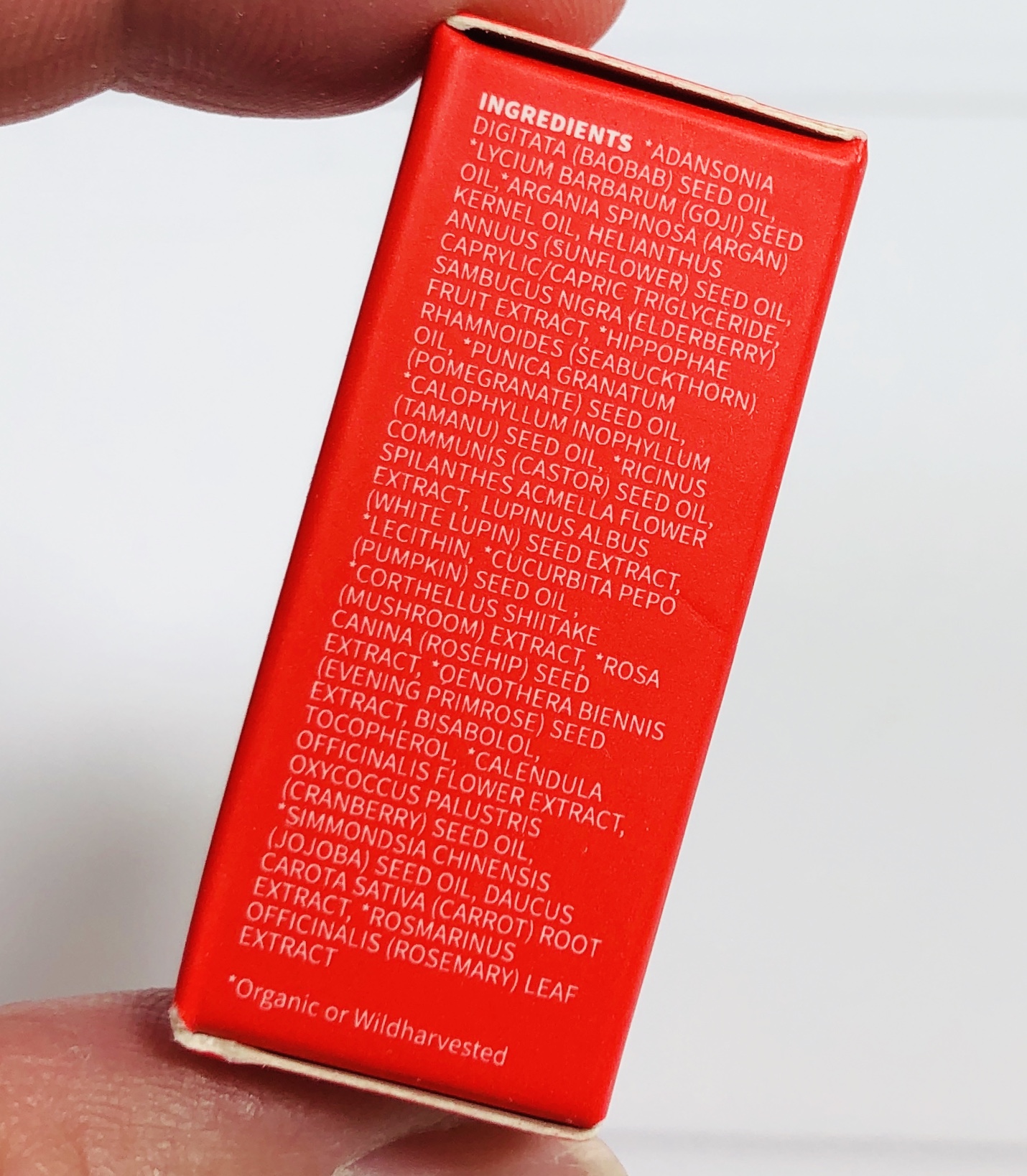 Well, that's a lot of ingredients! The product is supposed to de-puff and give the look of well-rested eyes and uses plant oils and extracts such as baobab, goji, and argan and even mushroom and calendula.
I had to place my finger over the top and flip the bottle to get a drop to place under and around my eye area. The oil smells somewhat nutty and felt good in that delicate face area.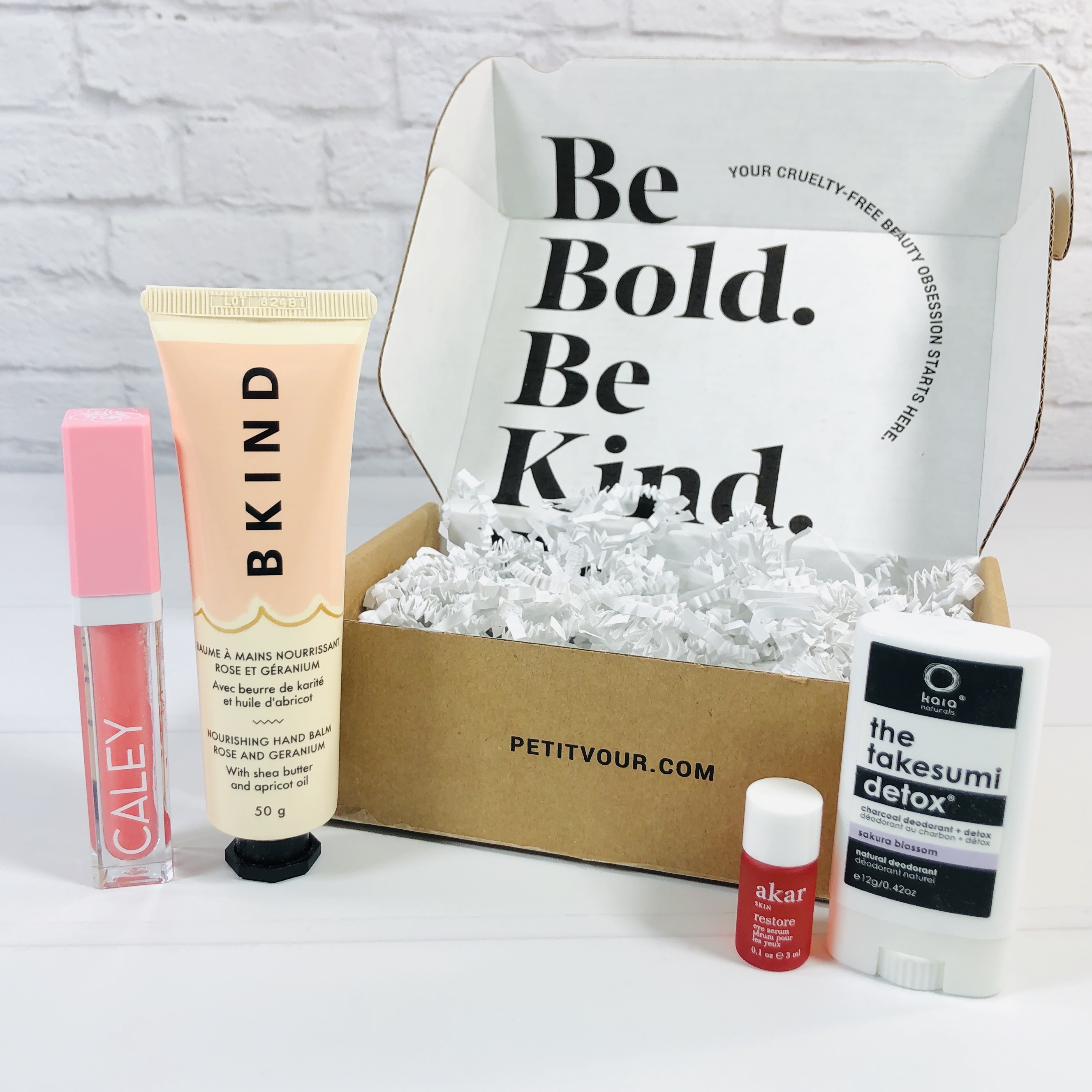 The June Petit Vour Beauty Box included clean, vegan, and cruelty-free replacements for typical items that I use on a daily basis. I may not switch permanently to a natural deodorant but I don't mind giving my pits a break from time to time. My under eye area can always use some moisturizing and that goes double for my hands, and a one and done swipe of lip gloss makes it quick to get ready in the morning. The value for the June box was around $67.50!
What did you think of this month's Petit Vour? I'd love to hear your thoughts on this box in the comments! 
Visit Petit Vour to subscribe or find out more about this vegan beauty subscription box!