Mighty Fix is a monthly eco-friendly subscription from Mighty Nest that sends one item each month designed to help your family lead a healthy lifestyle. 15% of the cost of the subscription will be donated to the school of your choice.
Subscriptions now cost $11 a month, but there's a discount if you'll opt for an annual plan. Shipping is free and add-on items ship free, too.
This month, we have a Fix+! It's different from the regular MightyFix because Fix+ items will be worth $15-30 and many are discounted up to 20%. There's no charge to join, and you'll only be billed for Fix+ in the months that they send a Fix+ item. For more information about Fix+, click here.
DEAL: Get your first month for $3! Use coupon code  HELLOSUB3. Or, get 3 months free with an annual subscription (save $33)! Just use the coupon code FIXAYEAR to subscribe!
FYI – this subscription ships along with Mighty Body if you also subscribe to that. I totally love their environmentally conscious shipping practices.
There's a note welcoming us to Fix+!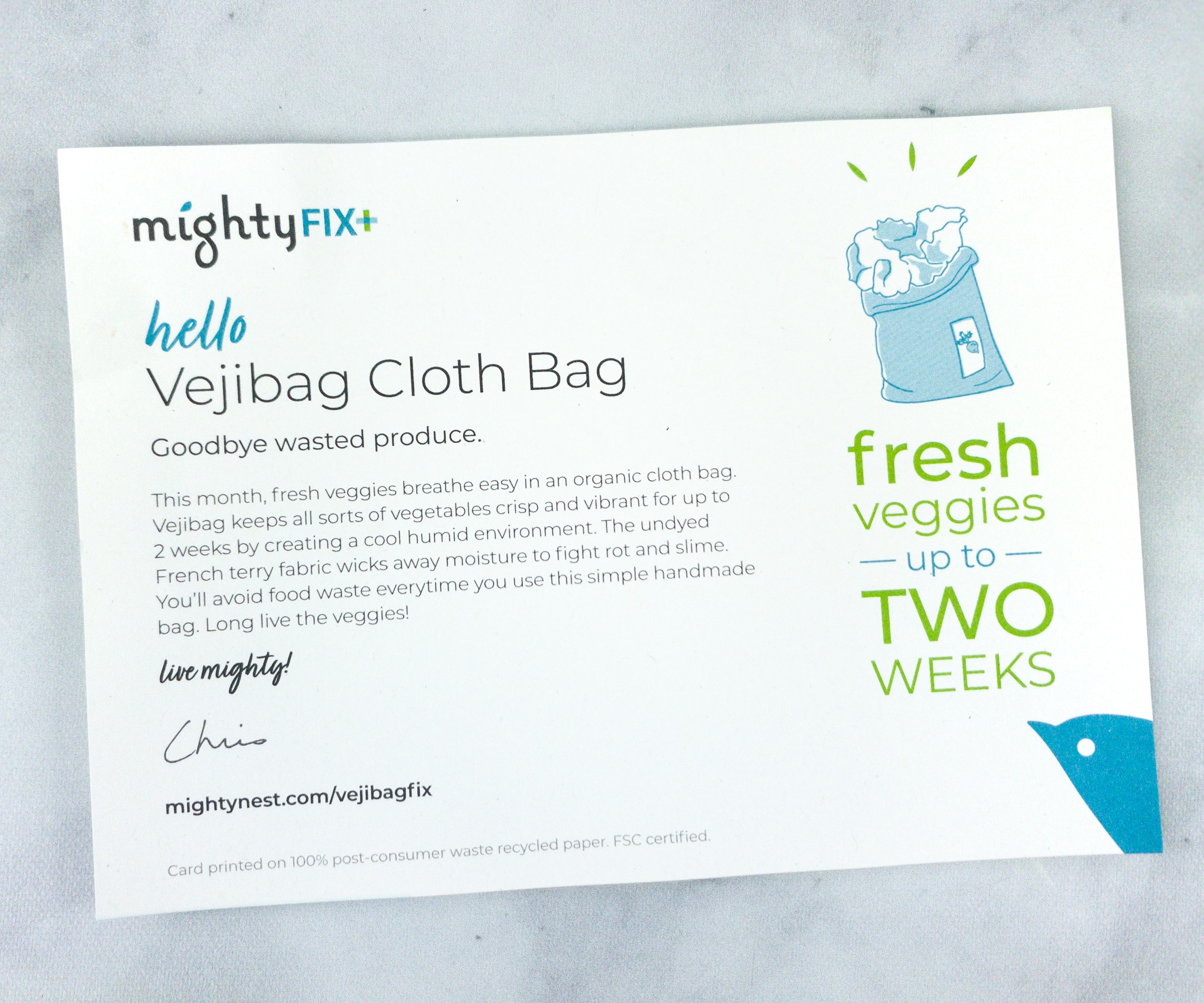 This card includes a message from Mighty Fix.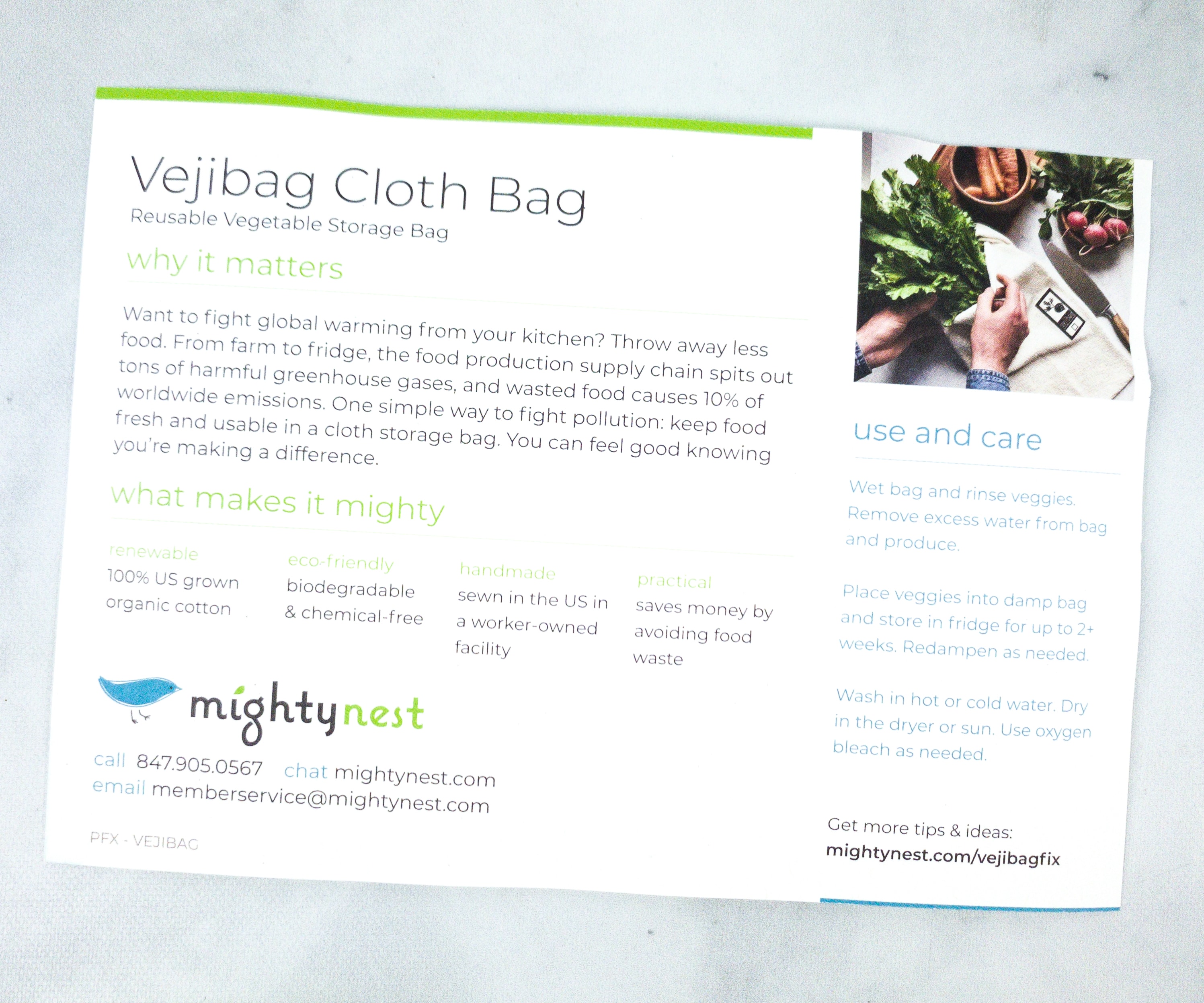 At the back, they listed reasons why the featured product is so mighty.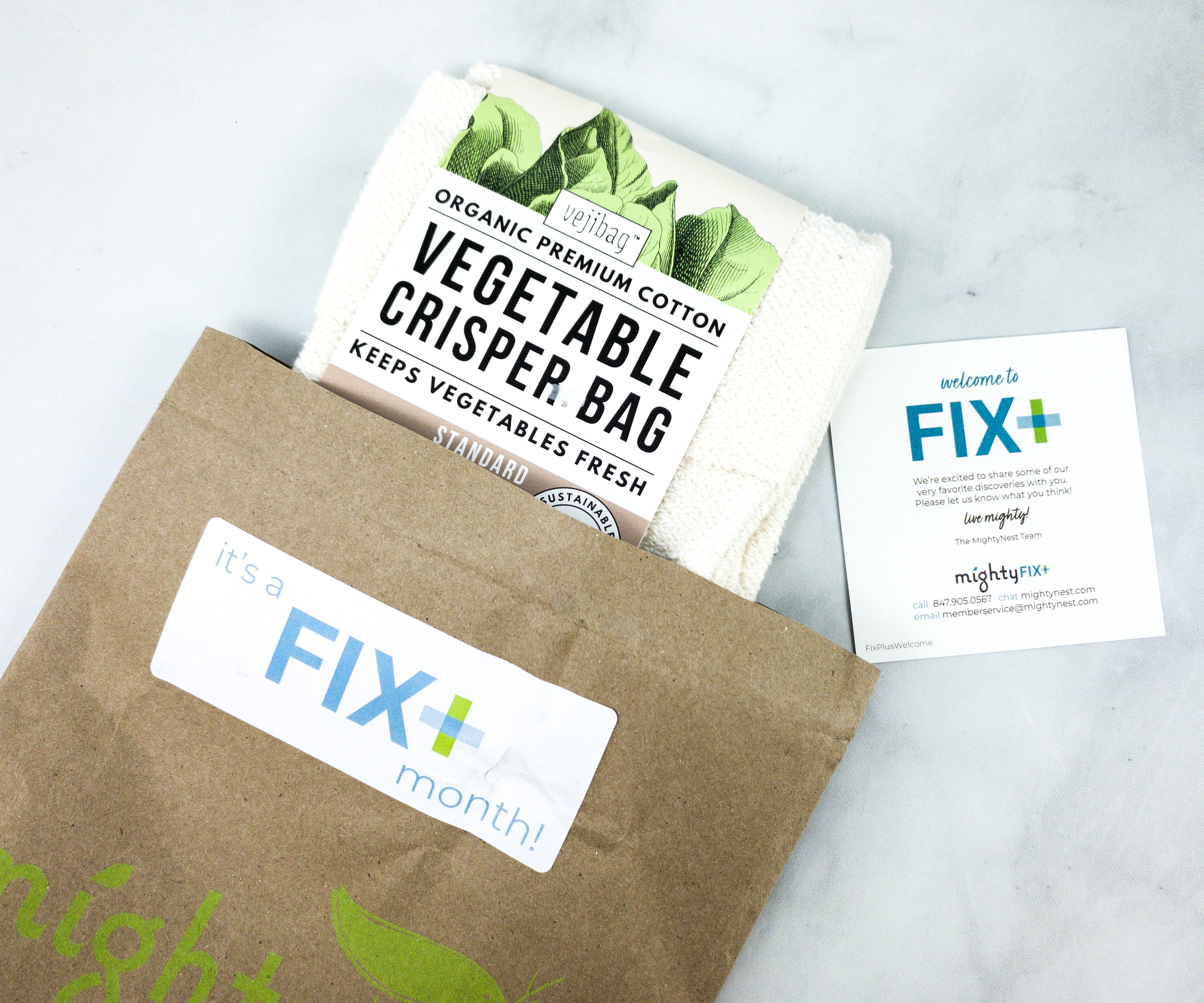 I'm excited about my first Fix+!
Everything in my package!
Vegibag Cloth Bag Reusable Vegetable Storage Bag ($20) One of the struggles in keeping fresh produce in the kitchen or pantry is that some of them easily get wilted or rotten. It's really a good thing that I got this storage bag that can keep veggies fresh for a longer time!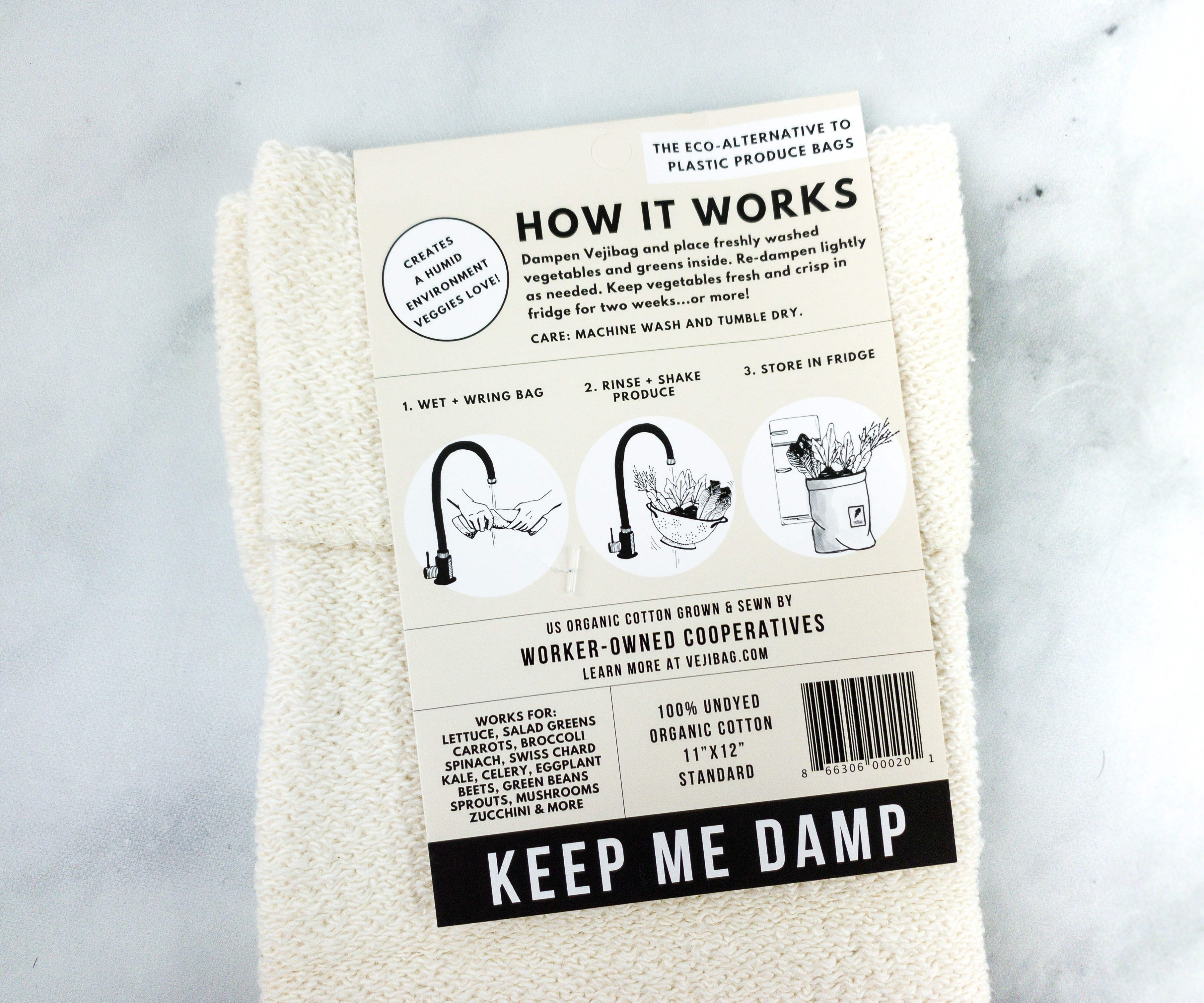 The tag says that the bag must be kept damp. To use, wet the bag first and then wring it out. Before putting vegetables inside, make sure to rinse them first and remove excess water. Afterward, put the bag in the refrigerator and dampen bag as necessary.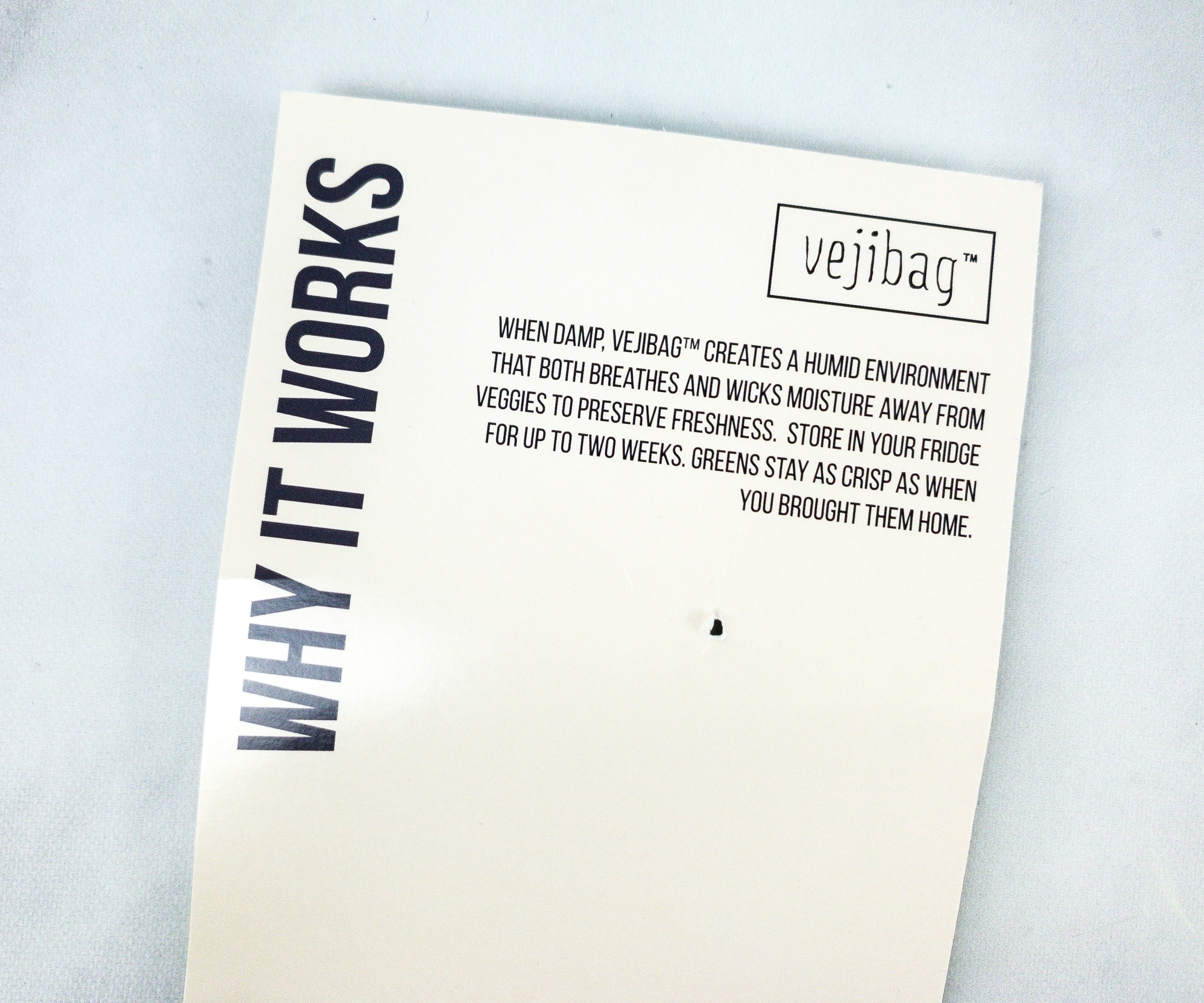 The bag creates a humid environment that both breathes and wicks moisture away from veggies to preserve their freshness.
They also included tips on how to keep the greens crisp and other vegetables as fresh as when you just picked them from the groceries.
Using this bag, it can keep the veggies fresh for up to 2 weeks!
The bag is 100% undyed and is made of pure, non-toxic organic cotton. The 11″ x 12″ bag can work for salad greens, carrots, lettuce, broccoli, spinach, cucumbers, peppers, and a lot more! The Vejibag also has a cute patch featuring a root crop!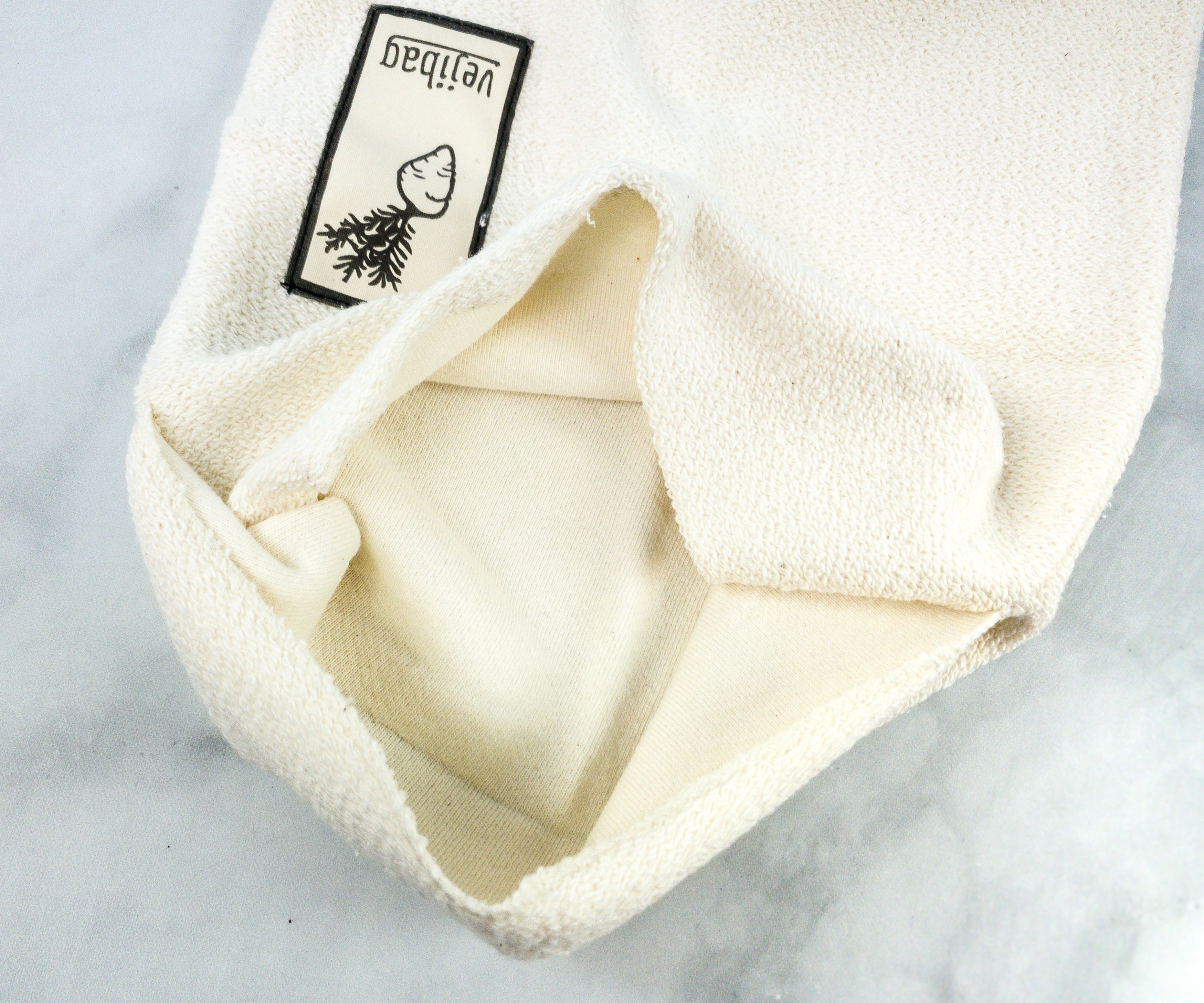 The Vejibag is also pretty easy to clean! It can be machine washed and in case there are stains, you simply have to soak in peroxide and washing soda solution for 24 hours.
My first Fix+ item is a great alternative for plastic bags! It's eco-friendly and also perfect for storing and preserving veggies inside the fridge. The bag provides a humid environment for them to breathe, so the produce stays fresh for a longer time. As promised, this Fix+ item has a higher retail value than the regular Mighty Fix items and that's really good. They are taking one of the best eco-friendly subscriptions to another level!
What do you think of Fix+?