Fresh Fiction Box Not To Miss is a monthly book subscription that sends 3-5 print books and 1-3 eBooks for $25.95. Shipping is free to the U.S. and extra to Canada. You can choose from a 1 or 3 month plan and both plans auto renew. Alternatively, you can also buy a one-time box from their online shop. Books are a random selection of the month and no two boxes are the same. Most of the books will be from the romance genre but they may occasionally send mystery, erotica, YA, and paranormal books too.
When you sign up for Fresh Fiction Box Not to Miss, every month you will receive a box full of new print books and eBooks. Fresh Fiction focuses on genre fiction, romance in particular. There will be the occasional mystery, erotica, and paranormal as well. Some months may even include advanced reader copies (ARCs), which means early editions of books in your hands a month before the release date.
DEAL: Save $3 on your first Fresh Fiction Not To Miss box with coupon code HELLO.
I opened the box to find tissue paper sealed with a sticker!
I found 4 paperback books in the box!
I received a card…
…that had a coupon code listed, along with the social media accounts for Fresh Fiction.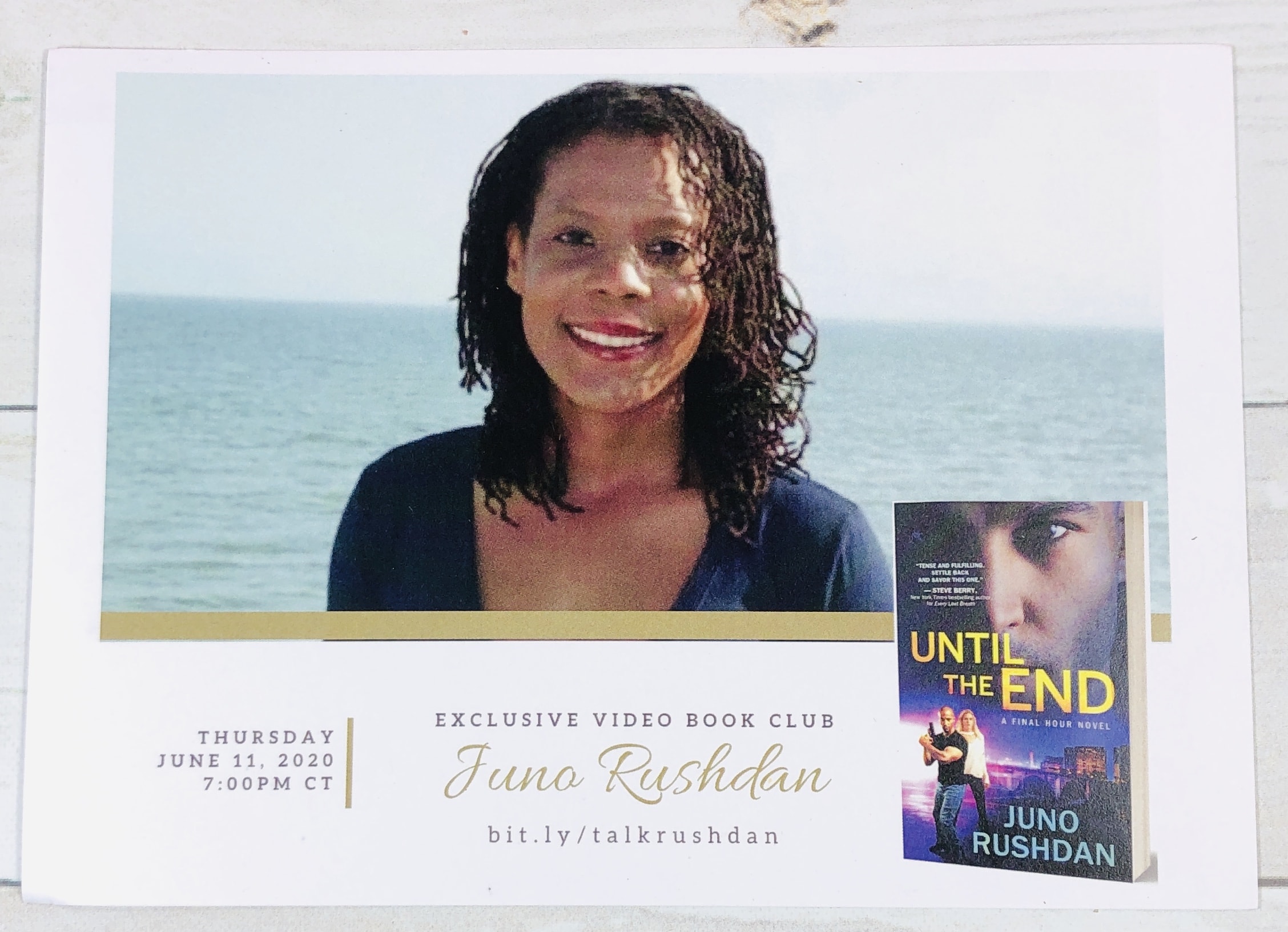 I received a second card with info on an exclusive video book club, which takes place on June 11th.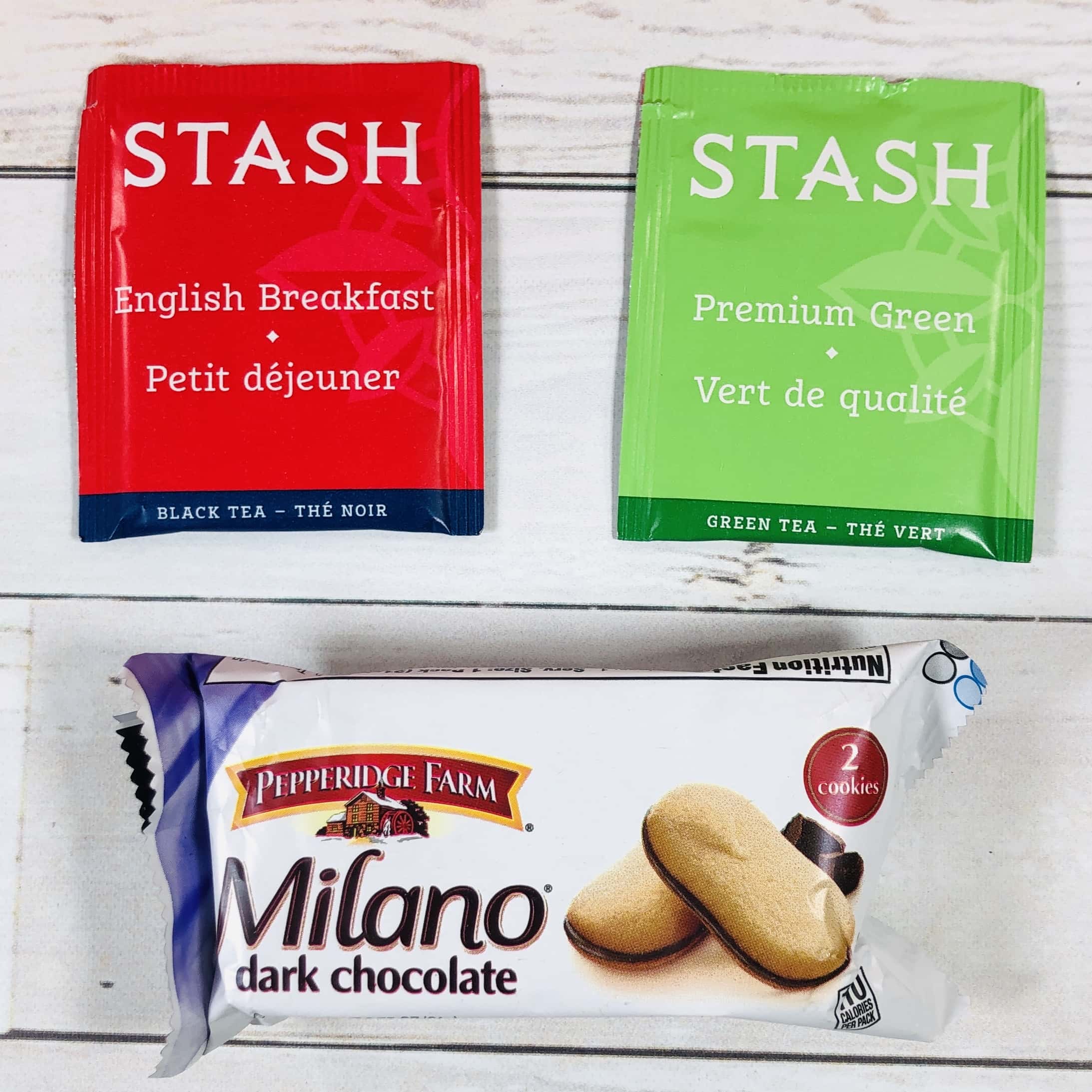 I found two teas from one of my favorite tea makers, Stash Tea, along with some Milano cookies so I can have a relaxing afternoon tea, cookie, and book session.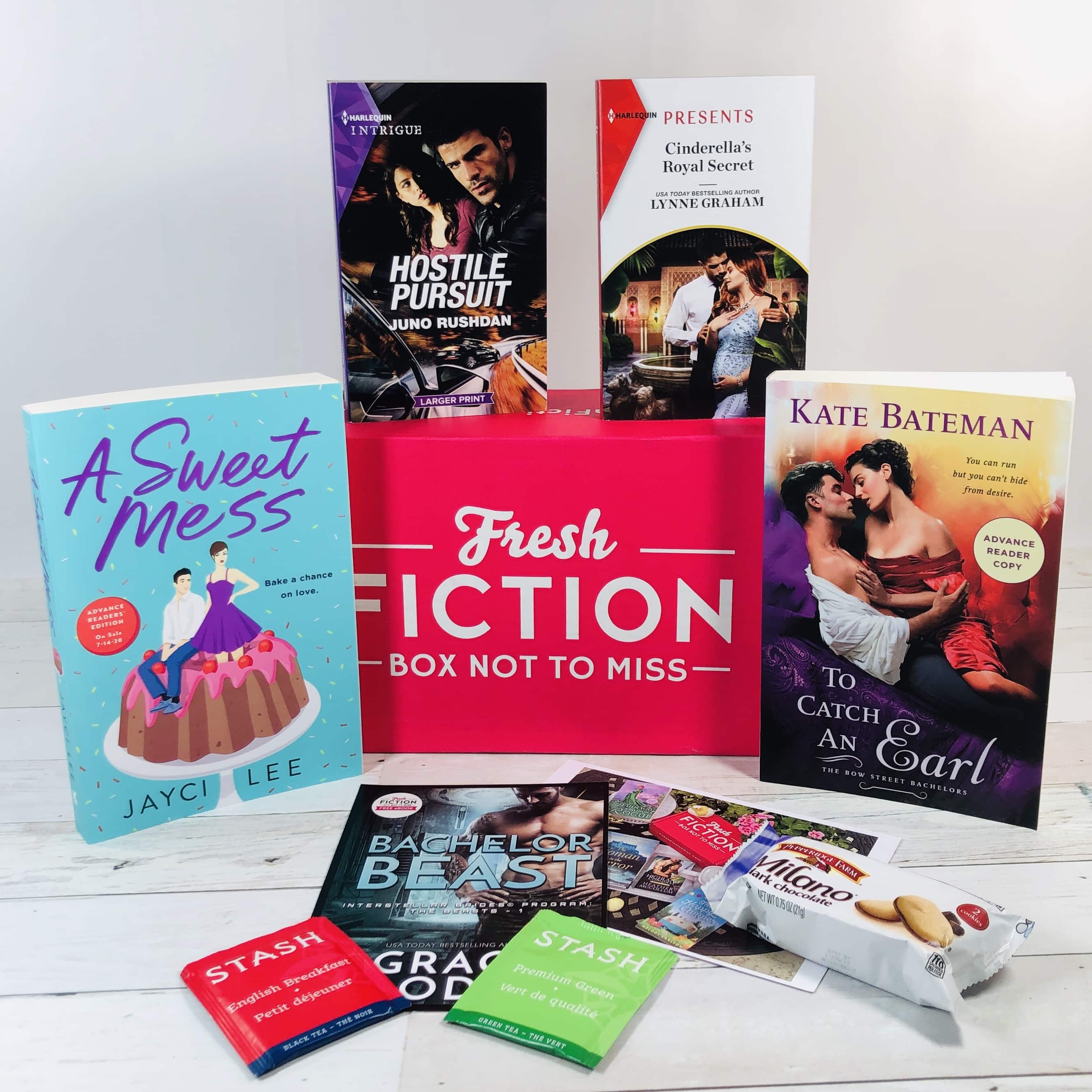 Everything in my box!
NOTE: Fresh Fiction occasionally sends advance reader copies, which are books that are provided to readers for free. They may be uncorrected proofs and have some editing left and possibly the ending may change but for the most part they are ready to go. They are sent in an effort to get books in readers hands before they are available for everyone else. I will note if I receive an ARC and will not include it's MSRP in the wrap up, since they are not for resale.
I received a card with a link to download Bachelor Beast by Grace Goodwin ($4.99 for Kindle).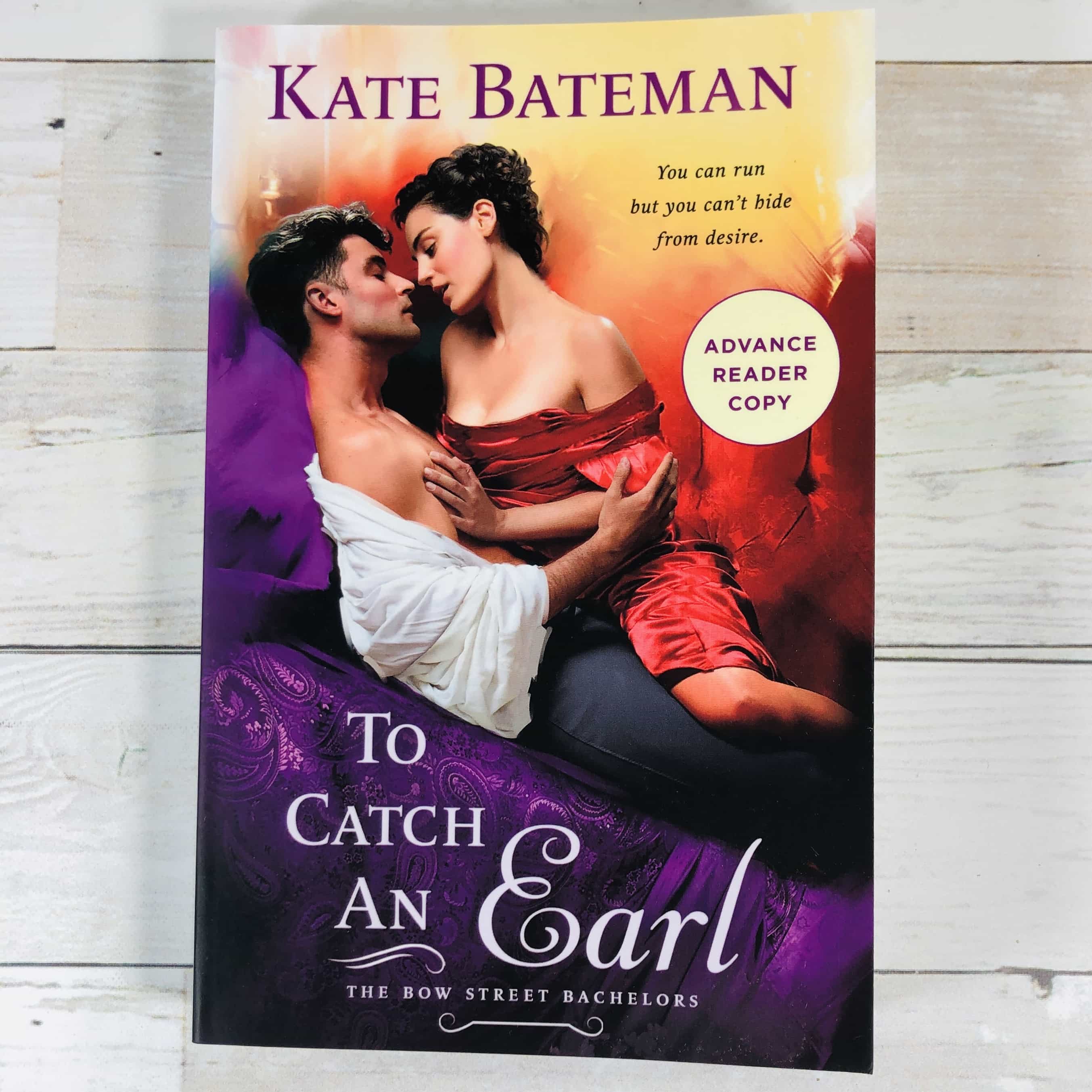 To Catch An Earl: A Bow Street Bachelors Book by Kate Bateman (ARC, no value, but is $7.99 MSRP) is Book 2 of 3 in The Bow Street Bachelors series and will be out on 6/30. Book 3 of the series will arrive in December. It's a Regency/historical romance about an undercover cop and a jewel thief.
Kate Bateman's To Catch an Earl continues her historical Regency Romance Bow Street Bachelors series.

Working undercover for London's first official police force, the Bow Street Bachelors have an obligation to serve the city's best interests―even while they're falling for the city's most alluring women…

SHE KNOWS HOW TO STEAL A KISS.

Alex Harland, Earl of Melton and dedicated rake, never pictured himself as an agent of inquiry. But the thrill of investigation is a challenge he now embraces. When he's asked to pursue the Nightjar, a notorious thief who is reclaiming France's crown jewels, the case throws him into the path of the beautiful and equally elusive Emmy Danvers, reminding him of the only puzzle he's never solved: the identity of the mysterious woman who once stole a kiss from him―and left him wanting so much more…

WILL HE SURRENDER HIS HEART?

The daughter of a thief, Emmy learned long ago how to keep her secrets safeguarded―and, as the notorious Nightjar, her love for Alex Harland is one of them. With the determined earl hot on her trail―and making her hot under the collar―Emmy has no choice but to keep her distance. But when a moment's danger threatens Emmy's life as well as her name, will Alex finally discover that he's followed every clue…to true love?

"Full of intense emotions and dramatic twists….Future installments will be eagerly anticipated by Regency readers."―Publishers Weekly (starred review) on This Earl of Mine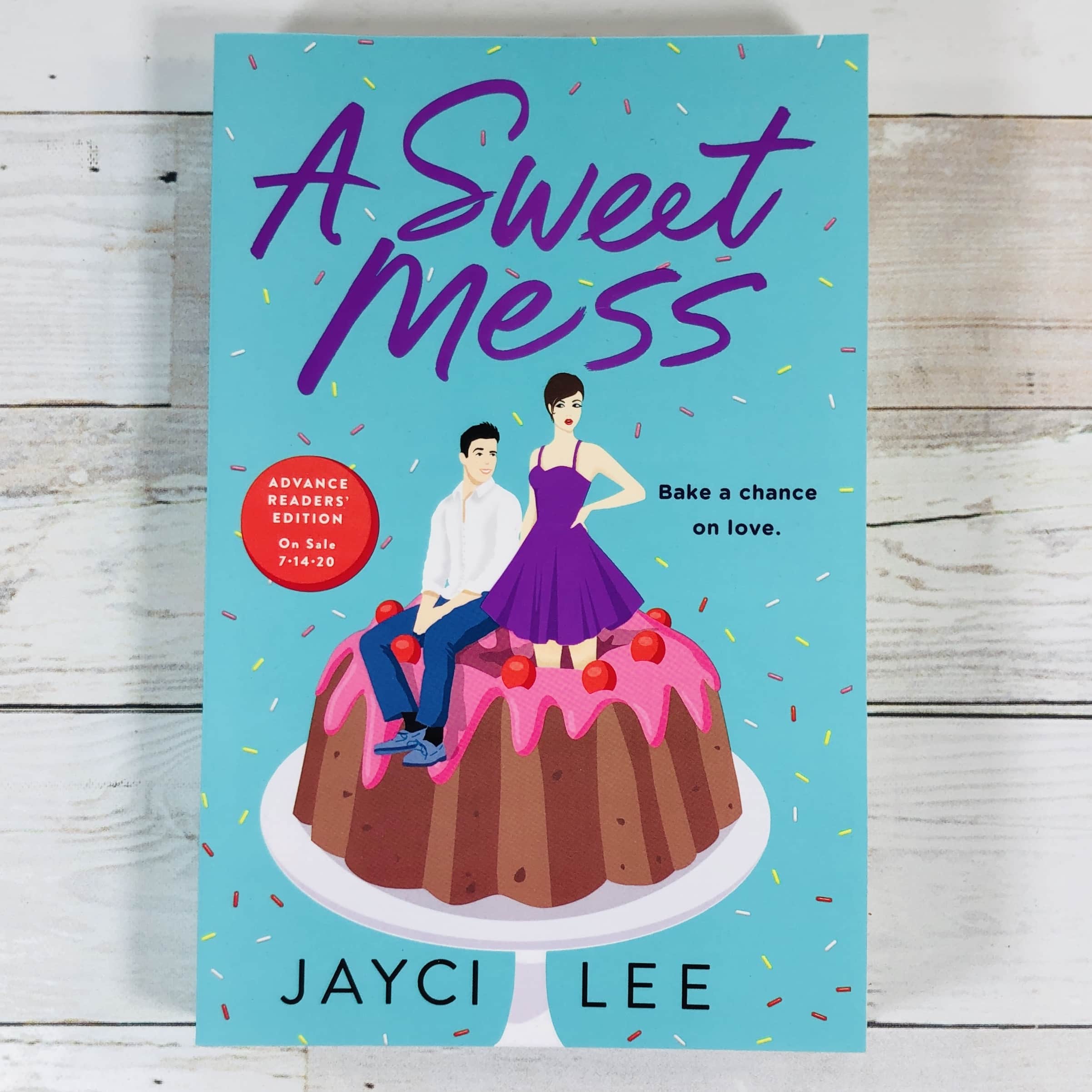 A Sweet Mess by Jayci Lee (ARC, no value, but is $16.99 MSRP) is another book yet to be released but will become available by 7/14. The story is a light-hearted romance and sounds like a sweet summer read.
Jayci Lee delivers "a perfect balance of impeccable wit, laugh out loud hilarity, and off the charts chemistry. A Sweet Mess is a sinfully decadent romantic comedy."―New York Times bestselling author Helena Hunting

Aubrey Choi has been content running her highly successful bakery Comfort Zone and with its first expansion taking up all of her time, dating has been the least of her priorities. Then a one-night-stand with gorgeous Korean hunk Landon Kim makes her want things she didn't think she had time for. Too bad it turns out he's a celebrity food critic whose scathing review of Comfort Zone goes viral and nearly destroys Aubrey's business―and her fond memory of their night together.

Landon tries to clean up the mess he made by offering Aubrey a spot on the new celebrity cooking show he's producing. She agrees to use this as a way to save her bakery and her reputation―no thanks to him―but vows to guard her heart. Now Aubrey and Landon find themselves sharing a villa in California wine country, which is a guaranteed recipe for disaster. For the next three weeks, baker and critic will tempt each other as they struggle to resist admitting that they have all the necessary ingredients for love.

"A rich, vibrant romance that's a feast for all the senses."―#1 New York Times bestselling author Lauren Blakely

Includes Delicious Dessert Recipes!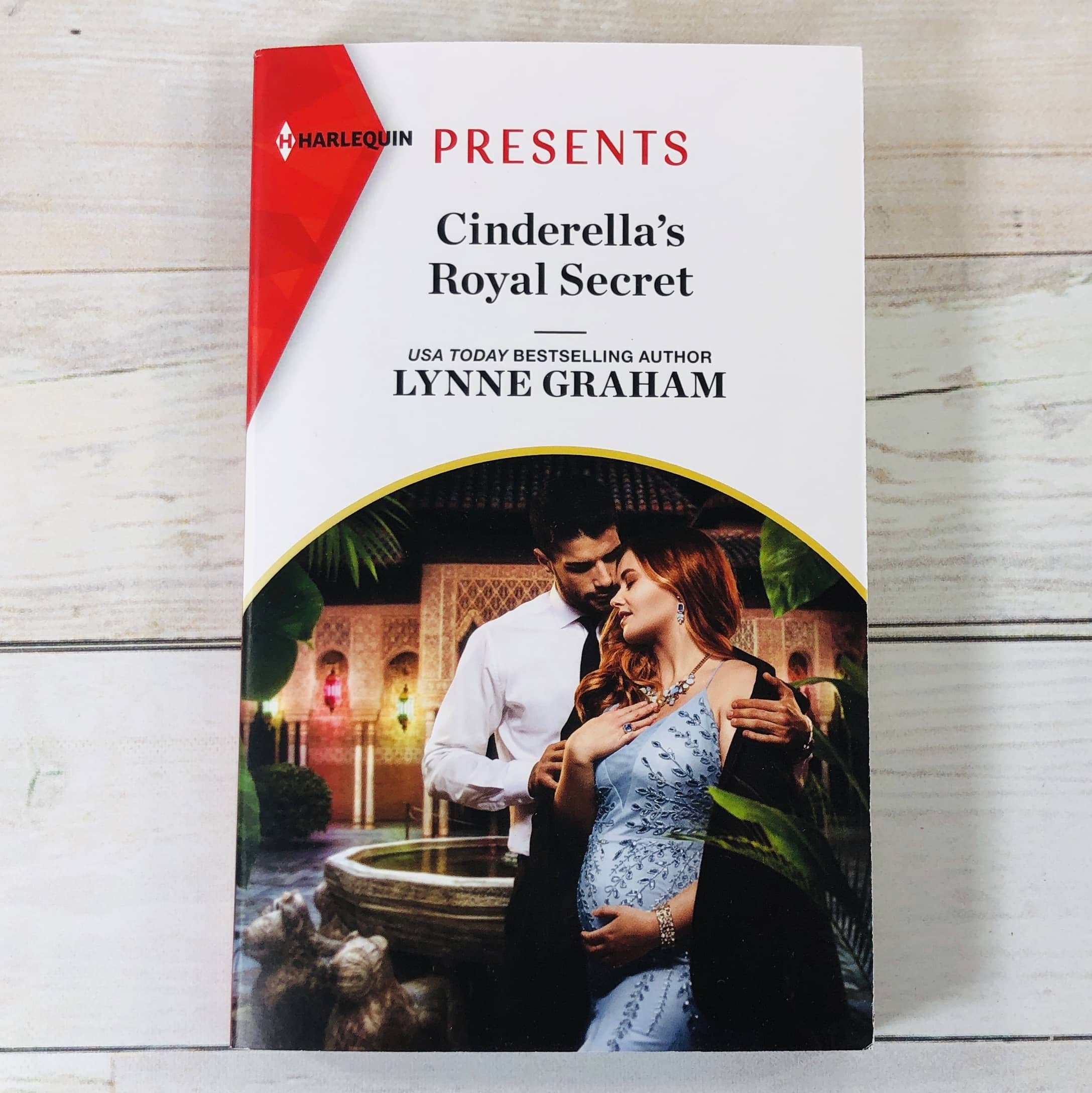 Cinderella's Royal Secret by Lynne Graham ($5.25 list price, now $4.49) is book 1 of 8 in the Once Upon a Temptation series and was released on 5/19, along with the other 7 books in the series. It is a contemporary romance and a modern take on the Cinderella story.
His until midnight…

Bound by her nine-month surprise!

Izzy Campbell has no time for love—she's too busy cleaning houses to support her family. Accidentally interrupting her most exclusive client, Sheikh Rafiq, coming out of the shower is mortifying…yet their instantaneous attraction leads to the most amazing night of innocent Izzy's life! But then she takes a pregnancy test…

Crown Prince Rafiq's world changes the instant Izzy arrives in his desert kingdom and reveals her royal secret. He always thought he could never have children, so he's determined to make this pregnant Cinderella his queen!

USA TODAY Bestselling Author
Hostile Pursuit by Juno Rushdan ($6.99 list price, now $5.75) is book 1 of 3 in the Hard Core Justice series and was relased on 3/17. It is a police procedural and falls under the Harlequin Intrigue brand. I'm pretty sure it has romance too!
When ruthless killers target them,even a safe house isn't safe.

Only twenty-four hours remain until marshal Nick McKenna's informant, Lori Carpenter, will testify against a powerful drug cartel. Nick has kept her safe for an entire year, but now all hell is breaking loose. With a team of cold-blooded assassins closing in, the by-the-book lawman decides to go rogue. He'll risk his life for duty…and put it all on the line for his irresistible witness.
If your idea of a relaxing time at home is to curl up and read a book, then Fresh Fiction has got you covered! My box this month was heavy on the romance but sometimes I get a mystery. I liked getting a couple of teas and a snack too. Two of my books are so new that they haven't even been officially published yet so if it's important for you to get books before the rest of the population then this is a fun subscription!
Which book would you read first? Let me know in the comments! 
Visit Fresh Fiction Not To Miss to subscribe or find out more!