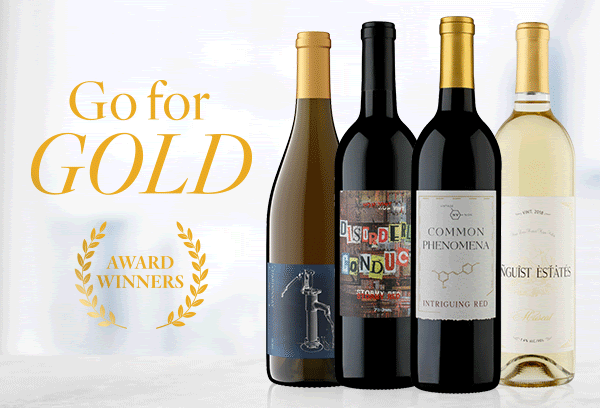 Firstleaf Wine Club has a new sale!
Have you tried our Gold Medal Pack? Our most popular pack, these wines have all won awards across the board at international competitions, such as Gold Medals, 90+ Points Awards, and more. At $39.95 for 6 bottles with FREE shipping, you can treat yourself to awards-quality wines without paying awards-quality prices.
Get the Gold Medal Wine Bundle for just $39.95, plus FREE shipping! No coupon needed, just use this link to subscribe!
Get the Gold Medal Bundle for just $39.95 at Firstleaf Wine Club!
About the wines:
Devil's Advocate 2017 Cabernet Sauvignon California

Our winemakers have outdone themselves by earning 96 Points and Double Gold – even higher accolades than last! Our newest 2017 vintage release of Devil's Advocate Cabernet has the gravitas we strive for. Topping last year's amazing success, we're pleased to celebrate this year's Double Gold and 96 Point win at the 2020 Women's International Wine Competition as judged by women winemakers, influencers, and industry legends! With wine, the Devil is in the details, and with Devil's Advocate, you can always be sure that you are drinking exquisitely crafted wine. The 2017 Devil's Advocate Cabernet Sauvignon is a polished style of Cabernet with a deep ruby color and high fruit intensity. The dark red fruit flavors are offset by strong tannins and a leathery texture with subtle notes of blue fruit. We think that the red and blue fruit mingle together beautifully to pair with wild game slathered in a fruity sauce. Our 2016 vintage took home 94 Points and a Gold medal from the 2019 New World International Wine Competition and a Silver Medal at the 2020 Winemaker Challenge. It retails for $21.

Bodewell 2018 Sauvignon Blanc Columbia Valley, Washington

A wine with a cause: give back to communities in need while enjoying this four-time 90+ point, Gold medal winner. Bodewell wines put a premium on place. It's why they only source wine from interesting and unique appellations, and it's why Firstleaf makes a $1 donation for every bottle to the charity Wine to Water to support their global mission to provide access to clean water to communities in need. You can enjoy this refreshing and elegant Sauvignon Blanc while knowing you are making a difference. This single-source wine was grown on alluvial soils and has a pleasant minerality that plays beautifully off the subtle citrus notes and vibrant acidity. Judges love it too! It has taken home 91 points and a Gold medal from the 2020 Winemaker Challenge, 92 points and a Gold medal at the 2019 West Coast Wine Competition and from the 2019 Monterey International Wine Competition. Even more 90+ point scores and gold medals than we can list along with 89 points from Wine Enthusiast Magazine, one of the premier wine publications. It retails for $18.

Fogbreak 2019 Pinot Gris Monterey County, California

The newest 91 Point Gold Medal winner from member-favorite Fogbreak. Each morning, the cooling fog rolls across the valleys of California's Northern and Central Coasts. Due to these cool conditions, vineyards below this cloud cover undergoes a longer growing season, which is the essence of perfection for Pinot Gris. Fogbreak Pinot Gris is beautifully aromatic, with pure notes of peach and white flowers that are bolstered by a crisp acidity. We believe that this Pinot Gris is a lovely picnic companion, but that it is also fantastic with a rich dish at home. From fried chicken to creamy risotto, this wine will bring a coastal freshness with notes of pear, honeydew and white flowers. It retails for $22.

St. Audette Nuit 2019 Pinot Noir Pays d'Oc IGP, France

Capture the shadows of a lush and silky 92 point Gold medal-winning Burgundian varietal in your glass. St. Audette Nuit captures a classically styled Old World approach to this Burgundian varietal. Graceful, elegant, and delicate with a trace of "Herbes de Provence" and dried floral notes that captures your attention. Pinot Noir always retains a certain level of freshness, and the length and beautifully delicate finish seen here is a result of a superior vintage. It retails for $25.

Gilded Letter 2018 Chardonnay Sonoma Coast, California 

Expressive 90 Pt. Gold Medal, New World Chardonnay showcasing pure Sonoma Coast style. Verre Églomisé, from the French term meaning 'glass gilded', is a process where the reverse side of a piece of glass is gilded with gold or silver leaf. Our winemaker has truly made gold with this Sonoma Coast Chardonnay by following old-world traditions of "Bâtonnage" resulting in a richly complex wine redolent with notes of white peach, brioche and apple crumb flavors. It retails for $23.

La Belle France 2019 Rosé Comté Tolosan IGP, France

Our 90 Point Gold Winning Comté Tolosan Rosé celebrates famed French Old World winemaking. Did you know that Rosé wine is produced not by blending red and white wine but by leaving the red wine and skins in contact? Grape skins contain color, the inside of the grape is colorless. As a result, the color of a rosé wine will depend on which varietals are used, how long the skins and the juice are in contact, and at what temperature they commingle. Flavors and even aromas are also drawn from the skins during this very sensitive process. Our winemakers followed a lighter, Provençal style approach to making our Comté Tolosan Rosé. It retails for $28.
Here are the Firstleaf Wine Club bundles available:
See our Firstleaf reviews to see the wines we received in the past from this wine club that learns your exact taste preferences!
Prefer to get a custom bundle? Grab your first 6 wines, customized to your taste profile, here!
$40 for your first 6 customized wines at Firstleaf Wine Club!
What do you think of Firstleaf Wine Club subscription?