Daily Harvest is a monthly subscription of ready-to-blend, heat, or eat whole food and superfood plant-based vegan meals. Currently, they offer smoothies, harvest bowls, soups, lattes, overnight oats, and chia parfaits, and they also have two new product lines: scoops (vegan ice cream) and flatbreads! You can choose from a weekly or monthly plan.
DEAL: Save $25 on your first box! Use coupon code HELLOSUB and USE THIS LINK to subscribe. OR For a limited time, use coupon code QUICK30 to save $30 off your first box!
This subscription is going through some changes! Daily Harvest is switching to a more eco-friendly packaging by using home-compostable and recyclable bowls. More information on the packaging update here. This review doesn't include the new sizes or compostable packaging.
They are also updating portion sizes and shapes, as well as discounts for the increased box sizes. You'll now receive a $10 discount when you order a medium 12-item box, and a $20 savings when you order a large 24 item box!
Here are their new prices:
Smoothies: $7.99
Harvest Bowls: $8.99
Flatbreads: $8.99
Soups: $7.99
Bites: $7.99
Oat Bowls: $5.99
Chia Bowls: $5.99
Lattes: $7.99
Scoops: $8.99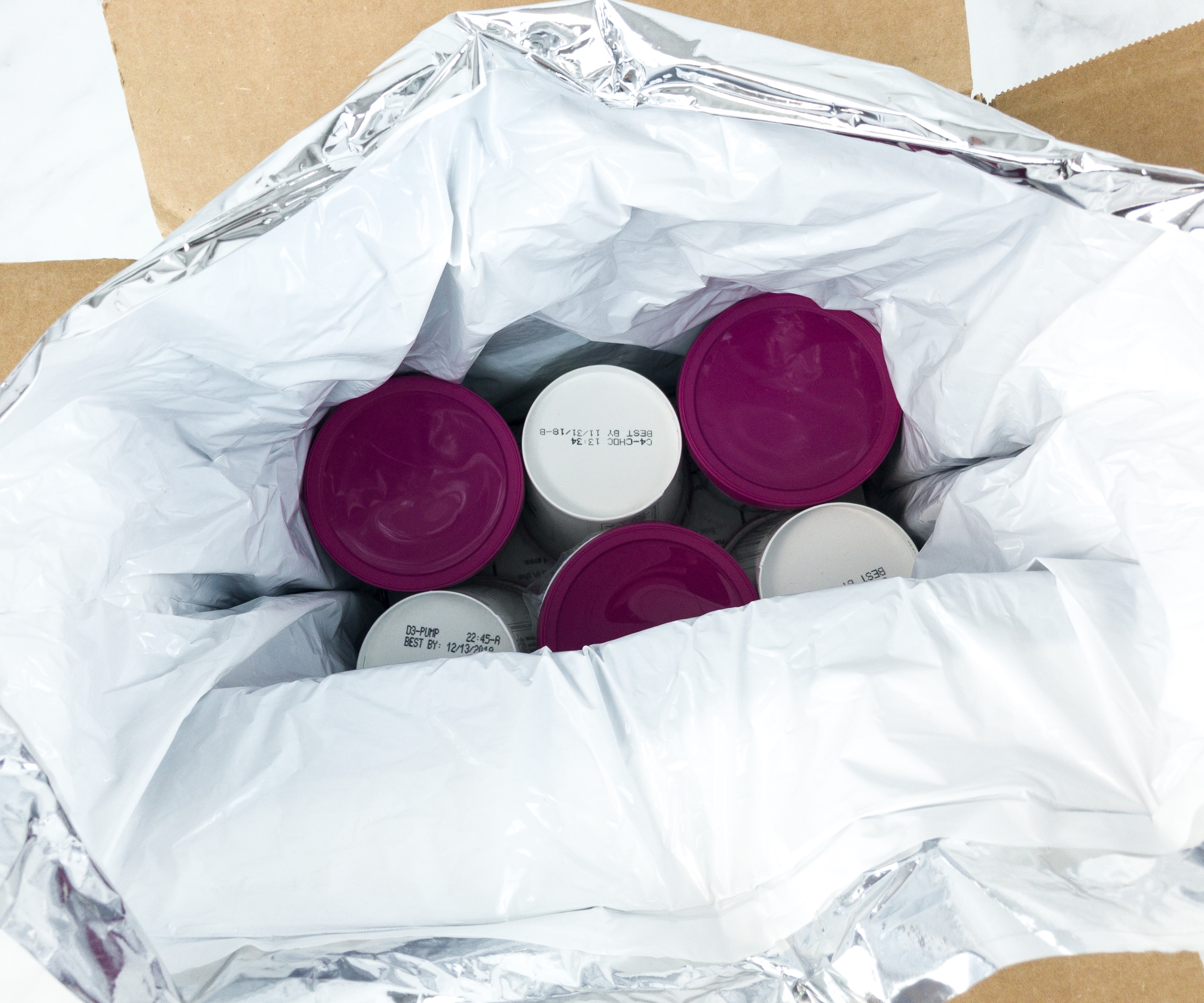 As always, their boxes are always well-insulated to keep the contents fresh! Also, there are 6 containers inside our box! The box contains dry ice to keep the cups cool. Instead of taking it out after unpacking, just leave it in the box and allow it to vanish in a well-ventilated area.
Everything in my box!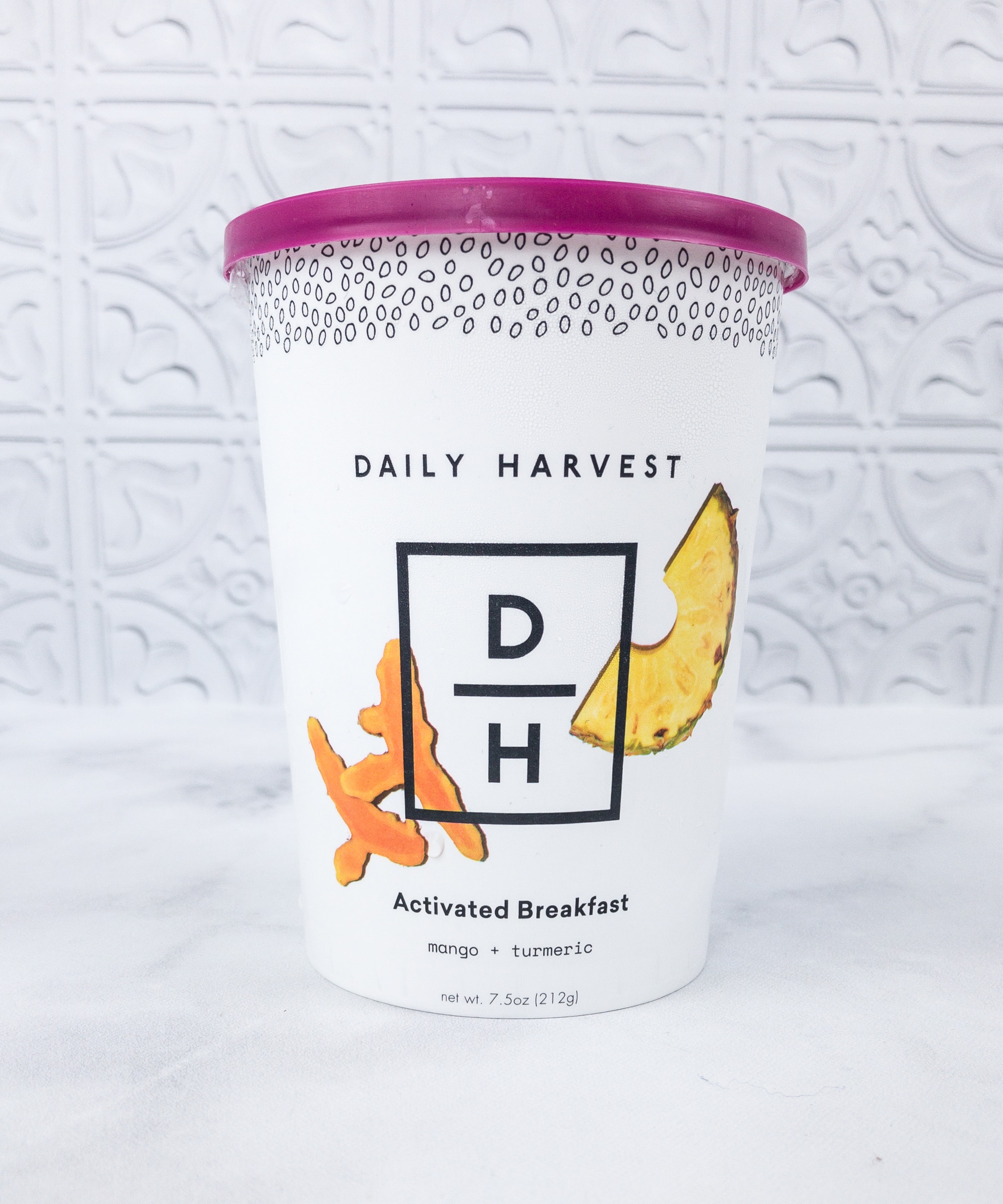 Activated Breakfast Mango + Turmeric. This cup is perfect for an energizing breakfast! It contains golden shi seed with organic mango, pineapple, ginger, and turmeric root, which are known as for their anti-inflammatory and antioxidant properties.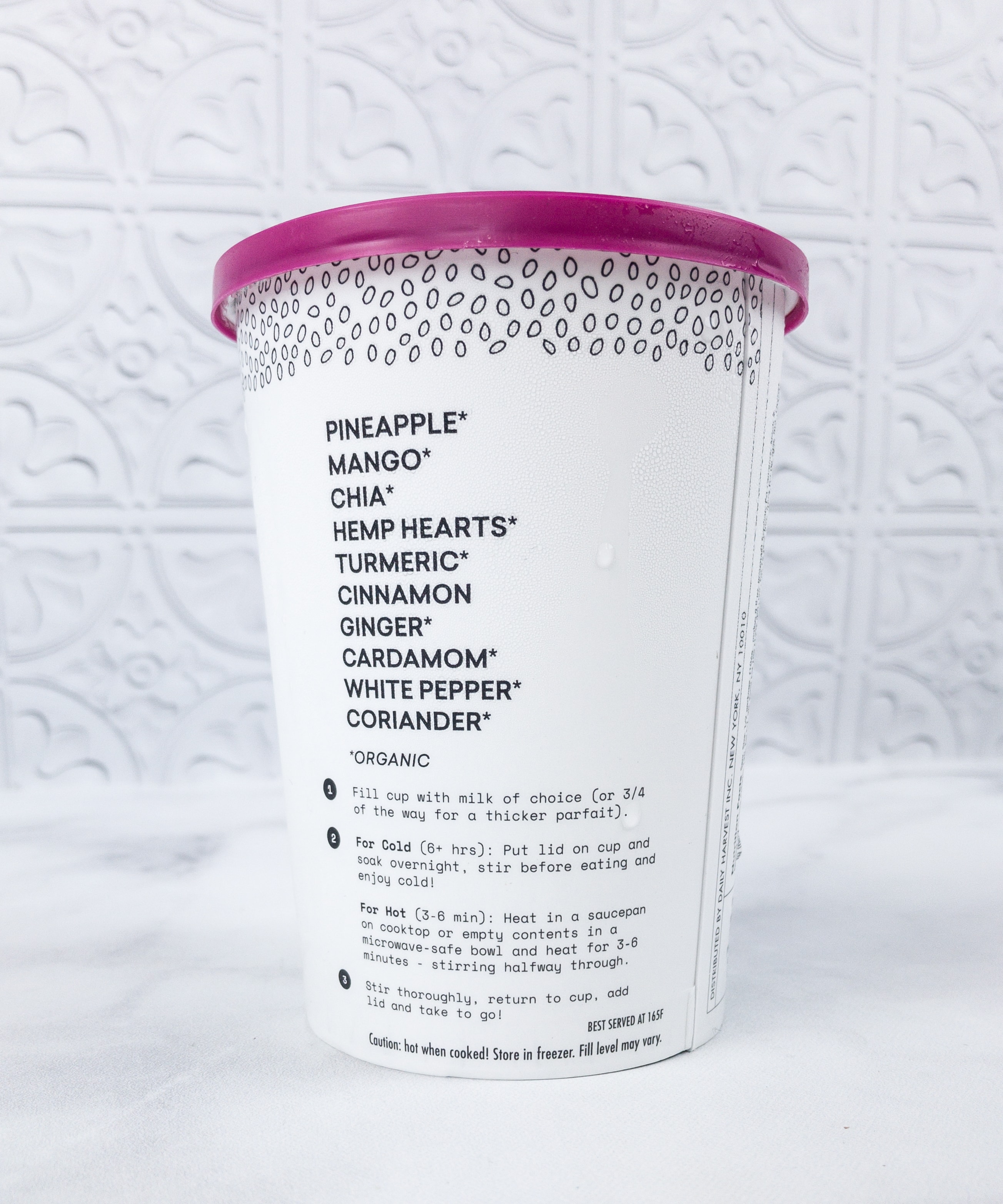 It contains organic pineapple, organic mango, organic black chia seeds, organic hemp seeds, organic turmeric, organic cinnamon, organic ginger, organic cardamom, organic white pepper, and organic coriander seeds.
This chia cup requires 6+ hours or overnight soak. Just add your preferred milk on to the container and let it soak in the fridge overnight, so you can enjoy a healthy and delicious breakfast the following day!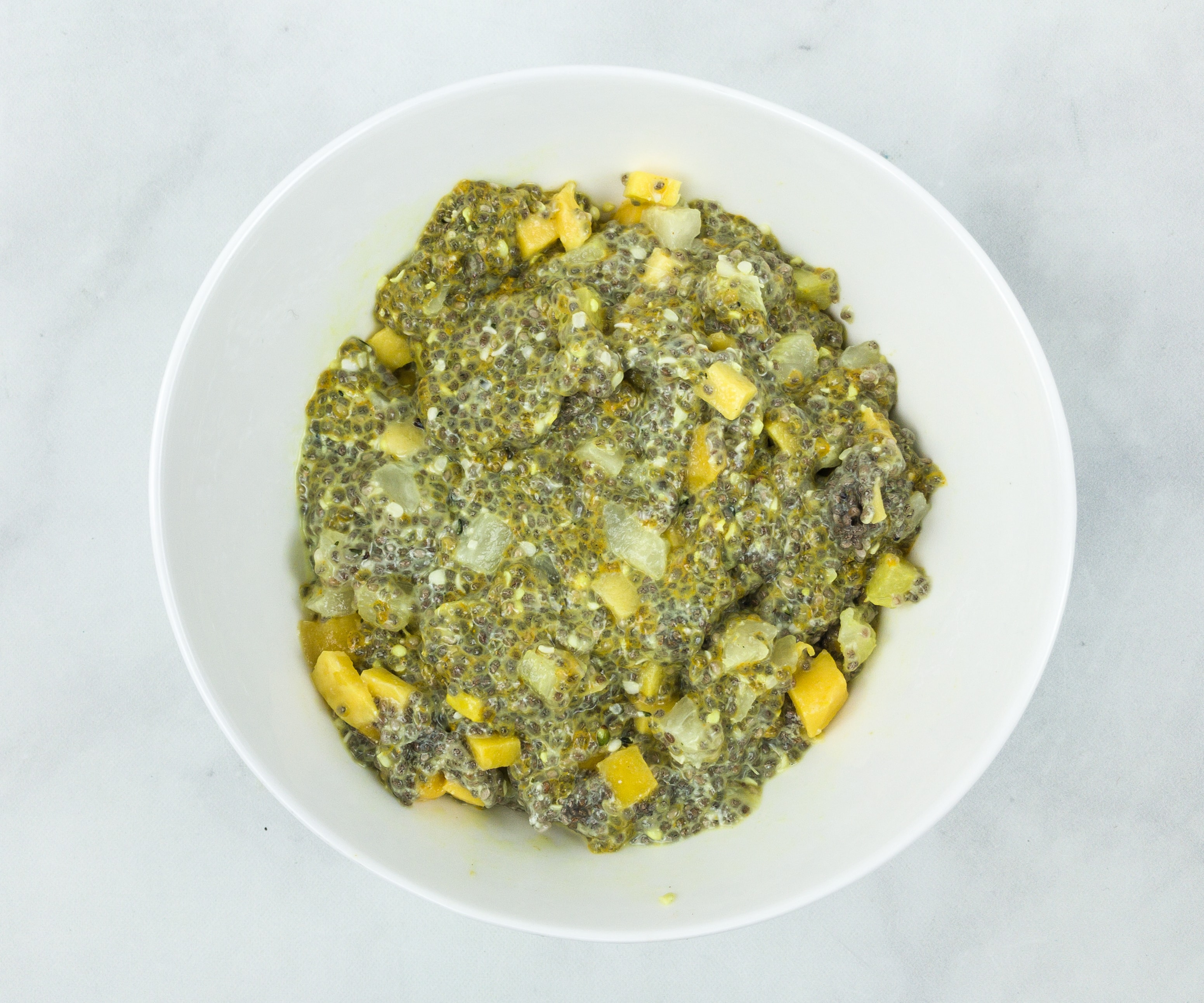 This bowl of goodness tastes like a tropical pudding with the extra kick! It will take you to a tropical paradise with the refreshing mango and pineapple pieces, added with some spice!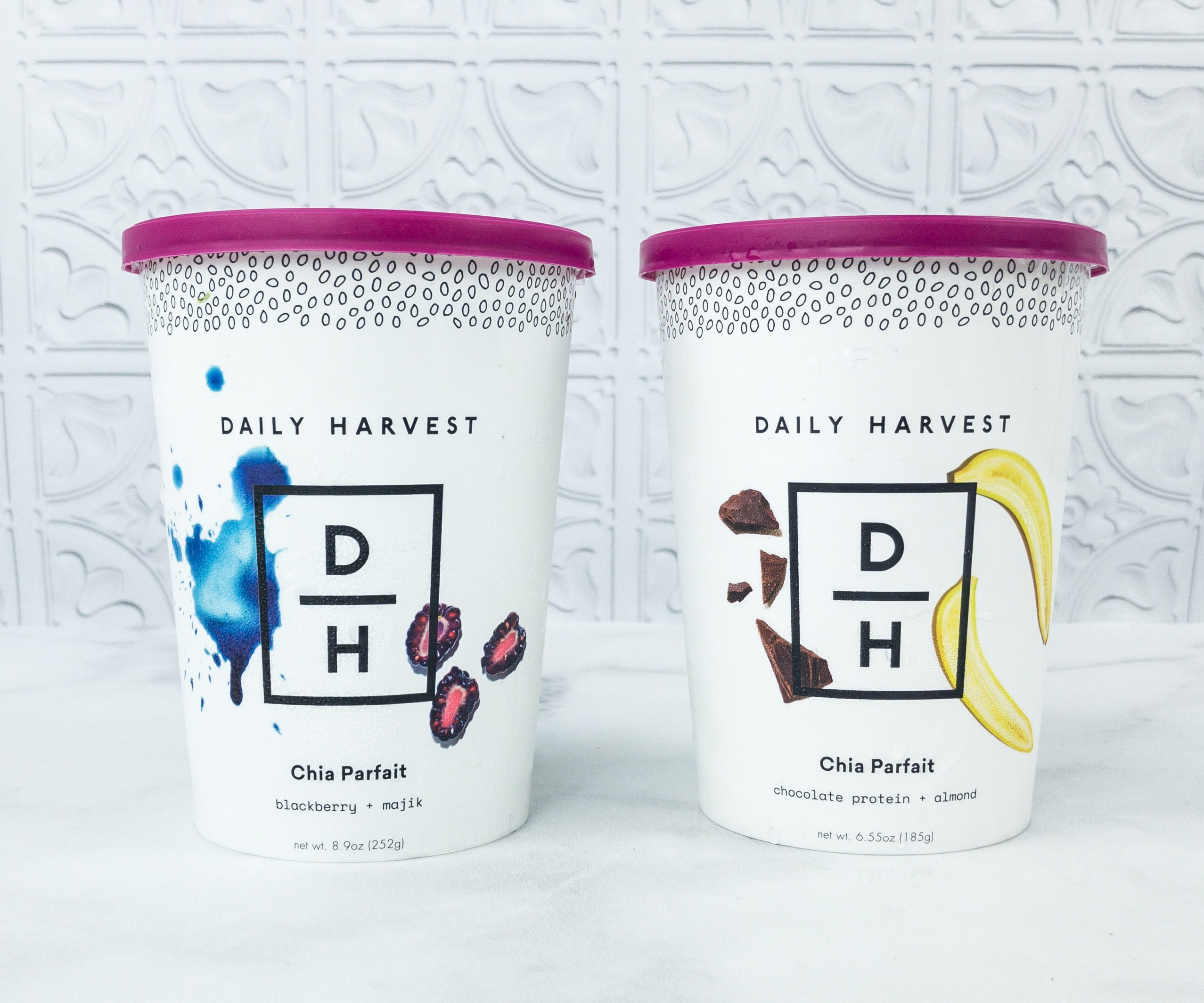 We got 3 Chia Bowls, a breakfast bowl of Mango + Turmeric, and 2 parfaits Blackberry + Majik and Chocolate Protein + Almond.
Chia Parfait Blackberry + Majik. This chia parfait contains the blue-green algae Arthrospira platensis, which is derived from the plant superfood spirulina. It has a lot of health benefits because it's packed with amino acids, enzymes, minerals, and B12 vitamins, plus blackberries that have the highest levels of antioxidants compared to any other fruits!
The cup contains organic bananas, organic blackberries, organic black chia seeds, organic hemp seeds, organic coconut milk (organic coconut, water), organic lemon juice, organic spirulina, and organic blue Majik, which is organic spirulina extract.
Chia seeds need to swell up to have that pudding-like texture, so the contents of the cup need some time to soak. You can easily add your preferred milk to this cup and let it sit in the fridge overnight so you can enjoy it the following day, and have some tasty chia parfait that tastes like blackberries and banana in a pie!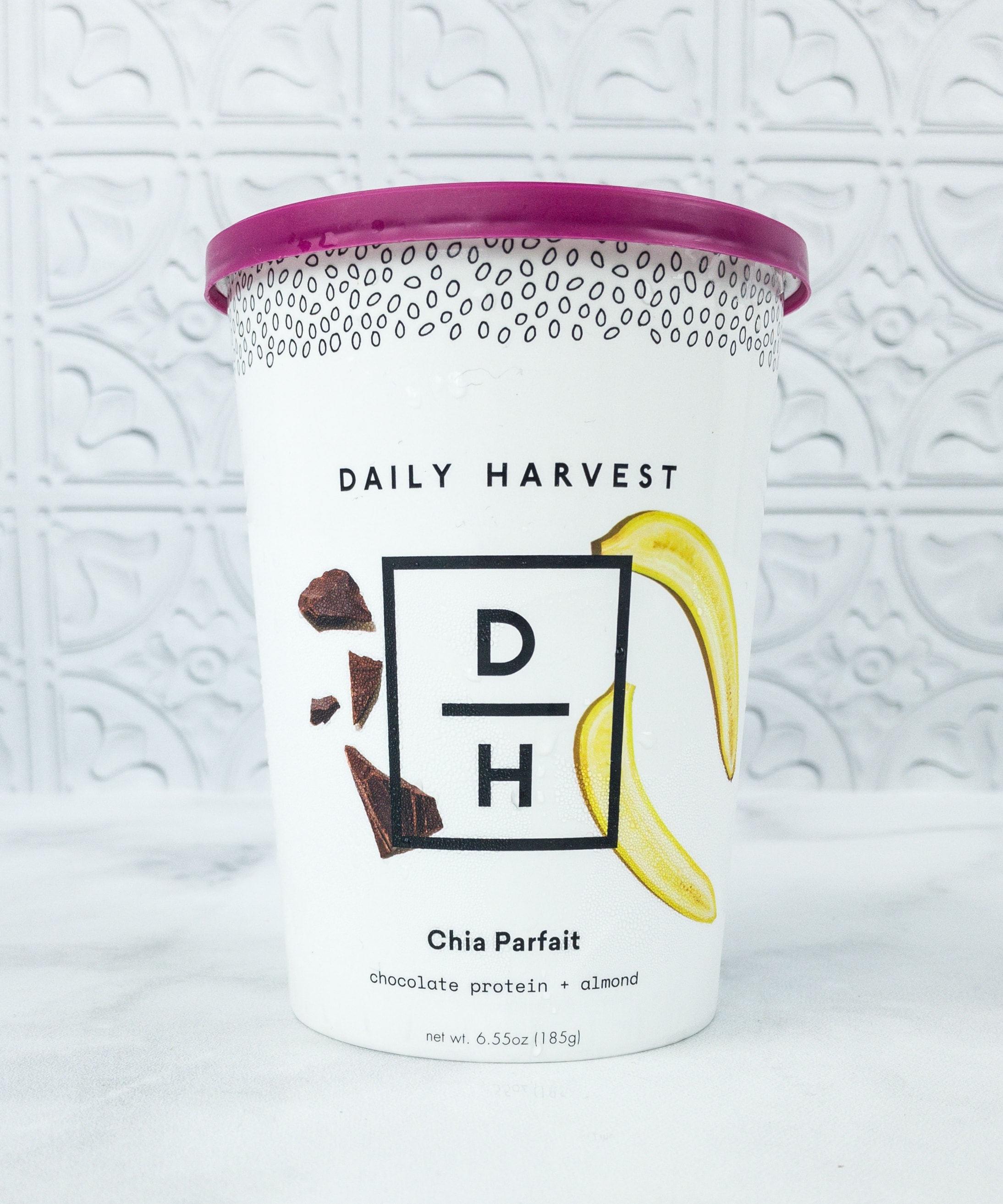 Chia Parfait Chocolate Protein + Almond. If my breakfast is as delicious as a dessert, nothing can go wrong in my day! This cup fits the bill as it has bliss-boosting cacao, energizing almond butter, and potassium-rich banana!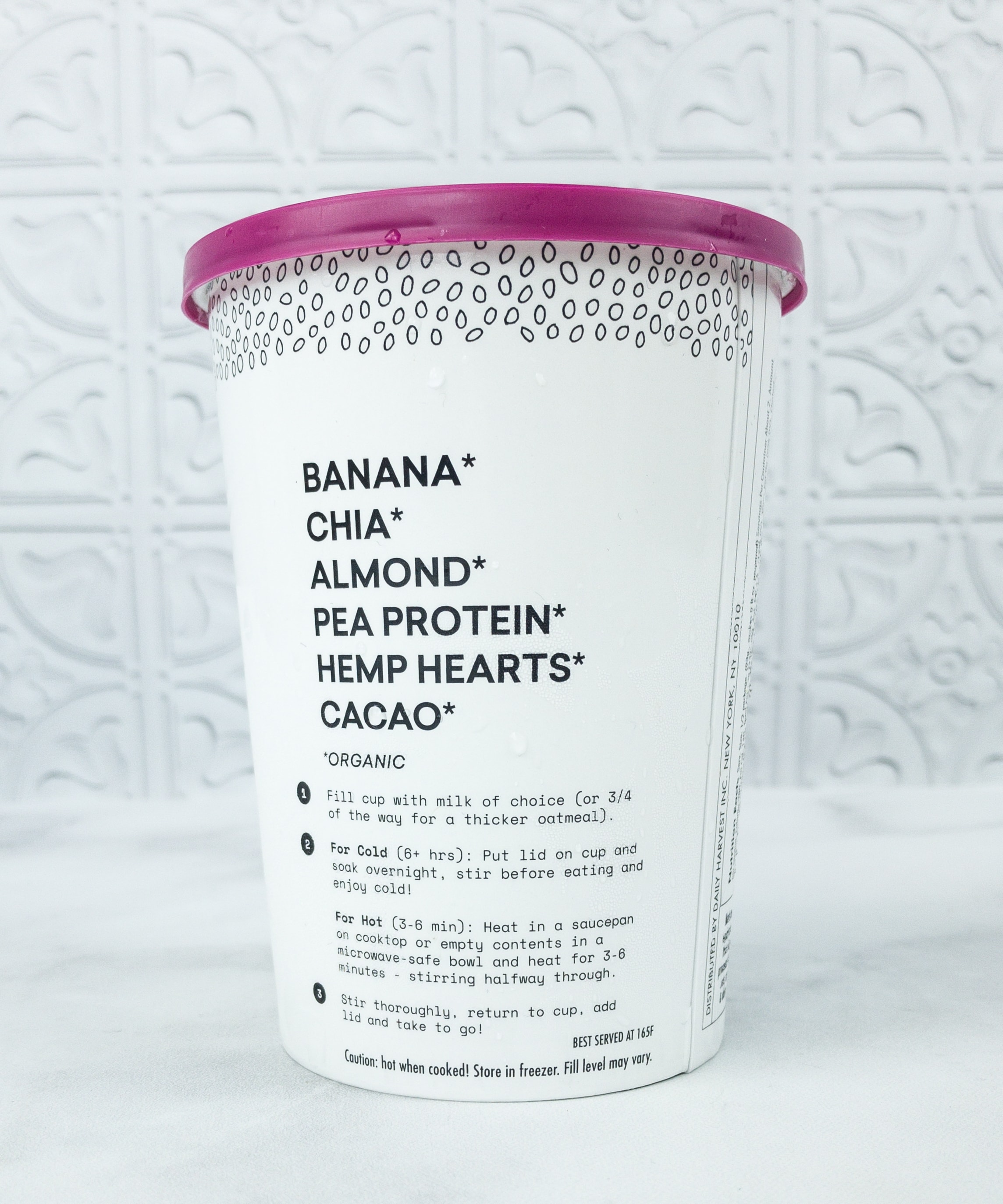 It contains organic bananas, organic black chia seeds, organic almond butter, organic pea protein, organic hemp seeds, organic cacao nibs, organic cacao powder, Himalayan sea salt, and almonds.
After letting it soak in milk in the fridge overnight, I just had to take it out, give it a stir, and enjoy. It's really delectable and it's like I'm indulging myself in a nutty choco-banana mousse! Yum!
I also got 3 oat bowls: 2 cups of Cinnamon Protein + Banana, and Pumpkin + Chai.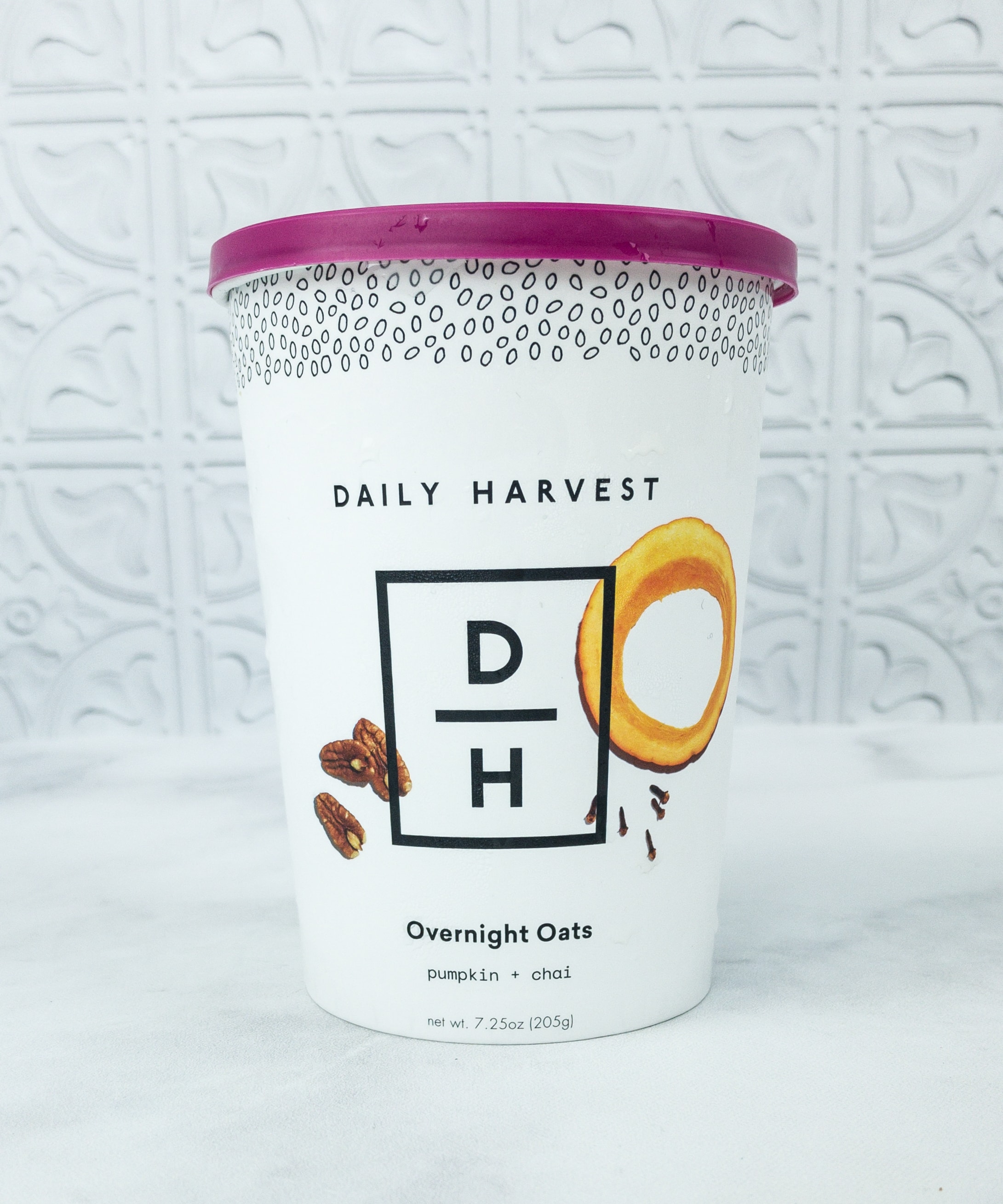 Overnight Oats Pumpkin + Chai. Pumpkin and chai spices are perfect with oats! This oat and grain bowl is lightly sweetened with organic maple syrup, added with pecans, sultana raisins which are dried white grapes, and more healthy ingredients!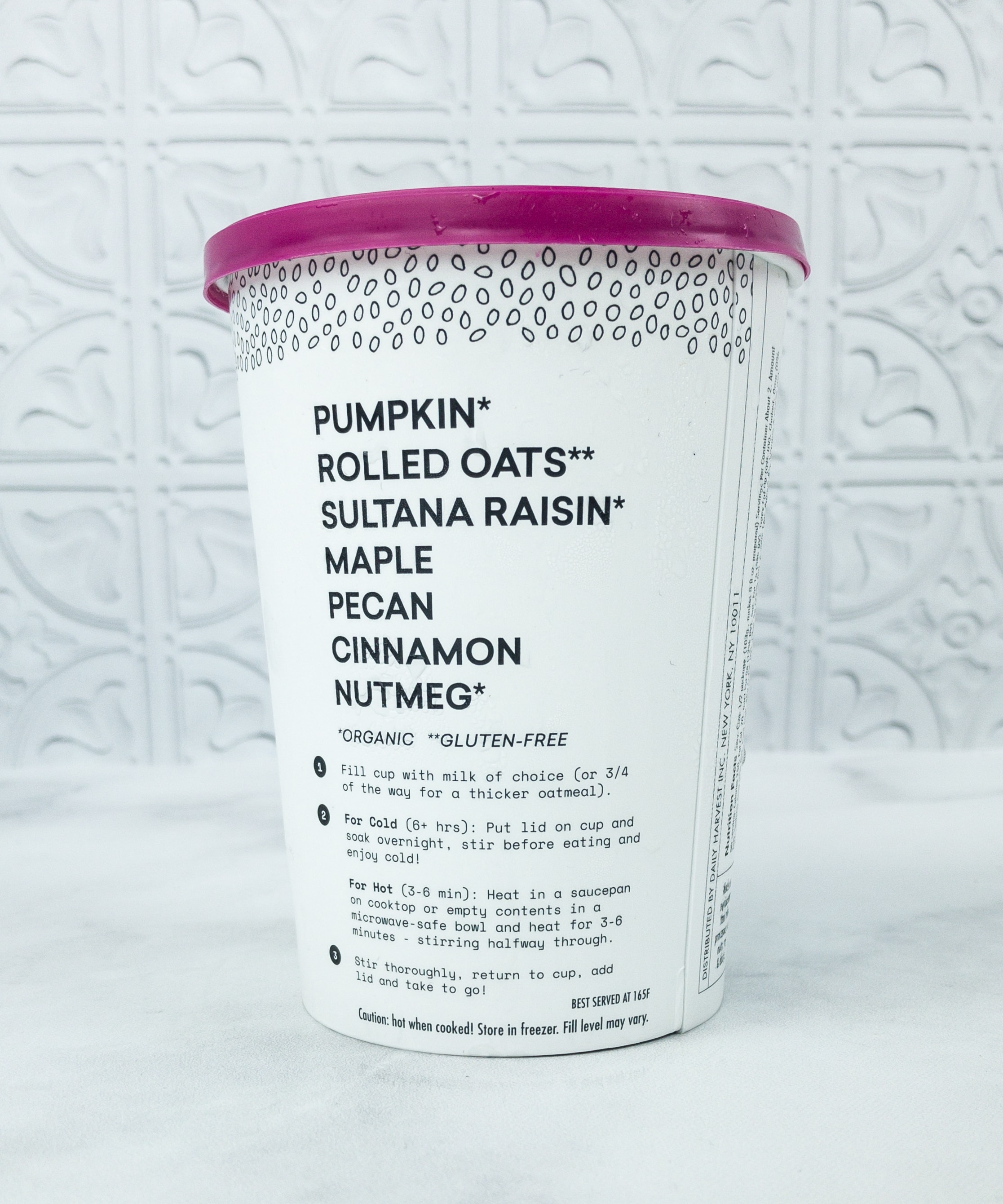 The cup contains organic pumpkin puree, organic gluten-free whole grain oats, organic maple syrup, organic sultana raisins (organic sultana raisins, organic sunflower oil), organic pecans, organic cinnamon, organic ginger, organic cardamom, organic nutmeg, organic cloves, and organic black pepper.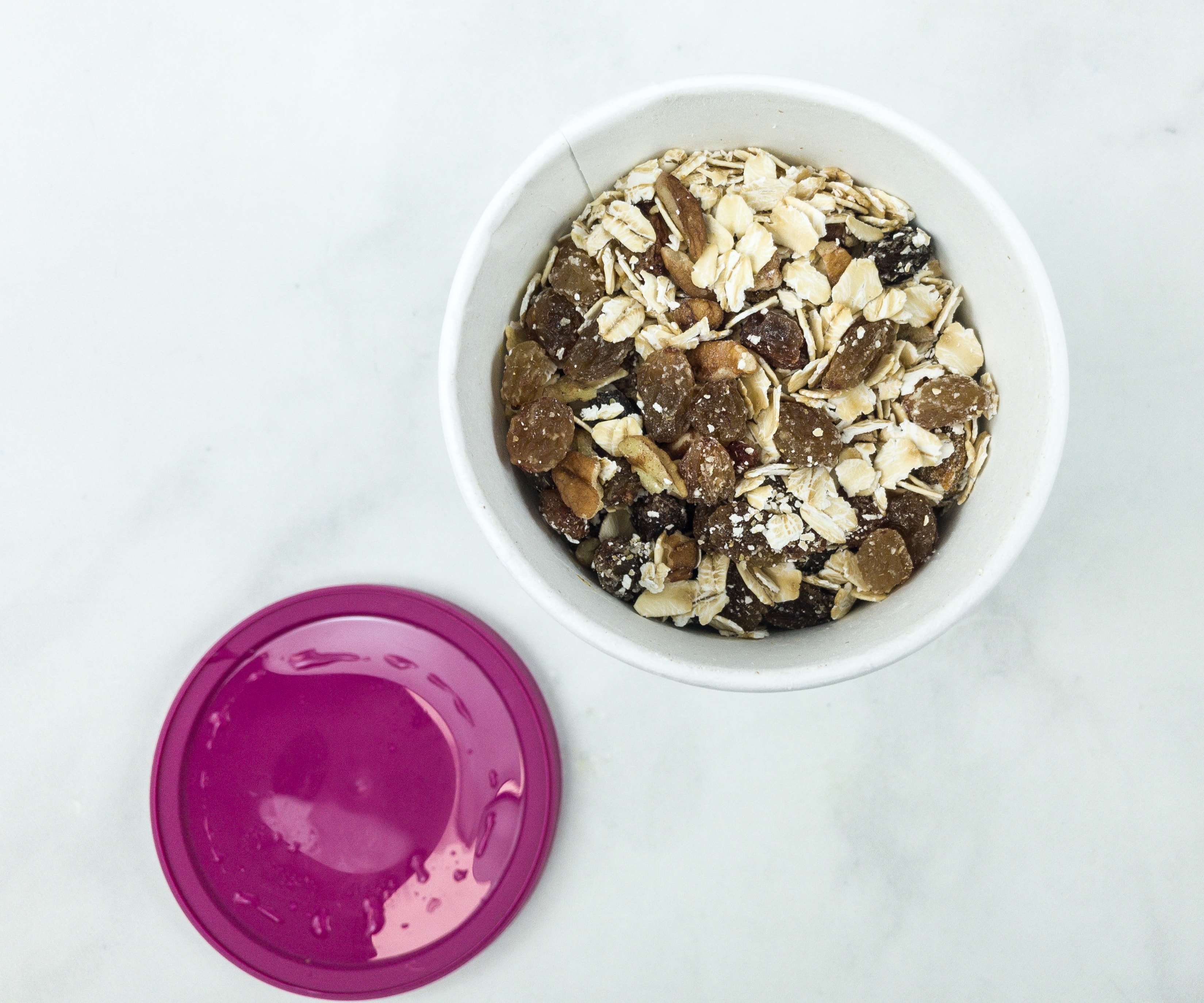 To prepare, just transfer the contents of the cup into a bowl and add milk. Then, heat on a stovetop or a microwave.
The pumpkin and chai oat bowl looks delicious! It reminds me of the flavors of fall!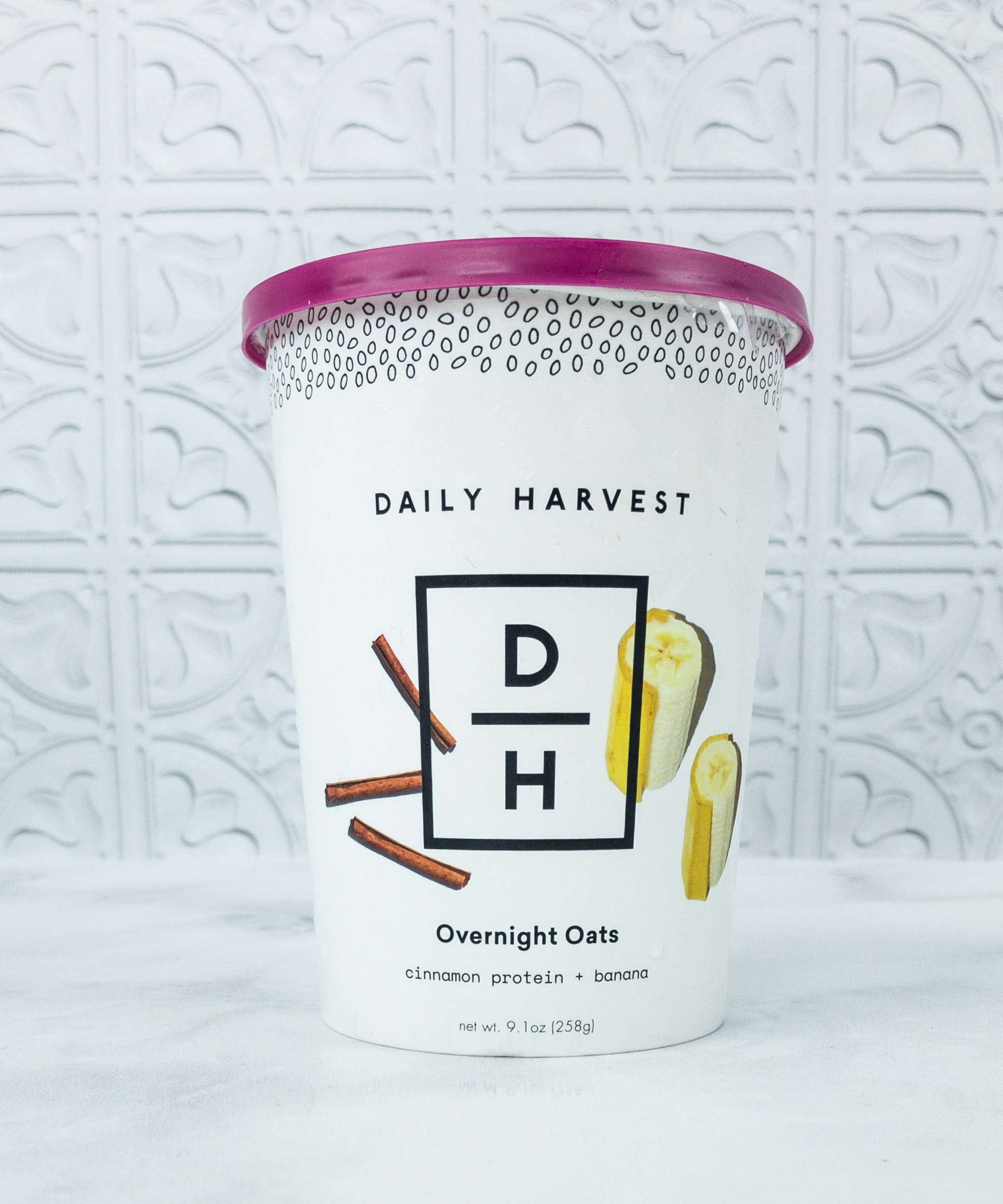 Overnight Oats Cinnamon Protein + Banana. This oat bowl tastes like choco-chip banana bread, and it's really delightful! It's not just a tasty breakfast, it's really healthy too as it's packed with energy-sustaining and immune system-boosting nutrients!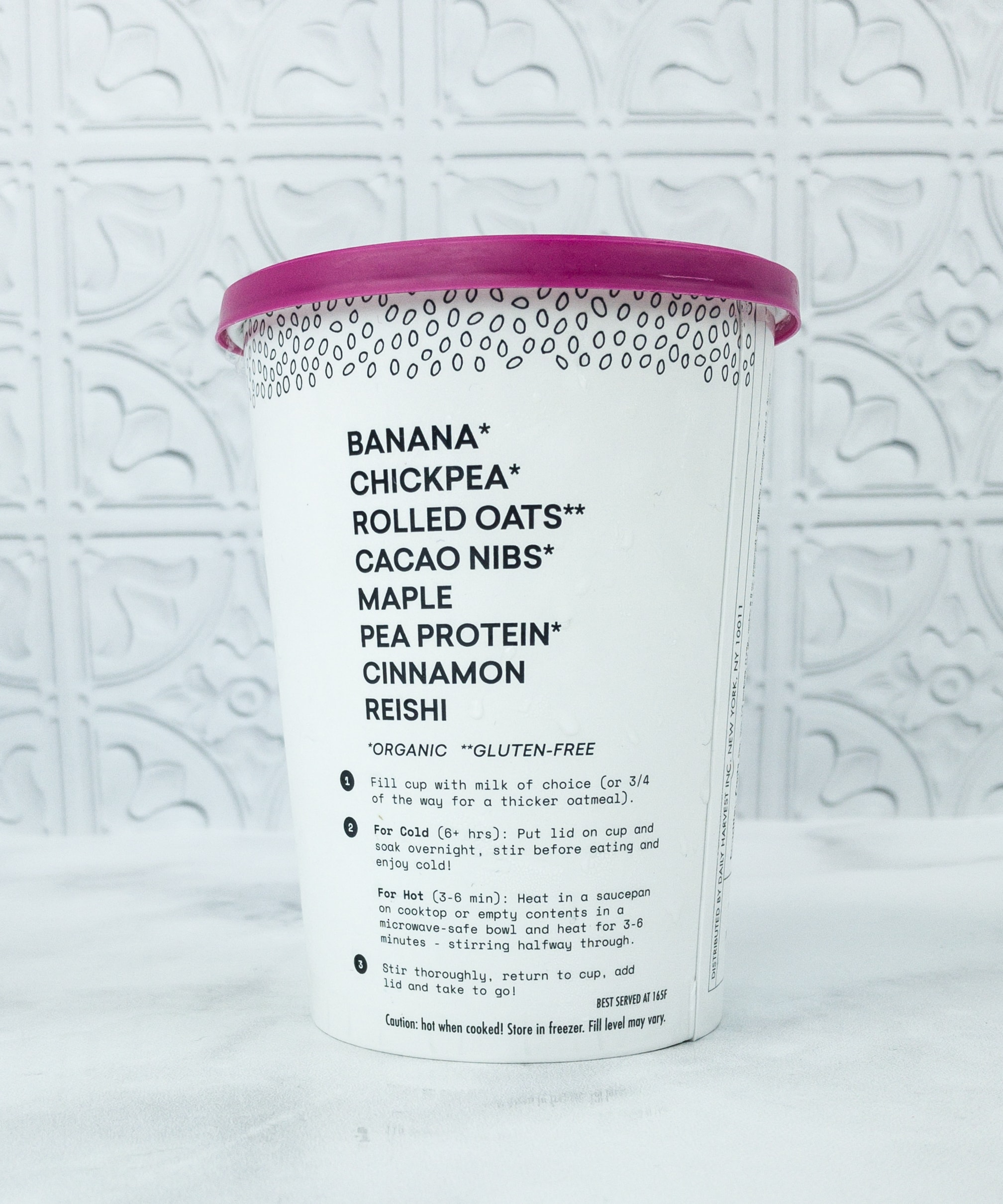 It contains organic bananas, organic gluten-free whole grain oats, organic butternut squash, organic maple syrup, organic cacao nibs, organic pea protein, organic cinnamon, and organic reishi mushroom powder.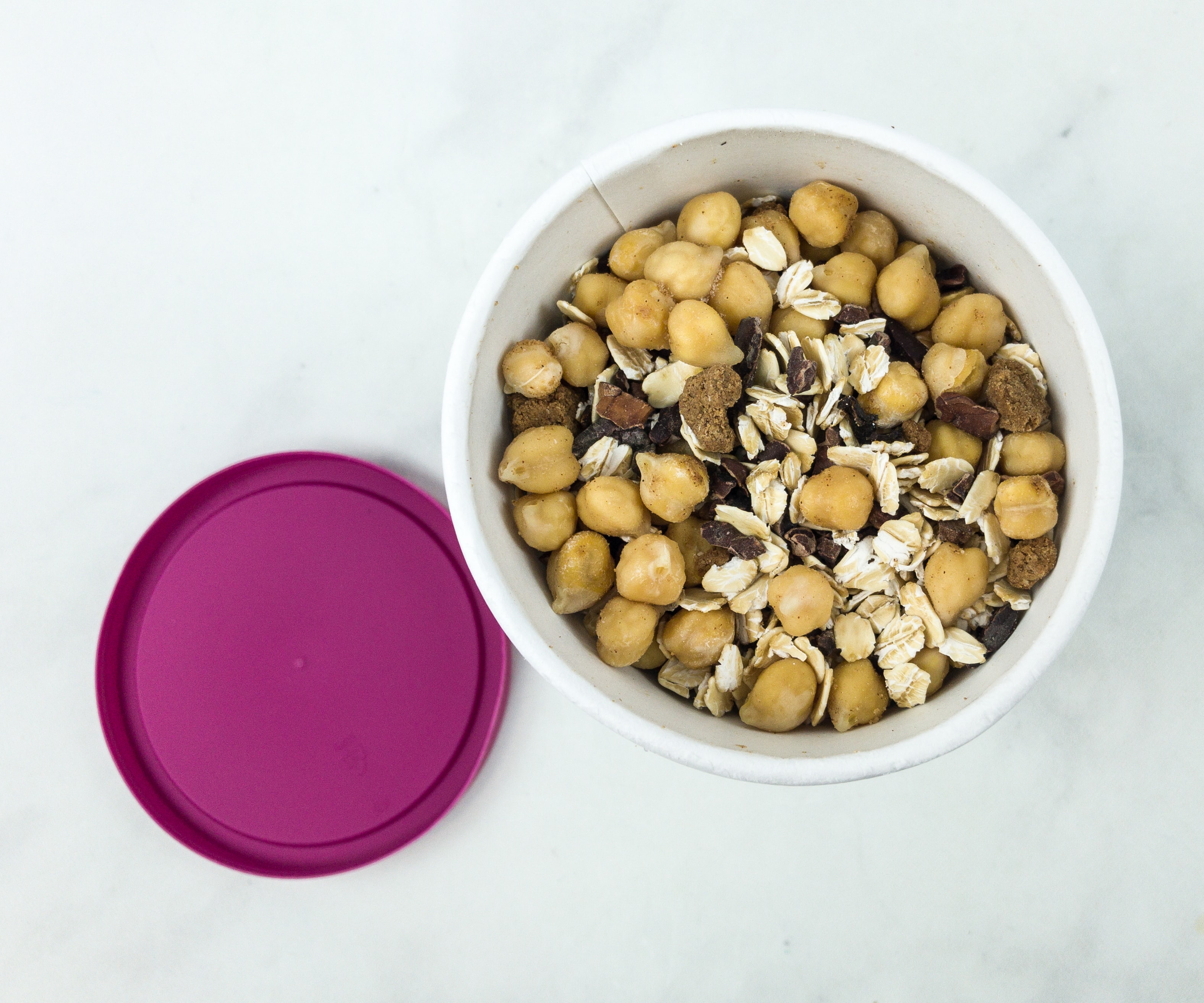 When I took off the lid, there were lots of chickpeas with oats and some cacao nibs. It's easy to prepare, just add milk to the cup, transfer it to a microwave-safe bowl, and pop it in the microwave!
Here are the chia and oat bowls, we're ready to dig in!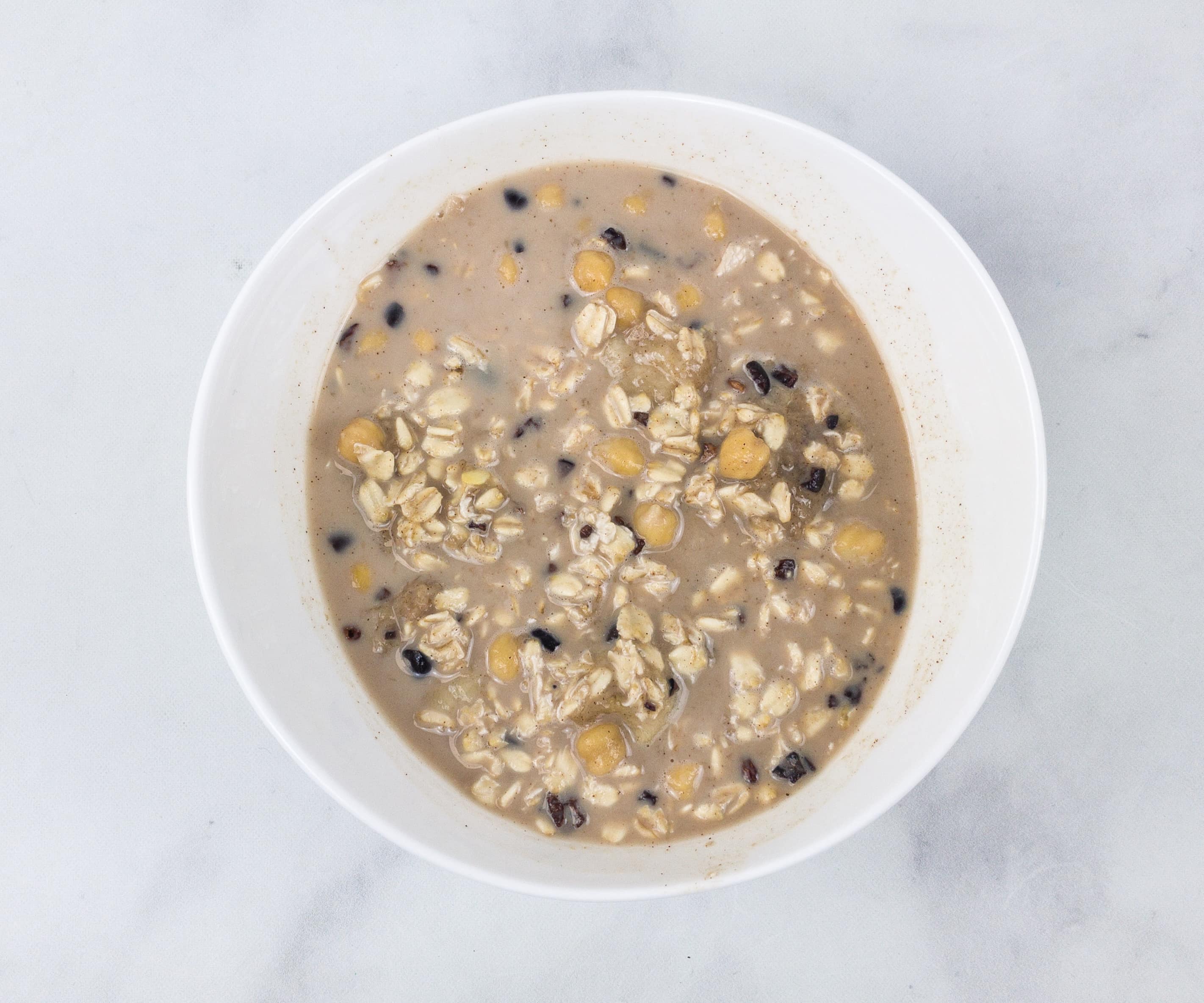 This makes such a hearty breakfast meal, where you could really taste cinnamon and banana in every bite.
These chia and oat bowls are perfect for a healthy and filling breakfast! Even if you are busy, these are easy to prepare and you can do it ahead of time. They all taste amazing especially those that contain chocolate! It's like getting delectable desserts for breakfast! I also love the tropical mango and turmeric chia bowl, the kick of spices is just right and it makes the experience more fun. I also like the included chia parfaits. You will never get disappointed with the cups' contents as you can see whole ingredients, and each has an amazing benefit to keep you healthy, energized, full, and happy to go throughout the day!
This might be a pricier option, but one of the things I really noticed is that the chop on every single piece is designed to ensure your meal is cooked perfectly and the flavor is just really amazing. Overall, I've been impressed with this subscription's offerings and if you're willing to stomach the price of the meals, I wouldn't hesitate to recommend it, plus you get to try new food combinations that will surely please your tastebuds, plus it's all vegan and really filling.
What do you think of the Daily Harvest box?