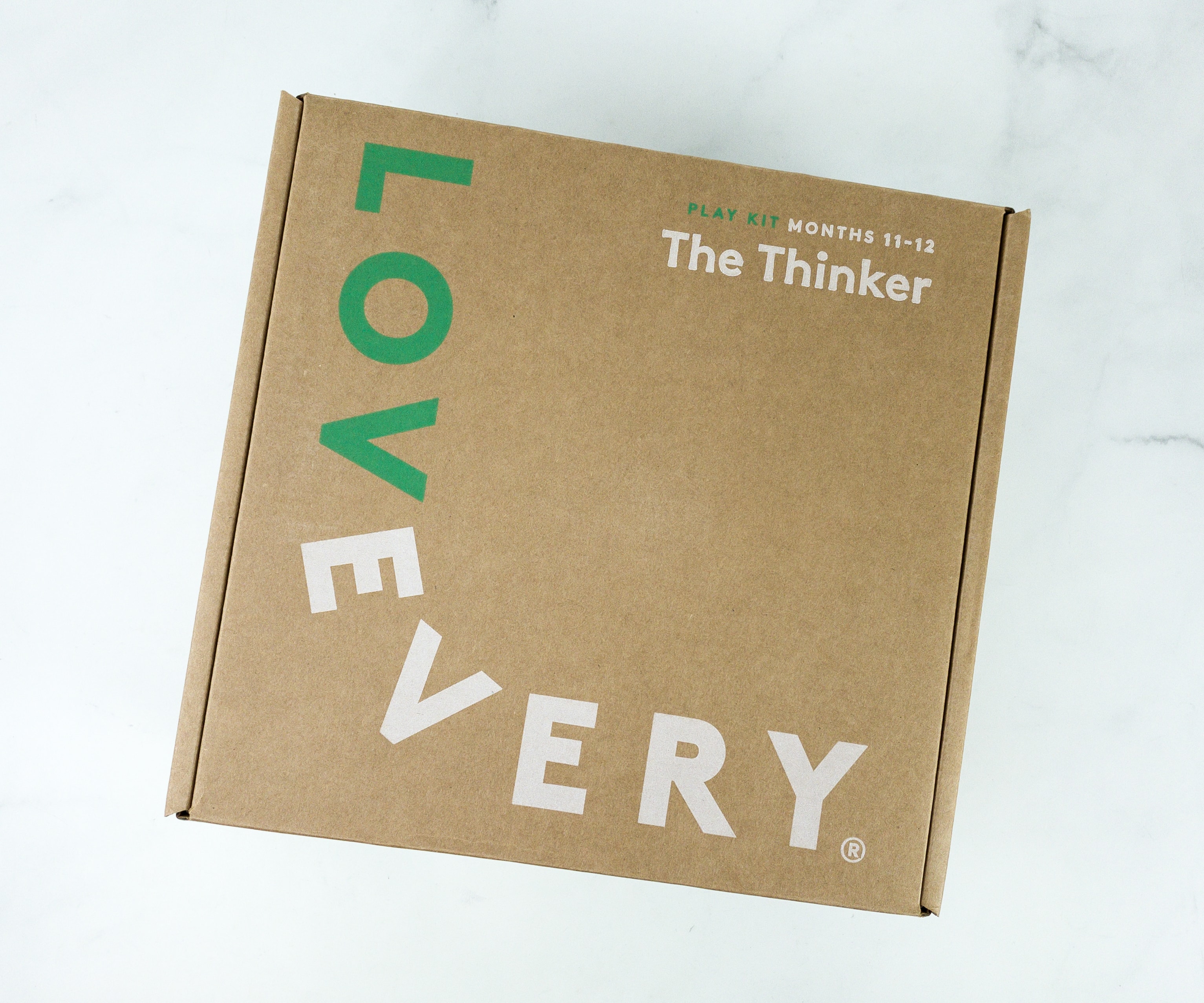 Baby Play Kits by Lovevery feature the best play products designed by child development experts. The toys are customized by stage and thoughtfully crafted using sustainably forested wood, organic cotton, and baby-safe plastics. Head's up – this is a BIG box, with lots of photos! There is SO much in this box, along with guidance for parents, and just a ton of developmentally appropriate toys, that we couldn't really get rid of anything. We think this box is worth it, and this review will show you how the parent guide and all the items really work together. Every baby who has played with the toys in this box has found them absolutely fascinating, and we couldn't be happier with the Lovevery kits. DEAL:  Save up to $48 when you pay upfront for longer length plans! No coupon code is needed – the deal applies automatically, just use this link to join!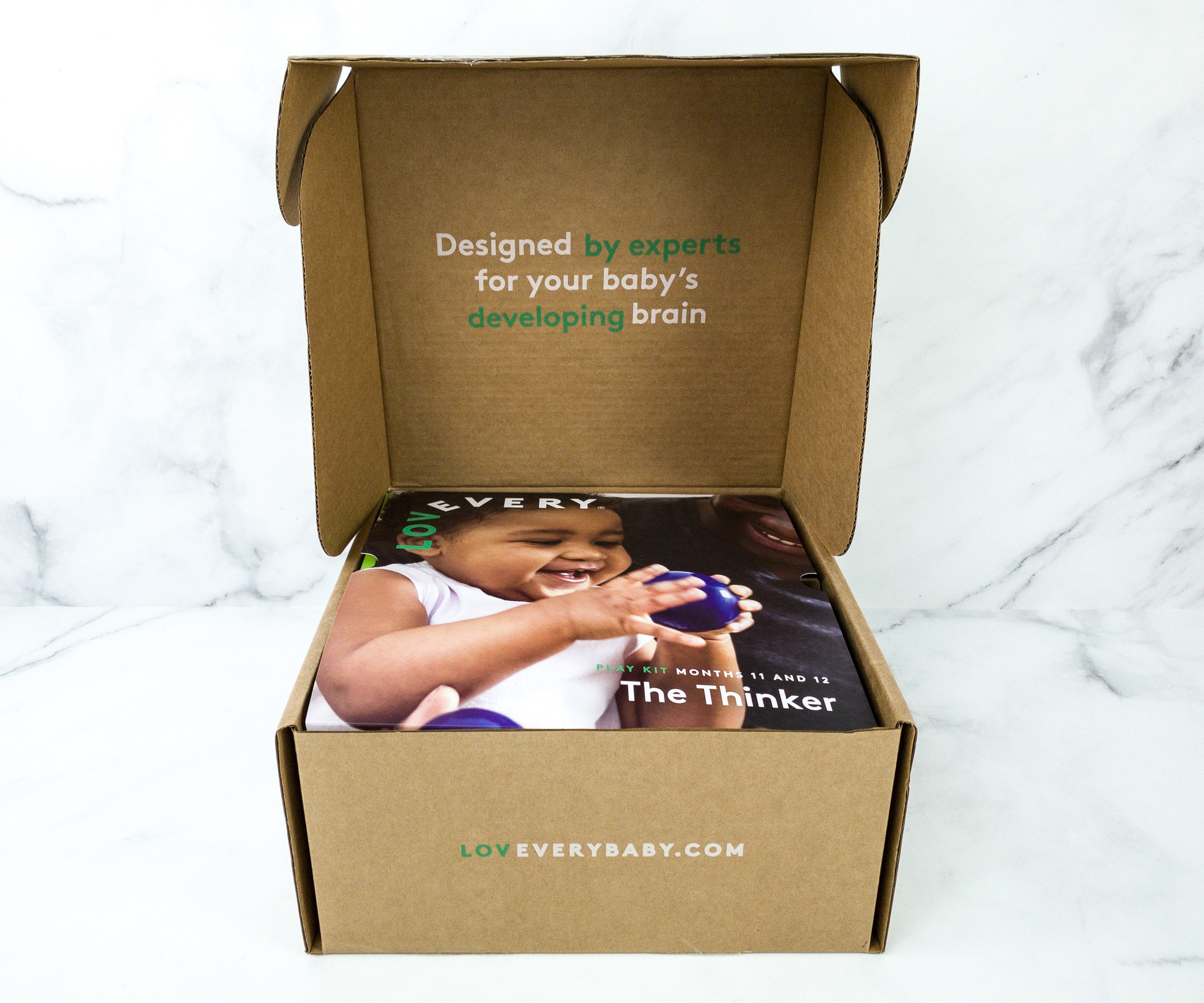 The box is quite full and heavy.
There's a card on top of everything.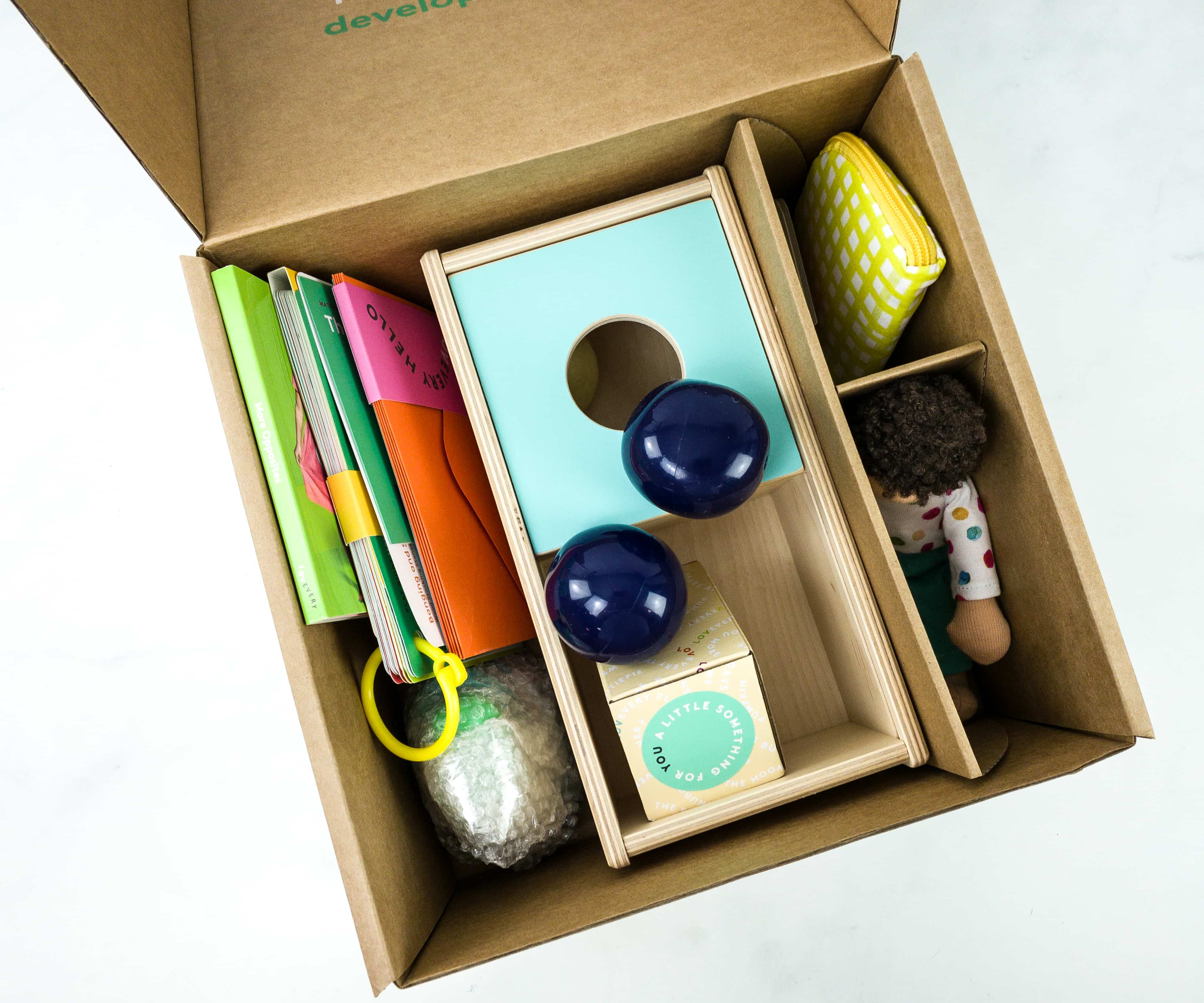 The toys came neatly packaged. There are also partitions made with cartons.
This play kit is specially designed for babies 11 to 12 months old. They're called "The Thinker!"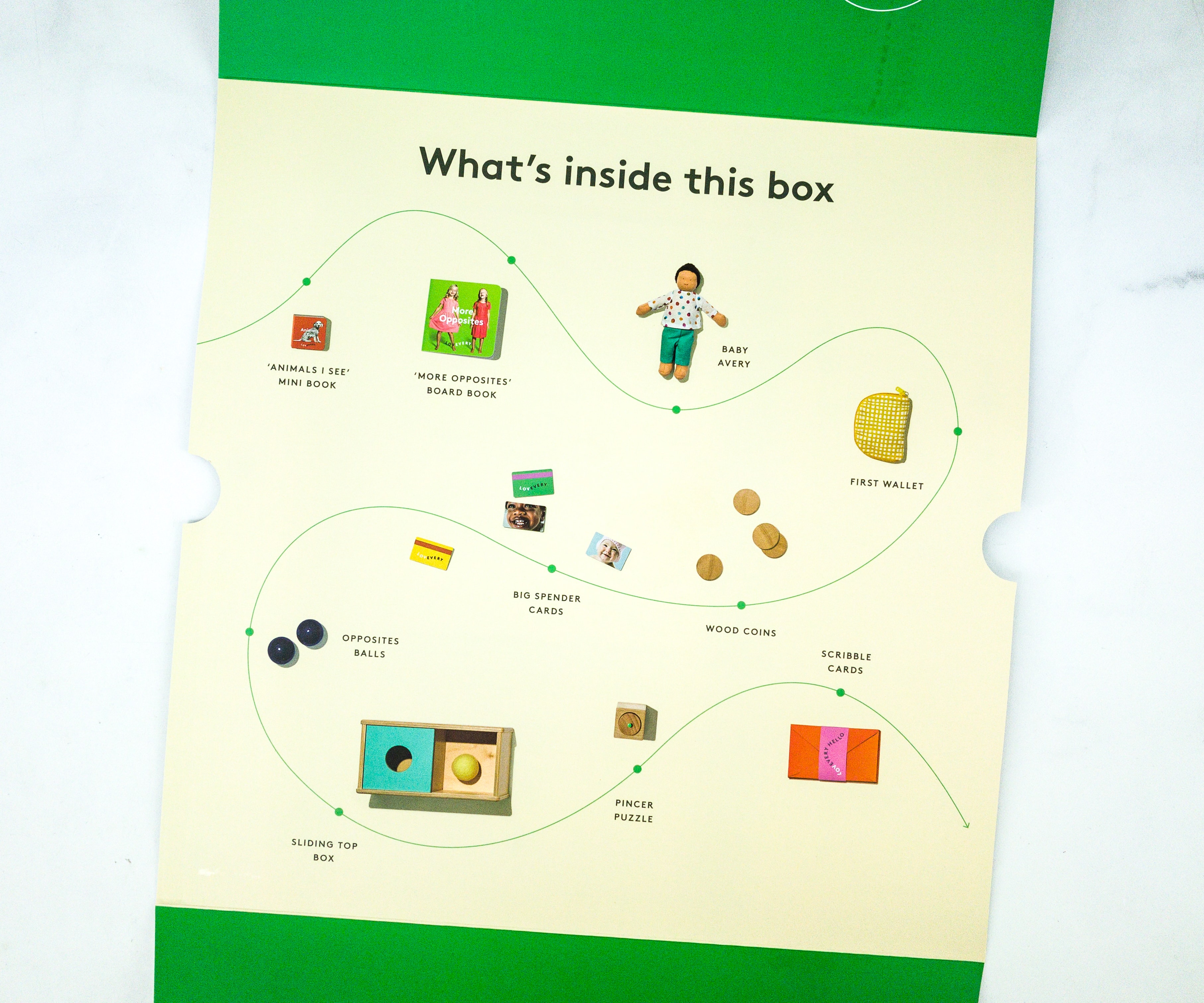 The information sheet gave us a rundown of all the items in the box!
Baby Play Kits will include stickers to help you keep track of your baby's growth. Just attach the appropriate sticker to your baby's top and take their photo!
We also received a promotional card from Happy Baby!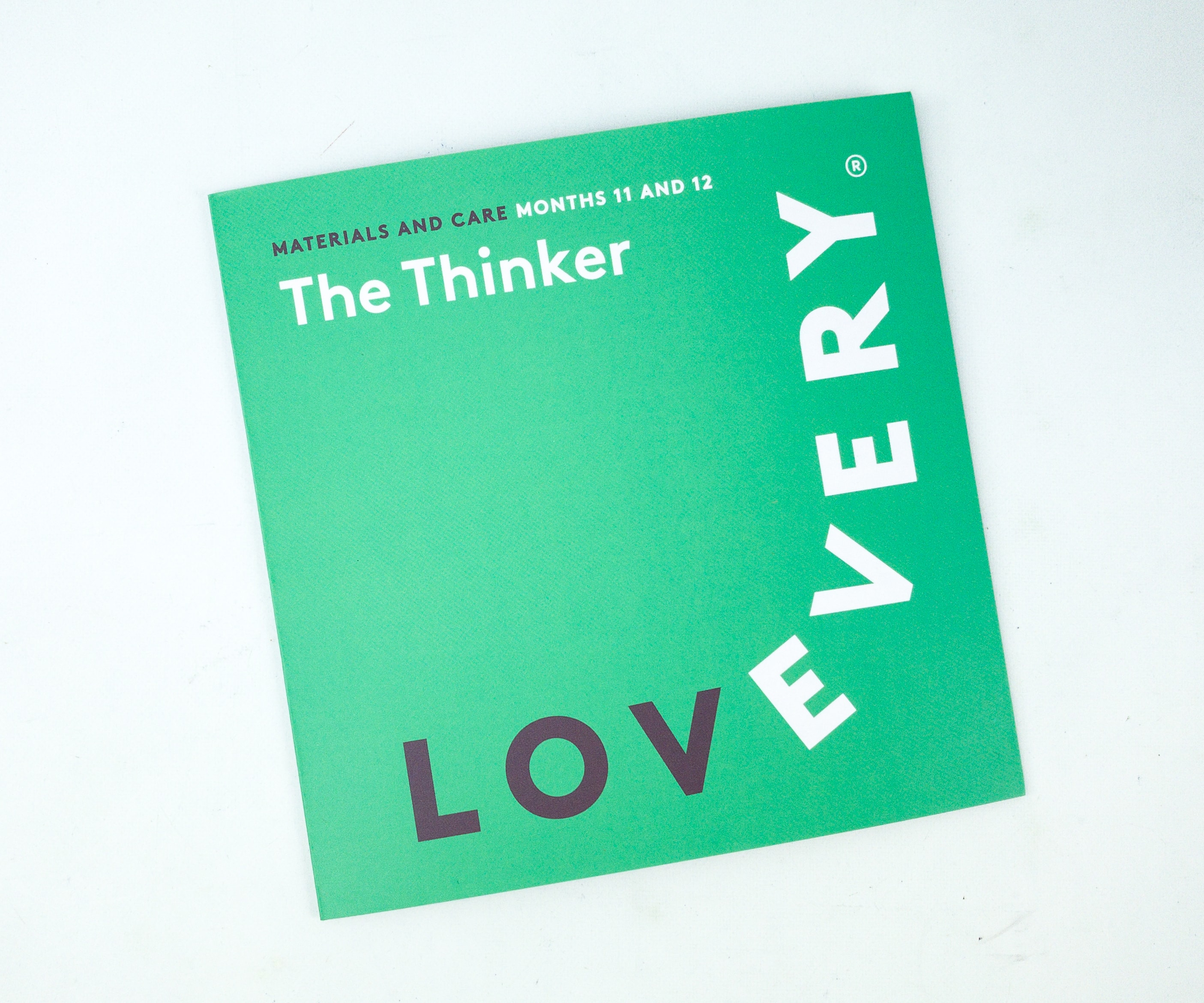 To make this a fun and safe experience for all, they included a material and care manual.
There's a list of safety tips and warnings!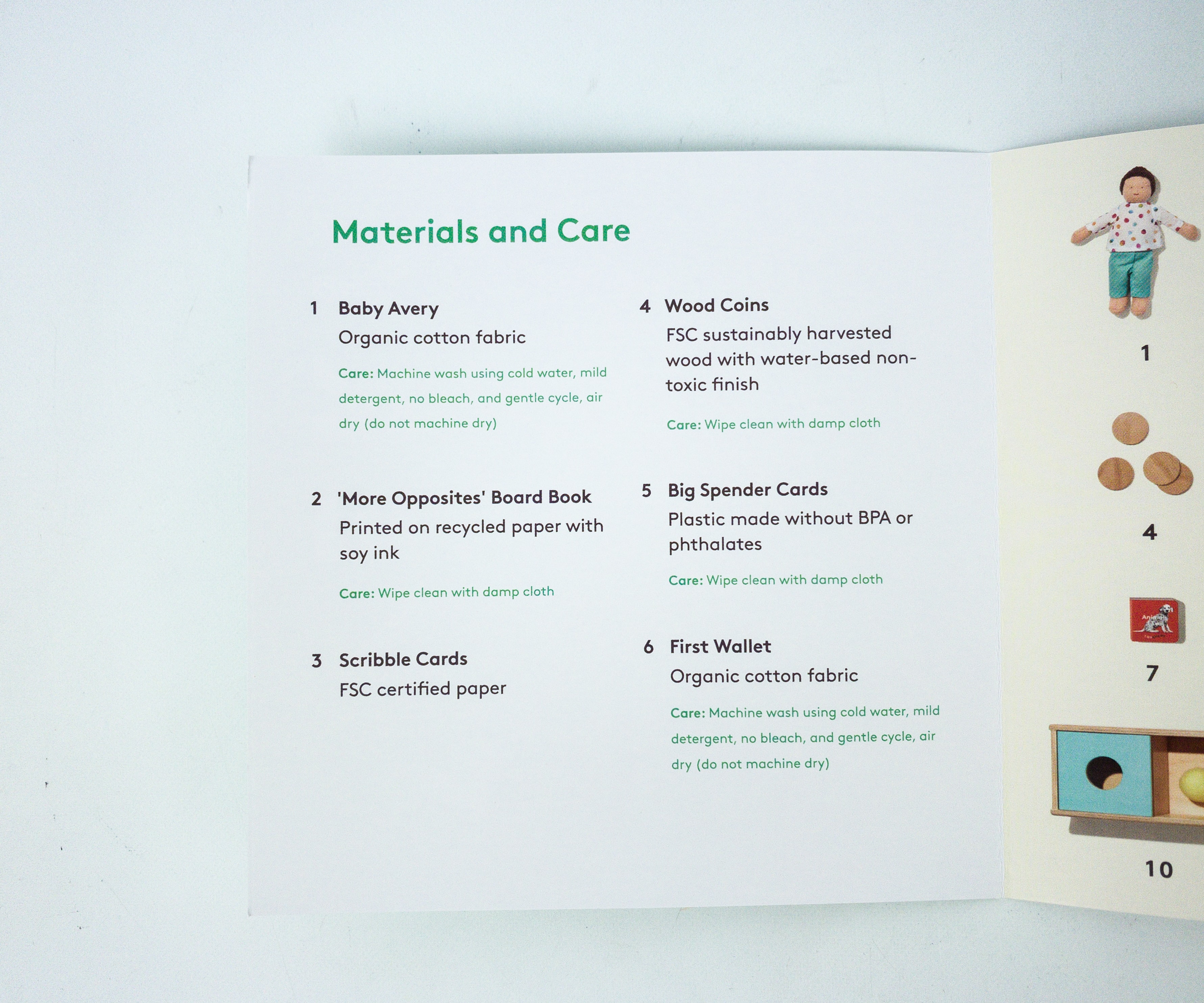 They even listed how to care for each item.
Some toys can be simply wiped clean using a cloth, while others are needed to be hand-washed. There are corresponding photos for each number, so it's easier for you to determine which is which.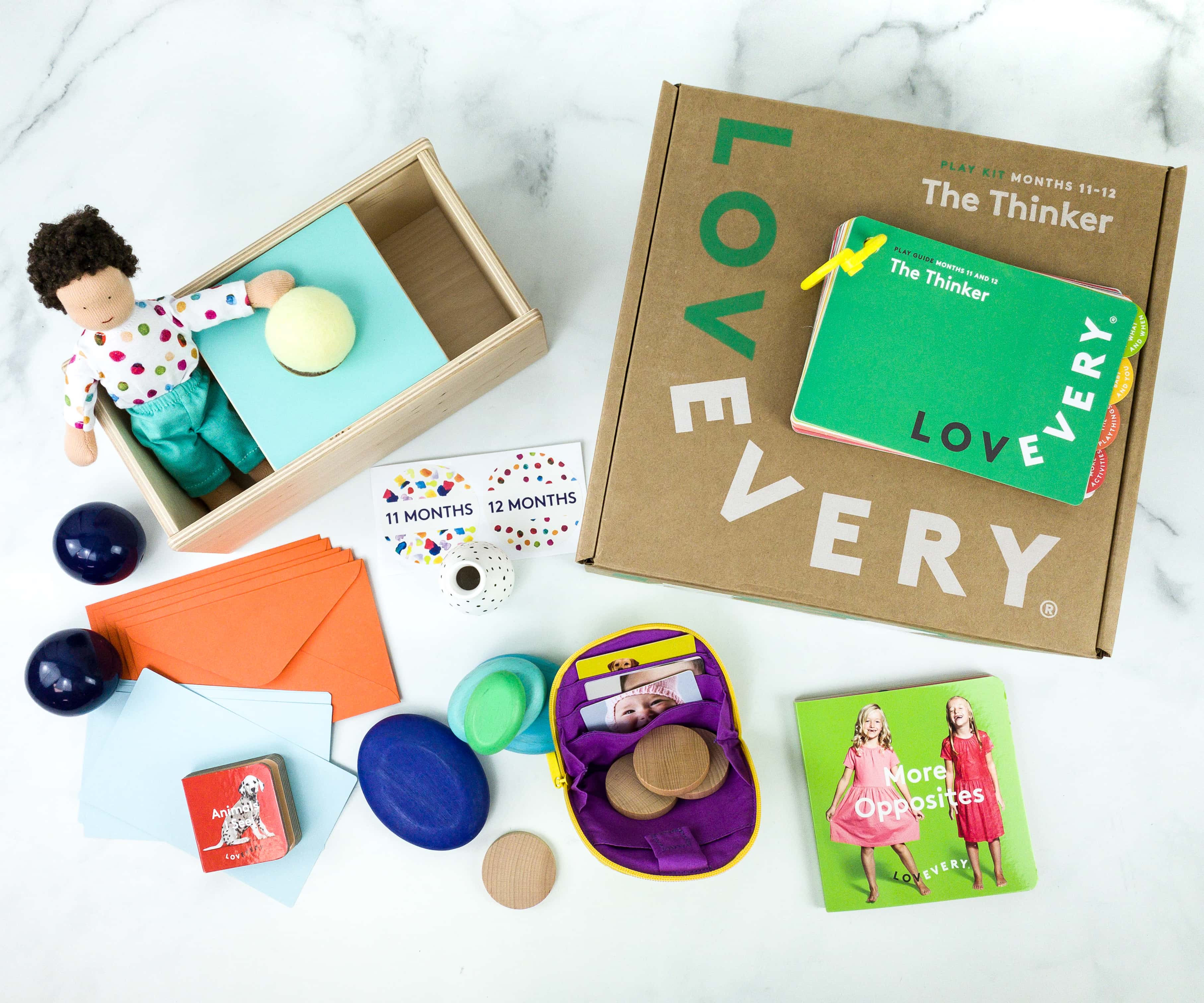 Everything in my box!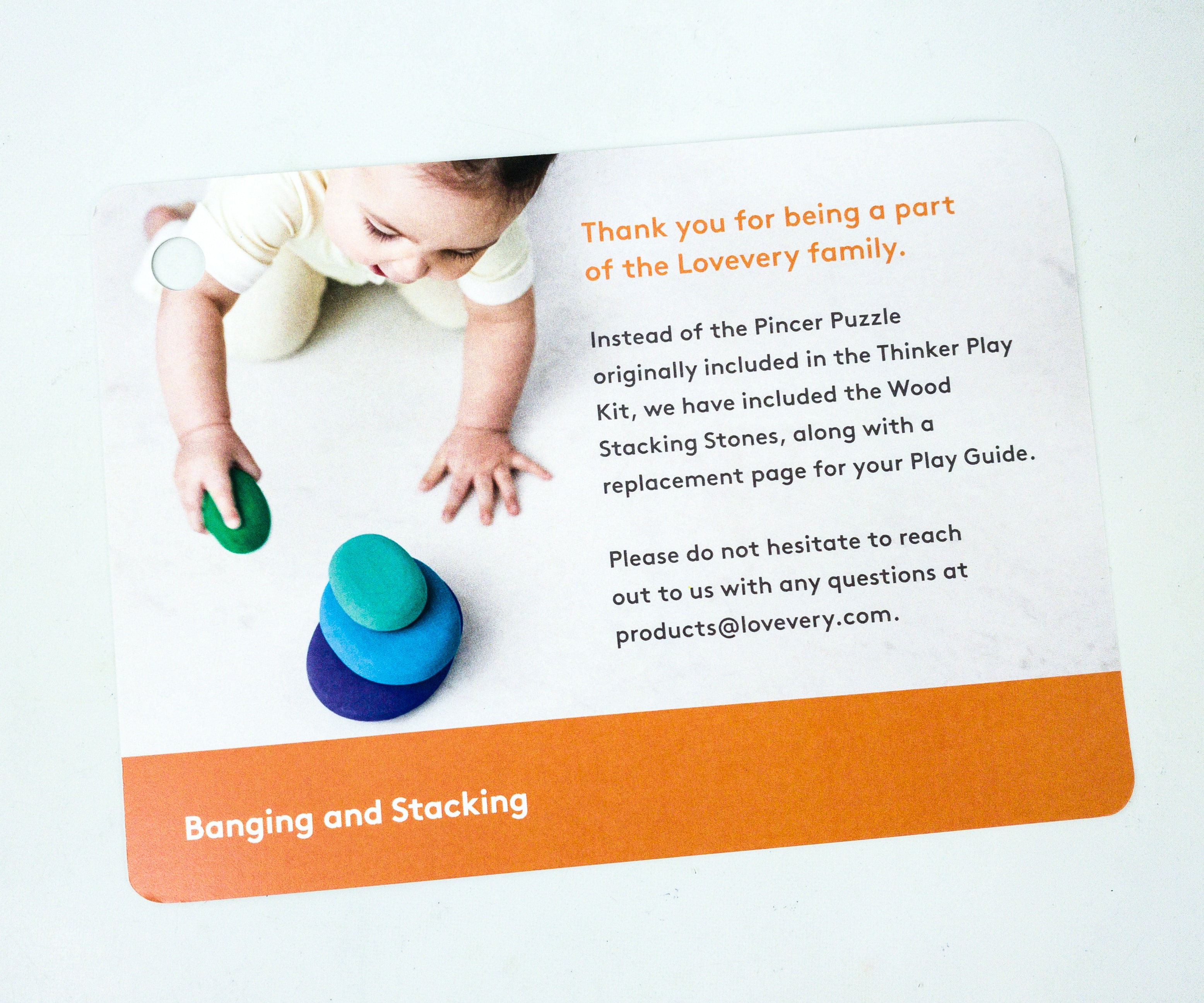 The box also comes with a note from Lovevery about a replacement item.
Instead of the Pincer Puzzle originally included in the Thinker Play Kit, we have included the Wood Stacking Stones, along with a replacement page for your Play Guide.
First up is the Play Guide!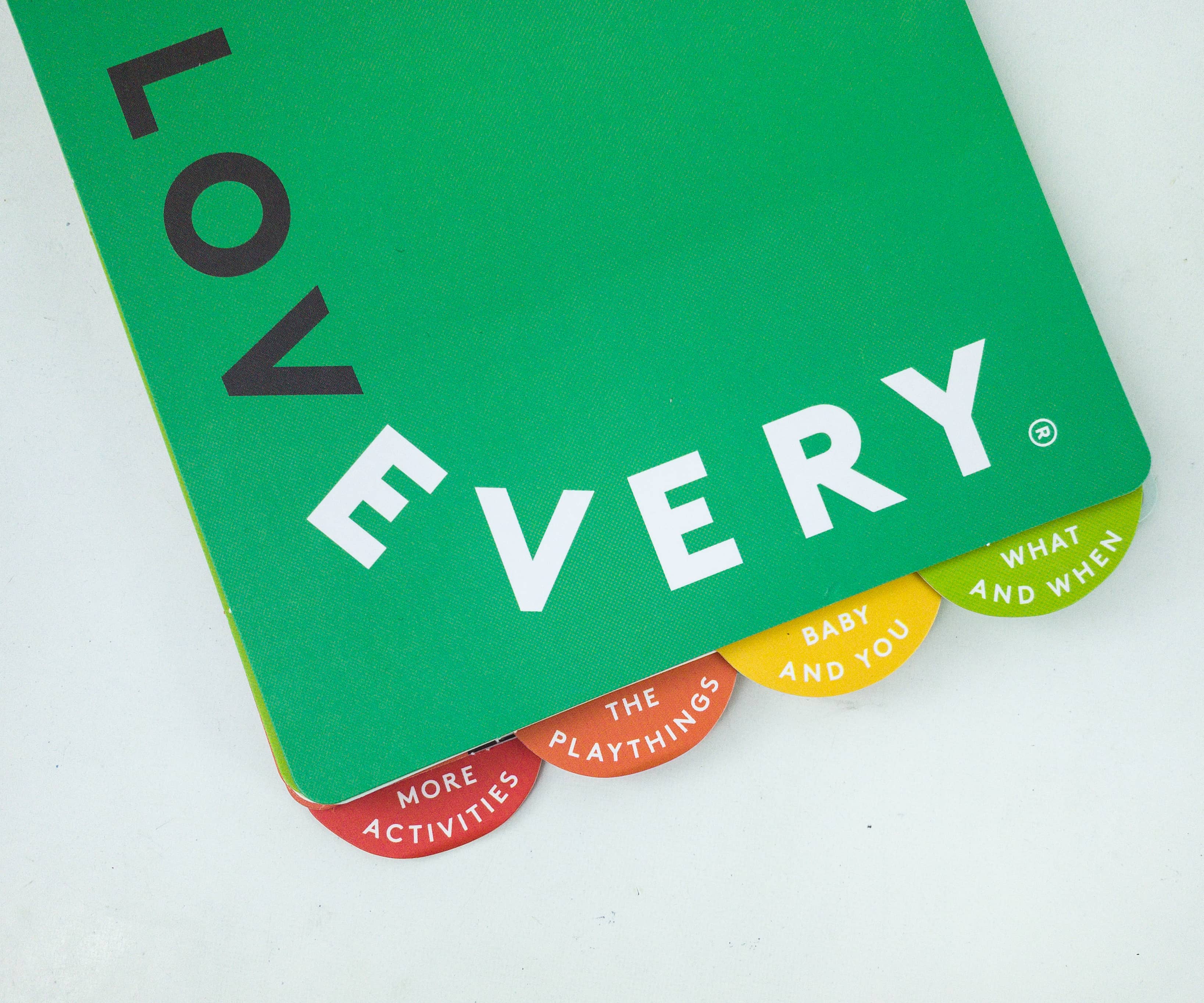 This guide is divided into different sections, so it's easier to flip through them and find what you're looking for.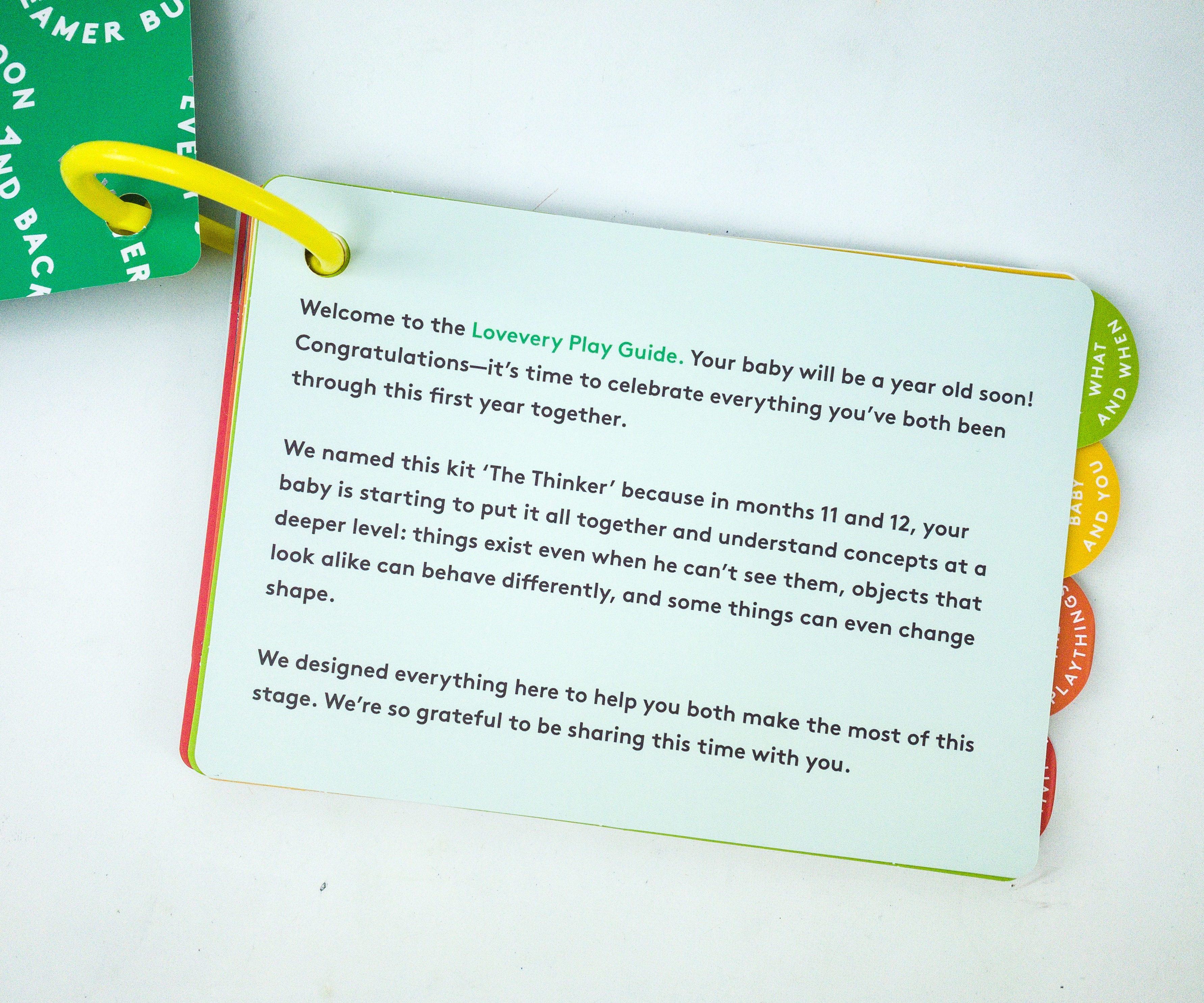 There's a welcome note!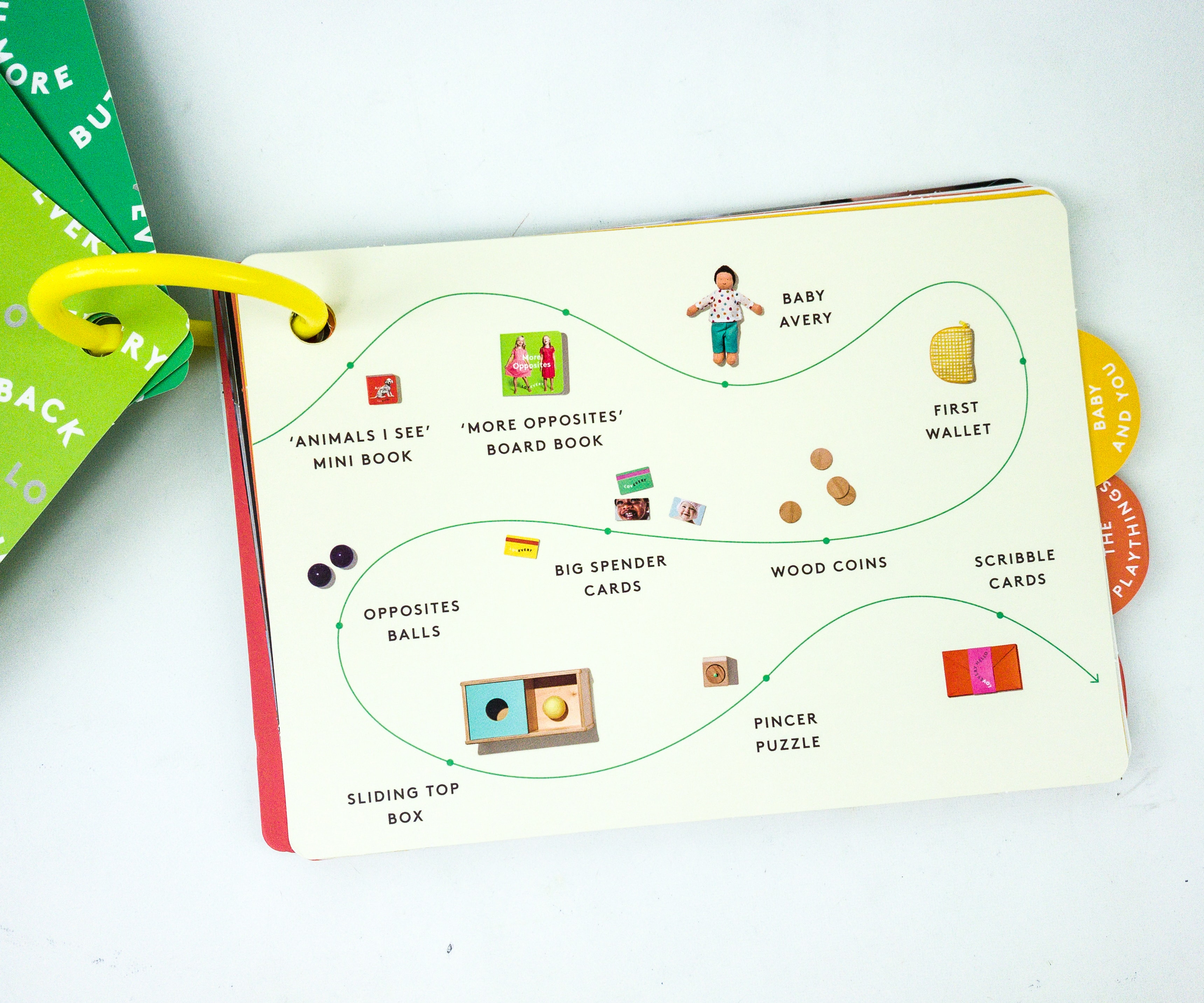 Like the information sheet, it gave us a rundown of all the toys in the box.
They also remind you that each baby's development path is unique and that it's okay if your baby isn't interested in playthings right away.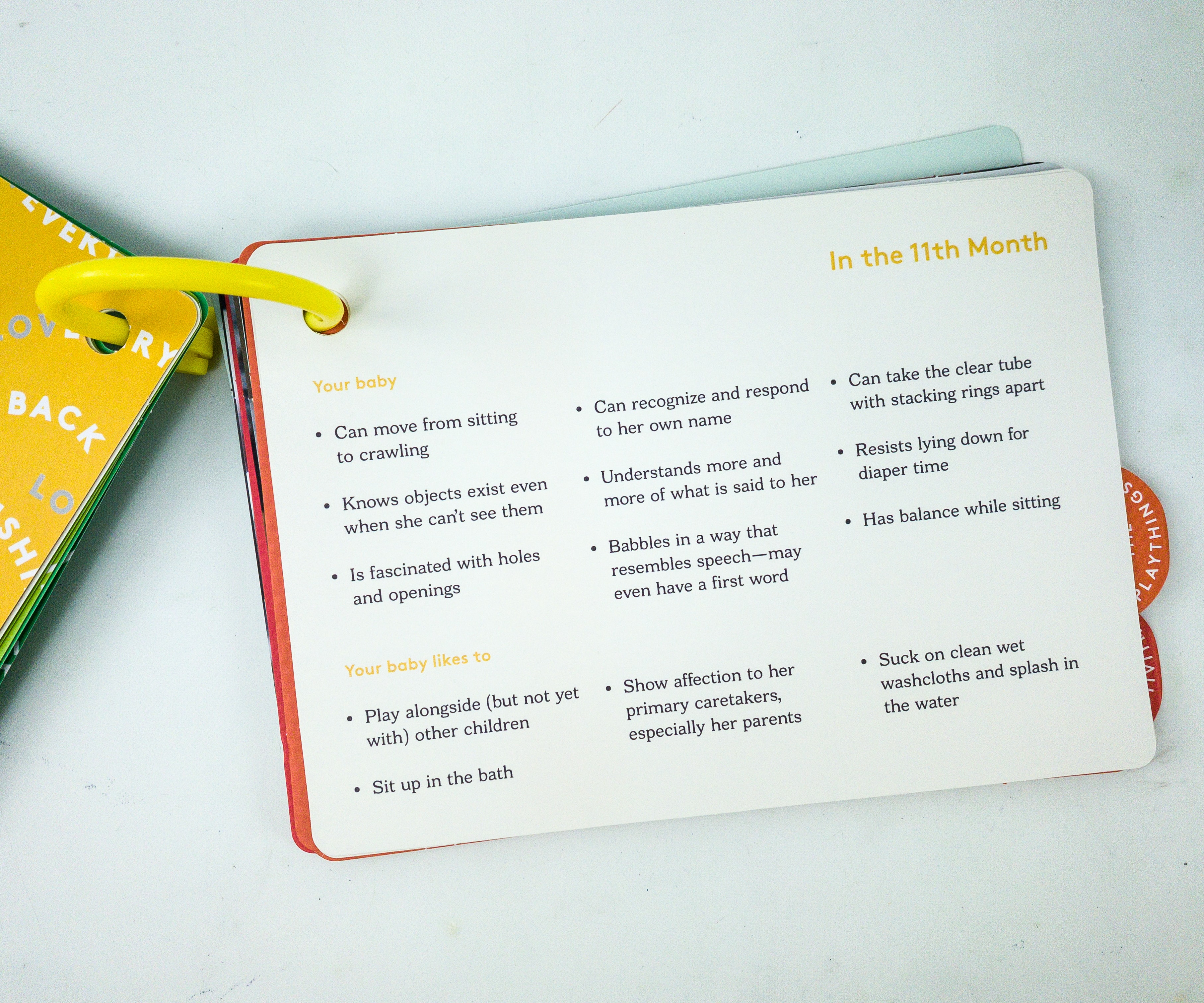 They listed what your baby is already capable of in their 11th month.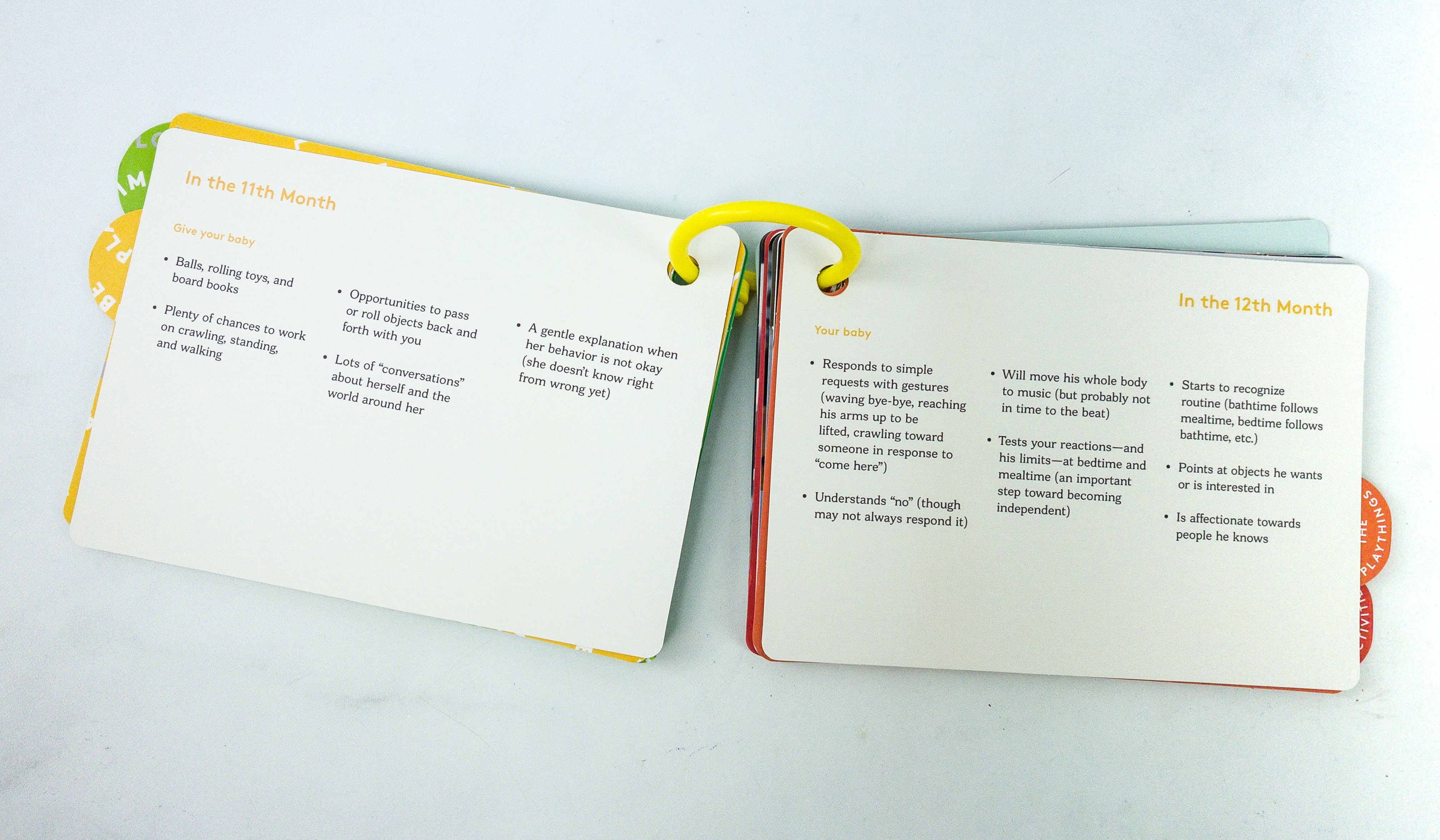 It's also really helpful that they listed down what babies of this age like to do!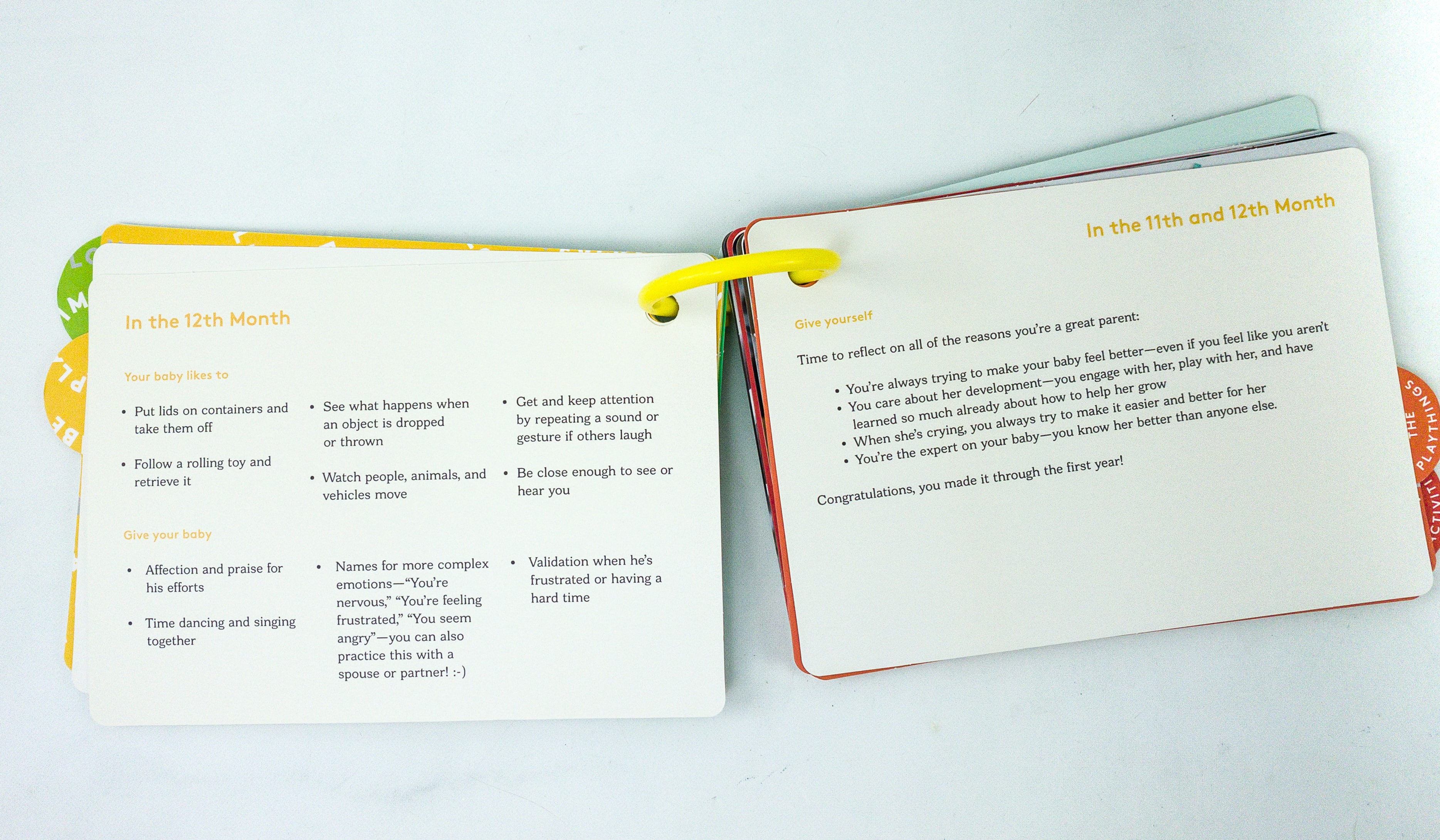 A separate page is dedicated to a list of things your baby likes to do in their 12th month and what to give them. Not everything would apply to your baby, but at least you'd get a general idea. This is really helpful for parents!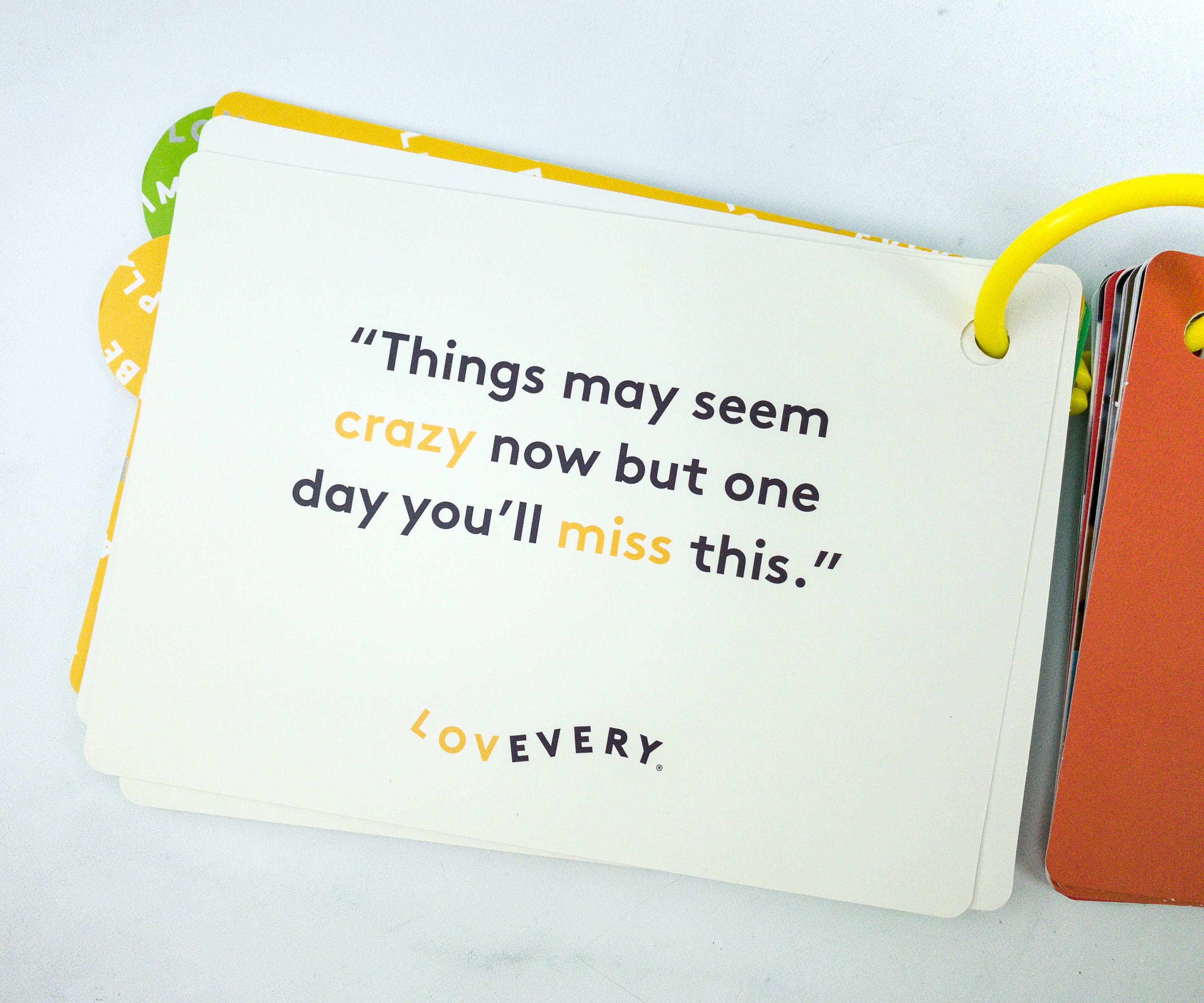 We agree with this quote!
Things may seem crazy now but one day you'll miss this.
Next section is The Playthings! We're getting on to the toys and activities!
The first activity is Making Diaper Time More Tolerable!
This is the stage where most babies struggle against lying down on their backs–and it makes diaper time a pain. The 'Animals I See' Mini Book may be useful in getting your baby to cooperate, and also gives him practice holding things with two hands.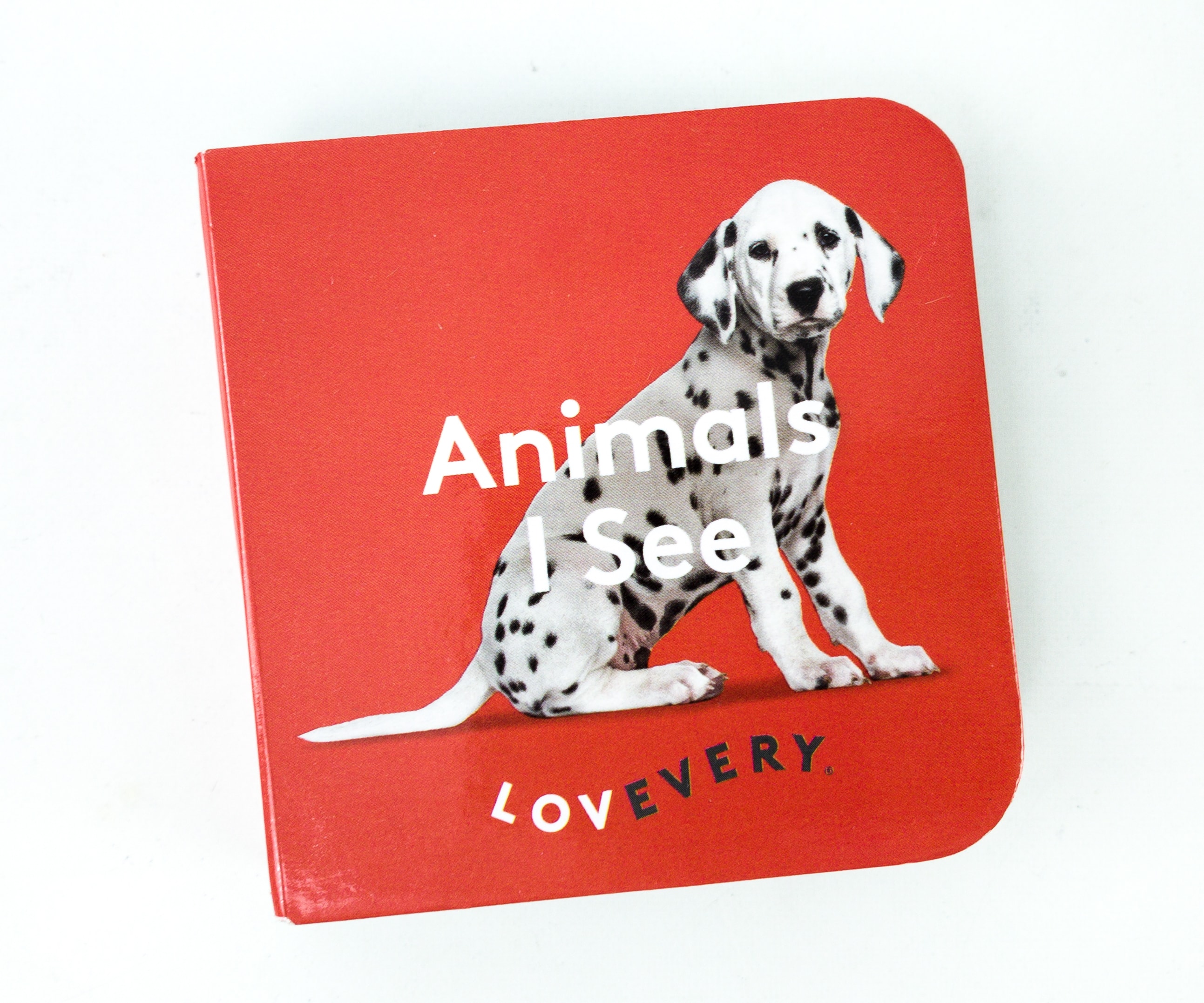 In relation to the activity, they sent us this Animals I See board book.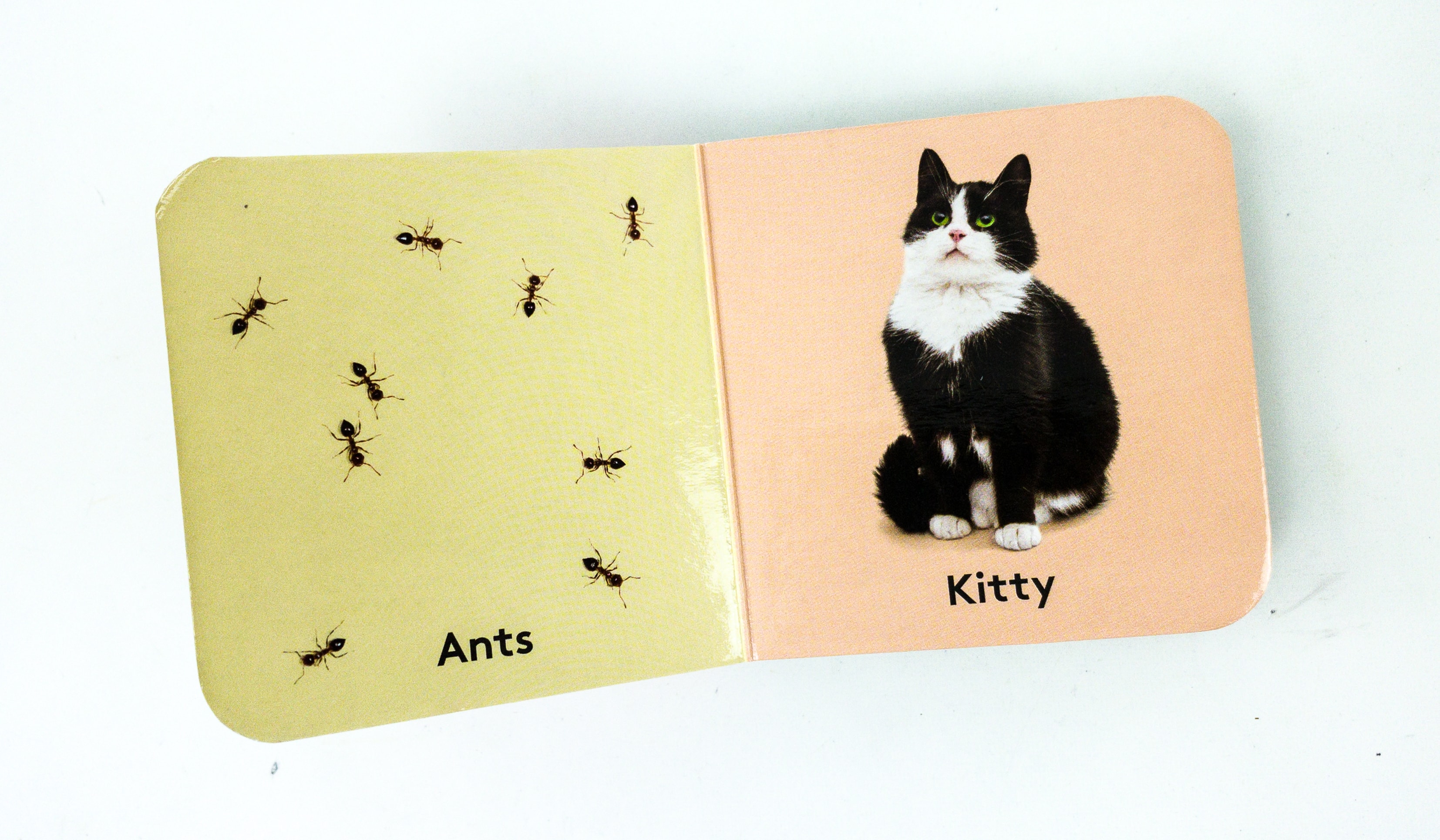 This board book features photos of different kinds of animals.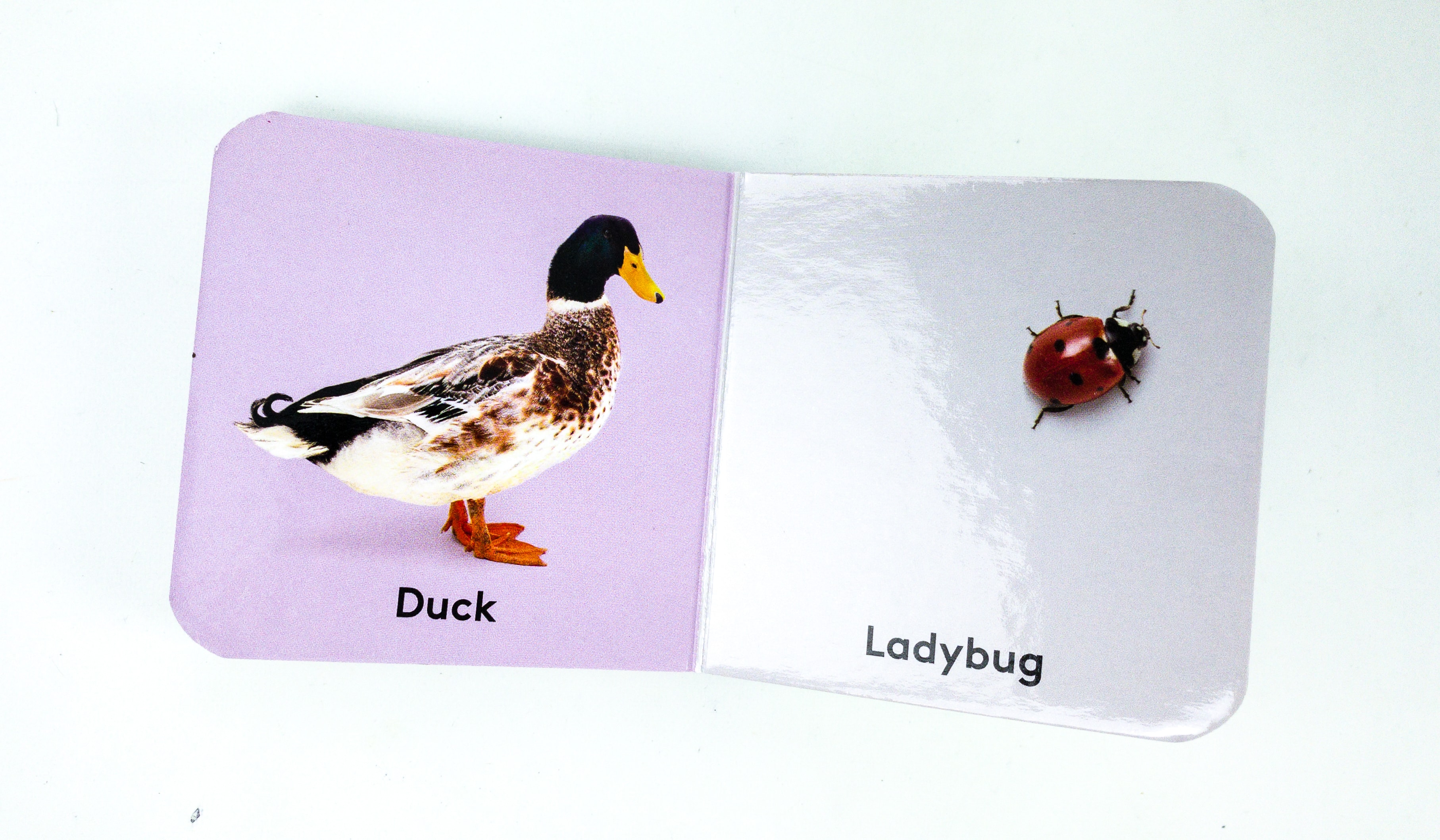 The photos are awesome and easily recognizable, which make them easily entertaining for babies during diaper time. It's also perfect to bring during car rides with your baby!
The next activity is Making Sense of the World!
Opposites are among the best early examples of conceptual thinking–which helps build streamlined connections in the brain. This book is a great way to help your baby learn and expand concepts–here are some ideas for reinforcing what she's learning.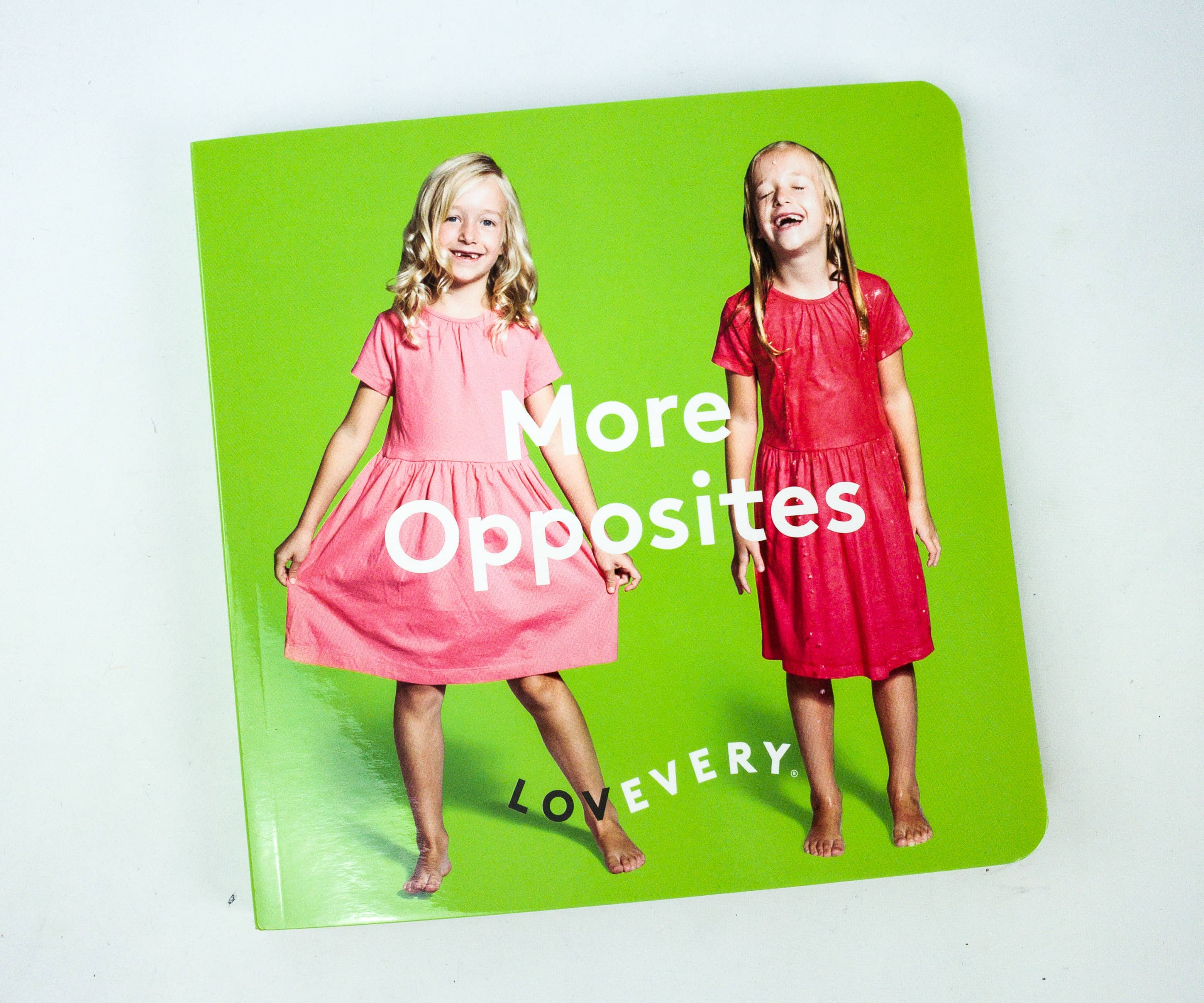 They also sent us this board book filled with photos of opposites!
The photos are really good. They clearly depict the contrasting qualities, making them easy to understand.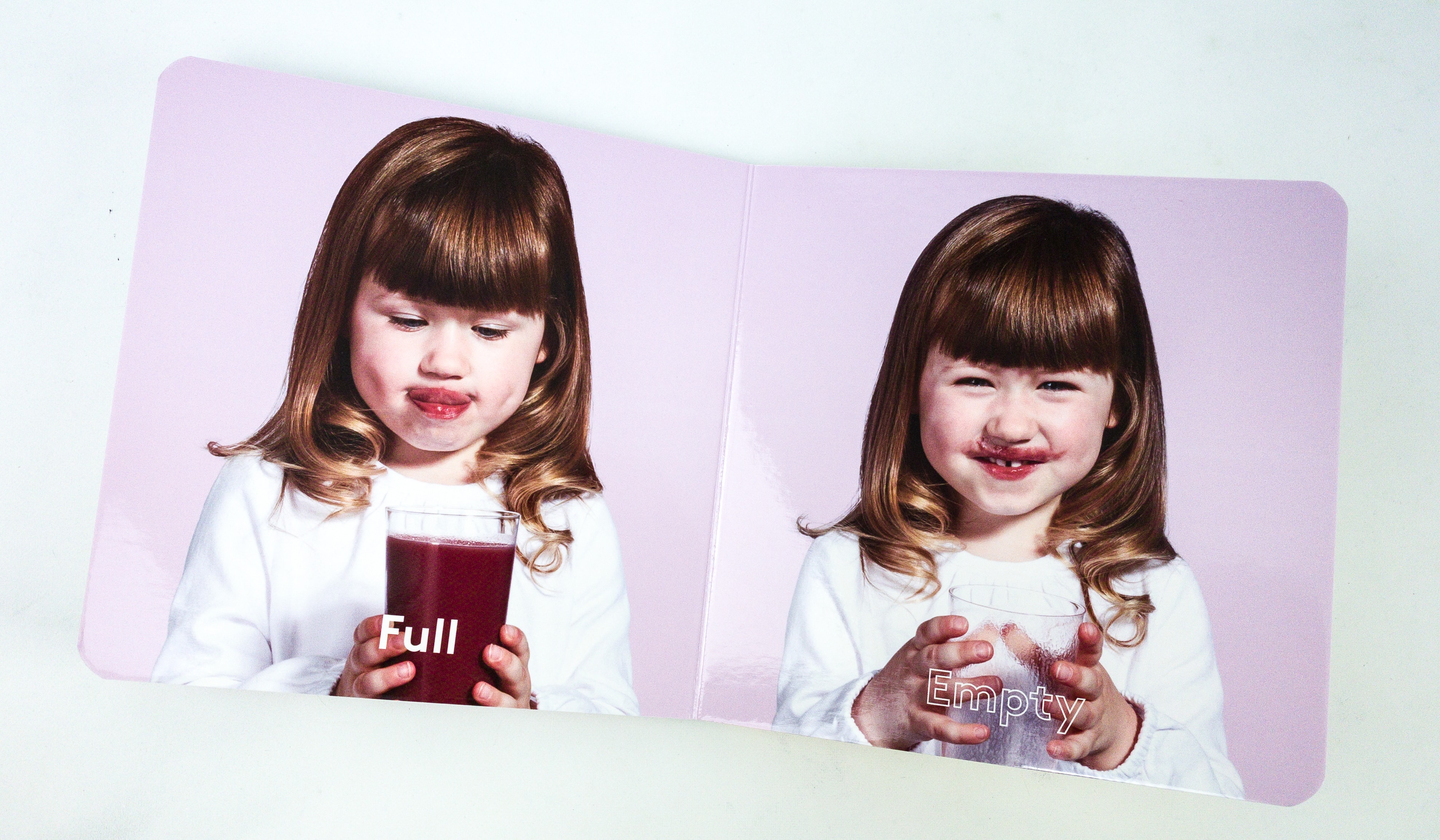 This board book is just the right size for babies 11-12 months old.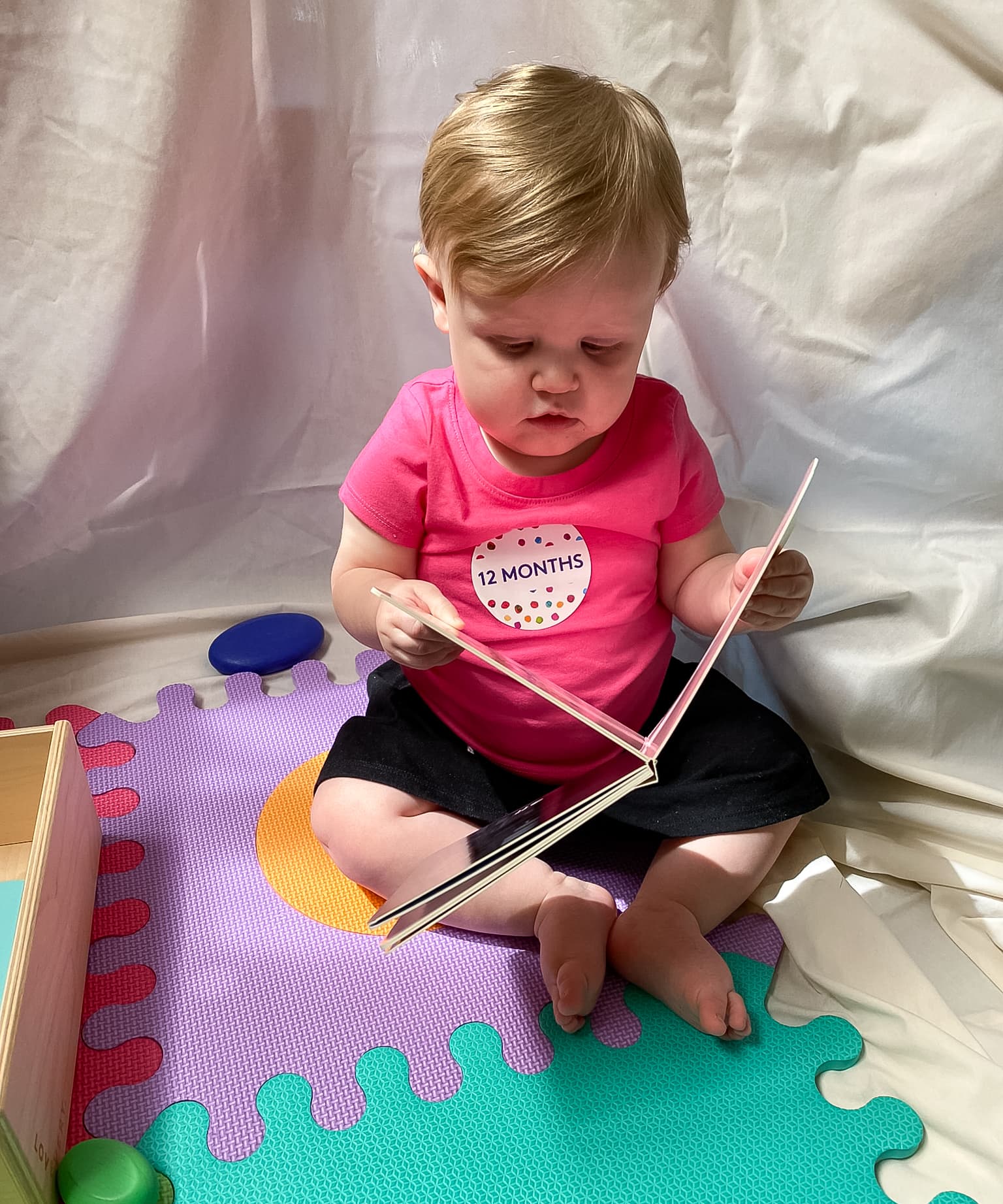 Here's my friend's baby enjoying the More Opposites board book!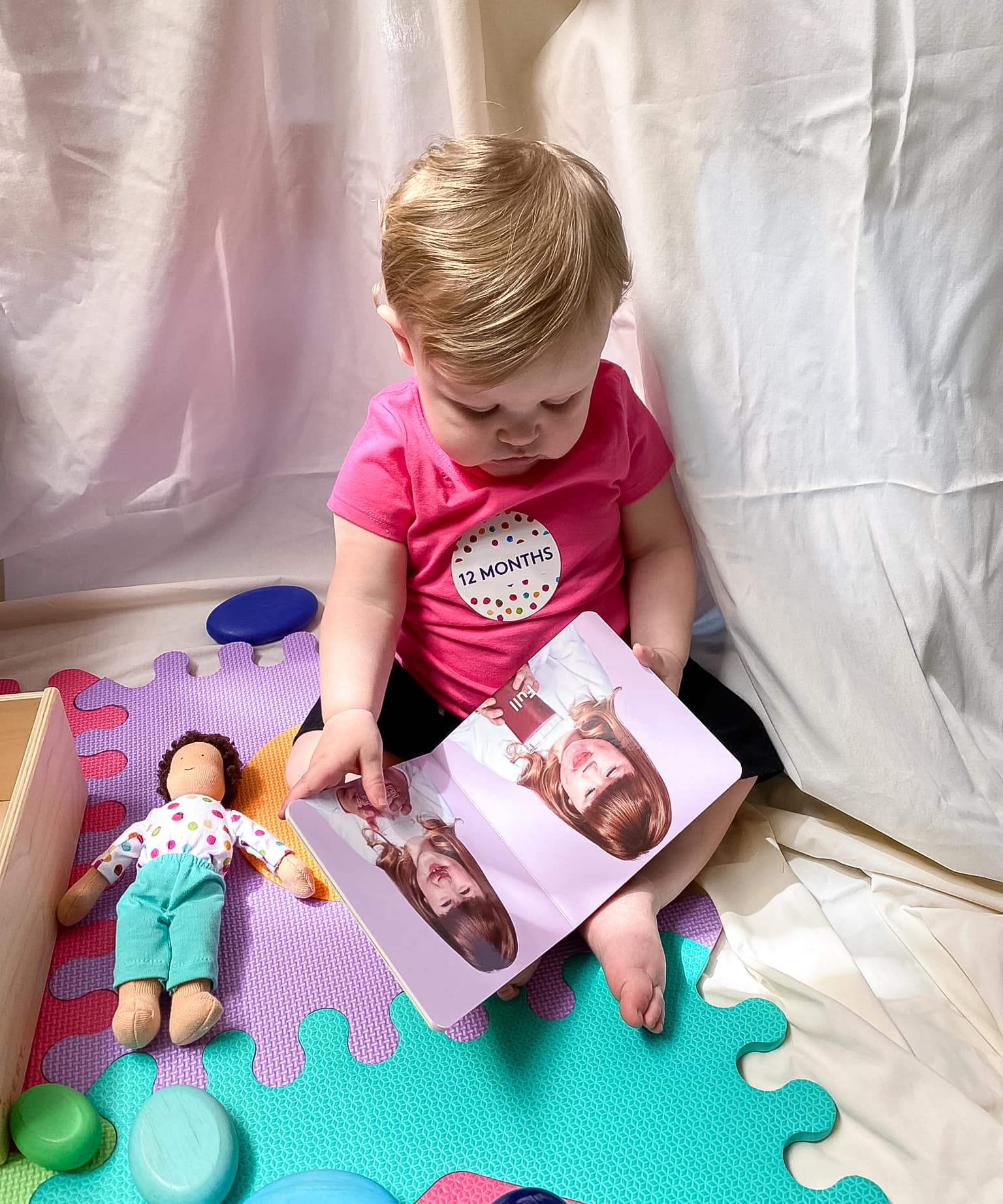 The board book is easy to flip as well.
He surely loves the photos!
Another activity is entitled A Pal for Play!
Inspired by the dolls used in Waldorf educational programs, Baby Avery's appearance is intentionally designed to be neutral and simple in order to promote creativity and encourage a baby's imagination. What starts out as a soft, stuffed plaything will grow into much more with each passing year. It's a doll for girls and boys alike.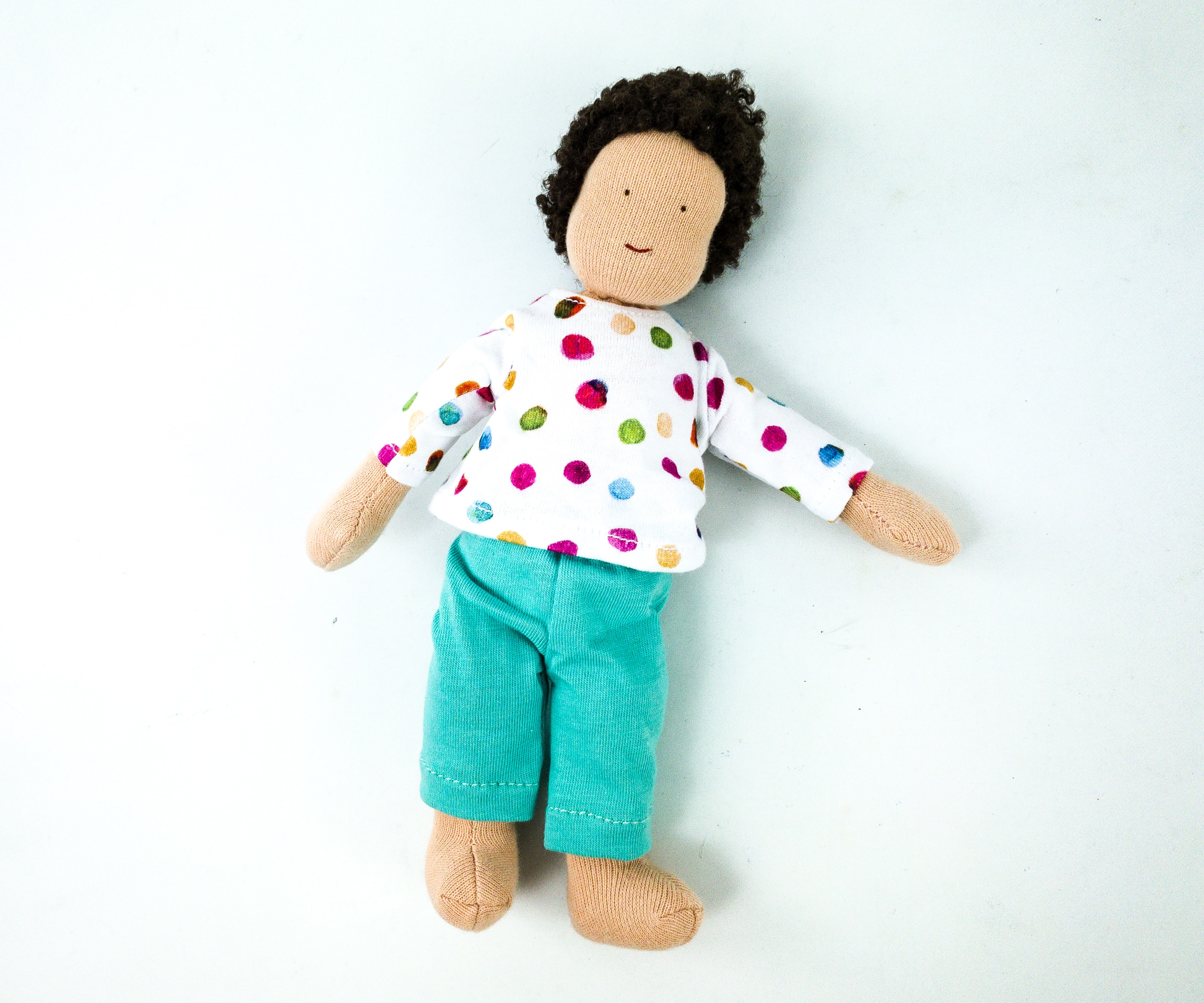 For this activity, we got a cute doll wearing a cute long-sleeved shirt with polka dots and blue-green pants!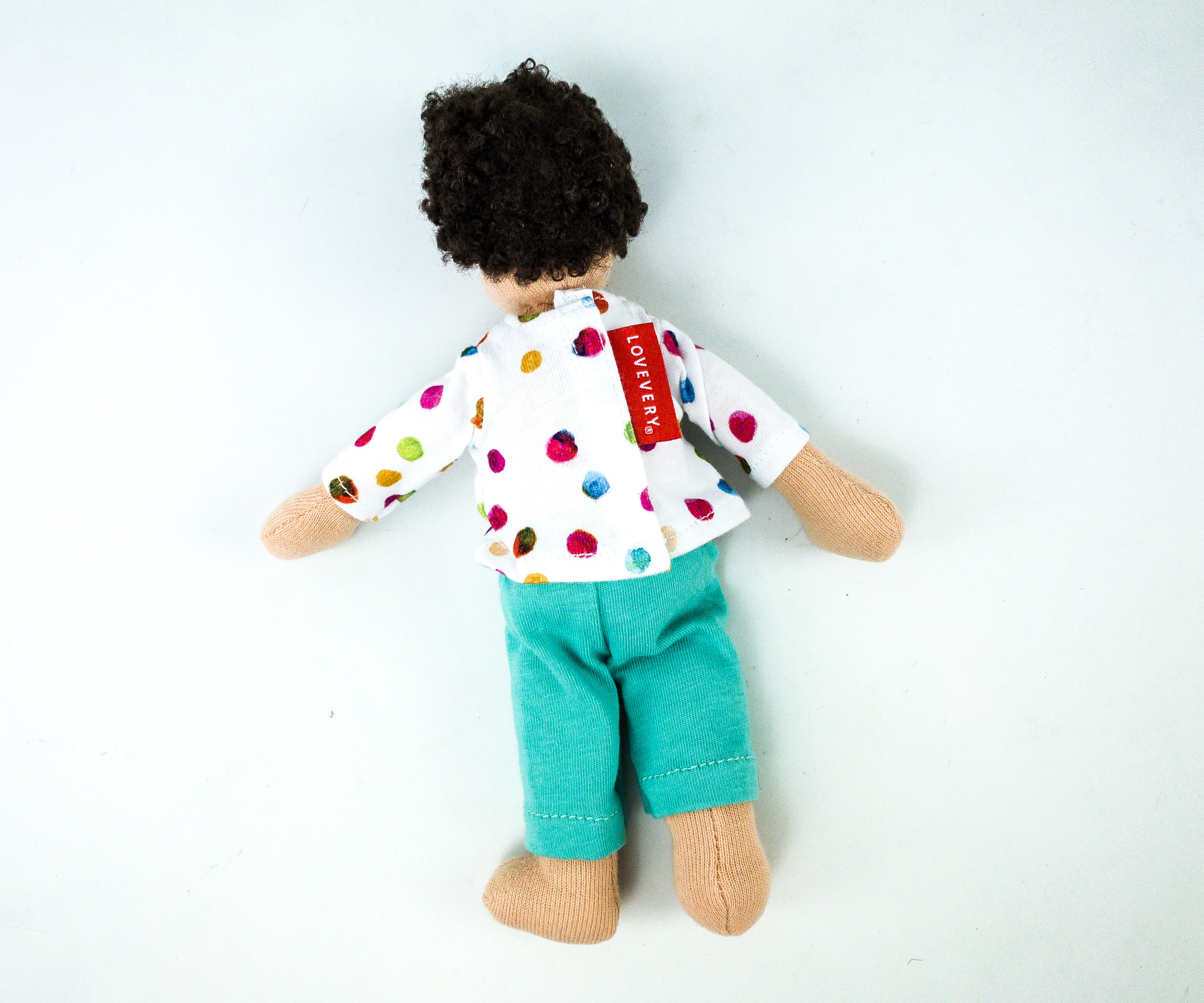 This doll makes a great way of teaching babies about different body parts. It can also be used for dramatizing various concepts such as being inside/outside and being over/under, etc.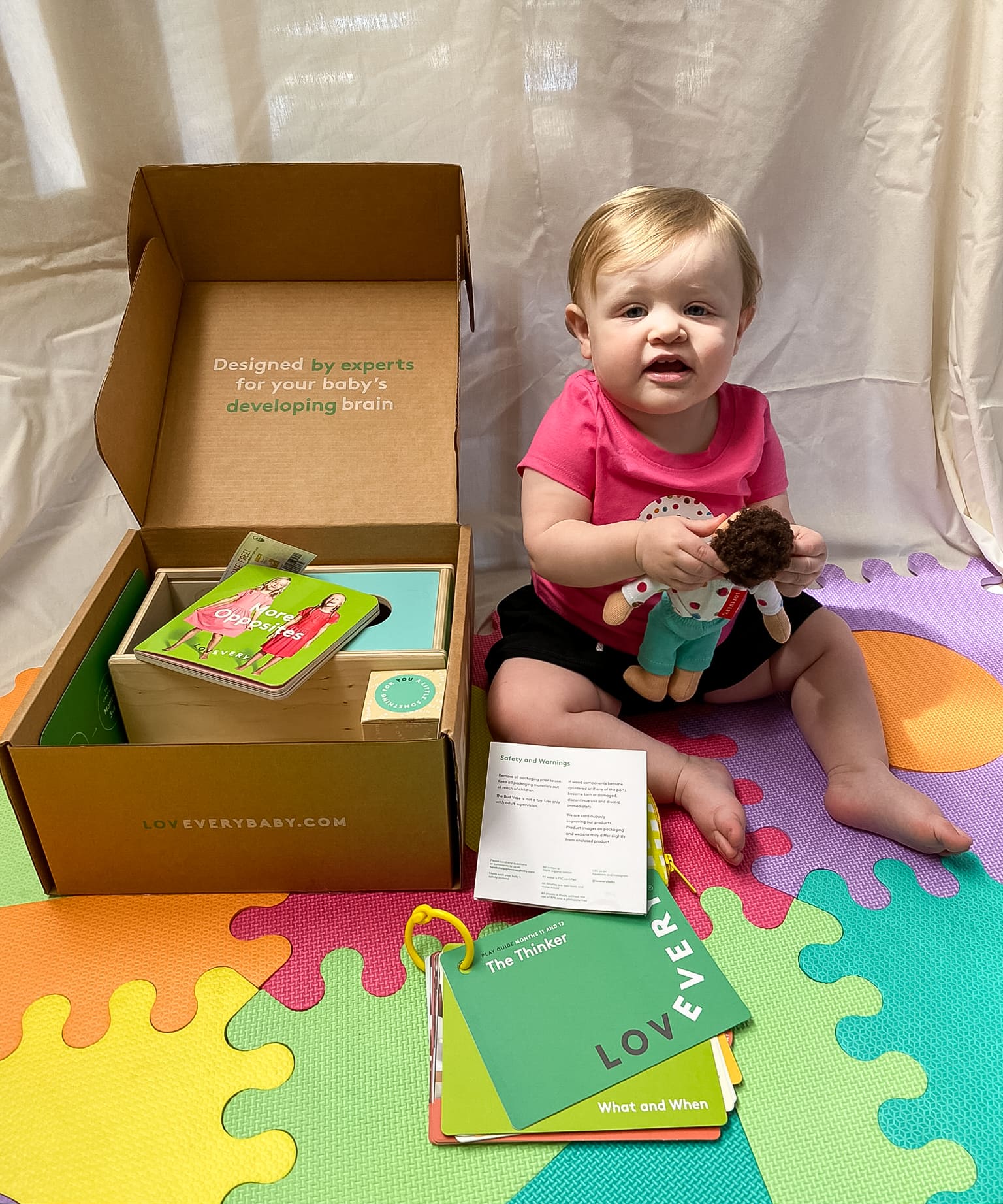 Yes, boys can play dolls as well. It can even teach them how to take care of another thing!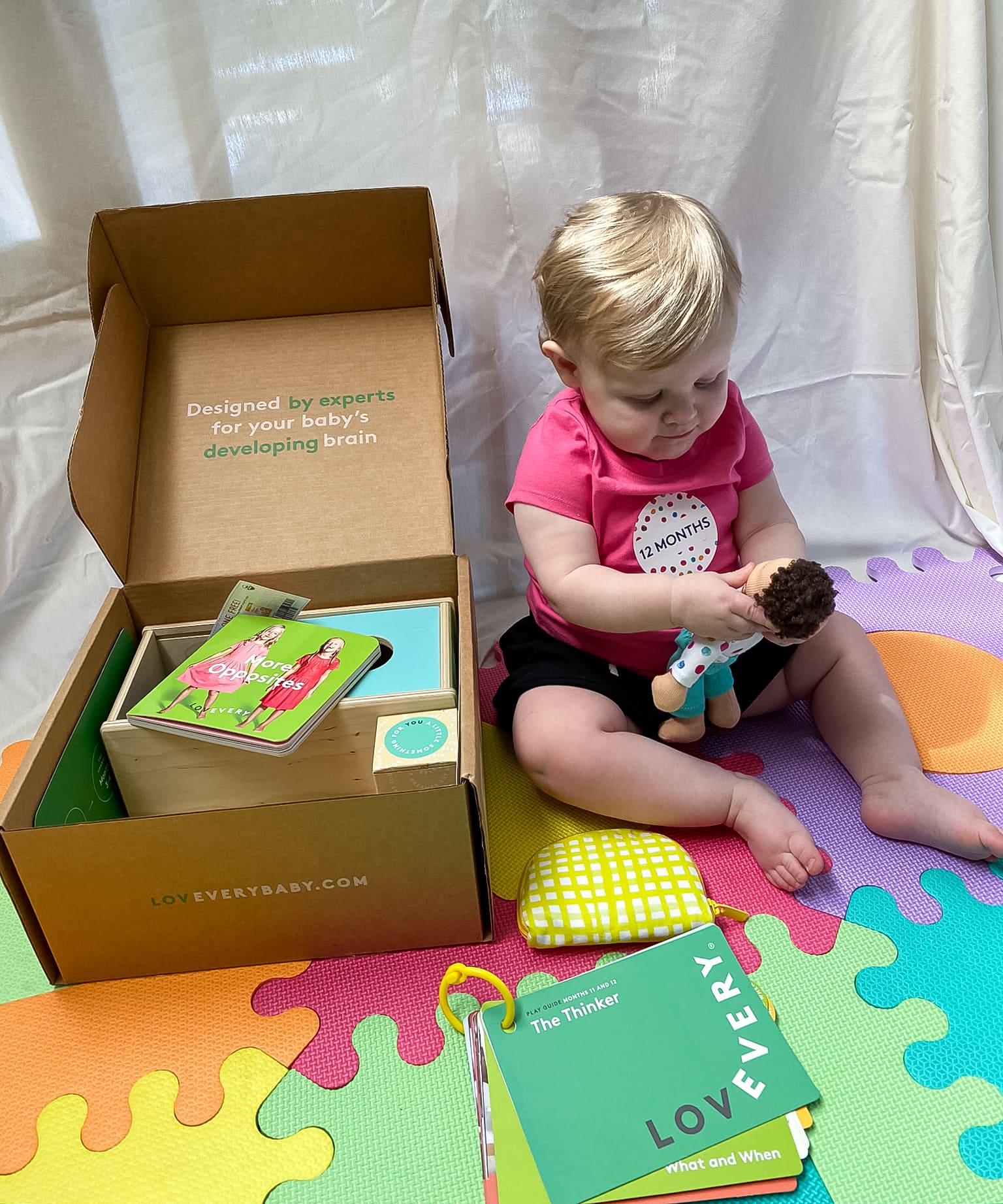 According to the booklet, when babies turn 14 months, they can "care for" a doll after it's been modeled by an adult.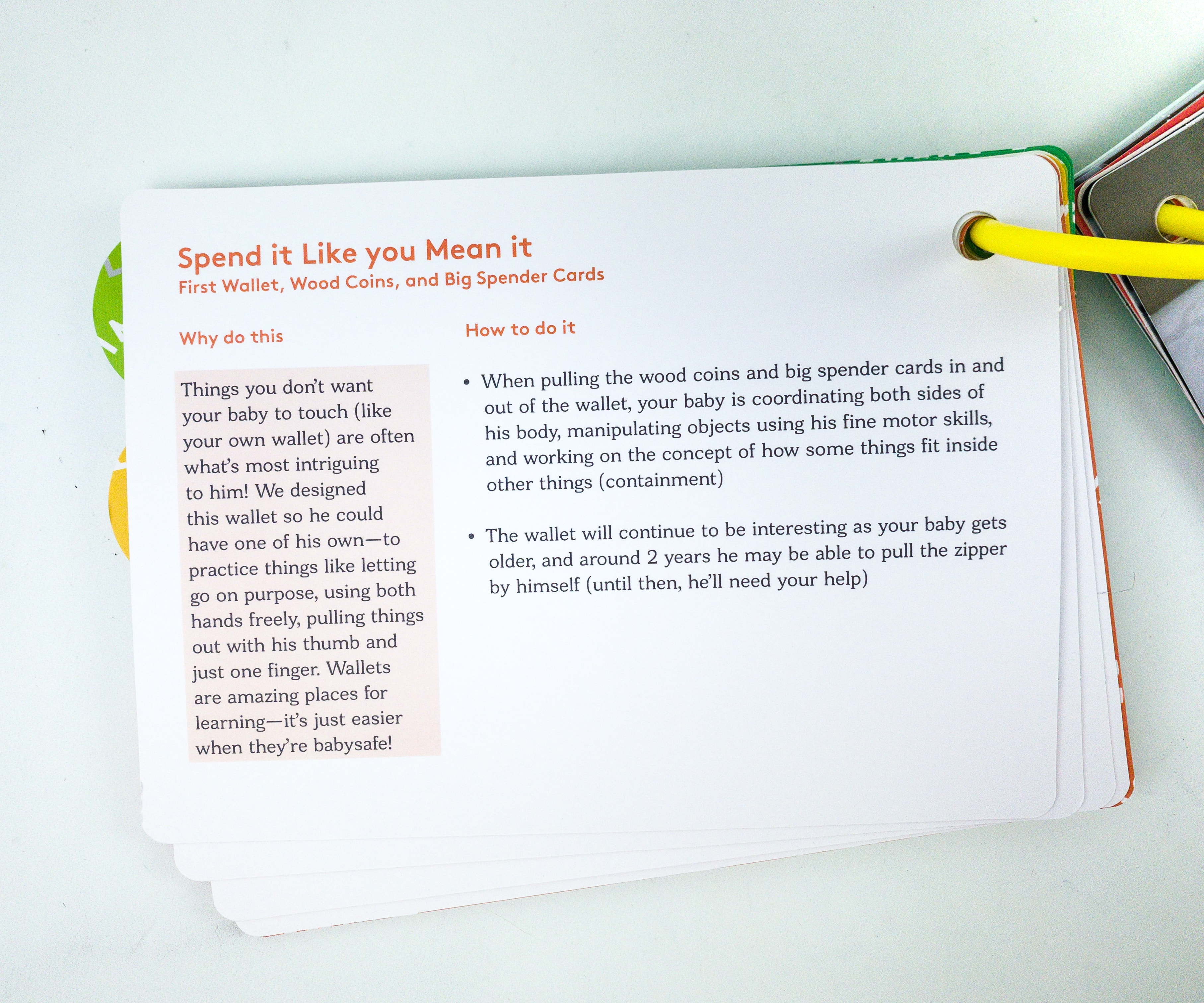 The next activity is Spend it Like You Mean it!
Things you don't want your baby to touch (like your own wallet) are often what's most intriguing to him! We designed this wallet so he could have one of his own–to practice thing like letting go on purpose, using both hands freely, pulling things out with his thumb and just one finger. Wallets are amazing places for learning–it's just easier when they're babysafe!
They provided a baby-safe wallet in the box! It's eye-catching as it features yellow grids and zipper. Babies may need help pulling the zipper until they're 2 years old.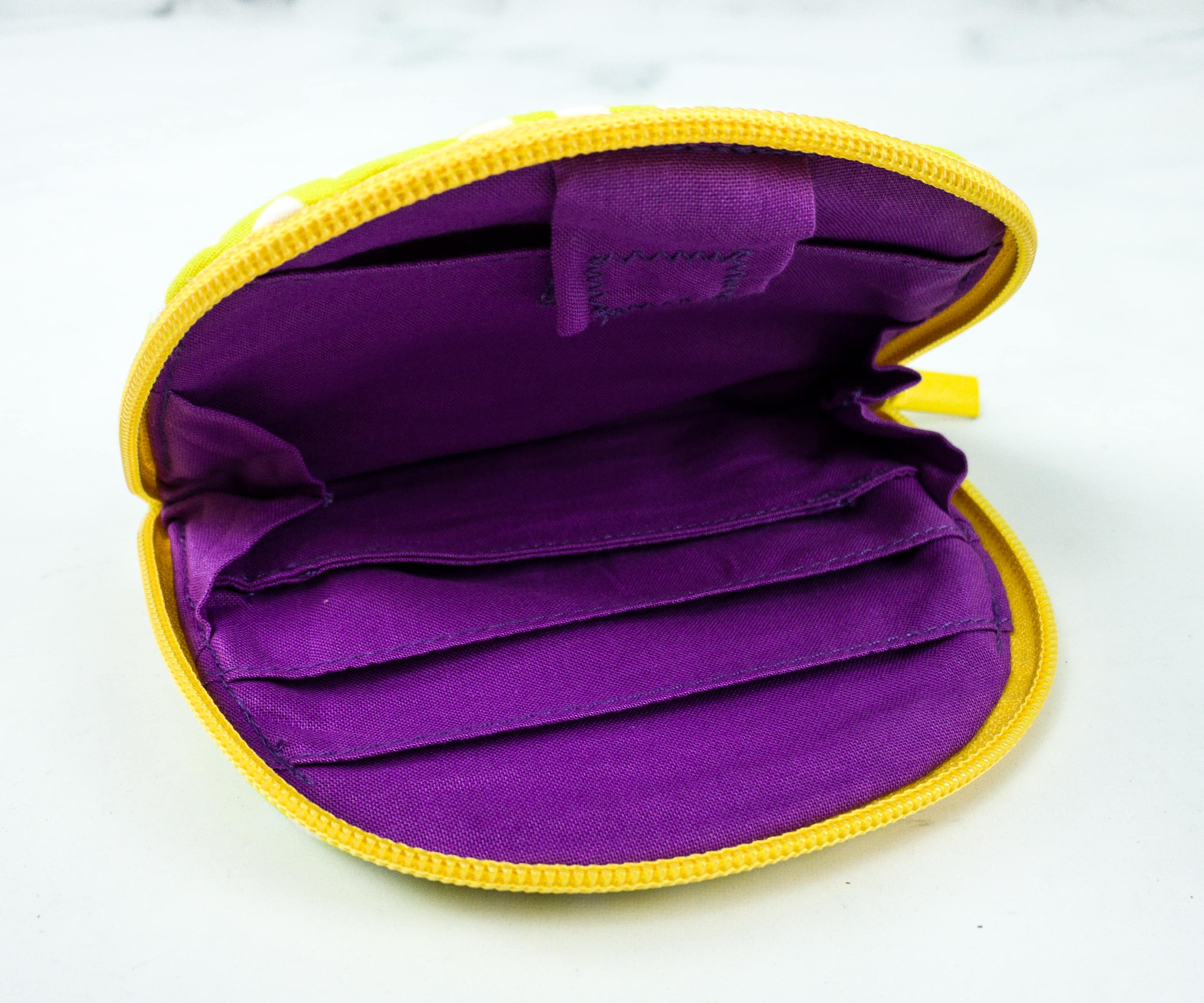 Inside, it's lined with a purple-colored fabric. There are also lots of slots for "coins". Playing with this can help improve a baby's fine motor skills!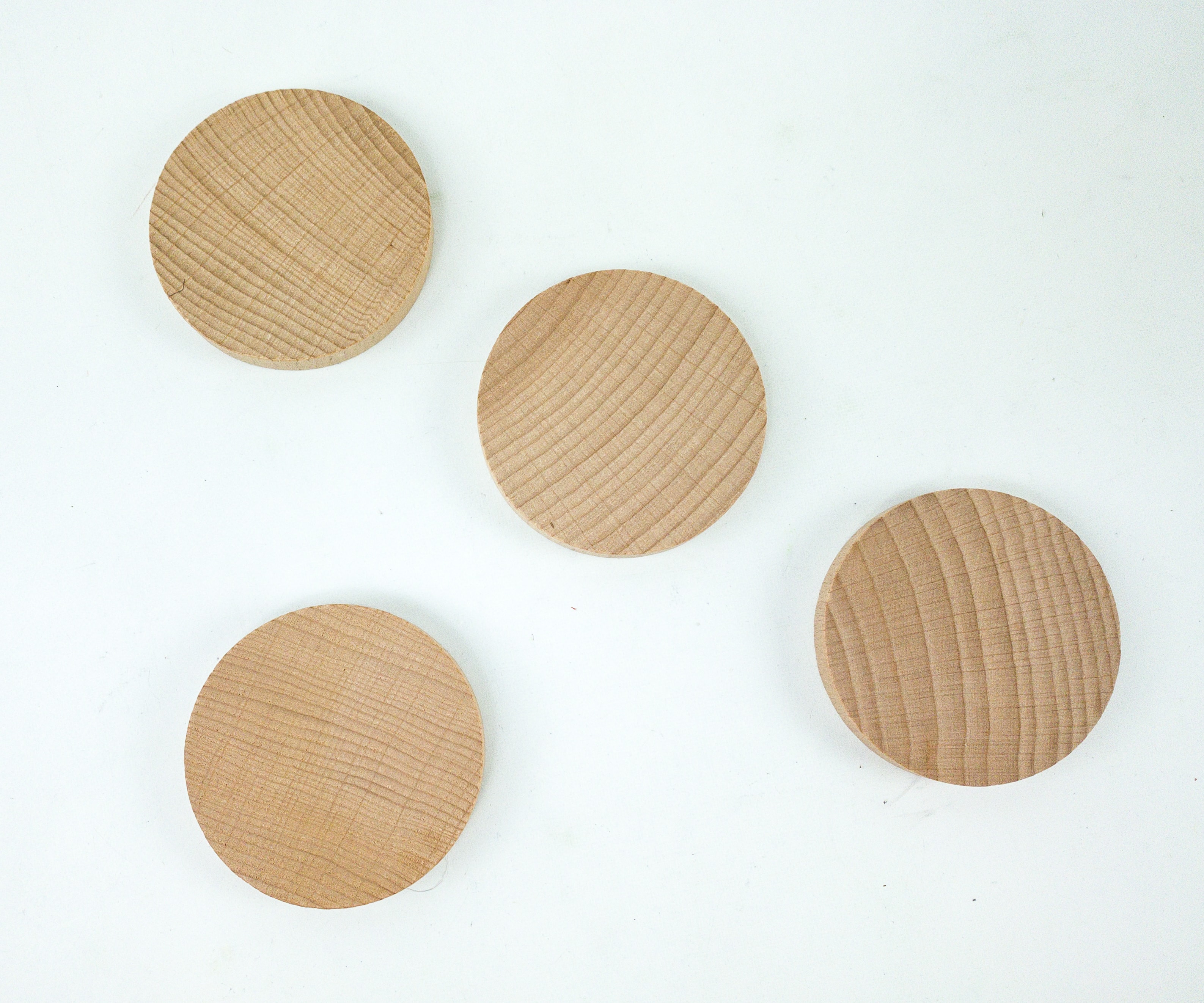 Here are the wooden coins that babies can put in their own wallet!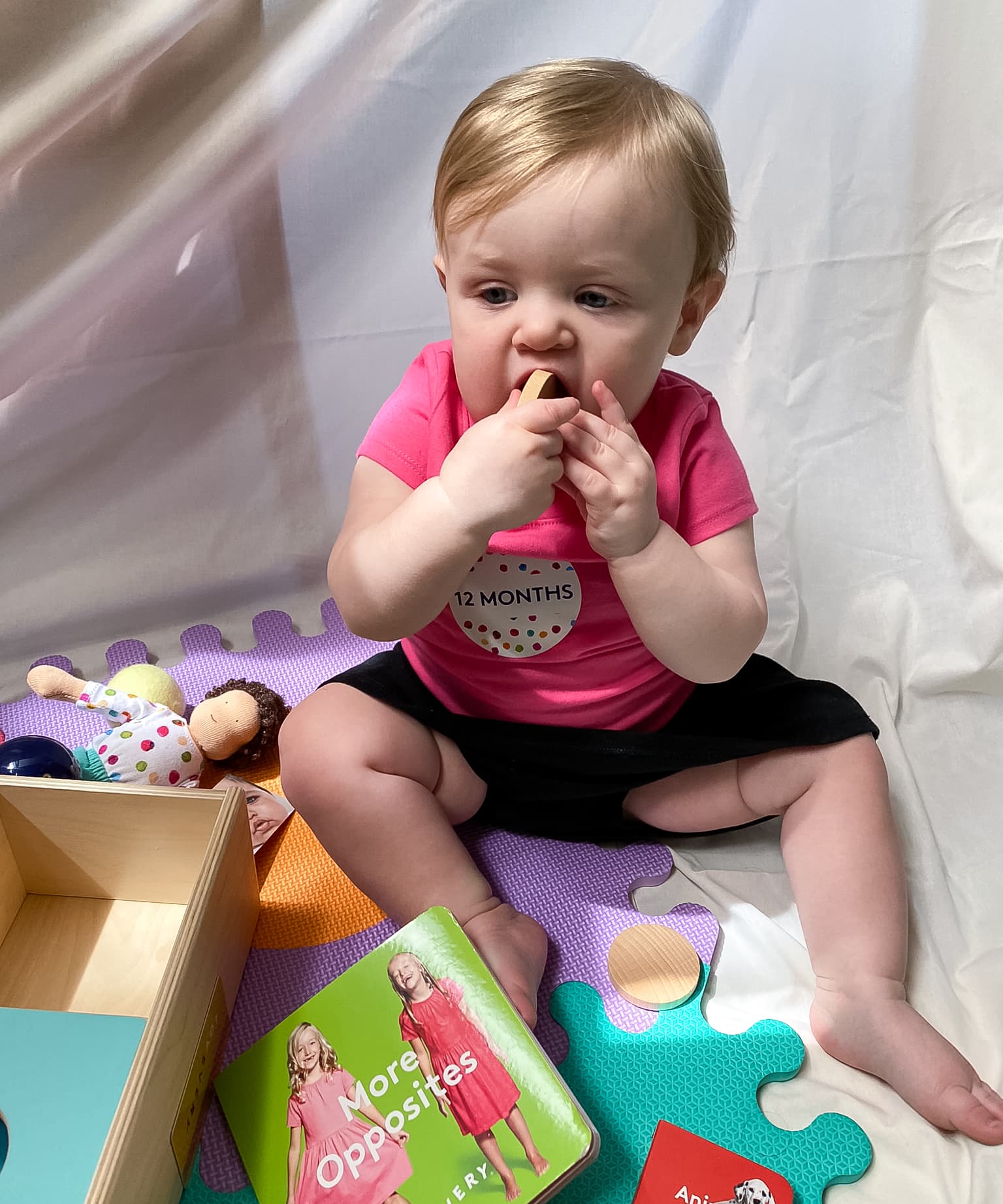 The wood coins are surely interesting for babies and they may put it in their mouth.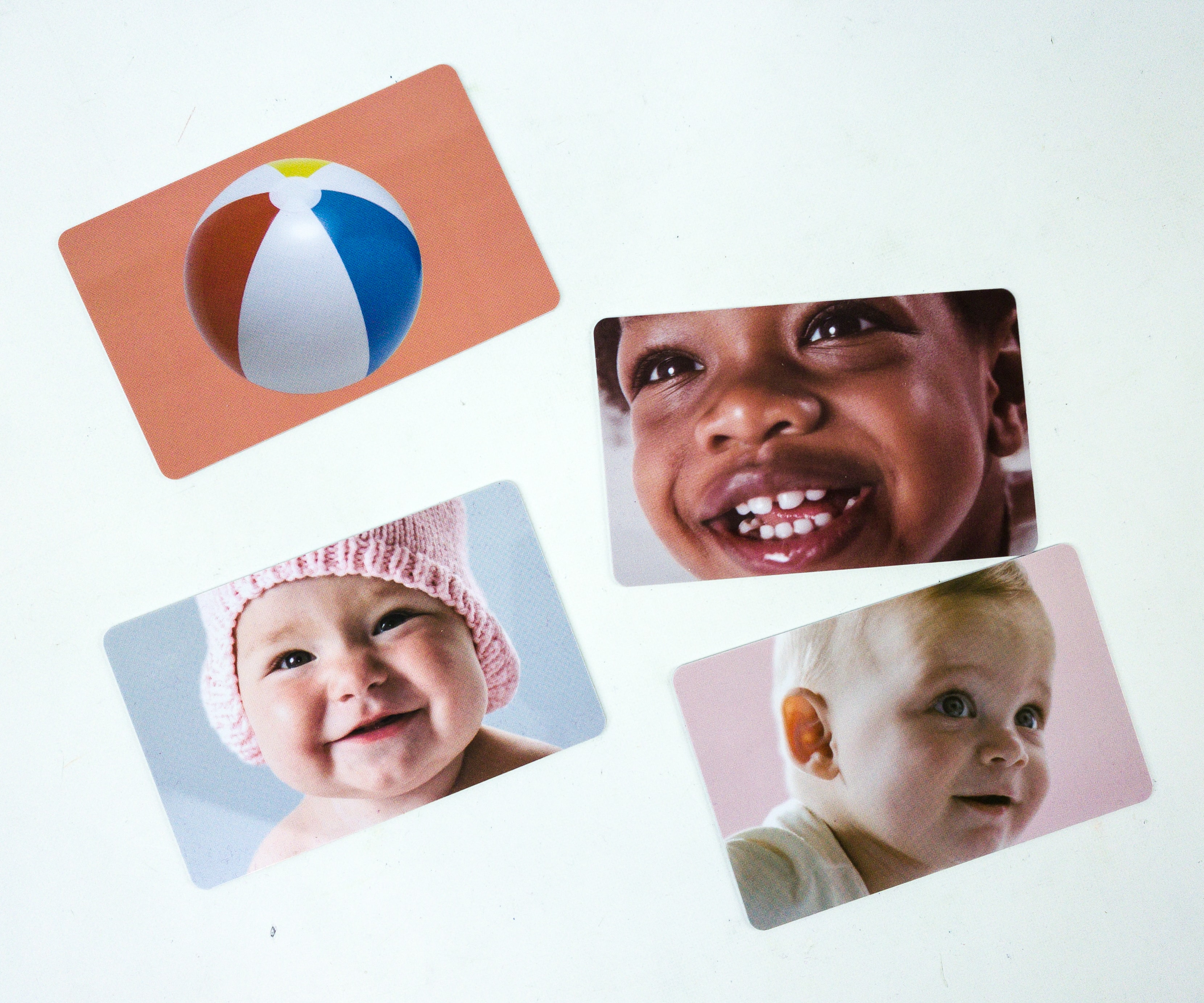 Aside from the coins, they also included four Big Spender Cards!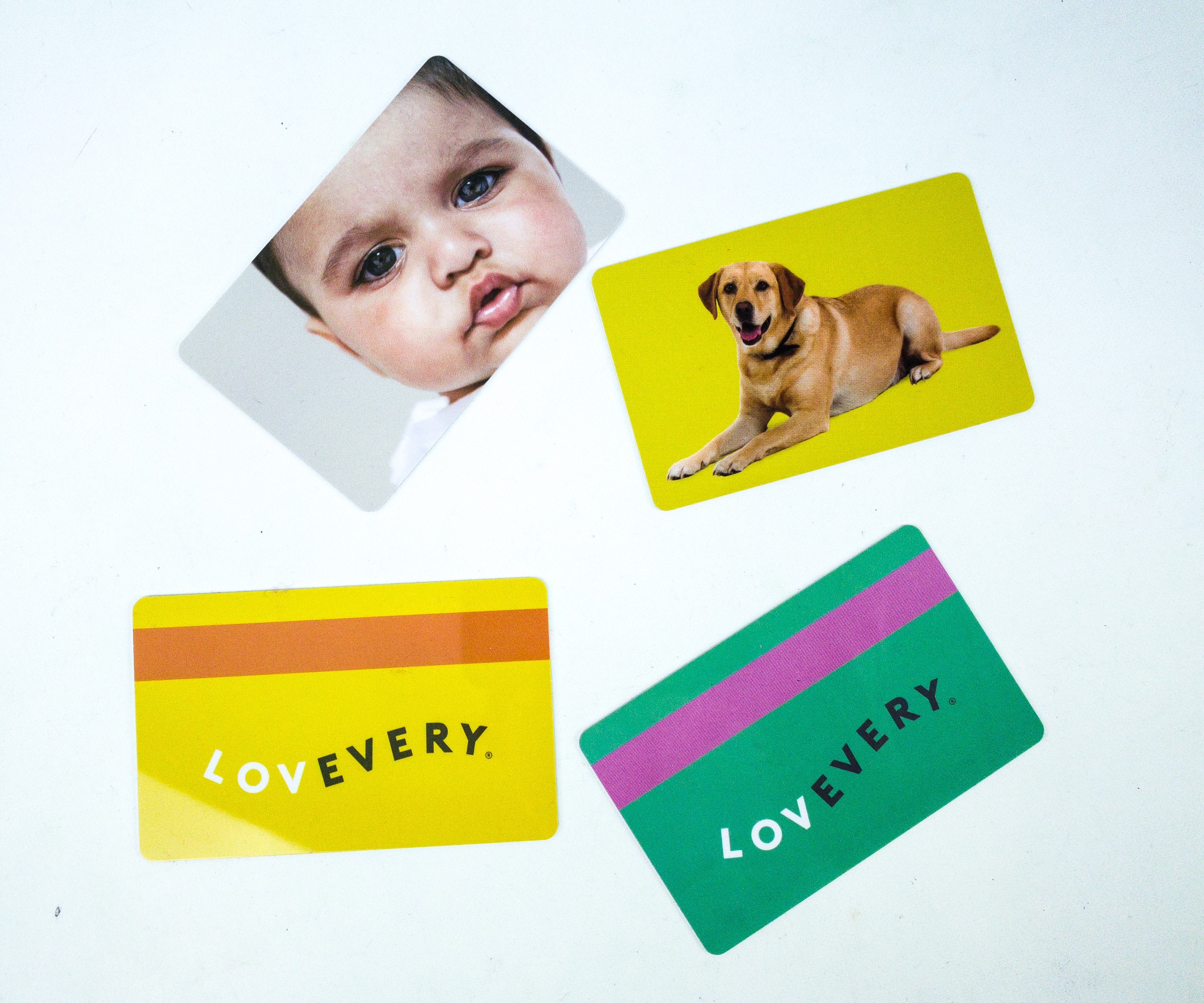 These cards aren't just for pretend play, they can also be used to teach kids about the concept of containment by putting them in the slots inside the wallet.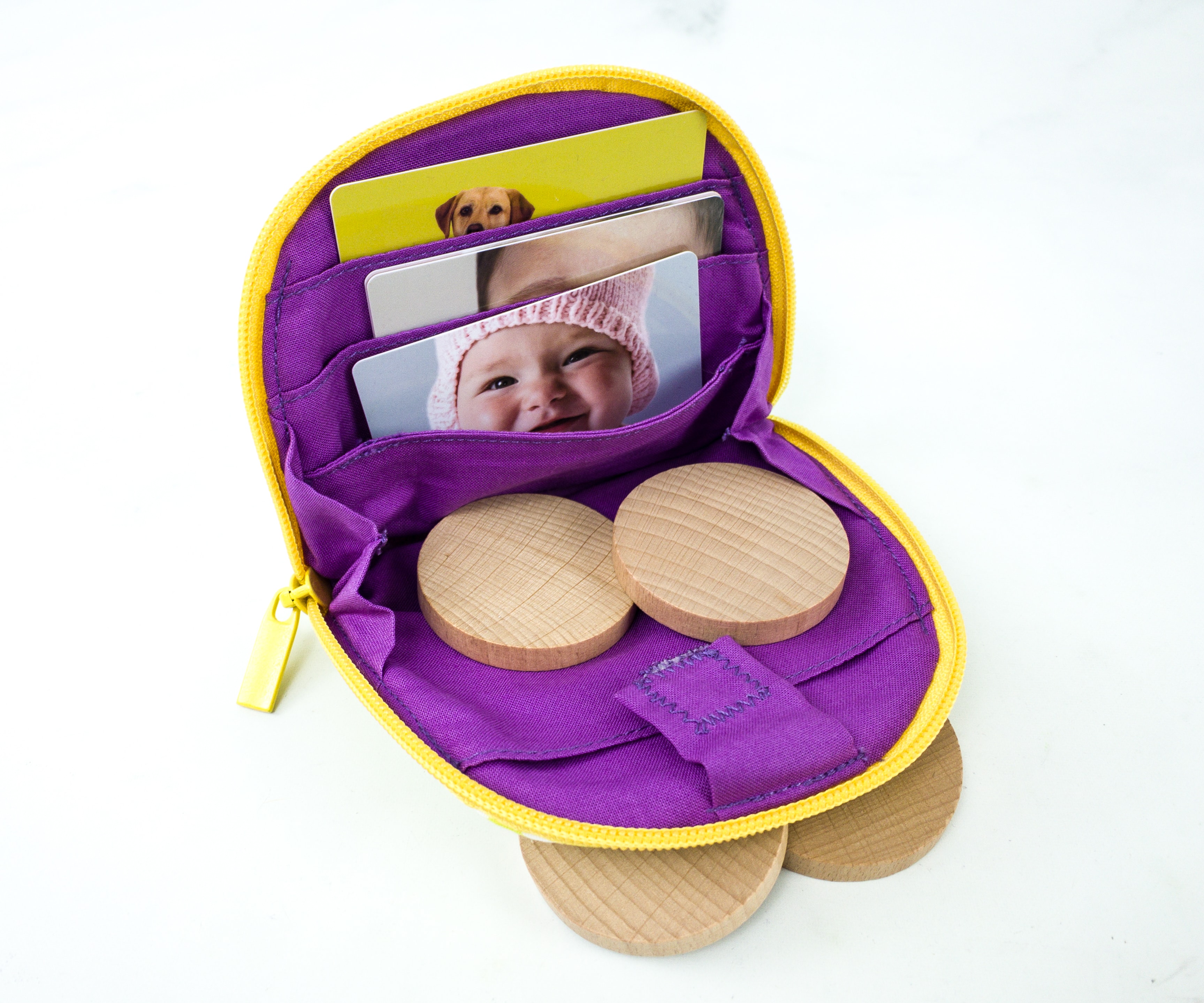 Who'd have thought a wallet would be a great toy?
We're moving on to the next activity: Conceptual Play In and Out of the Tub!
These balls are designed to be fun on the floor and in the bath–while teaching your baby that even though some things look exactly alike, they behave differently. Use them to show her the difference between heavy and light, and to introduce her to the fact that some things sink while others float.
For this activity, they sent Opposites Balls! One ball is meant to sink, and the other is meant to float.
There are so many things that you can do with these balls, like describing them to your baby, rolling them back and forth, and putting them in the tub.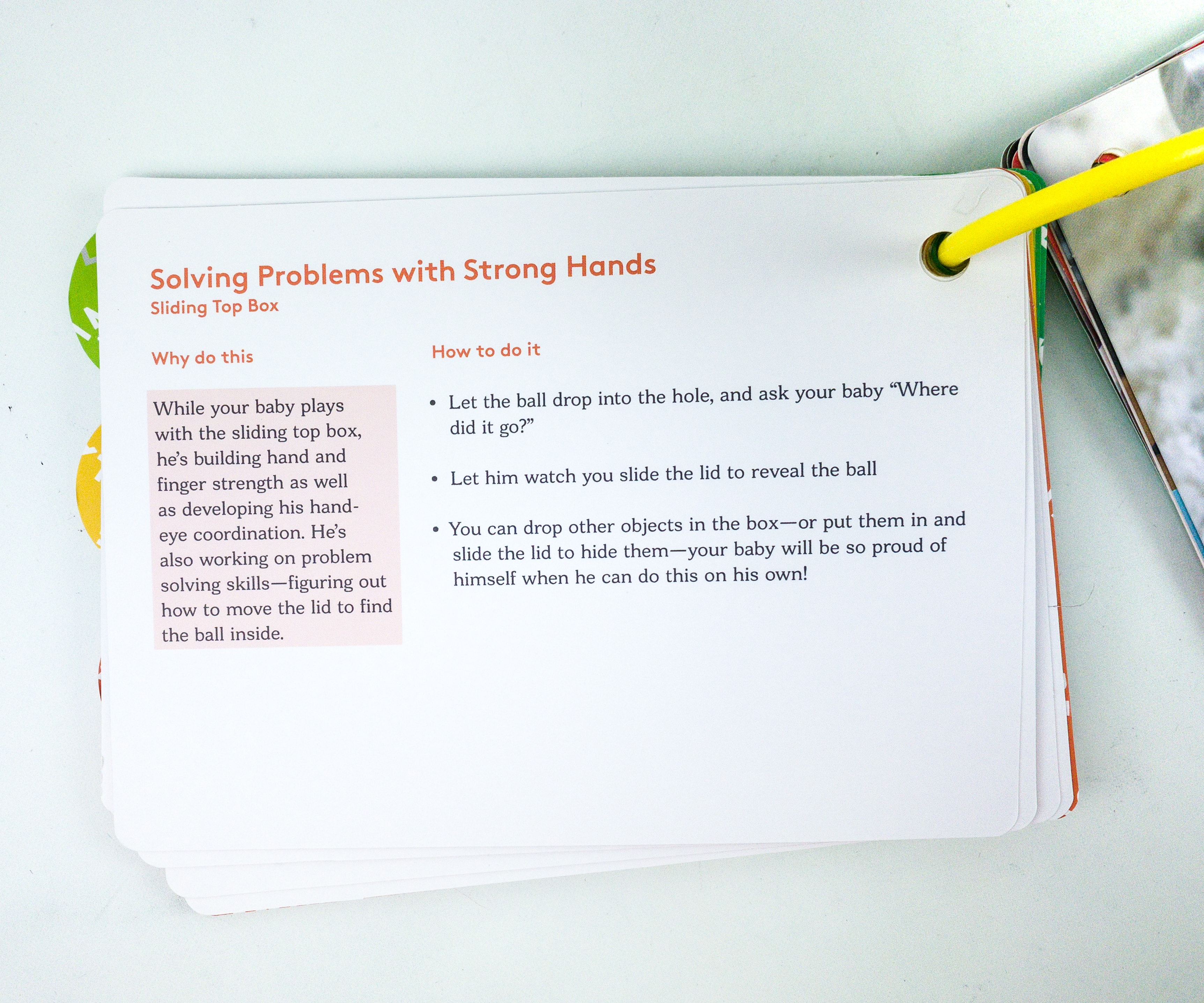 Here's another exciting activity, Solving Problems with Strong Hands!
While your baby plays with the sliding top box, he's building hand and finger strength as well as developong his hand-eye coordination. He's also working on problem solving skills–figuring out how to move the lid to find the ball inside.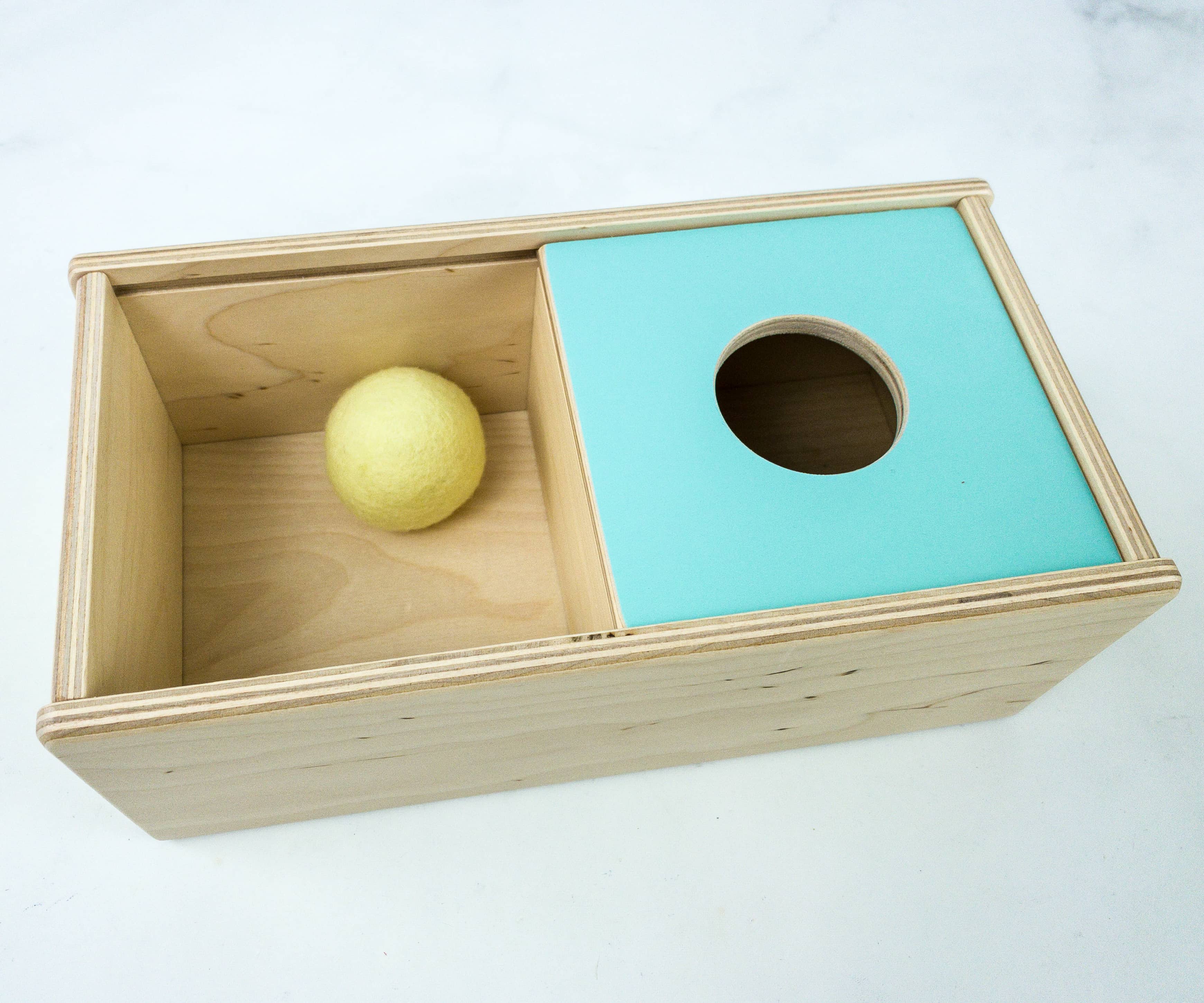 We can reinforce this activity by using the Sliding Top Box!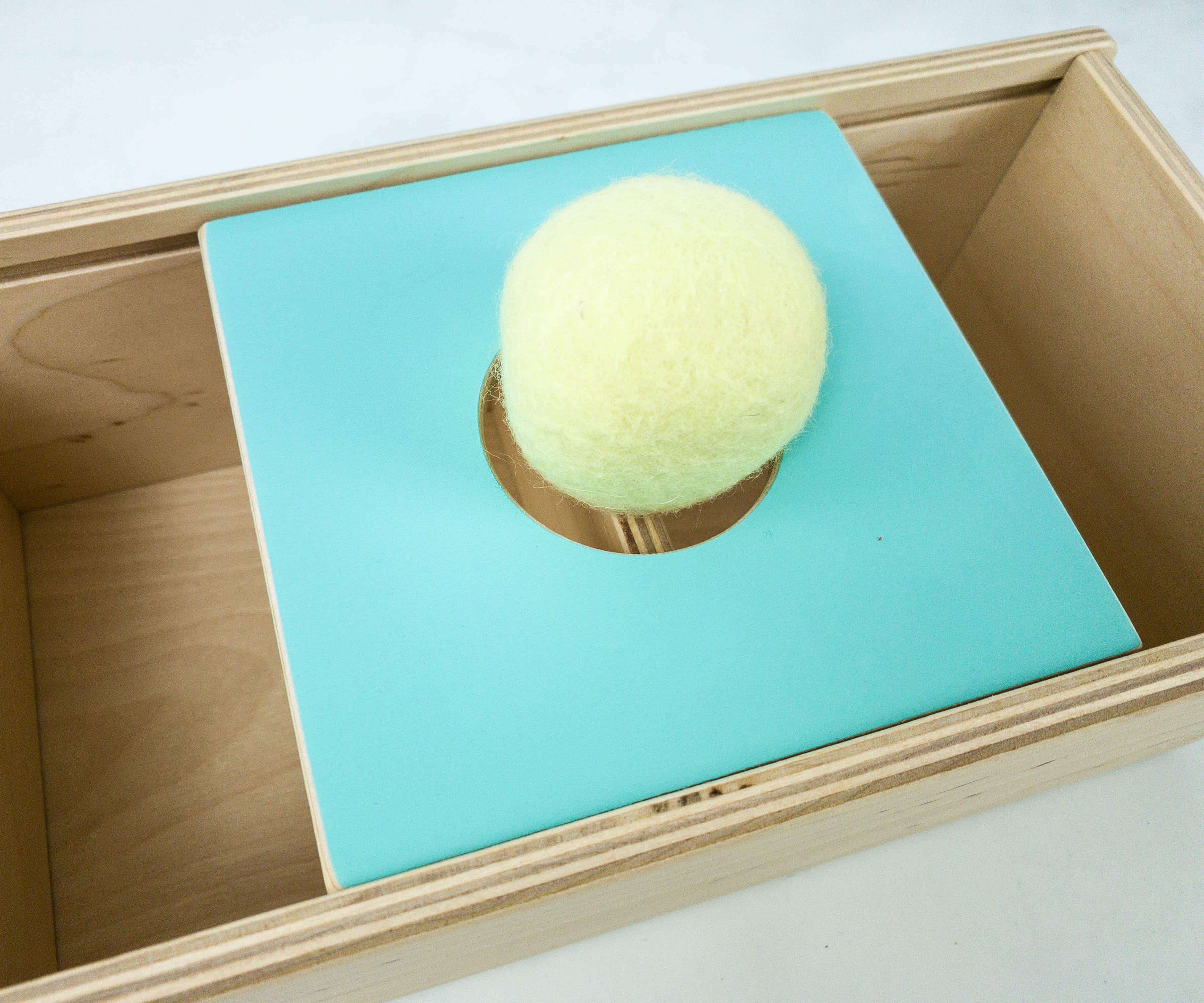 Aside from improving finger strength and hand-eye coordination, this toy is also helpful in enhancing problem solving skills.
My friend's baby can already put the ball in the hole on his own!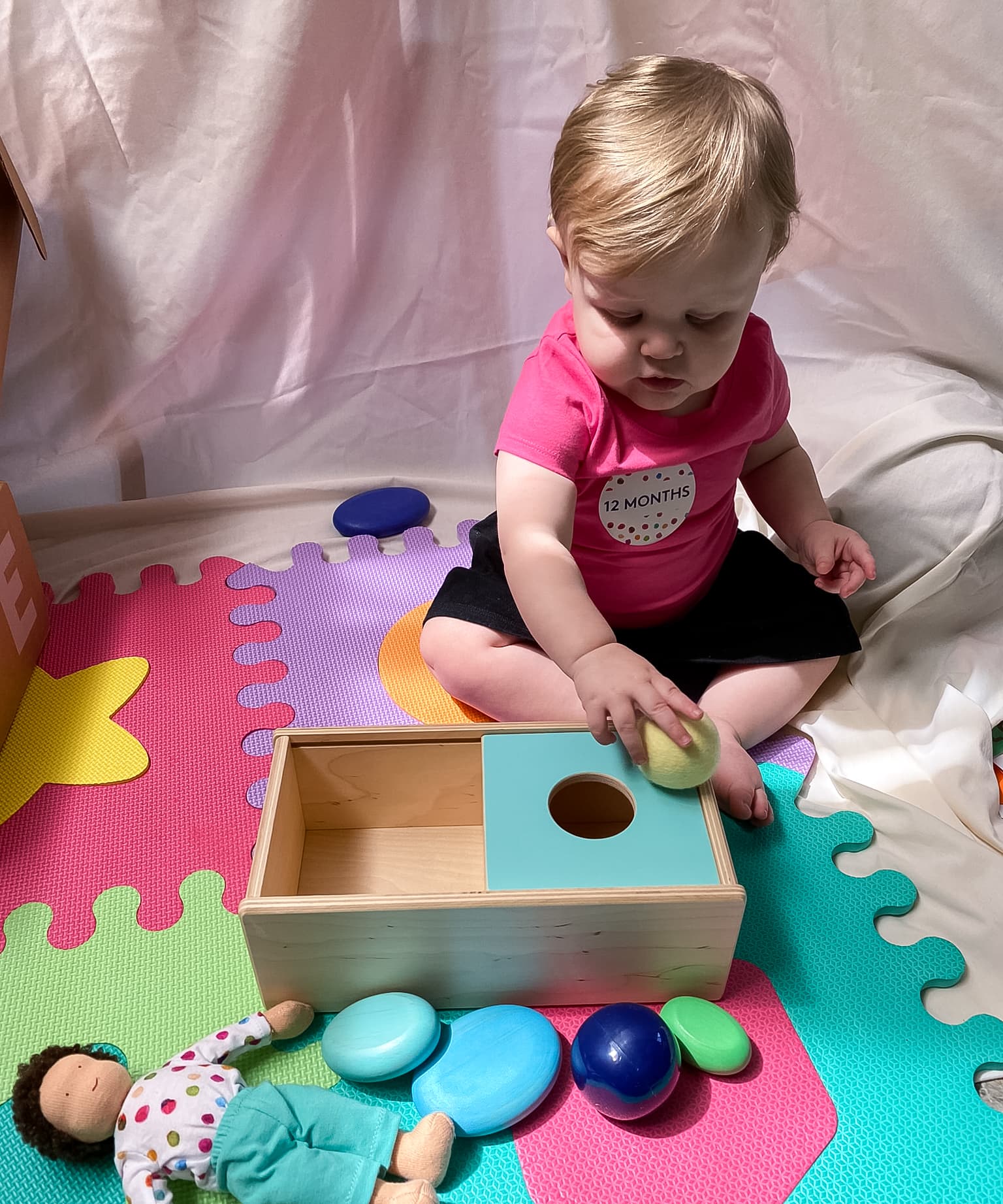 Aside from the provided ball, other toys and items can be dropped in the hole as well.
Now we're onto Practicing the Pincer Grasp!
Between months 10 and 12, your baby learns to grasp small objects with her thumb and index finger–this is called a pincer grasp. This puzzle is designed to help her practice and reinforce this motion.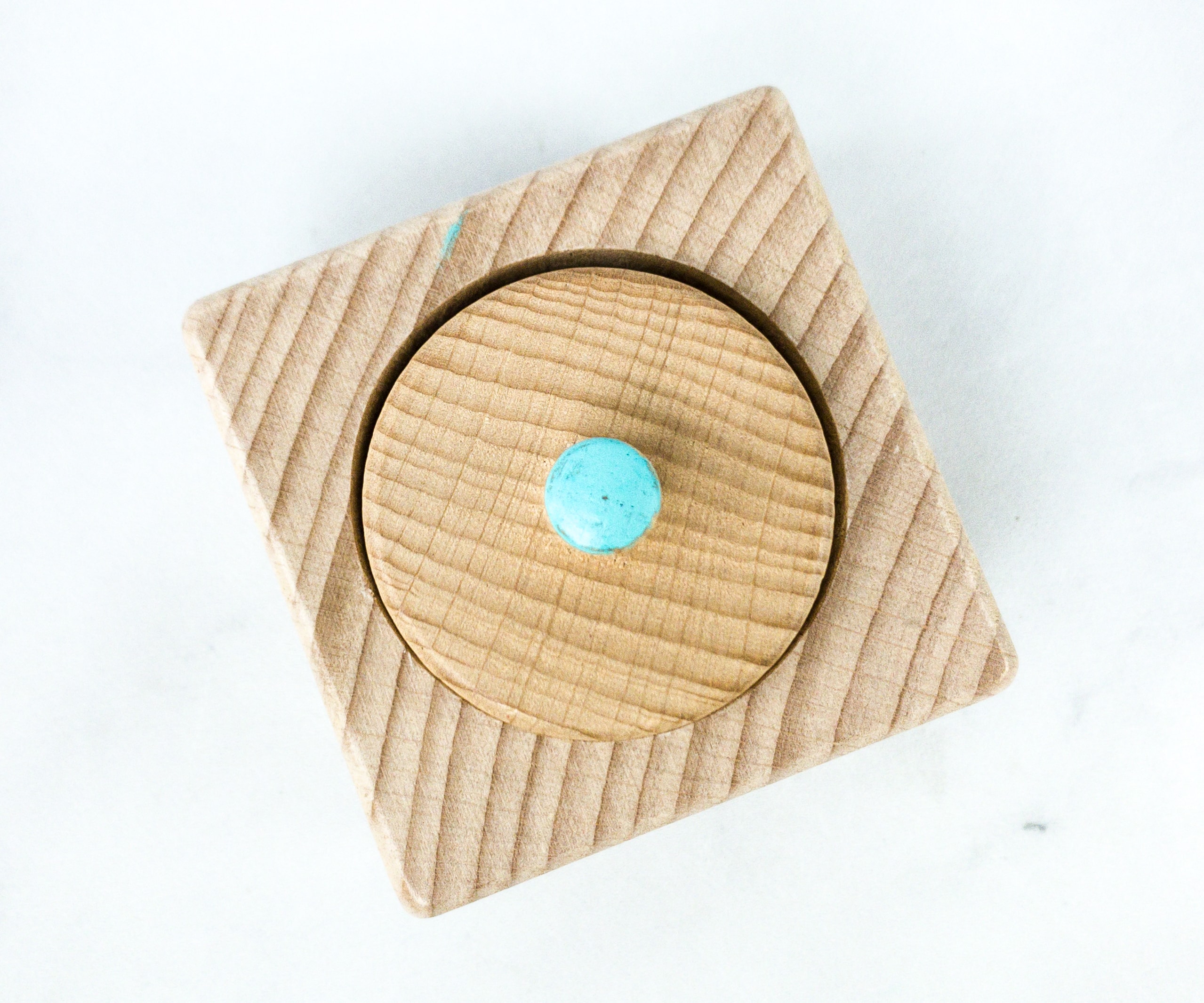 Here's the included Pincer Puzzle! It's made with baby-safe, lightweight wood.
Once your baby is able to pick up things using two fingers, they would be able to play with this puzzle as well.
You can guide your baby on how to remove the wood cylinder from the block and how to put it back until they can do it on their own.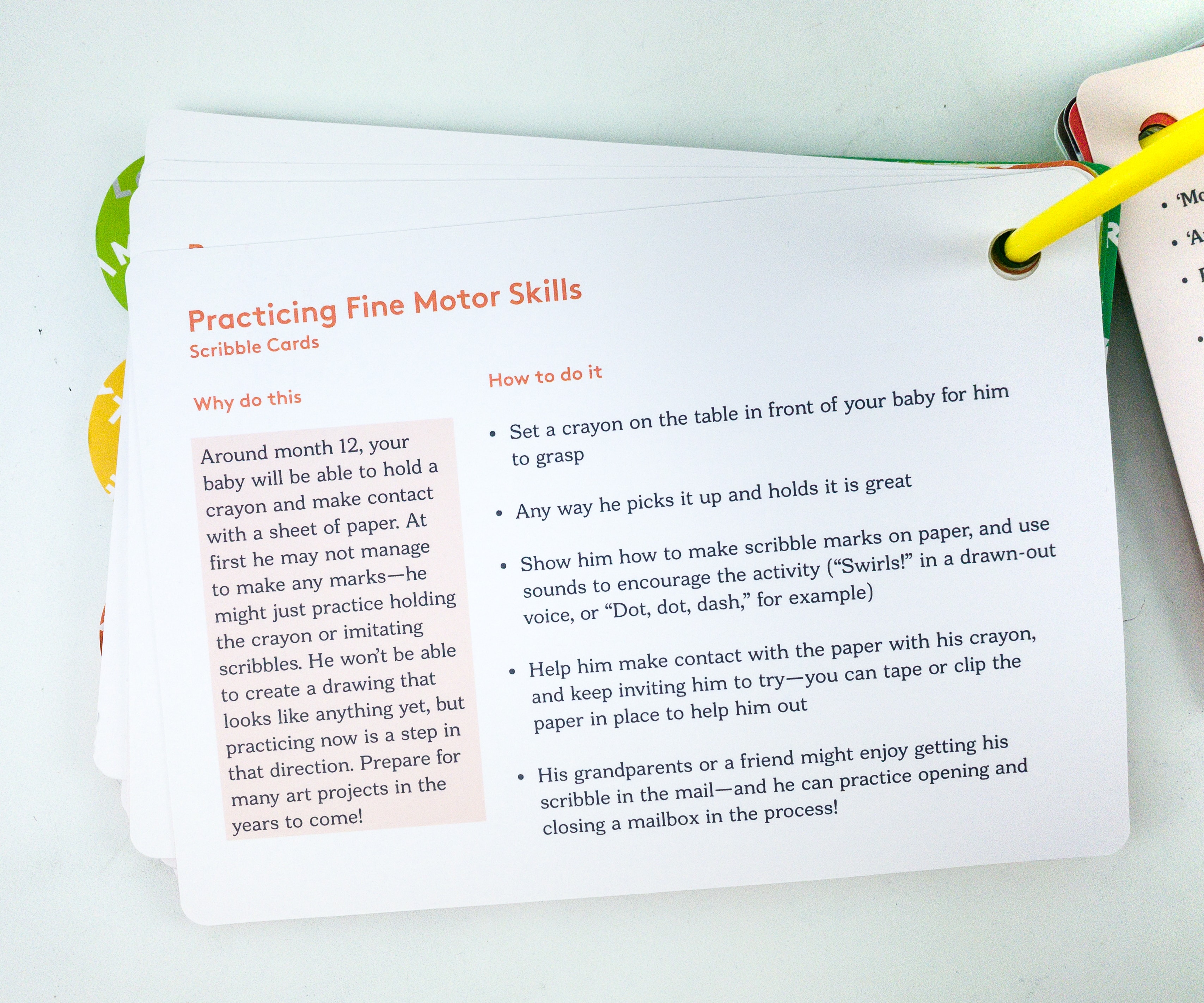 Another activity is all about Practicing Fine Motor Skills!
Around month 12, your baby will be able to hold a crayon and make contact with a sheet of paper. At first he may not manage to make any marks–he might just practice holding the crayon or imitating scribbles. He won't be able to create a drawing that looks like anything yet, but practicing now is a step in that direction. Prepare for many art projects in the years to come!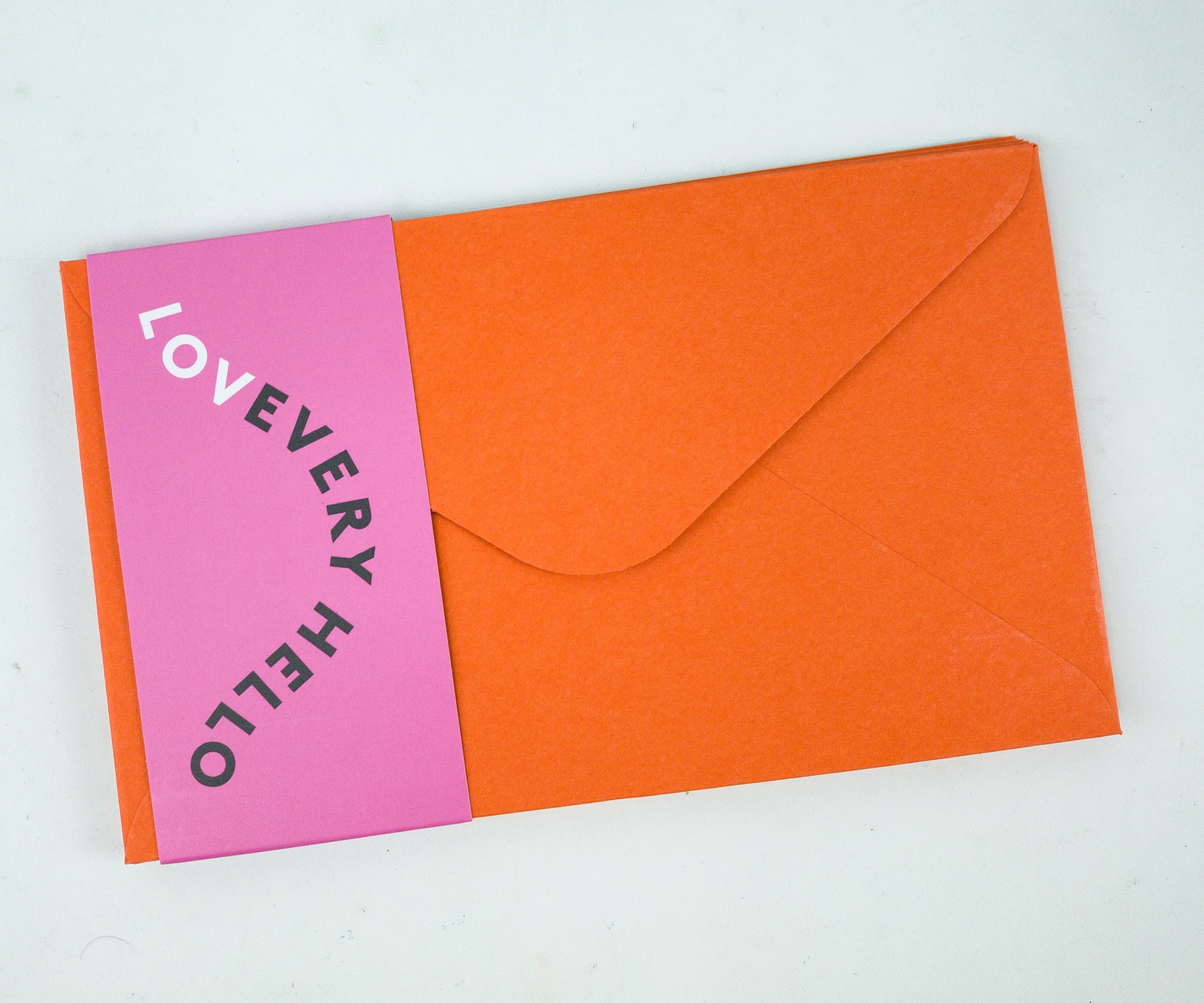 They sent a set of envelopes and cards for this activity!
When babies can already grasp crayons, it's time to encourage them to scribble on these cards! It's great that they added envelopes so you can send your baby's scribbles to friends or family who may appreciate them.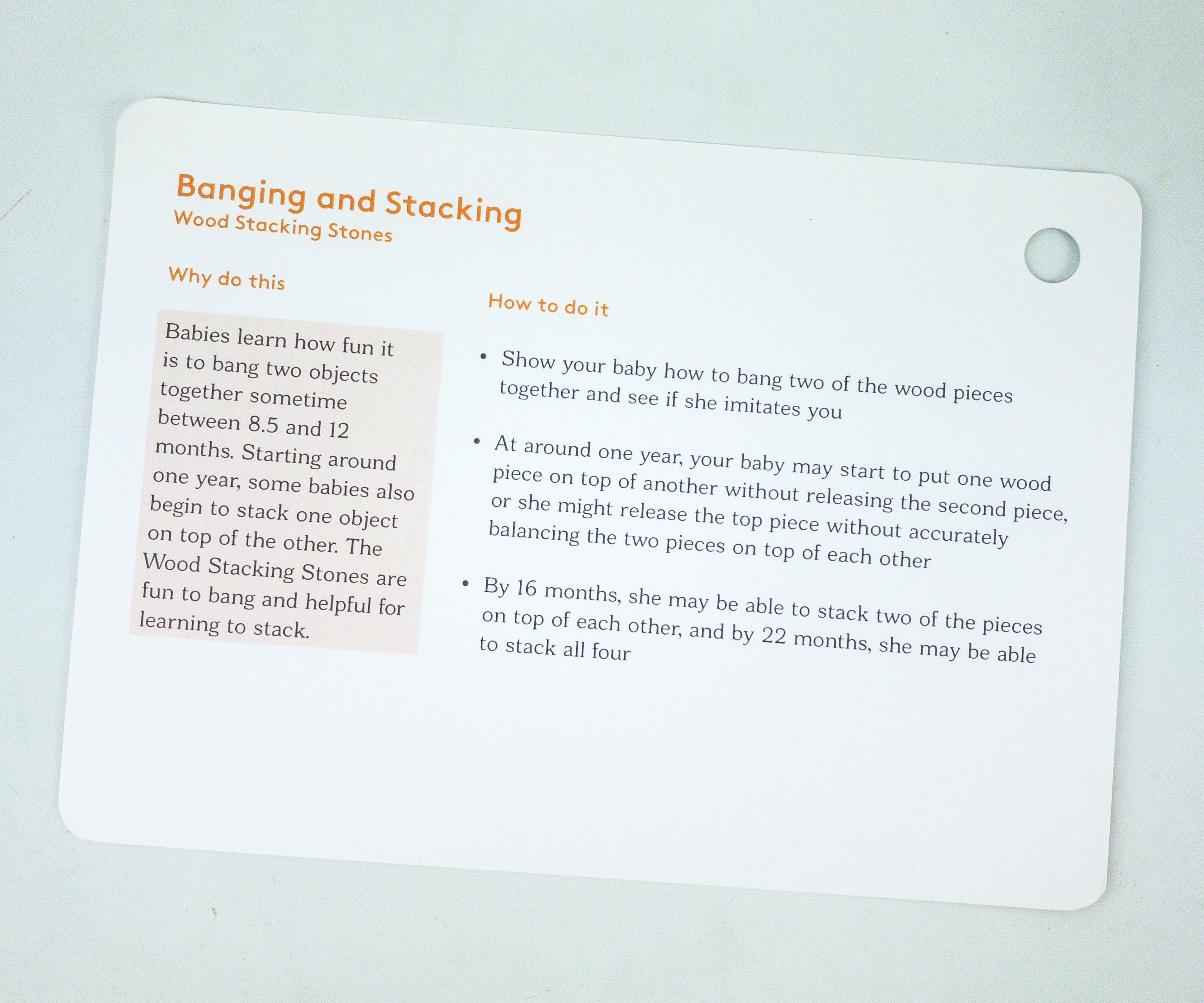 Lastly, here's a Banging and Stacking activity!
Babies learn how fun it is to bang two objects together sometime between 8.5  and 12 months. Starting around one year, some babies also begin to stack one object on top of the other. The Wood Stacking Stones are fun to bang and helpful for learning to stack.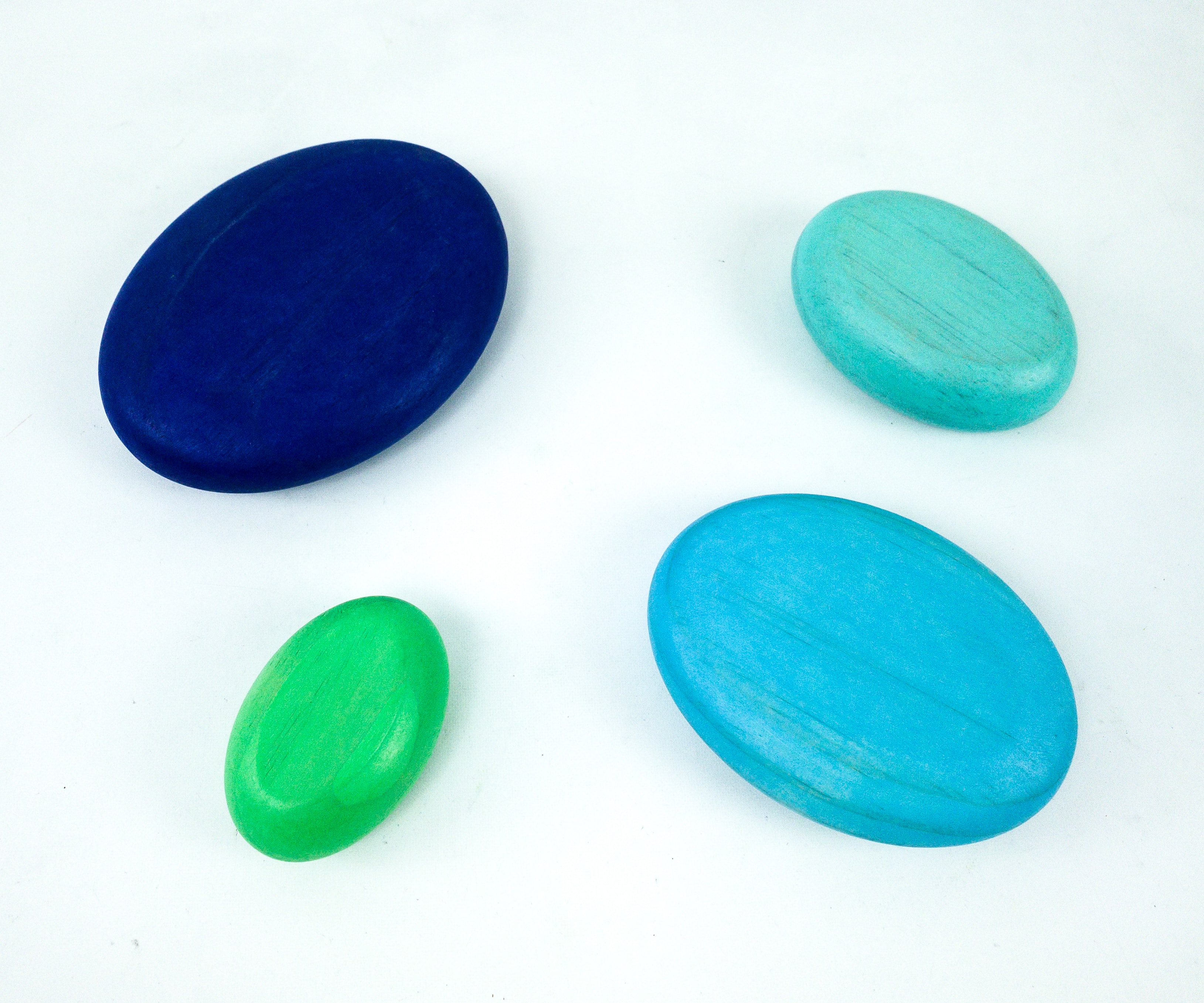 They sent these wooden stacking stones for the activity!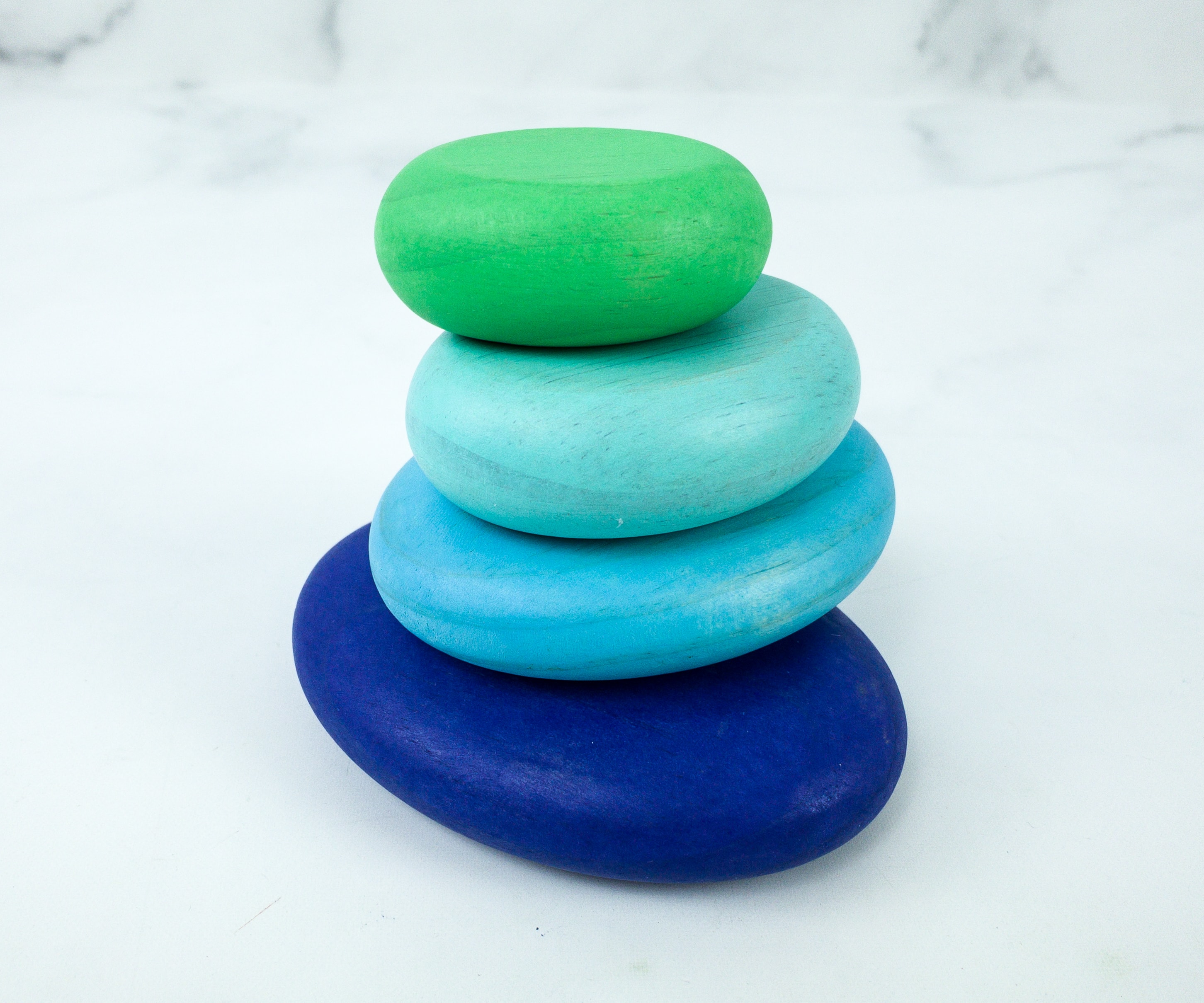 These stones are lightweight and easy to handle even for small hands.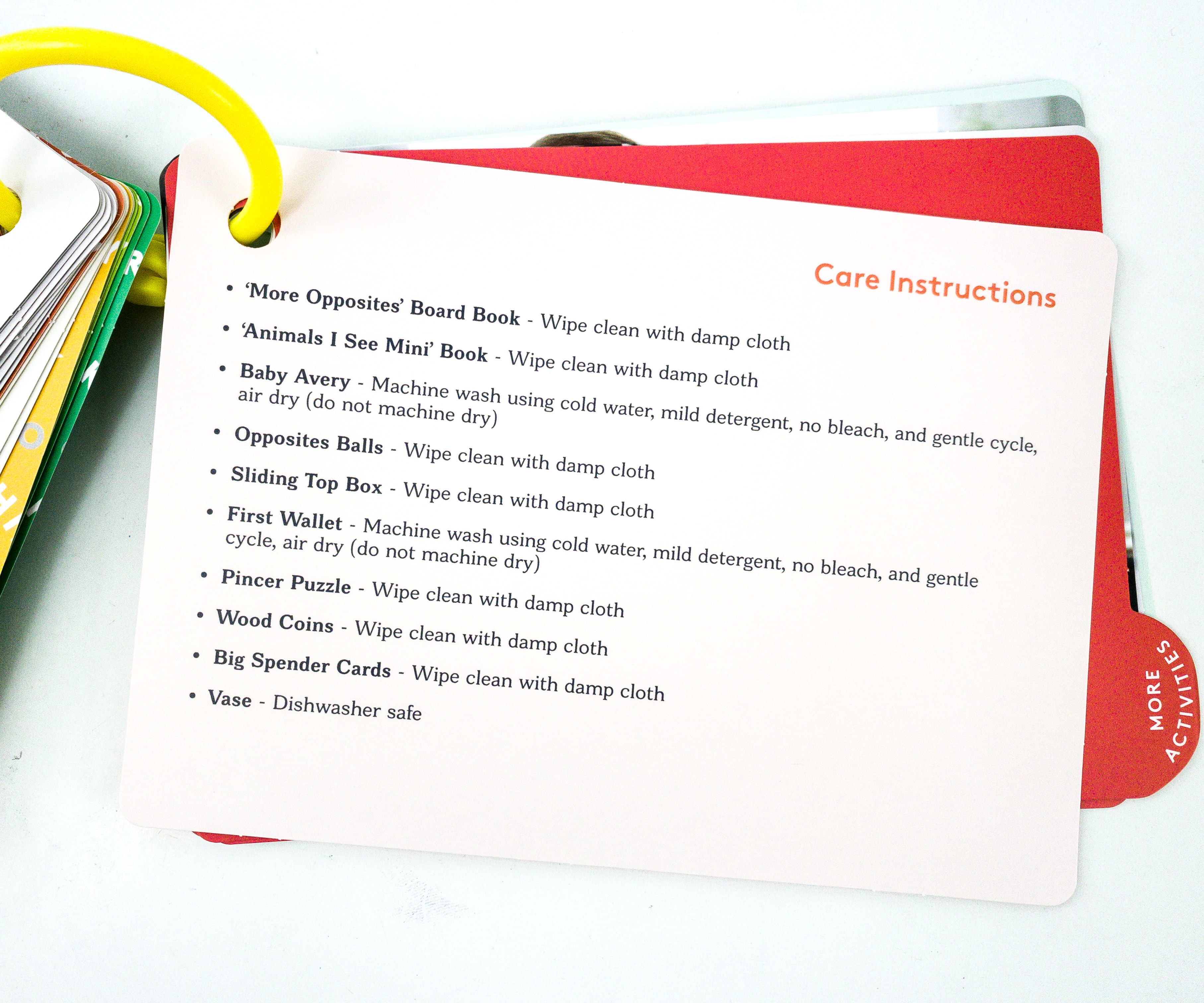 Additional care instructions are listed in the booklet.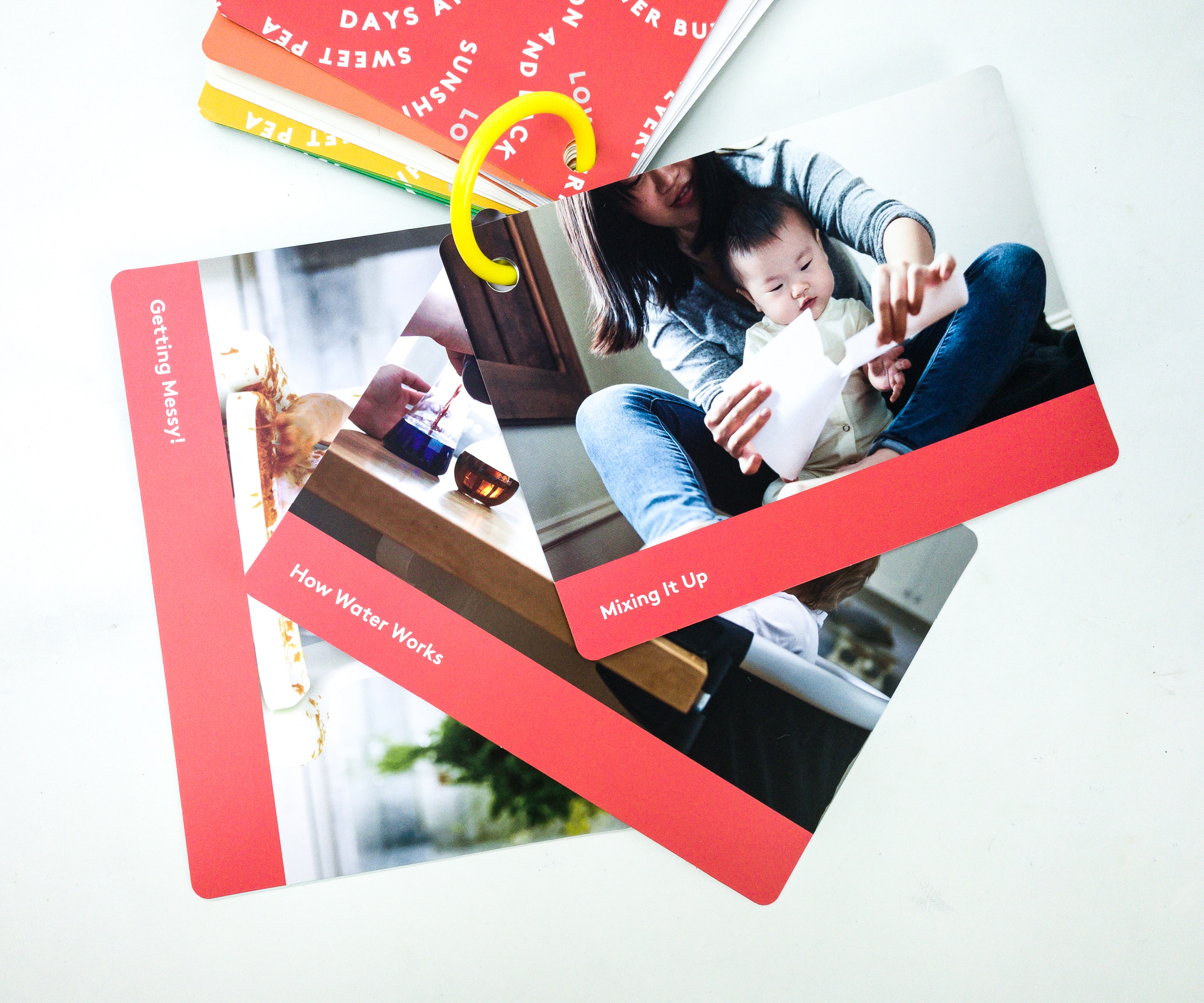 We're onto the last part of the booklet, which suggests more activities for parents and babies!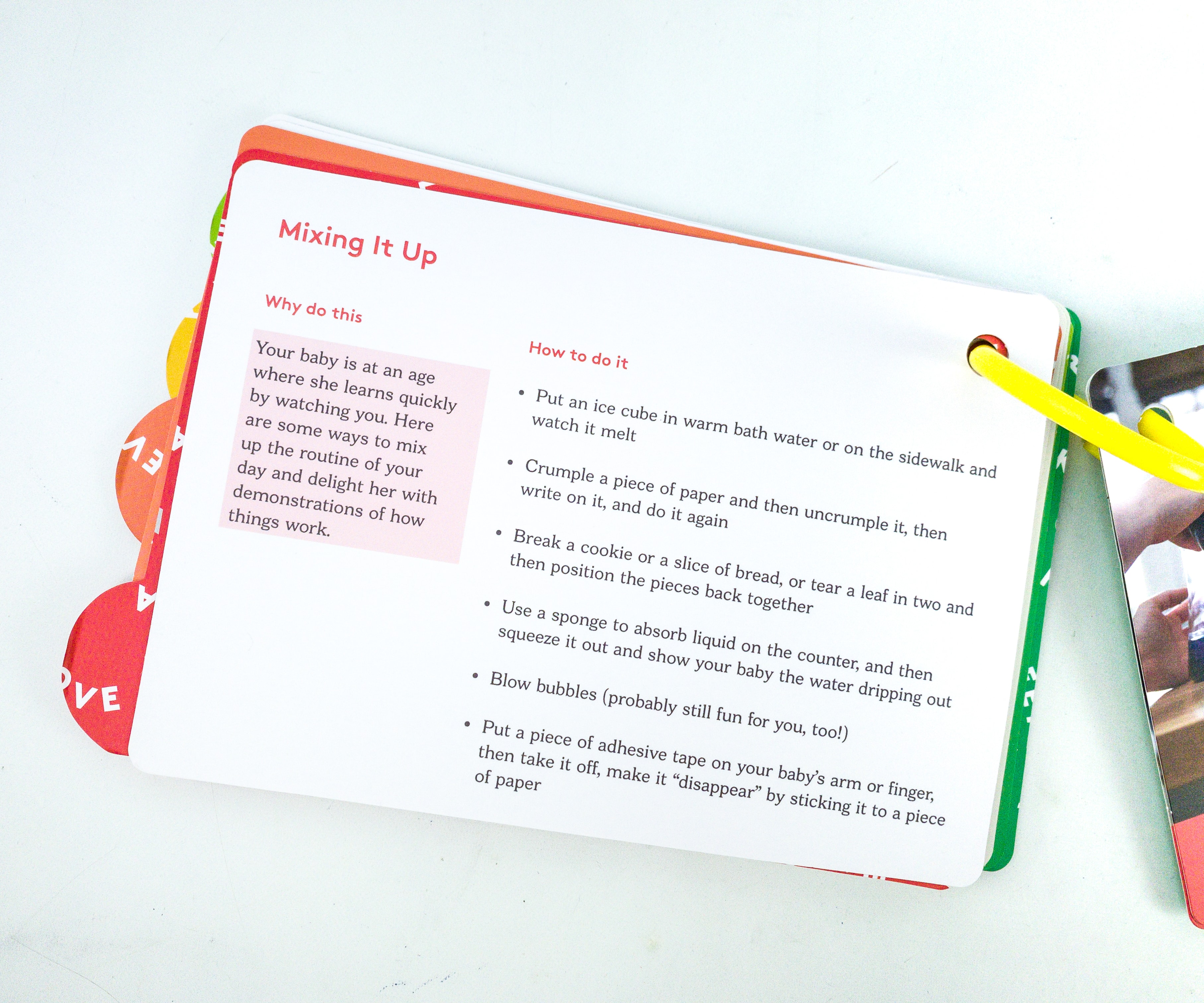 First is Mixing It Up! The booklet provided ways on how parents can show their children how things work, like putting an ice cube in warm bath water and breaking a cookie or a slice of bread.
Your baby is at an age where she learns quickly by watching you. Here are some ways to mix up the routine of your day and delight her with demonstrations of how things work.
Next is How Water Works! For this activity, all you need is water, glasses, and other containers. Another way to explore water is by playing in the bathtub.
Water is incredible; it's transparent, it reflects light, it makes sound, it moves, it changes shape, it feels wet–and warm or cold–against our skin. This activity exposes your baby to some of water's fascinating properties, as well as introduces him to the fact that a liquid stays exactly the same even when it is poured into containers of different shapes.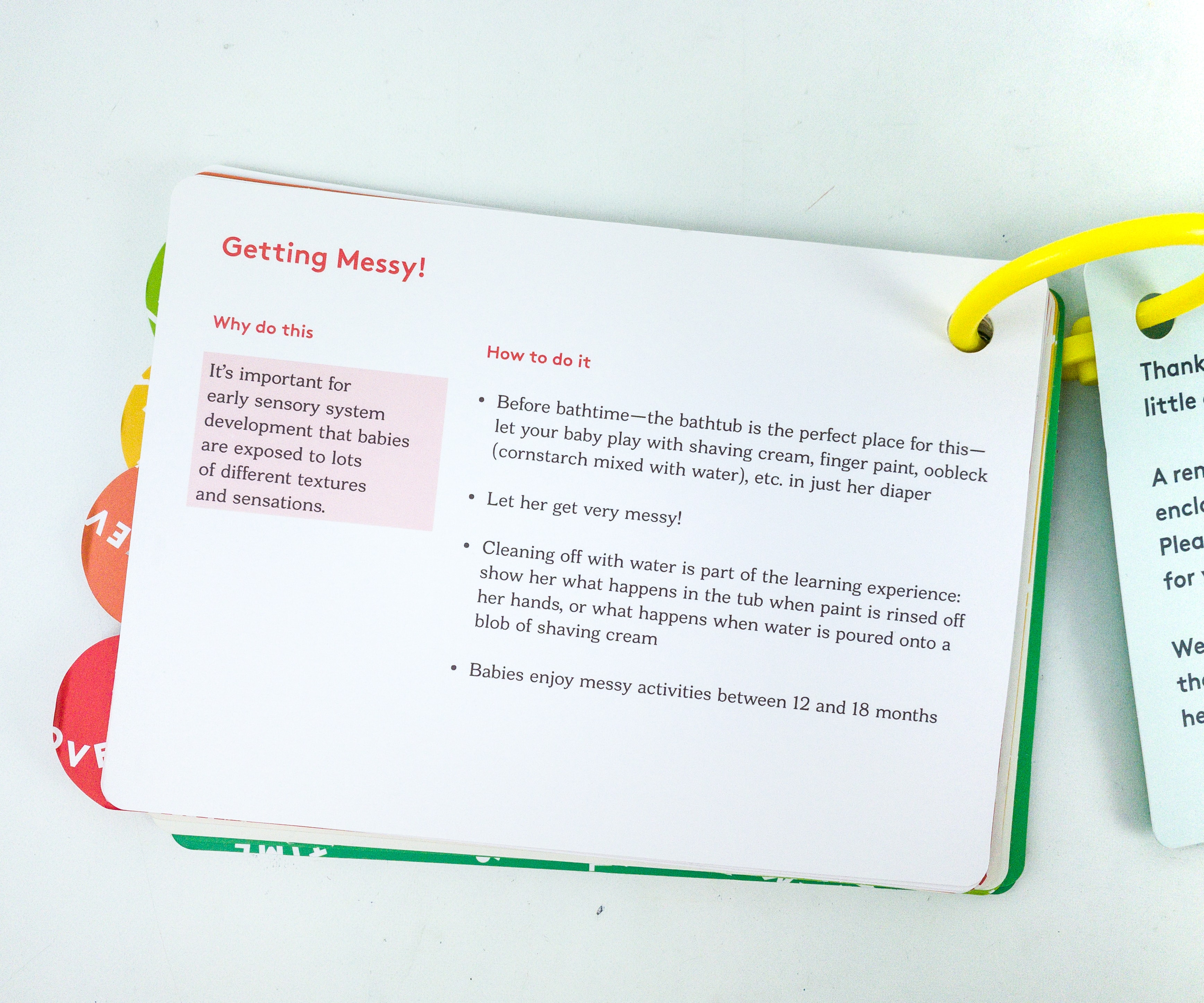 Here's the next activity: Getting Messy! According to the booklet, babies between 12 and 18 months enjoy messy activities the most.
It's important for early sensory system development that babies are exposed to lots of different textures and sensations.
Of course, they didn't forget to include a gift for the parents!
It's a pretty vase!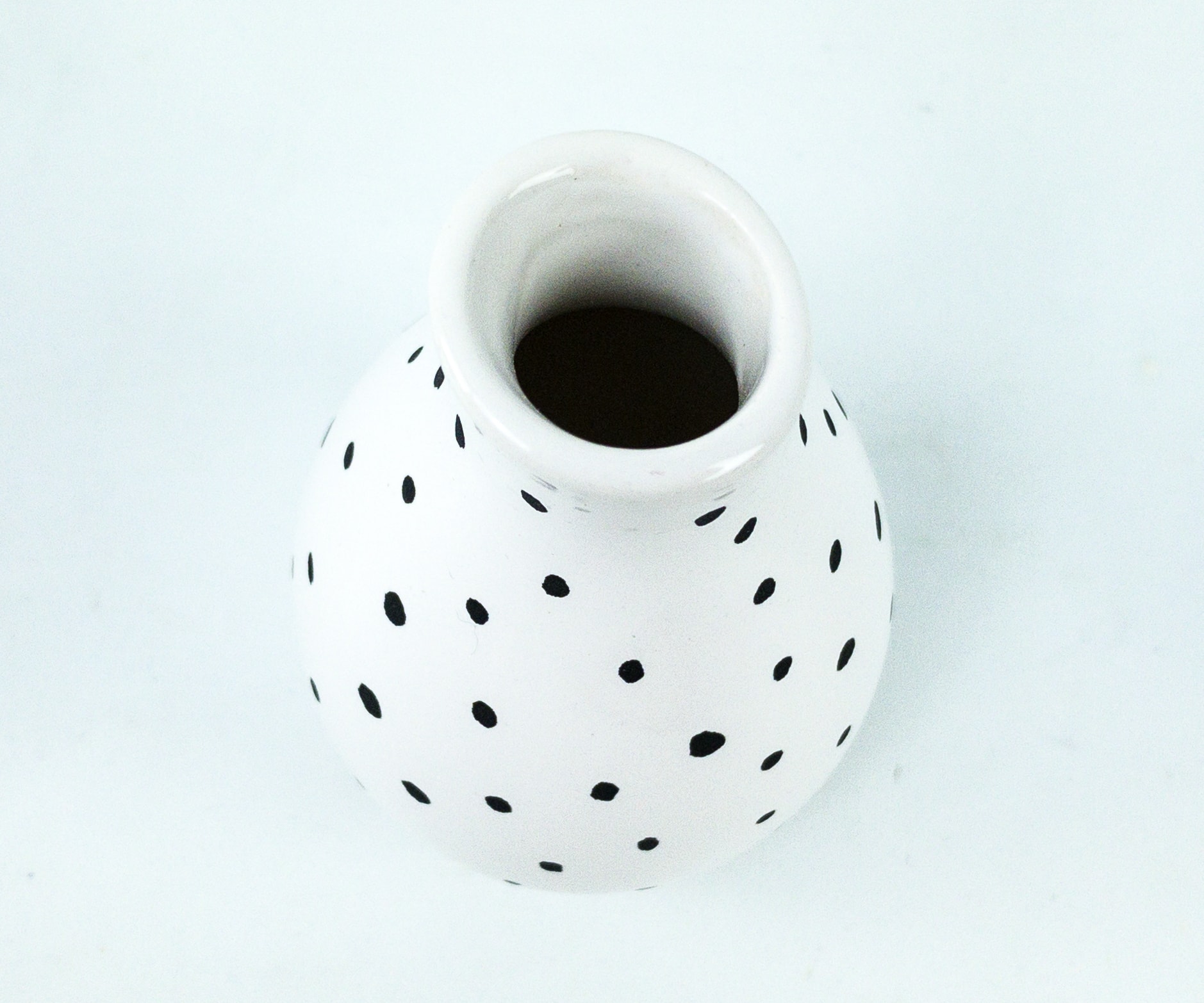 Featuring black dots all around it, this vase has a minimalist look! Baby Play Kits by Lovevery is a great companion for growing babies and their parents, providing not just developmental toys but useful advice as well. We love reading the included booklet and, as always, it has a wealth of information that parents can actually use. Everything is also well-researched and not just some generic parenting advice. This box promotes bonding time for parents and babies, and we're all for it. They even include gits for parents. It's such a unique and wonderful subscription overall, surely worthy of every penny. What do you think about the Baby Play Kits by Lovevery?