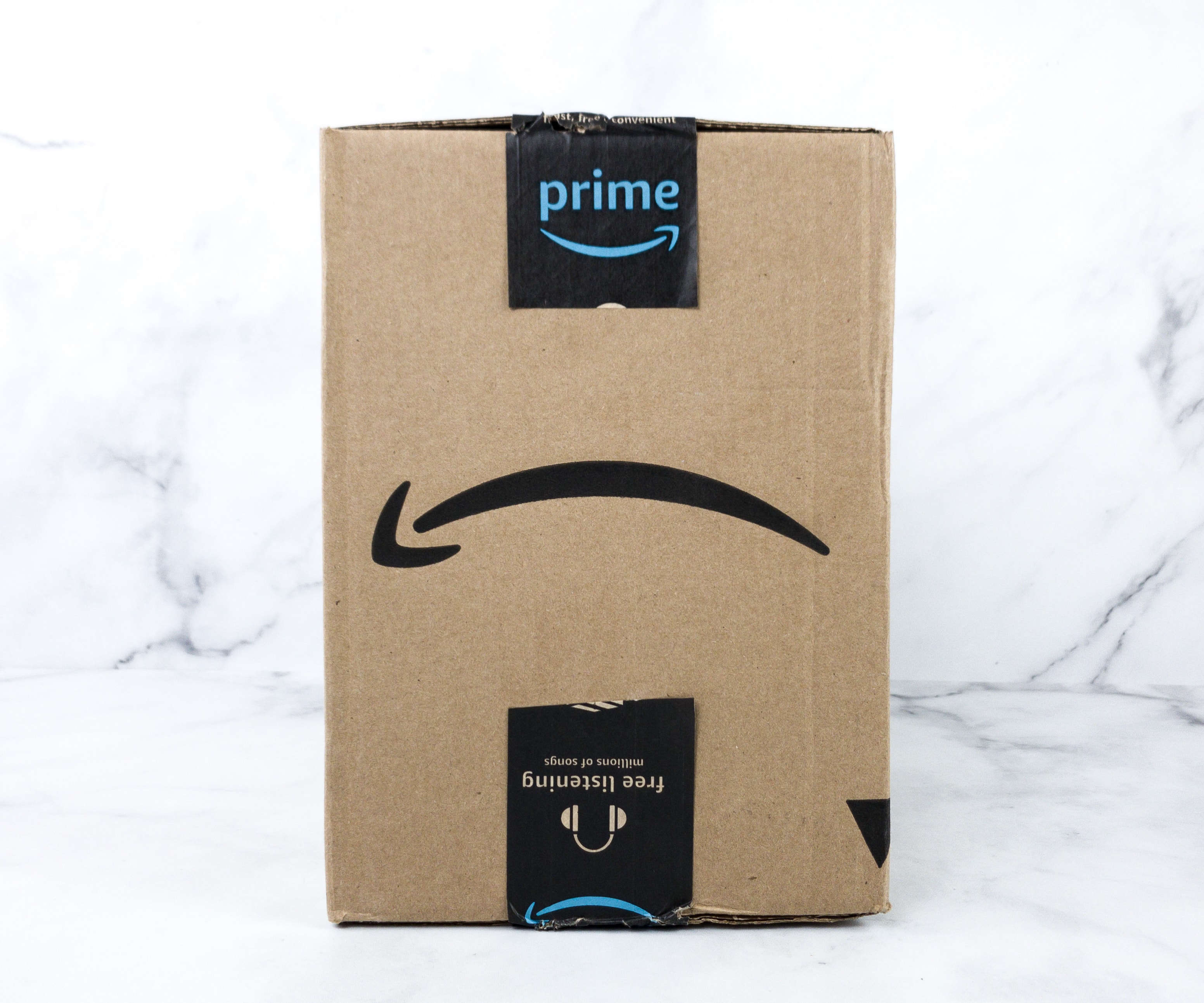 Amazon STEM Toy Club is a monthly subscription box service that delivers age-appropriate STEM toy that encourages any child to learn through play. The subscription costs $19.99 per month, and the theme of the month can be anything from natural sciences to robotics. There's always something new to discover in every box of Amazon STEM Toy Club!
FYI – this subscription looks like it could be winding down. Check out our picks for subscription boxes for homeschooling or best boxes for preschool to find additional boxes!
There are three age ranges available for this box: 3-4 year old, 5-7 year old, and 8-13-year-olds. This is a review of the 3-4-year-old box.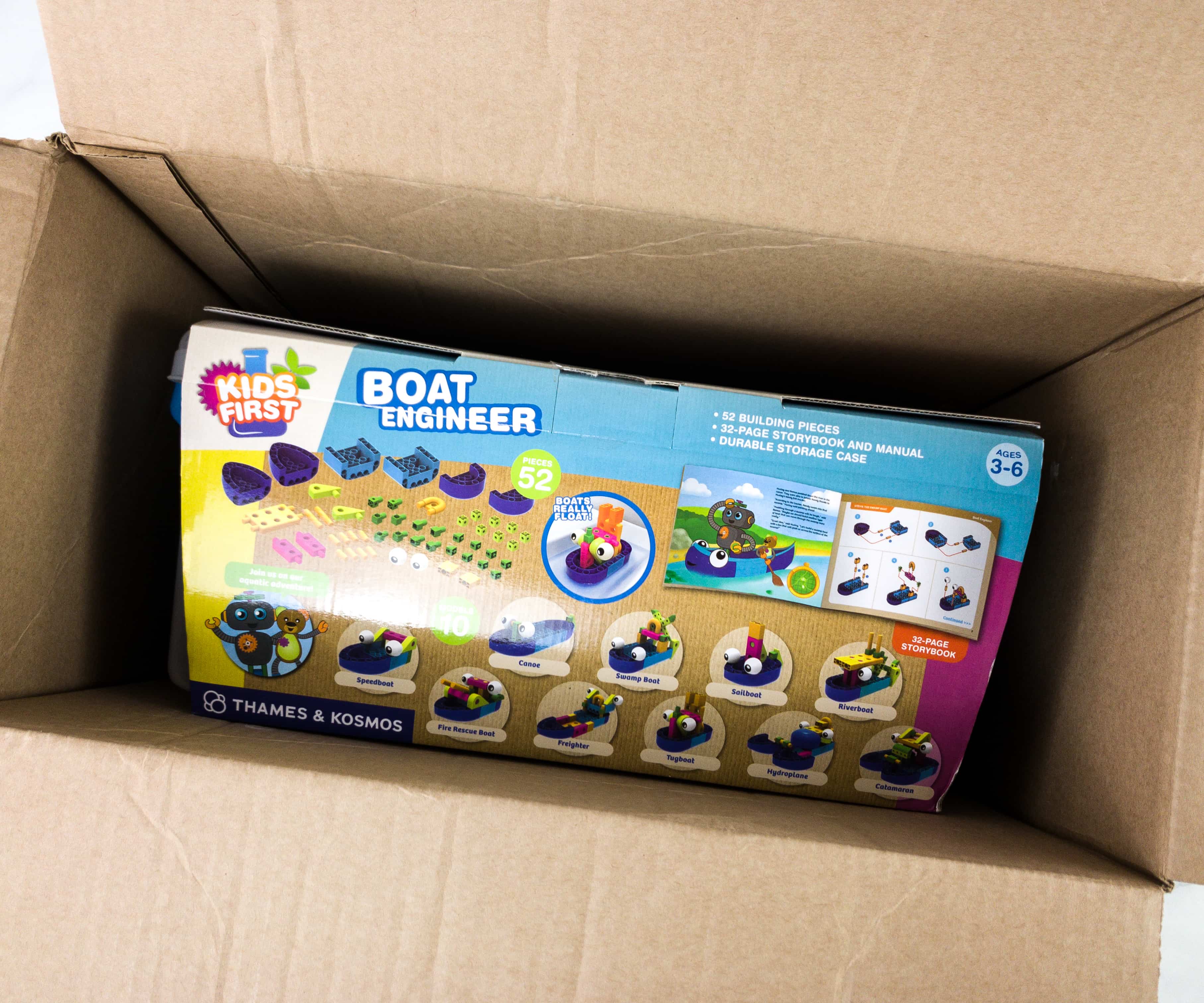 The subscription doesn't include any Amazon-generated introductory materials – just the toy in its commercial packaging. It arrives in the usual Amazon shipping materials – multiple age range selections usually ship together.
For this month's age appropriate toy for 3 to 4-year olds, we got Ultimate Play Sand Variety Pack!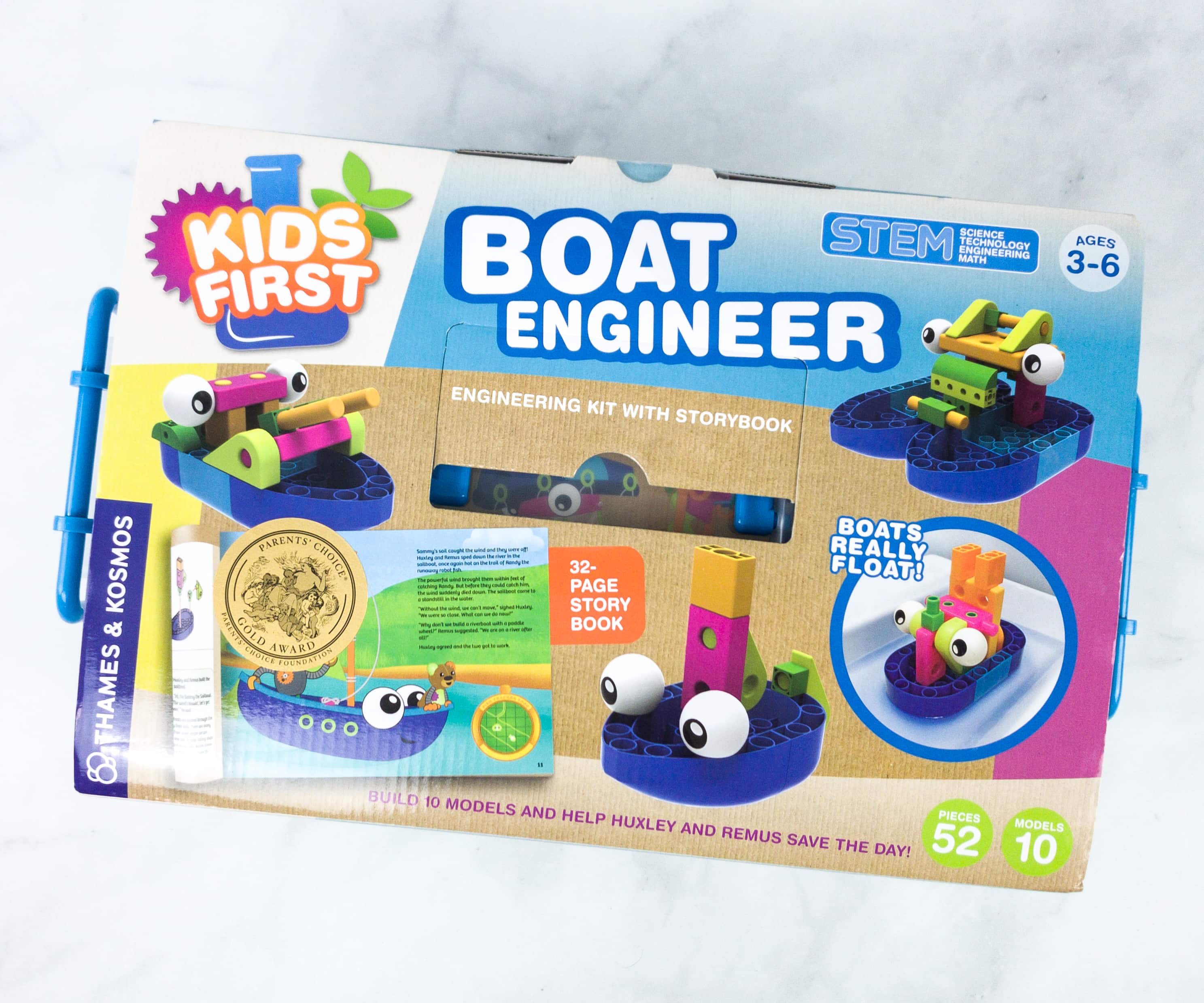 In case you're wondering what's included in the other subscriptions, here's what they were for our family: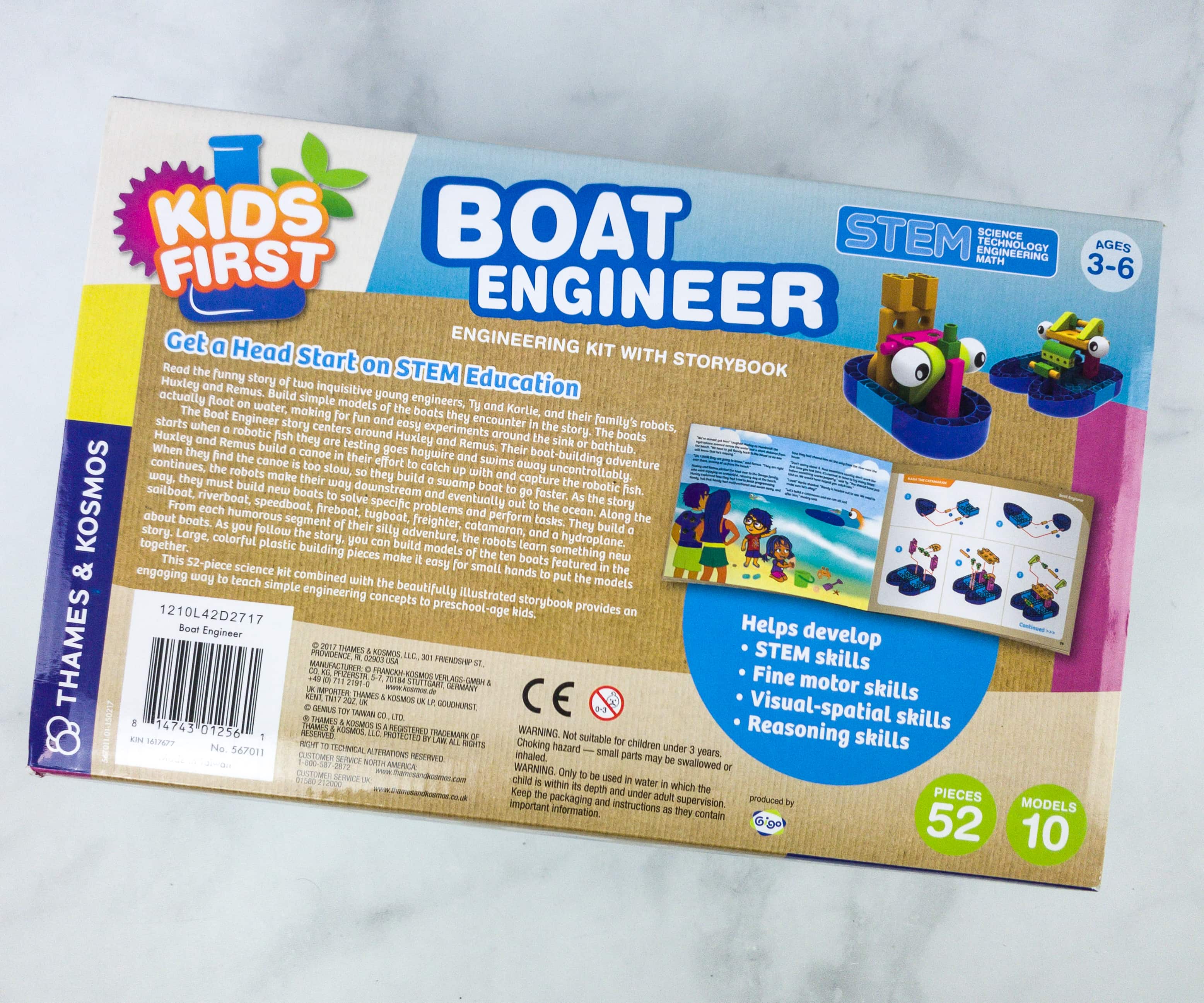 Thames & Kosmos Kids First Boat Engineer Science Kit ($41.49) This month's toy is all about how to "engineer" a boat! It will help develop the kids' STEM, fine motor, visual-spatial, and reasoning skills. The toy is from the company that makes cool Science kits, Thames & Kosmos.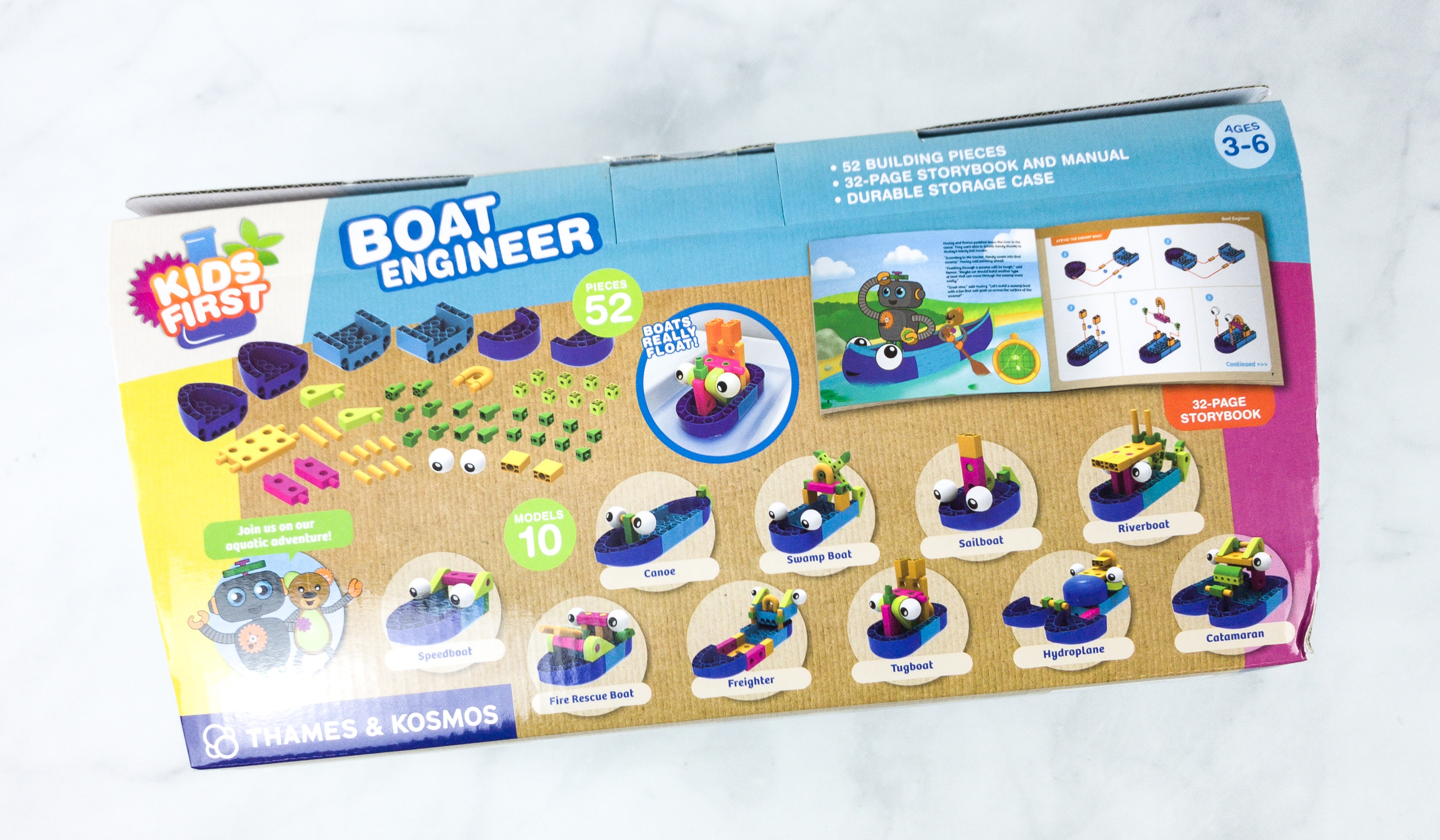 It includes 52 building pieces, and a 32-page storybook and manual.
We also no need to worry about storage because the toy comes with a durable storage case, complete with side locks and a handle.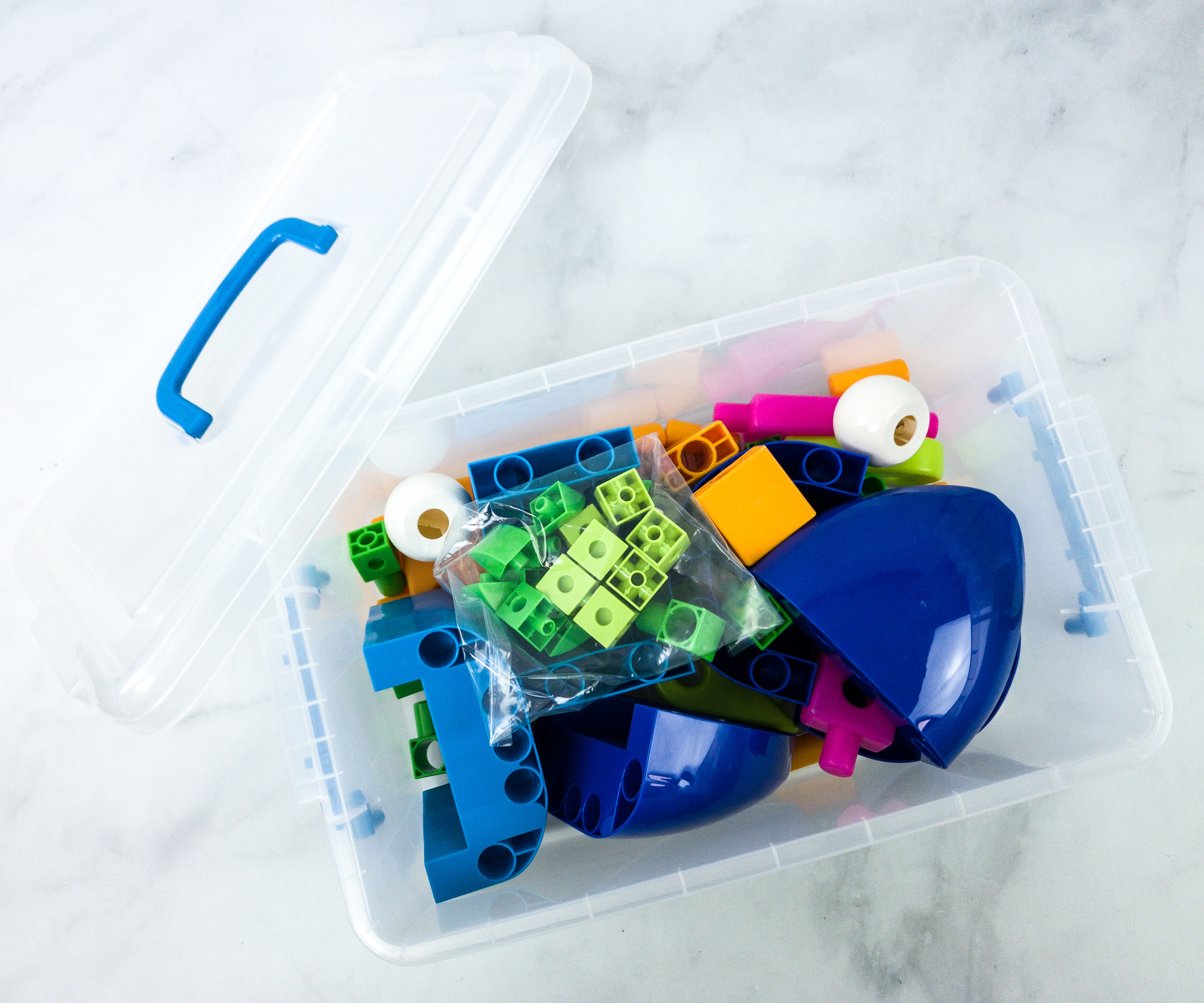 The smaller pieces are packed separately so that we can easily see them when we start building!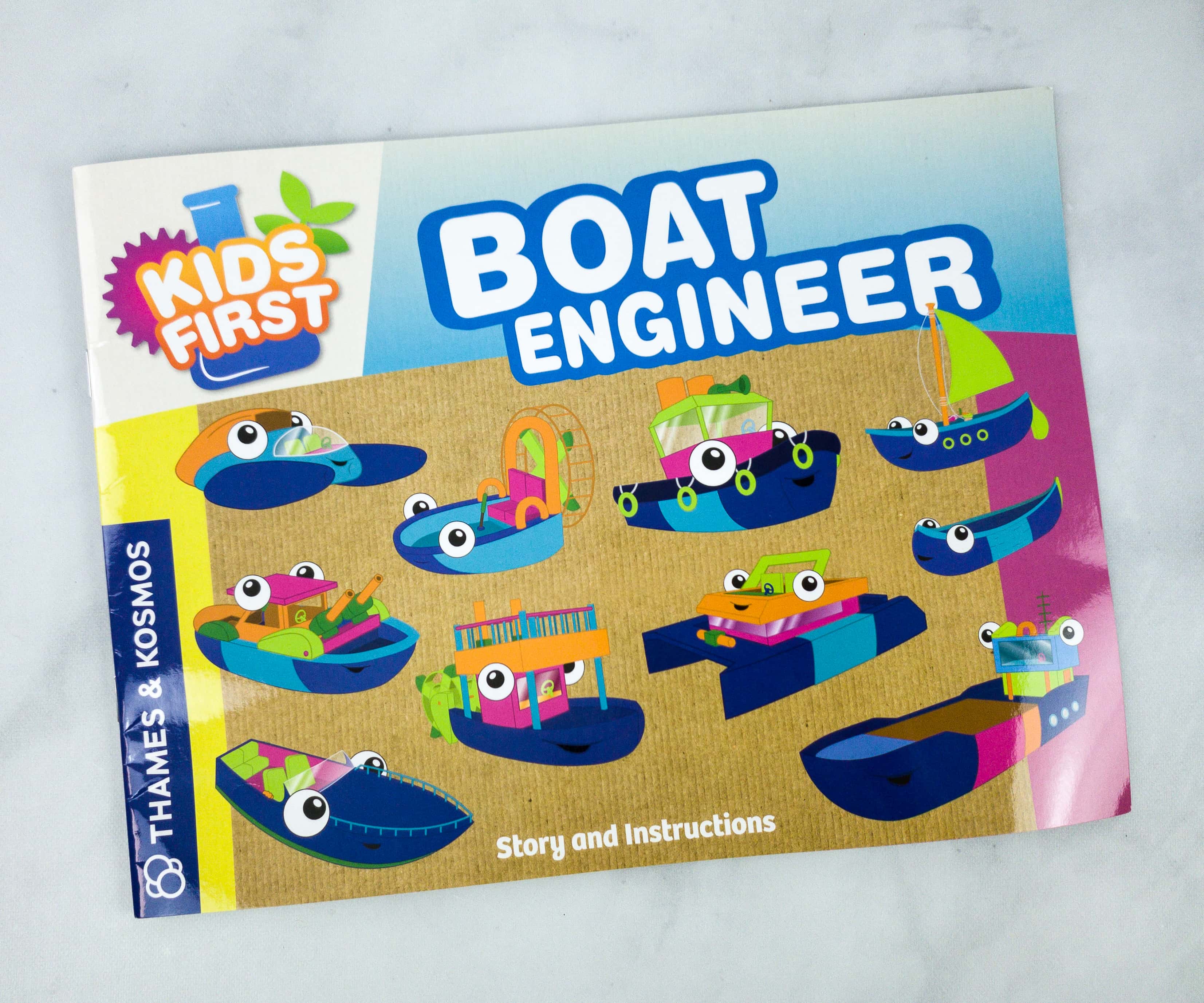 Here's the illustrated storybook manual and assembly guide.
The Boat Engineer story centers around Huxley and Remus. Their boat-building adventure starts when a robotic fish they are testing goes haywire and swims away uncontrollably. Huxley and Remus build a rowboat in their effort to catch up with and capture the robotic fish. They find the rowboat is too slow, so they build a fanboat to go faster. As the story continues, the robots make their way downstream and eventually out to the ocean. Along the way, they must build new boats to solve specific problems and perform tasks. They build a sailboat, riverboat, speedboat, fireboat, tugboat, freighter, catamaran, and a hydroplane.

From each humorous segment of their silly adventure, the robots learn something new about boats. As you follow the story, you can build models of the ten boats featured in the story. Large, colorful plastic building pieces make it easy for small hands to put the models together.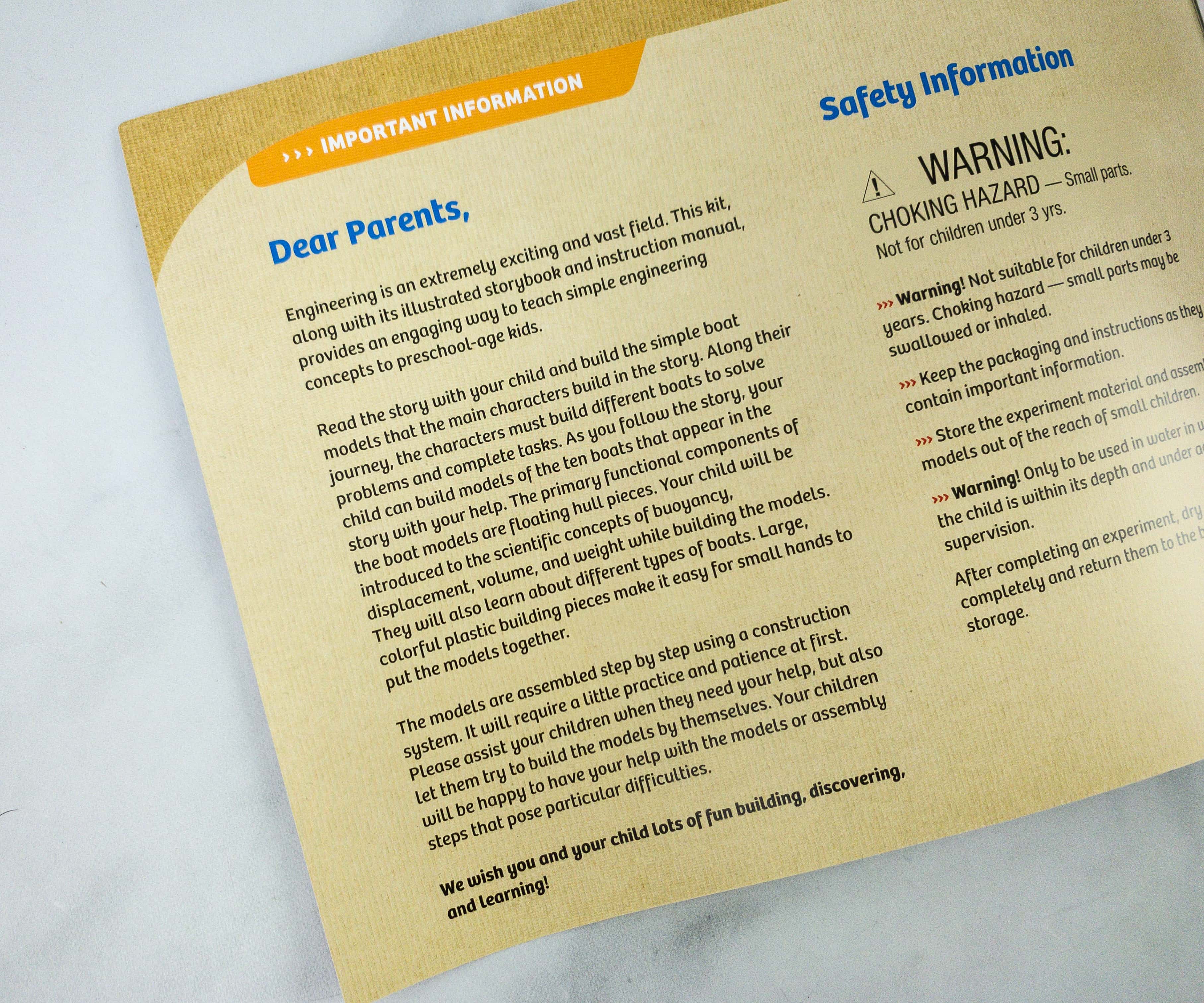 Inside is a note for the parents from the makers of the toy.
The story is about two inquisitive young engineers Ty and Karlie, along with their family robots, Huxley and Remus. As the story goes, we will be able to build different boat models using the building pieces and following the instructions in this storybook/guide!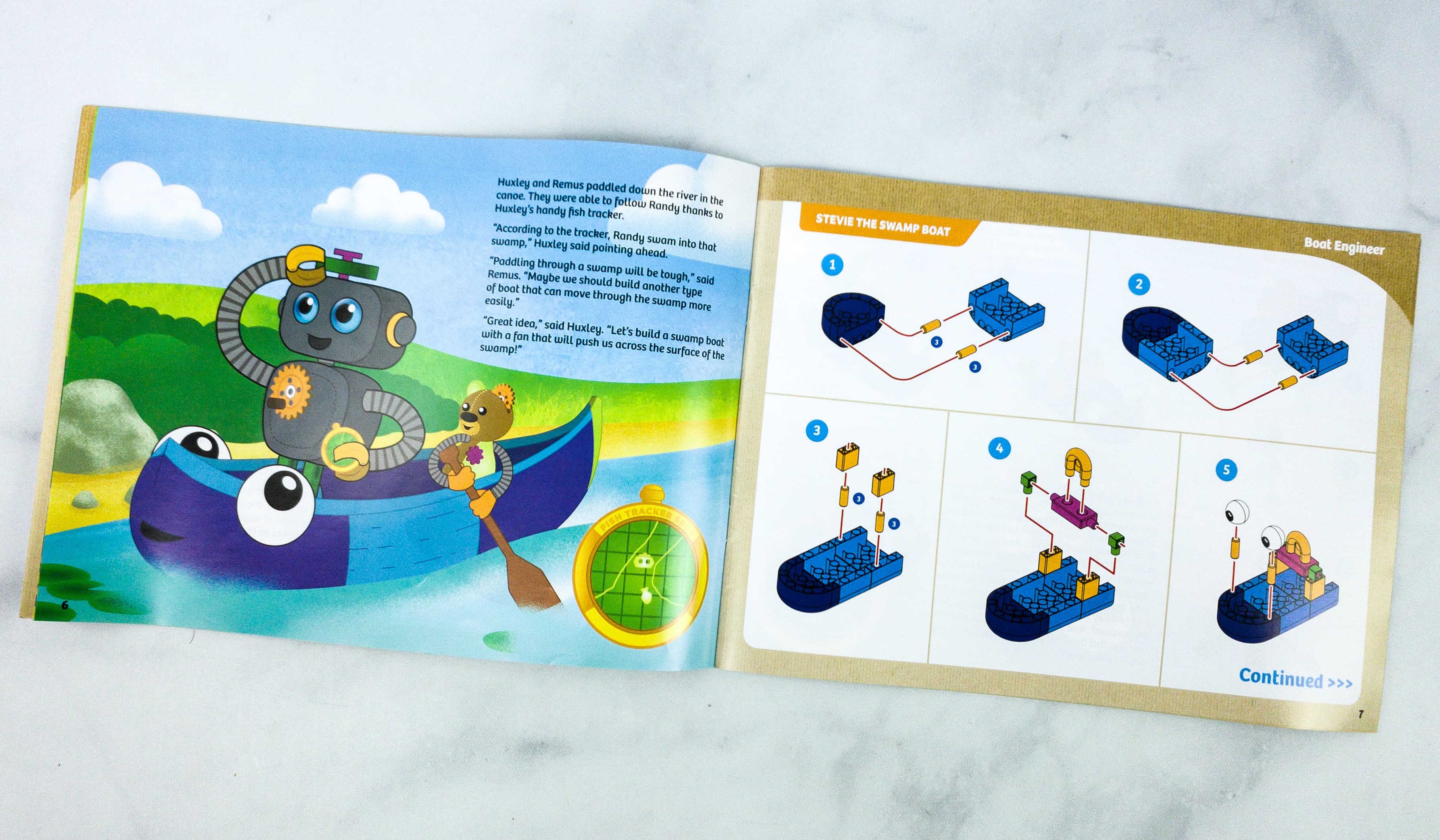 Here's one of the boat models, which is a swamp boat named Stevie.
Another model featured is this cute sailboat named Sammy!
Next up is the speedboat Stu! Aside from the story, the booklet also includes illustrations that the kids can follow in building the boats.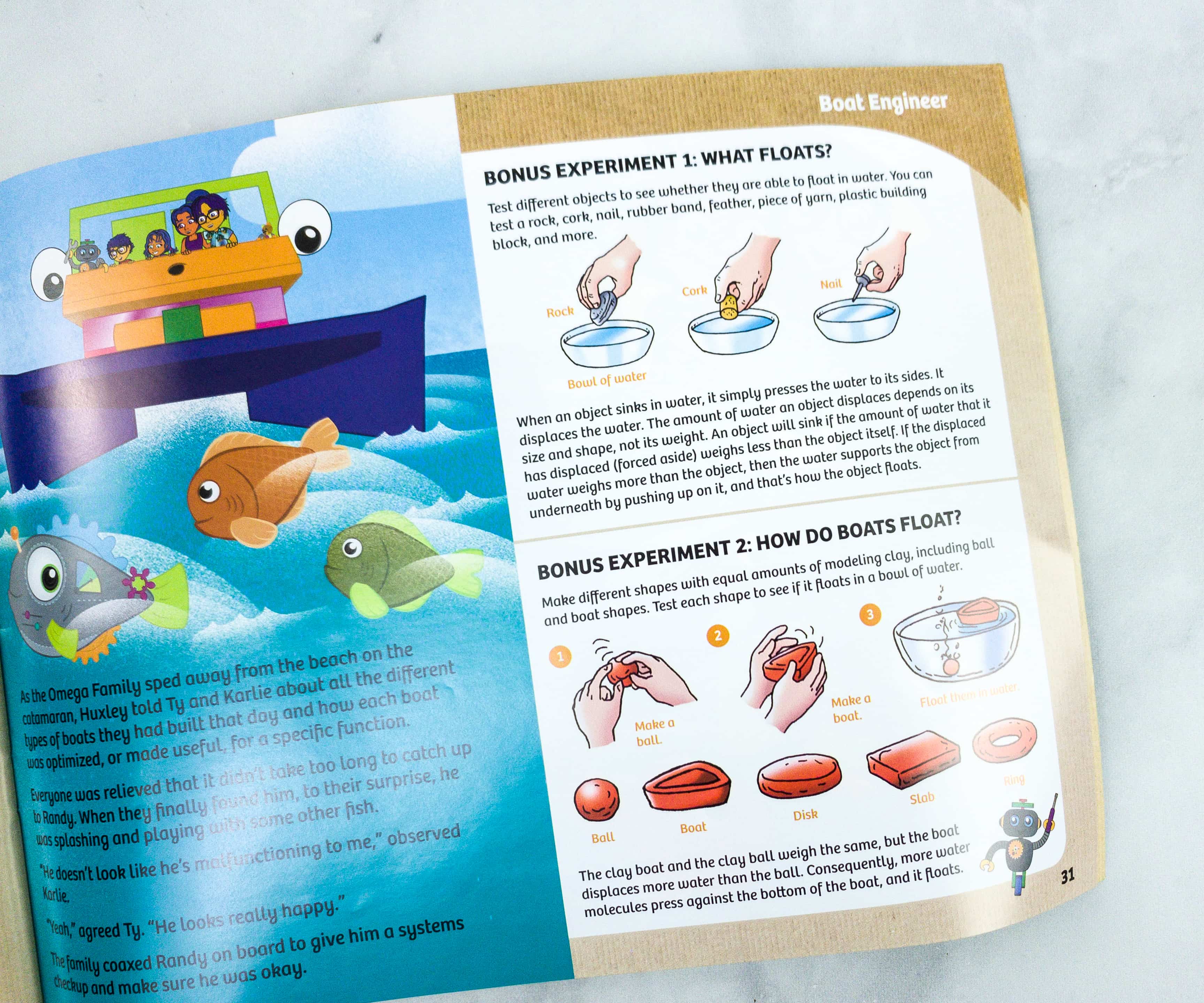 Aside from doing all 10 models, the book also has some bonus experiments for us to try!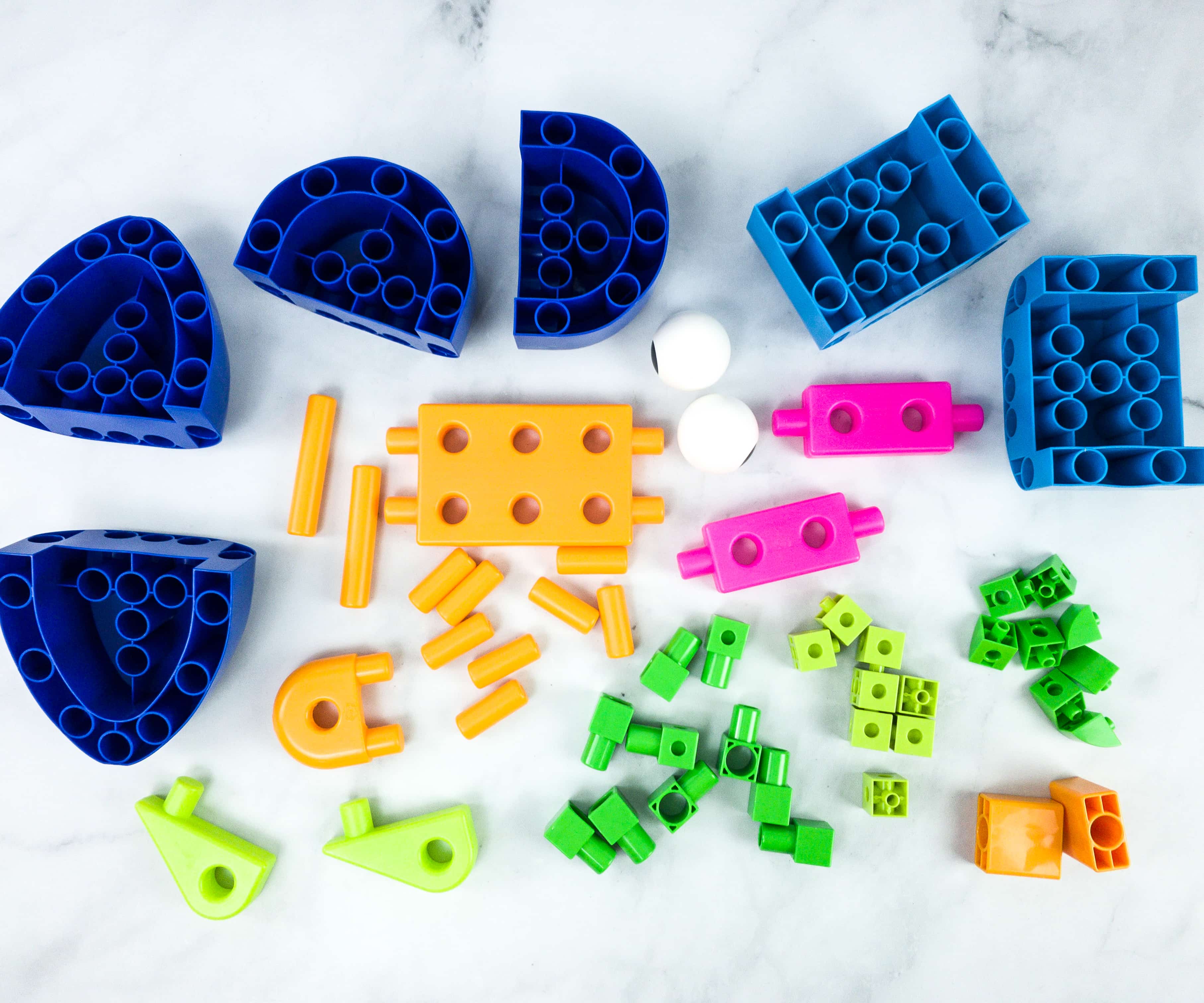 Here are all the building pieces for making the boat models. The pieces are grouped in different colors and according to their size, or if they are similar-shaped pieces.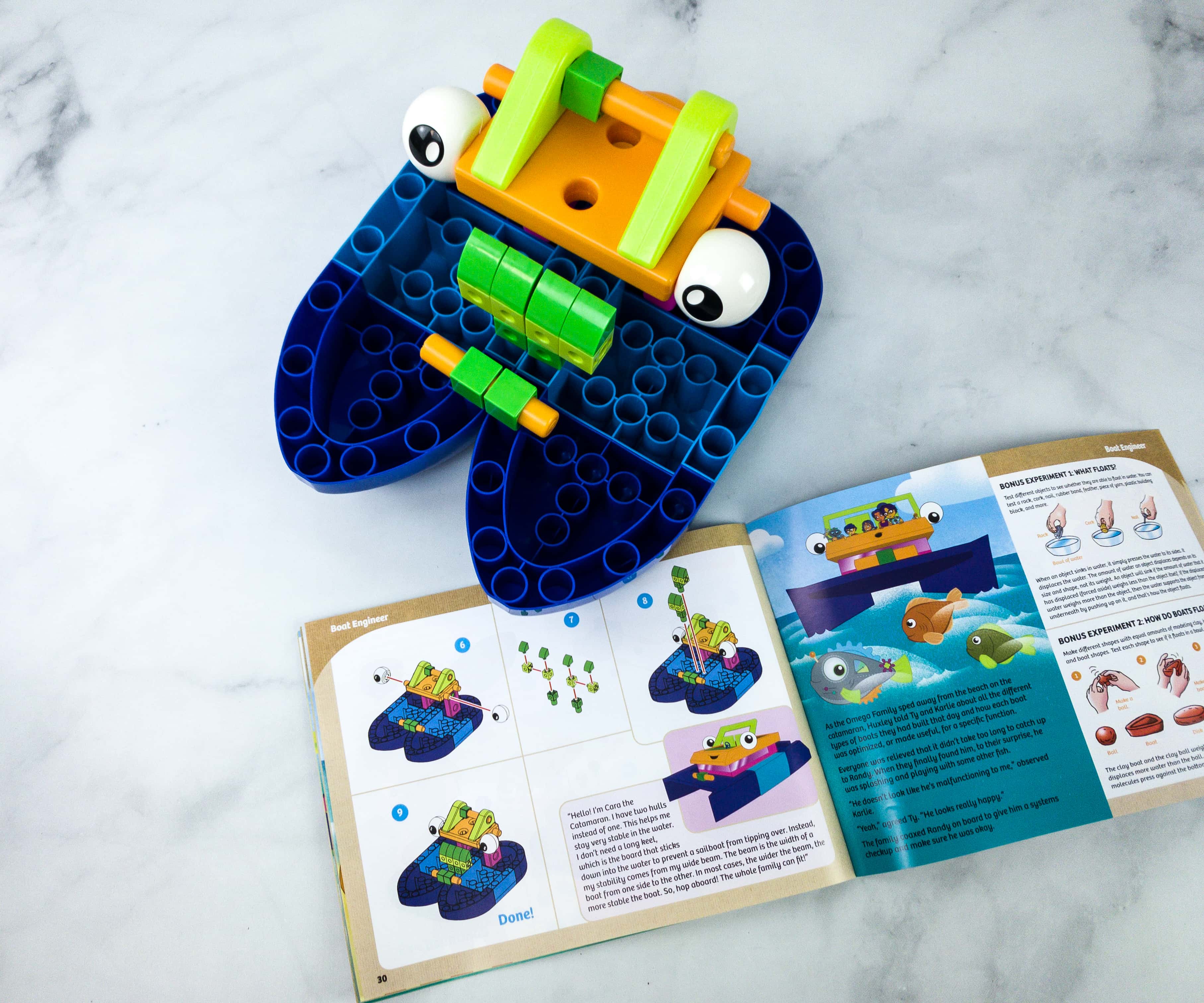 Here's our favorite which is a Catamaran, and they named it Cara!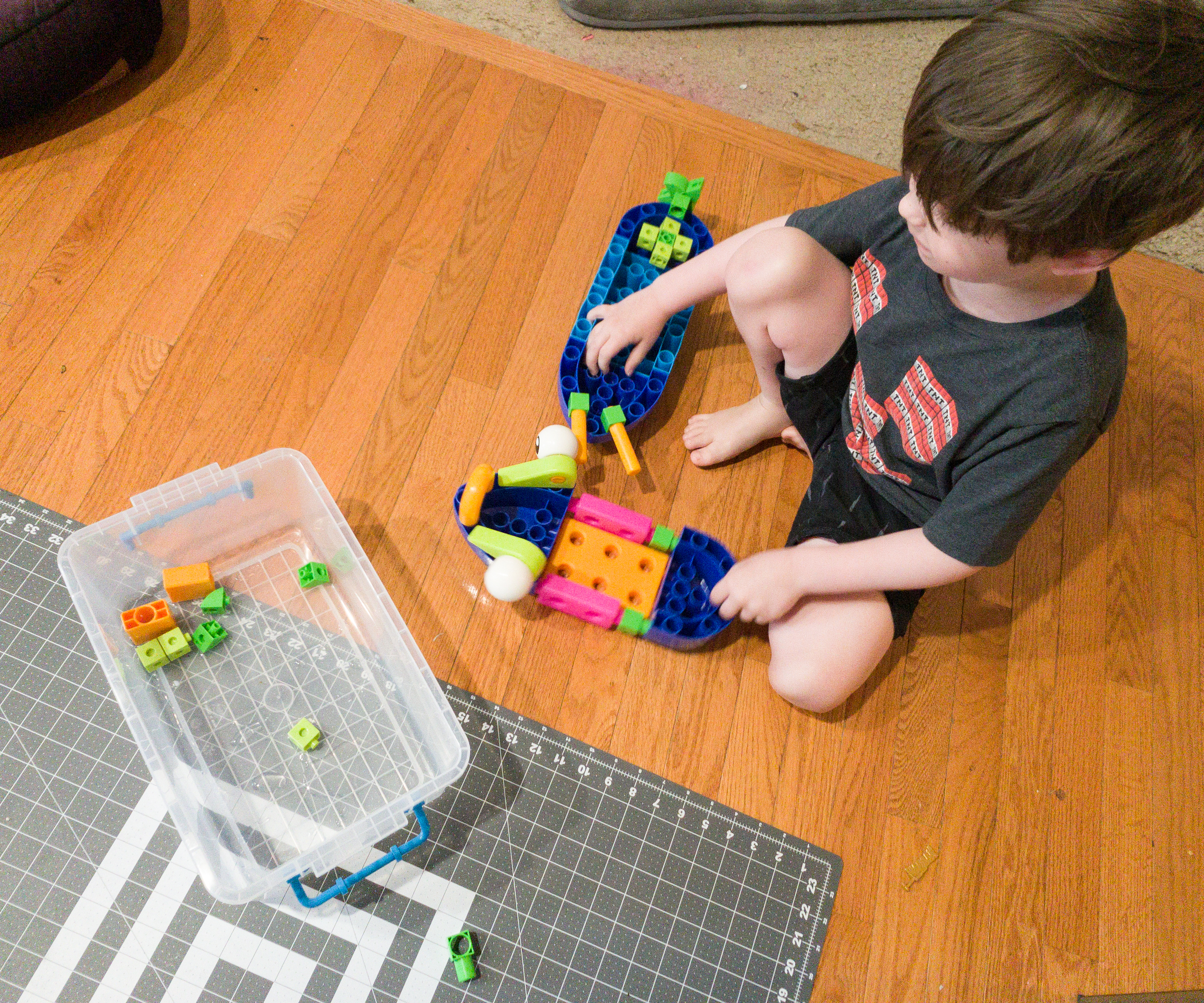 My kids were able to finish it in no time!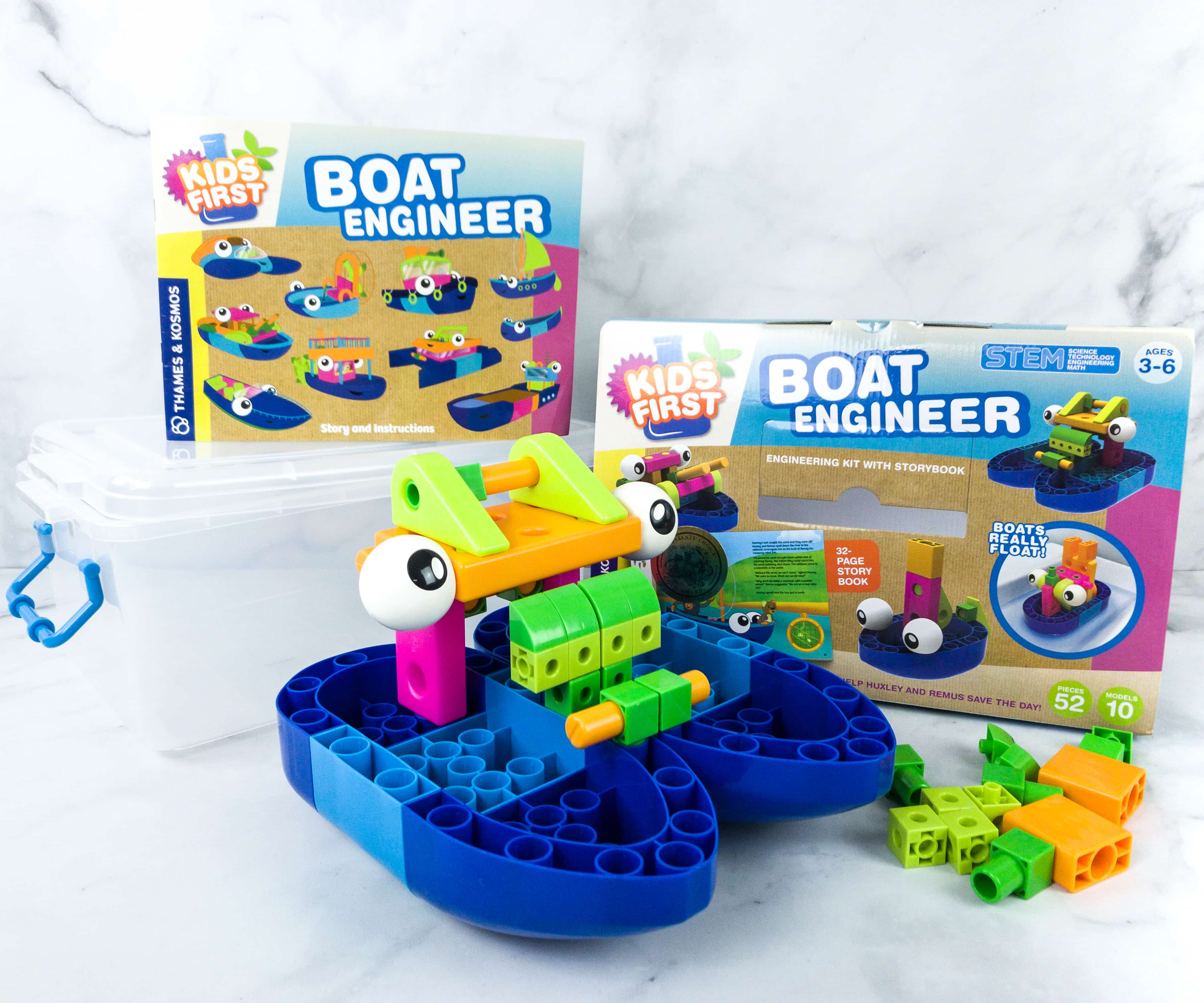 Amazon STEM Toy Club has great age-appropriate educational toys! This month, my kids learned about boat models and also enjoyed building them! All the parts were packed properly and there are even illustrated instructions so there wasn't a hassle we encountered throughout the process. Actually, the featured toy isn't just for kids but it is also perfect for those who want to learn more about boats! It's really a fun way for siblings and family to bond at home!