Vellabox is a monthly candle subscription! The candles are always in seasonally inspired scents and are created by the finest American artisans. Each box features a different candle brand. The candles are from small businesses and are made of all-natural wax, cotton braided wicks, and premium fragrance oils. Vellabox also includes a surprise lifestyle gift in every box!
Our Vellabox Candle Curator handpicks the candles and guarantees that they are always all-natural, seasonally relevant and bound to bring warmth and joy to any space. The surprise gift in your box each month is chosen carefully to align with our team's health-centric values.
DEAL: Save 50% on your first box! Use coupon code HELLOSUB50.
The first thing you need to do is decide which level you prefer. You can choose from The Lucerna Box ($10) which includes a 4 oz candle monthly, The Ignis Box ($20) with an 8 oz candle monthly, and The Vivere Box ($30) with an 8oz + a 4 oz candle monthly. Each level receives the bonus lifestyle gift, and the biggest box includes free shipping.
I am reviewing The Vivere Box.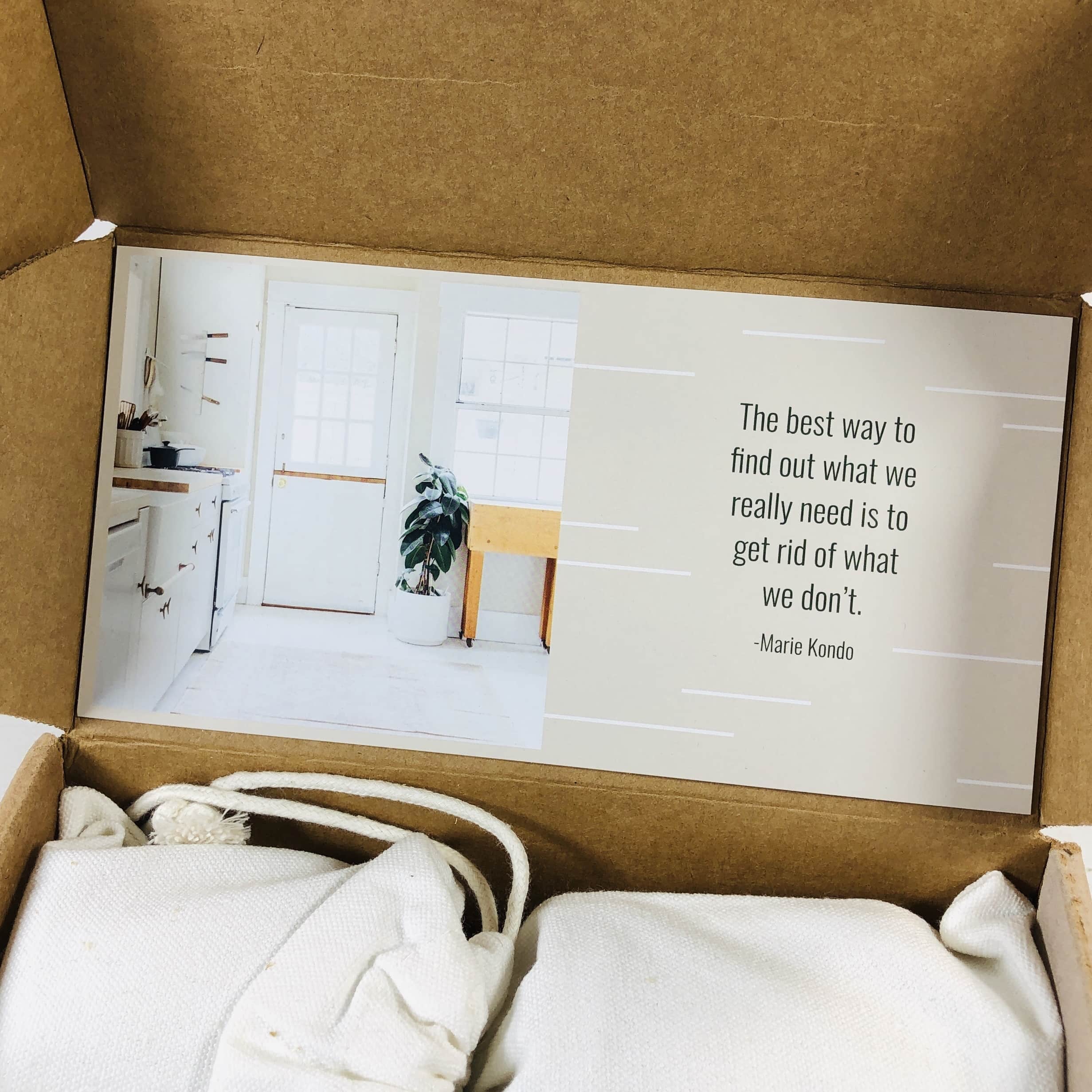 The inside of the box had a quote from Marie Kondo. Both of my candles were in reusable drawstring bags.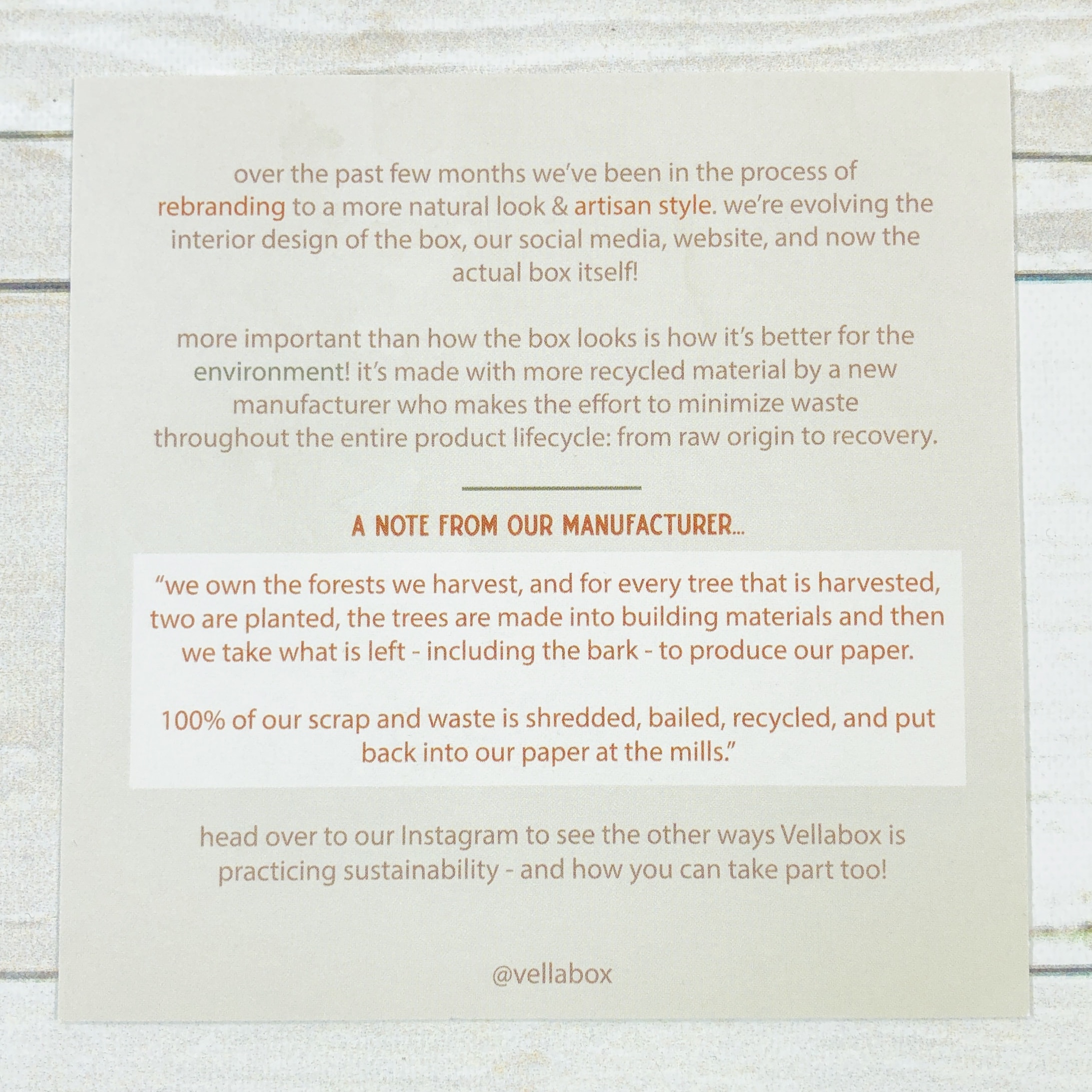 I found a card inside that tells me that Vellabox has gone through a rebranding. This is my very first box and I was happy with the low-key, natural look.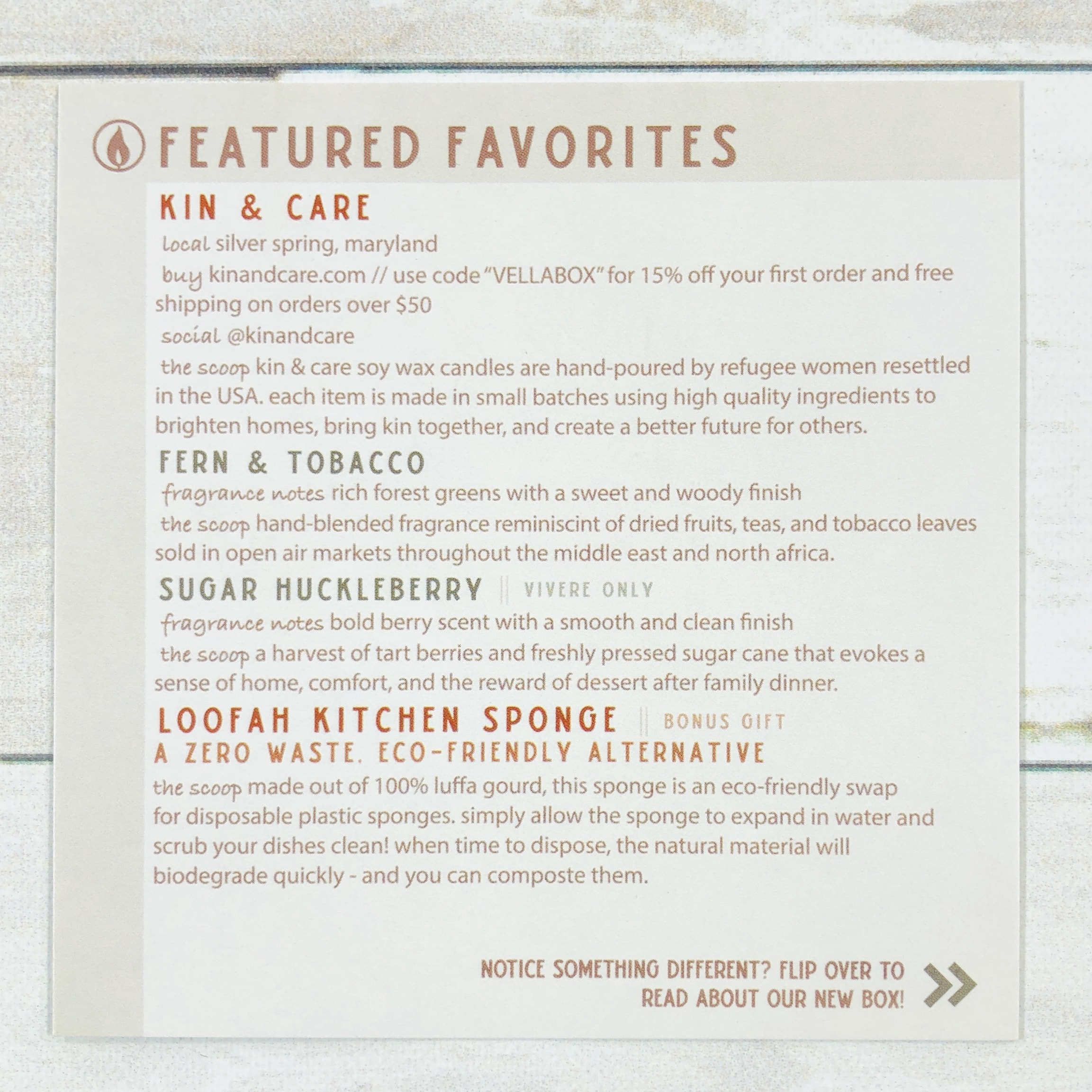 The back of the card listed the featured brand for the month and my candle scents. Some background on the vendor and a coupon code were both listed.
Everything in my box! Again, I'm reviewing The Vivere Box and it includes one 8 oz candle (the same size from The Ignis Box) and one 4 oz candle (the same size from The Lucerna Box).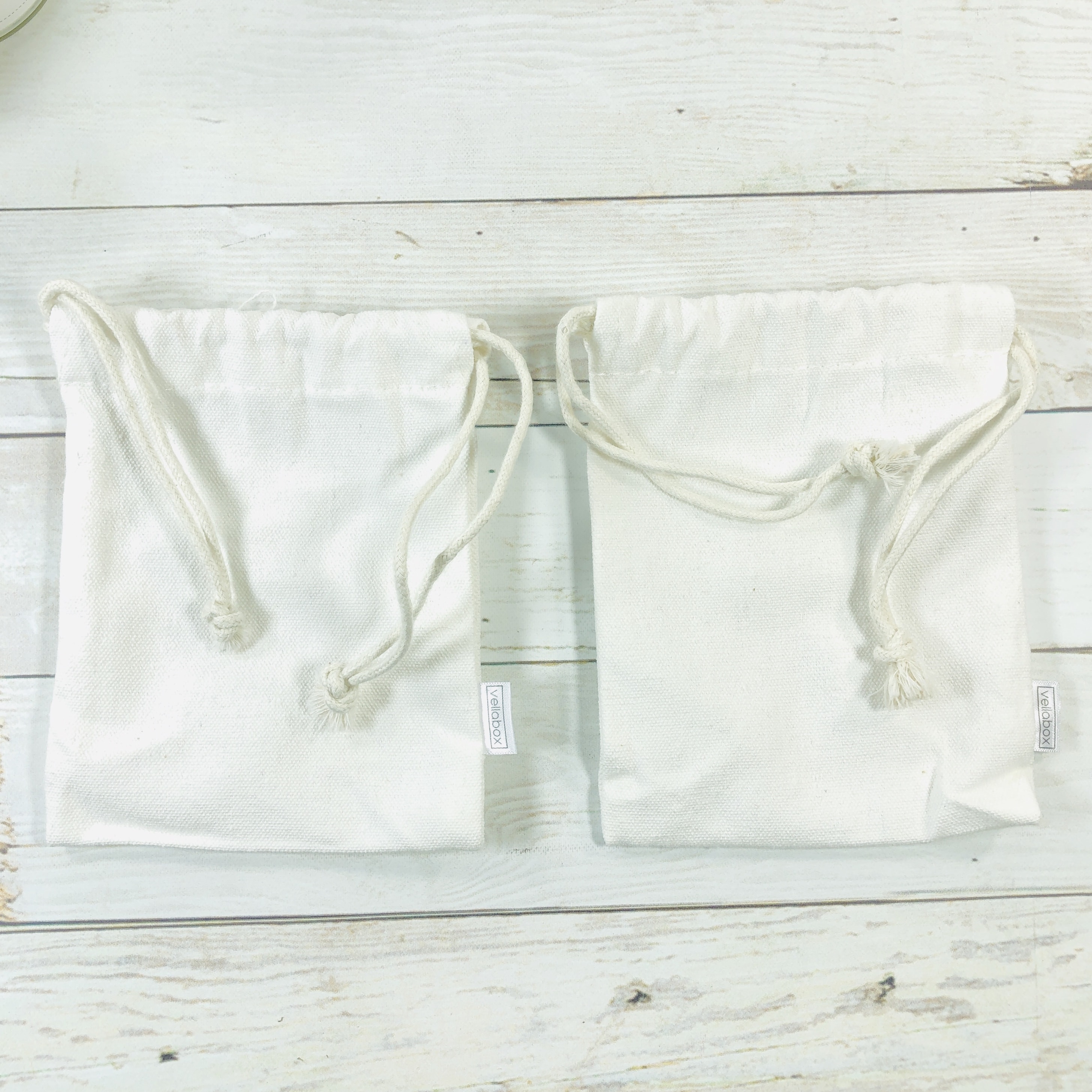 Here is a closer look at the drawstring bags. They are made of cotton canvas and can be used to store candles or other items.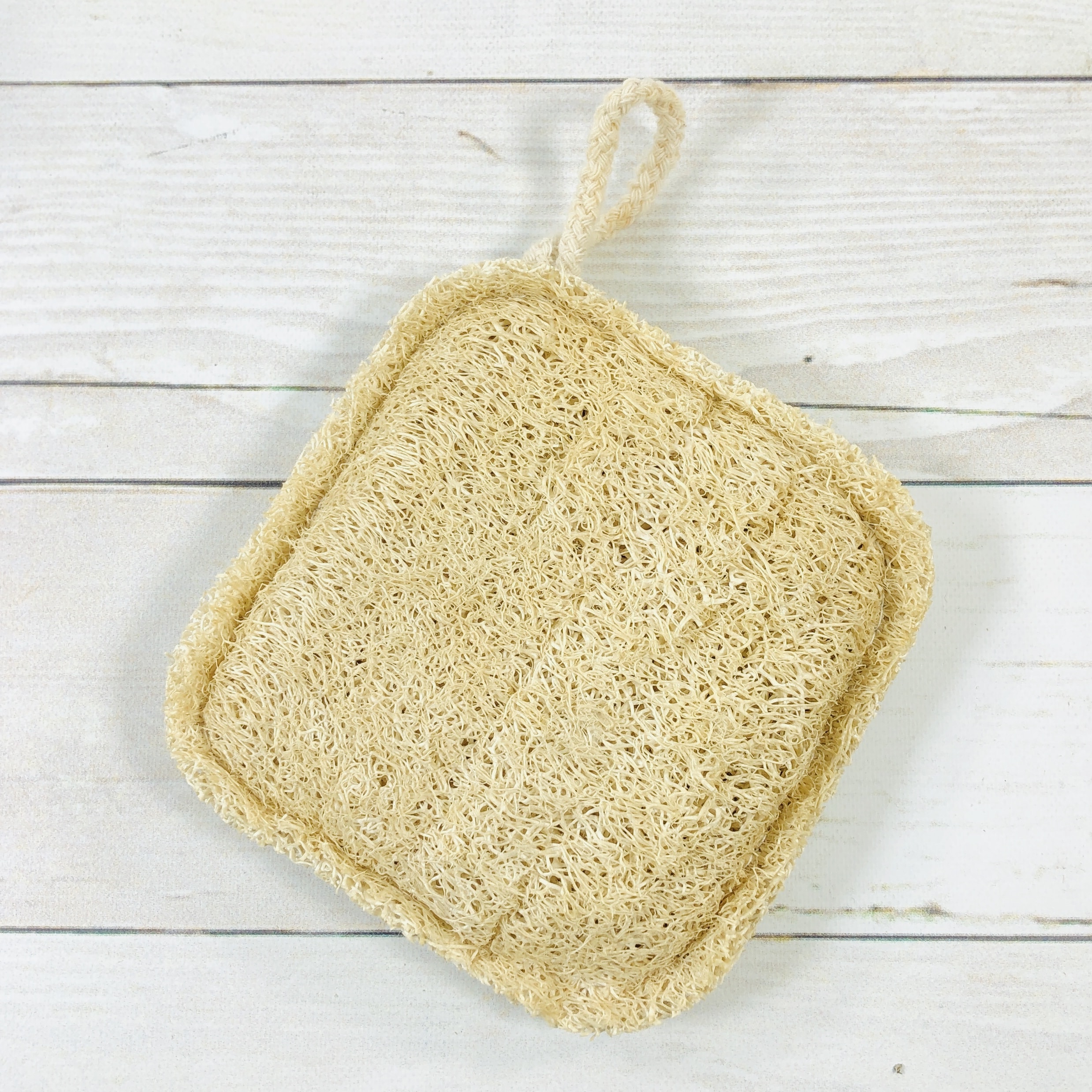 Loofah Kitchen Sponge (find similar item here) Vellabox sends a bonus in each box and although I've used loofahs on my body before I never considered that they could be used in the kitchen! I think this will work well to remove cooking messes from my stainless steel pans.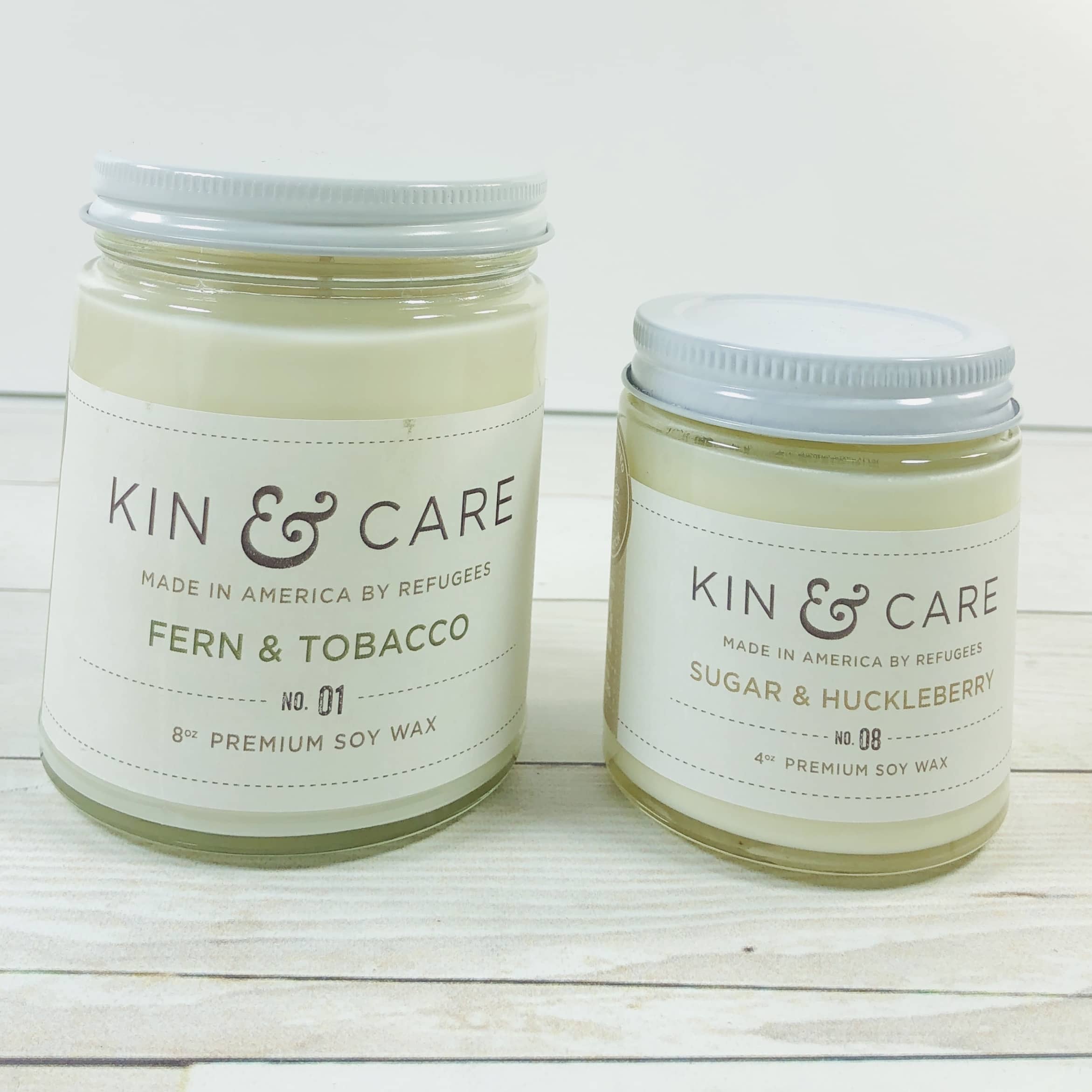 The candles for the April box are from Kin & Care, a company that hires refugee women to pour the candles.
At Kin & Care, our candles are mixed and hand-poured by refugee women. We use old-world techniques and the highest quality ingredients to create small batches of modern scents. Our candles help brighten your home and bring your family together, while creating a better future for others.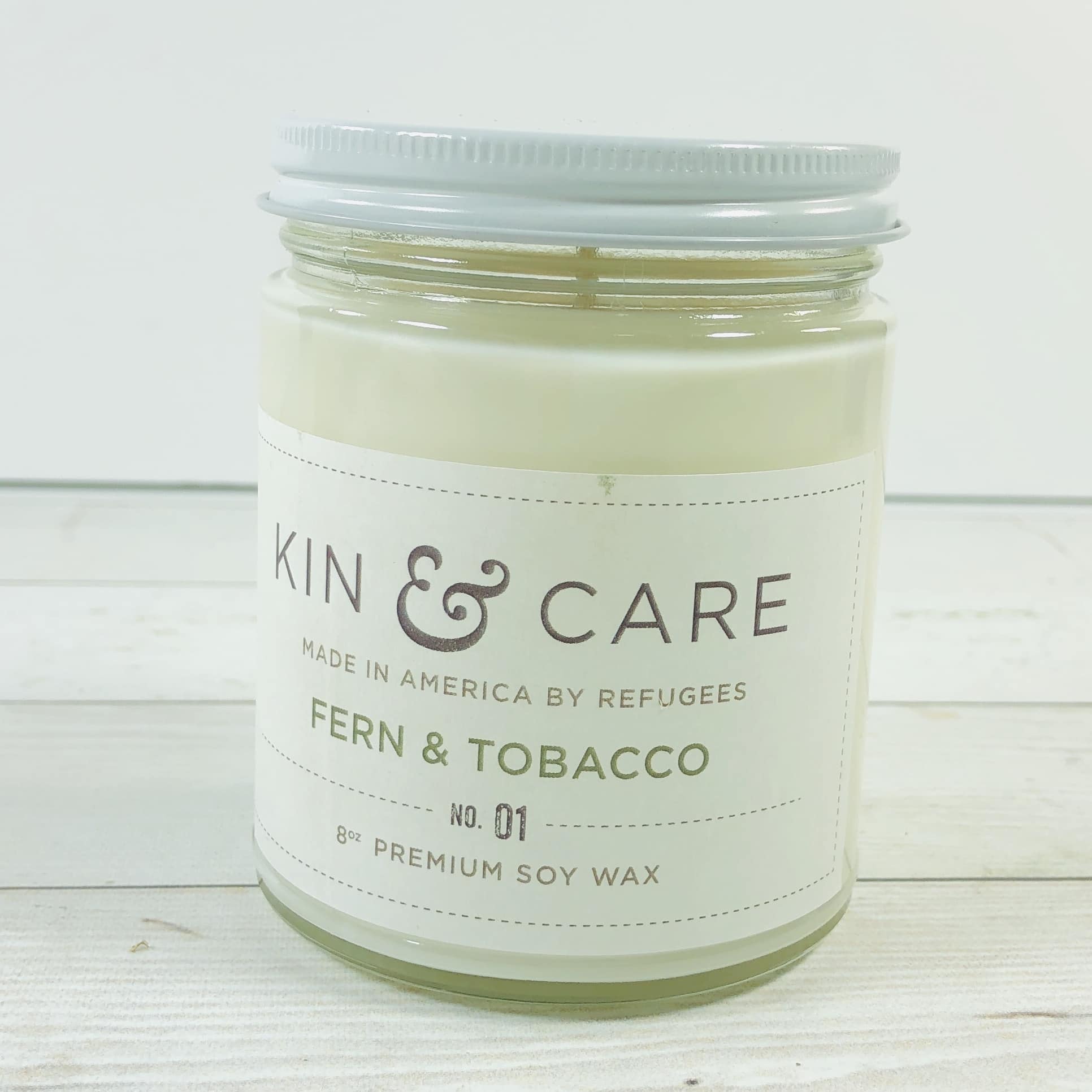 Kin & Care Fern & Tobacco Soy Candle ($16) Kin & Care has two sizes of candles available: Large is 12 ounces for $24, and Small is 7 ounces for $18. My large candle is 8 ounces and my small candle is 4 ounces so I valued the candles based on the price per ounce for the original sizes.
Both candles are made of 100% soy wax and the large candle should burn for 40 hours.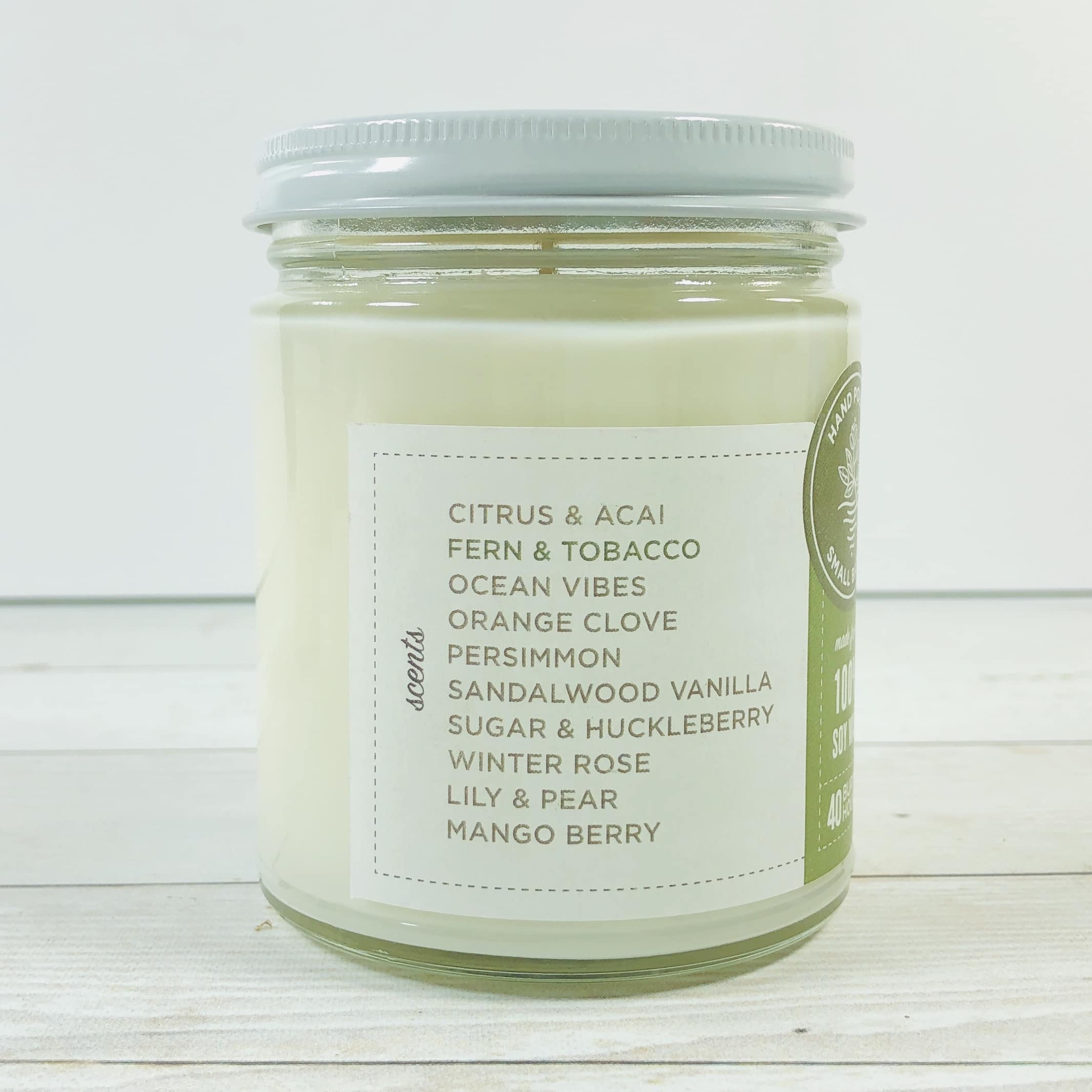 Kin & Care has 10 different scents in their line and I think all of them sound like winners!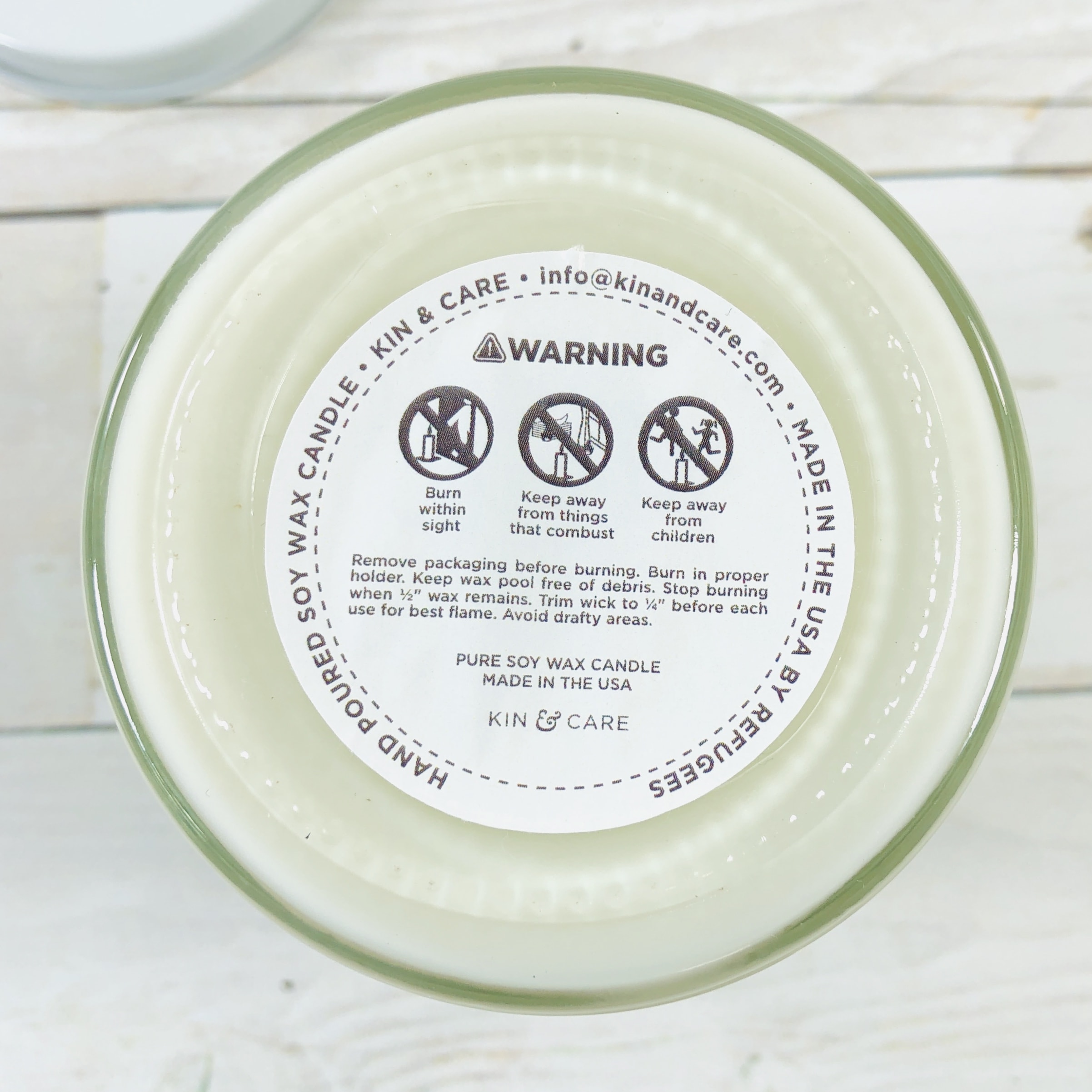 Both candles have a safety warning and burning instructions on the bottom of the jars.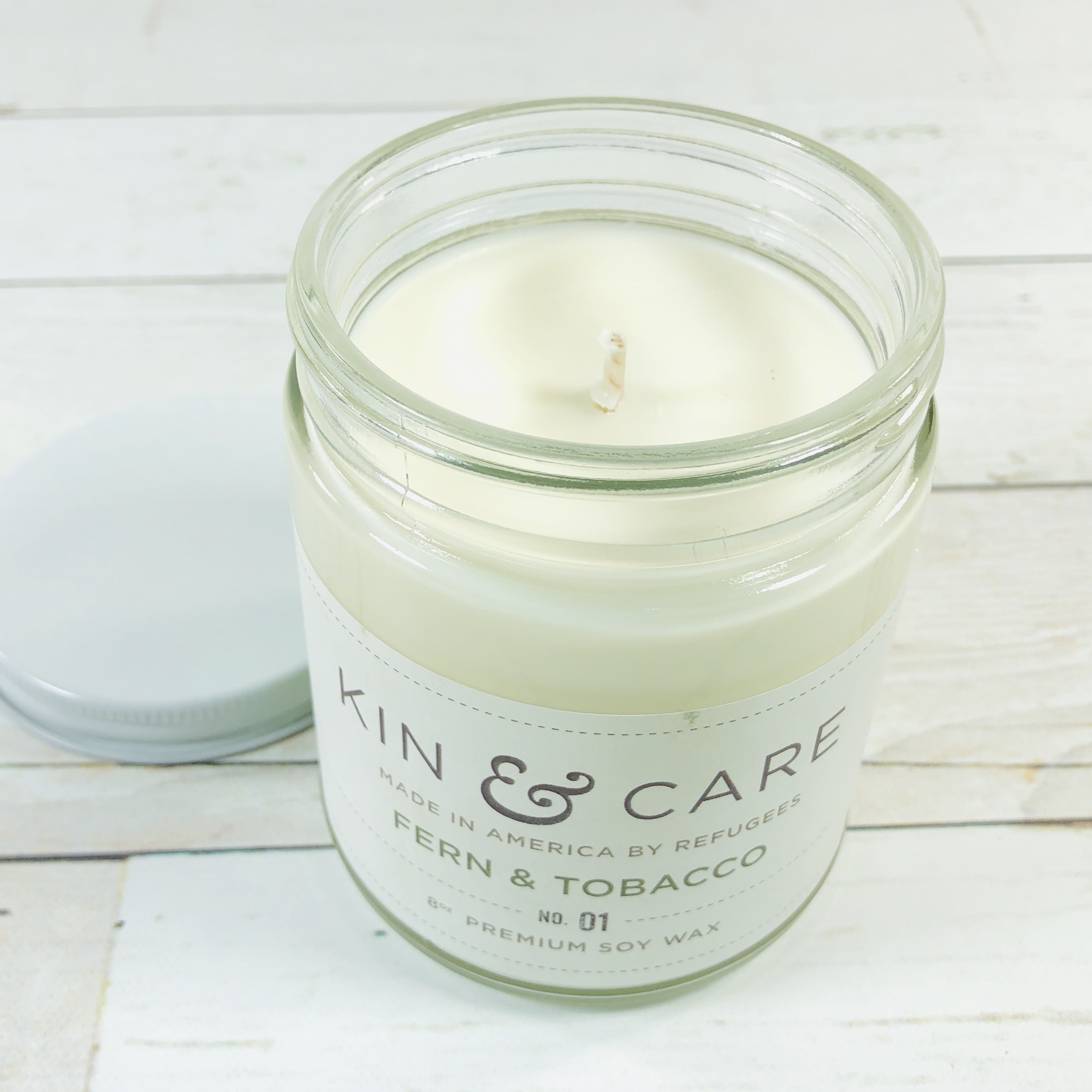 Fern & Tobacco is described as "rich, sweet, and woody" and I would like to add that it also has green and clean notes.
Kin & Care Sugar & Huckleberry Soy Candle ($10.29) When I received my box I made sure to take my candles to my two daughters and all three of us agreed that this was our favorite scent. It is so sweet and delicious!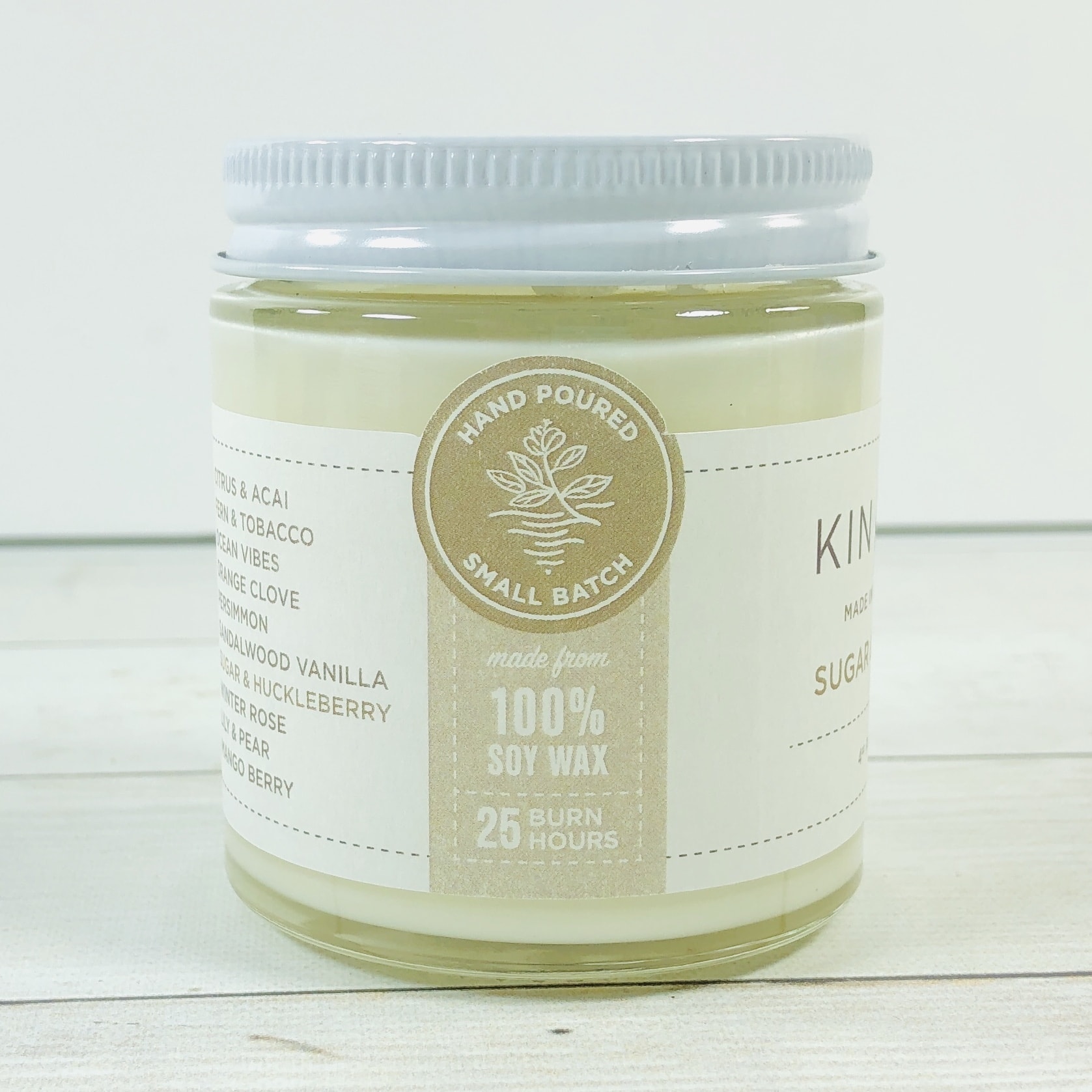 This size is supposed to burn for 25 hours.
Sugar & Huckleberry is described as having "an aroma of freshly picked sweet and tart berries." It smelled like berries and sugar and would make a lovely perfume!
I was extremely pleased with my April Vellabox! This was my first ever box from them and it was a winner in every way. I appreciated the earth-friendly minimalist packing, the look and scent of the candles, the care the company put into the candles, and the green extra included by Vellabox. As for the candles themselves, they are polite candles, which means they don't overwhelm my senses with super strong fragrances and they don't leave me feeling nauseous or with a headache. I can't smell them from the next room, but I am aware of them as they burn. Fern & Tobacco smelled lighter in the jar but was more noticeable when burning than the Sugar & Huckleberry. I think they look great everywhere too – bathroom, bedroom, kitchen, or living room. I now want a Kin & Care candle in every scent!
What do you think of this box?