Tombow VIP Club is a quarterly one-time purchase box that features an assortment of Tombow products, including exclusive and newly released items that are not even readily available in the US or Canada. The box costs $30 (at least this quarter), and each curated box will include at least 1 exclusive item and new products.
Also, before you buy it, you'll know what's in the box. These sell out super fast, so be sure to grab notifications for this box by hitting the bell at the top of this post.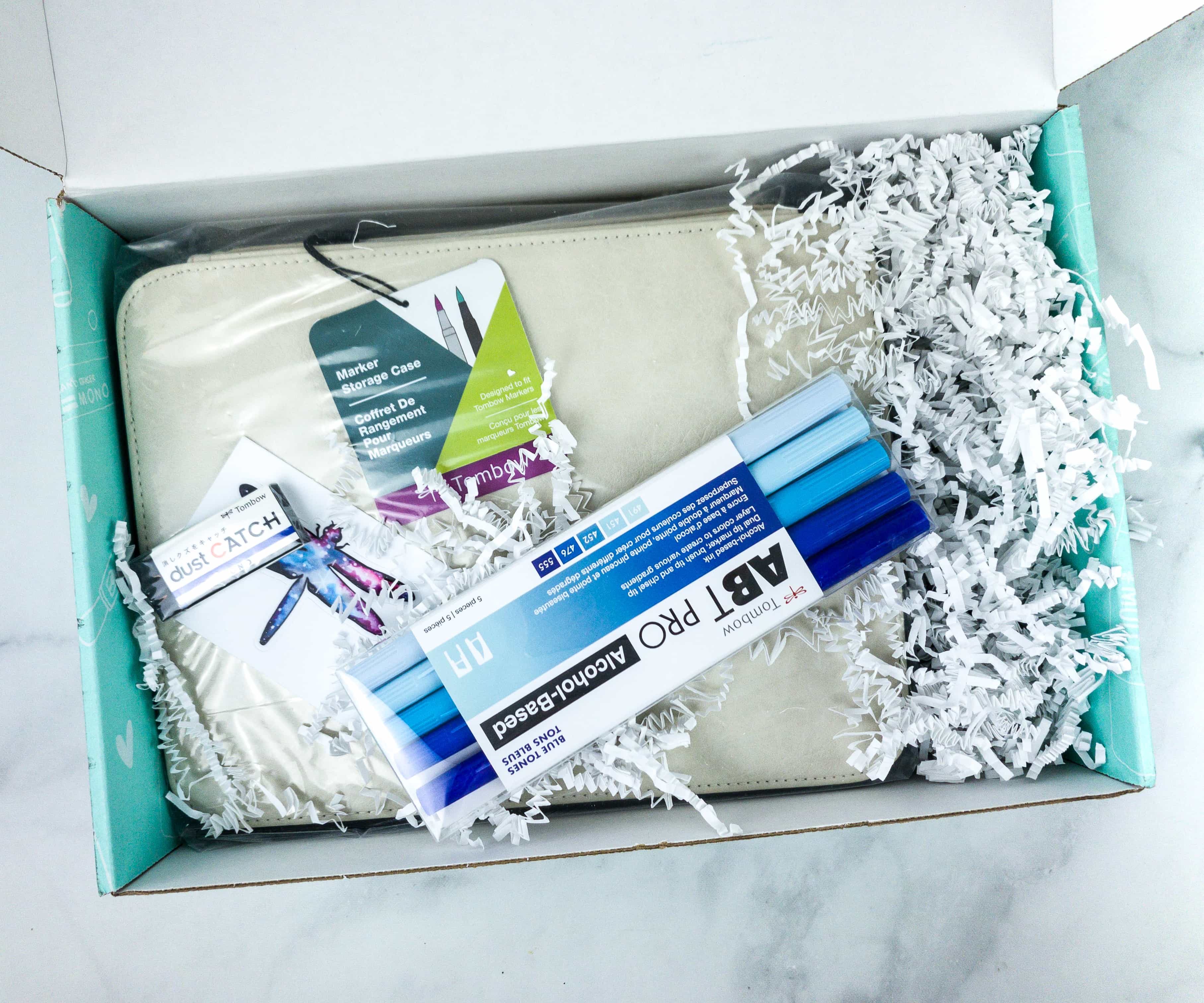 All the items are packed with white squiggles!
The box includes an info card that pictures the Very Inspirational Products.
The back of the card lists all the contents of the box together with a brief description of each item.
They also encourage us to share our creations on social media using the #ShairingArtMatters!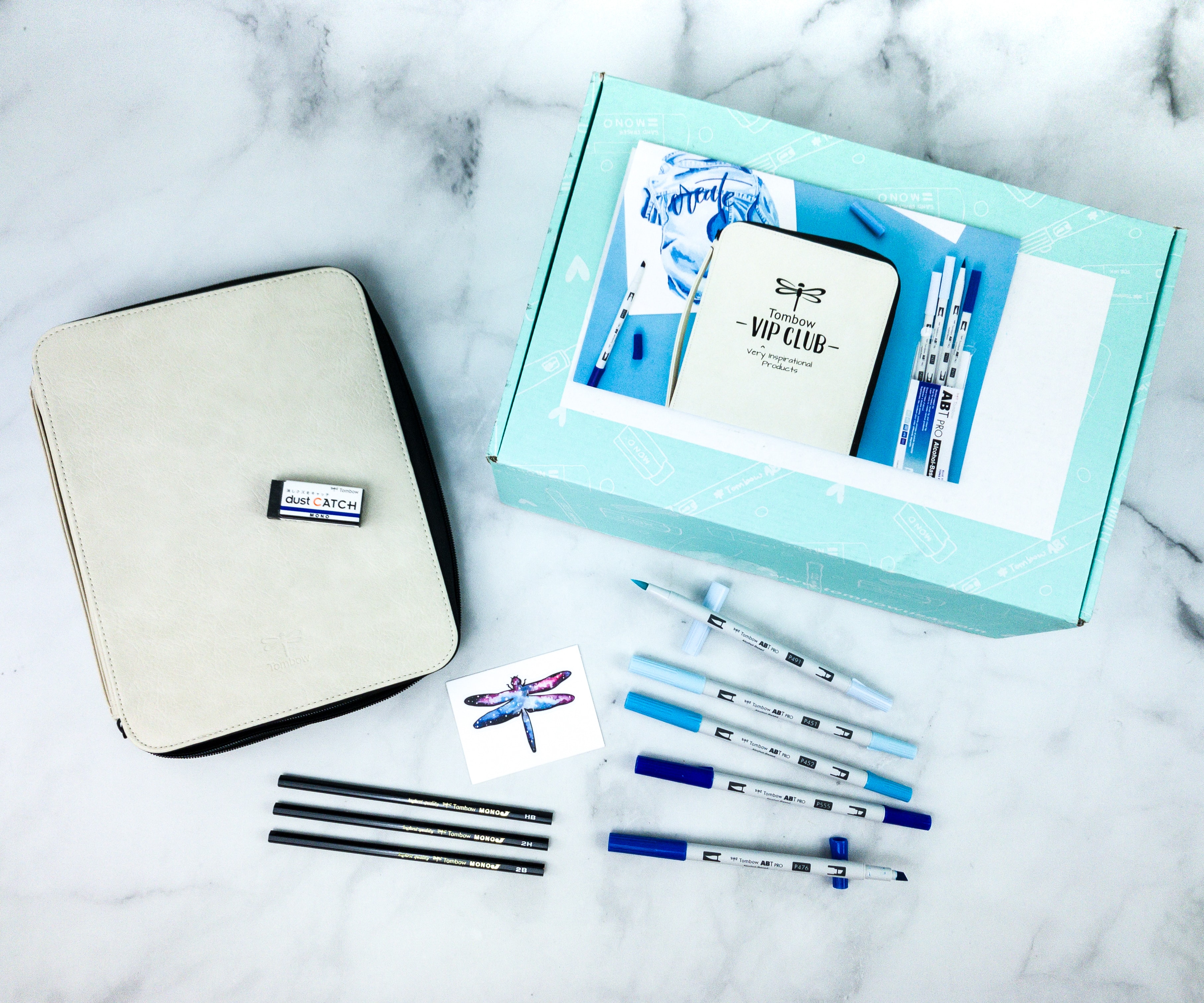 Everything in my Tombow VIP Club Summer 2020 box!
Sticker. This month's box includes a cute sticker that features a silhouette of a dragonfly and the trademark logo of Tombow!
Tombow Marker Storage Case, Zippered. This compact zippered storage case is for organizing all your pens, markers, pencils, or even brushes all in one place. If you're also traveling with your art materials, you can easily grab this one and go!
This storage case has a premium-quality leather cover with reinforced stitching on the edges.
At the back, you'll see the trademark logo of Tombow engraved on it!
This storage has two compartments with zipper closures that you can easily slide to close and open.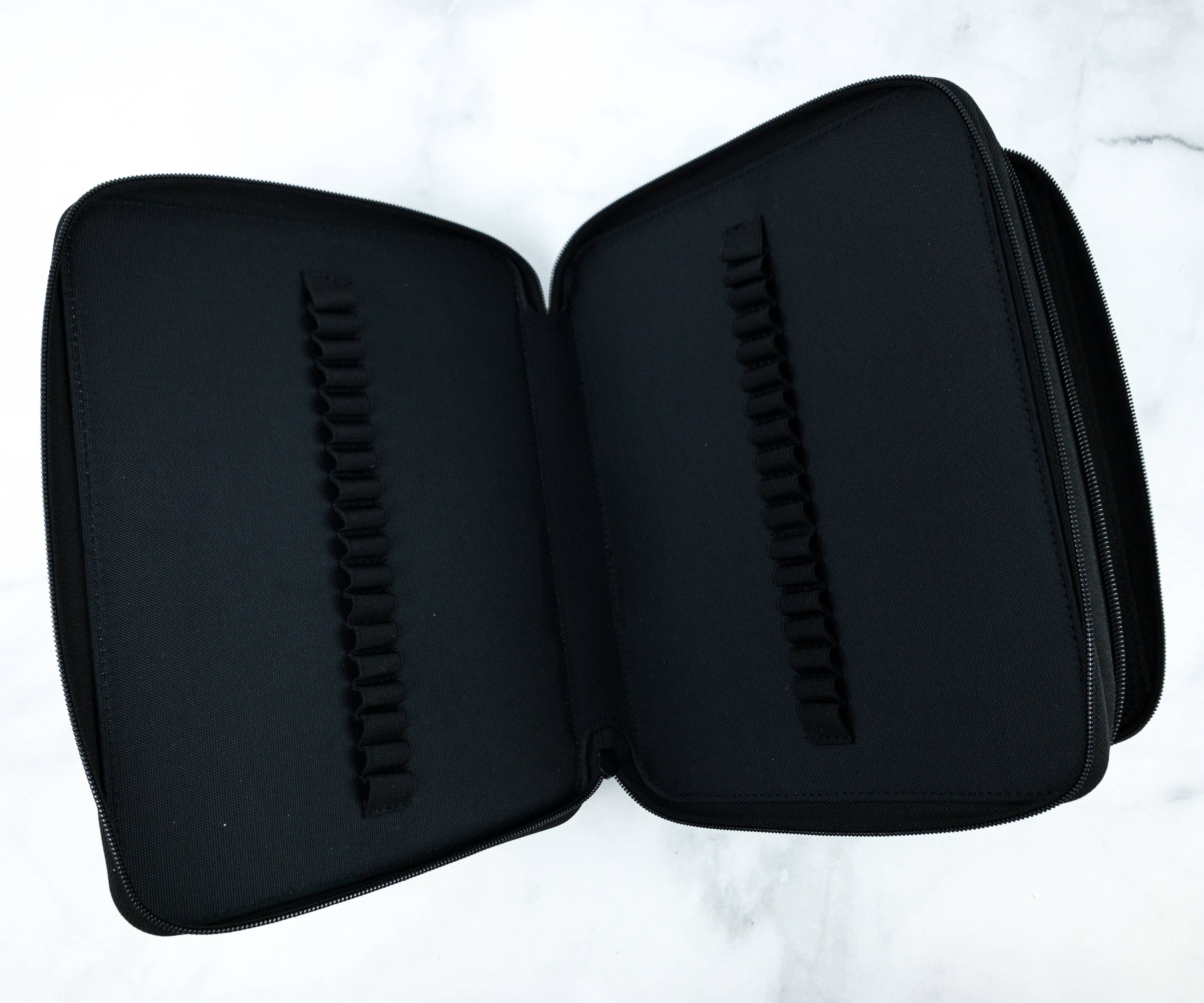 The first compartment showcases 36 elastic loops that can hold your markers, pencils, and pens.
The other side of the compartment features an interior zippered pouch made from see-through mesh that can hold bulky accessories while allowing you to quickly see what's inside it. The other side of the compartment also comes with 18 elastic loopholes which can also hold the rest of your drawing materials.
Mono Dust Catch Eraser ($1.59) It's a quality crafted eraser made from graphite with soft plastic that cleanly removes pencil marks with only light pressure, allowing you to erase your drawings easily without messing or damaging the paper.
These are high-precision pencils made from Japan. They feature a lightweight woodcase and they're also break-resistant. The high-density graphite lead core is perfect for drafters.
Mono J Drawing Pencil 2H ($1.25) This type of pencil features a greater percentage of clay that results in a harder lead.
Mono J Drawing Pencil 2B ($1.25) Compared to 2H type pencil, 2B features a softer but above average lead hardness.
Mono J Drawing Pencil HB ($1.25) HB's lead hardness is harder than B but softer than H.
These pencils also feature a perfectly centered extra-refined lead core, keeping your pencil sharp longer.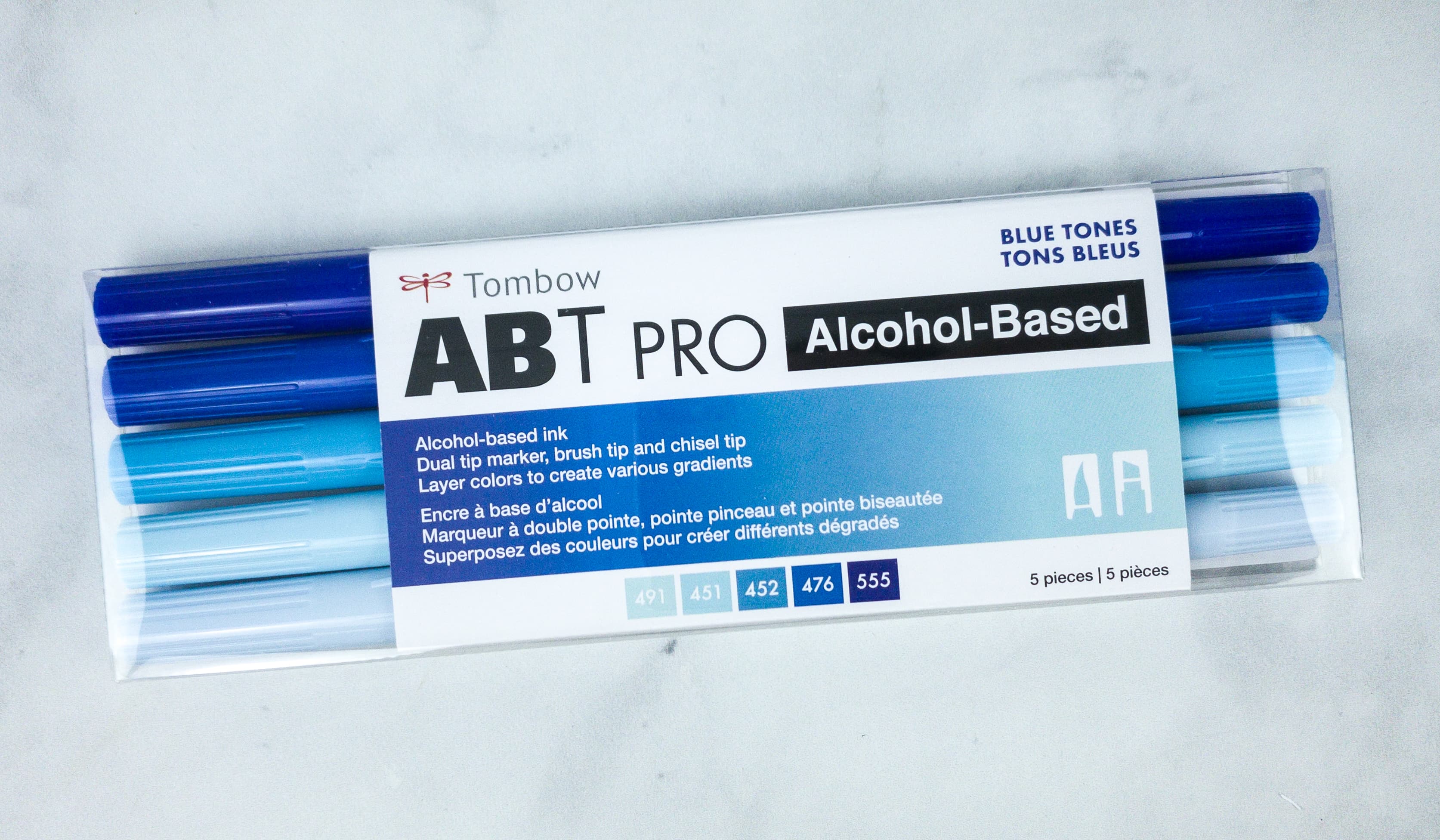 ABT PRO 5-Pack Alcohol-Based Markers in Blue Tones ($29.99) It's an alcohol-based permanent marker with a unique brush tip that works like a paintbrush to provide a fine, medium, or bold strokes, simply by changing the stroke pressure.
The back of the carton provided us a clear visual of the color's shades.
Inside the box are 5 different pieces of blue markers that include P491 Glacier Blue, P451 Sky Blue, P452 Process Blue, P476 Cyan, and P555 Ultramarine.
The marker's tip is made with a durable nylon brush and polyester chisel, providing you a unique structure that retains its shape after each heavy use.
These markers also come with a slender barrel for a more comfortable grip, making it the most ideal pen for artists, designers, and crafters.
Since the marker's ink is alcohol-based, it's fast-drying and permanent. It provides a more precise, vibrant color that can be layered to create a richer saturation, shadings, and color gradation!
This quarter's Tombow box contains another great curation of premium-quality art supplies which will help enhance my artistic skills. I really love all the items I got, especially the marker storage case, as it makes it easier for me to carry all my art supplies without any worry of forgetting something at all. I also like my new set of pencils and markers! This box definitely contains everything an artist would love to have!
What do you think of this quarter's Tombow VIP Club?