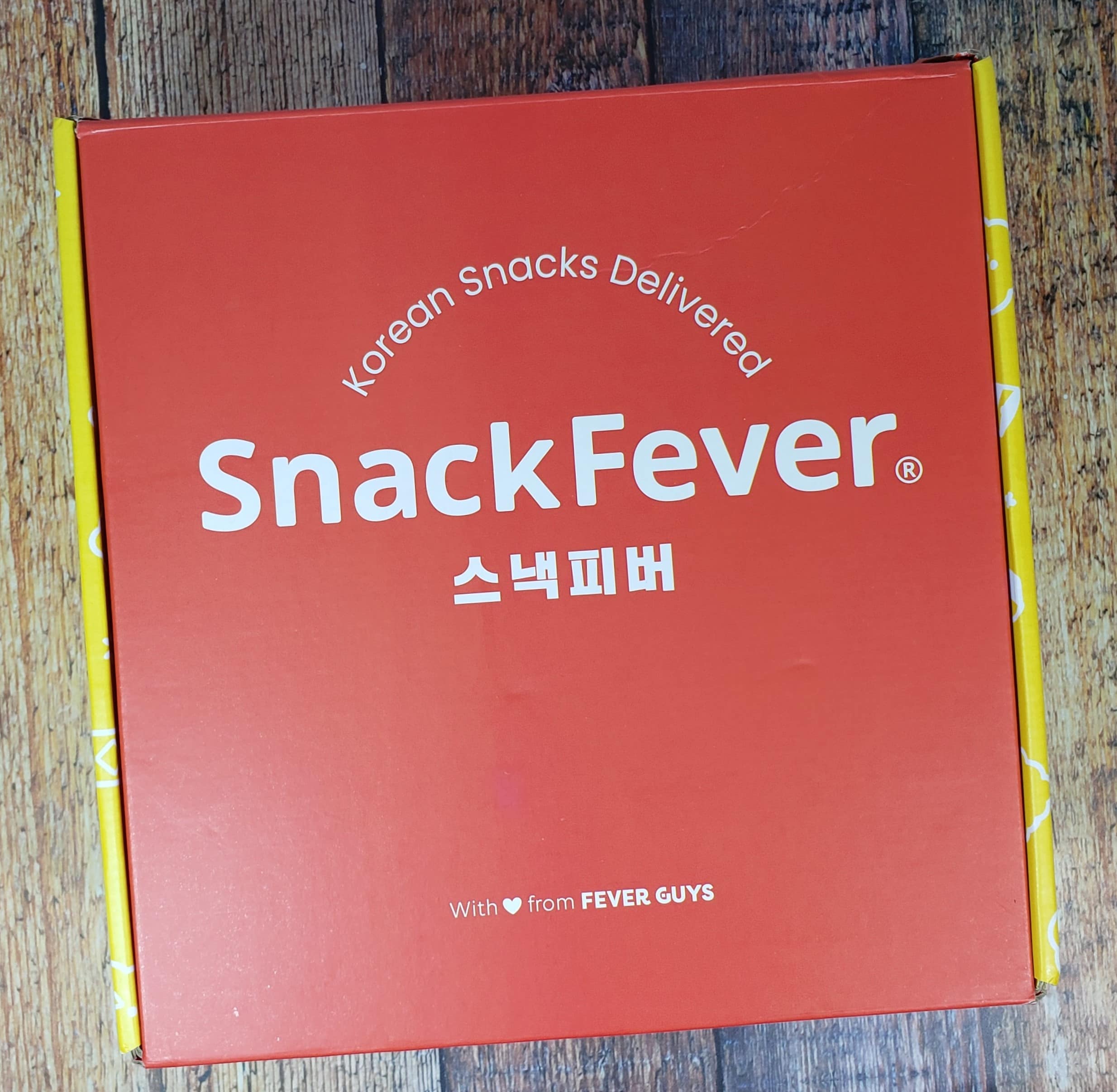 SnackFever is a monthly subscription box that delivers all your favorite Korean snacks, as well as other hard-to-find Korean treats. Snack Fever is available in two boxes, the Original box ($30) which contains 9 to 11 full-size snacks and Deluxe box ($40) which has 10 to 14 full-size, bigger, more premium snacks. Your subscription auto-renews and you can pause or cancel anytime. Shipping per box is only $5 worldwide.
This is a review of the Deluxe box.
DEAL: Save $3 off your first box (Original, Deluxe). Use coupon code HELLOSUB3.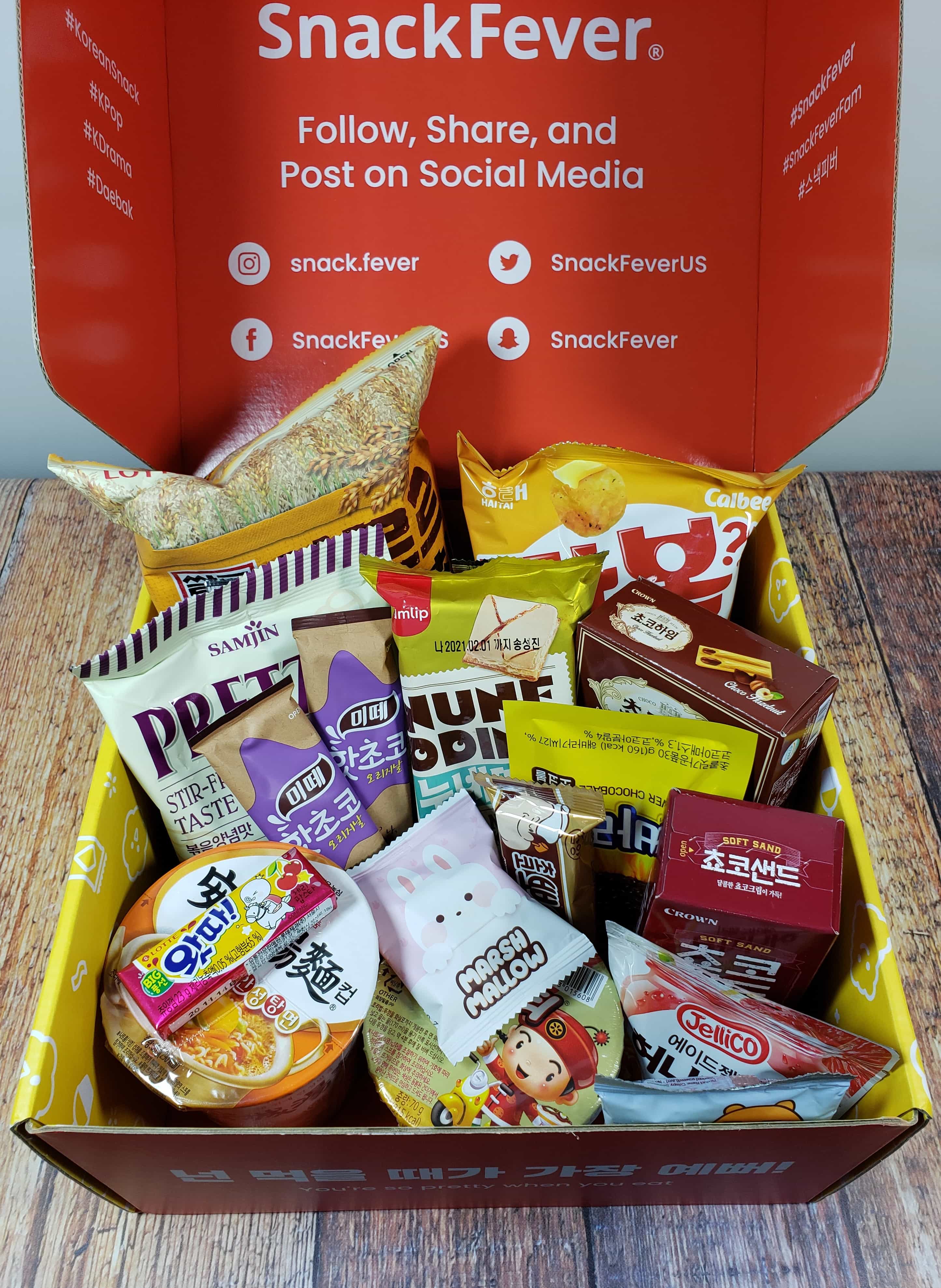 SnackFever's social media handles are printed on the box. On the side, there's even a Korean sentence which means "you're so pretty when you eat"!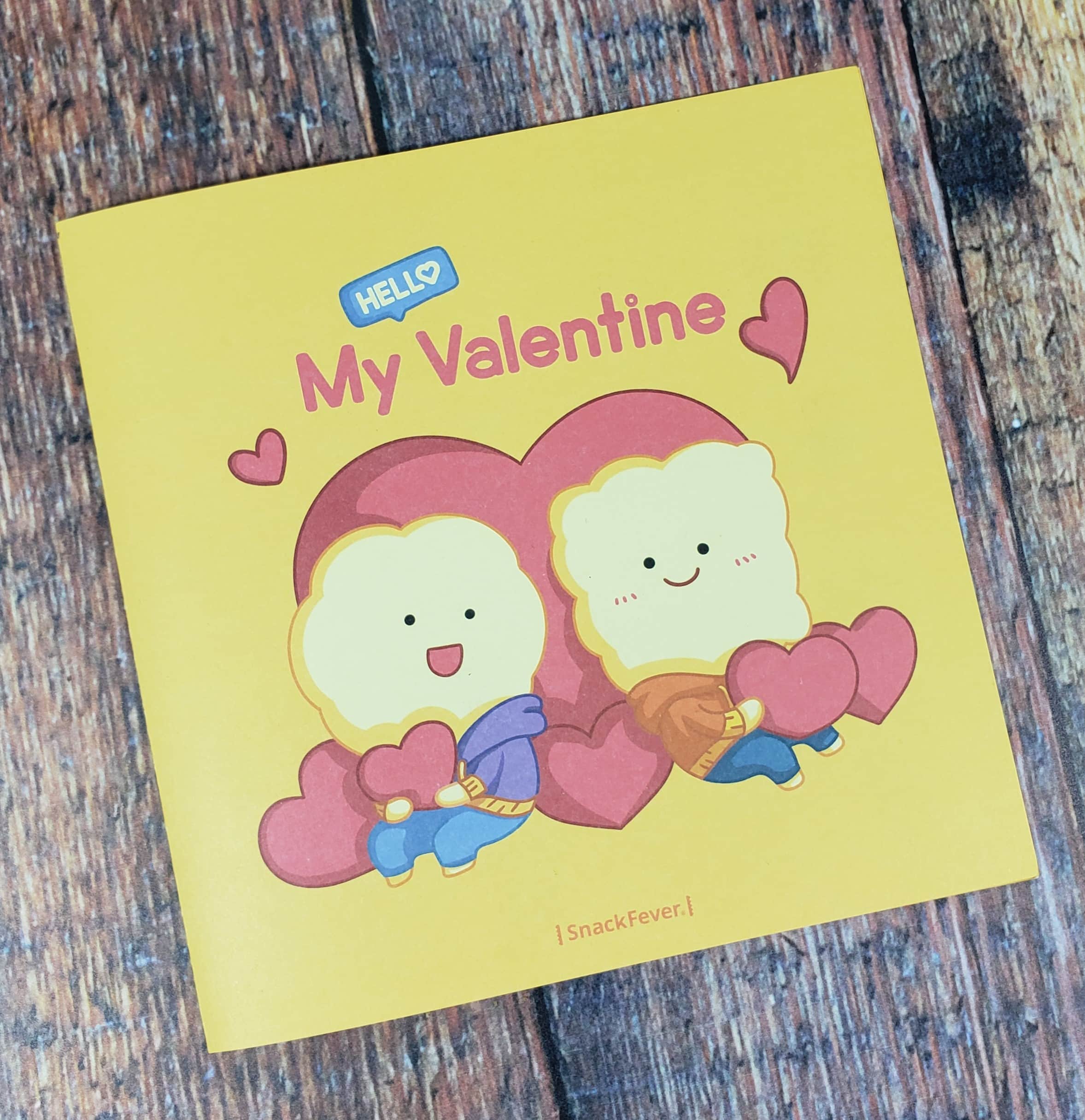 Our February SnackFever theme is Hello My Valentine.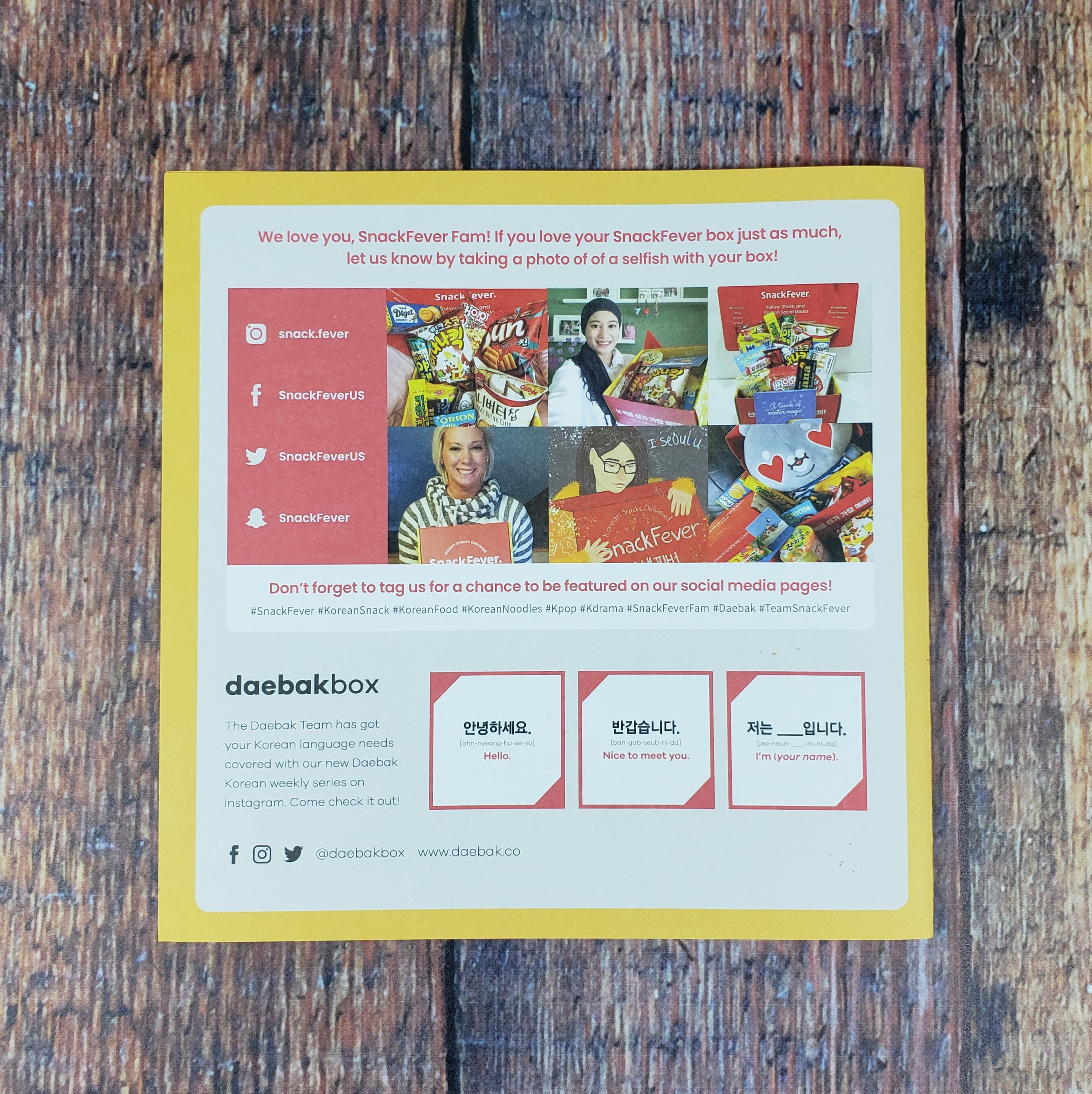 Love that Snack Fever loves their subscriber family and shows it. Here are some pictures of subscribers and their boxes. Also, learn Korean with the Daebak Team's weekly Instagram lessons. Here's a few words to get you started.
The printed product information sheet details what was received in each size SnackFever box.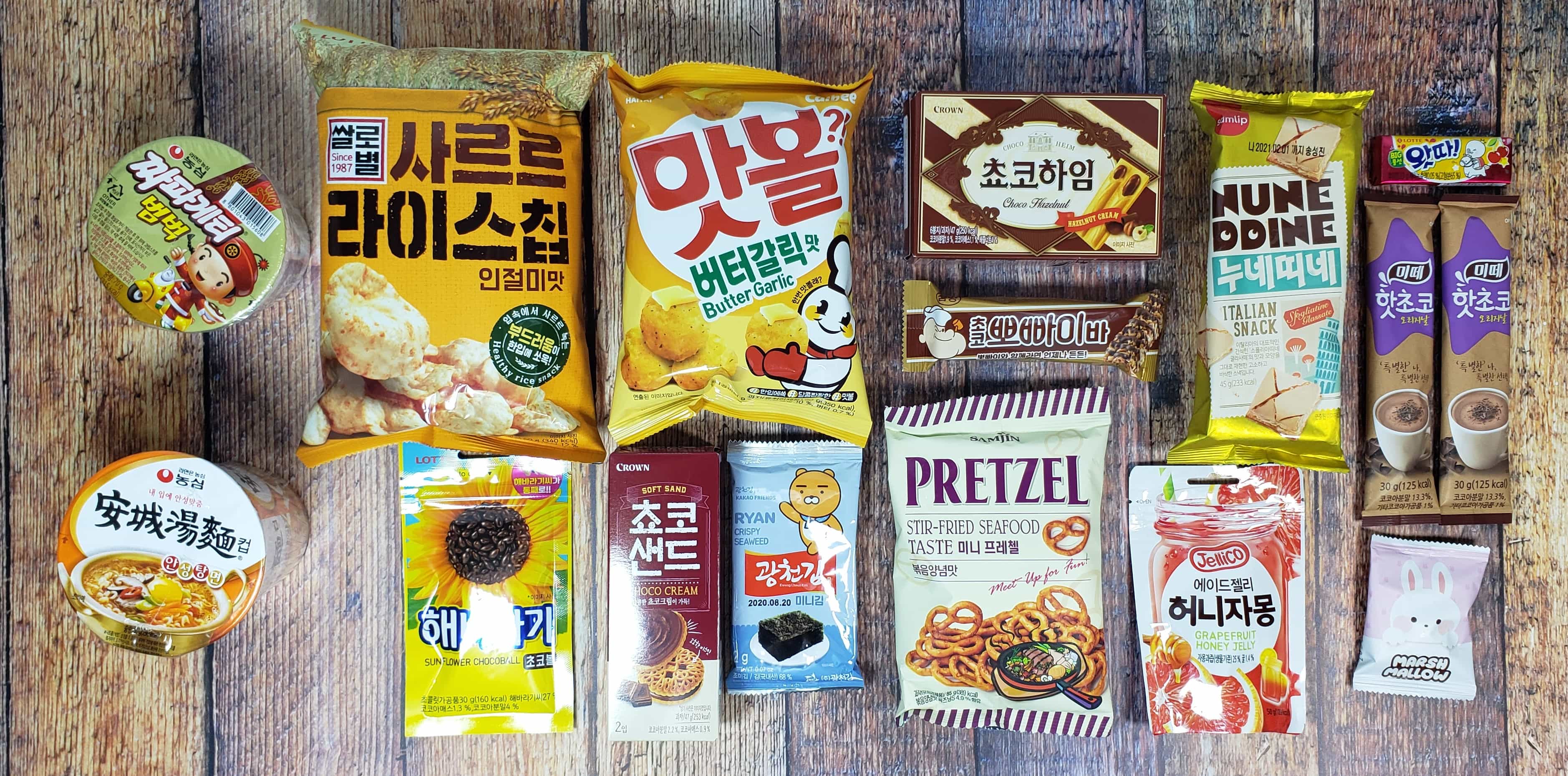 I can't believe how much gets sent over each month. Here is my February Deluxe Box. Click here to see all of our SnackFever reviews (Brandy covers the Original box review).
Sticker:  If you want a reminder of this month's theme, here's a sticker with the graphic from the cover of the information booklet. This is printed on glossy paper and can be placed anywhere you want a little Snack Fever reminder.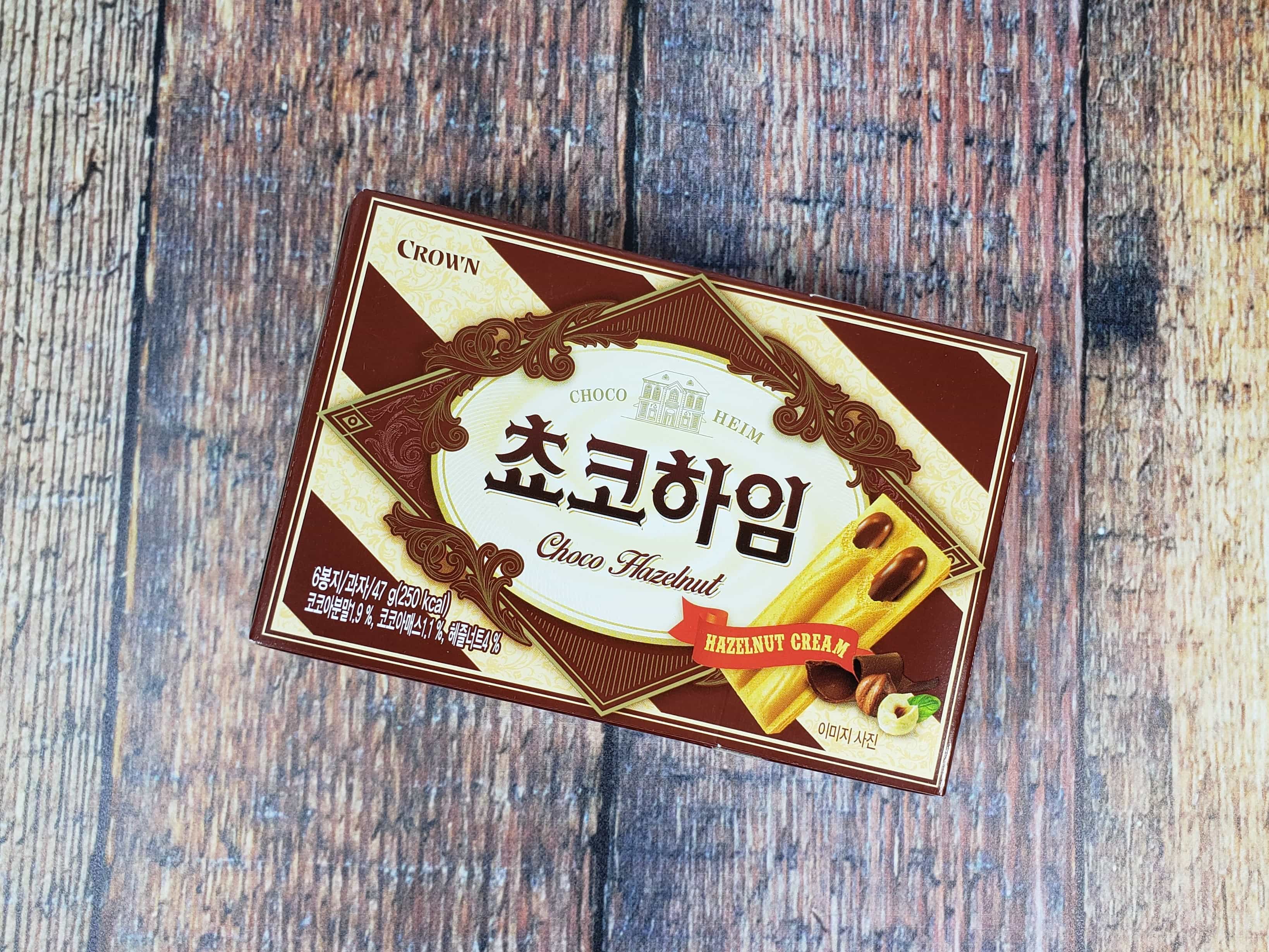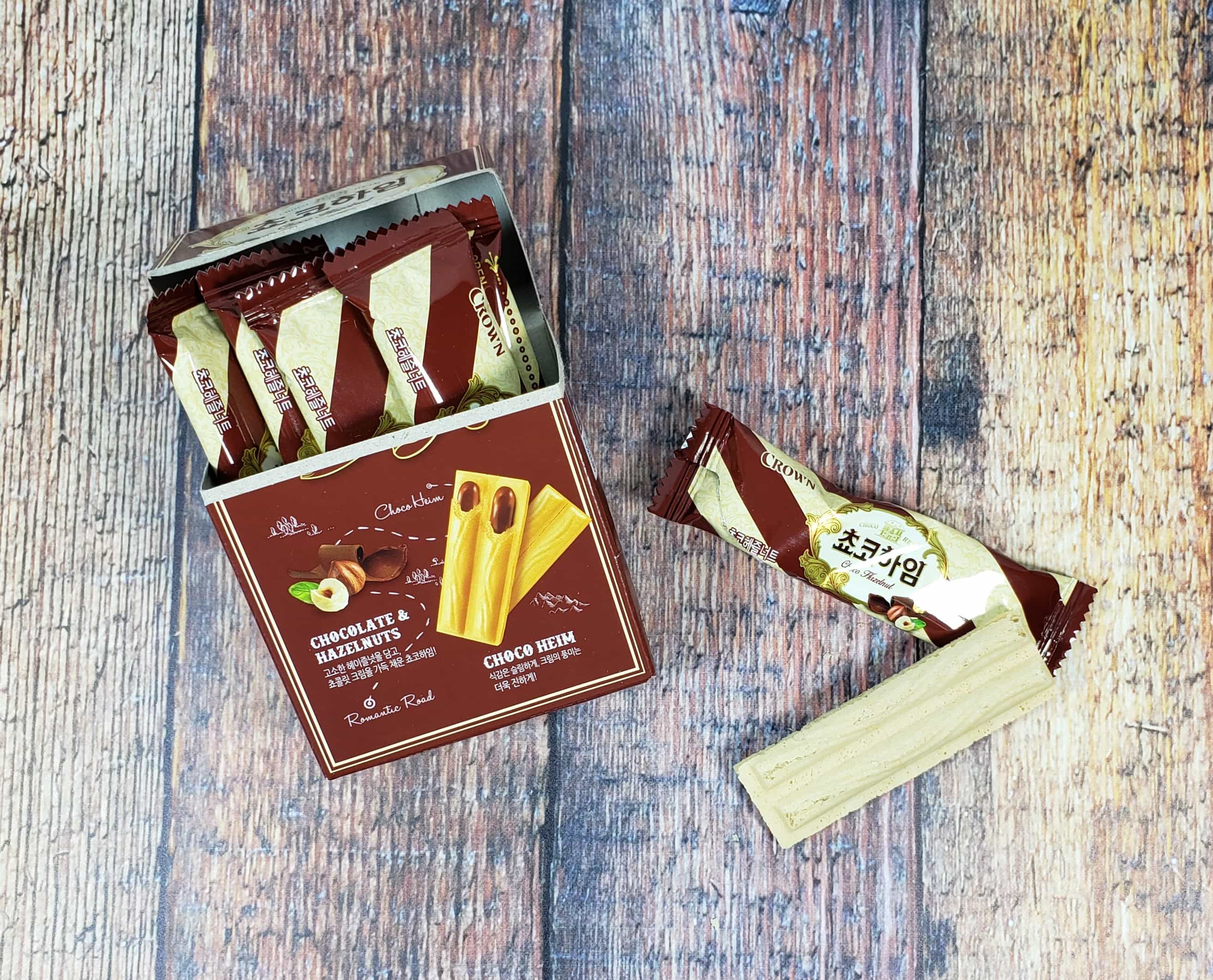 Crown | Choco Heim:  Light, crispy wafer filled with chocolate hazelnut cream… Yes, please! Although this is sweet, it is not overly sweet. If you're a fan of Kinder Bueno, then I think you'll enjoy this treat. My favorite thing is that these are individually packaged, so you can share or self-portion control easily.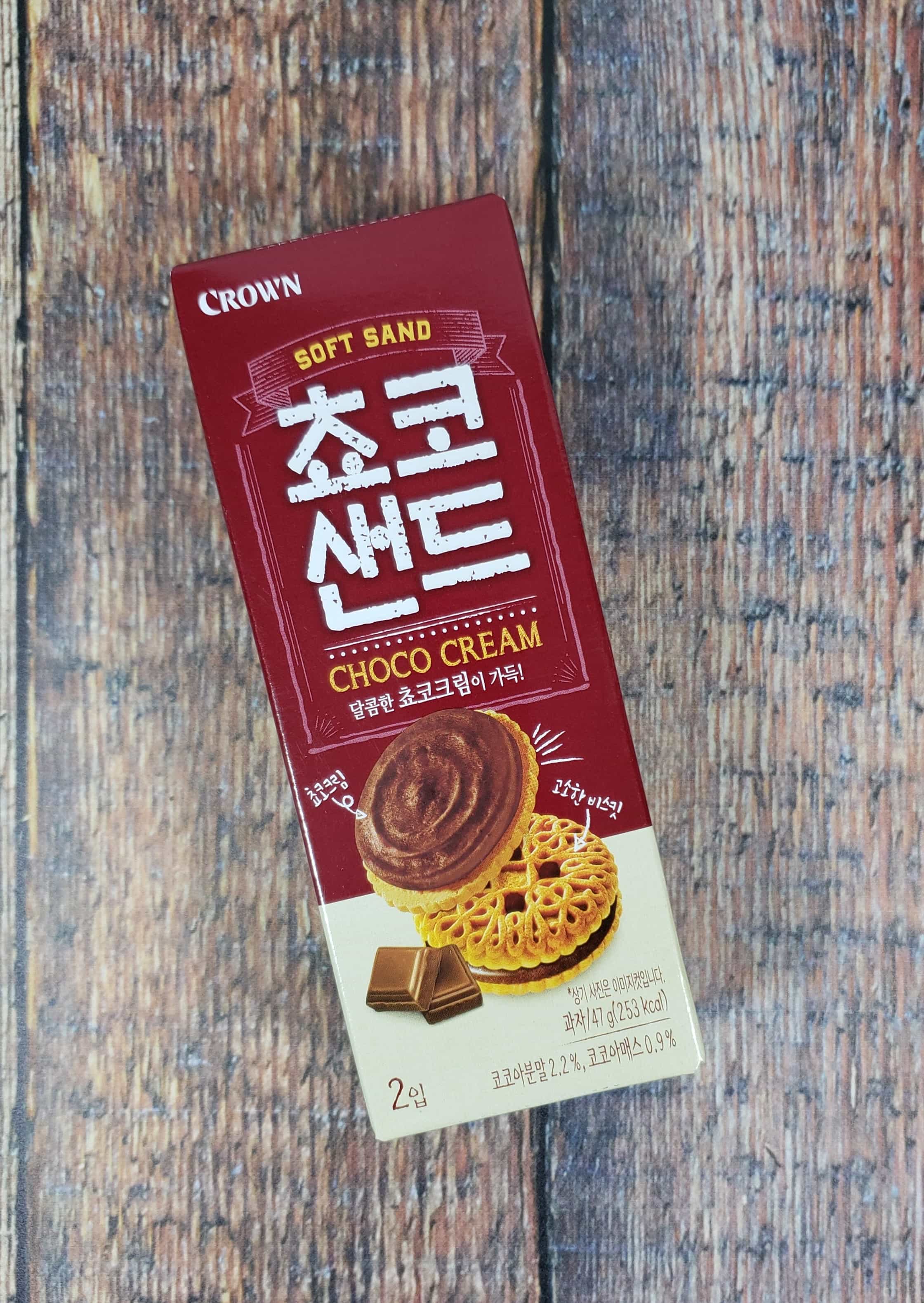 Crown | Soft Sand Chocolate Cream:  These cookies are a nice treat alone or as an accompaniment to a hot cup of tea or coffee. They're made of lightly sweetened biscuits filled with a chocolate cream. The box came with 2 individually wrapped packs of 3 cookies each.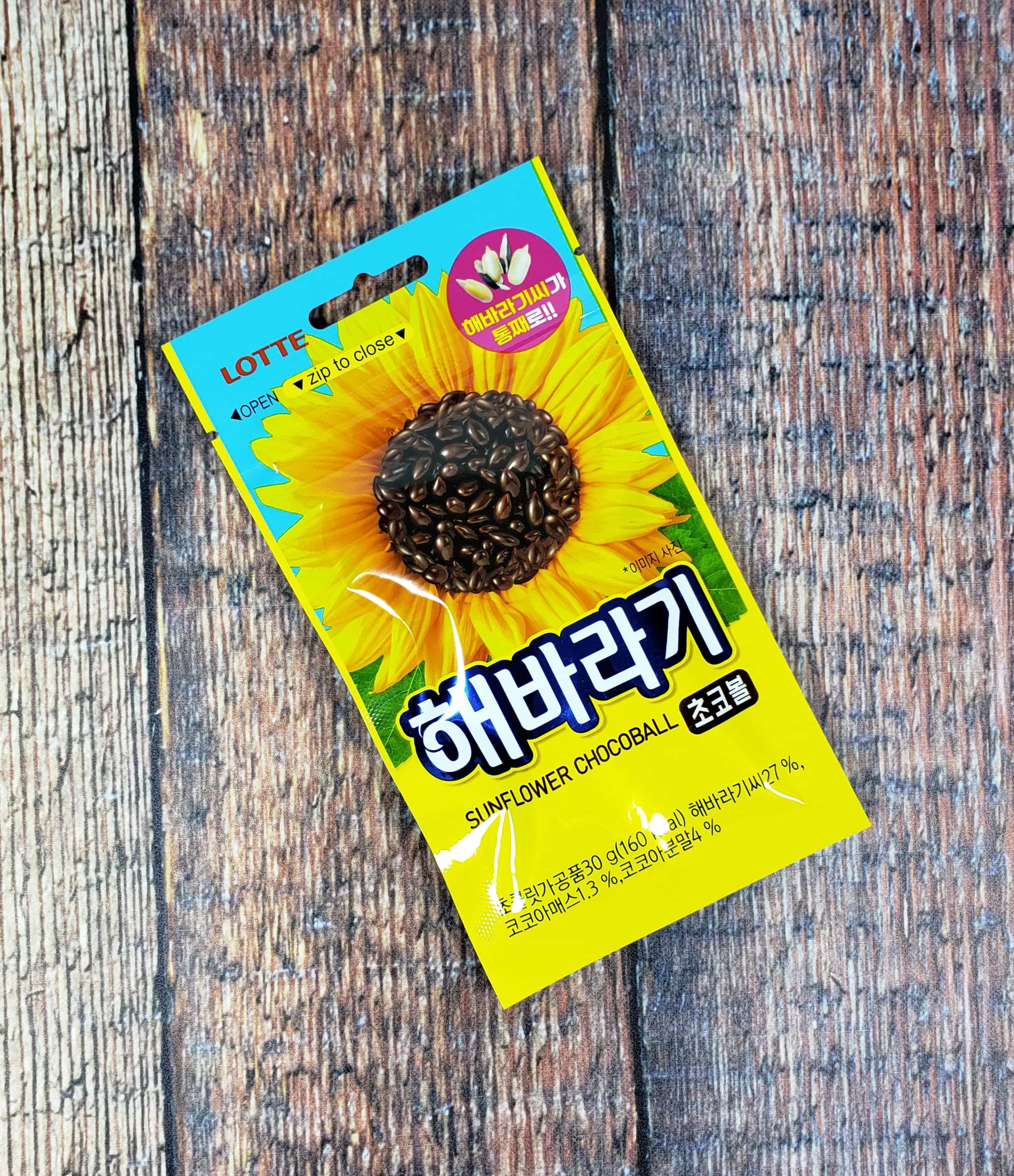 Lotte | Sunflower Chocolate:  These chocolate covered sunflower seeds have made several appearances in Snack Fever boxes, and I enjoy them every time. The chocolate is a nice twist to this snack along with not having to shell the seeds.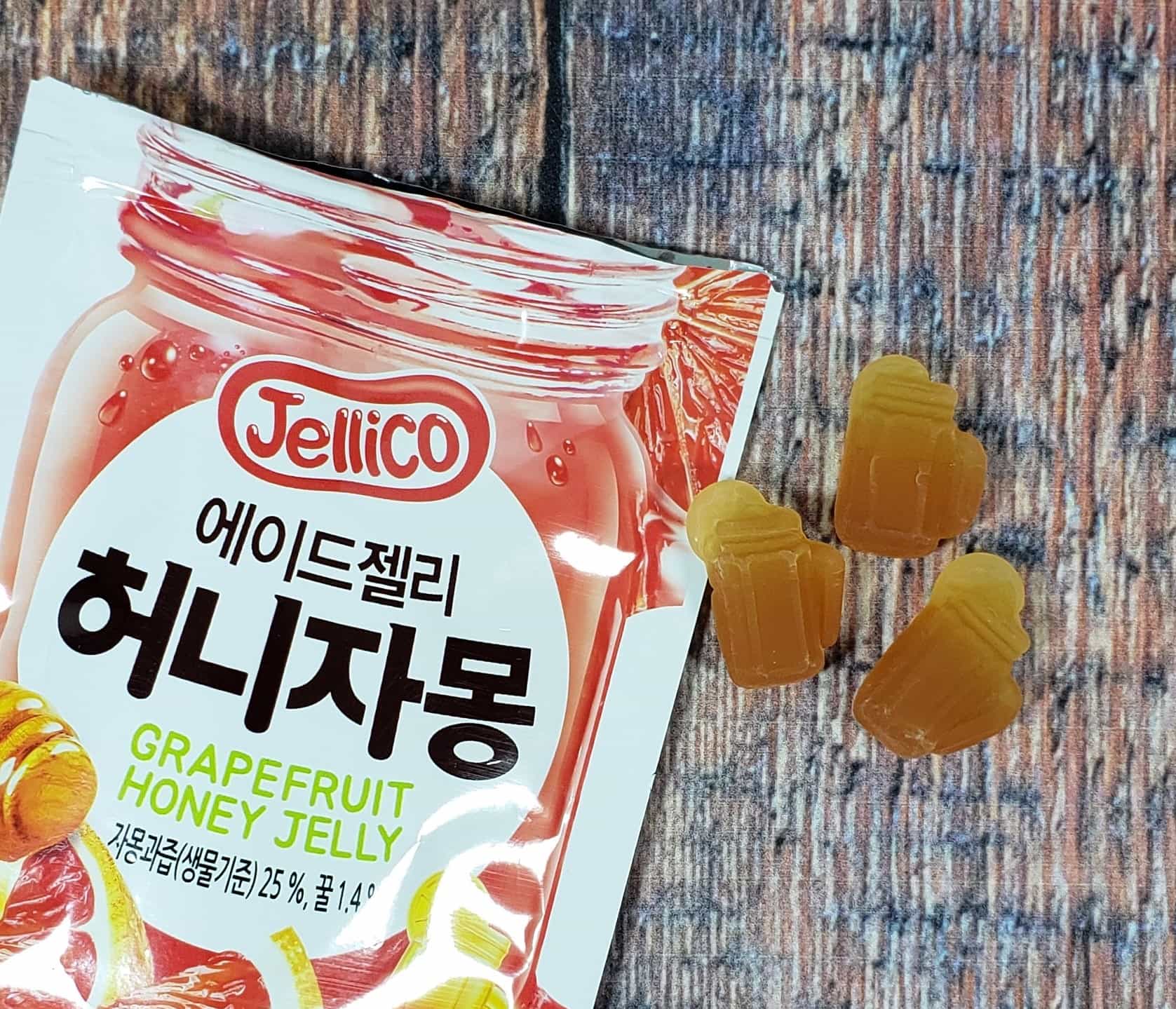 Jellico | Grapefruit Honey Jelly:  I am a big fan of fruity gummy candies. These were not my favorite (honey flavored items are hit or miss with me). However, they did have good grapefruit flavor. Also, I found the mason jar mug shape of the candy adorable.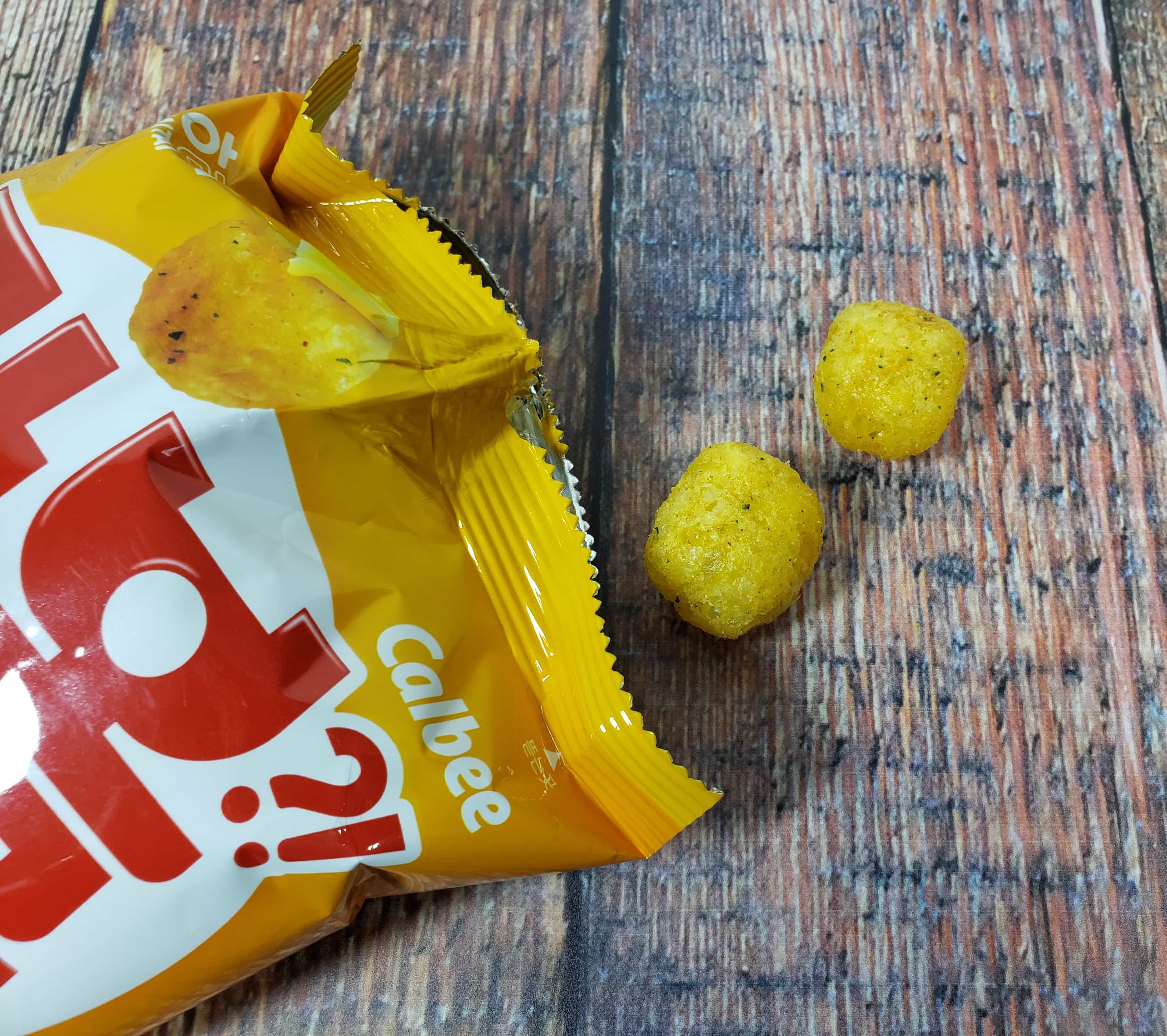 Calbee | Flavor Ball (Butter Garlic Flavor):  Butter and garlic were definitely at the forefront of these flavor balls. I could instantly smell the garlic when I opened the bag, and the flavor was packed into each bite. If you're planning on a date night at home, I'd skip this snack unless your partner likes garlicky kisses. ?
Samyang| Popeye Choco Bar:  Flavor-wise, this cereal bar reminded me of a cross between a chewy granola bar and a chocolate rice crispy treat. The combo is yummy and filling.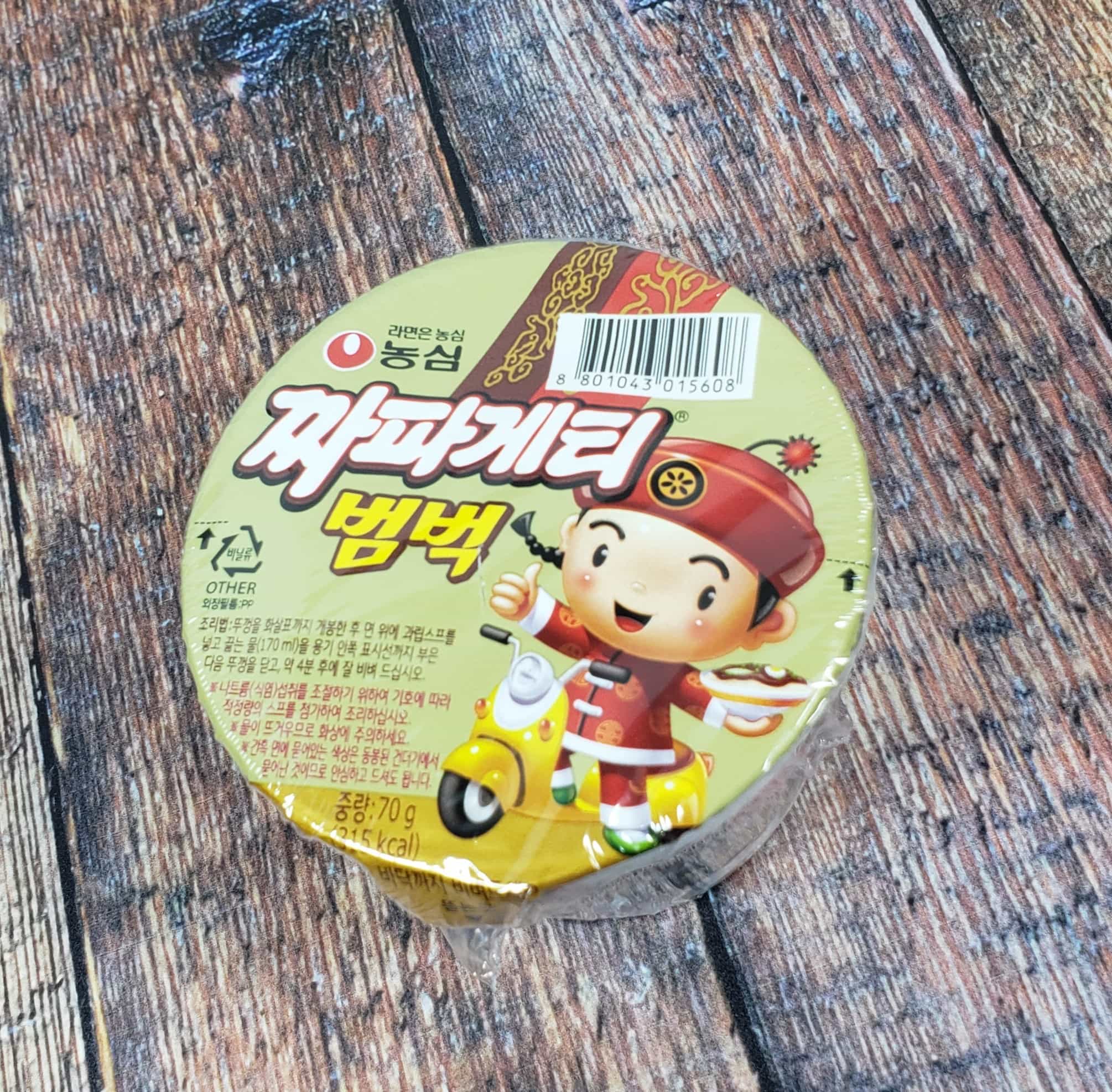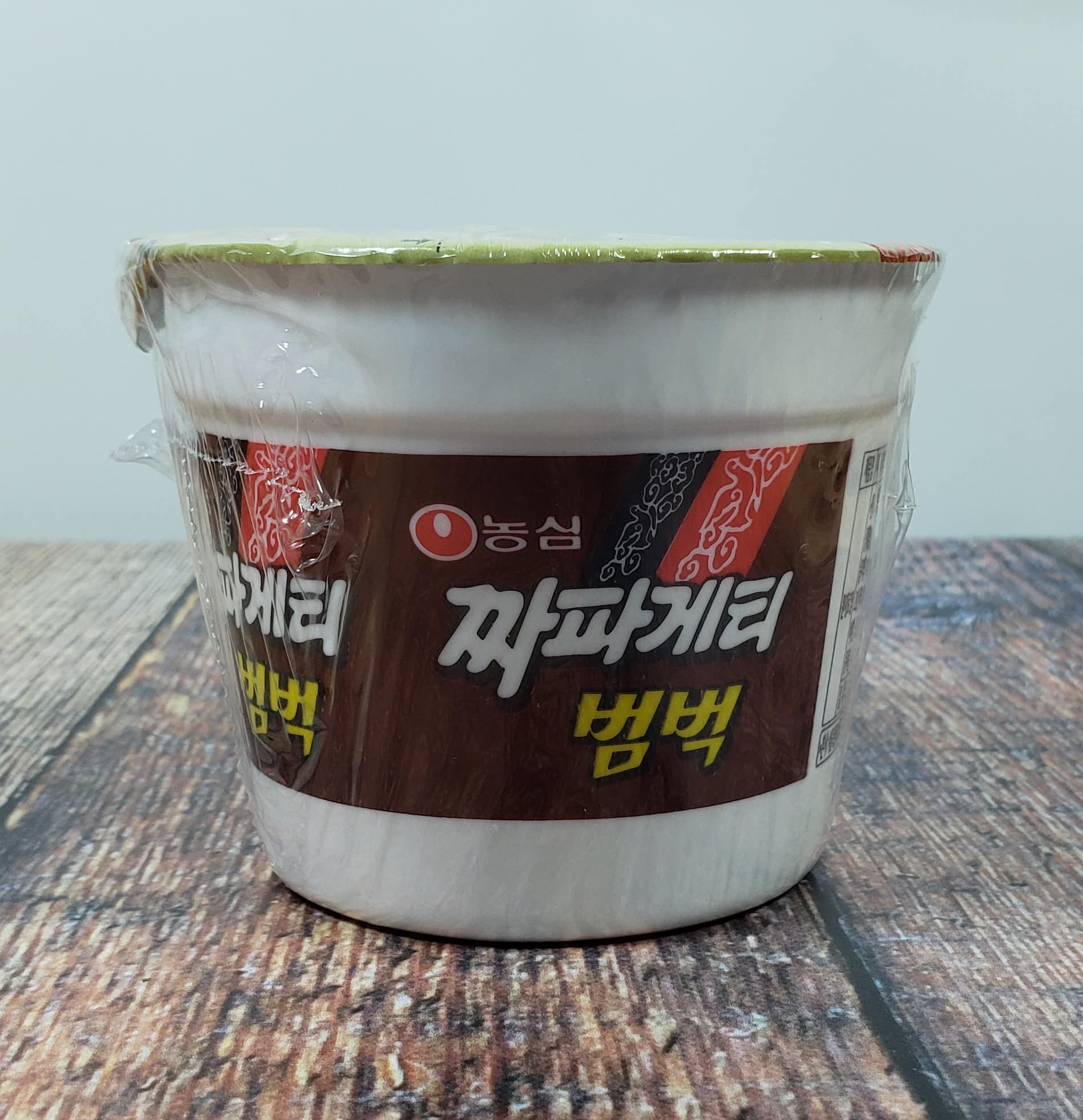 Nong Shim | Jjapageti:  If you've seen or heard anything about the movie Parasite, then you've probably heard about a dish called ramdong. Well, jjapageti makes up half of the dish. The noodles in jjapageti are a bit thicker and chewier than traditional ramyun noodles and have a jjajangmyun like black bean sauce. This instant cup makes for a quick meal. Mix with a pack of Neoguri (and steak) to recreate the dish from the movie.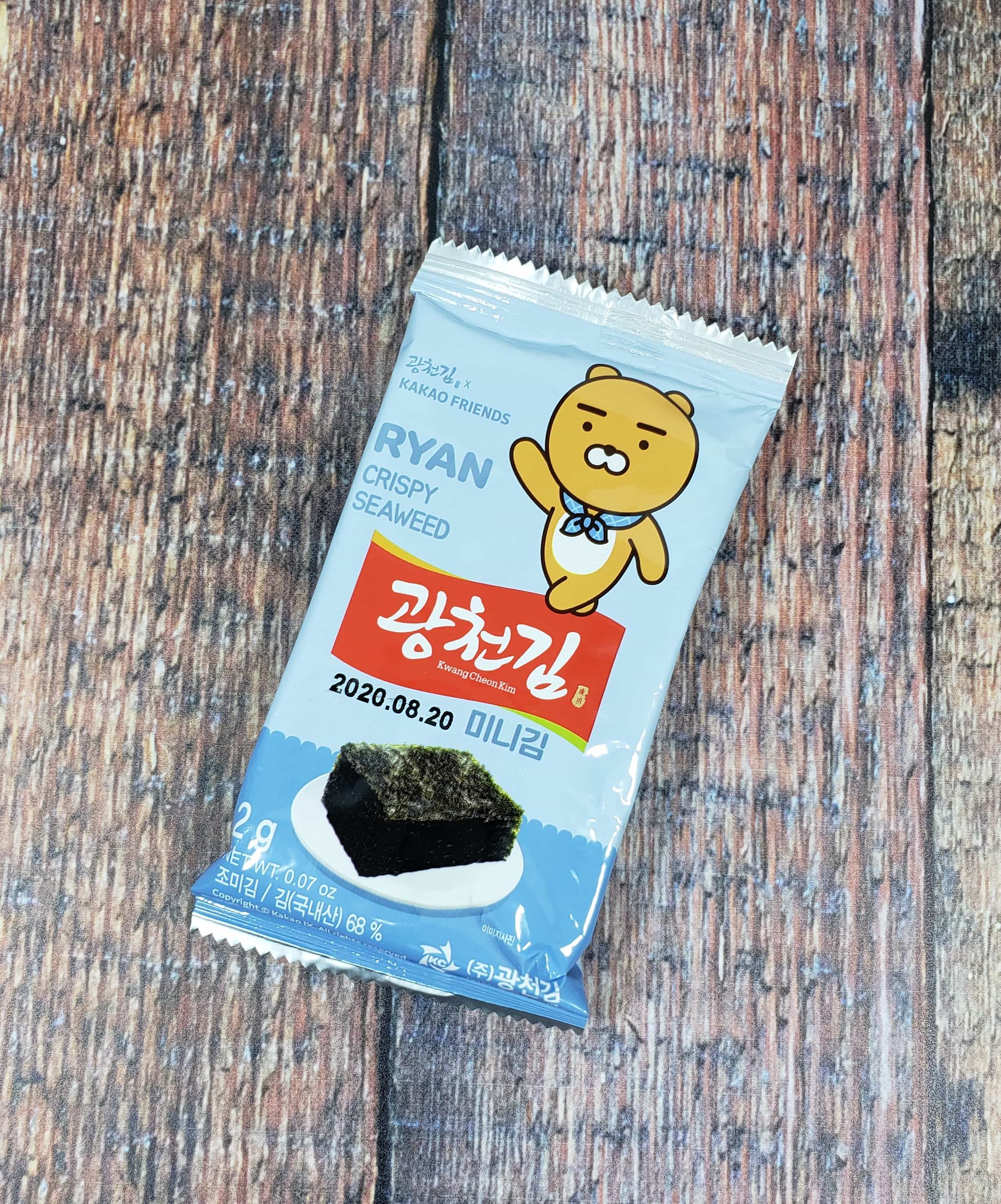 KAKAO FRIENDS Mini Doshirak Seaweed Snack:  This is most certainly a mini snack pack! The seaweed sheets are about half the size of those found in other snack packs. With Ryan (a mane-less lion) from the KAKAO FRIENDS on the package, these feel more geared to children than adults. Regardless, I enjoyed the toasted and lightly oiled/salted seaweed. These can also be crushed and used as a topping on dishes or eaten with rice during a meal.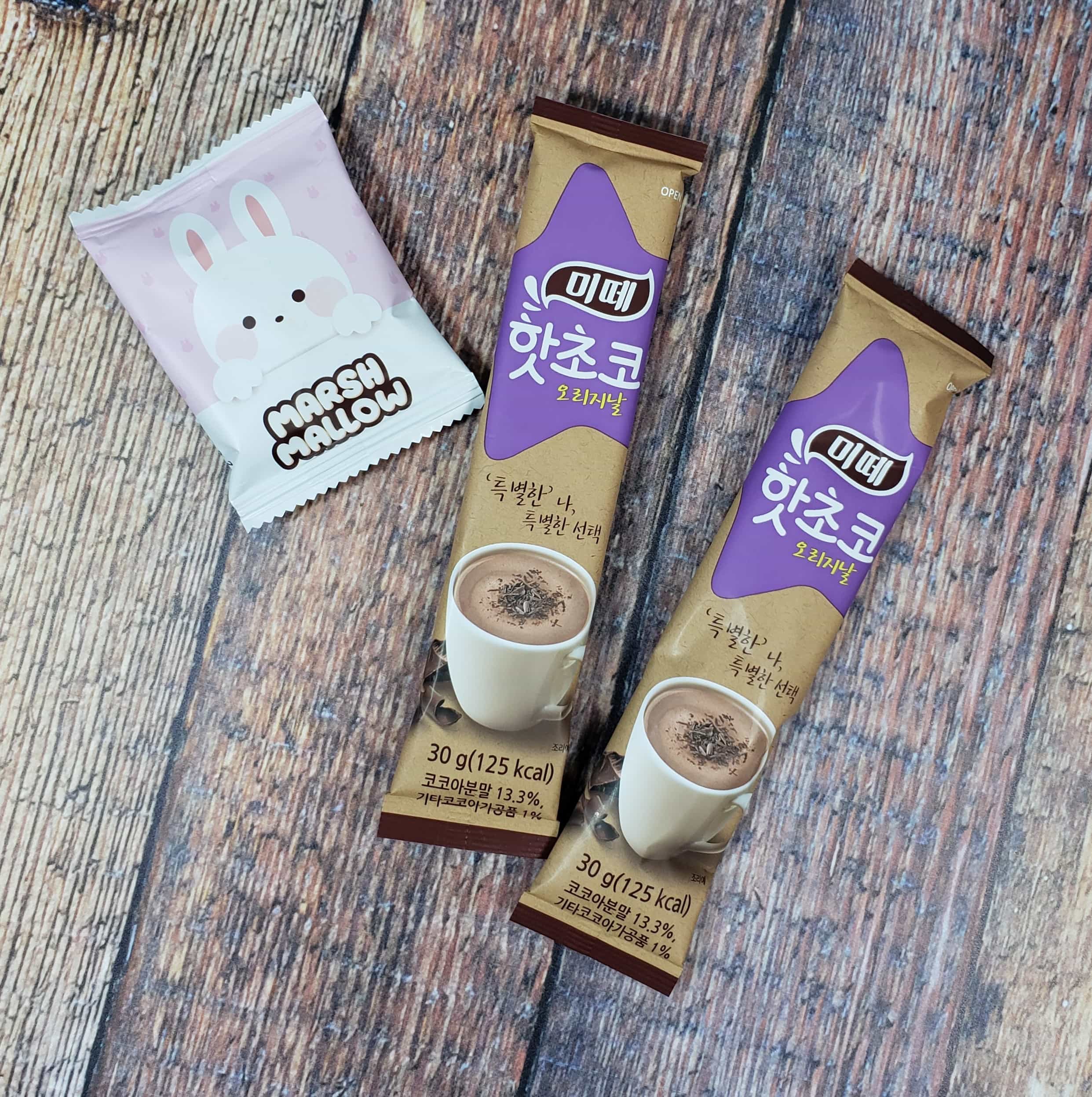 Mitte | Hot Choco Marshmallow:  Need to take off the chill of winter? Try a mug of this hot chocolate topped with the cutest bunny-shaped marshmallow. I received 2 sachets of cocoa and one marshmallow. This is perfect for me because I always make an over-sized mug… not so good if you want to share.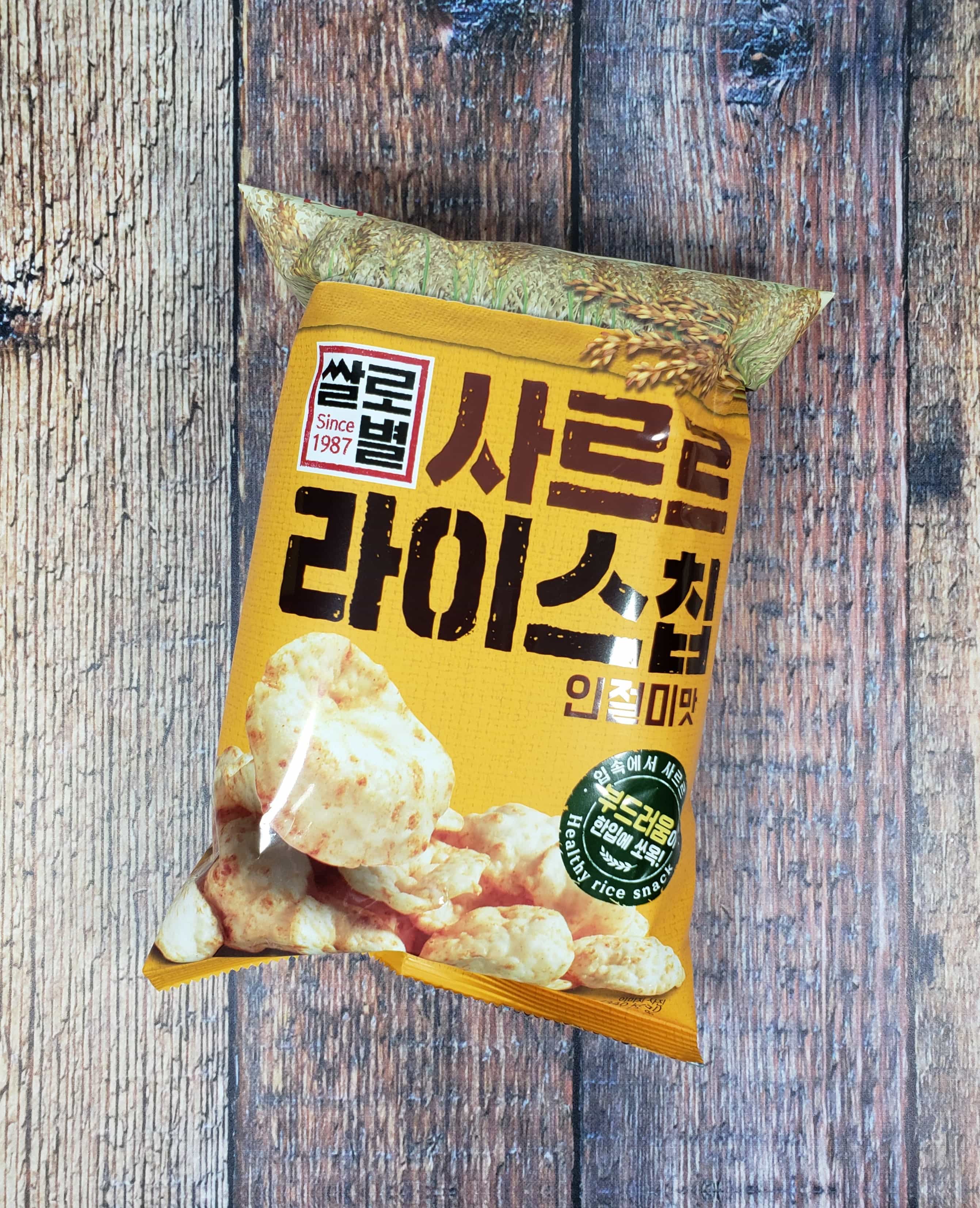 Lotte | Melting Rice Chip:  These puffed rice chips are melt in your mouth goodness. The texture of the chip is light and airy. The flavor reminded me of kettle corn; there was a balance of salty and sweet. They were the perfect snack for a bit of TV binging.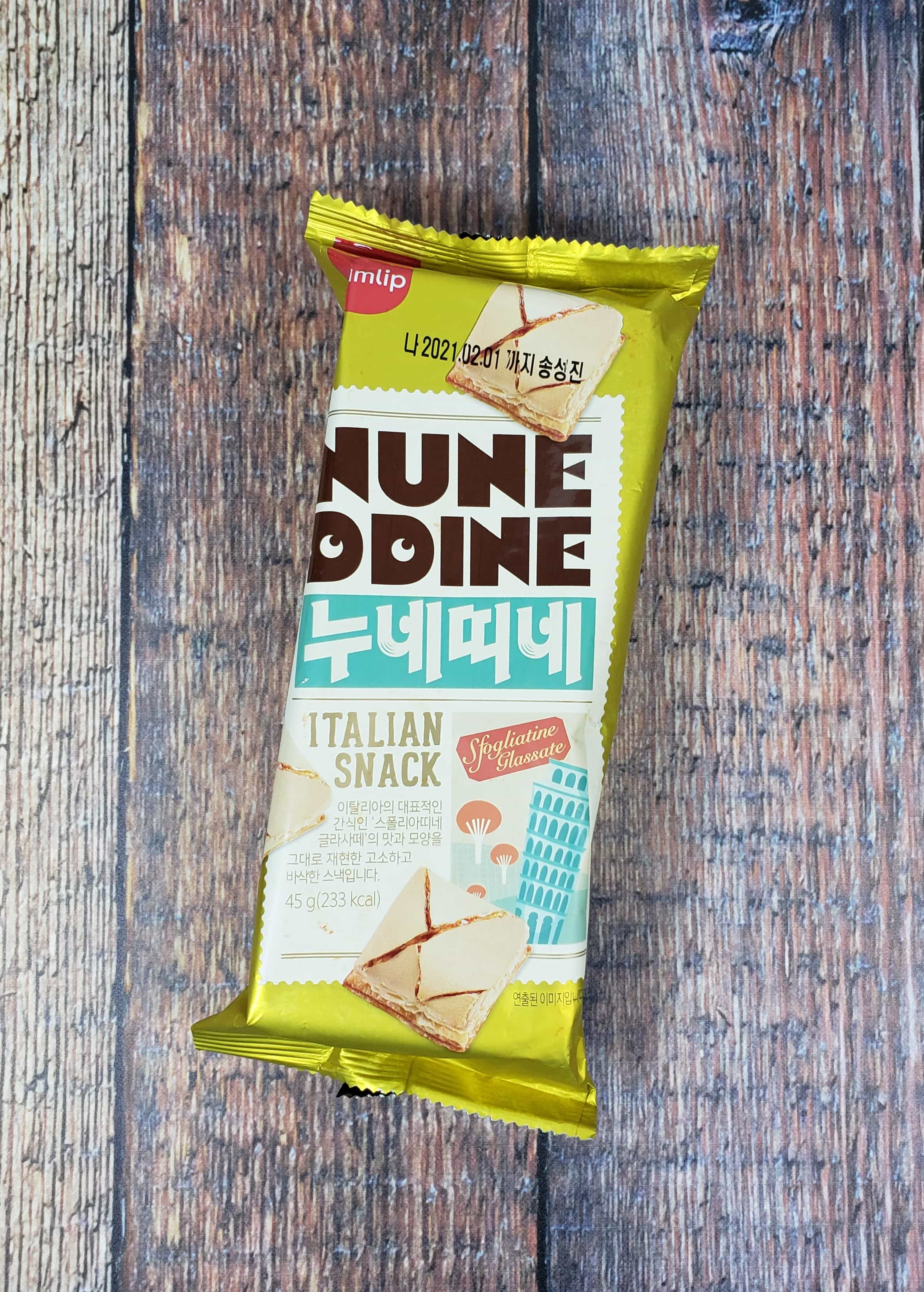 Samlip | Nune Ddine Italian Snack:  It has been a while since I've had this snack. The flaky cookie is a combo of puff pastry and pie crust that has apricot jam running throughout. These are a bit more on the sugary/sweet side.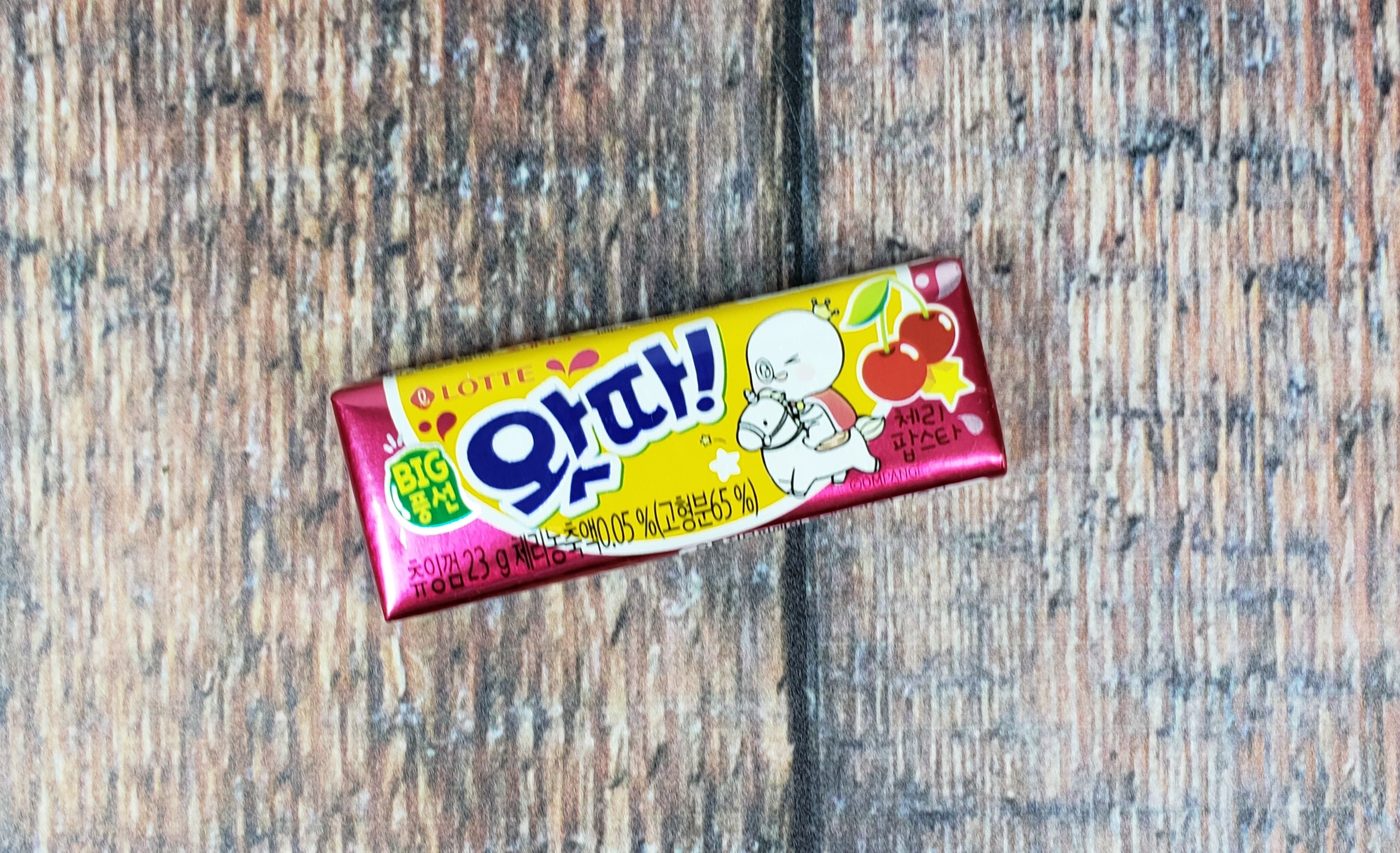 Lotte | Watda! Pop Star Gum:  This cherry flavored gum packs a lot of flavor into each piece. It has small candy bits for added texture and flavor while chewing. The package also promises that you'll get big bubbles.
Samjin | Pretzel Stir-fried (Seafood Flavor):  For me, the seafood/fishy smell of the pretzels was stronger than the flavor. I think these would make a good bar snack or pair nicely with a cold beer.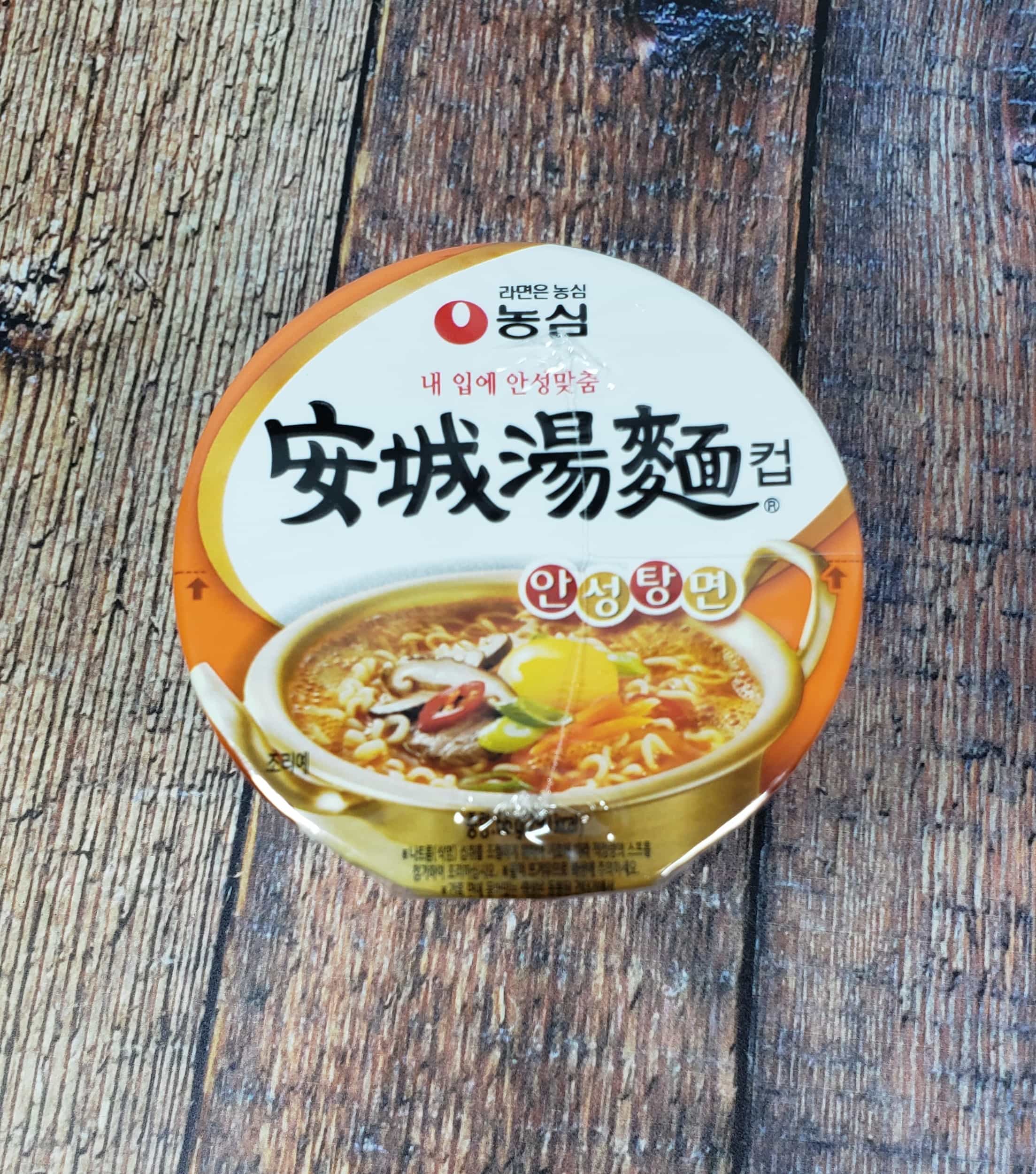 Nong Shim | Anseong Tangmyeon:  The noodles in this cup are closer to American ramen noodles in that they are thinner than traditional Korean ramyun. This also comes with freeze dried veggies in the cup. The soup base is mildly spicy beef broth. Again, Snack Fever has given another quick meal. I love popping these noodle cups in my lunch bag when I'm short on time in the morning.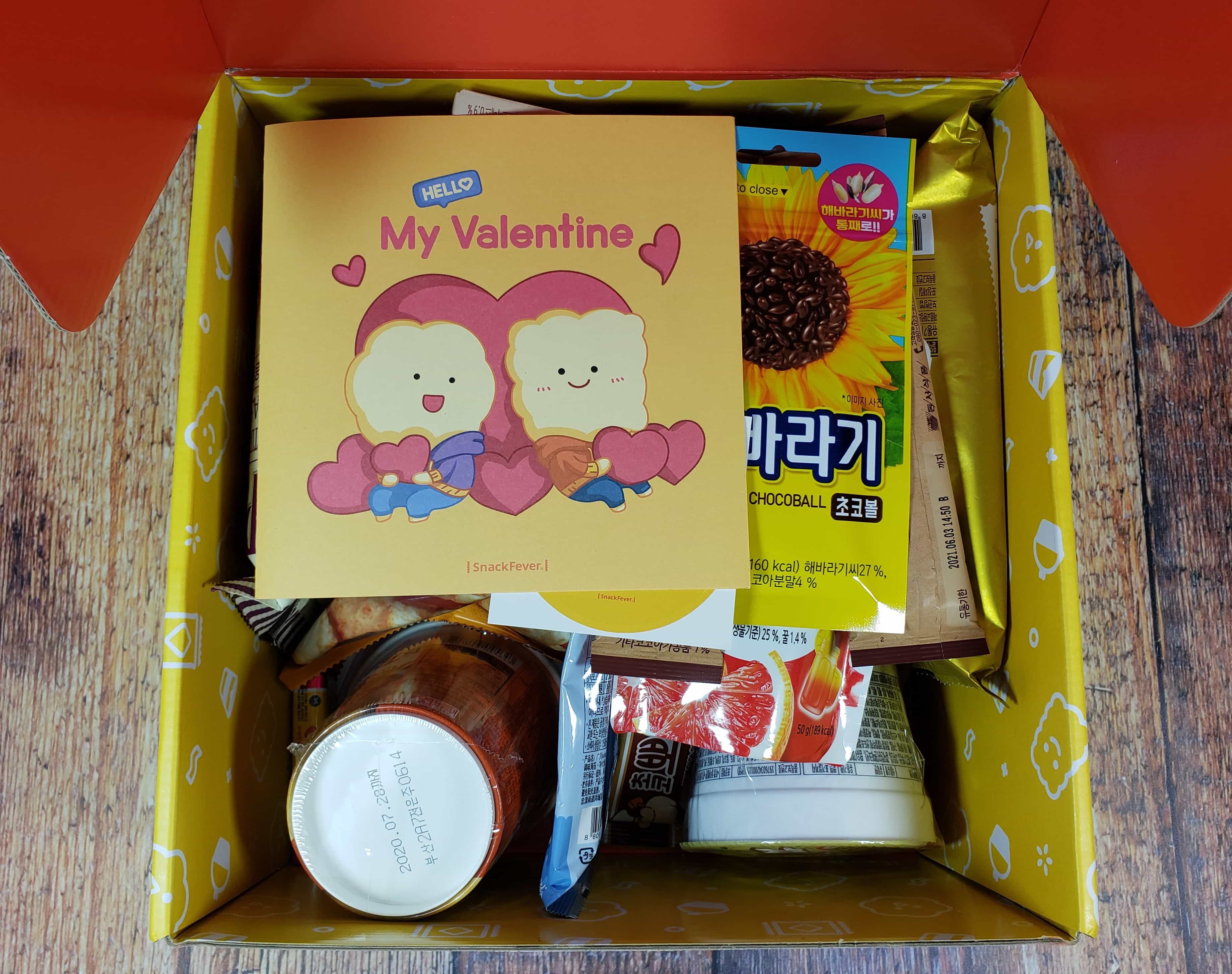 Snack Fever never fails to deliver a box of treats that my family and I love. The assortment contains a range of flavors and there's something for everyone. It's probably why unboxing day is a big event for us (well, and we like to eat). ? Snack Fever is a great way to try out Korean snacks without having to buy full sized packages. If there's something that I absolutely love in the box, I add it to my monthly shopping list and hunt it down while I'm at my local Korean grocery store .
While you're checking out Snack Fever, don't forget about their other boxes – Daebak (jackpot) box with fun souvenirs and merchandise and Daebak Jewelry box featuring pieces inspired by current Korean trends.
Have you tried Snack Fever?