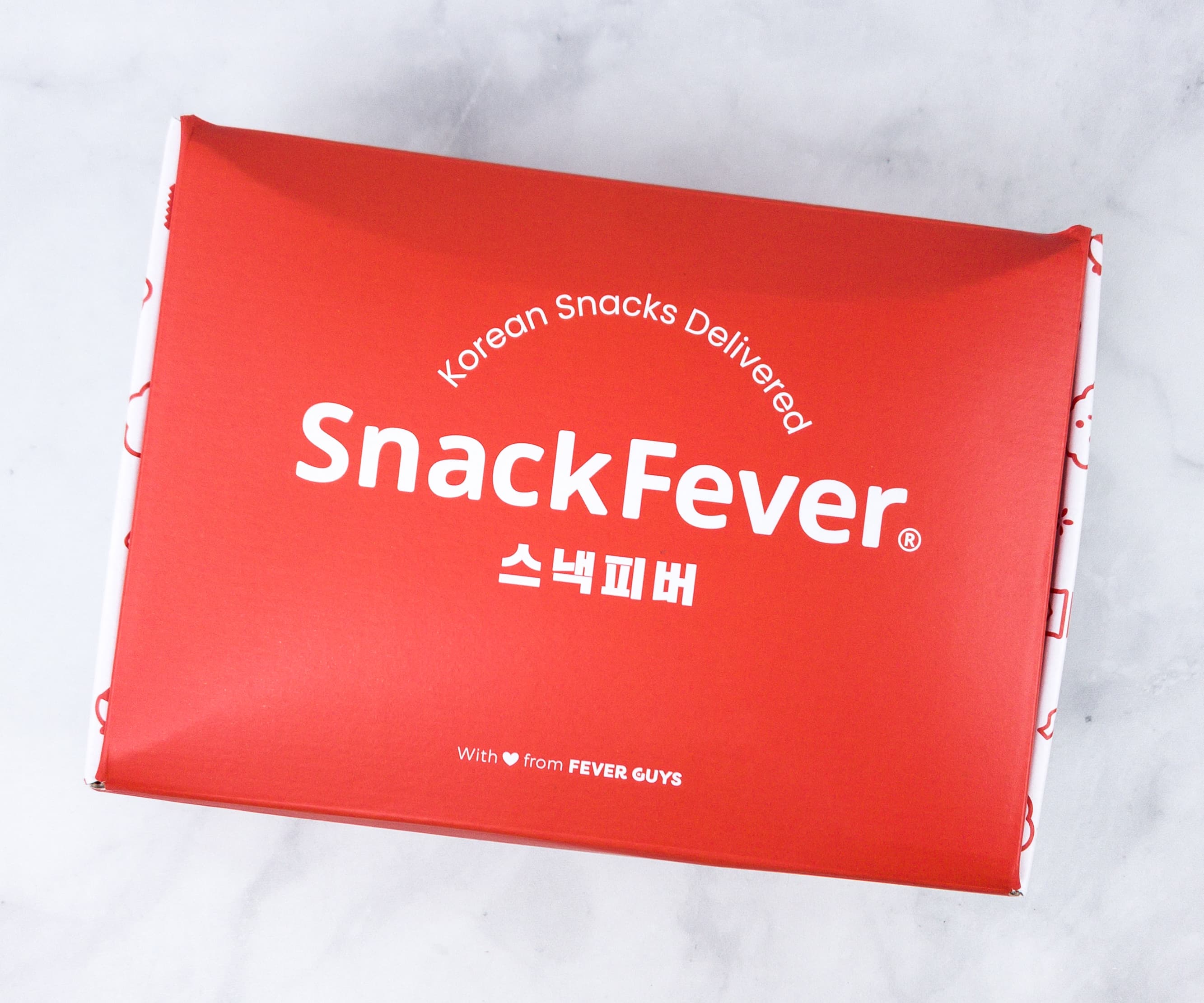 SnackFever is a monthly subscription box that delivers all your favorite Korean snacks, as well as other hard-to-find Korean treats. Snack Fever is available in two boxes, the Original box ($30) which contains 8 to 11 full-size snacks and Deluxe box ($40) which has 10 to 13 full-size, bigger, more premium snacks. Your subscription auto-renews and you can pause or cancel anytime. Shipping per box is only $5 worldwide.
This is the review of the Original box.
DEAL: Save $3 off your first box (Mini, Original, Deluxe). Use coupon code HELLOSUB3.
SnackFever's social media handles are printed on the box. On the side, there's even a Korean sentence which means "you're so pretty when you eat"!
There is no extra packaging, just snacks!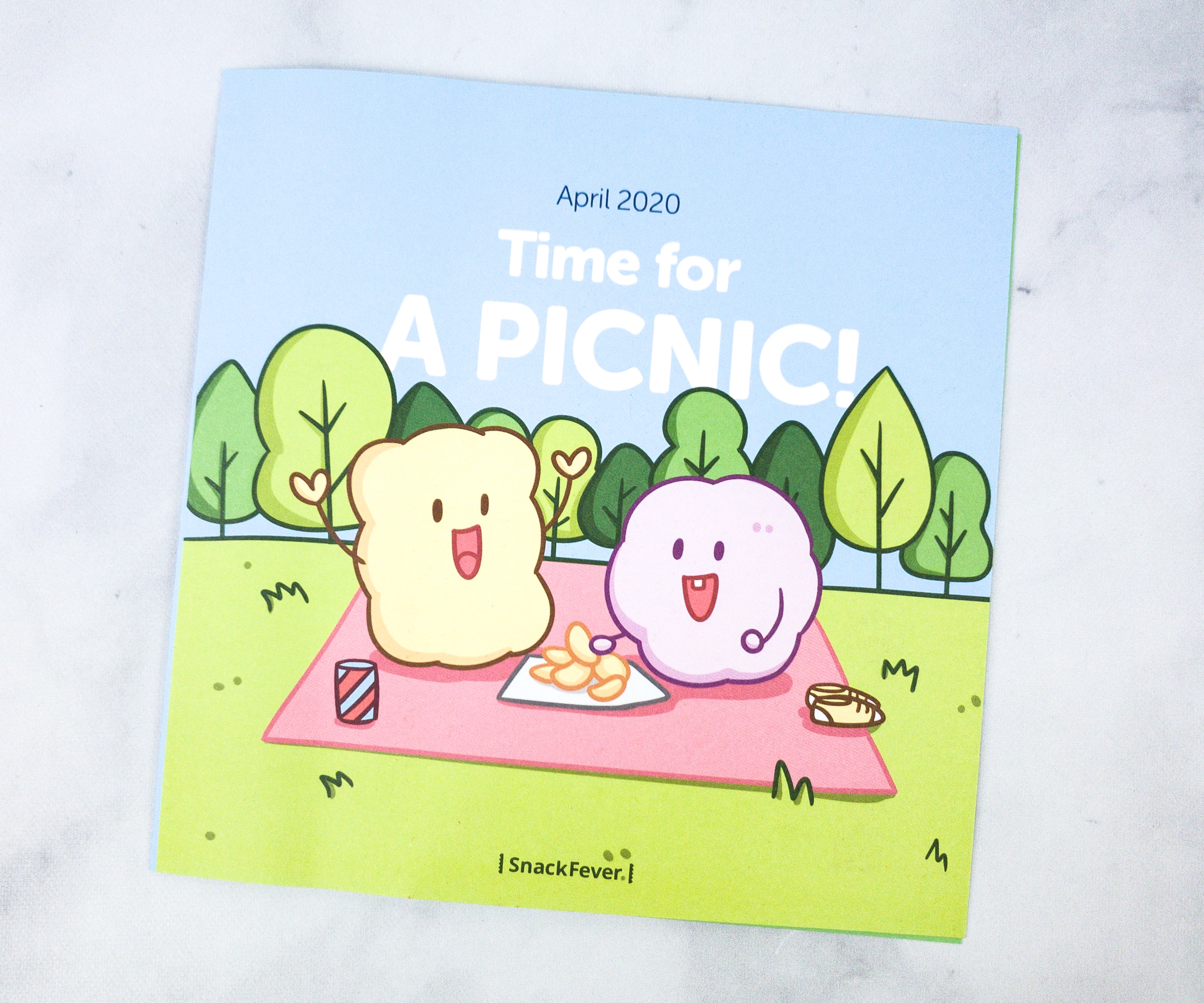 April 2020 theme is Time For A Picnic!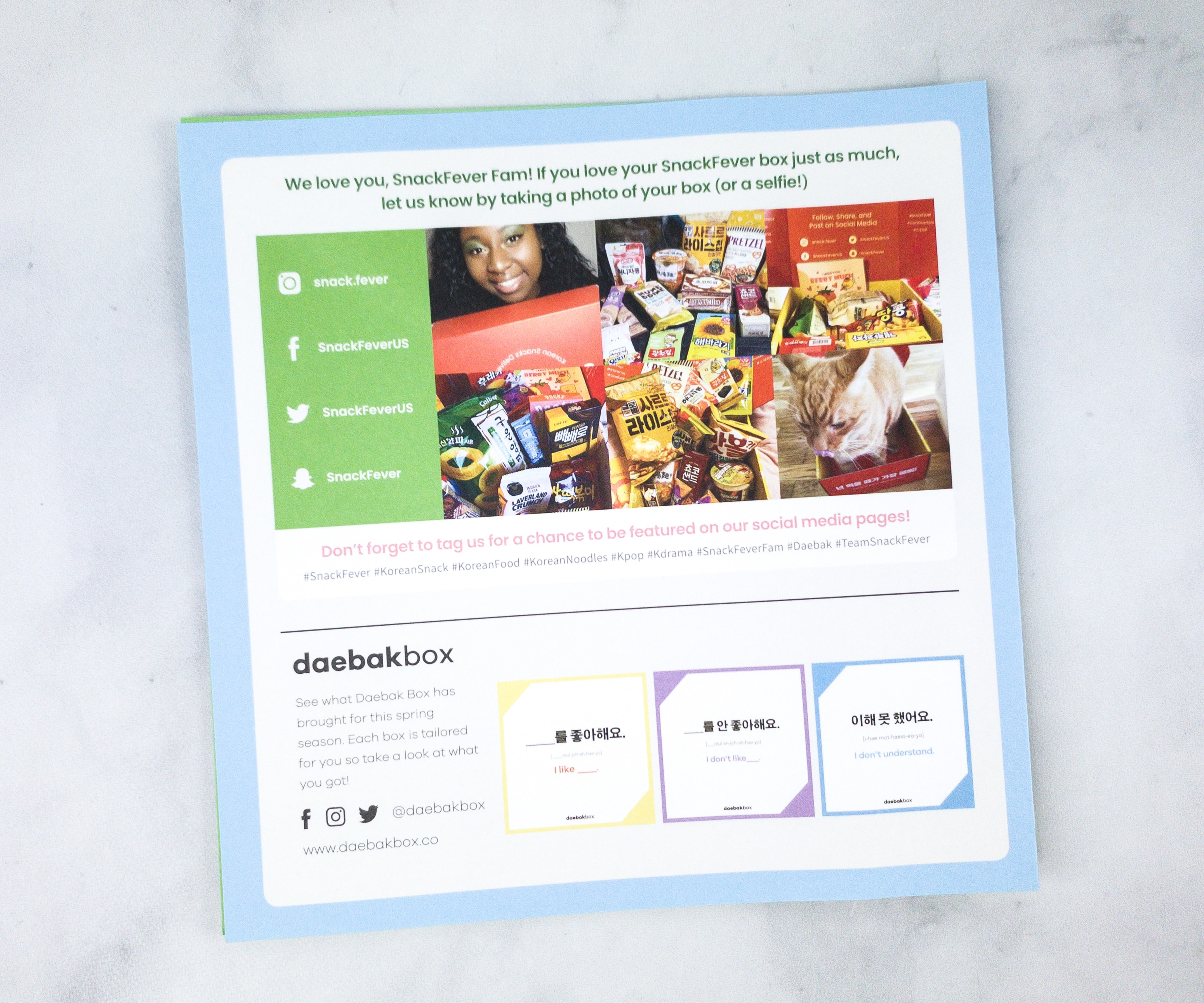 The booklet features pictures of Snack Fever boxes from subscribers, as well as some Korean vocabulary words.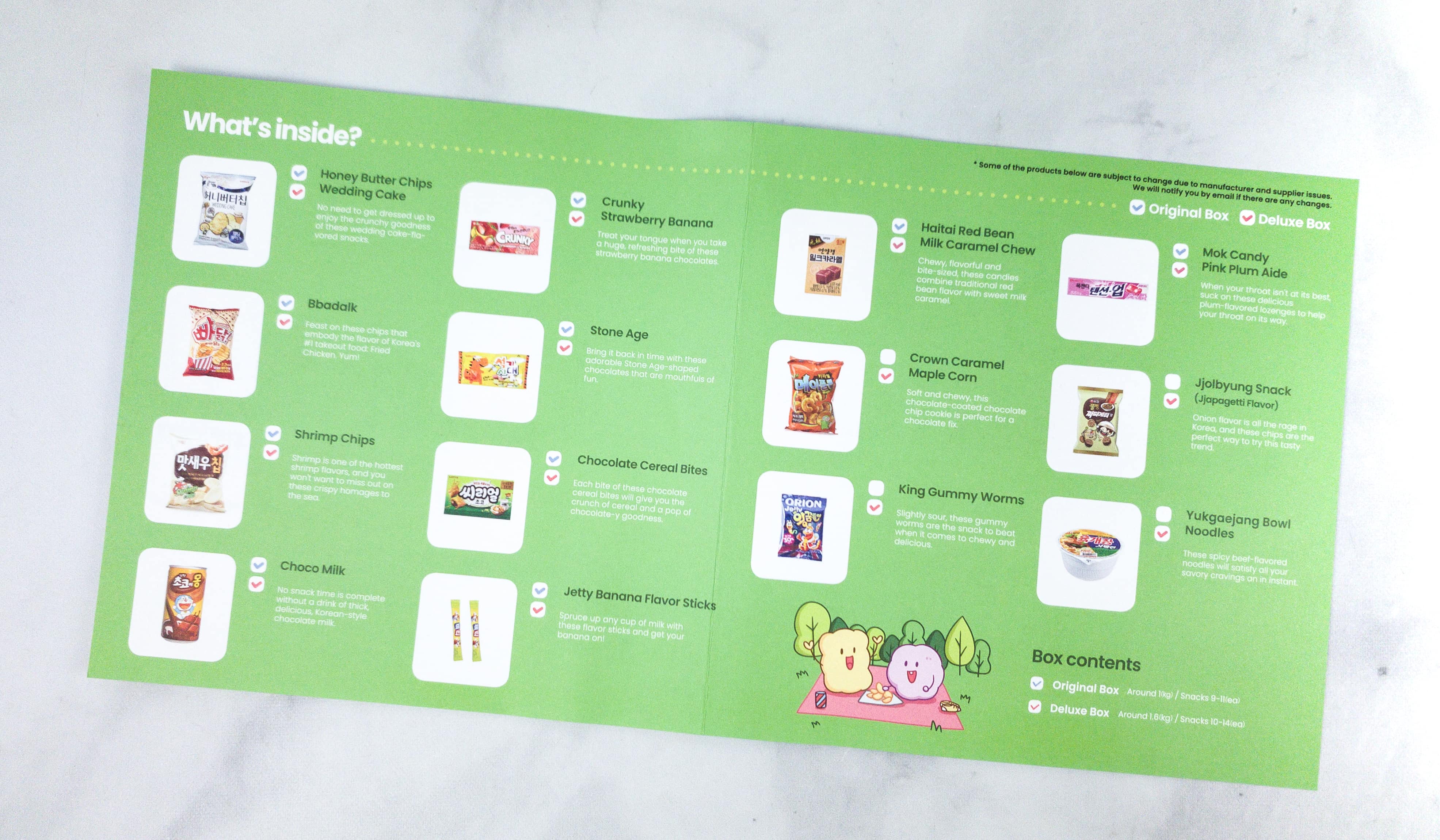 Of course, there's also a list of all the items in the Snack Fever Original Box and Deluxe Box.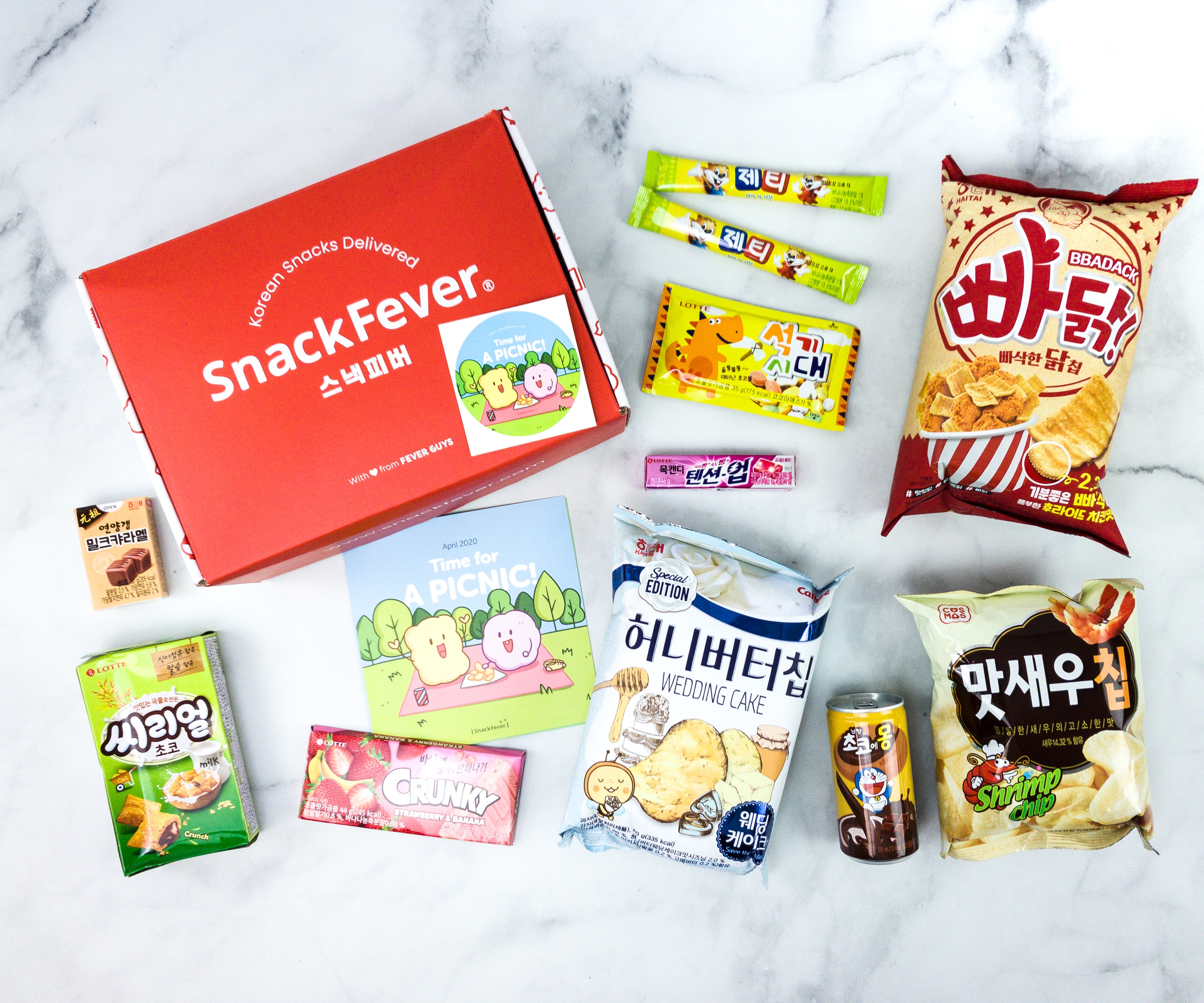 Here are the full contents of the Original box. To see all of our SnackFever reviews including the big box, click here.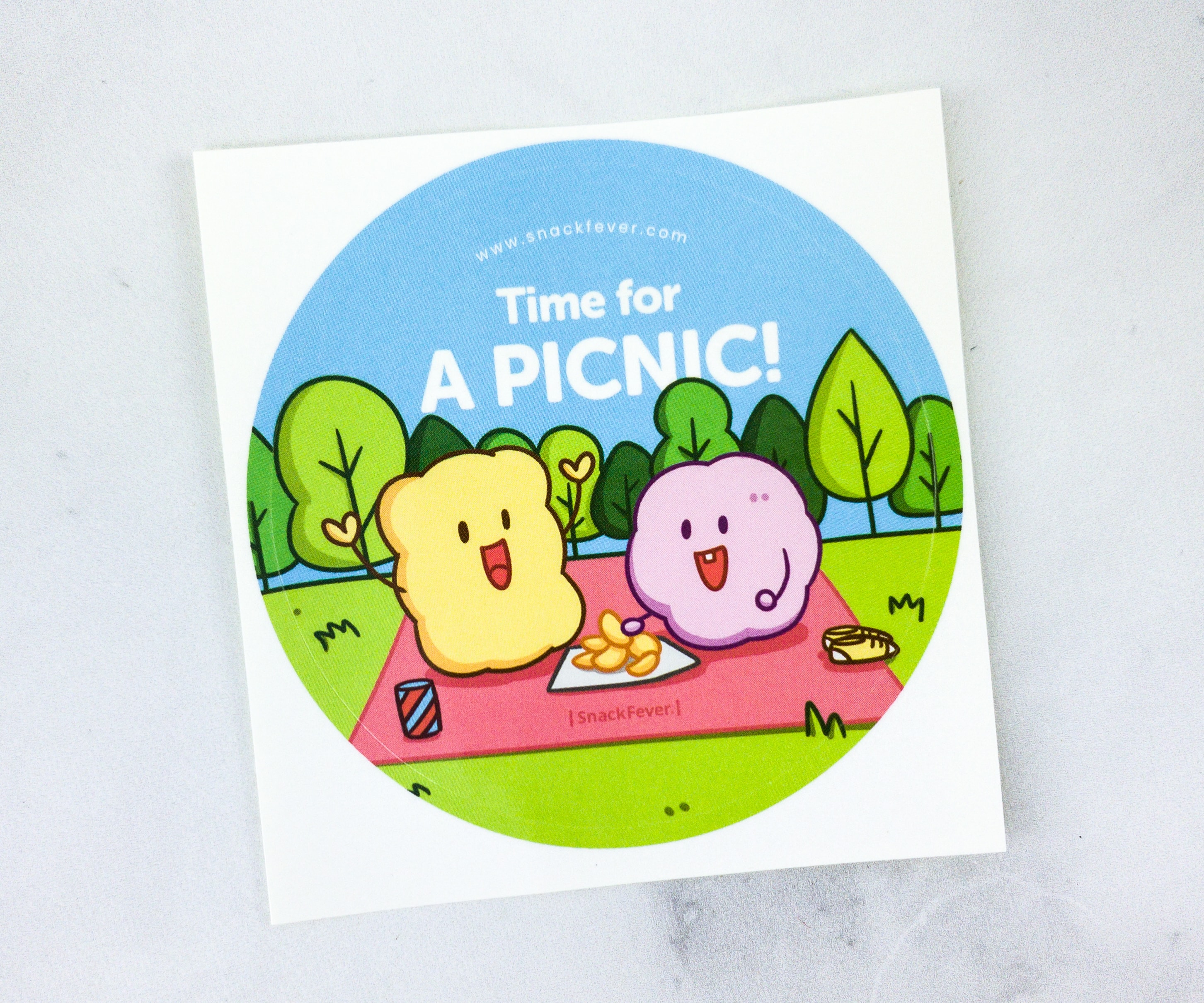 Sticker. Each month, Snack Fever includes a super cute sticker that features this month's theme!
Honey Butter Chips Wedding Cake. It's a limited-edition version of Korea's famous honey butter chips! This time, they added a sweet touch to each crispy chip using delicious wedding cake flavors. They taste similar to baked potatoes, only sweeter. It's definitely unique, nothing like other chips I've had before!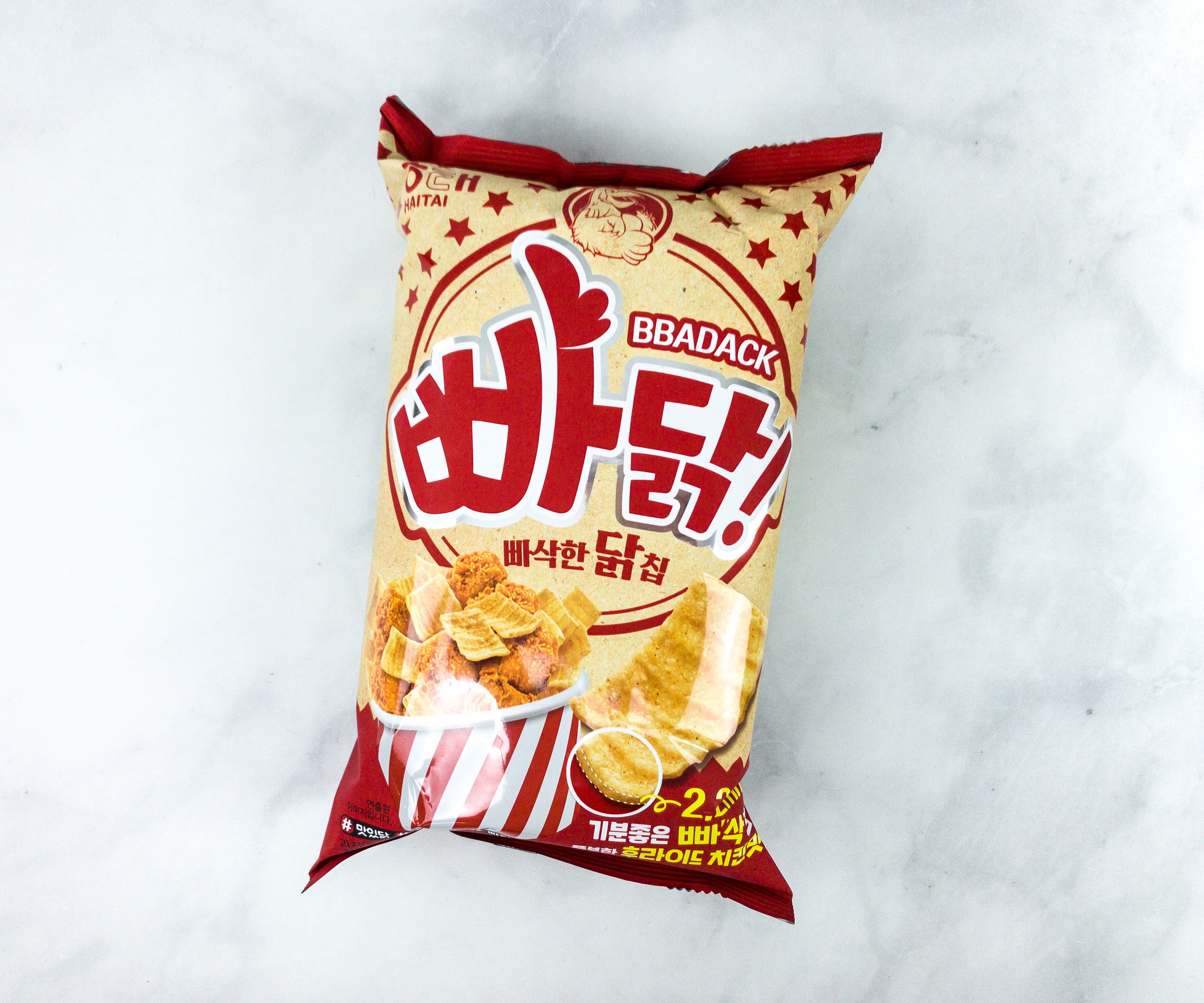 Bbadalk. Koreans love fried chicken, no wonder they also have fried chicken flavored chips! These crunchy, rectangular-shaped chips are quite flavorful. They easily satisfied my cravings for something savory but they were not too salty.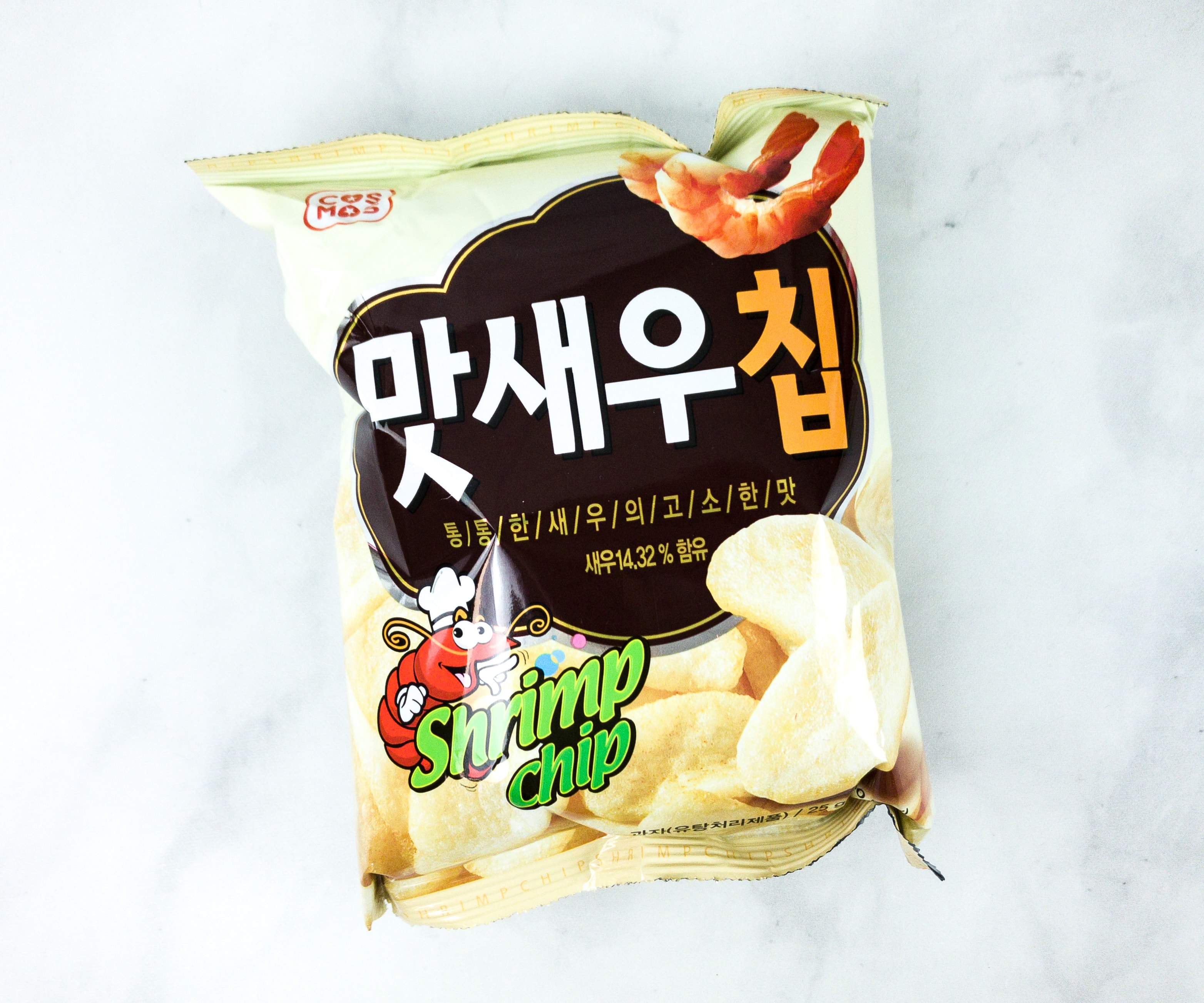 Shrimp Chips. Here's another crispy bag of chips in our box, and this time it is blended with shrimp flavor! This one is a bit salty, but is surely flavorful. It's the ideal chips to pair with an ice-cold beverage!
Stone Age. Don't ever be deceived by this treat's looks! Stone Age is a unique treat that looks like colorful pebbles, but they are actually chewy and tasty bite-sized candies made luscious chocolate. This is a hit with kids!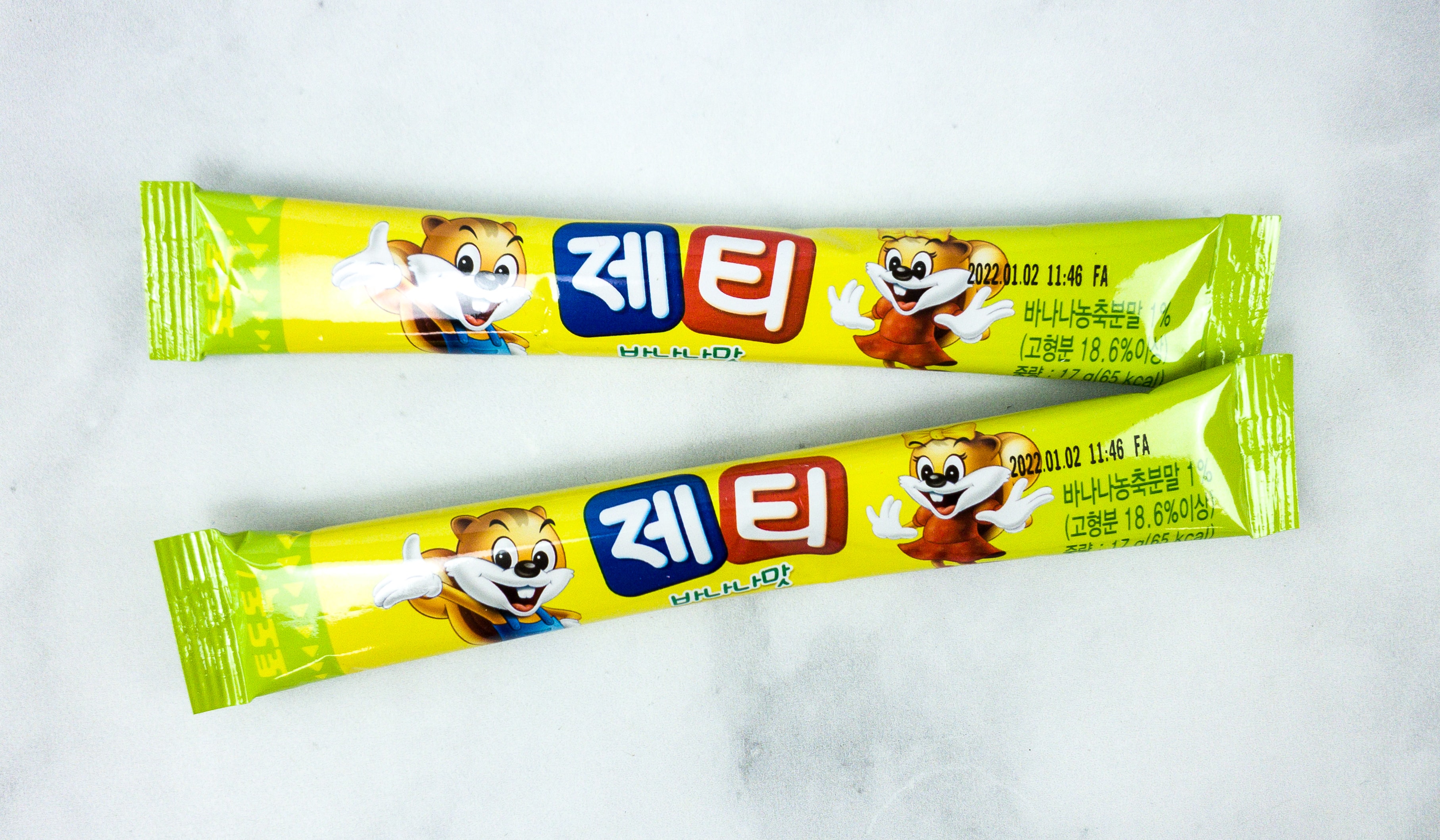 Jetty Banana Flavor Sticks. If you are a banana lover, this is definitely the perfect treat for you. We got two sticks of these powdered banana flavoring which you can easily add to milk or even desserts to enhance its flavor!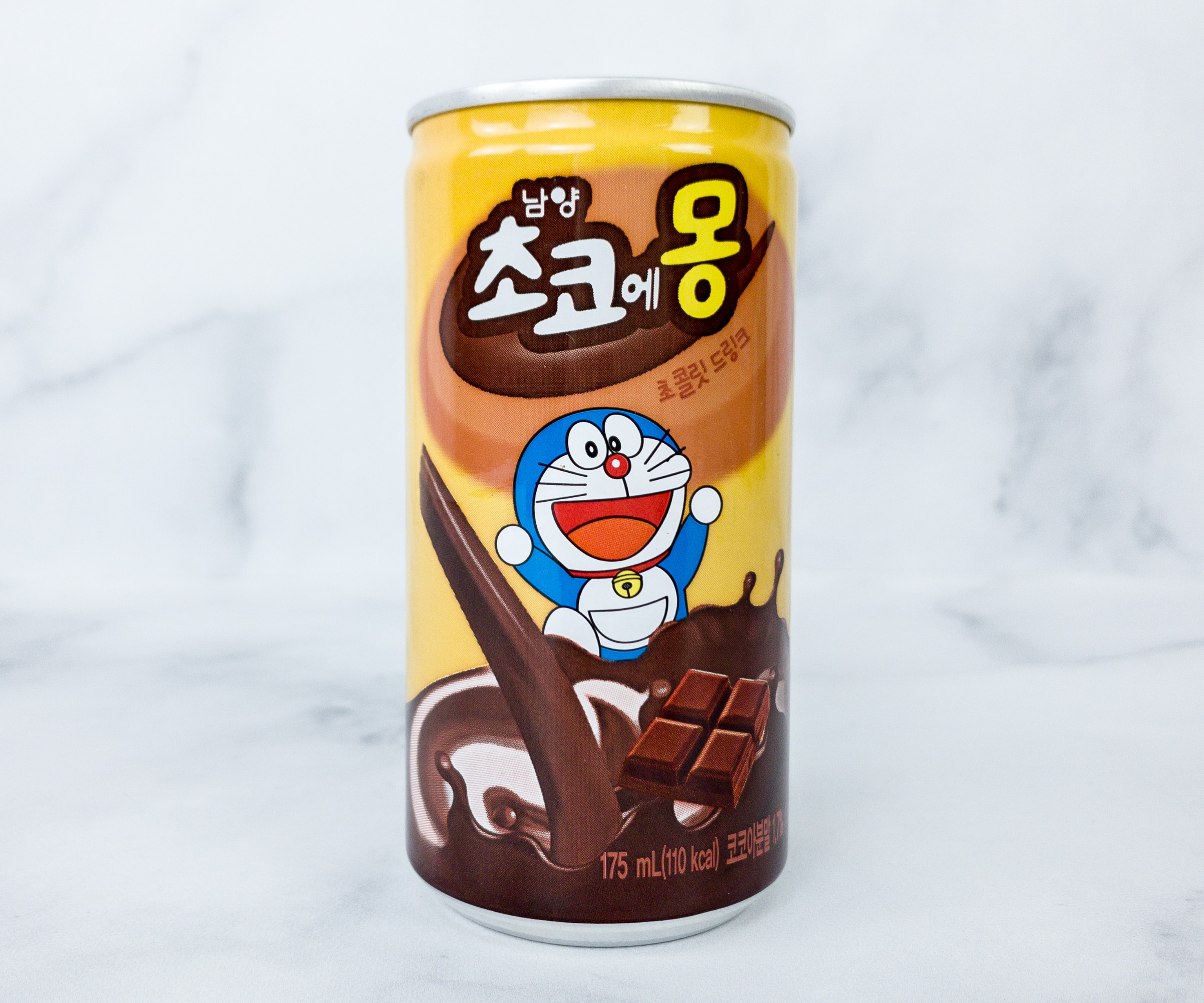 Choco Milk. This Korean-style chocolate milk drink tastes so sweet and it appeals a lot to kids. It's like a whole chocolate bar turned into a rich and tasty drink you can enjoy on the go!
Mok Candy. Mok candy literally translates to throat candy in Korean. This tablet helps relieve sore throat with its refreshing plum flavor and unique soothing sensation. I love that they were able to come up with such dry throat relievers minus the awful taste that usual herbal candies have!
Haitai Red Bean Milk Caramel Chew. These caramel chews are packed with flavor! Each piece features a delectable blend of sweet milk and caramel infused with the luscious red bean flavor. Each box contains 10 individually-wrapped chewy cubes, which are good for sharing.
Chocolate Cereal Bites. These bite-sized snacks are made with crunchy cereals and filled with thick and creamy chocolate fillings. Each bite will give you the crunch of cereal and a pop of delicious chocolaty goodness! It makes a great on-the-go snack!
Crunky Strawberry Banana. This chocolate bar is definitely not your ordinary treat, as it features a unique blend of tart strawberry and sweet banana flavor mixed with crunchy crisped rice. It also comes with real strawberry bits! It definitely satisfied my sweet tooth cravings. It's the ultimate sugar rush and I thoroughly enjoyed it!
Korean snacks are truly fun and interesting, and Snack Fever never fails to send us the best ones out there! We loved this month's curation, as it includes a lot of sweet and savory treats plus some limited edition flavors like the honey butter chips infused with wedding cake flavors. This subscription is really a great way to know more about Korea through snacking!
Have you tried Snack Fever?