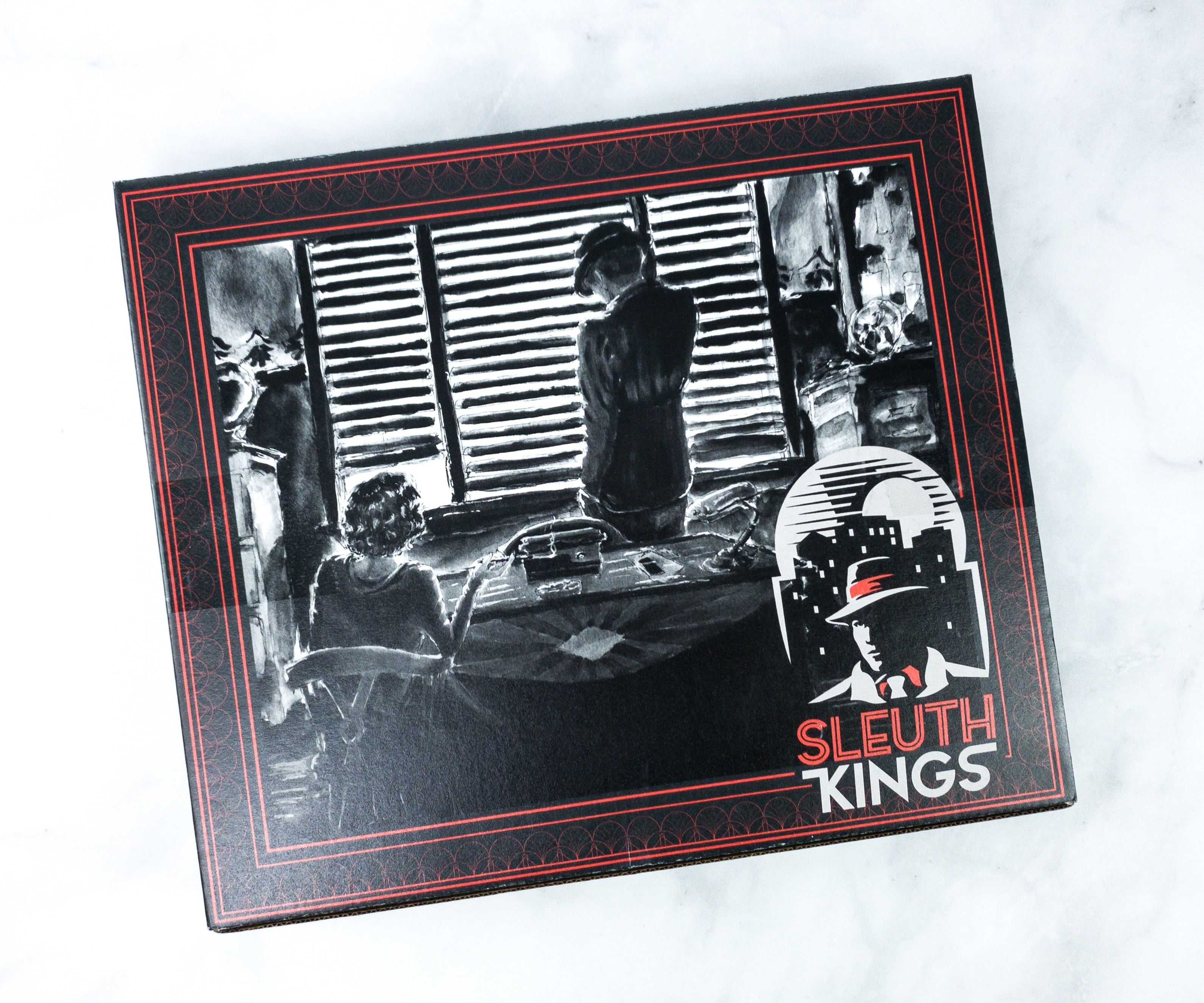 Sleuth Kings is an interactive monthly mystery box. Every month, a physical case file arrives full of evidence, puzzles, ciphers, and more. Plans start at $29.95 per month and they also have 3-month and 6-months prepay options. You will work hand-in-hand with Sullivan King, the lead detective, via email as you solve the case.
Each month's case is a new, stand-alone mystery that takes approximately 2-3 hours to complete. Each case includes an epilogue -a  follow-up letter from the client as well as a small gift. For every 4 cases you solve, you'll be rewarded with a FREE bonus case that revolves around the hunt for Sullivan's father.
DEALS:
Get $8 off first purchase Use coupon code HELLOSK .
Get 10% off of your order! Use coupon code HELLO10.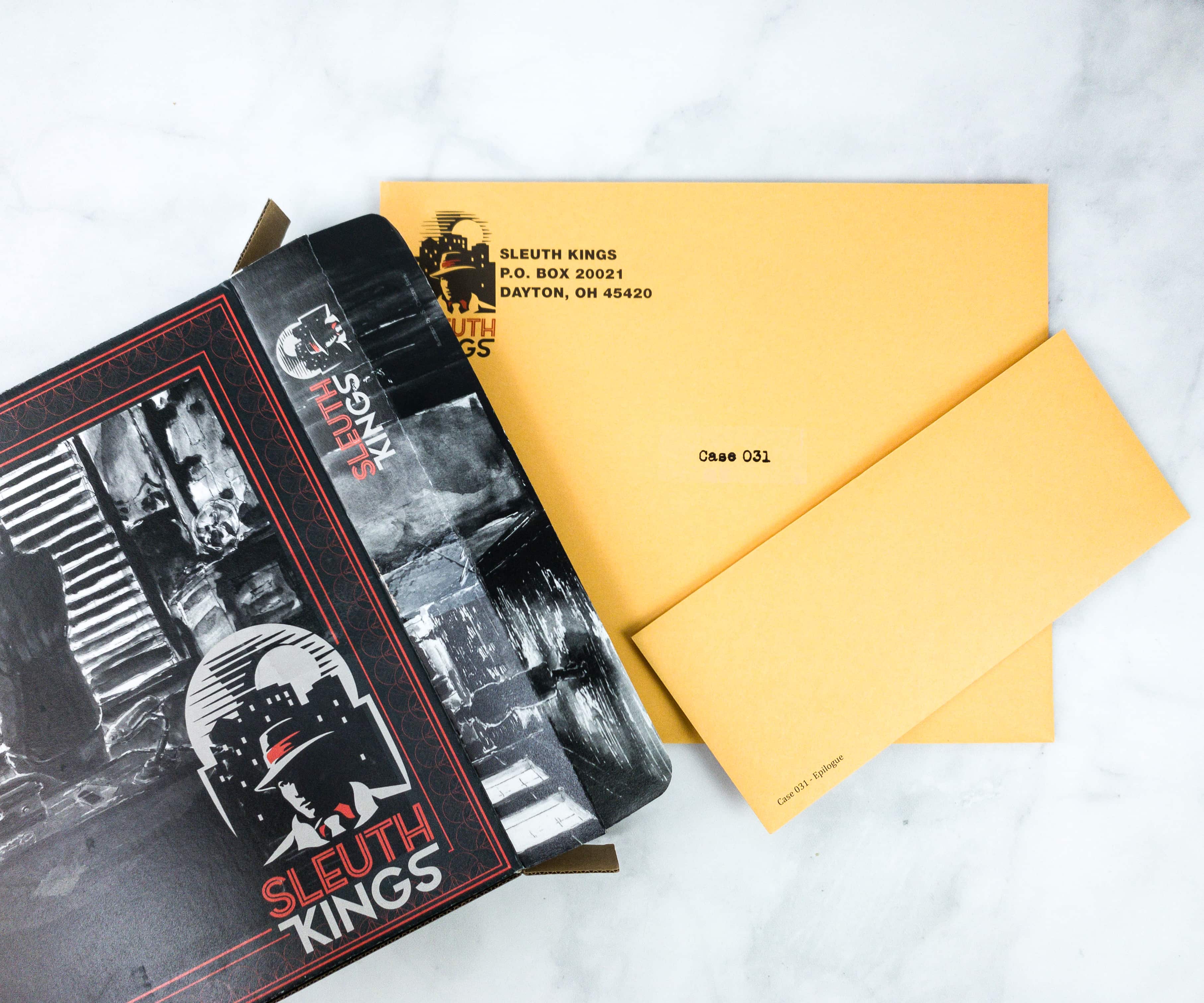 This the review of Mystery Box Case 031 DARK WORLD.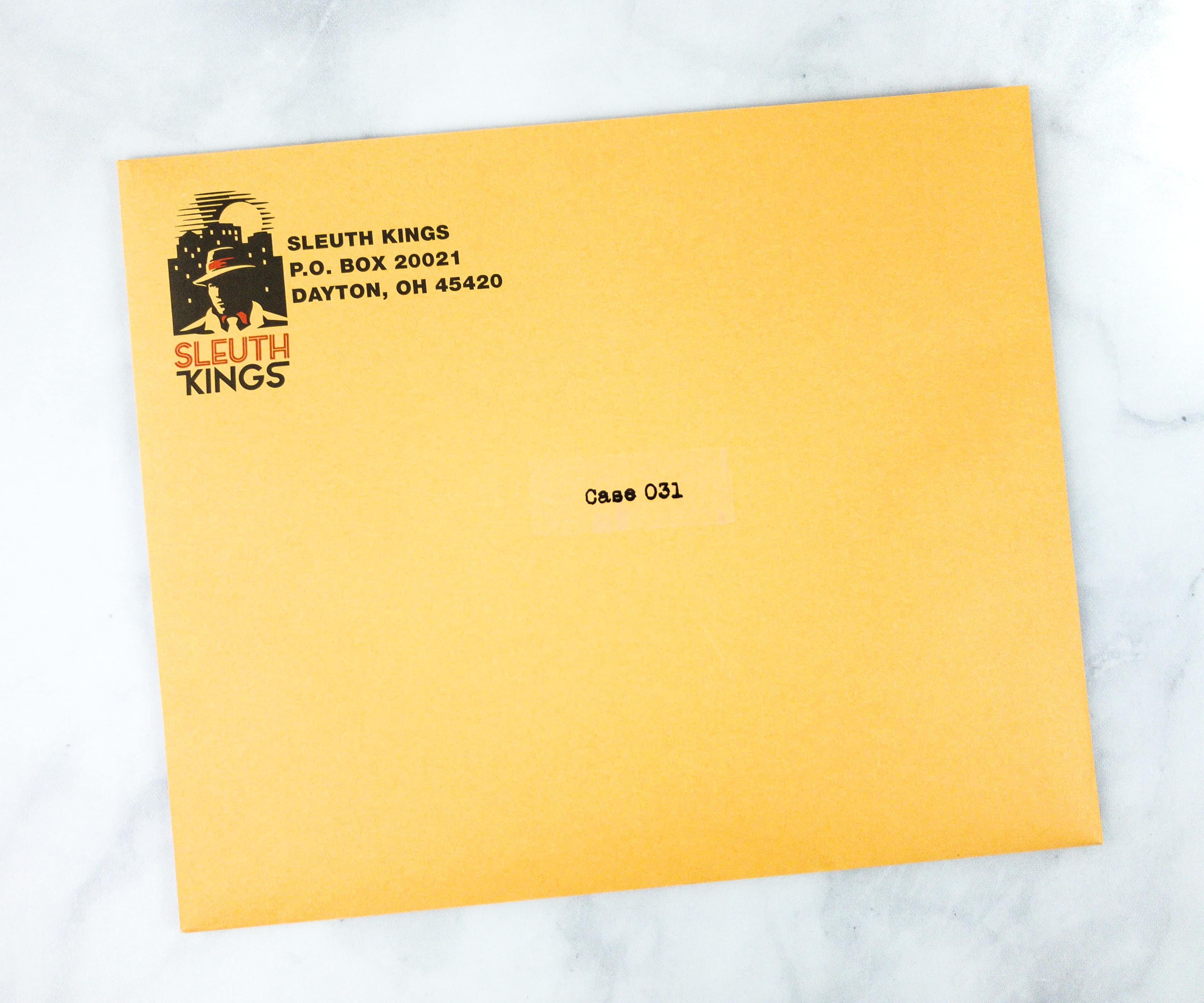 The mystery comes in an envelope. The only things written on it are the Sleuth Kings P.O. box address and the case that you will be working on.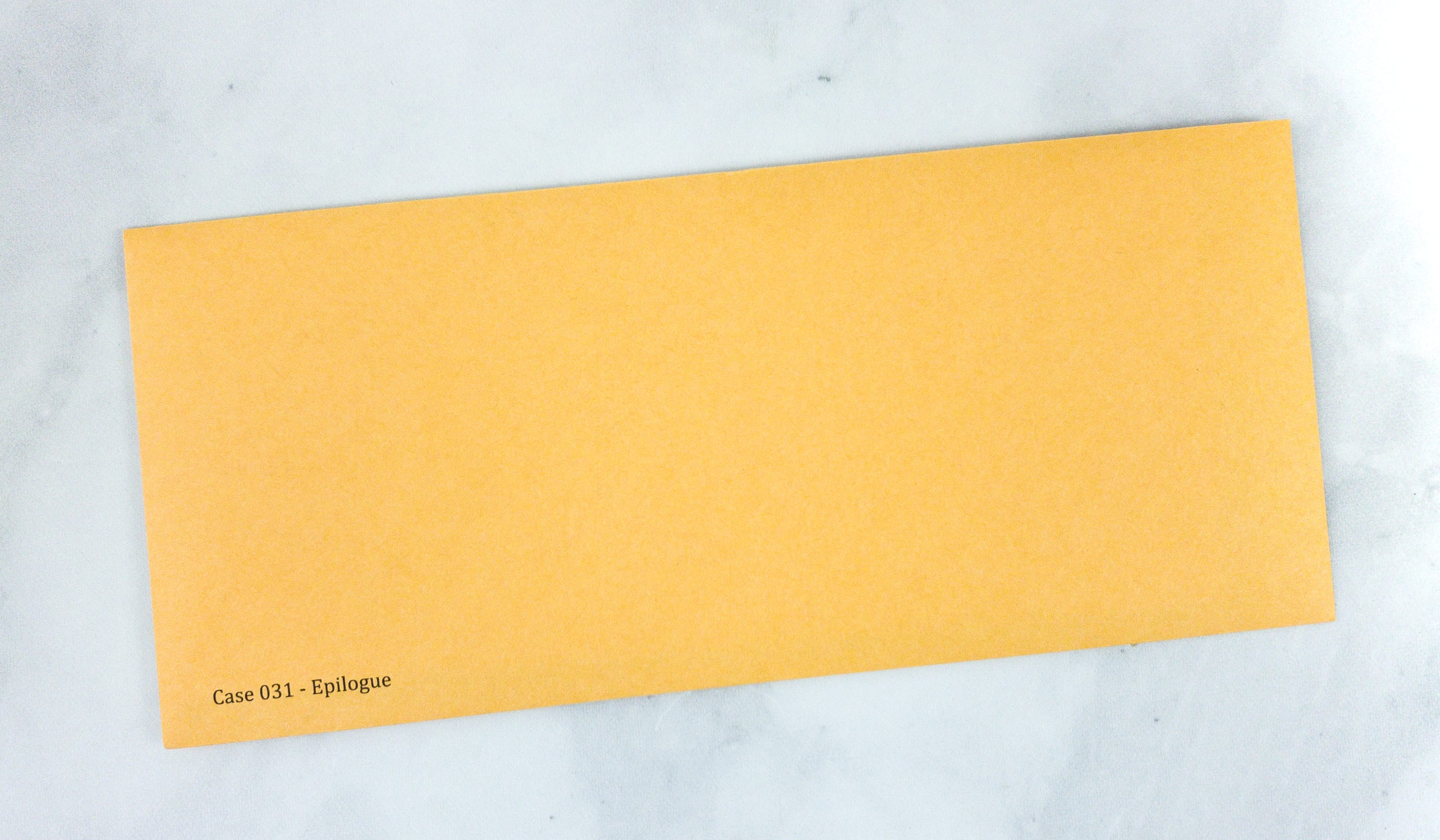 The epilogue is included and separated in another envelope.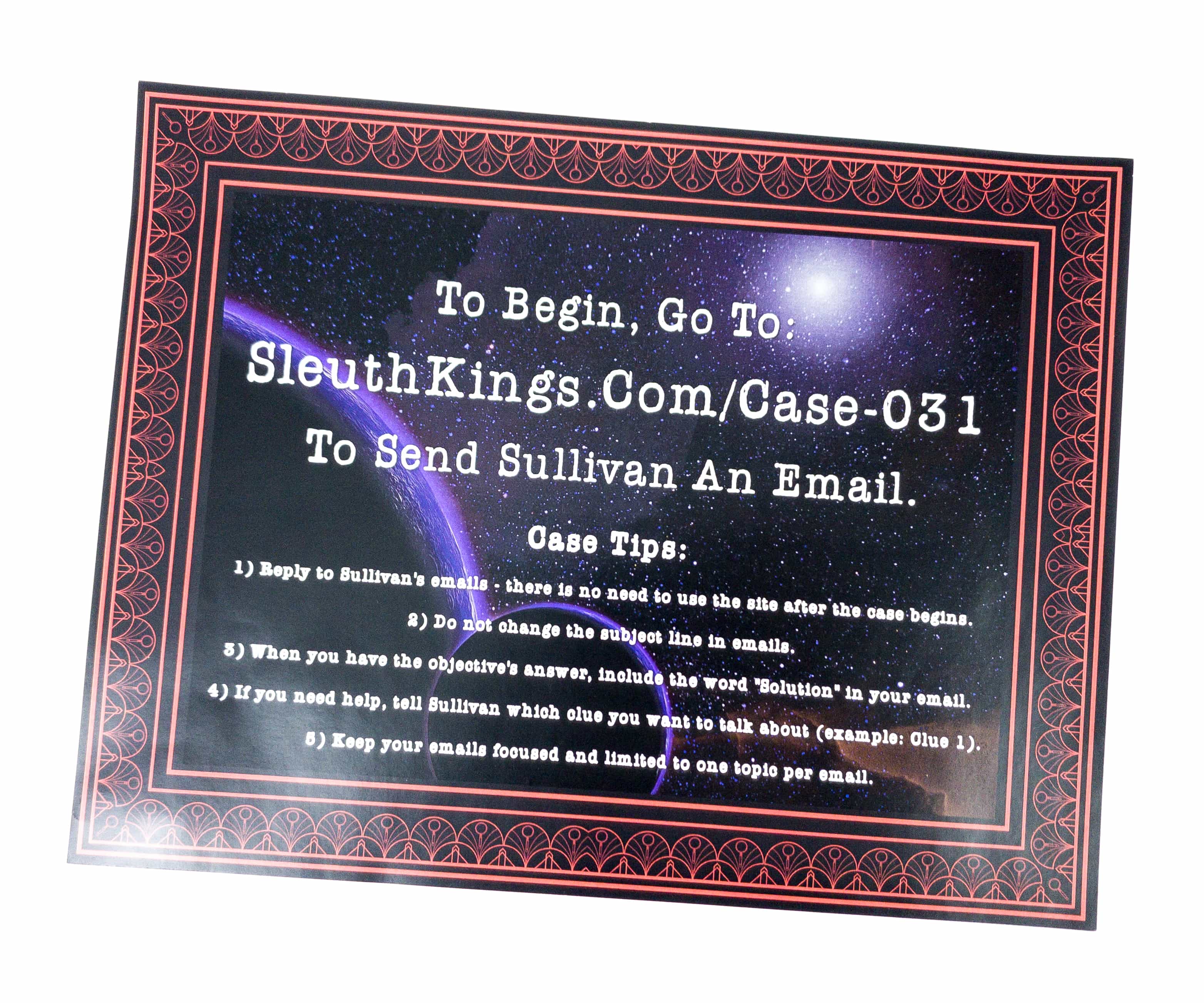 To begin with your adventure, you need to login to their website and send Sullivan an email.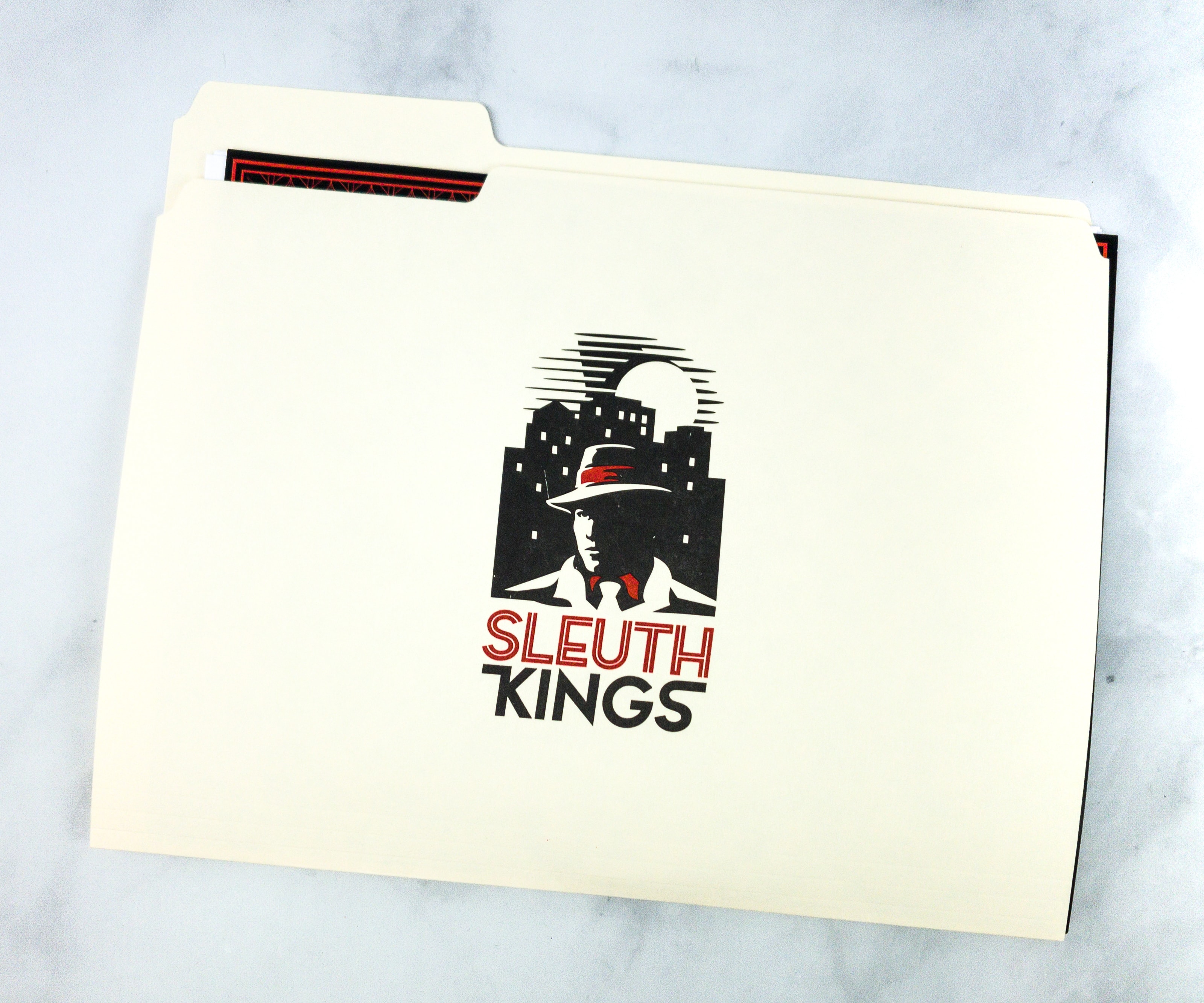 The files are neatly arranged in a white folder, with Sleuth Kings branding in front. All the files are organized inside the folder, they are even separated by paper clips.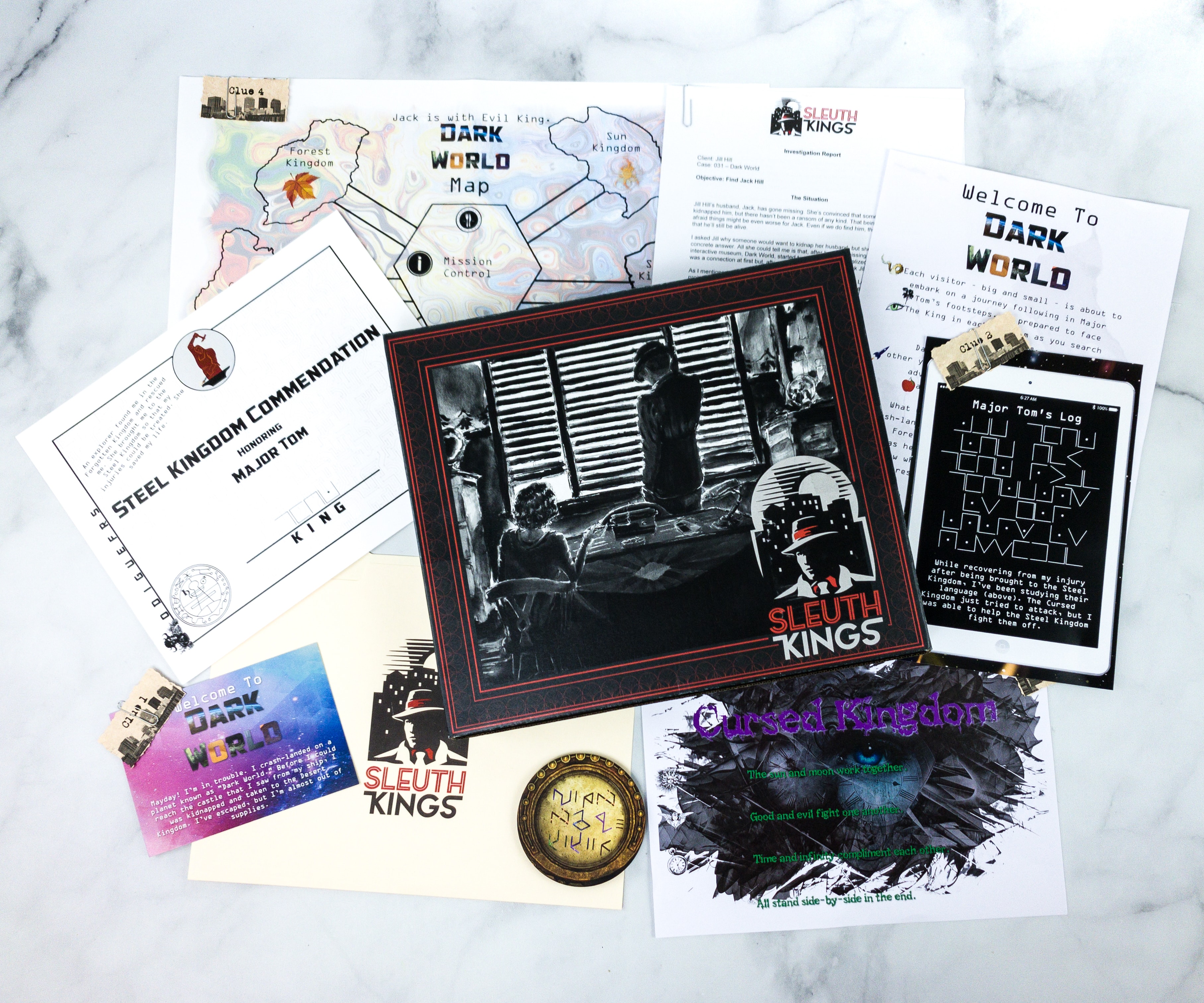 Everything in my box!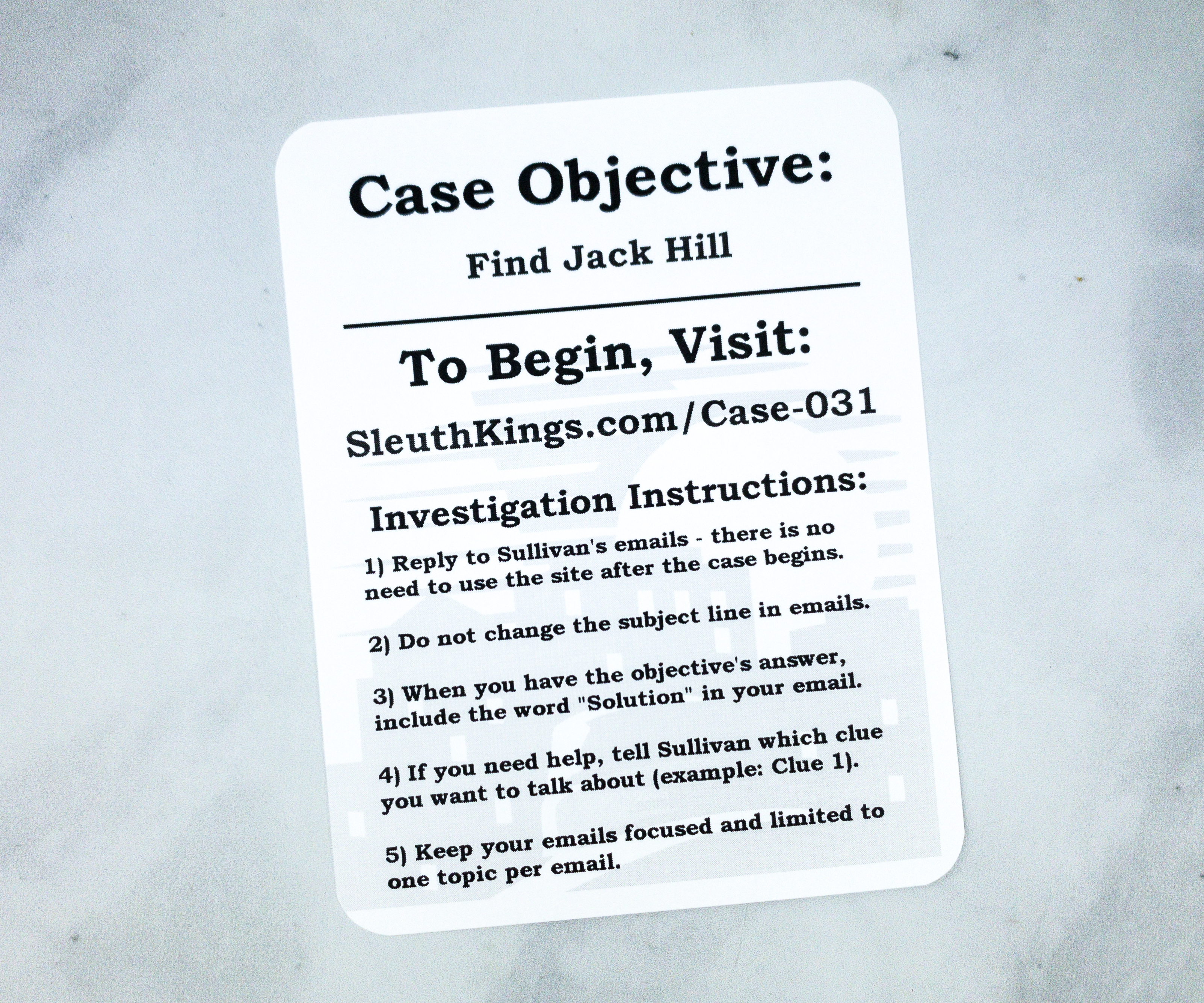 The case objective is written in a card. We have to find Jack Hill, the lead artist of the Dark World Museum!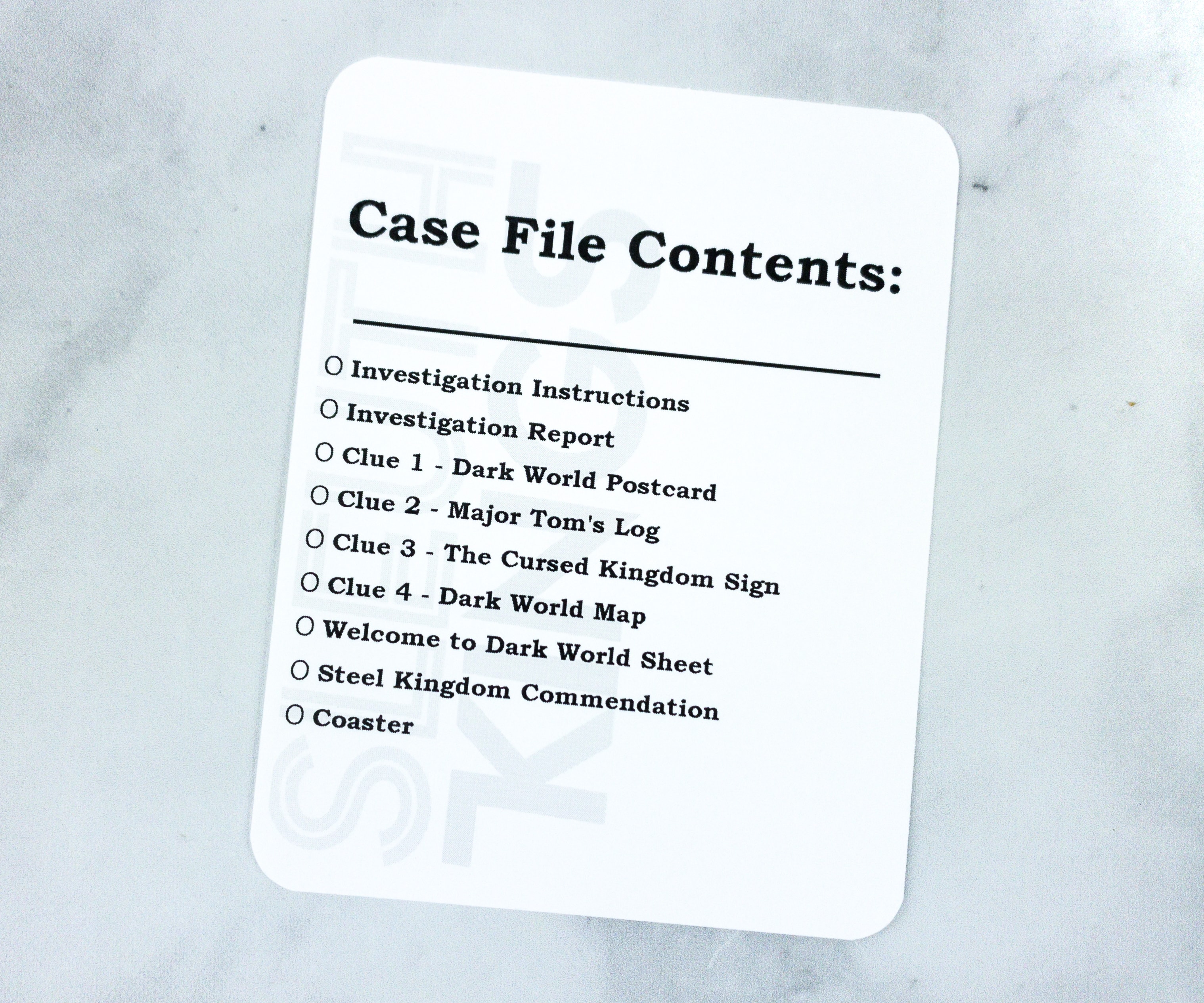 It also lists the contents of the case file: investigation instructions, investigation report, clues, and more.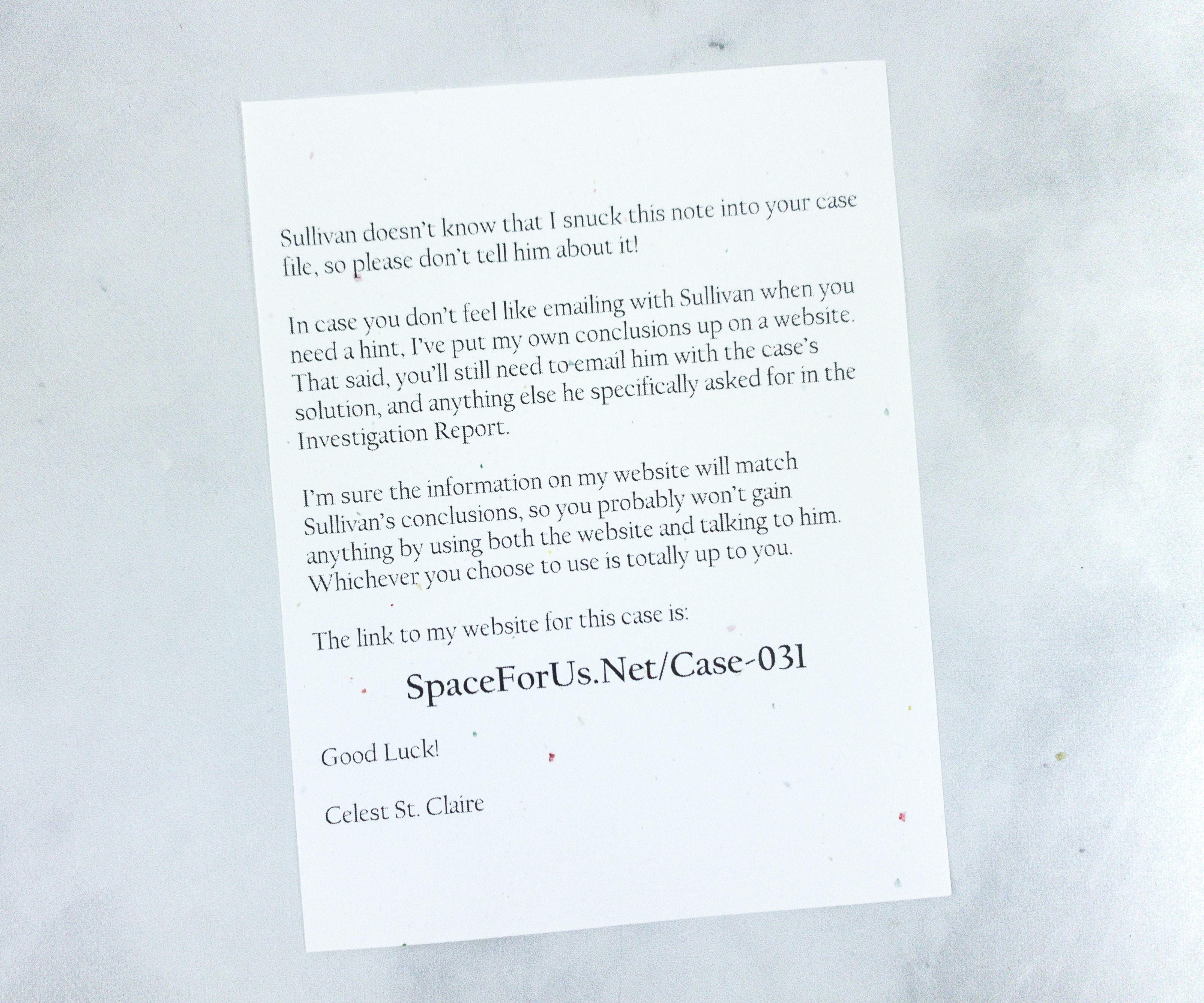 We also got a snuck-out letter from Celest St. Claire. We can use her help in solving this case by taking a look at the information on her website.
The investigation instruction sheet names the client, the case you will be working on, and the whole situation.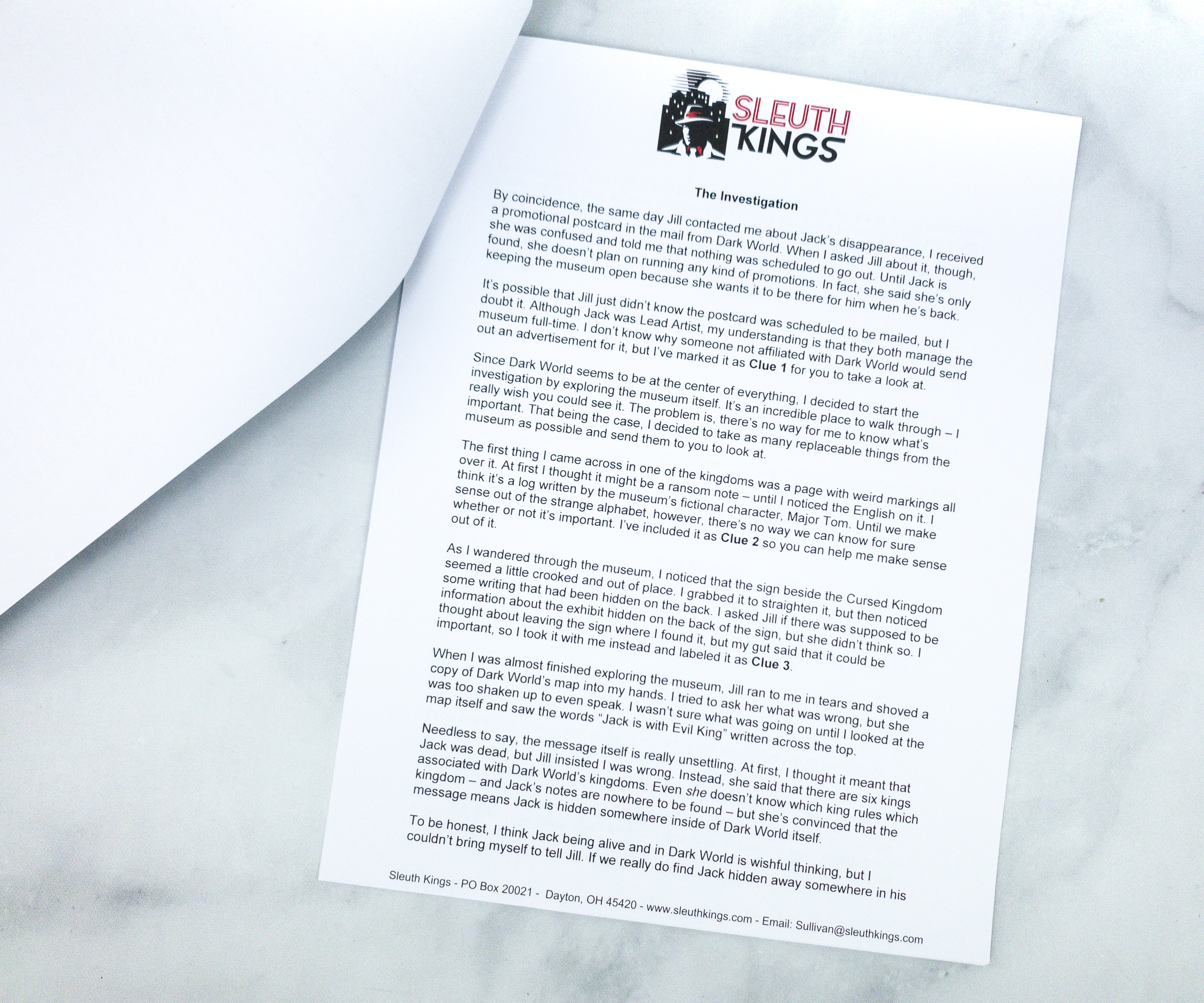 I suggest you read them thoroughly to fully understand the case and also to know where to start the whole investigation.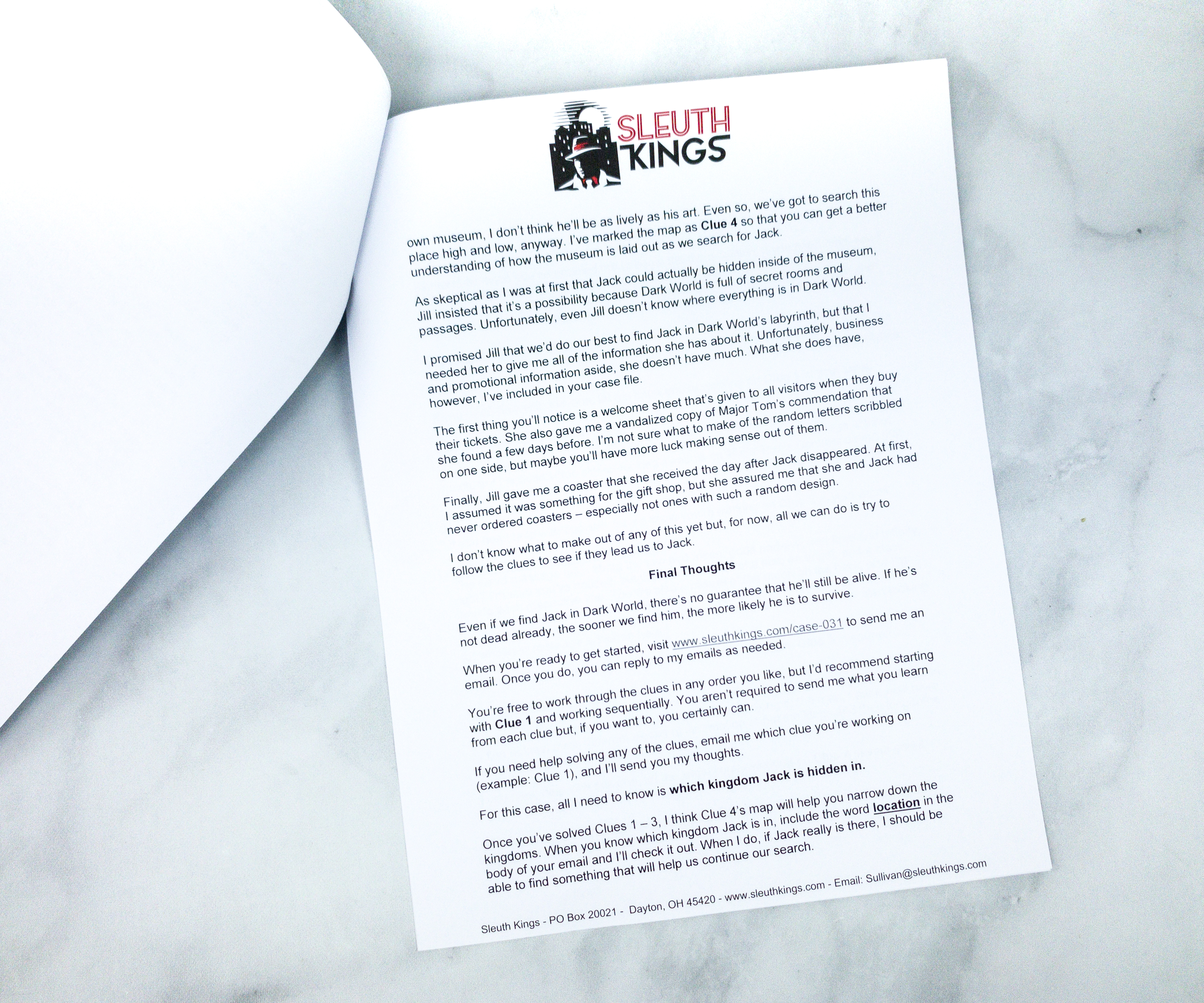 In this case, we just need to know is which kingdom Jack is hidden in.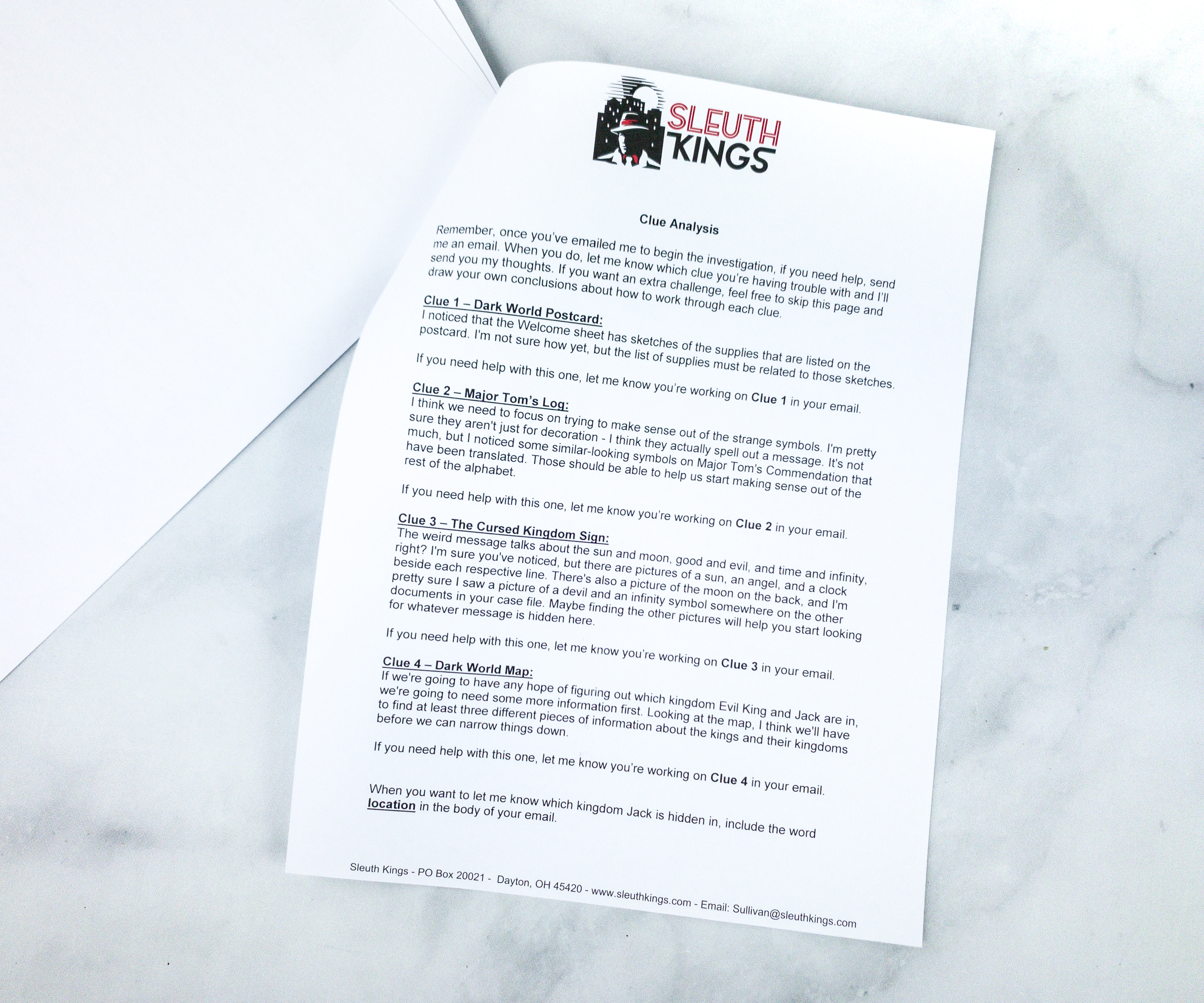 There are also clue analysis, where each clue item's use is hinted or explained.
The first clue that we got is this Dark World Postcard. Upon reading the clue analysis, it says that it is somehow connected to one of the items also included in the box, which is the Welcome sheet.
When you refer to the card's flip side, you'll see a list of supplies by Major Tom, and it is addressed to Sullivan as well.
The second clue is Major Tom's Log, where he noted that while he's recovering from his injury, he's studying the Steel Kingdom's language that is also included in the log, and he was able to help them with their fight against the Cursed Kingdom.
The Cursed Kingdom Sign has many hidden objects on it, like an eye, a clock, a sun, and an angel! It also talks about the sun, moon, good, evil, time, and infinity!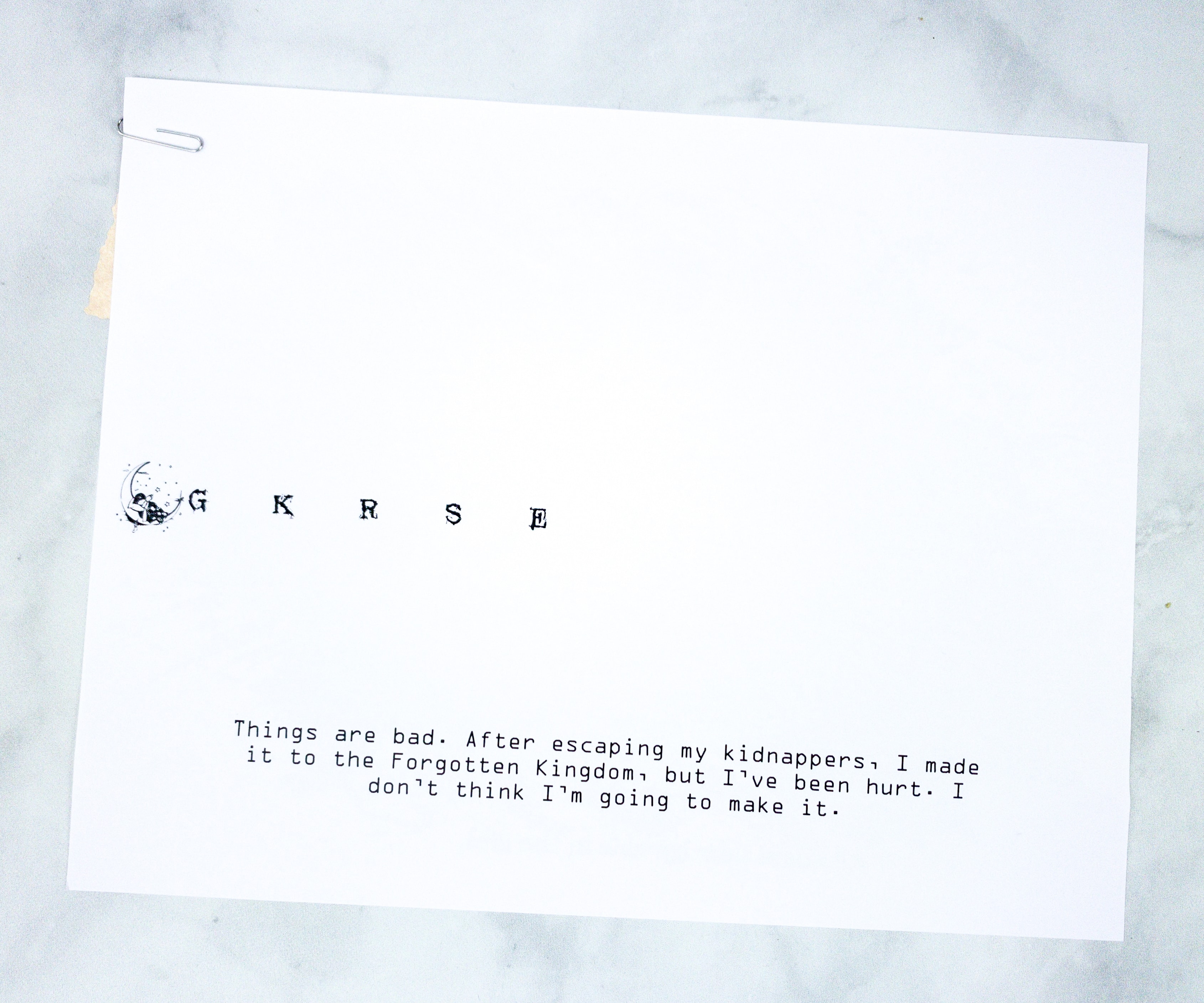 The flip side has some letters with wide spaces between them and a small image of the moon.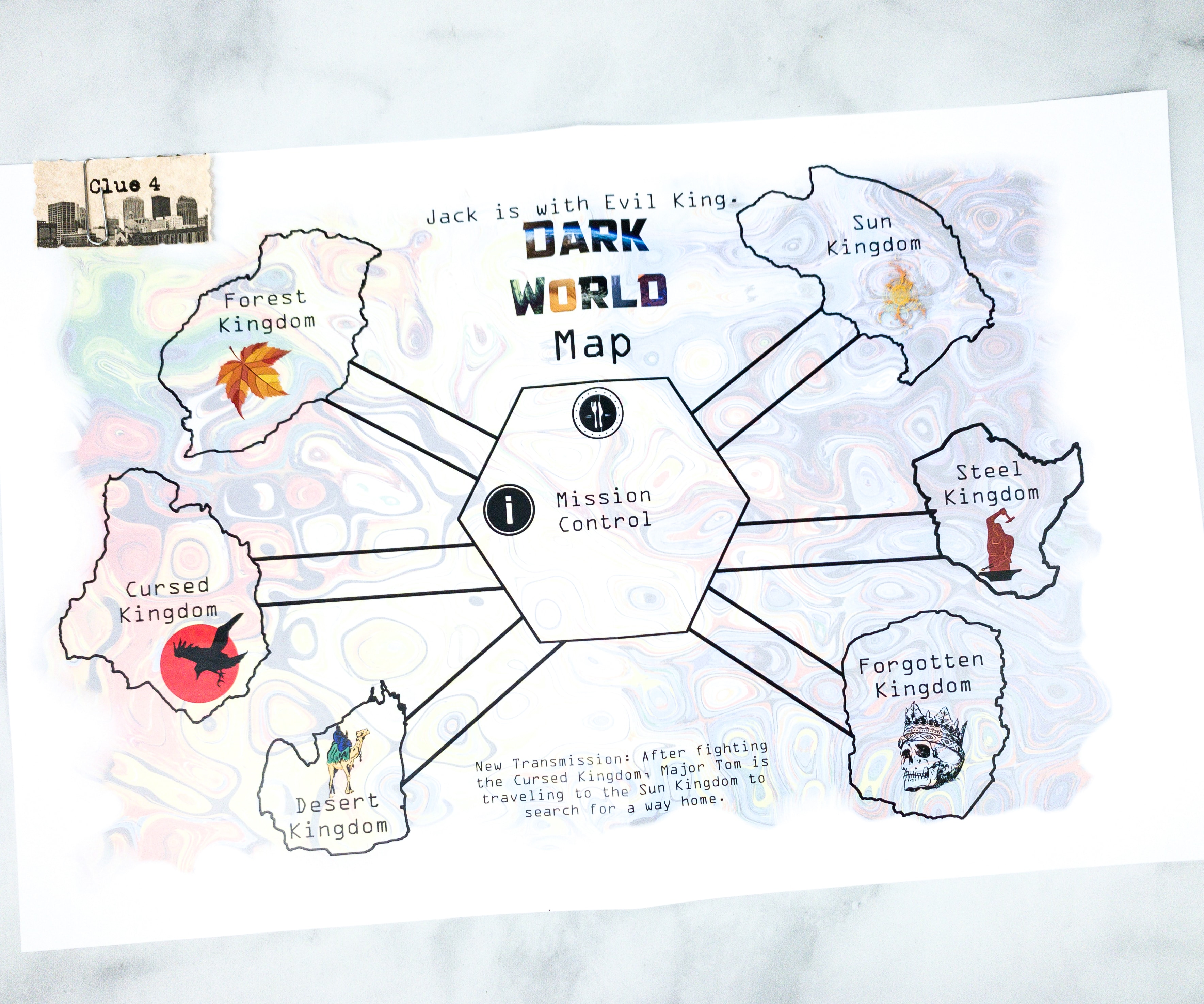 Dark World Map shows the different kingdoms that are part of the Dark World, and it even says Jack is with Evil King. There are also 6 kingdoms which are Forest, Cursed, Desert, Sun, Steel, and Forgotten.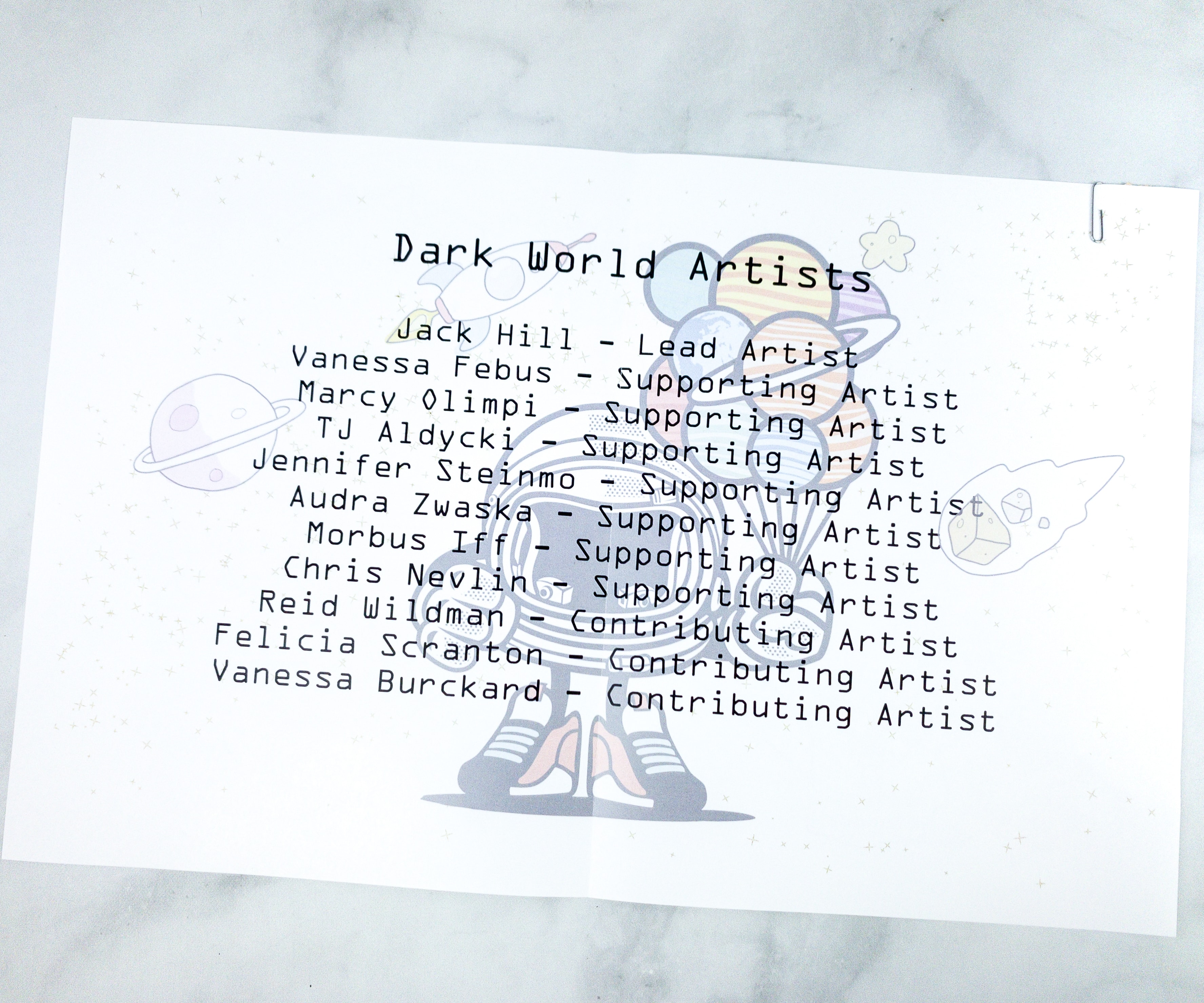 There's also a list of the Dark World Artists led by Jack Hill!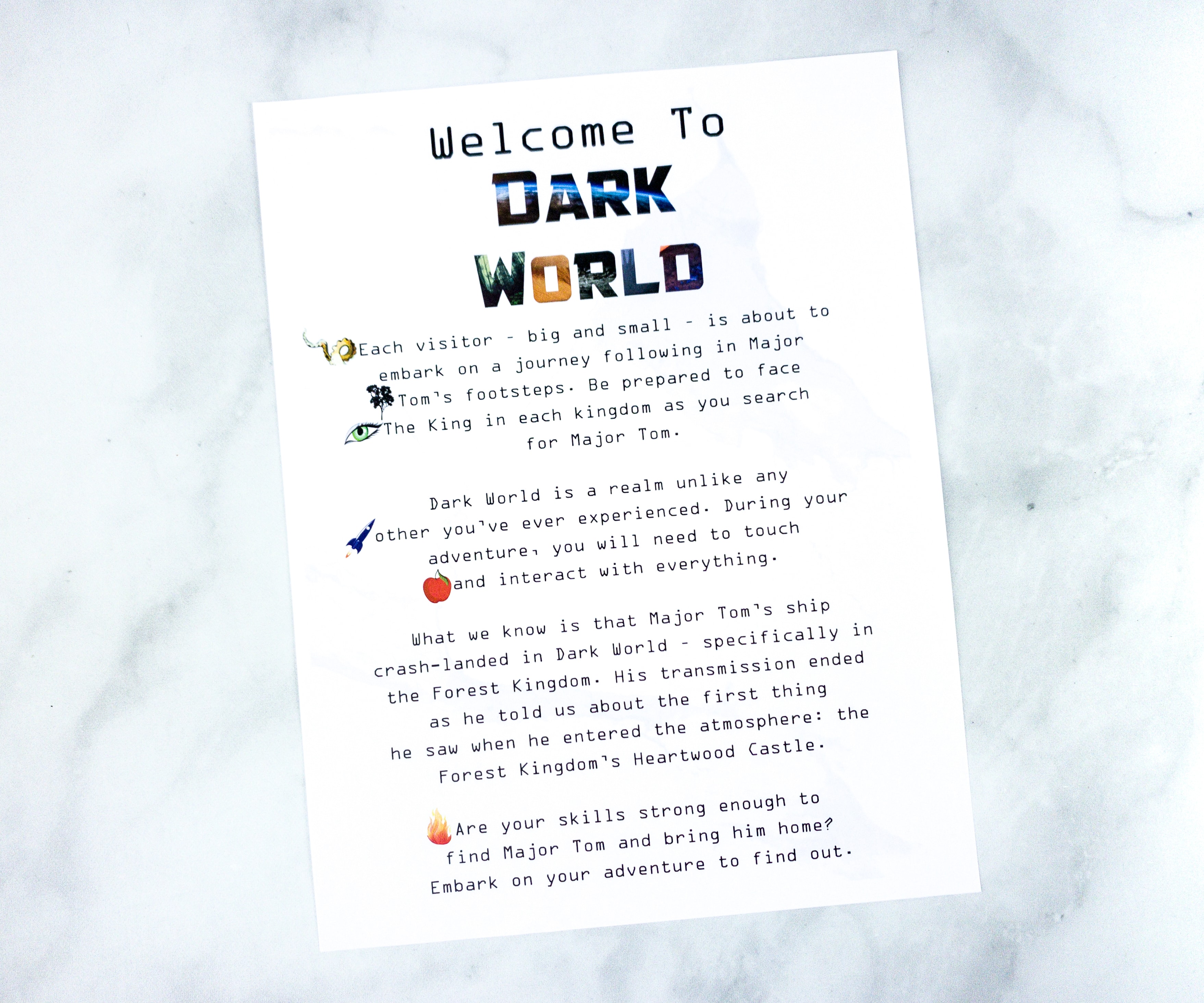 Another item included along with the clues is this Welcome to Dark World Sheet where it tells us more about the World and the search for Major Tom.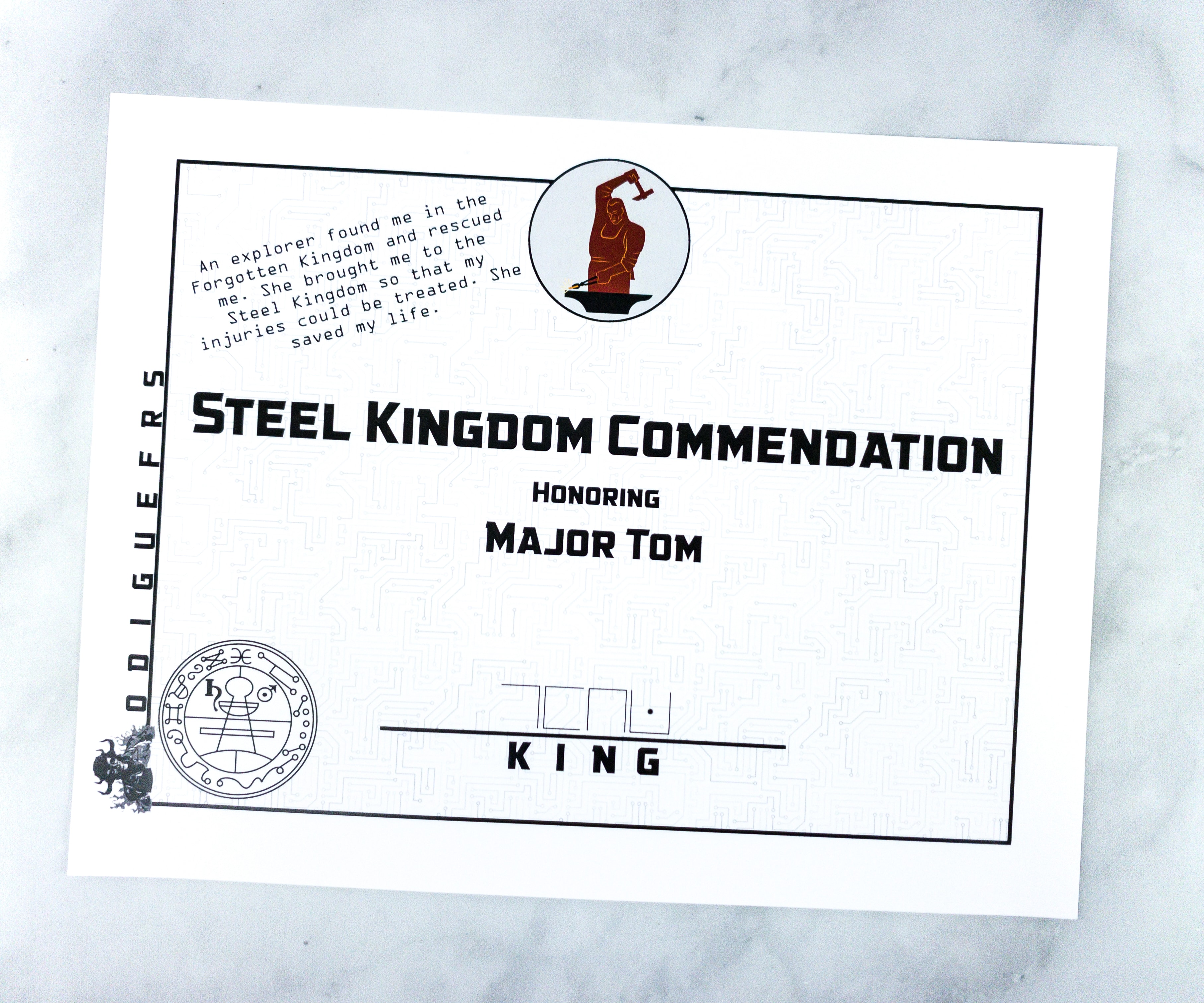 There's also a Steel Kingdom Commendation in honor of Major Tom, plus a note that says that an explorer found him (Major Tom) on the Forgotten Kingdom, and he was rescued and brought to the Steel Kingdom.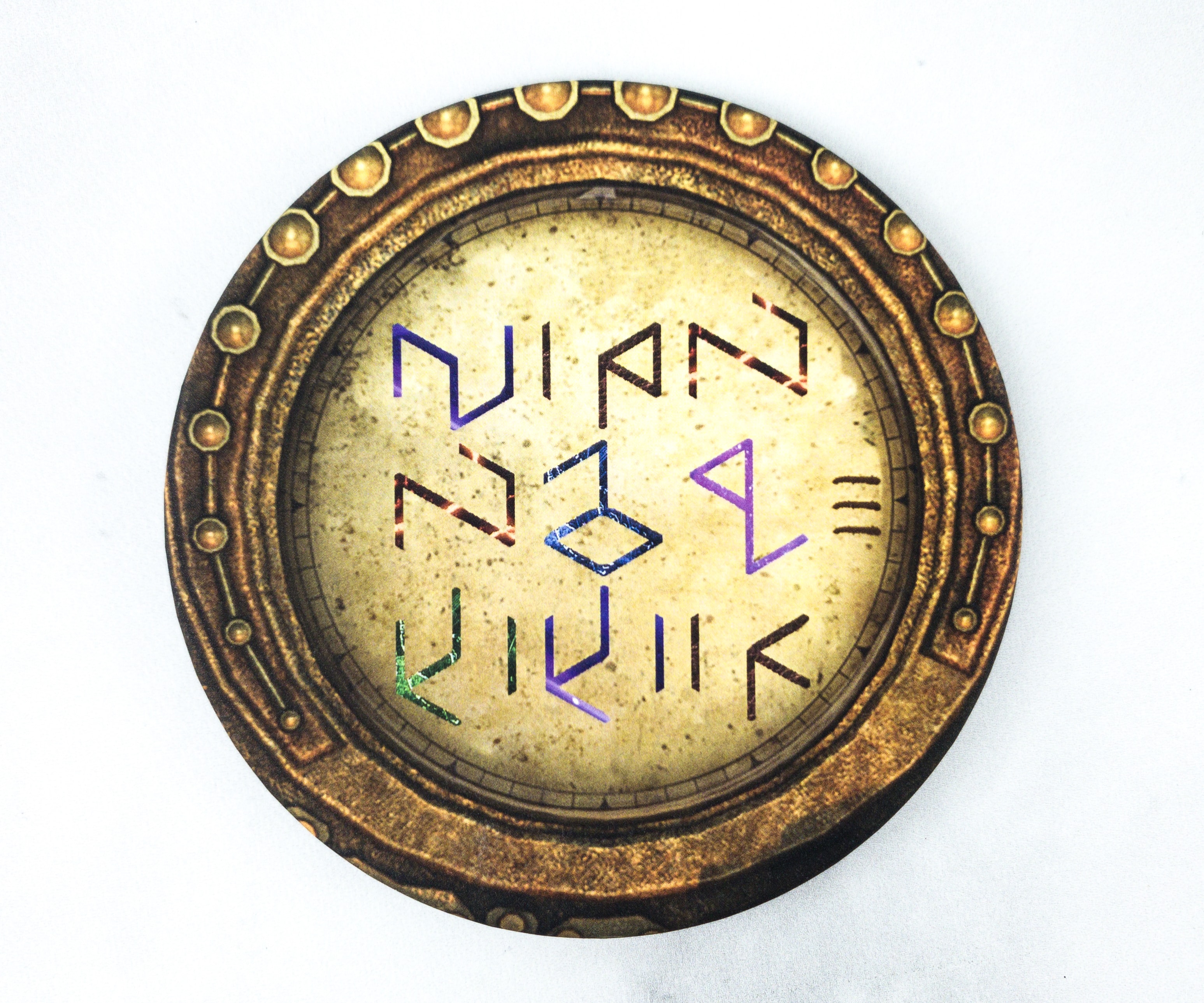 Another item is this rustic looking coaster with something written on it, perhaps one of the languages from the 6 kingdoms where we can find Jack!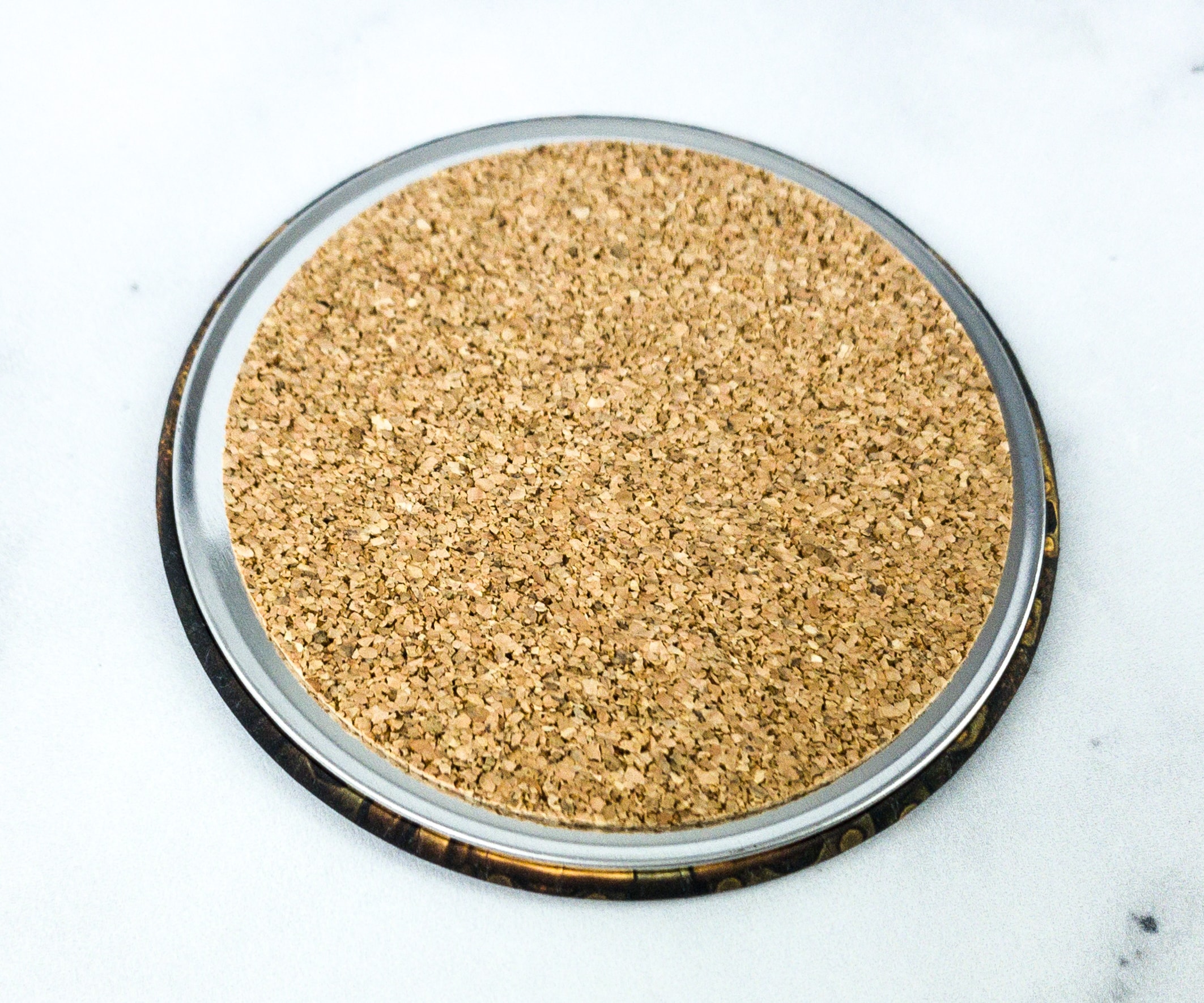 It has a cork bottom which makes it non-slip and helps in protecting the surfaces as well.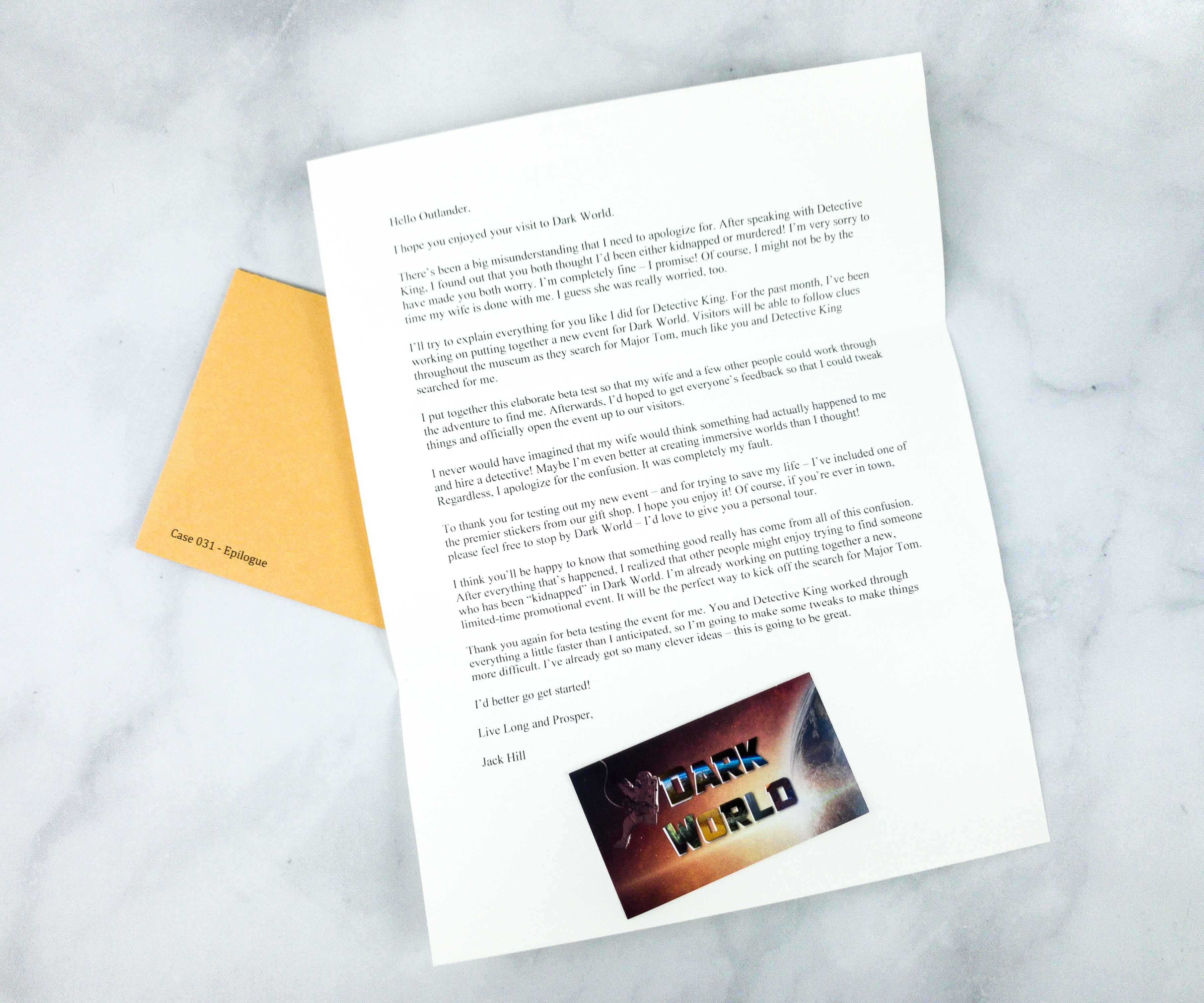 After solving the case, we can finally open the Epilogue envelope. Inside is a letter from Jack Hill and a premier sticker to the Dark World Museum! It turns out that we are just beta-testing his new event fro the museum, and it was quite fun, and all the confusion has led to something good!
At first, I really thought that we were on a quest to find a missing or kidnapped person but turned out, we are beta-testing his (Jack Hill's) event and it was like a prank was played on us, but it's a really challenging one. If there's really a Dark World Museum, we would love to give it a try and find Major Tom, as each of the kingdoms sound interesting. Once again, Sleuth Kings proved that they are really one of the masters in mystery and "escape room" games! My family loved playing as sleuths and solving different puzzles and challenges. This box is a must-try when you want to pass time in a really entertaining way for everyone at home!
What do you think of the Sleuth Kings box?