Robb Vices is a monthly luxury subscription service that delivers a collection of "storied treasures." The subscription costs $159.95 per month, and each box comes with a collection of incredible products and experiences that have been curated for your enjoyment.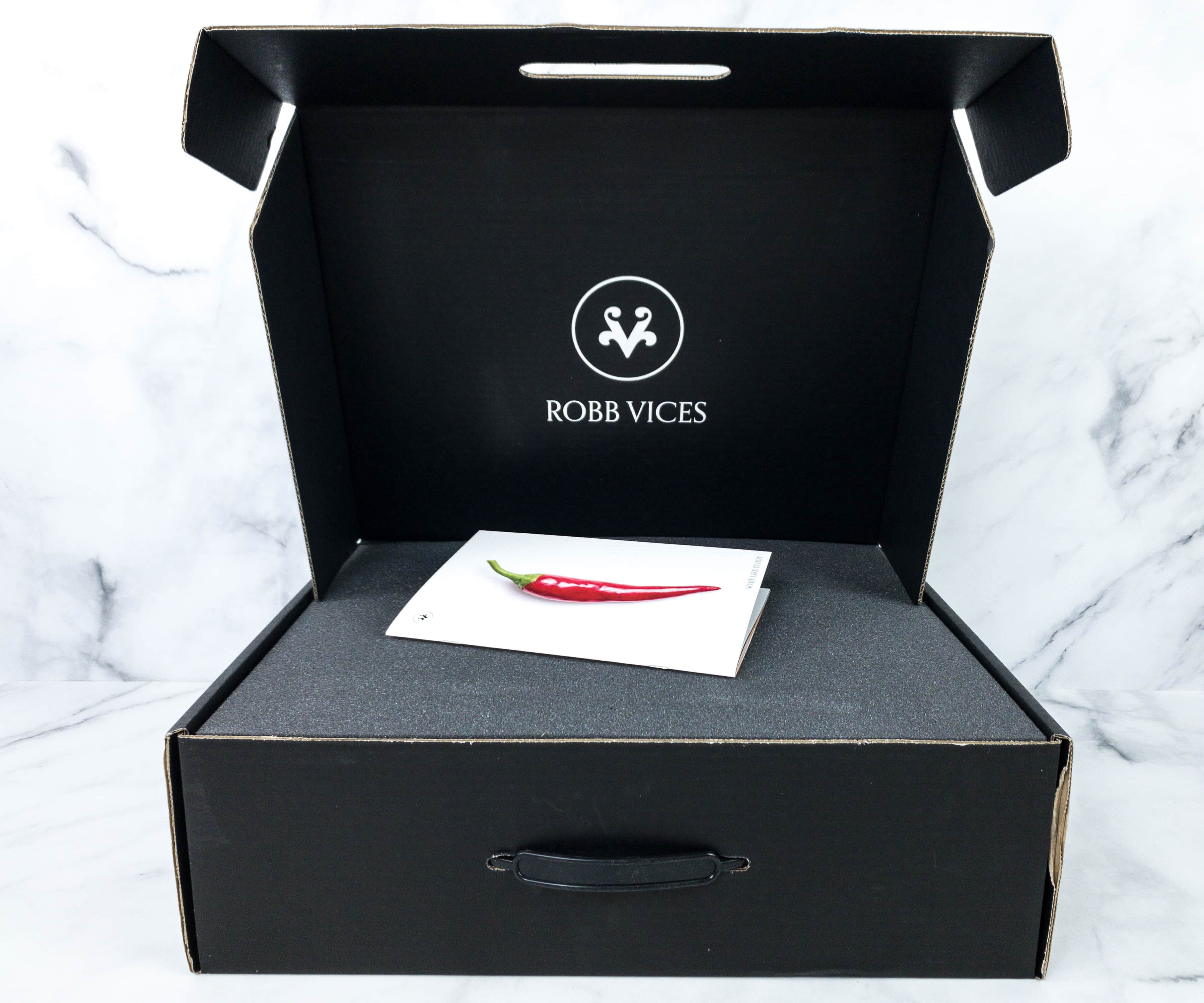 All the items are cradled in a thick a customized carton case with the Robb Vices booklet on top.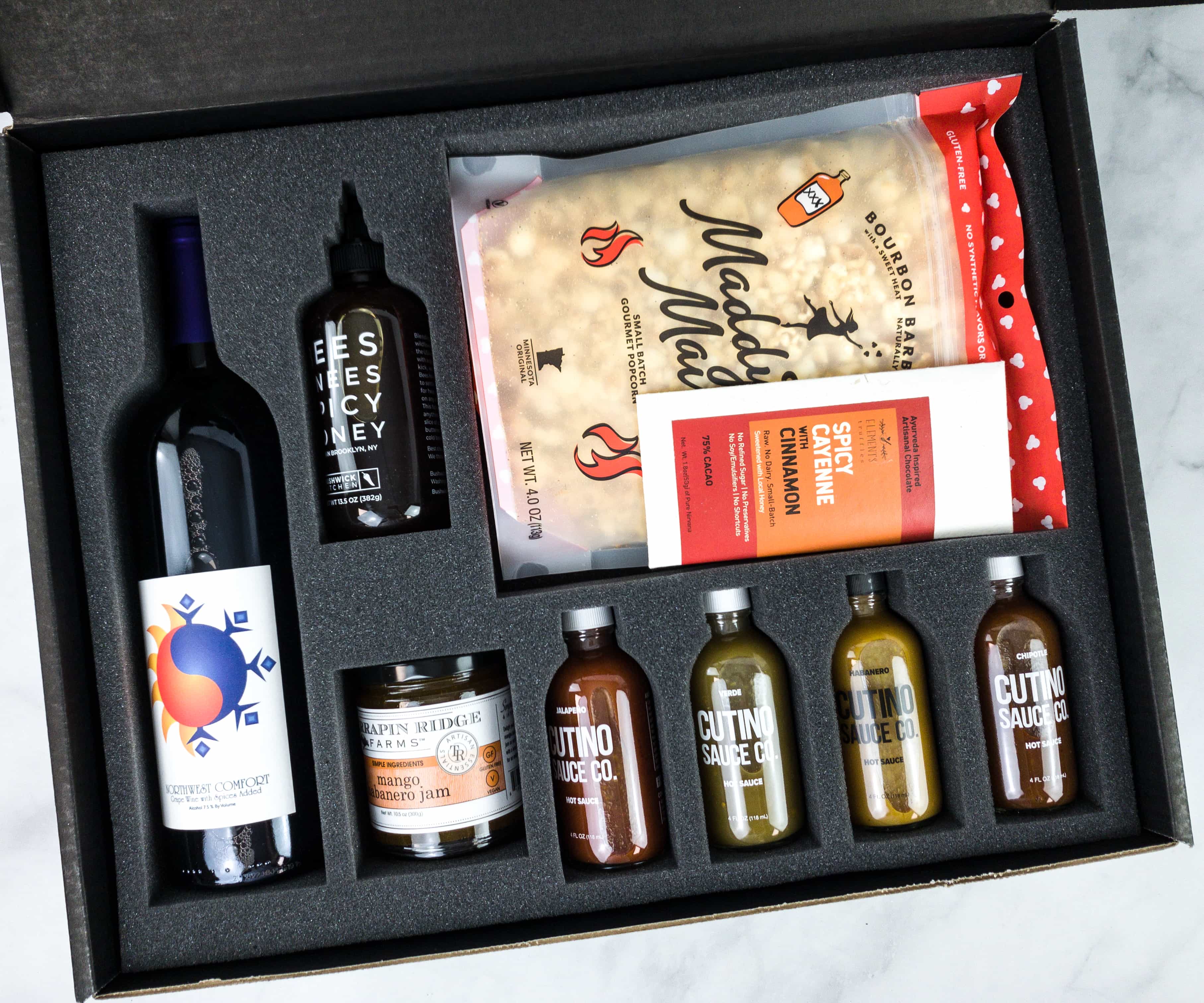 Each item is cradled in a custom-fitted foam case which serves as a protection to make sure that all the items arrive in their best condition.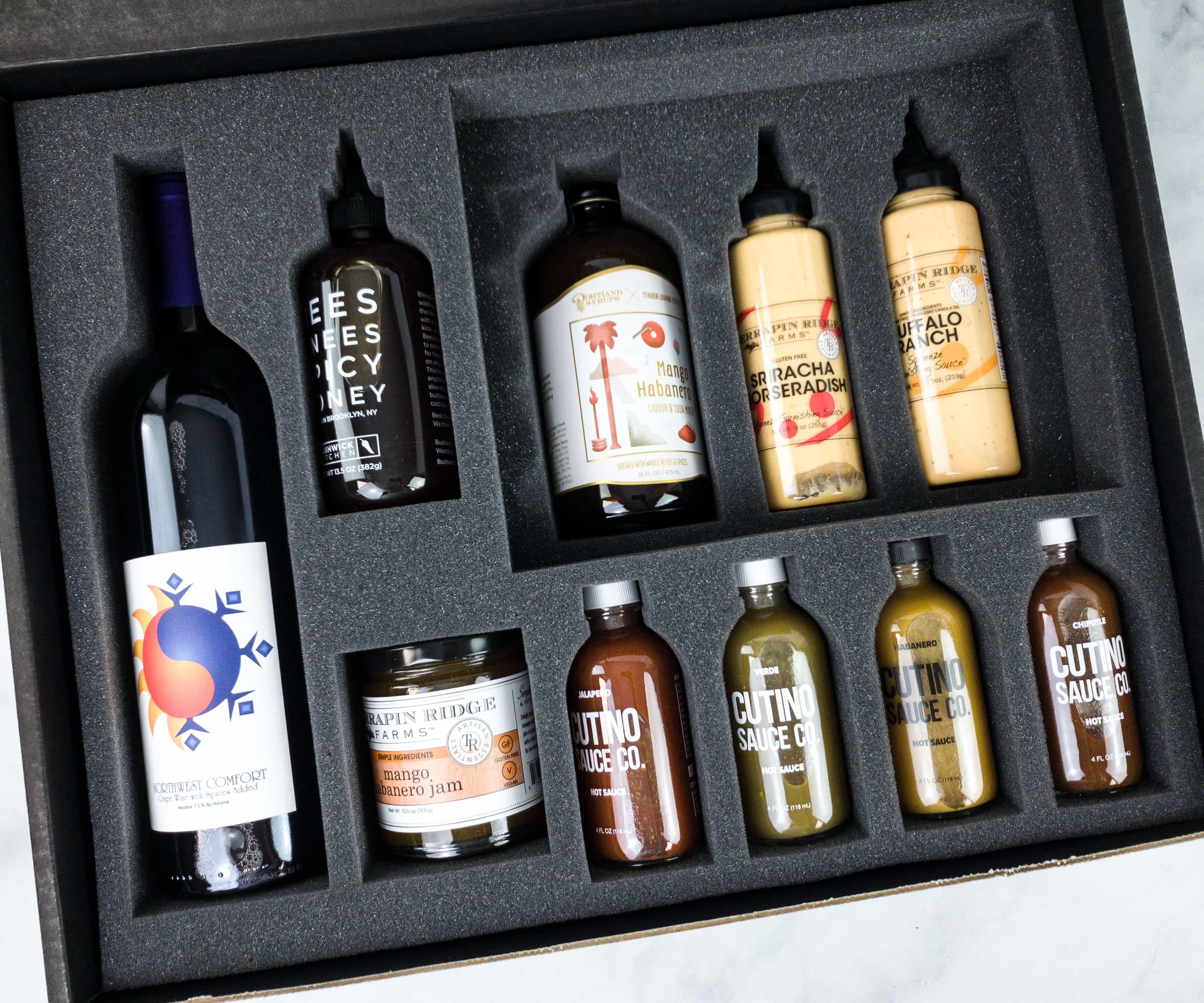 This month's box is filled with a number of bottle containers, and having this custom-made foam case definitely helped in keeping them from moving around during transit.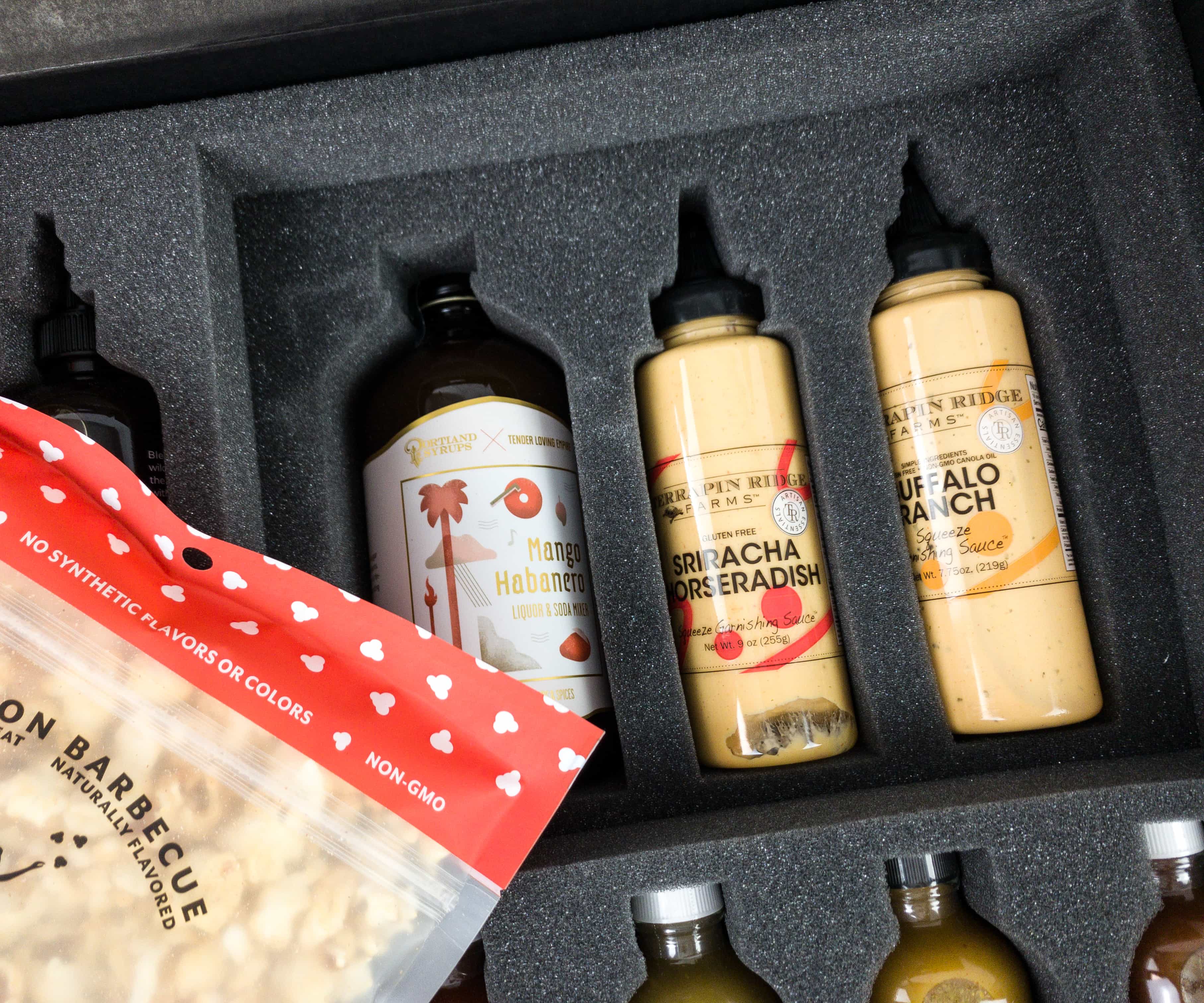 This part of the foam case features a special room for the popcorn!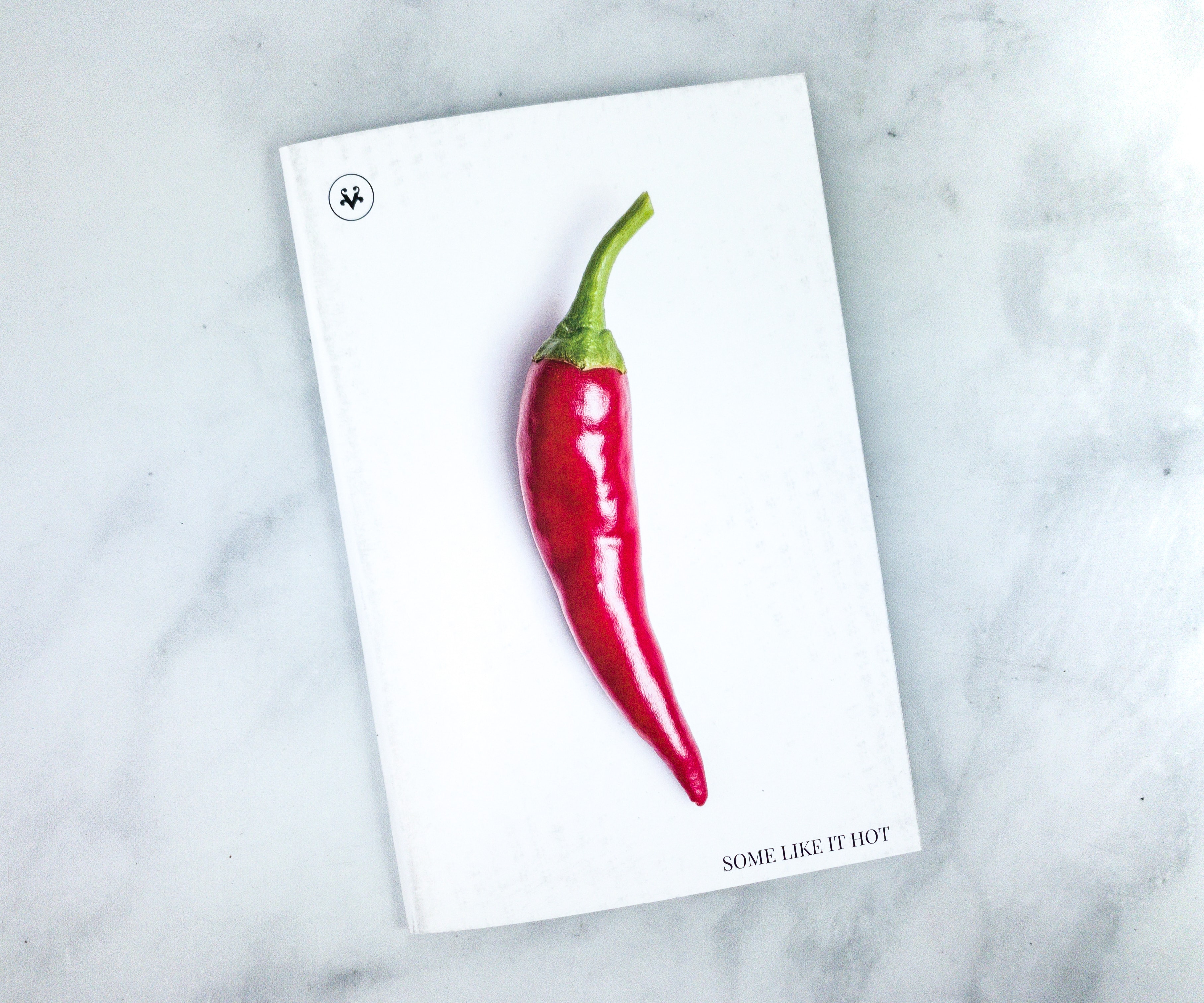 The story of the premium products is told through this novella-sized booklet with a multi-page featurette on each selection.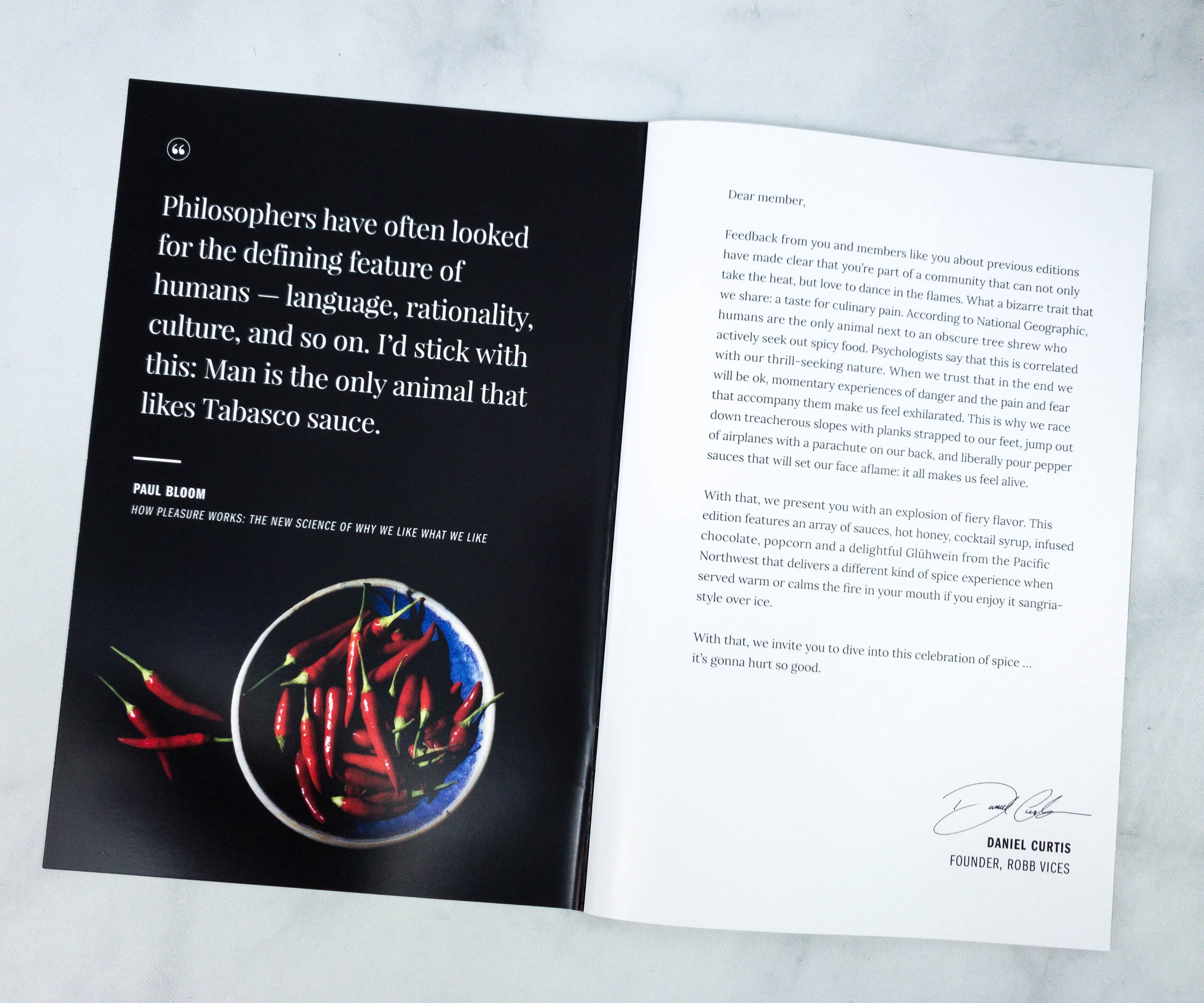 Featured on this side of the booklet is a full-page message from Daniel Curtis, the founder of Robb Vices.
They even included a recipe for Jalapeno Honey Glazed Chicken, complete with a list of ingredients and easy-to-follow instructions.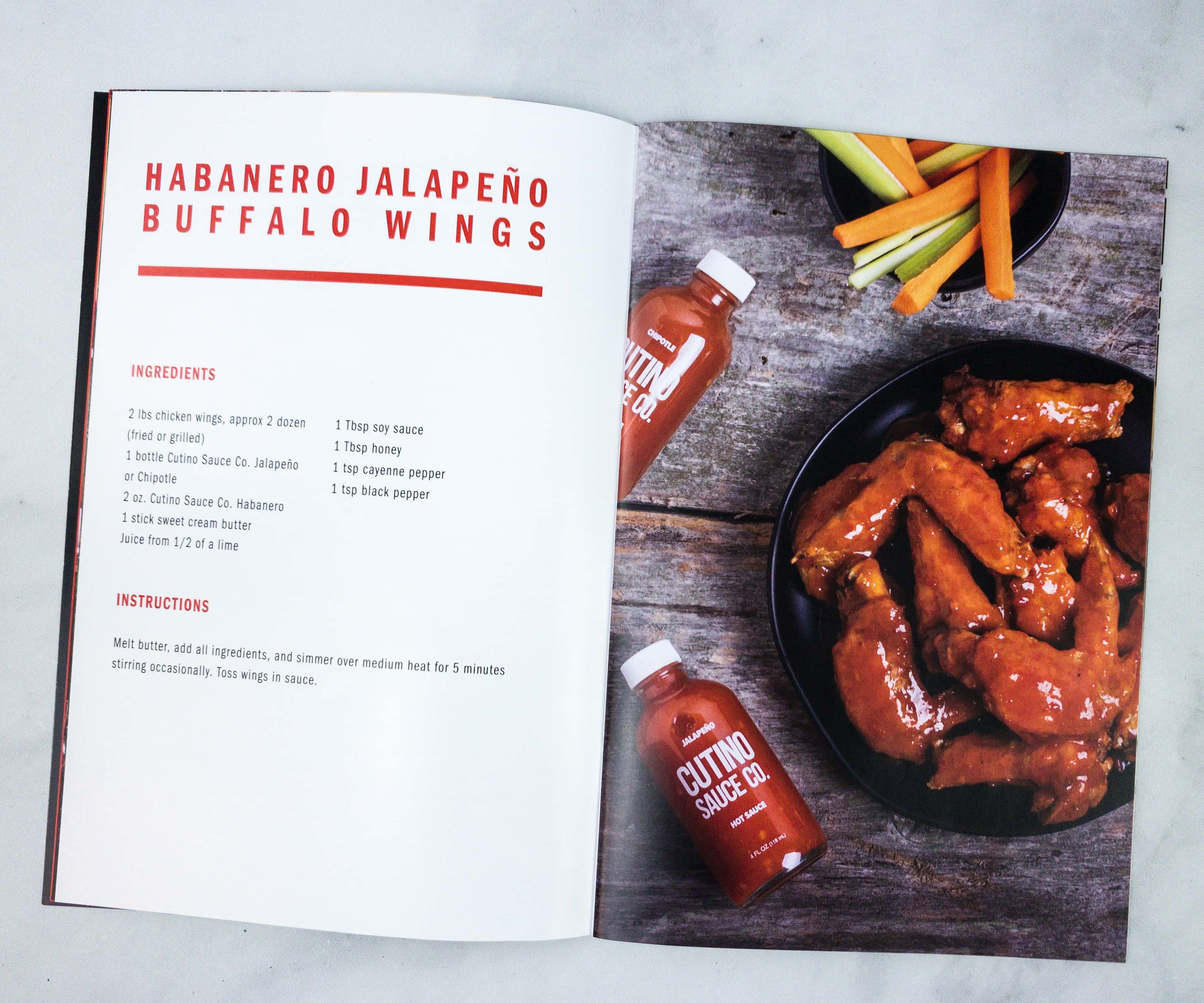 Another recipe is for Habanero Jalapeno Buffalo Wings. This one is super easy to make!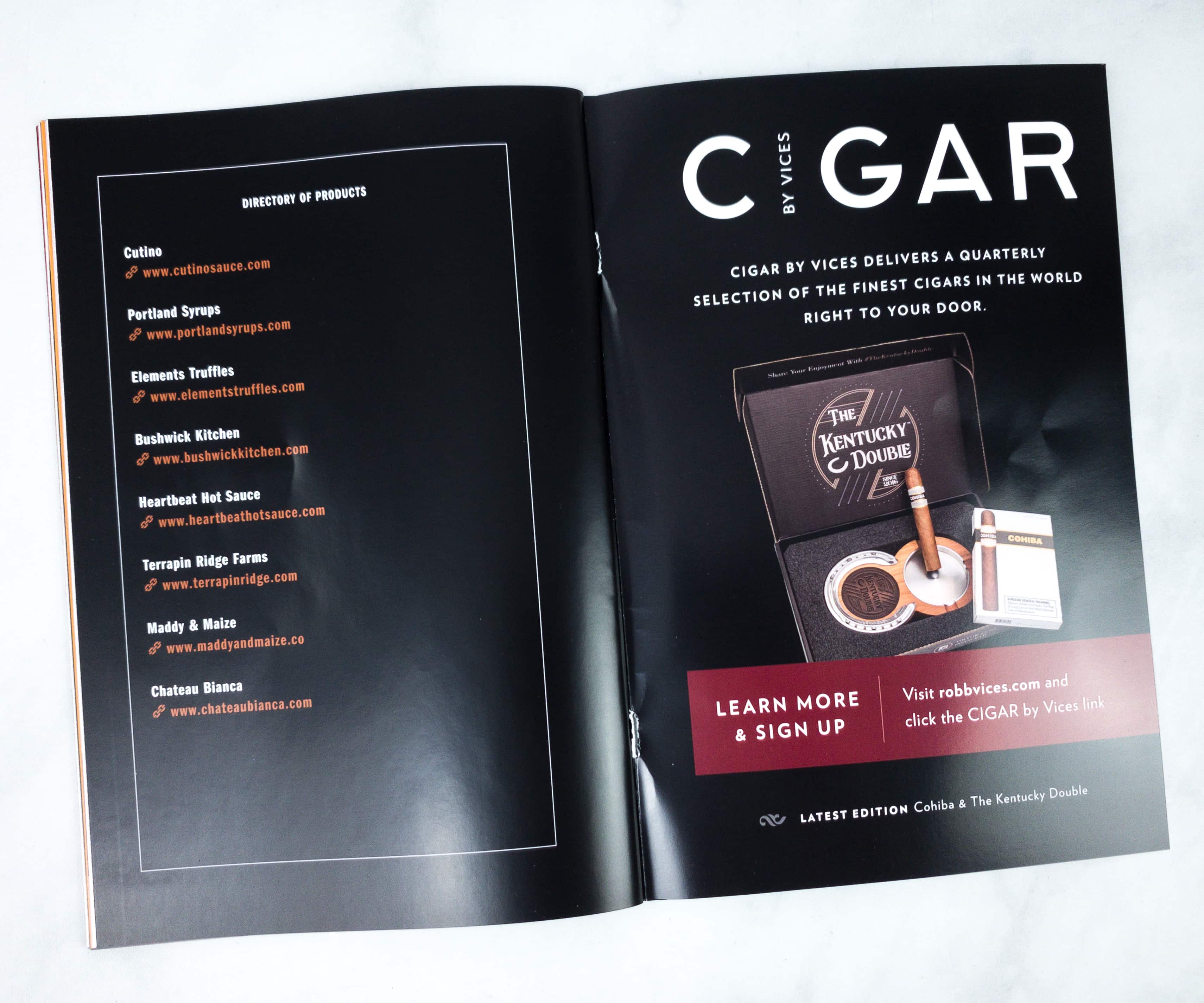 As always, there's a brief directory of all the featured products, plus an ad for Cigar by Vices.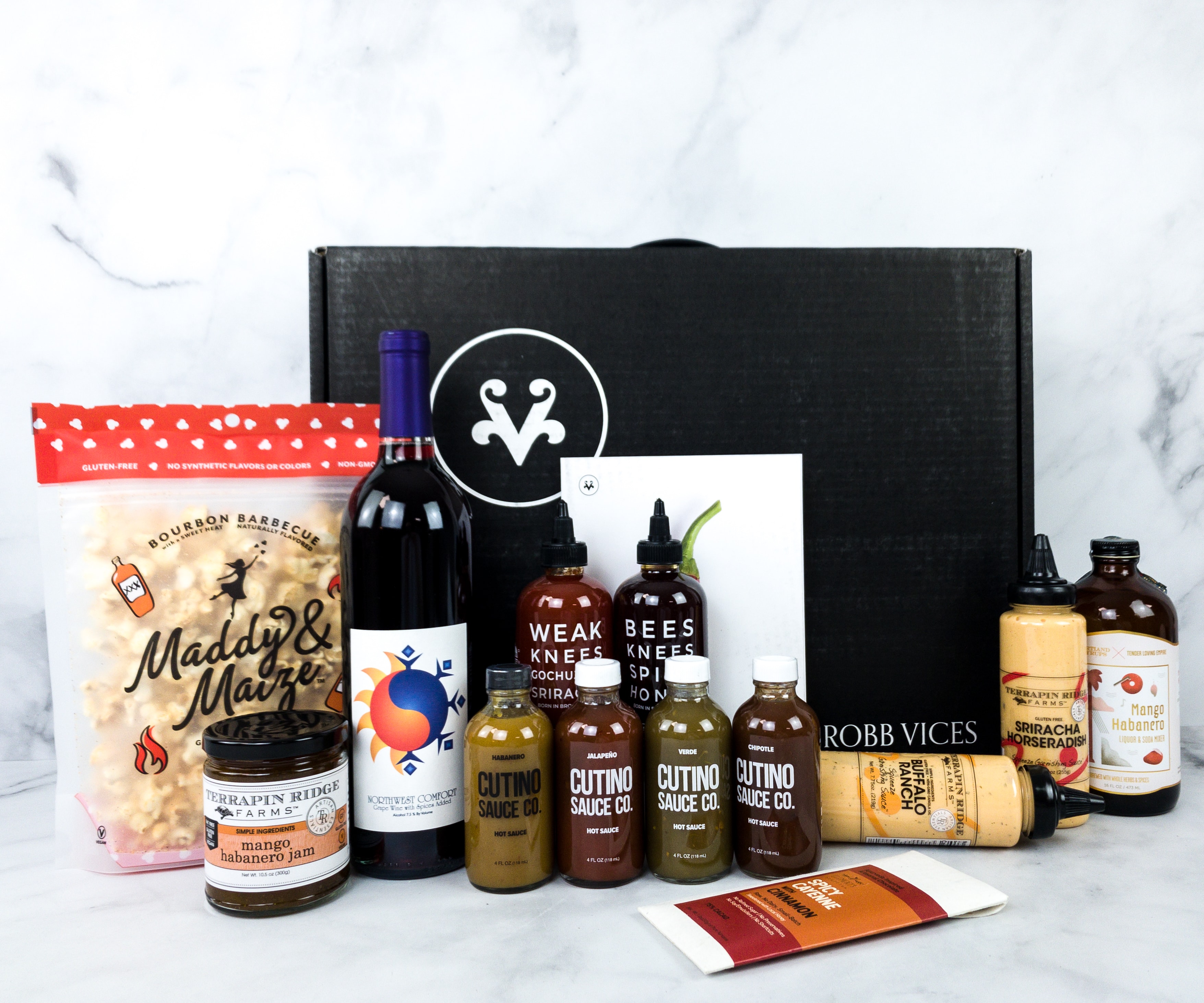 Everything in my February 2020 box!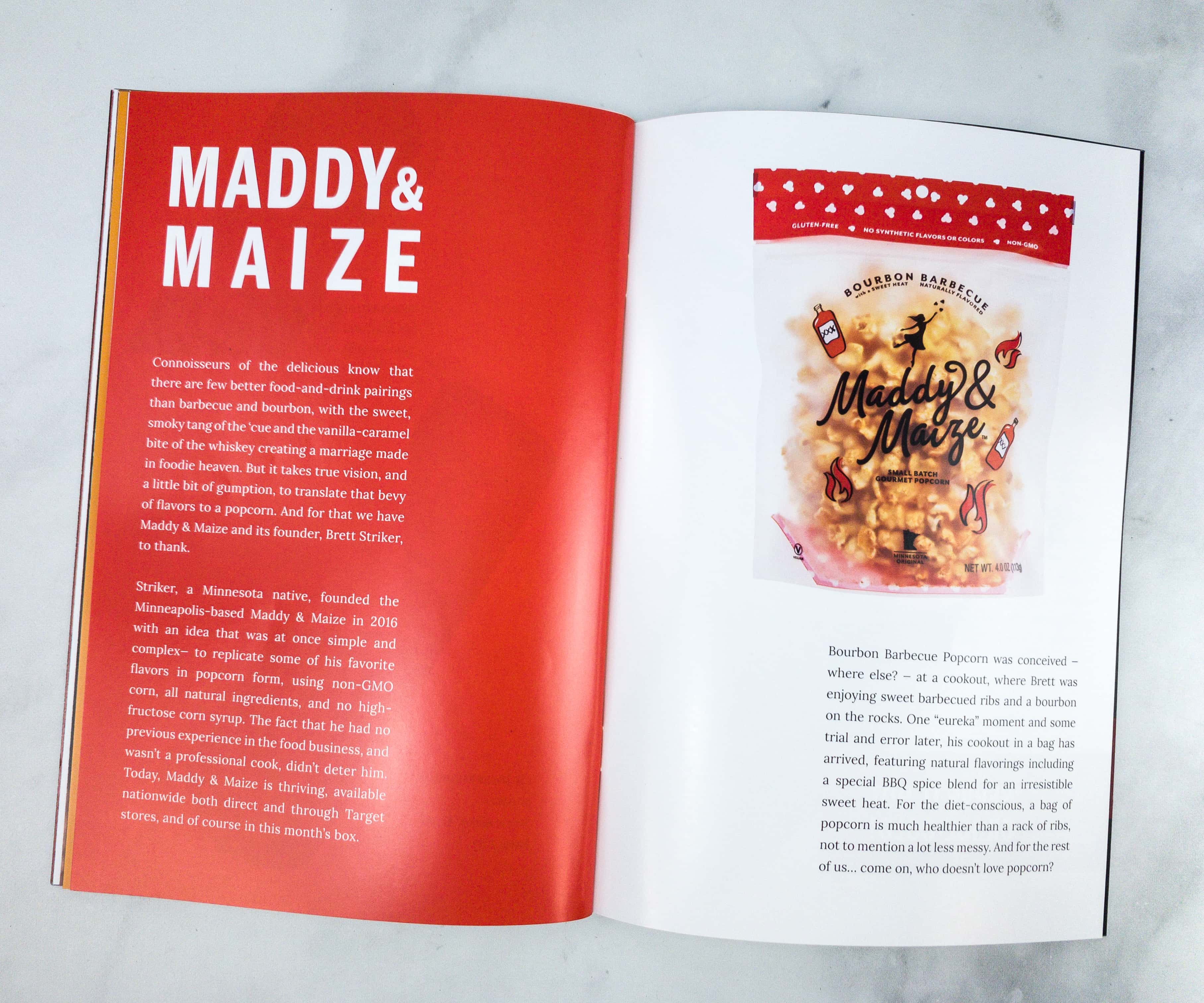 Maddy & Maize Bourbon Barbecue ($5.99) Maddy & Maize is known for their delicious gourmet popcorn in a variety of mouthwatering flavors. I got the pack of gourmet popcorn in Bourbon Barbecue!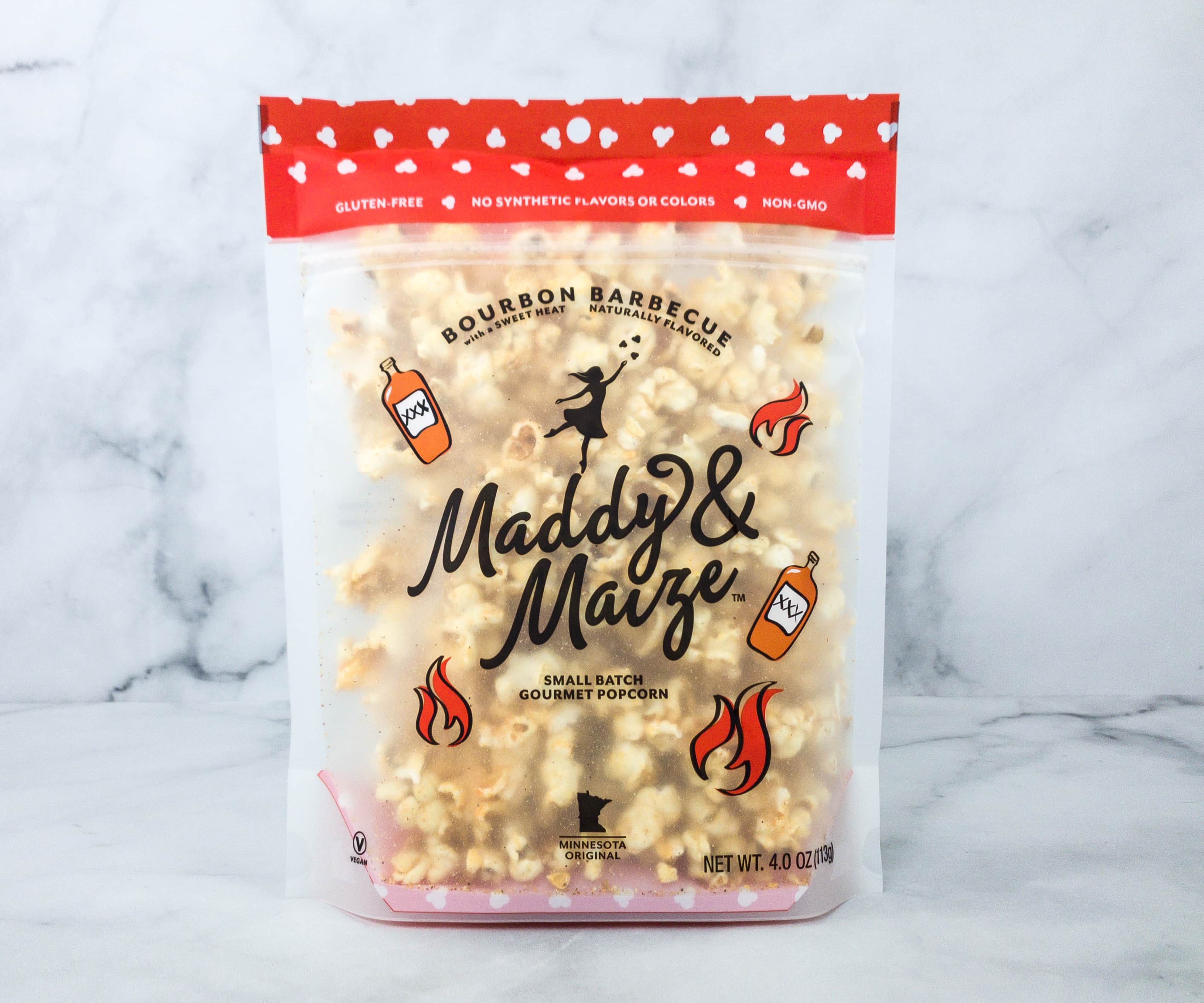 It's made from non-GMO, gluten-free, soy-free, dairy-free, and vegan ingredients blended with real bourbon flavors.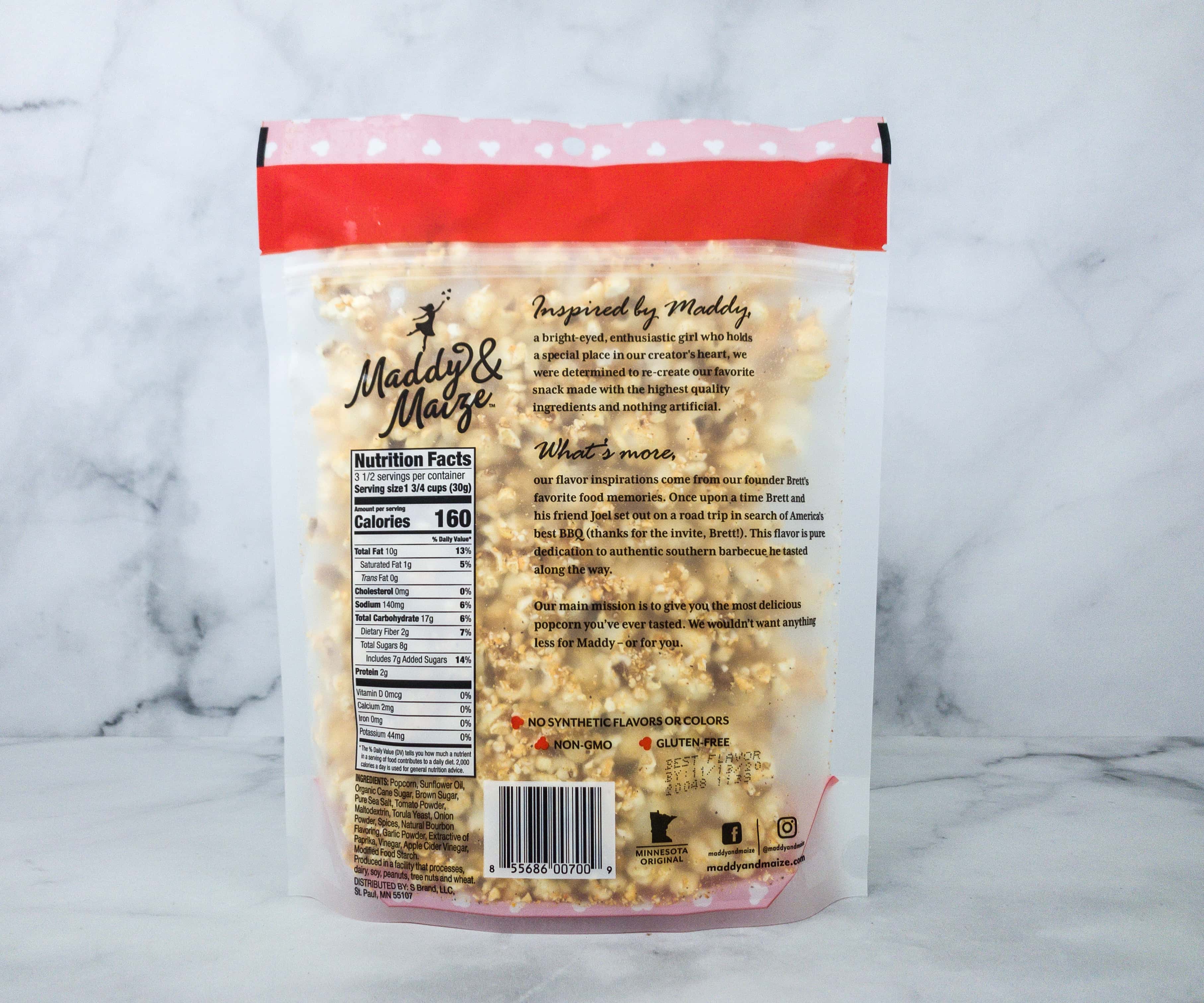 This popcorn is tasty and flavorful. It features a special barbecue flavor blend, with a sweet finish.

Chateau Bianca Northwest Comfort Glüwein. This wine from Chateau Bianca includes a mix of red wines and mulling spices highlighted with cinnamon and cloves, resulting in a delectable fruity flavor!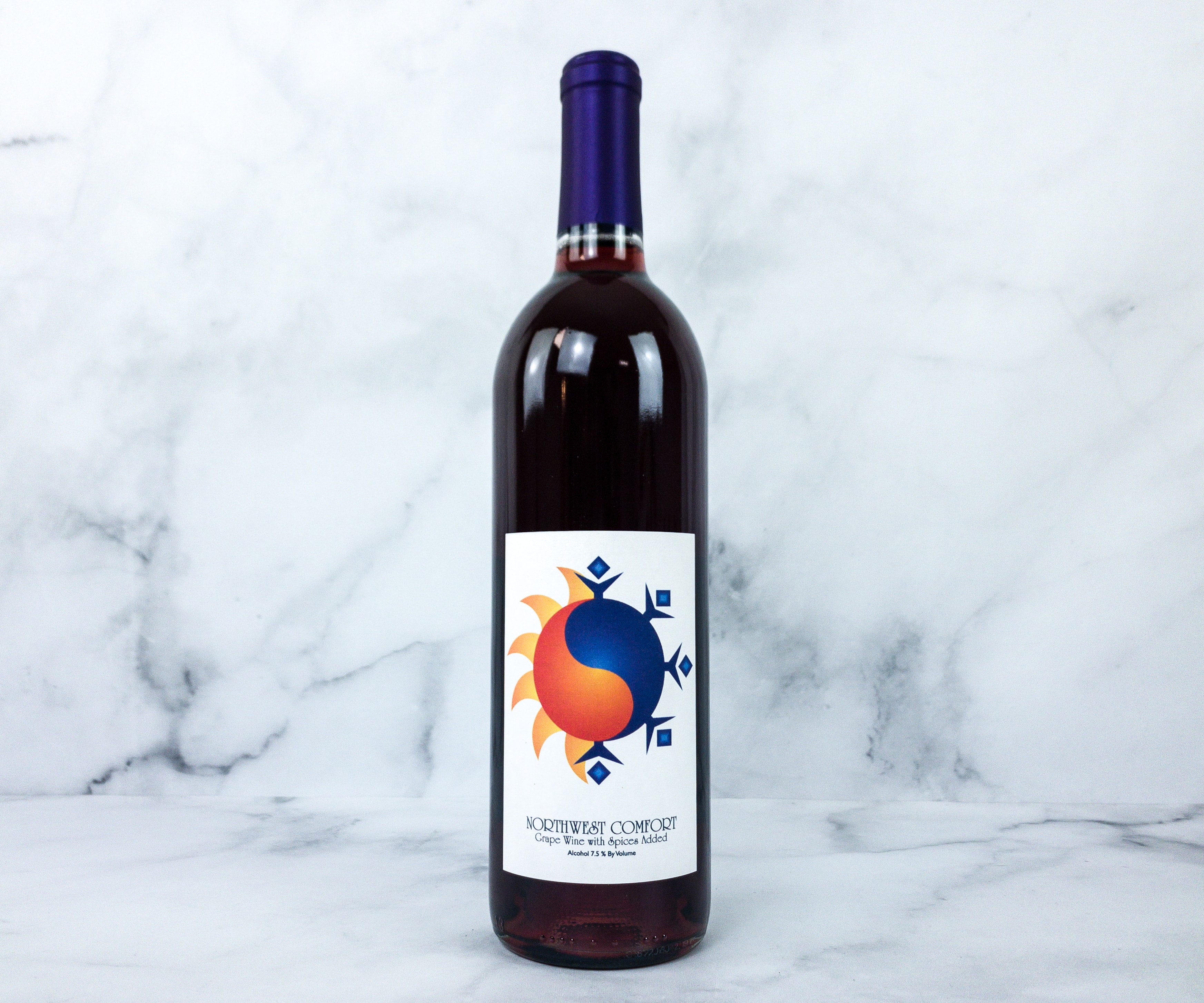 It's a luscious bottle of wine that can be served ice-cold during warm summer nights or even served hot during winter season.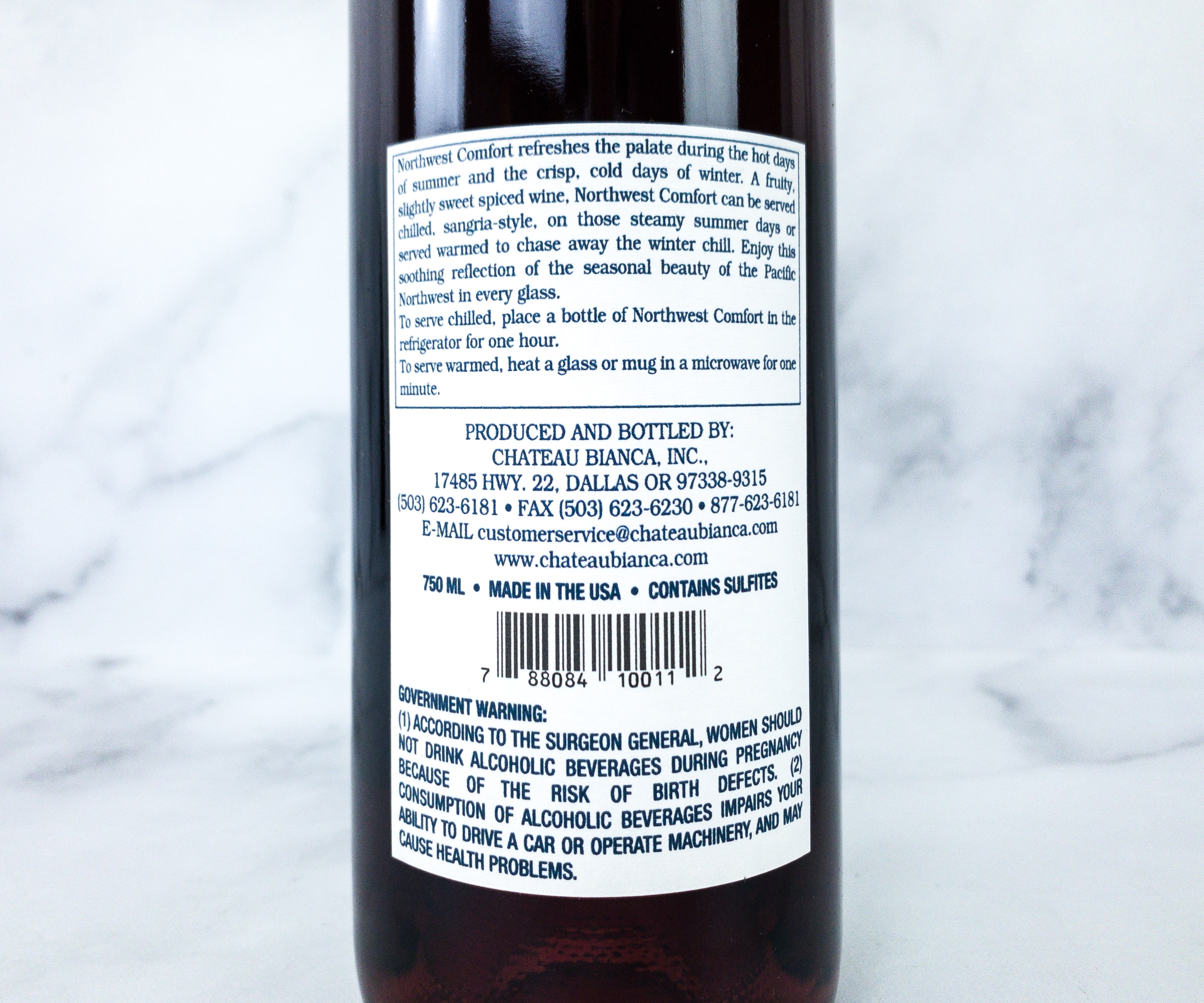 Chateau Bianca wines pair perfectly with food as well. You can try serving this one together with savory stews. If you want it cold, you can serve it over fresh fruit like slices of dried oranges!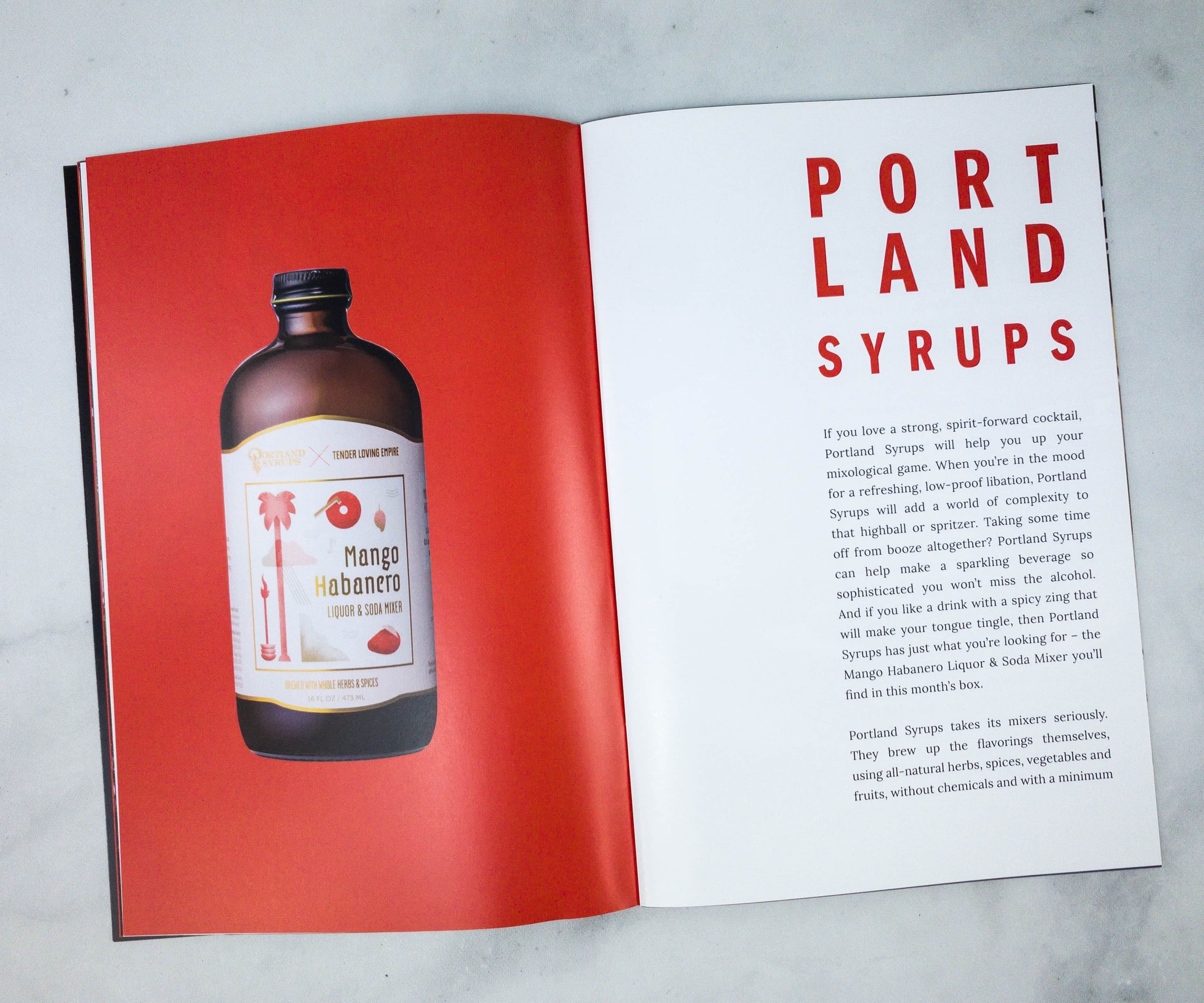 Portland Syrups Mango Habanero Liquor & Soda Mixer ($14) This mixer makes drinks tastier and more enjoyable. It's a mouthwatering mix made with mango puree, fresh habaneros, cane sugar, organic mango, and bergamot lemon-lime extract.
It's a special blend that features a bursting flavor of lemon-lime and bergamot orange. This mix is a great addition to sparkling water as well as the base of your vodka, gin, or mezcal cocktails.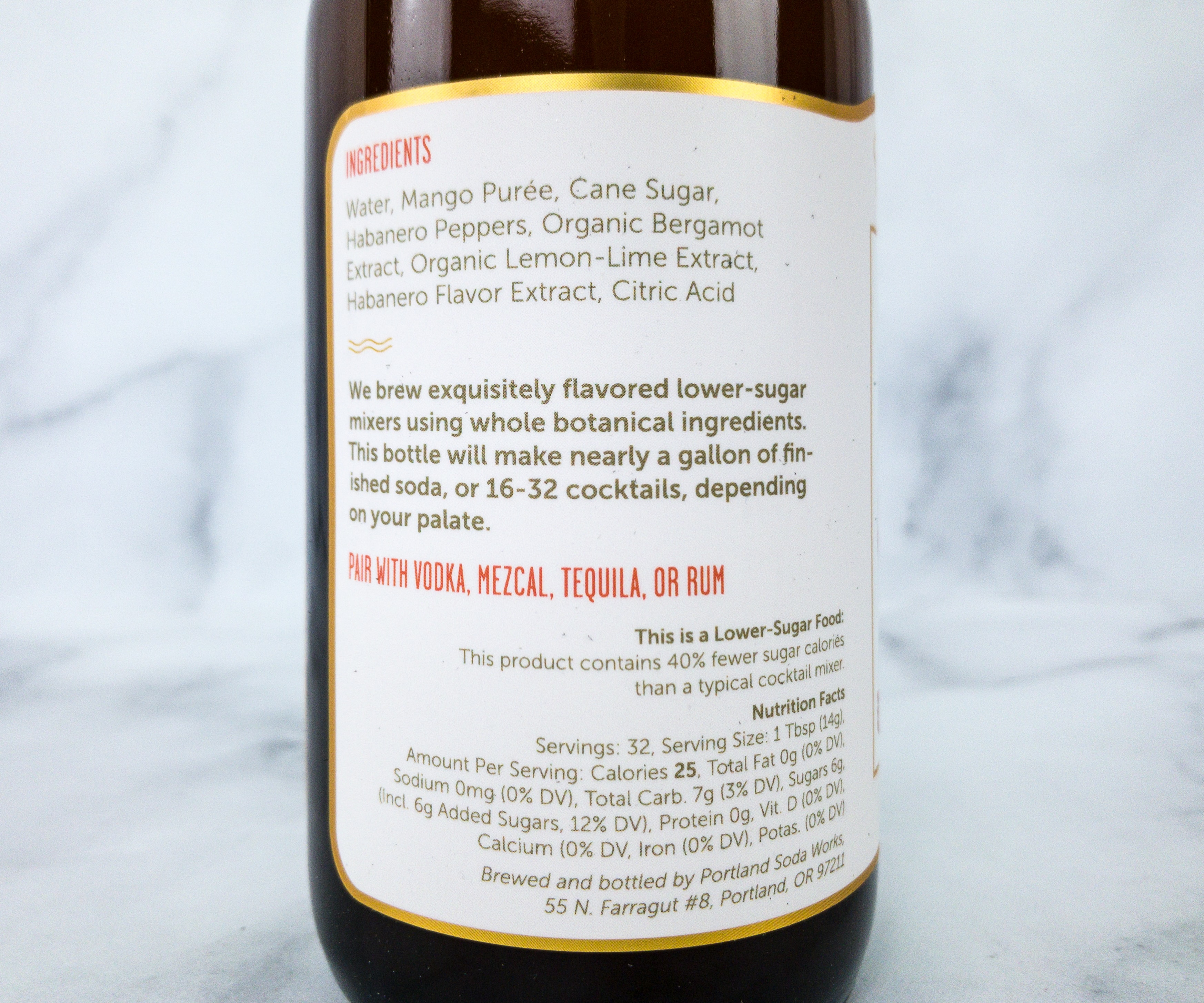 This mix is also formulated to provide a stronger flavor with 40% less sugar compared to other ordinary mixers. Each bottle can make up to 16-32 cocktails depending on your palate.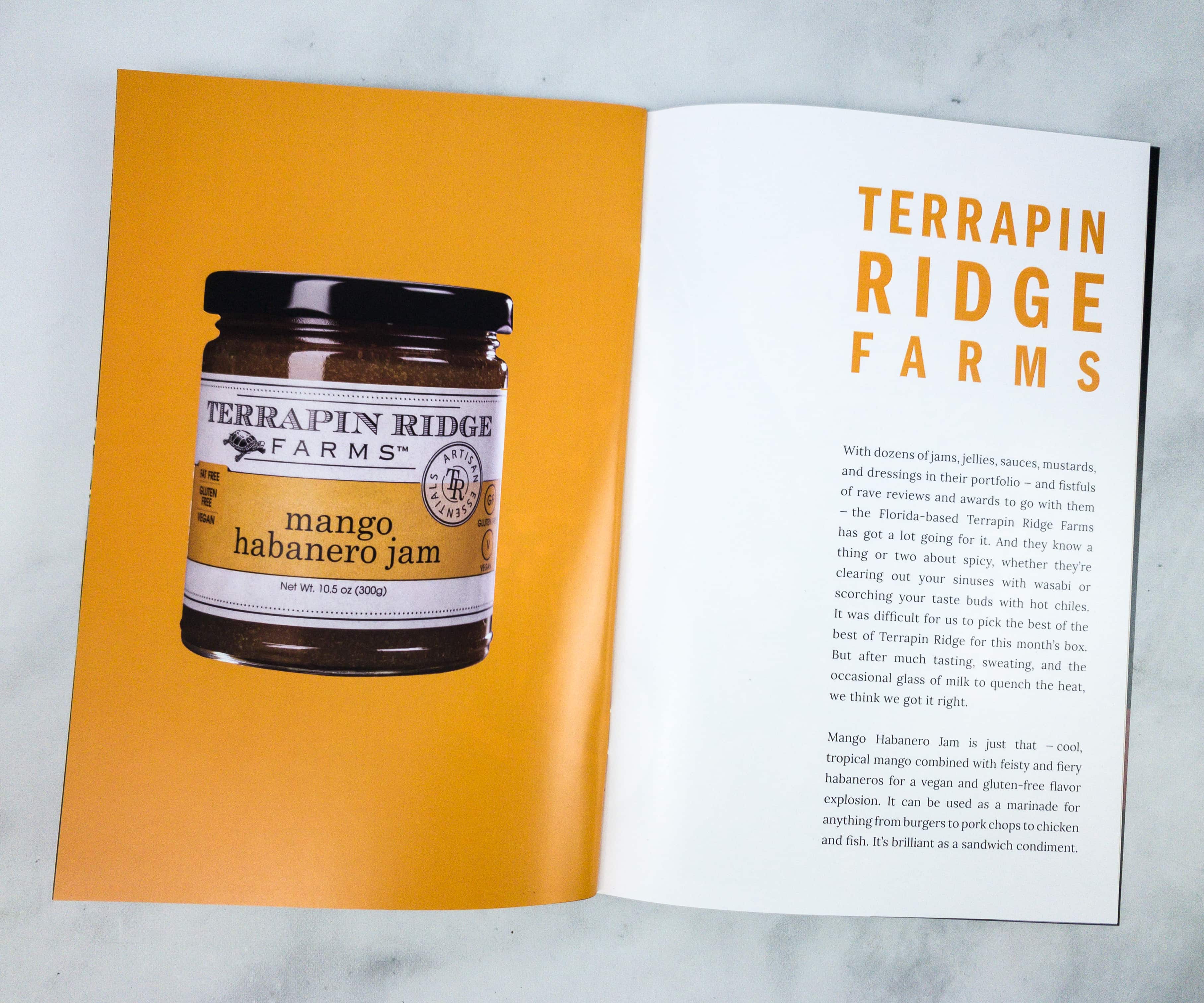 Terrapin Ridge Farms Mango Habanero Jam ($8.30) Jams are great condiments! This one features a well-balanced mix of sweet mango and habanero. It's also gluten-free, dairy-free, and vegan!
It definitely satisfied our palate! We served it with crackers to create a captivating appetizer, but you can also use this for marinating pork chops and chicken. It's also great for sandwiches.
Terrapin Ridge Farms Sriracha Horseradish Squeeze Garnishing Sauce ($4.55) It's a dairy-free, gluten-free, keto-friendly, low carb and low sugar sauce that invigorates gourmet sandwiches, wraps, and even burgers.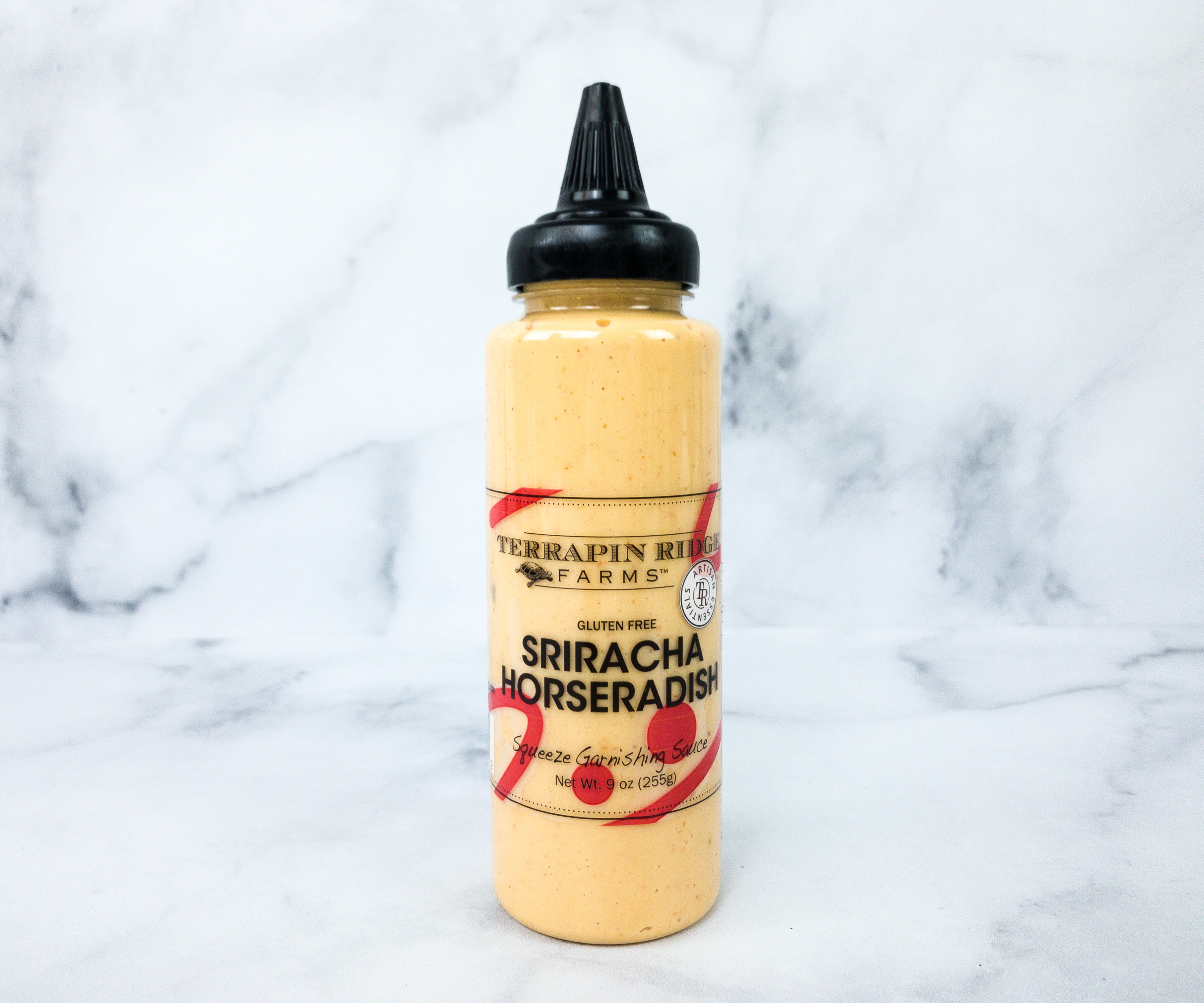 This sauce can be used as a dip for calamari, onion rings, and sweet potato fries. It's also a great dressing that adds flavor to our favorite salads such as tuna salad, potato salad, and coleslaw.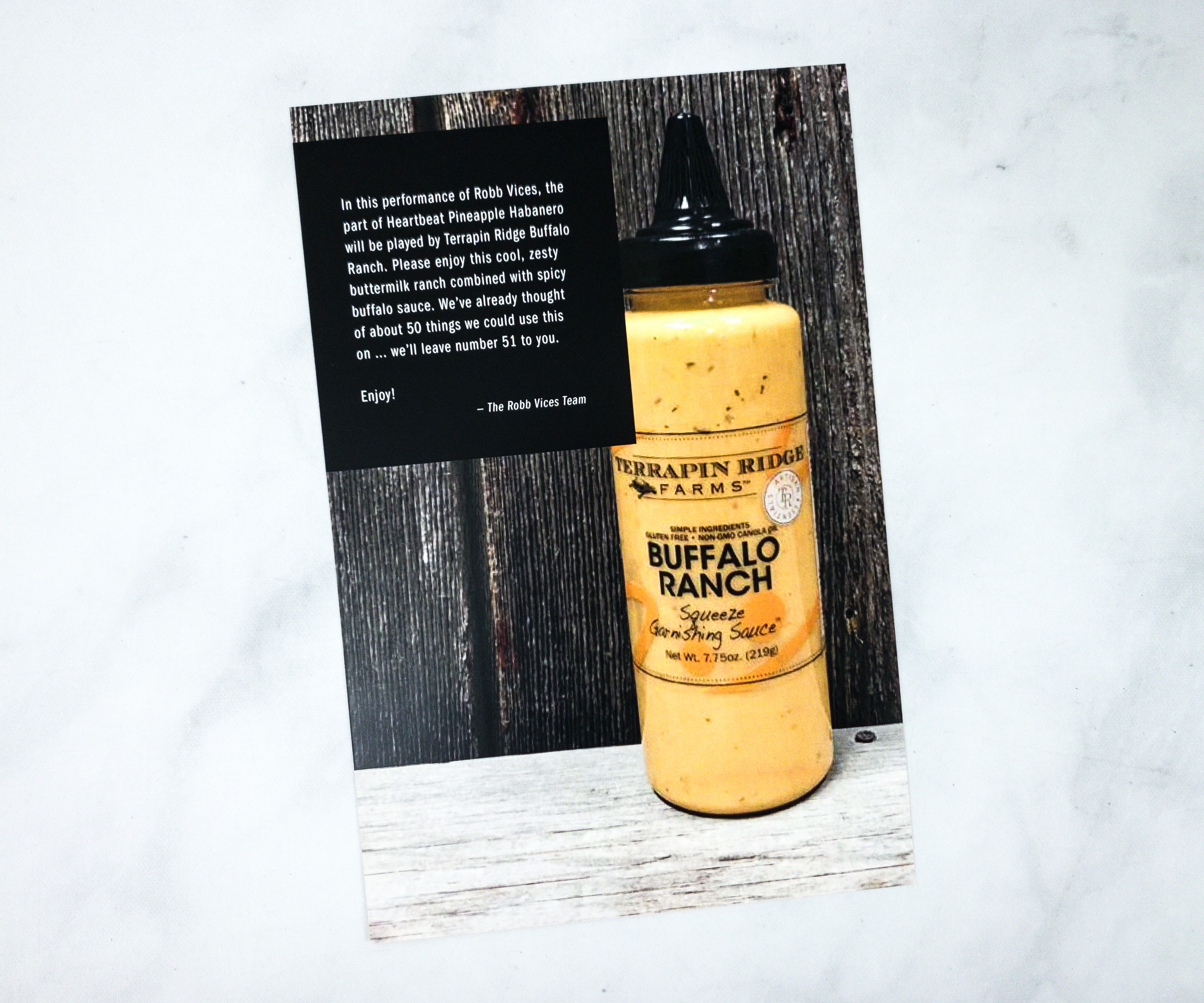 Terrapin Ridge Farms Buffalo Ranch Squeeze Garnishing Sauce ($4.55) Here's another delicious sauce in our box, and this time it comes with a well-balanced combination of tasty buttermilk ranch and spicy buffalo.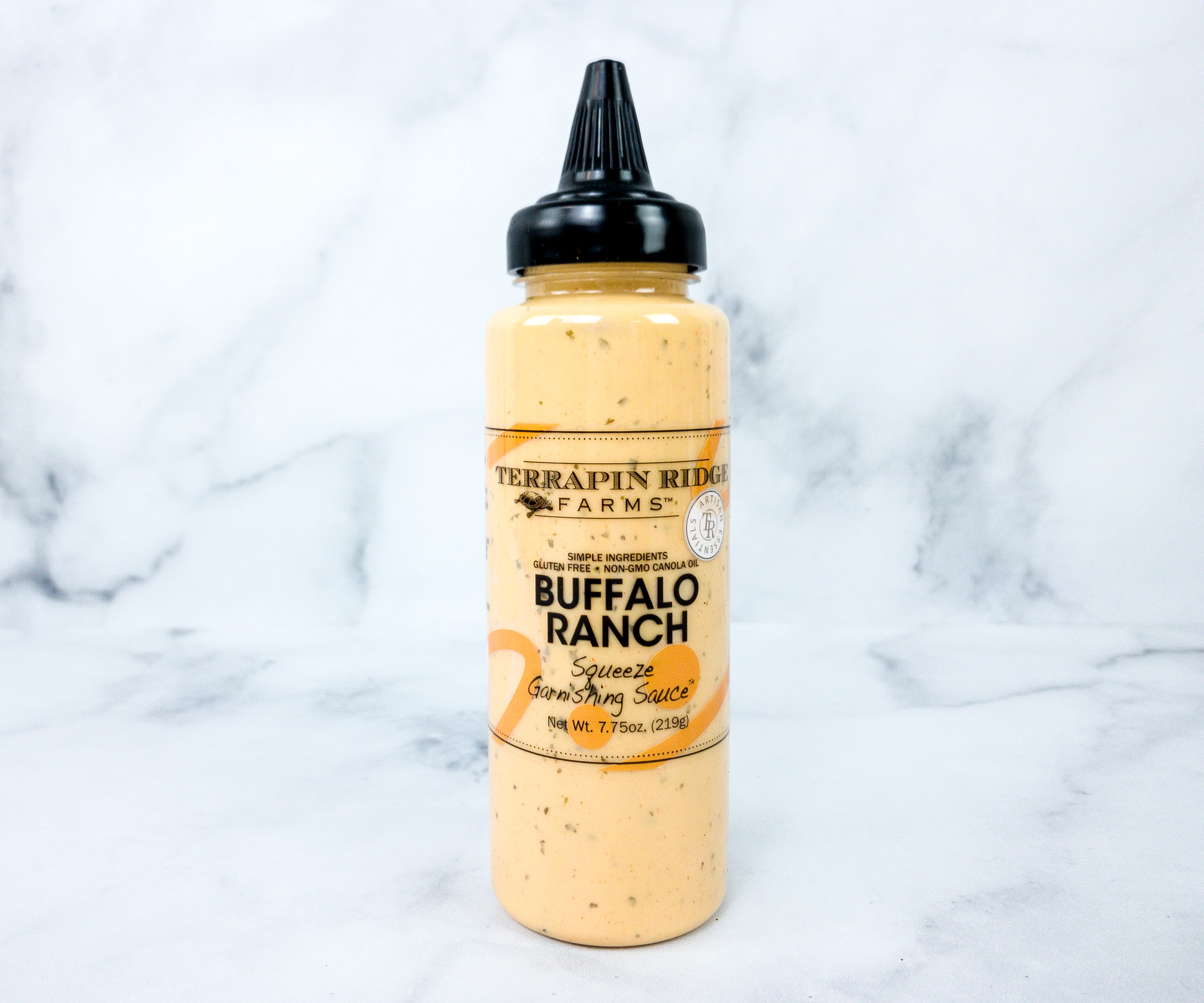 This sauce is also gluten-free, non-GMO, keto-friendly with low carb and sugar content. It's a great dip for fried shrimp, chicken tenders, and onion rings.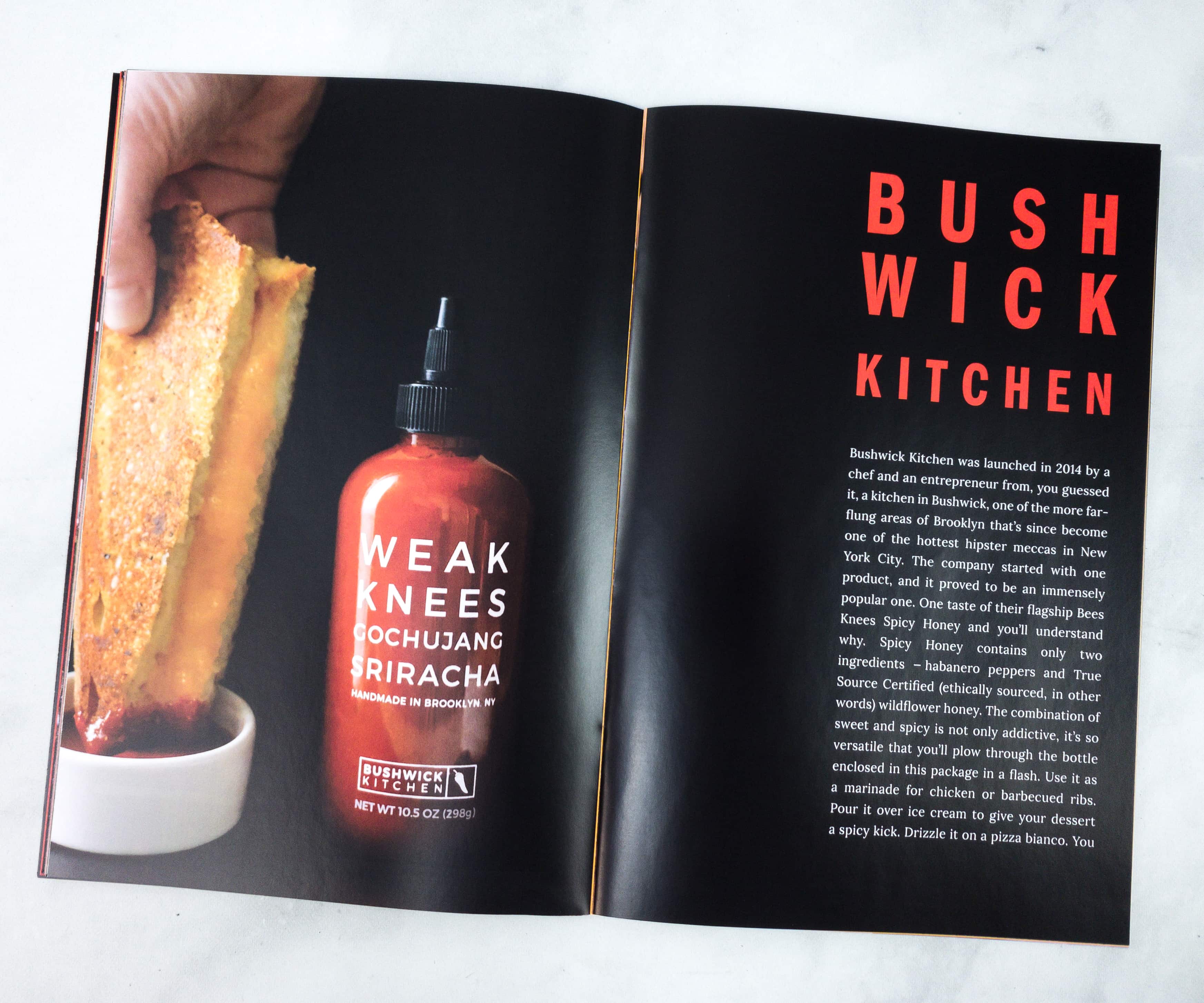 Bushwick Kitchen Weak Knees Gochujang Sriracha ($9.99) This is definitely not your ordinary hot sauce. It's made with a unique mix of gochujang (Korean red chili paste), distilled vinegar, garlic, and sugar.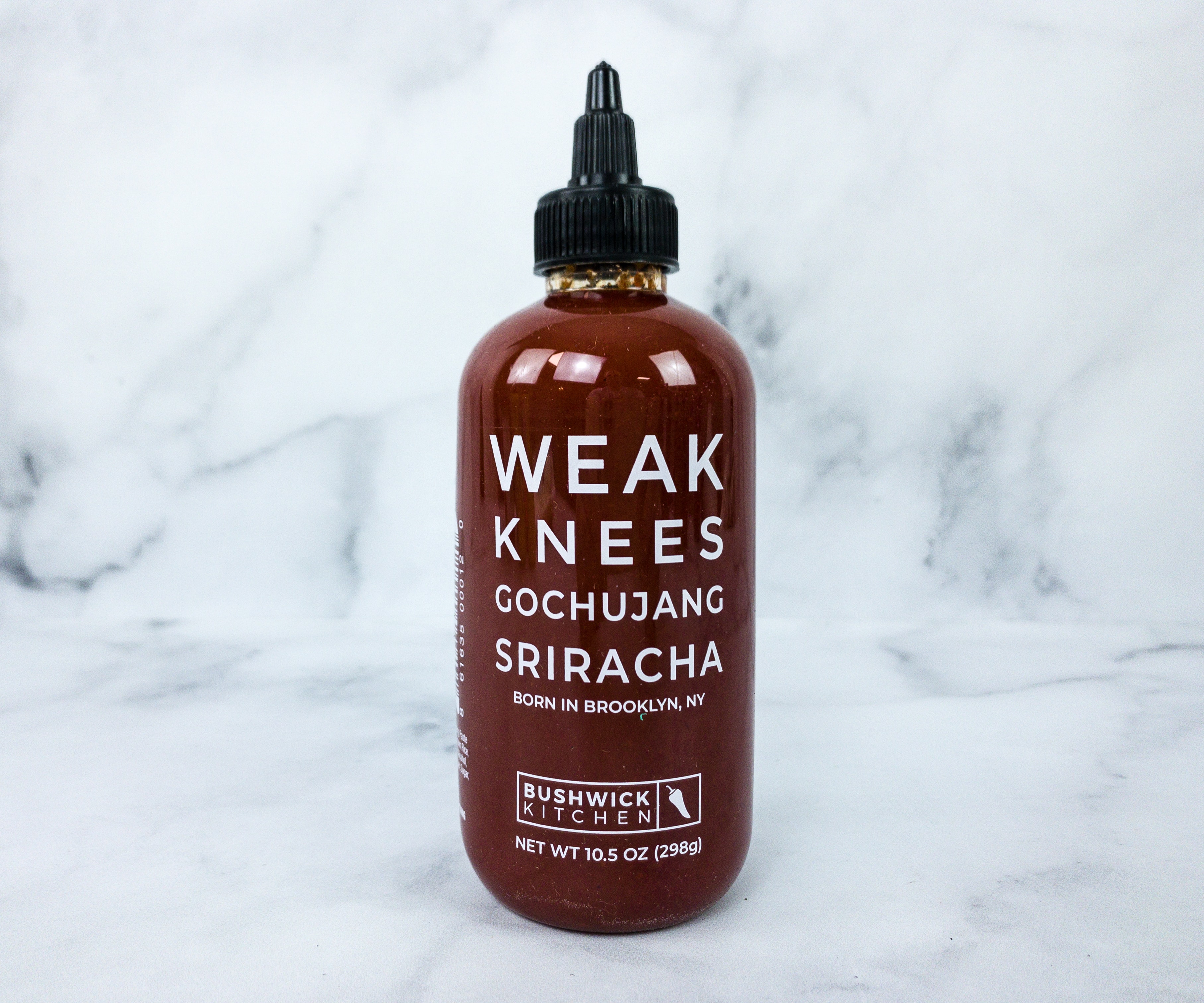 This is as hot as we expected! With just a splash of this sauce, you can easily bring your meal to the next level. It can be used as a marinade for chicken and barbecued ribs, or simply as a sauce for pizza. If you're a fan of Korean spicy food, this one is a must-try.
Bushwick Kitchen Bees Knees Spicy Honey ($13.99) We got another spice from Bushwick Kitchen, and this time it features a blend of wildflower honey from the USA and Argentina with a spicy habanero kick.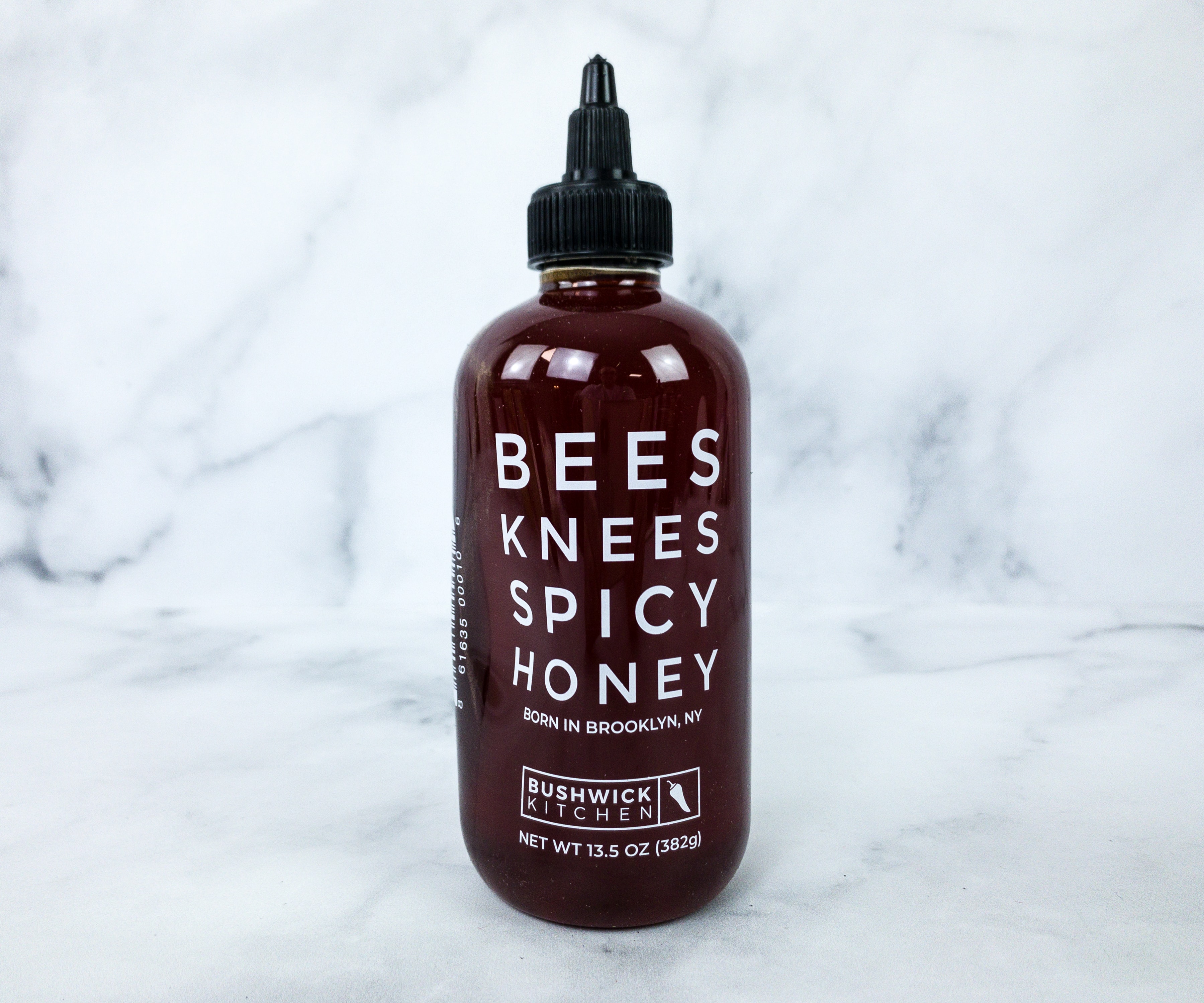 It's a great sauce to pair with pizza and butter biscuits. It can also be splashed on a cold bowl of ice cream for a spicy kick!
This article contains a brief history of Cutino Sauce Co., on where they started and how they ended up as being the company they are today.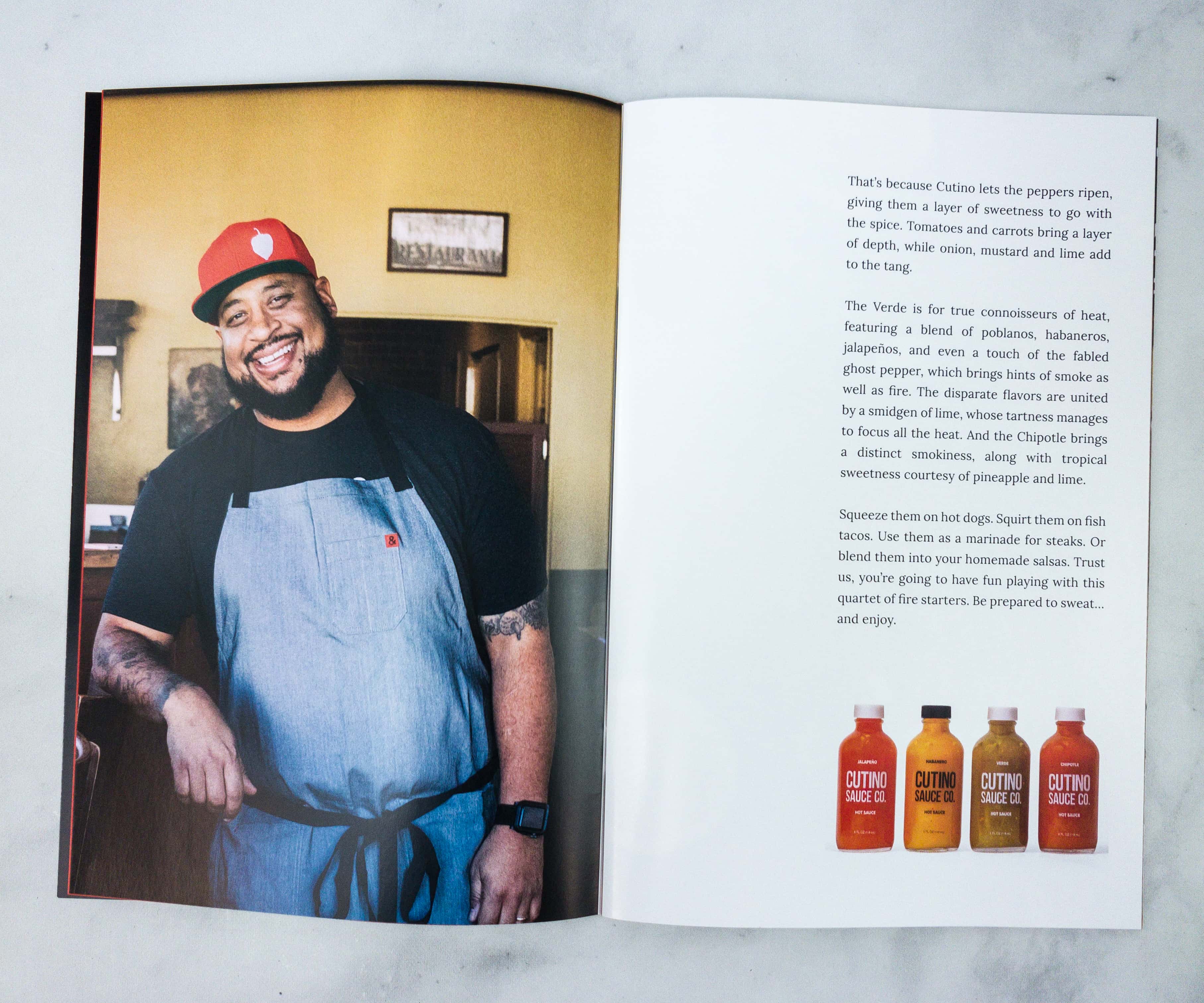 Featured on one side of the booklet is a full-size picture of Cutino's owner and founder Jacob Cutino.
Cutino Sauce Co. Verde Hot Sauce ($8) It's a delicious sauce that features sweet and spicy habanero blended with tomatillo's tanginess, tasty jalapeño, and a kick of dried ghost pepper's smoky floral fire.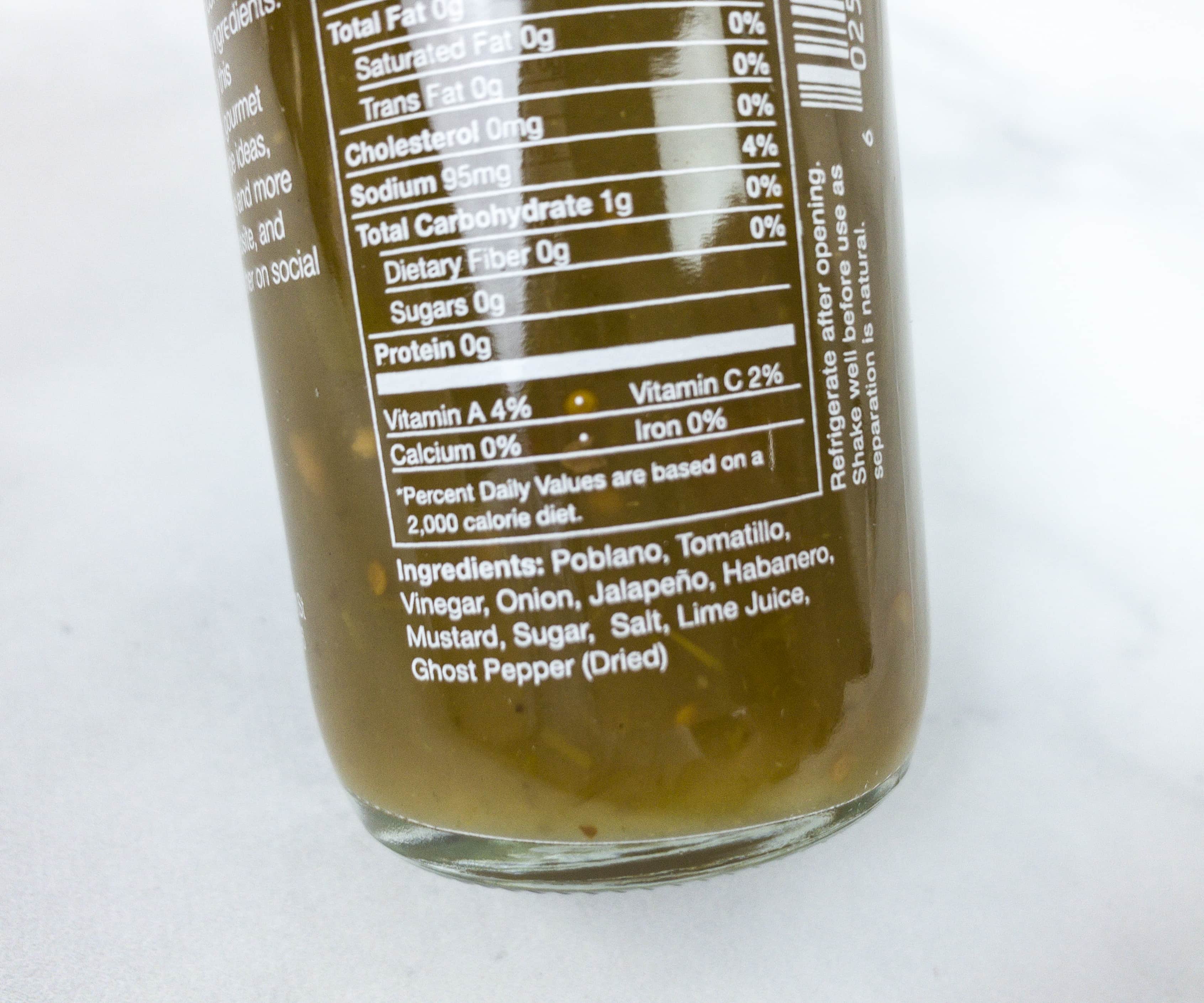 This sauce makes a perfect pairing with our favorite snacks including tacos, burgers, and hotdog sandwiches!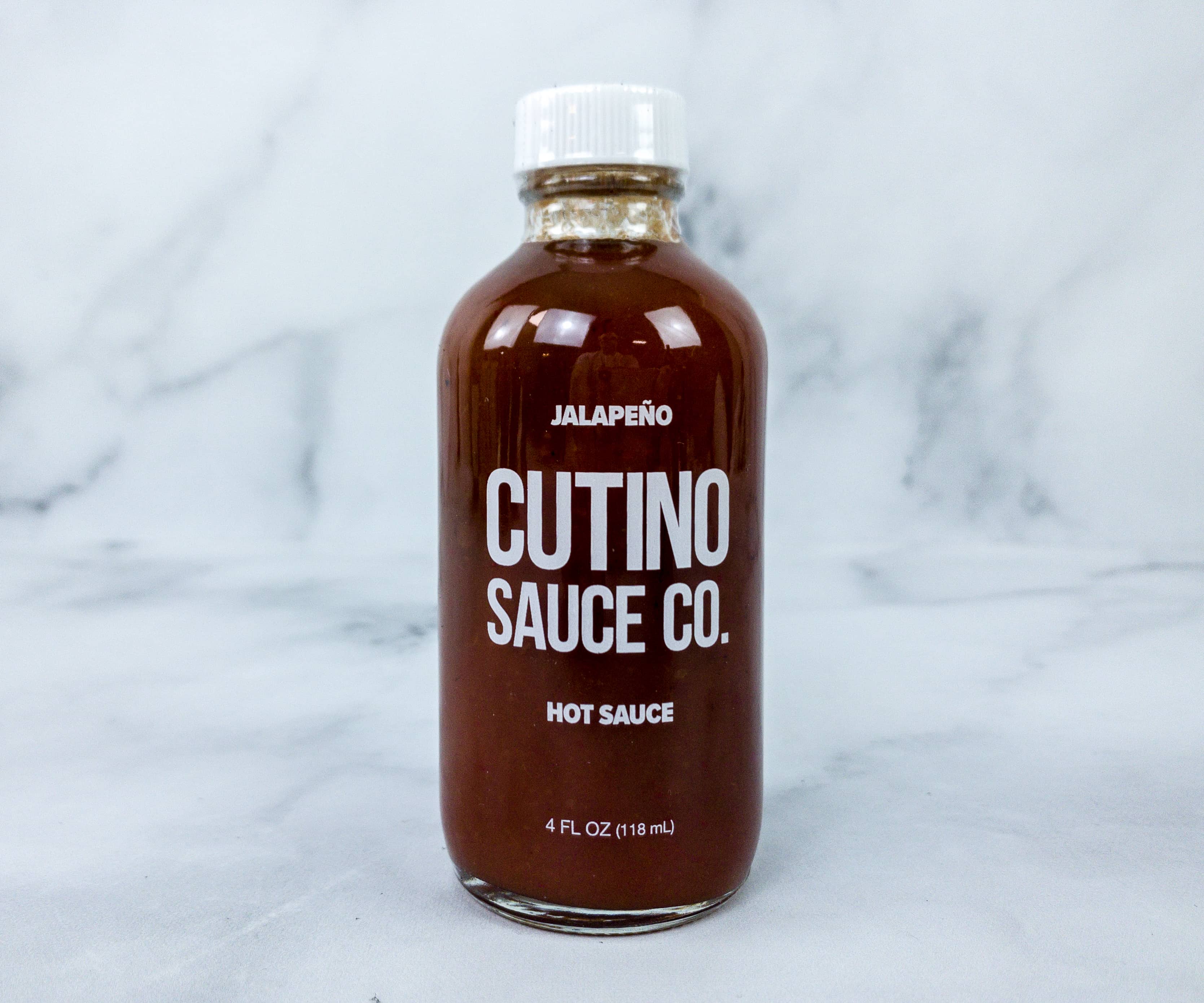 Cutino Sauce Co. Jalapeño Hot Sauce ($8) This version of Cutino sauce features a luscious blend of jalapeño, tomatoes, carrots, onion, mustard, and lime, giving you a mild flavorful blend.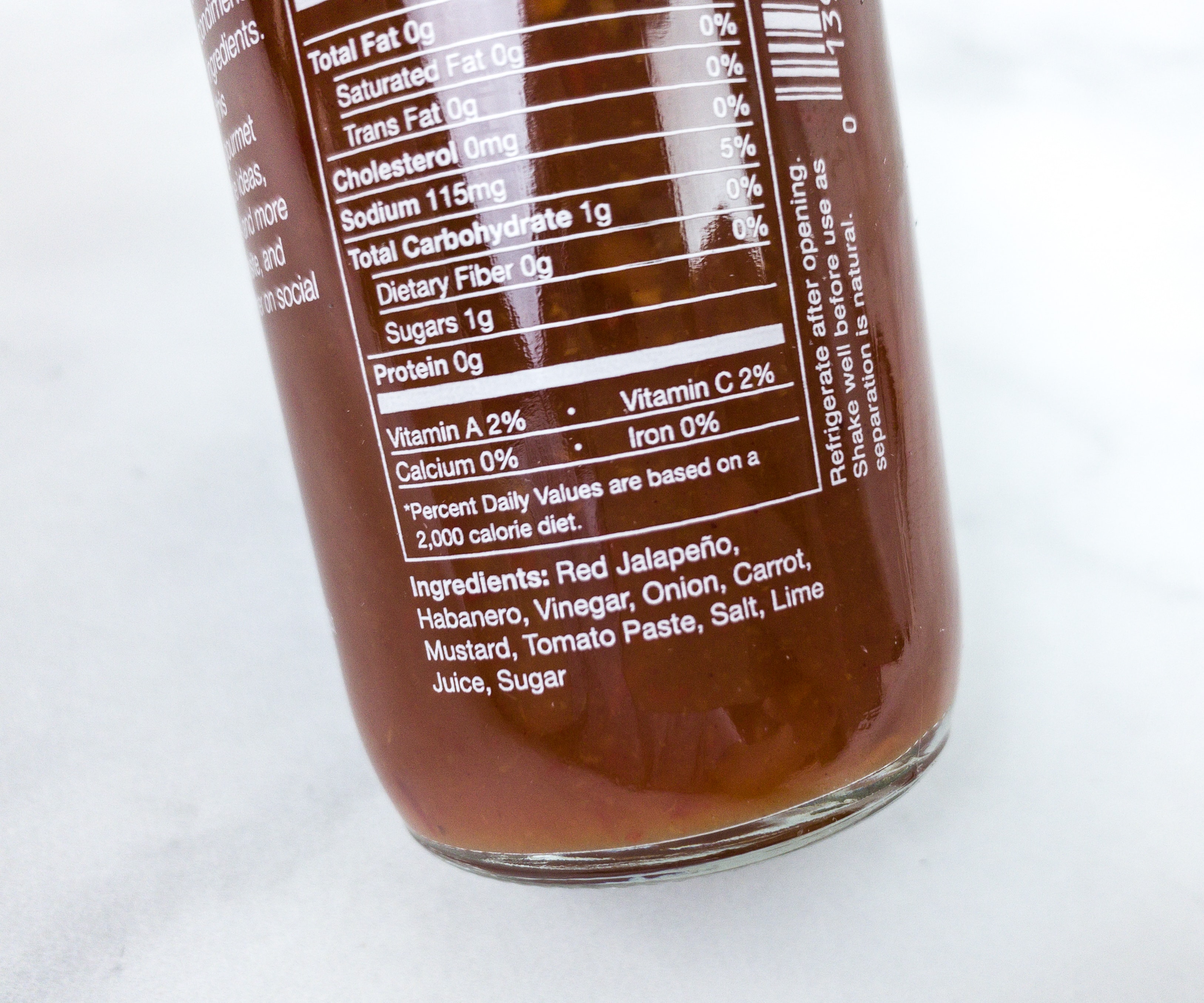 Unlike the Verde sauce, this one is a little less spicy and also comes with sweeter notes.
Cutino Sauce Co. Habanero Hot Sauce ($8) Made with habanero, vinegar, onion, mustard, lemon juice, salt, and sugar, this hot sauce comes with a bright and zesty twist. It also has a well-balanced acidity and sweetness!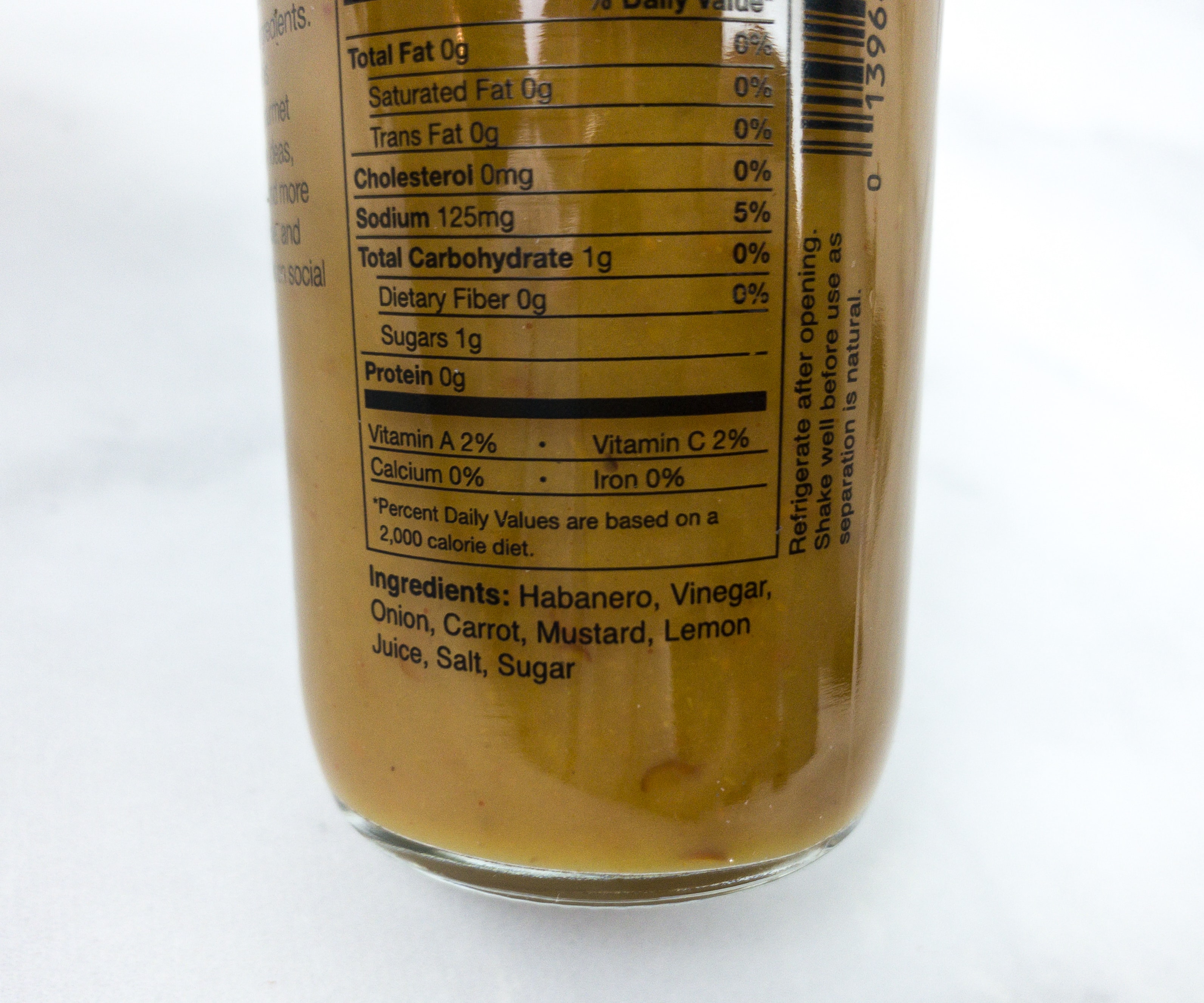 We love their version of habanero sauce, it's not just about the heat but there's also a burst of flavors! It's a great sauce to pair with tacos!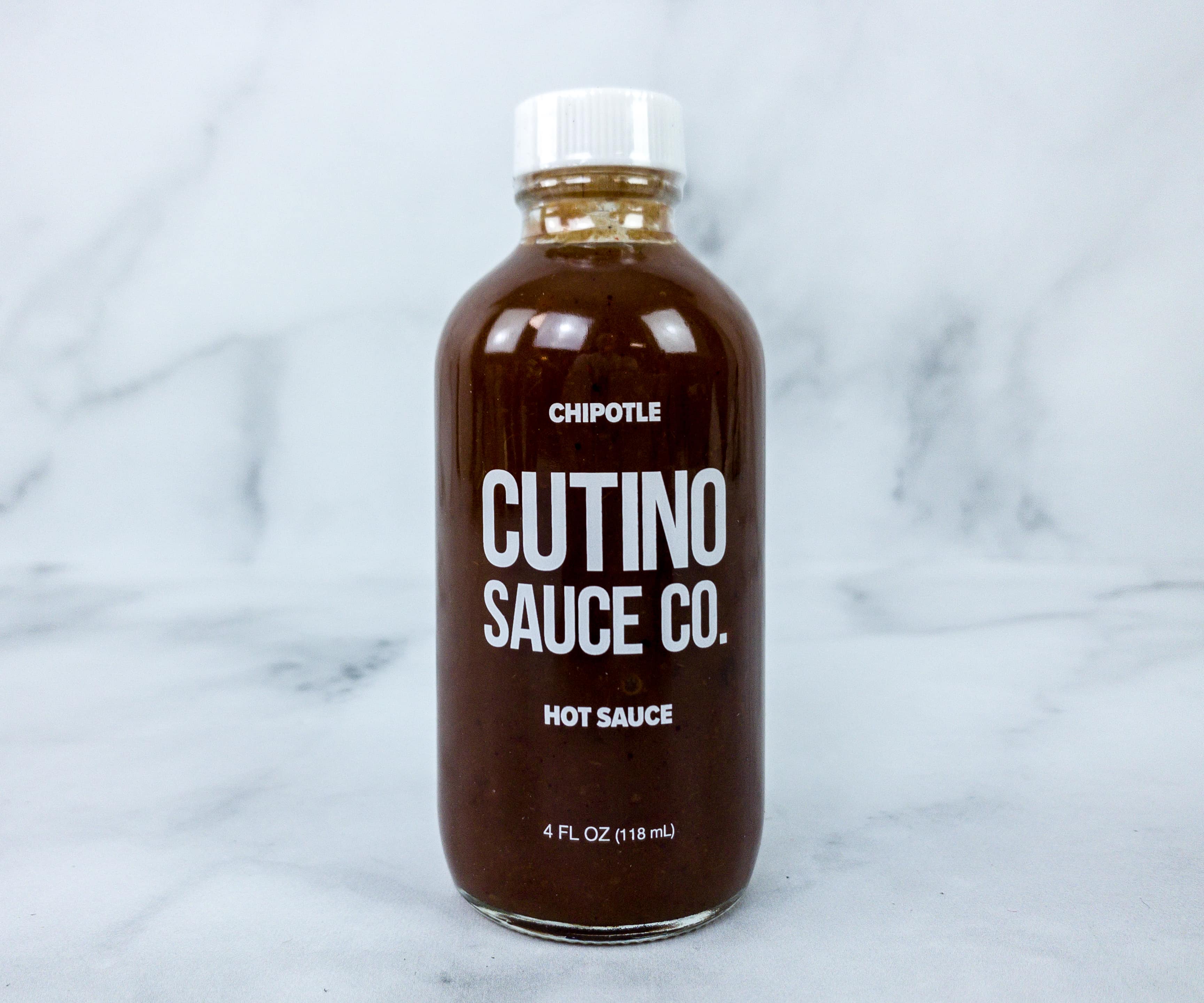 Cutino Sauce Co. Chipotle Hot Sauce ($10) This chipotle sauce is bursting with sweet and sour flavors, plus a smoky and spicy kick that satisfies the palate. It's one of the best chipotle sauces we've ever tasted!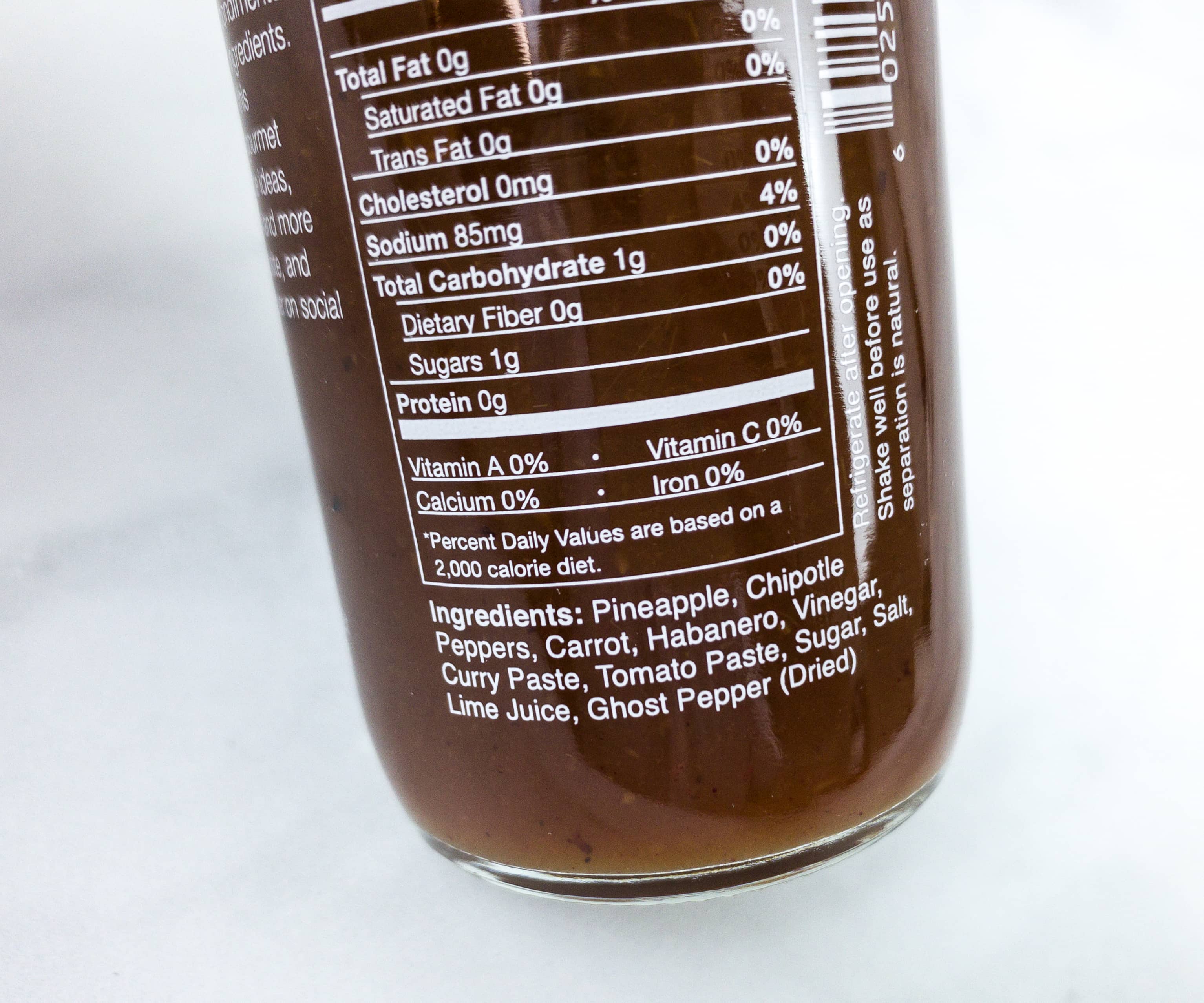 This sauce features a mouthwatering combination of pineapple, carrot, lime juice, and sugar with a blend of chipotle pepper, and dried ghost pepper.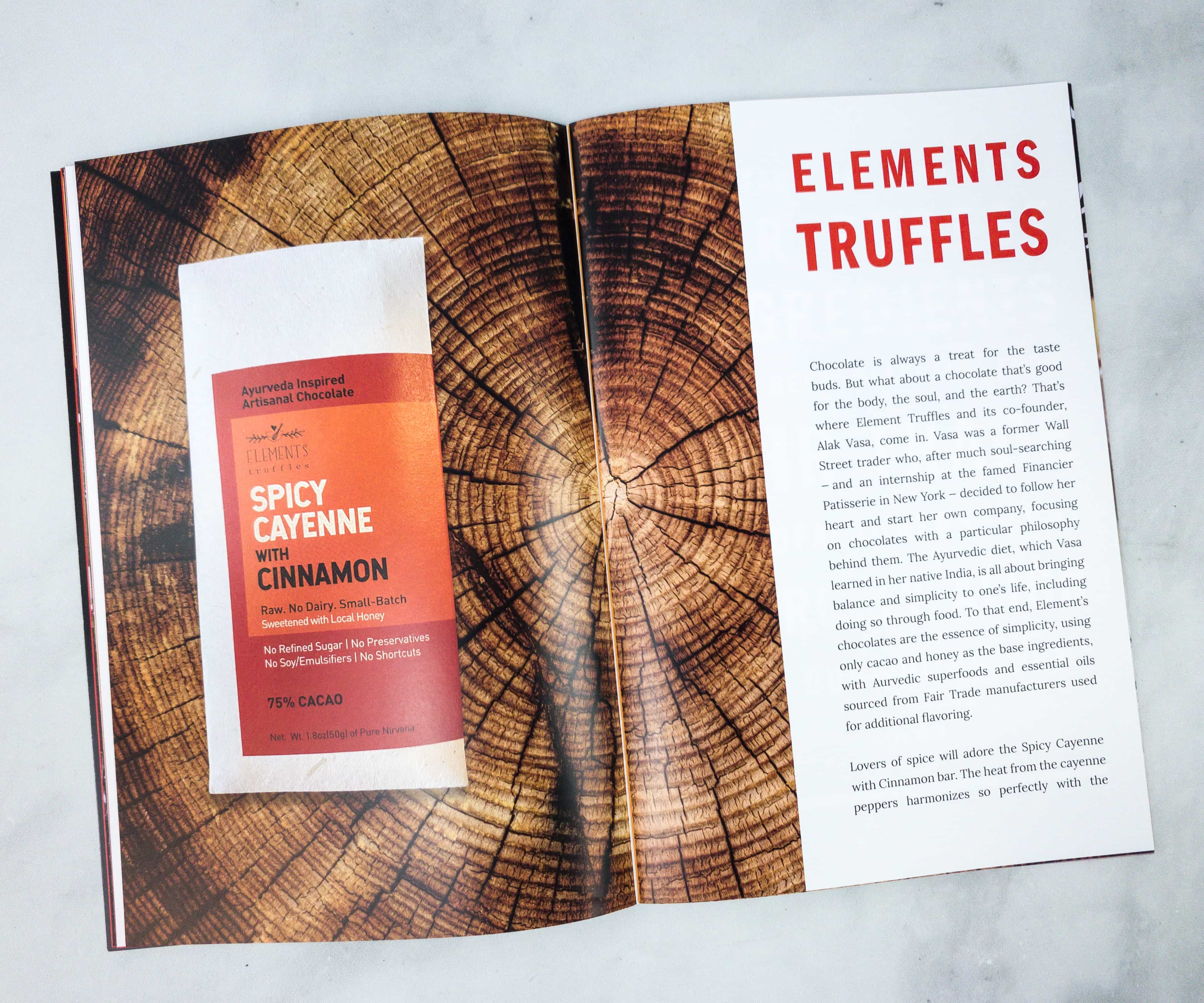 Element Truffles Spicy Cayenne with Cinnamon ($7) It's been a while since I last tasted spicy chocolate, and Element Truflles chocolate bar definitely did not let me down!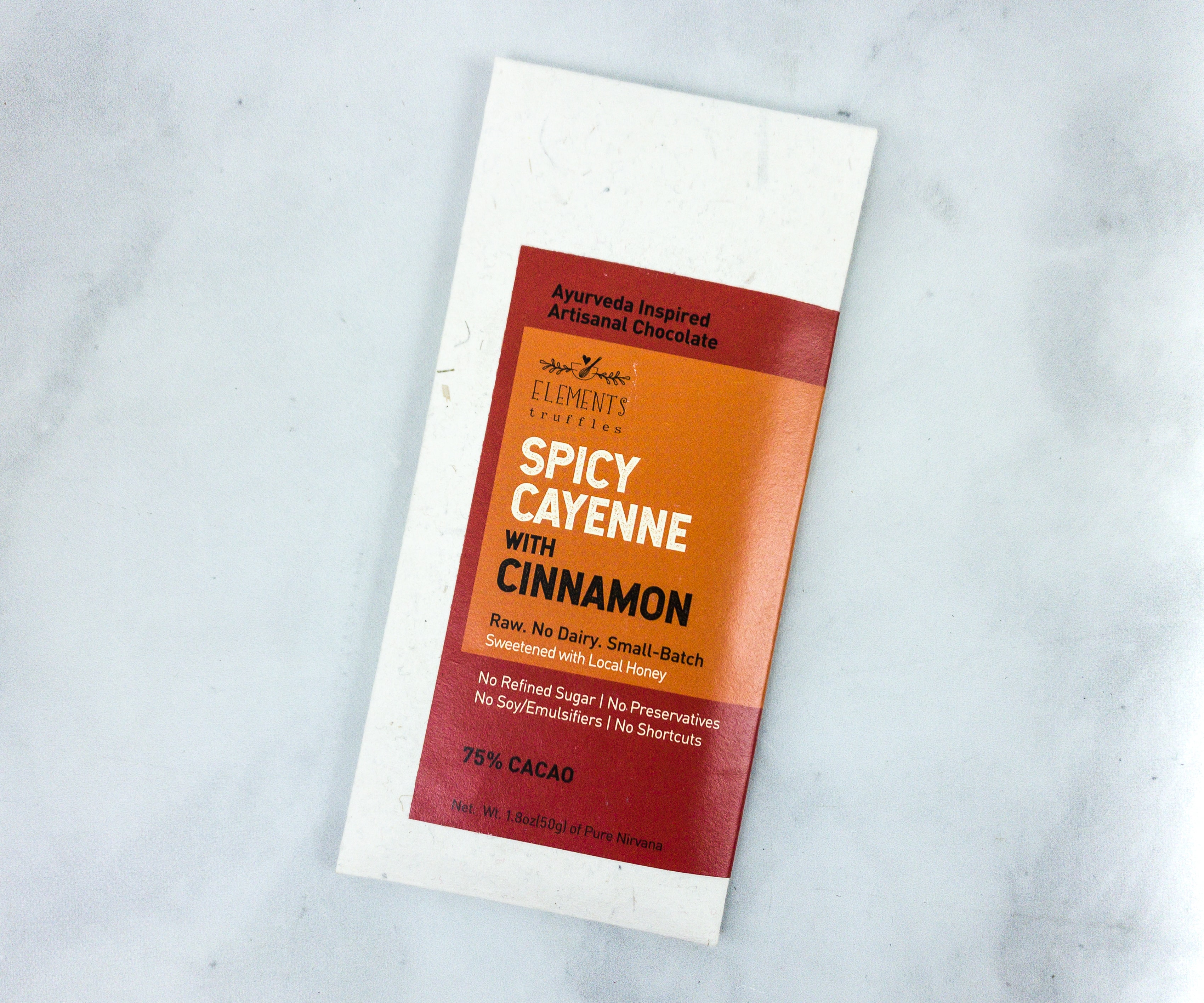 It doesn't contain refined sugar. Instead, the manufacturers used local honey!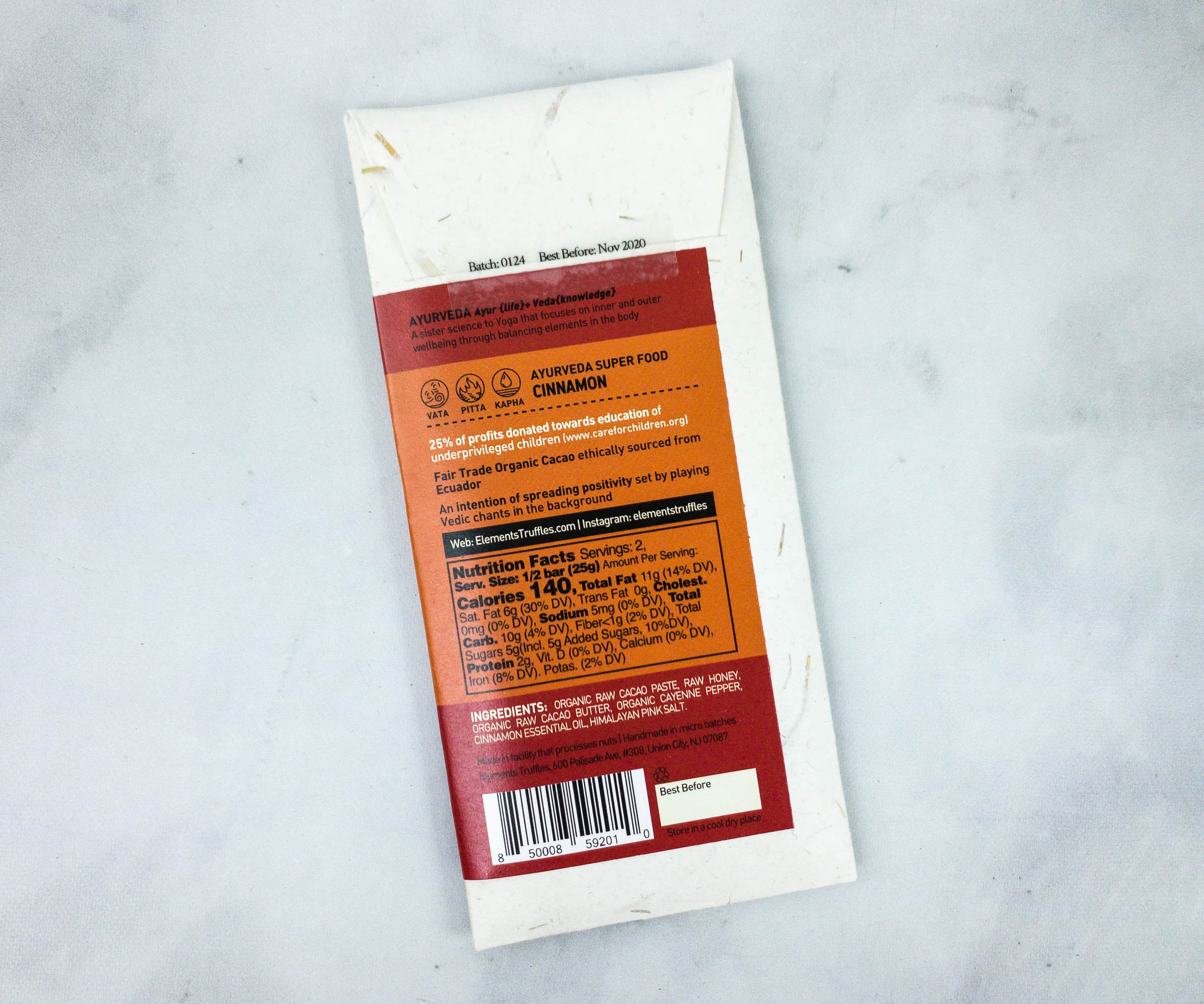 Other ingredients of this chocolate bar are all-organic cacao paste, cacao butter, cayenne pepper, cinnamon essential oil, and Himalayan pink salt. It doesn't have preservatives and emulsifiers either.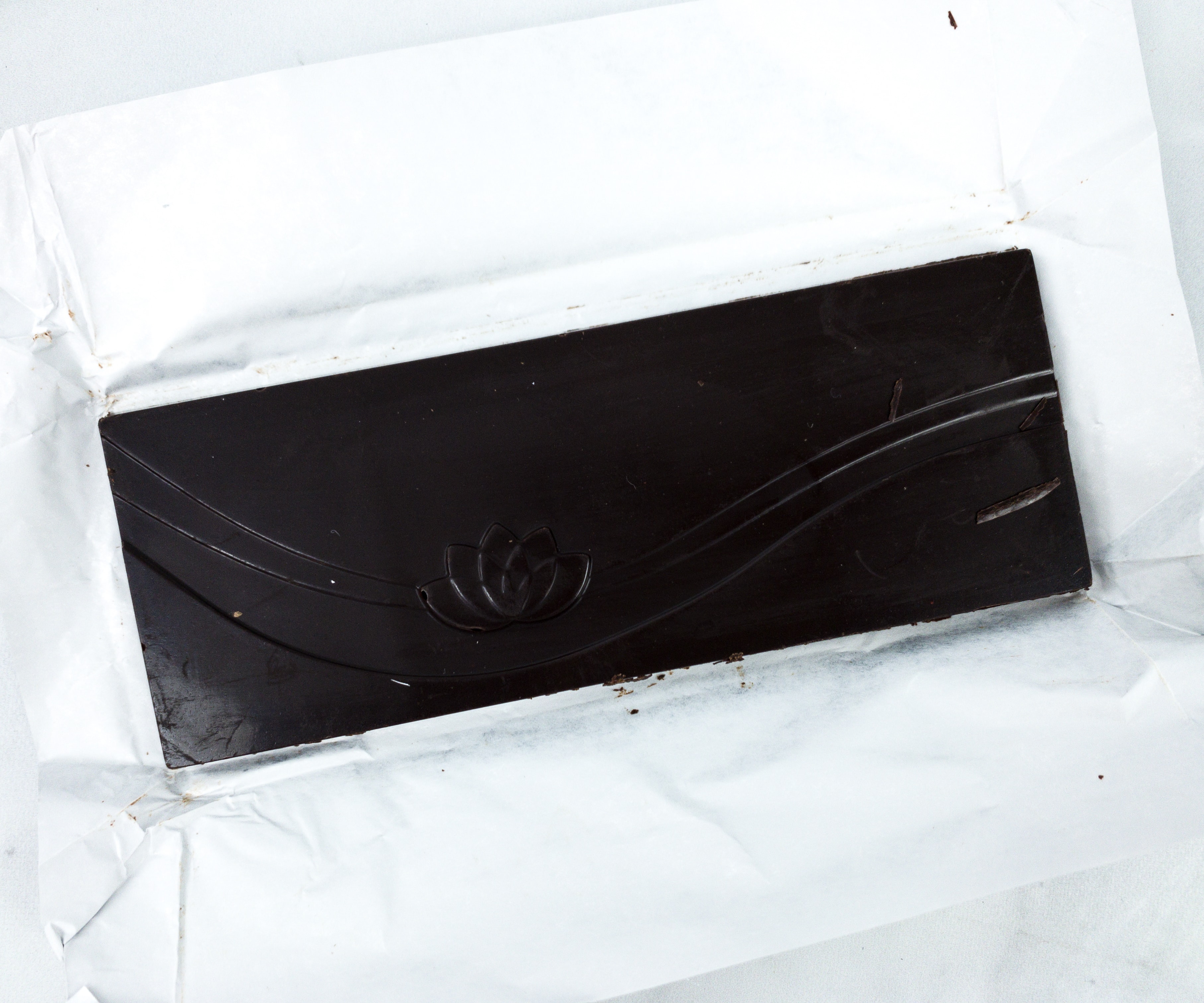 Sweet, spicy, and somehow bitter, I had a blast with this chocolate. It's definitely the most ideal chocolate to munch for a quick afternoon snacking. It also pairs well with red wine!
This month's Robb Vices box is filled with unique food finds including gourmet popcorn, red wine, spicy sauces, and even a spicy chocolate bar. The wine pairs well with popcorn and chocolate, while the sauces are perfect to pair with different kinds of meals like fried chicken, pizza, hamburgers, and more. This curation is perfect for anyone who loves food, especially for those who are fans of spicy flavors.
What do you think of this month's Robb Vices box?