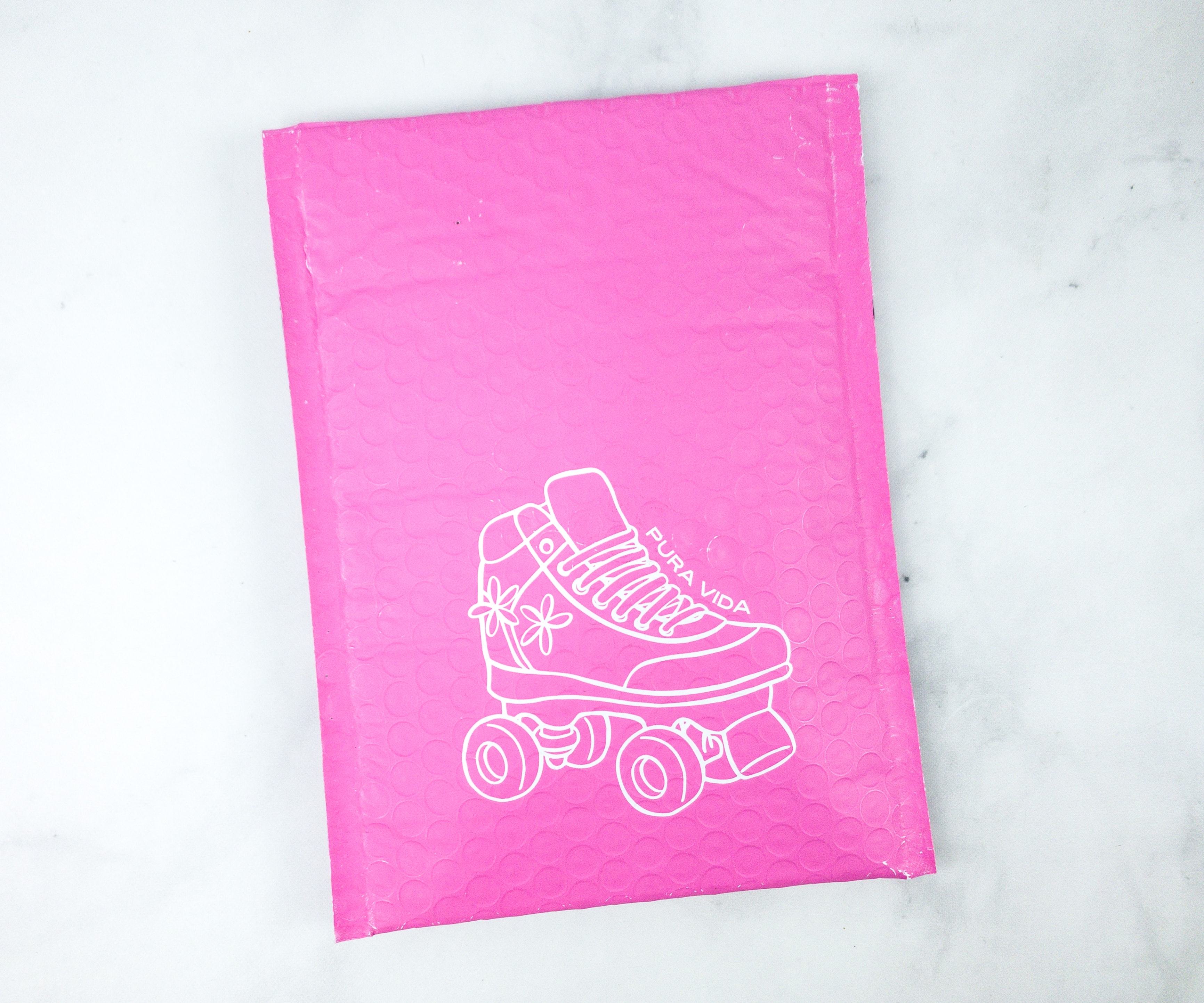 Pura Vida Bracelets Club is a monthly subscription that delivers 3 stylish, trendsetting, and exclusively designed bracelets, carefully curated by their own team of influencers and fashion stylists. The orders are shipped out within 4 -5 days of purchase, and the pack arrives on the 15th of each subsequent month.
DEAL: Get one month FREE with a 6-month subscription and three months FREE with an annual subscription! Deal applies automatically, just use this link to subscribe!
You can also save 10% on anything in their shop by using coupon code PVSAVE10. Subscription not included.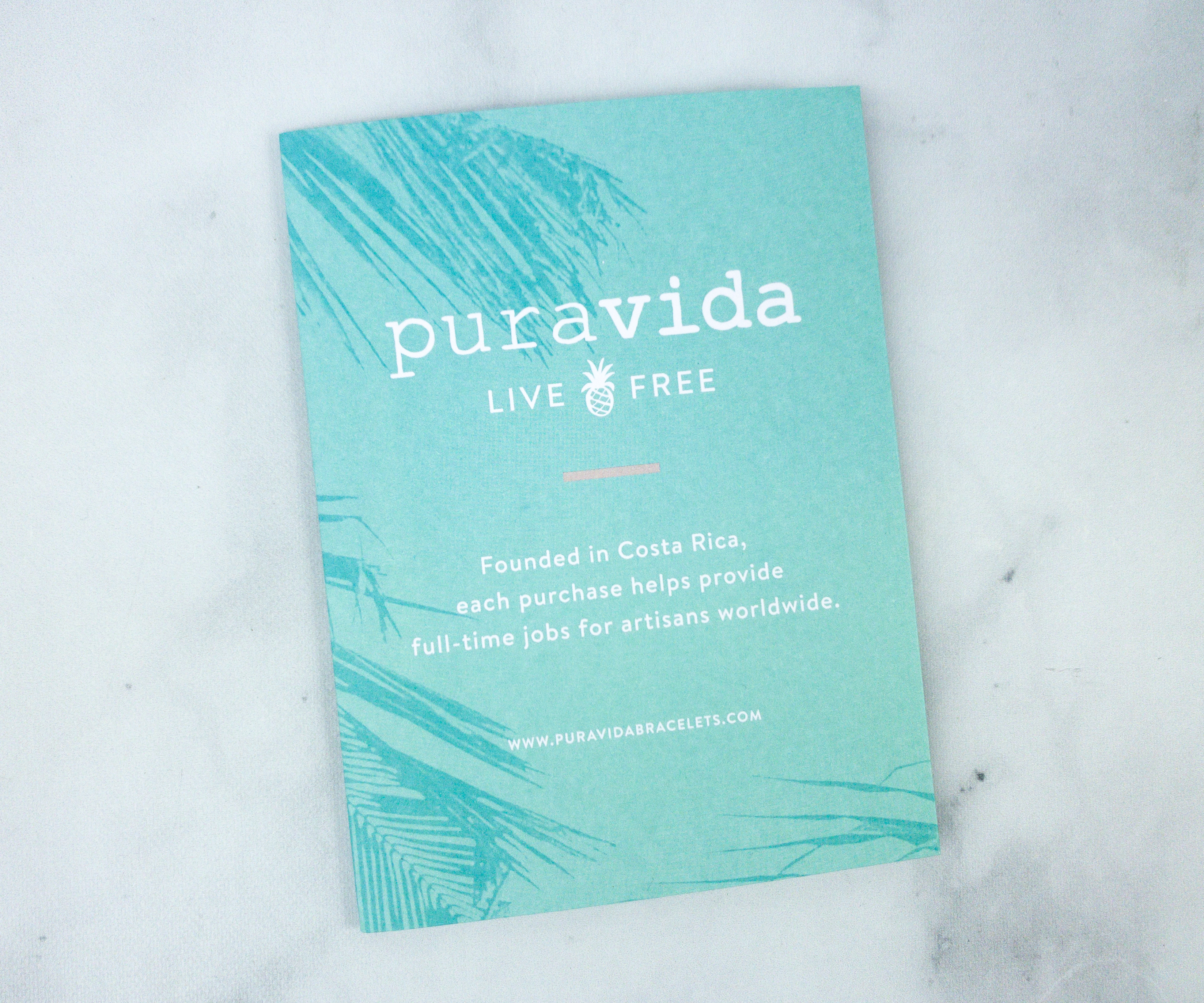 According to the booklet, Pura Vida is founded in Costa Rica and they are bound to help provide full-time jobs for artisans worldwide.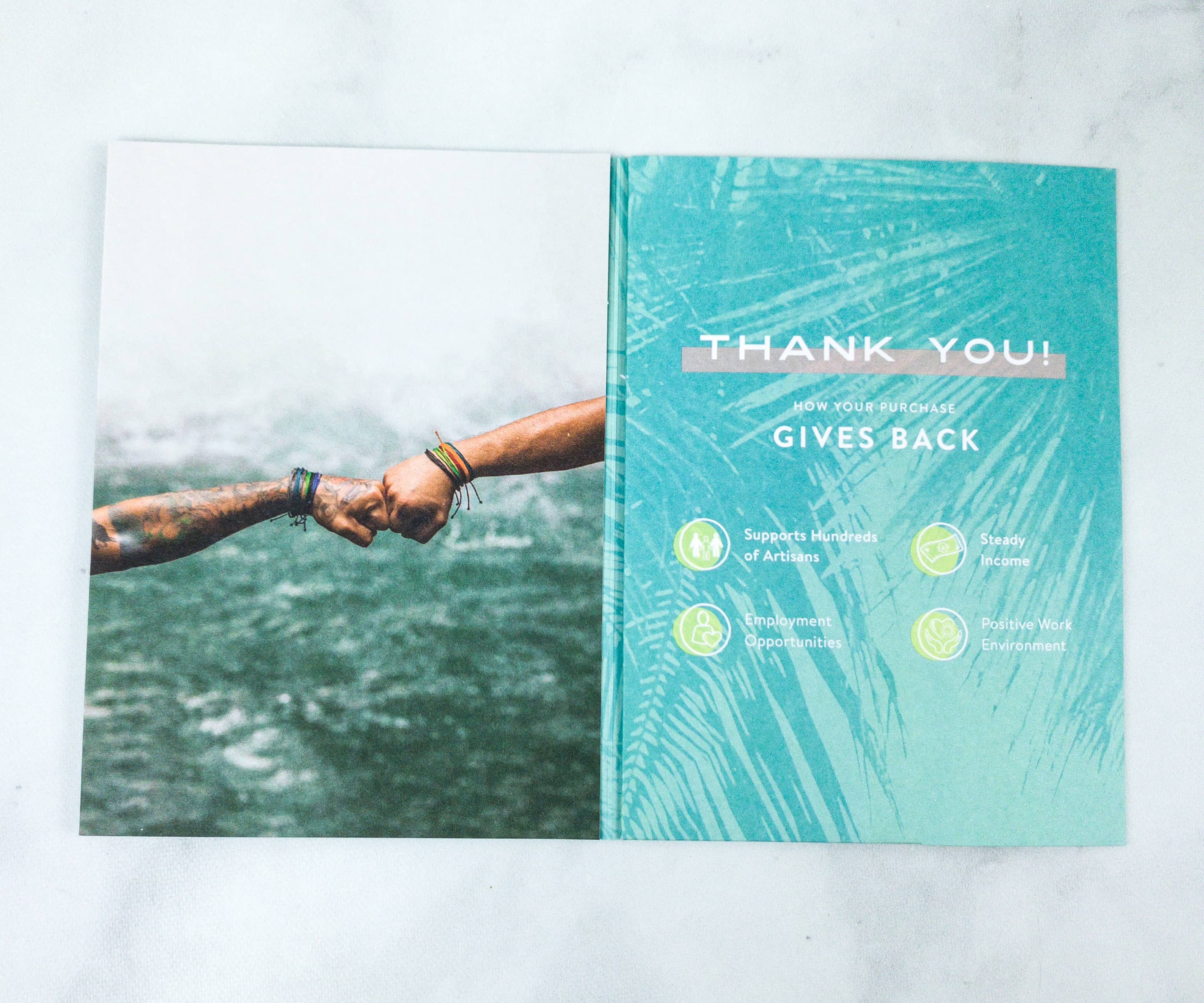 Pura Vida gives employment opportunities to artisans and makes sure they have a steady income and a positive work environment.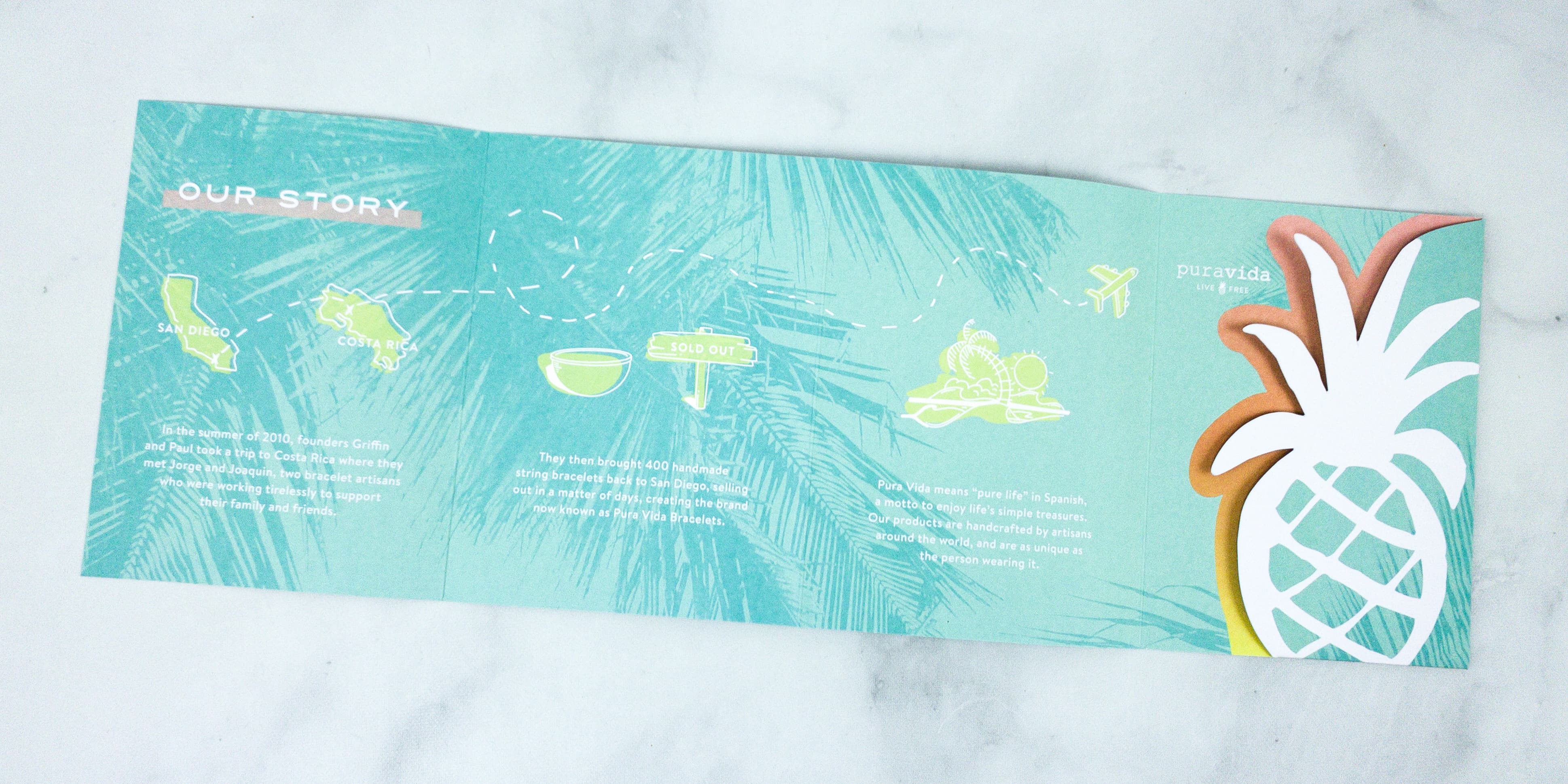 Inside the booklet is Pura Vida's story, how they started, and also the meaning behind the brand. Apparently, "Pura Vida" means "pure life" in Spanish.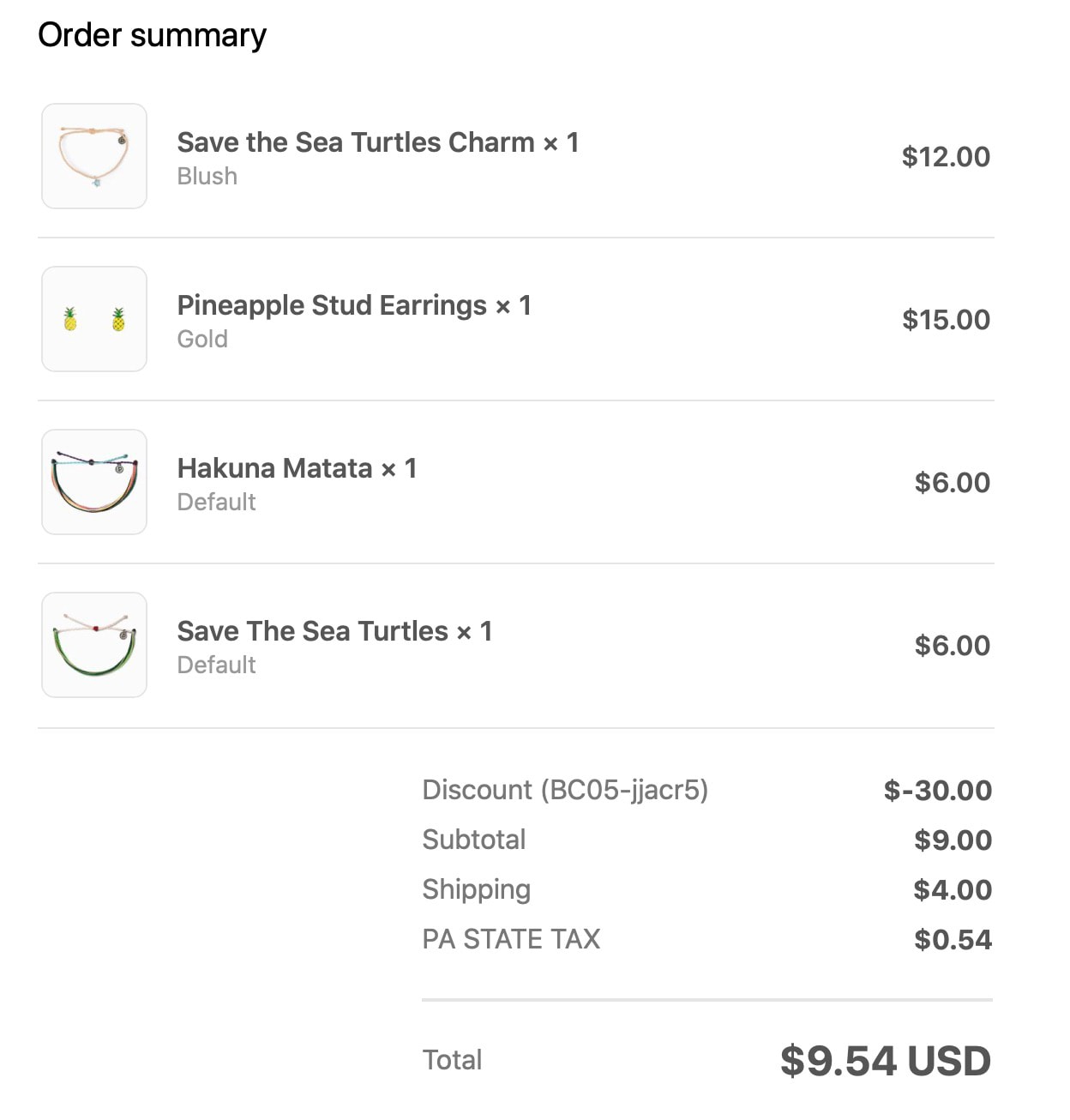 For May, they had to change things up due to COVID-19 so they let us style our own pack! As a bonus, they also gave subscribers a unique coupon code through email for $30 off on the style-your-own box, plus FREE shipping! The coupon codes they sent to subscribers are valid until 5/31. Unfortunately some subscribers had issues redeeming it without spending $10. I didn't have that issue, but still spent over the value of the coupon, because of what my daughter selected.
The stickers are all summer-themed! There's a dog balloon, a popsicle, a pair of shorts, roller skates, and more!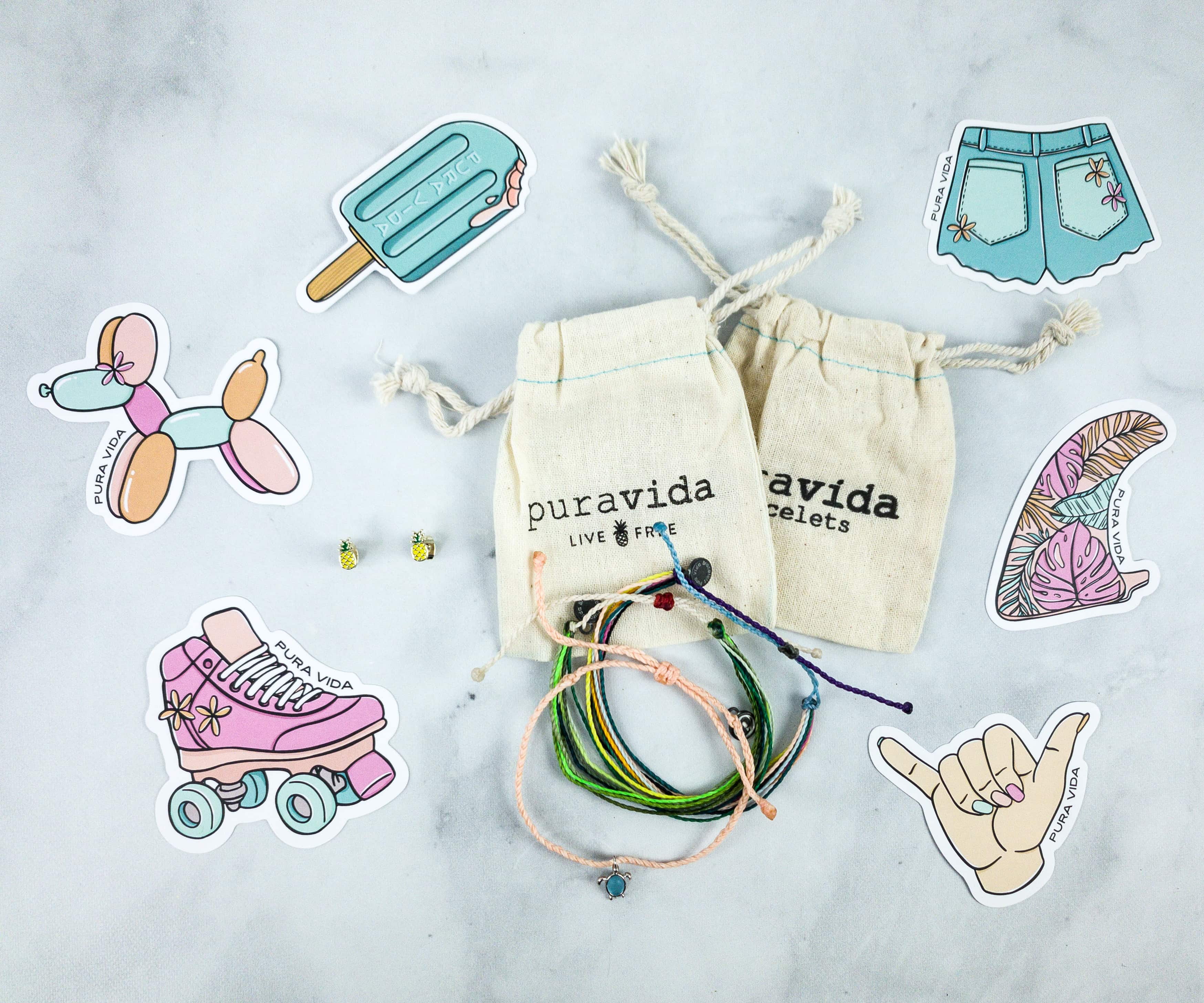 Everything in my May 2020 Pura Vida Package!
Some of the bracelets are packed inside drawstring pouches.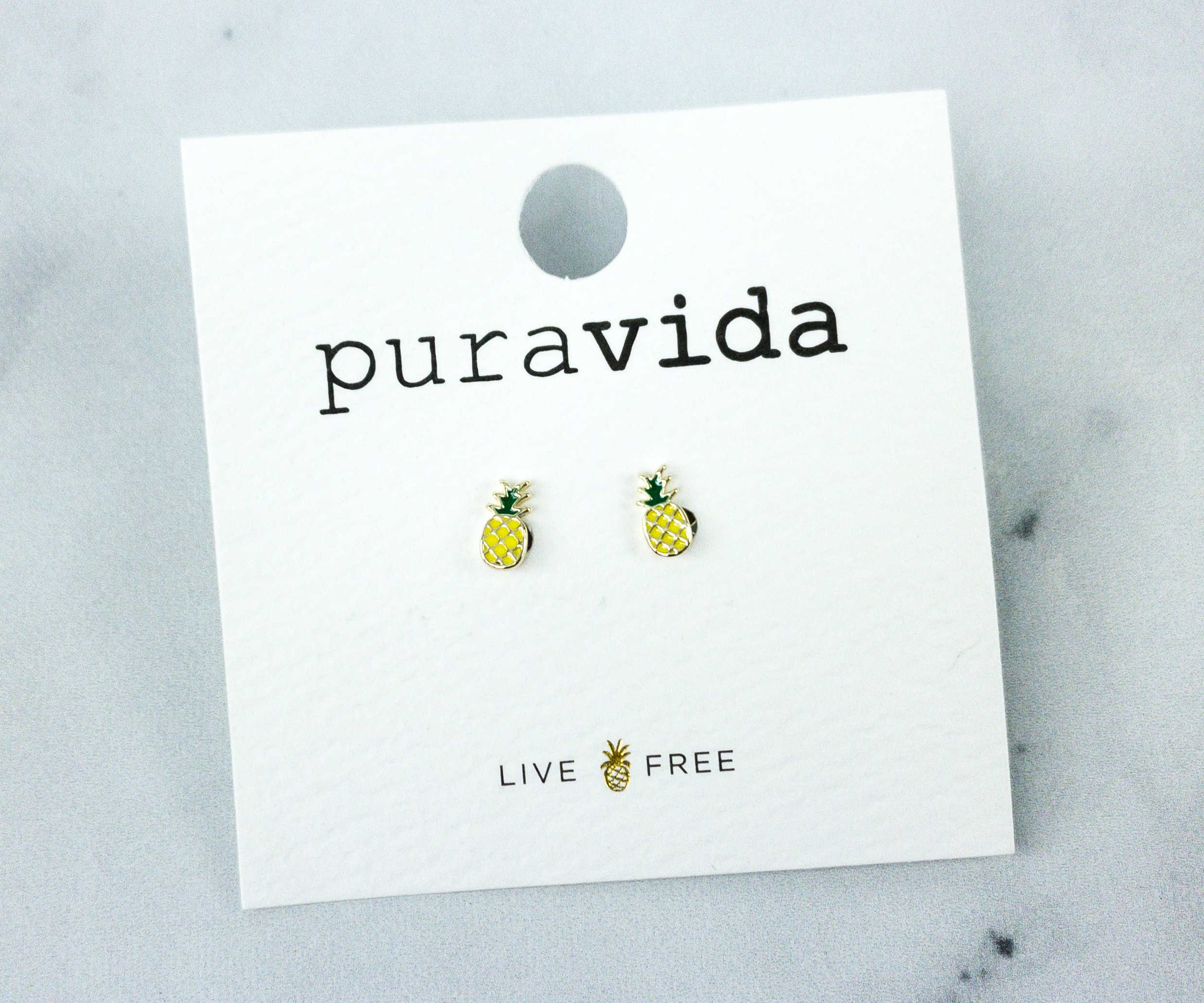 Pineapple Stud Earrings ($15) – CURRENTLY OUT OF STOCK These stud earrings are shaped like pineapples, a juicy fruit that reminds us of a tropical summer!
They are tiny yellow pineapples with green crowns. How cute!
These earrings are easy to wear and they are also pretty versatile! They go well whether with summer dresses or a pair of shorts and a comfy shirt!
The first bracelets were held together by a white tag.
Hakuna Matata ($6) The first bracelet has a beautiful layer of different string colors! It's easily adjustable for a more comfortable fit.  Like all other bracelets from this subscription, this bracelet also has the "P" charm.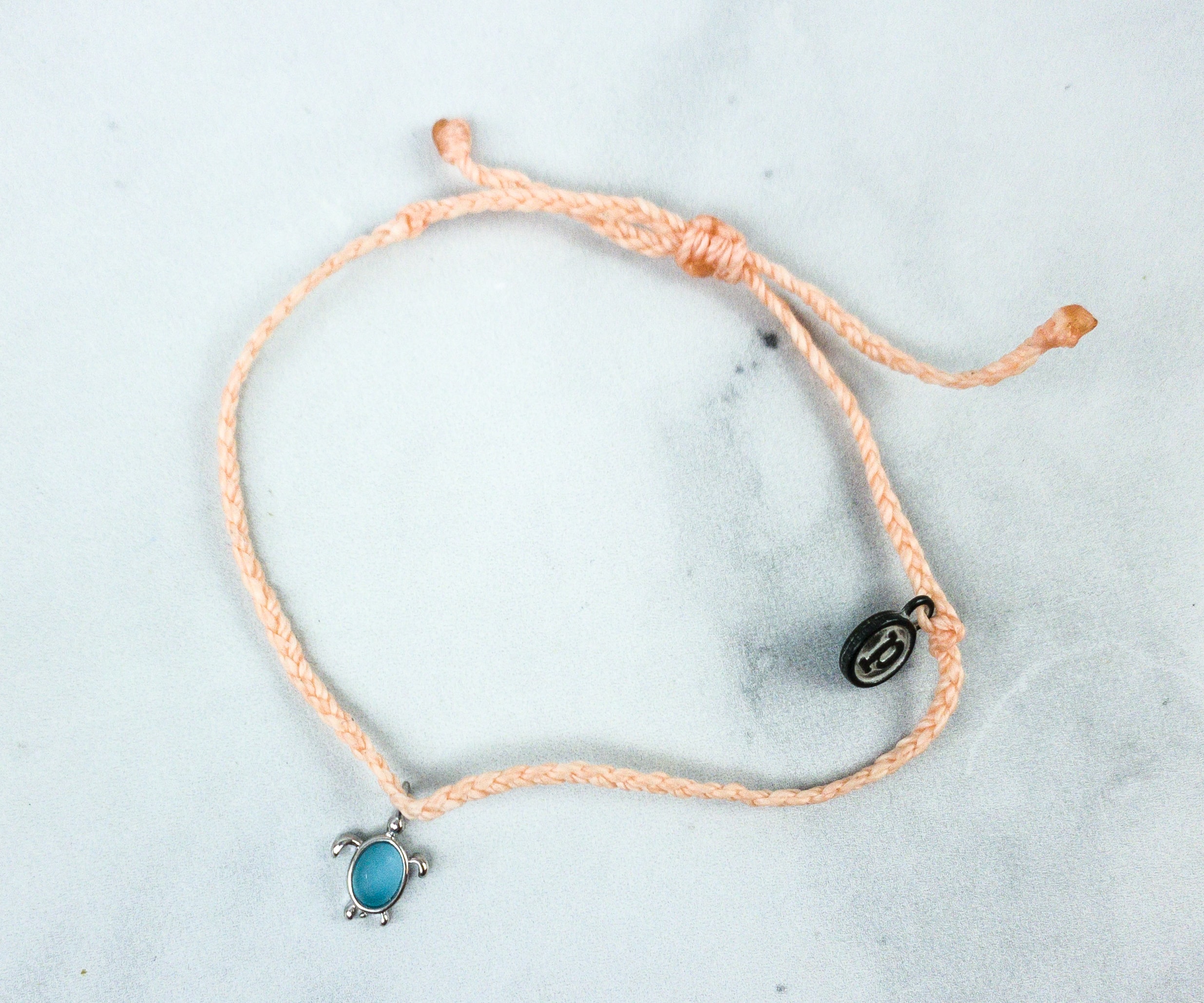 Save The Sea Turtles Charm ($12) This second bracelet is a braided peach string with a cute turtle-shaped accent! It's a part of Pura Vida's collaboration with Sea Turtle Conservancy, the world's oldest sea turtle research and conservation group. A portion of every purchase of this bracelet will be donated to the organization.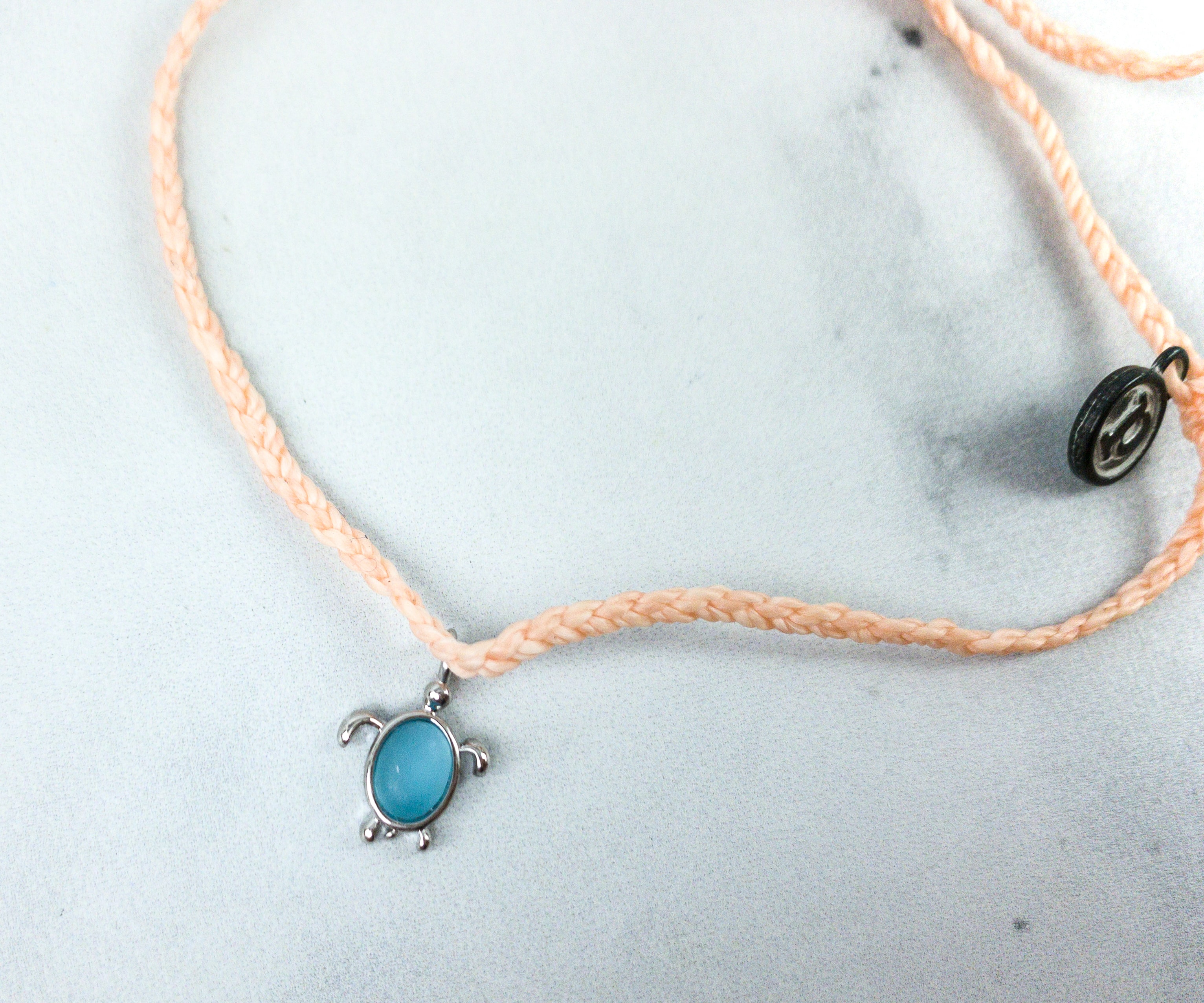 Here's a closer look at the turtle accent! It has a silver-colored frame and its center is a beautiful seaglass in blue, just like the color of the ocean.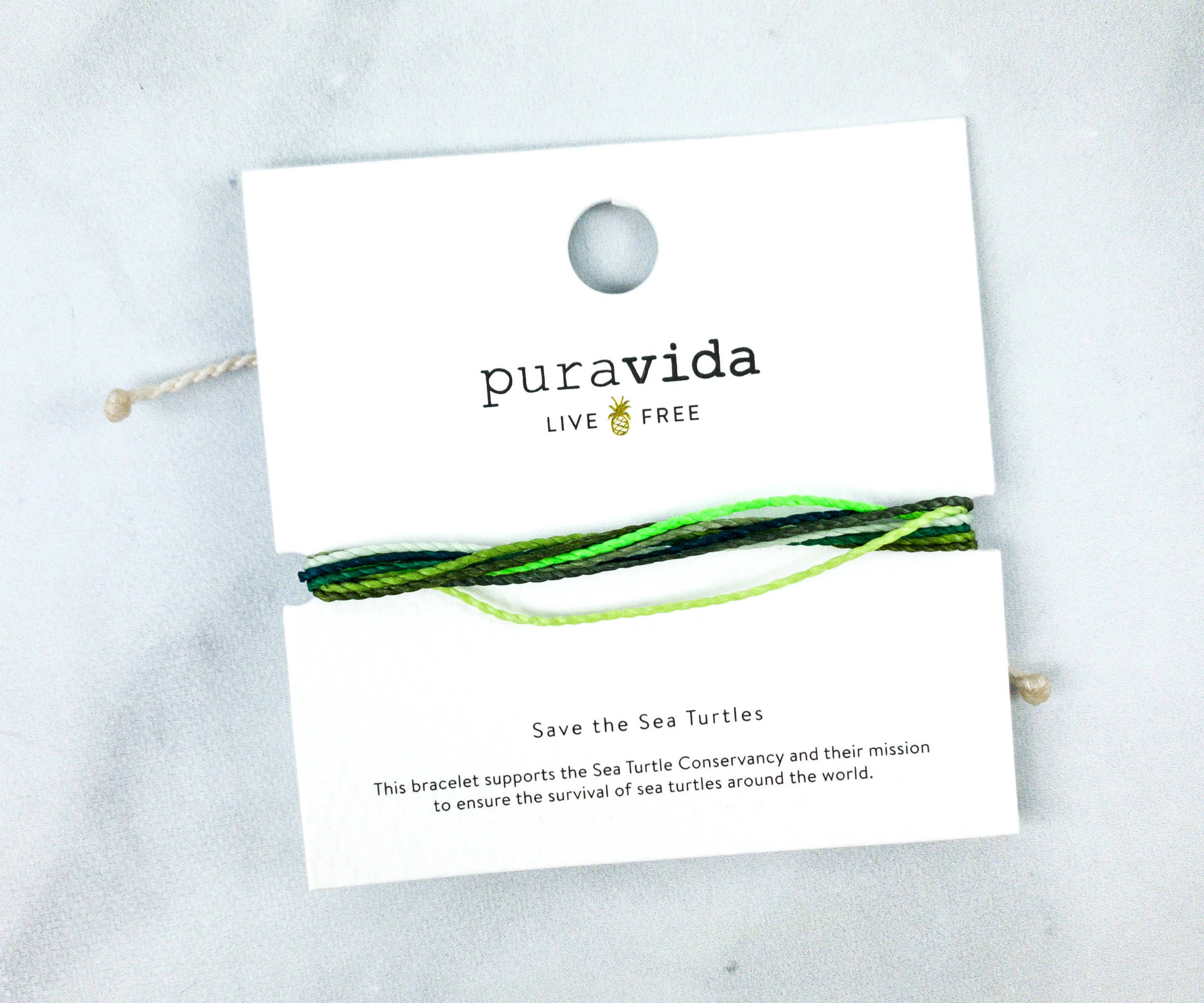 Save The Sea Turtles ($6) The third bracelet we picked also supports Sea Turtle Conservancy!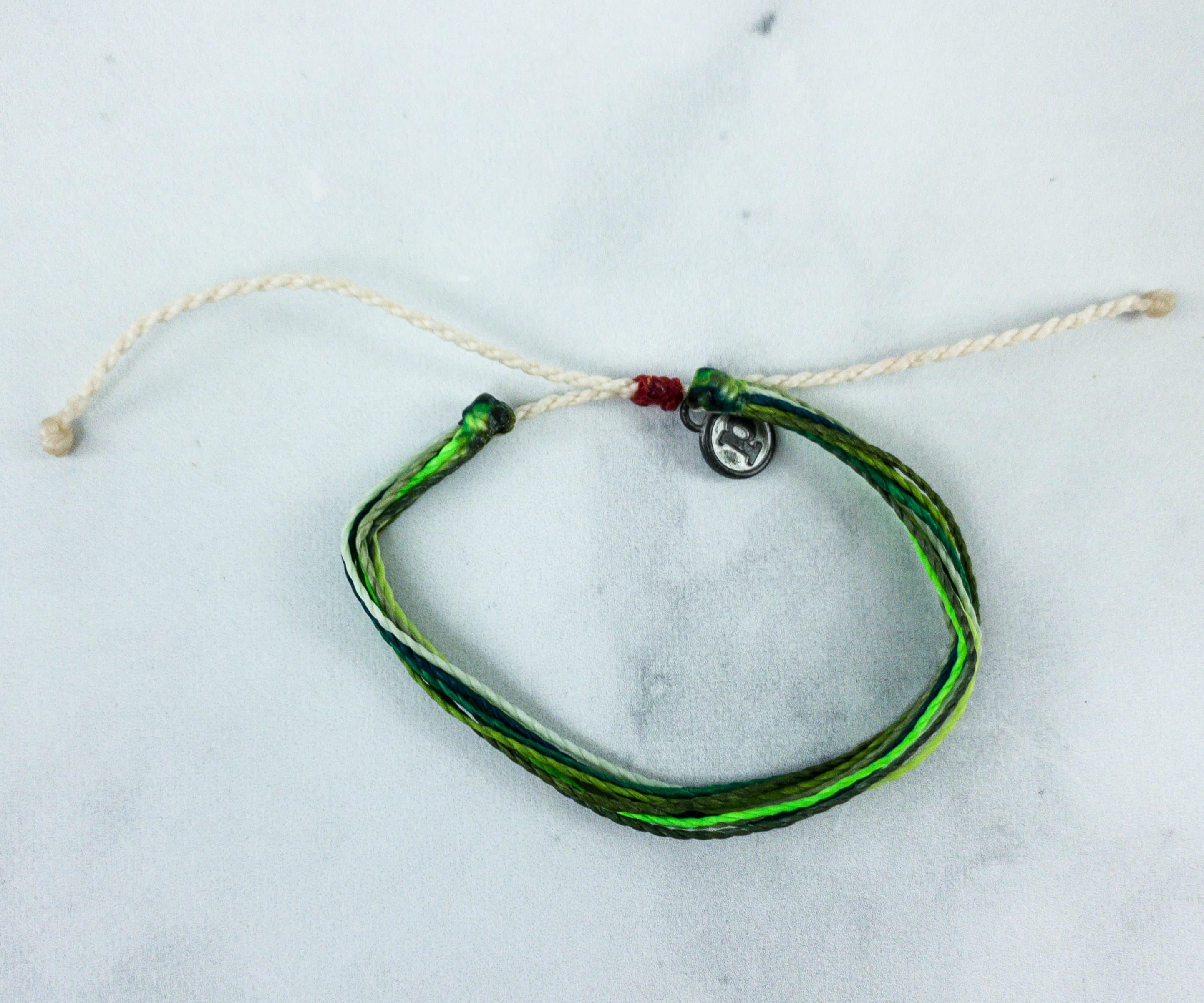 It features a layer of strings in different shades of green! It's really nice and cool to the eyes!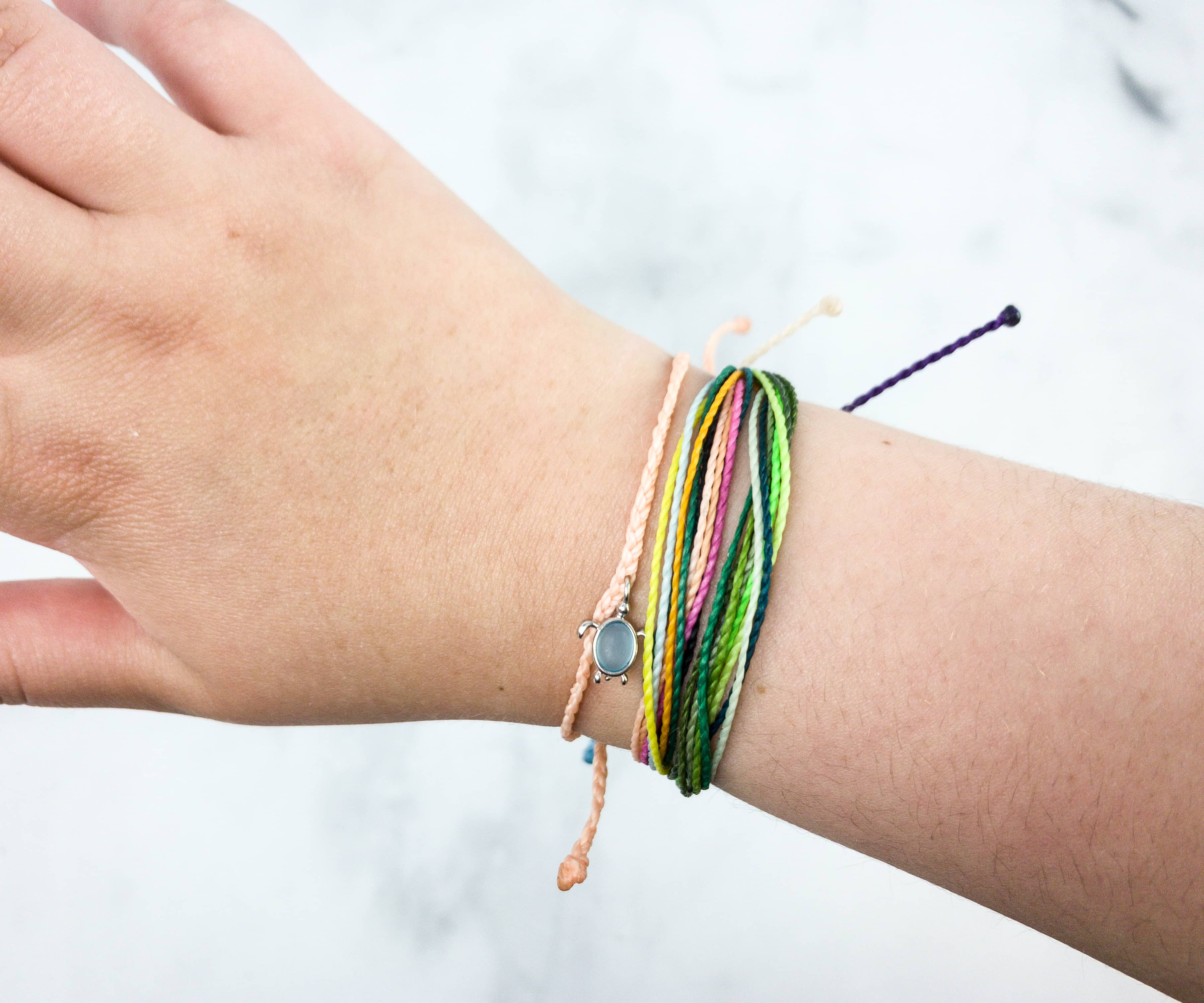 My daughter tried to layer all the bracelets on her wrist and they look good together!
The cute sea turtle charm is a standout! The colors are great together, and they're really giving us a summer vibe!
Pura Vida makes beautiful bracelets and, this month, we even got the chance to pick what we want to receive in our May box! Two of the bracelets we chose support Sea Turtle Conservancy, an organization that works on conserving and recovering sea turtle populations around the world. My daughter's favorite is definitely the one with the turtle charm. It looks fantastic when worn alone, but it's also great for layering with other bracelets. For those who like wearing bracelets with their everyday outfits, there are lots of unique designs from Pura Vida that you will love!
What do you think of this month's Pura Vida Bracelets Club?
Visit Pura Vida Bracelet Club to subscribe or find out more!