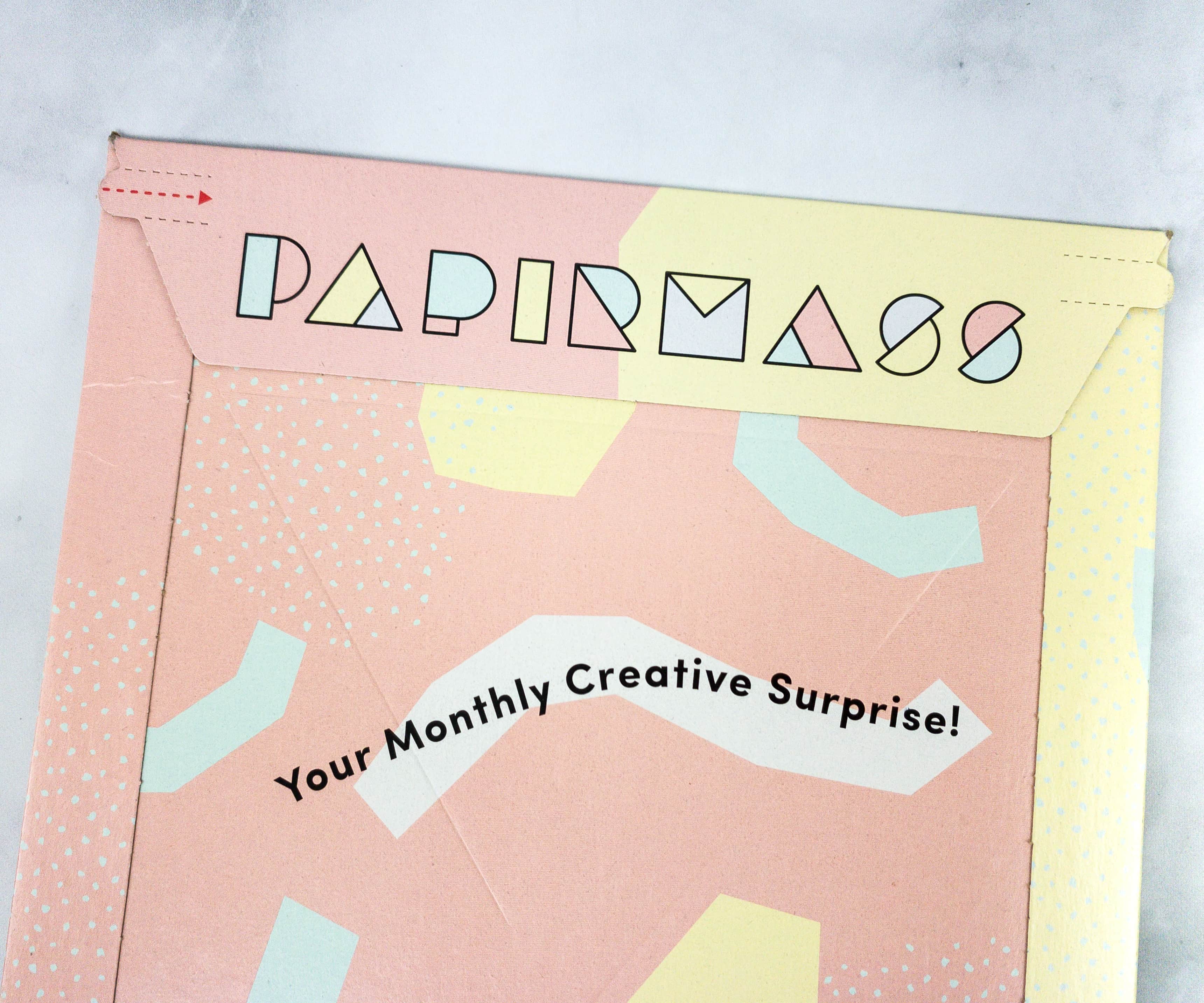 Papirmass is a monthly art print subscription. Each month, you'll get an art print to satisfy your art and cultural curiosity – delivered right to your doorstep. You'll never have trouble adding a new art print for your collection since Papirmass is the perfect way to discover new and upcoming great artists. It ships worldwide (with free shipping!) from Canada. This subscription ships monthly, but requires a minimum subscription of 3 months for $48. Subscribe for a longer term to take advantage of a bigger discount with our coupon!
DEAL: Get 25% off on any subscription! Use coupon code HELLO25.
FYI, Papirmass is ceasing publication. This is the second to the last package. For May 2020, subscribers will receive a set of 6 prints from their archives. They are also launching an online print sale, for non-subscribers who are interested to buy prints. Meanwhile, for those who would like to get a refund, you may reach out to them directly.
The prints are wrapped in custom-printed rigid mailers to protect the print.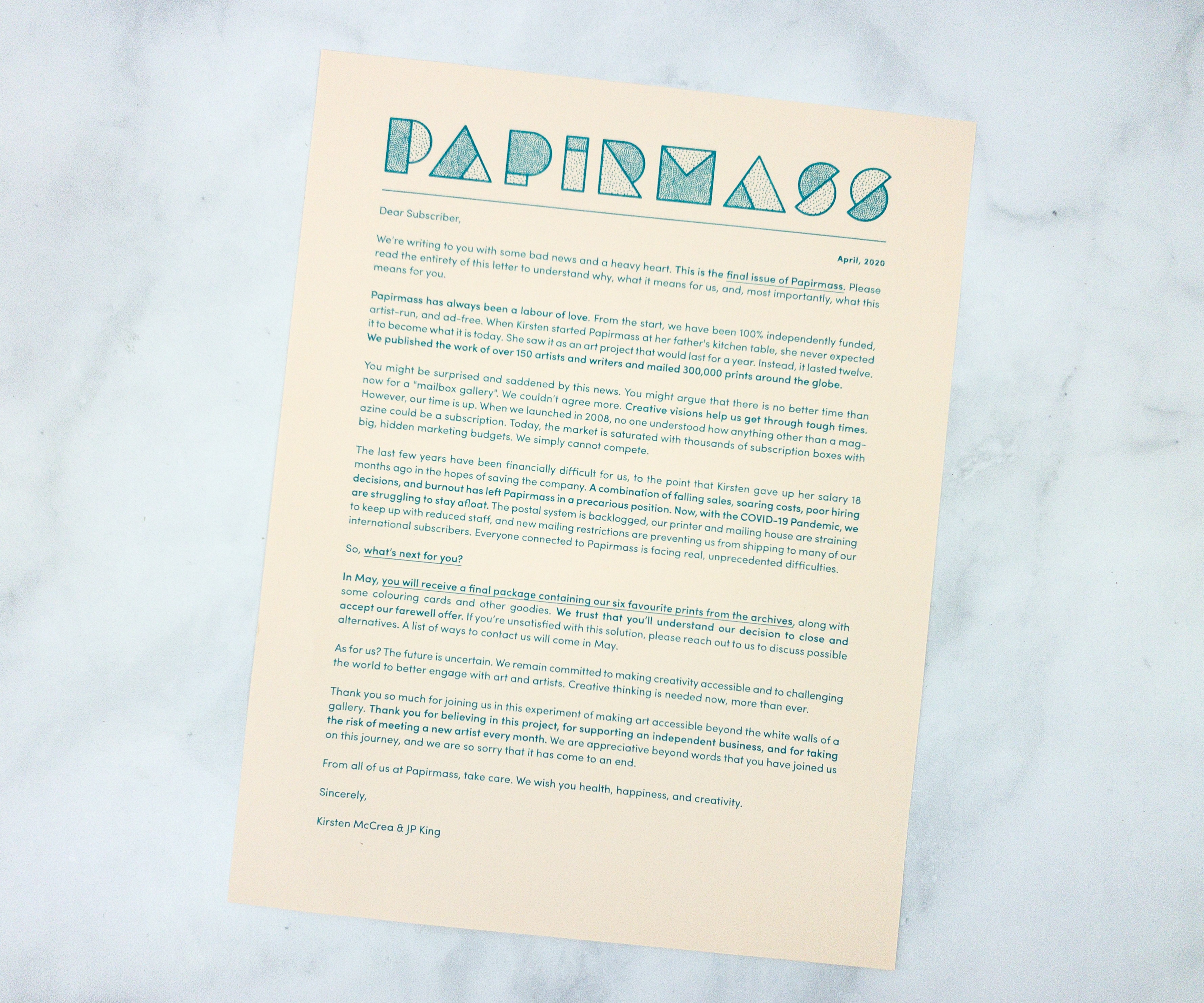 There's a note from the curators, and it says that this is the final issue of Papirmass. It's quite sad that this would be the last issue of the amazing artworks that I am receiving from these guys, and I wish them all the best.
They also said on the note that for next month, May 2020, we will be receiving a final package that will contain six of their favorite prints from the archives.
Every print arrives with a mini-interview of the artist. This month, we have Pete Ryan, an artist from Nelson, British Columbia.
It gives us a glimpse of the artist's creative process.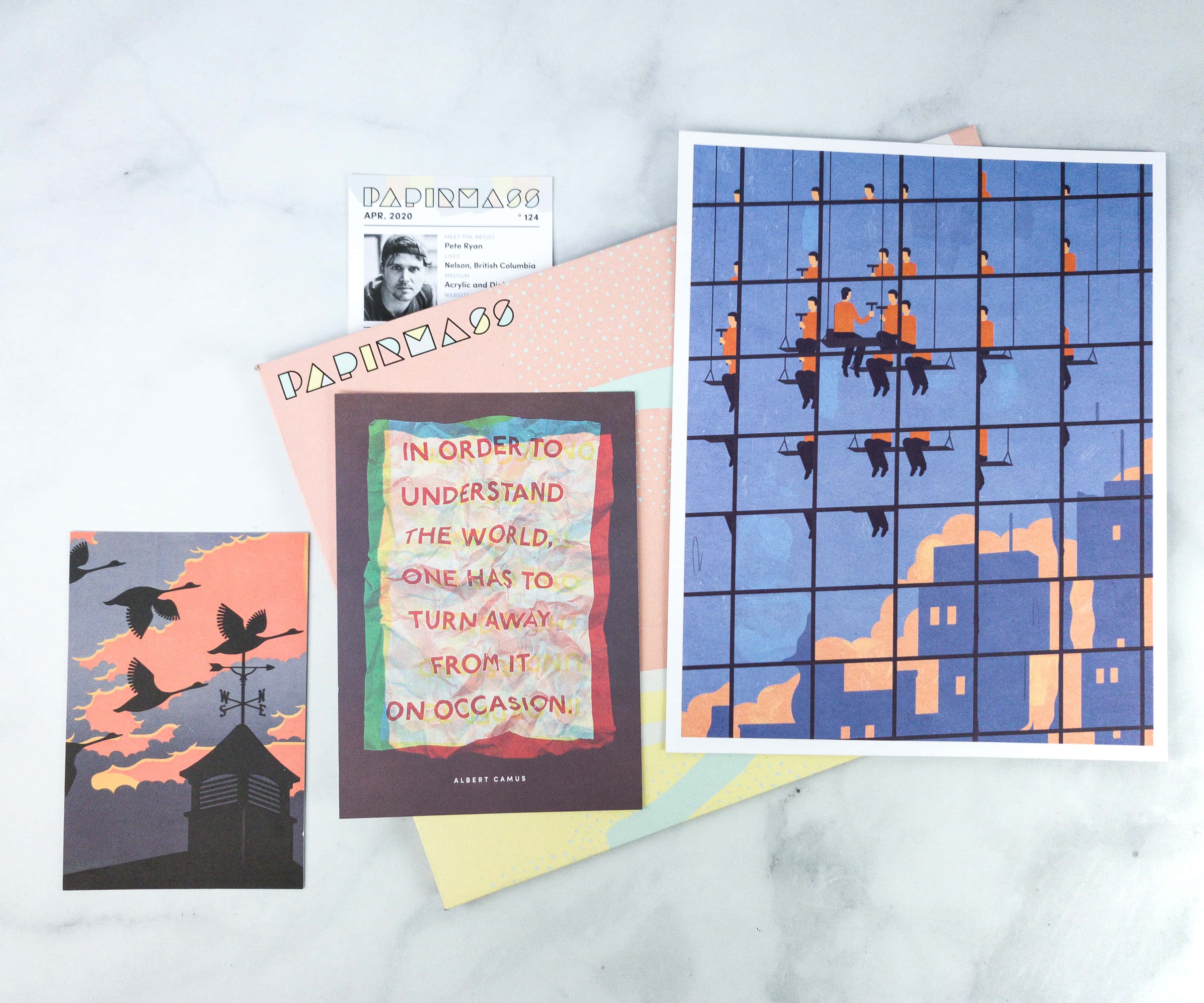 Everything in my pack!
"The Window Washer" Acrylic and Digital Art by Pete Ryan. The art is said to be a product of fragmentation, and he initially wants it to be a reflection that was so broken up, it's no longer connected to the original source. You can see in this artwork that it's not really that colorful, and there are no bright colors, but it works and it looks amazing!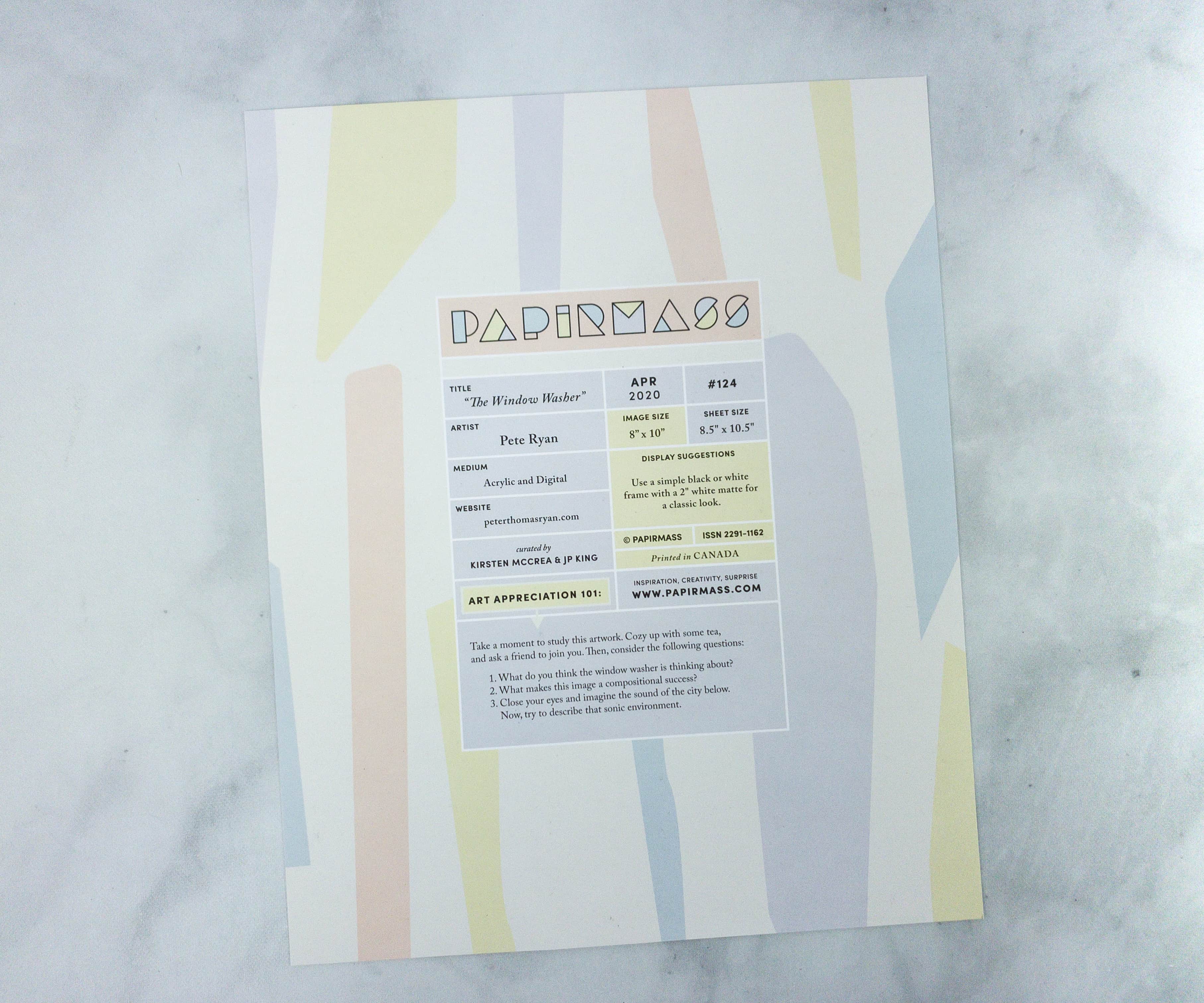 The back of the artwork gives us more information about the art piece, like the print method used, display suggestions, and more. You can also appreciate the artwork more by considering some questions listed and try to answer them.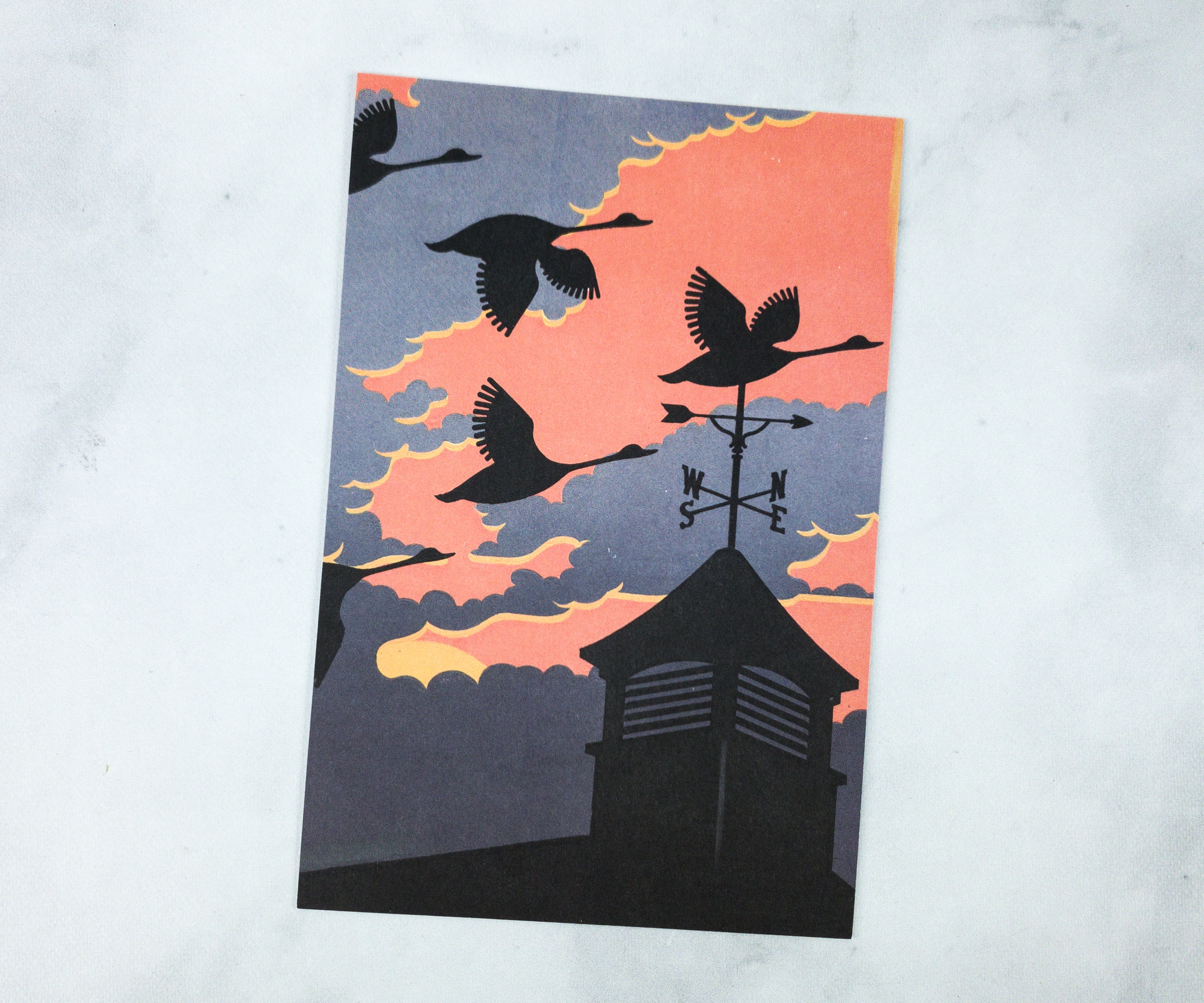 "Group Direction" Postcard. The postcard features a sunset sky background where the birds are all flying in one direction. It reminds me of the dusk while staying in the countryside, the transition between day and night is just really mesmerizing!
The back of the postcard shares the art style used by the artists, and they also included some inspiring words from the artist:
Try to have a little more fun. Life passes by pretty fast. Trying to control things too much can prevent you from enjoying them.
Papirmass Creative Card. This month's creative card features a beautiful quote by Albert Camus.
In order to understand the world, one has to turn away from it on occasion.
At the back, there's an illustration of patterns and shapes that you can fill with different colors. They also encourage you to share the finished project on Instagram.
It was really nice knowing upcoming artists through this subscription! I'll definitely miss receiving art pieces, postcards, and creative cards that are perfect for displaying at home. They have been really helpful for creatives seeking for inspiration, as well as simple art enthusiasts who love collecting unique art pieces. I'm looking forward to the last package, and I know it will be a blast!
What did you think of this month's prints from Papirmass?