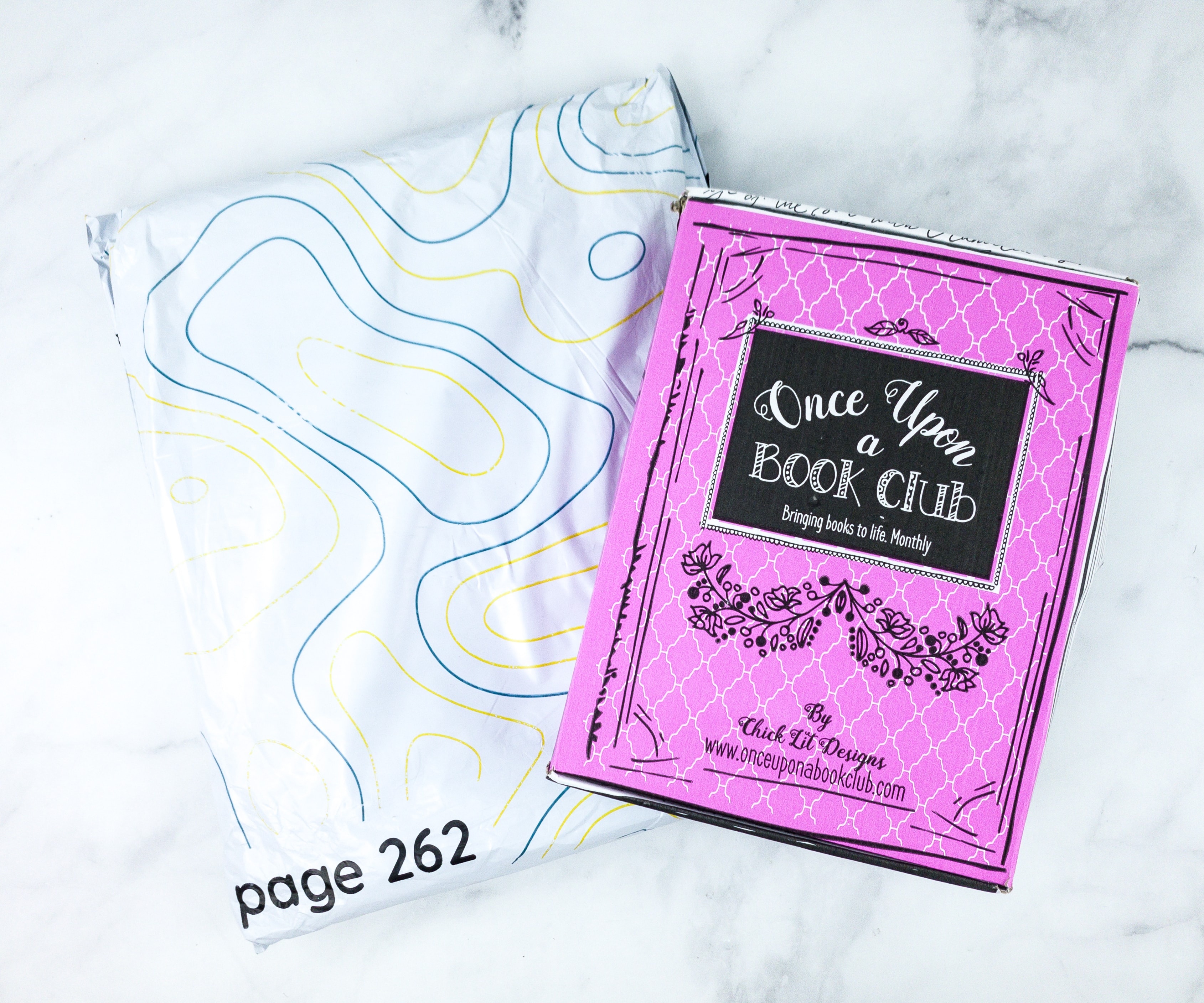 Once Upon a Book Club is a subscription that offers a unique reading experience. Each month, you'll receive a book to read, a 5″ x 7″ quote print, along with 2-4 corresponding gifts to match a quote/item mentioned in the book. Readers are advised to open the gifts as they finish the corresponding page to make them feel as if the book is coming to life!
You can choose between Once Upon a Book Club's Young Adult edition and Adult edition. This is the review of the Adult box.
DEAL: Enjoy 10% off your first box. Use coupon code BOOKNERD.
The box looks like a book cover. It was designed by @ChickLitDesigns.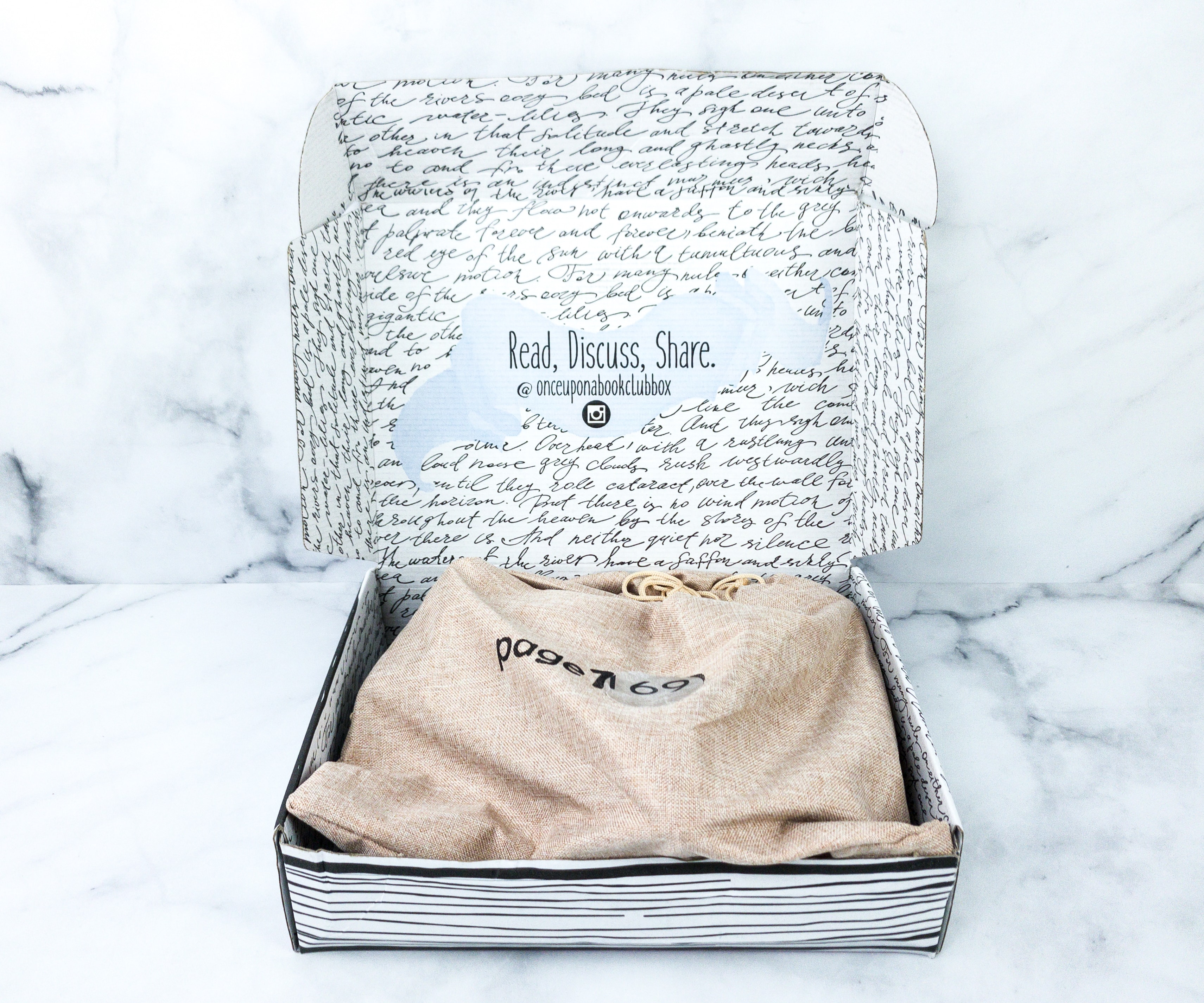 The box interior looks lovely with those words in script.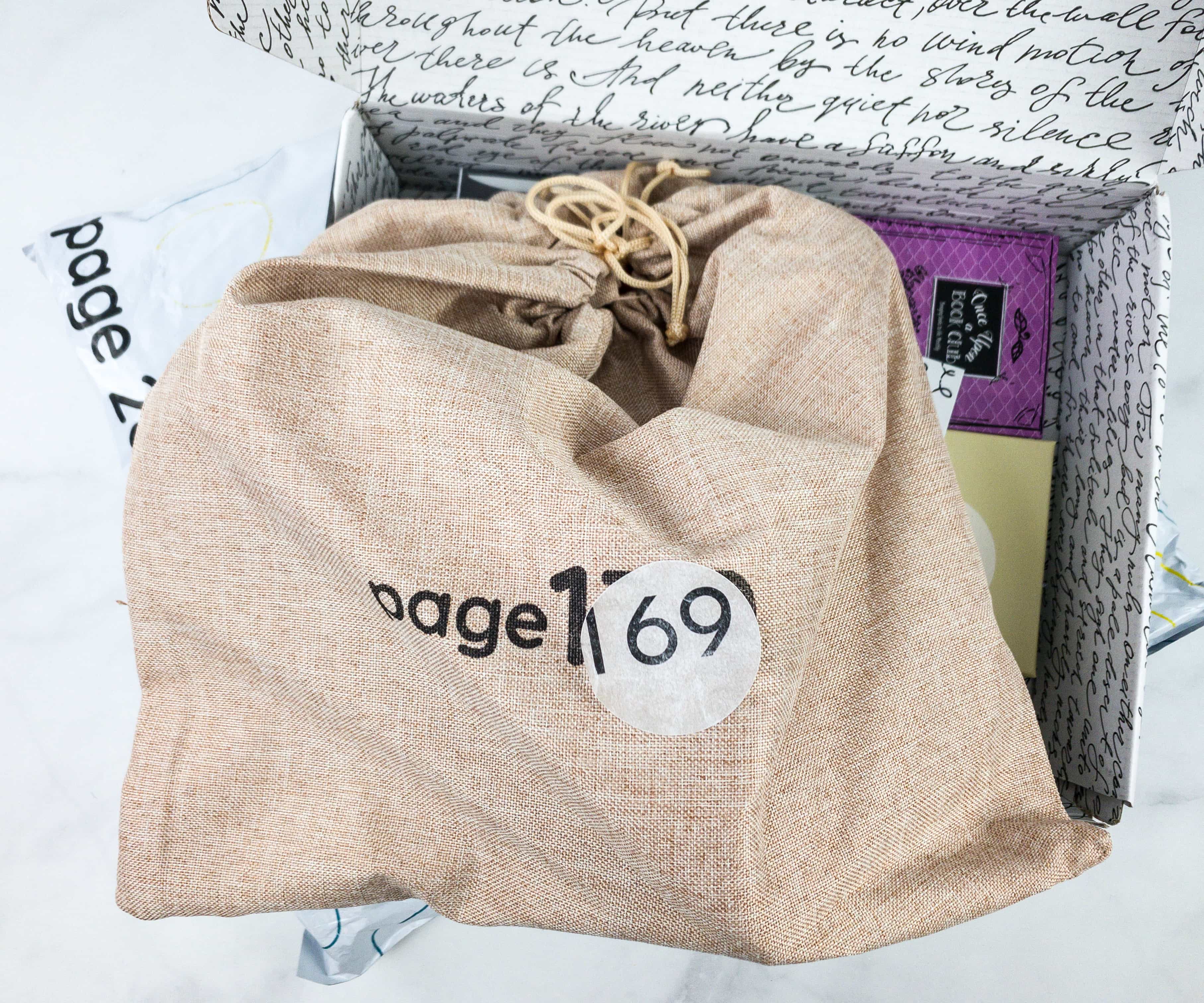 The box is full!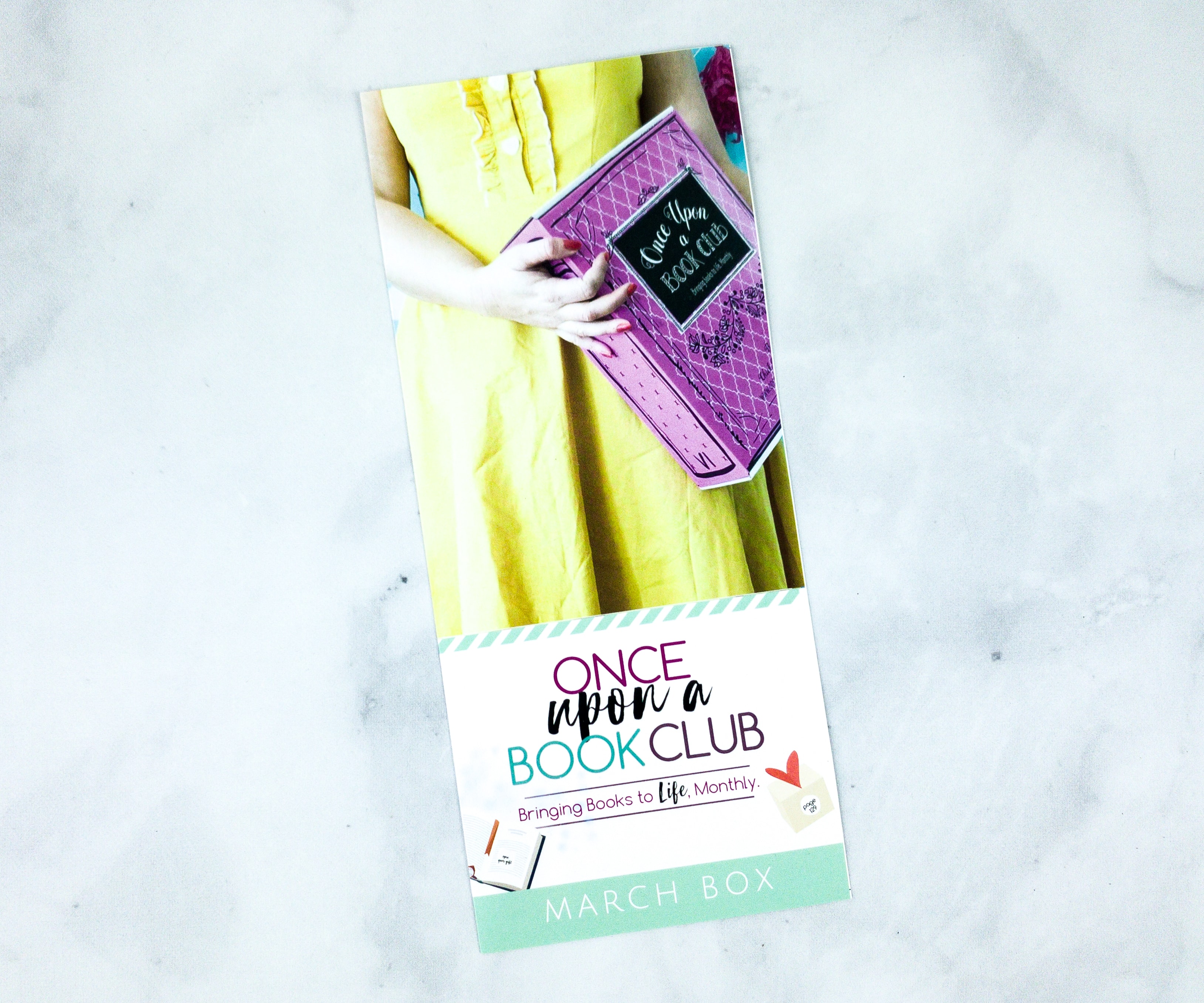 The box included a tri-fold booklet.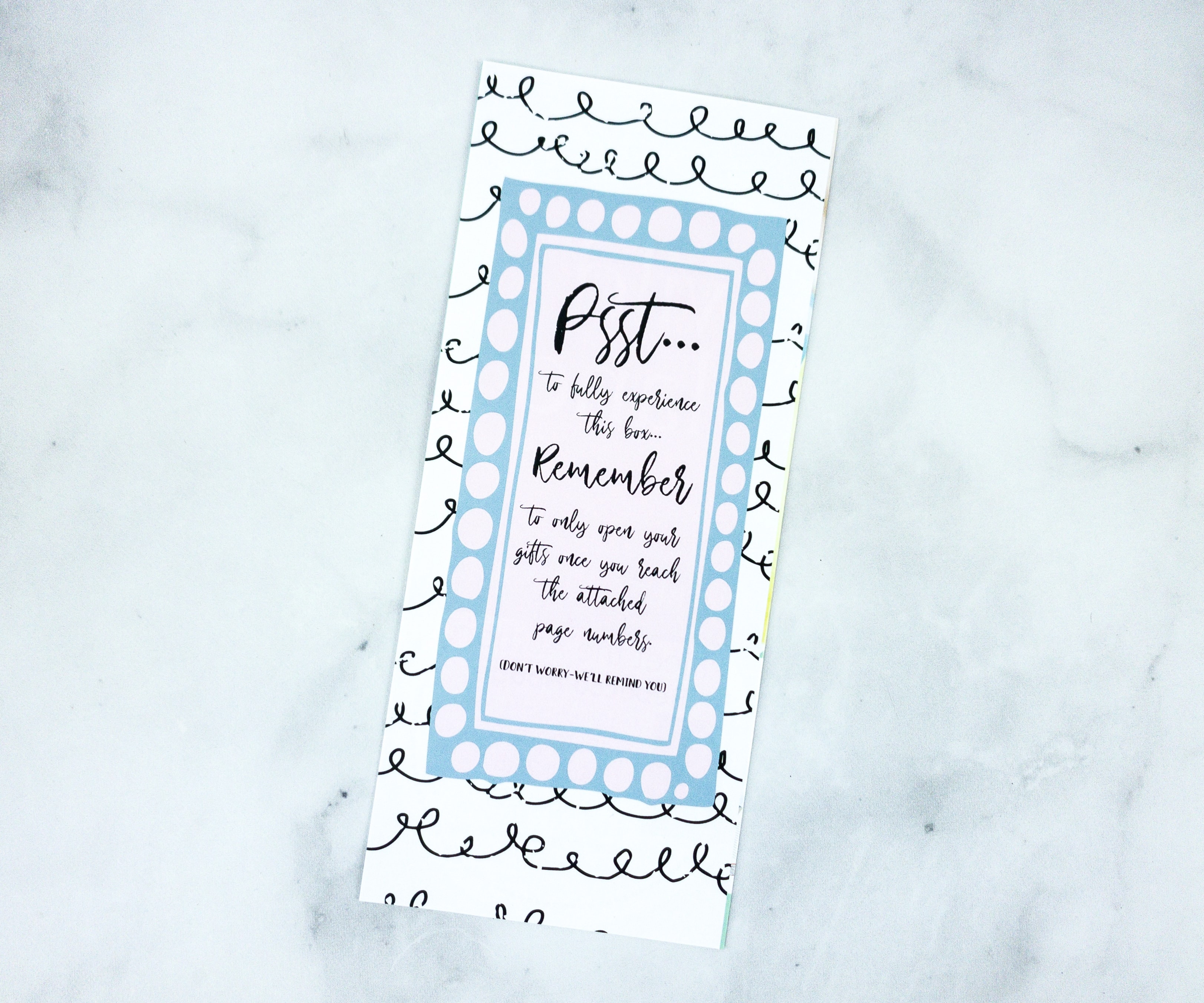 There's also a reminder on how to make the most out of this box.
Psst…

To fully experience this box…

Remember to only open your gifts once you reach the attached page numbers.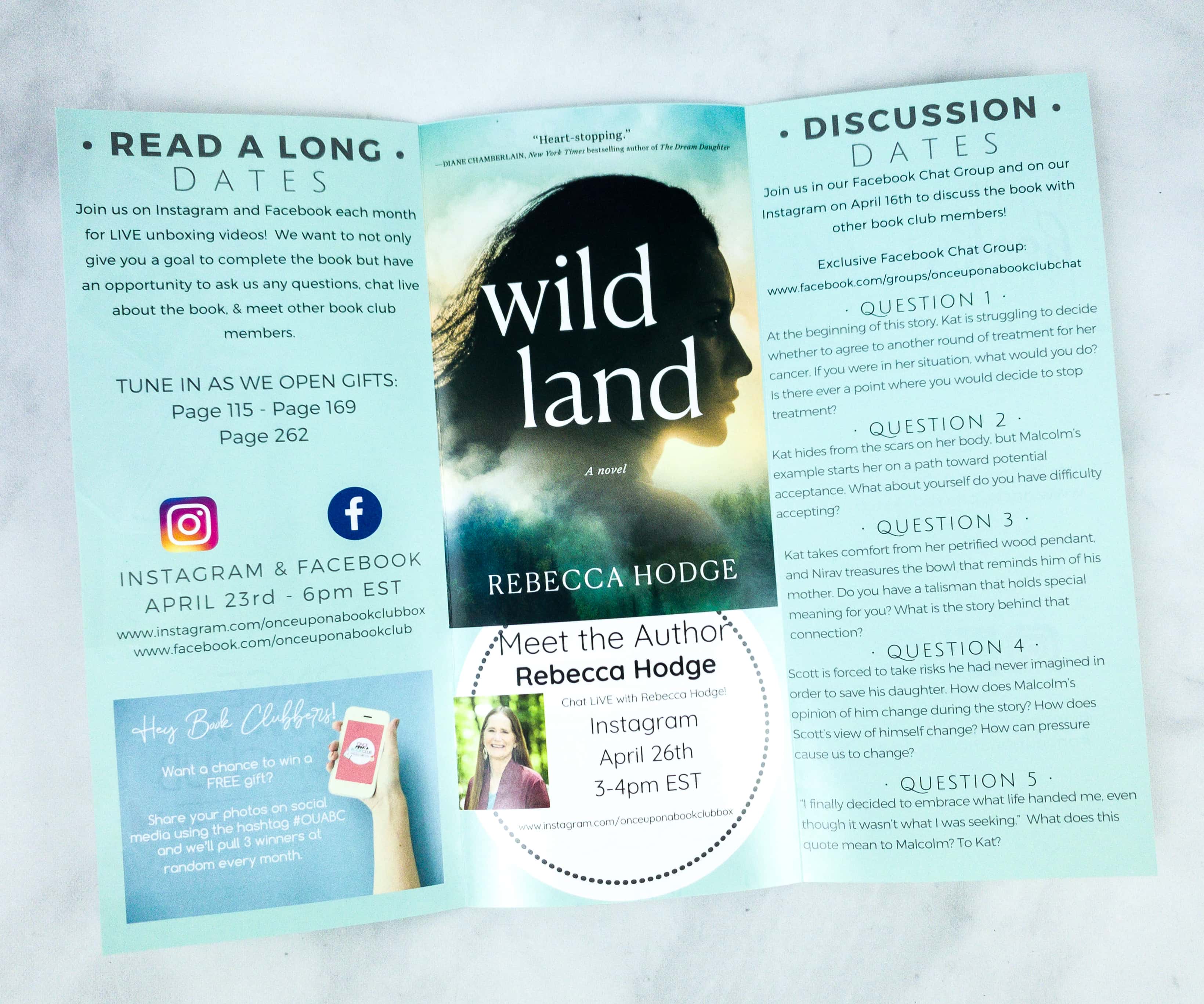 You can join the author and other book club members on these dates for some read-a-long and discussion activities.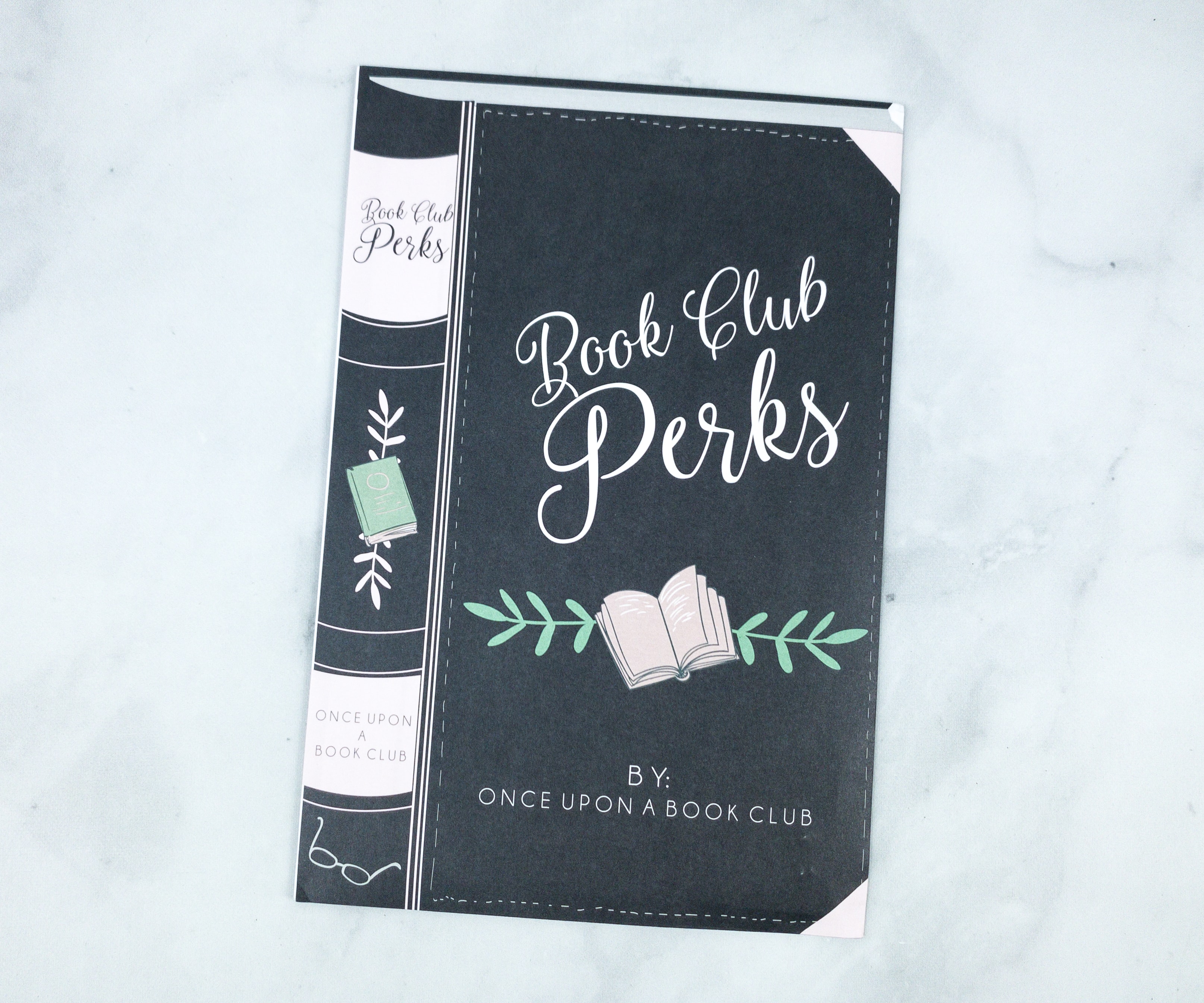 There's also a card for Book Club Perks!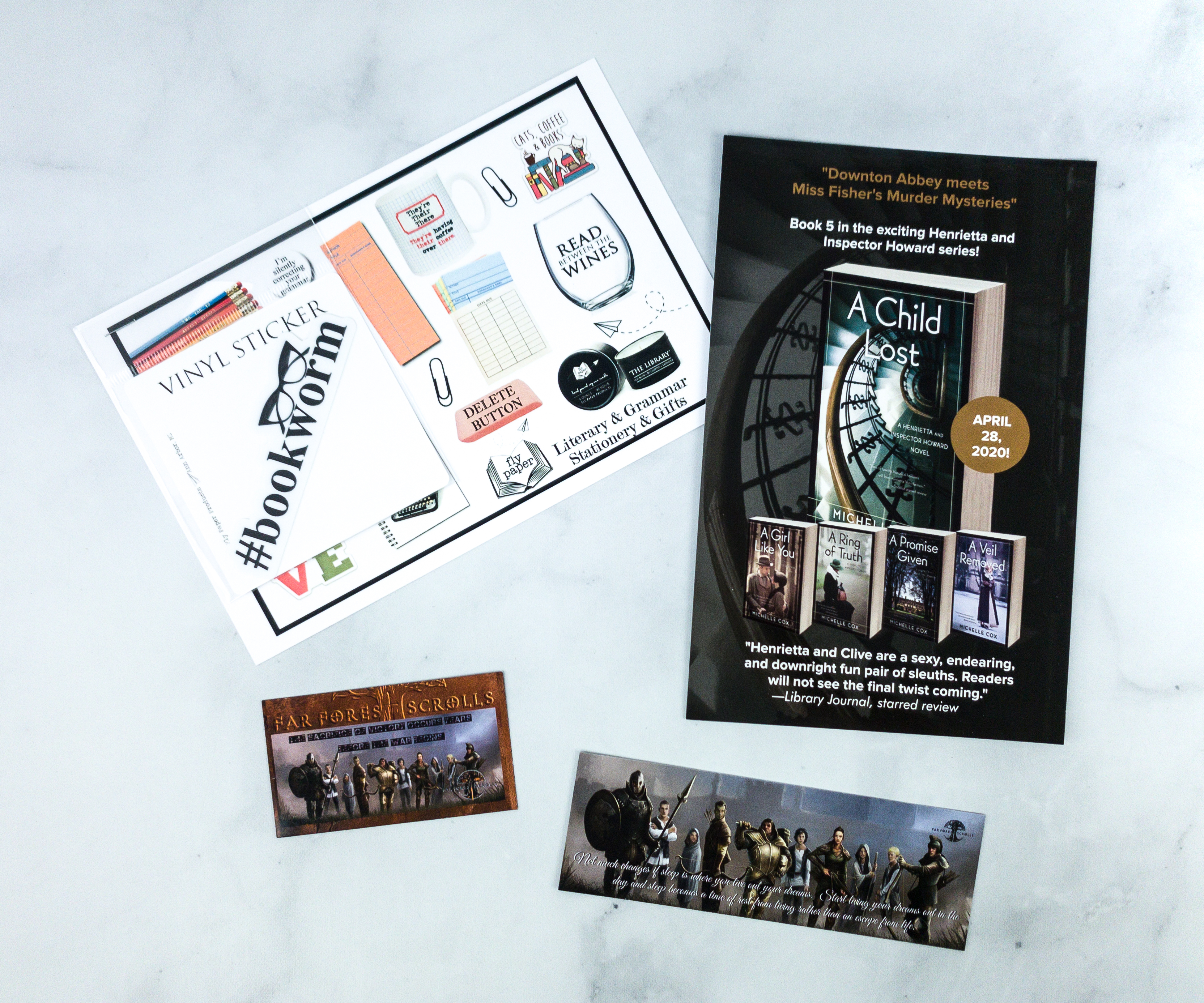 These are promotional cards and ads, plus a vinyl sticker.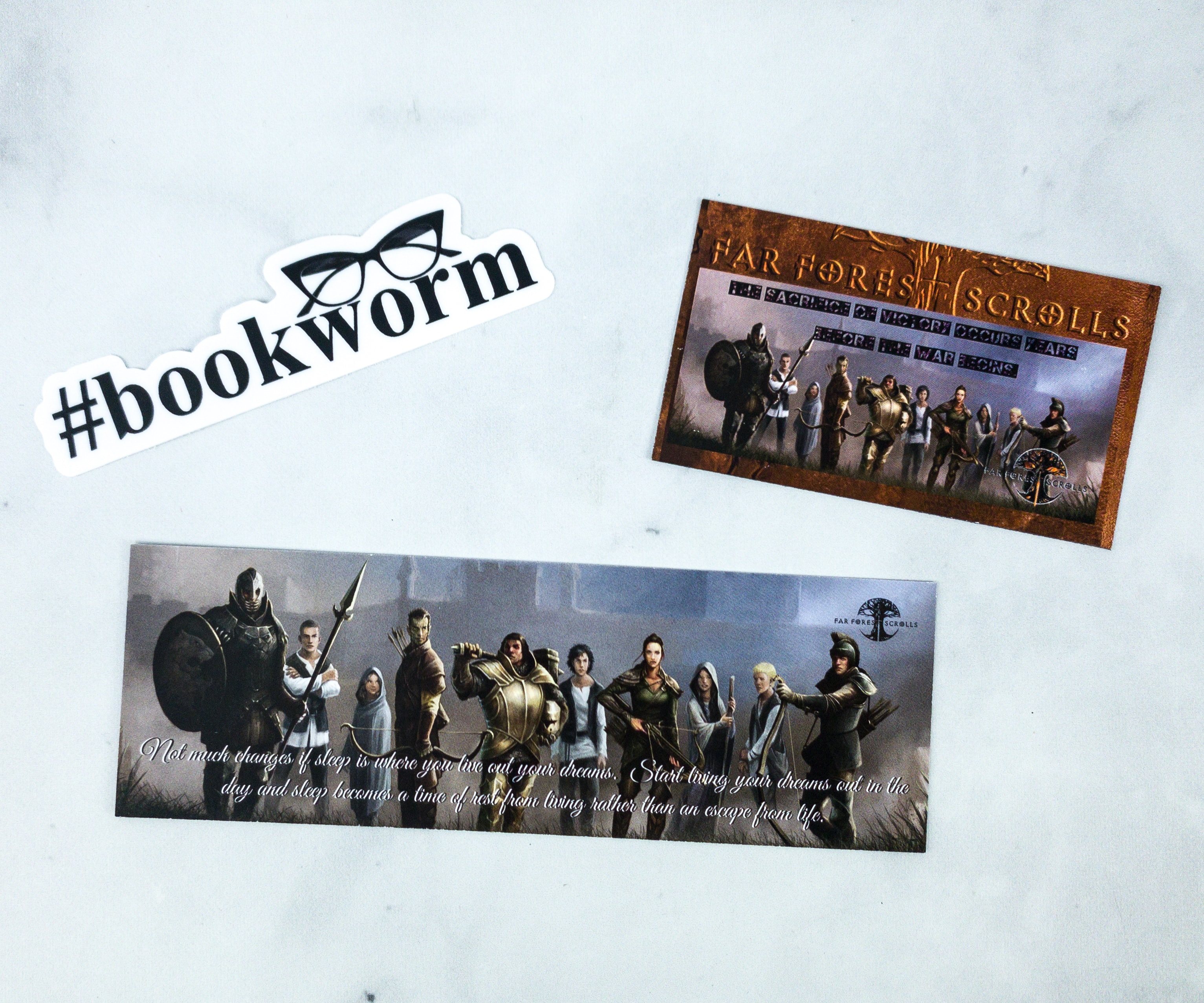 The vinyl sticker is meant for #bookworms, and there's also a bookmark and card that promotes Far Forest Scroll.
There's also a coupon code for Fly Paper Products.
Here are the gifts that we can open once we reach the indicated pages in the book!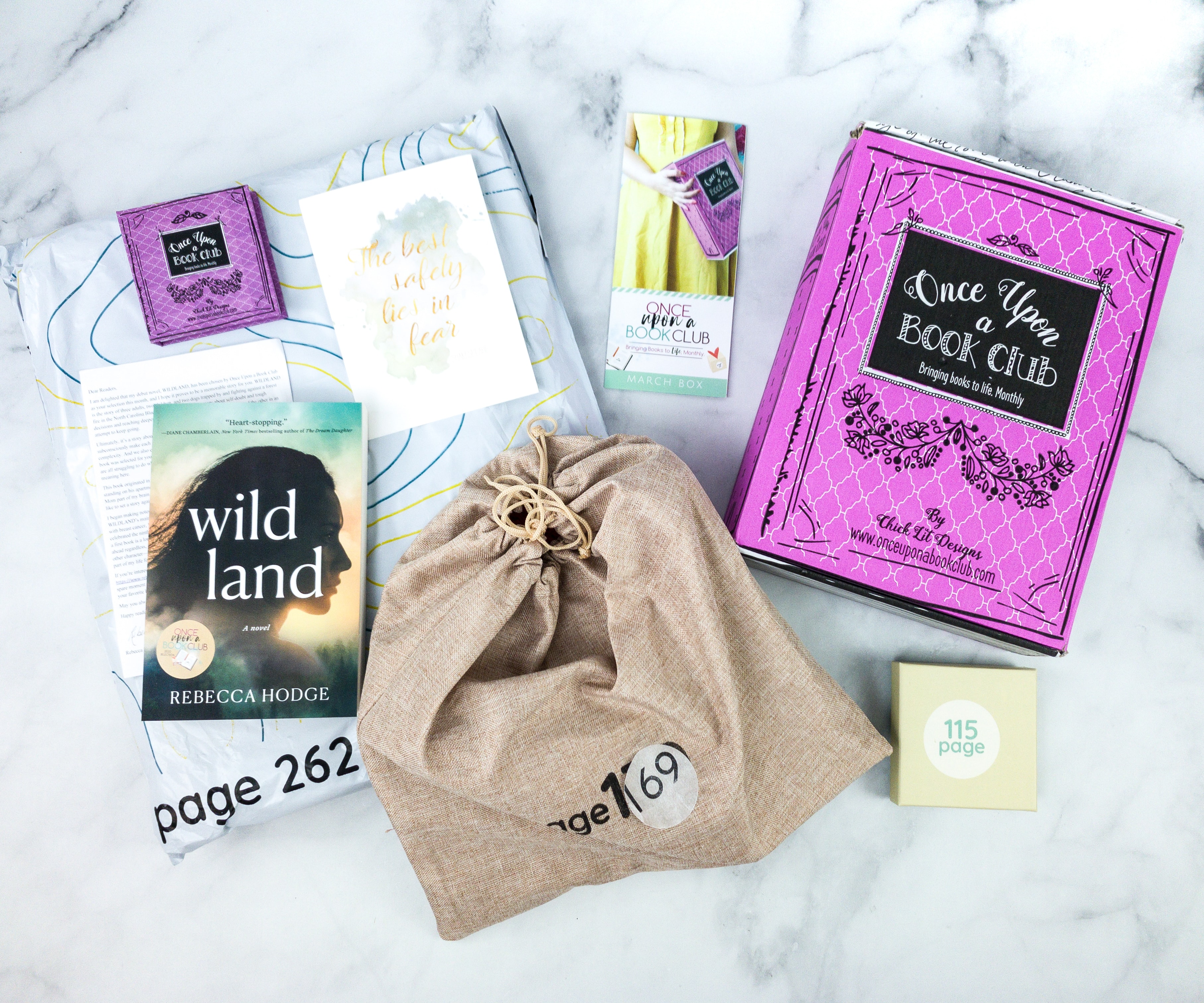 Everything in my box!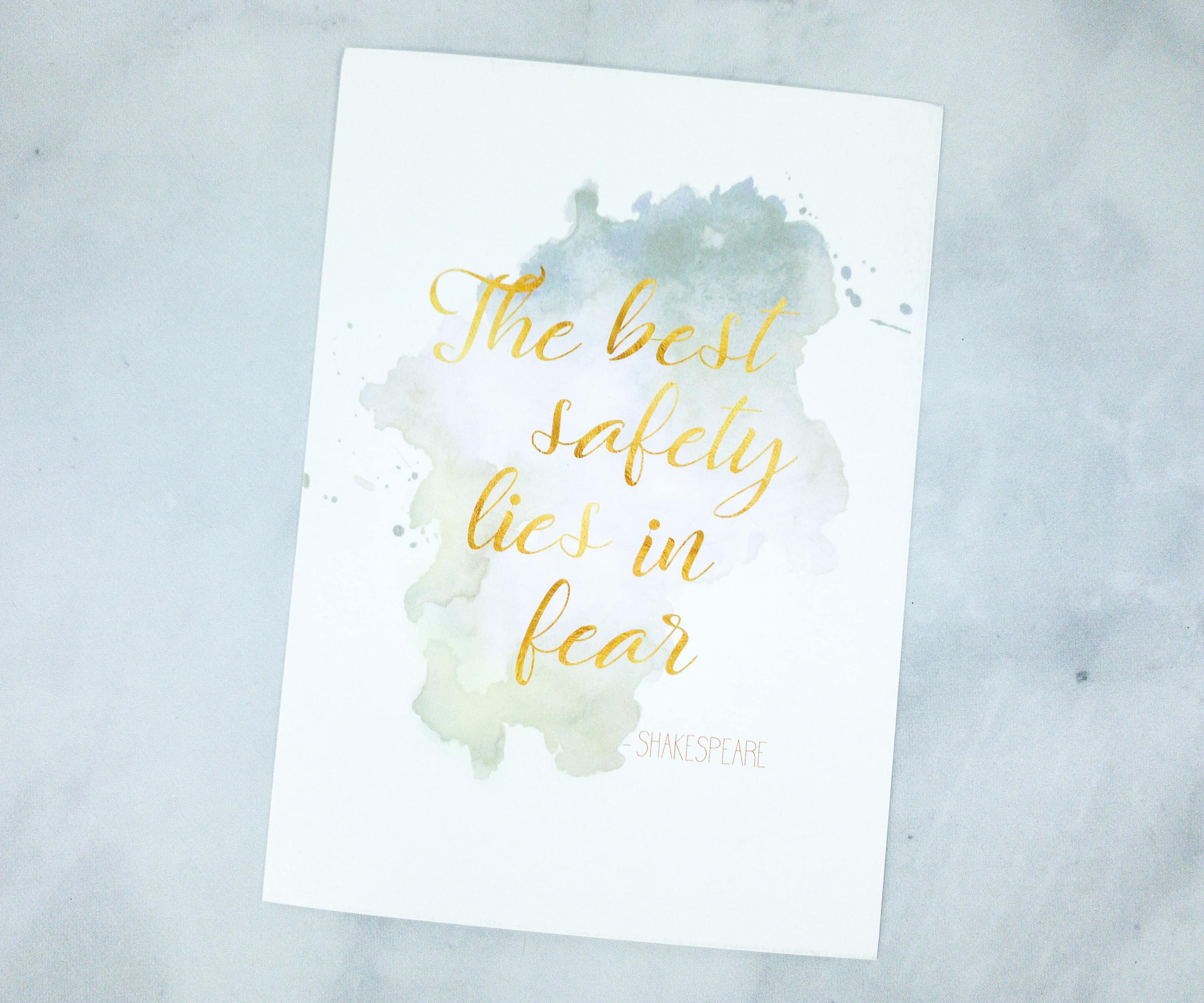 Here's a card featuring a quote from William Shakespeare.
The best safety lies in fear.
There's also a letter from the author of this month's featured book, Rebecca Hodge.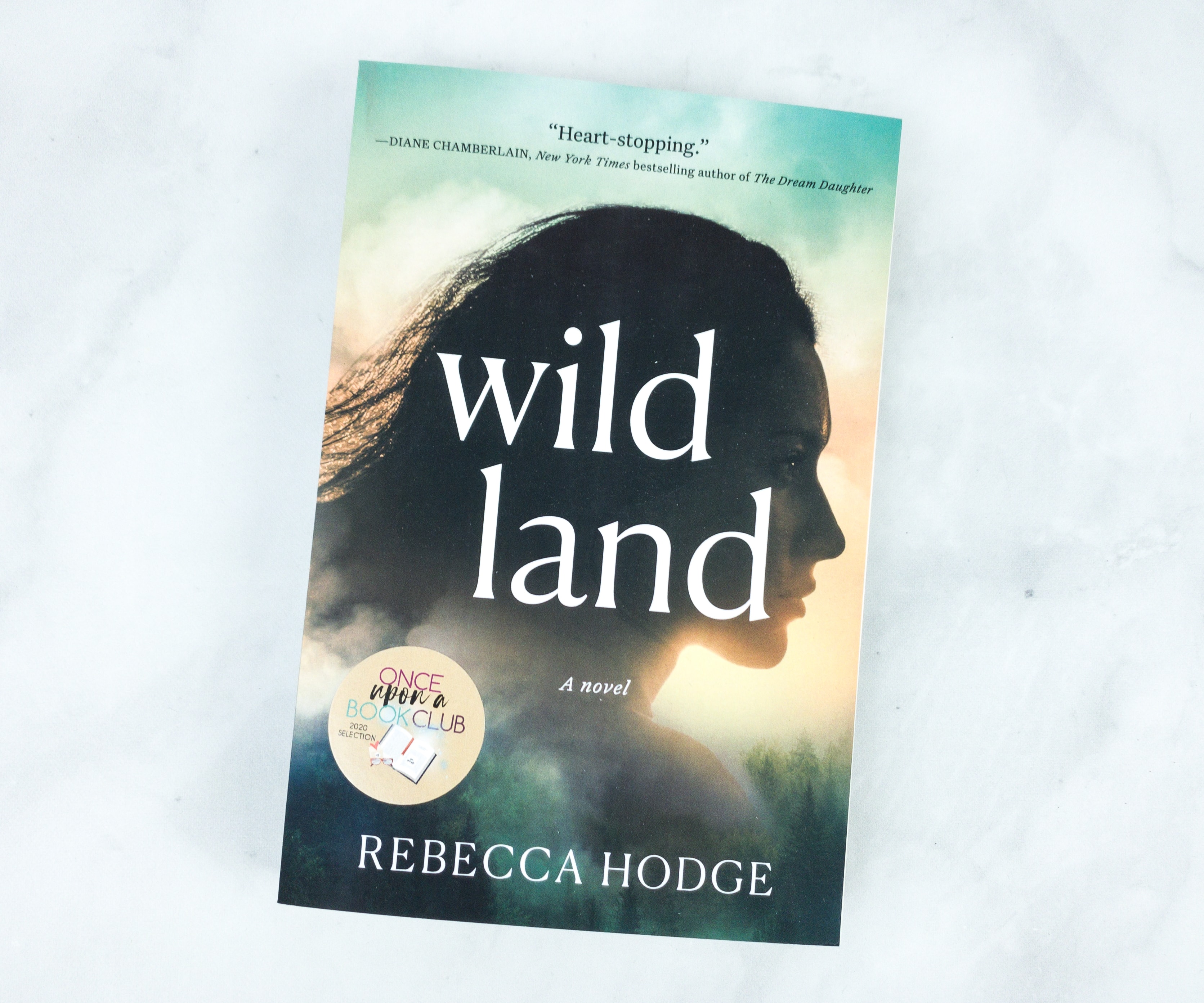 Wild Land by Rebecca Hodge ($18.79)
For fans of Jodi Picoult and Anita Shreve comes an exhilarating debut novel of one woman's courage in the face of catastrophe.

She'll do anything to save them.
But what will she do to save herself?

When Kat Jamison retreats to the Blue Ridge Mountains, she's counting on peace and solitude to help her make a difficult decision. Her breast cancer has returned, but after the death of her husband, her will to fight is dampened. Now she has a choice to make: face yet another round of chemotherapy or surrender gracefully.

Self-reflection quickly proves impossible as her getaway is complicated by a pair of abandoned dogs and two friendly children staying nearby, Lily and Nirav. In no time at all, Kat's quiet seclusion is invaded by the happy confusion of children and pets.

But when lightning ignites a deadly wildfire, Kat's cabin is cut off from the rest of the camp, separating Lily and Nirav from their parents. Left with no choice, Kat, the children, and the dogs must flee on foot through the drought-stricken forest, away from the ravenous flames. As a frantic rescue mission is launched below the fire line, Kat drives the party deeper into the mountains, determined to save four innocent lives. But when the moment comes to save her own, Kat will have to decide just how hard she's willing to fight to survive–and what's worth living for.

A heart-pounding novel of bravery, sacrifice, and self-discovery, Wildland will keep you on the edge of your seat to the very last page.
The back cover has the story synopsis, as well as brief reviews from other best-selling authors and the author's brief bio.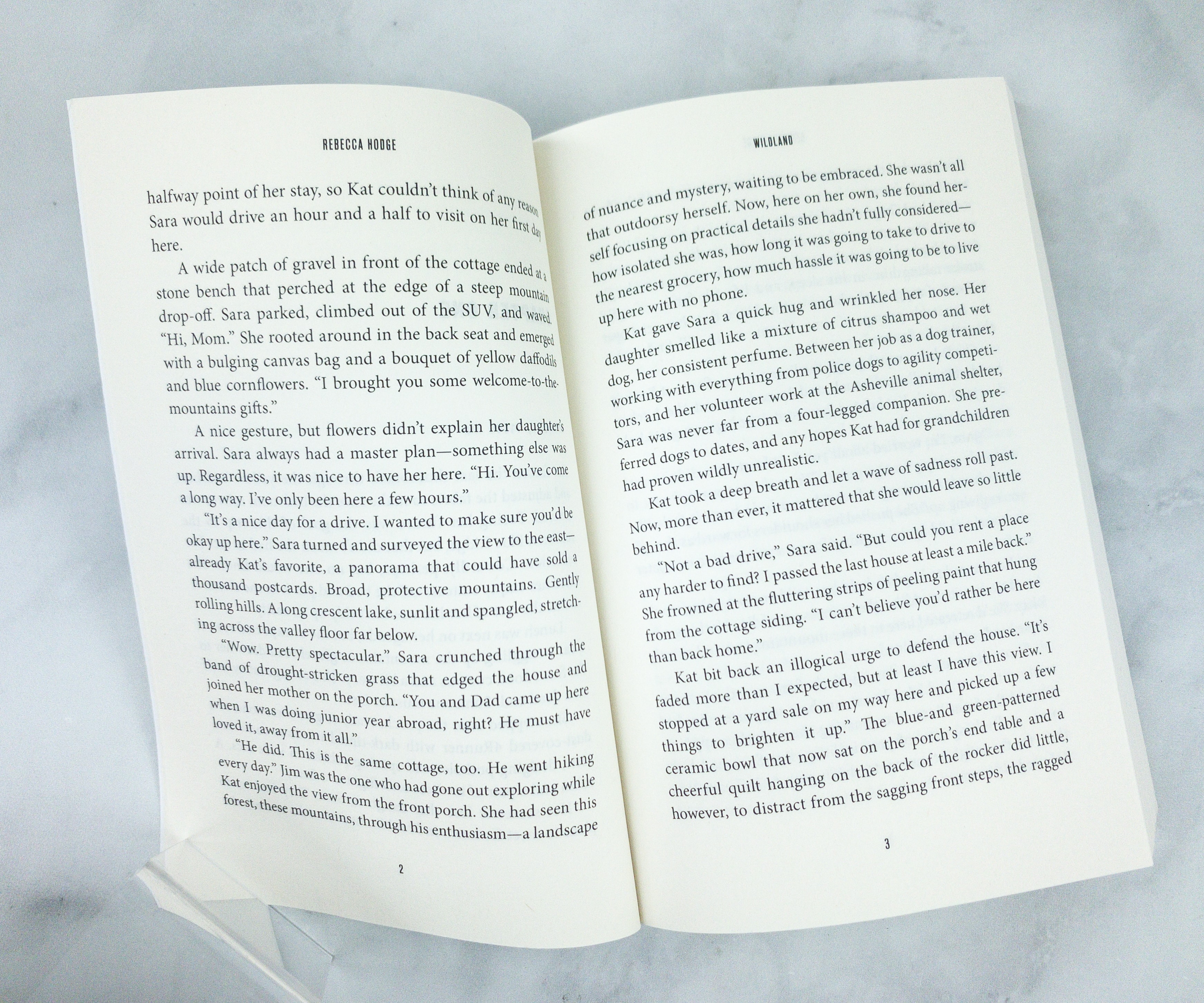 The story is about a woman named Kat Jamison, who retreated to the Blue Ridge Mountains after her husband died and her breast cancer returned. It's a wonderful adventure with endearing characters!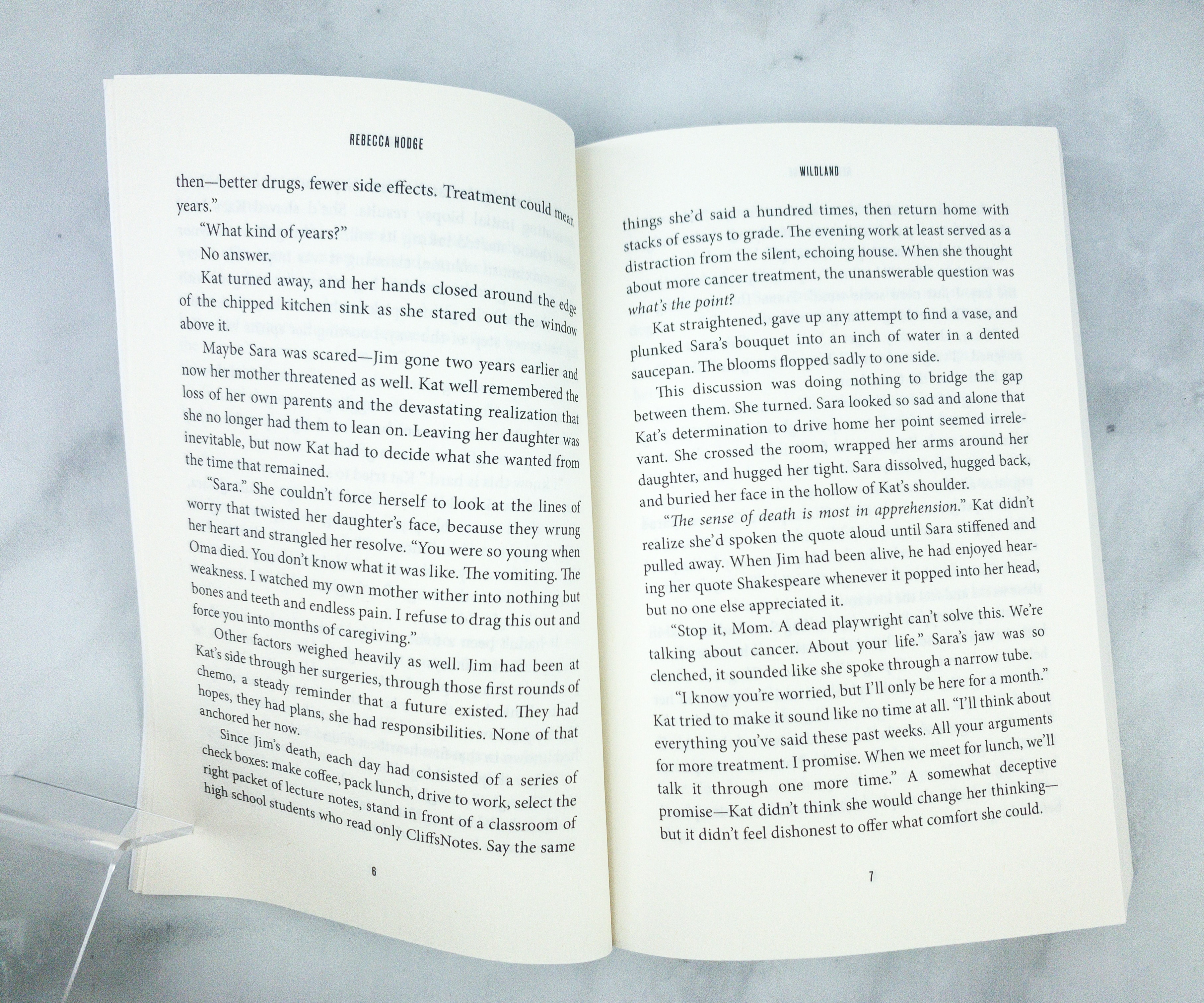 If you like stories with a roller coaster of emotions, this one is for you. It also has some great cliff hangers!
Notepad. There's a bonus item, a notepad featuring the same cover design as the box!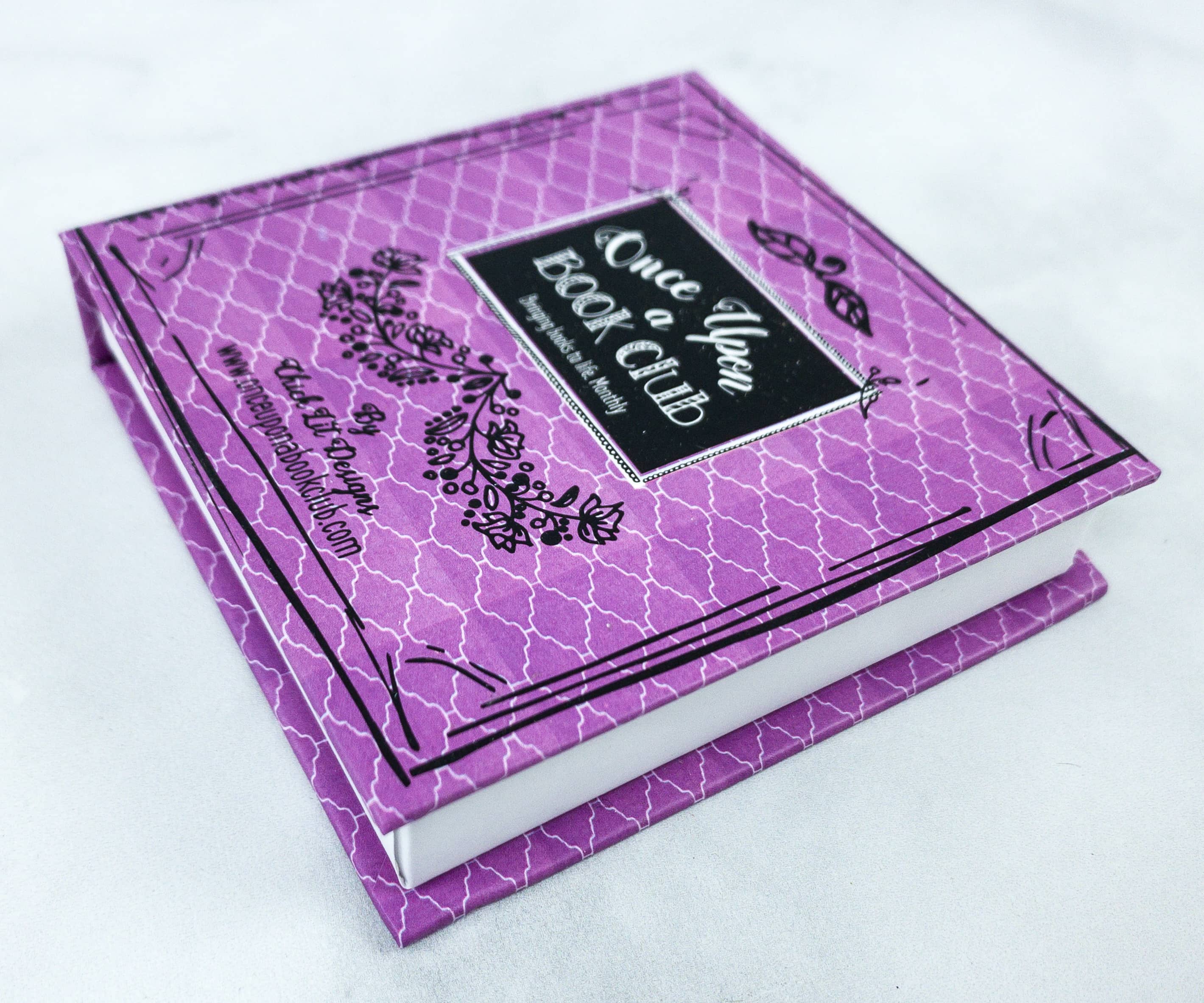 This would be a nice work desk companion, so I can easily grab a piece of paper to write notes and messages.
It comes with a sticker that is apologizing for the delay.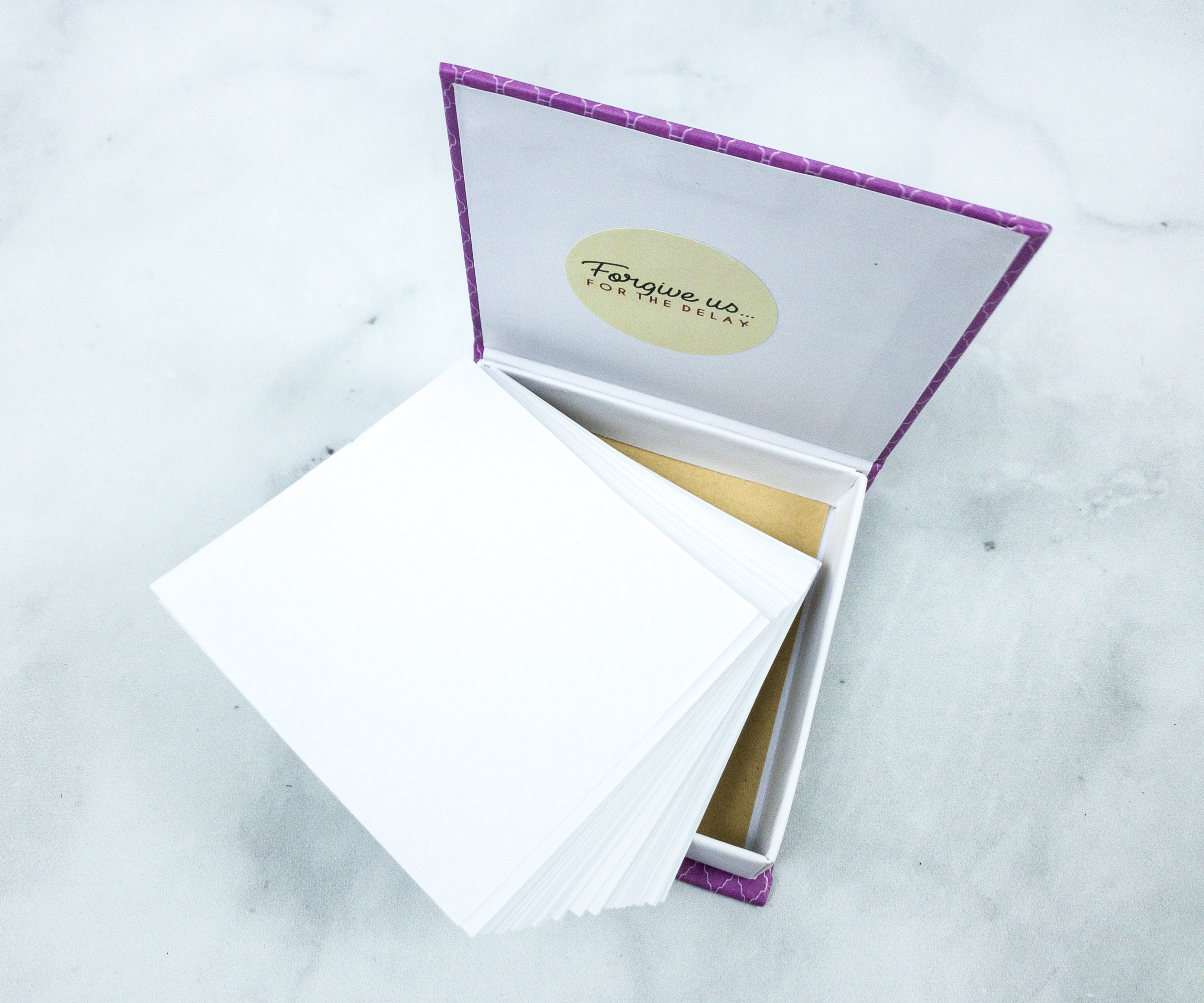 The box contains loose pages, and they're all blank.
The first gift can be opened when you reach page 115.
The gift is placed in what looks like a simple jewelry box.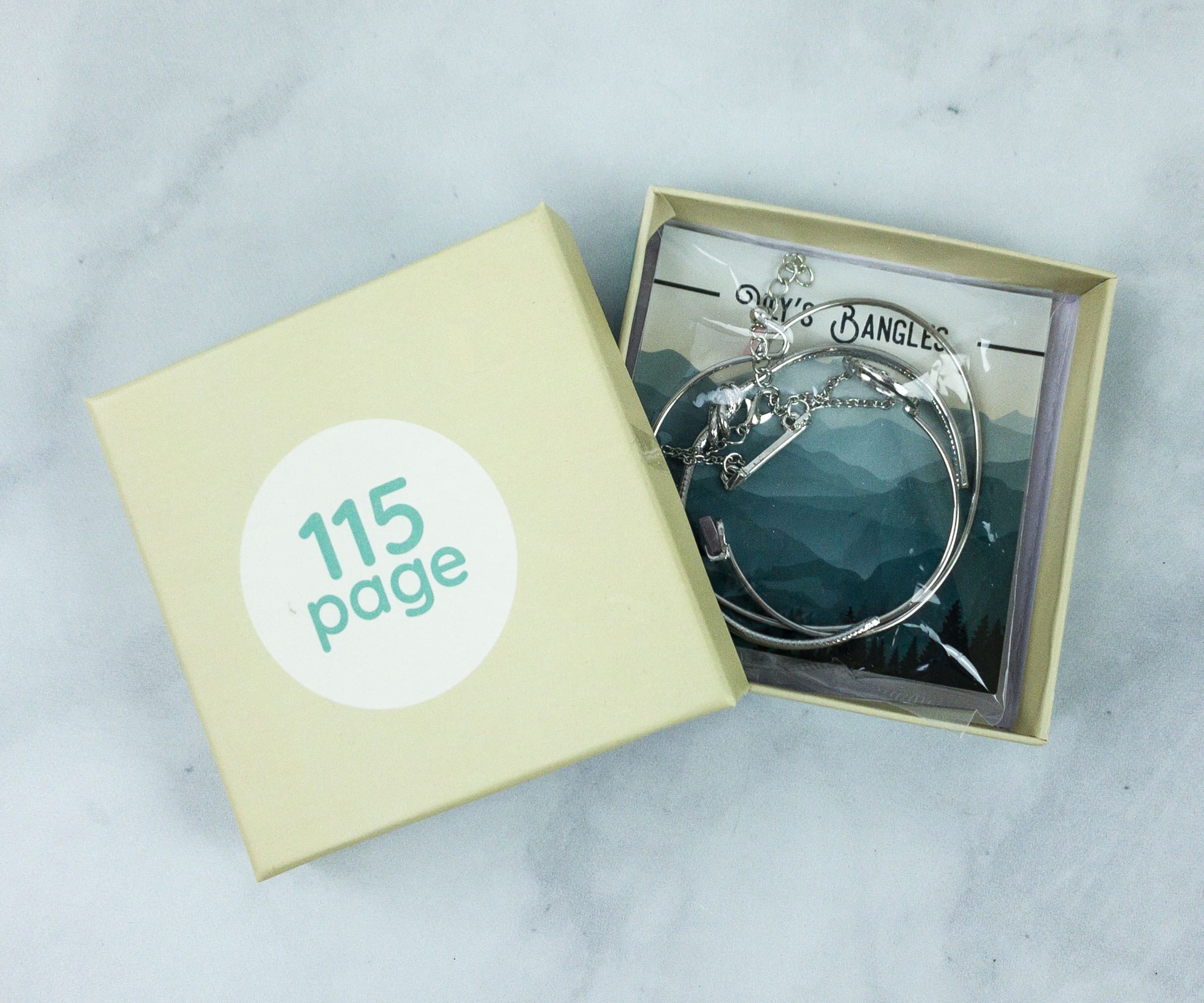 Lily's Bangles. The box contains a set of silver-colored bangles!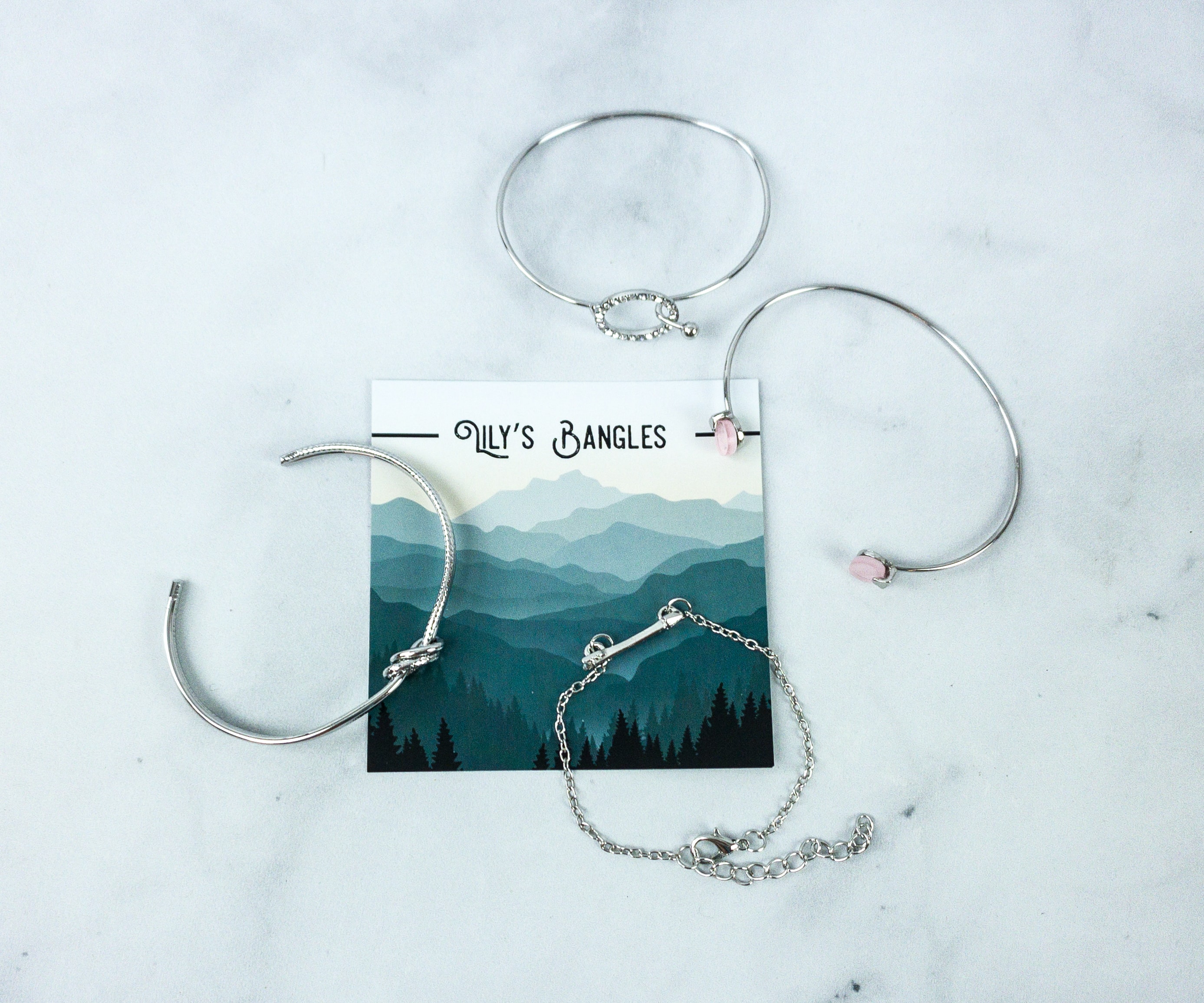 This set is really nice. Whether you wear the bangles one by one or layer them together, they look gorgeous!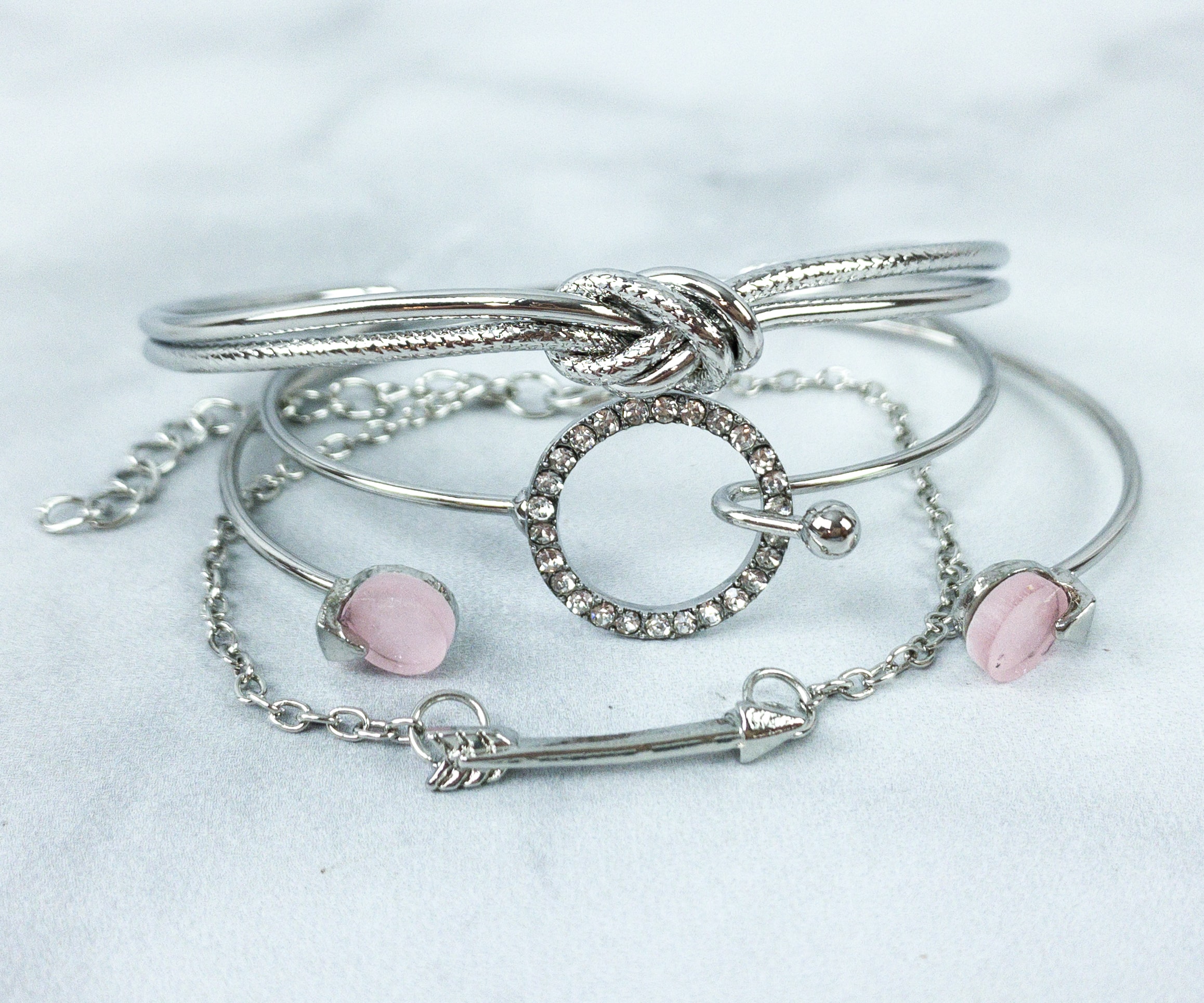 My favorite among these bangles is the one with a knot in the middle. It's simple but classy!
The next gift can be revealed when you reach page 169!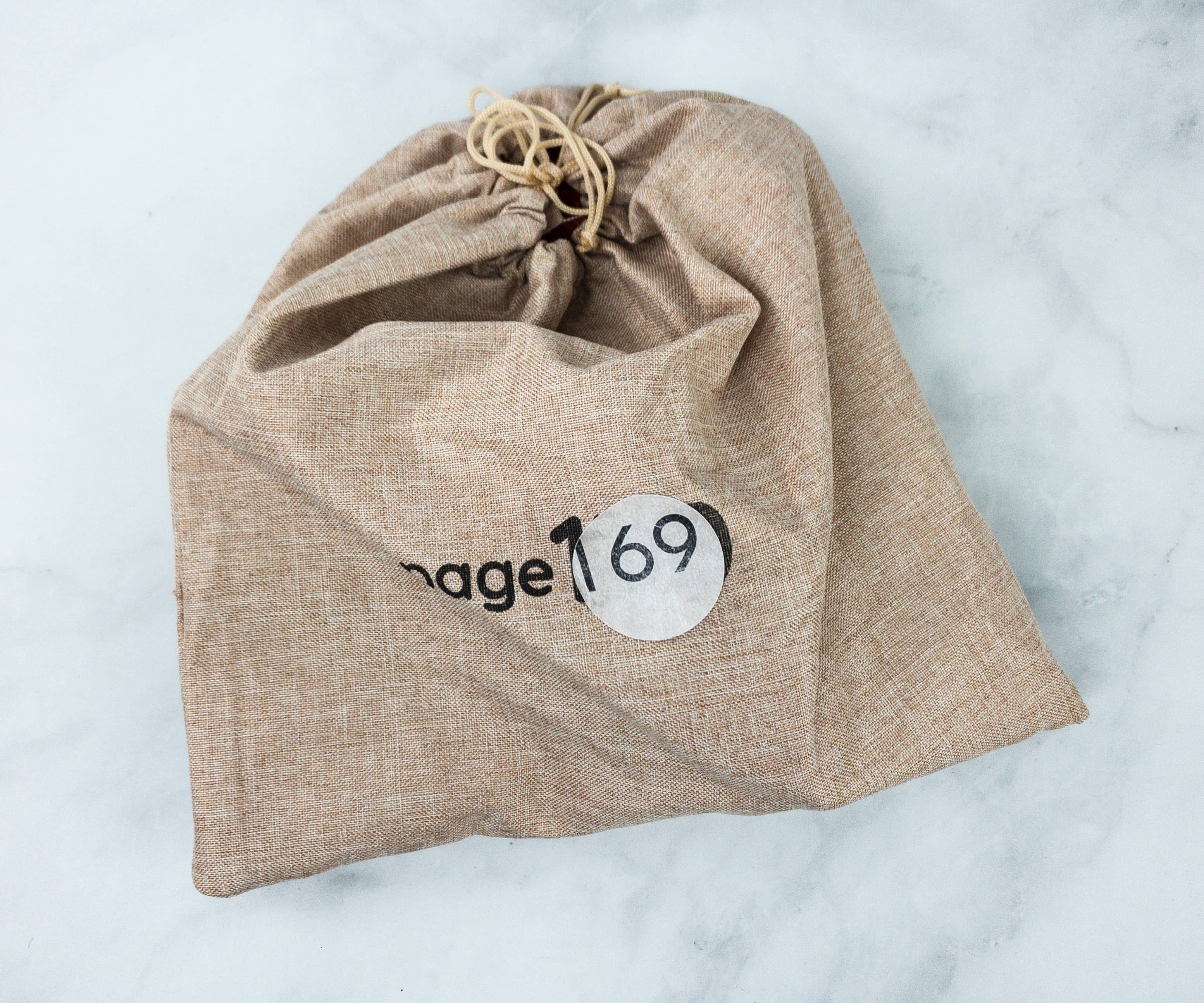 The gift is placed inside a brown drawstring pouch, and it's quite large!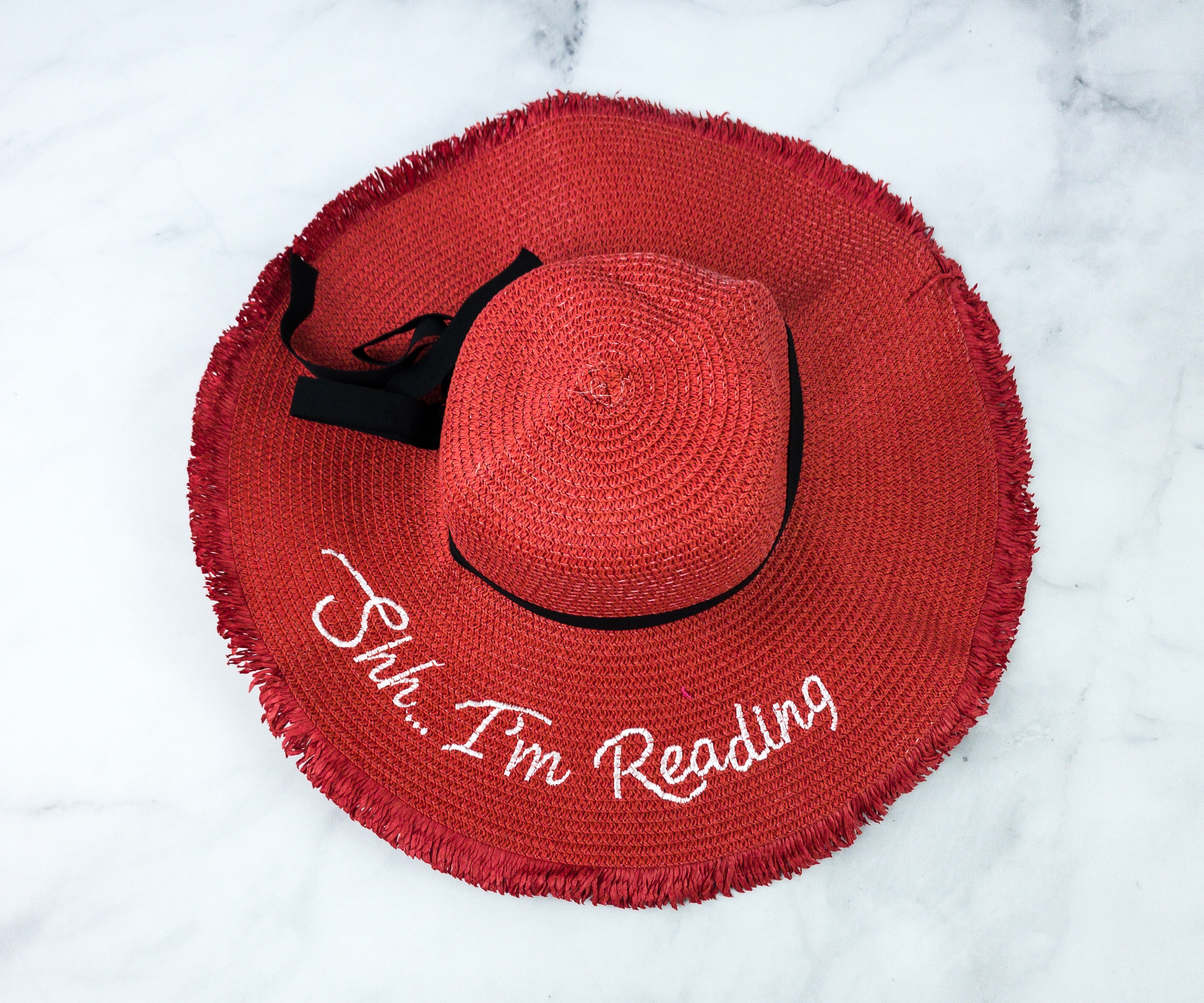 Kat's Hat. Inside the pouch is a red hat with a message that says "Shh… I'm Reading".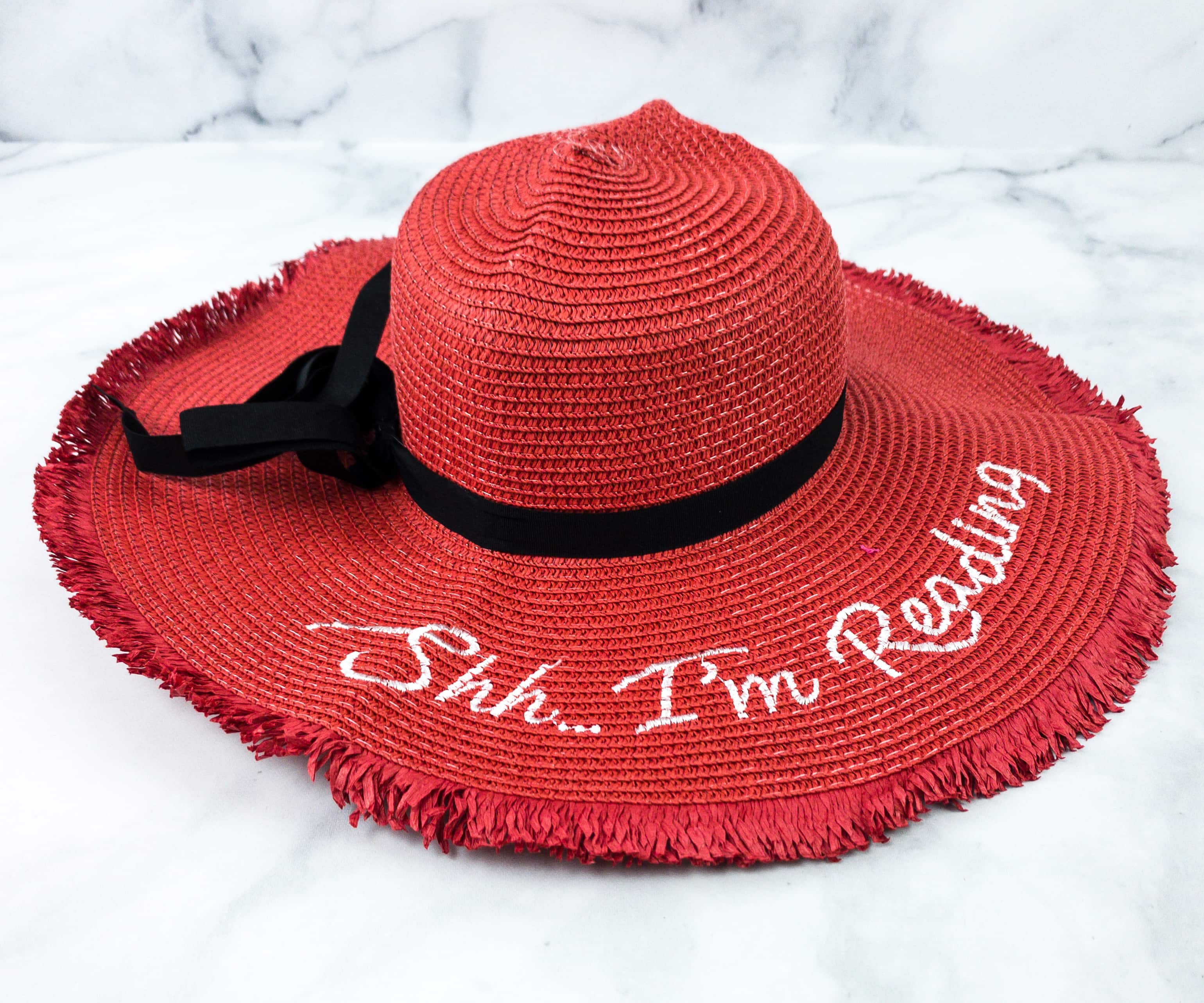 The hat is vividly colored and the style is like those that you can wear during your summer vacation while wearing a bright sundress! It also comes with a black ribbon that really goes well with the overall red color of the hat.
You can finally open the last package when you reach page 262!
It's another large package, and I'm really excited to see what's inside!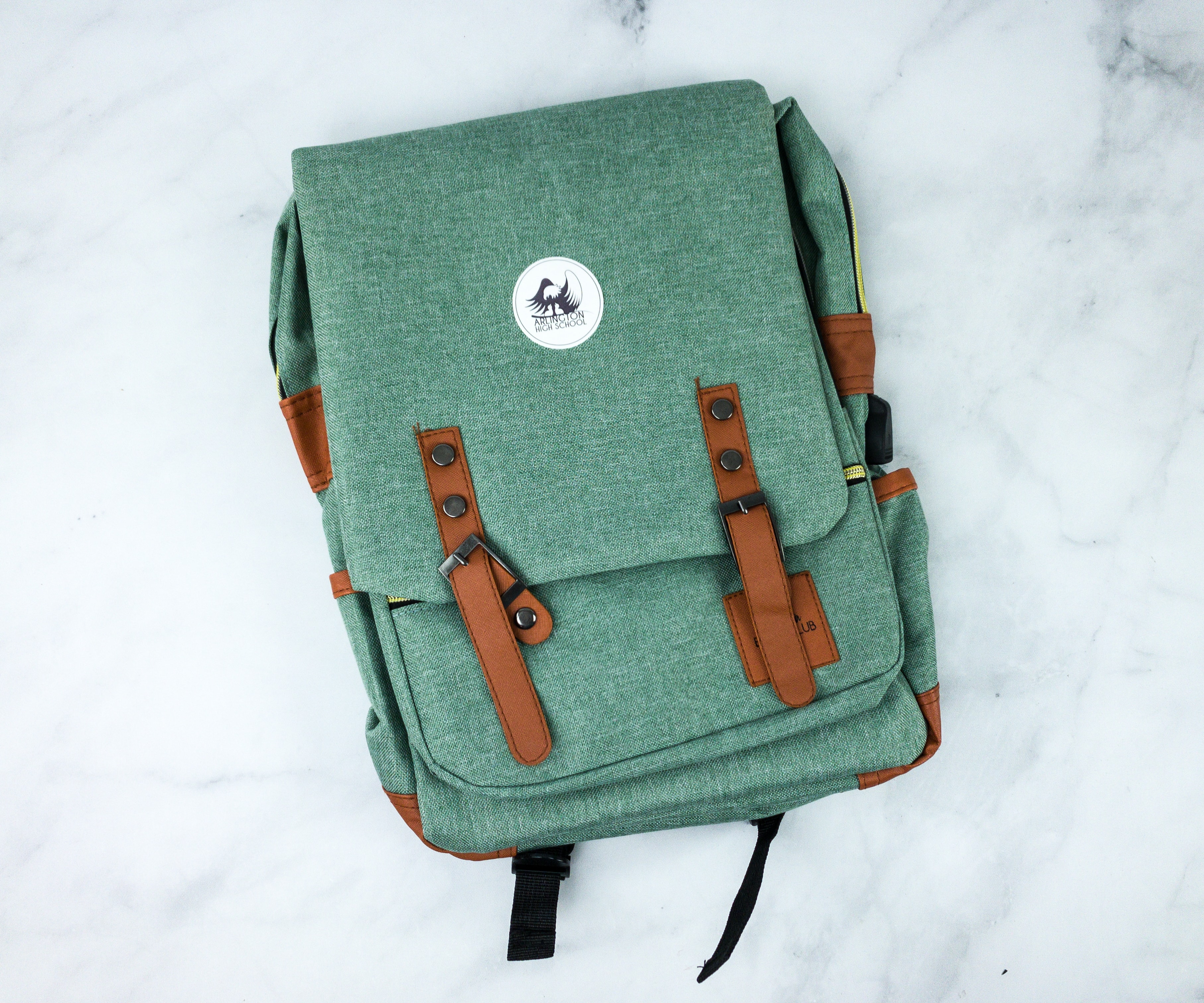 School Bag. It's a nice green school bag, which has a color similar to grass!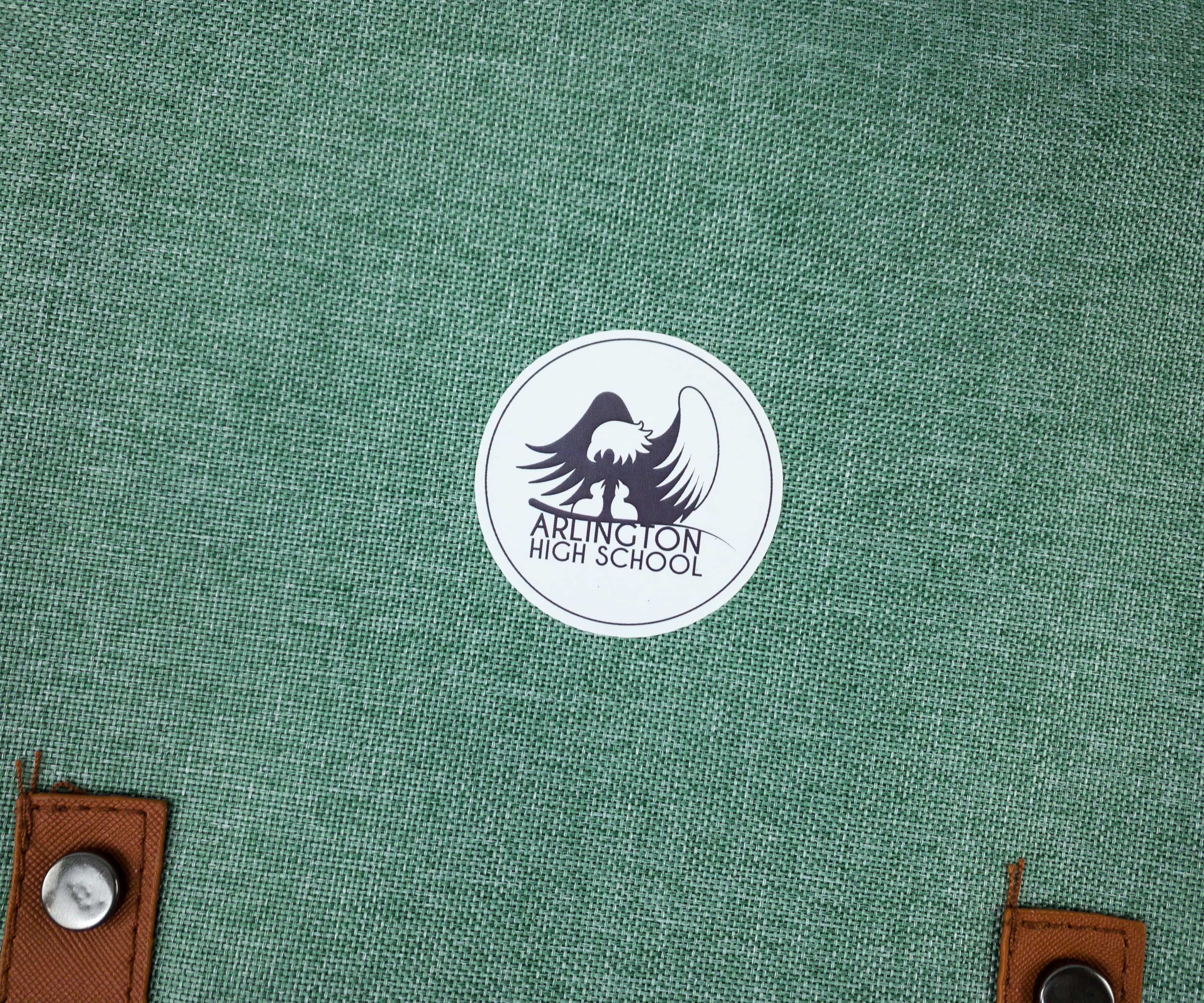 It even comes with the symbol of Arlington High School, which is an eagle ready to fly!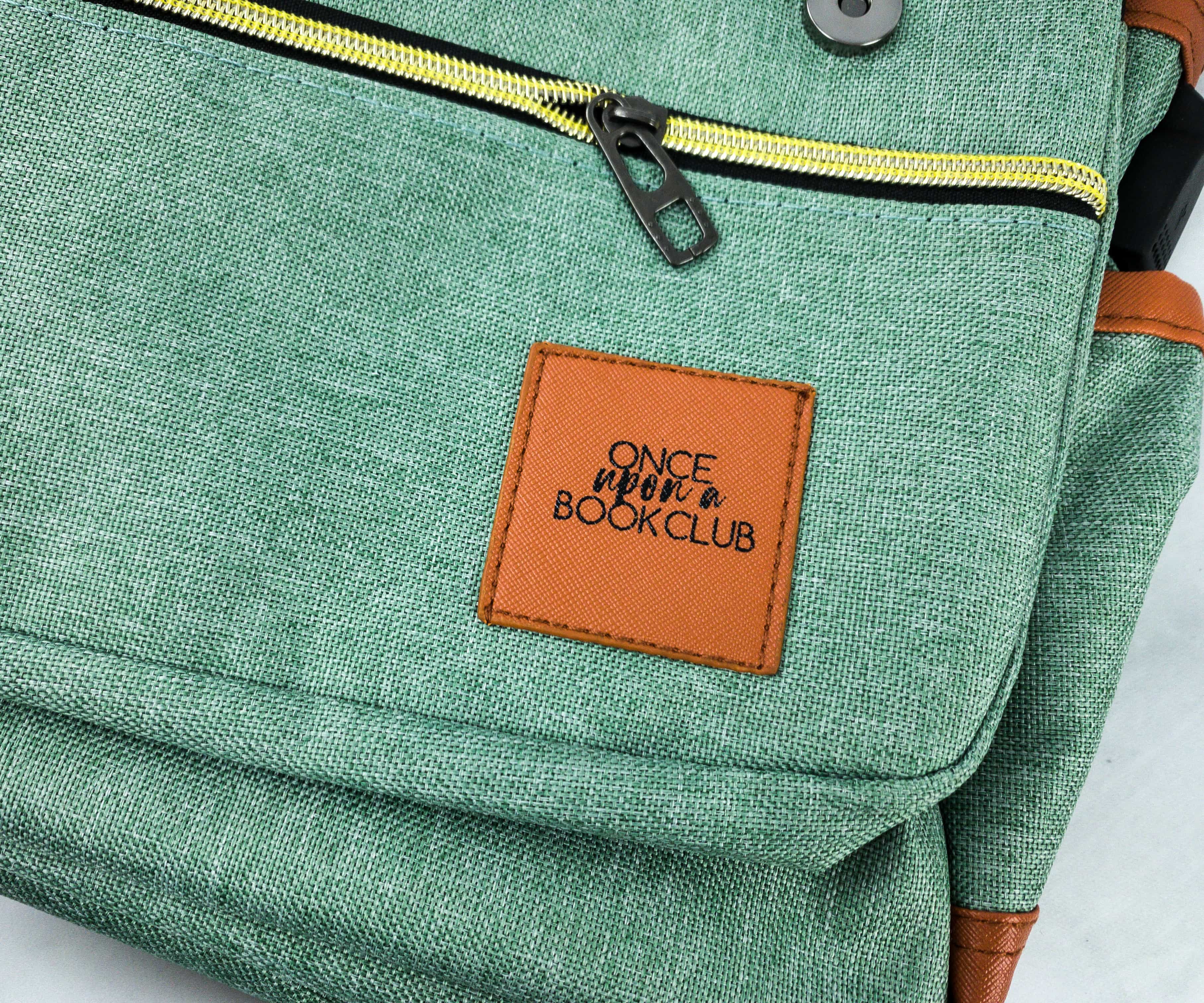 It also has a "Once Upon A Book Club" patch on the lower front part of the bag.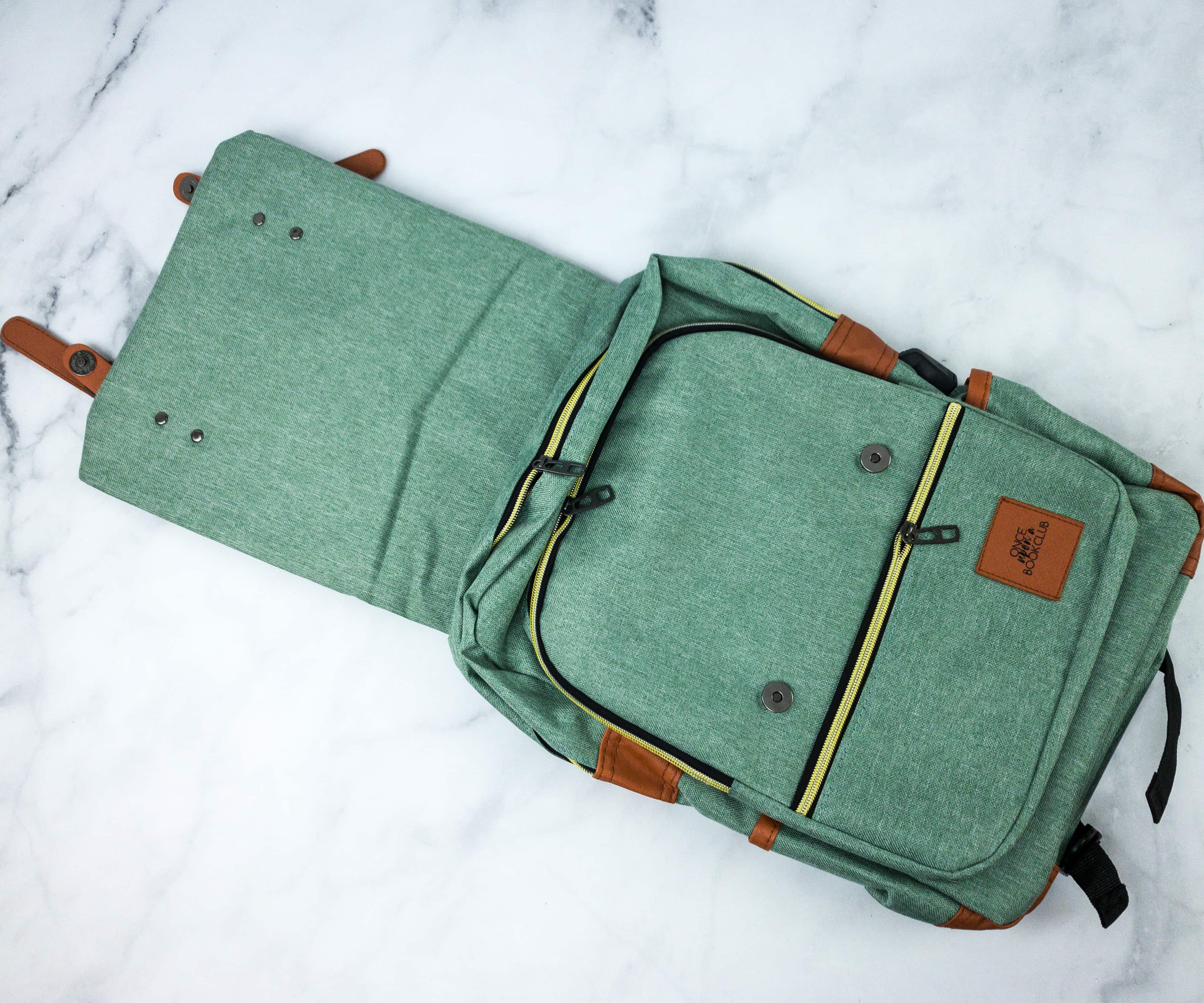 There are lots of pockets and compartments!
Also, I like that the straps are padded, which helps in carrying the bag easily.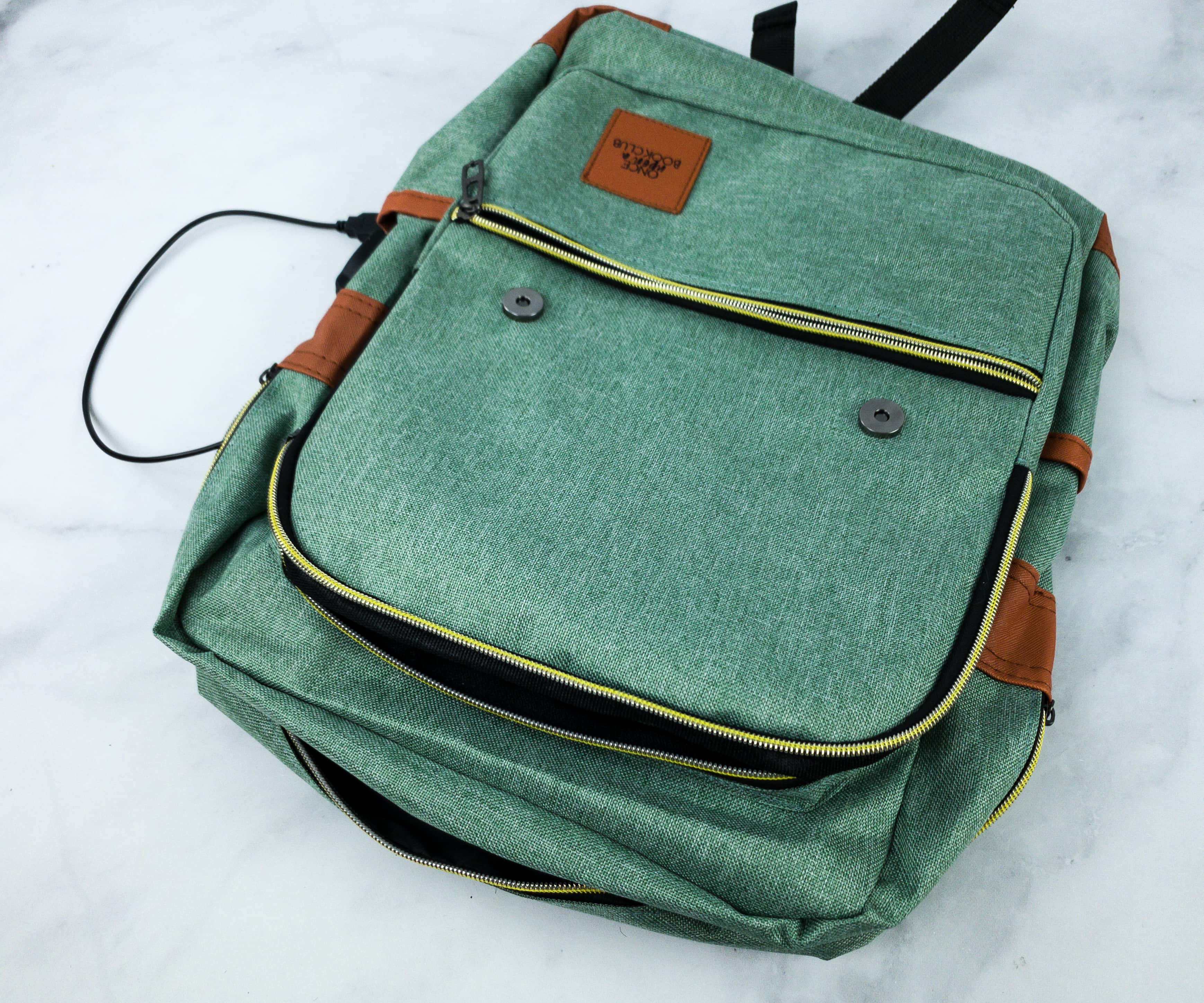 All the outside compartments have zipper enclosures, while the main compartment even has a flap that has magnetic buttons.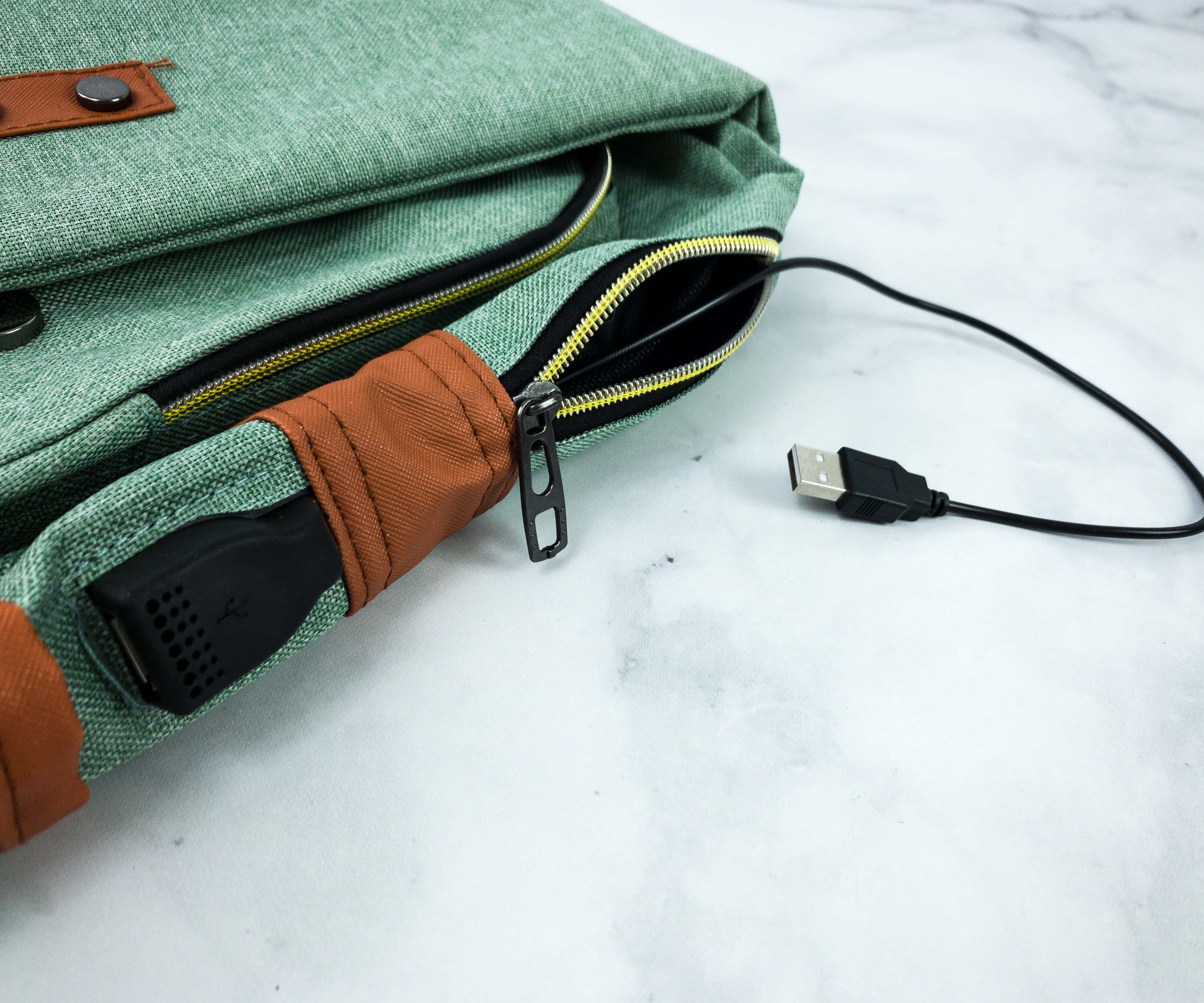 There's also a USB port on the side, so you can easily connect or charge gadgets!
This month's book pick is a nice story that shows bravery and self-discovery. It even proves to us that if you have the will to survive and live, you can always overcome all the challenges. The gifts are also beautiful, especially the bangles! I love that can mix and match them, or even wear them individually. I also like the school bag, it will be perfect to use when packing for a vacation! The hat is also bright and pretty, and I just have to find a summer dress and sandals that will go perfectly with it. Although there's a delay, they made up for it by adding a cute bonus item. I'm totally satisfied with this box and I just love the unique experience of opening gifts as the story unfolds!
What do you think of this month's Once Upon a Book Club?