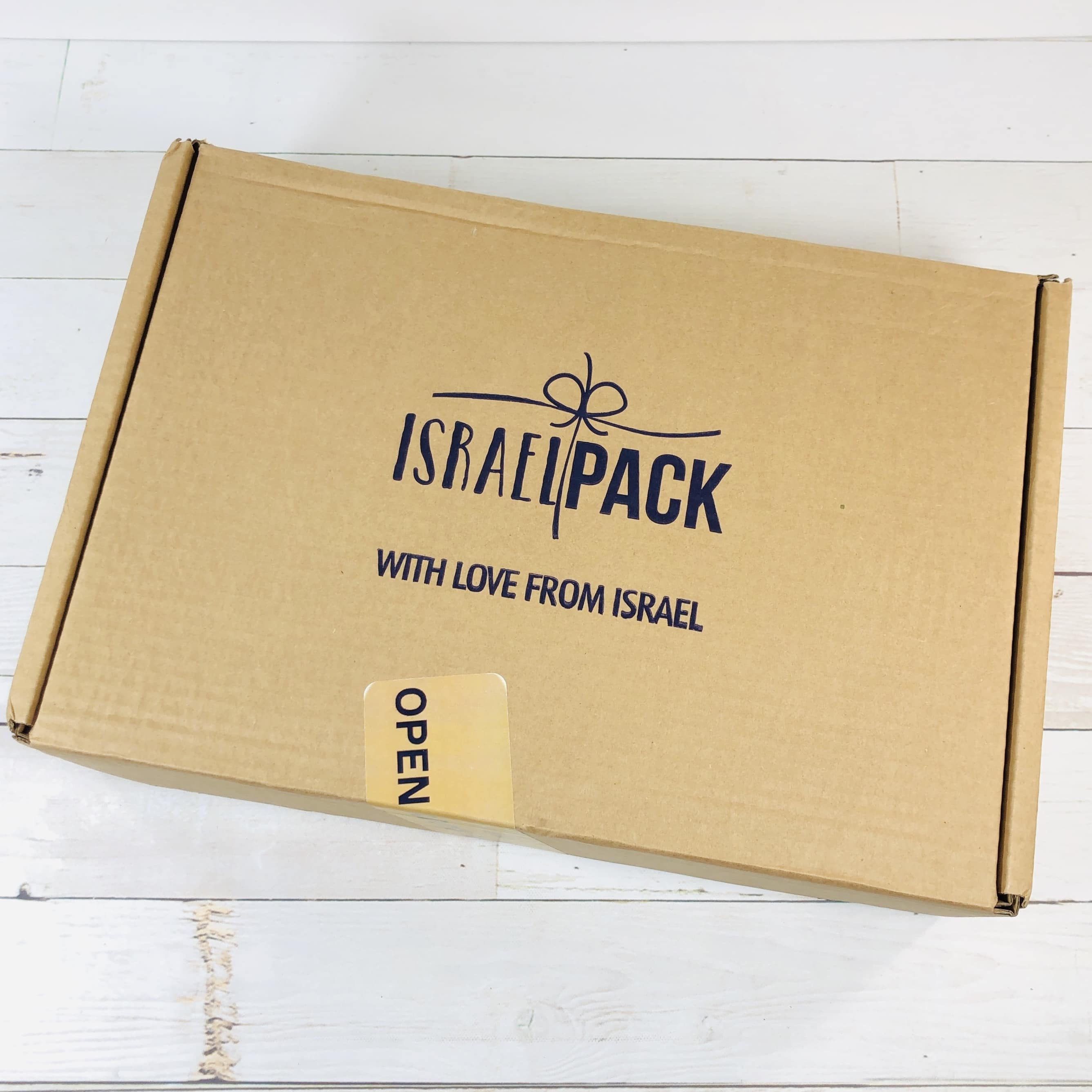 Israel Pack is a monthly subscription box with unique products from Israel handmade by local farmers and artisans. Each month you will receive 6-8 full-sized products such as tea, honey, olives, soap, home decor, or snacks. The subscription box is family-friendly and aims to promote a learning of the culture and history of Israel while giving back to the local farmers and artisans who make the products included in the box. Israel Box is $99 a month and includes free worldwide shipping!
Learn about Israel's history & culture and acquaint your children with the Holy Land
We believe that engaging with the world of Jewish arts, crafts and cuisine is the best way to learn about the Holy Land and to pass on the traditions to future generations.
DEAL: Get 35% off of your first box! Use coupon code GET35.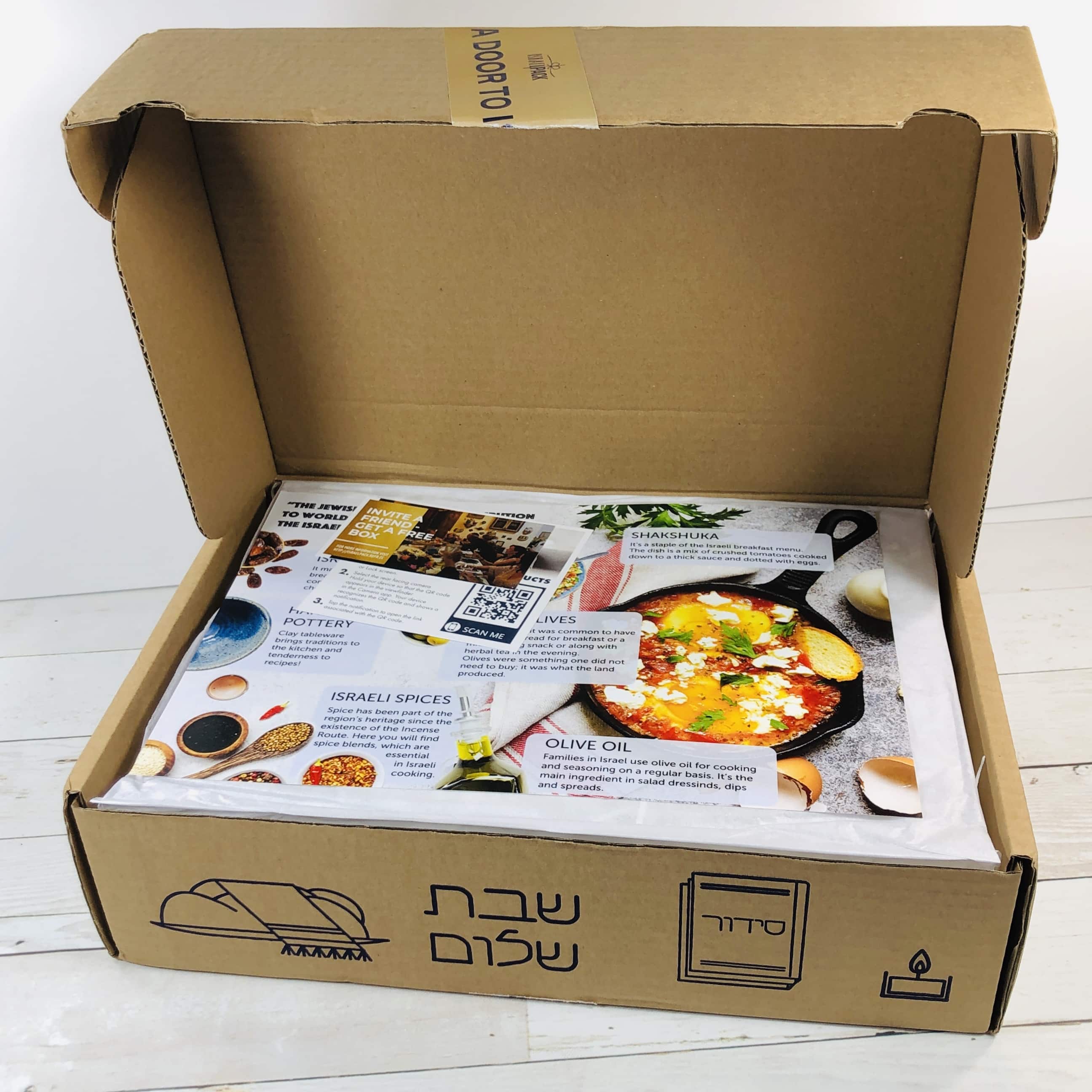 My box shipped direct from Tel Aviv and arrived quickly on my doorstep.
My items were wrapped in tissue paper and sealed with a sticker.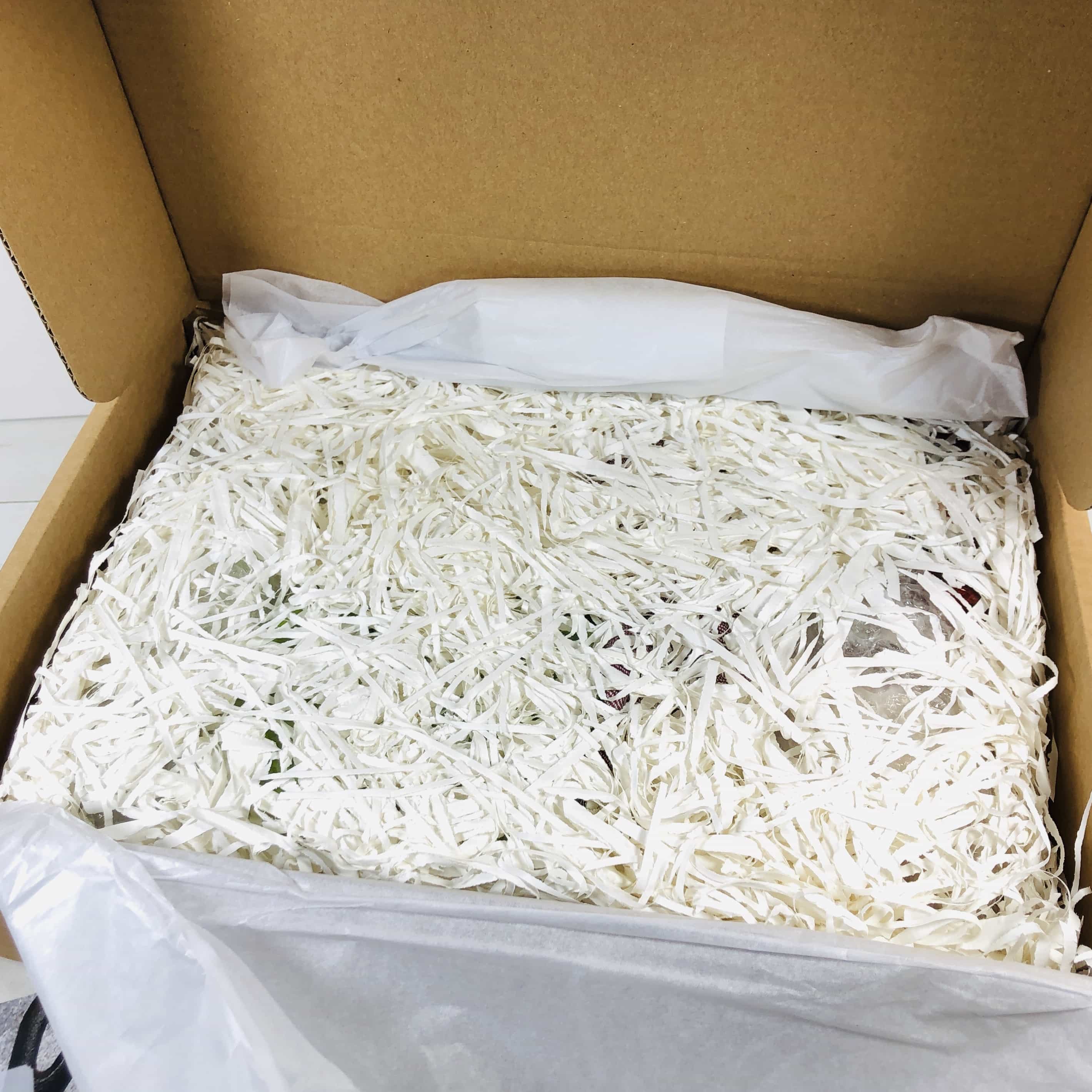 The items were cushioned with shredded paper squiggles.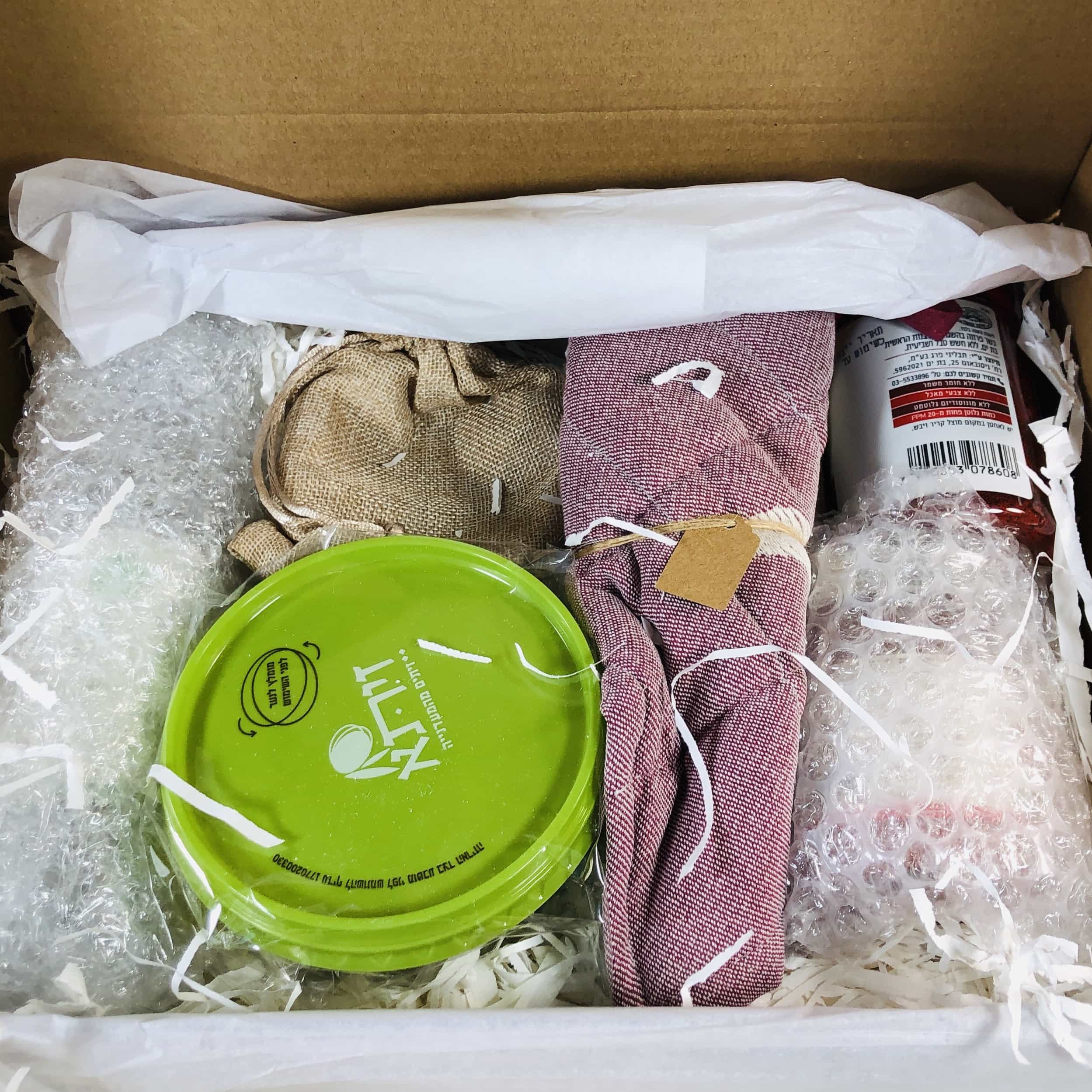 Some of the glass items were well protected in bubble wrap.
There were a couple of cards included. One has info on their referral program, the other has a QR code so you can learn more about the products in the box. I couldn't get the QR code to work but subscribers should get an email with all of the important info, including bonus recipes!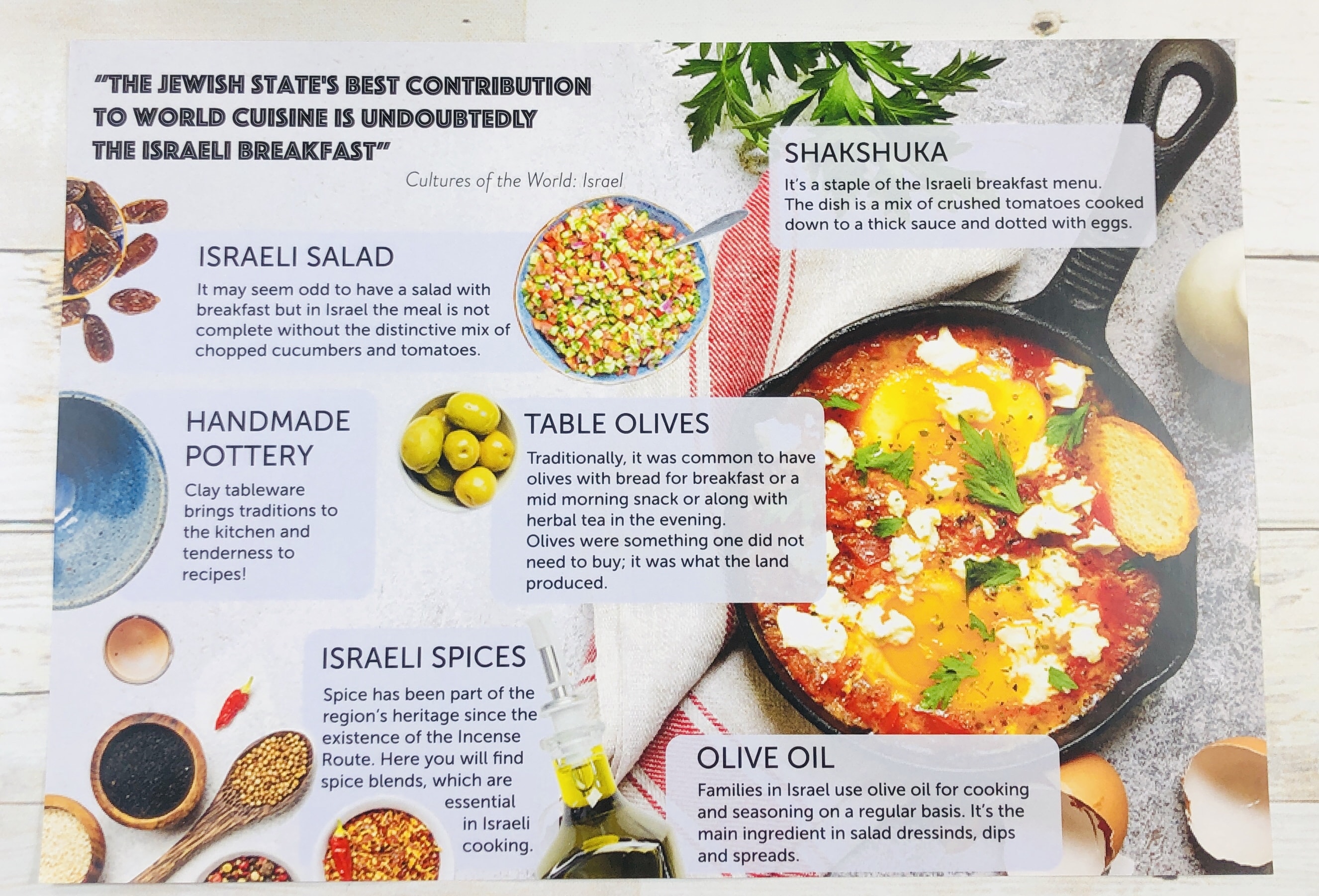 I received an insert which discussed some of the items from my box along with the Israeli breakfast.
The back of the sheet had each of the items from my box along with a recipe for Shakshuka, which I have never tried before. You can see my attempt and results later in this review!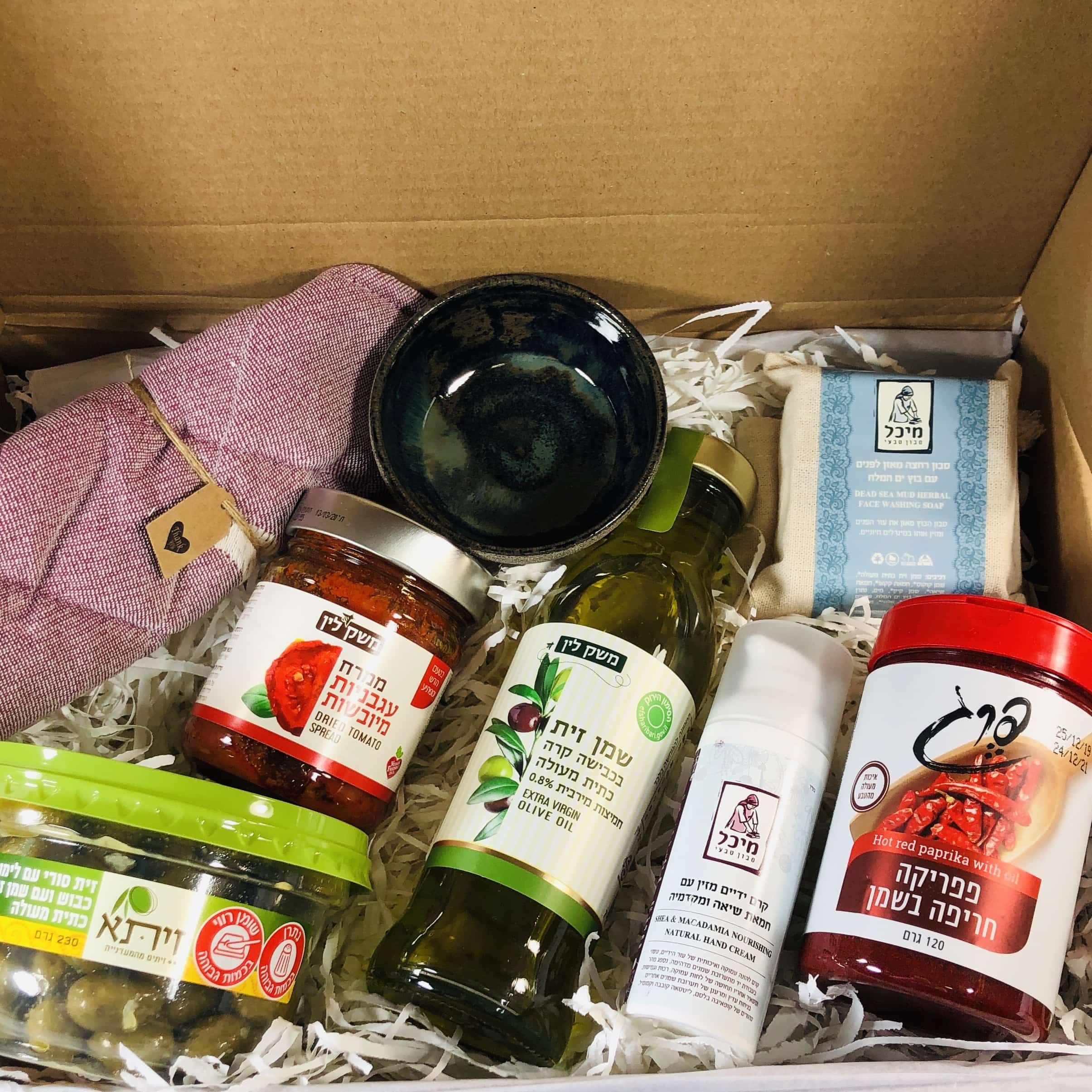 This is my very first box from Israel Pack!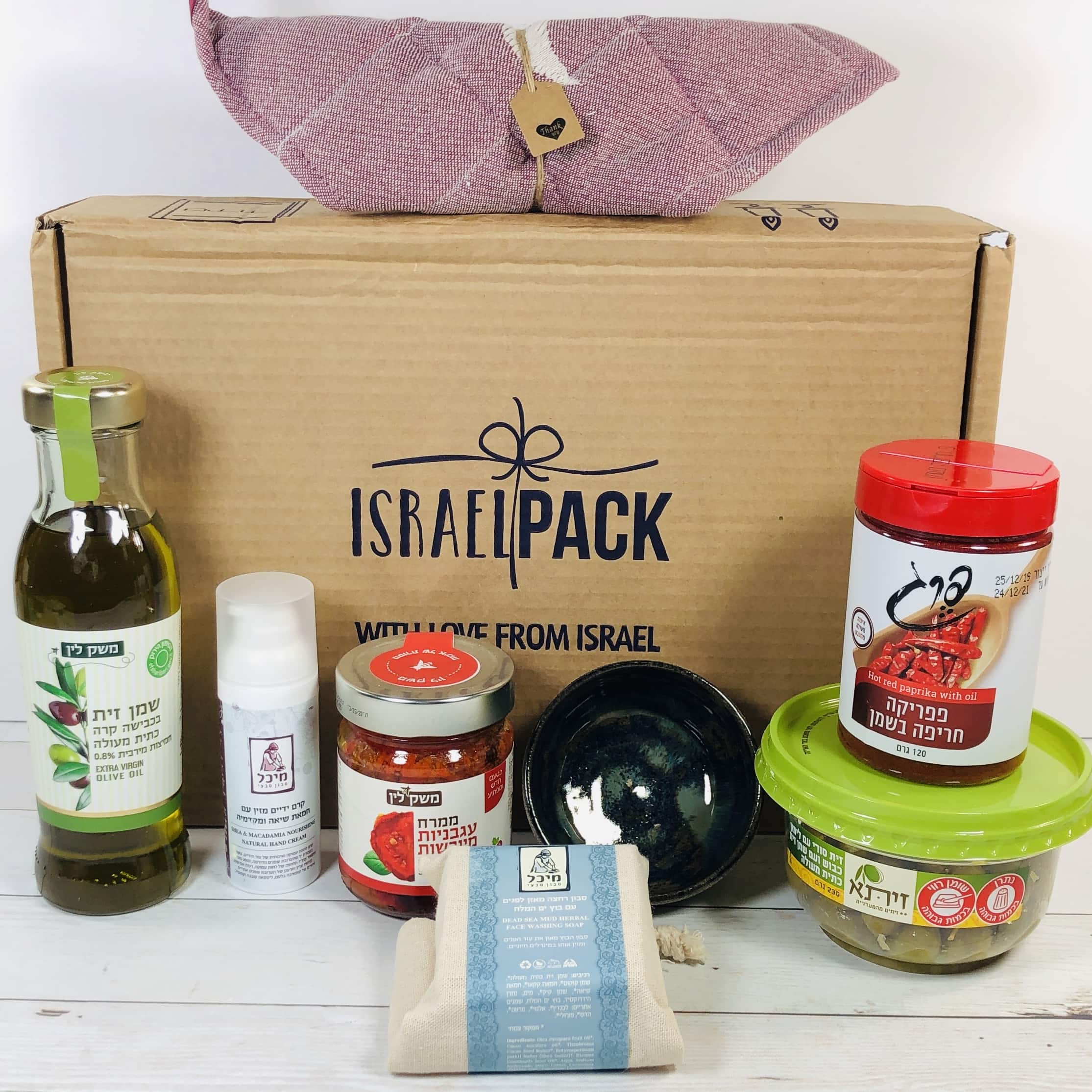 Everything in my box!
Please note: These items shipped direct from Israel and the writing on the containers is in Hebrew, which I cannot read. I linked to websites where available, but you may need Google to translate the page for you.
Zeta Olive Olives with Lemon Our first items is sort of a familiar one – I eat green olives all the time, but they usually have a red piece of pimento in the middle!
This one is flavored with pickled lemon.
Some of the stems were still attached and beware when you bite down because they still have a pit in the middle. These are bitter compared to my usual stuffed olives and they reminded me more of a Kalamata olive in flavor and texture. Very tasty!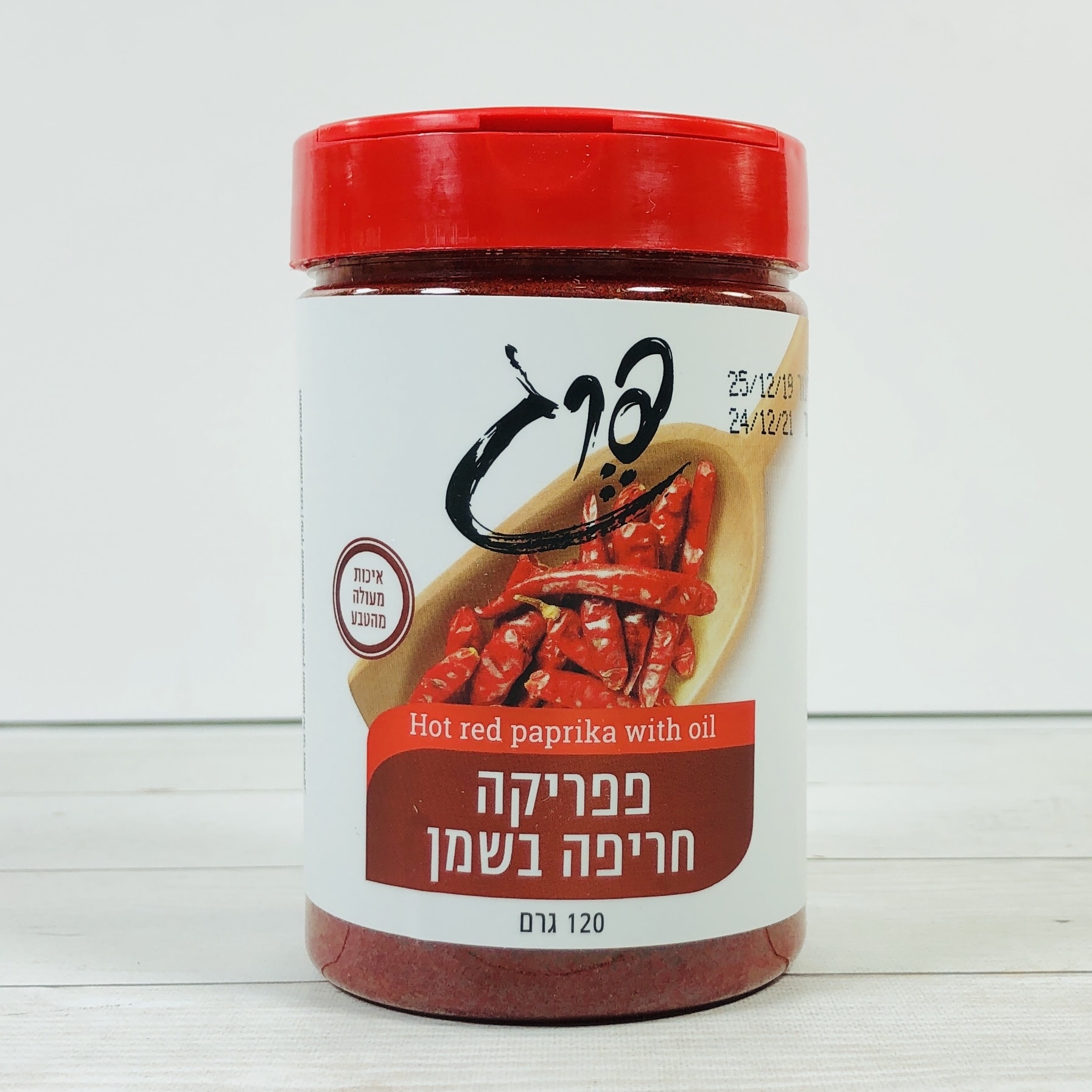 Pereg Natural Foods Red Hot Paprika with Oil ($5.20) Here is another item I use quite often, especially to top Deviled Eggs!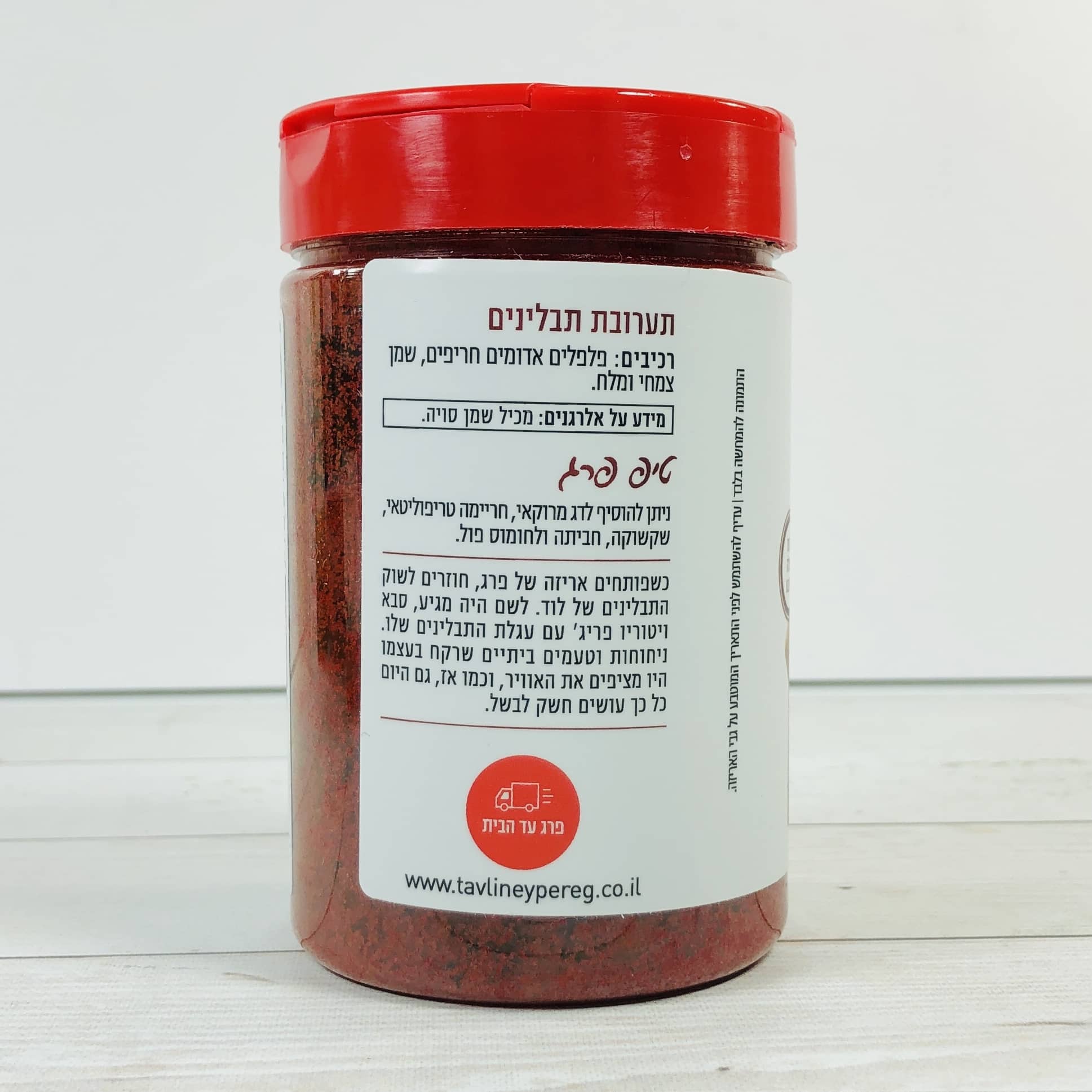 It looks just like the paprika from the store, but this one is spicy compared to my usual sweet paprika. It has a shaker top with two different sized openings and just the right amount of spice.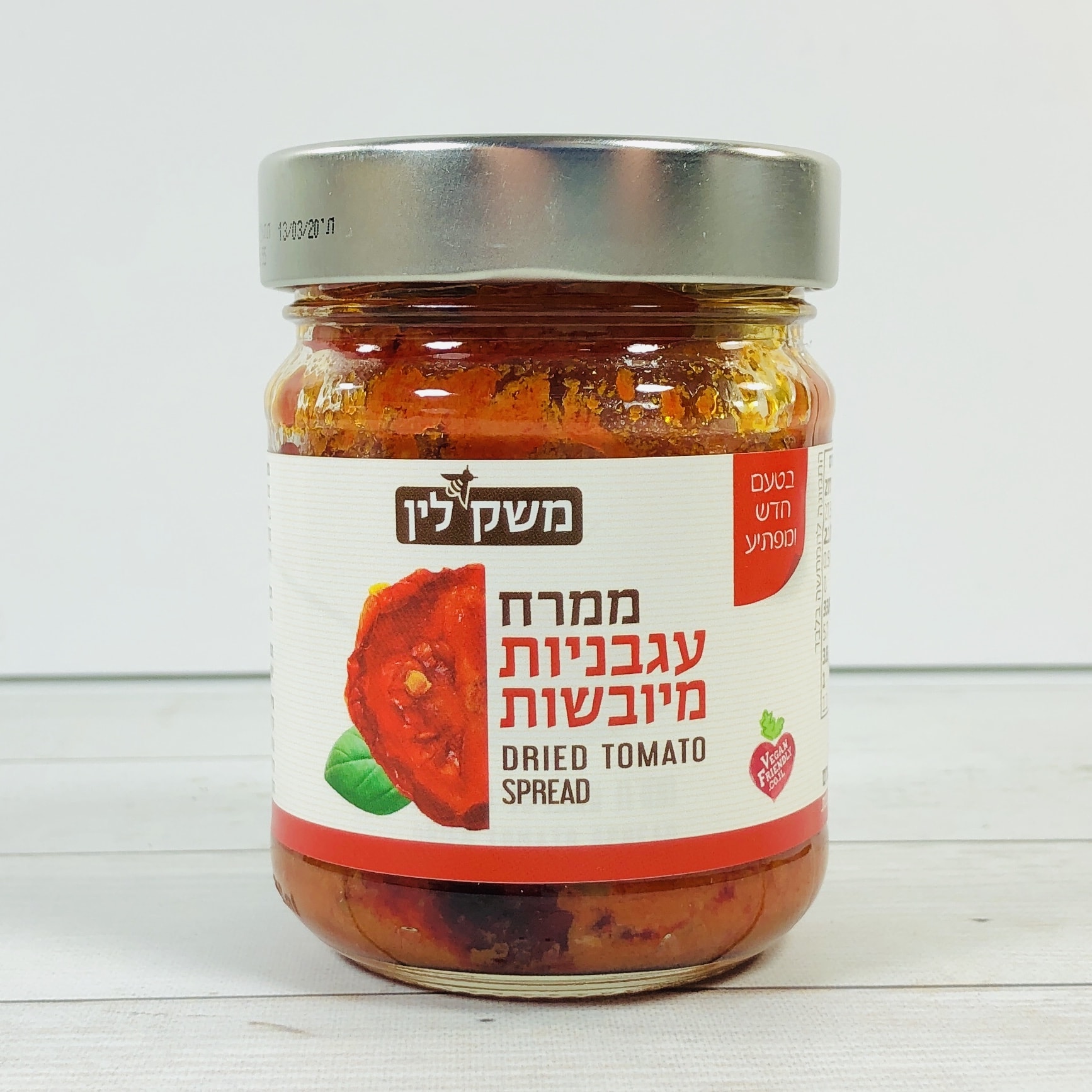 Lin's Farm Dried Tomato Spread With Basil I adore sun dried tomatoes and love their sweetness and flavor, so this was super cool to try, kind of like pesto but made with dried tomatoes!
I could eat it off the spoon and I think this would be good as-is on crackers, or maybe with a bit of cheese. Or spoon over some cream cheese, everything is good with cream cheese. Mix into mayo and spread on a sandwich. I used most of it up making Shakshuka but those are my plans for using up what remains.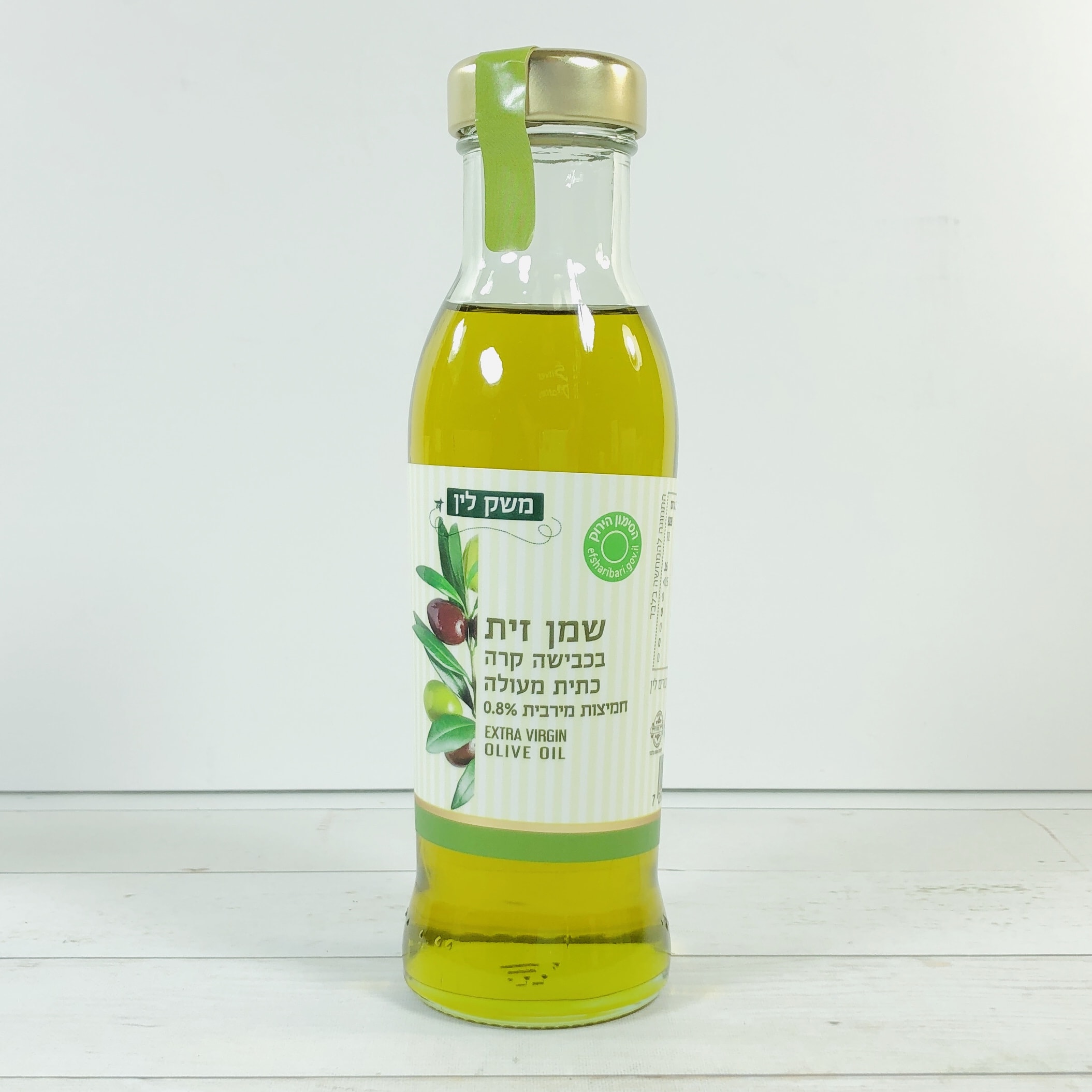 Lin's Farm Extra Virgin Olive Oil I am very familiar with olive oil, it is one of only two oils that I cook with regularly.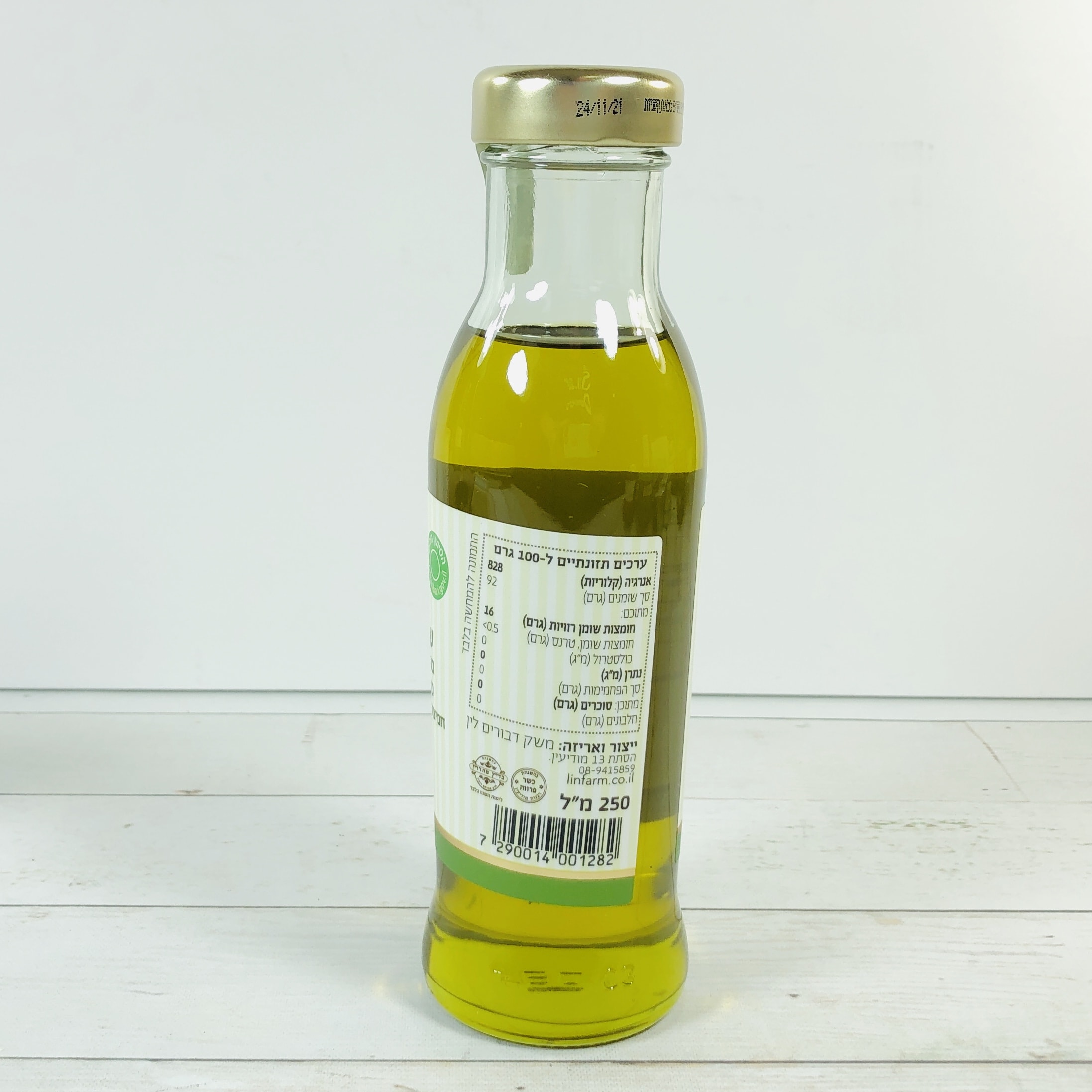 This is a bright olive oil, not too strong in flavor, but with more bite than my usual mild choice from the store. It's wonderful in salad dressings or for making a flavored oil for dipping bread. I used it in the recipe below and for a chicken dish for dinner and have already used 1/3 of the bottle! It's so good!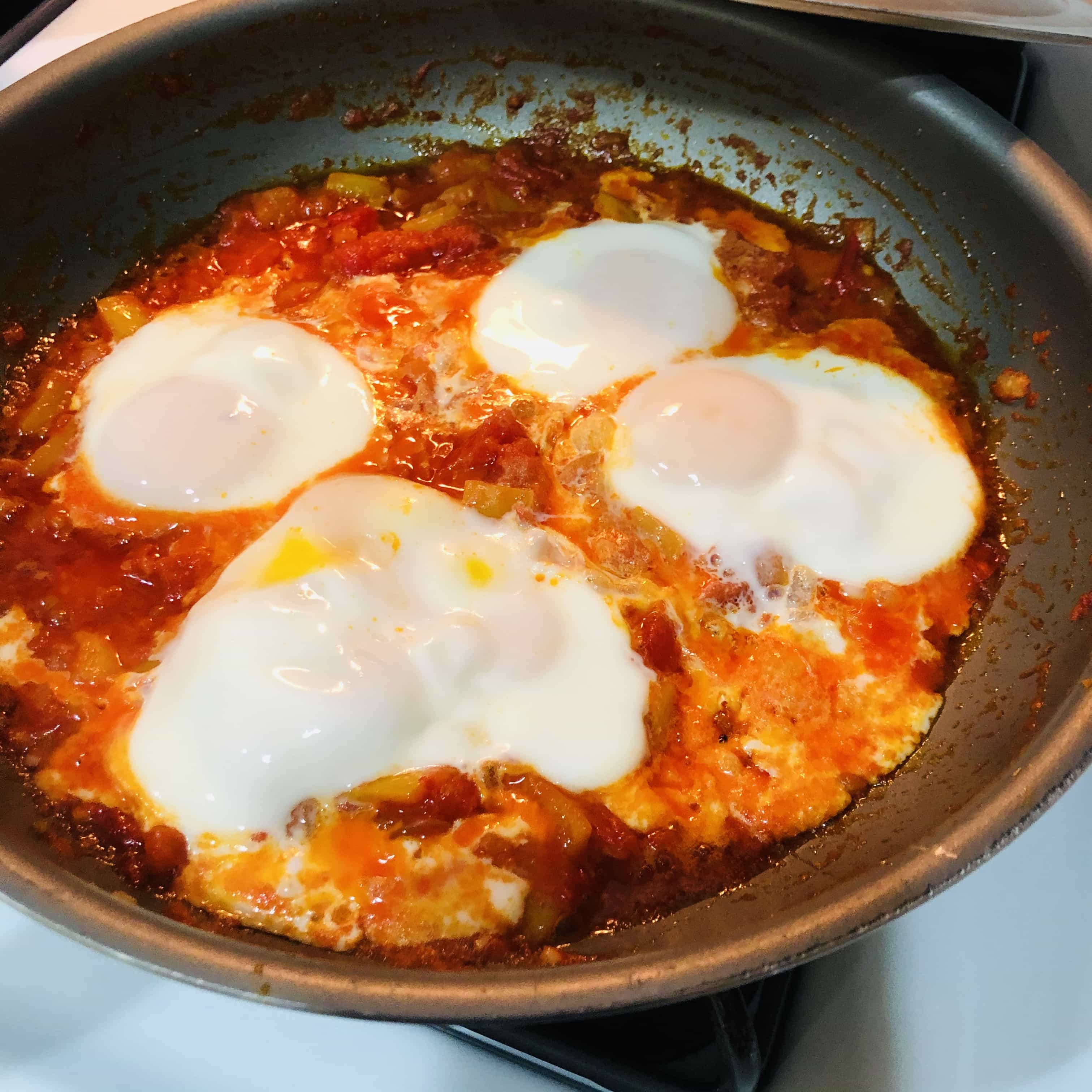 Here's a picture of the Shakshuka, a dish that features a tomato-based sauce with eggs simmered on top. I followed the directions given on the included recipe card and it made for a lovely weekend lunch. I used the olive oil, paprika, and tomato spread that were included in this box!
It's very familiar to me, similar to Huevos Rancheros but with a sweetness to it from the dried tomato spread and without the cheesy topping. I even served it with refried beans and tortillas but you could also eat it with pita and olives, maybe with a refreshing cucumber or tabouli salad on the side. I made this between grocery visits and the only thing I didn't have on hand was fresh parsley and that would have made the color pop.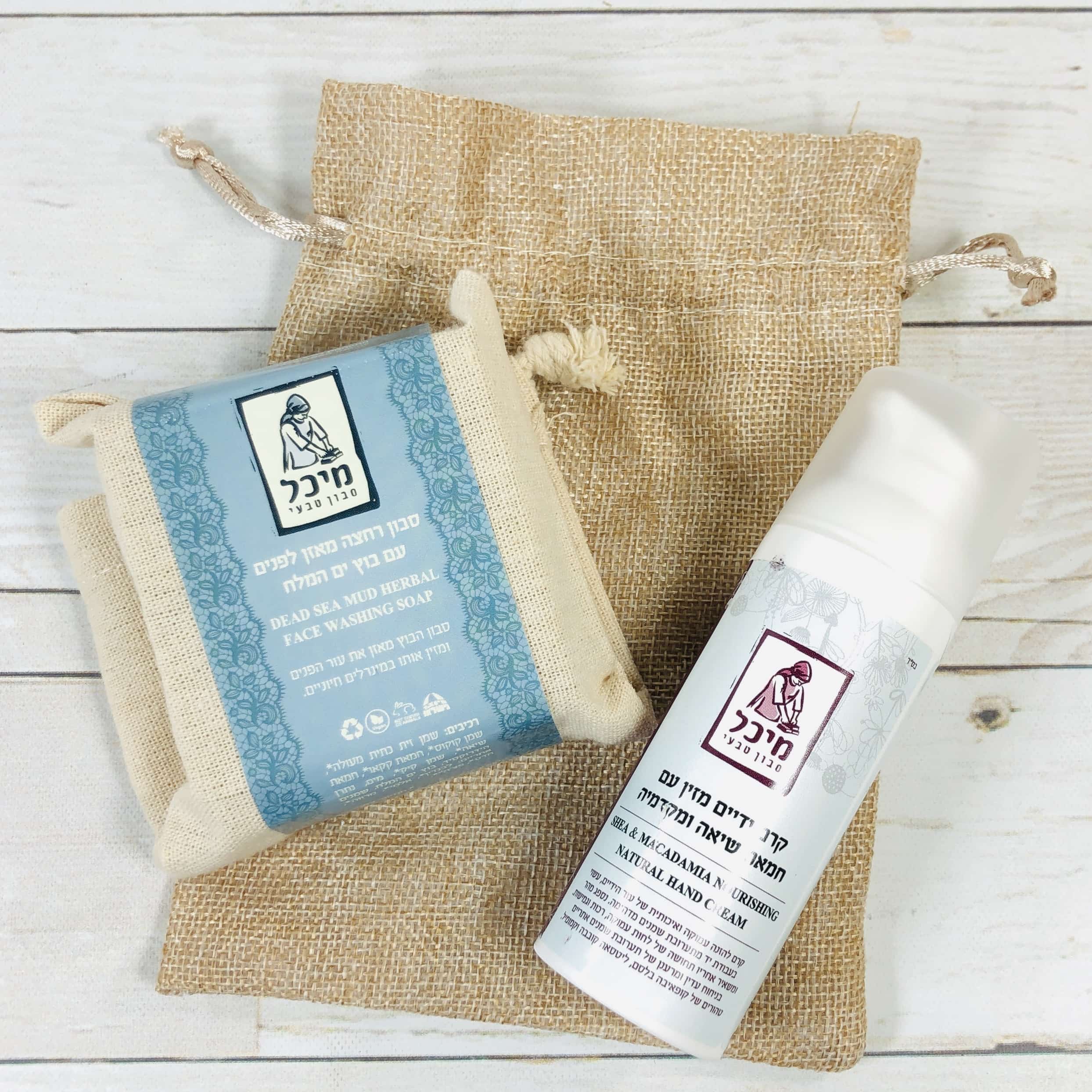 Sabon Michal Hand Soap & Hand Cream I received two products from this natural skin care line. They came in a bag suitable for gifting.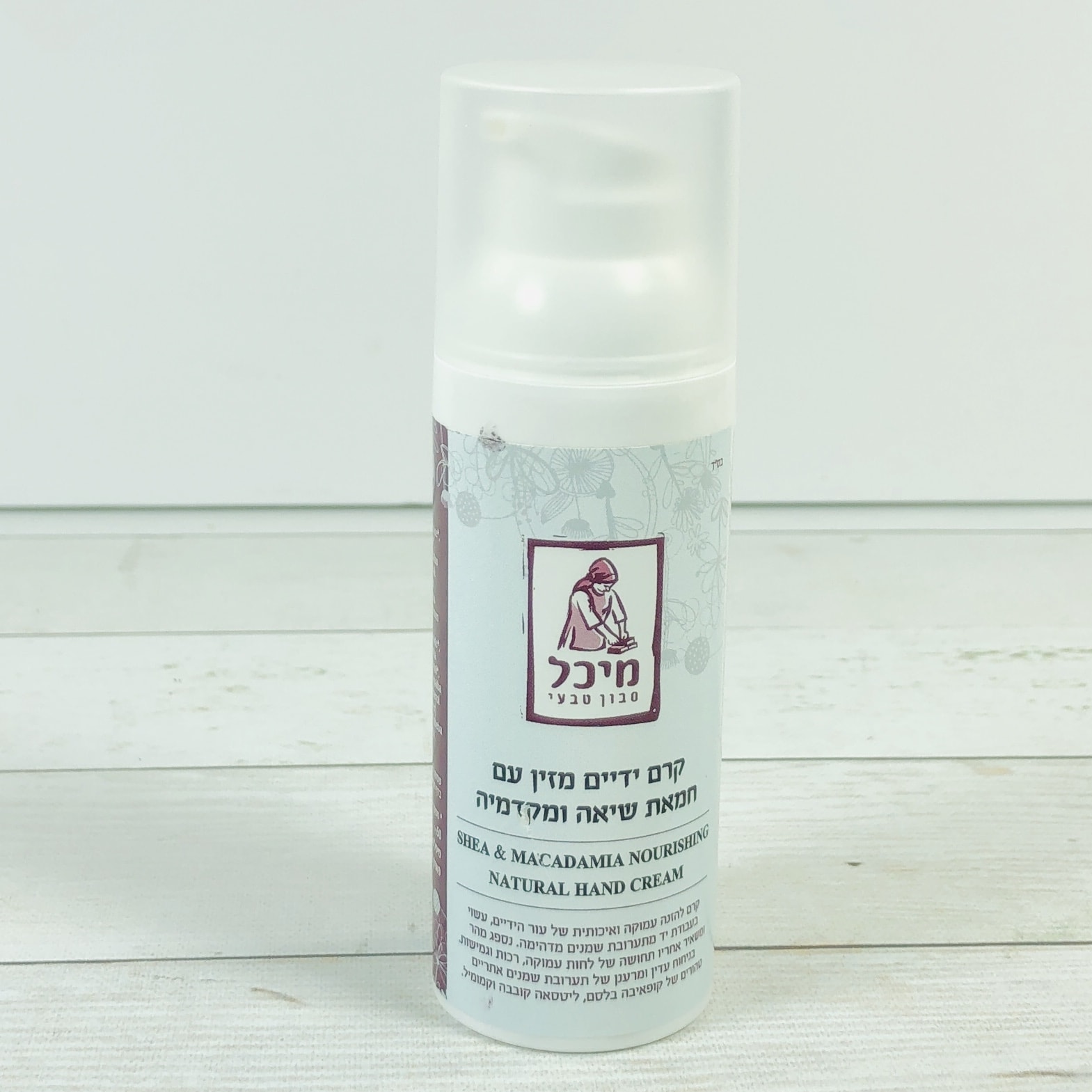 Shea & Macadamia Nourishing Natural Hand Cream is so soothing on my dry, rough hands. Like everyone else, I am washing my hands all the time, and they are looking a little haggard.
This lotion is made with grape seed, sweet almond, and macadamia nut oils, along with shea butter. It is scented with litsea and chamomile and smells a bit like lemongrass, but fades very quickly. It left my hands very soft, and will become my nighttime hand lotion thanks to how emollient it feels. A little goes a long way.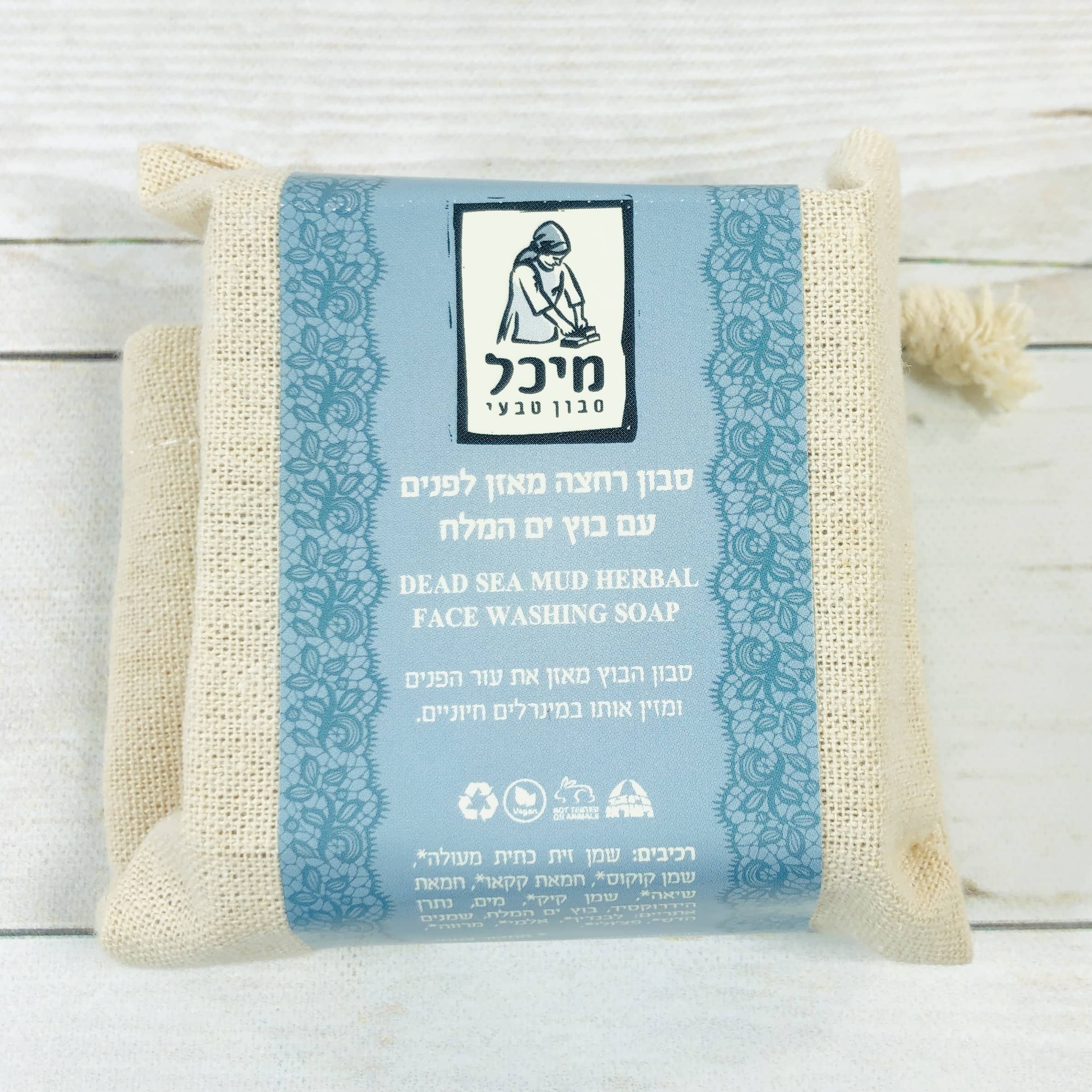 This says it is the Dead Sea Mud Herbal Face Washing Soap, but the info card says to use it as a hand soap, and that is what I will do. I am sure it would work perfectly well in the shower too.
Ingredients include olive and coconut oils, cocoa butter, and shea butter and the soap is scented with natural lavender essential oil.
I placed this in a dish near my kitchen sink and it is perfect, since it rinses clean and doesn't leave behind a scent. I prefer to use this while I'm cooking, who wants their hands to smell like roses when preparing dinner? The smell is beautiful, like walking into a natural beauty store, and smells warm and earthy, like lavender and patchouli. I love it!
Bowl From K-Clay Handmade Pottery It's small touches like this that make me love a subscription box. What a unique and beautiful piece to include! The inside of this bowl is glazed with shades of blue and tan. The info card suggested serving dips or olives in this dish but I also think it works as desk decor (to hold paper clips or whatever) or as a ring bowl.
The bottom has a maker's mark on the back. The bowl is about 3.5″ across the top.
Topa-Top Handmade Potholder I always need a potholder in my kitchen, maybe there should be a subscription box for them because I can never find one!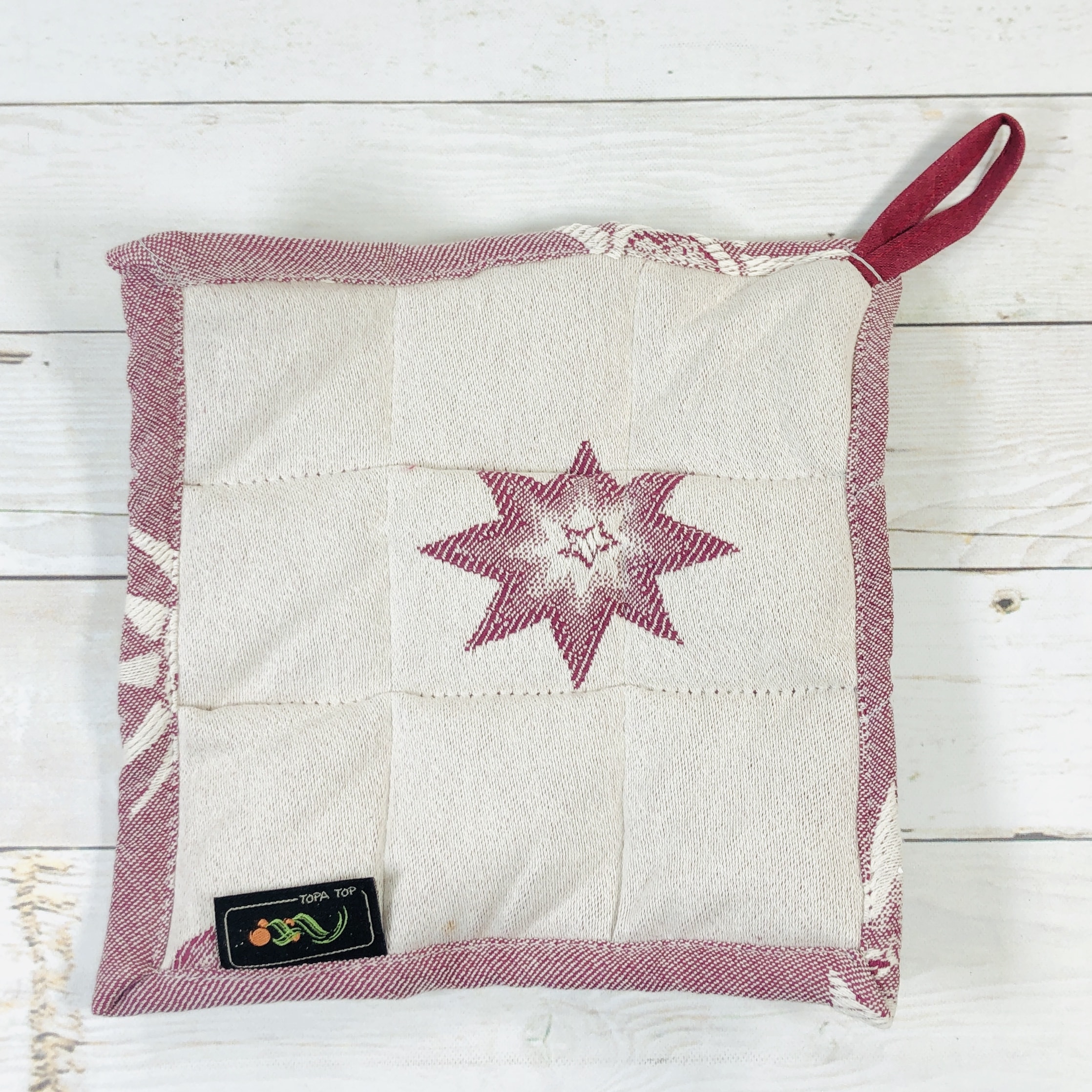 This one is made of soft cotton jacquard and comes from a company known for its mom and baby items, like carriers. One side has a star…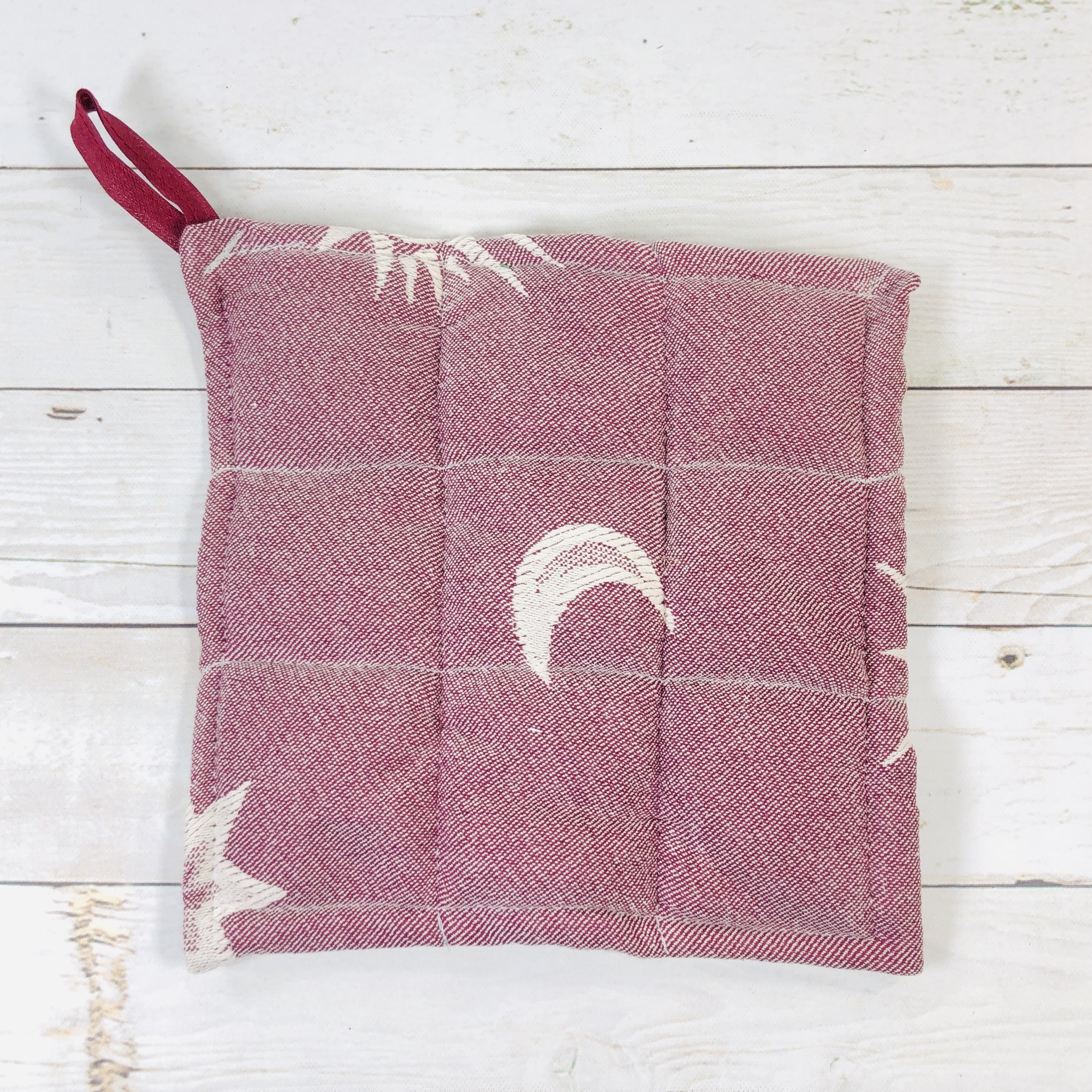 …while the other has a moon. There is a loop for hanging and the potholder is about 7.5″ square.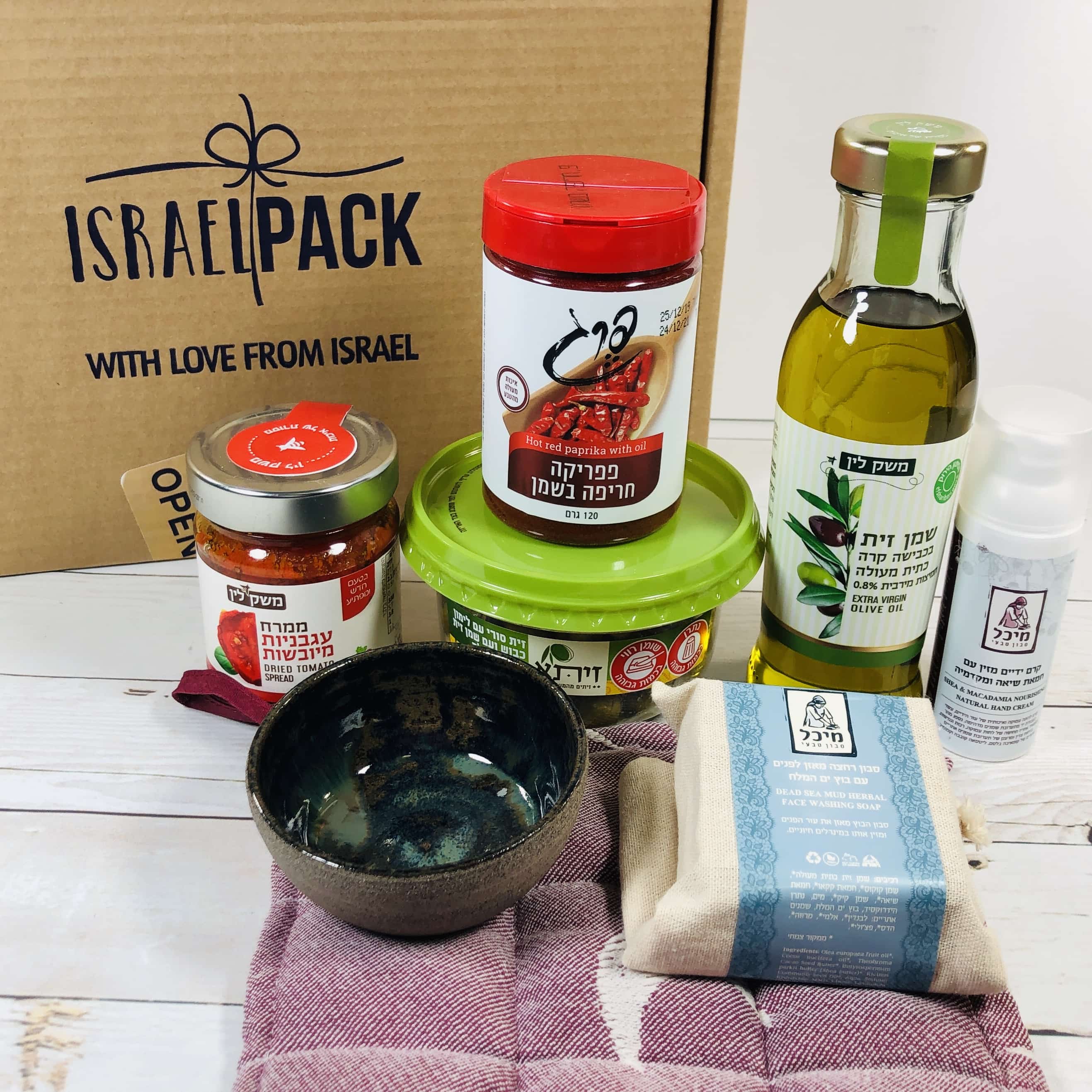 Wow, I was very impressed with the May Israel Box! The items were high-quality and I enjoyed using each of them. I liked the assortment too, and I never knew that sun-dried tomato spread was something I needed in my life. I won't have to buy paprika for quite a while and the lotion and soap are already getting steady use. The olive oil and olives will be gone before too long. The bowl will look beautiful on my bedroom dresser, and the potholder will stay next to the stove from now on. The additional info from the email was very informative, letting me know all about the makers and their businesses. I made Shakshuka for the first time ever and it was super tasty, and also ridiculously easy. My oldest worked at a Jewish camp one summer and made friends with someone from Israel, and her friend said she uses some of these products, like the soap. I was happy to share this box with my family, and if you want to learn more about Israel and its customs, then this is a good way to explore, with delicious results.
What do you think of the Israel Pack review? Let us know your thoughts!