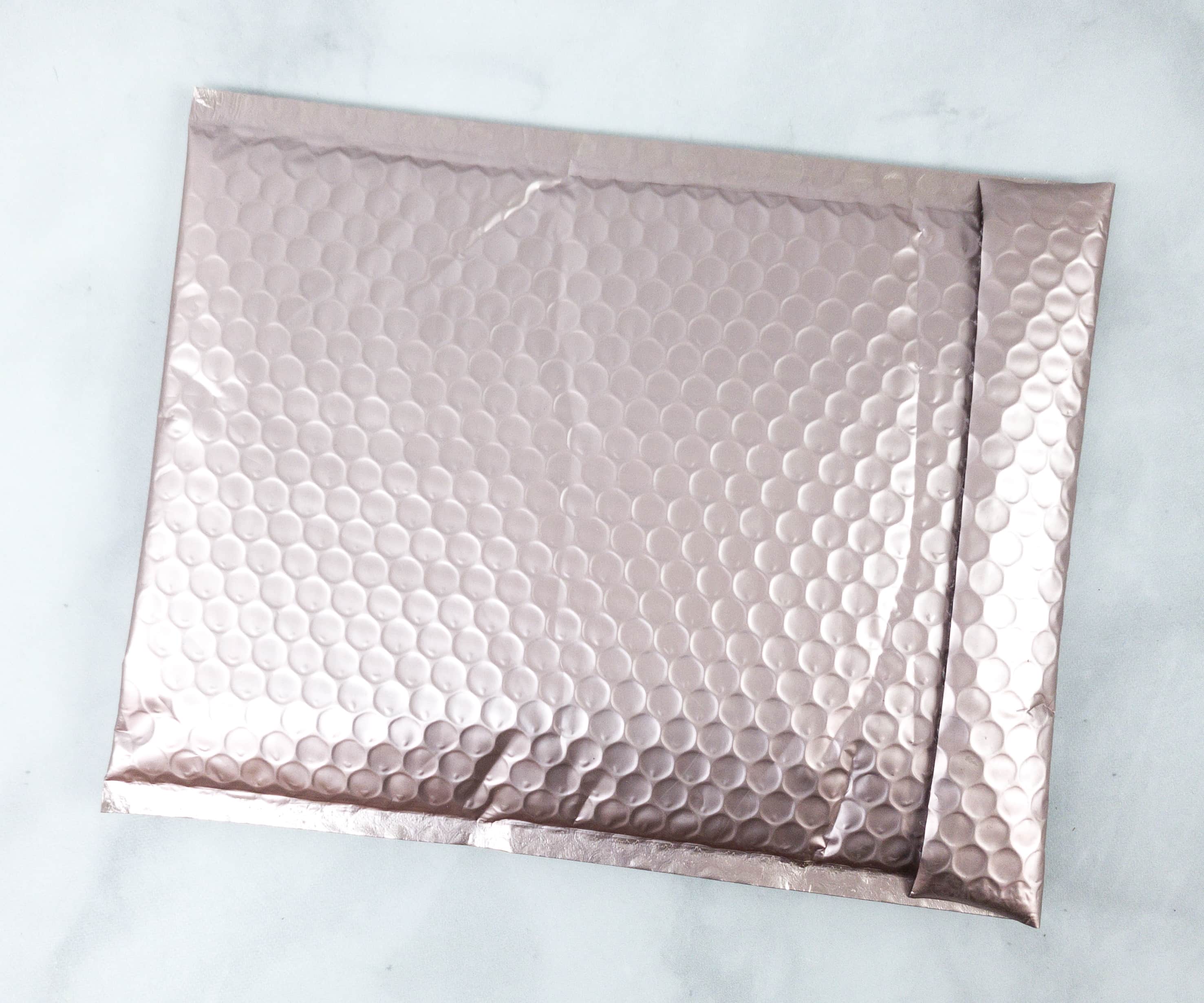 Glamour Jewelry Box is a monthly jewelry subscription. Each box includes 3 trendy boutique pieces, which may include necklaces, rings, bracelets, or earrings. The best thing is that they're all for you to keep! Boxes start at $29.95, with a promised retail value of $75+!
DEAL: Get 10% off your first box! Use coupon code CJ10.
The package came in a padded mailer.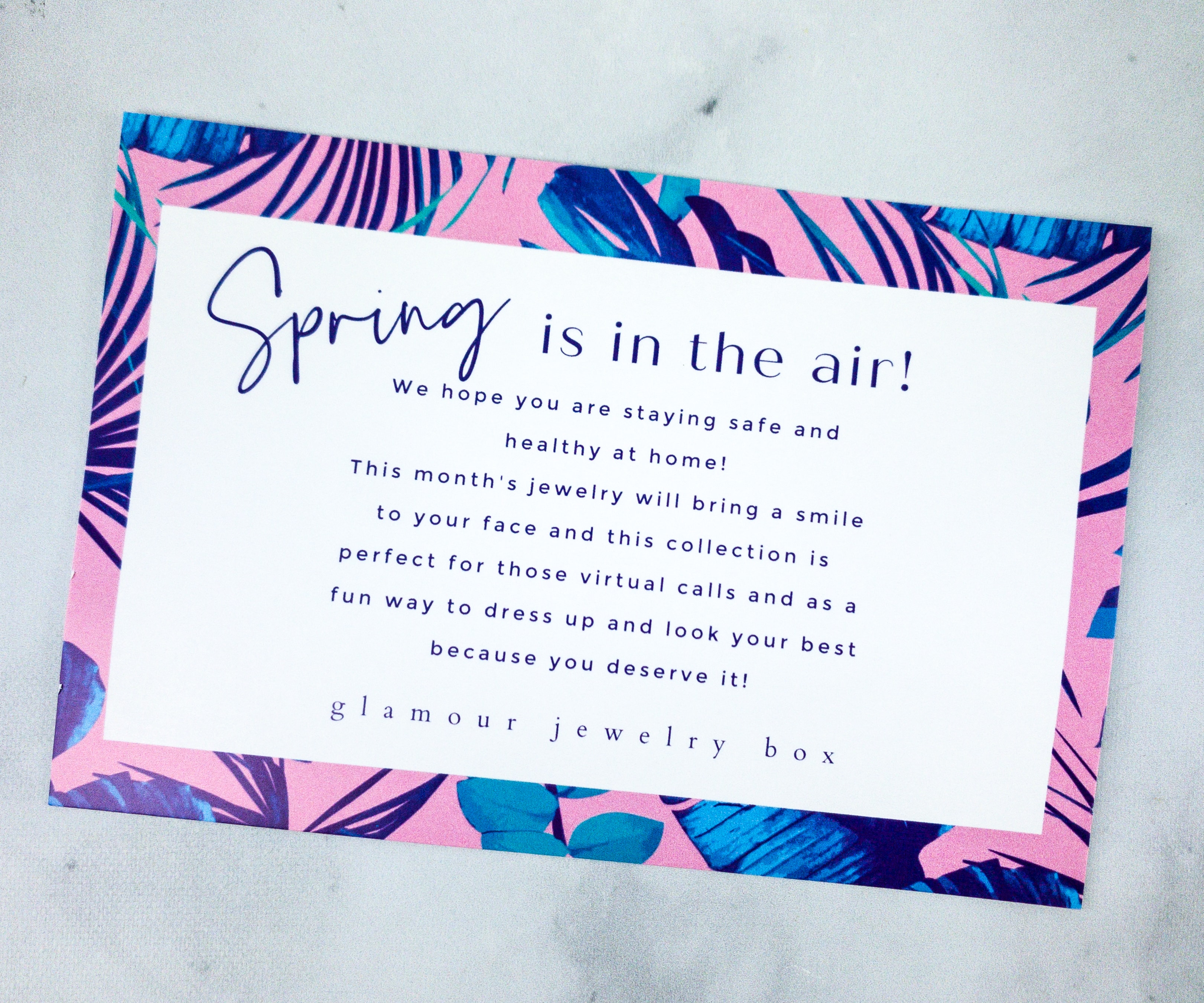 There's also a card with a message from the Glamour Jewelry Box Team!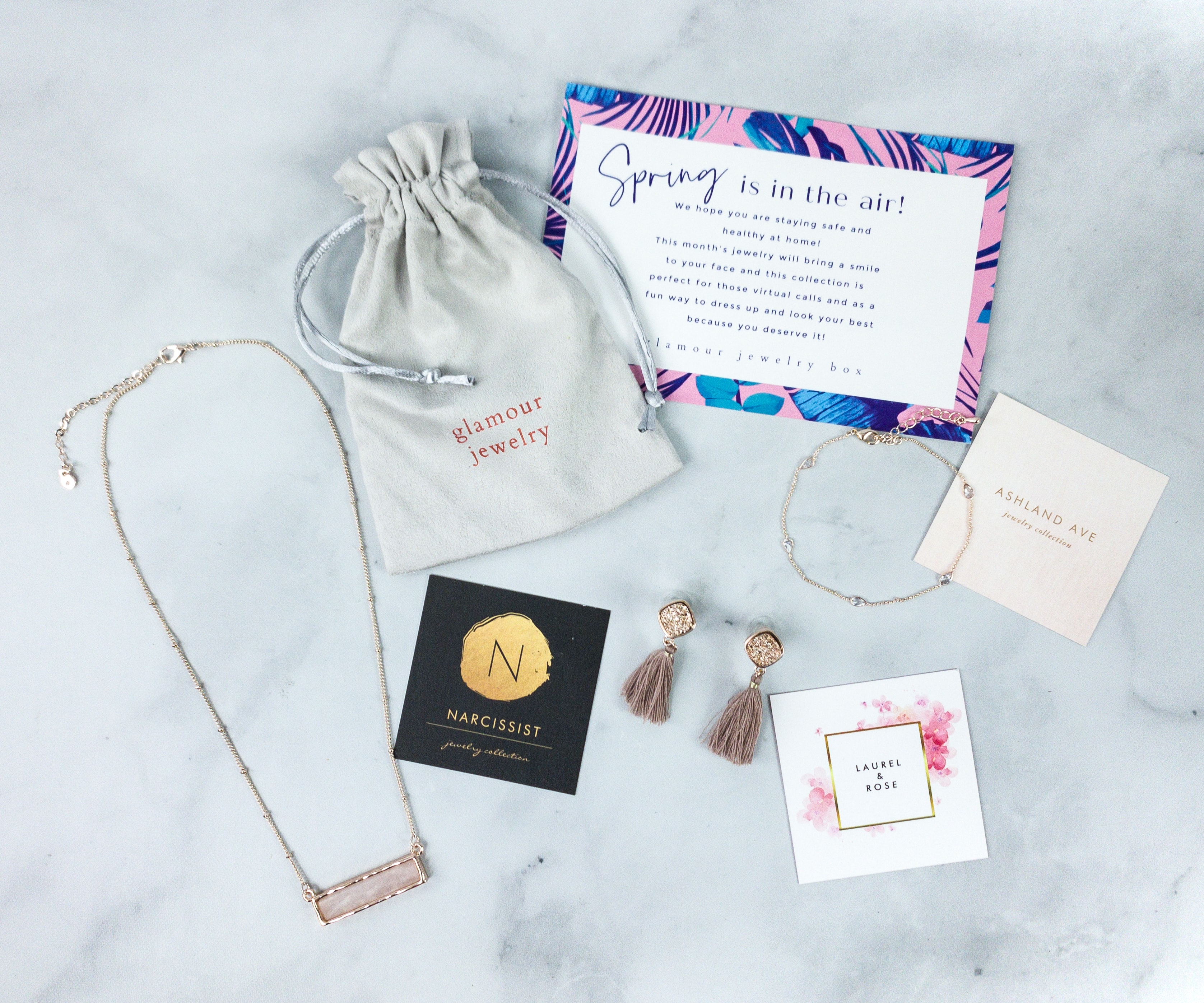 Everything I received this month!
All the items came inside this gray drawstring pouch with the brand name emblazoned on it.
Ashland Ave. Sunset Blvd. Bracelet ($26)
The Sunset Blvd Bracelet embodies a simple, delicate and dainty look that is timeless yet trendy. Pair this with a cuff or wear this gorgeous bracelet solo, both looks are sure to please.
It's a dainty bracelet, with stones perfectly spaced together to give a uniformed look to the whole piece. The bracelet also came with a built-in extender so you can wear it as loose as you want.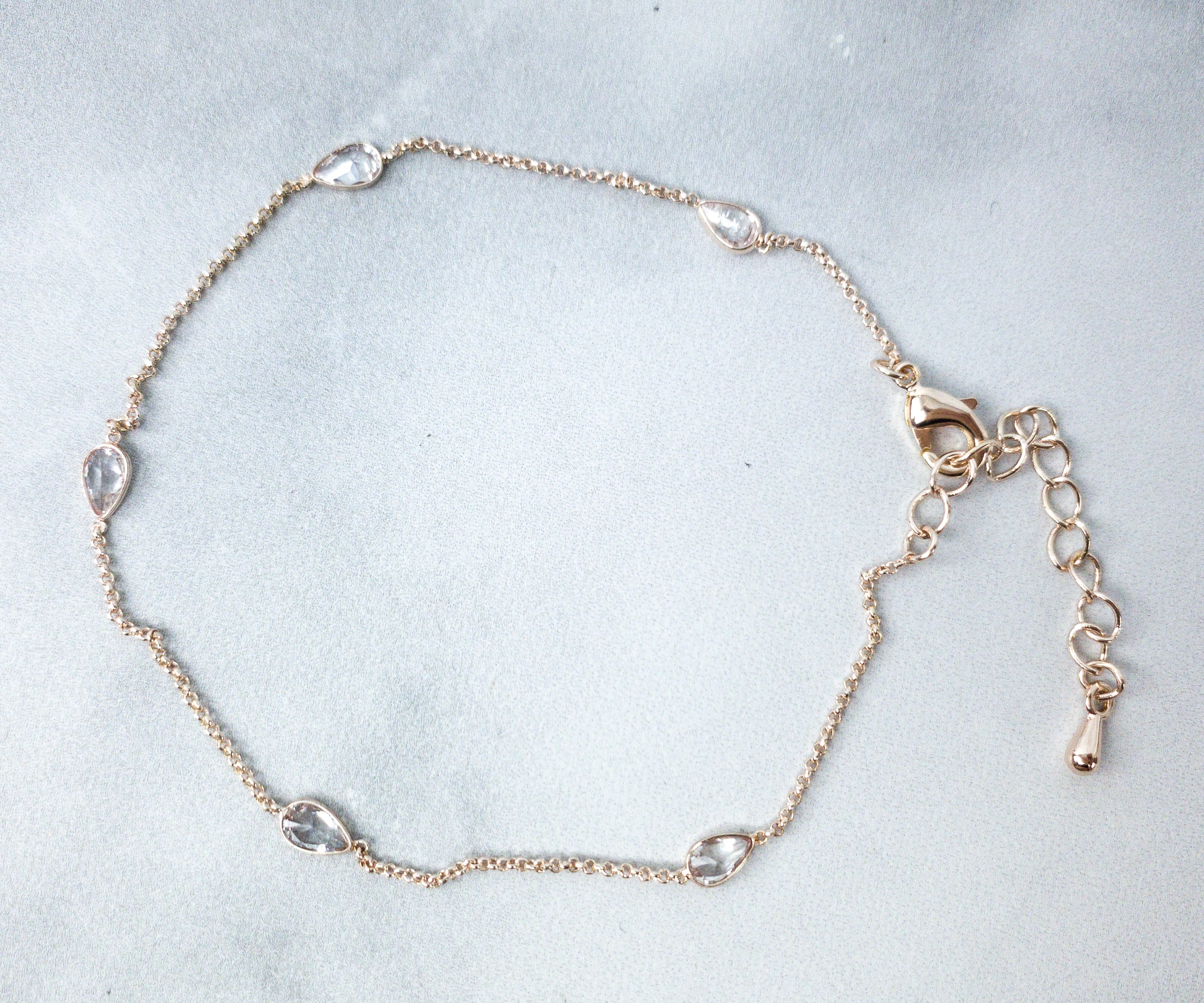 I love how delicate this looks. It also has that vintage charm to it. I love wearing this alone as I find that it's really pretty on its own but you can stack these with more bracelets or mix and match with a few cuffs to get an edgier look!
Narcissist Roselyn Necklace ($27)
With a modern bar silhouette, the Roselyn Necklace is the ideal everyday necklace to layer or wear on its own. A beloved style, you'll adore the elegance of this piece that will complement any outfit.
This stunning bar necklace is a perfect accessory to go with a formal outfit. The chain is thin and has small evenly spaced beads to add more character to the piece. It also includes a built-in extender so you can wear it longer for when you want to do layers with your necklaces.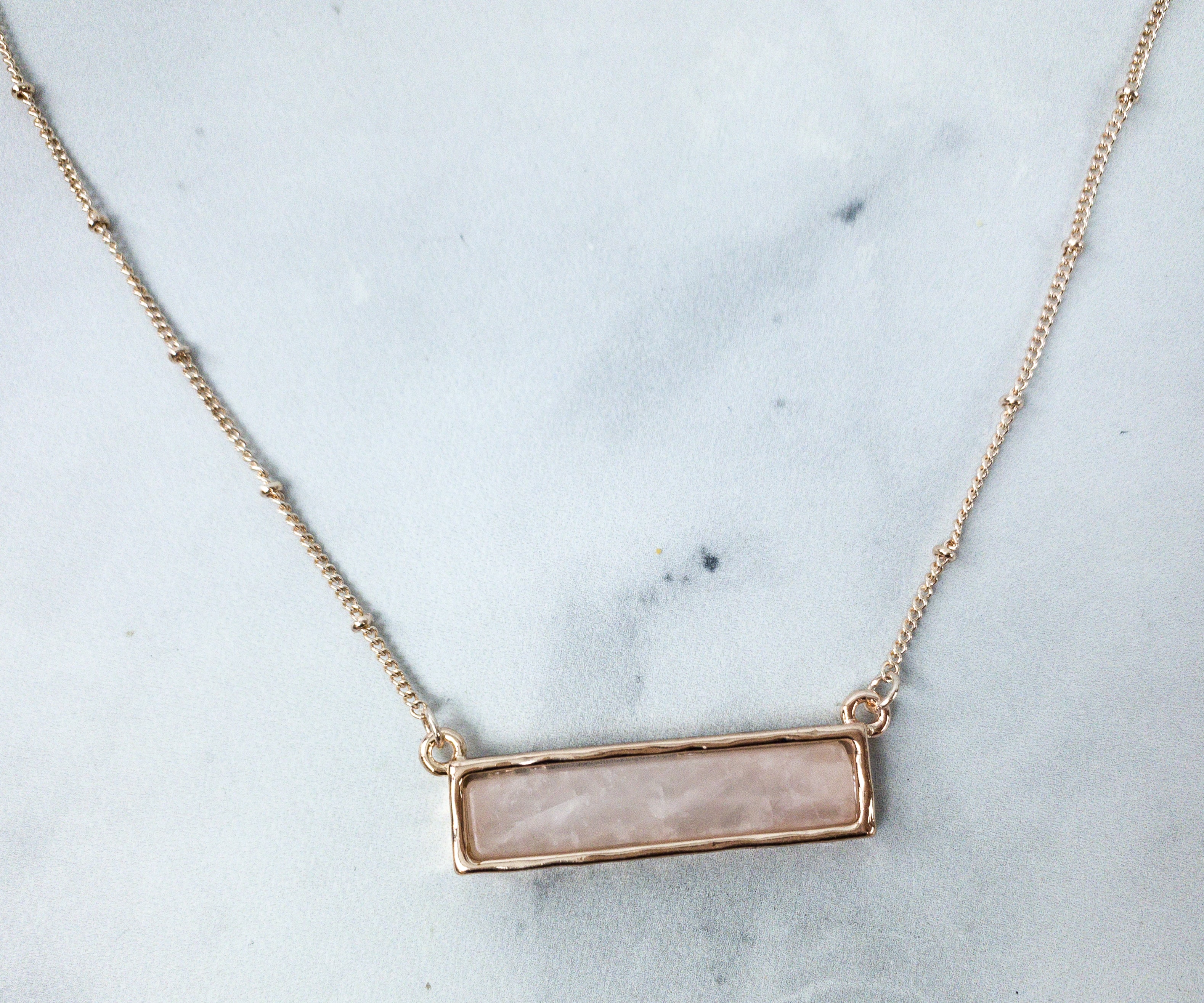 This one looks really good whether worn as is or layered. The bar has something that I think looks like rose quartz and it's really pretty!
Laurel & Rose Melrose Earrings ($27)
These lightweight tassel earrings showcase a gorgeous druzy stone making these the ideal accessory to dress up your outfit for the day or evening. The Melrose Earrings will be the pair you'll reach for again and again this season!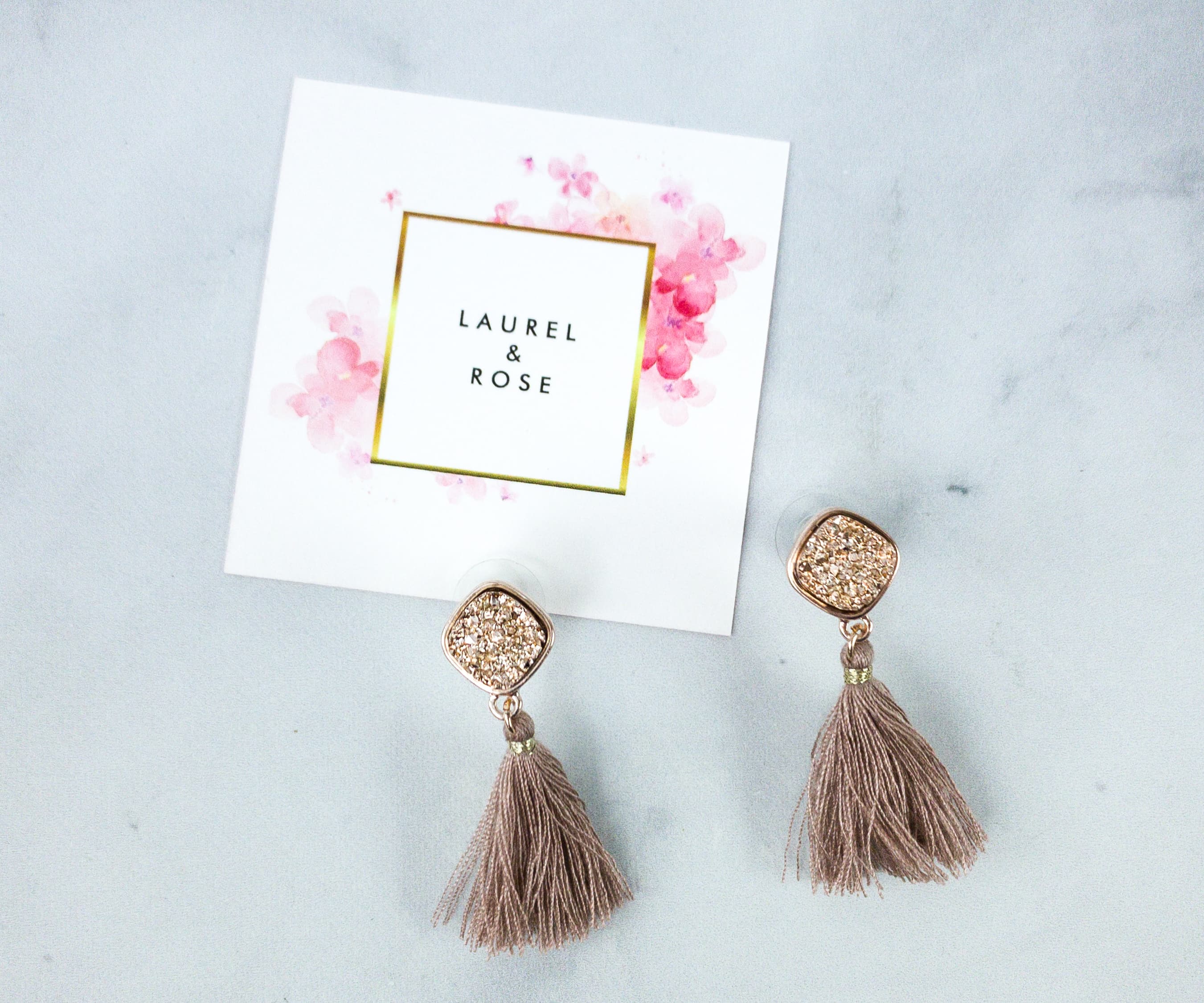 I love these earrings! They have a very bohemian feel and they make for a great statement piece!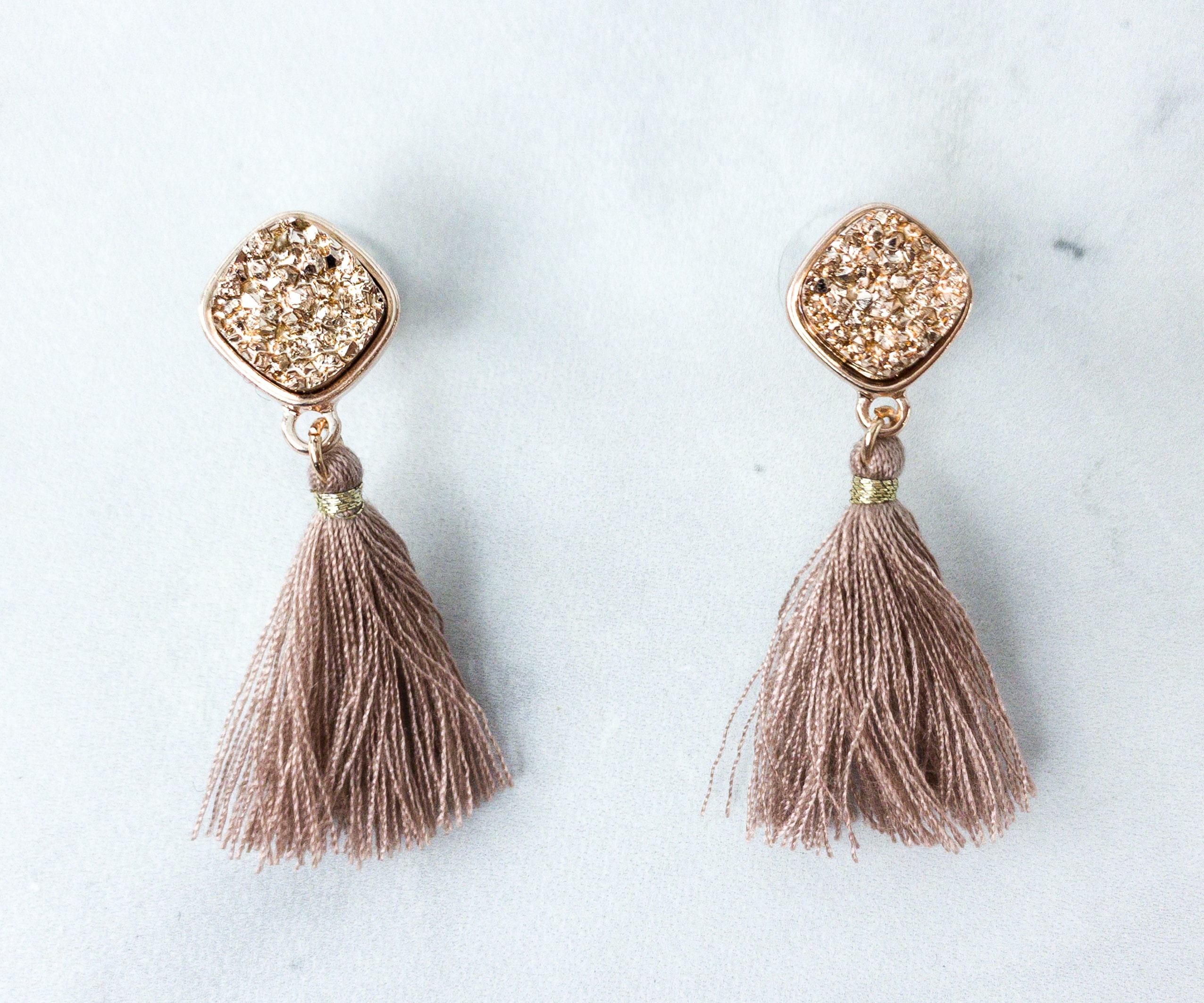 The dusty rose gold tassels are held up by a gold druzy stone that looks really amazing when hit by the light. They're definitely something you can wear on a more casual occasion as it's elegant but this piece has a fun side to it!
Glamour Jewelry Box has once again surprised me with gorgeous pieces! I love how this month we get to see a bit of color, with the dusty rose tassel and the rose quartz. My favorite piece from this box is the necklace because I love how simple but striking it looks. It's elegant, charming, and timeless. It's a piece that I can surely see myself wearing! The other pieces are also wonderful and I am so happy with this month's box! They never fail to make me smile with the unique items that come inside each box!
Have you tried Glamour Jewelry Box yet? What do you think of this month's box?