Force of Nature is an appliance that turns your tap water plus other ingredients into a multi-purpose natural cleaner and deodorizer as effective as bleach. It's certified by EPA as one of the Disinfectants for Use Against SARS-CoV-2, the cause of COVID-19. You can get the Starter Kit for $89.99, and you can also purchase 25-count Activator Capsule refills at $18.99 for subscribers and $19.99 for non-subscribers. You'll receive an electrolyte with a power cord, a re-usable 12 oz. spray bottle, 5 activator capsules, a guide, and a user manual for your Starter Kit. An activator capsule makes one 12 oz. bottle that lasts 2 weeks.
This is the review of the Starter Kit.
DEAL: Get 20% off on Starter Kits + FREE Shipping! Use coupon code HELLOSAVINGS.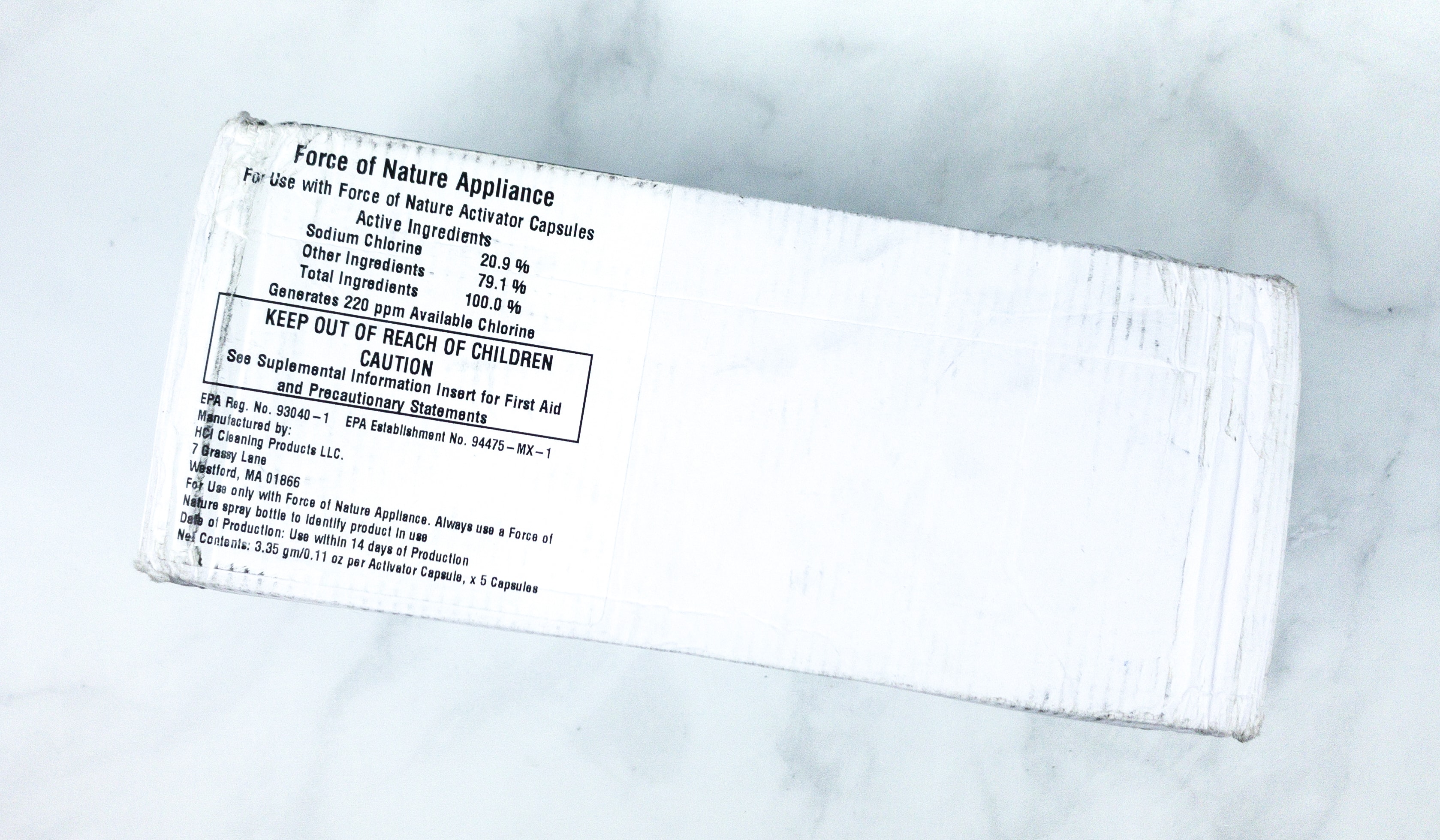 Force of Nature kills viruses and bacteria, including Norovirus, Influenza A, Salmonella, MRSA, Staph and Listeria. It can be used against Coronavirus as well.
Force of Nature is on the EPA's list of Disinfectants for Use Against SARS-CoV-2, the cause of COVID-19. Force of Nature has demonstrated effectiveness against viruses similar to COVID-19 on hard, non-porous surfaces. Therefore, Force of Nature can be used against COVID-19 when used in accordance with the directions for use against Norovirus on hard non-porous surfaces.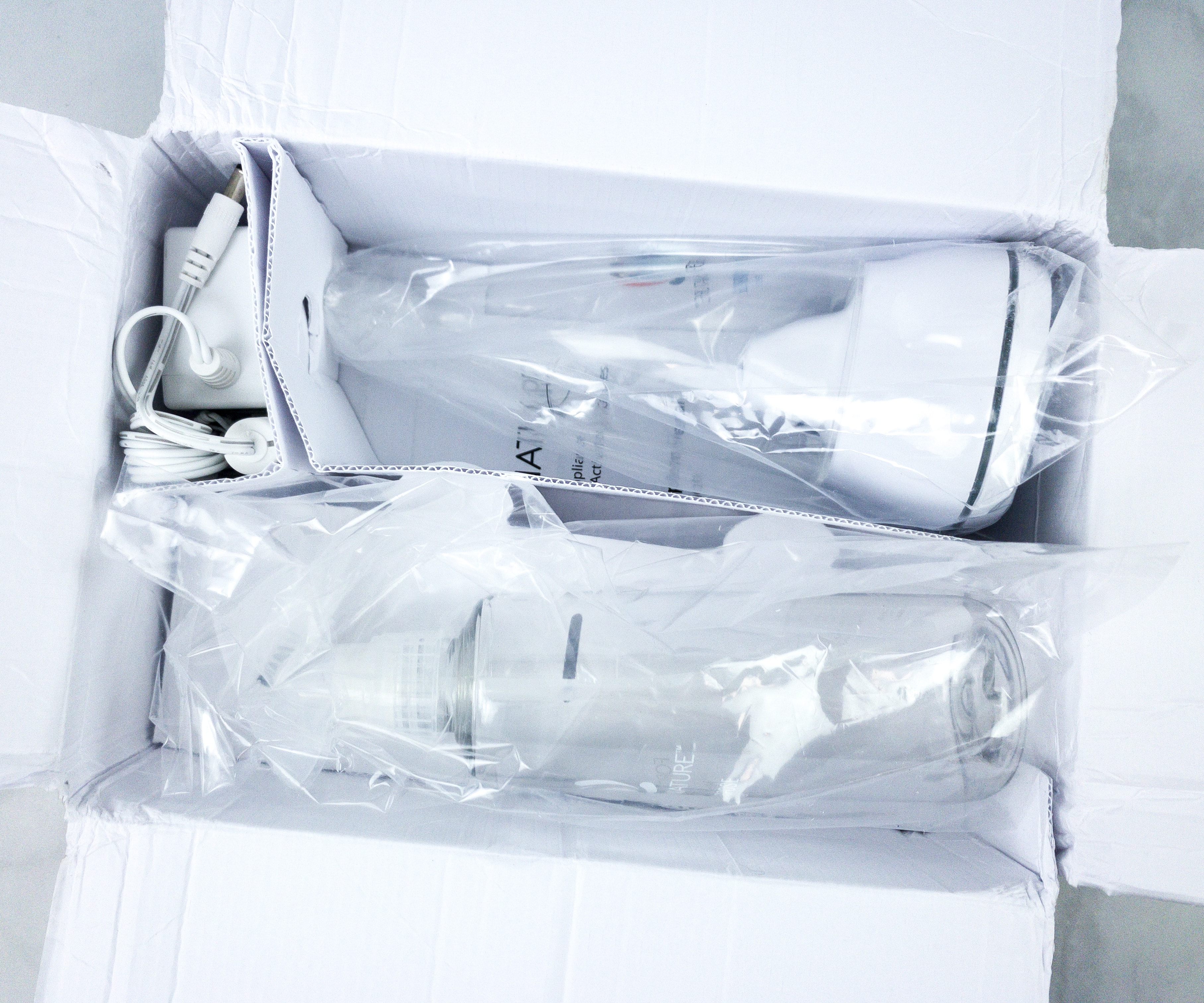 Everything is well-packed, the contents of the box were separated by carton partitions and some were also wrapped in plastic.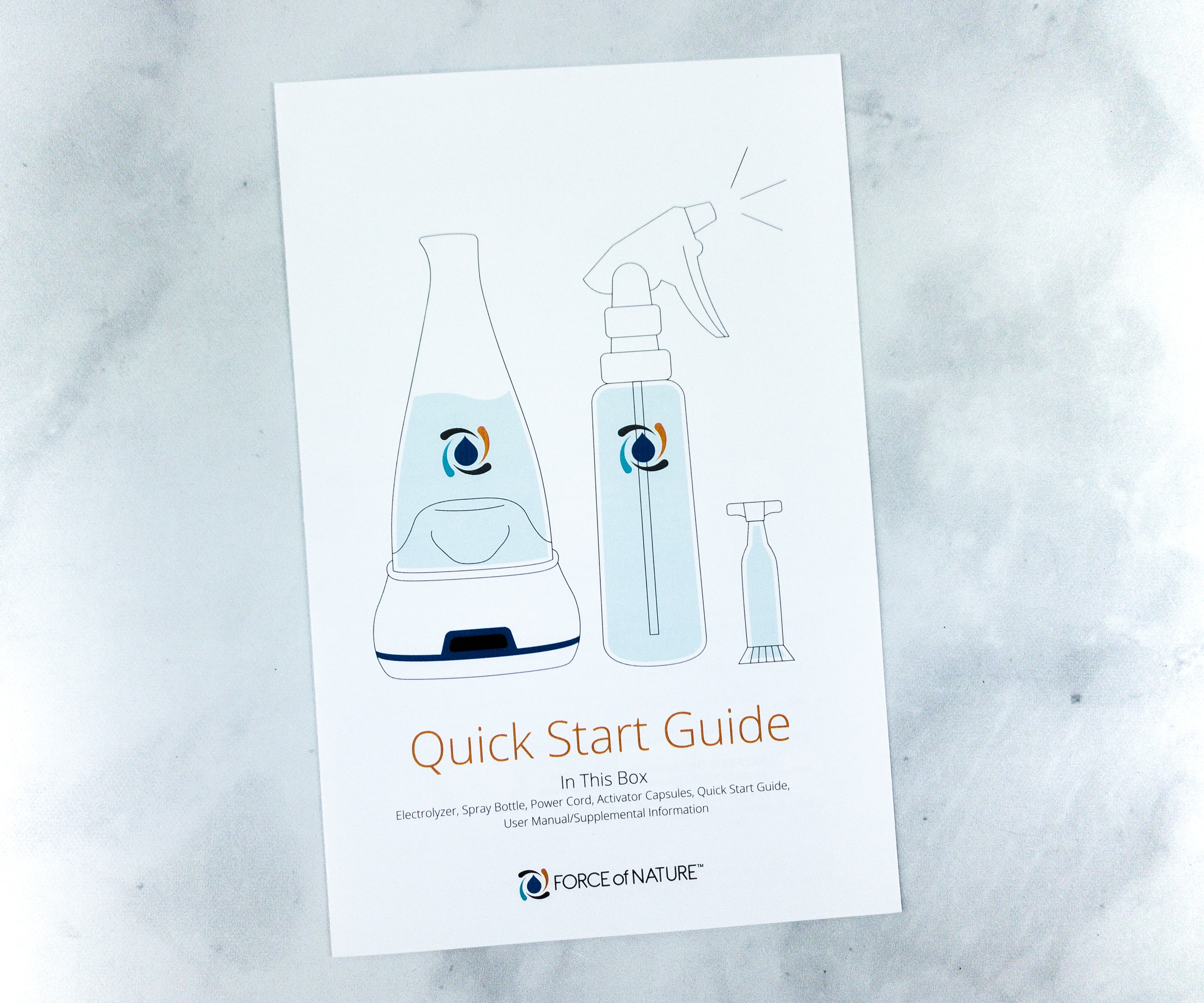 They included a Quick Start Guide to introduce us to the appliance and to teach us how to make a multi-purpose cleaner and deodorizer using it.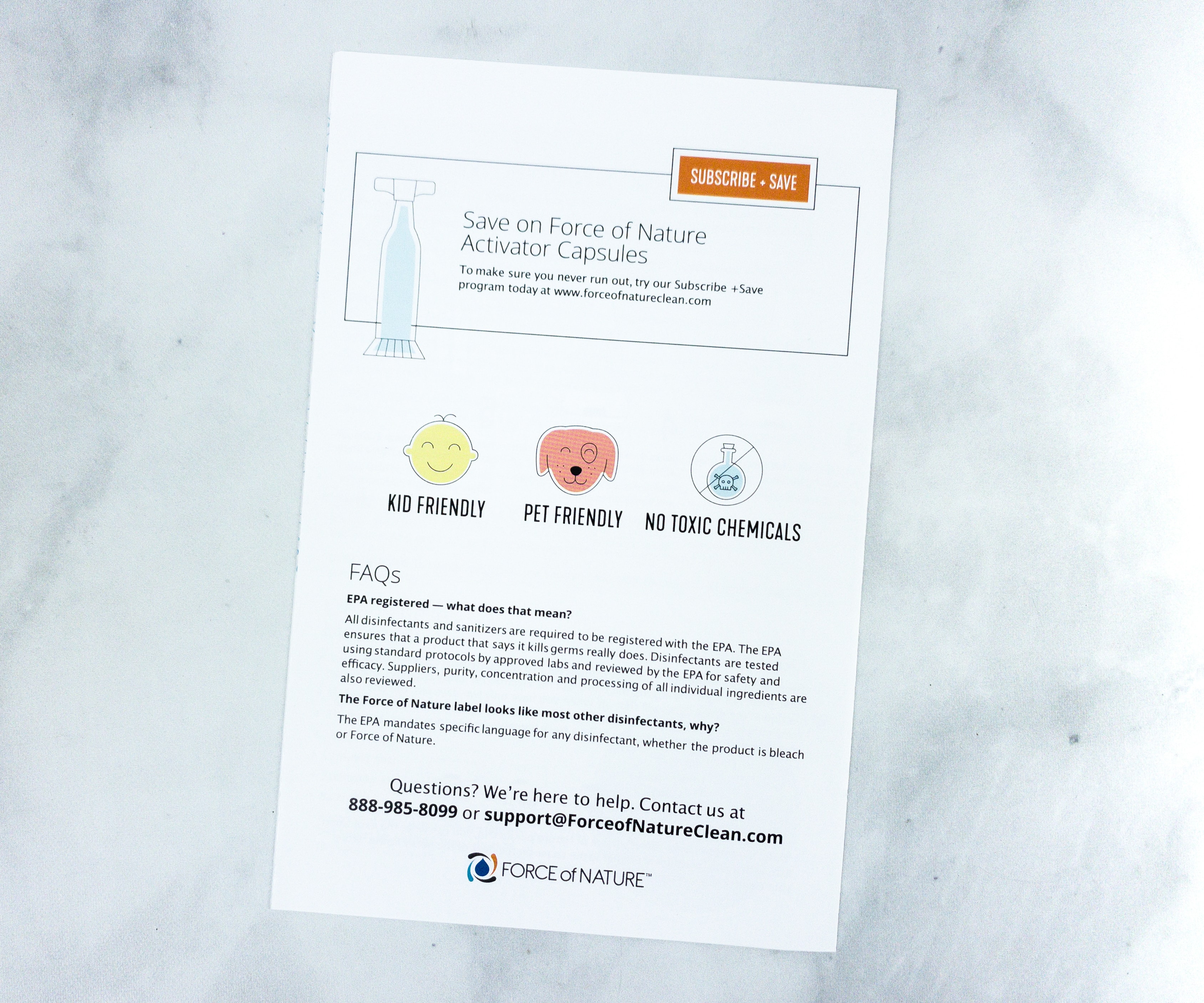 According to the pamphlet, this product is EPA-registered, which means it was tested using standard protocols and reviewed by EPA for safety and efficacy. The formula is also kid and pet-friendly, and also free from toxic chemicals.
They even provided a child-friendly explanation about what happens on the appliance and how it turns tap water, salt, and vinegar into a cleaner and deodorizer.
The salt, water, and vinegar solution is made up of tiny molecules. Think of each molecule as a little team and the team members are called elements.

When you push Force of Nature's start button, an electrical current breaks apart the molecules. The bubbles are the elements getting ready to form new teams. The vinegar's job is to create just the right playing field for the new teams to form by lowering the acidity of the solution.

Now the elements bond into new teams, each with a new goal.
When you fully open the pamphlet, it reveals complete and detailed instructions on how to use the appliance. There are also cleaning and disinfecting tips!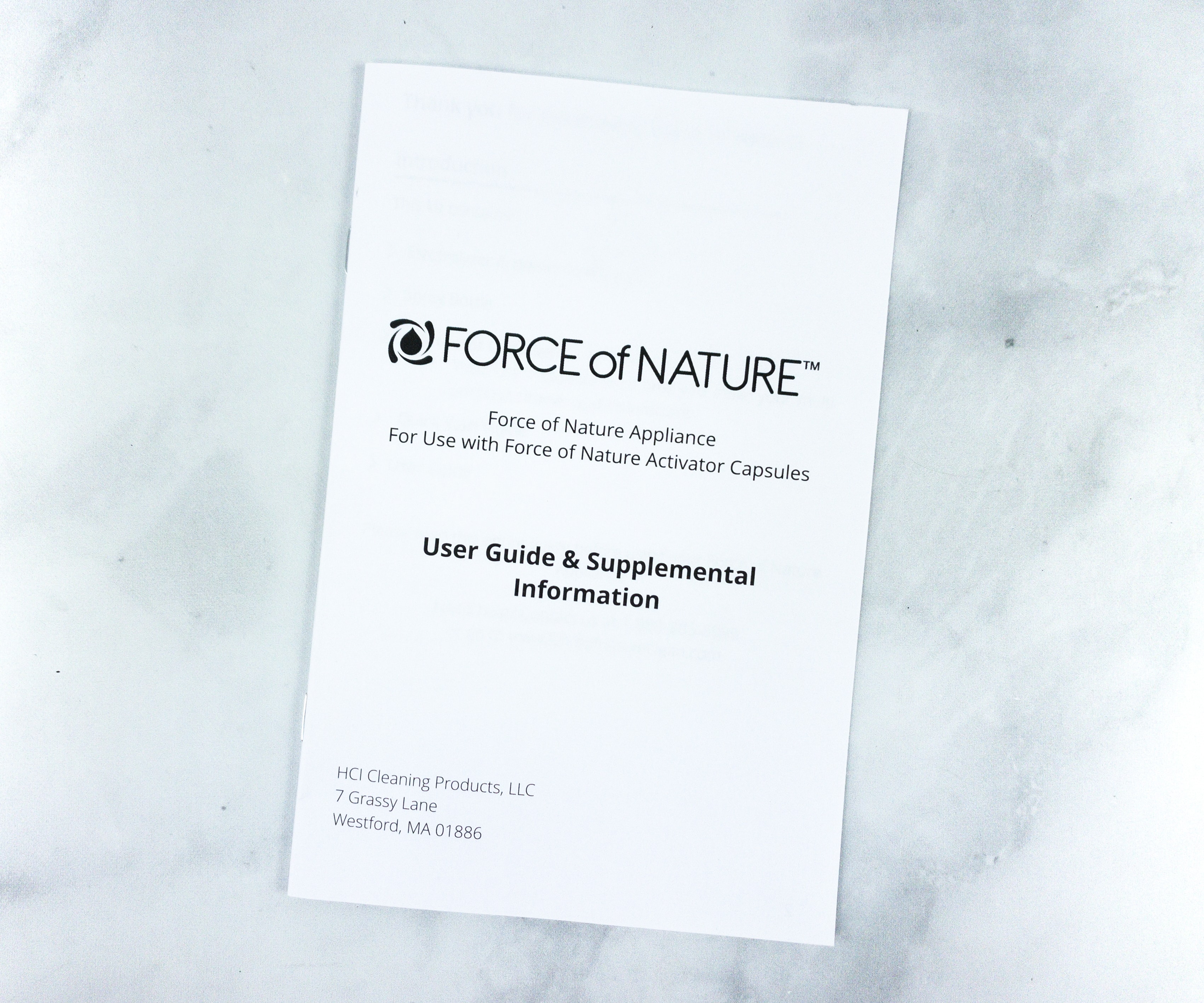 Another booklet is included and it contains the user guide and supplemental information.
It comes with more tips on how to use the solution and for troubleshooting if ever you encounter some problems with the appliance.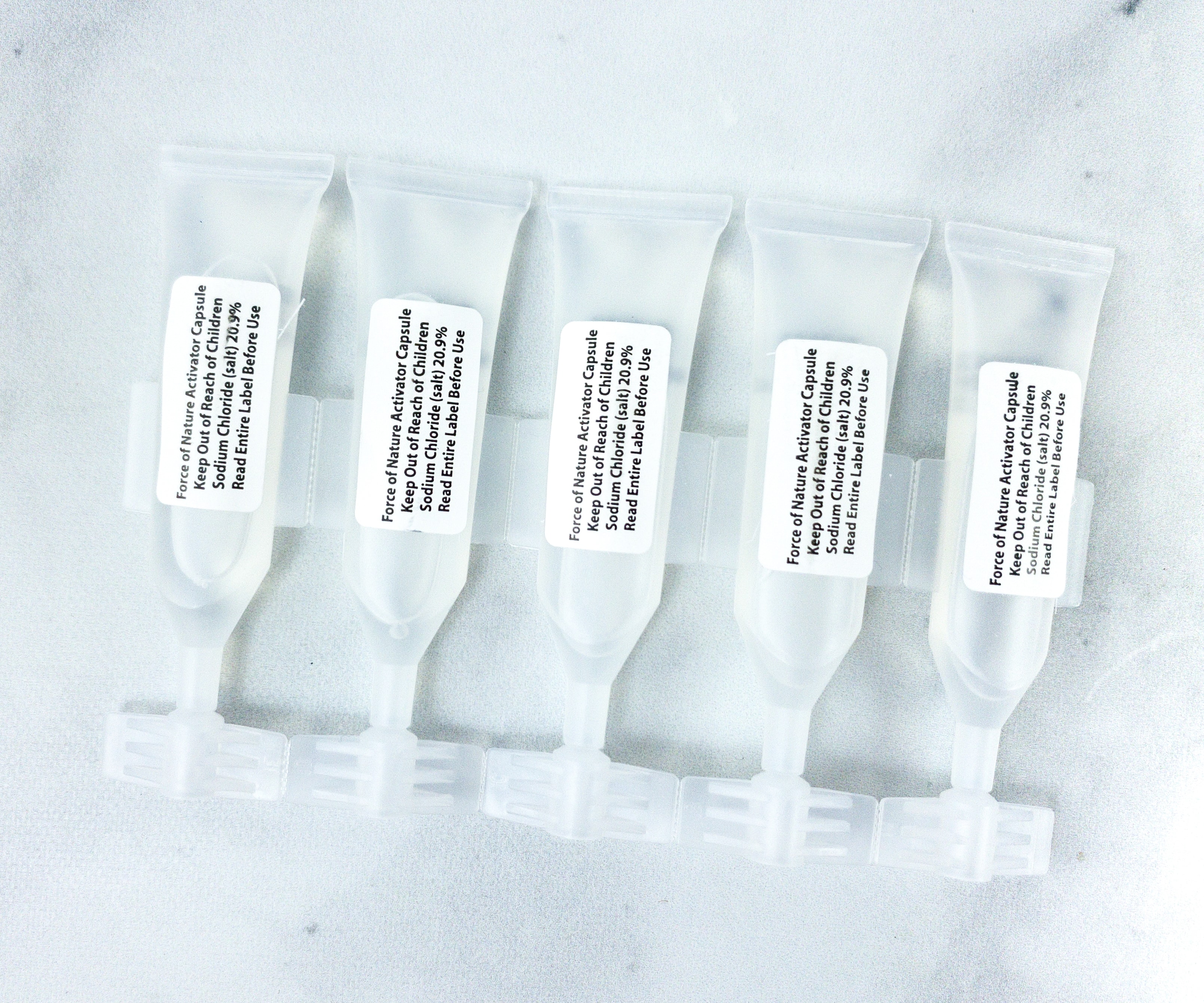 The Starter Kit includes 5 Activator capsules, and each contains 20% Sodium Chloride (salt). These have a 3-year shelf life, and the capsules are also recyclable. The capsules are necessary and you can't really DIY. Why? Because if you use the wrong concentrations you'll make bleach or chlorine gas. Just use the capsules – they're precisely mixed to electrolyze into hypochlorous acid.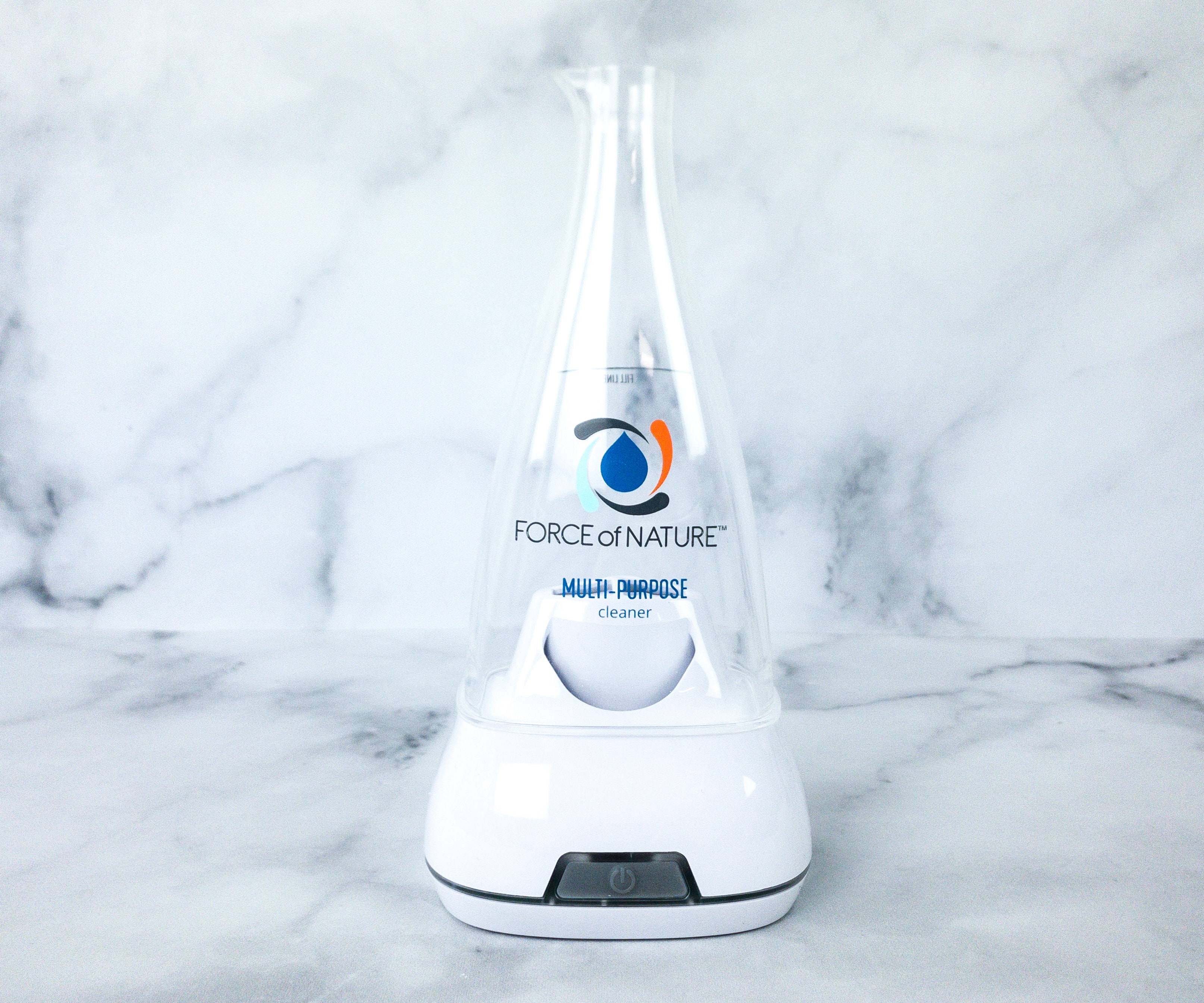 The Electrolyzer looks like a flask with an attached machine at the bottom. This vessel transforms tap water and other ingredients into a gentle, light, and non-toxic multi-purpose cleaner and deodorizer. After each cycle, it's recommended to fill the Electrolyzer half-way with tap water, gently shake, then empty and dry upside down.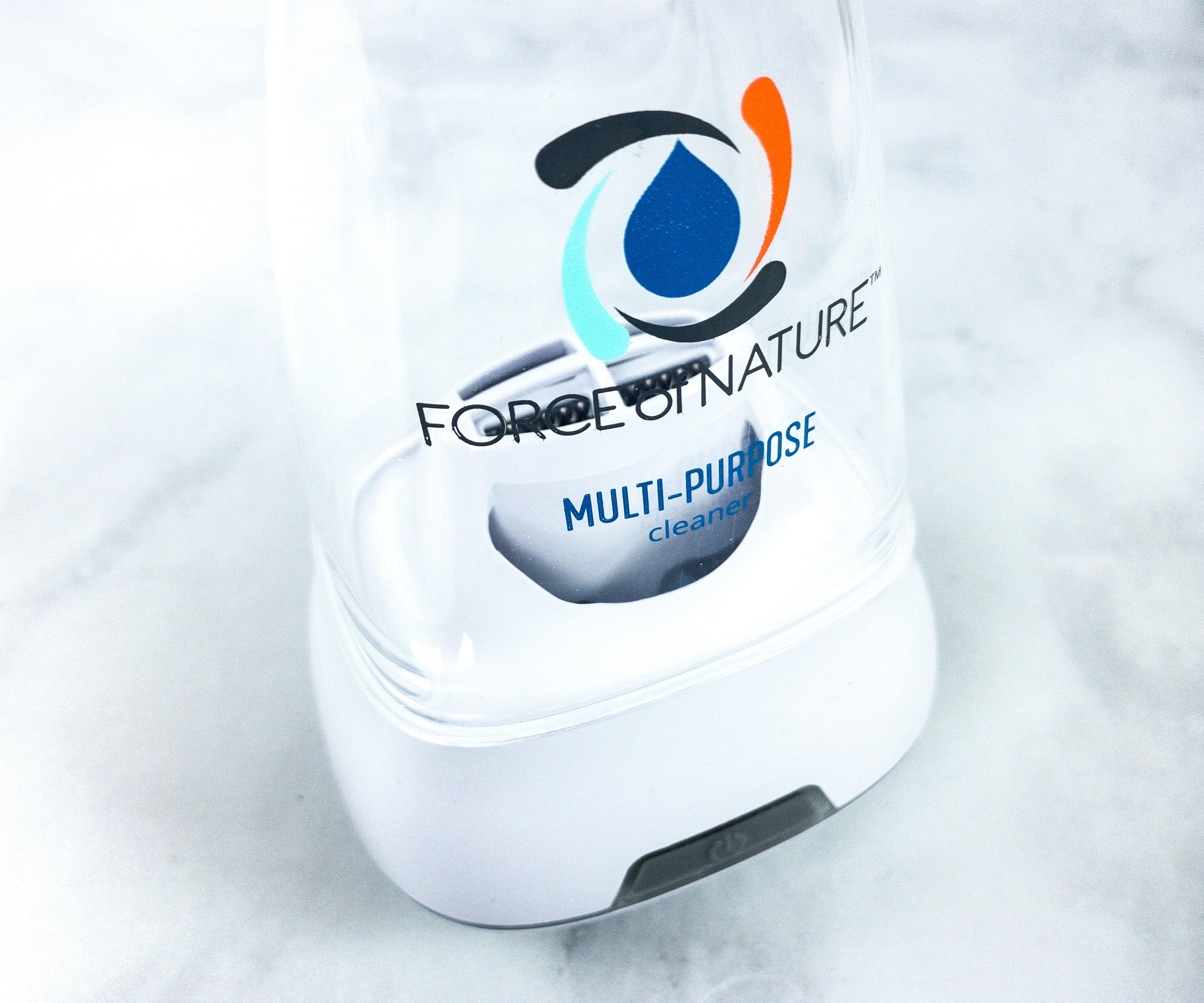 There's a power button and light indicator at the bottom.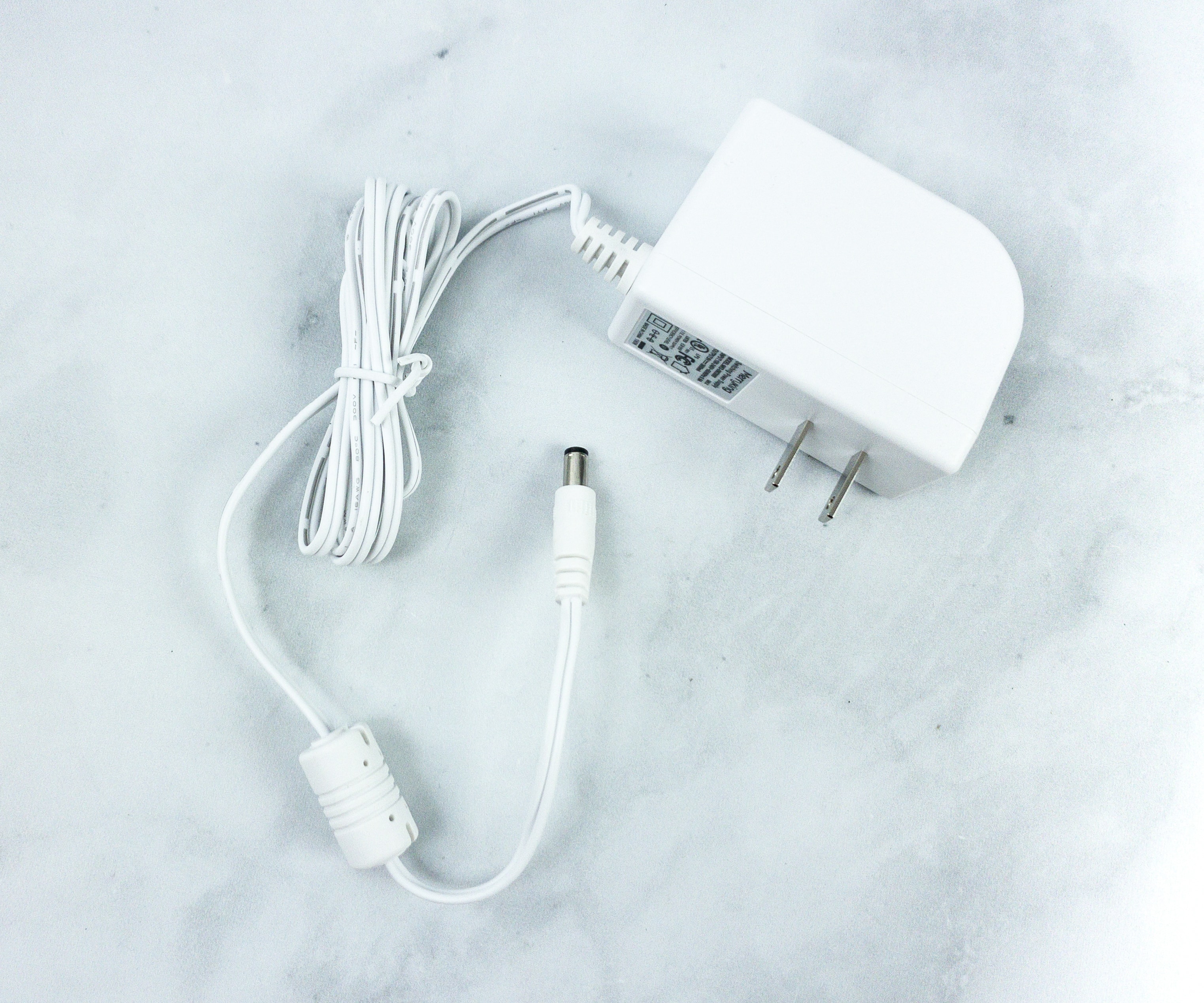 It also includes a power cord so we can connect the appliance to a power source.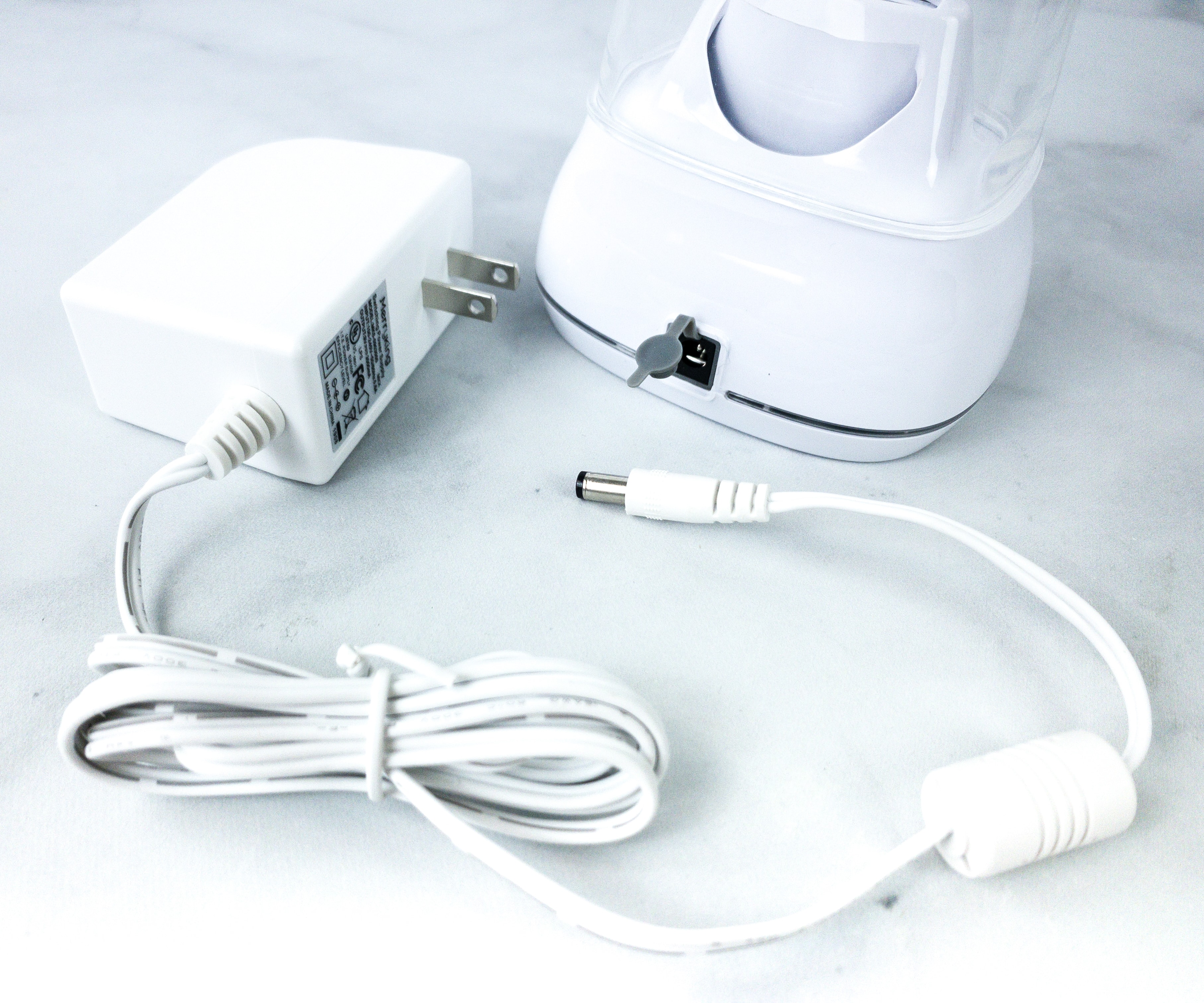 The port on the back of the electrolyzer comes with a cover.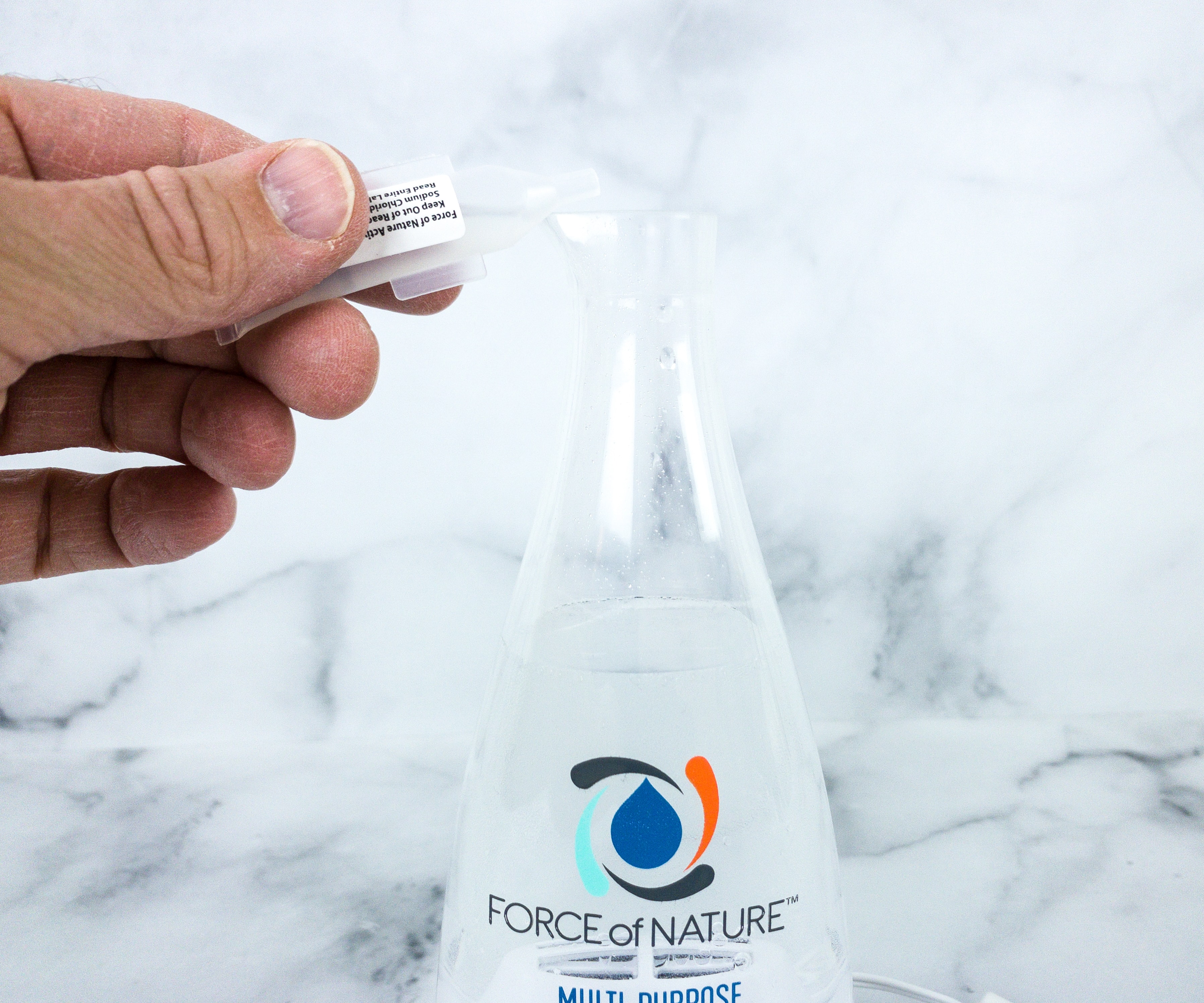 To use the Electrolyzer, just fill it up with tap water, then squeeze in an Activator Capsule that contains salt, water, and vinegar.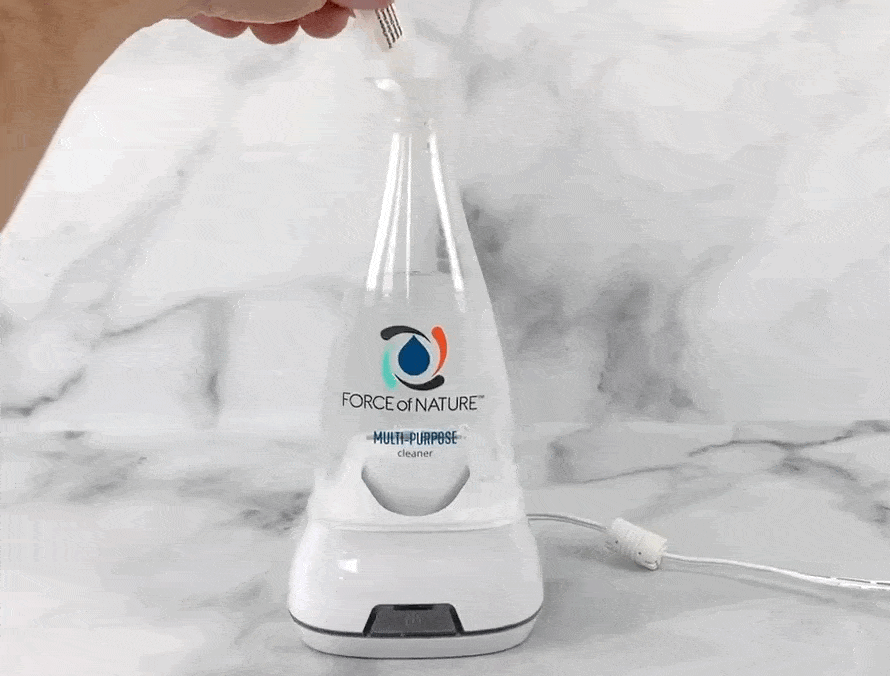 Make sure to squeeze the full contents of the capsule. Also, you only need one capsule at a time. Adding more or less will not result in the right pH level that is critical to creating the cleaner.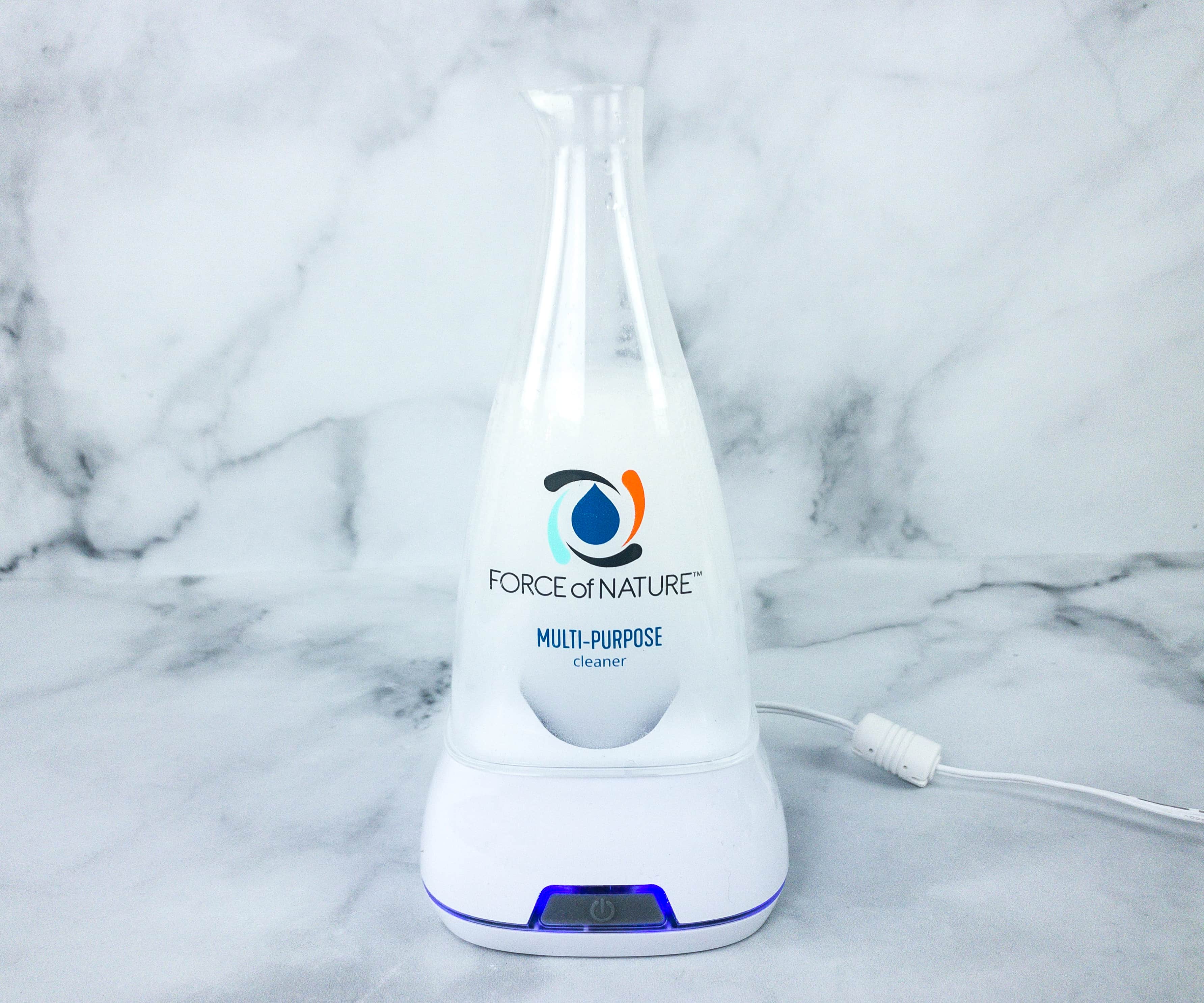 When you're done adding the activator, wait 10 seconds for the solution to disperse and then push the button!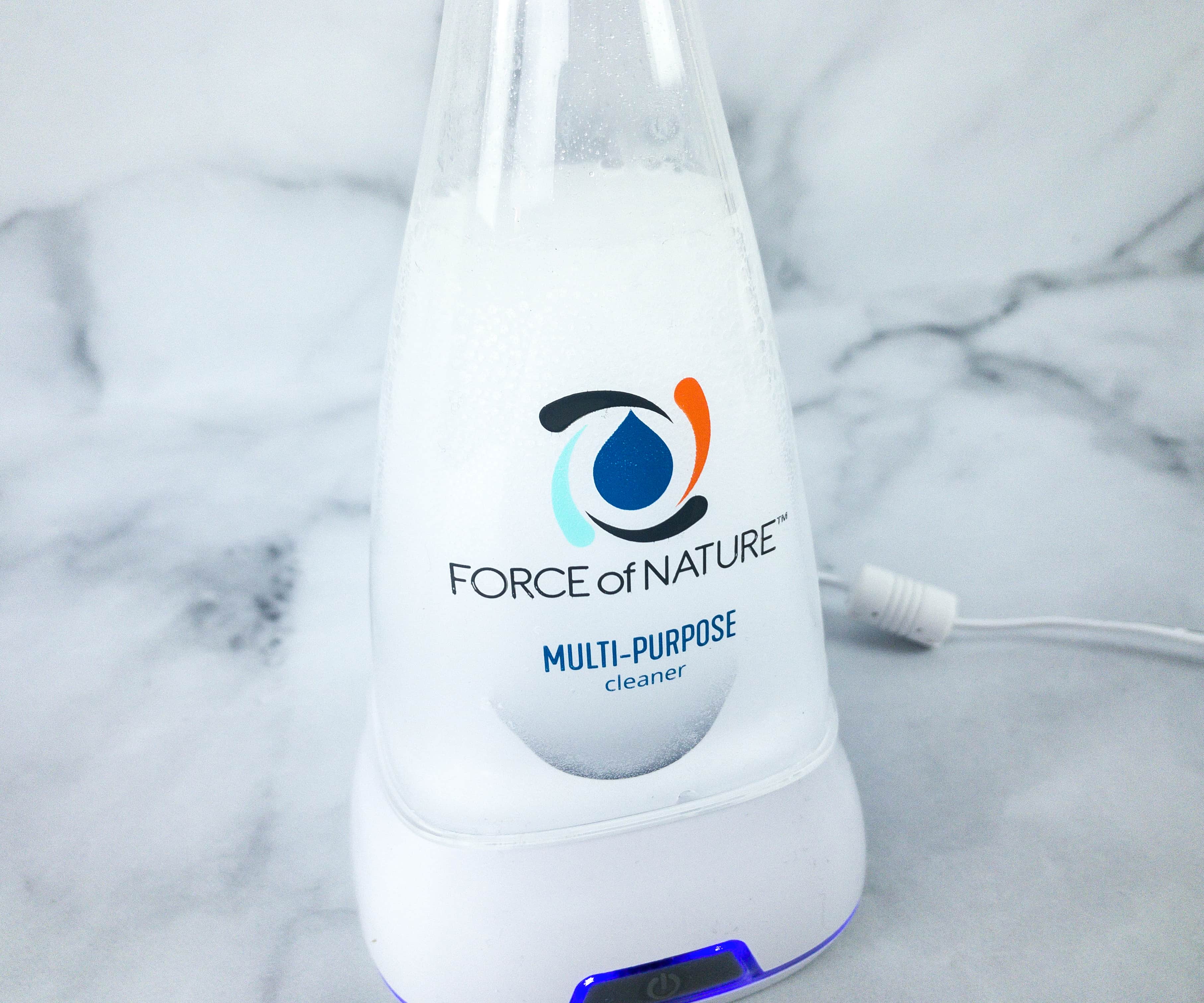 Since the container is clear, you can also see the action while the tap water and other ingredients are turned into a multi-purpose cleaner.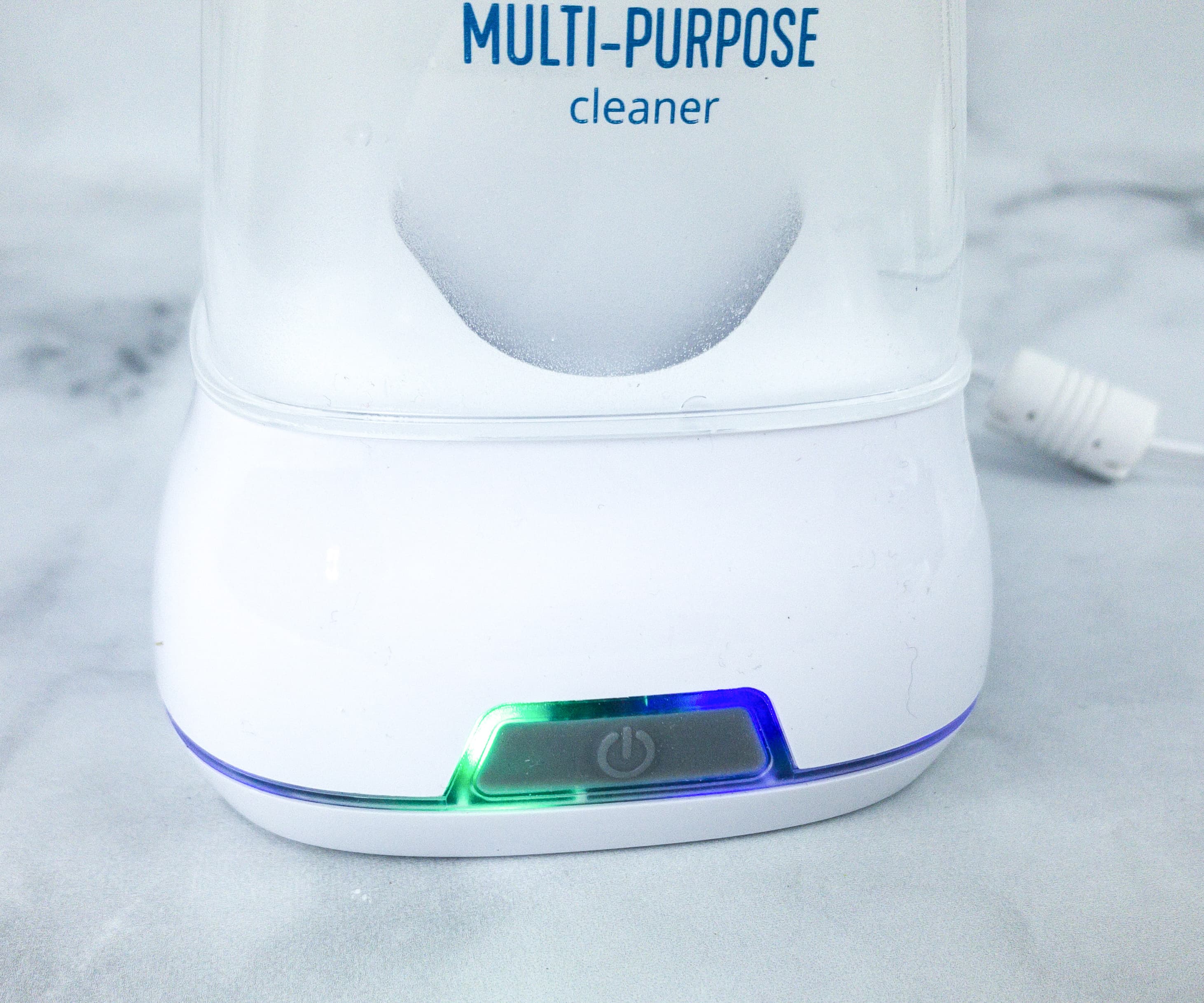 The light indicator becomes blue when you press the button to start the process. Then, it slowly transitions to green, which means it's working!
It only takes 9 minutes to create the cleaner! When it turns all green, your solution is ready! This solution lasts for 2 weeks. It's important to use it within this time period for optimal cleaning power. According to Force of Nature, it's because the hypochlorous acid dissipates over time.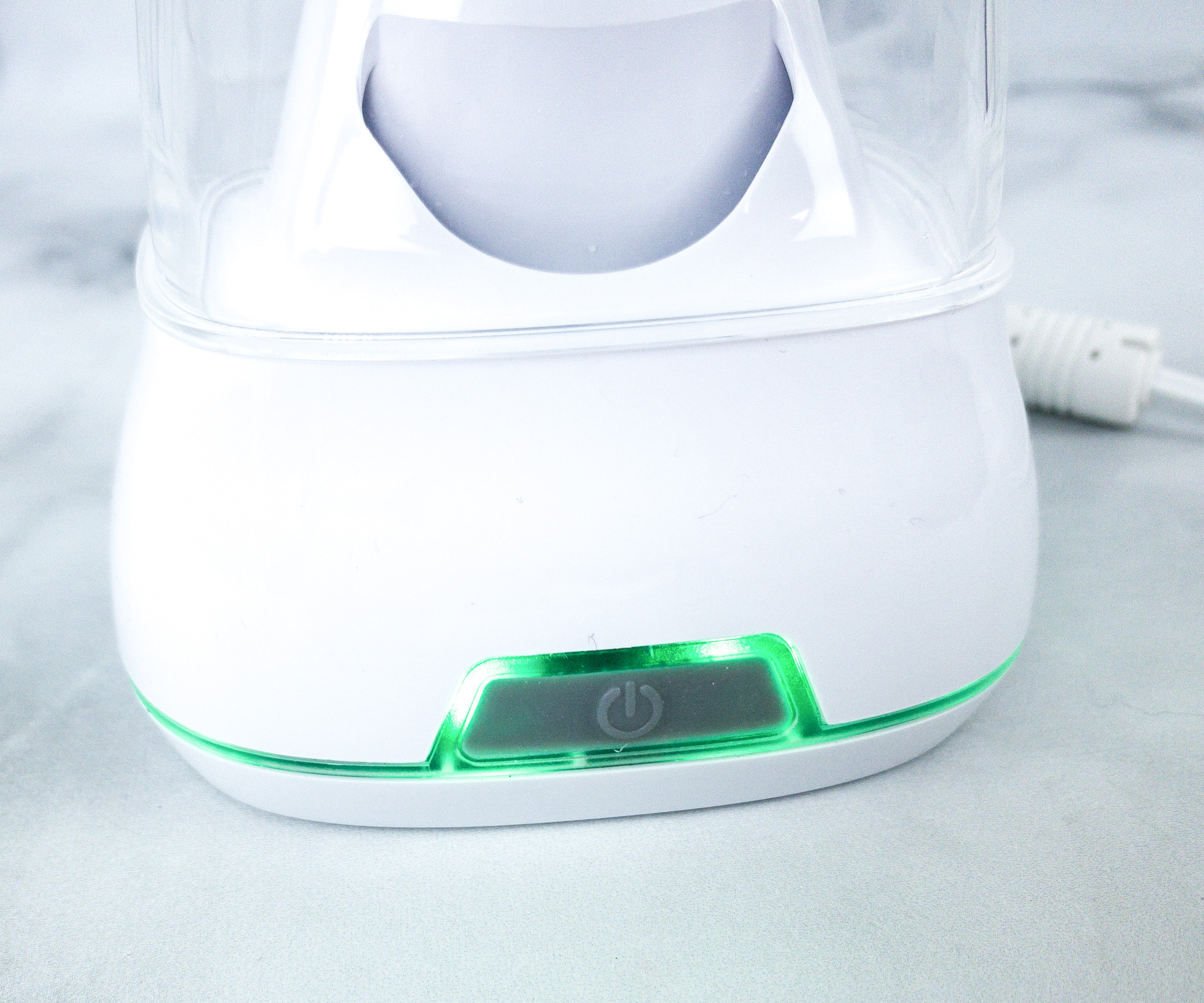 You can also use this light indicator as a day counter to keep track of the expiration of the solution you just made. Just tap the power button 2 times (this is after you're done making the solution) and in a quick manner to activate. You have to leave it plugged to do this though.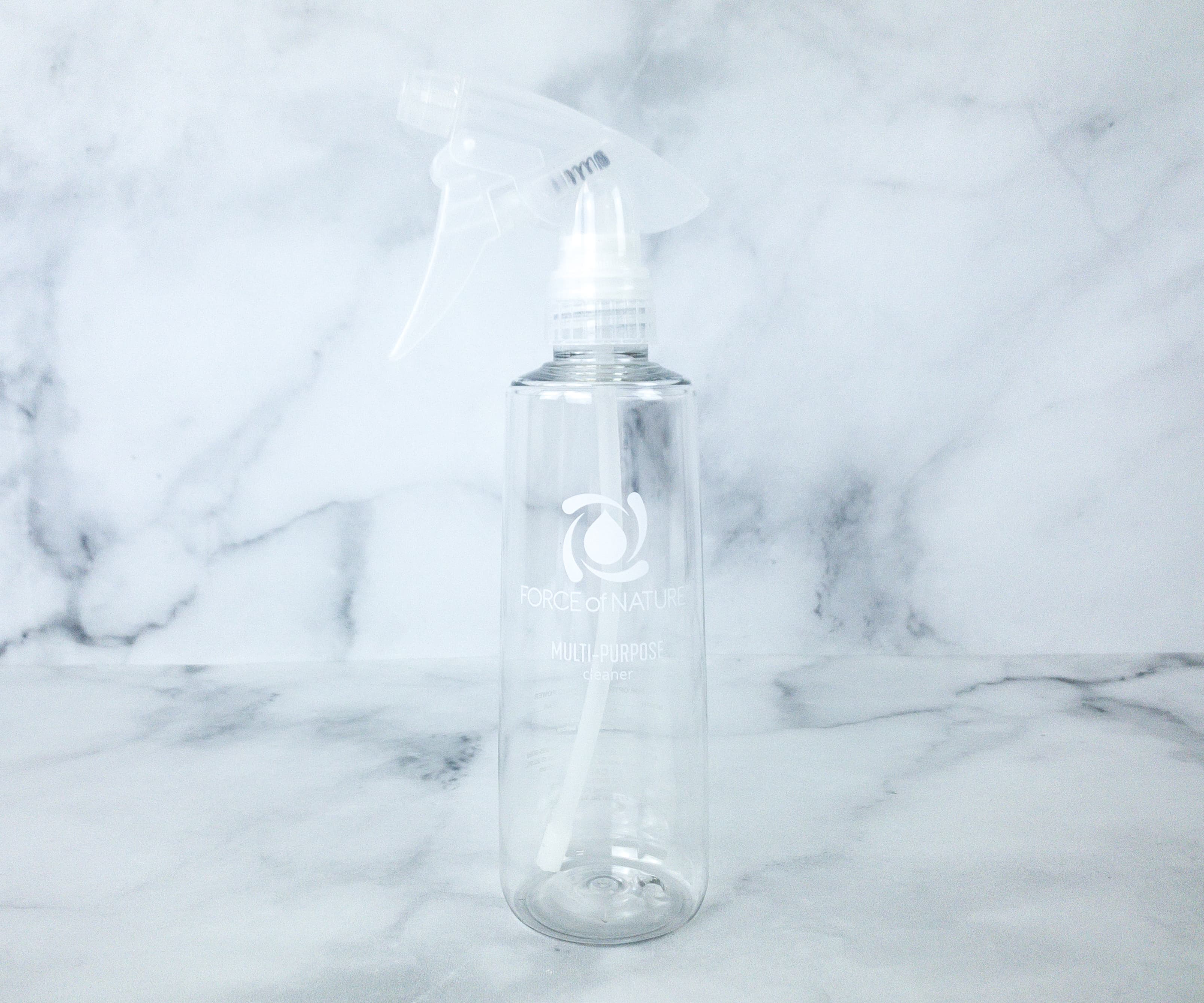 Now, it's time to transfer the resulting solution to the spray bottle that is also provided in the Starter Kit. This spray bottle is reusable and free from BPA and BPS. It can accommodate up to 12 oz. of liquid. If you're intending to use the solution as bleach, deodorizer, and kitchen, bath and glass cleaners, 12 oz. would be enough to last a week. If you're using it on floors and rugs, you might need more in a week.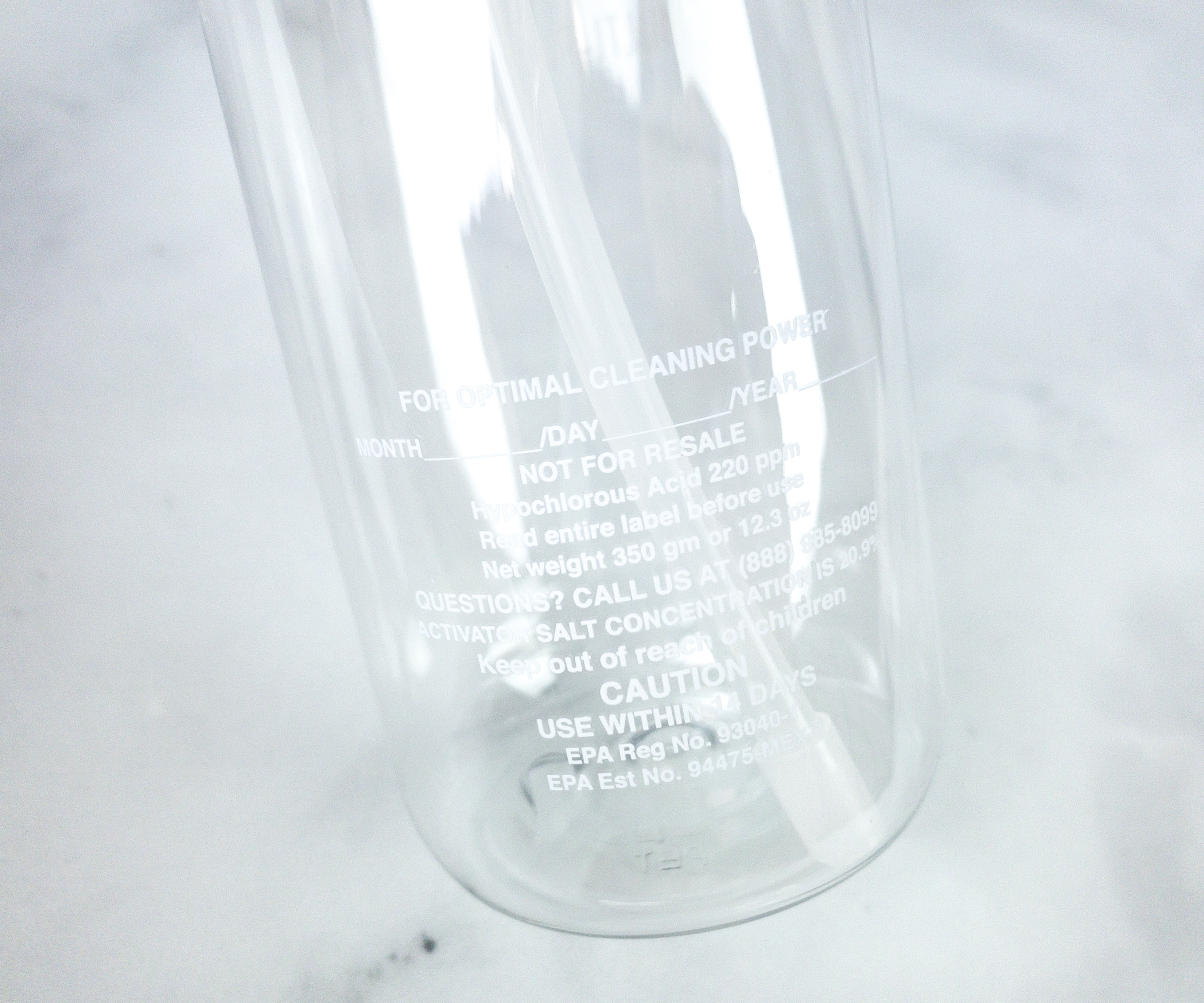 If you don't want to use the counter on the Electrolyzer, you can simply write the date of expiry on the bottle using a non-permanent marker.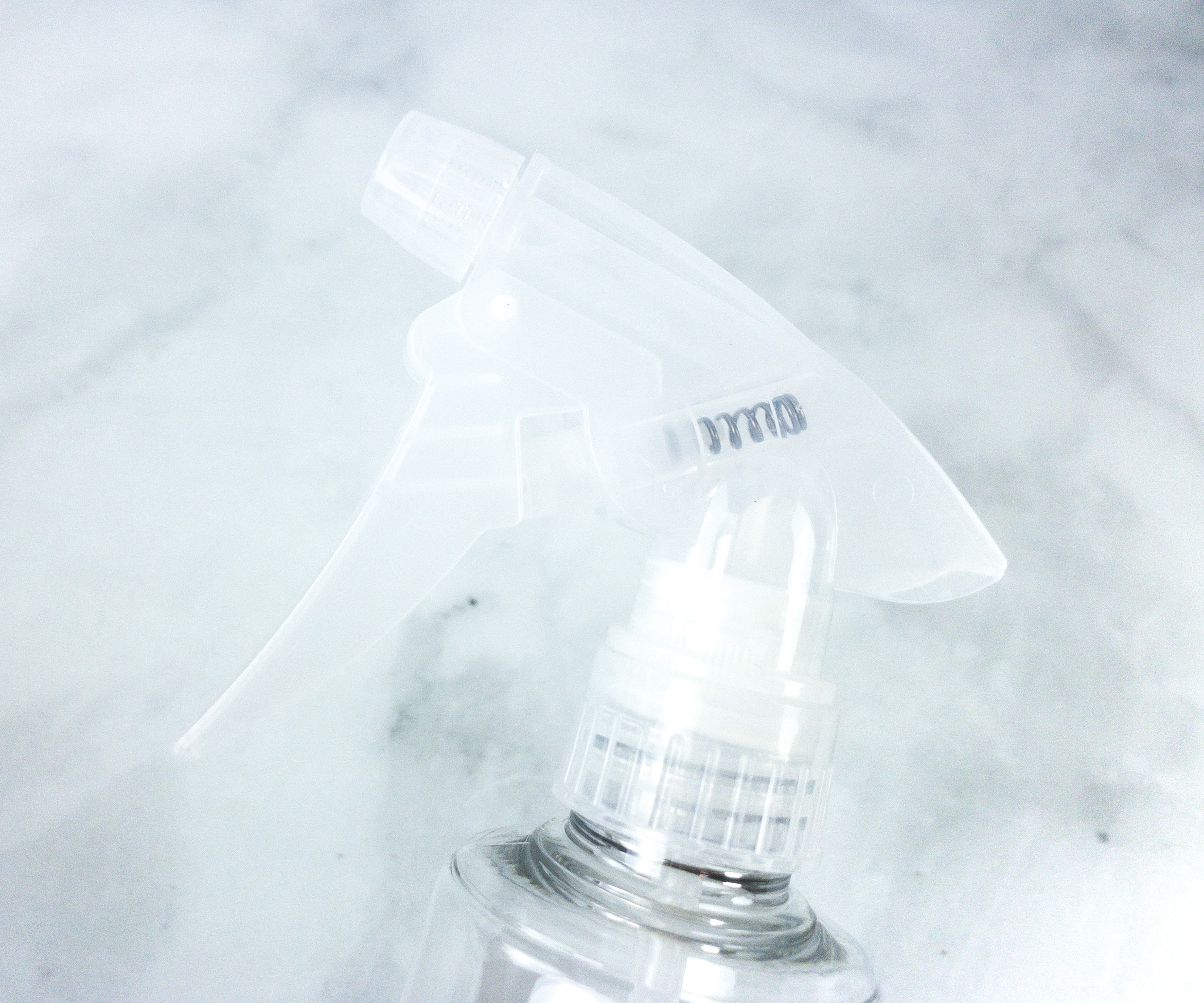 Spray bottles like this are easier to use especially when cleaning crannies or narrow openings like in windows, and doors.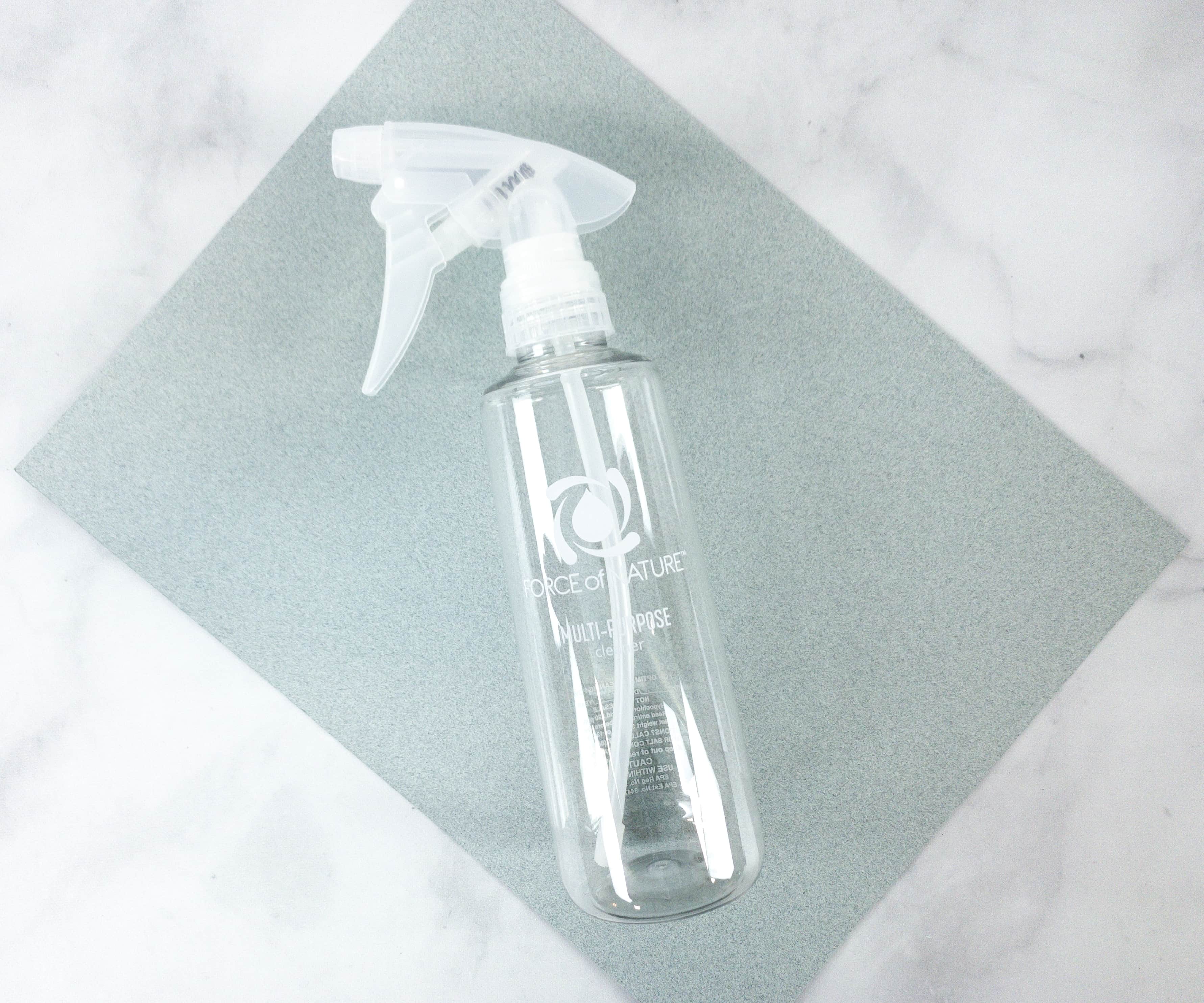 The multi-purpose cleaner works to remove odors, grease, grime, soap scum, and other mess. It acts like bleach minus the harmful and strong ingredients. It smells a bit like chlorine, like a clean gym bathroom. In case there's an excess or unused solution, you can dispose of it down the drain because it's not harmful or toxic!
It has so many uses! It works on any surface you have at home, whether it's glass, stainless steel, wood, porcelain, tile, grout, laminate, and sealed stone. It's also effective on plastic and rubber, so you can use it to clean kids' toys. It works even on stuffed animals, car seats, and strollers! In the kitchen, you can use it to clean tables and even cutting boards. Aside from being a disinfectant, it also deodorizes trash and even gets rid of diaper pail smell! It's really amazing. If you have pets at home, it's also safe to use on kitty litter, pet toys, and bedding.
Yes, you read that right, I cleaned my diaper pail with it, gagging at it [I deodorize it all the time but it doesn't seem to do much]. A day later I stuck my head in it, and it was fine!
We're impressed so much with this innovative appliance that easily transforms tap water and other non-toxic ingredients into an effective cleaner and deodorizer! It's good to know that it works against Coronaviruses and that it's certified by EPA! The solution it creates is tough on stains, odors, and grease, but definitely harmless for us and the environment. We tried using it in our home and we're amazed by how effective it is. Its cleaning power is definitely just like regular bleach. It doesn't come with fumes either! After getting the Starter Kit, the only thing you need to purchase next is the activator capsules if you run out! Of course, we also appreciate the addition of the handy and easy-to-use spray bottle. It's reusable and also BPA-free. Even the manual is commendable because it's easy to follow and it already has everything we need to know about the product. It's important to keep our spaces clean, and Force of Nature definitely made it easier and more eco-friendly for us!  This amazing cleaner gets my highest recommendation – if it will destench diaper pail, it can do anything! It's pricey, but totally worth it – I'm completely hooked.
What do you think of Force of Nature?