Erin Condren is the maker of one of the best planners for productivity along with general stationery supplies. I recently got my 2021 LifePlanner but it is so customizable that I went for an 18 month setup and can start using it this July. Erin Condren released new covers and interior colors and you can personalize it in so many ways. They even offer a binder system and a Daily LifePlanner Duo (two 6 month planners with daily pages!). The LifePlanner starts at $55 and I will also show you an assortment of new coordinating Erin Condren planner supplies in this review.
Our best-selling coiled LifePlanner™ is designed to help you reduce stress, get organized and achieve your goals. This signature 7″ x 9″ agenda features 12-month and 18-month options, with three weekly layouts to choose from: horizontal, vertical & hourly. Further customize & personalize your perfect planner by selecting your cover design, interior color scheme, your coil finish, even add your name or favorite quote to your cover! Proven to increase time management and productivity, see for yourself why customers around the world are getting organized with an Erin Condren LifePlanner™.
DEAL: FYI – if you use this referral link to register for the site, you'll get a $10 coupon code emailed to you. You can use it on pretty much anything on the site.
Want even more Erin Condren supplies to keep the year more interesting? Just click here and tap that bell to get notified when the next Seasonal Surprise Box becomes available!
Notify Me about Erin Condren Seasonal Surprise Box
My items were shipped via FedEx and were covered in relaxing blue tissue paper.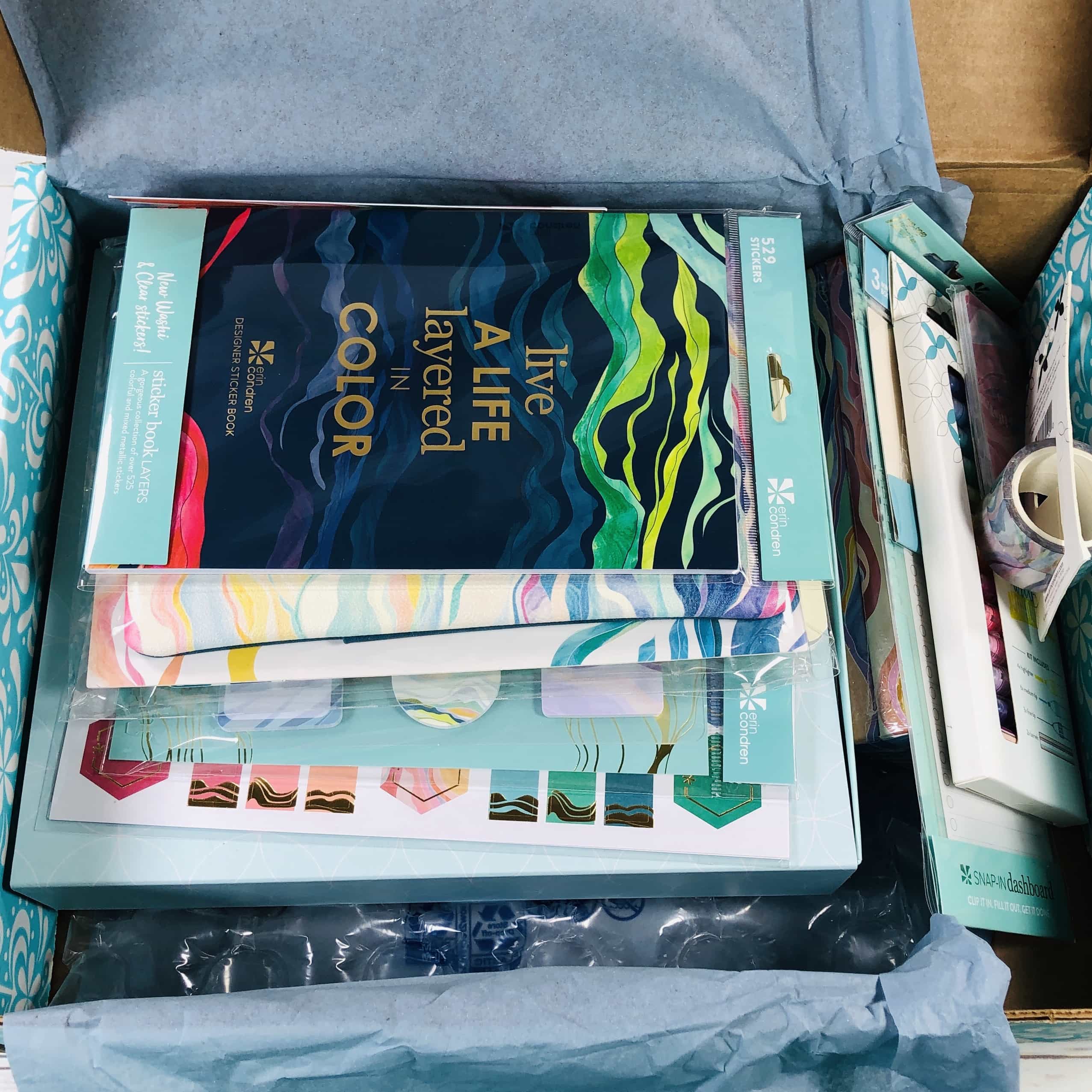 Bubble wrap kept the items from shifting.
I received a pretty card.
Erin Condren talked about ways they want to help during the current outbreak. They have planners for kids and menu organizers to help keep families on track.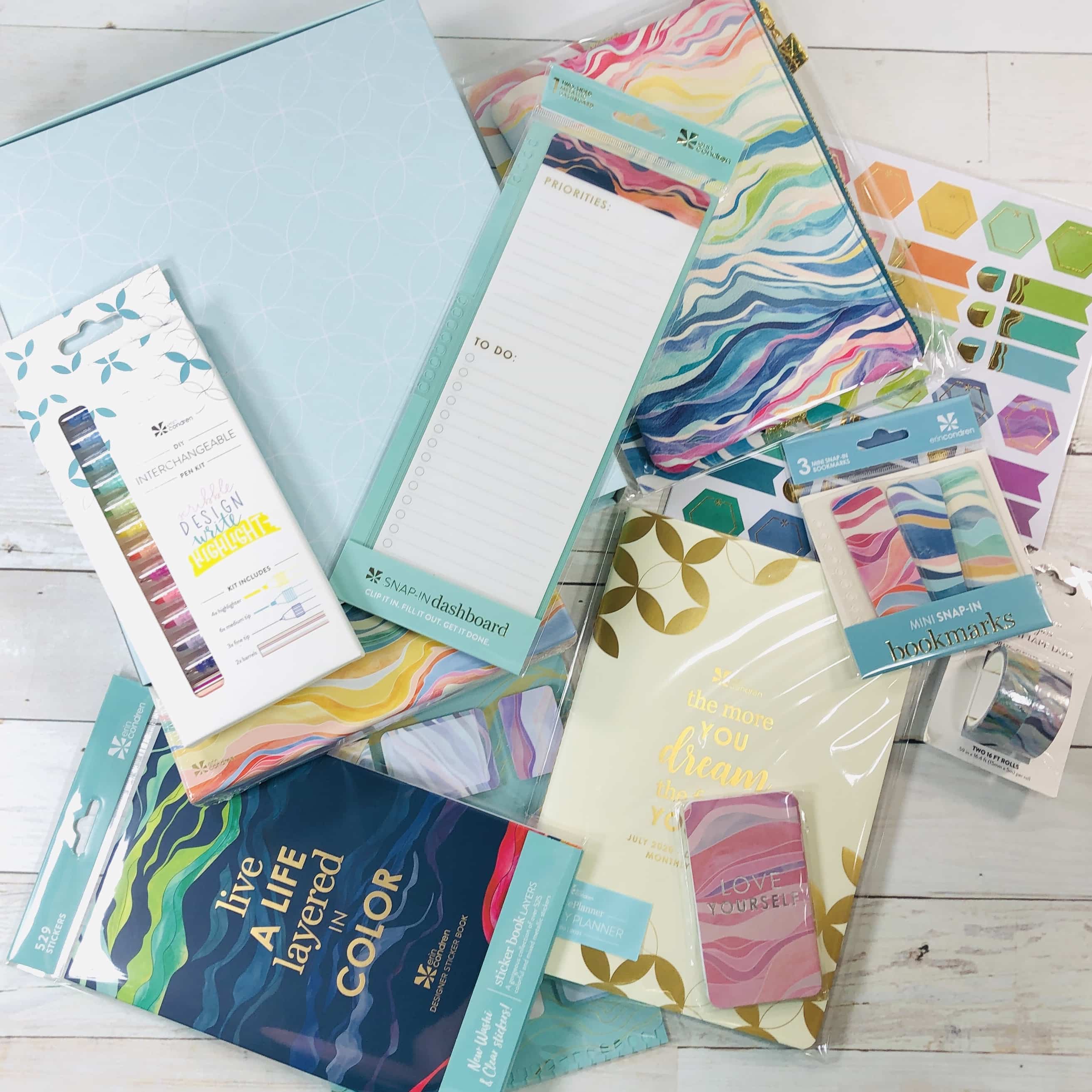 Everything in my box!
Mid Century Circles Planner Storage Box ($6) My planner came in a keepsake box.
I use the box to store planner supplies such as stickers.
Erin Condren Layers LifePlanner (Prices start at $55, this planner as shown is $70) My planner and assorted stationery items came in the new Layers pattern, with the colorful color scheme (vs neutral). A ruler was attached to the front. You can add your name or title to the front or even add a cover photo. You get four coil colors to choose from: Platinum is included; gold, rose gold, or black are $10 extra. Here is what the Erin Condren team say about the new design:
In a time when we need more motivation and inspiration, this Layers design is a beautiful reminder that we will rebuild, layer by layer, stronger than before.
The inside cover has a wet erase board so you can quickly erase when needed.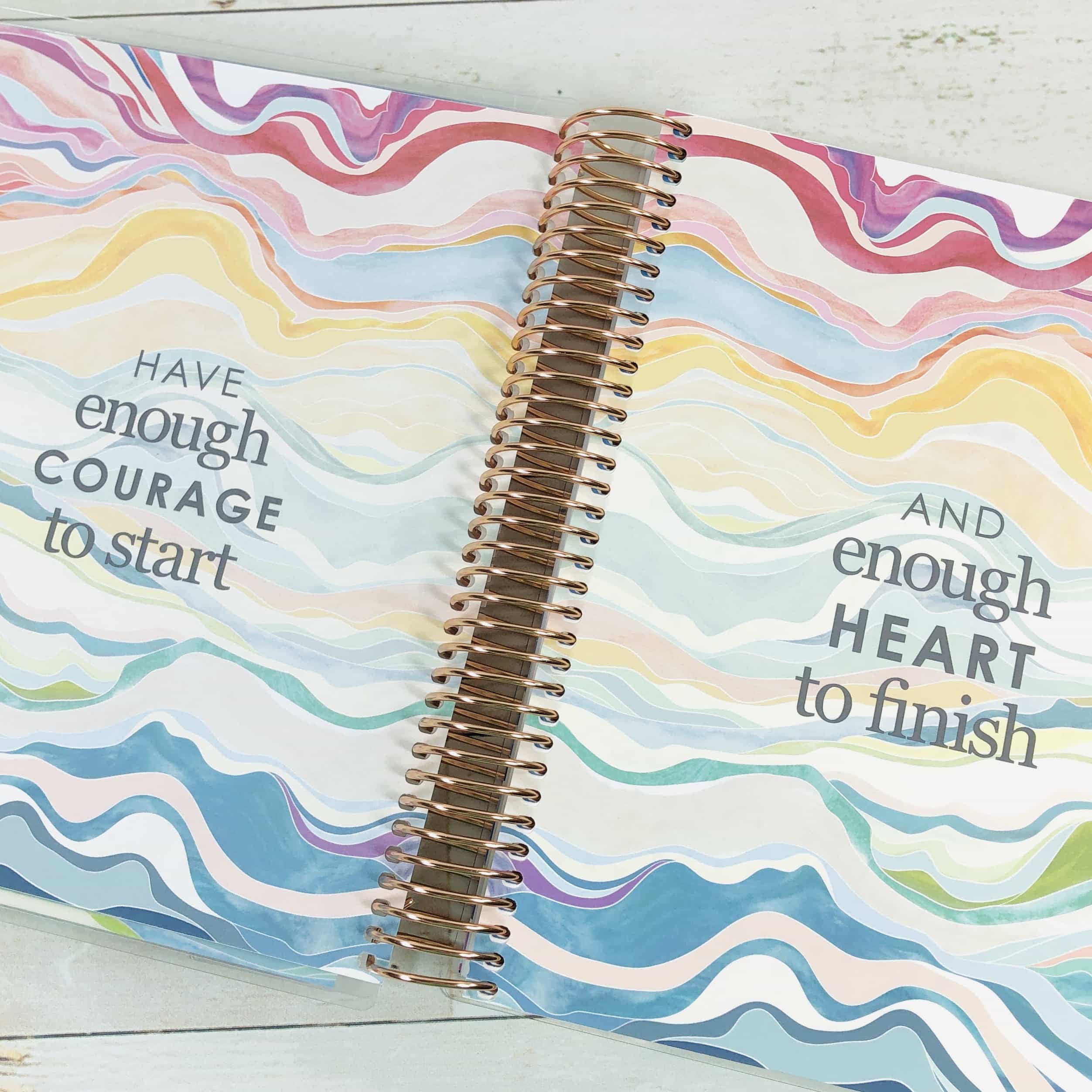 Inspirational sayings are sprinkled throughout the planner.
There is a two-page calendar spread that goes from July 2020 through December 2021.
The beginning of each new month has a lined page on one side, with an inspirational message on the tabbed side. July has a lovely navy blue color scheme so the wavy layers and other touches for the entire month are in shades of blue. Each month comes in a different color. You could go with a Neutral color scheme or get the Flower Power version.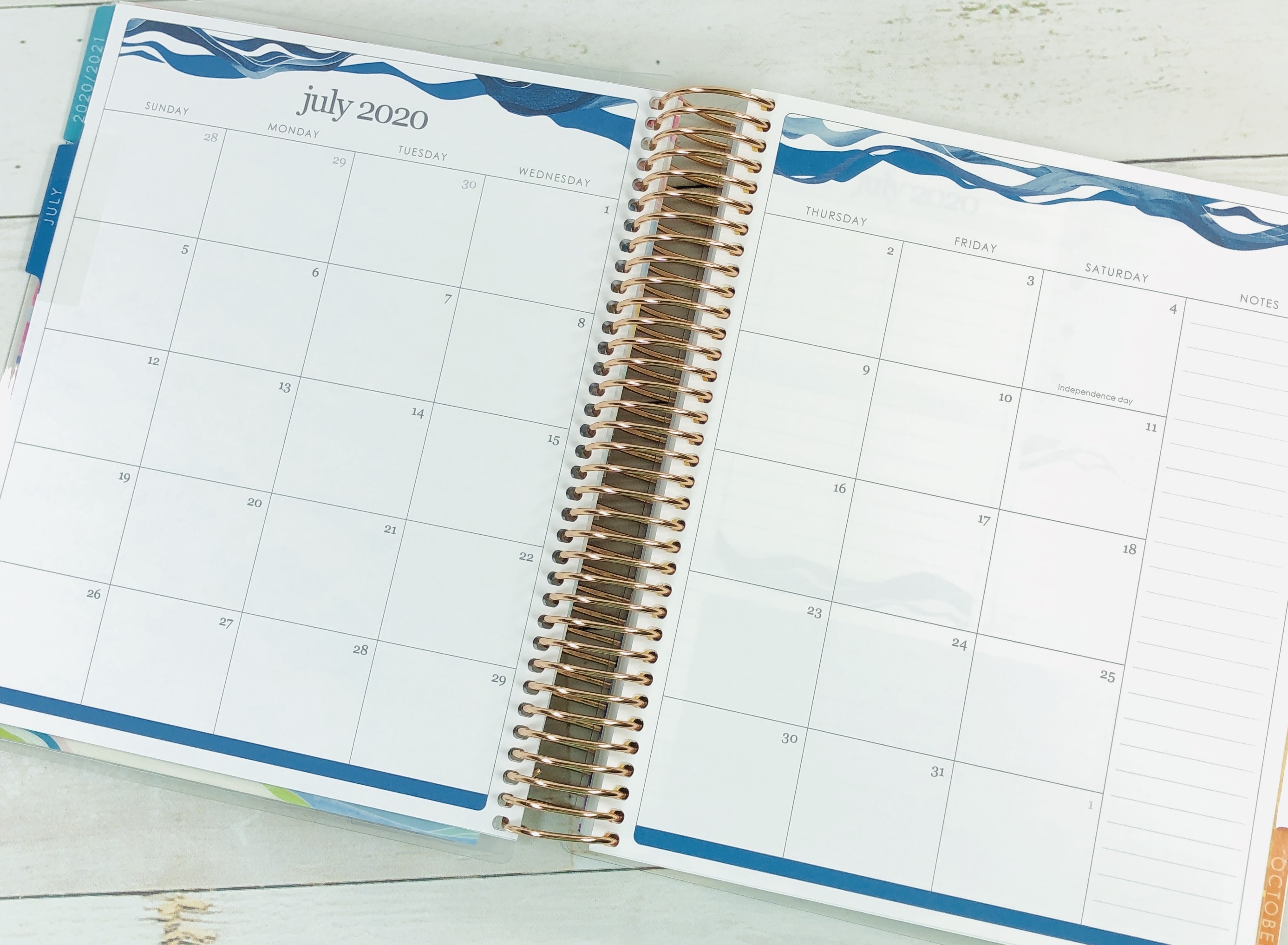 I love the month-at-a-glance spread, it makes it easy to spot openings in my schedule.
Another lined page is handy for journaling or keeping notes, while the other page has a place to write goals, place stickers, and a dotted space for doodling or charts.
You can see that I went for the Vertical layout, which makes it easy for creating lists. I have also used the Horizontal in the past, and there is an Hourly option for those who need even more structure.
The very back of the planner has a tabbed Notes section with extra lined pages. The coloring pages are no longer included as in the past.
There is one tabbed page for Contacts.
A year-at-a-glance for 2022 is also in here along with space for jotting down important items for that year.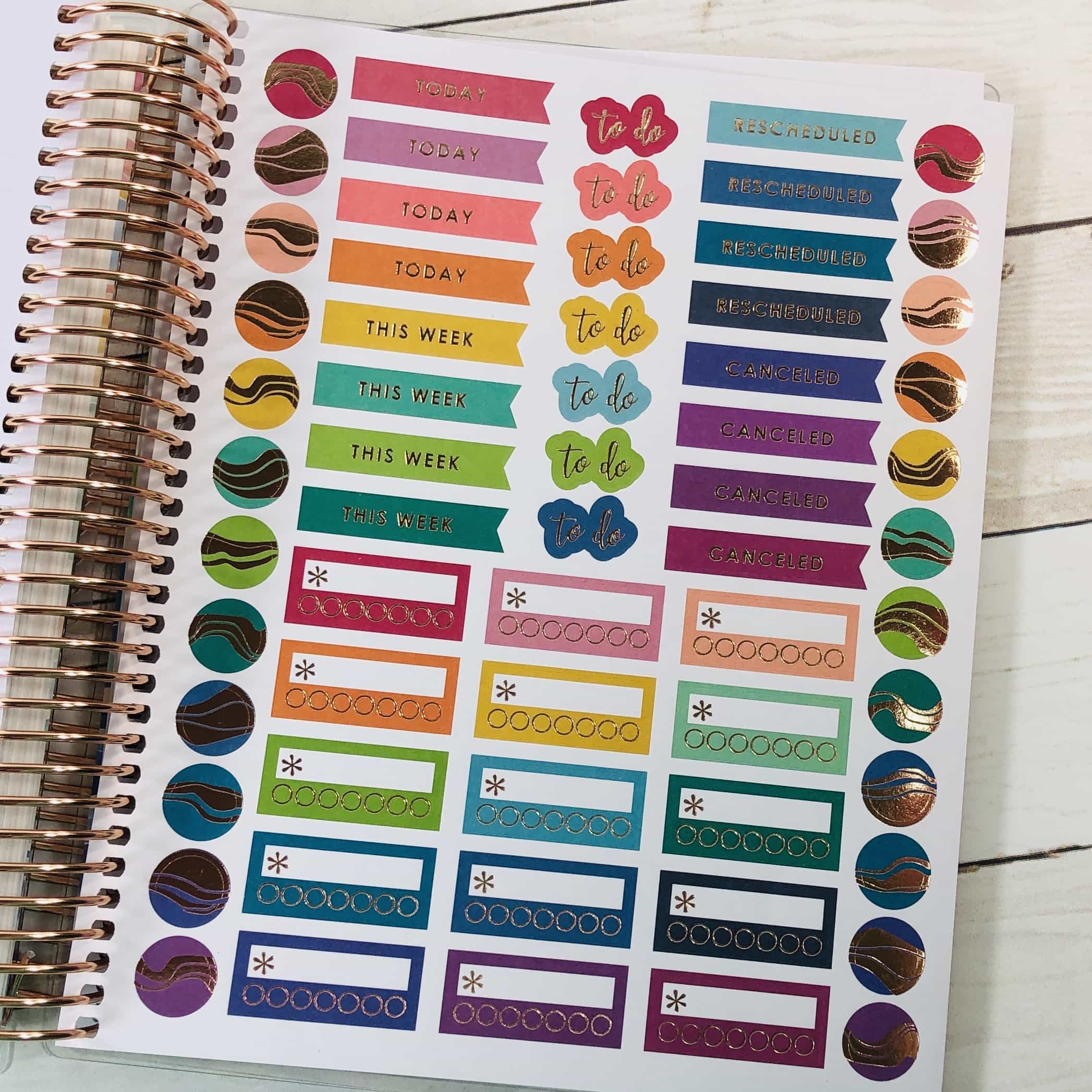 There are four pages of colorful stickers in here. You can see what each sheet looks like later in this review, because I also got a sticker pack of the same sheets!
A sturdy Keep It Together Folder is in the back and you can place more sticker sheets or important papers in here.
The back pocket has a Perpetual Calendar for those events that repeat year after year, such as birthdays and anniversaries. The inside back cover is another wet erase board.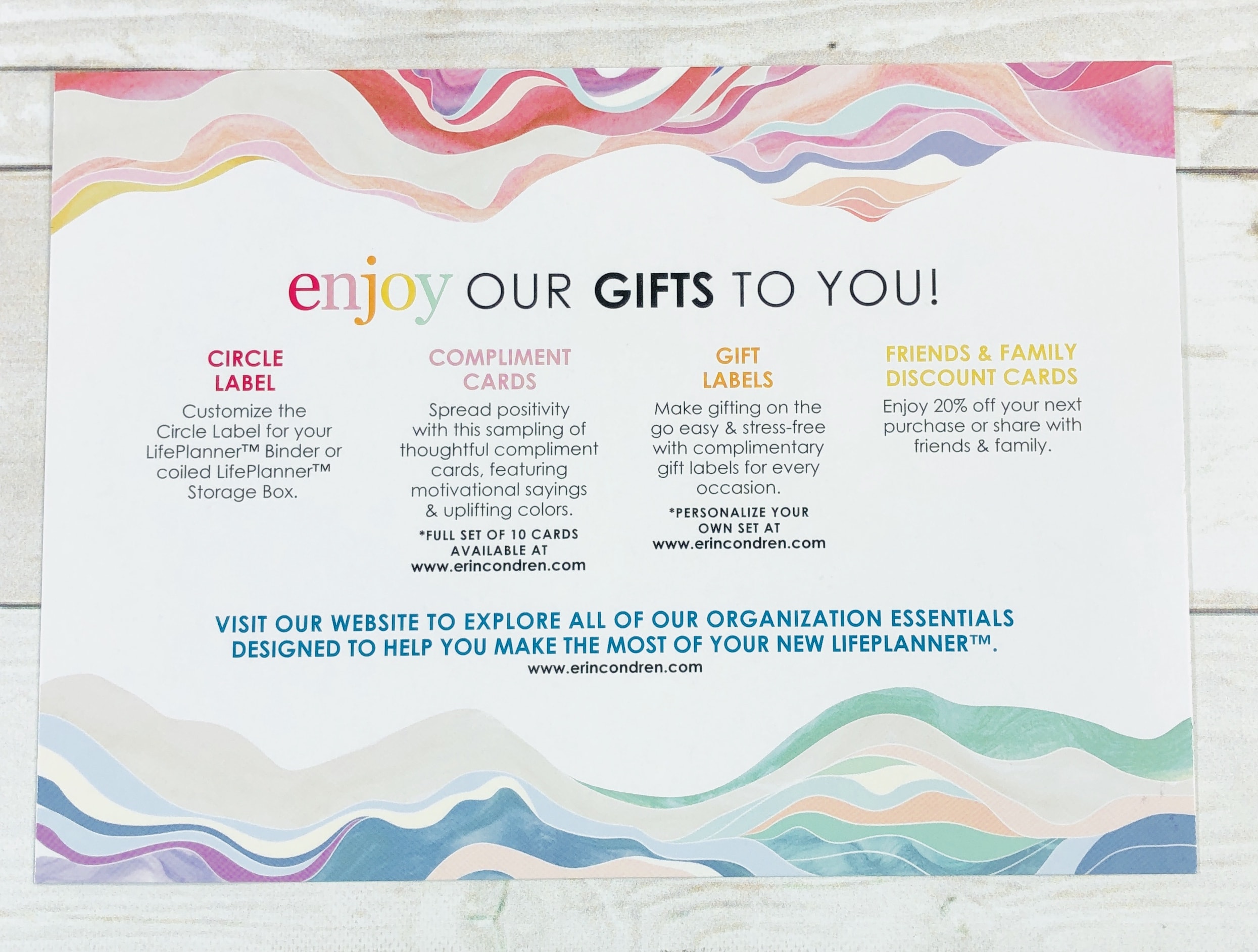 I found a card that said I received a few bonus items!
There was a Circle Label, 3 Compliment Cards, 2 Gift Labels, and a coupon code to pass to a friend.
Layers Colorful Assorted LifePlanner Sticker Pack ($8.50) is a set of the same four sticker sheets that can be found in the new LifePlanner! You can also get it in Neutral or Flower Power.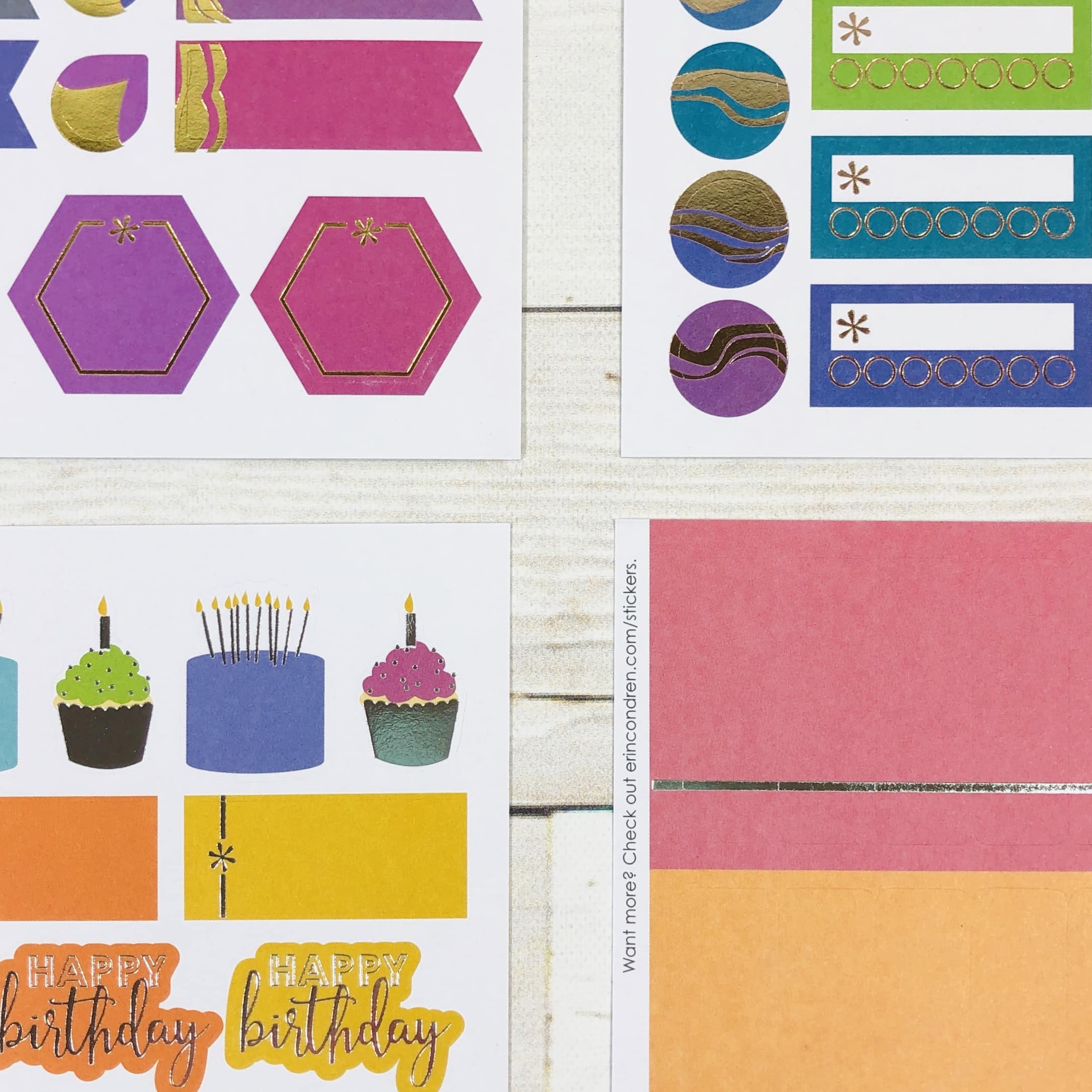 The colors are vibrant and there are metallic accents everywhere!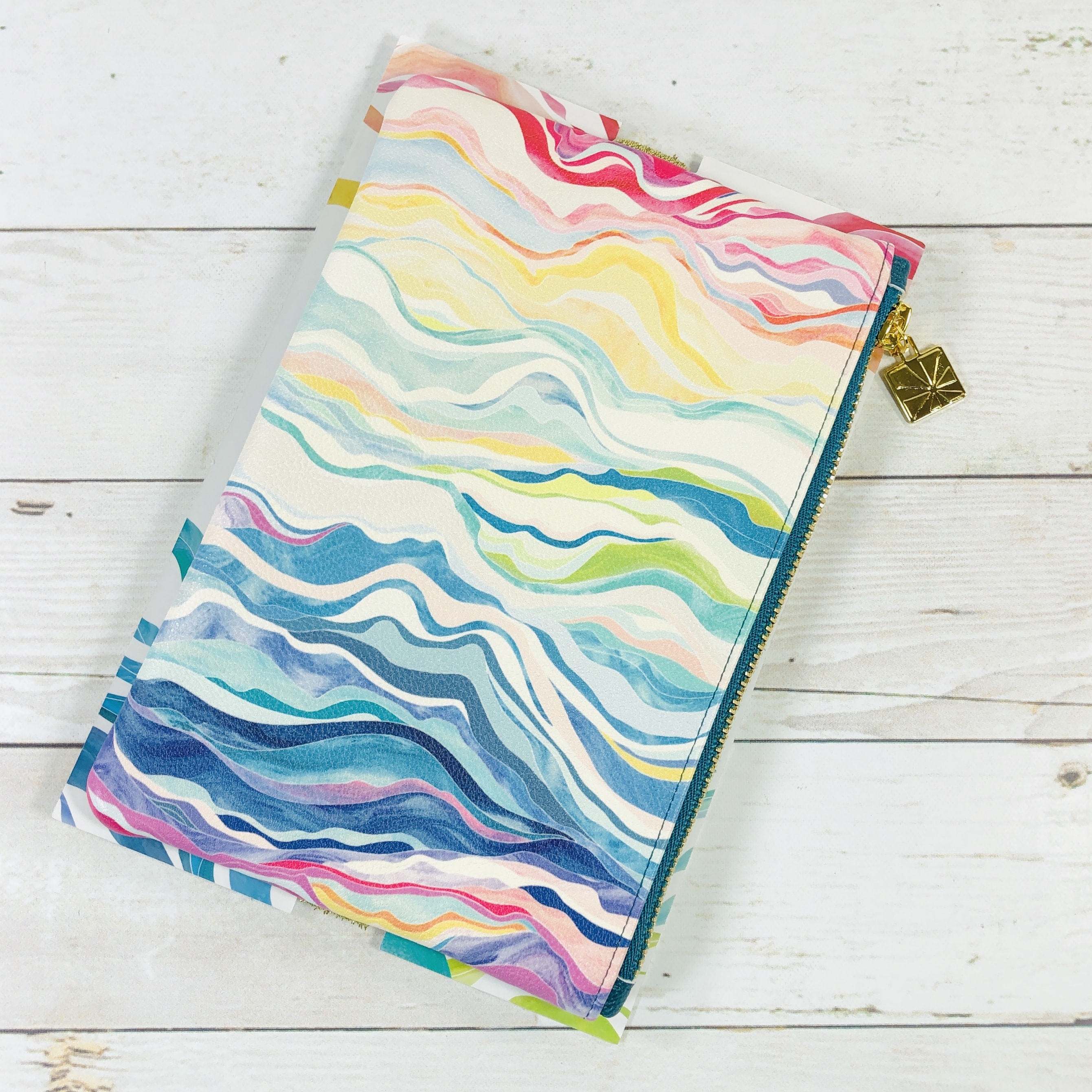 Erin Condren Planny Pack (Coming soon! Find similar item here for $20) Planny Packs are a stylish way to keep pencils, pens, or other necessities nearby because you can attach it to the LifePlanner!
The front of my Planny Pack (previous picture) has the same colorful Layers design as my new planner. The back has this stretchy gold elastic band that fits over the cover of my planner. The zipper pull makes it easy to open.
There's lots of room for pens or bookmarks, or whatever else you need to keep close.
Erin Condren Layers Mini Snap-In Bookmark Trio ($4.50) are small bookmarks that help you keep your place – like a tabbed divider, you can quickly find your page.
The first photo shows all three designs, and in this picture you can see that the back is a solid color. Just snap into your tabbed planner.
Layers Compliment Cards ($5) Compliment Cards are sort of like mini inspirational greeting cards. There are 10 in a set and they have foil accents. They are 3.5″ x 2″ on card stock and the backs have the colorful Layers print on top and bottom but the middle is blank for a personal note.
Erin Condren PetitePlanner Monthly Planner, 18 Month ($14) Sometimes a smaller planner is all you need when out and about, or for those who take a more is less approach to planning. This mini planner would also work for those who like to journal, especially bullet journaling.
The 5.7″ x 8.25″ size fits easily into a work tote or backpack. The front and back of the planner has metallic Midcentury Circles. You can use this in the Folio holder too, which holds up to four PetitePlanners, so you can do lots of customizing.
There is a calendar overview from July 2020 to December 2021.
There is also a month-at-a-glance for each month in that same time period. Each month is a different color. There is a column on the right side for notes.
The rest of the planner (there are 88 pages total) is filled with dotted paper, which seems to be easier to use when writing lists, bujo's, or decorating. I needed to make a plan for my garden the other day and reached for one of my dotted journals and found that even writing words was easier and fancier on dotted paper. The back of the book has a year-at-a-glance for 2022, and there is a colorful pocket in the back cover that holds a sheet of stickers that are also petite.
Erin Condren Washi Tape Duo ($5.50) Washi tape is a cool and easy way to add color to your planner. Use it to block out a week-long event (like vacation) or to split a day into sections.
Both of these 16-foot rolls have the Layers design, one in Colorful and the other in Neutral.
Erin Condren Layers Sticker Book ($15.50) I believe that you cannot have too many stickers, and Erin Condren stickers are always amazing. They are fun and functional!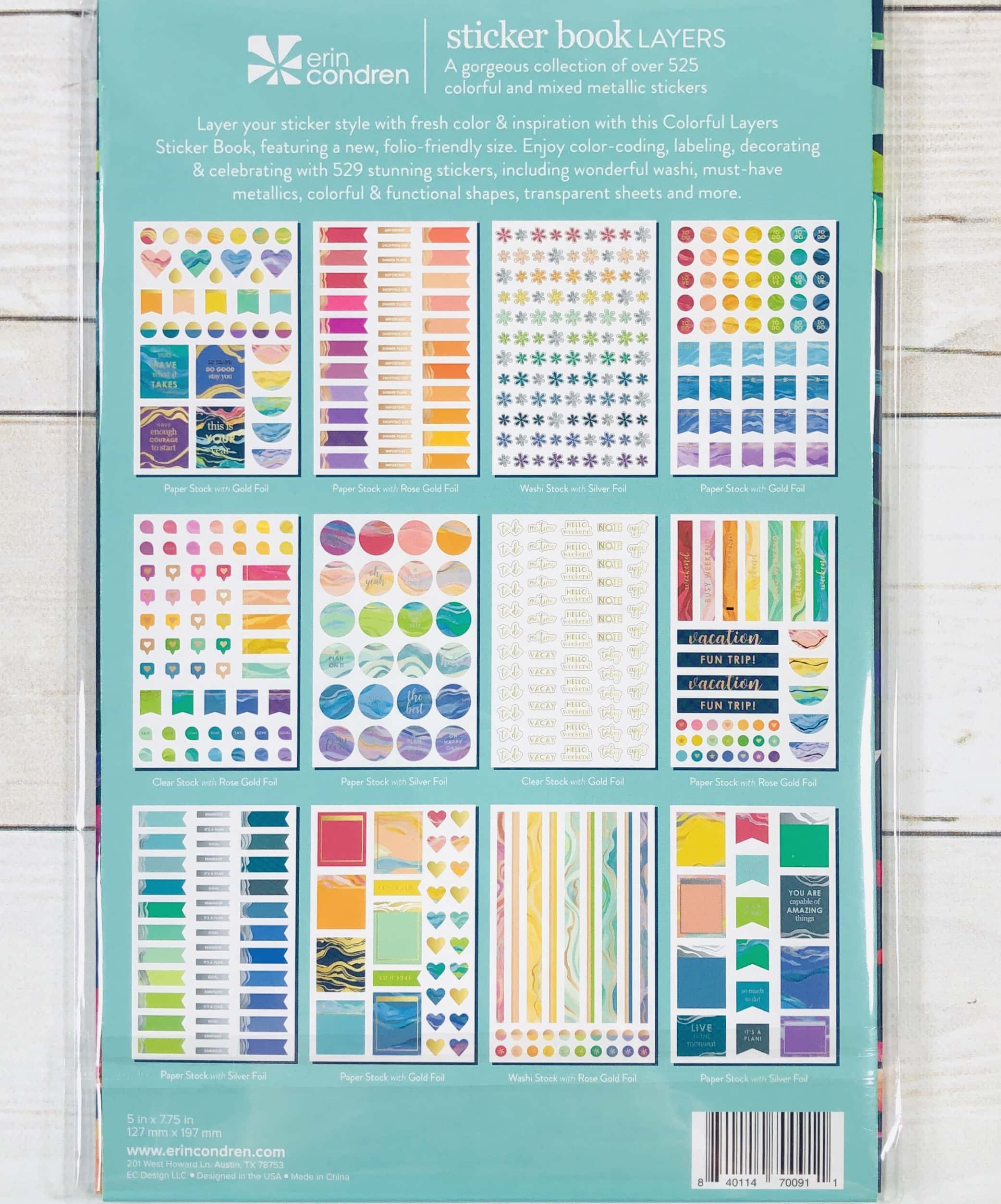 There are 529 stickers on the 12 pages of this book. Eight pages are mixed metallic paper stickers, and two each are mixed metallic washi and mixed metallic plastic.
The metallic colors are gold, rose gold, and silver and add a flash to planners.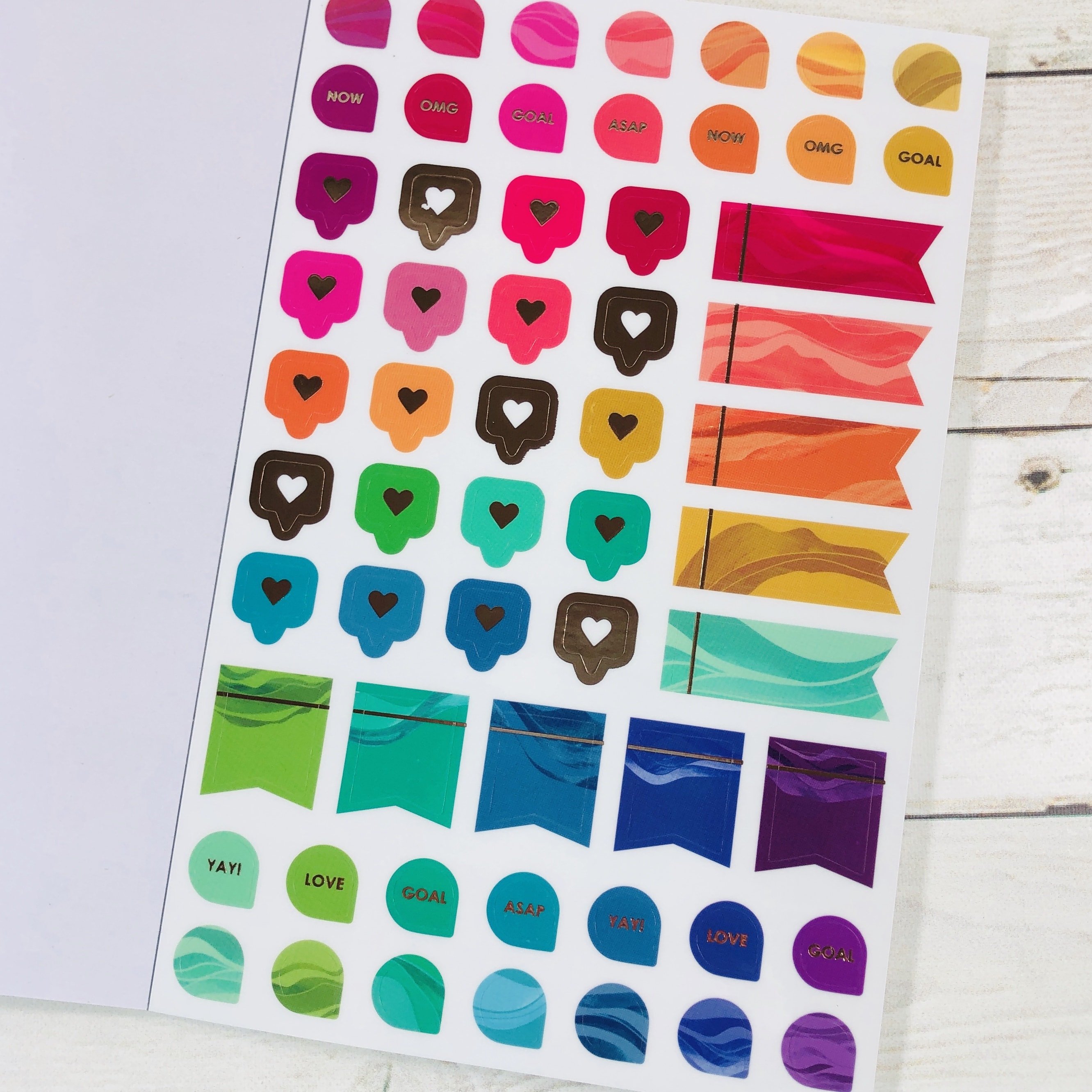 The Layers design is on most of the stickers.
Erin Condren Layers Snap-In StylizedSticky™ Notes ($10.50) Keep these little paper flags nearby to jot notes or mark pages – I use them to flag recipes in books and magazines!
You can also place them in the planner as a sort of large sticker, maybe to cover up a cancelled appointment. There are 180 notes in this pad.
The left side is made to fit in the LifePlanner and can be removed easily.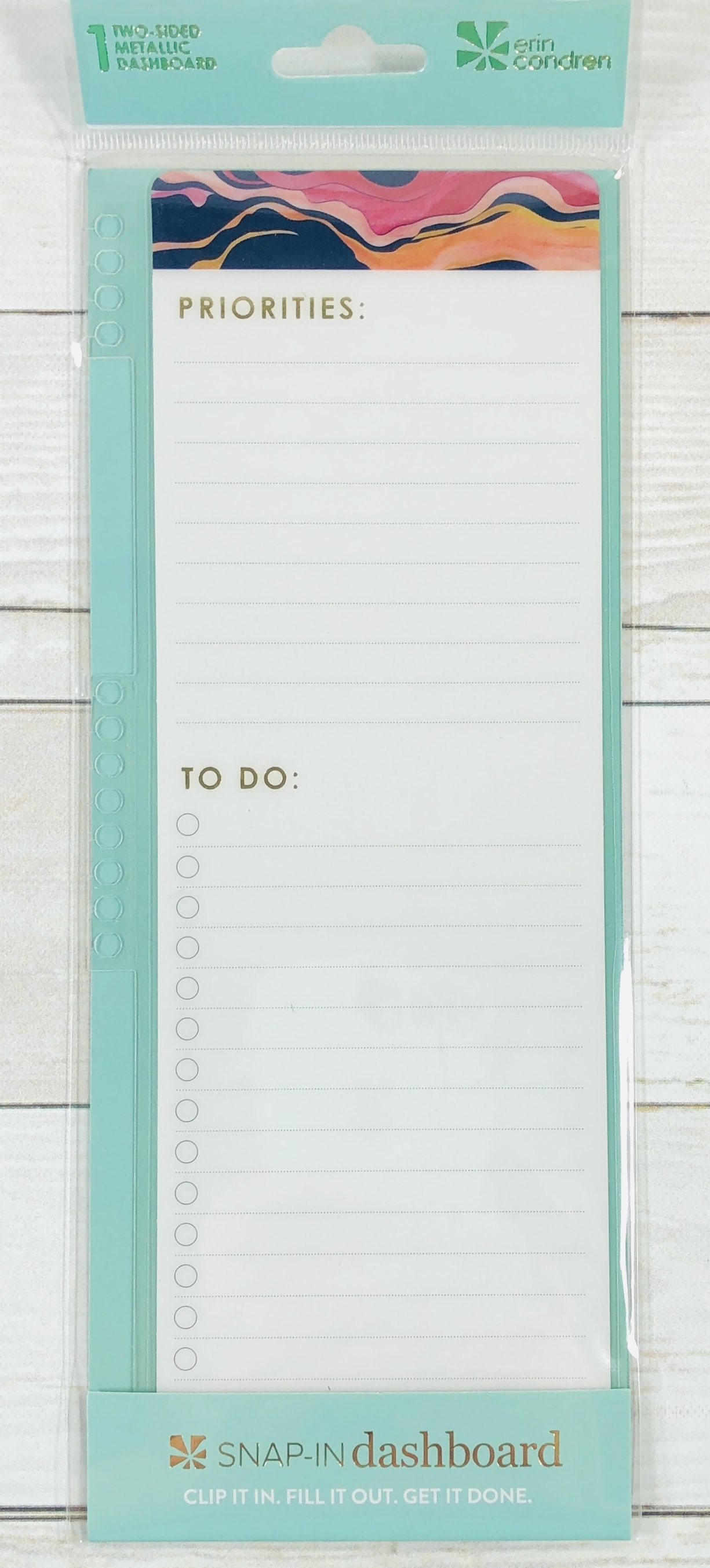 Erin Condren Layers Snap-in To-Do List Dashboard ($5.50) I love this two-sided dashboard, it's a great way to stay on task with daily and weekly reminders!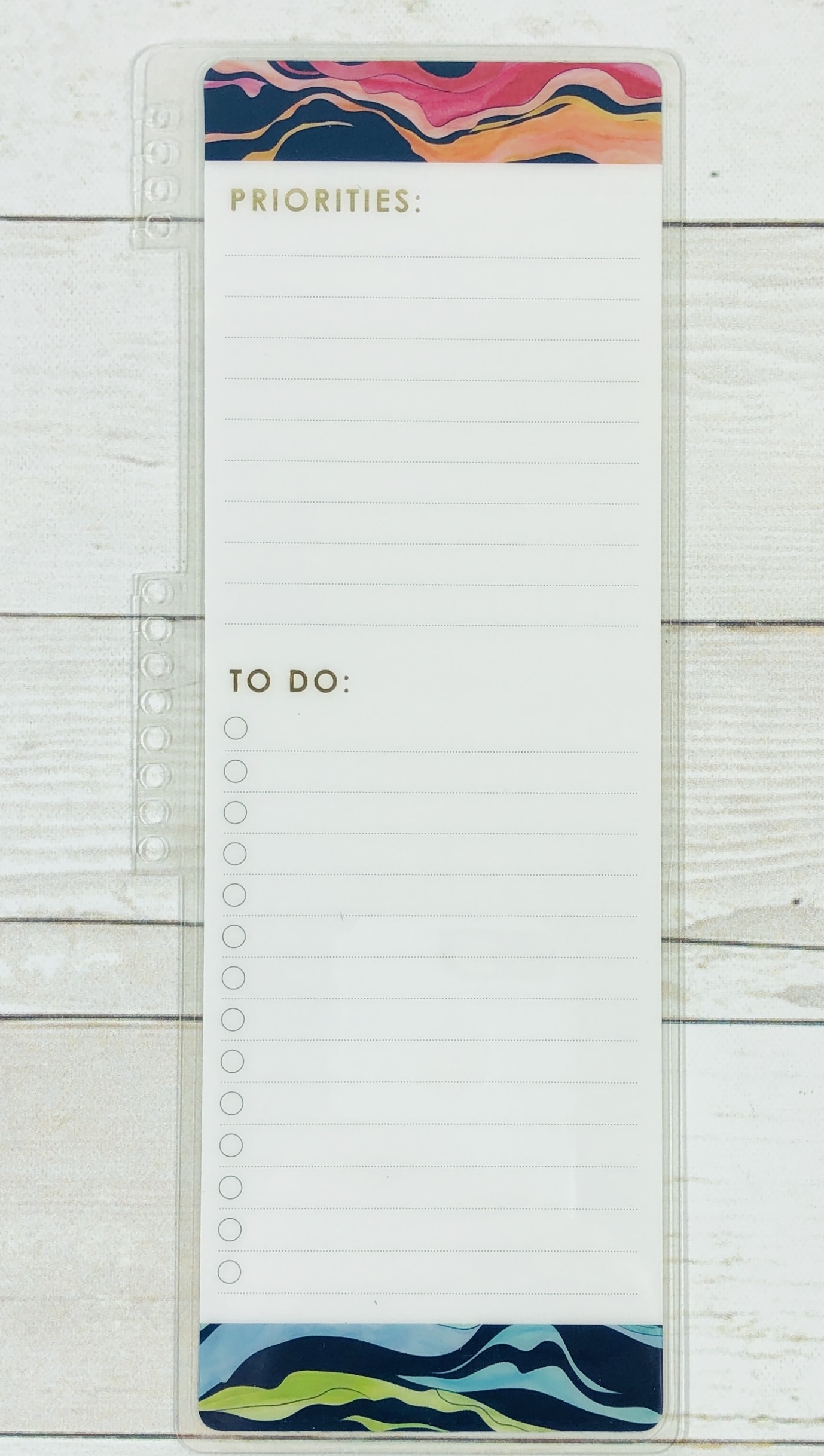 One side has space for listing "Priorities", plus a checklist for those to-do lists.
The other side has the days of the week to help keep me on track. The wording on both sides in in gold metallic. It also snaps into the LifePlanner and you can write on it with a wet erase marker then wipe with a damp cloth when it needs to be changed.
Erin Condren Layers Colorful Ballpoint Pen ($18.50) Even the box that holds this pen is beautiful!
Inside is a colorful ball point pen! The pen feels good in my hand and the ink is replaceable so I can use this pen for years to come.
Erin Condren DIY Interchangeable Pen Variety Pack ($22.50) I received a version of this in a past Seasonal Surprise pack so I was super happy to see the full set and all of these lovely colors!
Directions for use were on the back of the pack and the colors were also listed there.
There are two striped barrels, and you get to select and then screw in two tips to create your favorite pen combo. The four colors on the top left are highlighters, the three in the middle are fine tipped pens, and the six on the right are medium tips.
I adore the versatility!
Here are the tips up close, with fine point first, then medium point, and then highlighter.
I have only used the Erin Condren LifePlanner for the past couple of years but let me tell you, I have quickly become a huge fan of the system and accessories! The quality of everything I've used from the brand has been very high and they frequently add new products and patterns. They also have everything from bright colors to more subdued tones to fit a wide variety of users. The LifePlanner is such a life saver and keeps me on track through the day, week, month, and year. It comes in several different configurations so buyers can choose what works for them, whether that is a binder system, teacher planner, or even a wedding planner. Plus, it's so much fun to personalize and pick coordinating products! My friends and I ooh and ahh at meetings over the differences in our styles whenever we whip out our LifePlanners!
What did you think of the new Erin Condren LifePlanner? Tell me what you think!
Visit Erin Condren Seasonal Surprise Box to subscribe or find out more!