Disney Movie Club delivers the latest (and most-loved classic) Disney Movies for you to build your ultimate Disney Movie library. When you sign up for the trial offer (see below for full details) you can get 4 movies for $1 shipped. Not just Disney you can also get Pixar and Marvel Studios!
The way this subscription works is that you'll get a featured movie title offer that you can accept or decline. If you forget to decline, it will be sent automatically. Just like pick or skip in other subscriptions. Some months have 2 featured titles, and that's why we have 2 reviews this month!
DEAL: Get 4 movies for only $1! The deal applies automatically, just VISIT AND SUBSCRIBE. Terms & conditions apply. In order to fulfill your Club purchase commitment, you'll need to buy 5 movies at full price.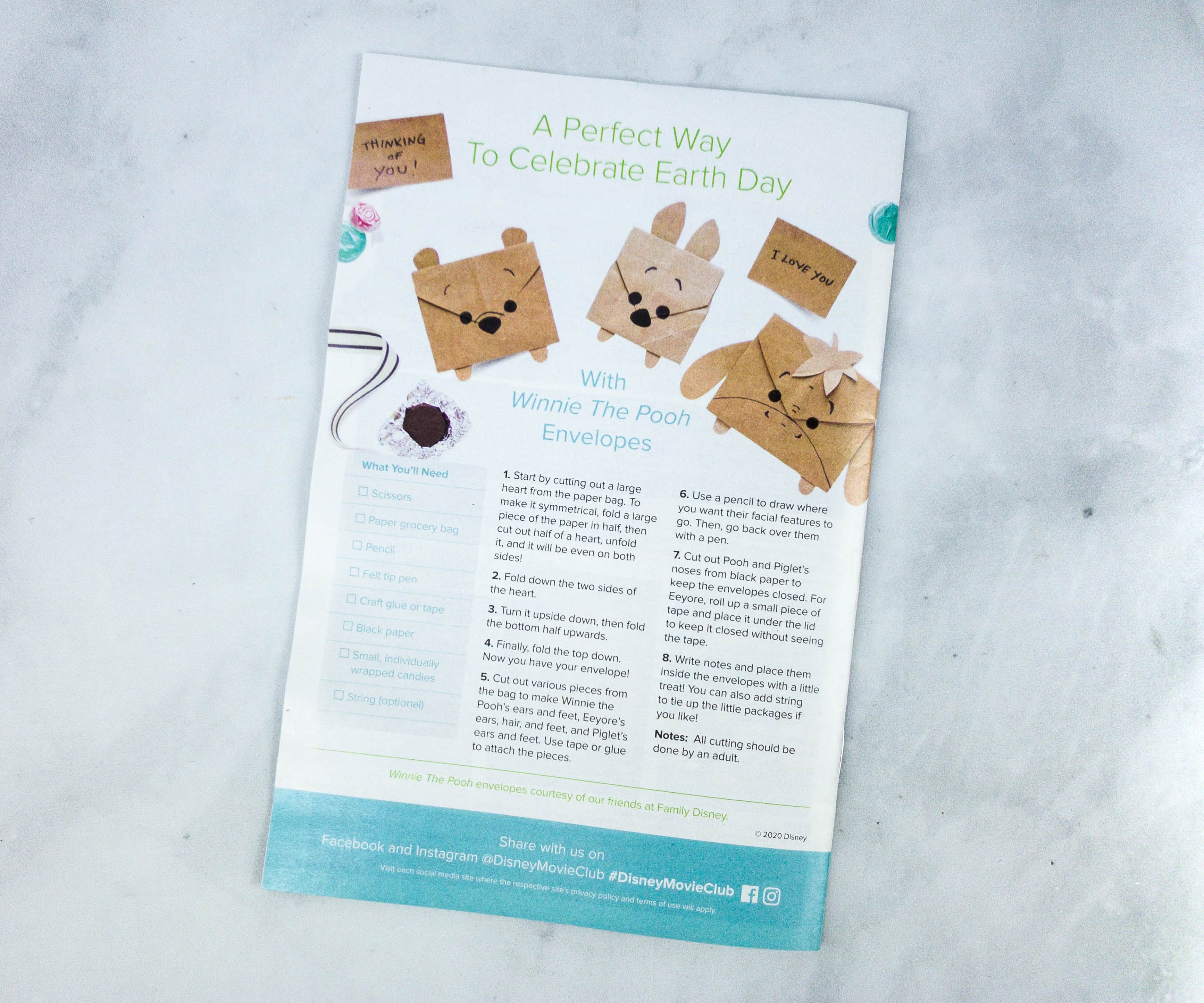 There are various deals throughout the booklet, and there are even games!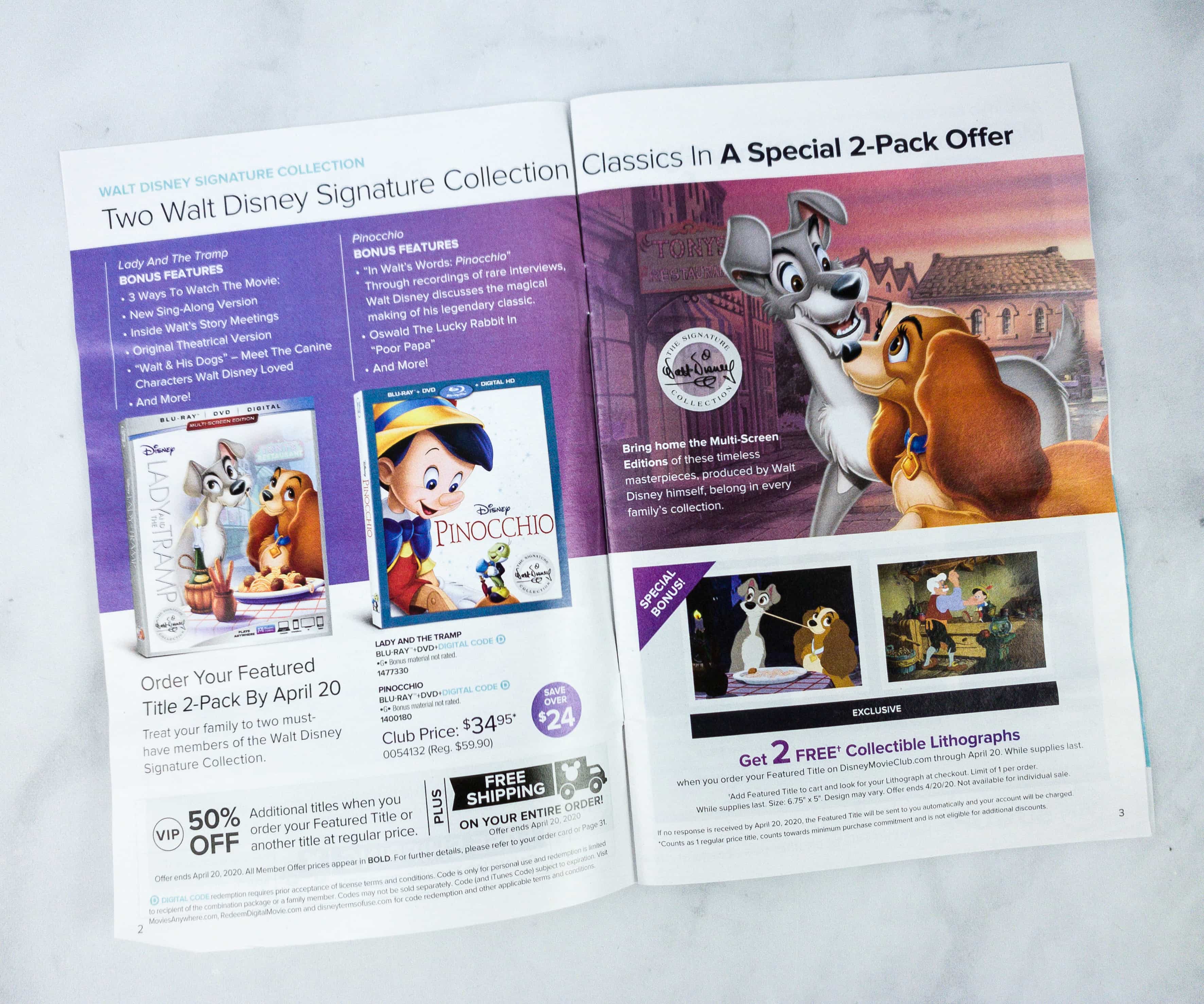 Another page lists some member-exclusive offers and gifts, like the collectible, limited-edition lithograph.
Our mailer has arrived!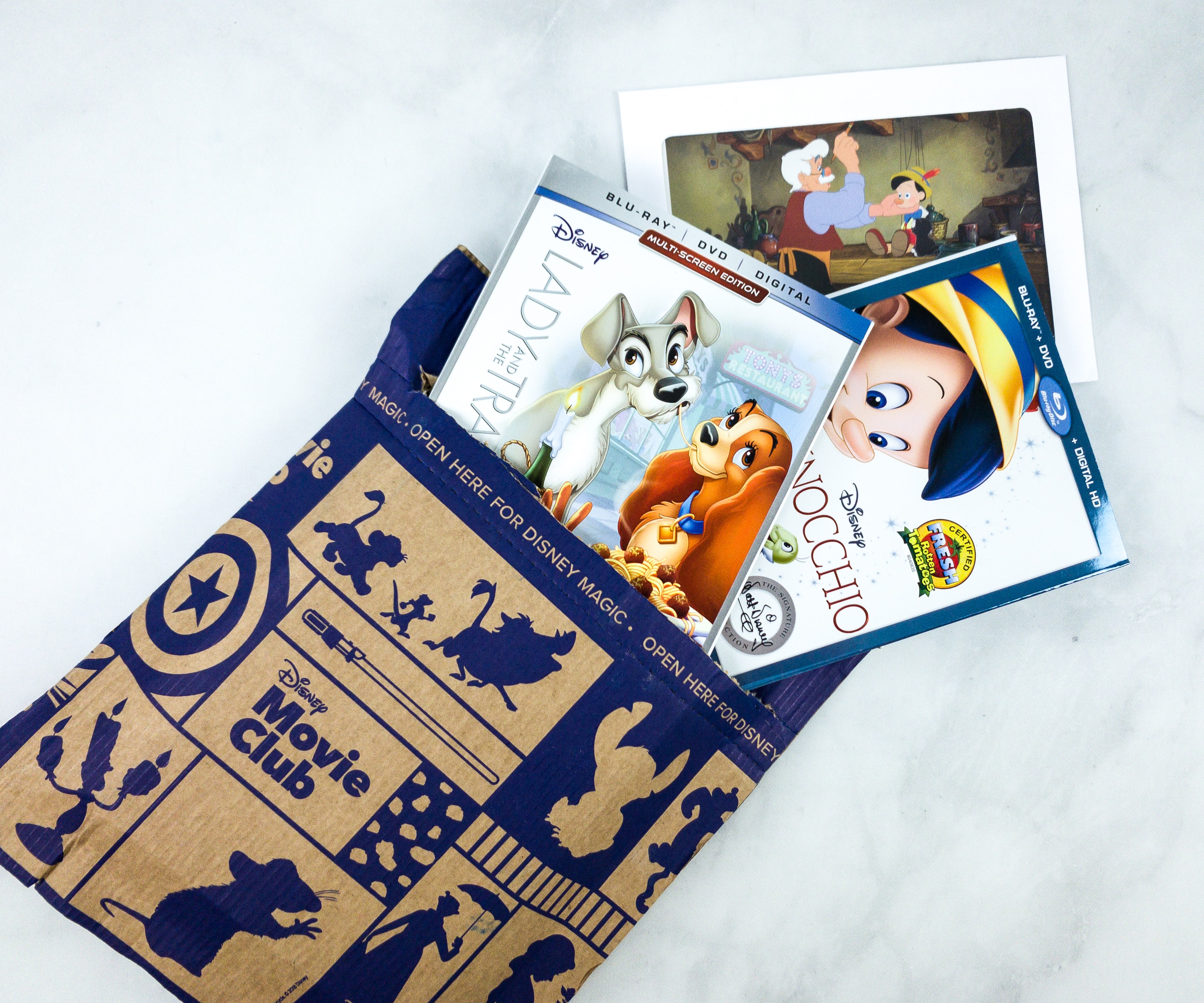 The contents of the mailer are saying hi to us!
Everything in our package!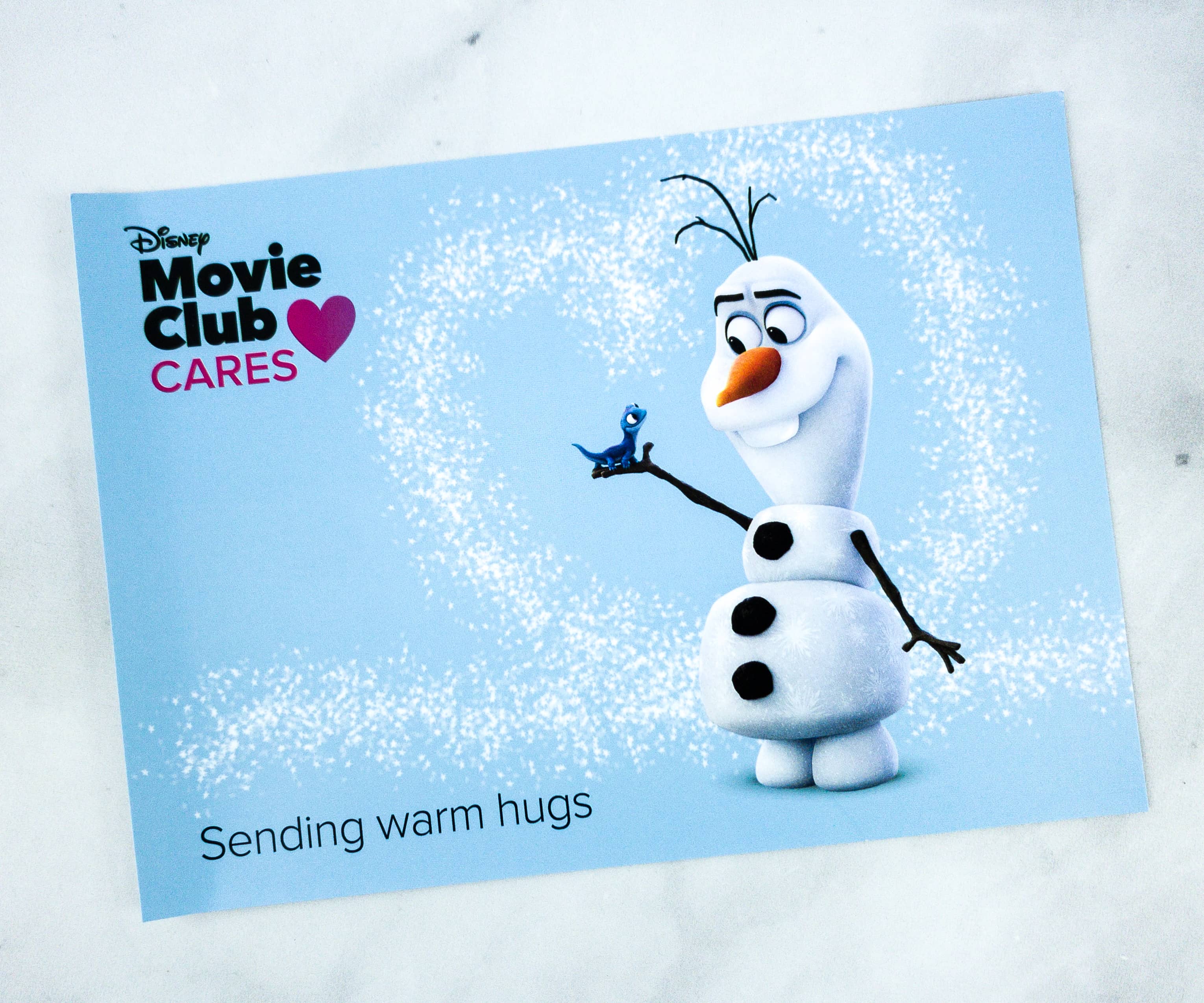 There's a card from Disney Movie Club that features Olaf, sending warm hugs!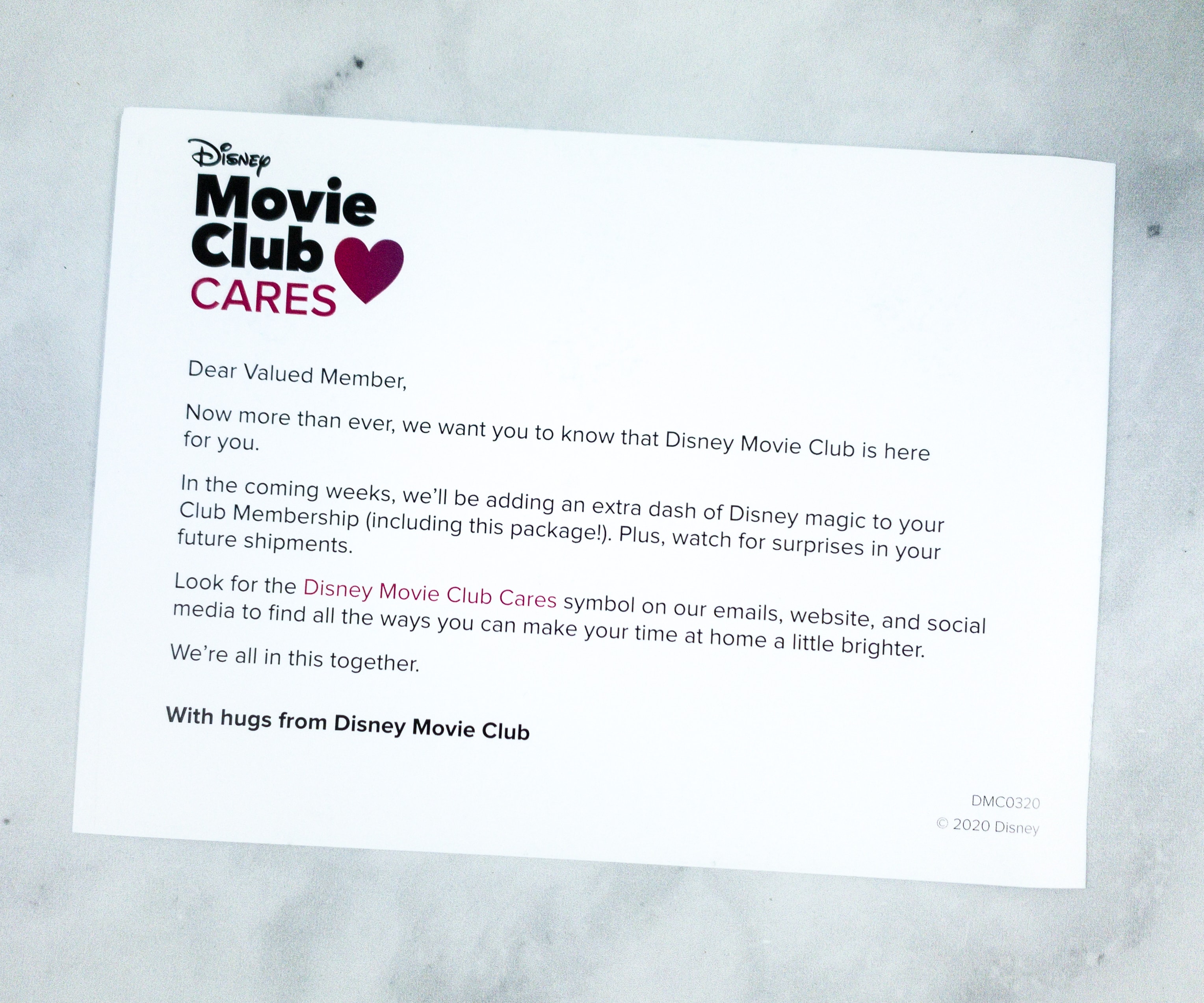 The flip side has a note from them saying that in the coming weeks, they will be adding an extra dash of Disney magic to the club membership and there will be surprises in future shipments!
Lithograph. We also got another lithograph this month!
It's a limited edition lithograph, which is a part of a collectible series.
It features the wood-carver, Geppetto, while he was creating his wooden puppet Pinnochio! I think in this scene, he's adding colors to the "little boy", as he was holding a paintbrush with red paint on it.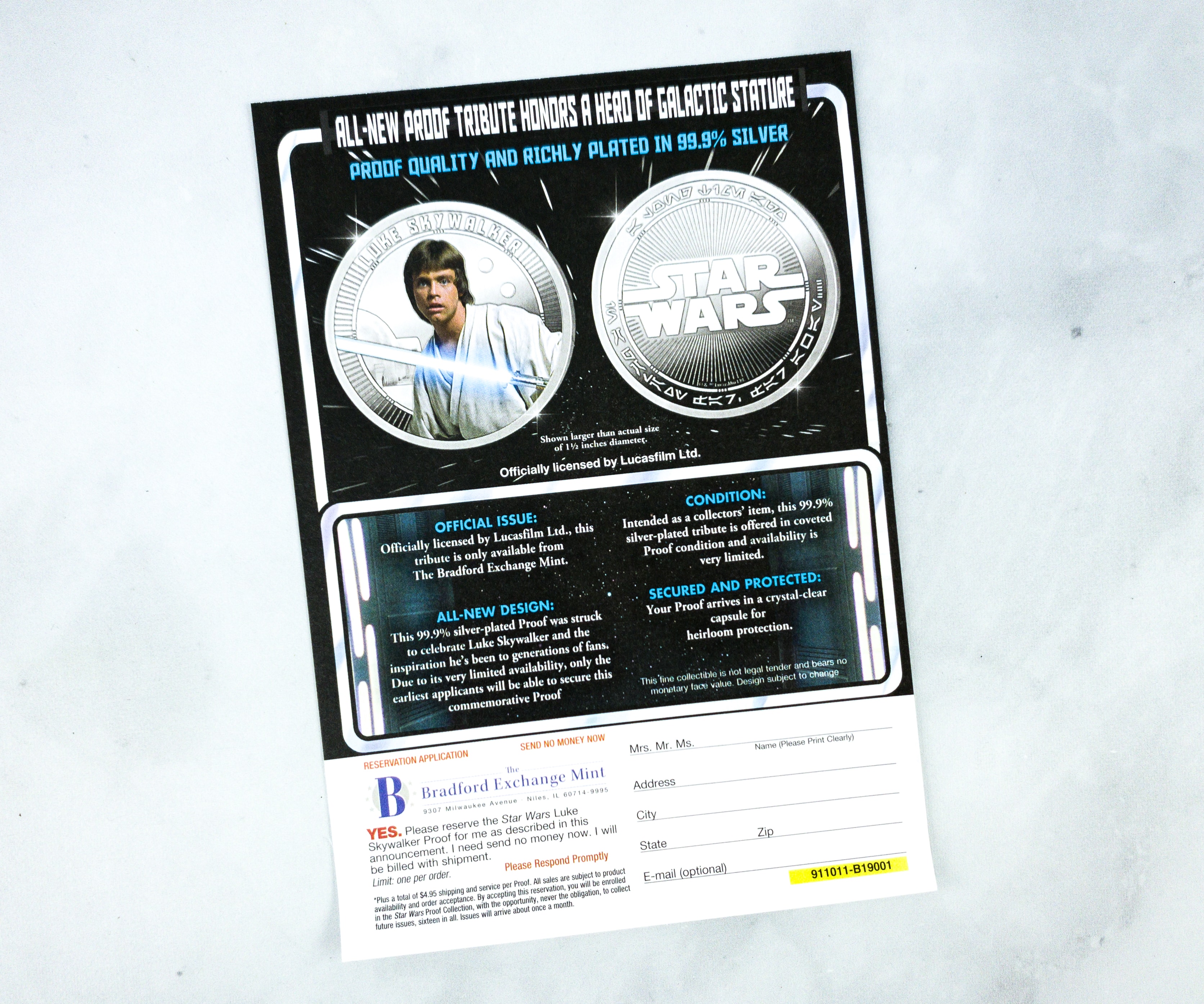 Members can get original Disney movies and licensed Disney merchandise with exclusive promos and discounts. There are other members-only perks as well!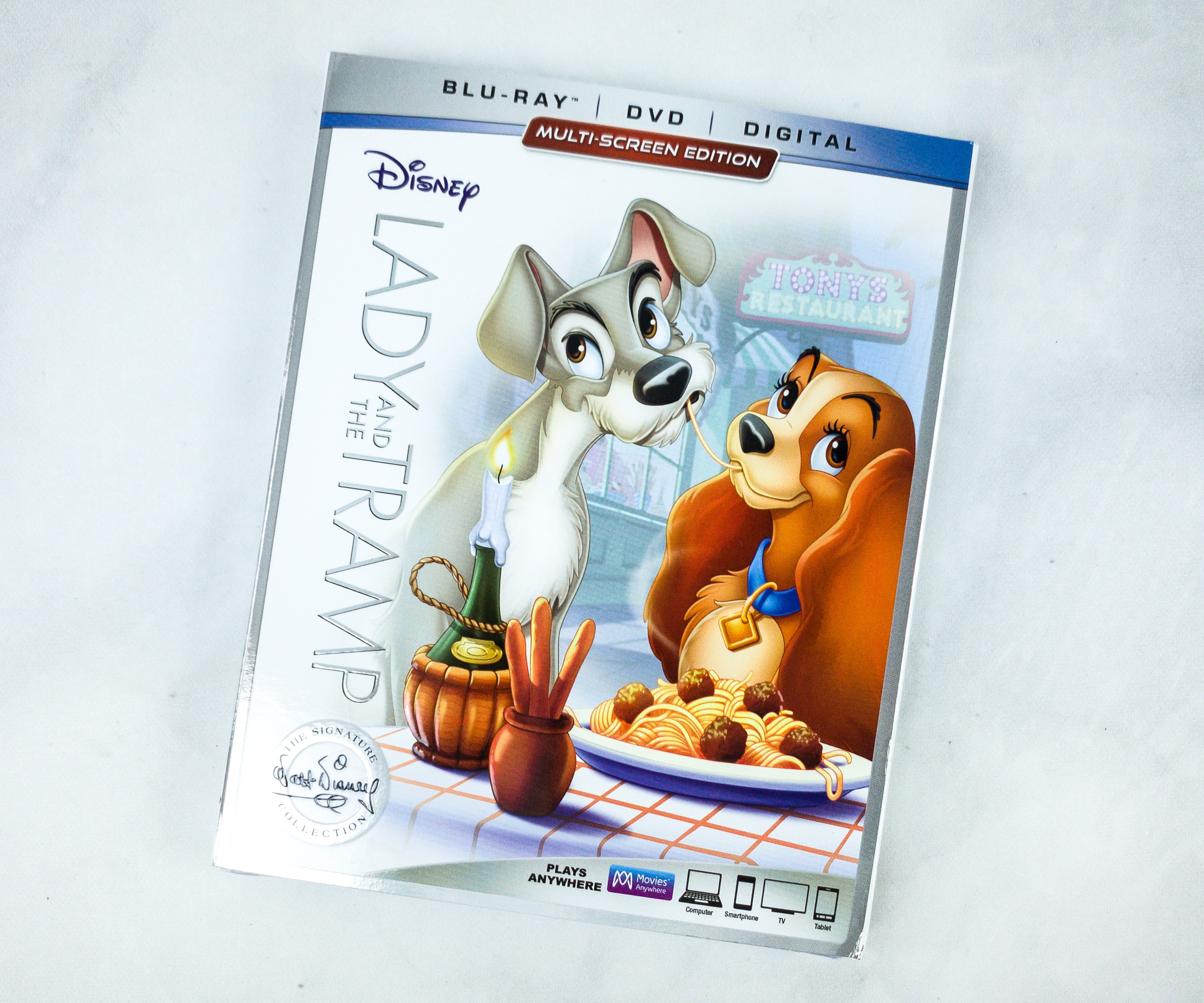 Lady And The Tramp Blu-Ray DVD ($14)
Lady, a female dog, feels neglected when Jim and Darling get a baby in the house. Later, when Aunt Sarah gets her twin Siamese cats, Lady is blamed for all the havoc they wreak.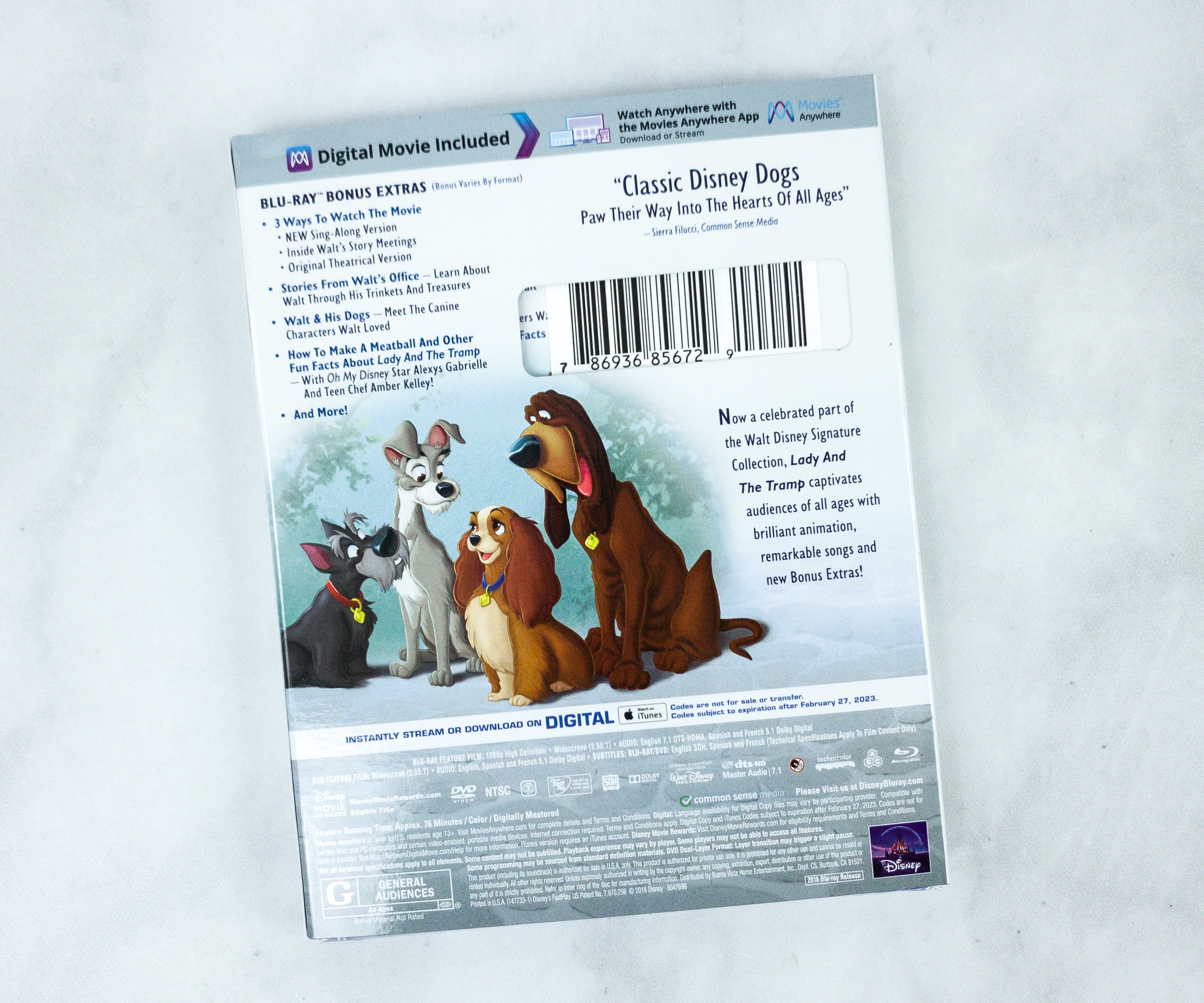 The Blu-ray also included some bonus extras such as 3 ways to watch the movie, Stories from Walt's Office, Walt and His Dogs which features the canine characters that Walt loved, How To Make A Meatball And Other Fun Facts About Lady and the Tramp, and more!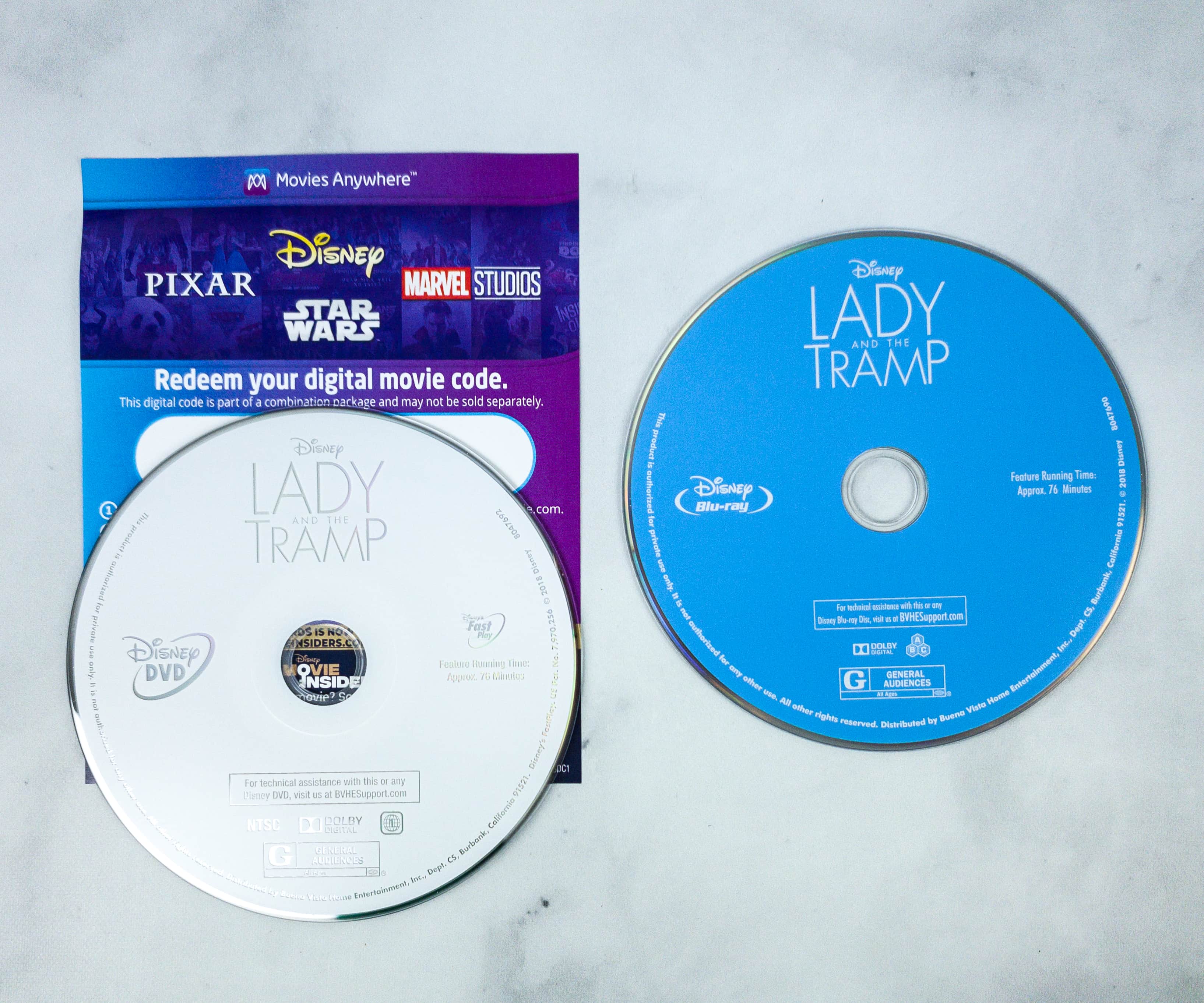 You will also get a DVD copy, aside from the Blu-ray disc, and a redeemable code that you can play in your phone, tablet, PC, or other gadgets!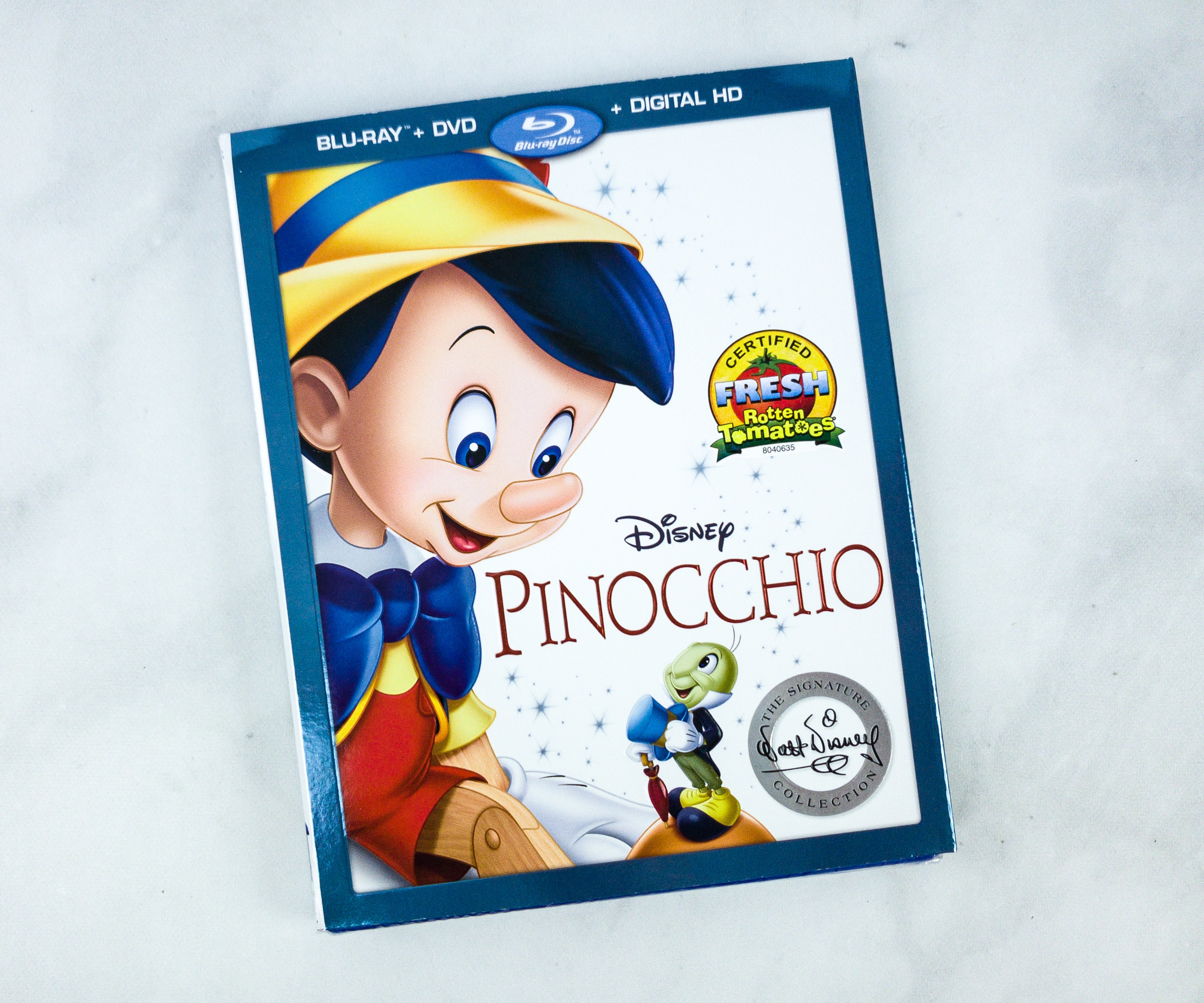 Pinocchio Blu-Ray DVD ($24.99)
Pinocchio, a marionette, must earn the right to become a real boy by proving to be truthful, brave and selfless. He is assisted by Jimmy Cricket, his assigned conscience.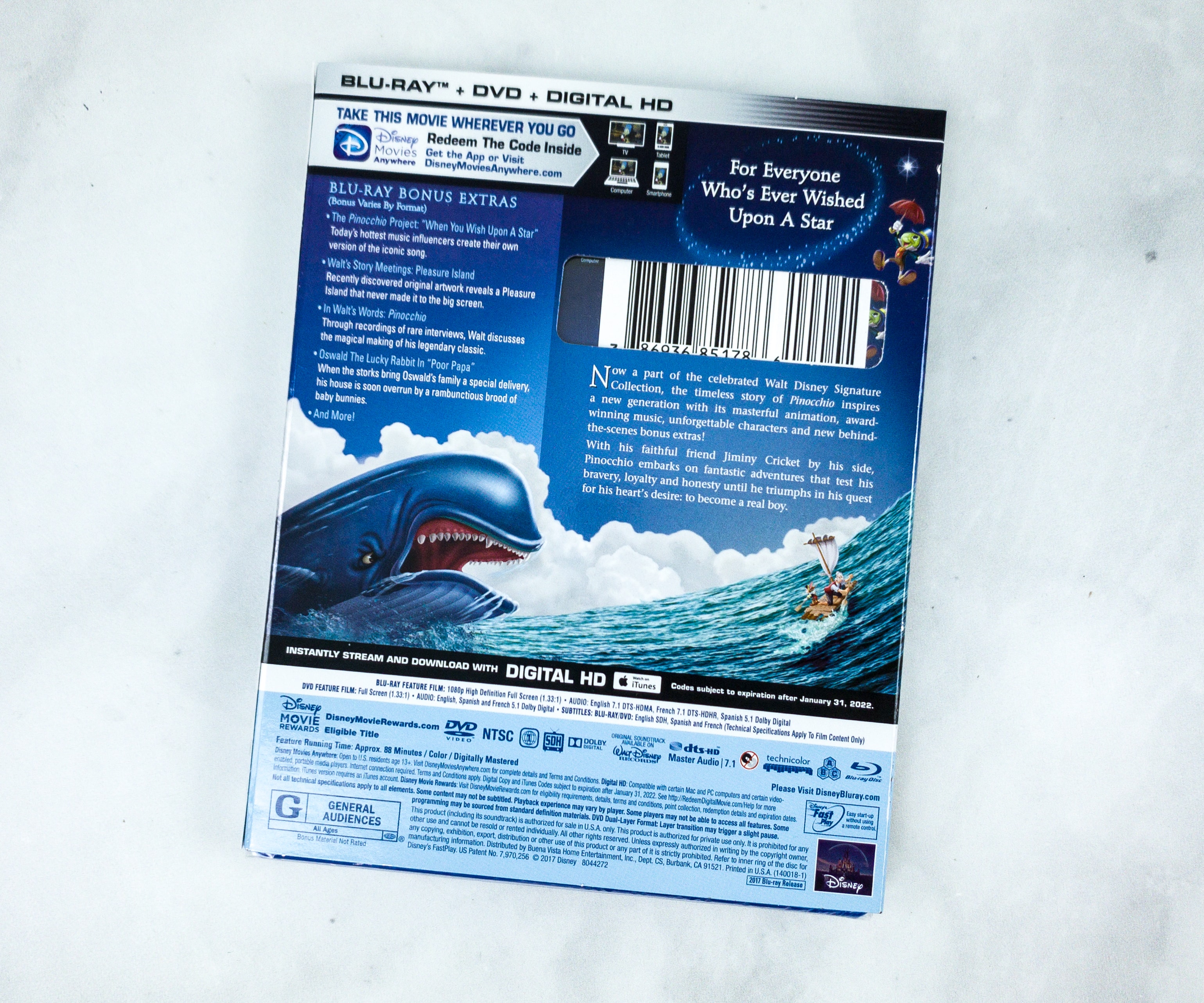 The bonus extras that you'll get from these movies are varies depending on what format you get. For this movie, the Blu-ray disc will include bonuses such as The Pinnochio Project: "When You Wish Upon A Star", Walt's Story Meetings: Pleasure Island, In Walt's Words: Pinnochio, Oswald the Lucky Rabbit in "Poor Papa", and more!
For this animated film, you will also get a DVD copy, aside from the Blu-ray disc, and a redeemable code that you can play in your gadgets. They really made it easy to enjoy the movies, anytime and anywhere!
We got two classic animations! The first one is the cute and lovable tale of two canines who fell in love and their adorable adventure. The other one is a heartwarming tale about a father's love and a fun adventure as well. We enjoyed both and we're just so happy to add more titles to our Disney movie collection!
We've got a tip for members who want to save money! You can skip months and then go back and grab previous titles as add-ons at 60% off the original price! 
If you can't get enough of these classic animated features, you can also check out more Disney classic animations on Disney+, and they're ready for streaming! But still, nothing beats Disney Movie Club if you want to have movies in hand on release!
What do you think about this month's movie pick?