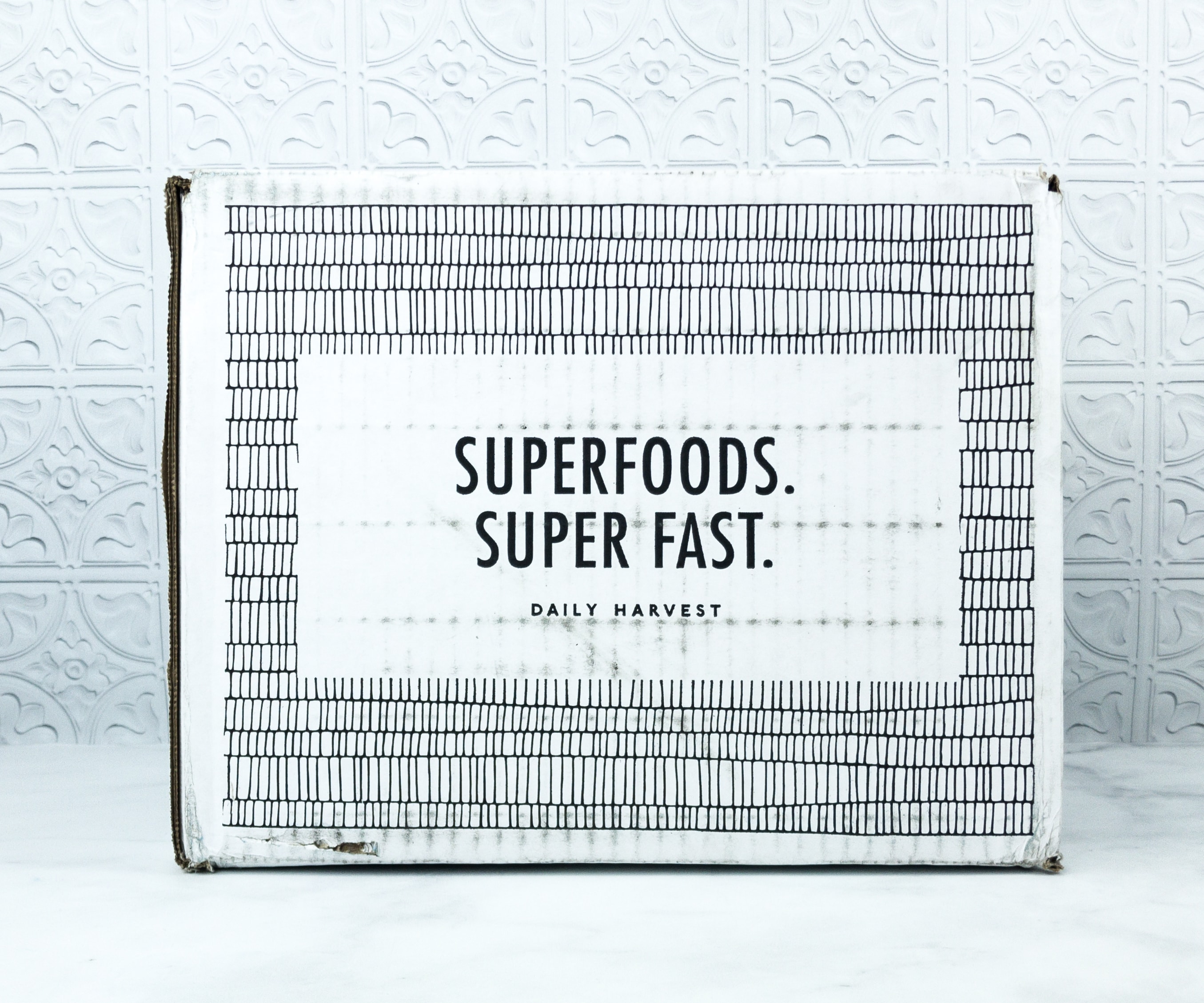 Daily Harvest is a monthly subscription of ready-to-blend, heat, or eat whole food and superfood plant-based vegan meals. Currently, they offer smoothies, harvest bowls, soups, lattes, overnight oats, and chia parfaits, and they also have a new product line which is flatbreads! You can choose from a weekly or monthly plan, and it starts at $48.91 per week.
DEAL: Save $25 on your first box! Use coupon code HELLOSUB and USE THIS LINK to subscribe. 
This subscription is going through some changes! Daily Harvest is switching to a more eco-friendly packaging by using home-compostable and recyclable bowls. More information on the packaging update here. This review doesn't include the new sizes or compostable packaging.
They are also updating portion sizes and shapes, as well as discounts for the increased box sizes. You'll now receive a $10 discount when you order a medium 12-item box, and a $20 savings when you order a large 24 item box!
Here are their new prices:
Smoothies: $7.99
Harvest Bowls: $8.99
Flatbreads: $8.99
Soups: $7.99
Bites: $7.99
Oat Bowls: $5.99
Chia Bowls: $5.99
Lattes: $7.99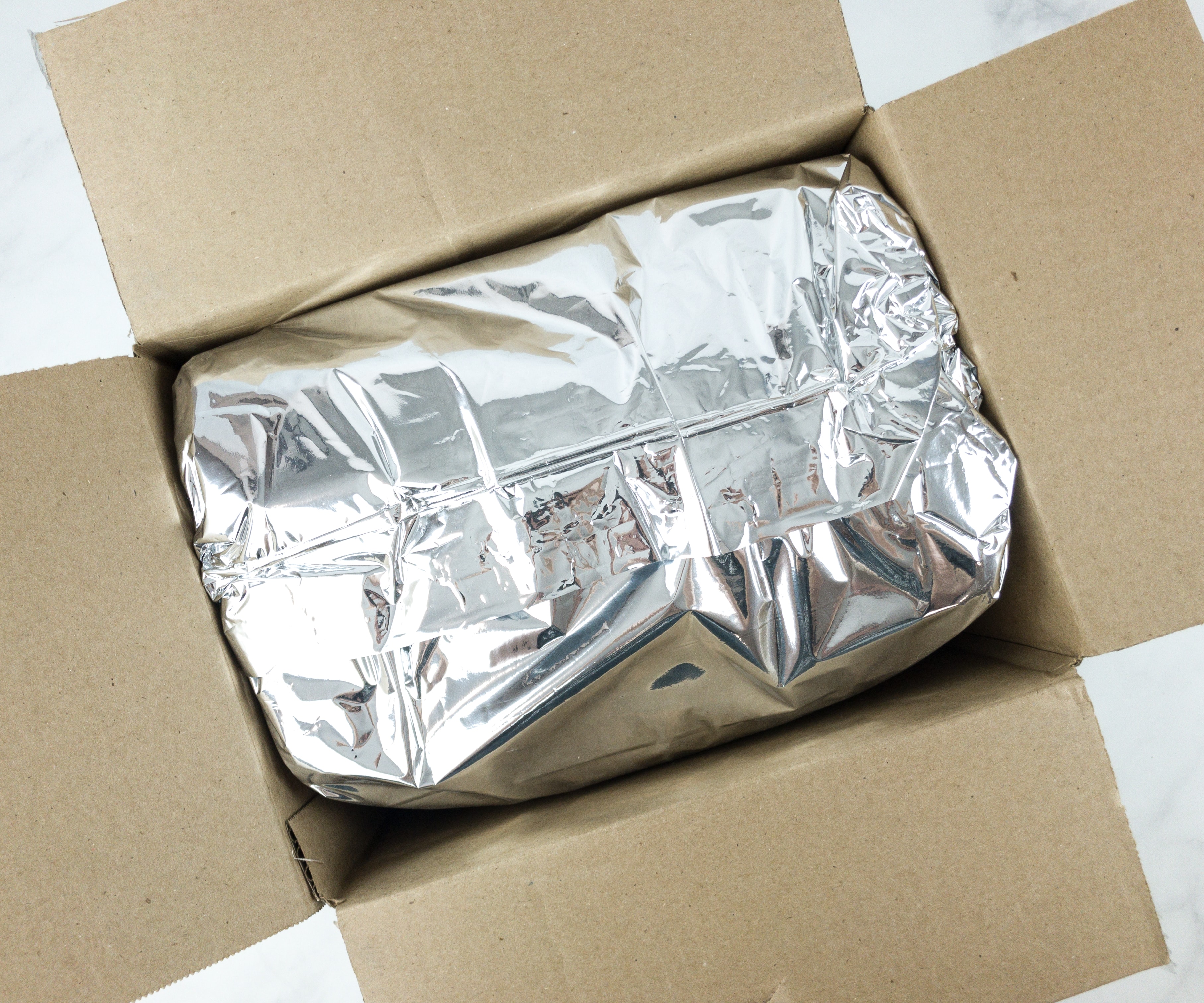 As always, their boxes are always well-insulated to keep the contents fresh!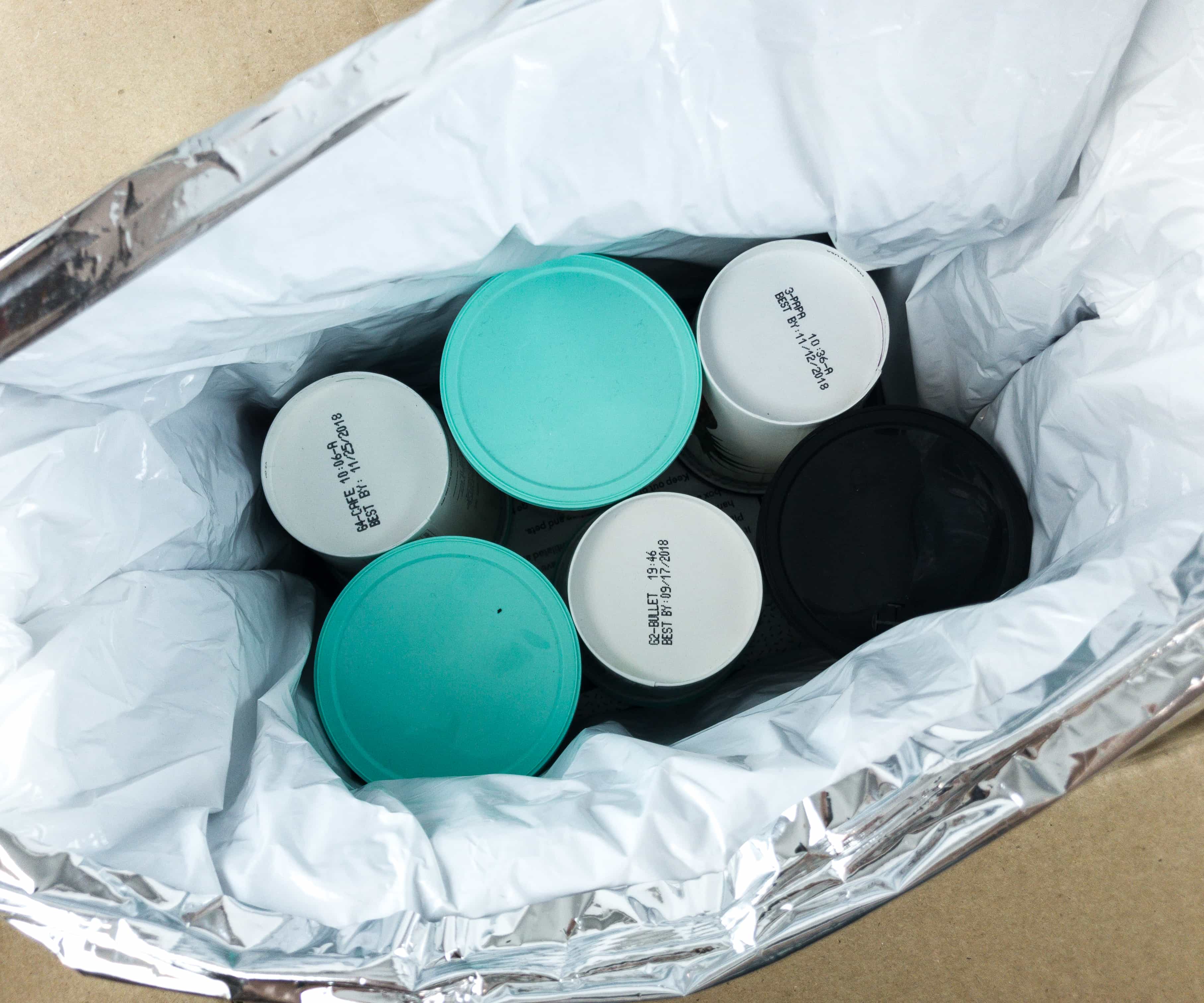 There are 6 containers inside our box! The box contains dry ice to keep the cups cool. Instead of taking it out after unpacking, just leave it in the box and allow it to vanish in a well-ventilated area.
Everything in my box!
For this box, we have 2 smoothies and 4 lattes.
The smoothies we have are Mango + Greens, and Mango + Papaya.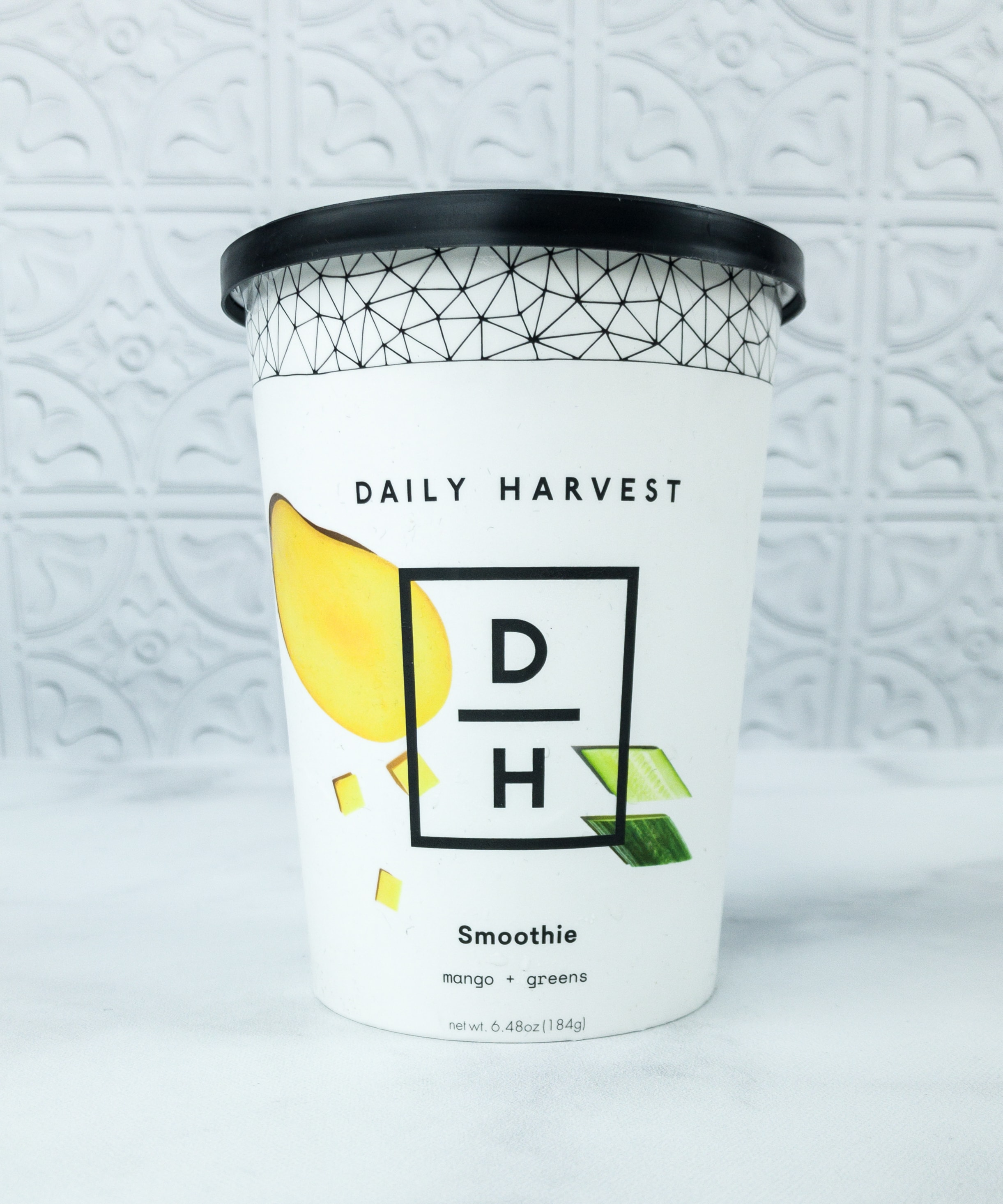 Mango + Greens Smoothie. If you want to fulfill your vitamin C needs every day without swallowing a tablet or a pill, smoothies are a great option! This one is like a swirled cucumber mango juice. It's immunity-boosting, and it's a go-to-cure when you're feeling under the weather, plus it's ultra-hydrating as well.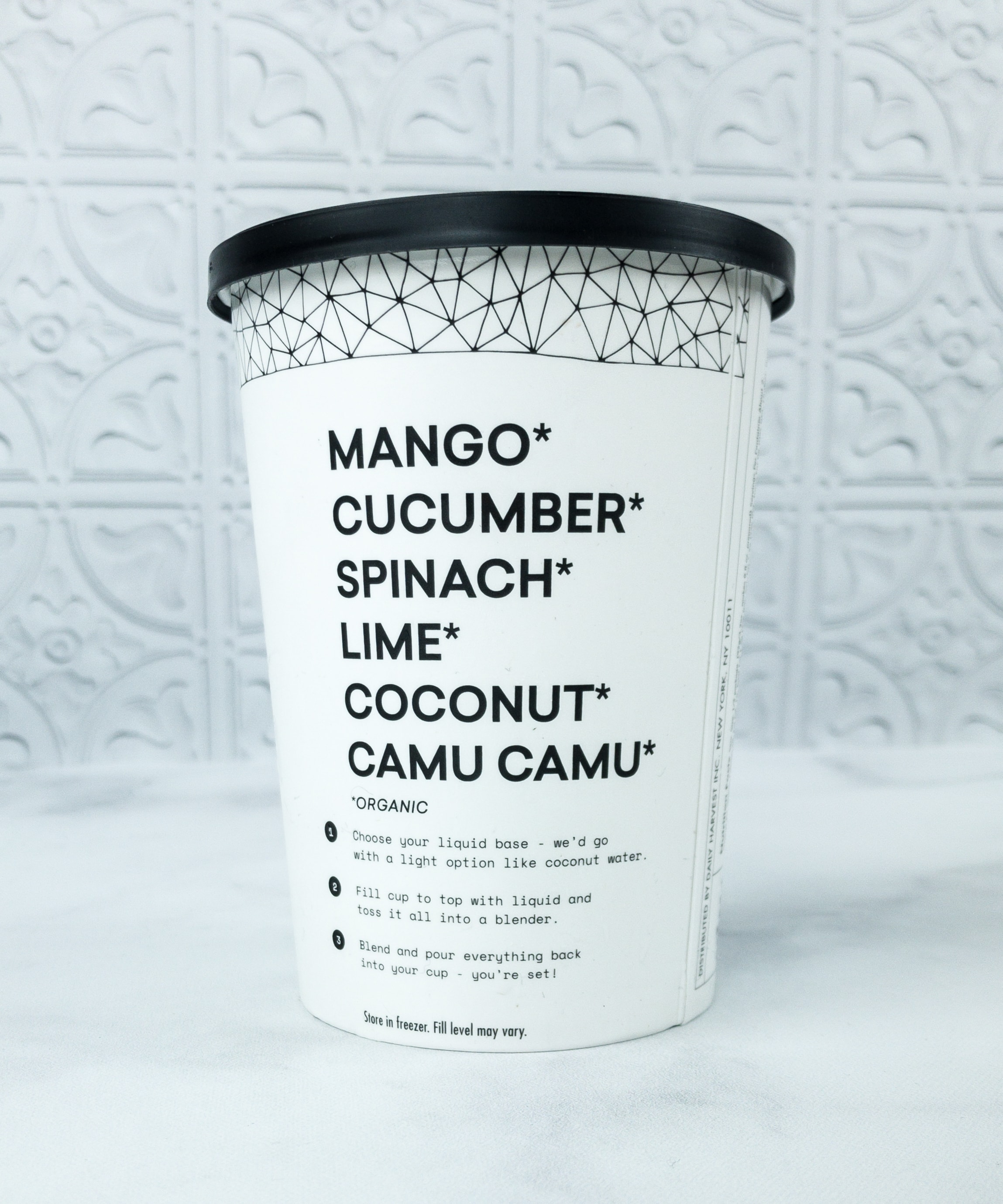 It contains organic mango, organic spinach, organic cucumbers, organic coconut water, organic lime juice, organic coconut oil, and organic Camu Camu powder.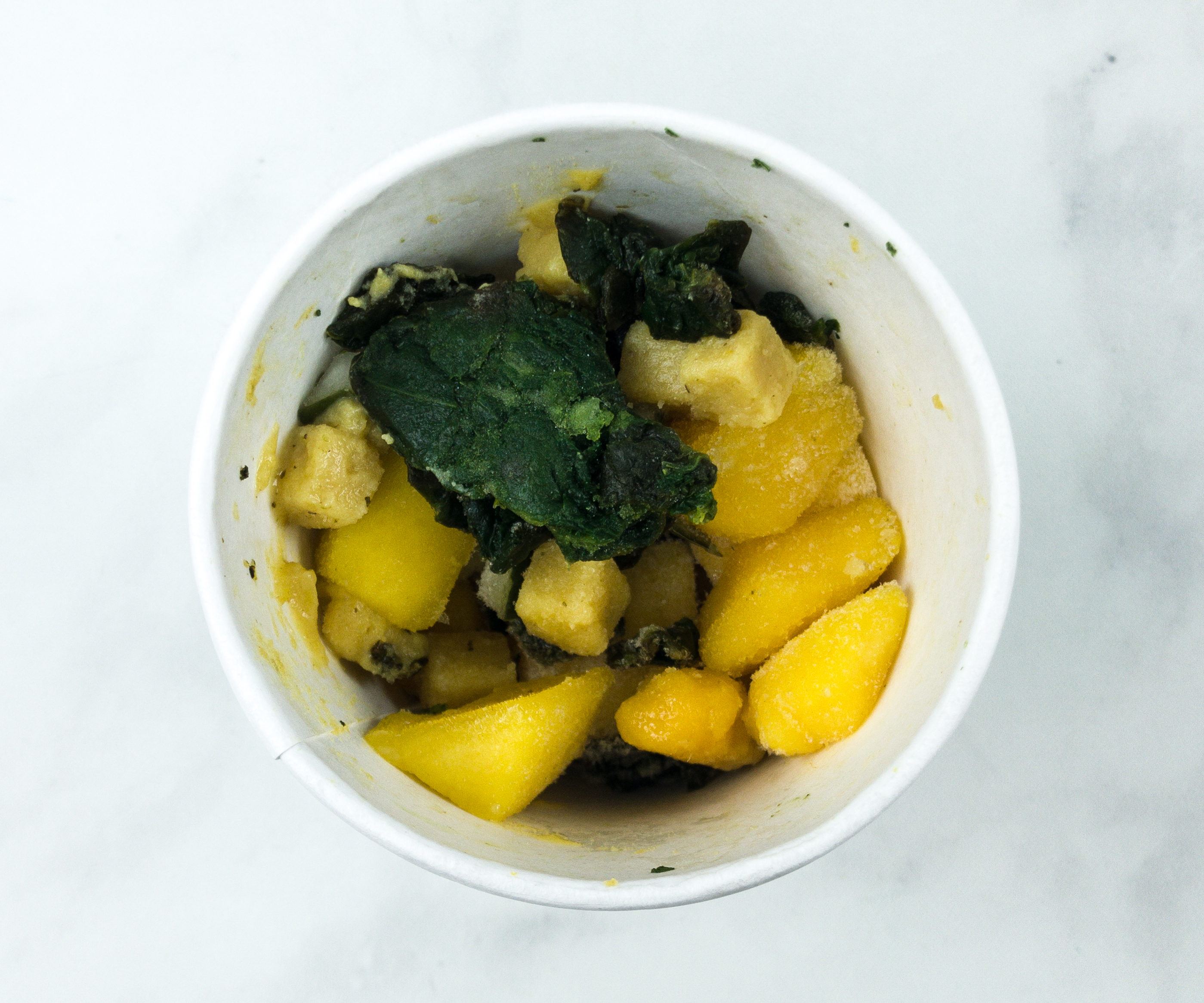 When we opened the cup, there were whole ingredients like pieces of sliced mangoes and spinach. It's totally up to you if you want to add milk, almond milk, coconut water, or just plain water to blend everything!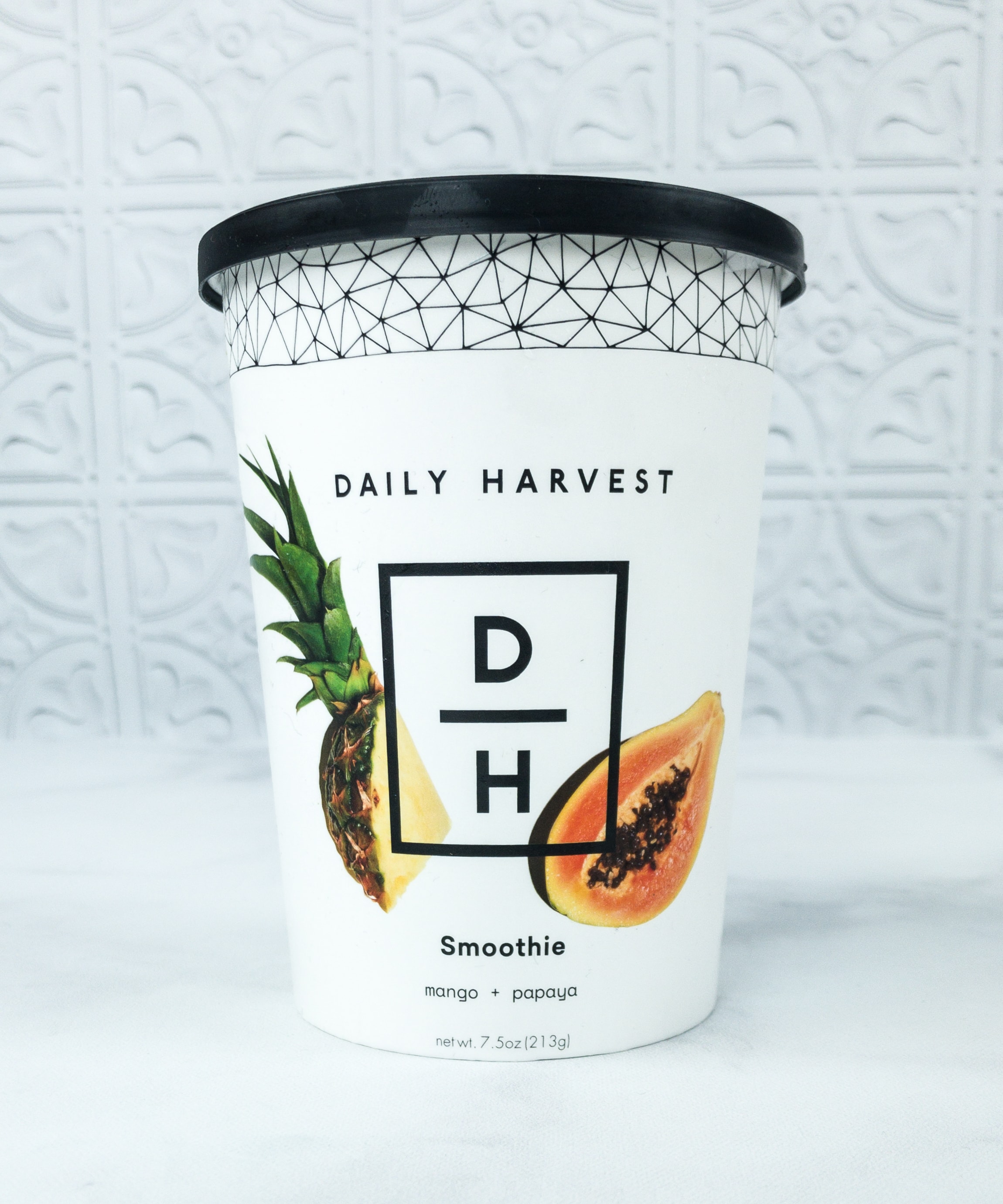 Mango + Papaya Smoothie. A perfect smoothie for any hot day, this mango with the goodness of papaya will remind you of tropical paradise as it tastes and feels like a mango sorbet. It's also packed with vitamin C and more antioxidants to keep you looking and feeling younger!
The cup contains organic mango, organic pineapple, organic acerola puree, organic papaya, and macadamia nuts.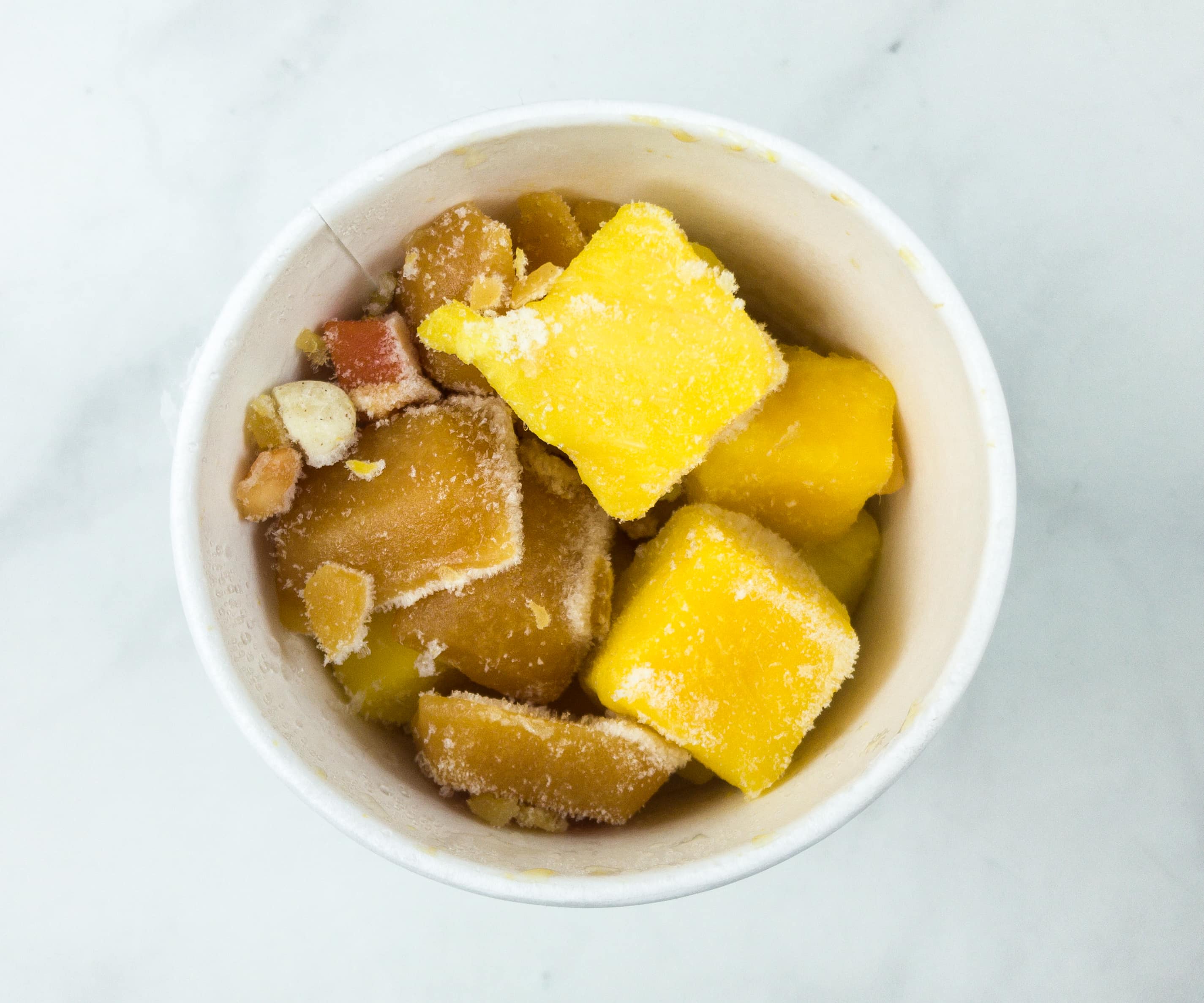 The mango and papaya chunks looked so good! For this smoothie, it's better to use a light liquid base, like coconut water.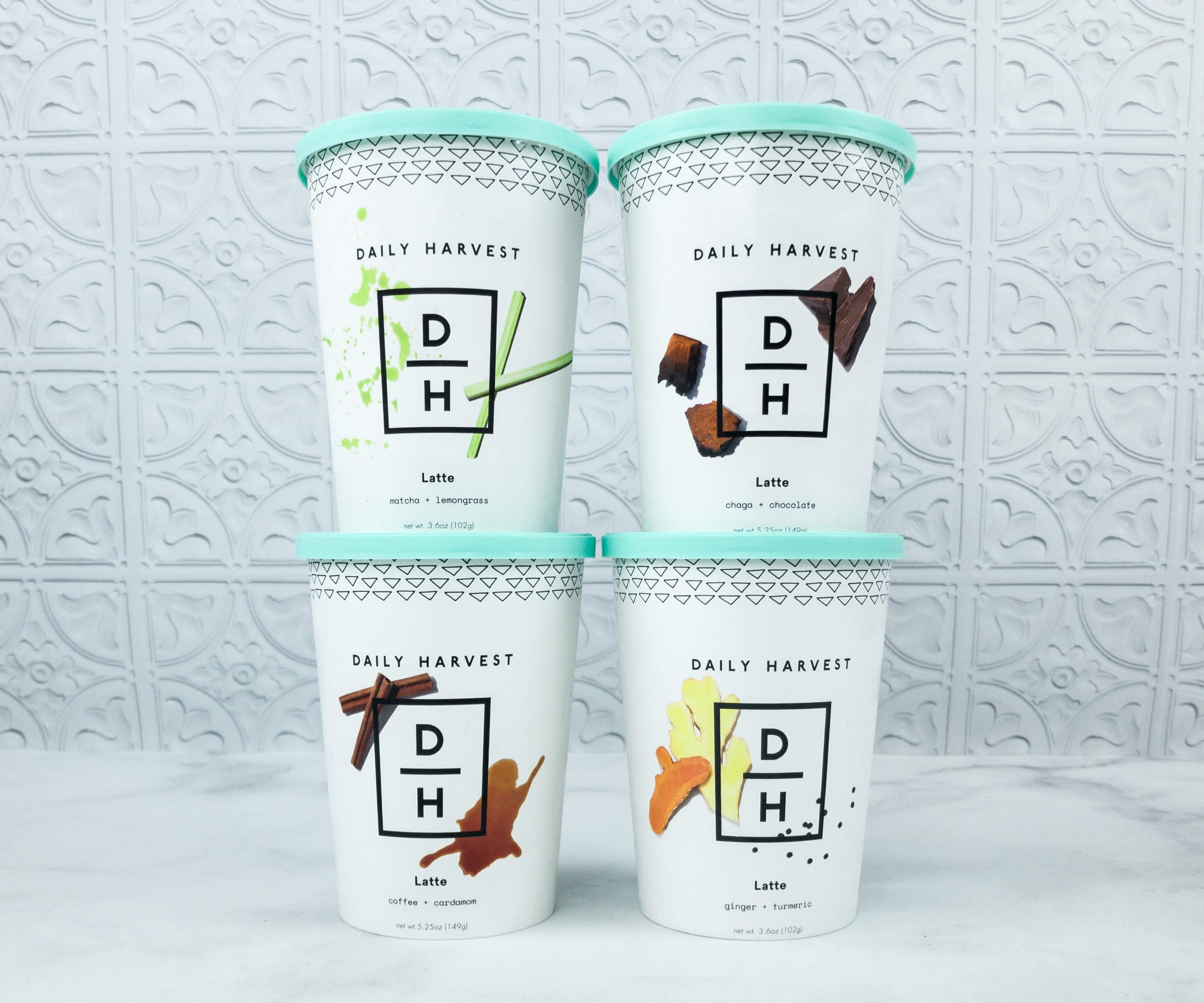 The 4 lattes we got are Matcha + Lemongrass, Chaga + Chocolate, Coffee + Cardamom, and Ginger + Turmeric.
Chaga + Chocolate Latte. Want a different type of drink that tastes like creamy hot cocoa? Here's one that contains the stress-relieving, cortisol-inhibiting Chaga and reishi mushrooms! It sounds really delectable.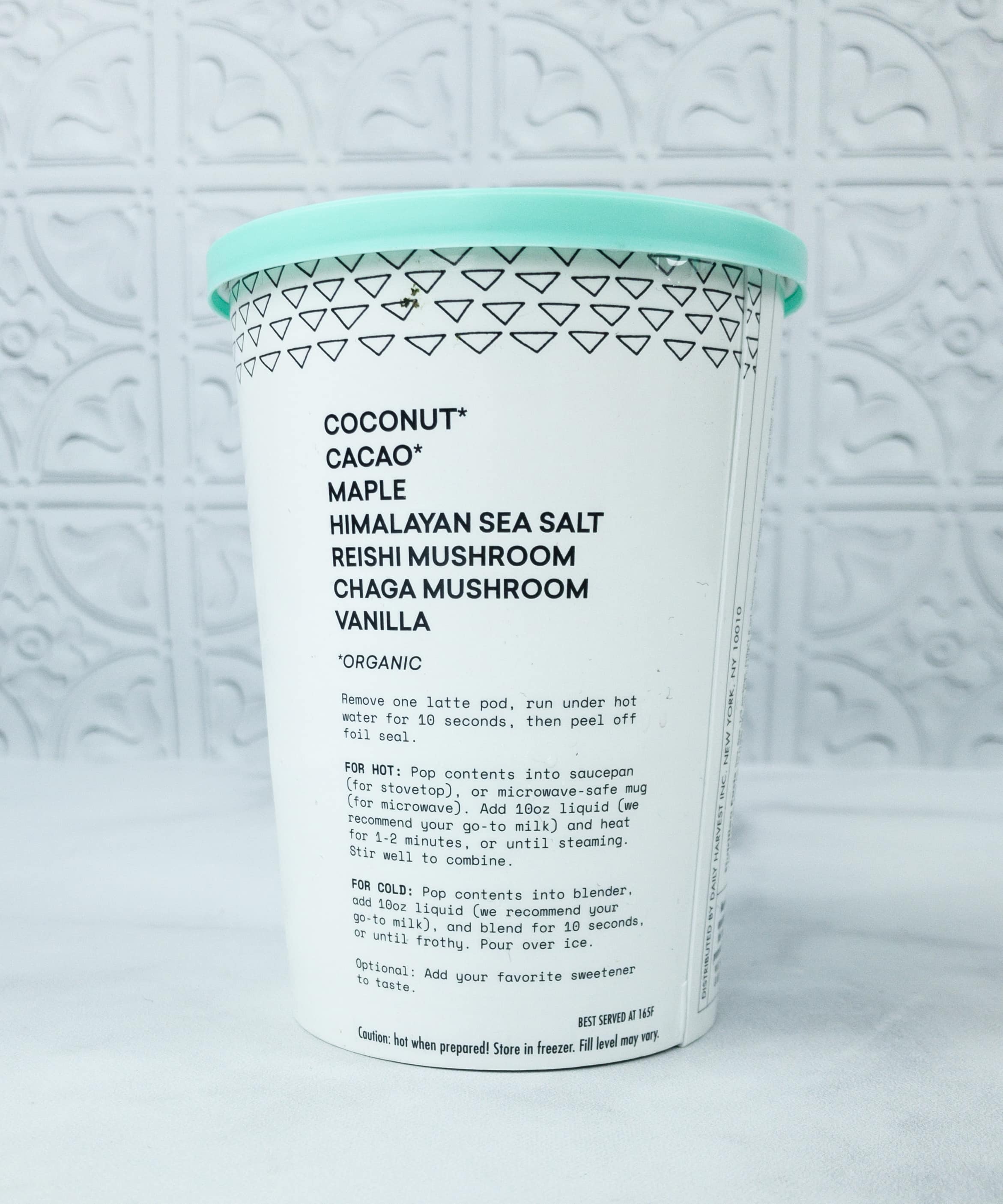 This cup contains organic maple syrup, organic coconut milk (organic coconut, water), organic cacao powder, organic coconut cream, Himalayan sea salt, organic Chaga mushroom powder, organic reishi mushroom powder, and vanilla bean powder.
The cup contains 3 pods.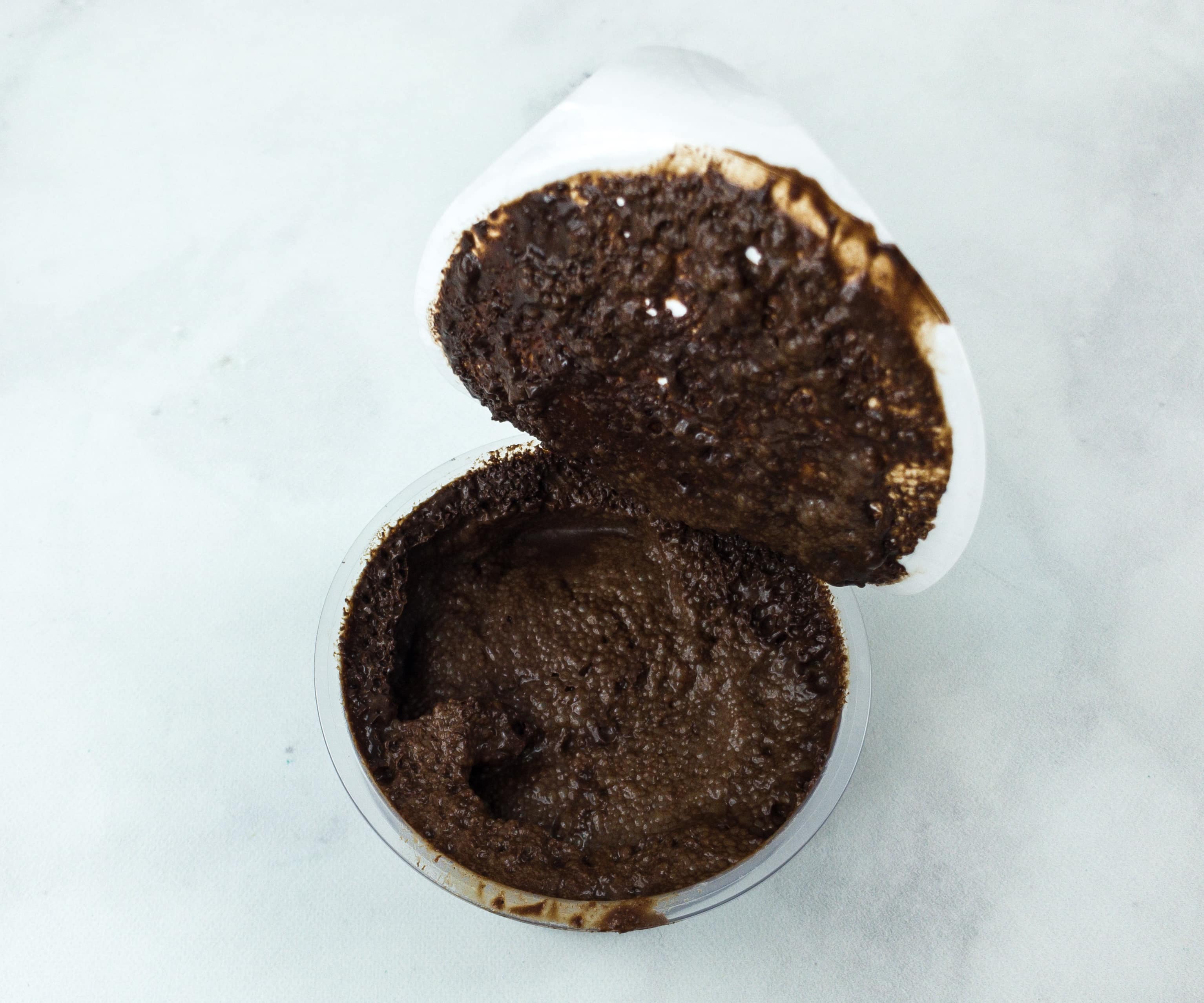 You can get 1 and run under hot water for 10 seconds. You can also prepare it either hot or cold.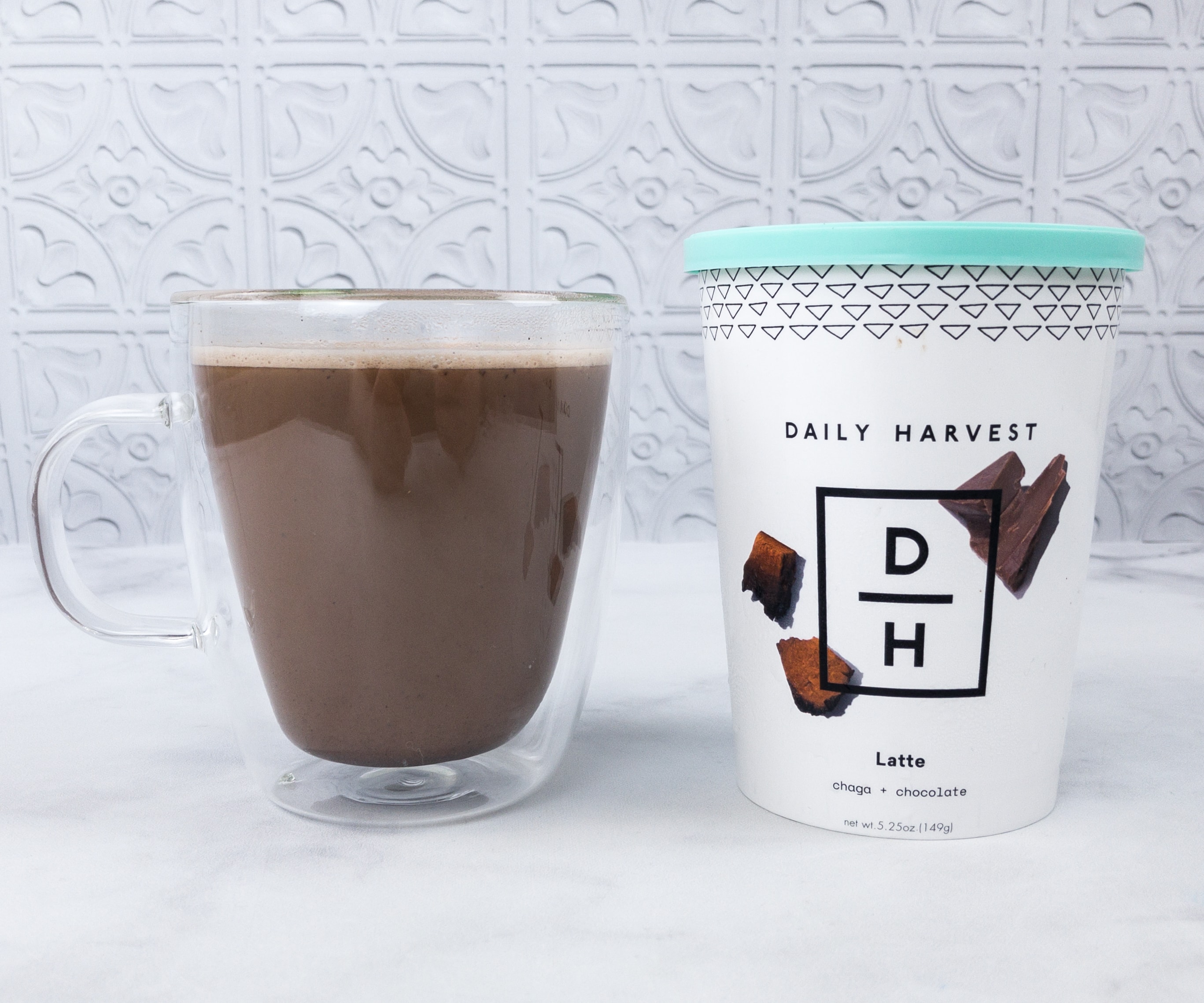 If you want your latte hot, you can do so in a stovetop or a microwave. If you want it cold, pop it into a blender then add your preferred liquid, transfer to a cup or glass, and serve with ice.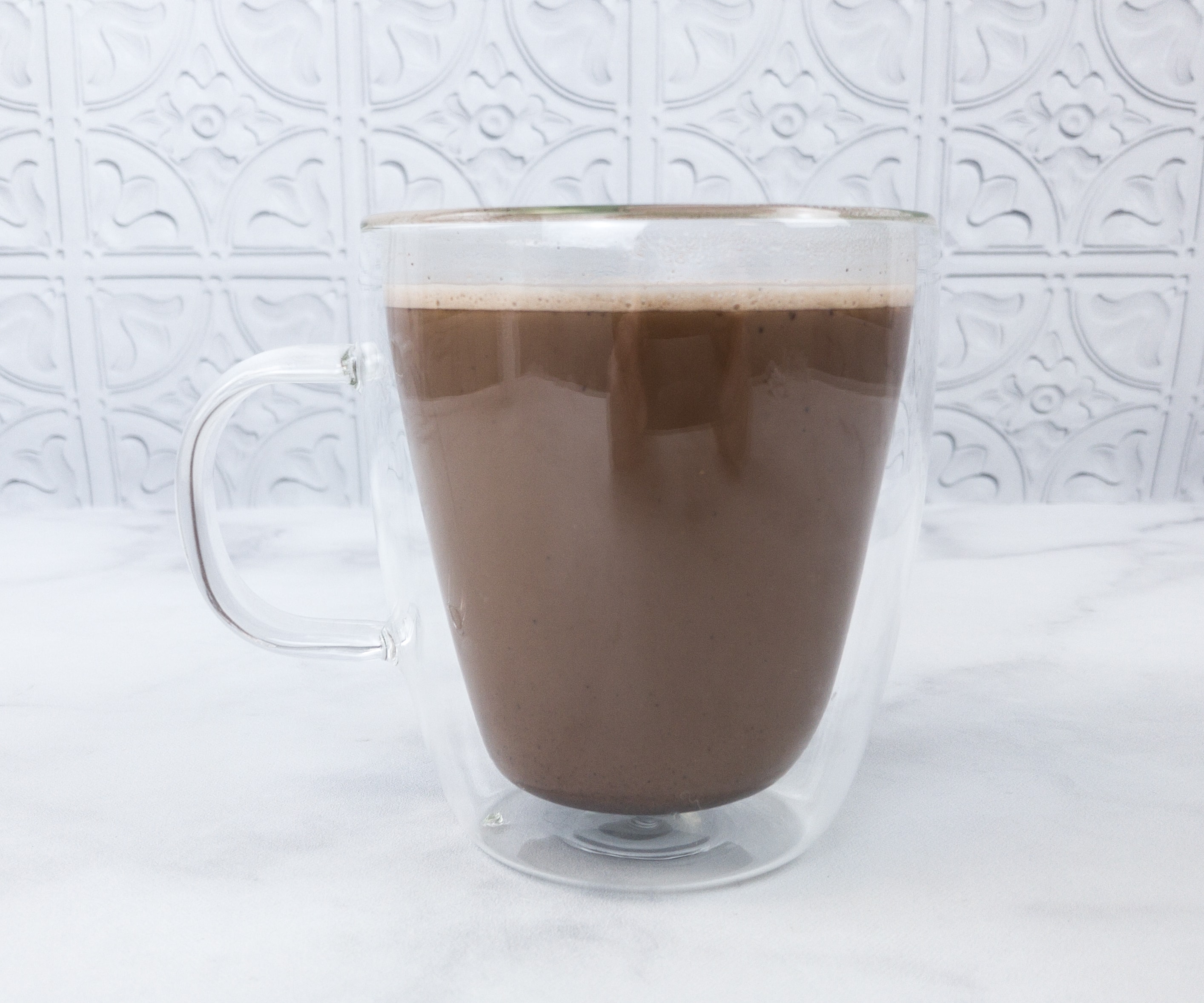 I preferred it hot so I popped it in the microwave.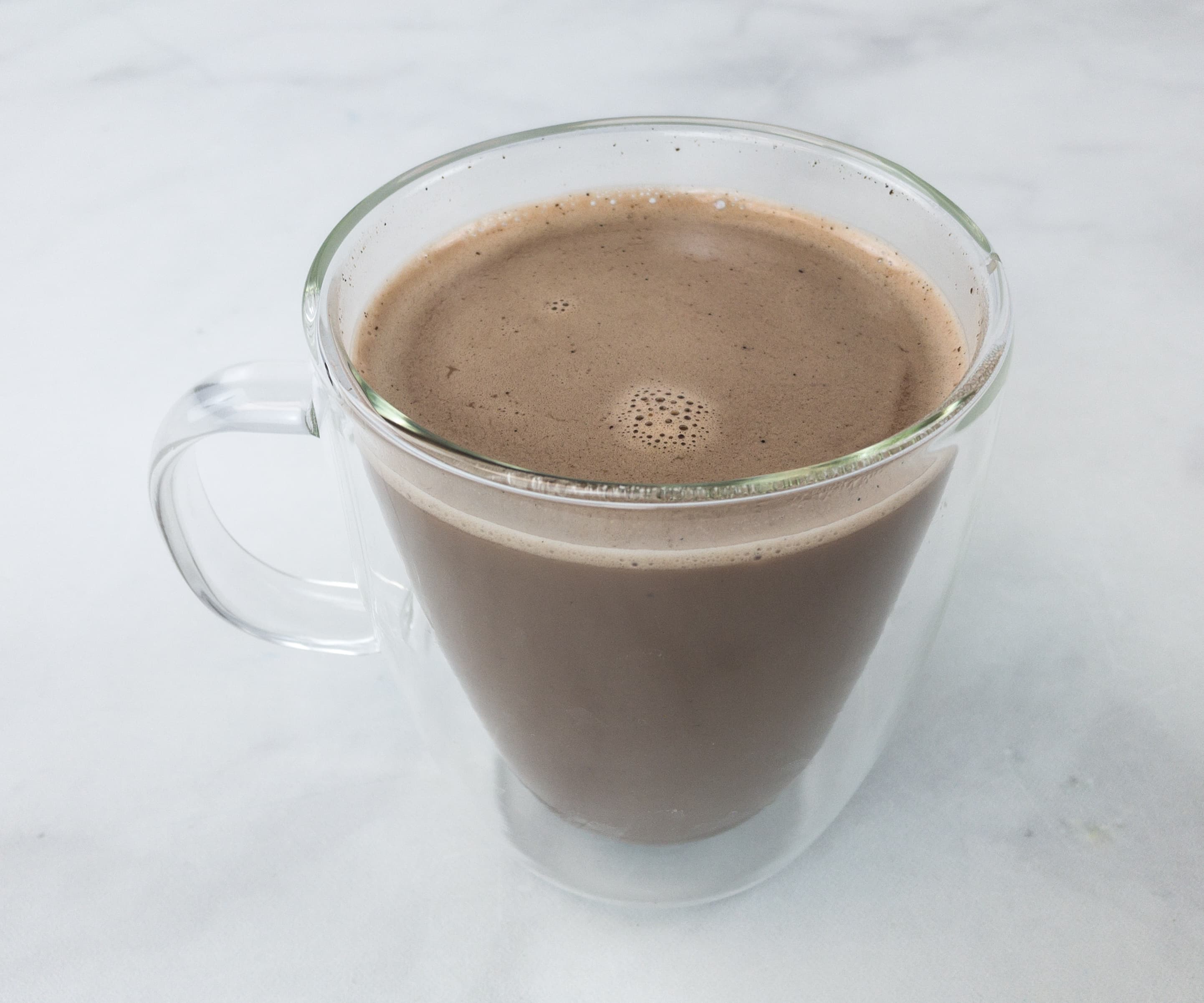 It's rich and creamy, and it has a little after taste of the Chaga, which is earthy.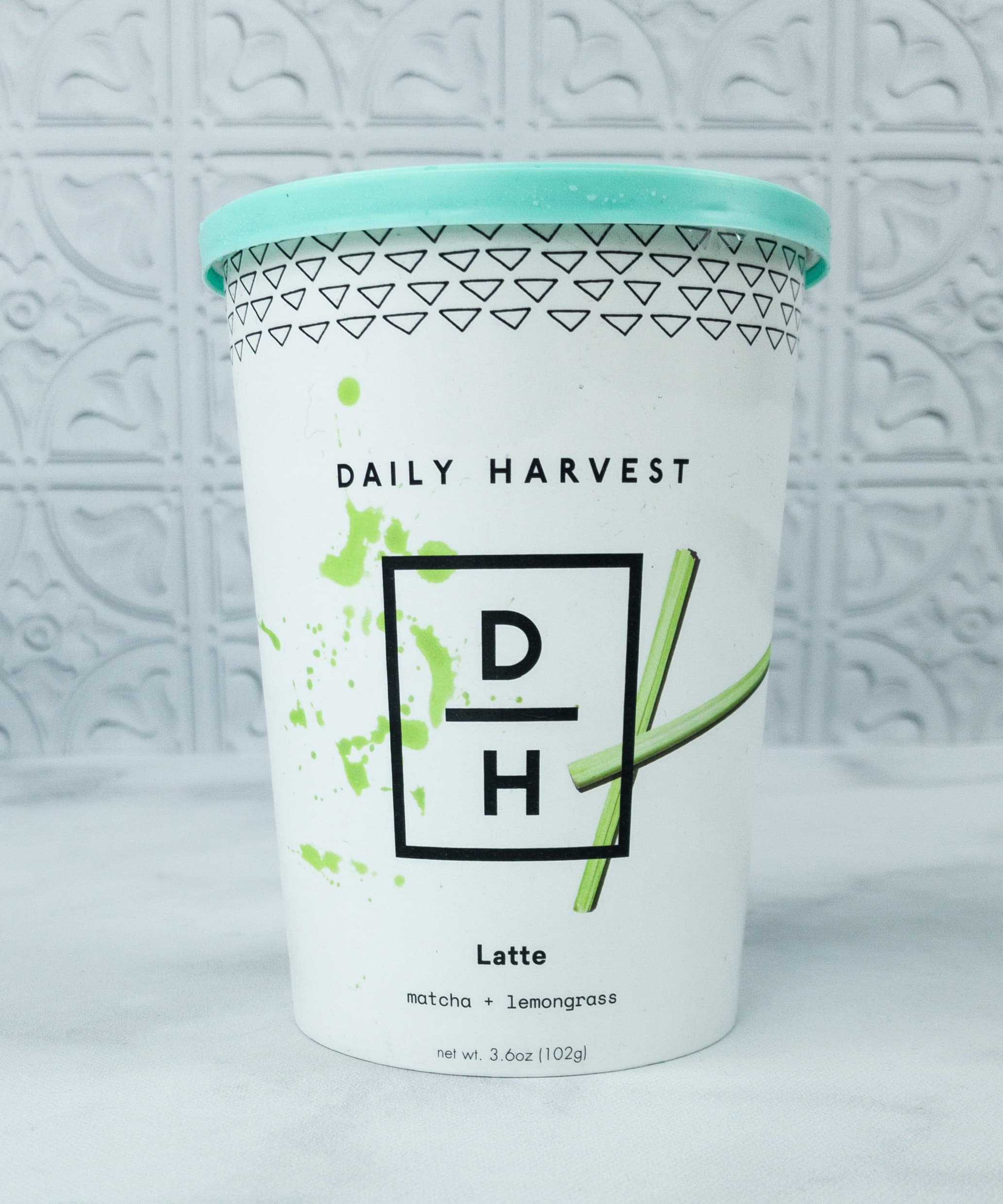 Matcha + Lemongrass Latte. Matcha is really a popular flavor! Here's a latte that contains not just matcha but other healthy ingredients like lemongrass and coconut. Matcha is known to bring sustained energy and promotes concentration and mental clarity, definitely a better way to caffeinate.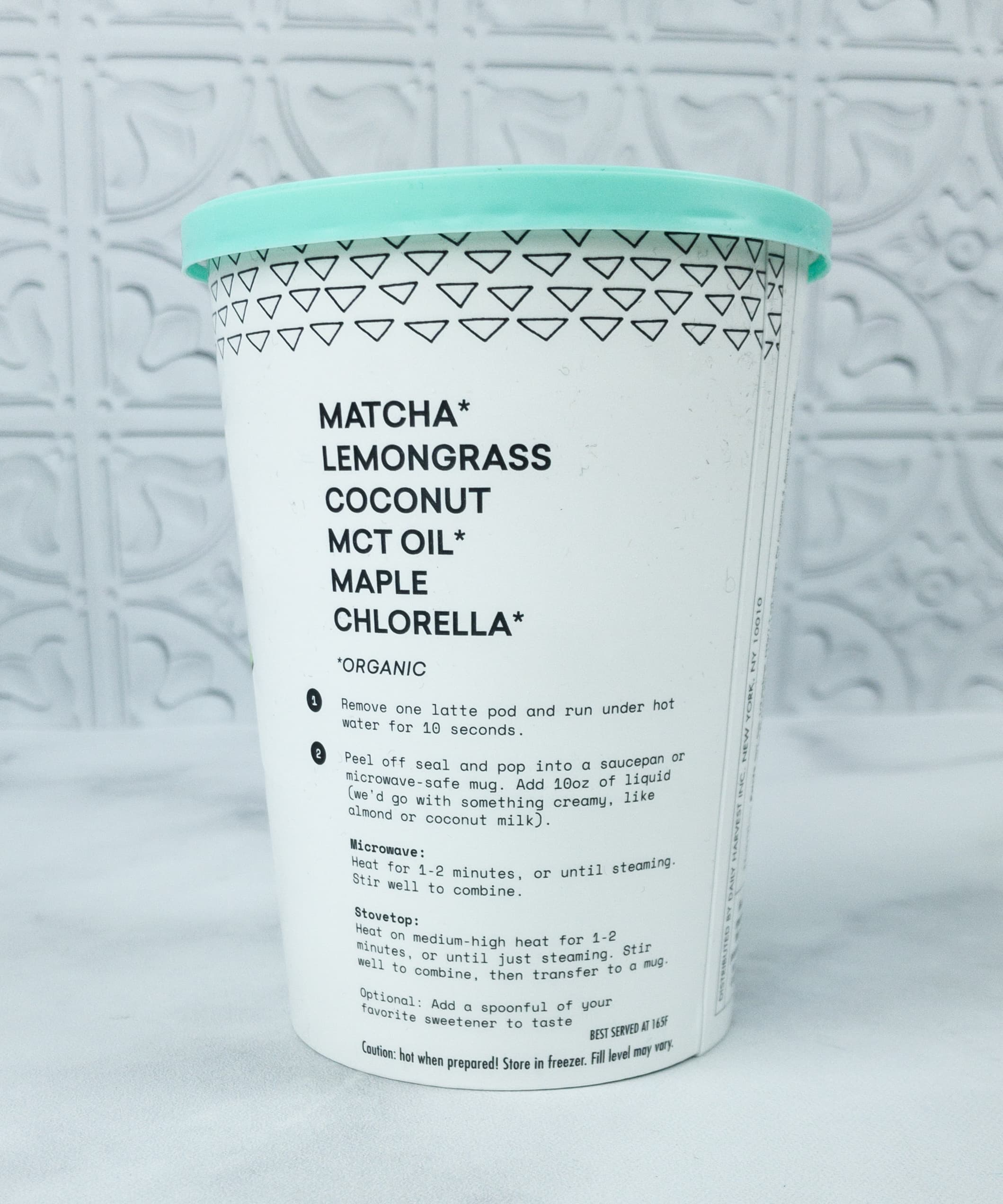 This one has organic coconut milk (organic coconut, water), organic coconut cream, lemongrass puree, organic matcha, organic coconut MCT oil, and organic chlorella powder.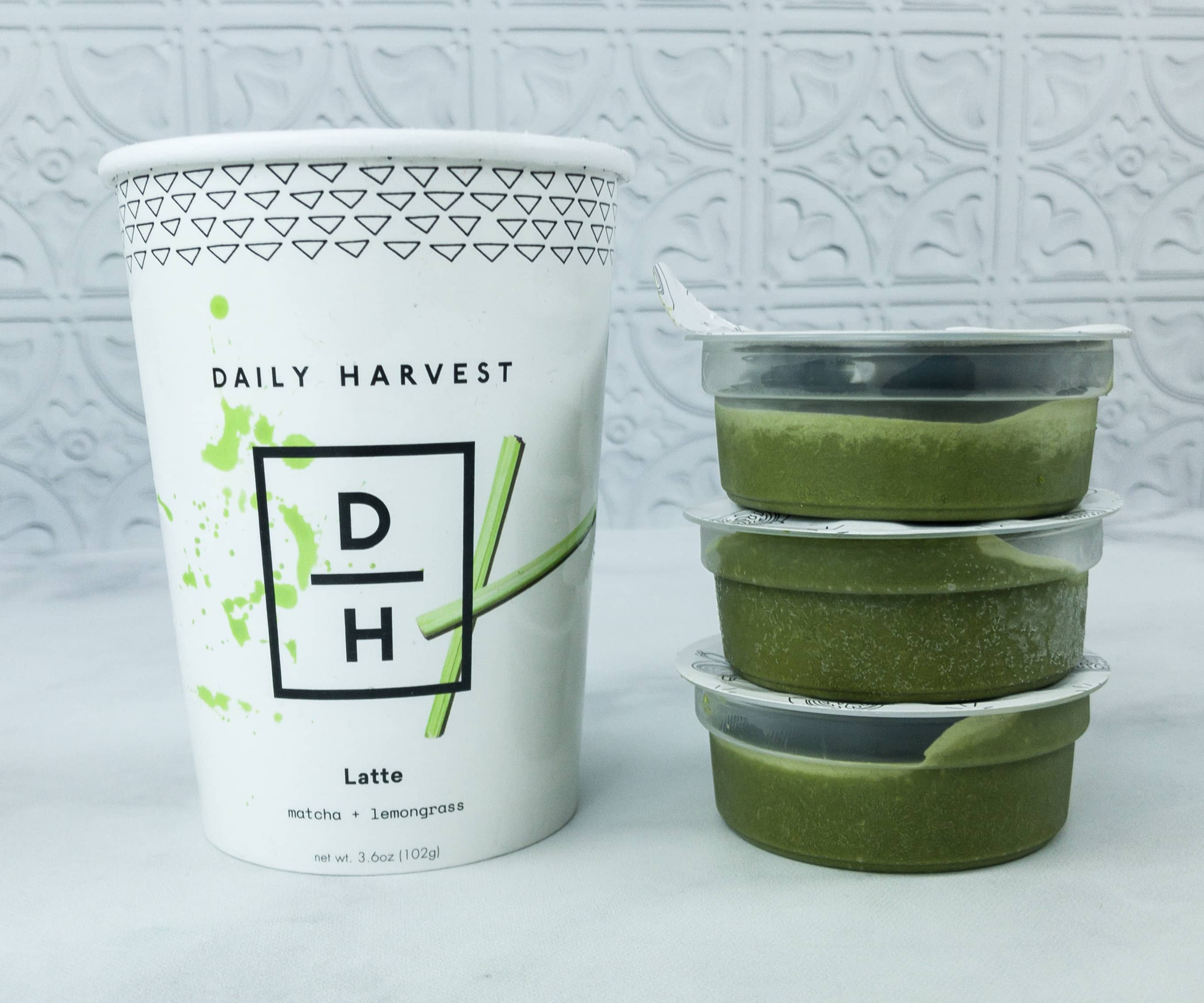 It also has 3 pods that are filled with green paste, they kinda look like cups of wasabi.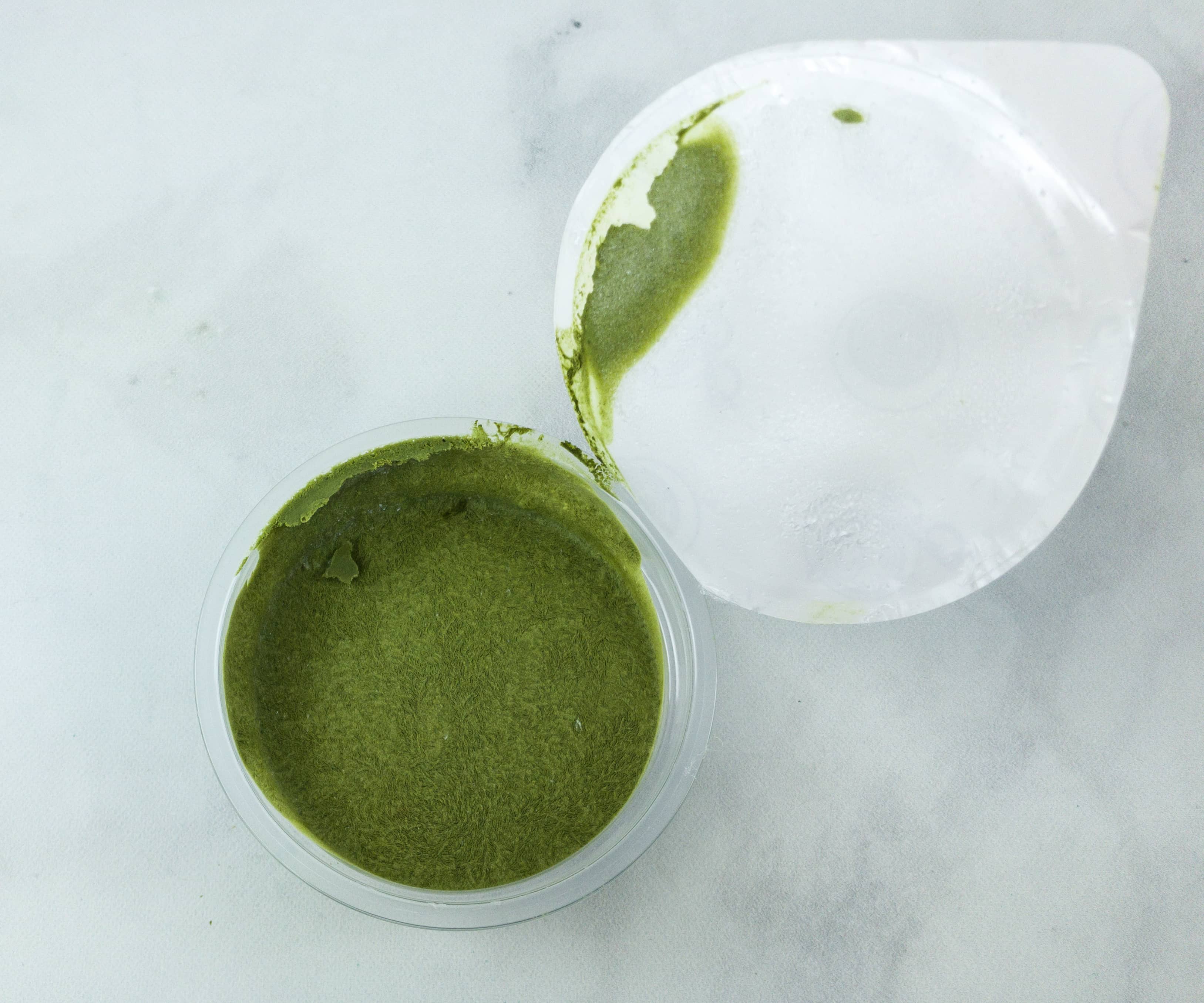 I popped it open after I ran it under the hot water for 10 seconds. You can also prepare it hot or cold. I like my drinks hot so I opted for the first choice, I microwaved it after transferring to a microwave-safe bowl and added some water.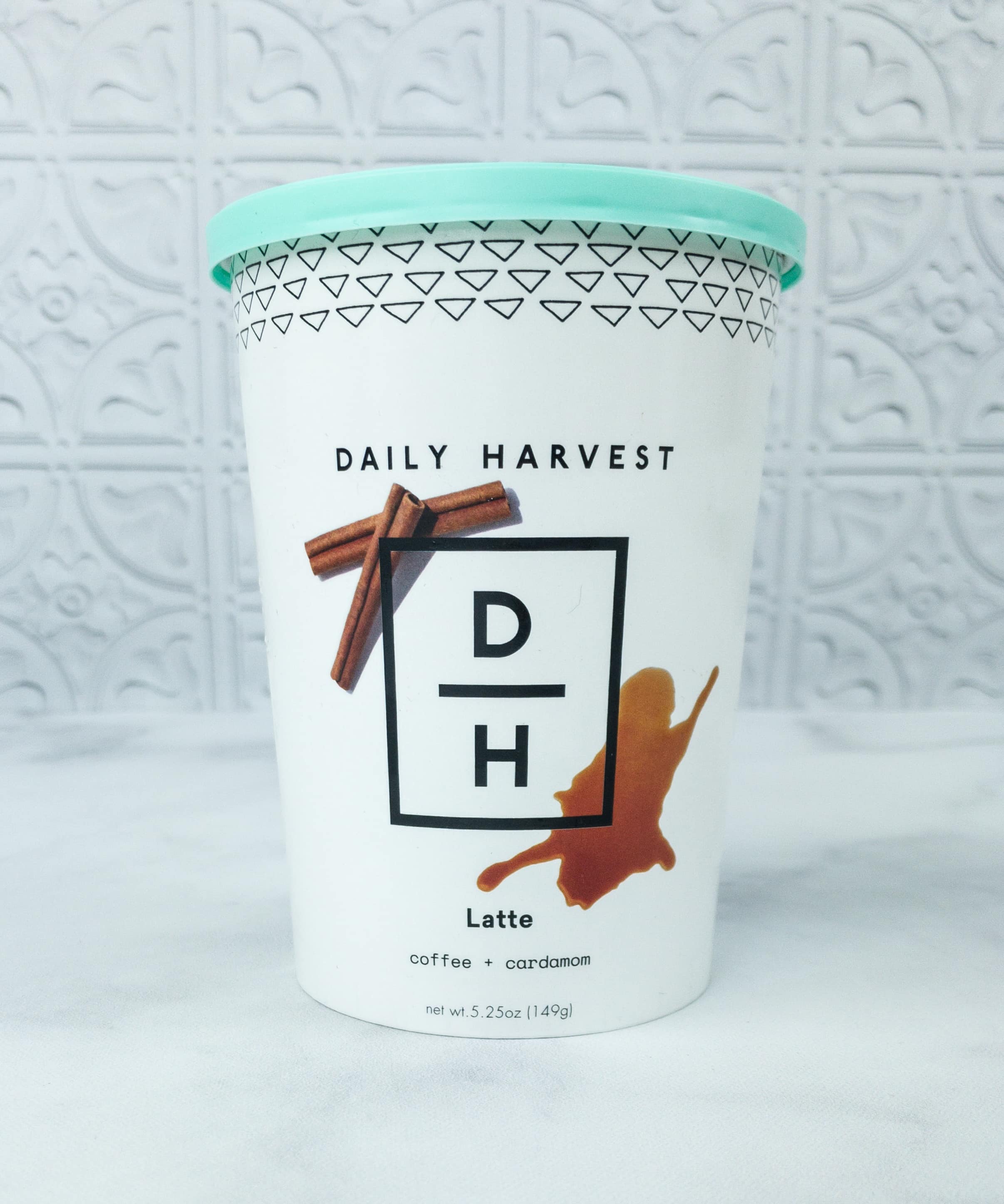 Coffee + Cardamom Latte. It's coffee and spice, plus everything nice! Cardamom is a spice known for its health benefits like lowering blood pressure, supporting digestion, and more. In small amounts, coffee also has some benefits like boosting energy levels.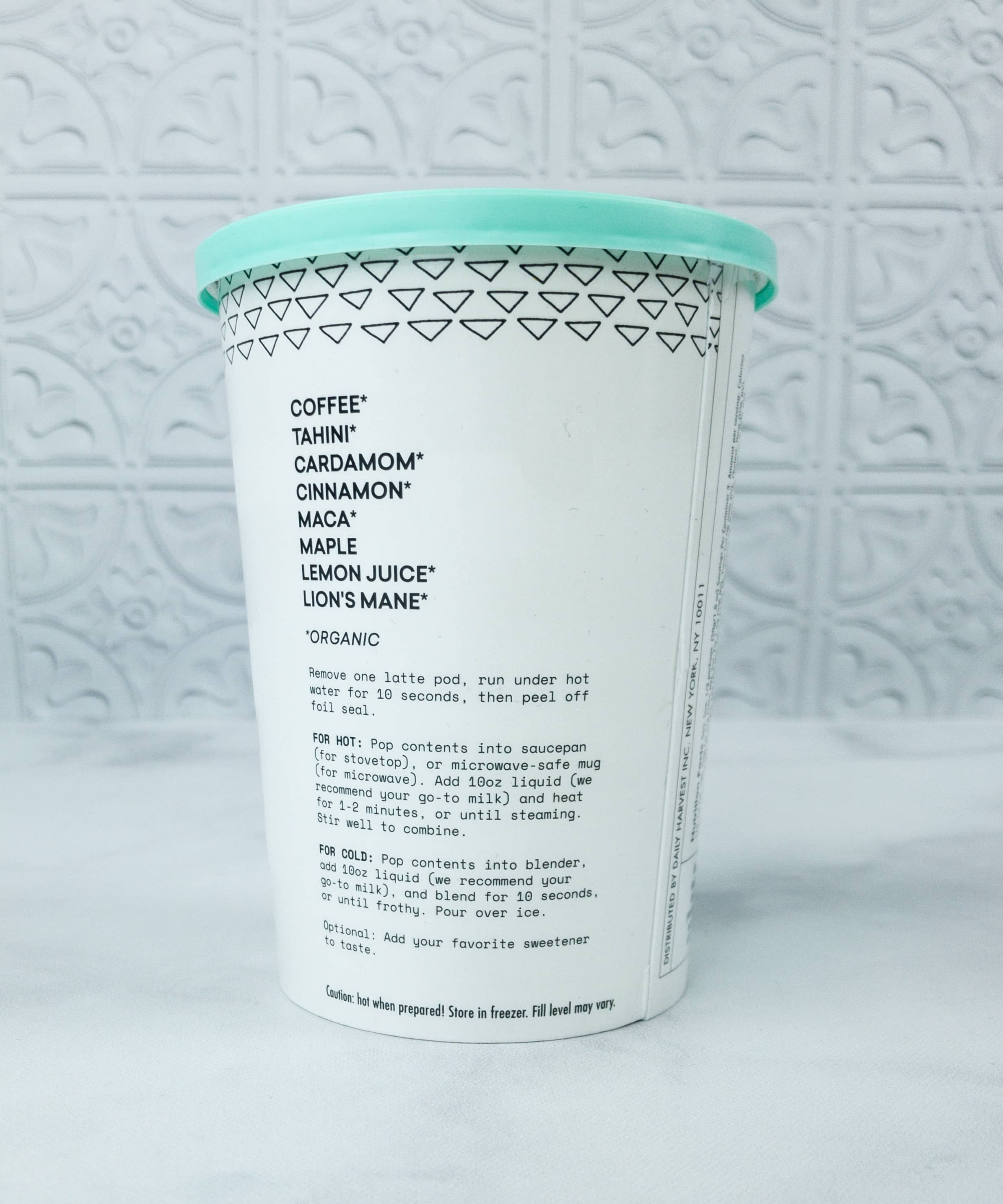 This cup contains coffee, tahini, cardamom, cinnamon, maca, maple, lemon juice, and lion's mane.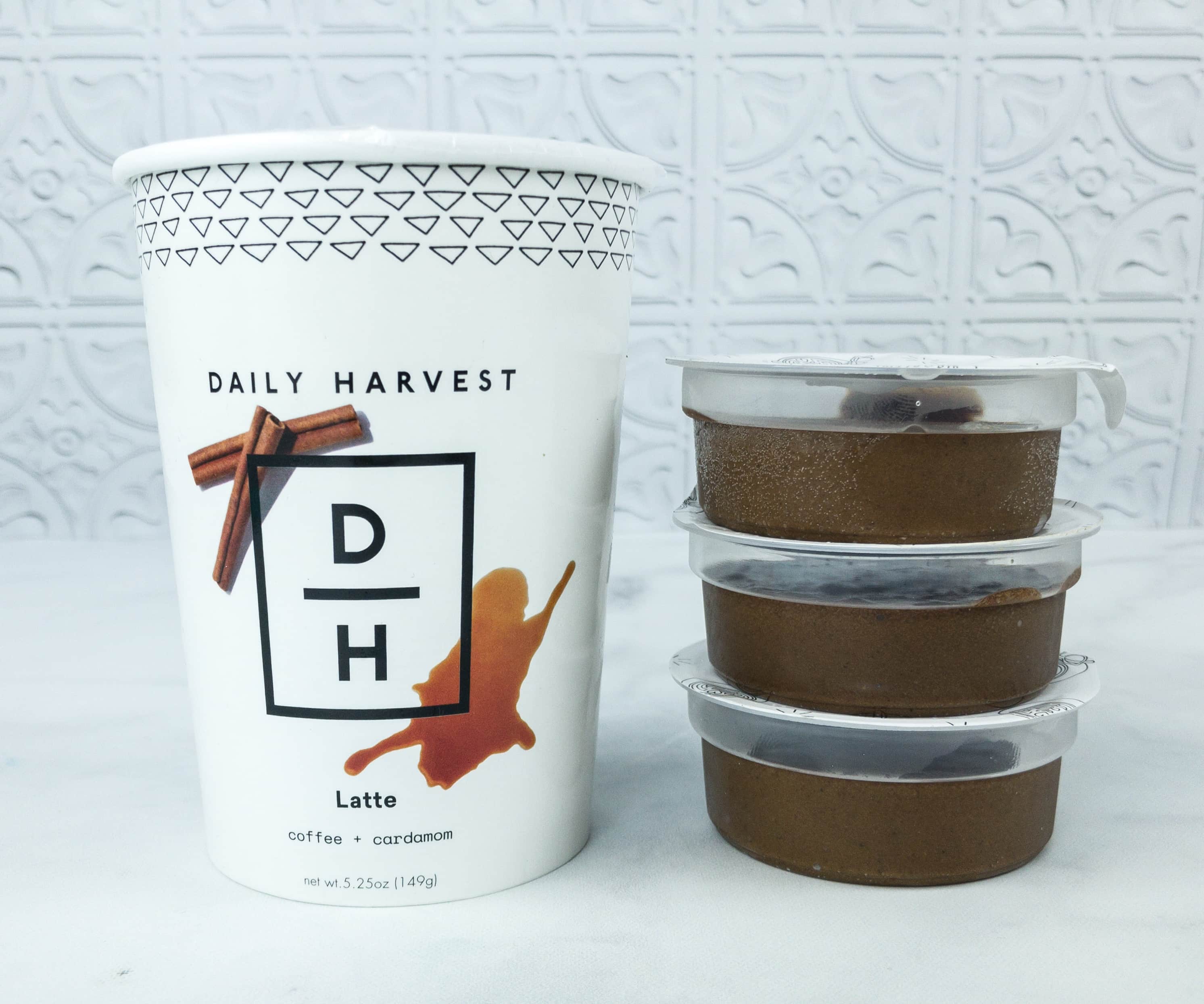 It also contains 3 pods that you can transform into cups of hot or cold lattes!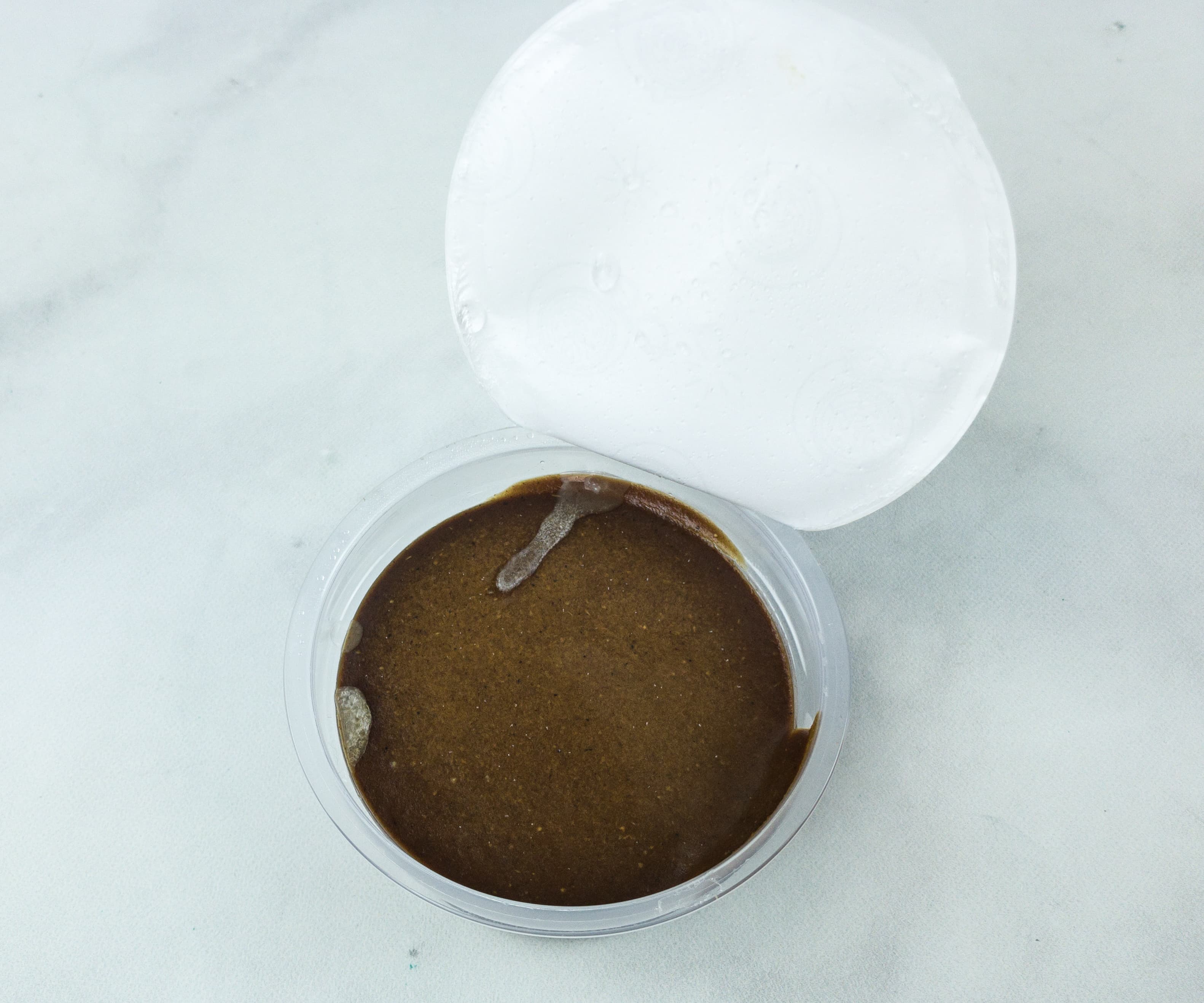 When we took the lid off, there was a strong coffee aroma mixed with the spices like the cardamom and cinnamon.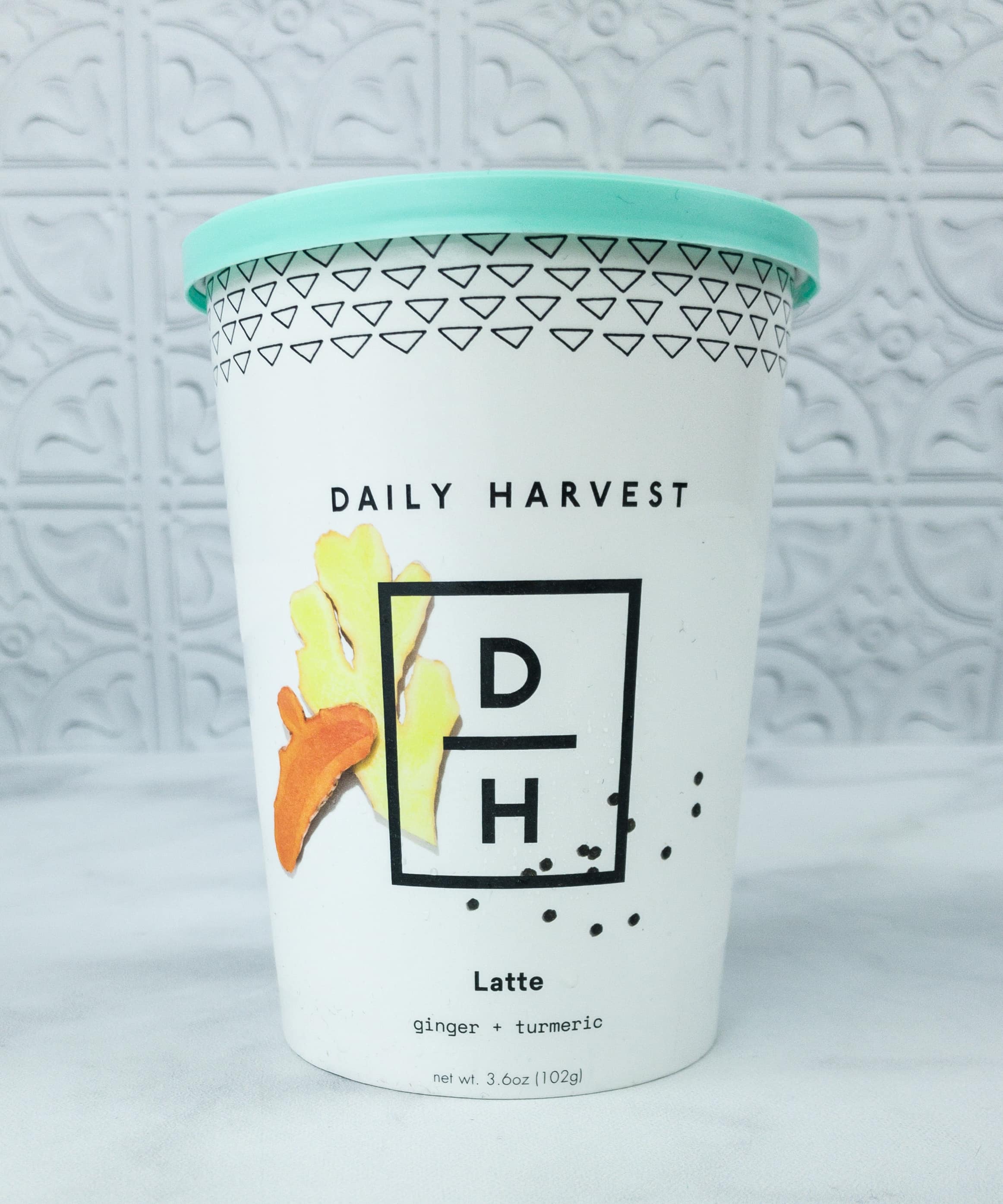 Ginger + Turmeric Latte. Another spiced up latte in this box is this "golden" one! It is an updated version of the curative tea haldi doodh, and it's good for the tummy!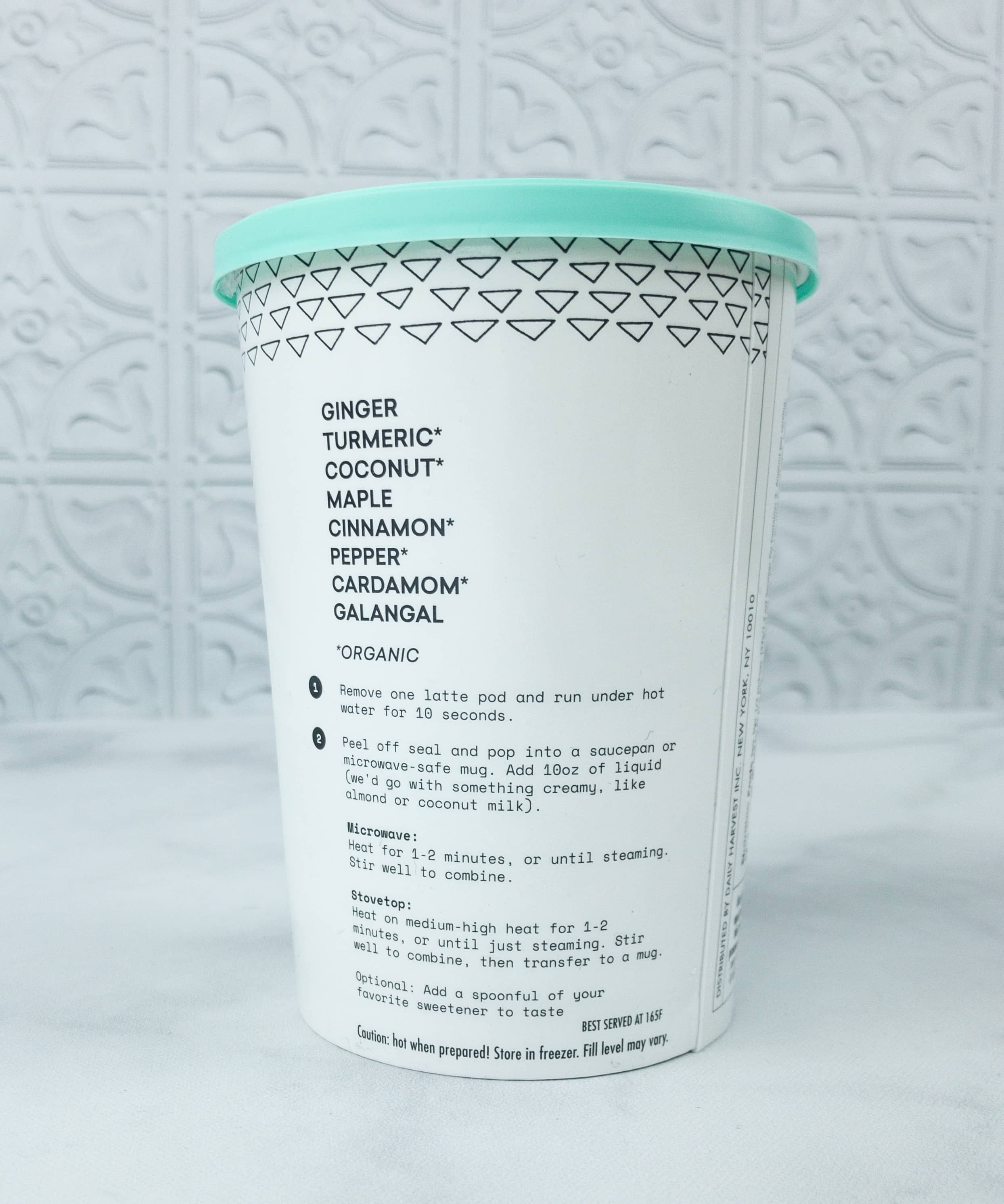 This cup contains organic coconut milk (organic coconut, water), organic coconut cream, organic turmeric, organic maple syrup, ginger puree, organic cinnamon, galangal powder, organic cardamom, and organic black pepper.
The pods look like they contain melted gold!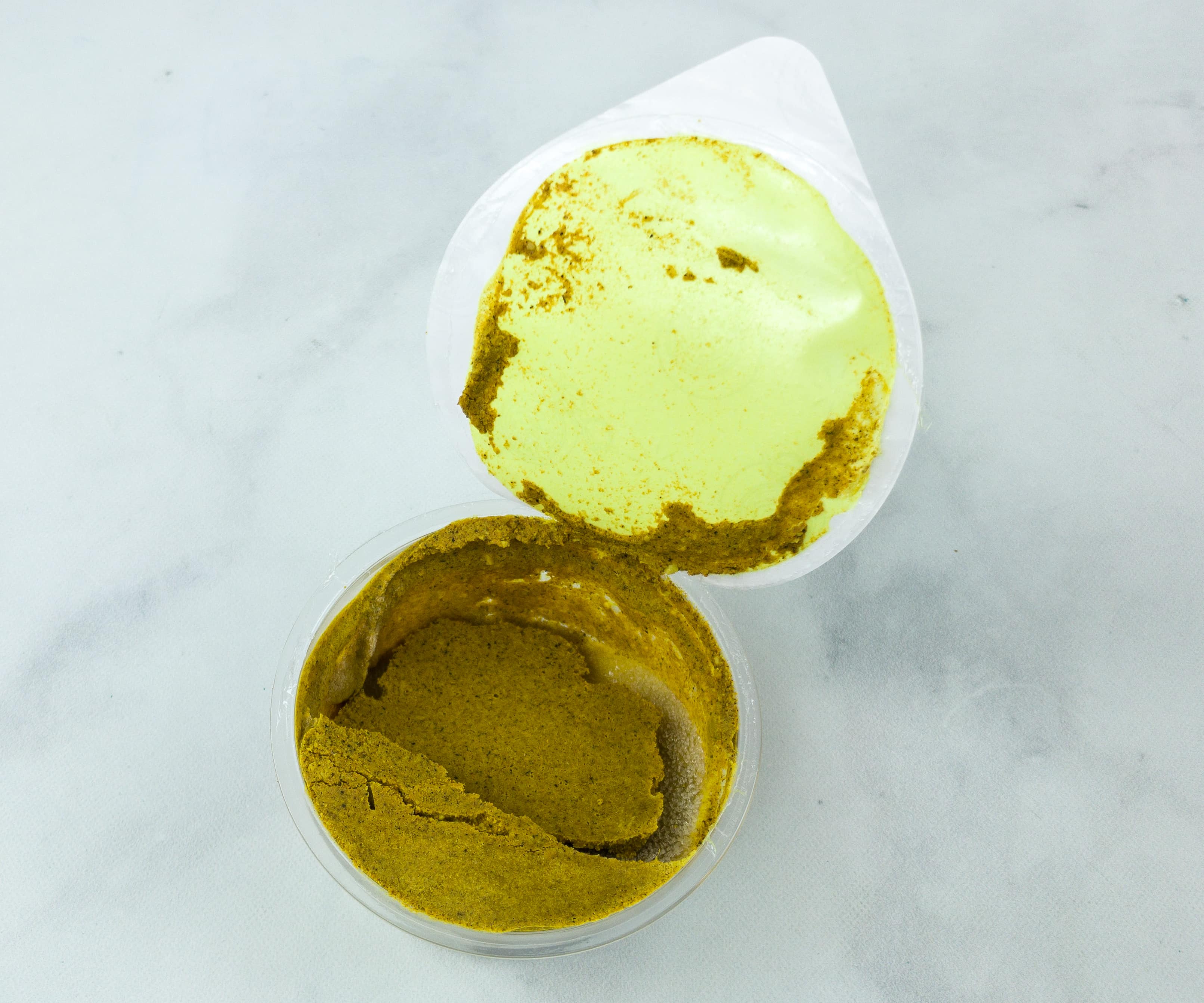 Of course, I tried this one hot too. It's soothing and spiced up really nice for that calming and soothing effect. Also, the sips may be gritty but I know it's because of the tons of spices that are in this latte mix.
Switching to healthy food is no longer a daunting task because of subscriptions like Daily Harvest. For this box, we have lattes and smoothies, and we love how good they are! It only takes a few minutes to prepare them so we have more time to enjoy our food. Also, they are packed with healthy ingredients that keep us energized all day long. We've tried their smoothies before, but it's our first time to try the lattes and so far, they're good! I'm not a fan of coffee, but my husband is and he likes the coffee and cardamom combo. For me, the best one is the chocolate and chaga latte. It does taste like a creamier hot chocolate, but with the earthy after taste. The spiced up golden milk is also good as it is really soothing and it's great as a stress-reliever!
This might be a pricier option, but one of the things I really noticed is that the chop on every single piece is designed to ensure your meal is cooked perfectly. Overall I've been impressed with this subscription's offerings and if you're willing to stomach the price of the meals, I wouldn't hesitate to recommend it, plus you get to try new food combinations that will surely please your tastebuds as well.
What do you think of the Daily Harvest box?