Crunchy Mama Box is a monthly subscription box for those who prefer natural and eco-friendly products that are for mind, body, and soul. Each month you will receive items that relate to beauty, self-care, support, sustainability, education, reusability, and wellness. Boxes will contain 5-8 full sized and high quality products curated by a certified holistic health and wellness coach. Crunchy Mama Box is $29.99 a month and shipping is free to the U.S.
Crunchy Mama Box is much more than a subscription box company; we are a community of Mamas that are on a mission to spread love, support, and encouragement. We support women-owned, small, and eco-friendly businesses that make clean, healthy products and that are motivated by a cause. We are also passionate about giving back, which is why we donate a portion of each box to a different Cause Partner each month.
My items were wrapped in tissue paper and sealed with a sticker.
I found a brochure in the box with info on the Cause Partner for May, which is The YWCA of Knoxville & the Tennessee Valley. Proceeds from the sale of this box will go to that charity. The theme for May was Strength. According to this brochure, you can now build your own Crunchy Mama box!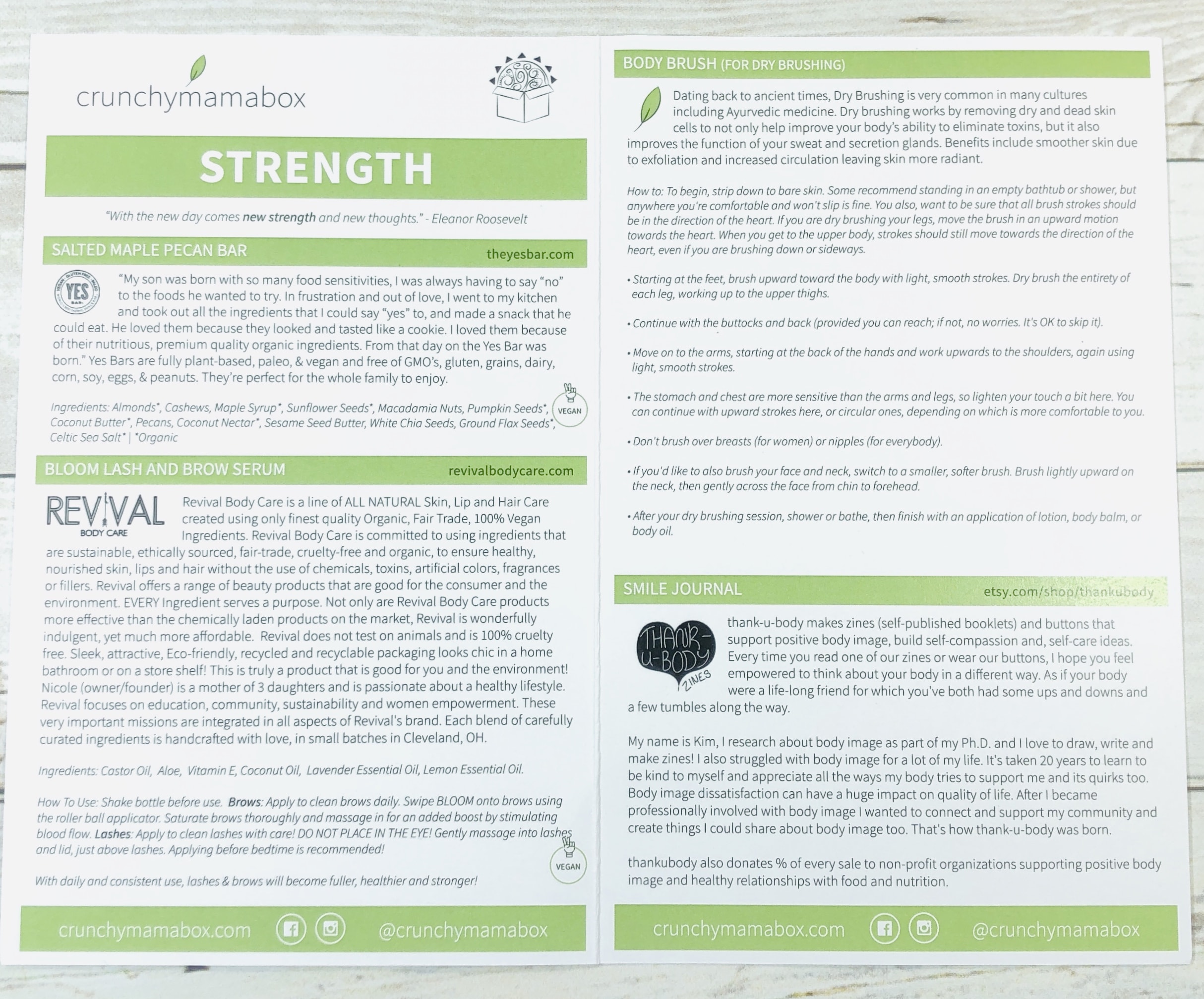 The inside of the brochure had info on each product and in most cases a website so you can grab more when you run out!
The back of the brochure listed the rest of the items and described the stone of the month. It also talked about how you can use the stone while meditating.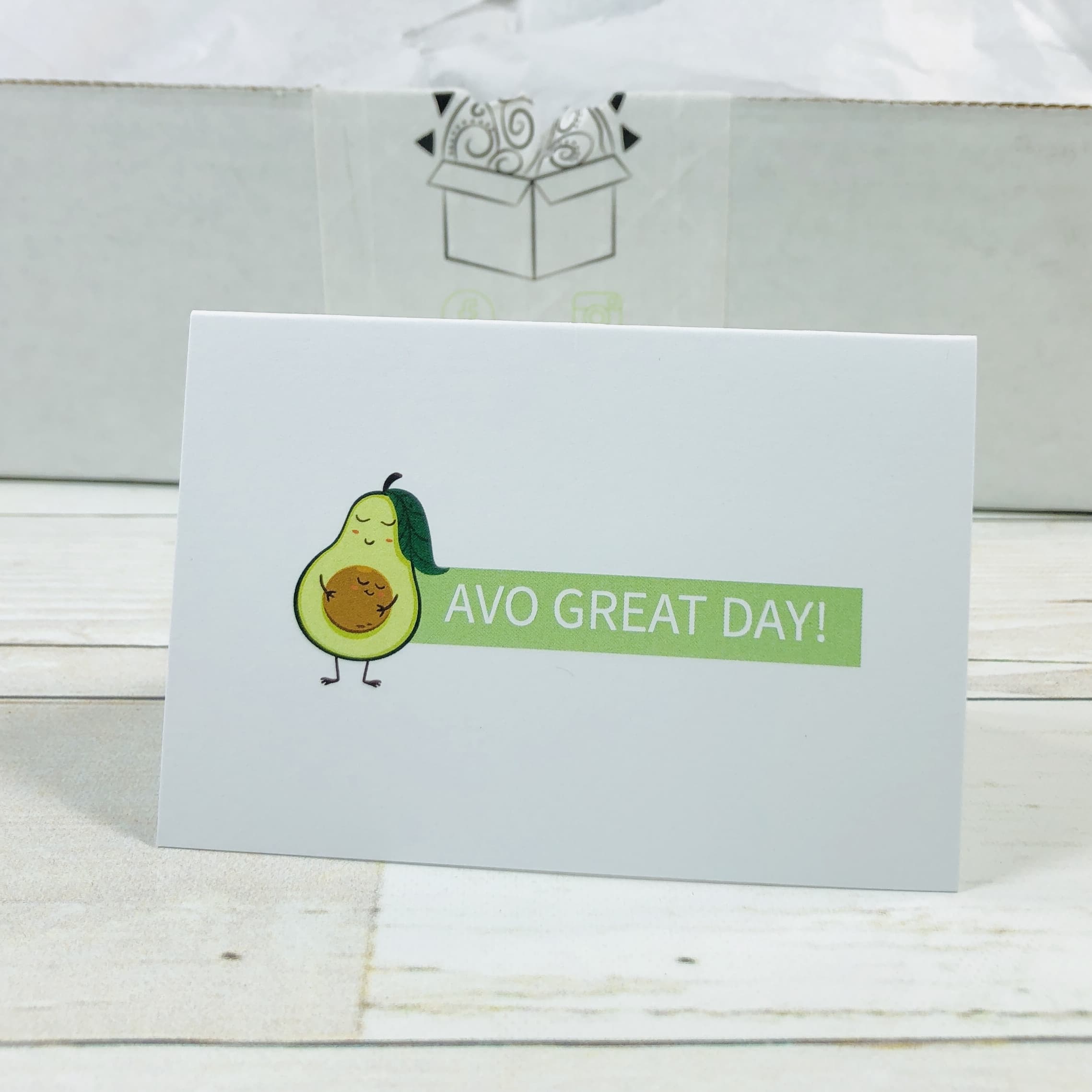 I found a cute little note card on top!
I love a hand written note!
Some of my items were wrapped in tissue paper, which prolonged the "surprise" element as I opened the box.
Everything in my box!
Teami Nursing Tea ($29.99) Although this herbal tea says it is supposed to support lactating mothers, it can be enjoyed by anyone who wants a caffeine-free beverage.
The blend "contains nourishing herbs long-believed to support lactation" and there is a warning that says it should NOT be consumed if you are currently pregnant and that if you are taking prescription medication then you should consult your healthcare provider before drinking. The ingredients are fennel, lemon balm, chamomile, raspberry leaf, aniseed, caraway, dandelion root & leaves, fenugreek, and coriander. I like the spices but it is very bitter, which might not bother some people.
Dry Body Brush (find similar item here) A dry body brushing can be an invigorating way to start the day!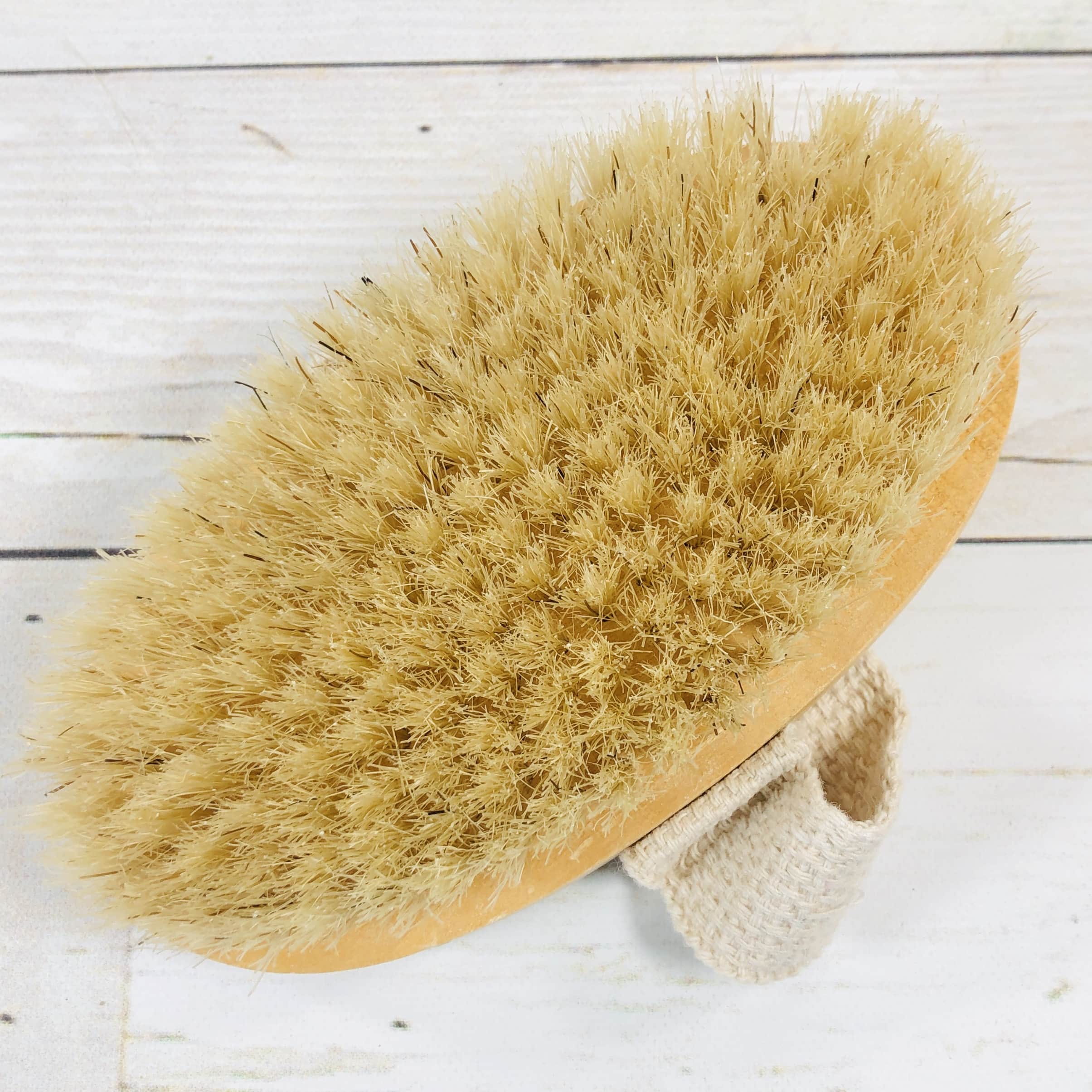 There was no brand on this item but it looks like most body brushes are made of wood with boar hair bristles.
The strap is stapled on both sides. Place your hand inside the strap and brush skin towards the heart. Full instructions are on the included pamphlet. Proponents of dry body brushing say it can drain lymph and get rid of cellulite but I think of it as a nice exfoliating treatment for the body.
Revival Bloom Brow & Lash Serum ($14.95) is a lash serum that is supposed to promote healthy eyebrows and lashes.
Ingredients include castor oil, which may help promote healthy hair growth. It also has coconut oil and the Revival website states that its purpose is to unclog pores but it is known to do the opposite and is not recommended for those with oily skin. Lavender and lemon essential oils are also in here and for that reason I will not try this on my lashes, just my brows.
The rollerball applicator makes it easy to apply to brows and then you are supposed to massage it in to promote circulation and hopefully develop fuller brows in the long run. The serum smells mostly of the lavender oil, which is a relaxing scent so I will use this before bedtime.
Yes Bar Salted Caramel Pecan Snack Bar ($2.50) Oh, I love this bar! It's a good alternative to a traditional candy bar and is just as indulgent.
The all-natural ingredients include a variety of nuts (cashew, pecans, almonds, macadamias), seeds (sesame, flax, sunflower, pumpkin, chia), and a few other things to hold it together and make it sweet.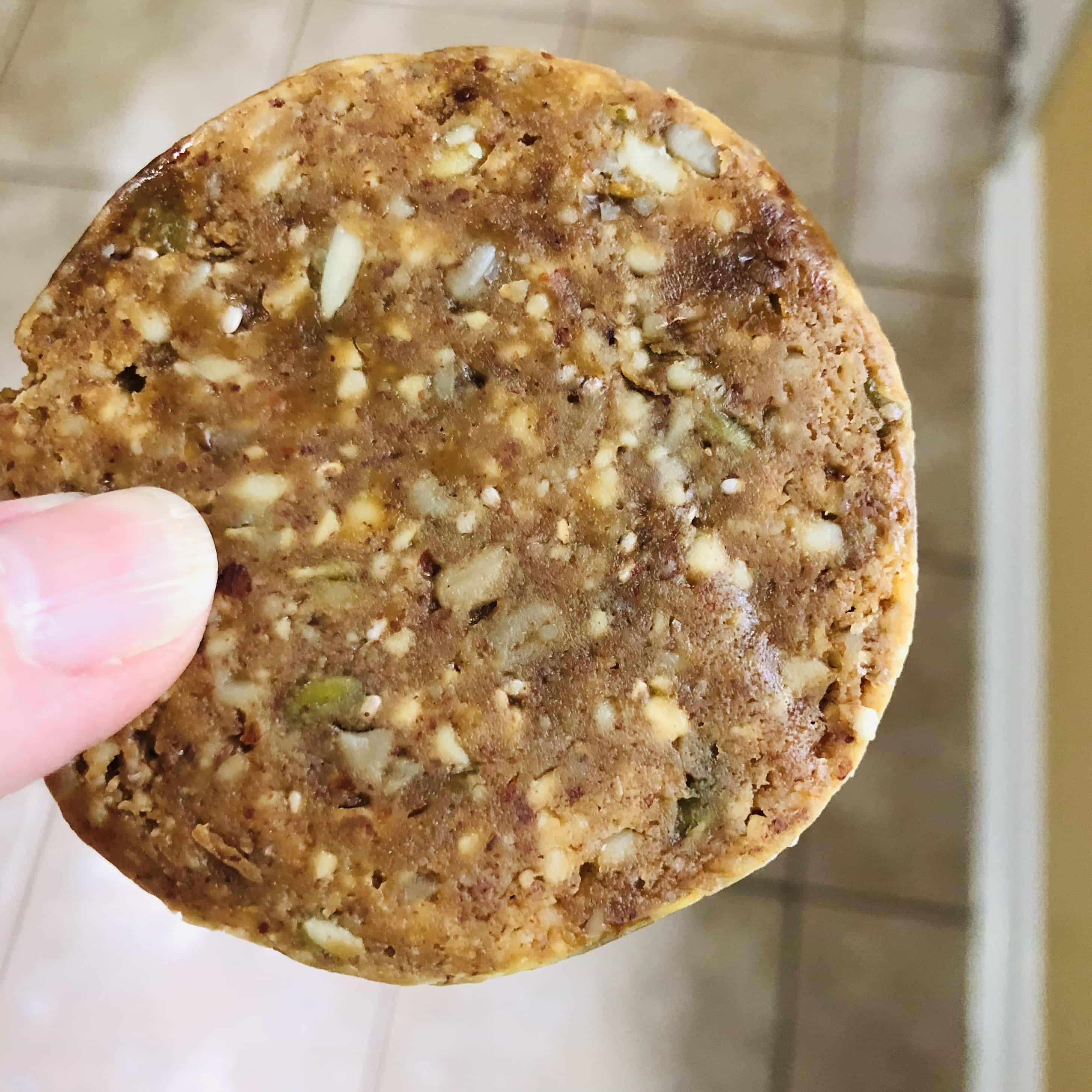 I like this. A lot. It has crunchy nuts and it's sweet and a little salty. Like a LARA Bar but for dessert.
Thankubody Smile Journal ($3.60) The Smile Journal is a place to jot down happy memories so you can look back and read them in the future. Or maybe just keep you occupied for today.
Instructions are on the first page.
The handmade book has 24 illustrated pages. Most of the pages are black and white and they have cute doodles all over.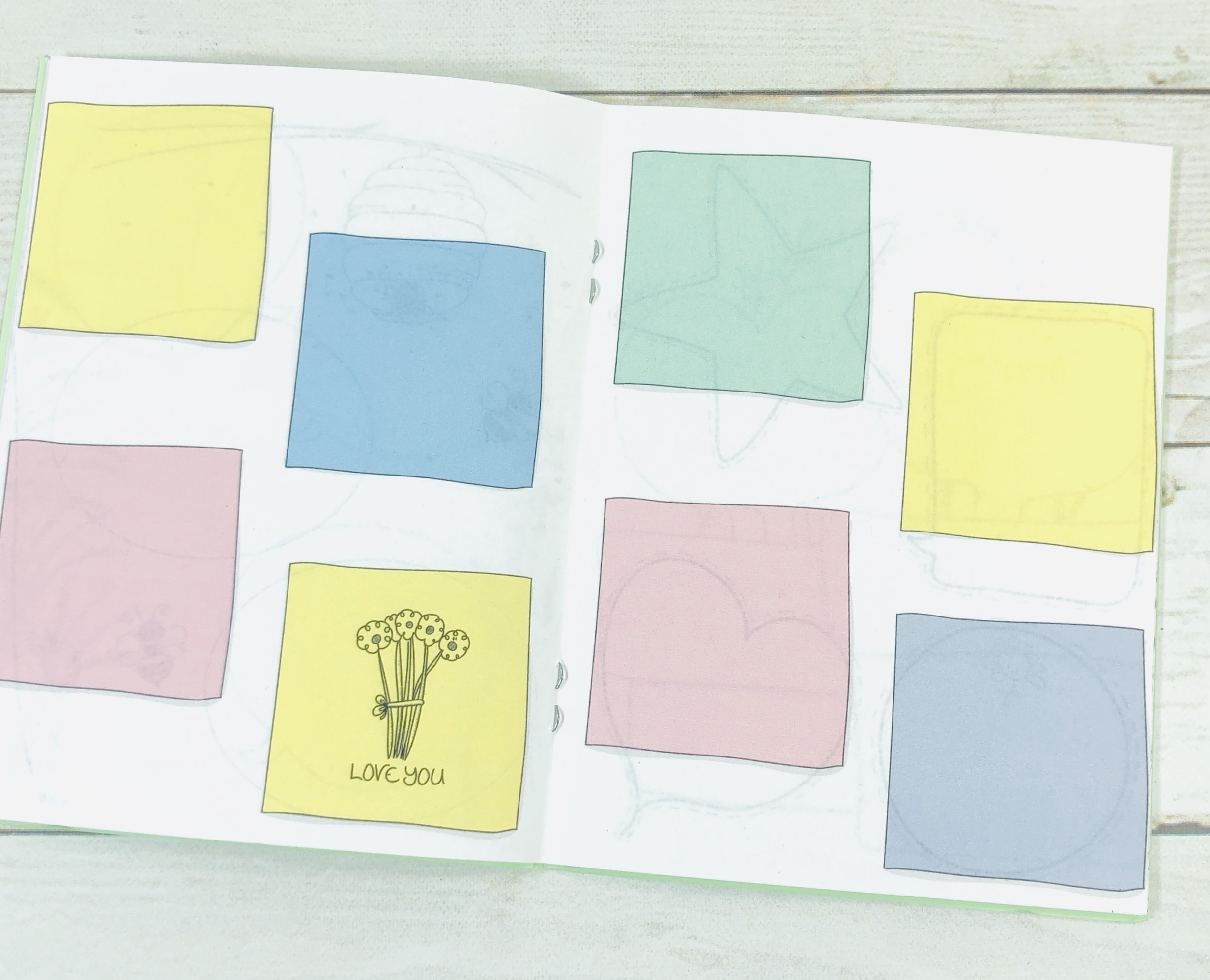 There are two pages with colors in the middle. You can decorate the mini mag however you like.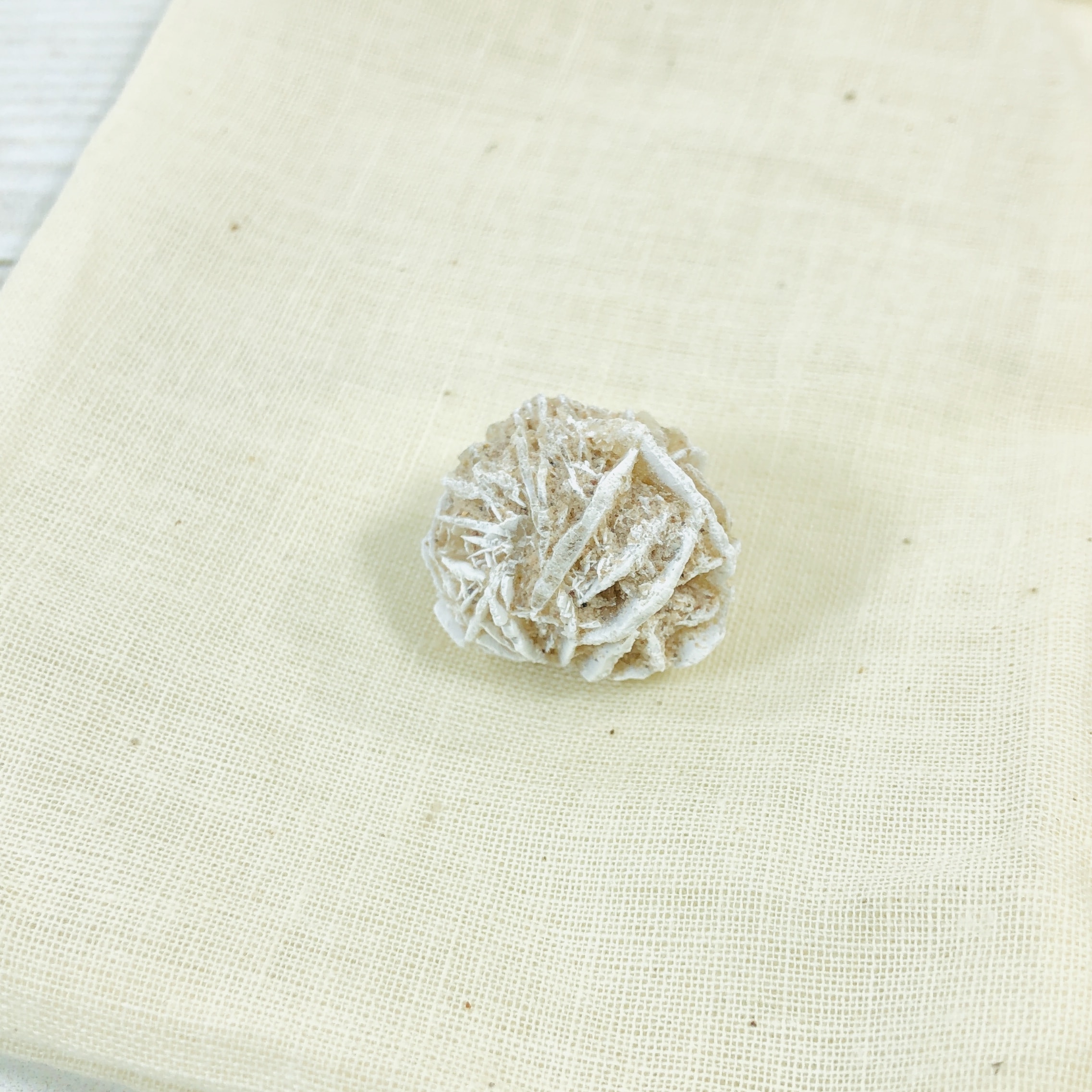 Desert Rose Selenite Meditation Stone (find similar item here) is made of sand in combination with water and wind and is found in arid regions of the world. It is used as a crystal and some believe it can help get rid of negative energy, clear the mind, and increase natural intuition.
The stone is about 1″ across and I like the way it sparkles.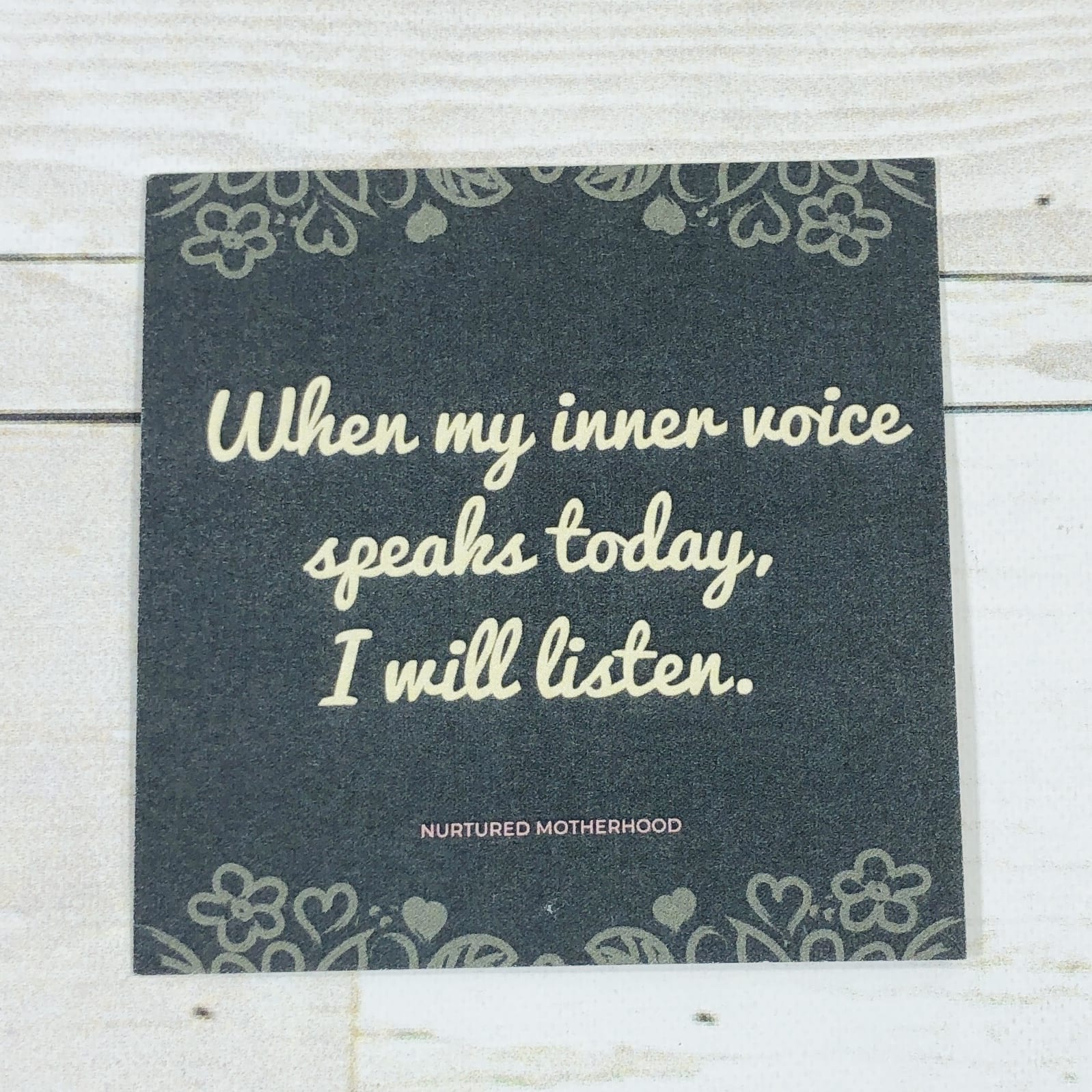 Momtra Card Included in the pouch with the stone was a Momtra Card, a mantra for moms.
It tells you to listen to your intuition, especially when it comes to being the best parent to your child.
Elephant Candle Holder I like the idea behind this item but the product sent is of low quality and is supposed to look like one that is popular at Target,. You can see the tag has a misprint, "Blephant" instead of "Elephant".
The original is a combo tealight holder and place card holder and the ridge below the box on the elephant's back is supposed to hold a name card. On this version the ledge is too short so it won't work. Also, the elephant sits lower in the front than in the back so a tealight won't burn properly and may be a fire hazard. Plus look at his face and trunk, not really cute. It is suggested that the selenite or another meditation stone can be placed in the candle holder and that can be a focal point during meditation. I like the idea, but not the execution: it's not high quality.
The Crunchy Mama May box included a sweet selection of self-care items, a tasty treat, a mini journal, and a large bag of tea. I like the inclusion of a crystal or stone every month, they are always pretty to look at and I enjoy adding the specimens to my collection. I also appreciate the body brush, I think it's an invigorating way to start my day. If you are looking for some natural goodies to help you get through your day, then check out Crunchy Mama!
What do you think of this month's box?