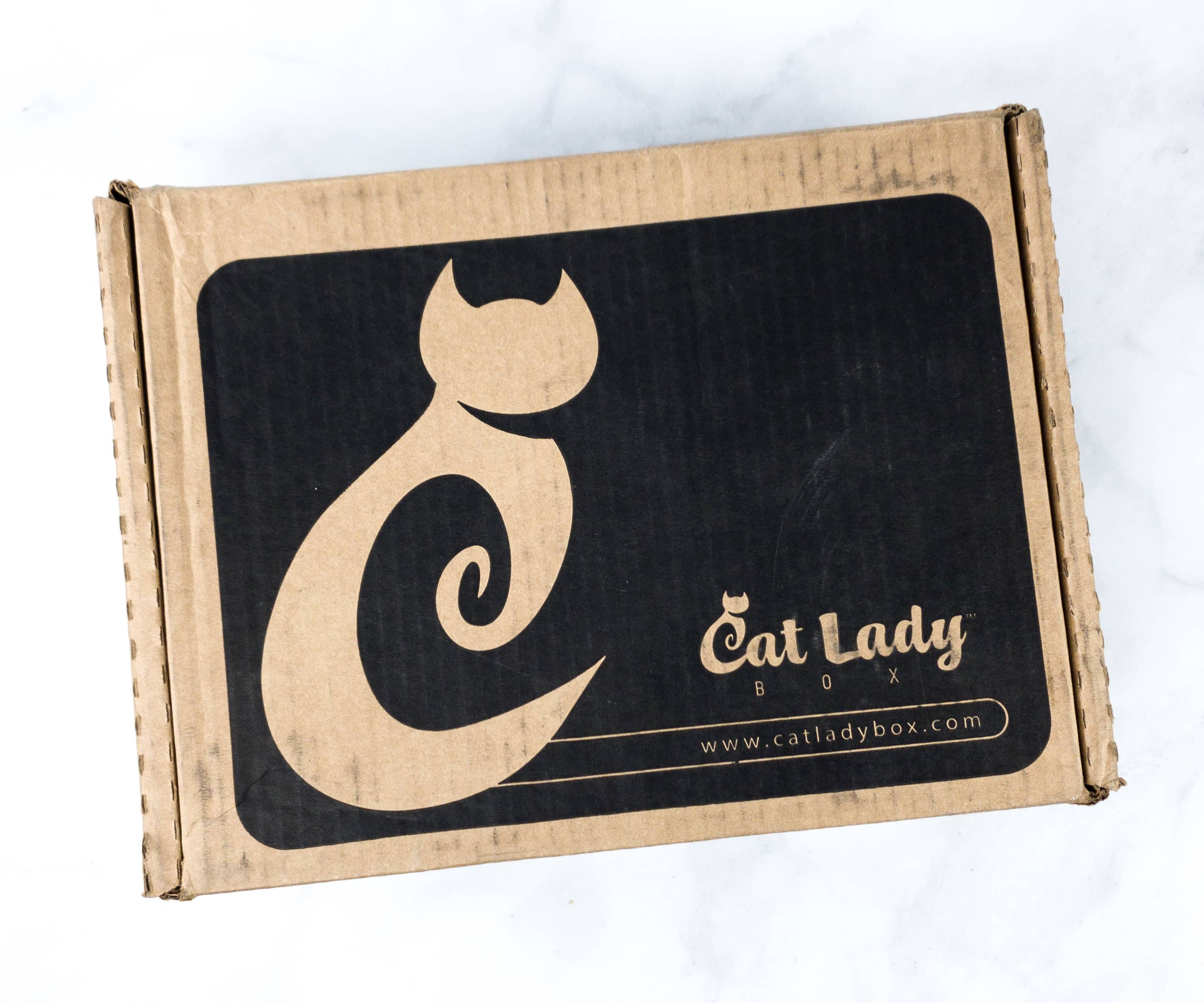 CatLadyBox sends monthly boxes for the cat ladies and their cats! There are two types of boxes: the Crazy CatLadyBox that contains cat-themed items for you and your cat, and the CatLadyBox which contains things just for you. Each curation might include cat-themed shirts, jewelry, home decor, accessories, art, and more – all delivered in a box your cat can keep.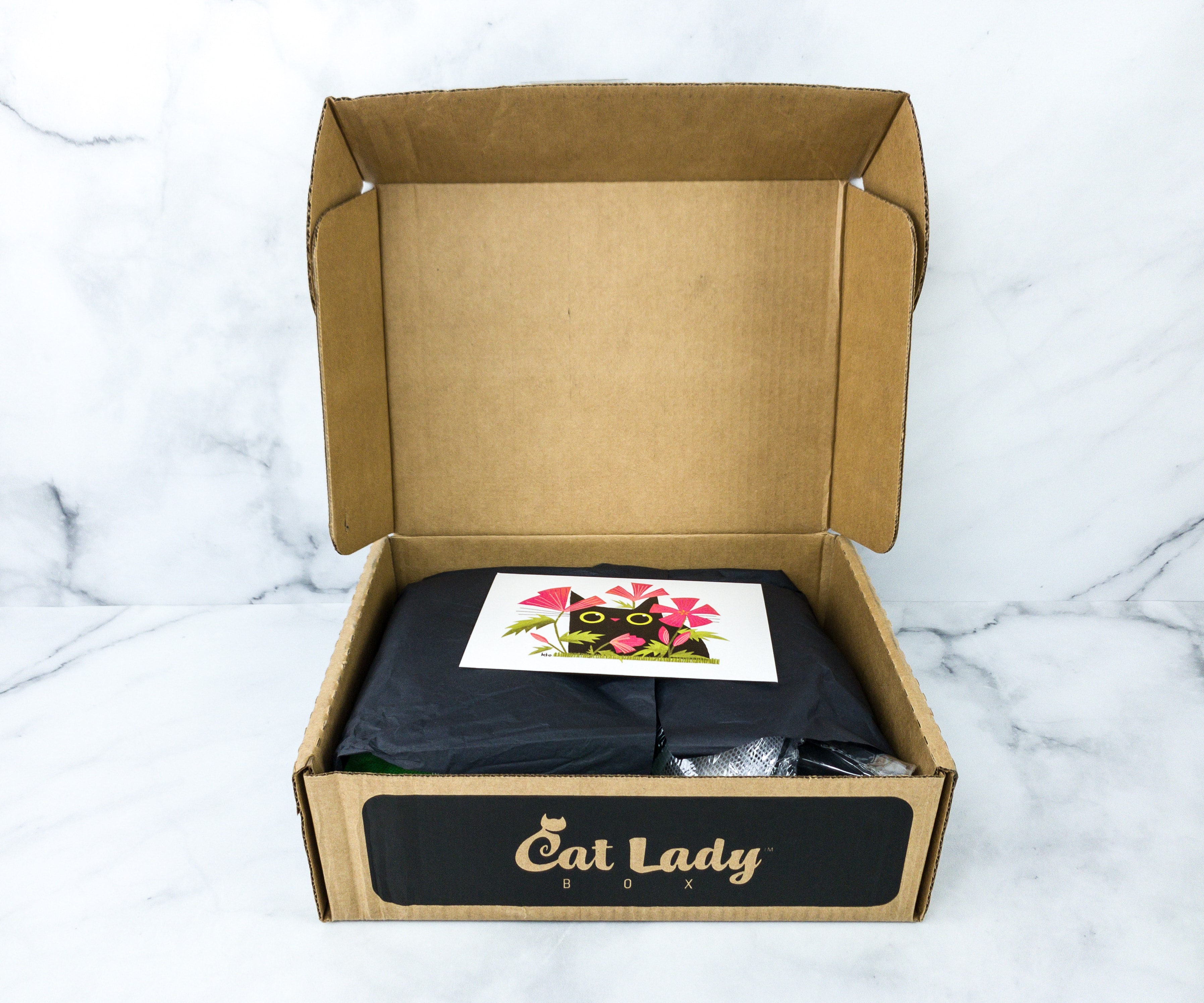 TIP: Looking for a coupon code? Subscribe to notifications for CatLadyBox in the directory to get an email when the next one is released!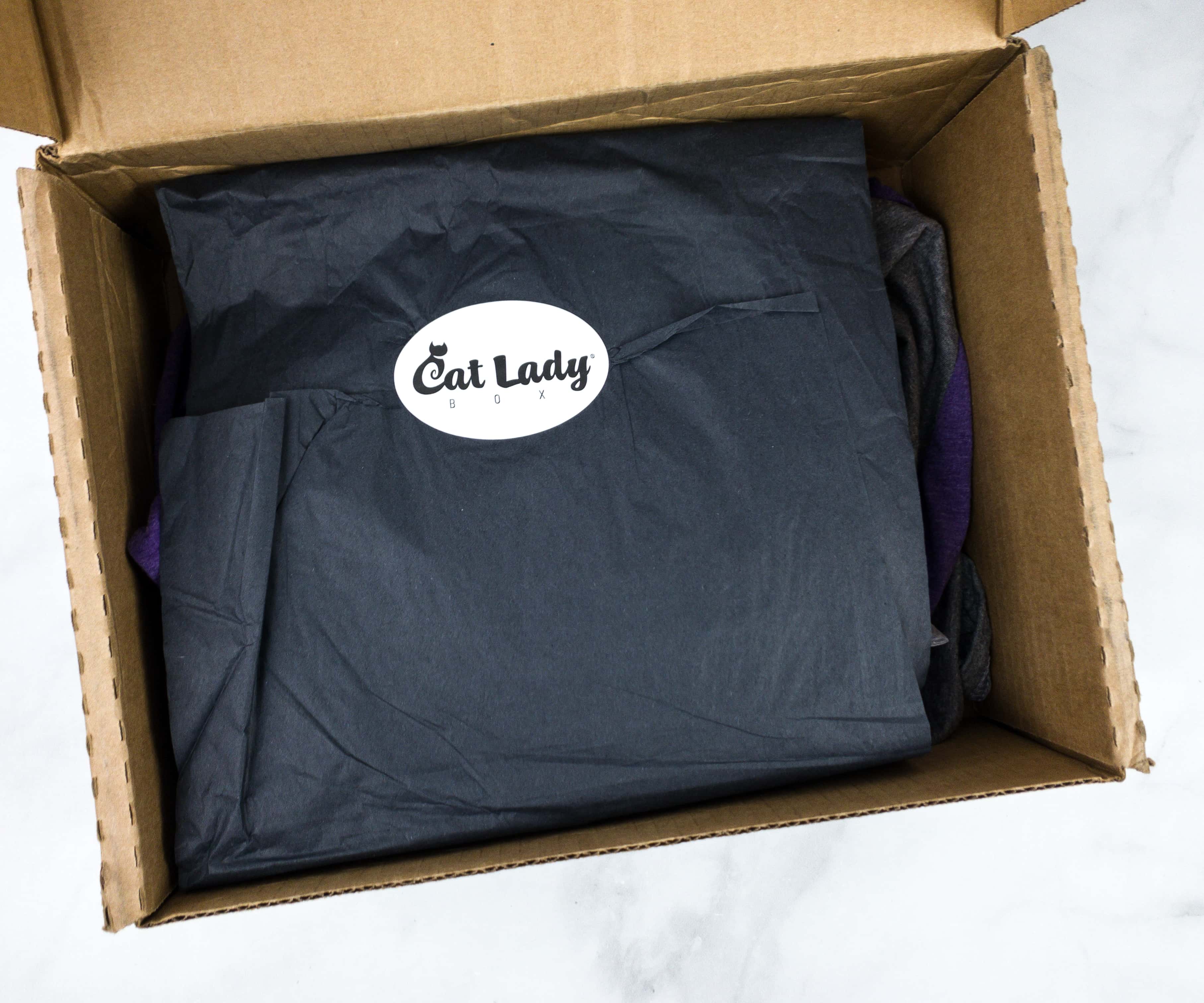 The items were wrapped in black tissue paper, sealed with a Cat Lady sticker.
The box is full of cute stuff! Some of them were also wrapped in plastic.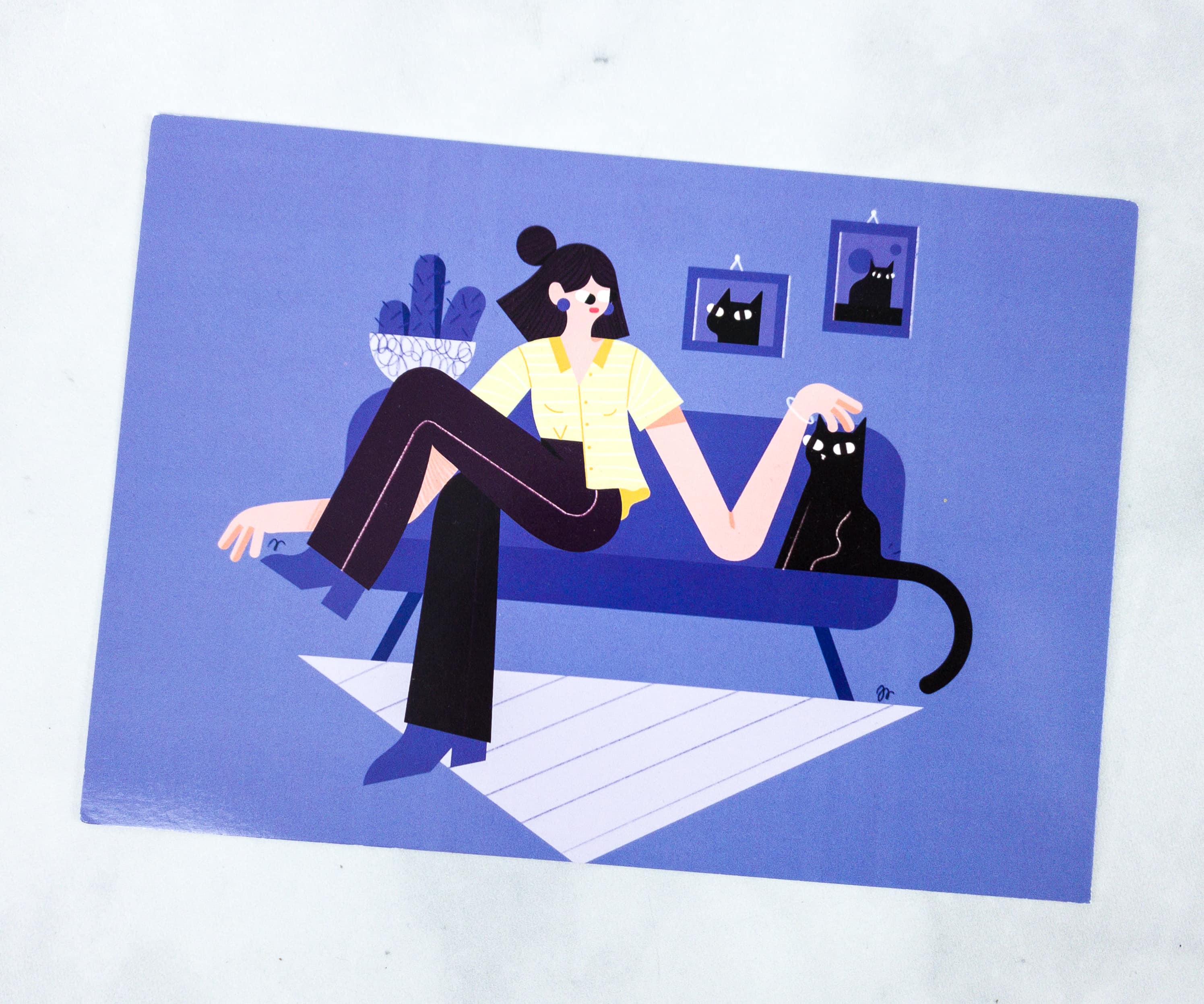 The information card features a cute cat artwork by featured CatLady artist Frederique Matti from Amsterdam.
At the back, there's a list of all the items in the box with their retail value and a brief description. The March 2020 theme is Cat Mom's Day!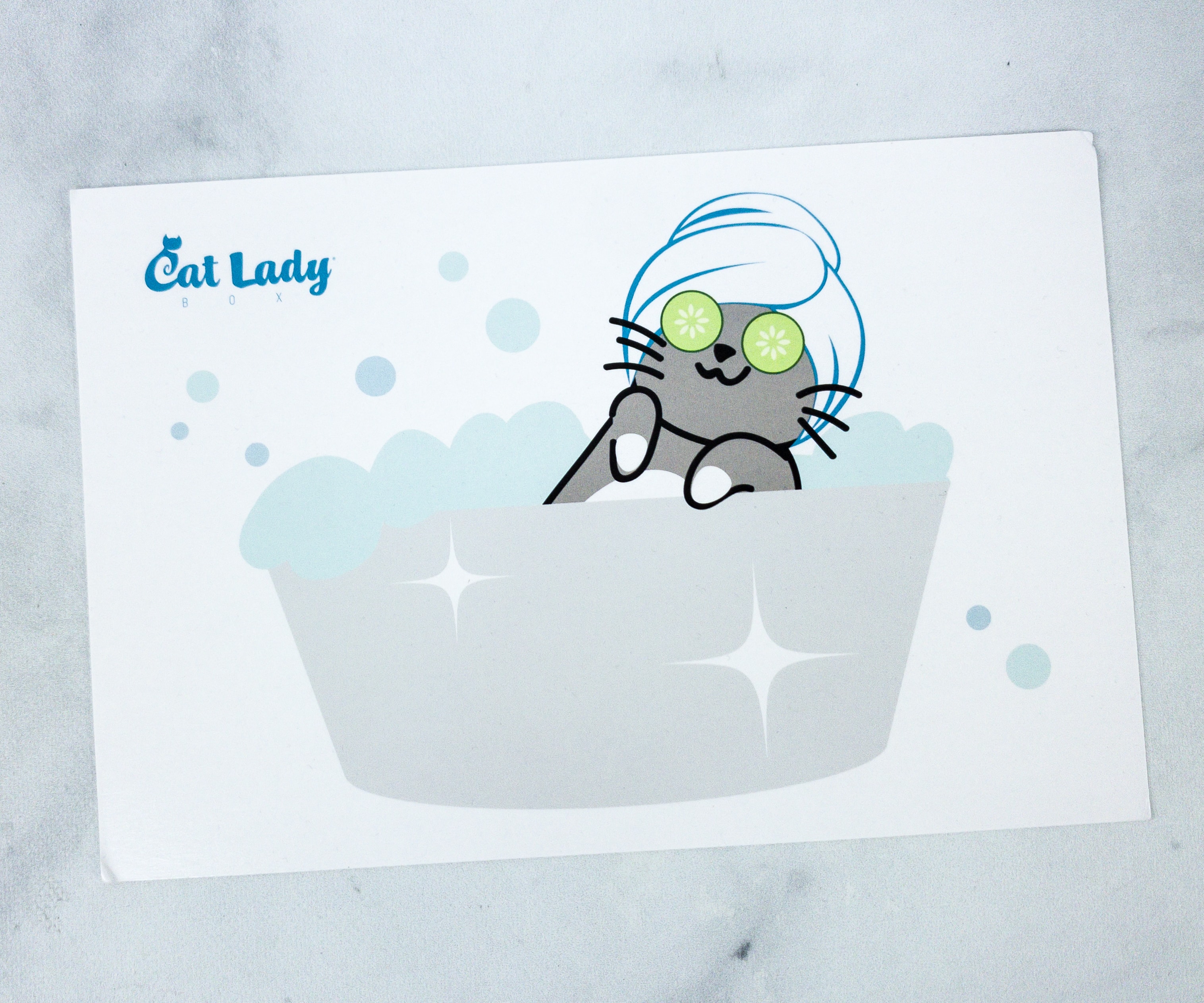 There's another promotional card that features an adorable photo of a kitty enjoying a bath, with cucumber slices on its eyes!
The flip side of the card gave us a hint about the next box's theme which is for the annual Pampurr Yourself!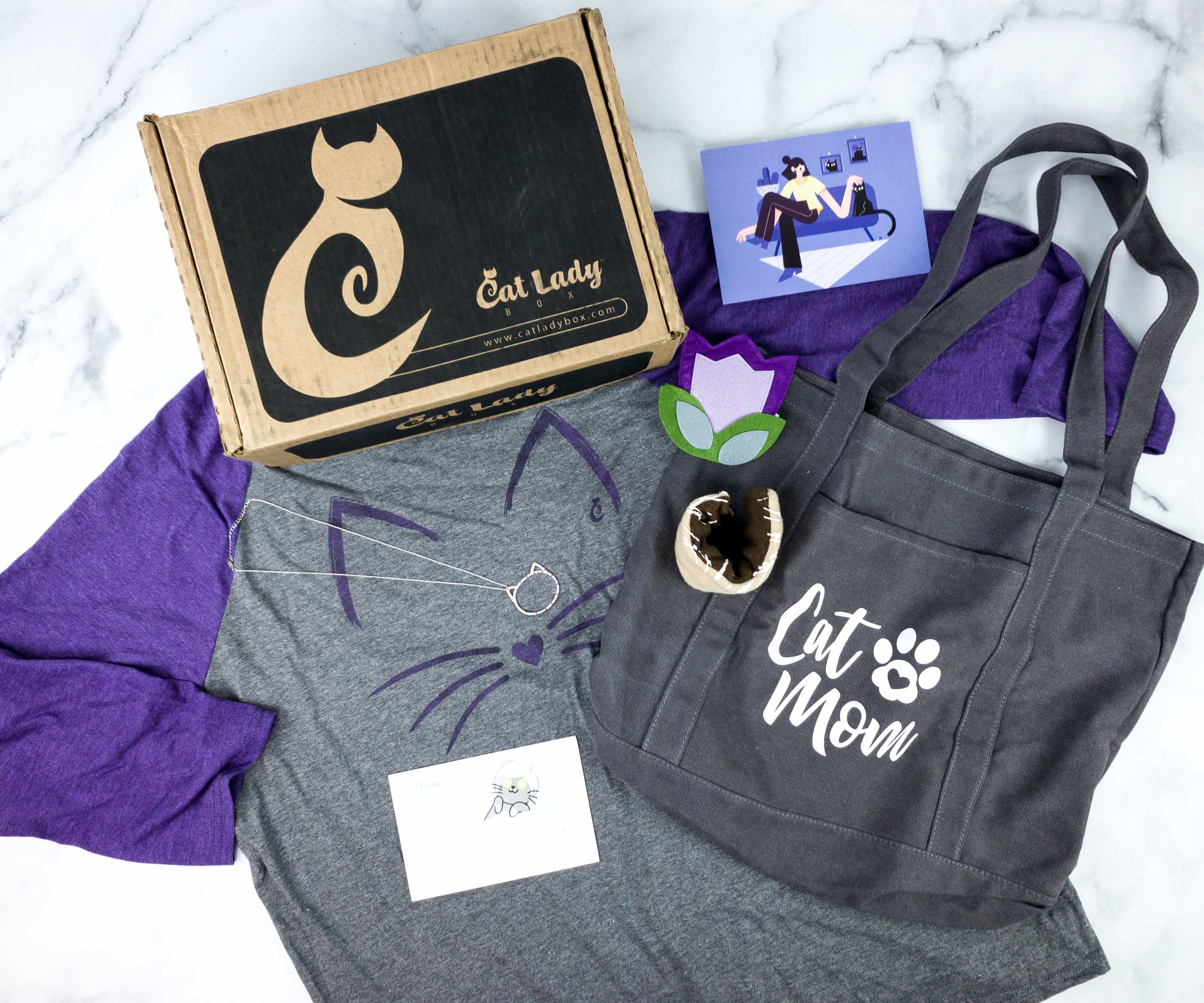 Everything in my CatLadyBox!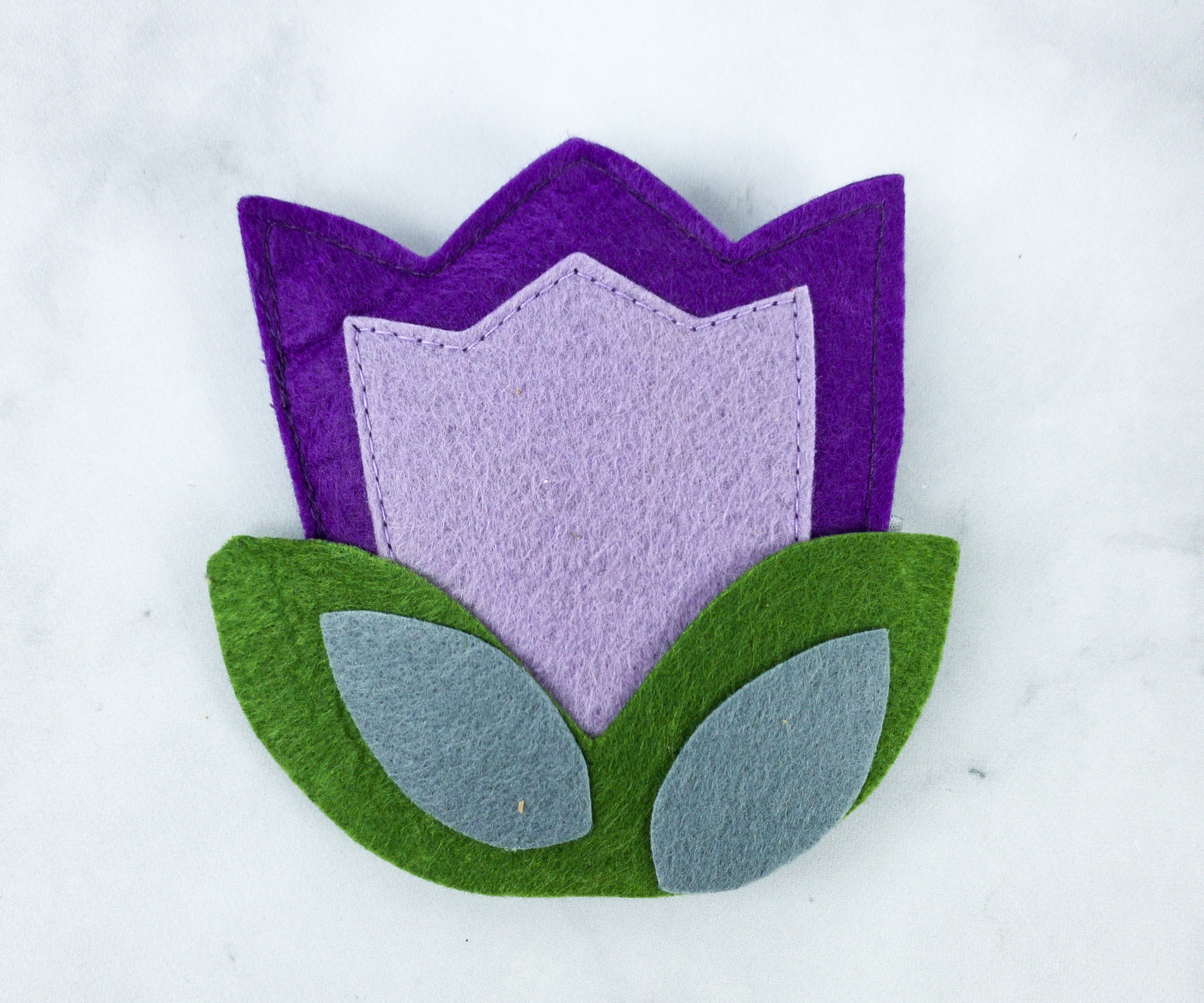 Tulip Catnip Toy ($4.99) Tulips are poisonous to kitties, but not this one! It's a beautiful felt toy that the cats will love. Flowers are also the perfect gift for moms this Mother's Day, so this one will do for cat moms!
Cinnamon Roll Catnip Toy ($6.99) Sweets are not for cats either. Good thing, they can enjoy this sweets-inspired toy which is a cinnamon roll!
The toy looks like the real thing, it even comes with a "glaze".
You can also unroll the toy to make it a kicker toy!
Brilliant Cat Pendant ($27.99) For the fur moms, here's a beautiful kitty head pendant!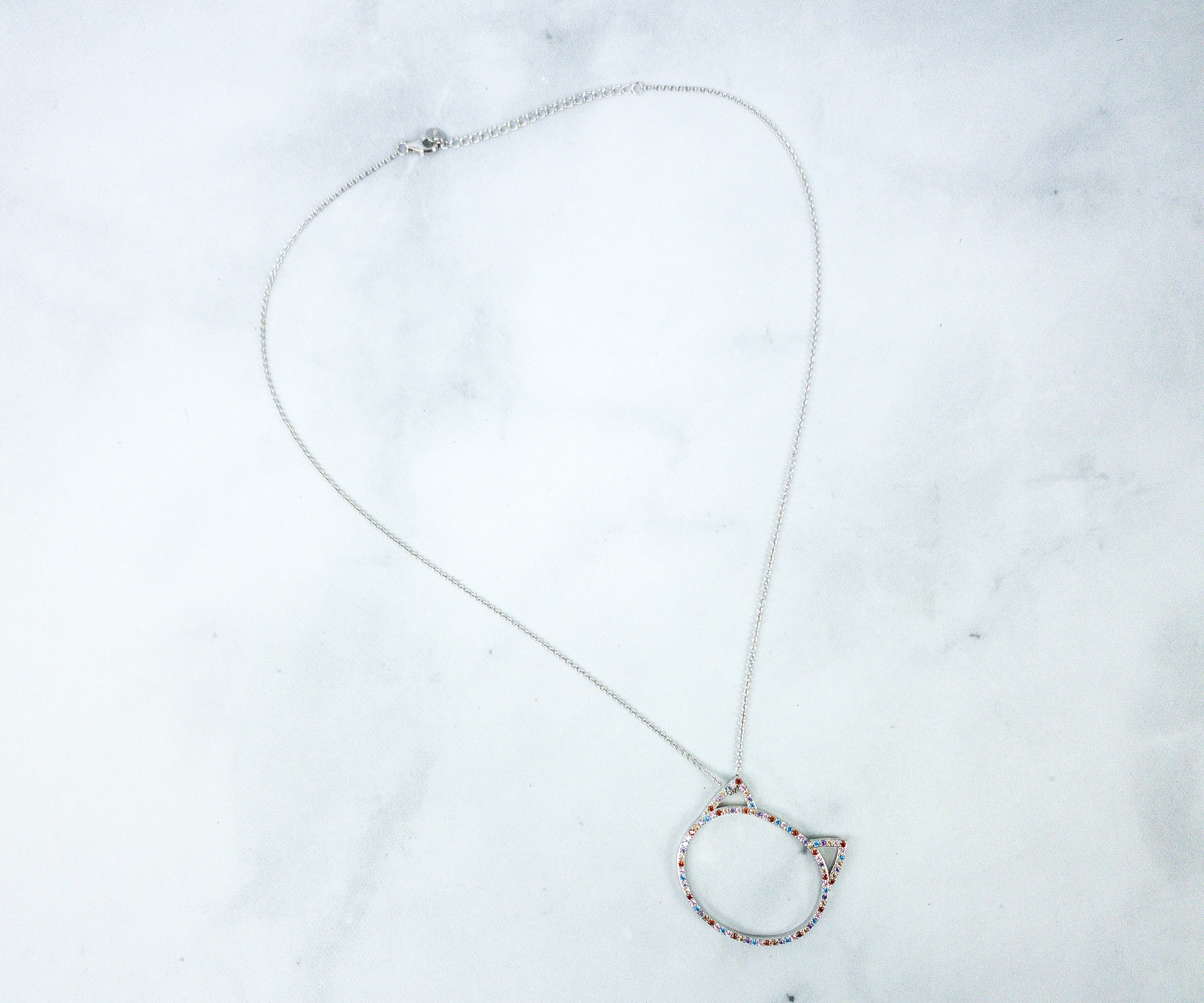 You can attach it to your necklace through its adorable ears!
The kitty head is paved with colorful small gems, and it works whether you are all dressed up, or just in a simple shirt and jeans get-up! It's sparkly and pretty!
Cat Mom Tote ($18.99) Another cute item for the hardworking cat moms is this cute black tote! Aside from the spacious main compartment, it has a front pocket where you can stash your essentials, purse, or even your phone.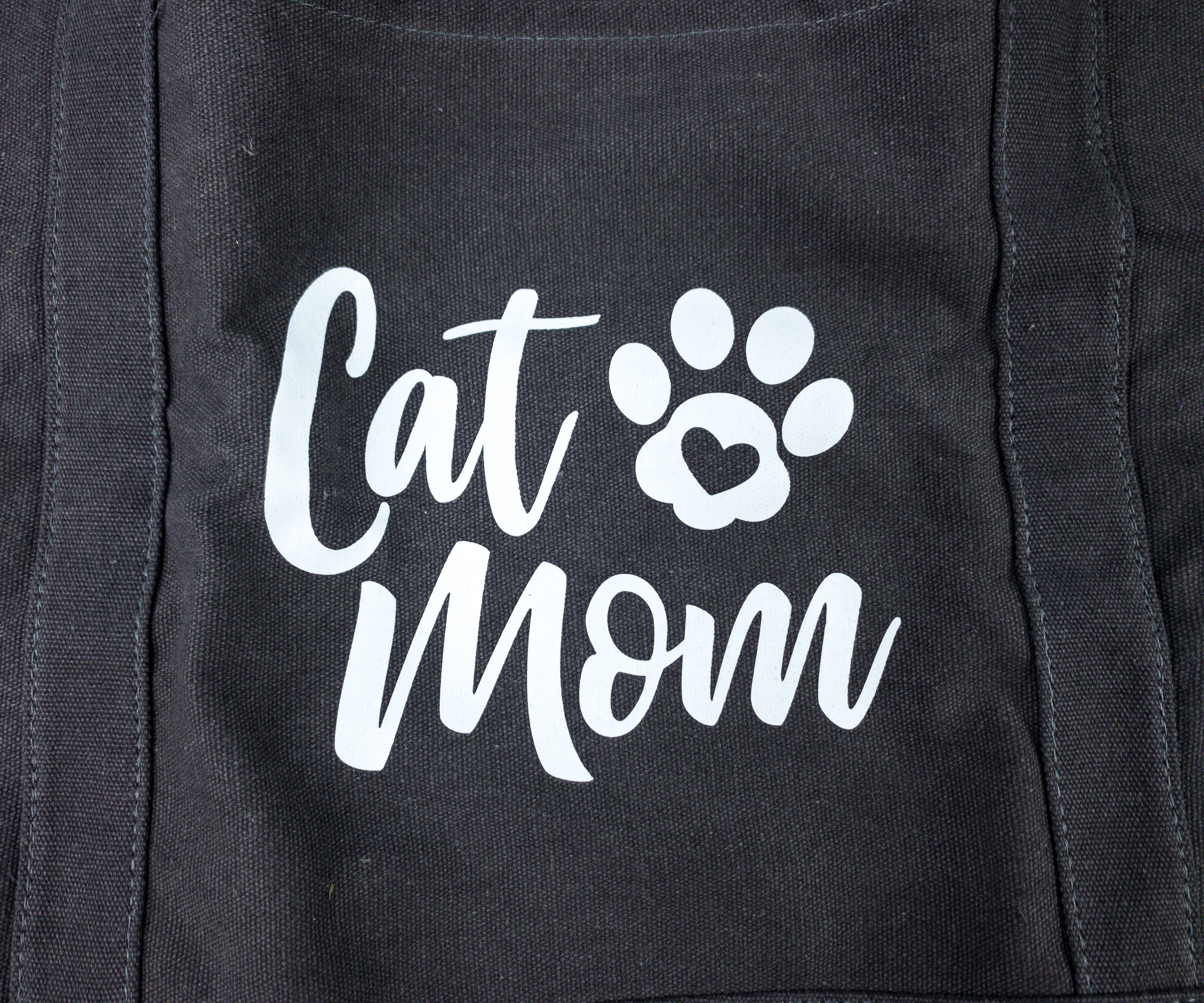 It also certifies you as a real cat mom because it comes with a print and a paw that looks like it is cat aPURRoved!
Cat's Meow Raglan Tee ($19.99) To complete your look, you can also wear this soft and comfy kitty raglan!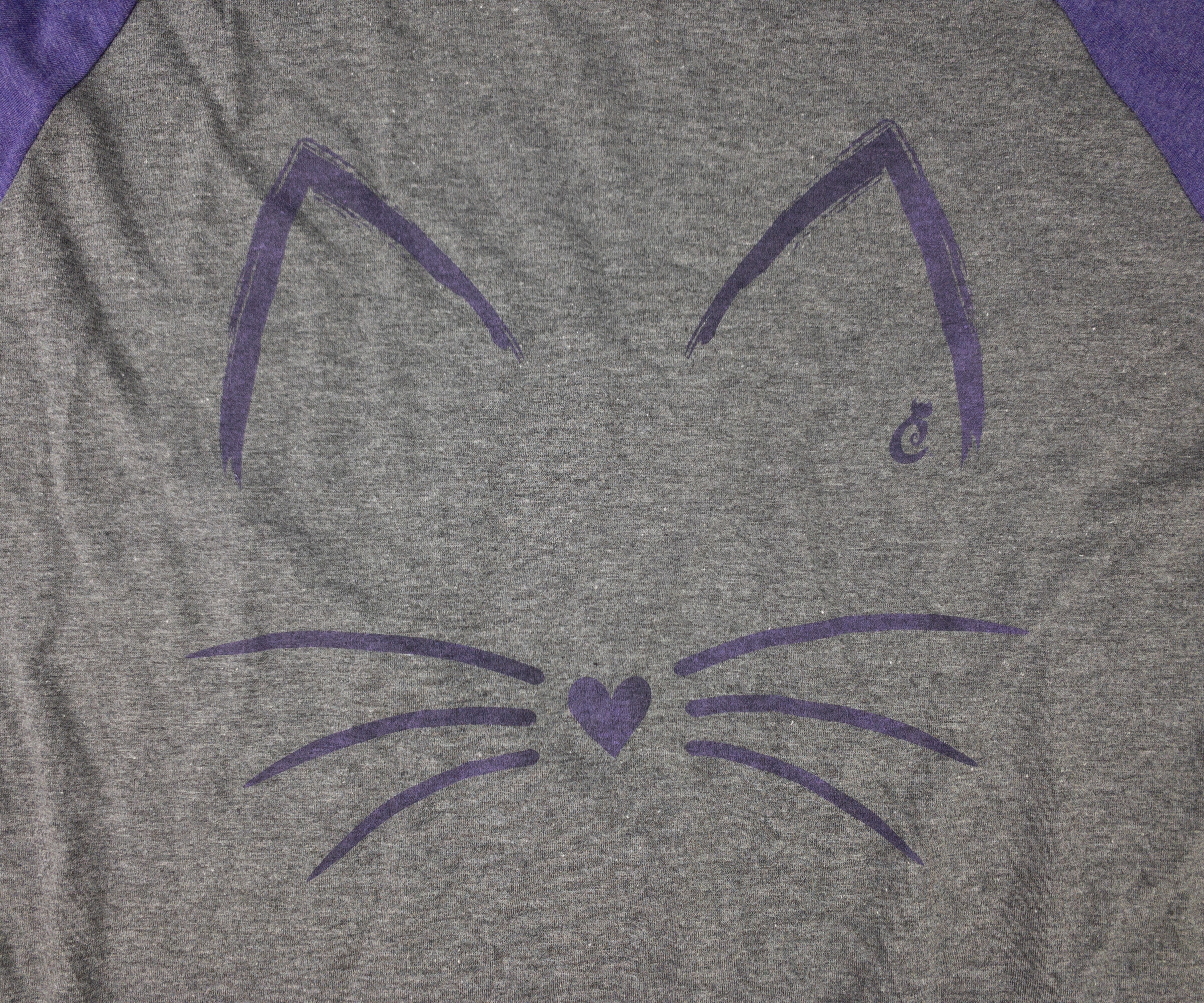 The cat's face is really adorable, and I like its heart-shaped purple nose! The shirt will look perfect with jeans, or denim shorts with the kitty pendant while I carry the tote.
Happy Cat Mom's Day! This box is just PURRfect for all proud fur moms. The kitties will love the soft and squishy toys as they both have catnip on them, while the cat moms have a lot of cute cat-themed merch to show off including a cute pendant, shirt, and tote. My favorite in this box is definitely the cute raglan! The pendant is really pretty as well, especially with its colorful studs. This is truly one of the best boxes for cat lovers. This month's curation is also perfect for Mother's Day, which is celebrated by all kinds of moms, even fur moms!
What do you think of this month's box? Does your cat give 2 paws up?