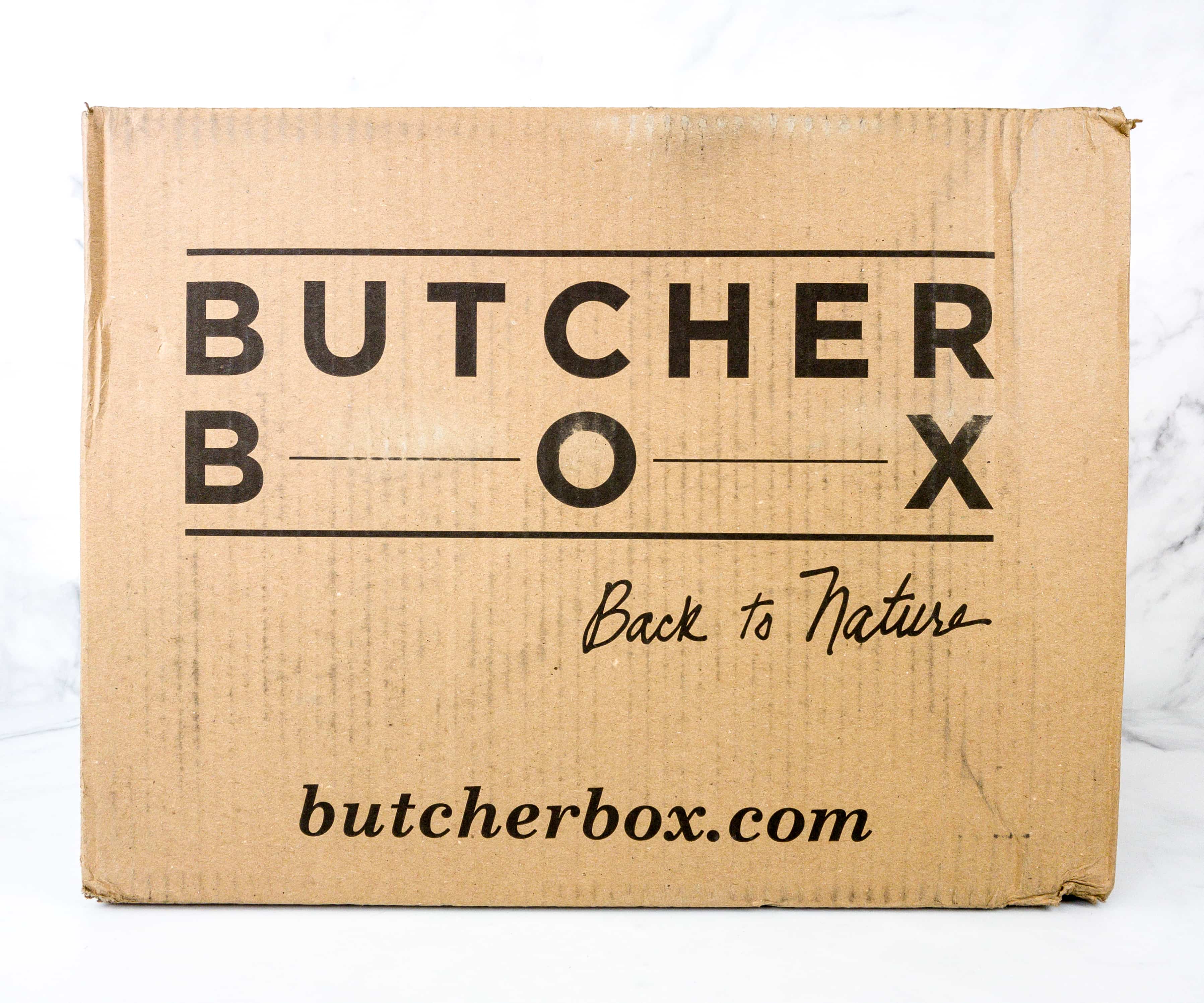 Butcher Box is a subscription box service that delivers premium quality meat for $129 per month. Each box comes with a selection of meat (about 15-20 meals worth) that has been carefully cut and prepared. The Butcher Box brings back that unique experience you get when you visit your local butcher shop. Their specialty is 100% grass-fed beef, but they also provided mixed subscription options. You can also have the box delivered every two or three months depending on your needs.
For this review, we're featuring some of the dishes we made using our items from Butcher Box. This is different from our regular Butcher Box reviews! We hope it gives you some great ideas what to make with your Butcher Box goodies!
Because of COVID-19, there's a waitlist for ButcherBox, and no current coupons. They're focusing on existing subscription customers, so we encourage you to sign up for the waitlist if you're interested in this subscription.

First up, we used the Grass-fed Beef Eye Round Roast from the August 2019 box to make Boeuf Bourguignon, or beef stew. We got the recipe from our Eat2Explore France box!

This cut of meat contains lesser fat than others, and produces a ton of flavor!
We cut the meat into cubes!

This dish also contains pearl onions, carrots, mushrooms, and potatoes. We served it with a baguette for a complete meal!

It's warm and flavorful, with a perfect balance of sweet and spicy. Such perfect comfort food!

Next, we have Chicken Breast from the December 2019 Butcher Box and we used it for making Chicken Enchiladas Suizas!
Aside from the chicken breast, we used butter, onions, cheddar cheese, Monterey Jack cheese, and tortillas. We baked it in a preheated oven for 30 minutes, until the cheese was completely melted.

Look at that creamy and cheesy sauce!
The filling also came out quite tender. Each bite was bursting with cheesy flavor and we couldn't get over it! It was so delicious!
Here's a closer look! Warning: it's really mouthwatering. This dish was a hit for kids and adults alike!

For the next recipe, we used Butcher Box Ground Beef. We always have ground beef in our boxes because of Butcher Box's ground beef for life deal! Check out the current ButcherBox deal – just use this link to sign up!

We used the ground beef for making meatballs for our spaghetti!

As expected from Butcher Box ground beef, it came out meaty and juicy!
Of course, we topped the spaghetti with cheese!

My kids were the happiest about this meal! Nothing beats good old meatballs with tomato sauce and pasta!

Another recipe where we used Ground Beef from Butcher Box is Cabbage Rolls in Tomato Sauce, a traditional Eastern European dish.

Our version is spicy, unlike the regular ones. We also added brown sugar, vinegar and paprika to the sauce.

It came out perfect, as the cabbages weren't soggy!

Aside from ground beef, it also contains rice. This makes such a filling choice either for lunch or dinner!

Another kind of meat we have is Strip Loin Steak from November 2019 Butcher Box!
This triangular meat cut comes with a good layer of fat!

This lean cut of beef is great for making a steak!
We cooked it medium rare! We also sliced them thinly, making them perfect for tacos.

We put the sliced steak on a tortilla and put some sauce and cilantro. We served it with guacamole on the sides, plus some rice and black beans to make it more satisfying!

We also have here some Organic Chicken Thighs from December 2019 Butcher Box!

Each pack has 2 to 5 pieces of organic, boneless, and skinless thighs.

We used it the chicken thighs for Macaroni Soup. It's seasoned with some lemongrass curry powder to give it that little extra flavor!

It's yet another comfort food! This is also pretty easy to cook, just combine margarine or butter, onions, and celery, and seasoning in a pot then saute until tender. We used an Instantpot to cook everything but the macaroni, as the chicken thighs cooked that way make their own broth!

We served it over macaroni to make it a meal! Look how tender the chicken was!
Next, here's Grass-Fed Beef Top Sirloin Cap from August 2019 Butcher Box! We used it for making a Pot Roast!

It's a cut of meat that is taken from the top of the backside part of the cow.

As usual, we did a home-style pot roast! It includes vegetable oil, onion, garlic, and seasonings.
Since it was slow-cooked it in low heat, it came out quite tender! We also added carrots for a more filling dinner meal.

The meat is so tender that it easily pulls apart! All those juices came from the beef itself, giving the dish a deep flavor.
We also have Boneless Pork Butt from January 2020 Butcher Box and we're using it to make pulled pork!

This part of the pork is meaty and juicy. We love having them marinated then grilled!
After marinating the meat, you just have to put it in the Instant Pot so it turns really tender! We served it with potatoes and beans and rice, but you can also put it in a quick snacking sandwich!

We shredded the meat using forks! You can also remove the fatty bits from the surface, but they are great to add some needed fat if you want to refry the meat carnitas style.

We got more chicken breast here and we're using them to make homemade orange chicken!

We cut them up in bite-sized pieces, tossed with some cornstarch, and then fried them in a skillet.
Paired with rice, this makes an easy lunch for kids and adults alike!

Each piece came out tender. We threw together an easy sauce using some orange juice, brown sugar, soy sauce, broth, and powdered ginger, all thickened with some cornstarch!

Here's another great meal using chicken breast! We roasted the chicken breast and served it with carrots as sides.

This makes a great alternative if you're tired of the same old fried chicken. You can add spices or Italian seasoning to make it more flavorful!
If you want a heavy lunch, you can also serve it with white rice!

Next up, Organic Chicken Drumsticks from December 2019 Butcher Box! Just like other chicken cuts from this subscription, they are non-GMO and antibiotics-free!

We tossed them in some Maryland-style seasoning and cooked them in the oven at 400 degrees, until the fats render and until the skin gets quite crisp. Here they are halfway through.
Look at that golden brown color! They came out perfectly! You can also use baking powder or corn starch for a nice crispy coating.

These were amazing and easy to make, a great alternative to fulfill your cravings for when you can't get fried chicken takeout!

Here's another pack of ground beef!
Aside from making meatballs, ground beef is also ideal for making bolognese pasta!
We added some finely chopped carrots in there too!
For the final touch, we topped it with grated parmesan cheese!

Here's another tasty meal we cooked using Butcher Box ground beef: Patty Melts! They're easy to make, just mix the ground beef with salt and pepper and form them into patties. You can cook them on a skillet with medium heat.

To assemble, put a slice of cheese over a slice of bread, add the patty, another slice of cheese, and finish with another slice of bread. We served it with potato croquettes and it was fantastic!
Butcher Box sends only high-quality meat, making our meat-based meals taste fresh and delicious! The beef, pork, and chicken cuts are always portioned perfectly, so they save us so much time when preparing and cooking the dishes. This month, we cooked a variety of dishes, from pasta to grilled meat as well as some of our comfort food. My family was so satisfied with everything! Another thing we love about meats from this subscription is that they're antibiotic and hormone-free. This is indeed the perfect subscription for meat lovers as we can customize our own box or choose a curated box depending on our needs!
Are you planning to get Butcher Box?