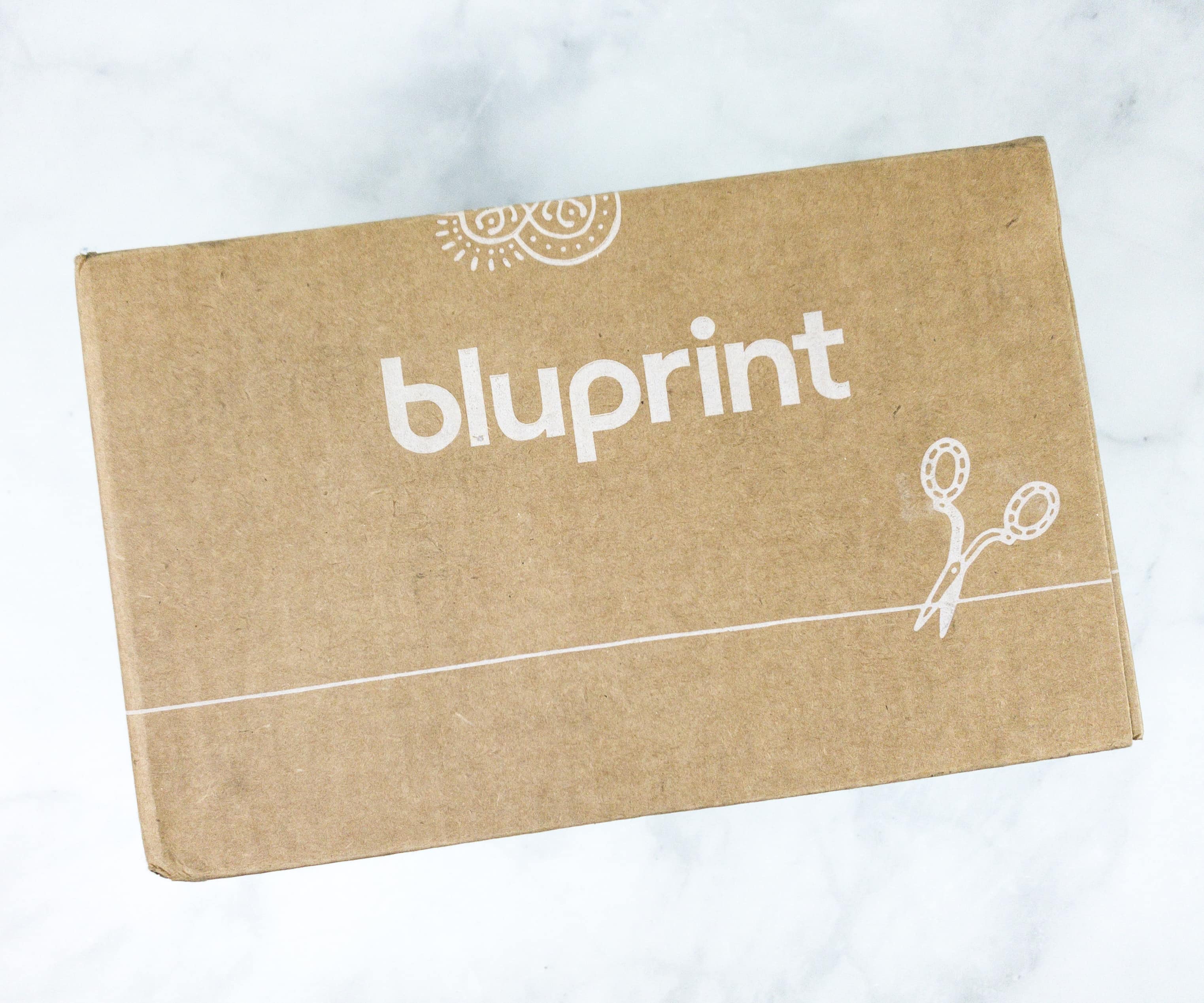 Bluprint, formerly Craftsy Unlimited, is a digital subscription that gives you access to thousands of hours of videos and classes. The digital subscription is $9.99 a month, $79.99 for the year. The videos have categories like knitting, baking, sewing, quilting, crochet, and cooking. There are also videos for art, home decorating, writing, cooking, baking, dance, fitness and yoga, and they even have content for kids.
Bluprint also has an online shop where you'll find a huge selection of supplies you can use for the classes, like quilting kits, knitting essentials, and more! For those who sign up for an annual Bluprint subscription, you'll automatically get free standard shipping on any orders within the US. With either membership you'll also save 15% on supplies!
This is the review of the 2nd and Shunk Shawl Knitting Kit. This kit is $75 and pairs with this Bluprint class! It's a great way to get started on the classes if you don't have the supplies yet.
DEAL: Get 7 days free trial when you sign up! No coupon code needed, just use this link to get started!
There's a card that sits on top of everything in the box!
Ready, set, create!
The flip side of the card offers 15% off your full order every time you shop as a Bluprint member.
There are needles and threads inside!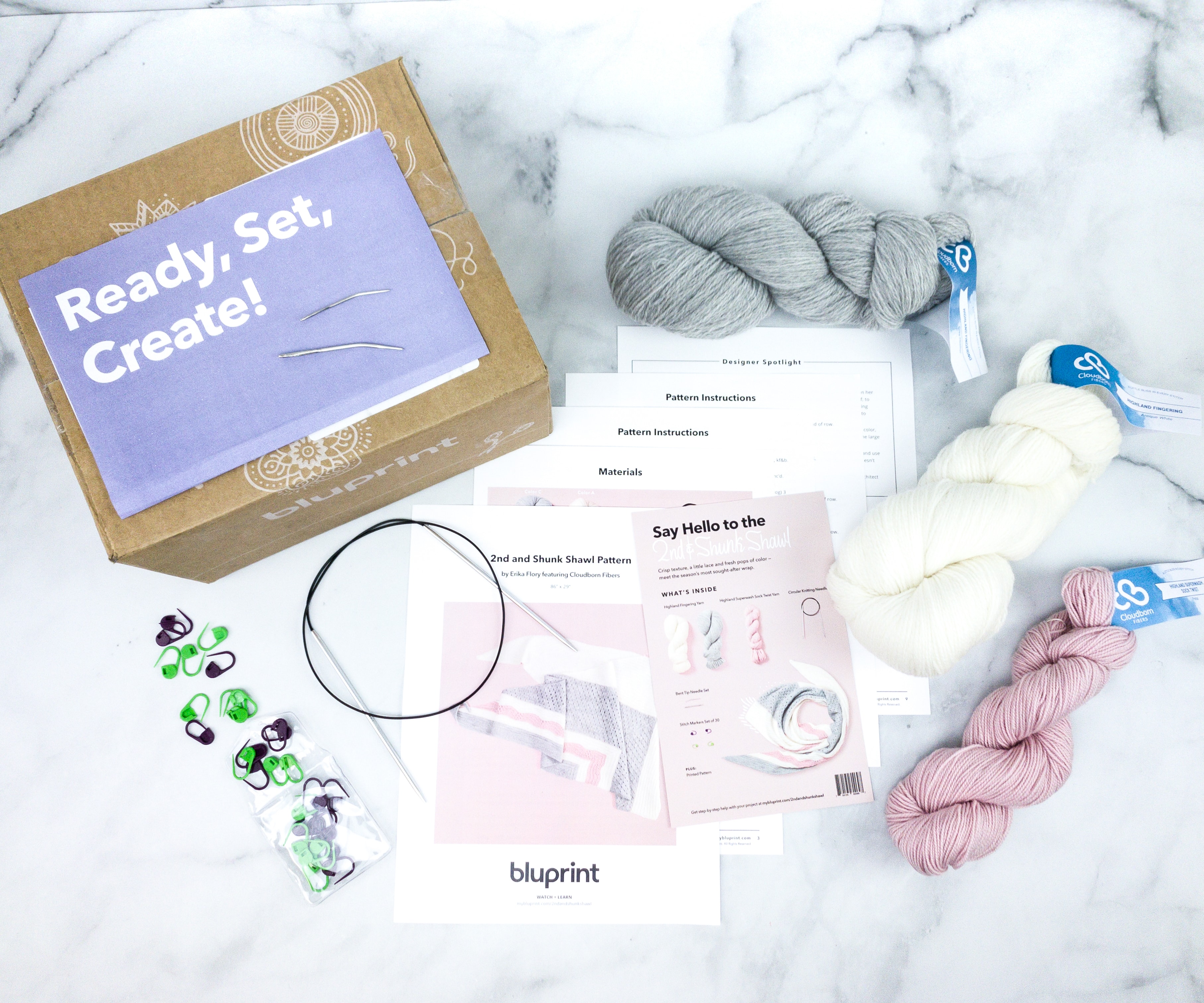 Everything in my box!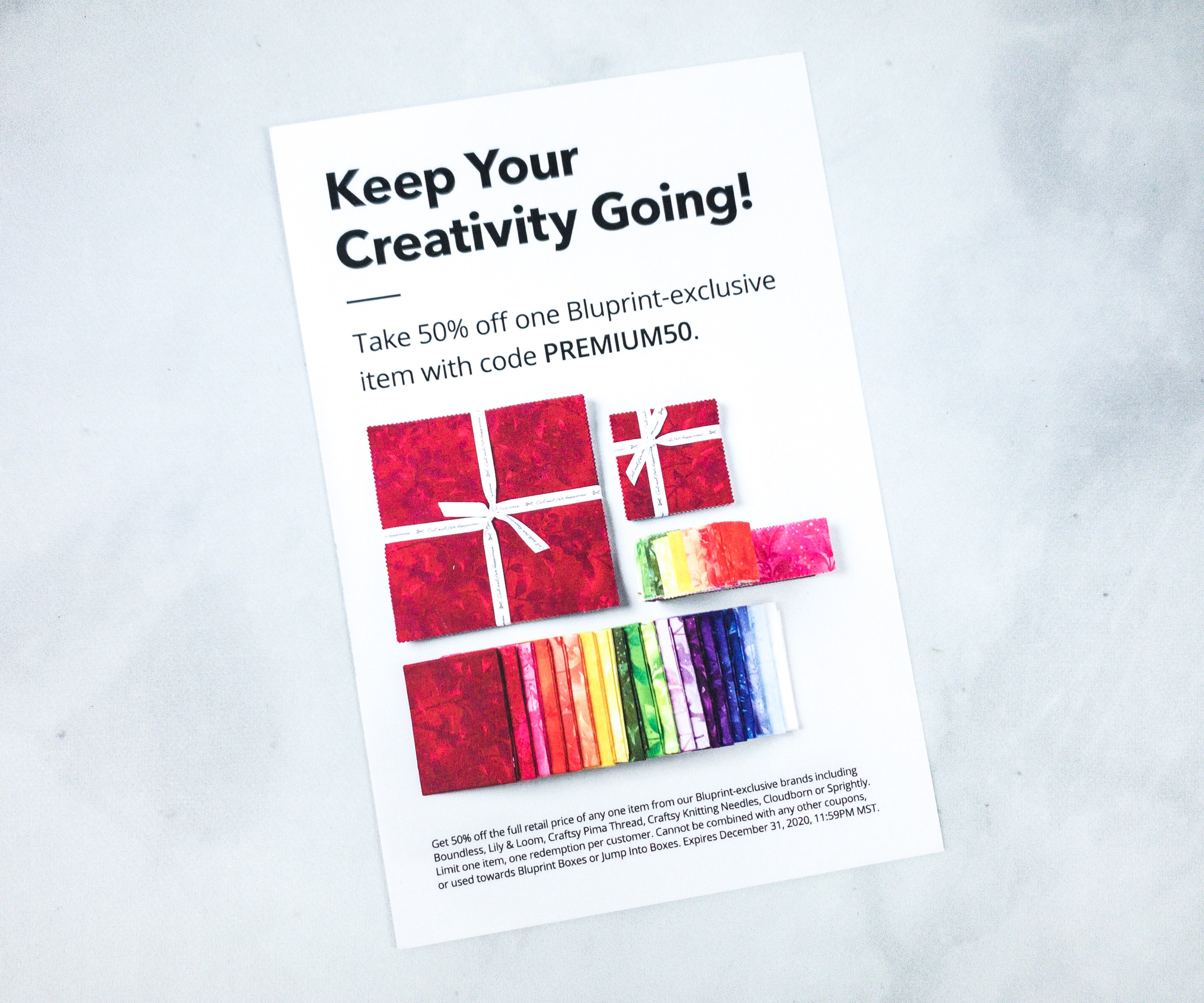 There's also a card with a 50% off coupon code applicable to one Bluprint-exclusive item with coupon code PREMIUM50.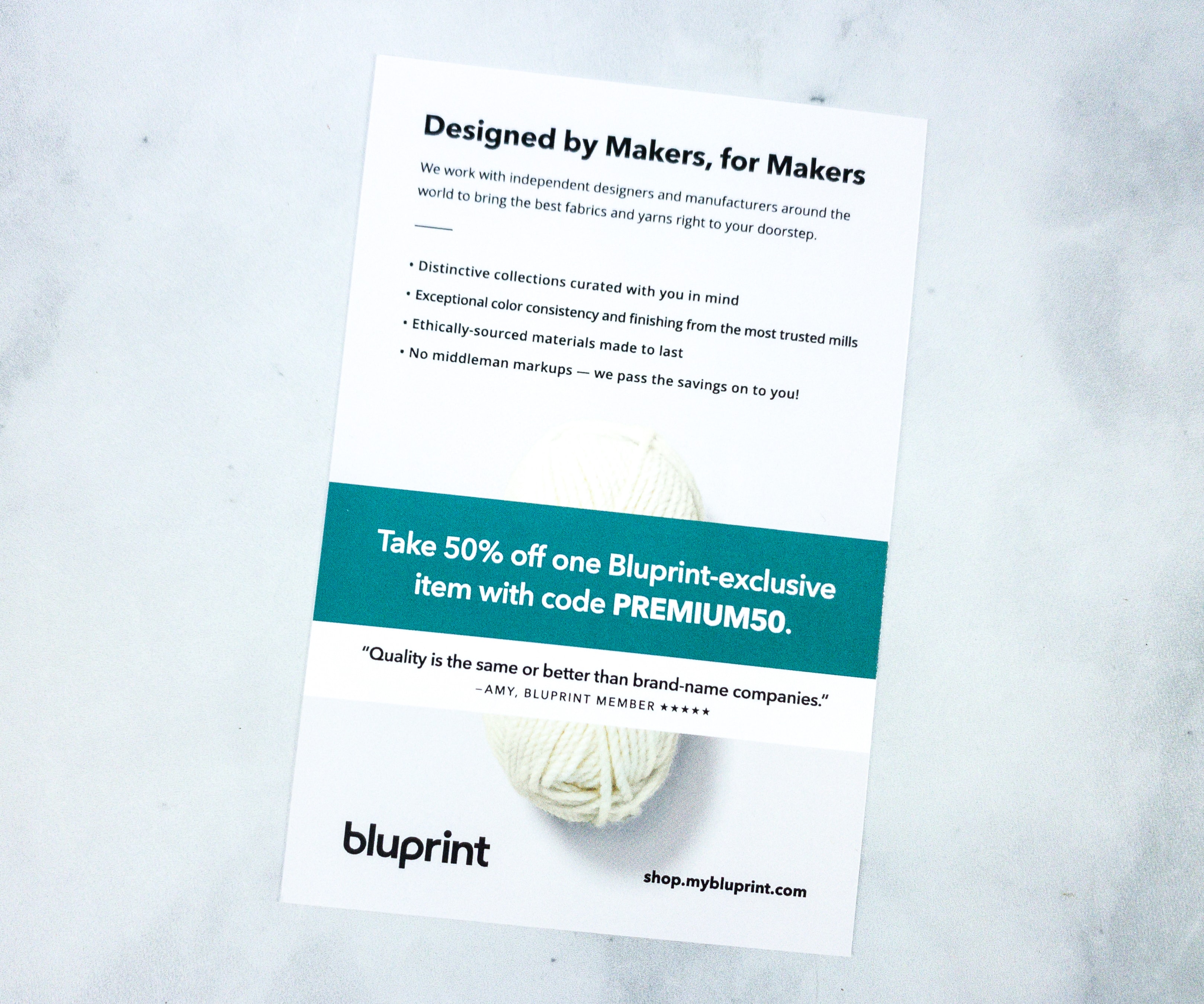 The same is also said on the flip side of the card.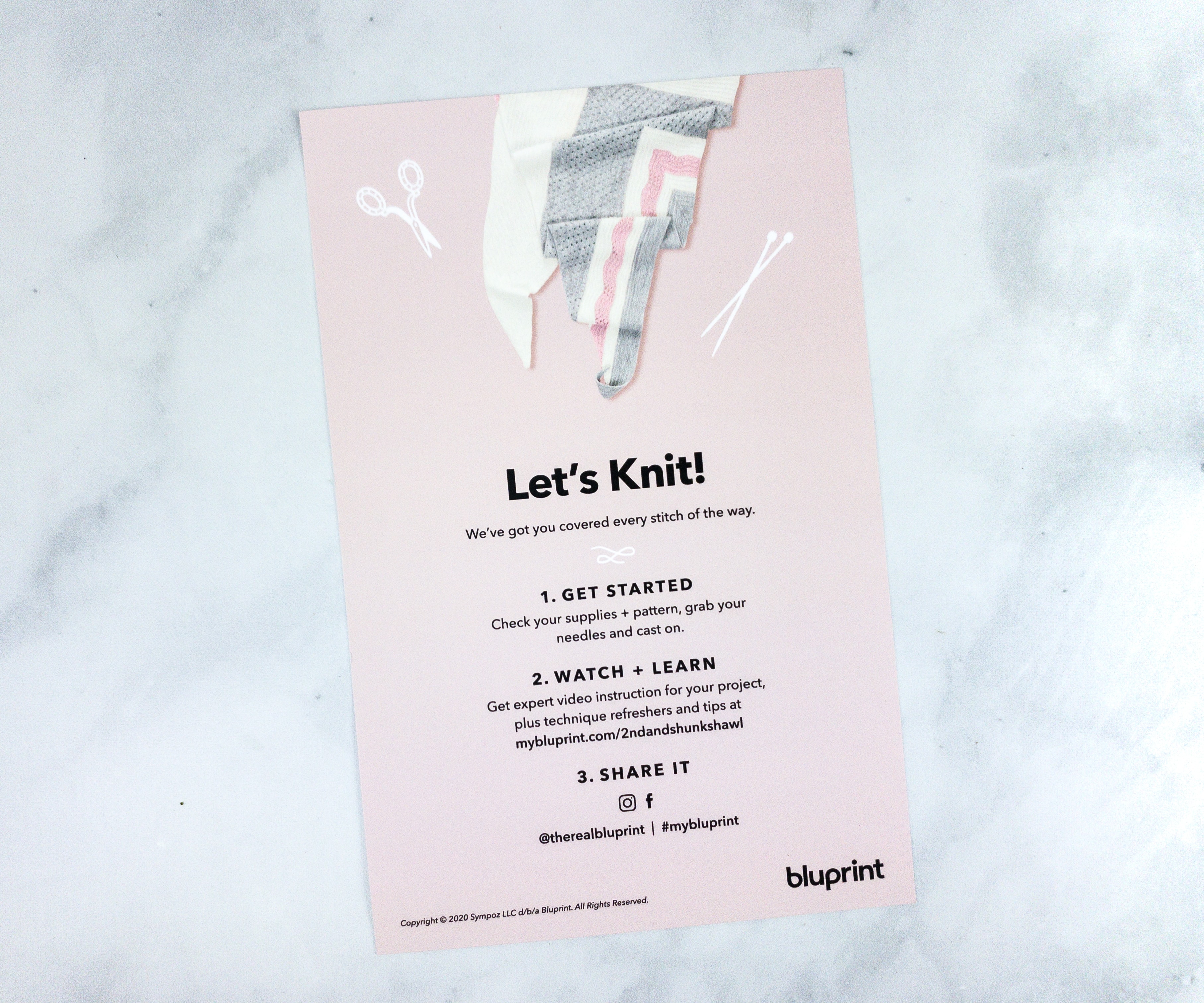 Another card contains the list of what you need to do with this KIT!
There's also a list of what's inside your box.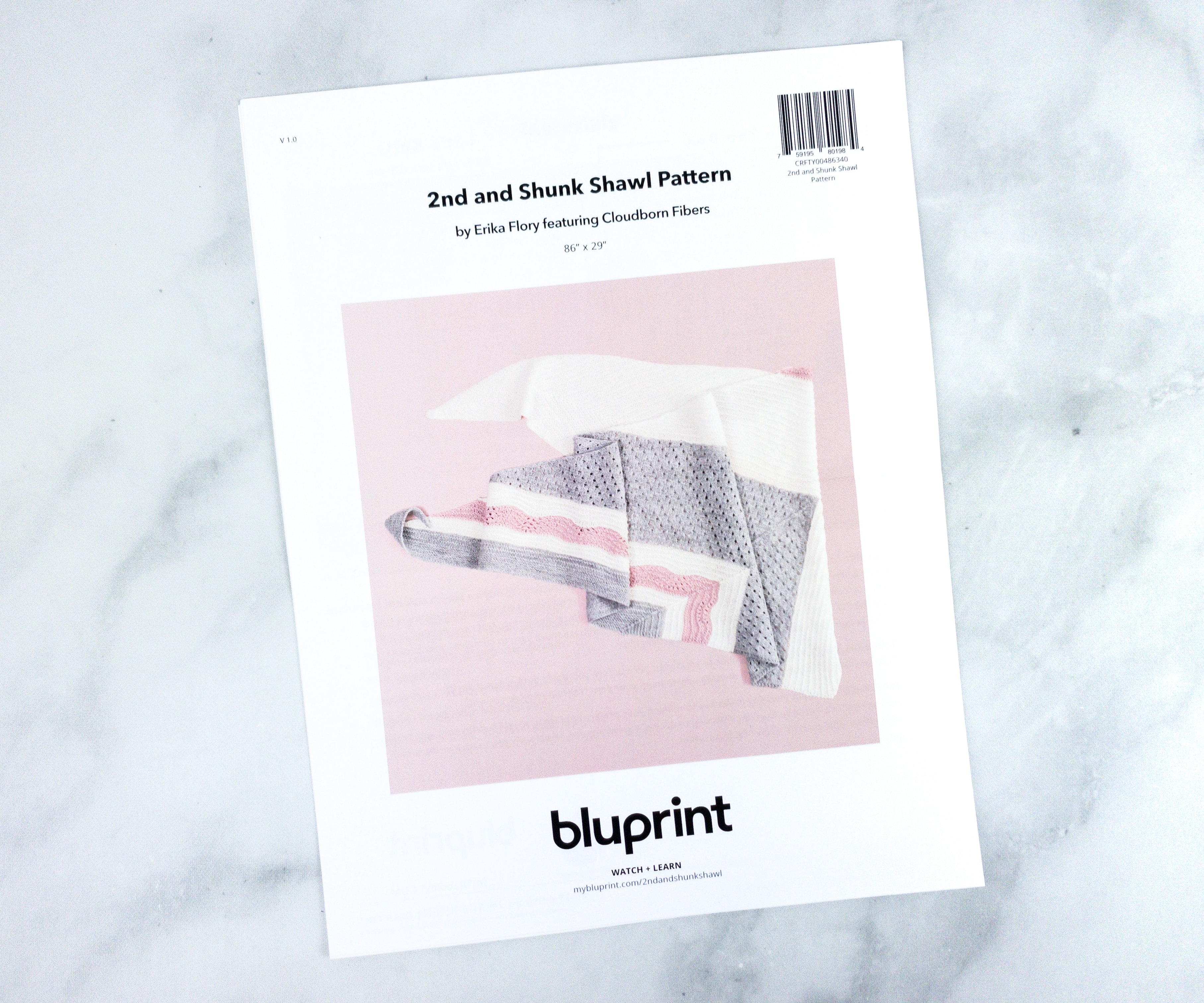 They even included a manual for the project.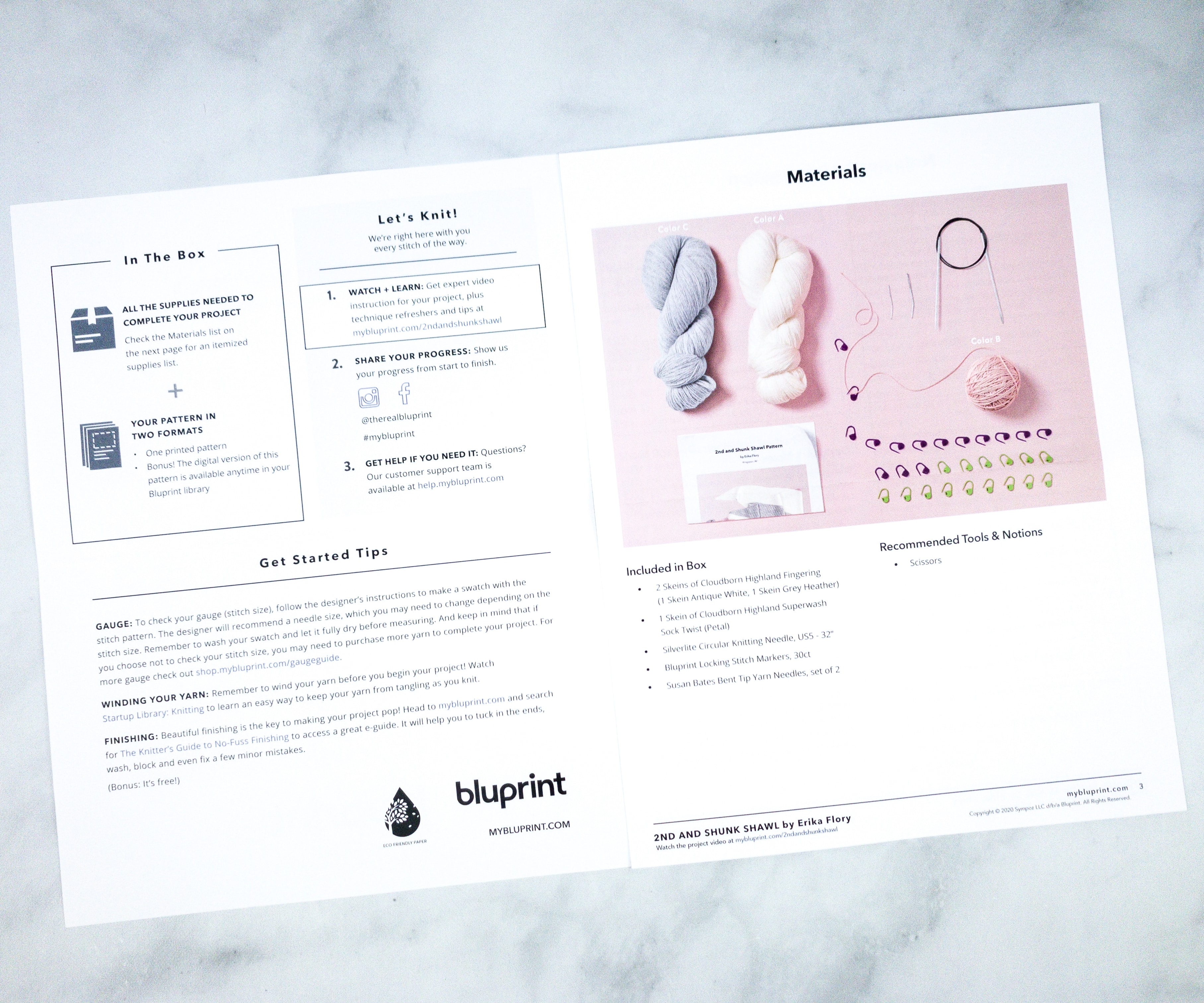 It contains all the needed information before you start with the project like tips and recommended tools and notions.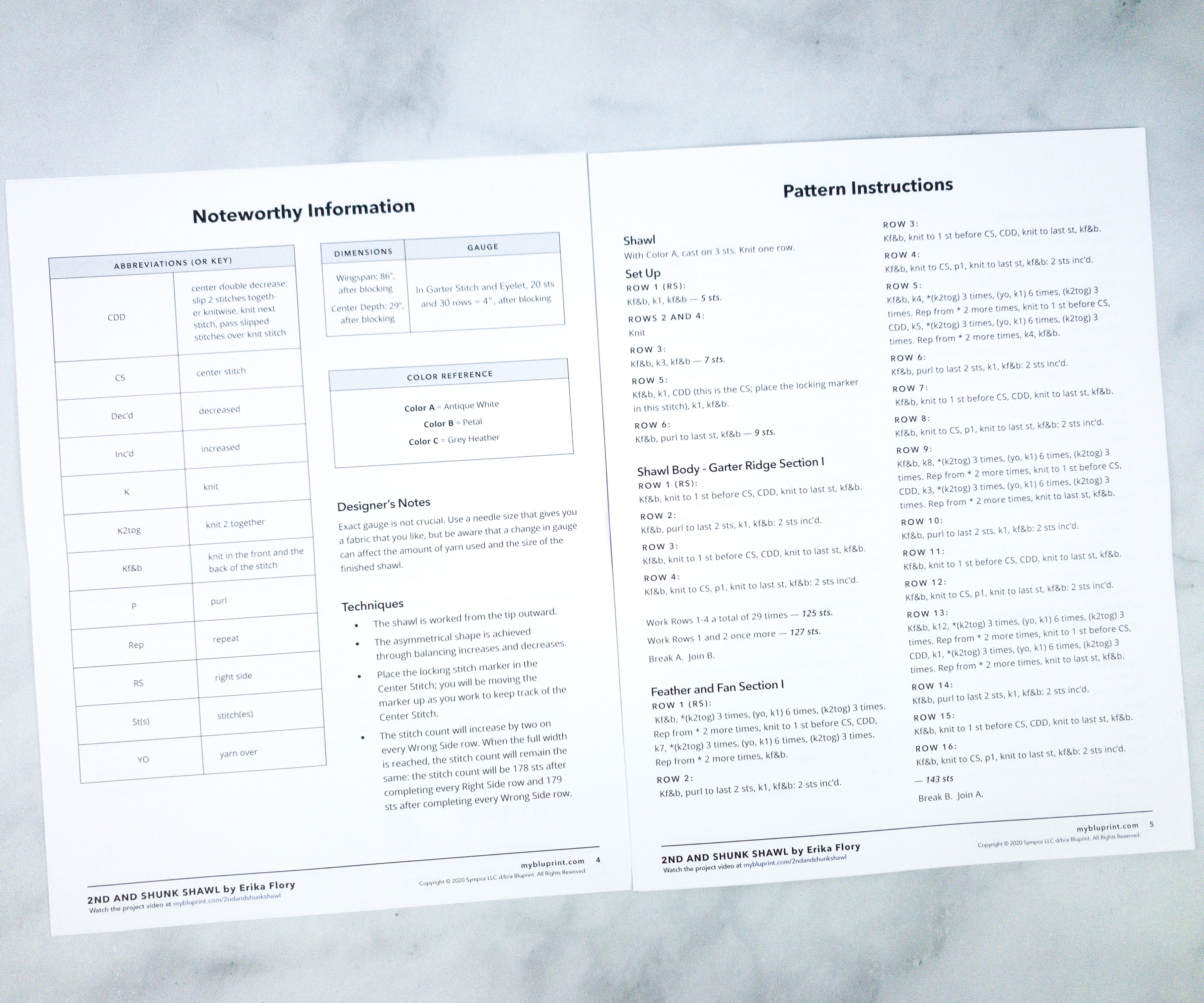 Here, they listed noteworthy information like abbreviations or keys, color references, and pattern instructions.
There are another 2 pages for the pattern instructions.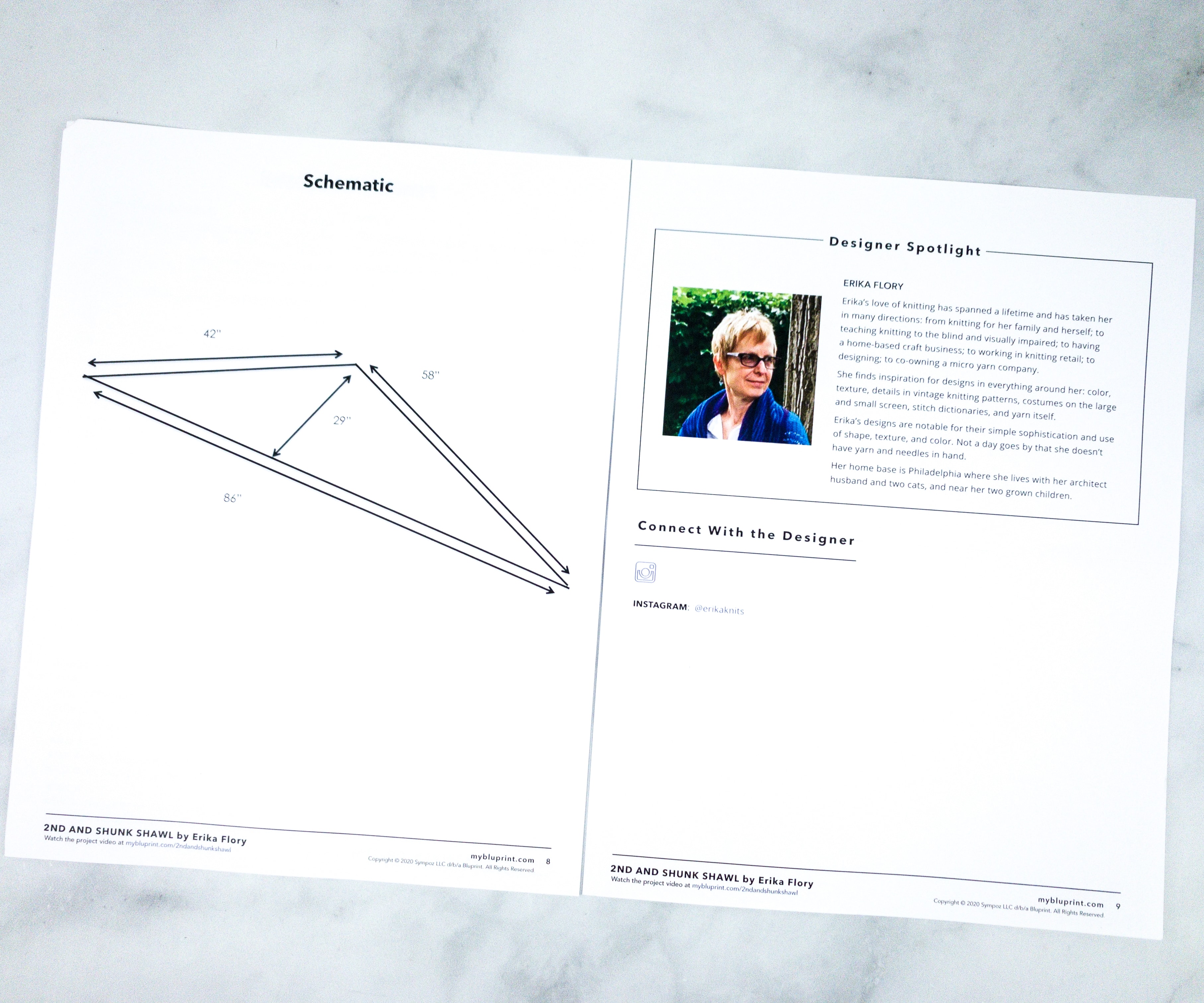 They also featured the designer for this project, and this month, it's Erika Flory.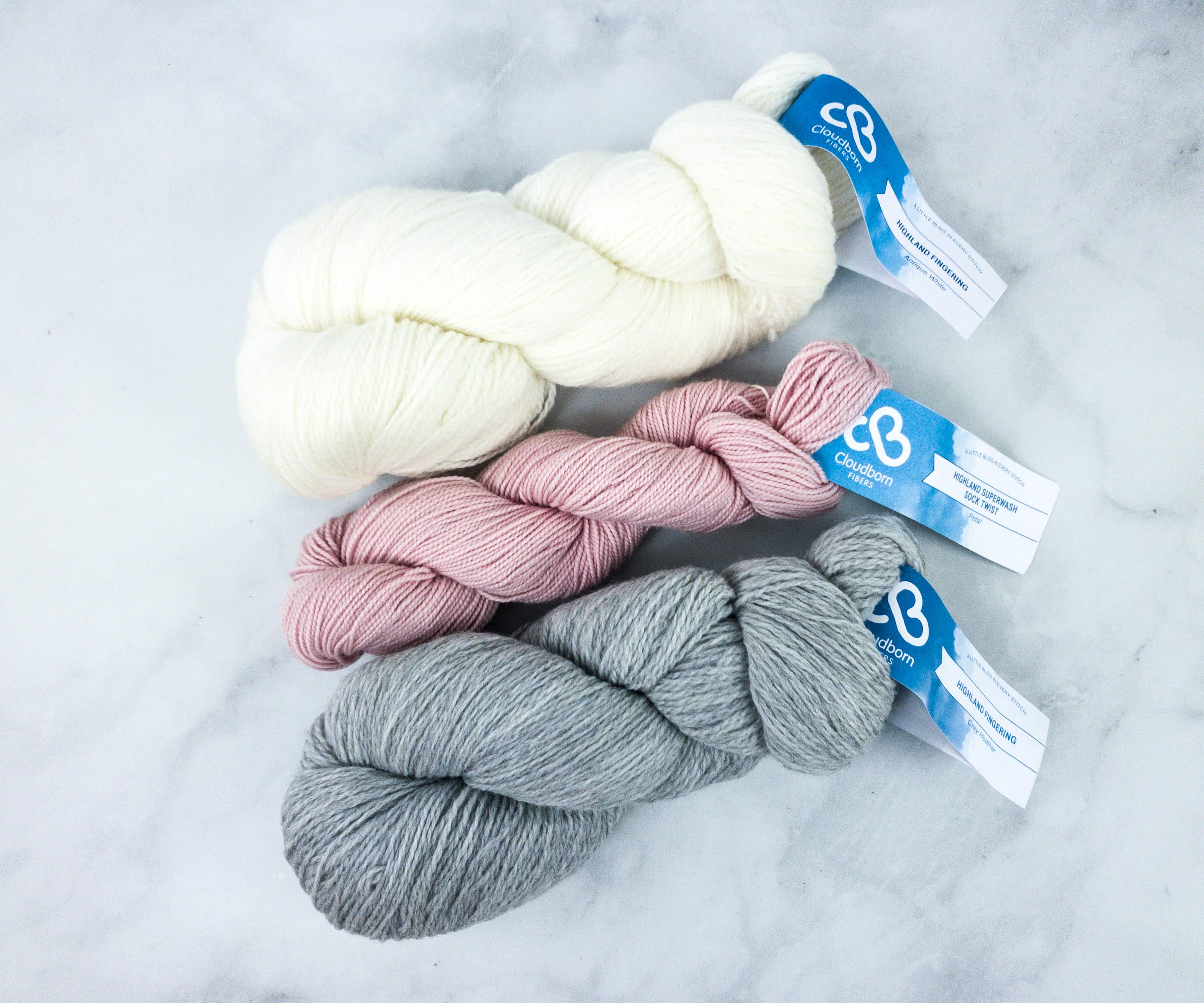 Highland Fingering Yarn Antique White ($10) The antique white yarn is pretty and creamy. It's a nice color, and the material is really best for knitting projects.
Highland Fingering Yarn Grey Heather ($10)  Such a pretty spring pastel – but grown up!
Highland Superwash Sock Twist Yarn ($2.40) Among the three, this is different as this twist yarn is a bit fuzzier and sock weight.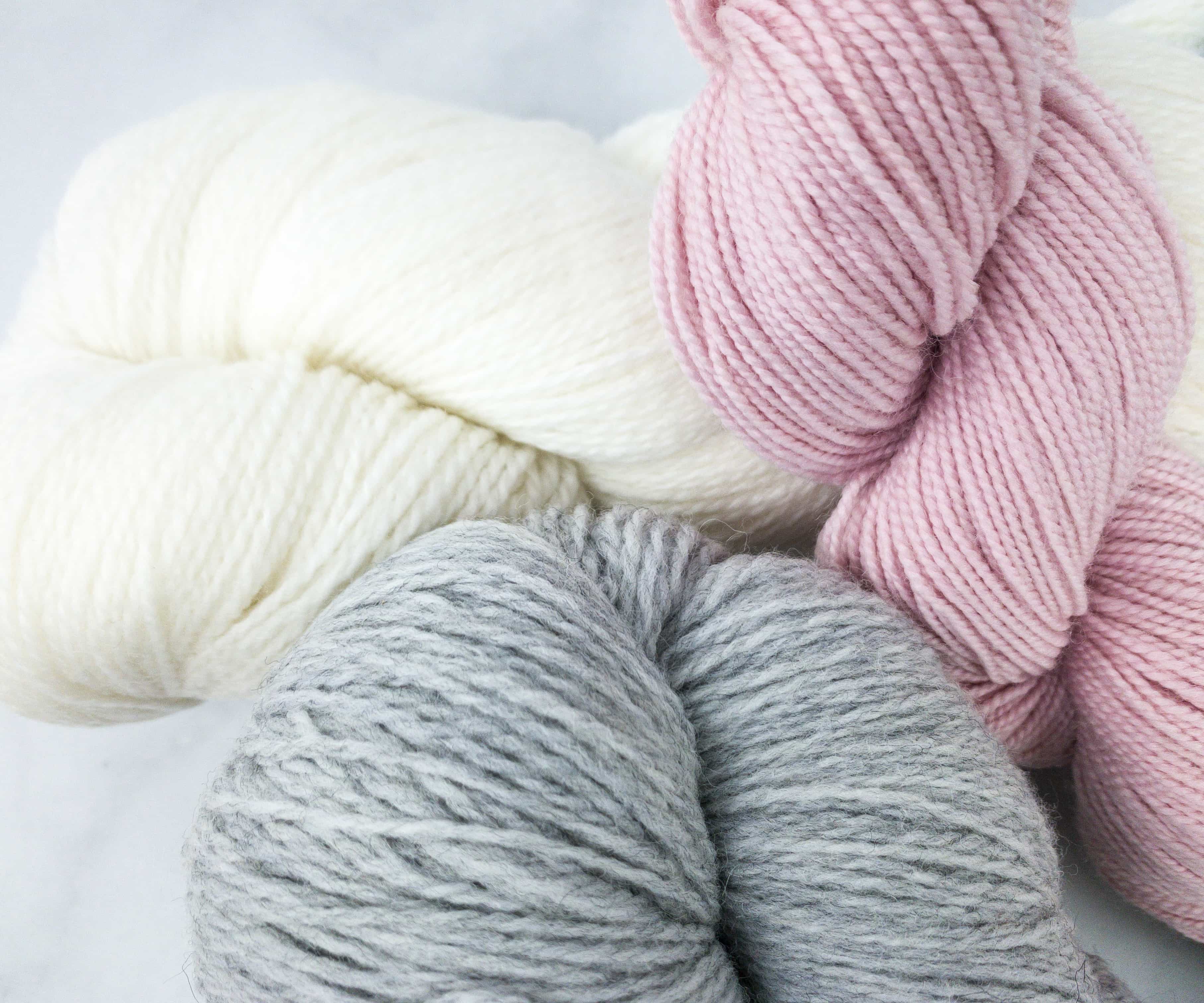 The Highland Fingering yarns are made with 100% Peruvian Highland wool, while the Superwash Sock Twist is a blend of Peruvian Highland wool and 20% nylon.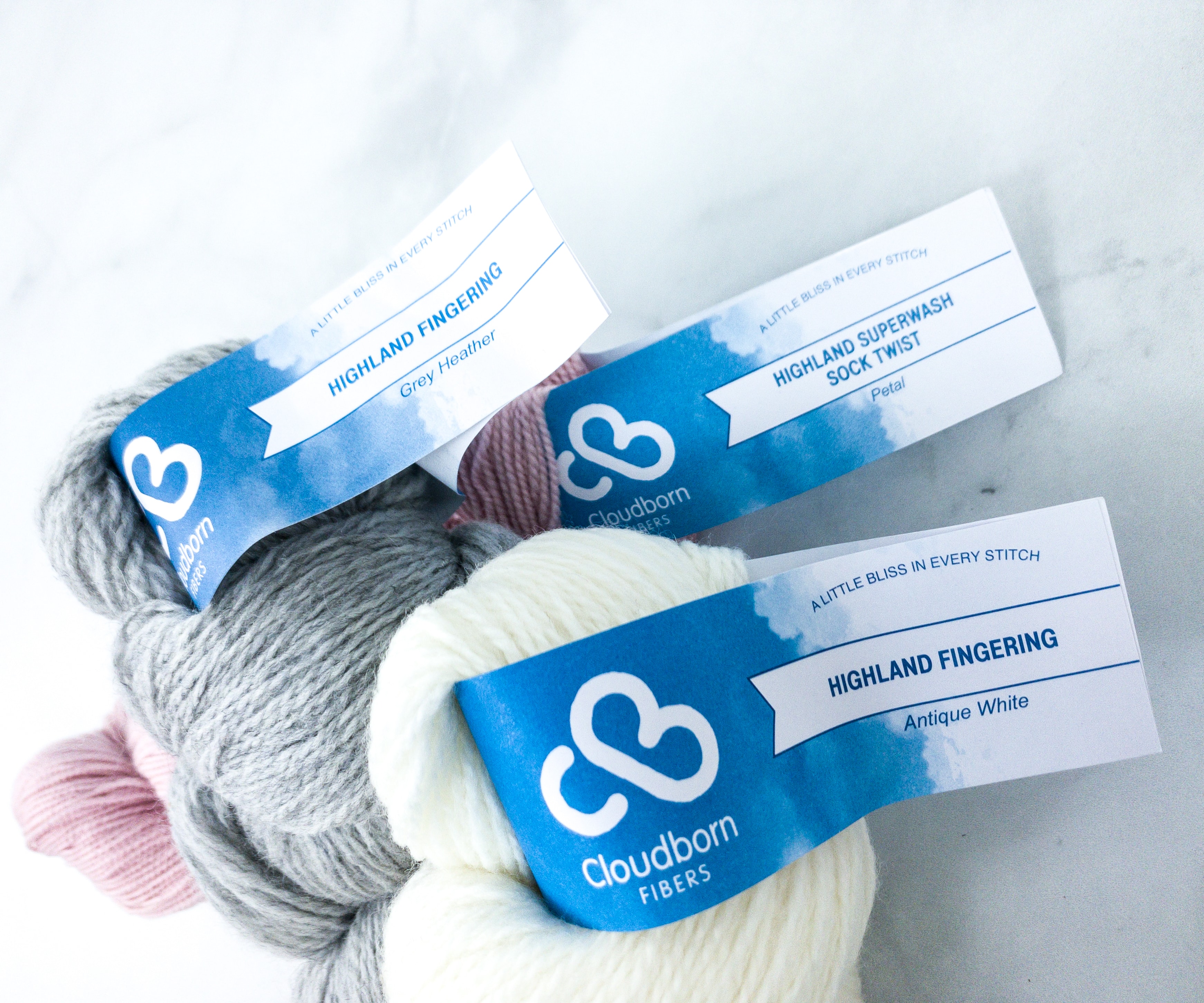 Also, the yarns are labeled according to their uses and color.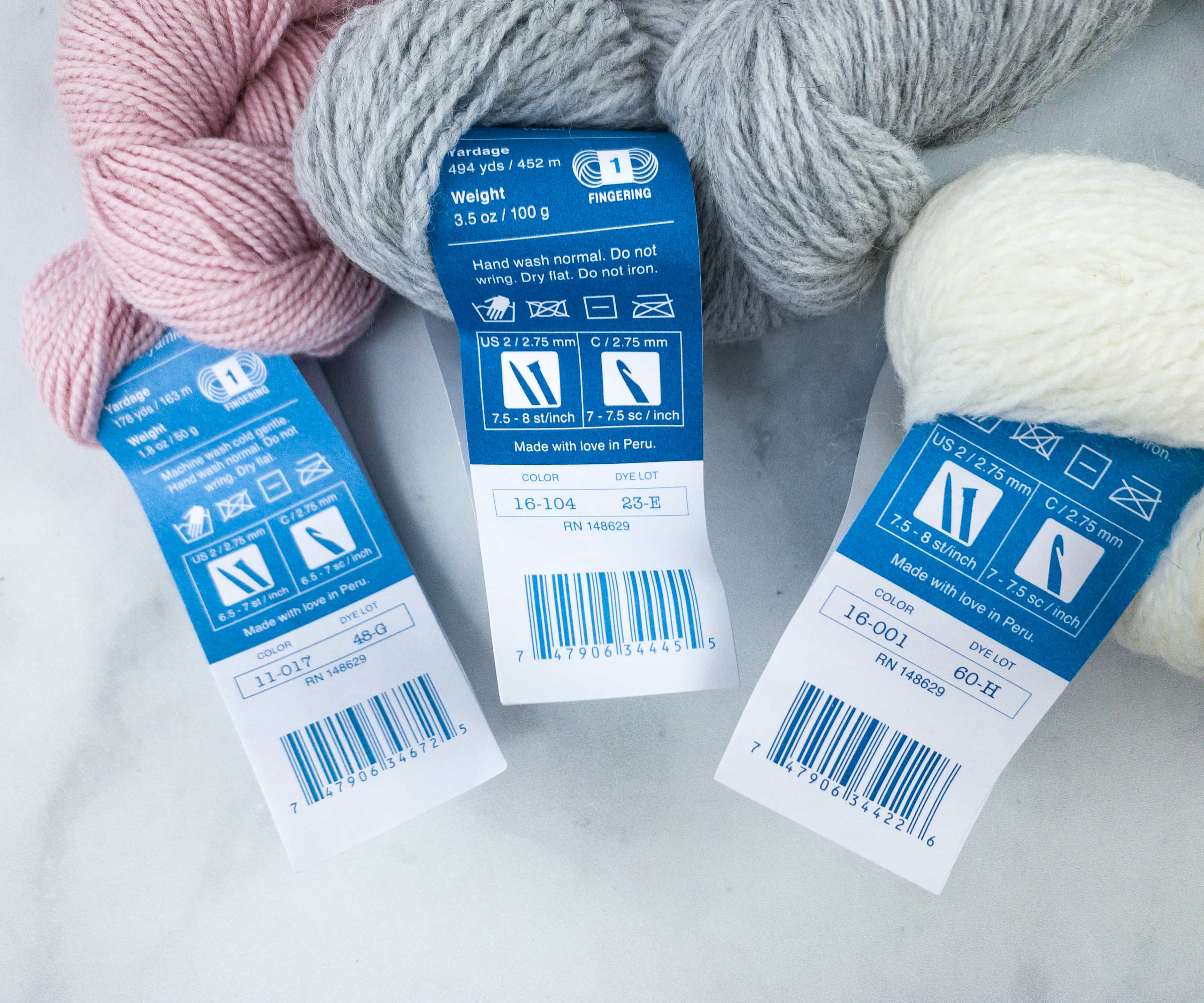 The Highland Fingering yarns are great for shawls and they're very versatile. The Superwash Sock Twist is known for its elasticity and warmth, which is perfect to keep your feet toasty. It's also a great choice for accessories.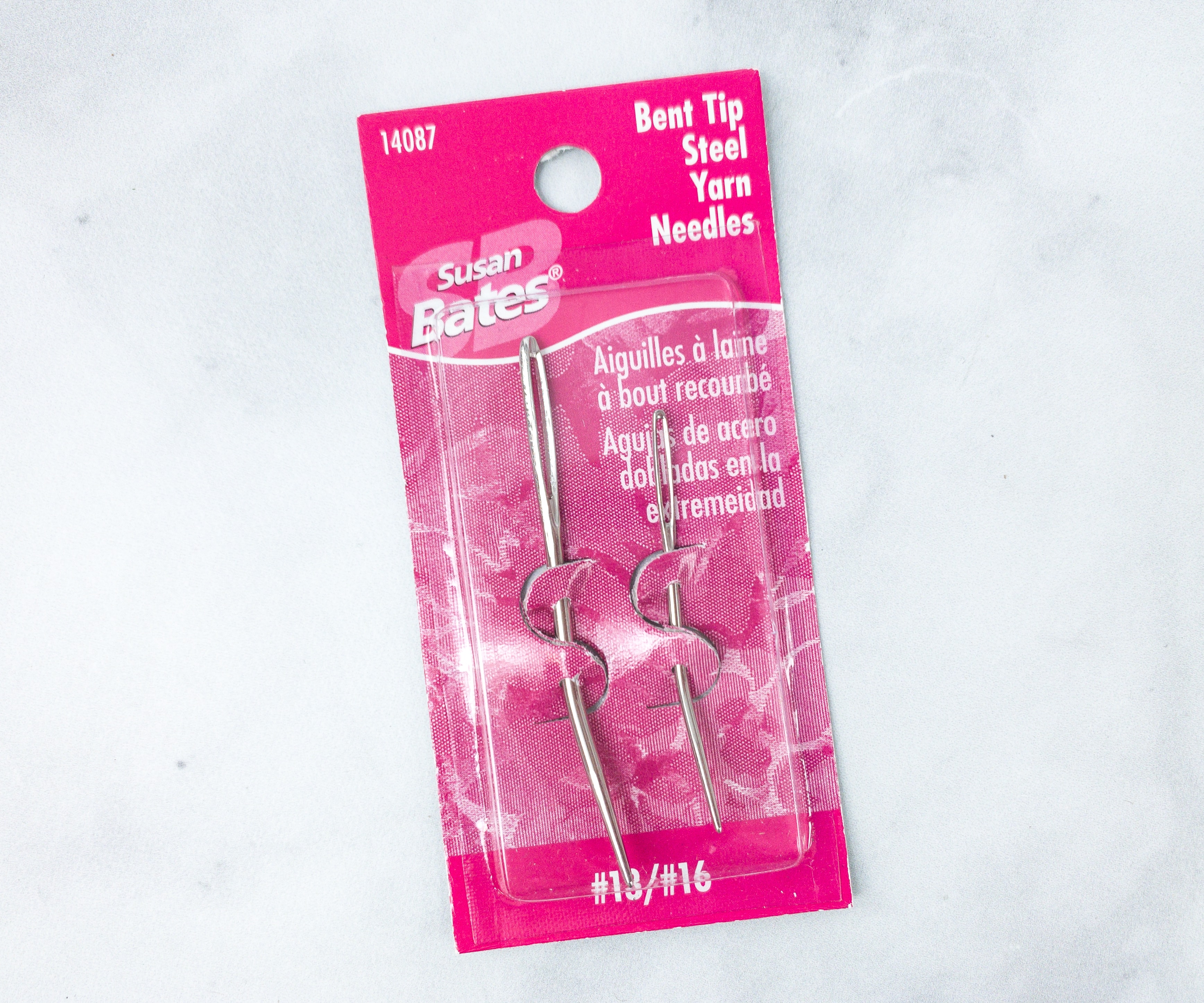 Susan Bates Bent Tip Steel Yarn Needles ($2.49) The kit includes 2 steel yarn needles with bent tips.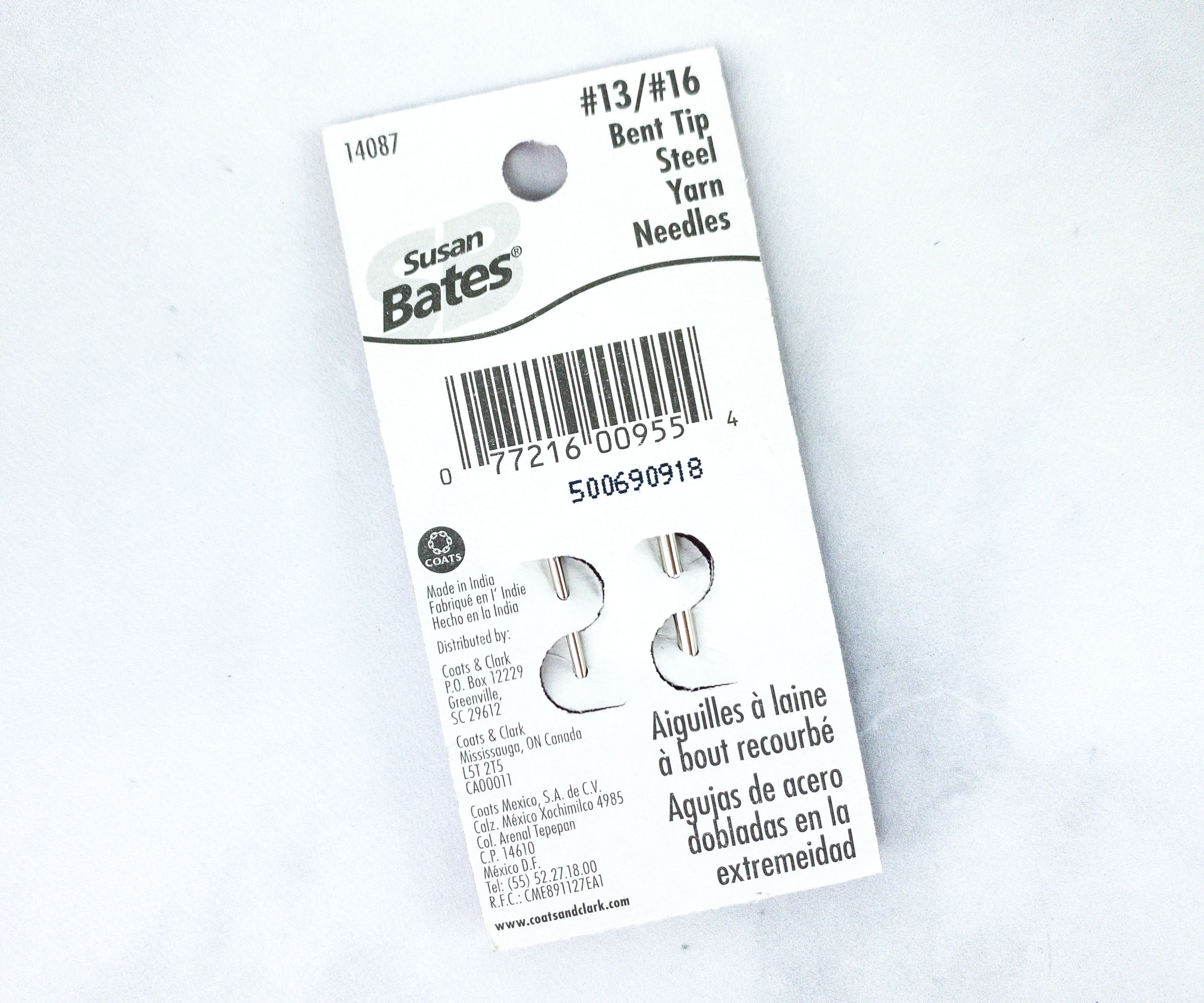 Each package contains 2 sizes of needles, #13 and #16.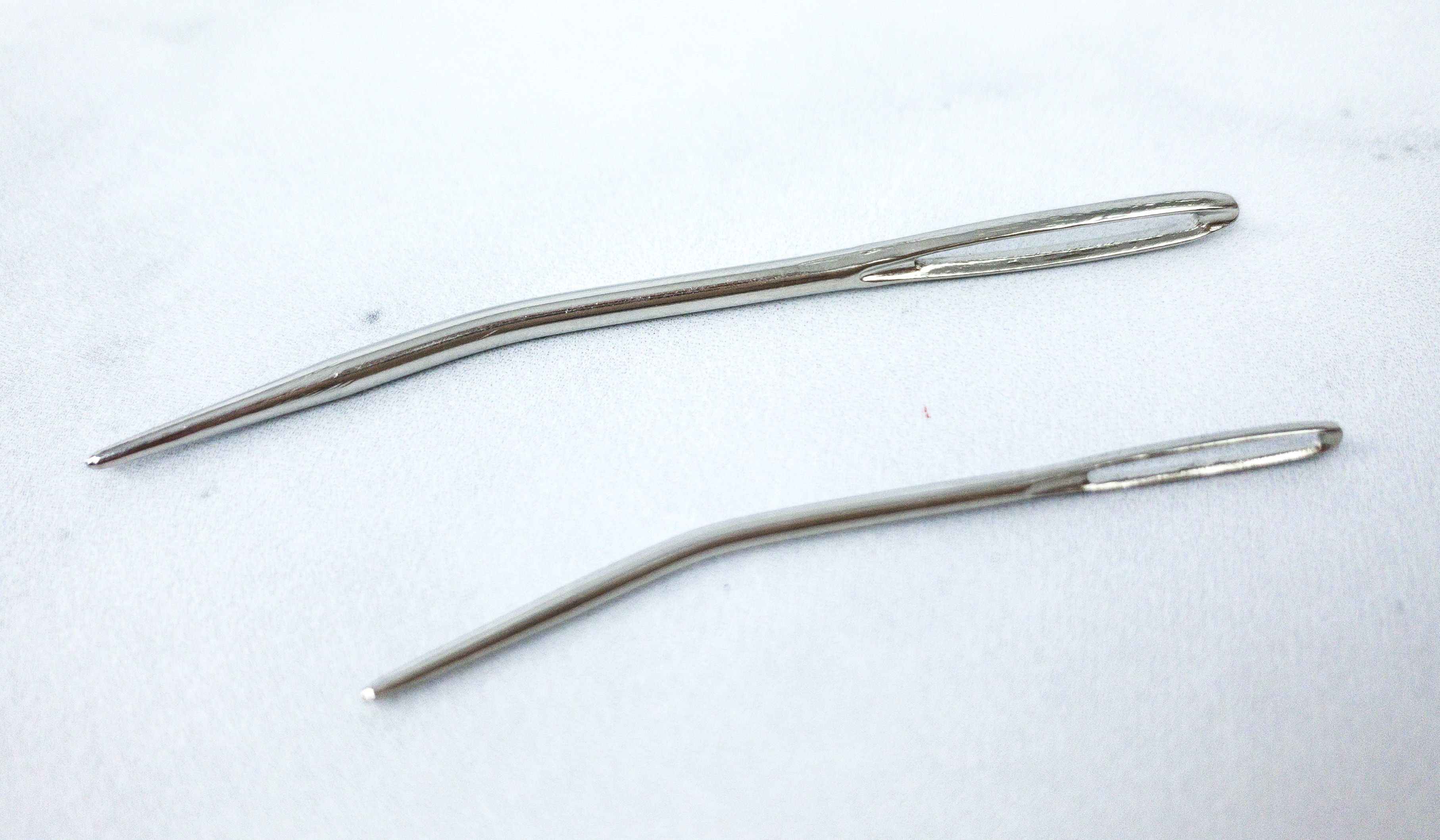 The bent tip of the needles makes it easier to work with individual knitted and crocheted stitches.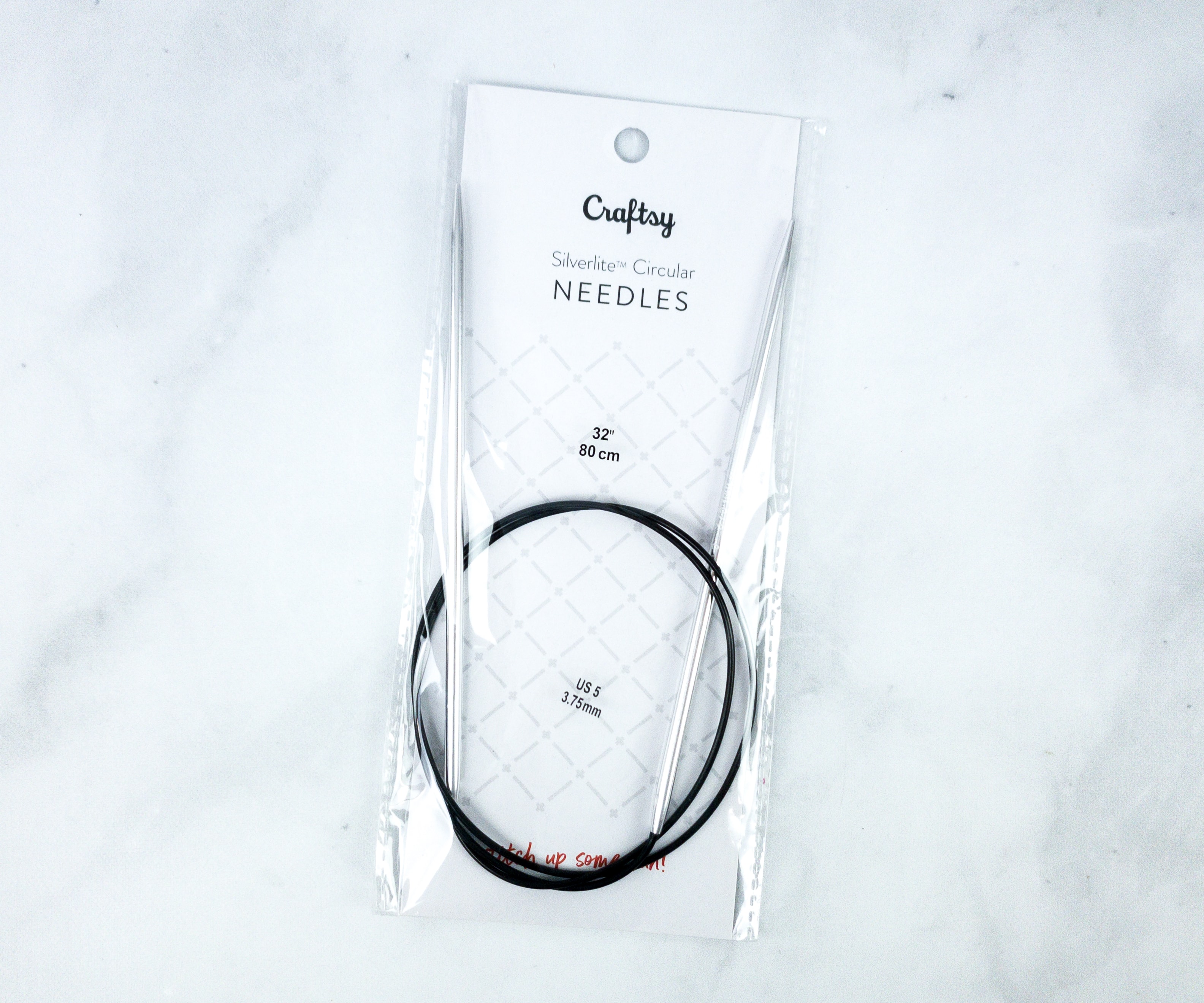 Craftsy Silverlite Circular Needles ($7) Another knitting must-have are these circular needles made of aluminum.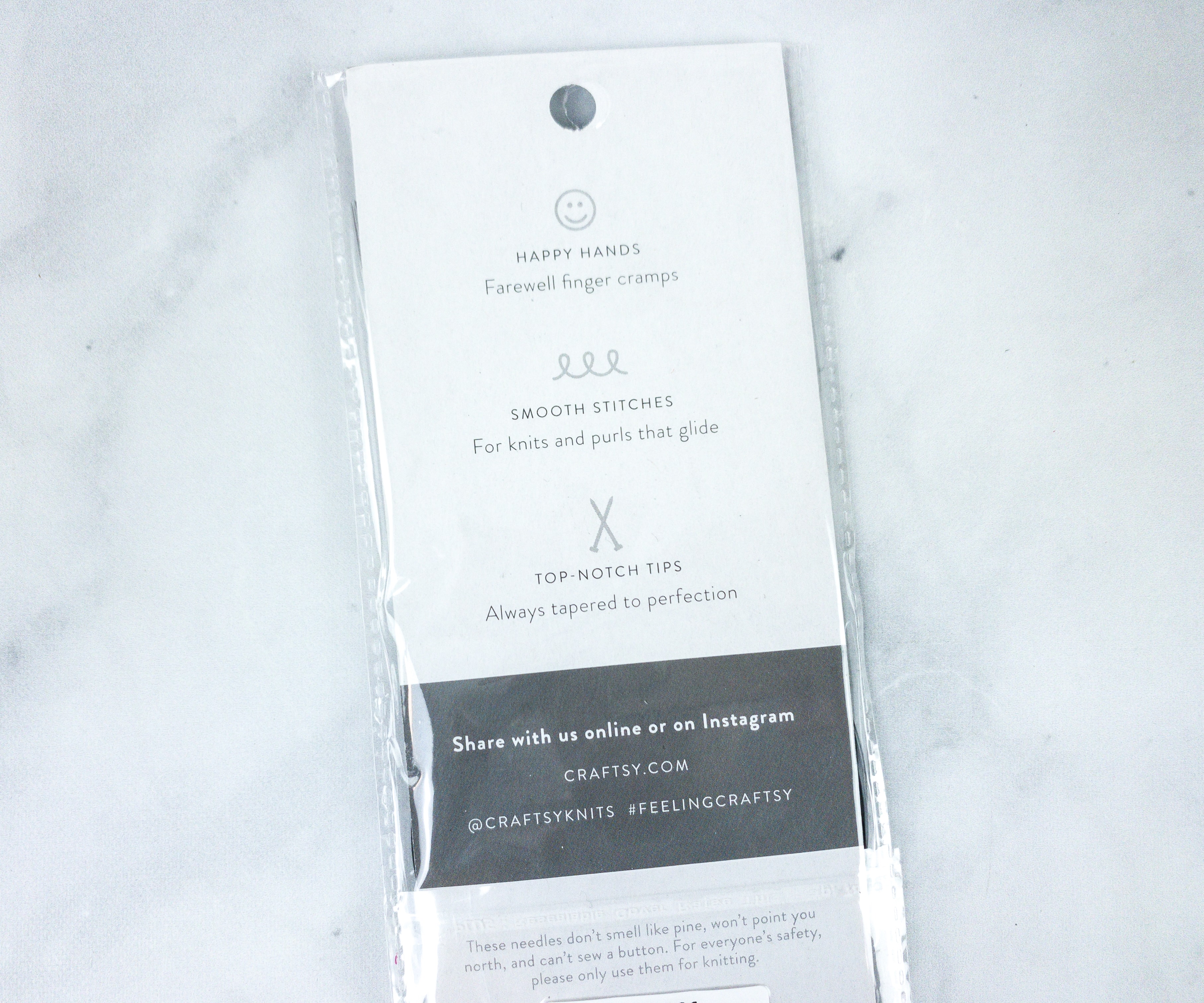 The needles will help you to get smooth stitches and top-notch tips, without the finger cramps.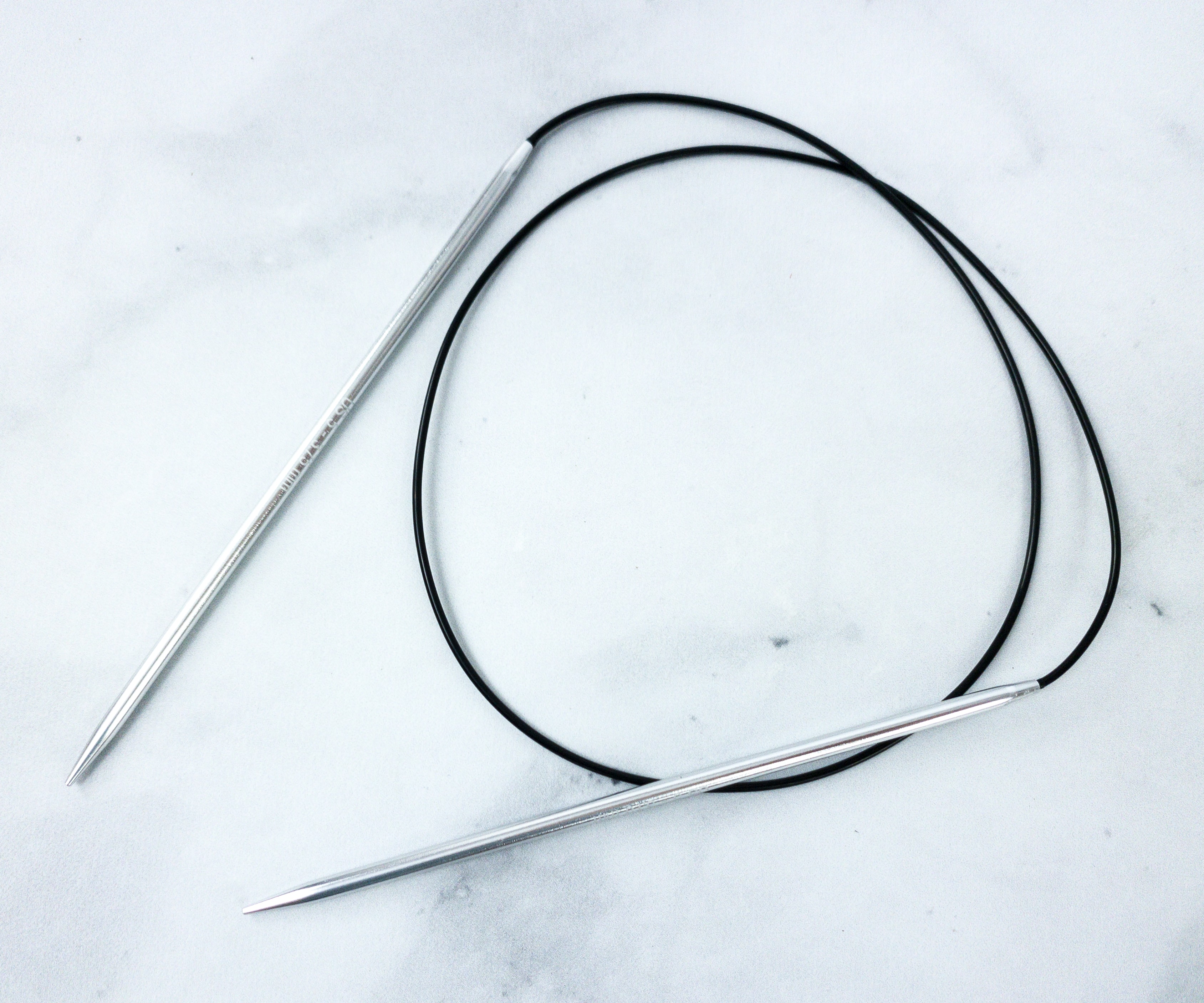 The needles are best for everyday projects, as these needles are super smooth with precision, so your yarn won't snag. Also, the precise tips are not too sharp.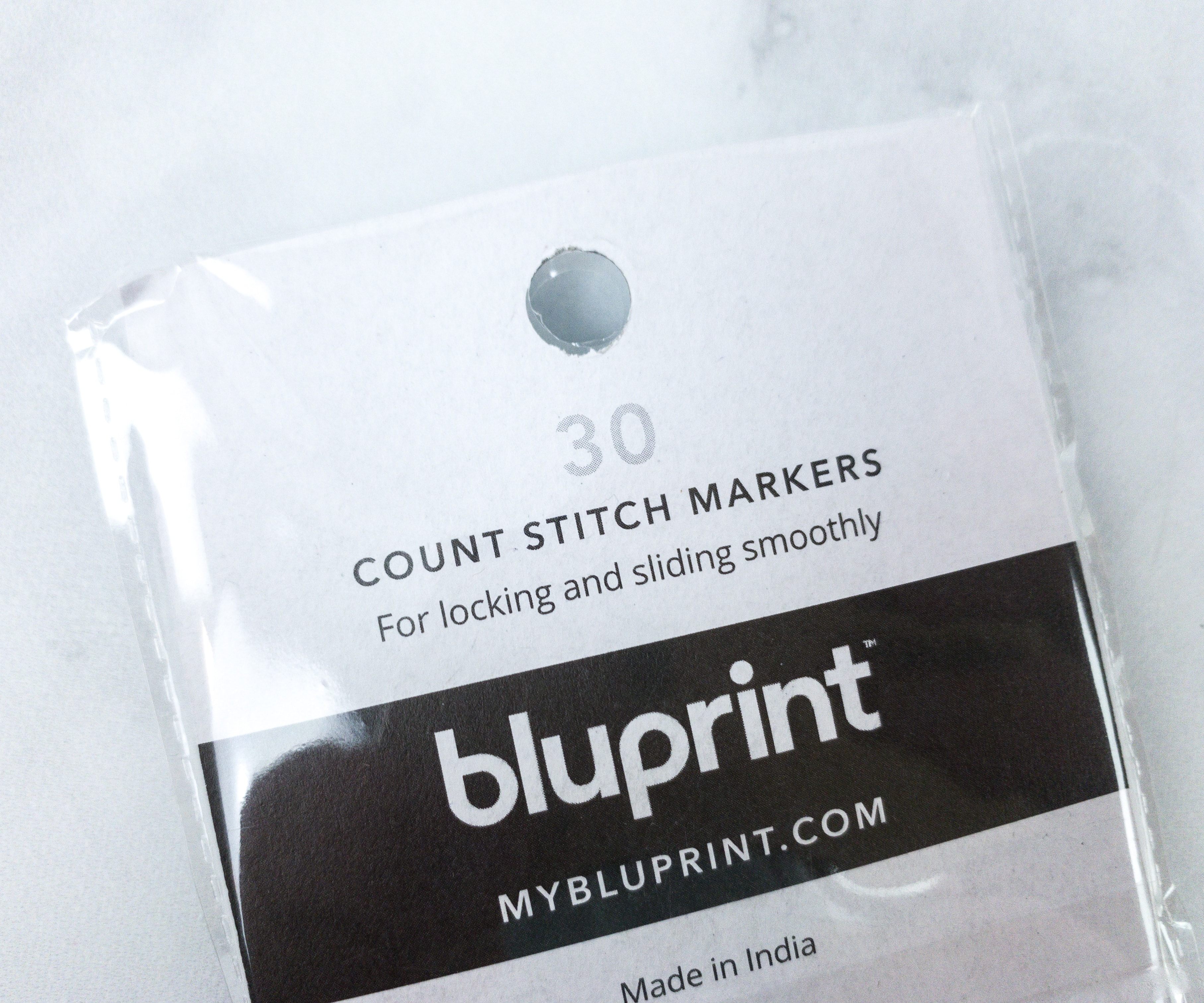 Bluprint Count Stitch Markers. Count stitch markers are used to stitch patterns that are repeating and to mark a certain number of stitches.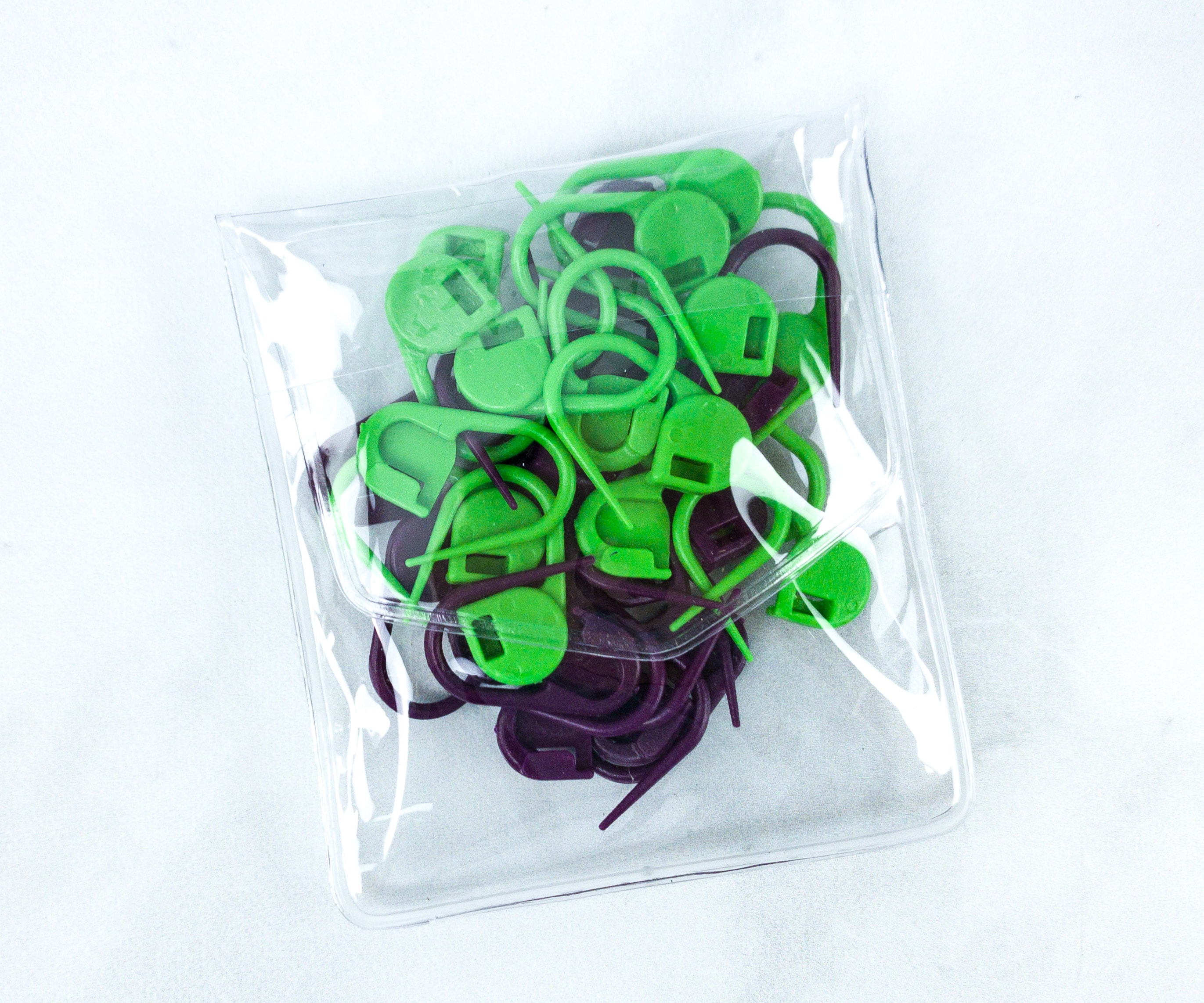 This pack contains two colors which I can use alternatively: purple and green!
There are patterns that call for stitch markers, and they use the abbreviation "pm". They look like small safety pins and they're really easy to use.
Bluprint is a great subscription where you can learn a lot of creative skills and create a lot of amazing projects in the comforts of your home! For this month, I have the shawl knitting kit from the Bluprint Shop and I'm pretty happy about it. Even for those who have zero background in knitting, it's okay because you can watch the knitting lessons first and then apply everything that you learn to finish this shawl. There are really lots of categories to choose from, and I'm eyeing the baking and cooking videos and kits as well! They even have videos for kids, so if you're taking care of them at home, you can both enjoy learning videos from the same subscription, it's definitely a win-win!
What do you think of the Bluprint kit?