Beauty Pie offers a membership that gives access to luxury beauty products and new cosmetic formulations at a low members' price! Each membership has a corresponding monthly spending limit, and members can order what they want anytime. If you've overshopped, you can always upgrade to get a higher spending limit. In case you have an unused spending limit, no worries because it will roll-over to the next month.

Monthly memberships start at $10 per month, plus any products you buy (at the member's price) and shipping fee. Monthly memberships have a 3-month minimum. If you want to save up, you can get an annual membership for $99 for the year, which brings down the monthly price to $8.25. There are also exclusive perks for annual members. 
What's great about Beauty Pie is that you can choose the products you want! They add up at their typical or regular price to your available spending limit, but you'll pay only members' prices. Your monthly spending limit will renew each month on the date on which you signed up.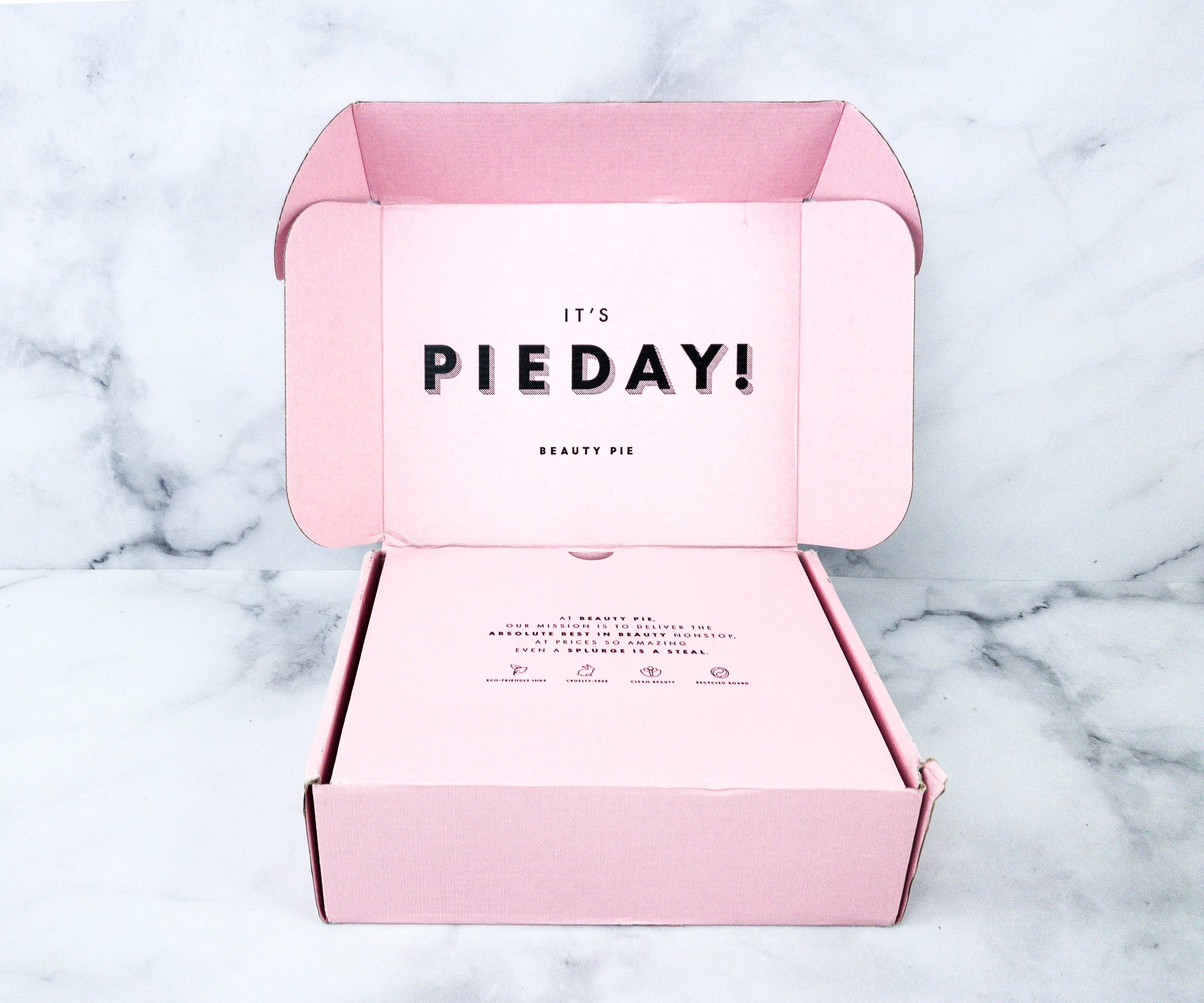 Beauty Pie also has Piedays! On Piedays, members can shop for selected products without using up spending limit.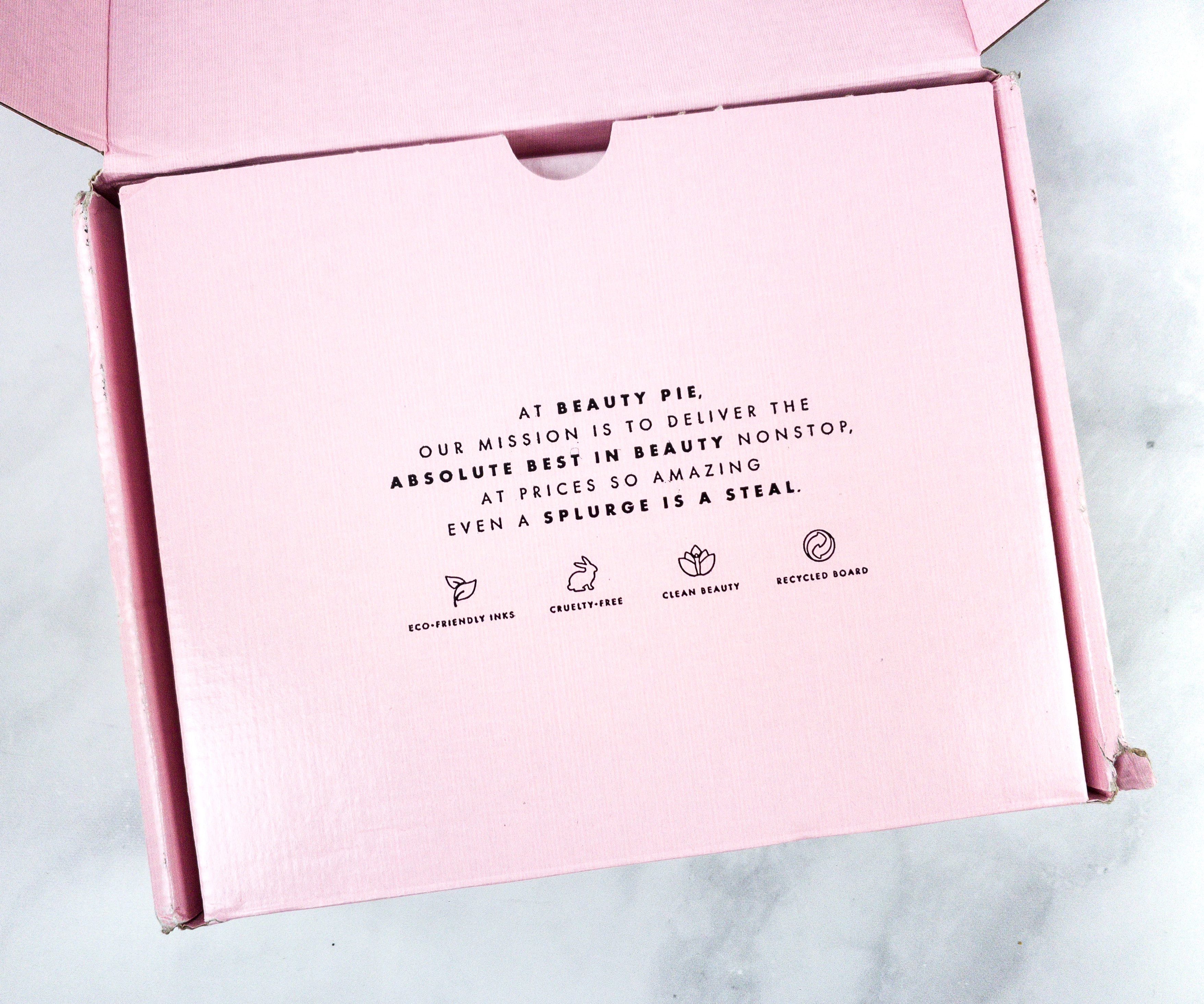 The items come in a pink box. It also features Beauty Pie's mission:
At Beauty Pie, our mission is to deliver the absolute best in beauty nonstop, at prices so amazing even a splurge is a steal.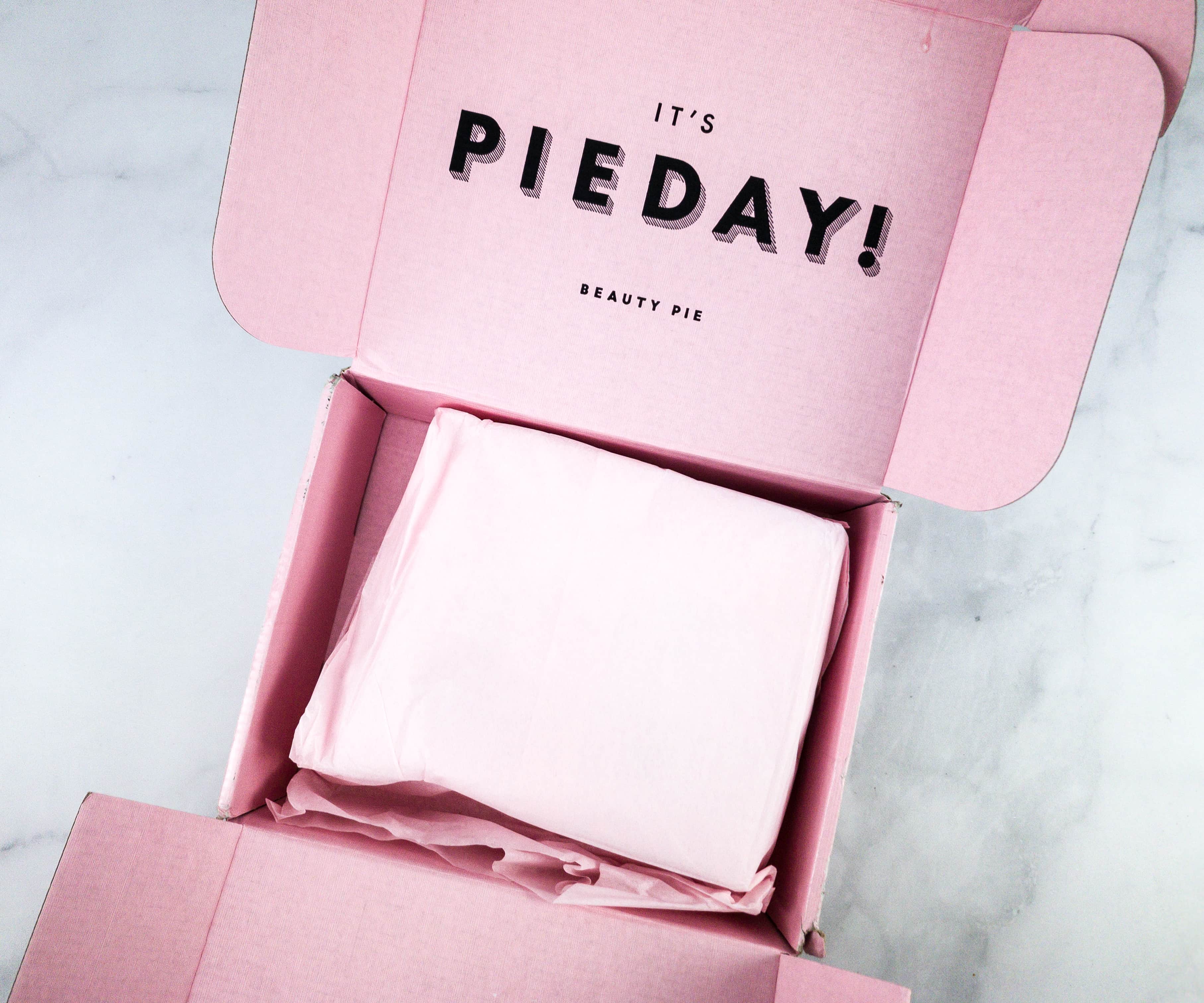 The items are carefully wrapped in pink tissue paper.
All the items I picked came in their original packaging.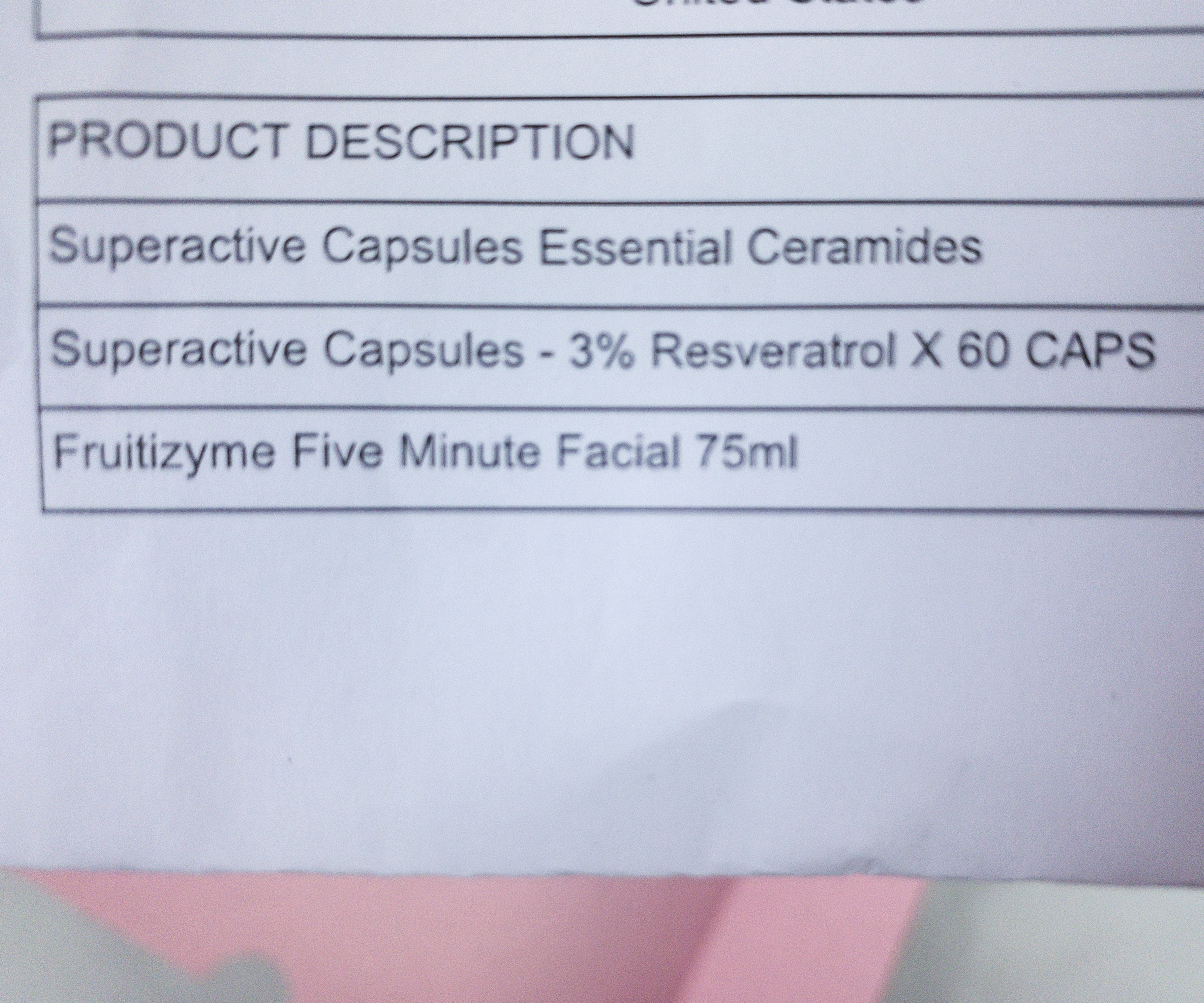 There is a paper that lists all the items inside my box.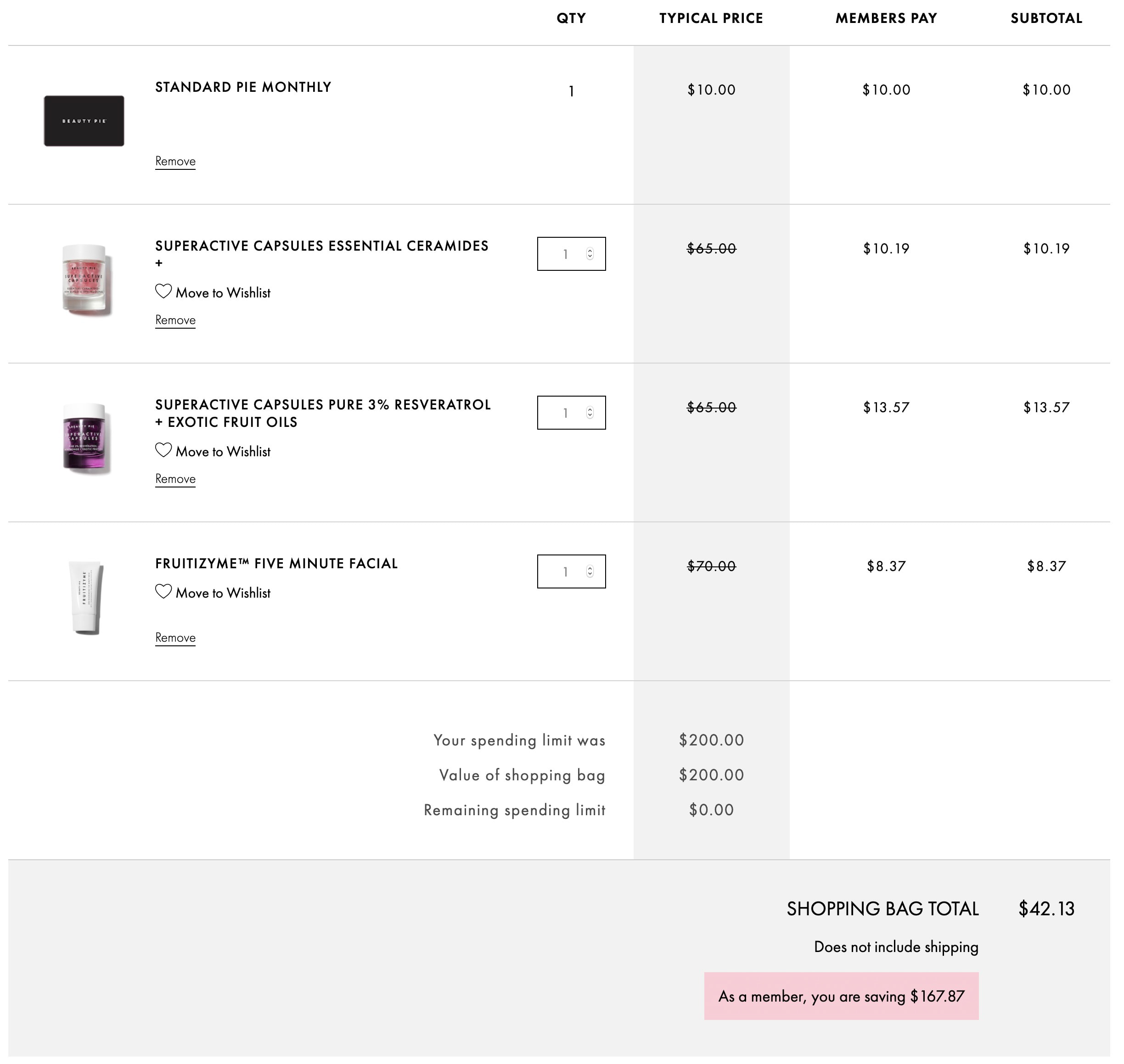 You will also see the breakdown of the items on your Beauty Pie account. This overview shows how much savings I got by being a member and it's easier to see because there is a side-by-side comparison of the regular price and the member's discounted price. My total order for this box is $42.13, which includes the standard monthly membership.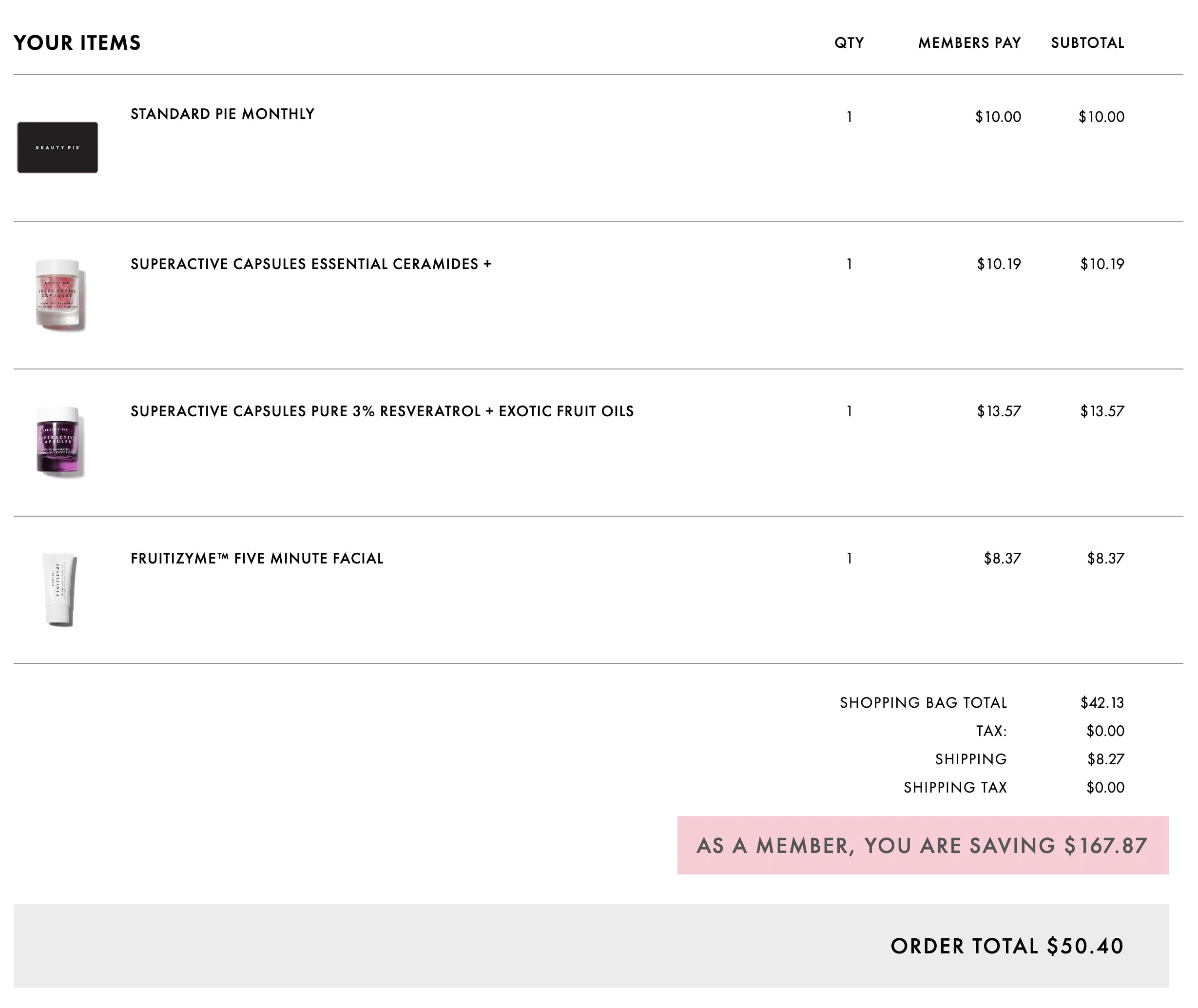 With the shipping fee, it totaled to $50.40! I got $167.87 savings overall and that's really amazing.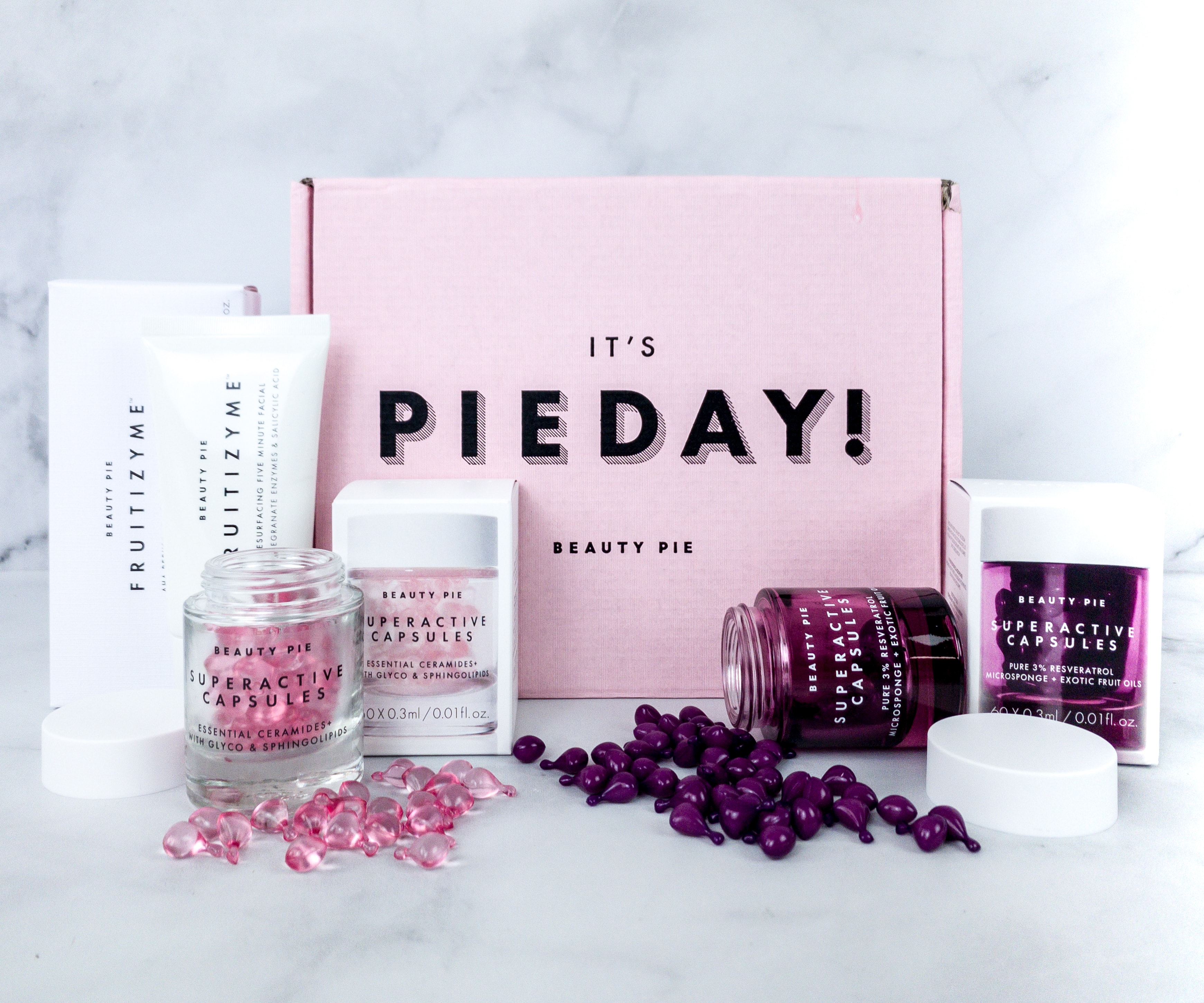 Everything in my box!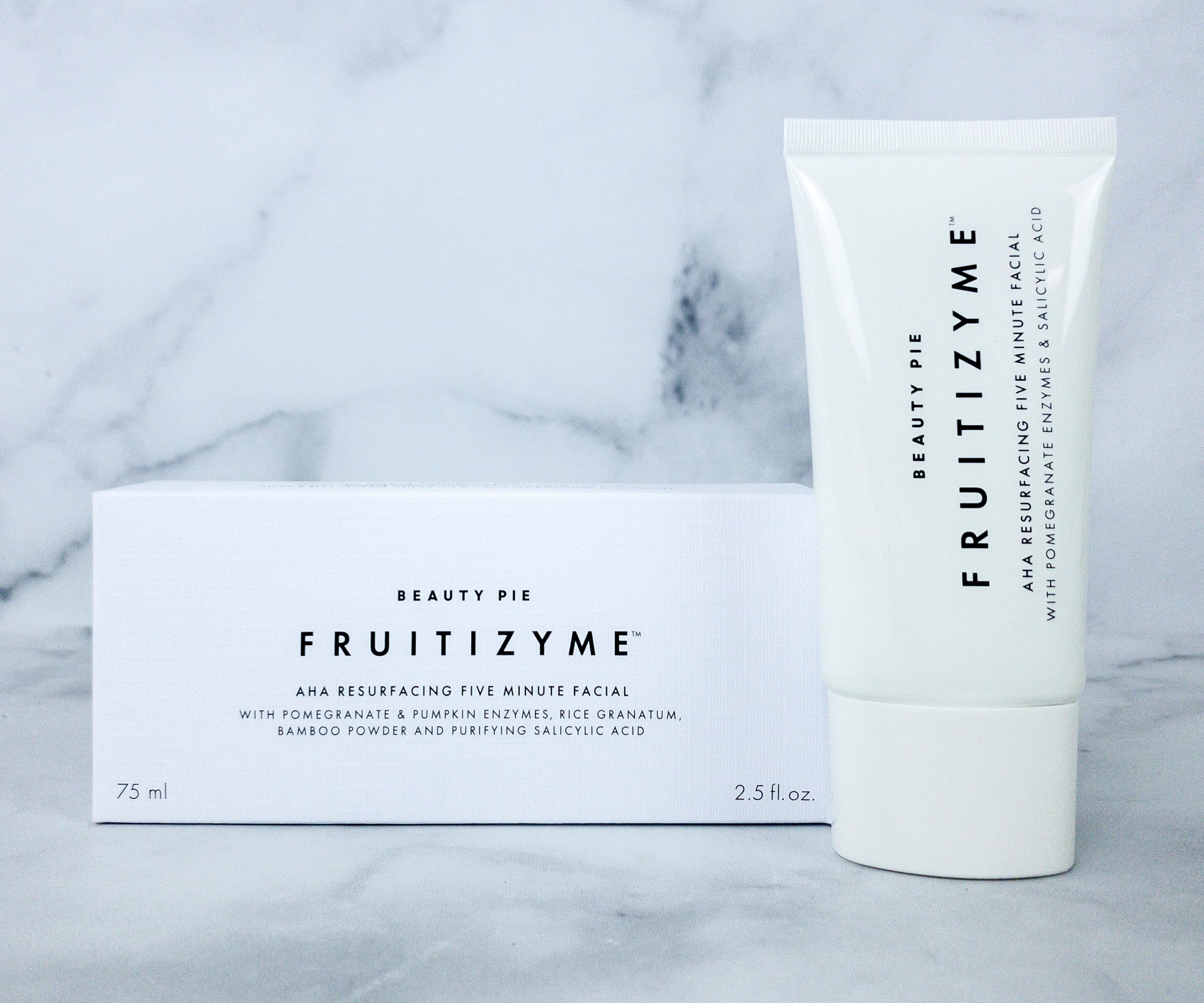 Fruitizyme Aha Resurfacing Five Minute Facial ($70; $8.37 if member) This exfoliant only takes five minutes to use, thus its name! The formula cleans out clogged pores and refreshes skin, resulting in a more revitalized and radiant look.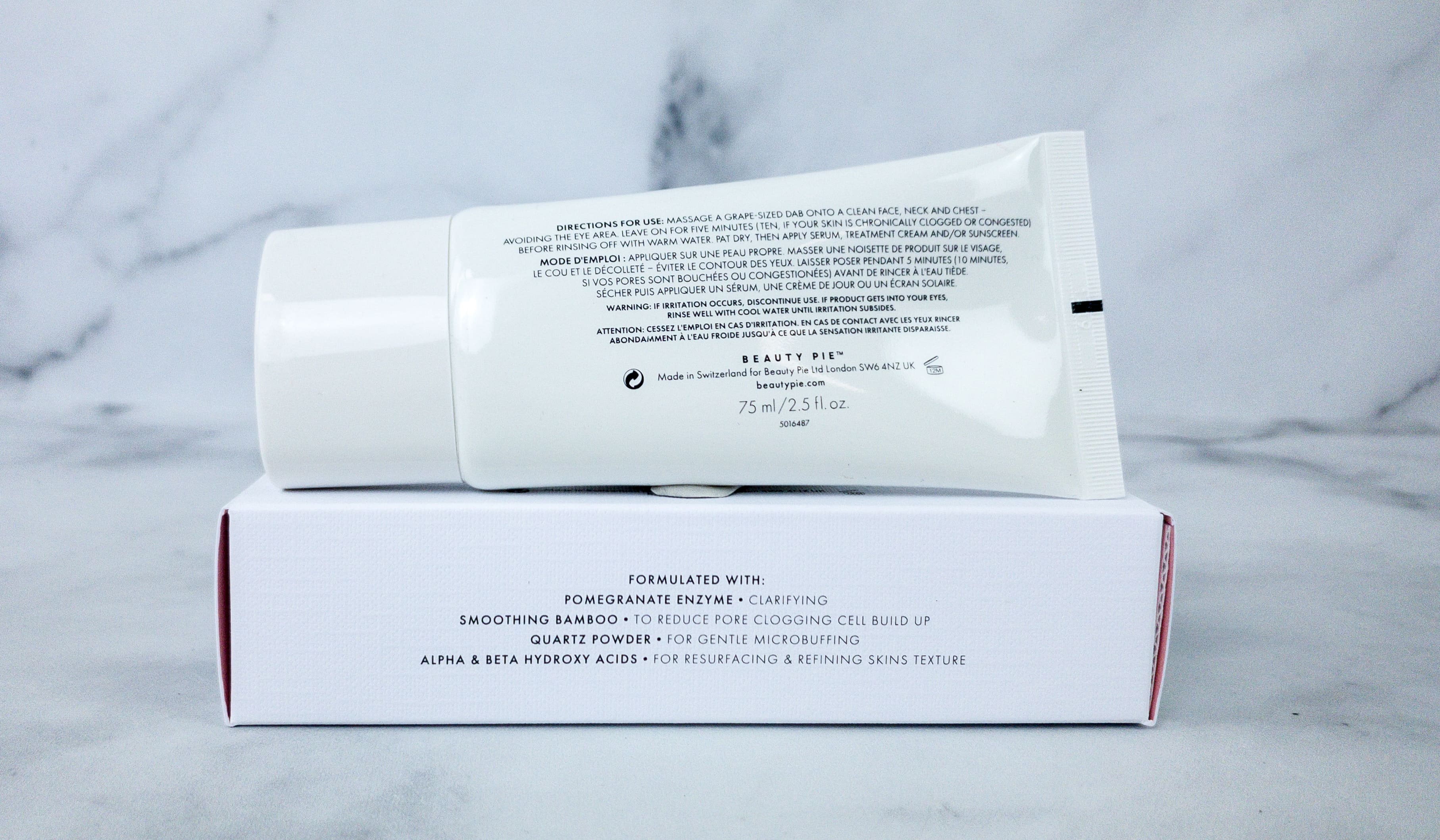 Formulated with glycolic acid which is a holy grail ingredient in skin exfoliation, this product helps remove dead skin cells easily so you get that brighter looking complexion. It also contains salicylic acid that removes dirt, grime, and bacteria build up on the skin so the pores remain free from irritants. It was somewhat gritty and had a slight tingle, but left my face smooth!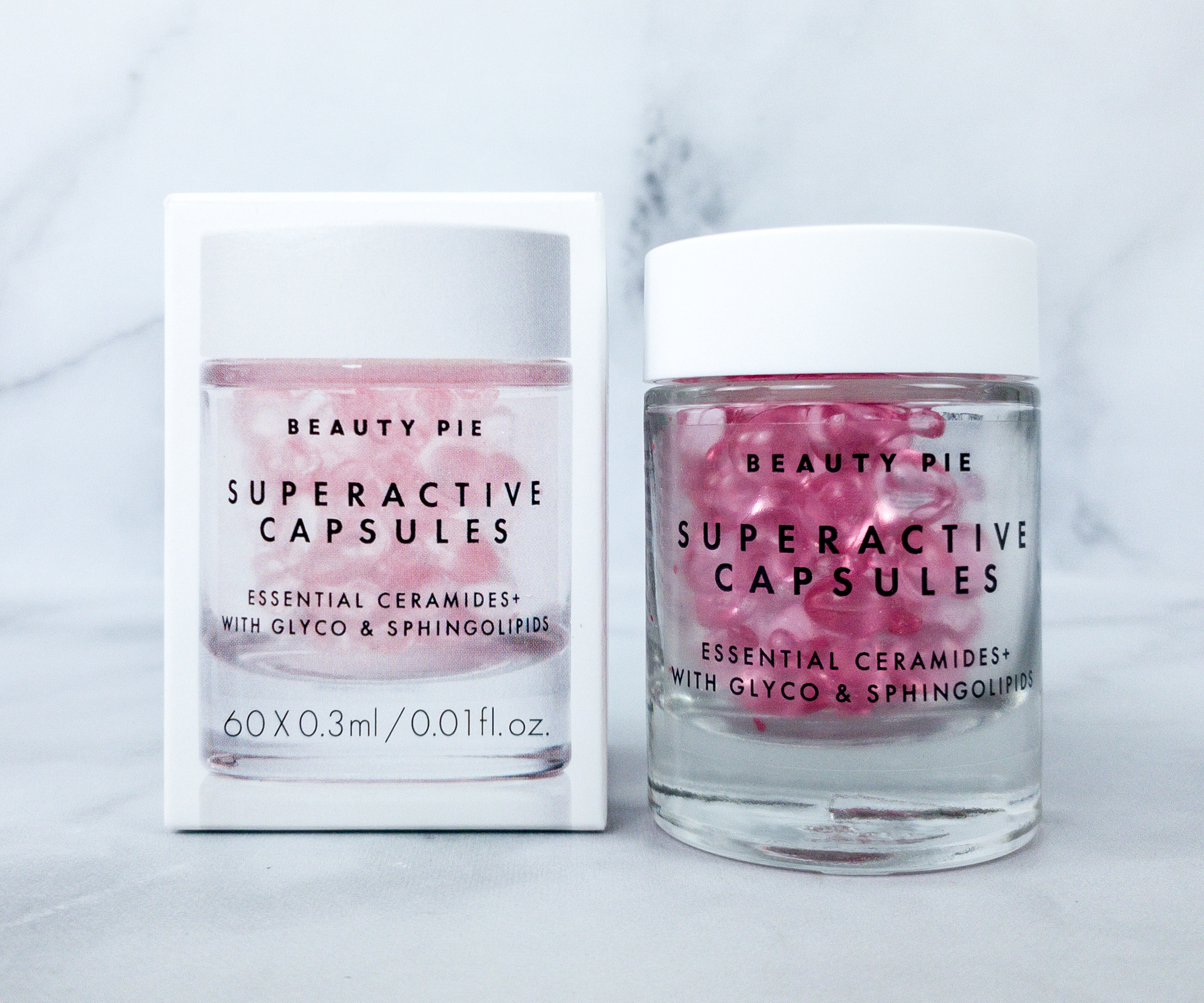 Superactive Capsules Essential Ceramides+ ($65; $10.19 if member) I love these beauty capsules because they're perfect for traveling! The pink ones are called Essential Ceramides+, which are packed with sphingolipids and glycolipids that help support ceramide production. They're formulated to provide longer-lasting moisture and more radiant skin. To use, just twist the neck of the capsule, then tap the serum onto clean skin. One jar includes 60 capsules, which is good for at least a month of use.
I love how hydrating these are! Each capsule has an almost greasy feel when applied but I find that it soaks in really quickly on my skin. They're also more serum-like than oil. Suggested usage is one capsule for face, and another for the neck. When I tried it, I found that one pink capsule was enough for both areas. These capsules don't really have a scent but they do have fragrance.
Superactive Capsules Pure 3% Resveratrol + Exotic Fruit Oils ($65; $13.57 if member) I picked another jar of superactive capsules and this time, they focus on energizing the skin! Unlike the pink capsules, these purple ones have a more distinct silky feel to it. They also have a sweet scent that comes from the exotic fruit oils in the formulation.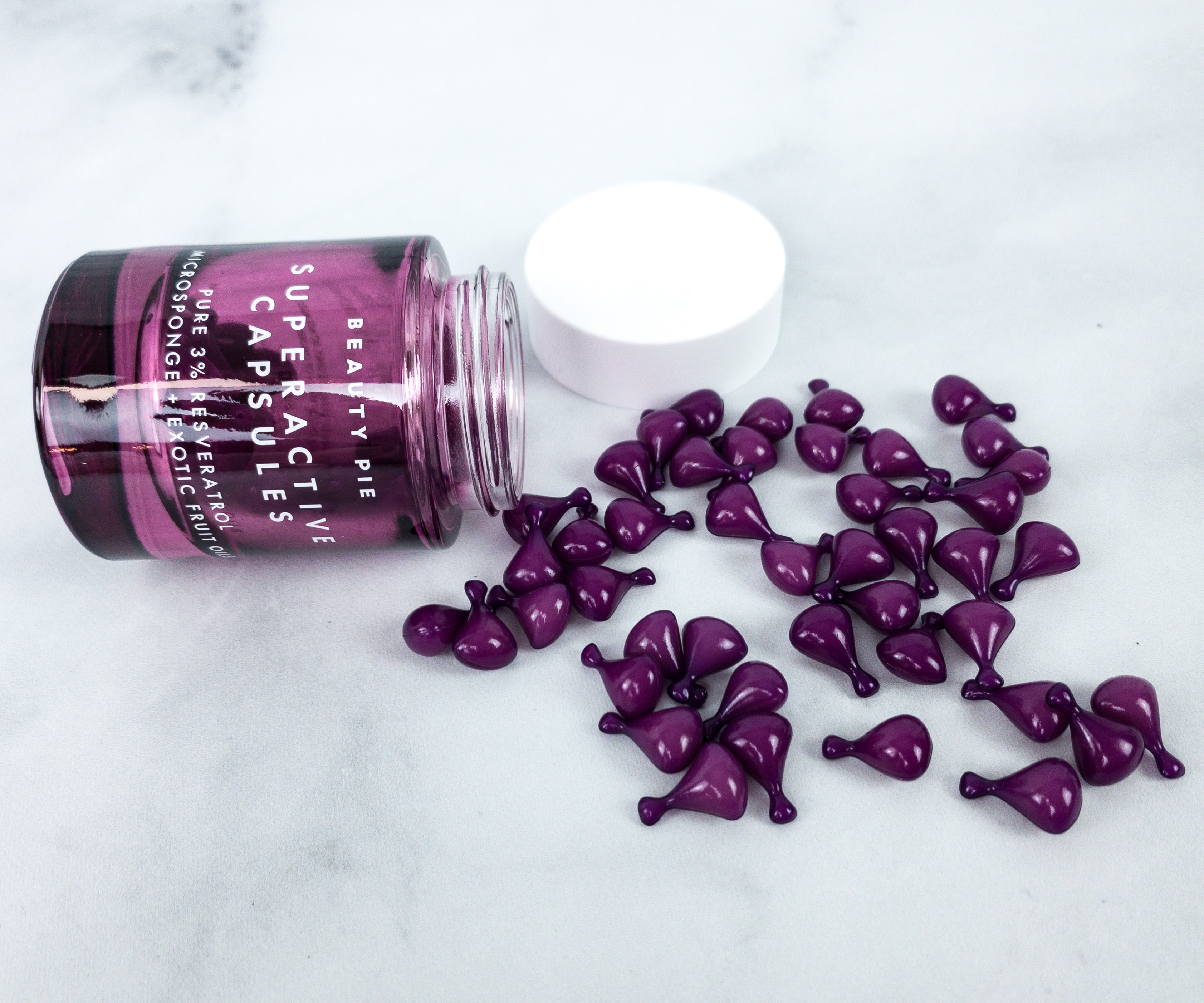 One purple capsule is just enough to cover one area (either face or neck). Both the pink and purple capsules contain silicone, but it's much more noticeable in the purple capsules. Packed with amazing ingredients such as essential fatty acids and 3% pure resveratrol microsponge, this provides the skin amazing anti-aging benefits. It doesn't just keep the skin looking young and fresh but also protects it from sun damage, collagen loss, and skin pigmentation!
I'm impressed with my Beauty Pie membership so far! The process went smoothly, and there were lots of luxury beauty items to choose from! Whether makeup or skincare, they have it all. I love that I can pick whatever I want as long as it can be accommodated by my spending limit. It looks like my first month had double the spending limit, which is normally $100, so I'm curious how far I can get $100 to go. For my first box, I chose skincare items and they didn't disappoint. I especially loved the beauty capsules! I think that they're best used alternately so they can work with nourishing the skin hand in hand. The exfoliant was also good. It was tingly but it made my skin look and feel smooth, so it's still a win. The products were truly luxurious and I only had to spend a fraction of the price! If you're looking to get new beauty products but don't want to spend a crazy amount of money, check out Beauty Pie! I surely enjoyed what I picked this month!'
What do you think of the Beauty Pie membership?