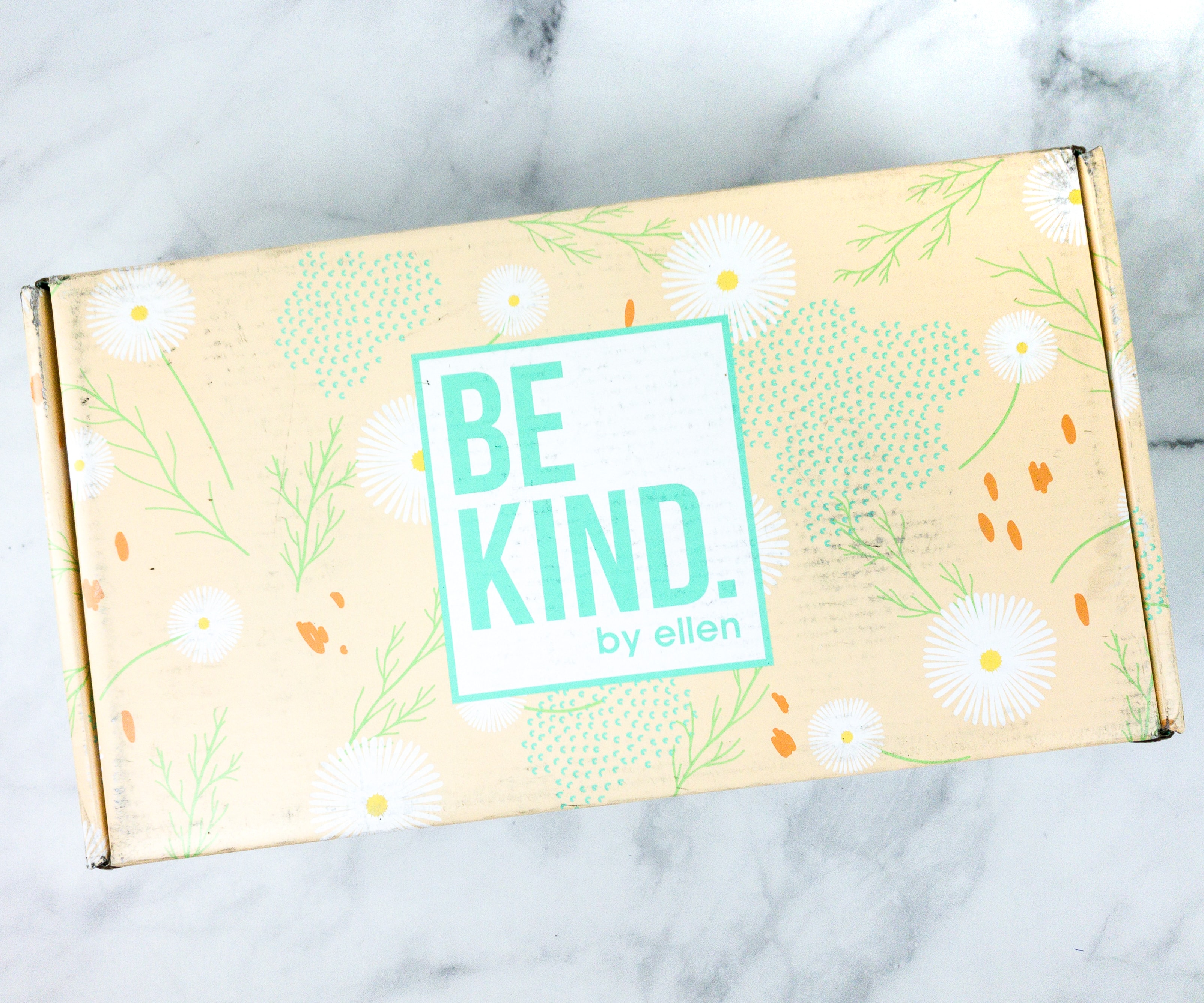 BE KIND by Ellen is a quarterly subscription box created by Ellen Degeneres to help people spread kindness! Each box costs $54.99 and contains fun, unique, and amazing products that Ellen picks herself that she wanted to share. It also focuses on brands and products that do social good.
The items are neatly packed in the box!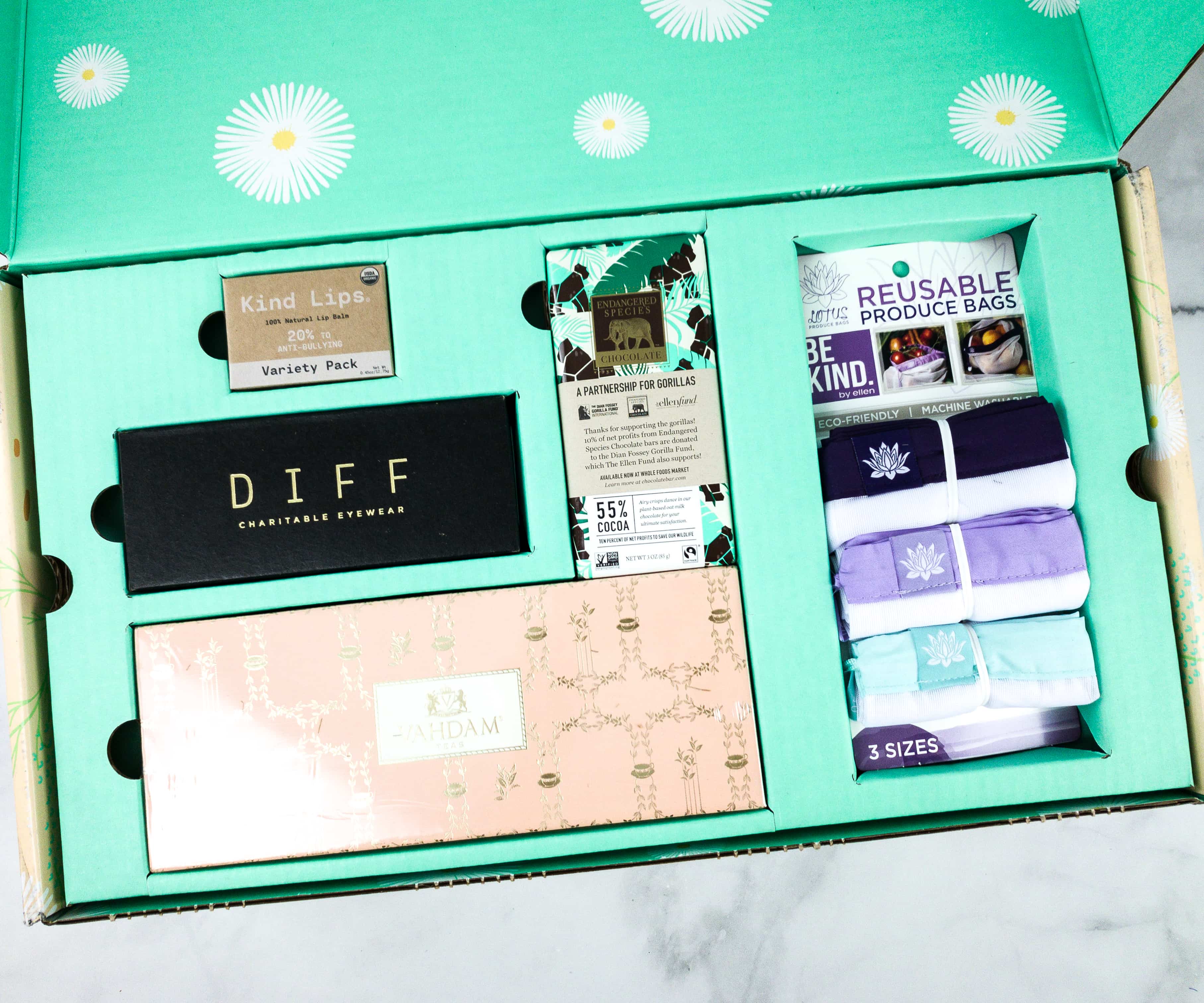 Every item sits in its own cardboard slot so all the items came secured.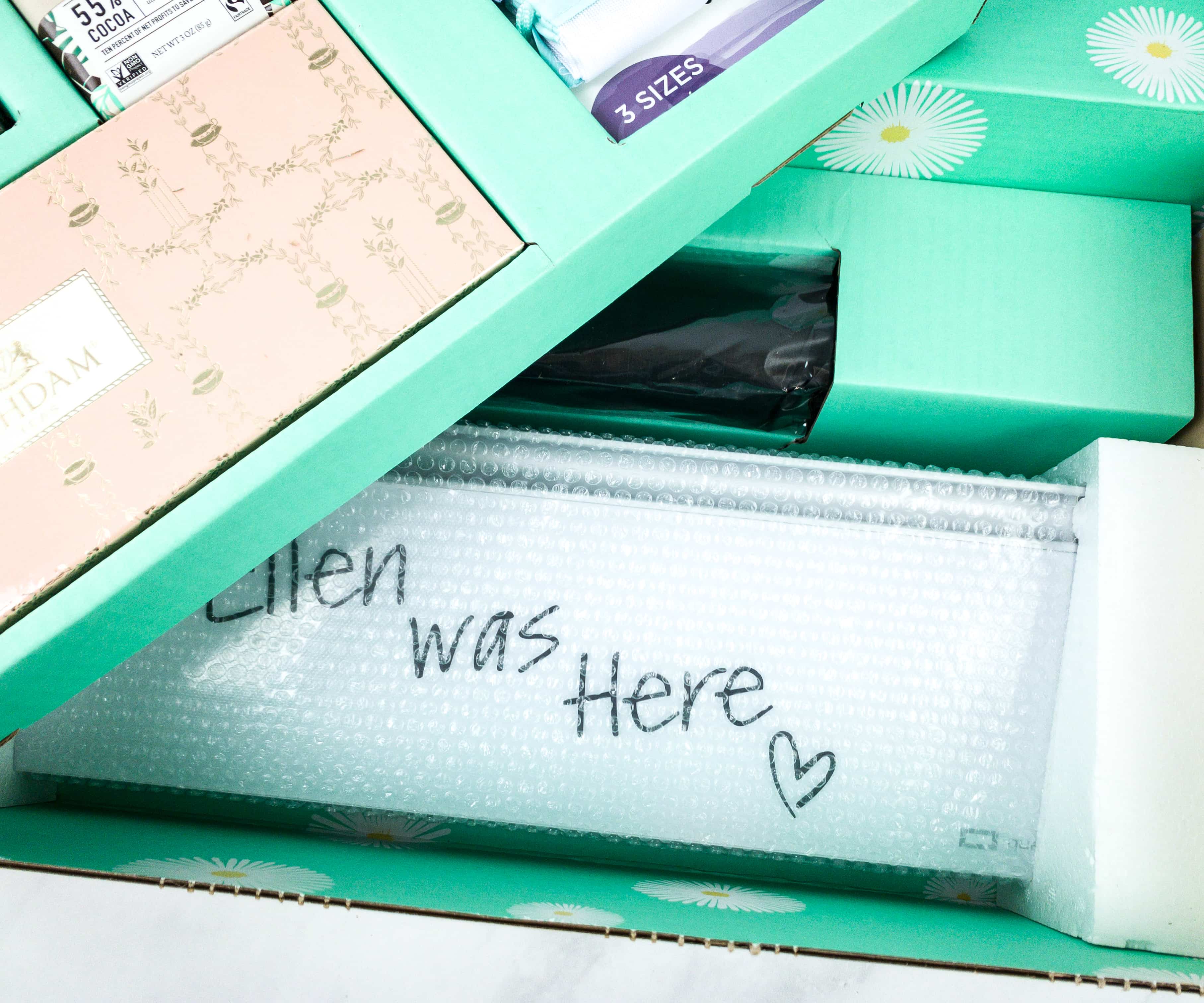 The box is full to the brim! There are partitions and once the top items are removed, it reveals more!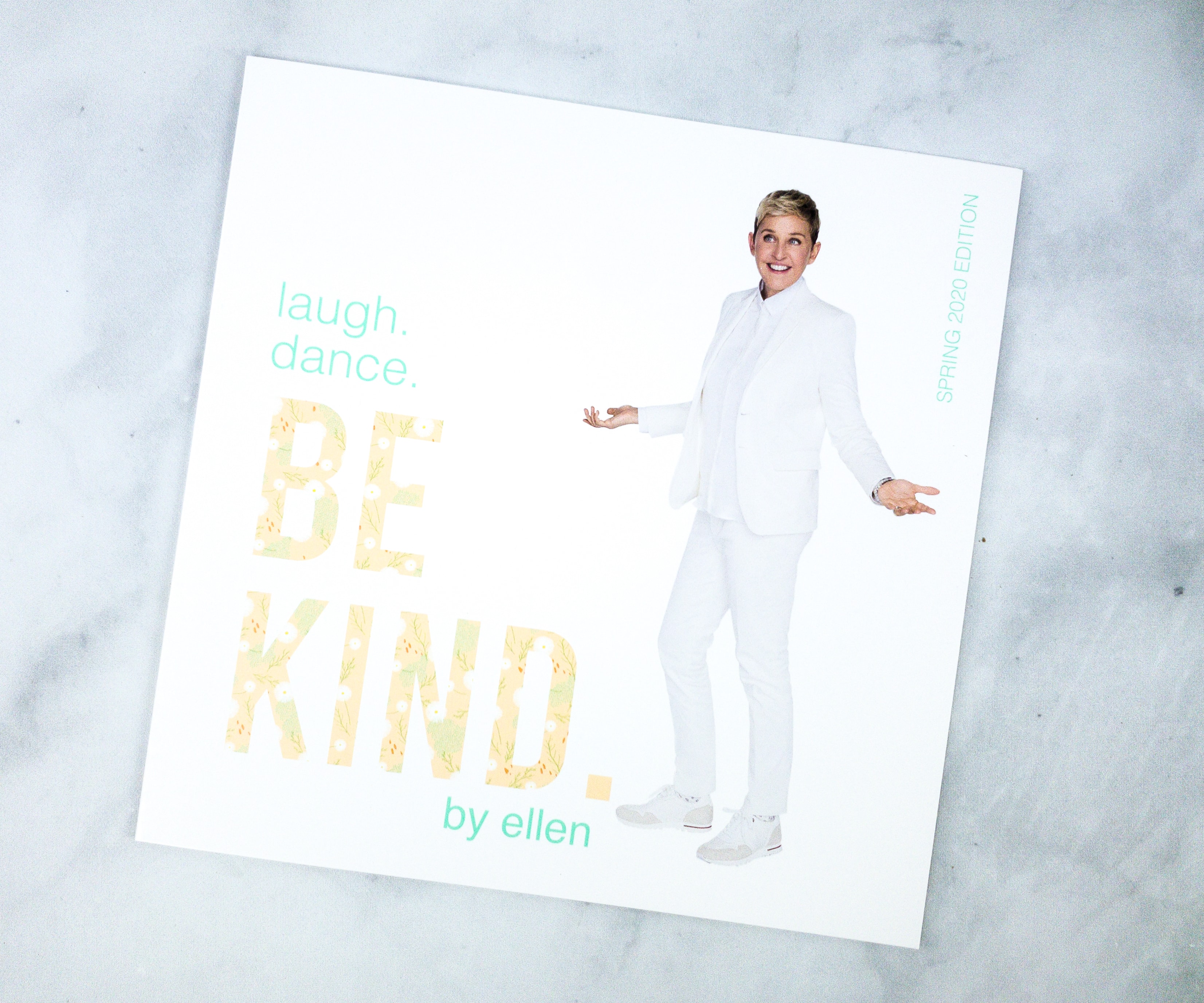 The box also came with a tri-fold booklet with high-quality photos.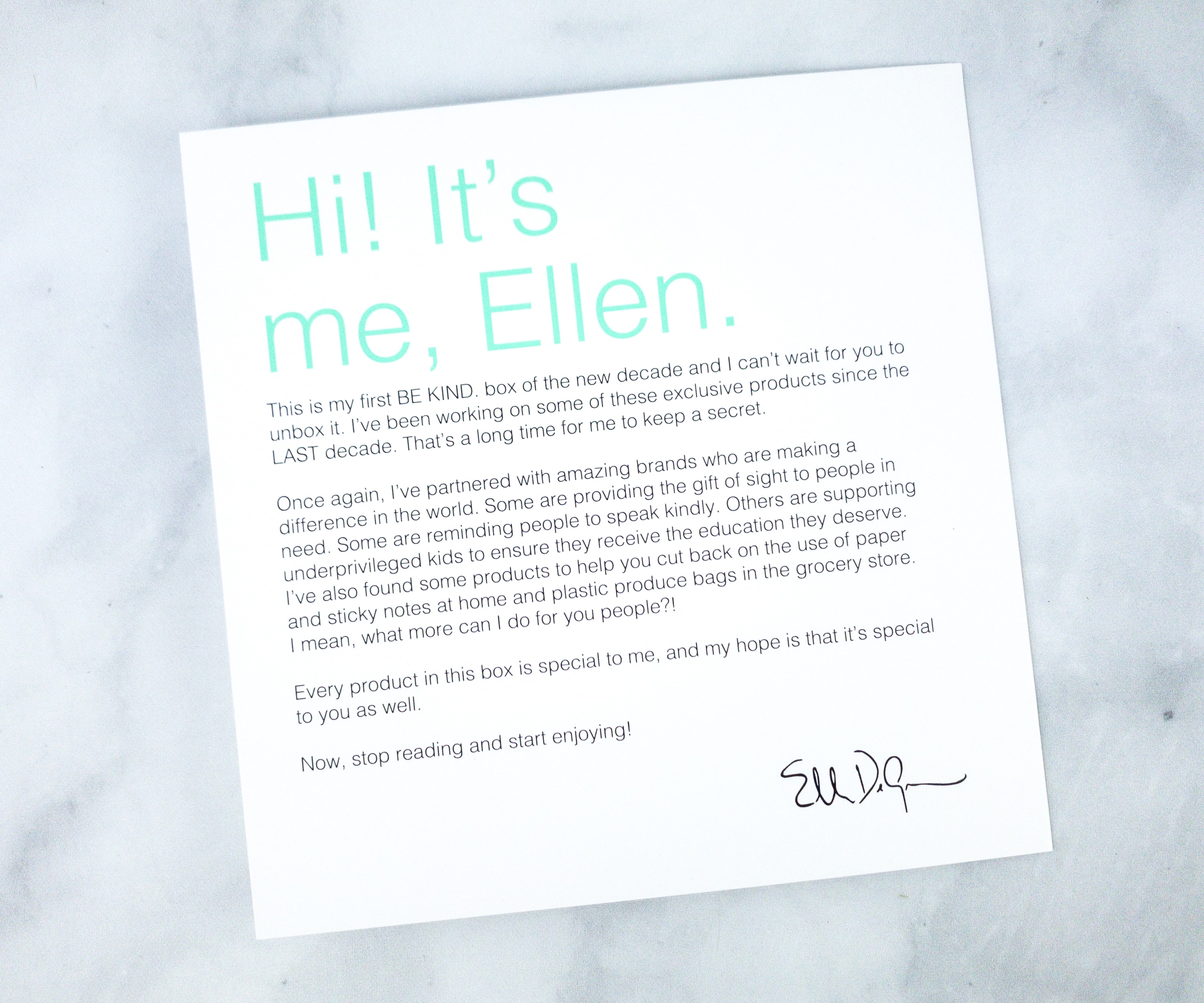 There's also a note from Ellen herself.
The booklet lists each item in the box, along with a brief description.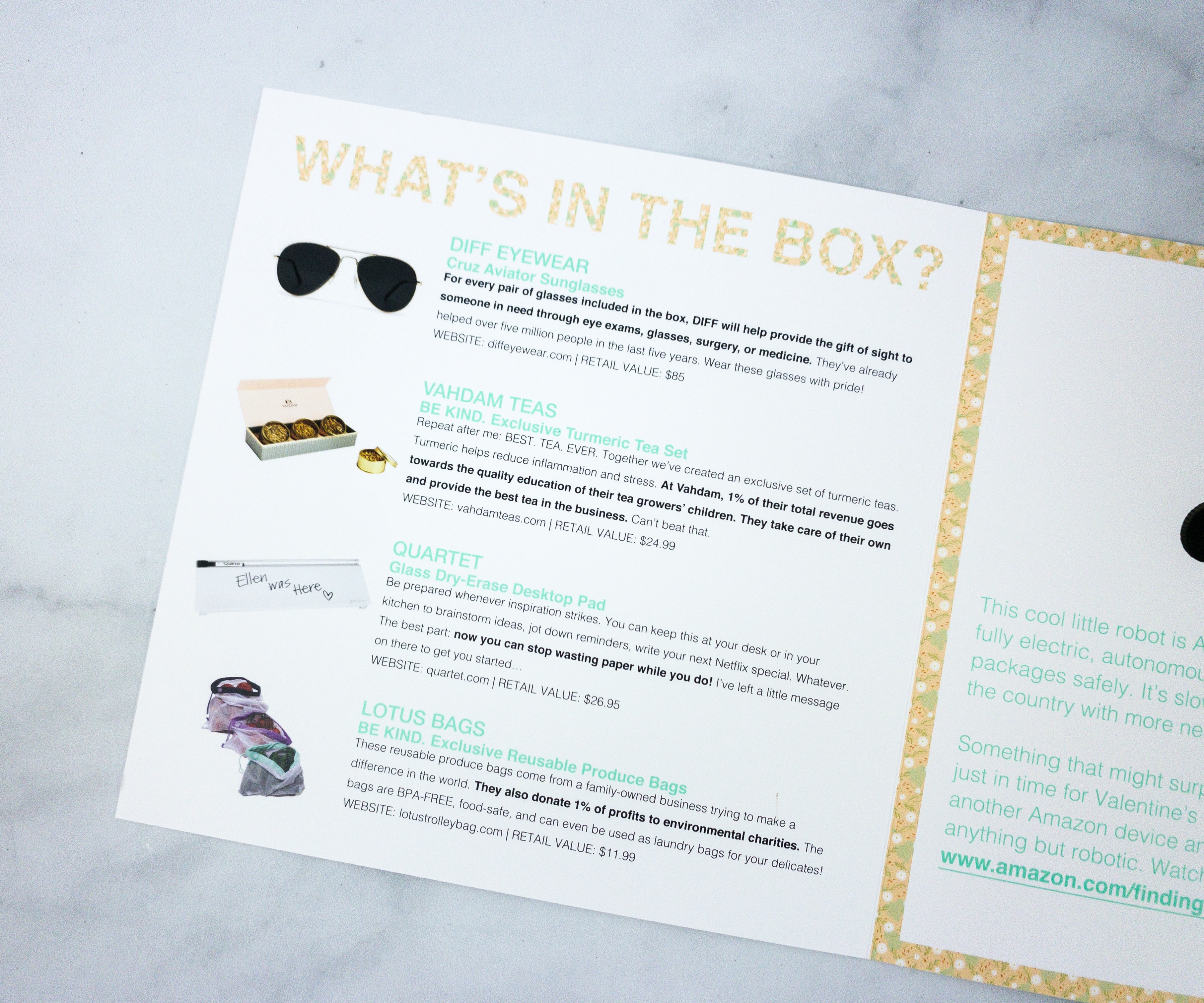 The list also has photos of each featured item in the box.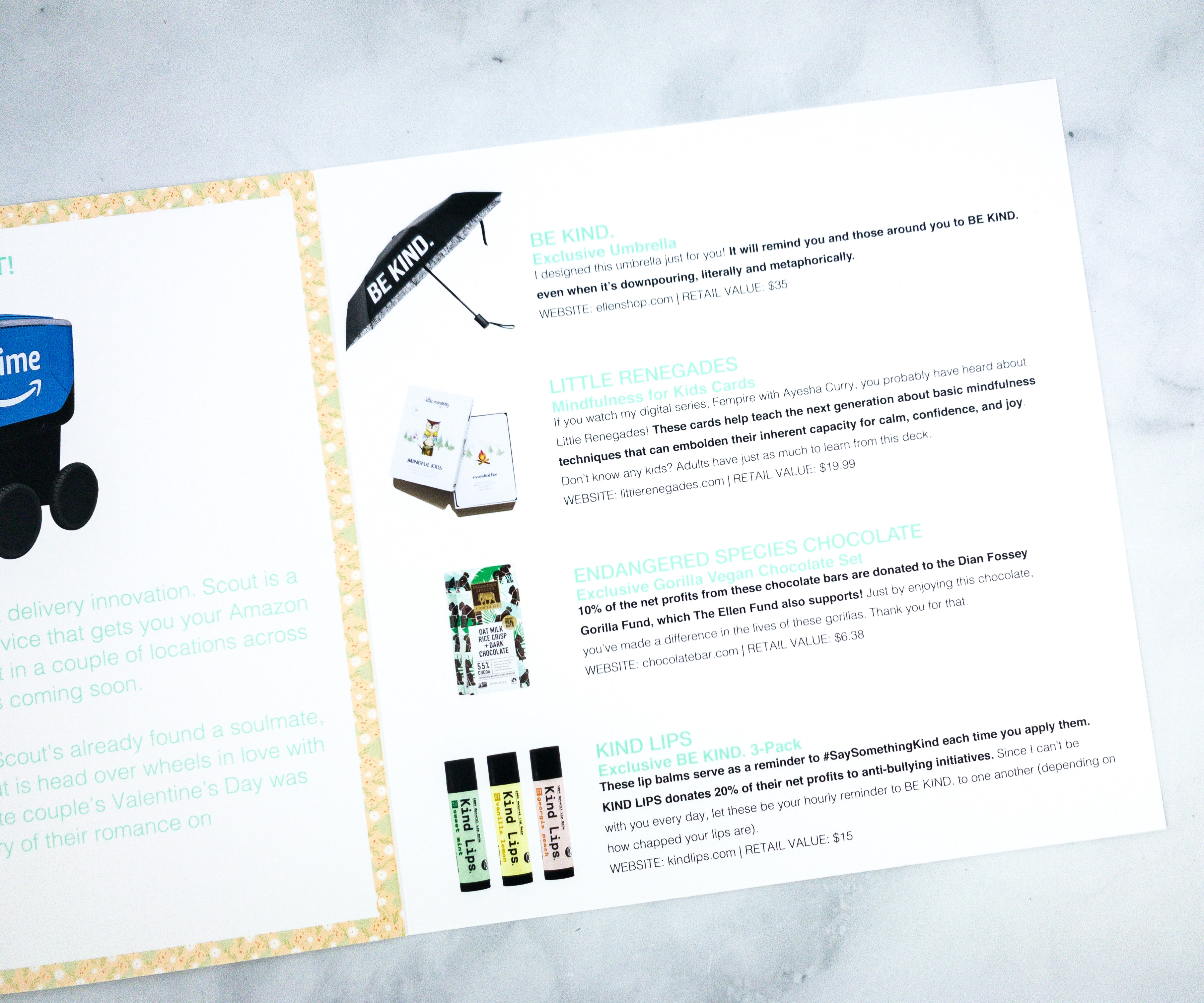 Below the item description, they also listed the retail value and the brand's website.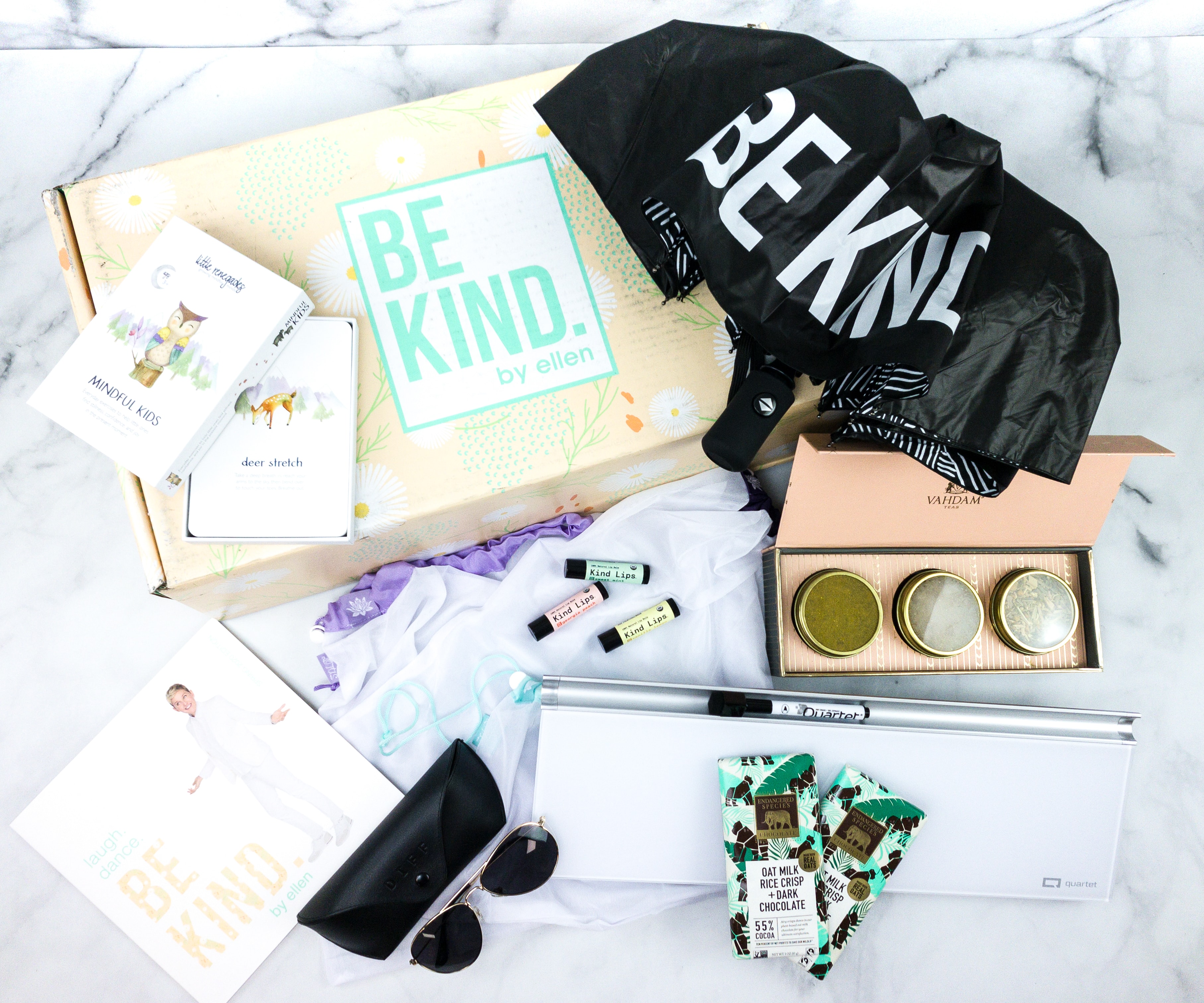 Everything in my Spring 2020 box!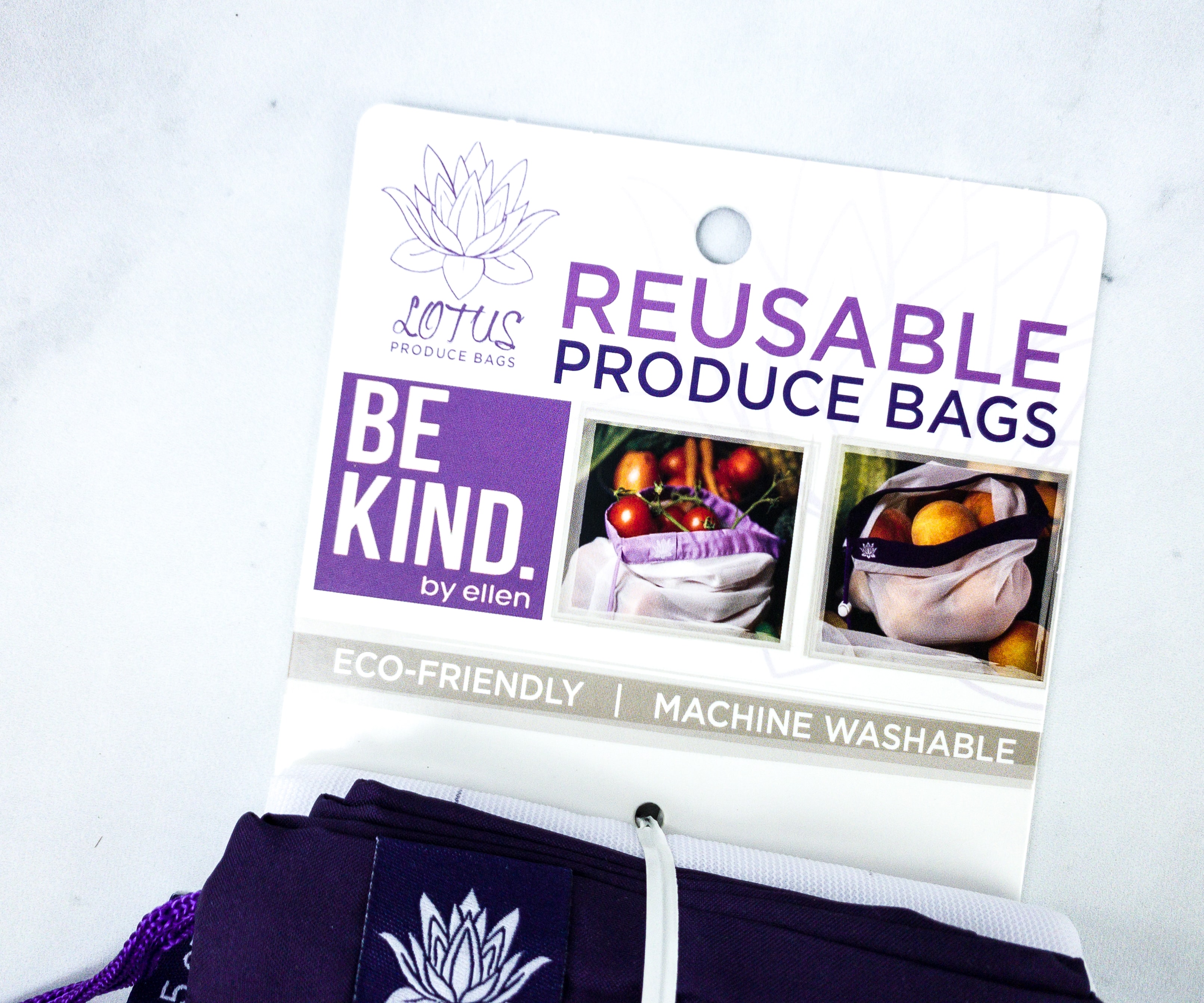 Be Kind Reusable Lotus Grocery Bags ($19.99) These reusable bags are perfect not just for produce but for practically anything!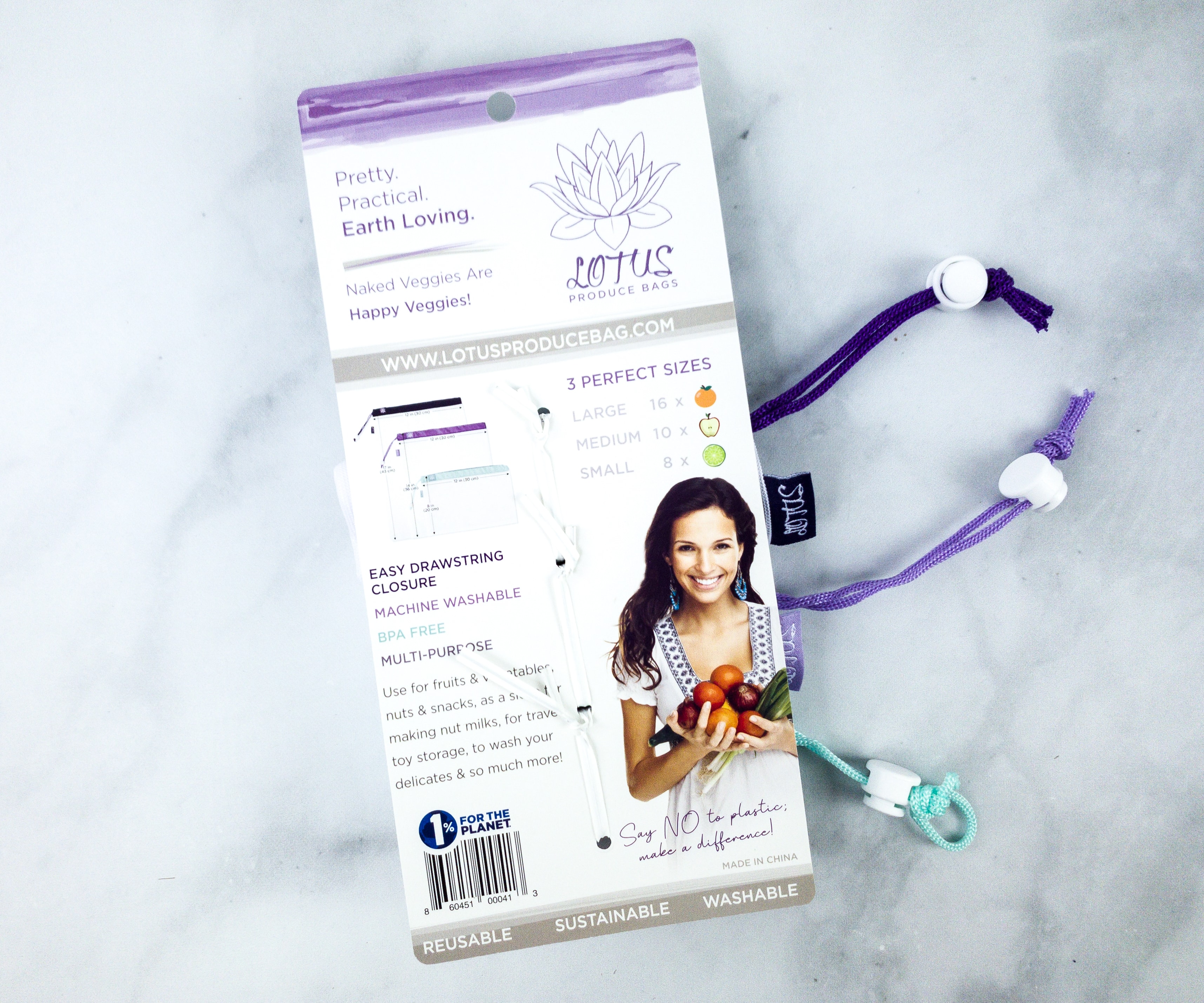 We got them in three sizes!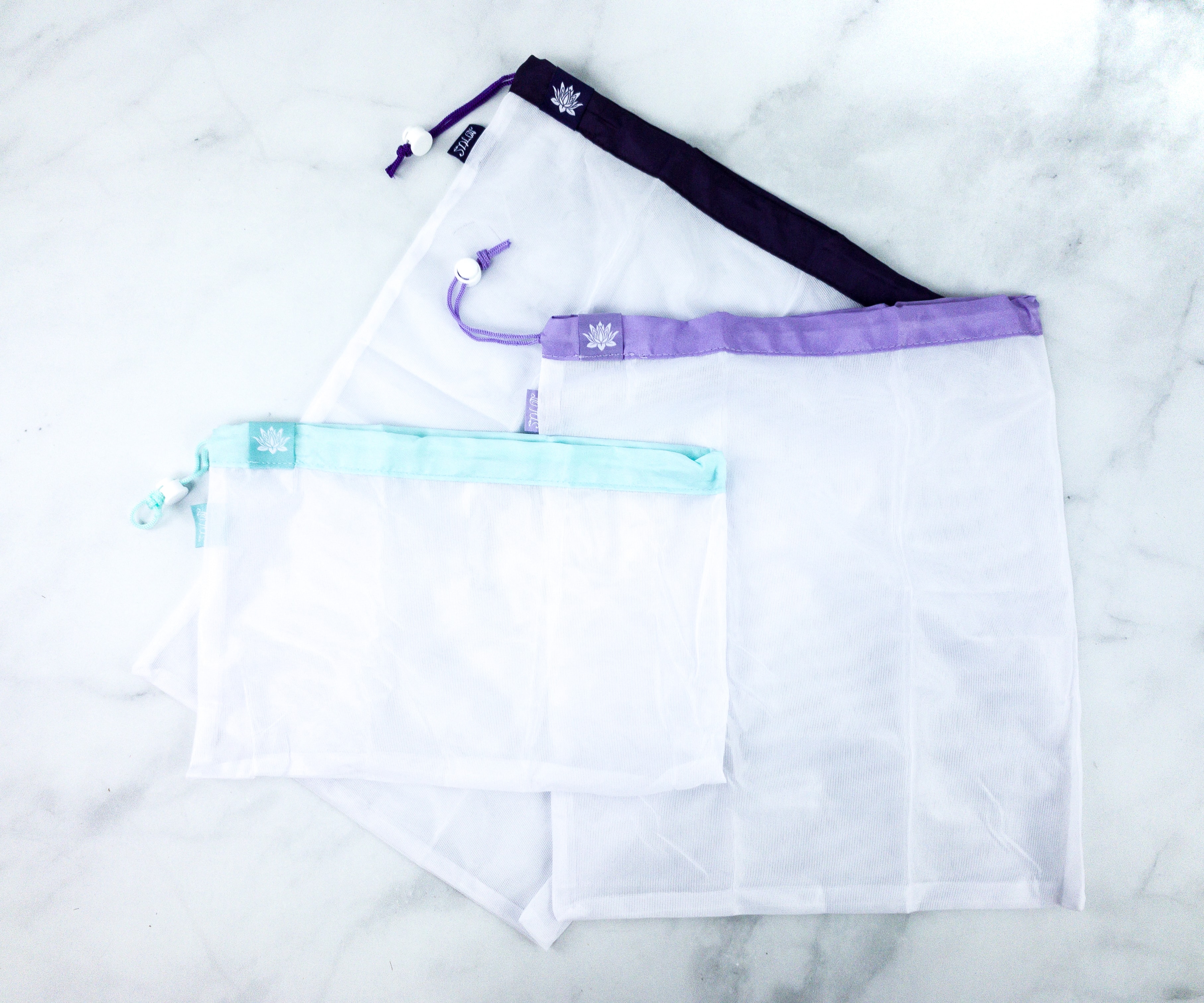 These see-through mesh bags are perfect for just about anything! Carry your fresh produce in them during a grocery or a farmer's market run, stash used clothes when traveling, or use it as storage for the children's craft activities. The list of things I can use these with is practically endless! My favorite use – my new yogurt and cheesemaking hobby! Yes, you can use them to strain yogurt or cheese! They work perfectly.
The drawstring enclosure makes it easier to open and close, plus the toggle makes it more secure when you want to make sure you don't accidentally open it!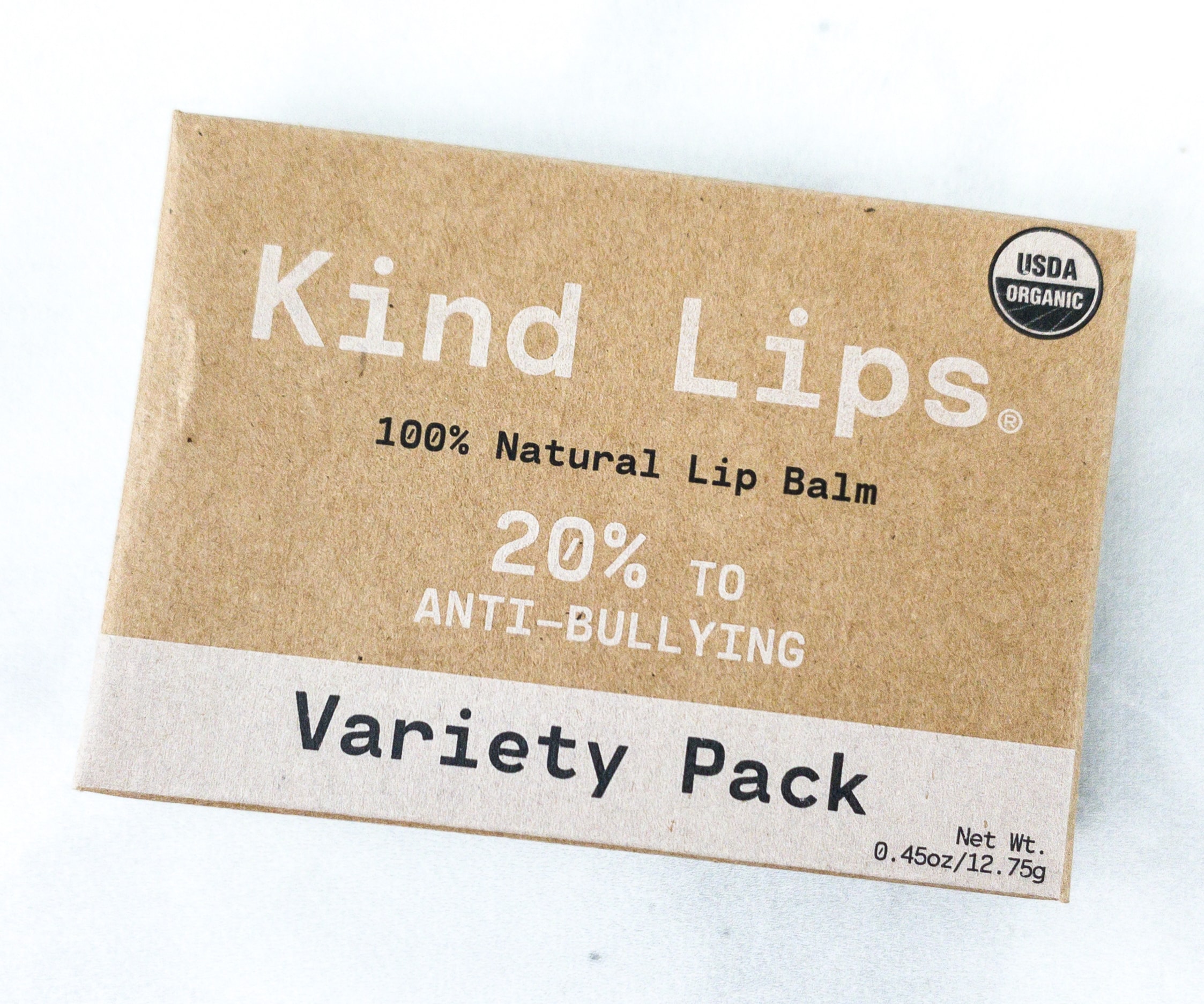 Kind Lips Lip Balm Trio ($15) It's a trio of lip balms which keeps the lips smooth and supple despite the weather. I love how the packaging says upfront that it's anti-bullying!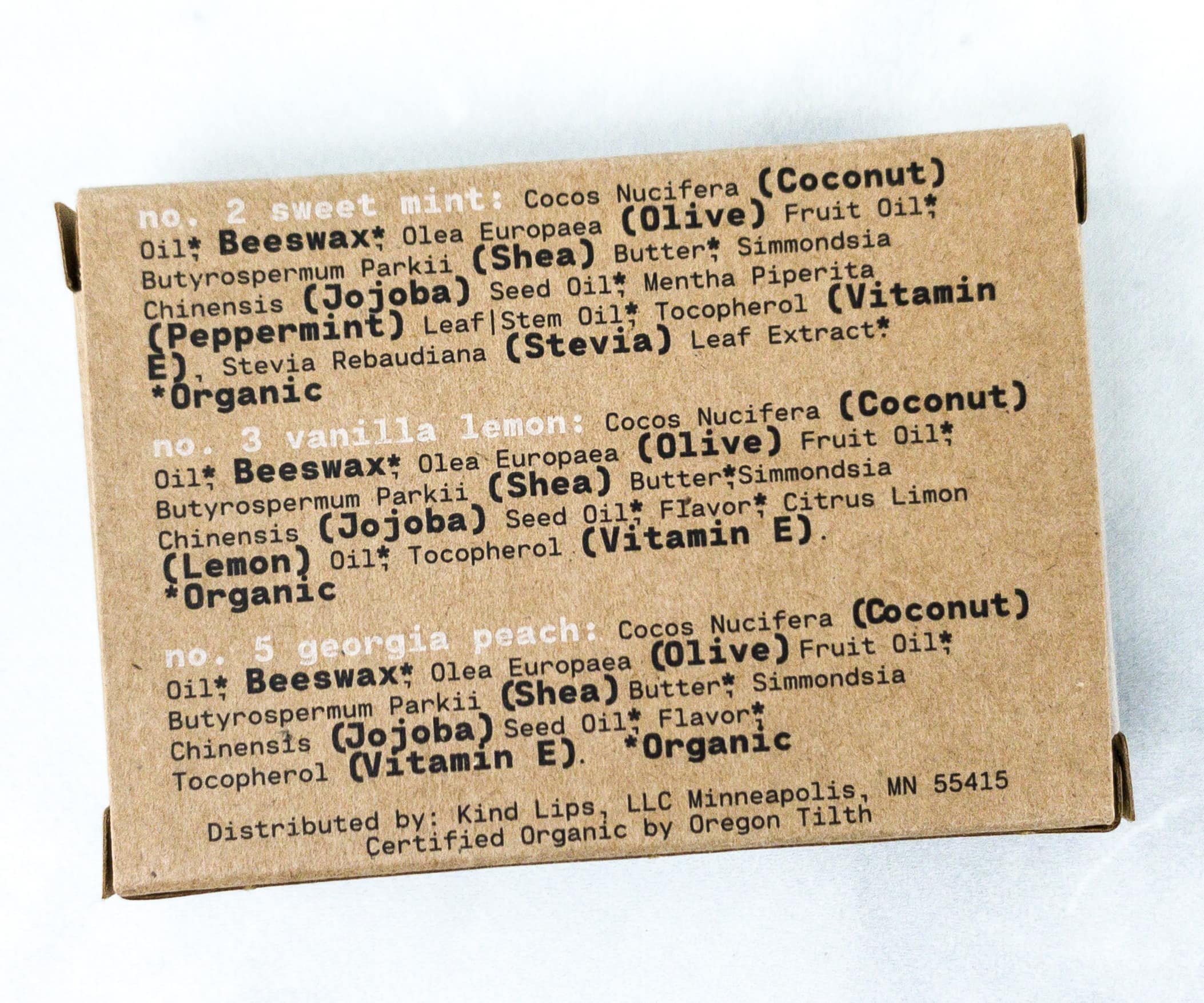 The back of the packaging lists down all the 3 flavors including their ingredients. We have Sweet Mint, Vanilla Lemon, and Georgia Peach!
The formula has a blend of amazing ingredients such as coconut oil, beeswax, olive oil, shea butter, jojoba oil, and even vitamin E. They are all known to nourish the skin, keeping those lips hydrated all day, every day! They smell so good!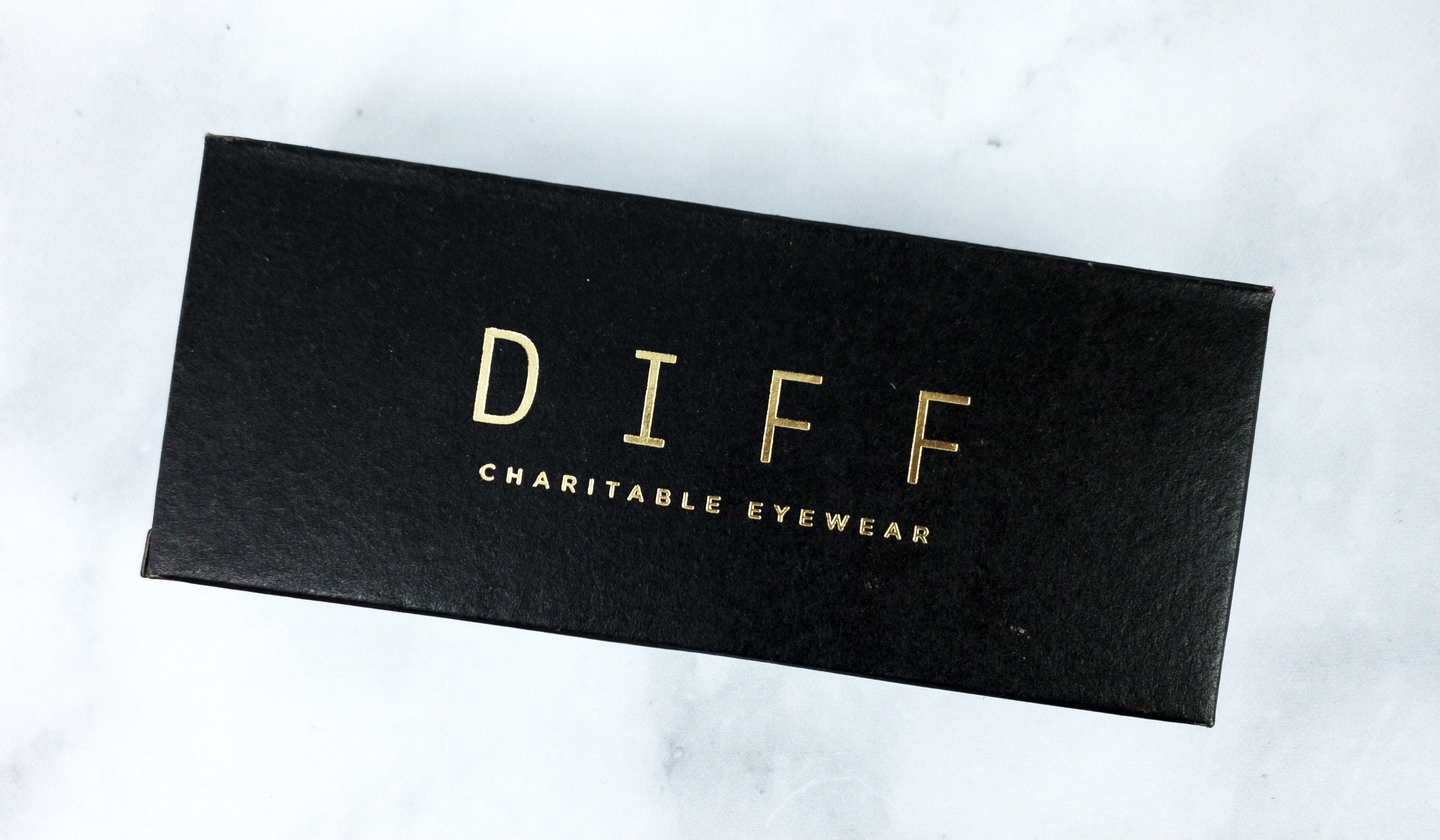 DIFF Sunglasses ($85) The sunglasses came in a black box that has gold branding in front.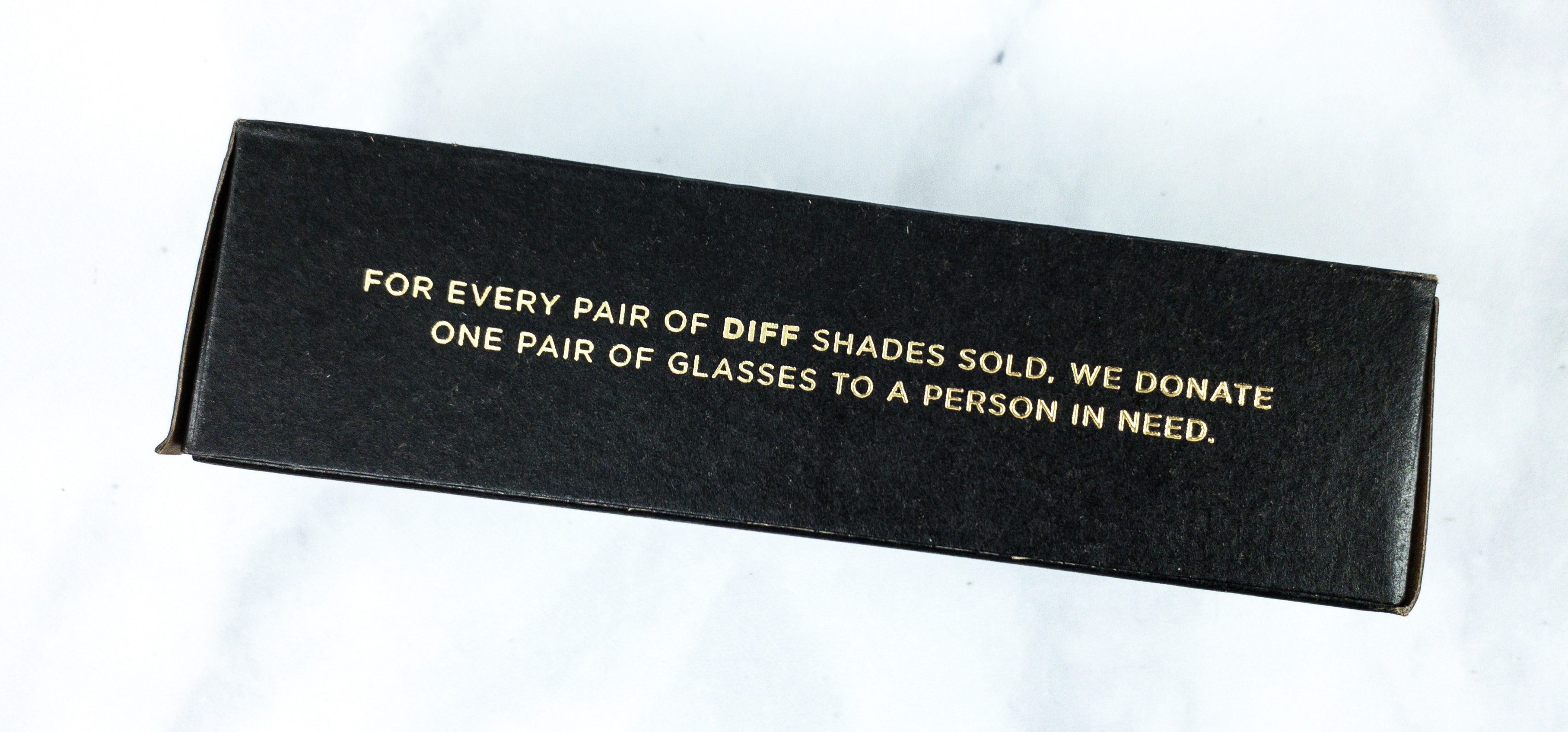 In the box, they said that for every pair sold, they donate a pair of glasses to a person in need!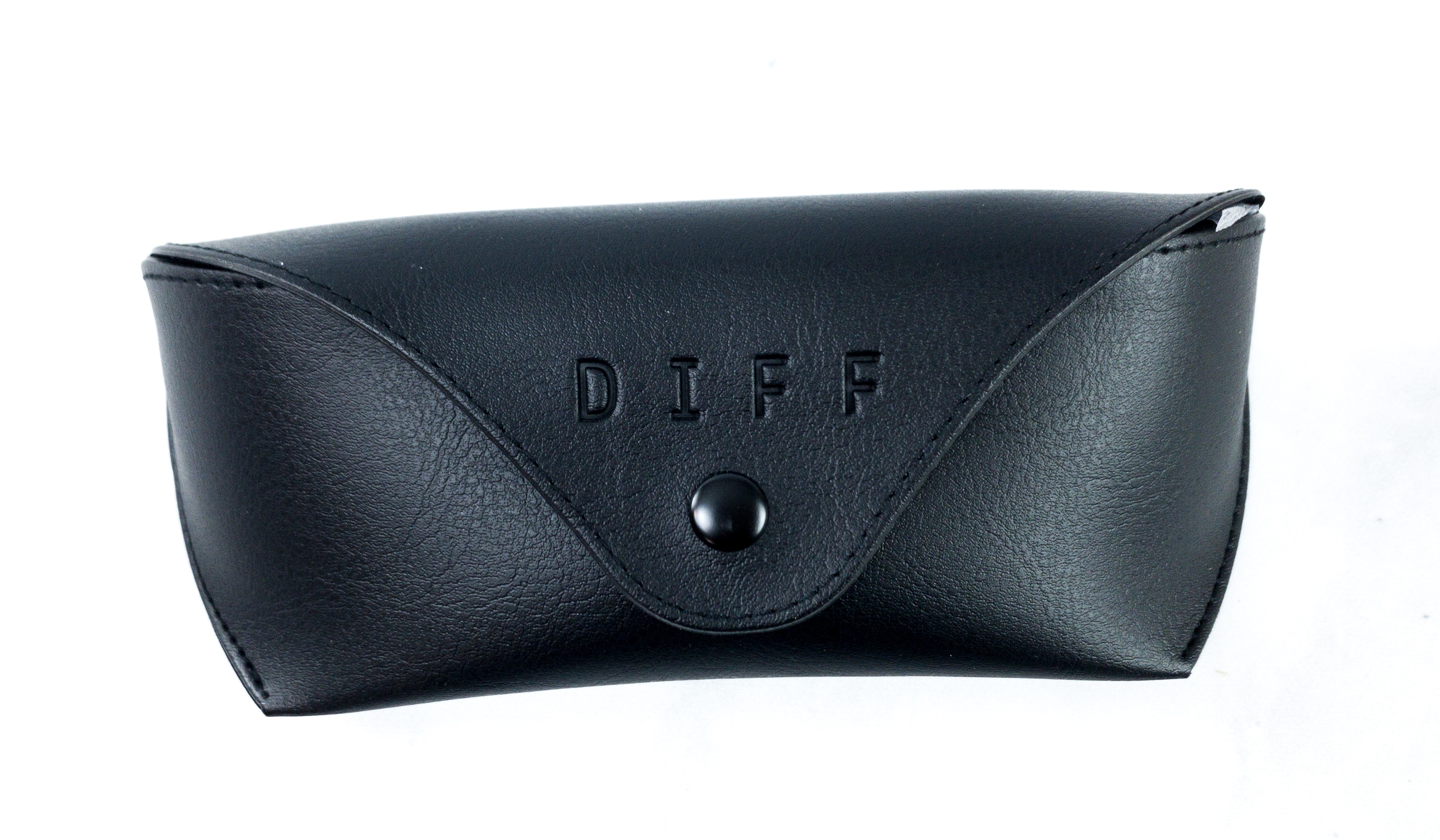 Upon opening the box, there was a faux leather pouch containing the eyewear.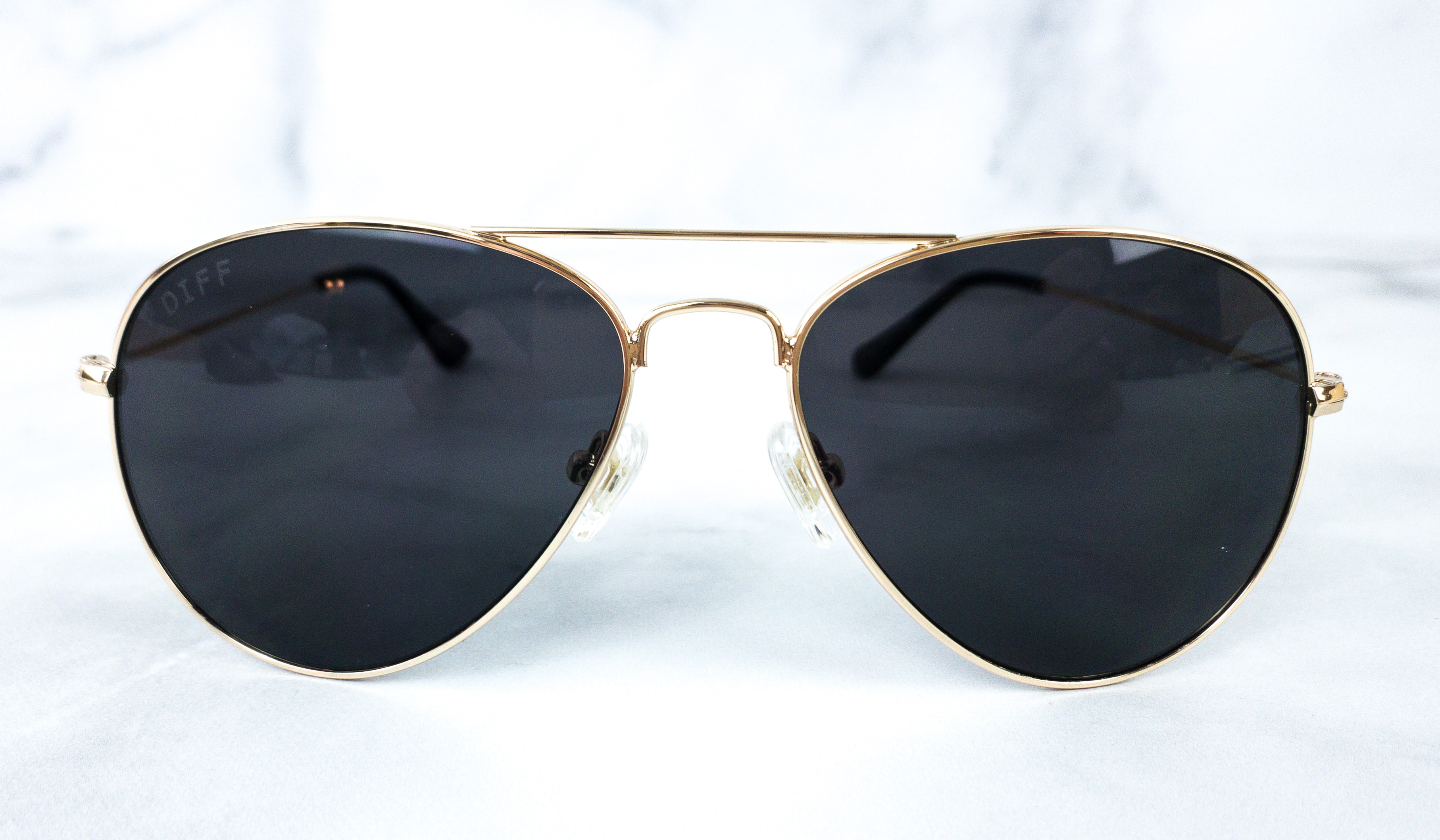 It's a pair of aviators and it looks really classy! It makes me look forward to sunnier days!
The gold hardware makes the black lenses stand out all the more. It's really striking and I love how edgy this looks!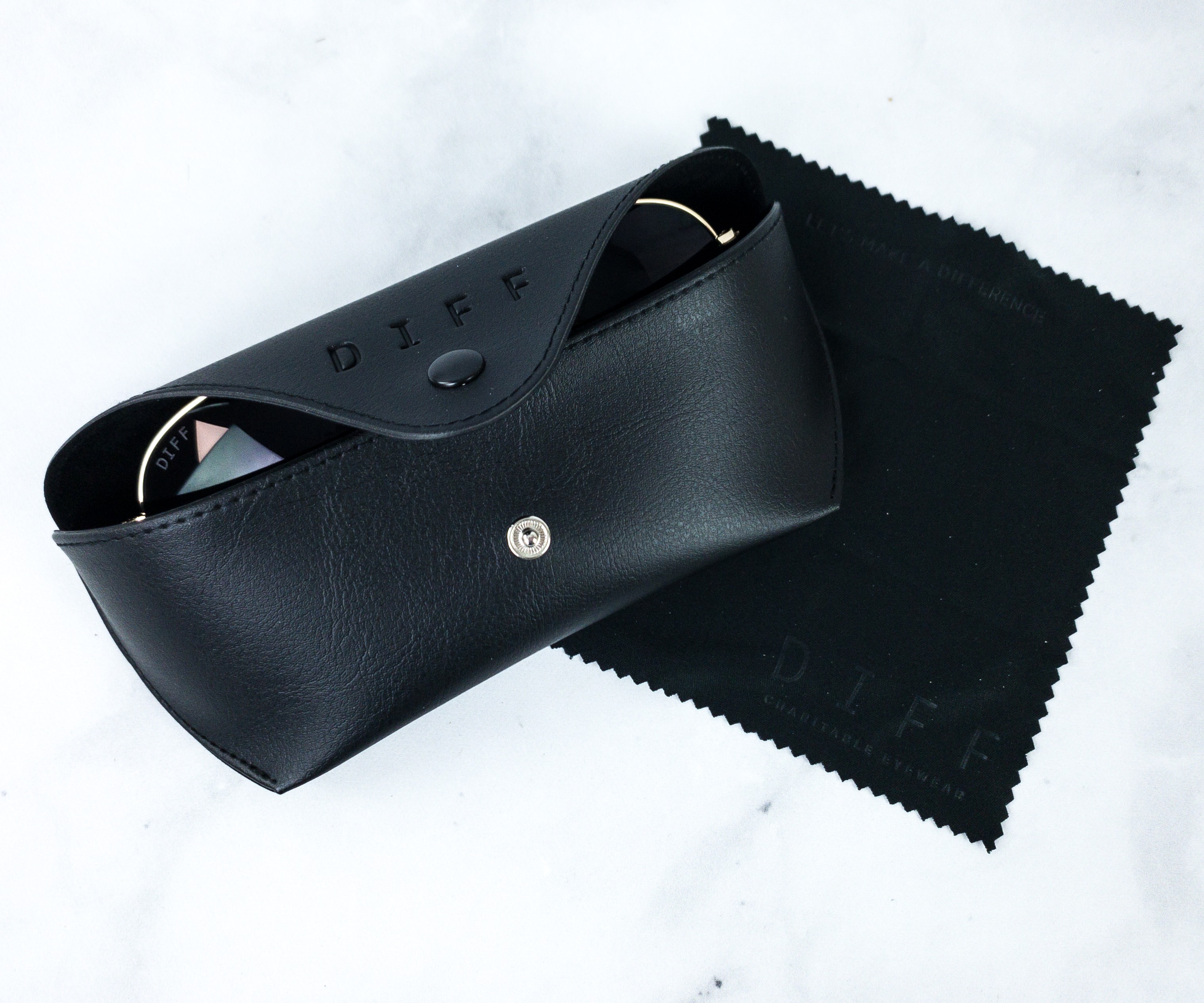 The whole set came with a black wiper cloth and a case to help protect and maintain the sunglasses!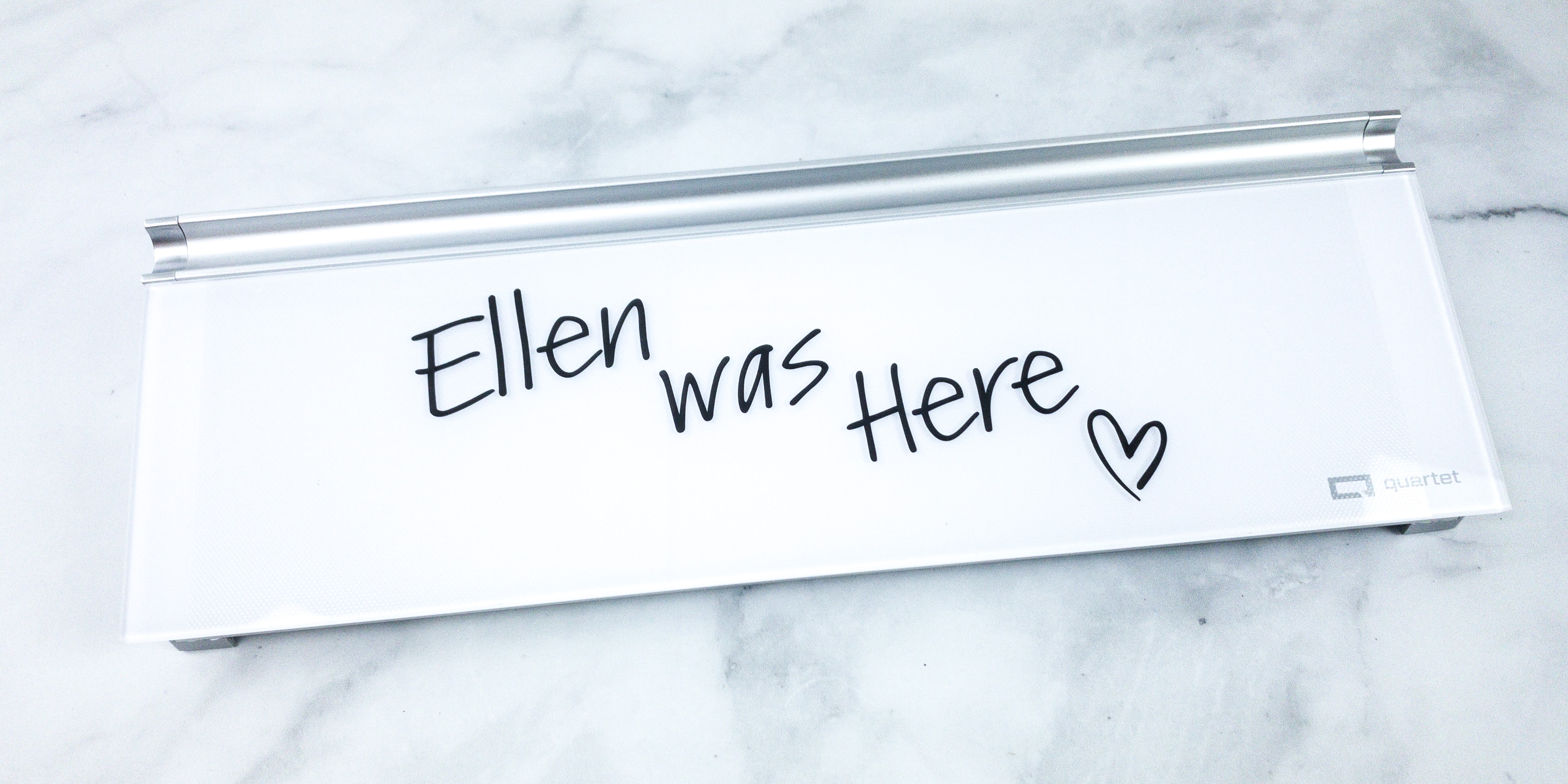 Quartet Dry Erase Board. This dry erase board is so cute and handy. I saw this on one of Ellen's shows and I find it amazing!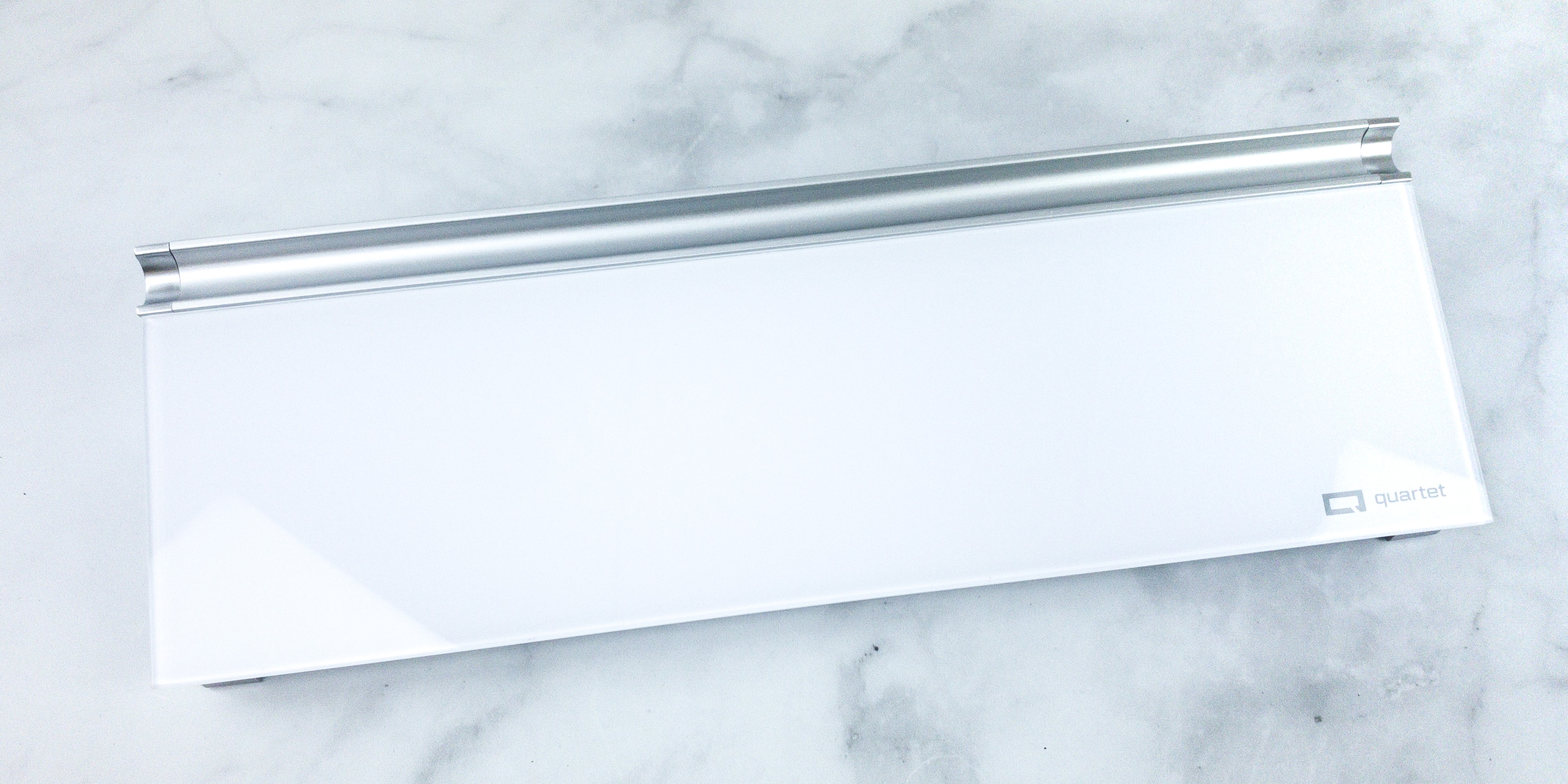 You can put this under your screens so you can easily jot down just about anything!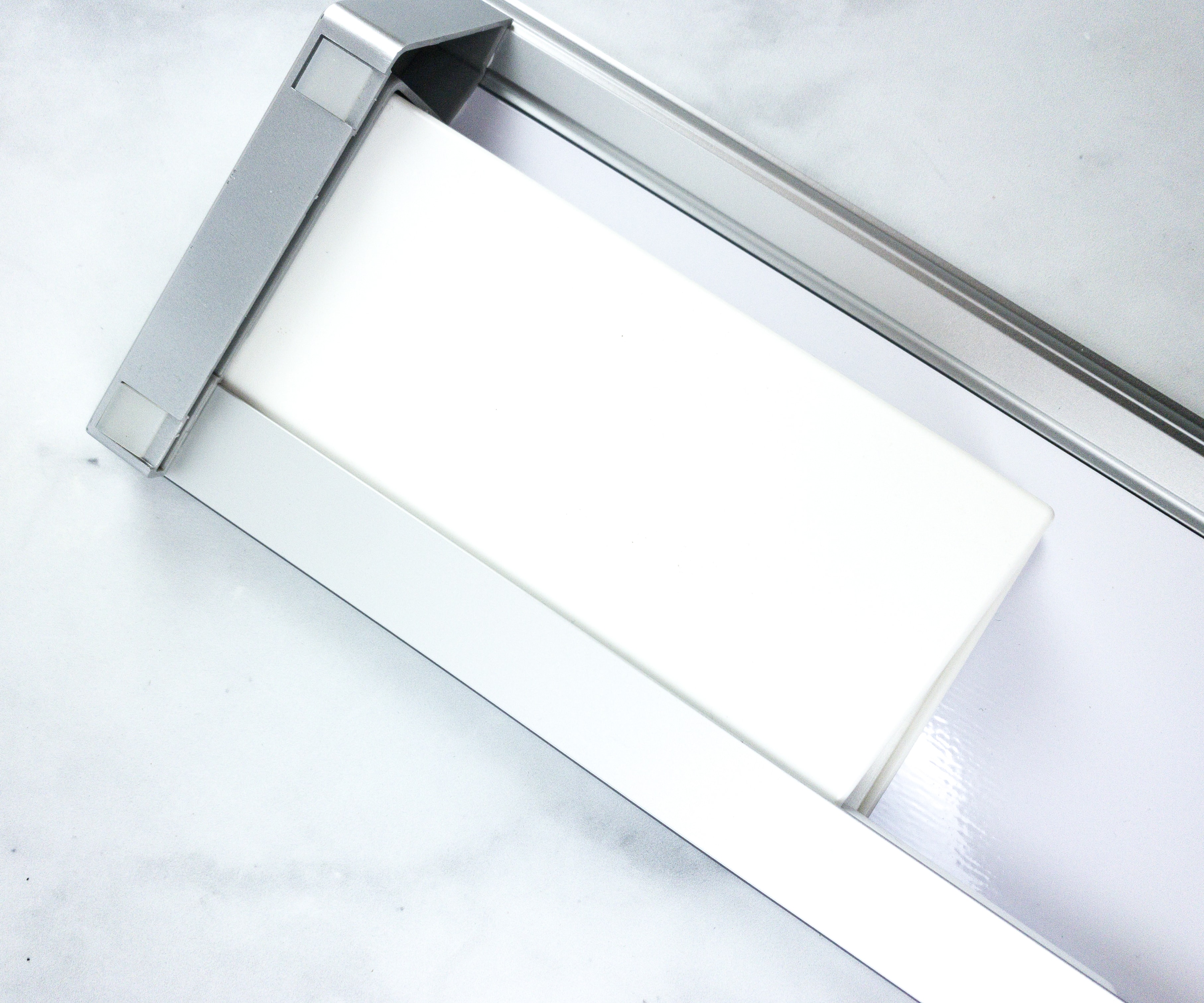 There's a hidden compartment at the back to help keep your markers and even a full-size eraser!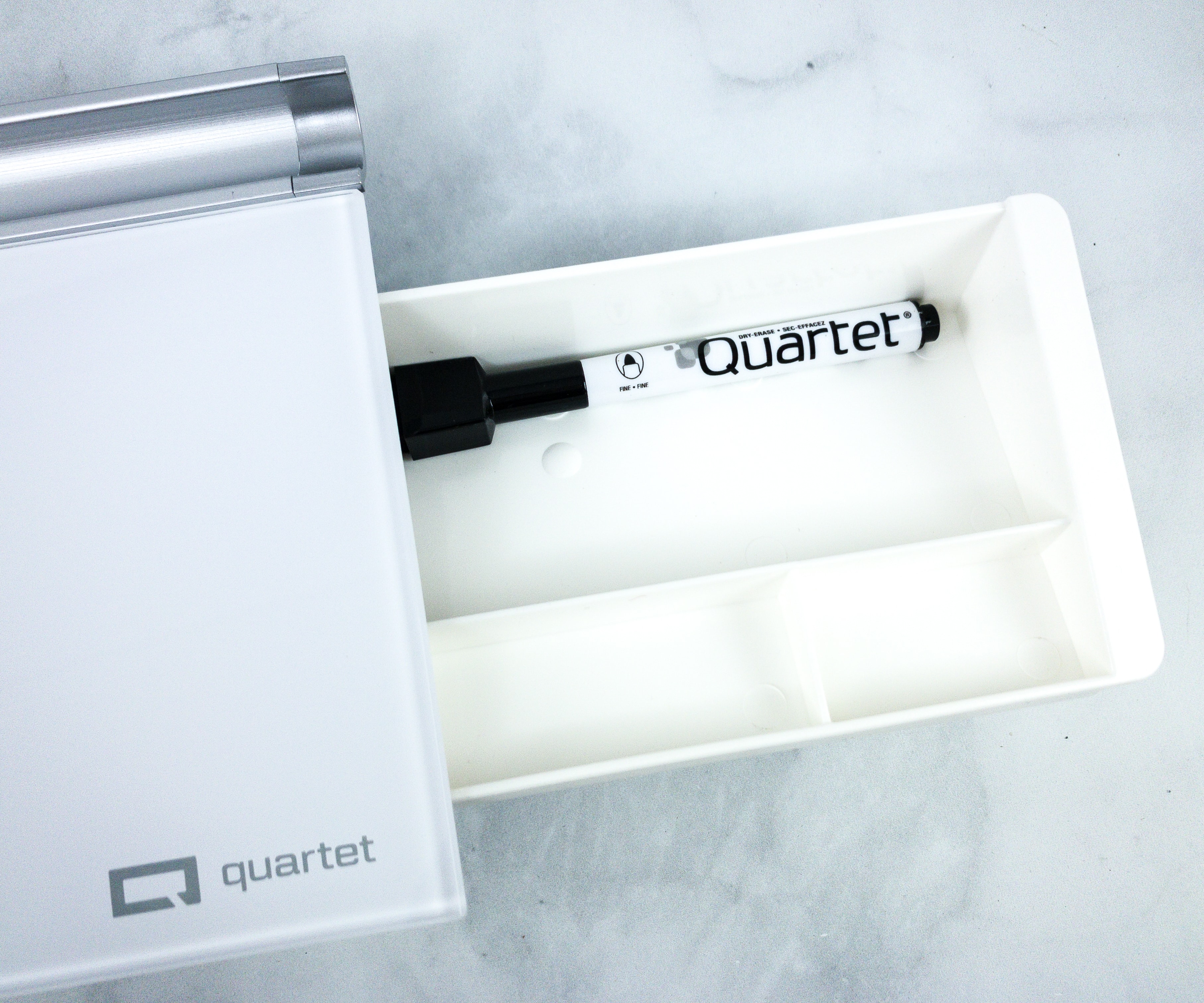 You can easily slide it out to reveal the contents! You can even put little trinkets here!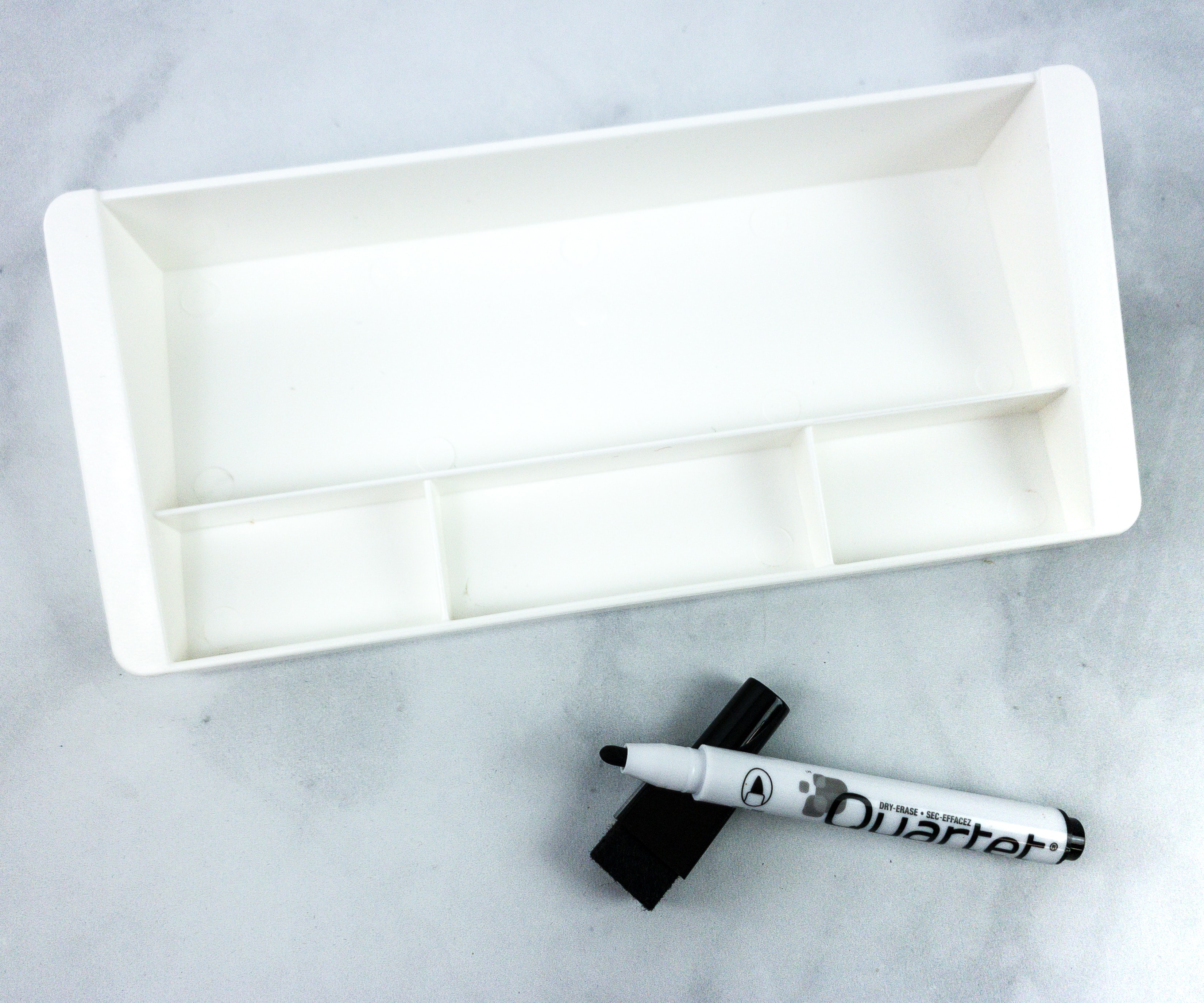 The case at the back can also be removed for easier cleaning!
Little Renegades Mindful Kids ($19.99) There's also an item for kids: exercise cards that teach kids mindful practices!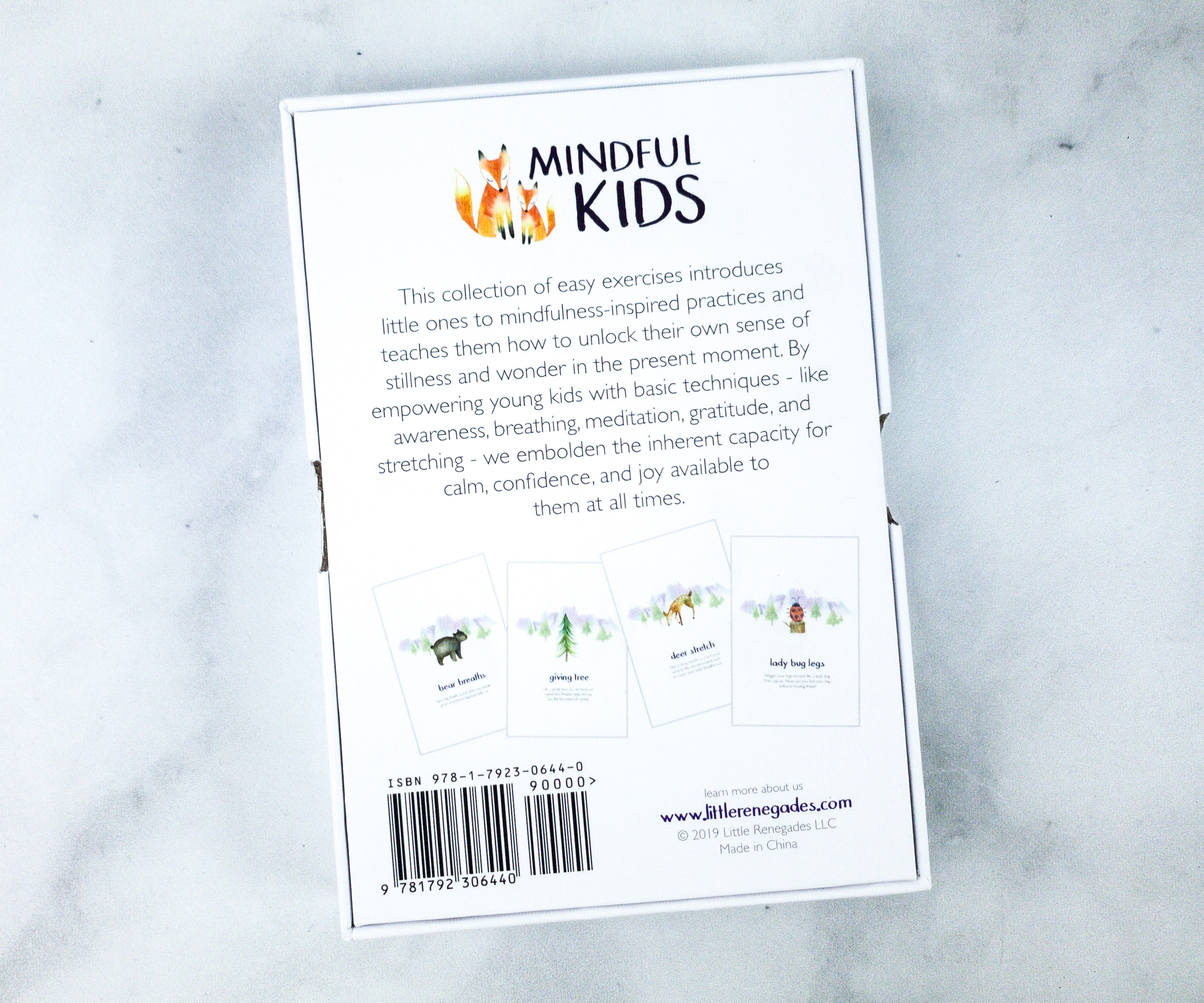 It aims to teach kids basic mindfulness techniques like awareness, breathing, meditation, gratitude, and stretching!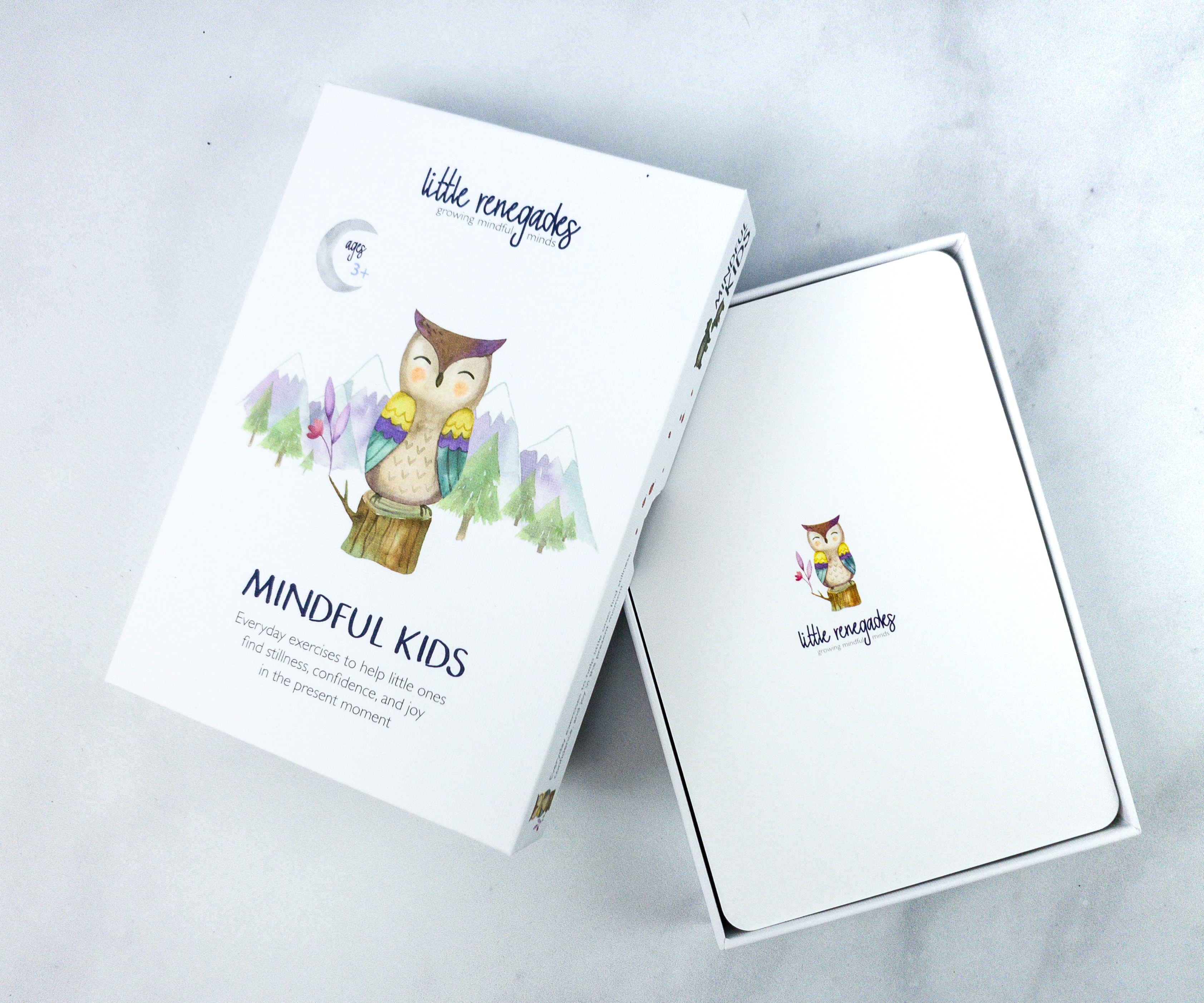 Each card has a cute illustration of an animal, making them more interesting for kids!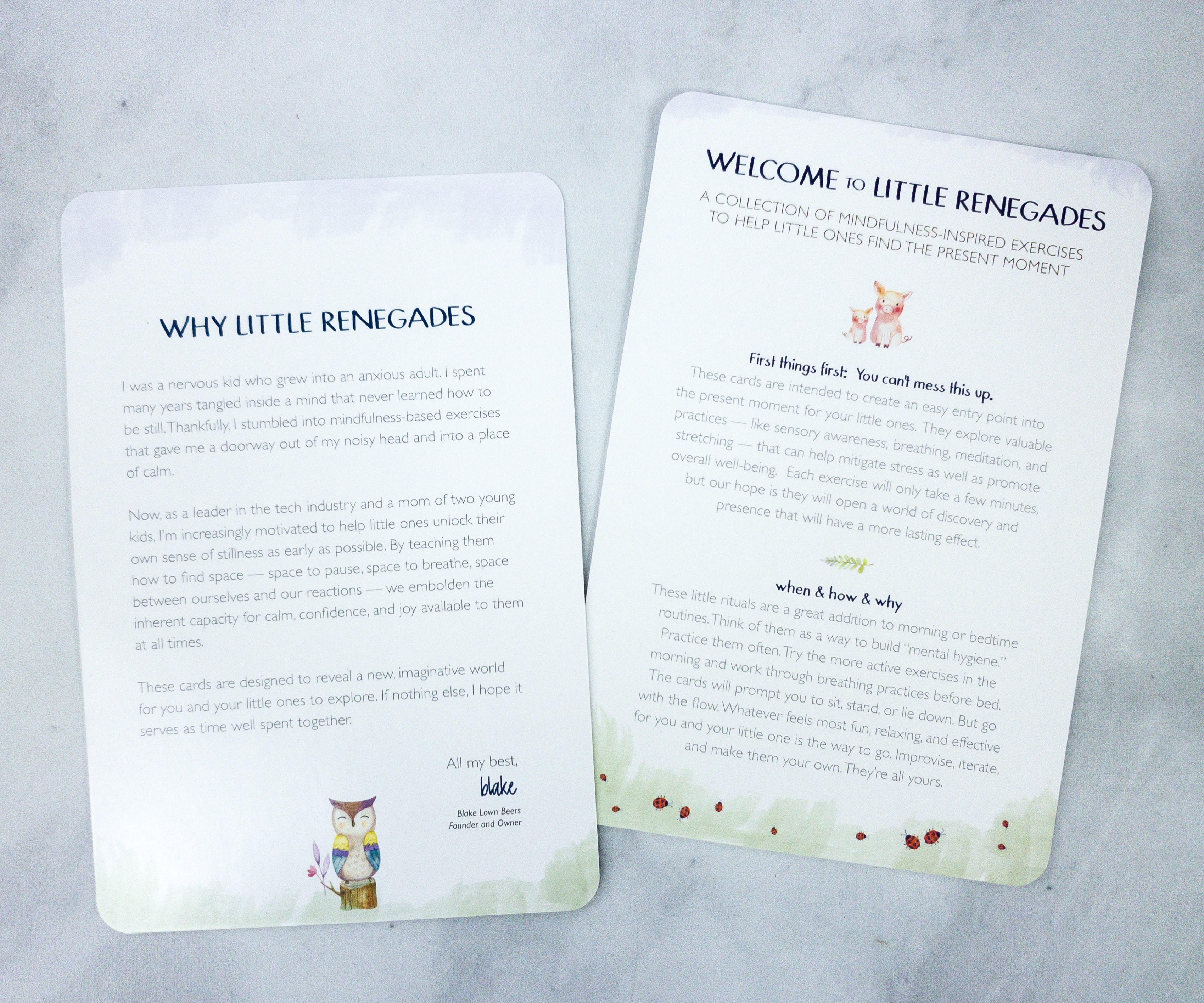 The box included a message from the founder as well as an instruction guide on how to use these cards. You can easily add them to your kids' morning or bedtime routine. More active exercises are great for morning routines while breathing practices are great before bedtime.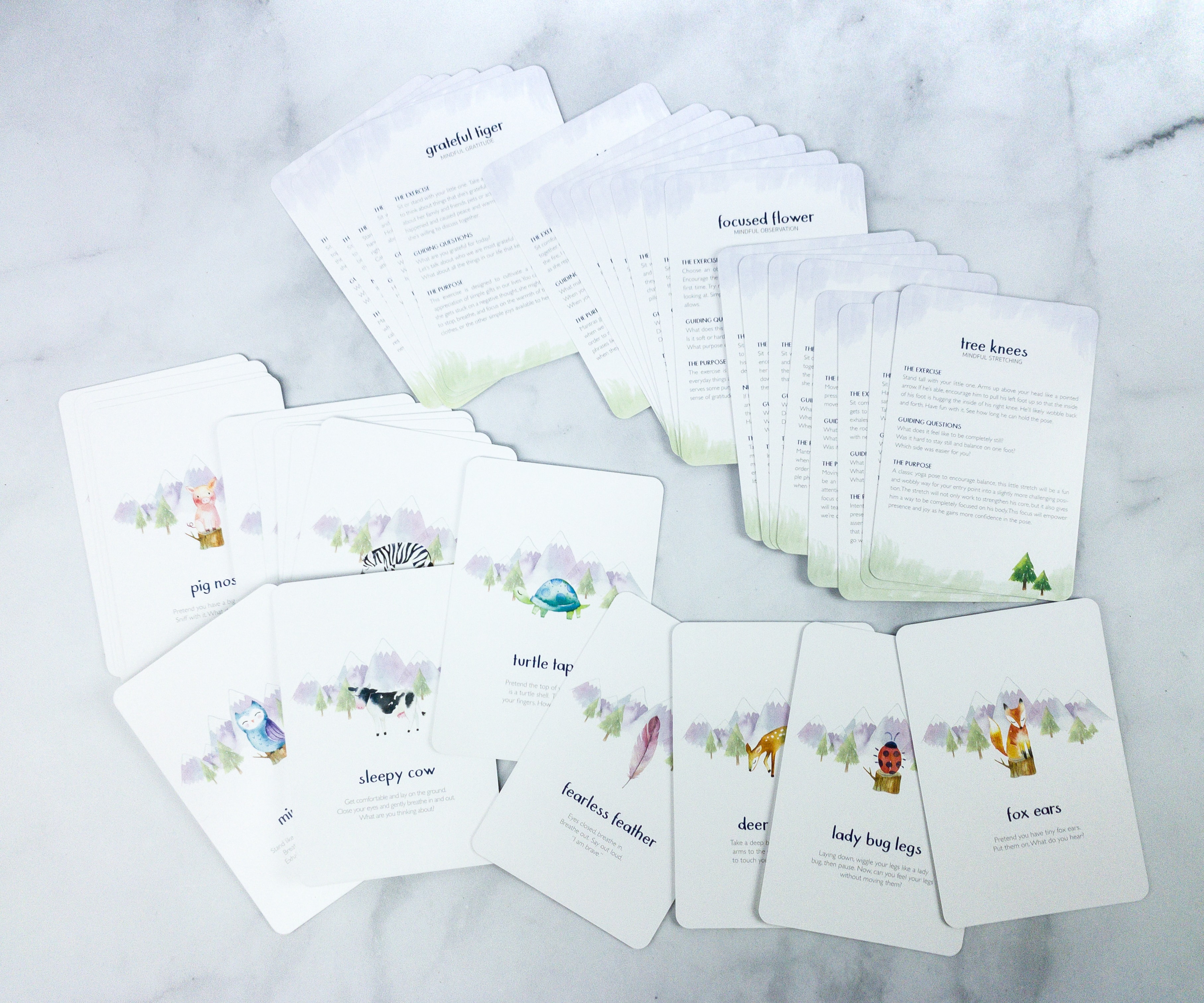 The activities are easy and they only take up a few minutes, but it brings a positive effect and it teaches kids to be mindful of everything in their surroundings!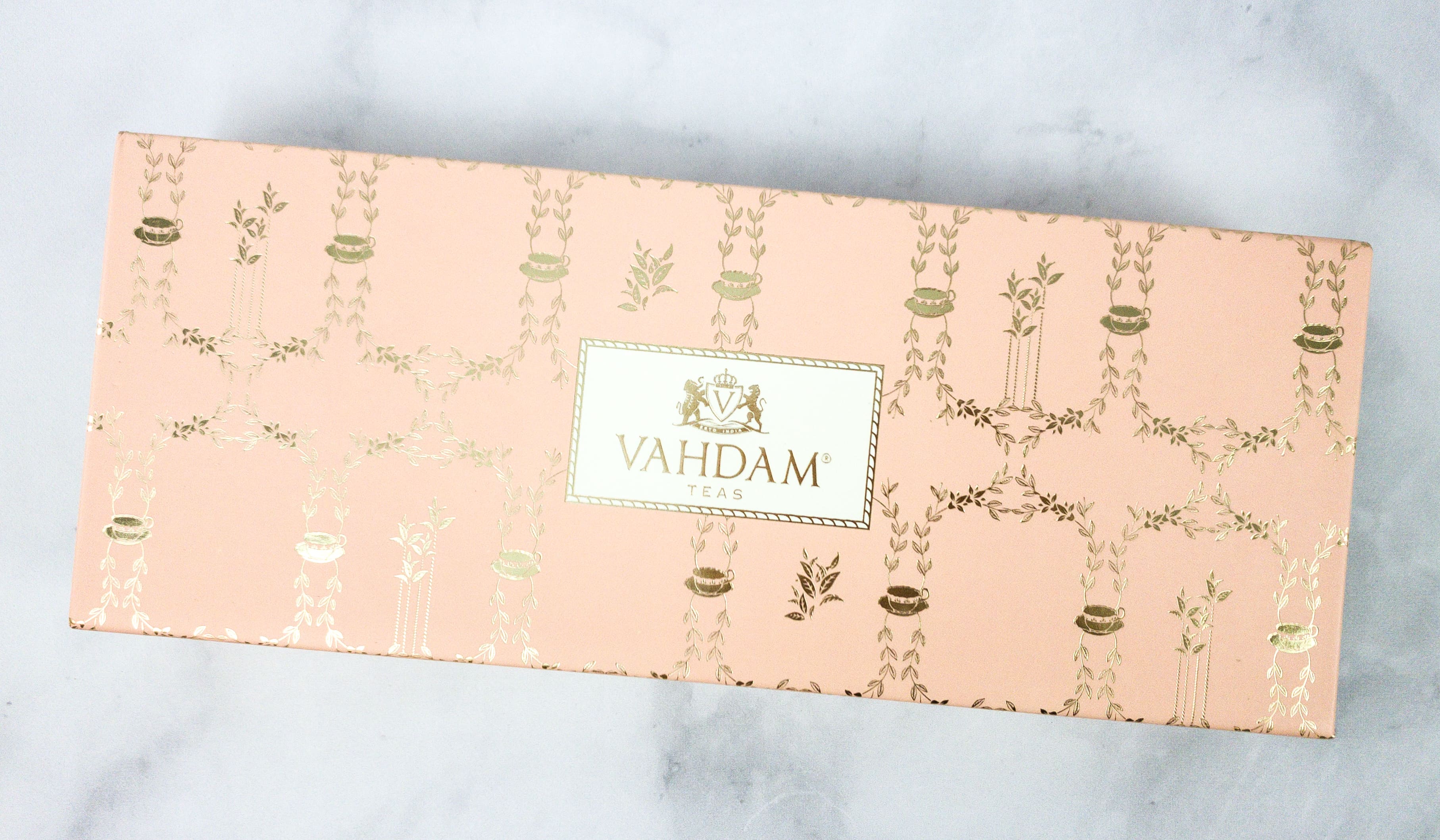 VAHDAM Teas Sampler ($24.99) For fans of tea, this tea sampler is just perfect. The teas came well packaged in a giftable peach-colored box with gold accents.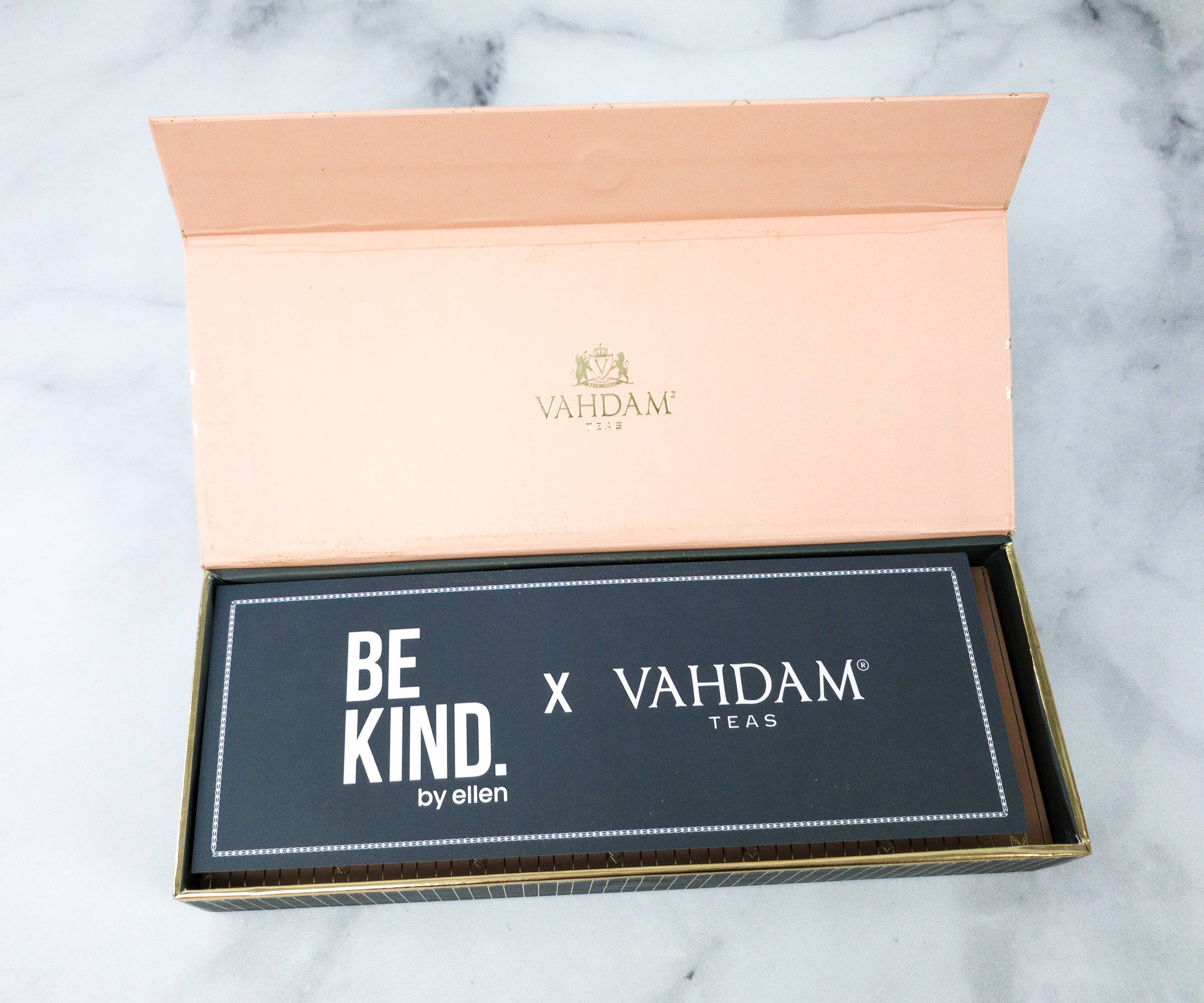 Upon opening, there's a card that indicates the collaboration between this subscription box and the tea brand.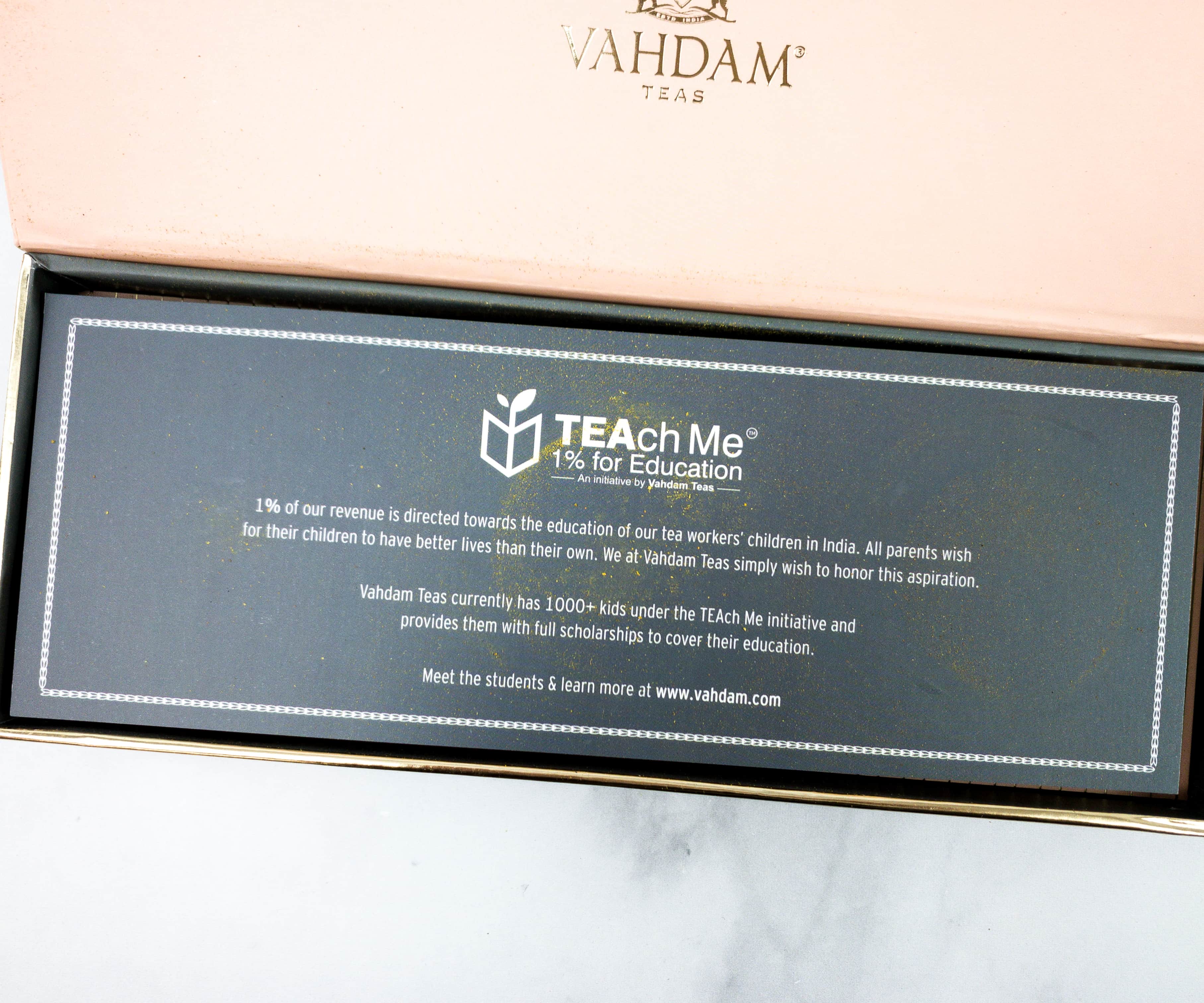 At the back, it says that 1% of the revenue of the company is directed towards the education of the tea workers' children in India. It's such a good cause!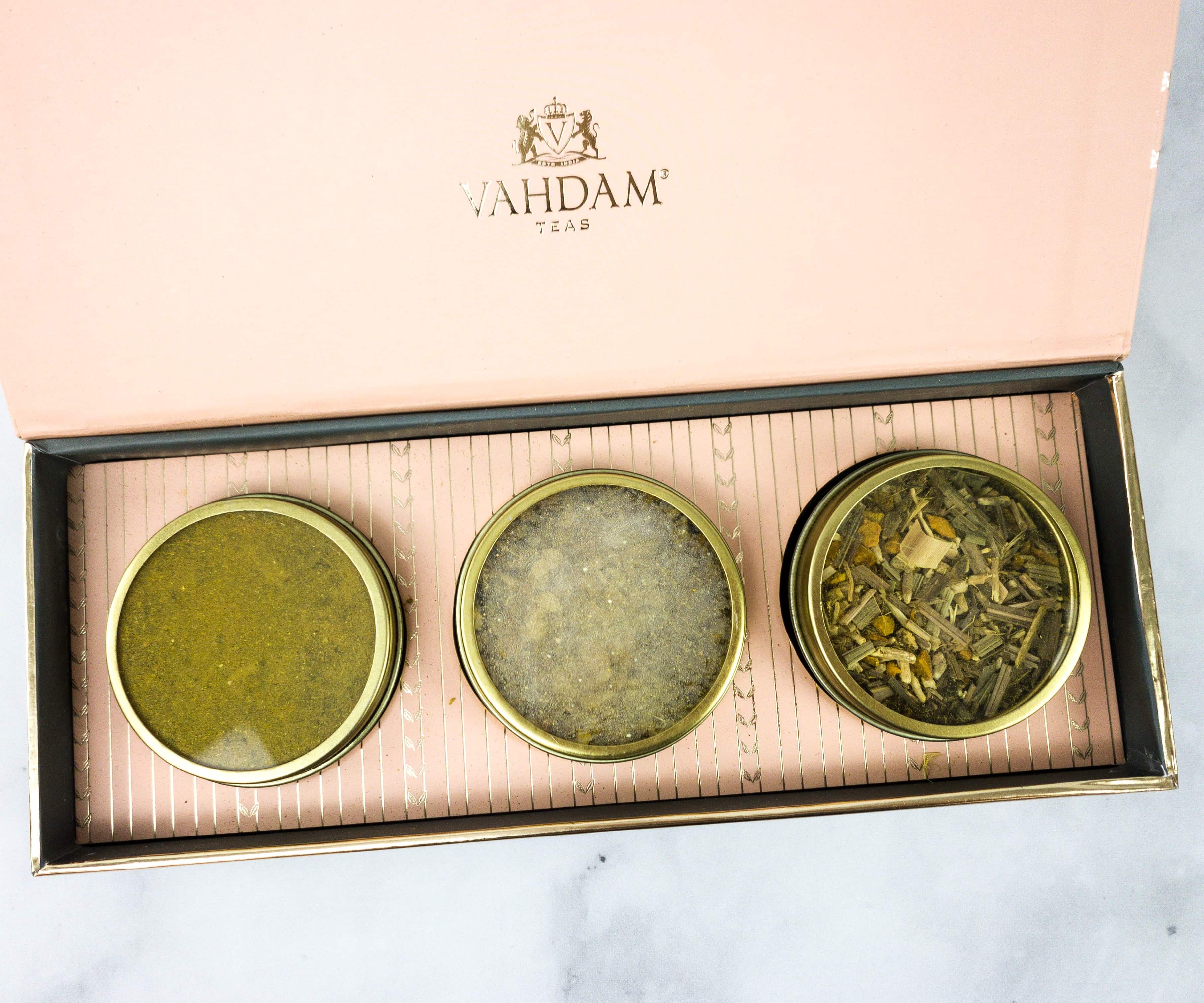 I really like the presentation of these teas. They are supported by a carton base so they don't move around in transit.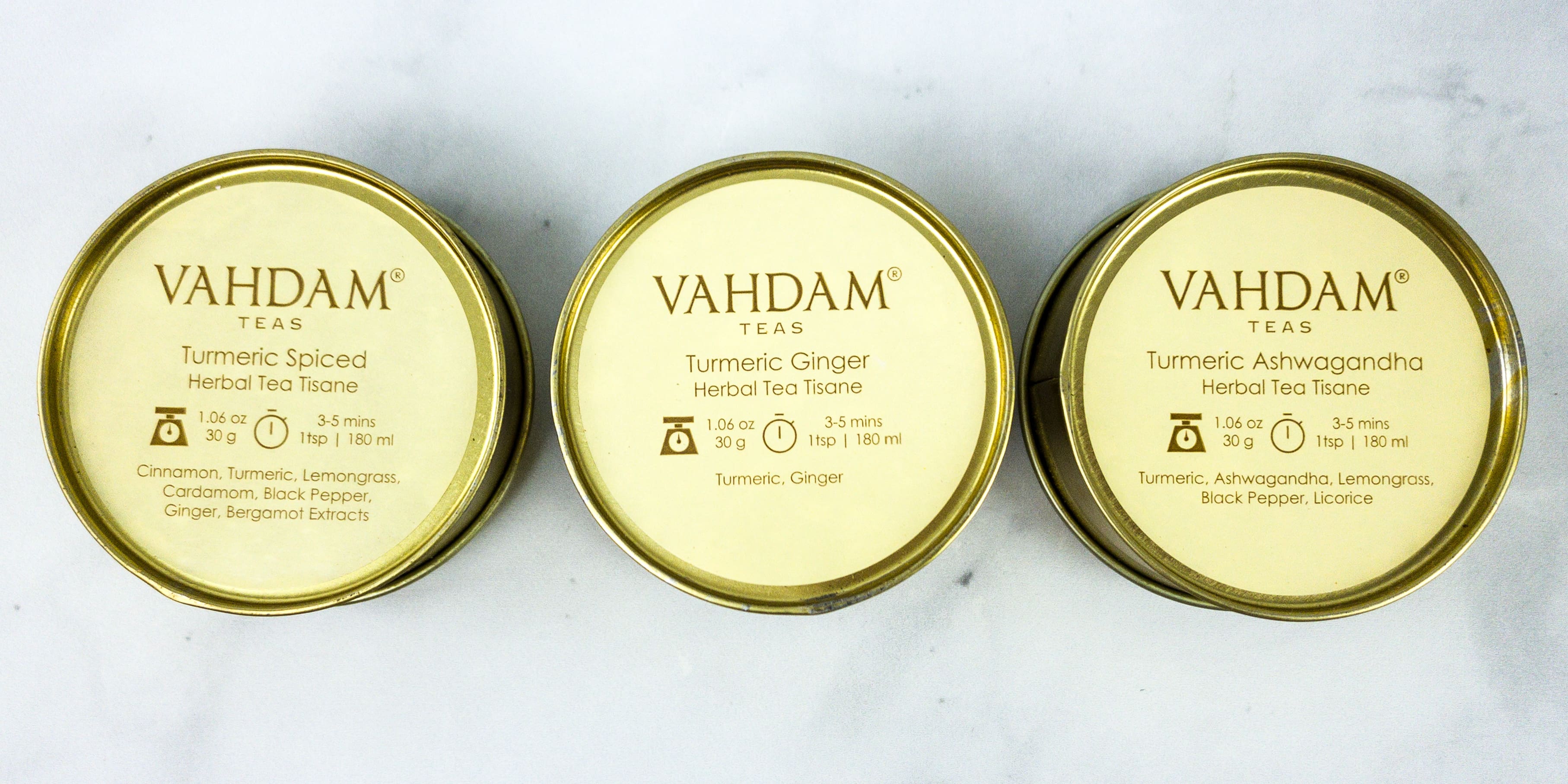 We got an assortment of three turmeric teas, and each one came in its own tub packaging. There's Turmeric Spiced, Turmeric Ginger, and Turmeric Ashwagandha! All of them can be prepared in 3-5 minutes!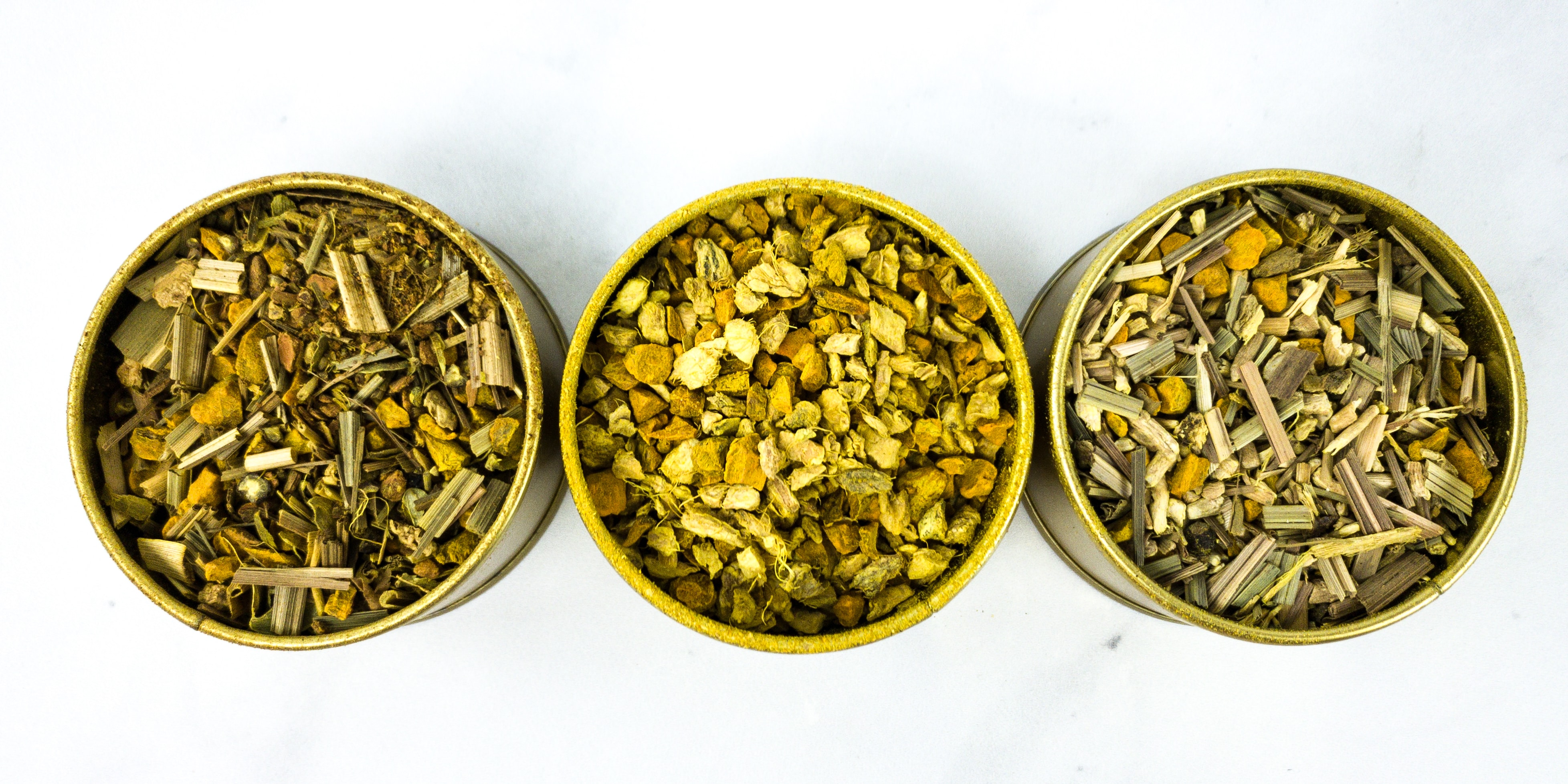 These brightly colored turmeric teas each have their own flavor profile in spite of having the same turmeric base. Turmeric Spiced has cinnamon and lemongrass that give it a distinct taste. Turmeric Ginger is, of course, composed of turmeric and ginger. Aside from ashwagandha, Turmeric Ashwagandha includes lemongrass, black pepper, and licorice.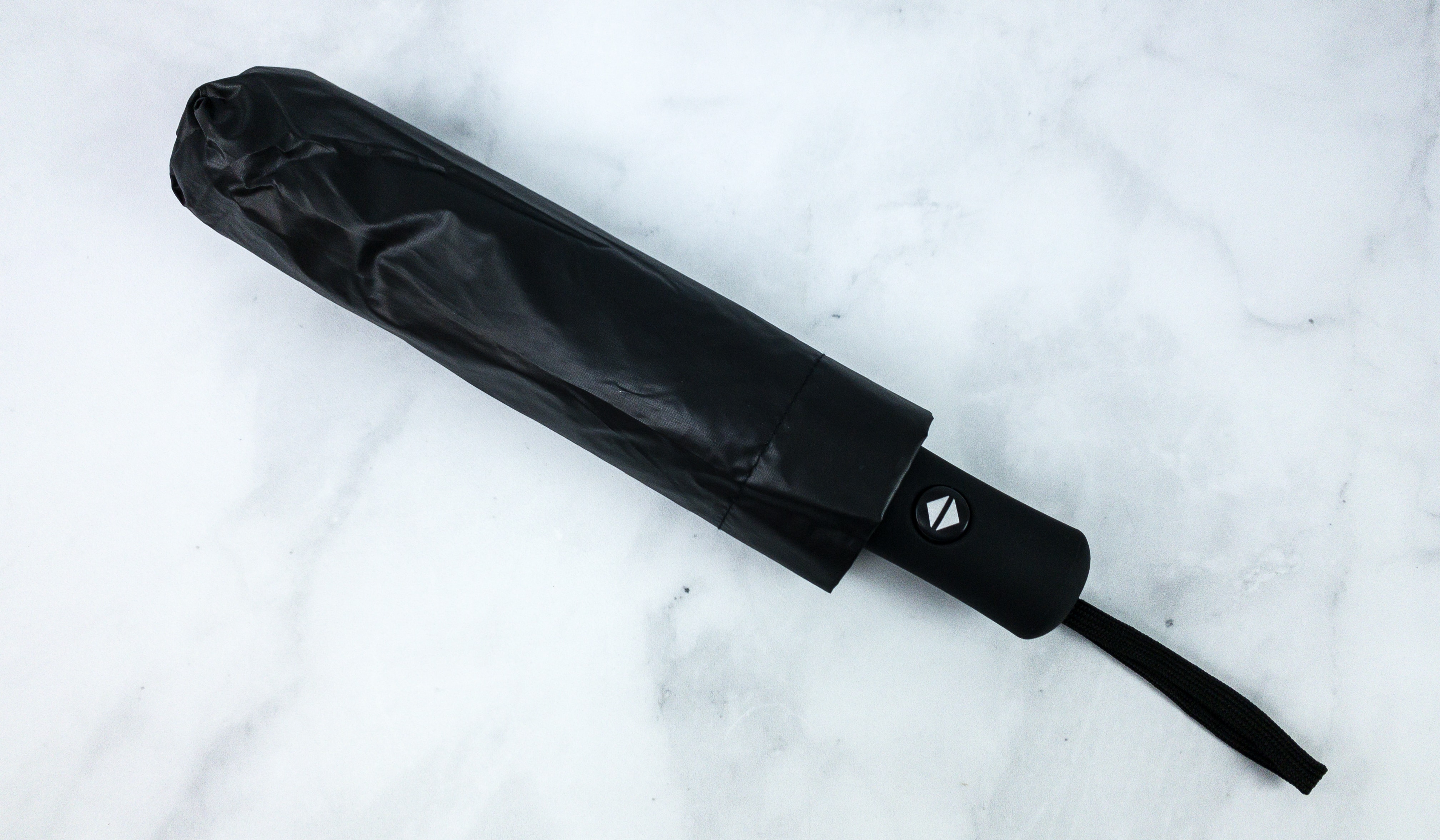 BE KIND. by ellen Umbrella. It's always great to have an umbrella in handy! This one from Be Kind by Ellen is lightweight and easy to stash in my bag.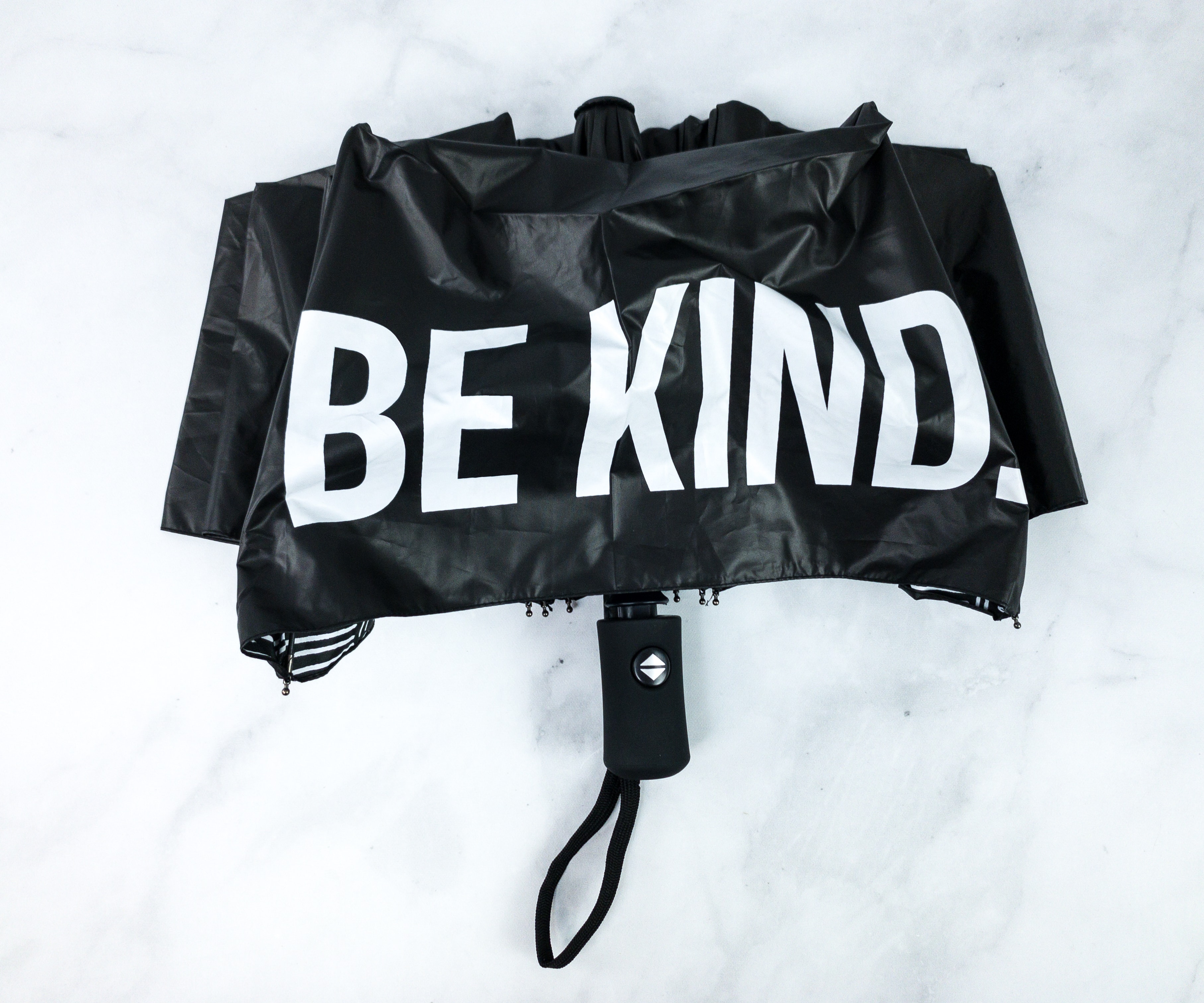 This one has a waterproof black exterior and it has the words "BE KIND" in bold letters emblazoned on it. I love the idea because it's a gentle reminder to everyone you'll pass by to always be kind.
This umbrella is also automatic so it's easy to open and fold, with just a press of a button!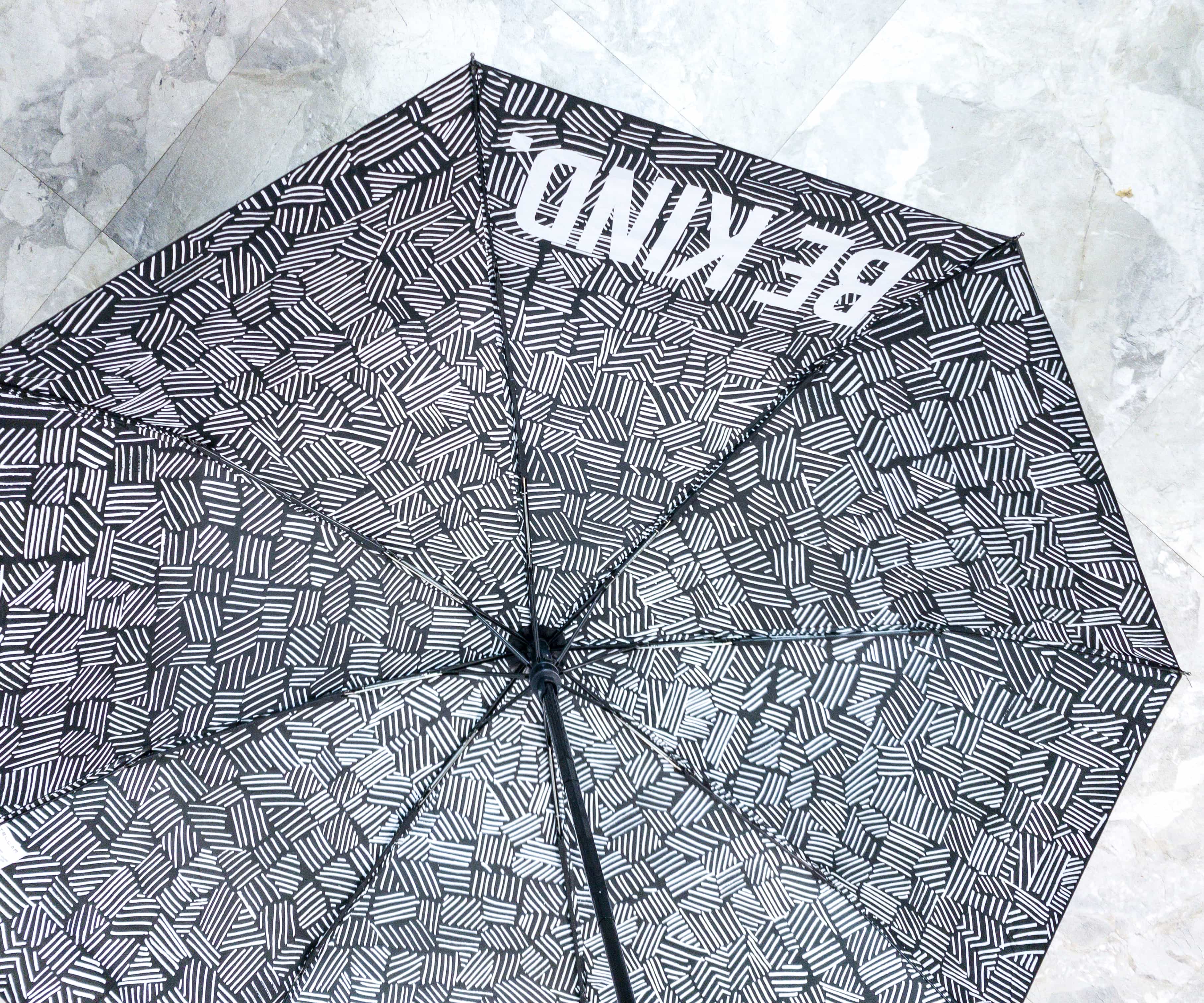 The inside has a black and white pattern, filled with lines that look like abstract.
It also has the same message, "BE KIND" emblazoned boldly inside!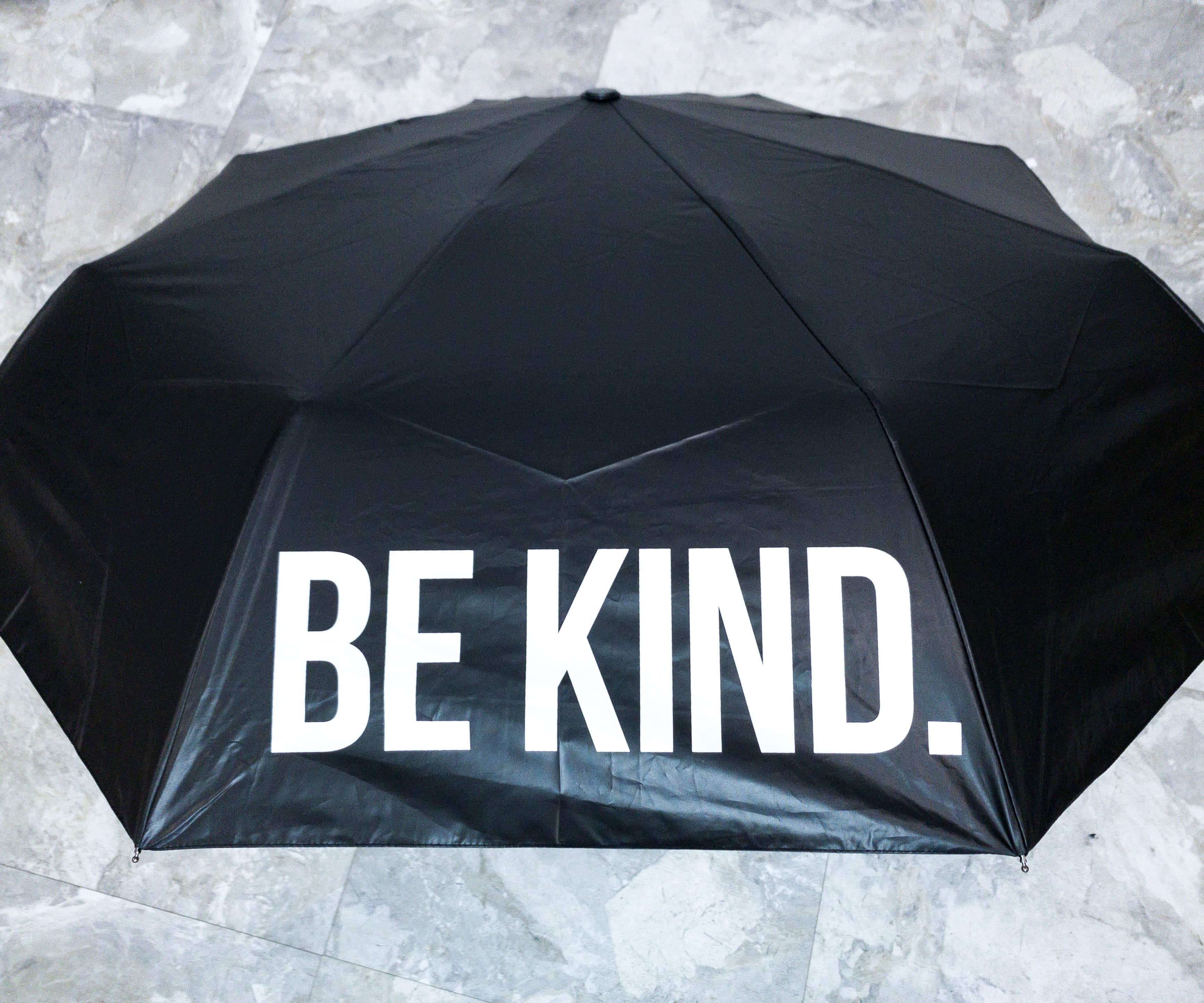 I really like the whole concept of this umbrella. It's simple yet straightforward.
Endangered Species Chocolate Oat Milk Rice Crisp + Dark Chocolate Lastly, we got these chocolate bars for a cause! 10% of the net profit made from these chocolates are going to be donated at the Dian Fossey Gorilla Fund!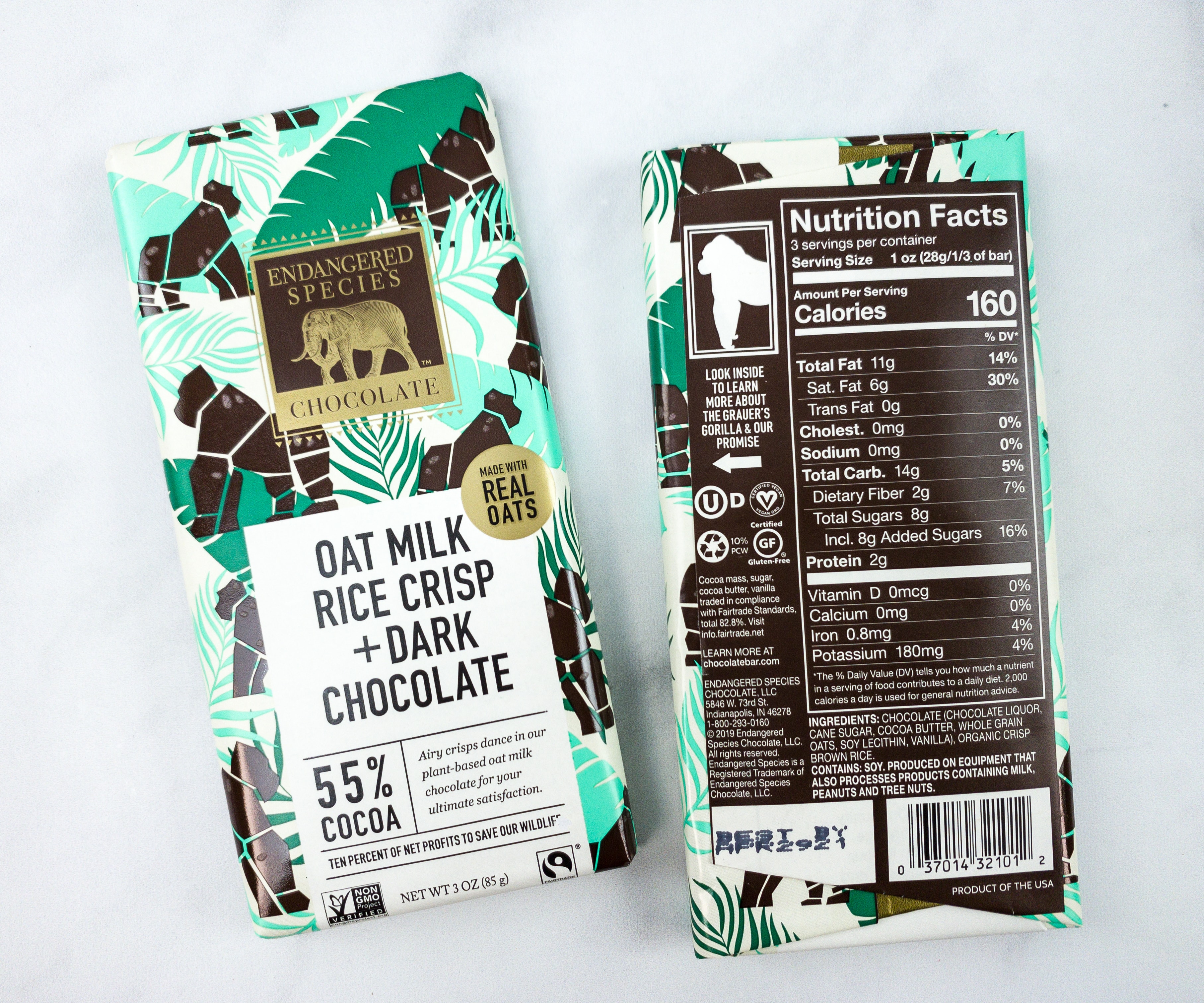 Ingredients include chocolate, cocoa butter, whole grain oats, vanilla, and organic crisp brown rice.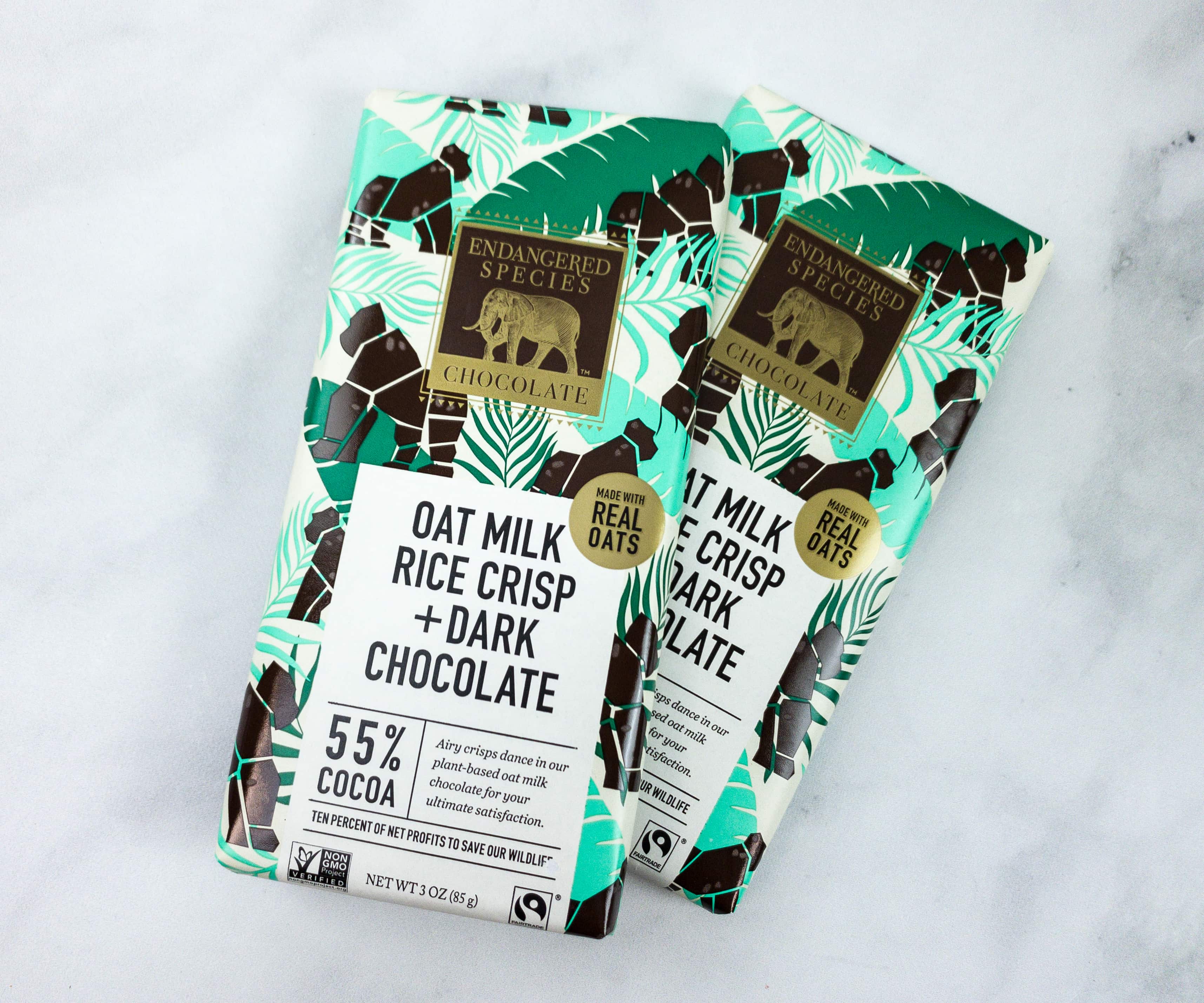 We received two bars in the same variant, Oat Milk Rice Crisp + Dark Chocolate, and I am so delighted!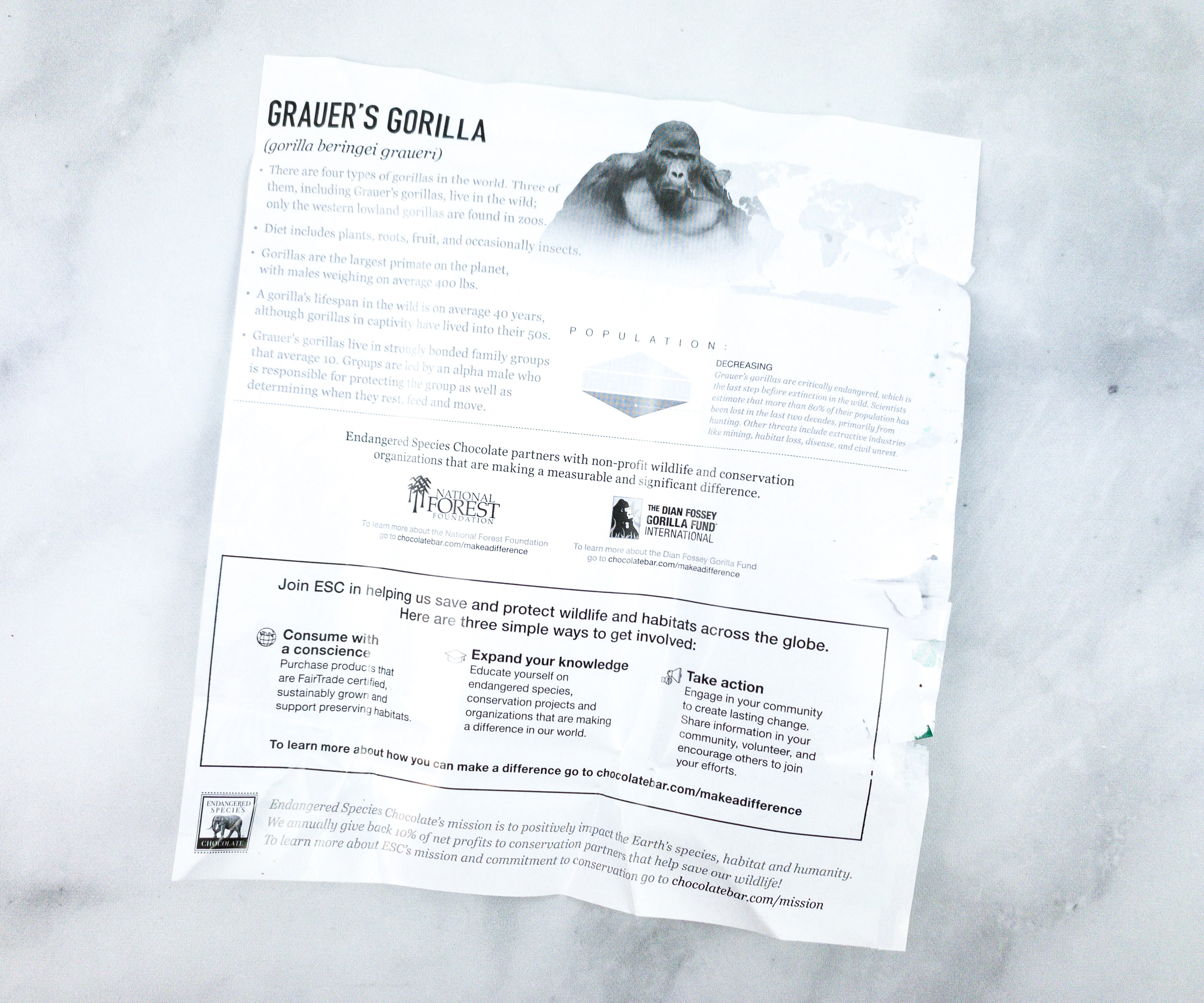 There's a paper inside and it tells us more about the gorillas that the Endangered Species Chocolate are trying to prevent from going extinct!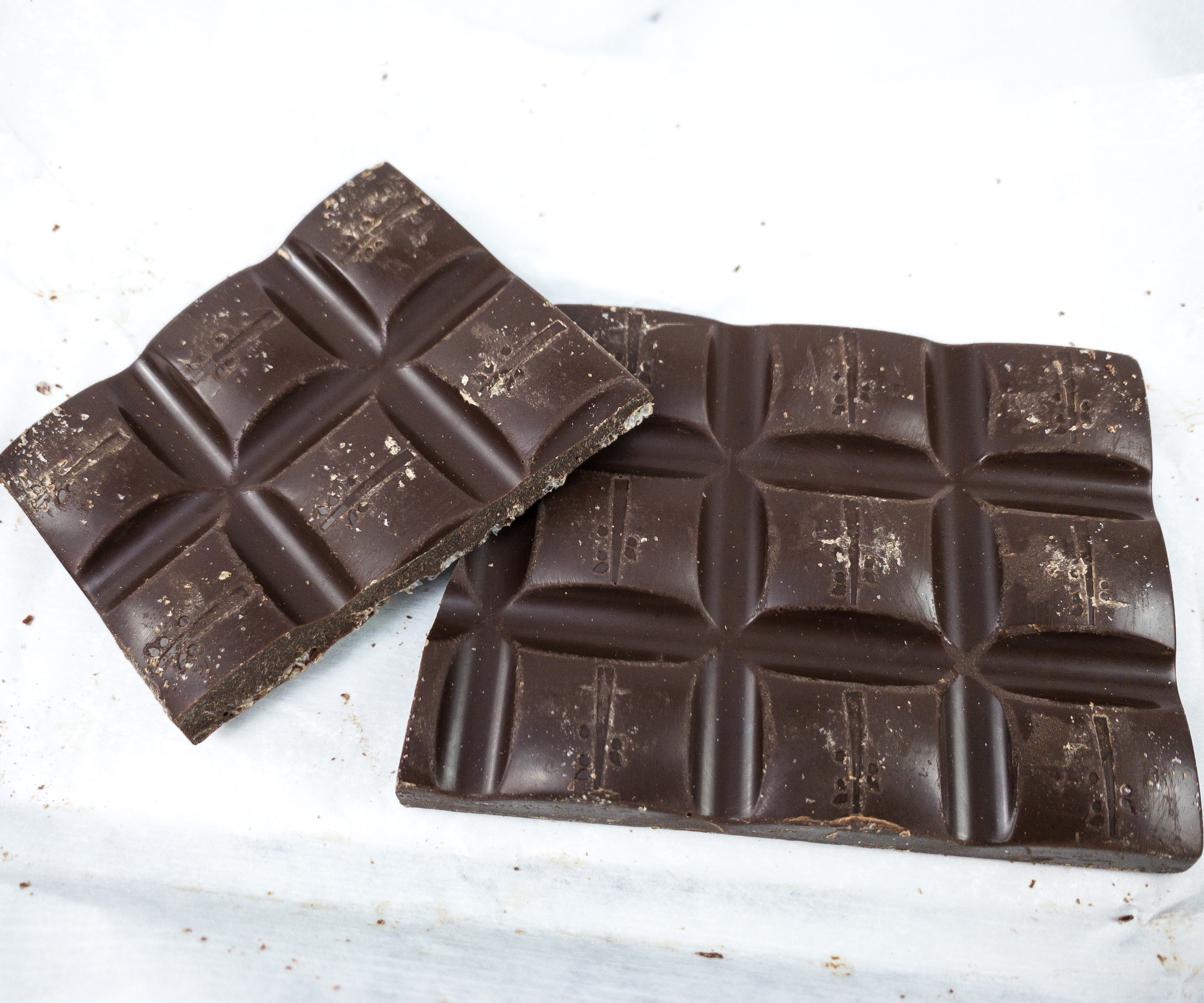 The chocolate itself was so delicious. It's smooth and rich, but not overly sweet!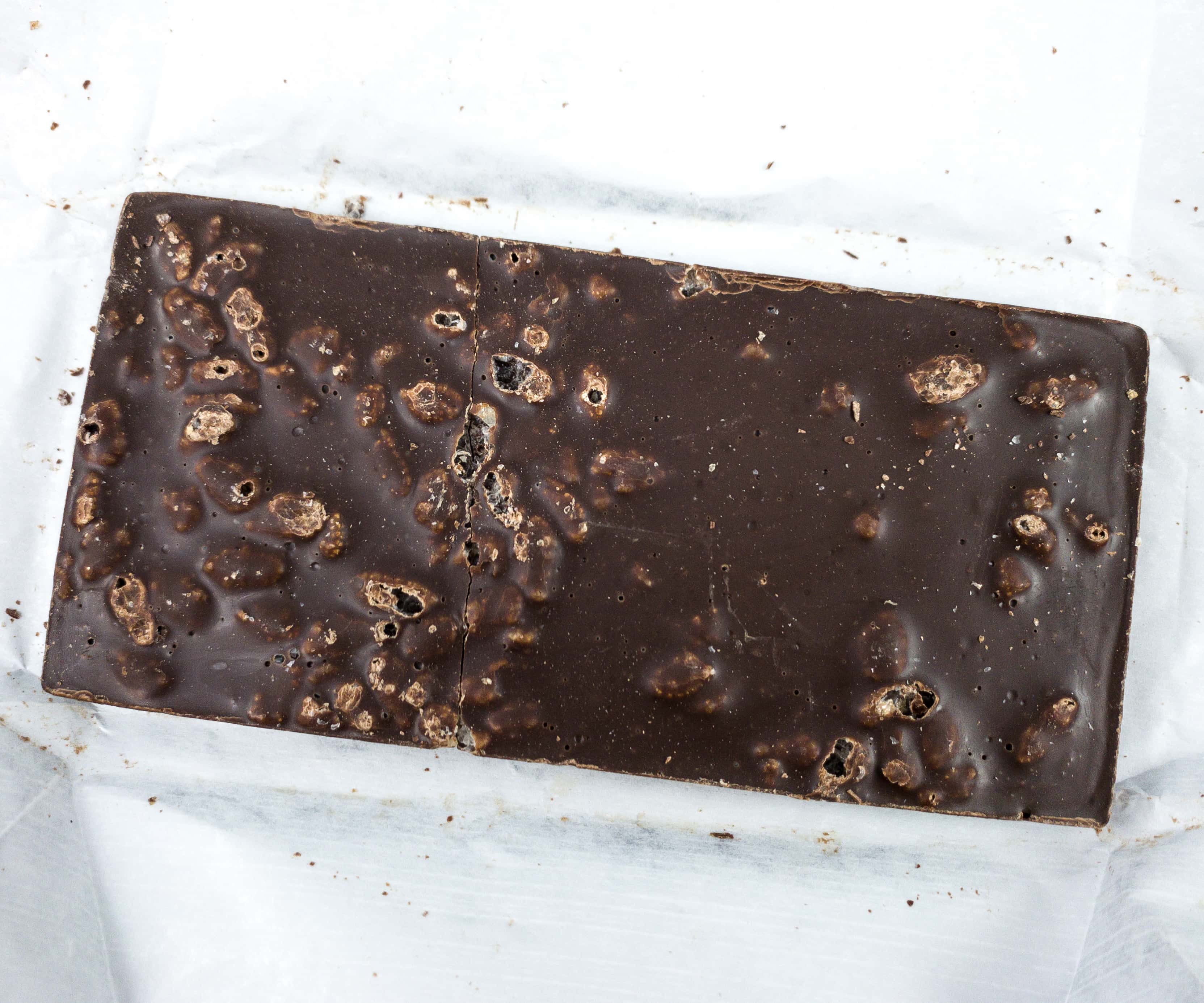 The crisp brown rice makes each bite delectable. This chocolate bar is also vegan and gluten-free!
I just love the whole concept of this box! Some items remind us to be kind and others contribute to different causes. It feels so good to be able to help others. This box definitely makes me see that. I also love how eclectic the contents of the box were. My favorite has got to be the lip balms because the flavors were just great and I really liked the formulation. We also loved the chocolates because they're so tasty and we can't get enough of them. The rest of the items are fun and useful! Overall, the Spring box was great. The box felt really full and worthy of the long wait!
What do you think of BE KIND by Ellen?