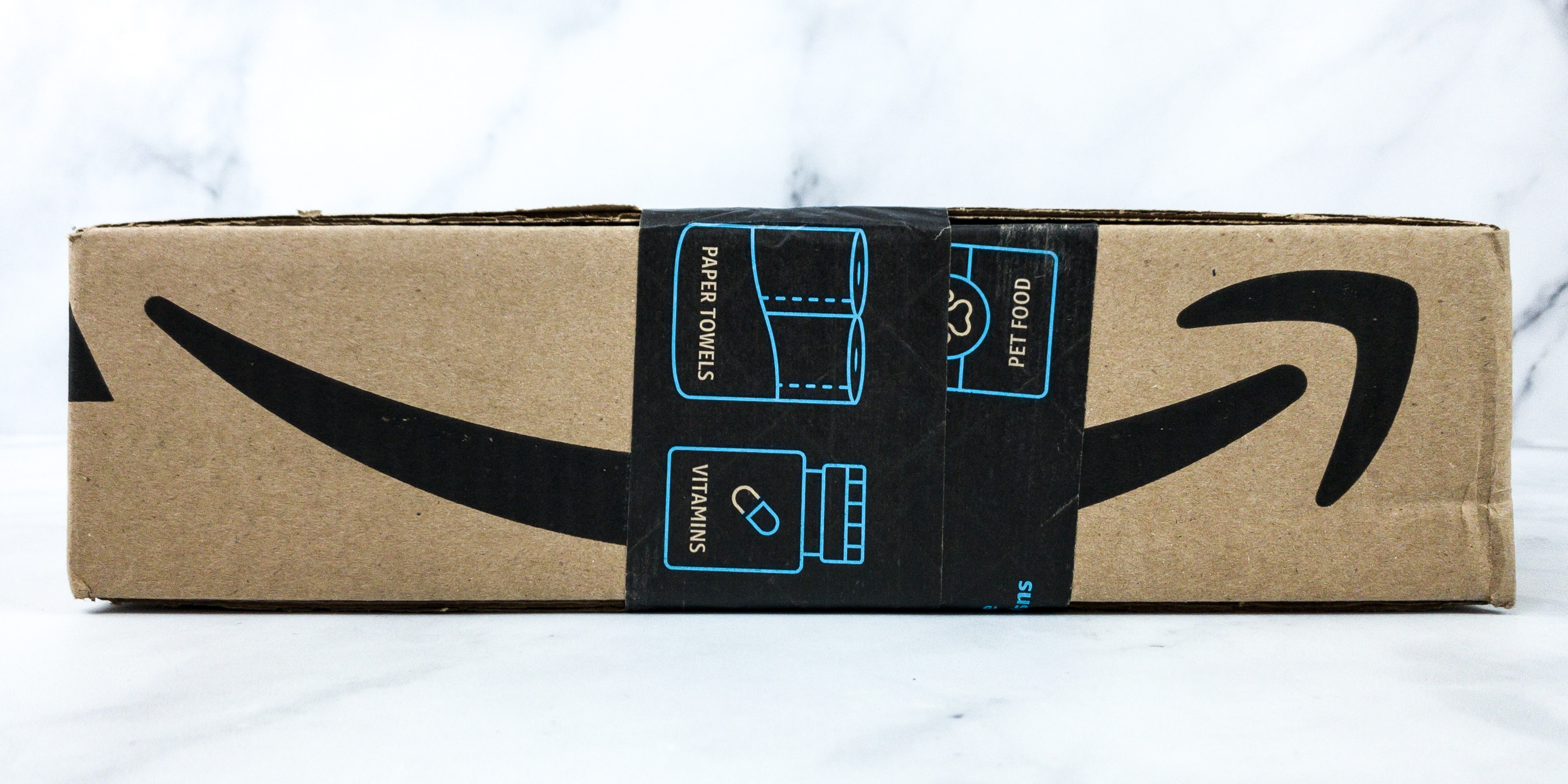 Amazon STEM Toy Club is a monthly subscription box service that delivers an age-appropriate STEM toy that encourages any child to learn through play. The subscription costs $19.99 per month, and the theme of the month can be anything from natural sciences to robotics. There's always something new to discover in every box of Amazon STEM Toy Club!

There are three age ranges available for this box: 3-4 year old, 5-7 year old, and 8-13 year old. This is a review of the 5-7-year-old box.
This is an Amazon subscription, so the toys arrive packed just like any other Amazon purchase. If you get multiple subscriptions, they will likely ship together.
Everything in our box! We ordered a subscription for two of the three available age ranges this month. No information card or other extras are shipped with the toy. This review will cover the 5-7 year old subscription.
In case you're wondering what's included in the other subscriptions, here's what they have: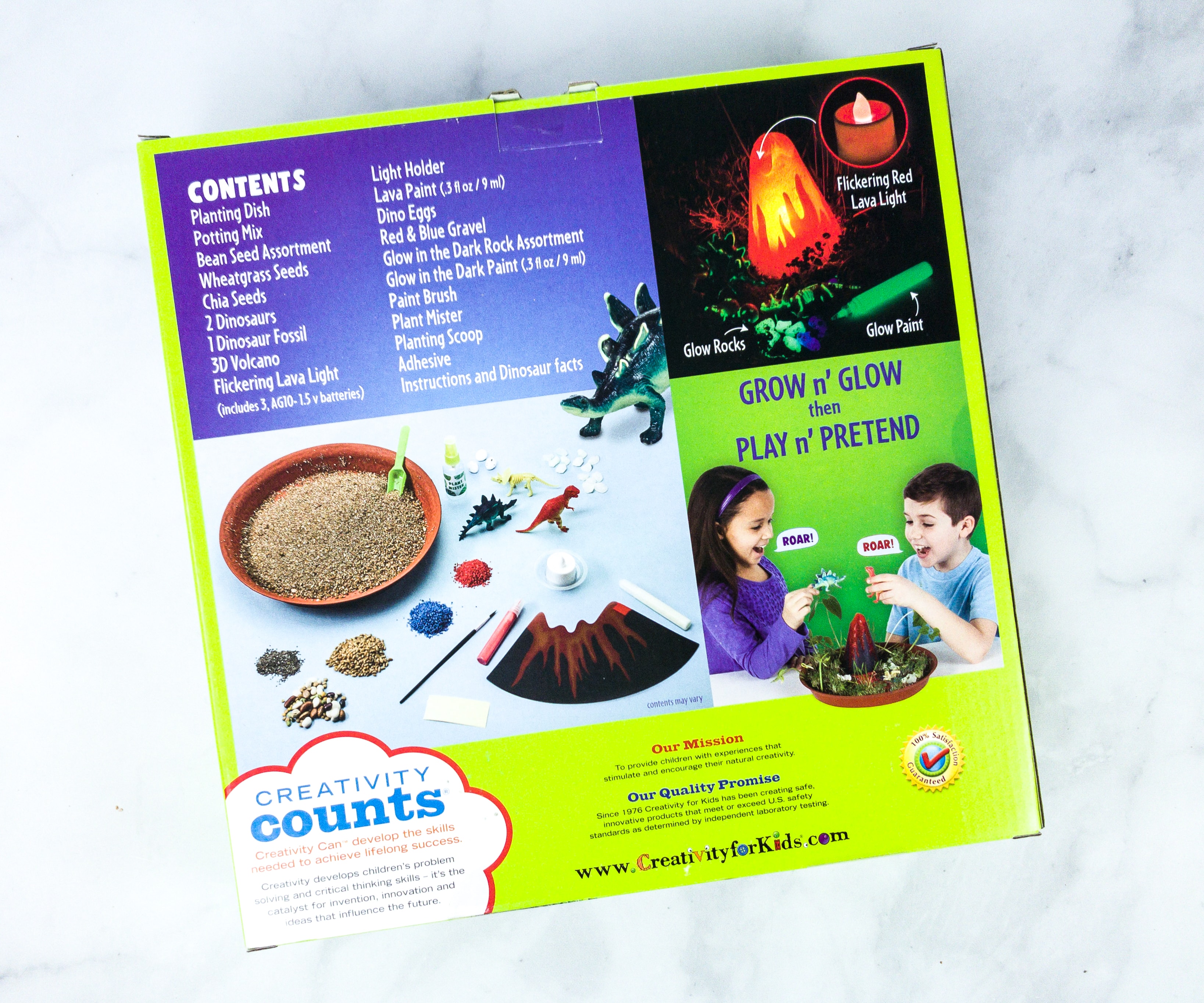 Creativity for Kids Grow N' Glow Dinosaur Habitat  ($25) 
Build, plant and grow your own dinosaur garden with the Creativity for Kids Grow 'N Glow Dinosaur Habitat. This complete garden kit for kids is made easy and fun with quick growing seeds (watch them sprout in as little as 2-3 days!) and easy to construct accessories. With enough seeds for two separate plant life cycles, your budding paleontologist will be able to enjoy their indoor garden twice. The Grow 'N Glow Dinosaur Garden Kit includes toy dinosaurs, dinosaur fossils, light up volcano, lava paint, glowing stones, planting container, potting mix, quick grow chia, wheatgrass and bean seeds, soil scoop and a plant mister – just add imagination for a unique craft and play experience! Liven up your habitat with dinosaur toy figurines, glow in the dark paint and accessories. Turn out the lights to see your garden glow and come to life! Have fun while learning! Growing an indoor garden is a fun craft experience that teaches children nurturing skills and patience as their water and watch their garden grow. This craft kit offers the perfect STEAM experience that combines art with science and history! Learn about and build the pre-historic times your child's favorite dinosaurs lived in with the Creativity for Kids Grow 'N Glow Dinosaur Habitat. Have fun while building creative confidence for life with Creativity for Kids craft activity kits. For over 40 years, Creativity for Kids has proudly created kids activities designed to inspire creativity and self-expression. This gardening kit for kids features non-toxic arts and crafts materials that are recommended for boys and girls, ages 6 to 96.
With this toy, you can design, plant, and grow your own dinosaur habitat garden! The back of the box lists all the contents.
This kit contains everything that is needed for two full plant life cycles. There are toy dinosaurs, dinosaur fossils, light-up volcano, lava paint, glowing stones, planting container, potting mix, quick grow chia, wheatgrass and bean seeds, soil scoop, and a plant mister.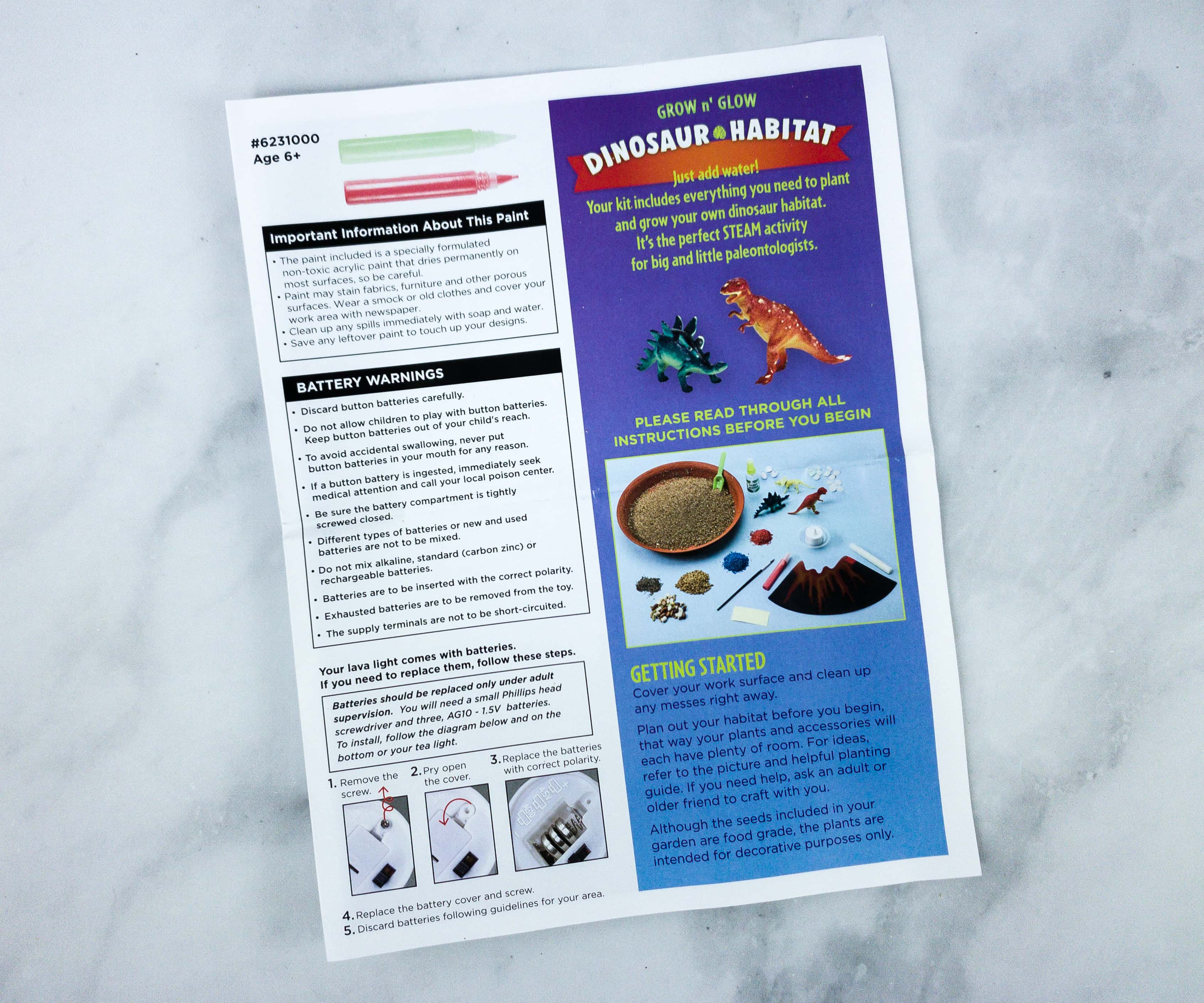 It contains a sheet that has all the procedures in making your own dinosaur habitat!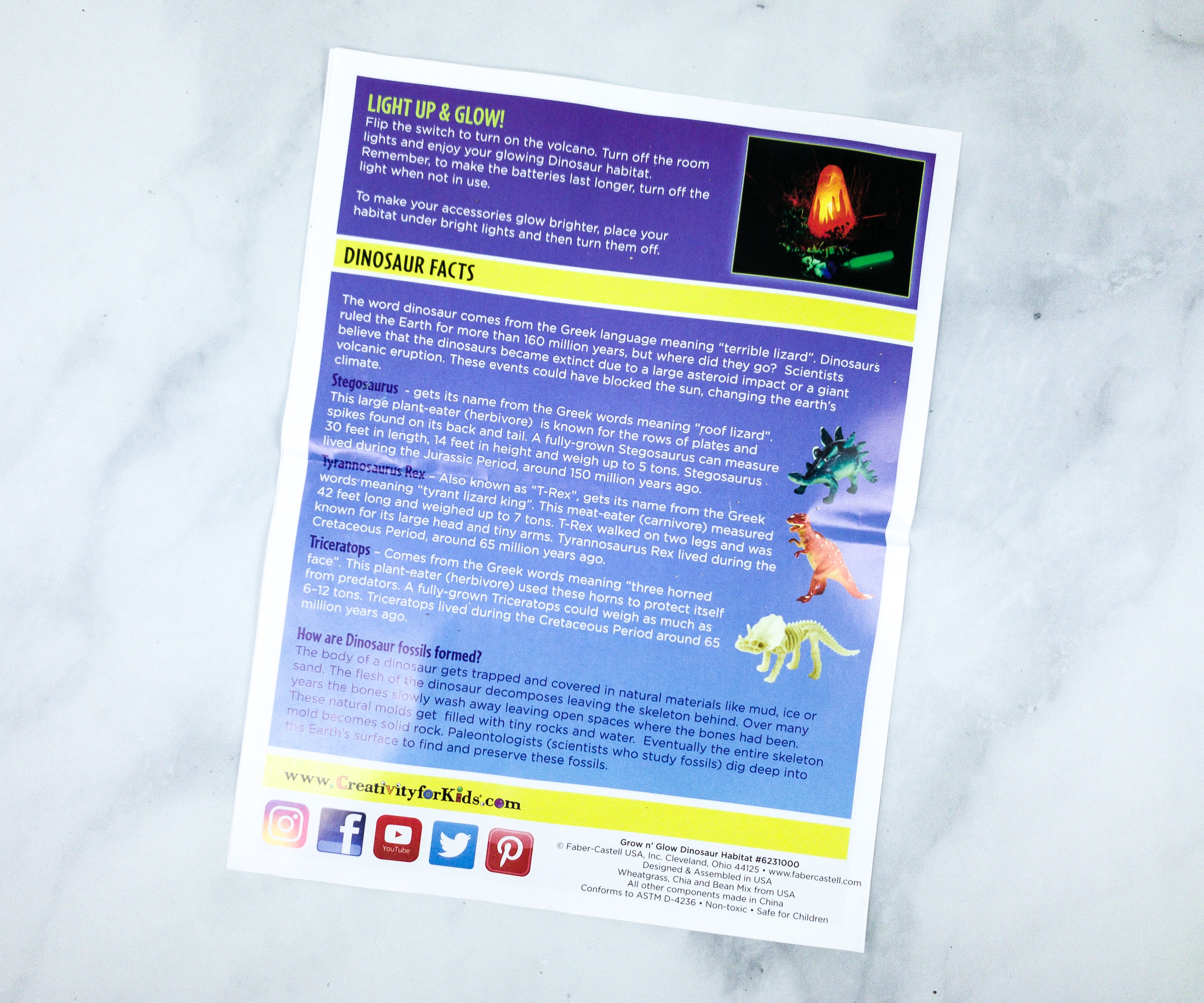 It also included some dinosaur facts! You will get to know more about the stegosaurus, triceratops, and the T-rex!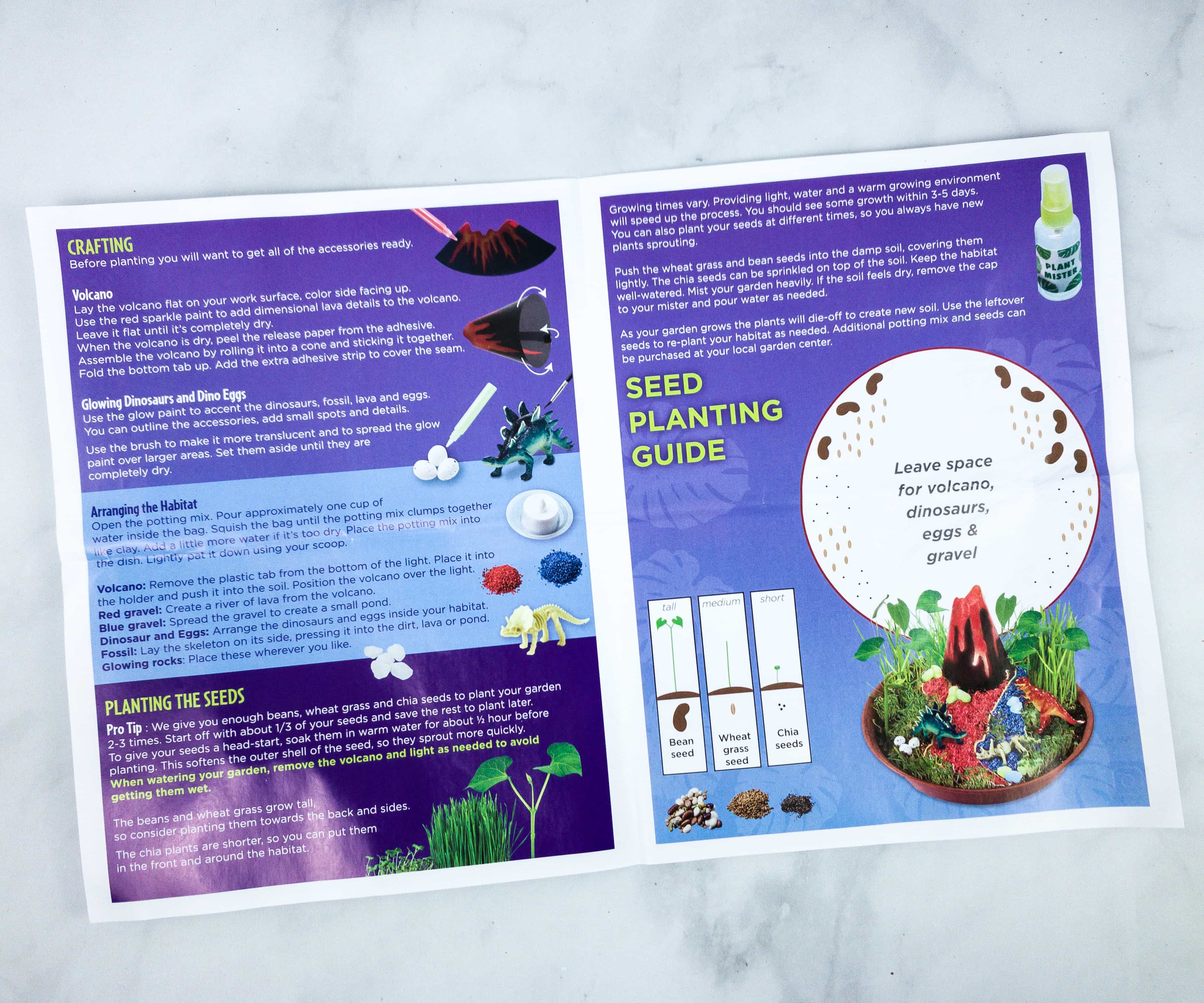 There's even a seed planting guide so you can see how your bean, wheatgrass, and chia seeds grow!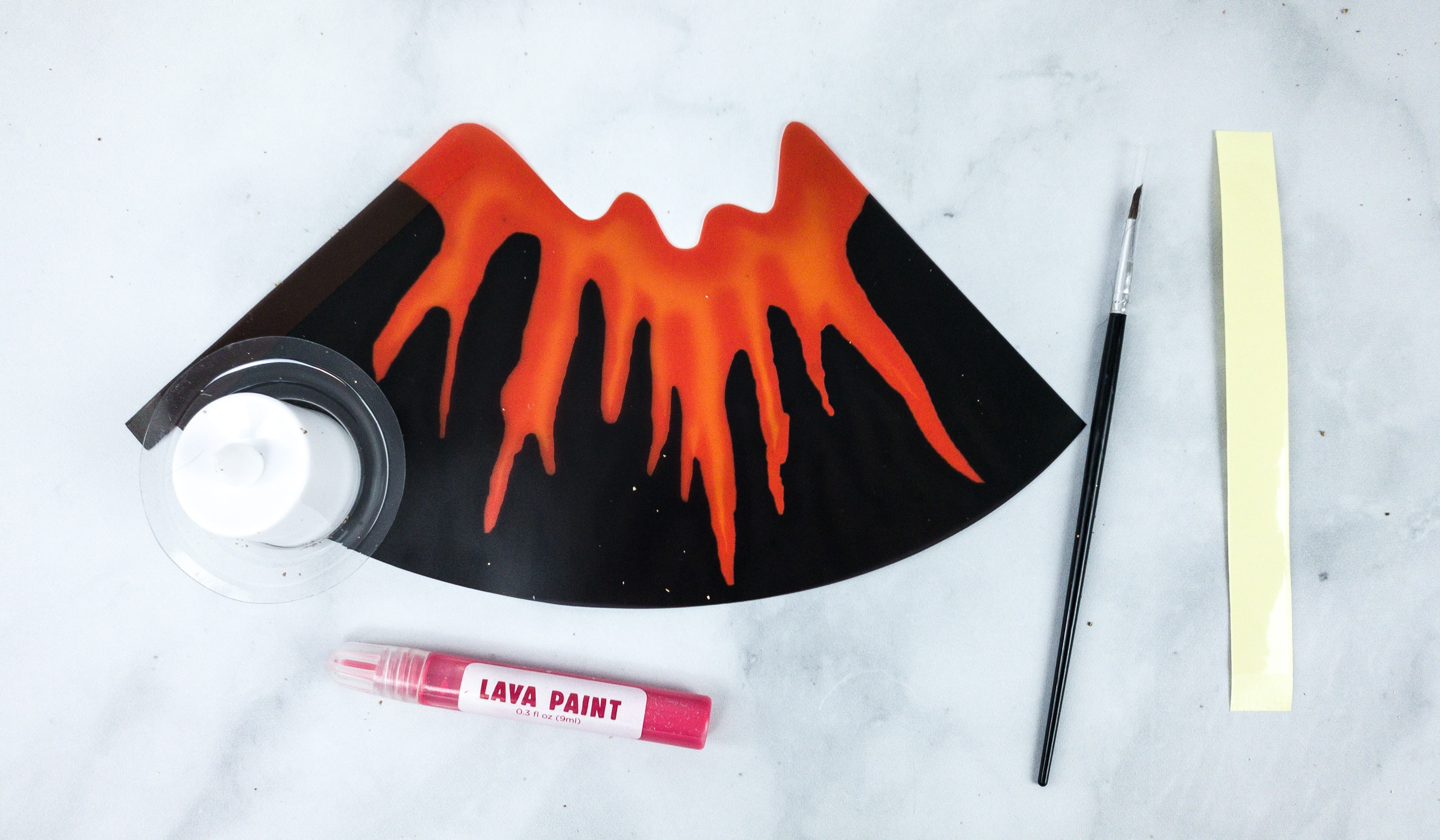 For the light-up volcano, aside from the volcano, we also got lava paint, paintbrush, and a battery-operated tealight.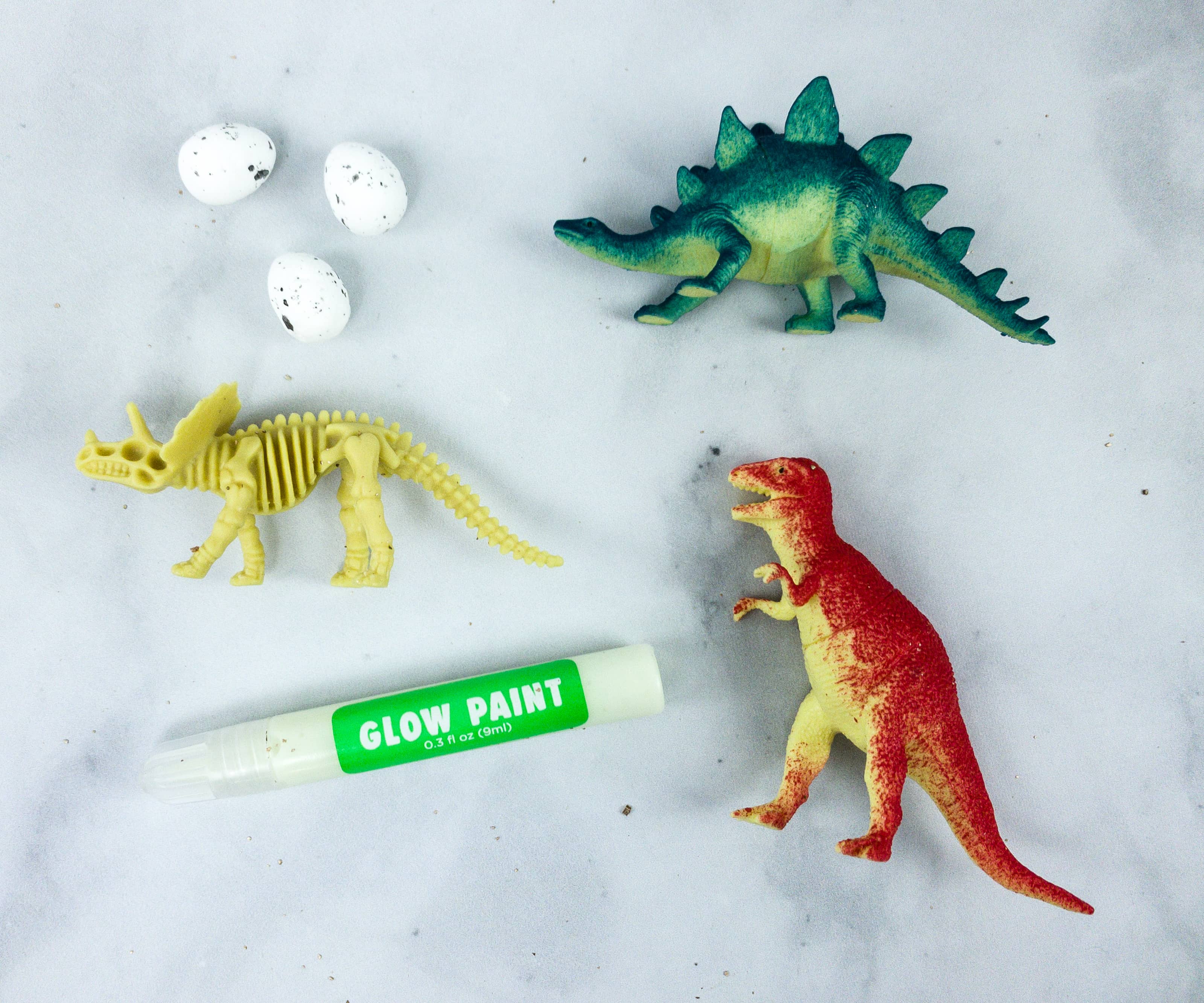 To make the dinosaurs and eggs glow, we used glow paint on them!
The box also included a potting mix and a planting container where we will build the habitat.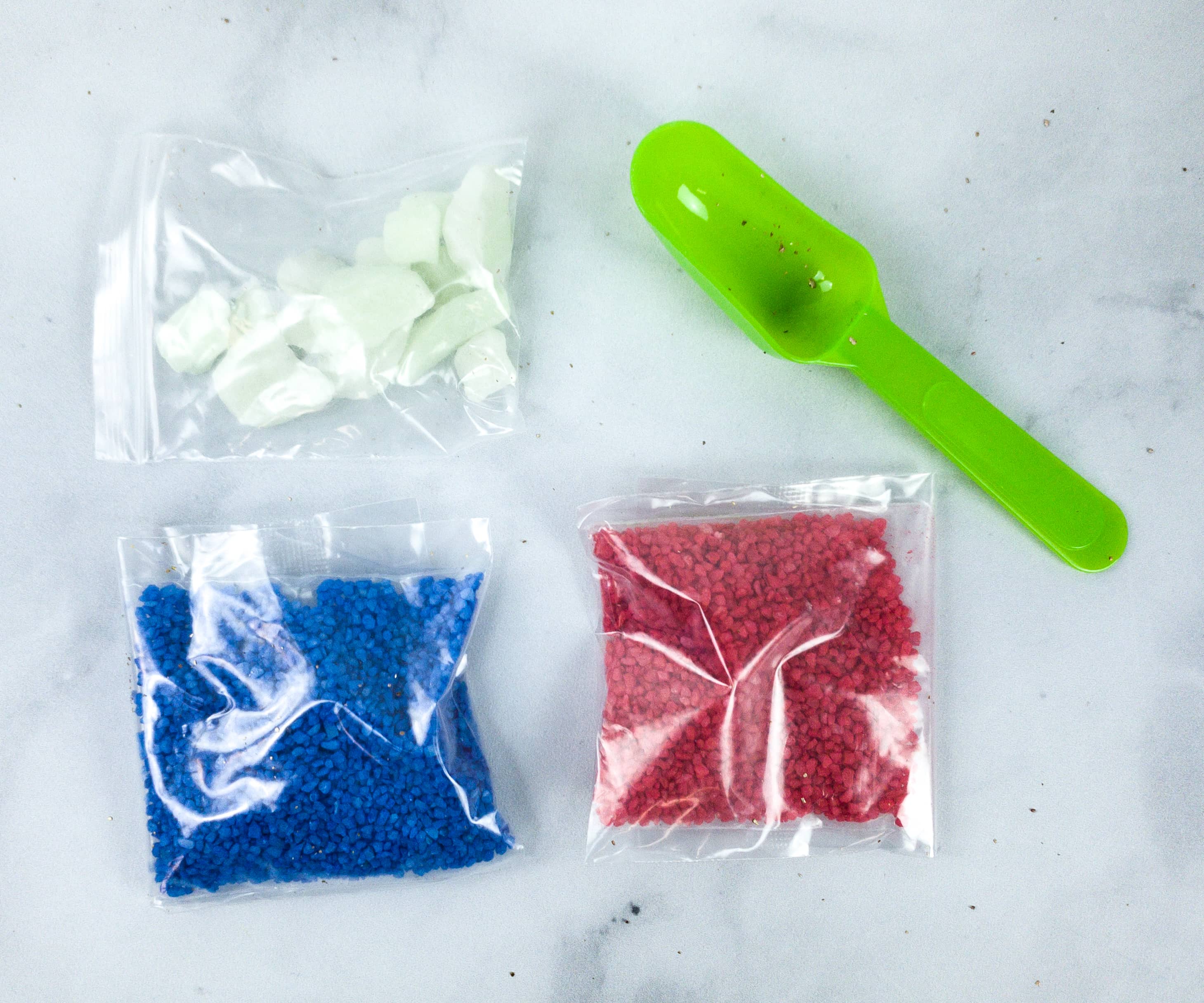 There are also packs of glowing stones, red and blue gravel, and a planting scoop.
Here are the seeds for planting, and the plant mister.
The first thing that we did is to paint the volcano with lava, using the lava paint.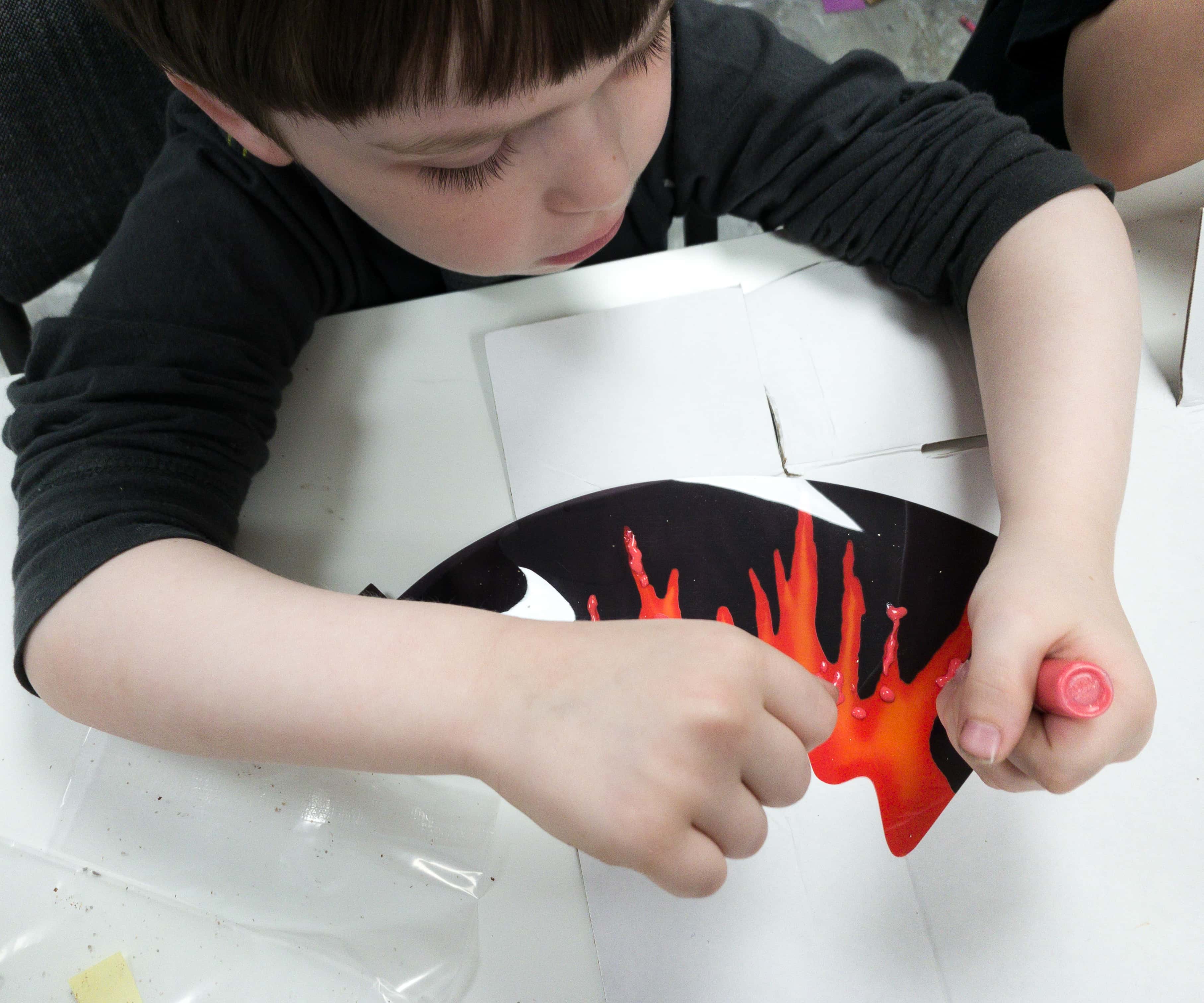 It's easy to paint it because the paint comes in an easy-squeeze bottle.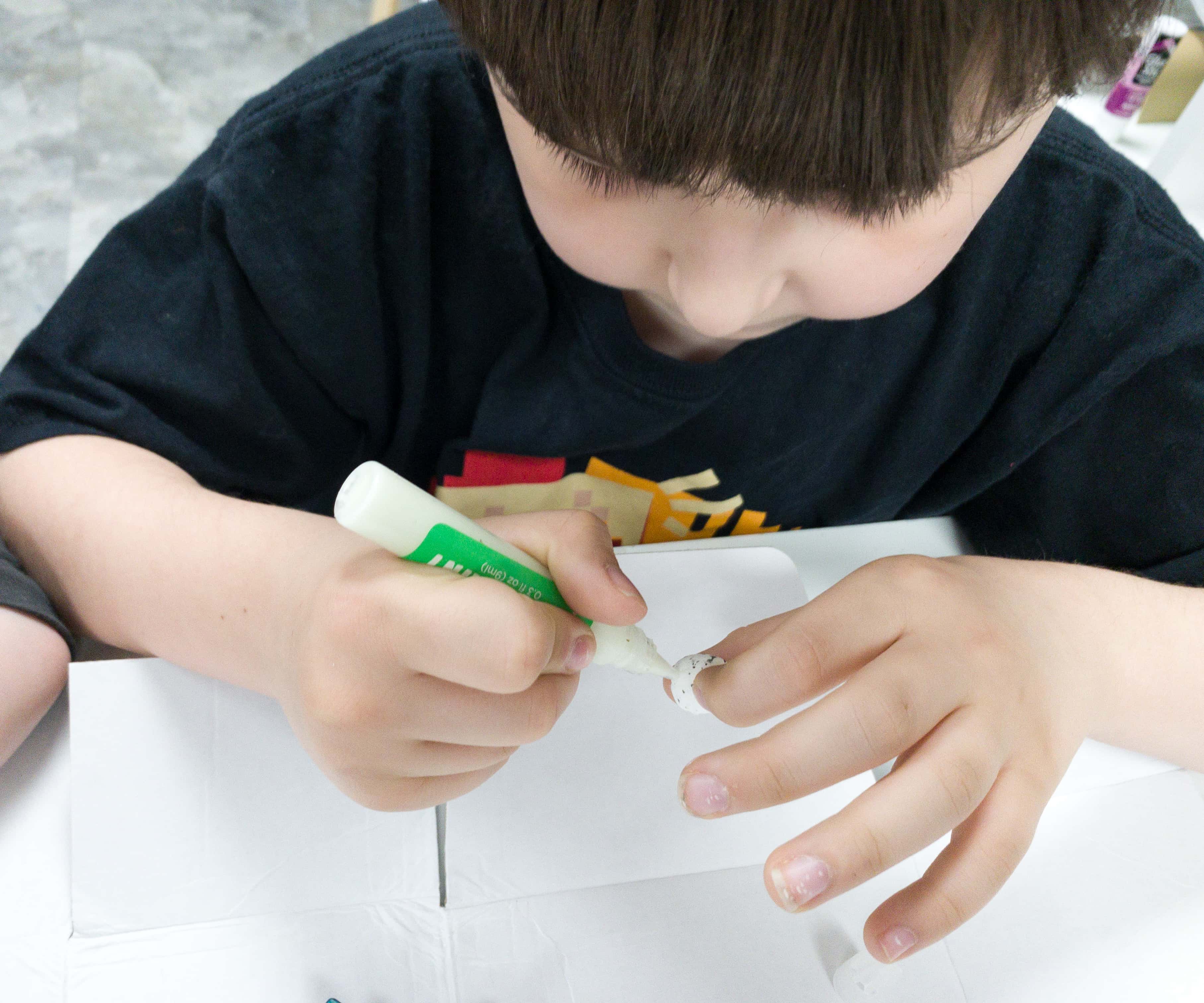 Then, my son applied some glow paint on the dino eggs!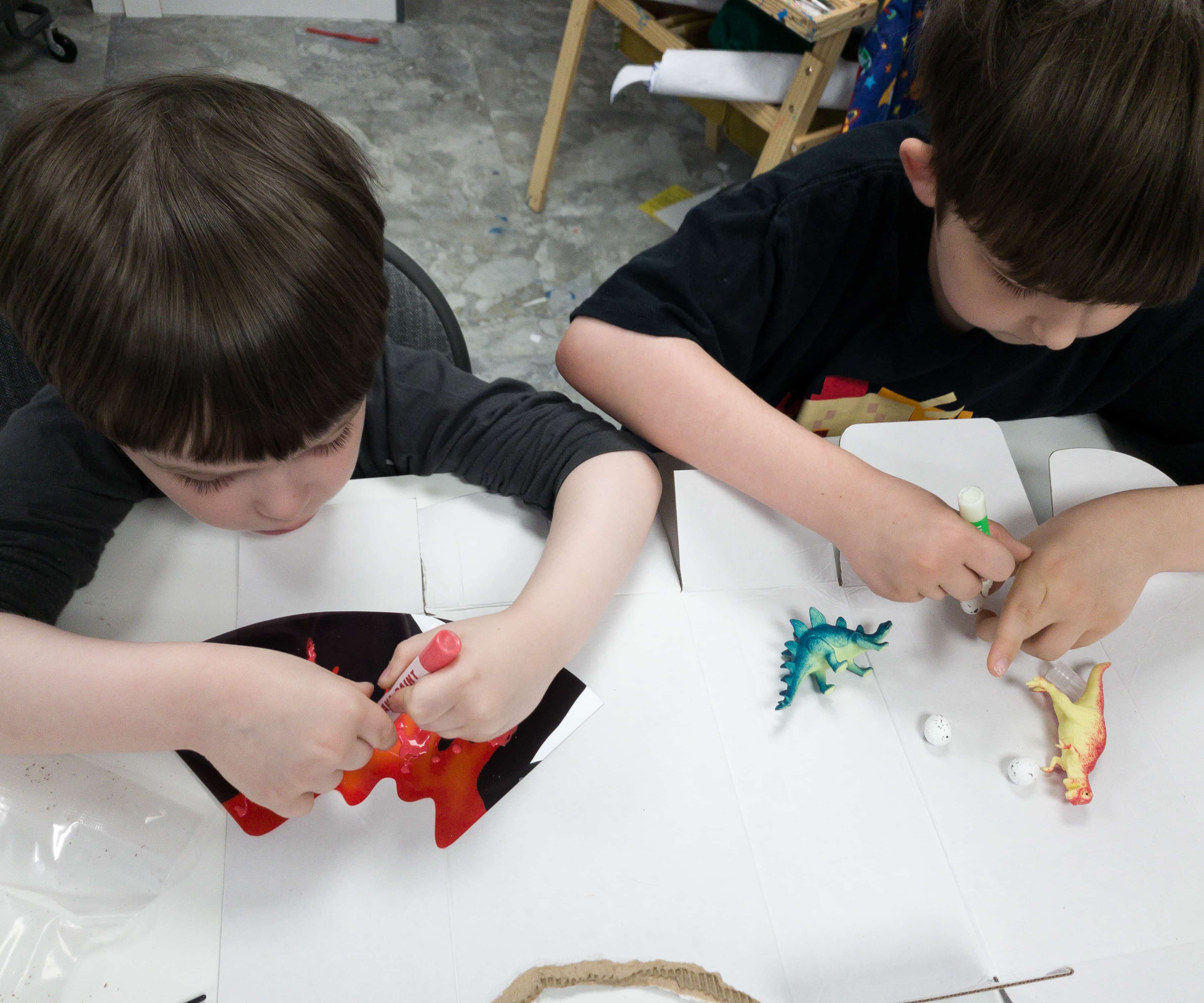 My kids were busy painting the volcano, dinosaurs, and eggs before we assembled the habitat.
They were also excited about how the eggs and dinos will look after they applied the glow paint on them.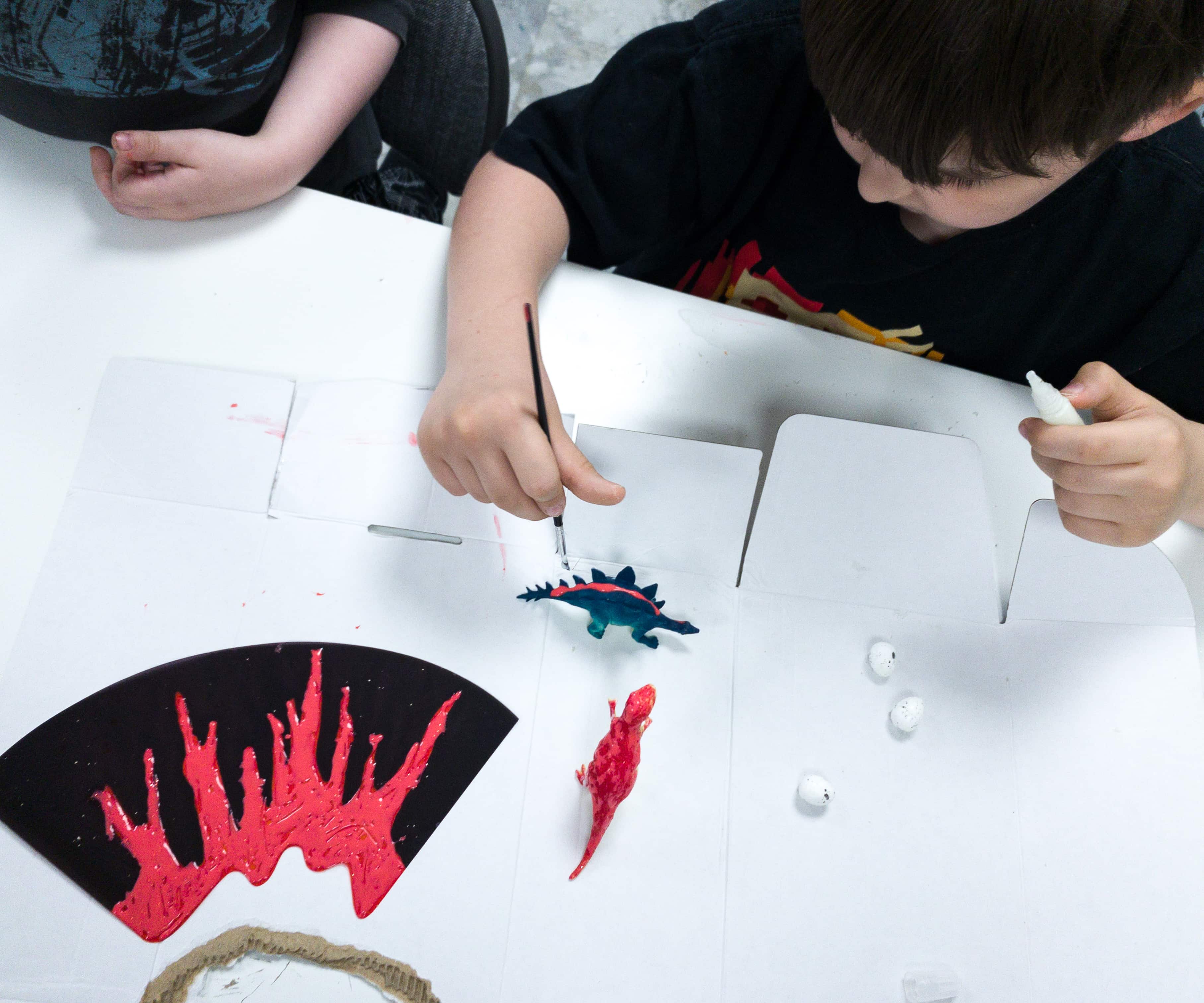 The kids also put some lava paint on the dinosaurs.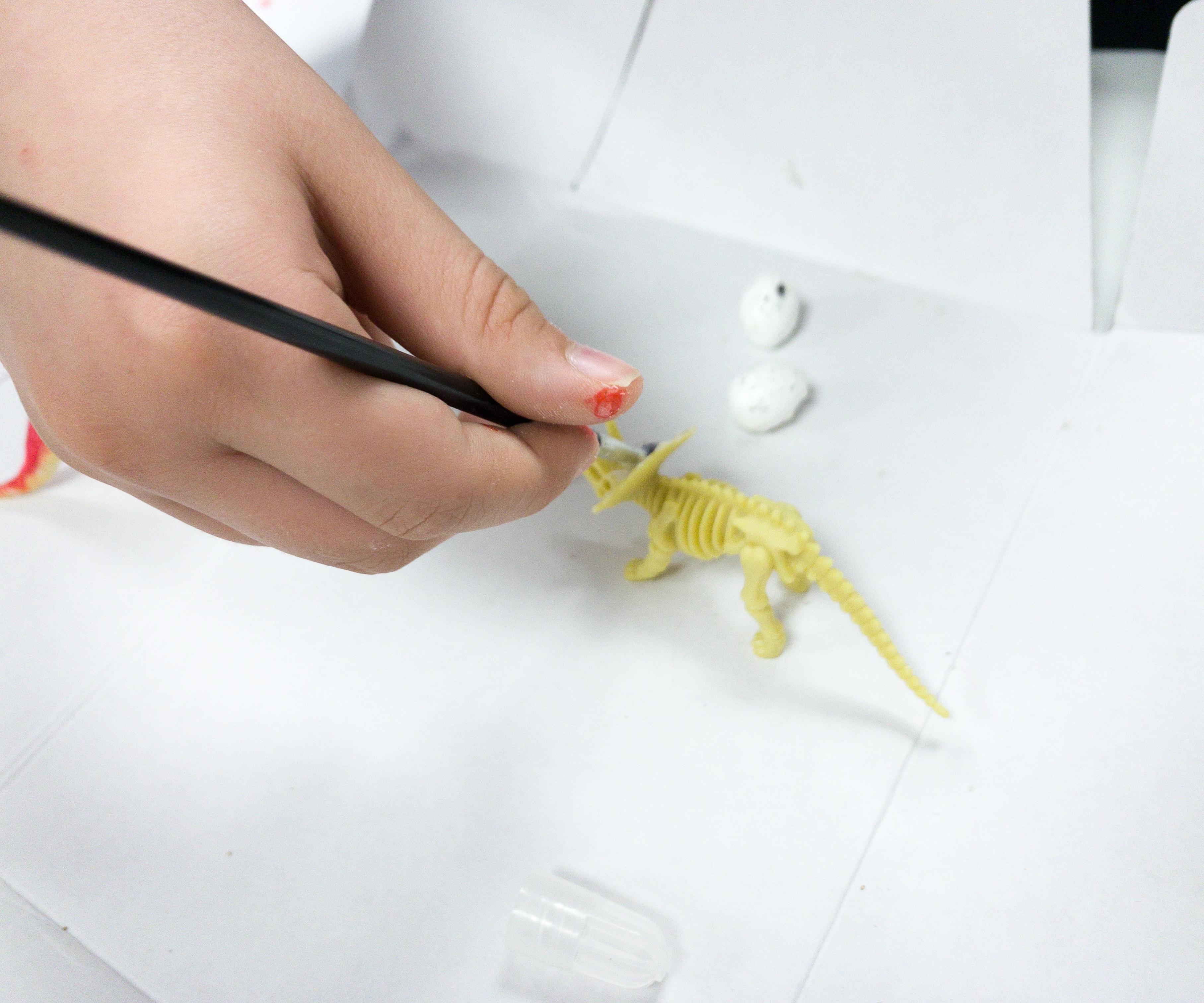 To easily distribute the glow paint on the dinosaur fossil, they used the paintbrush.
It's time to assemble the habitat! First, we added some water on the potting mix.
We first built our volcano on one side, and the blue gravel on the other.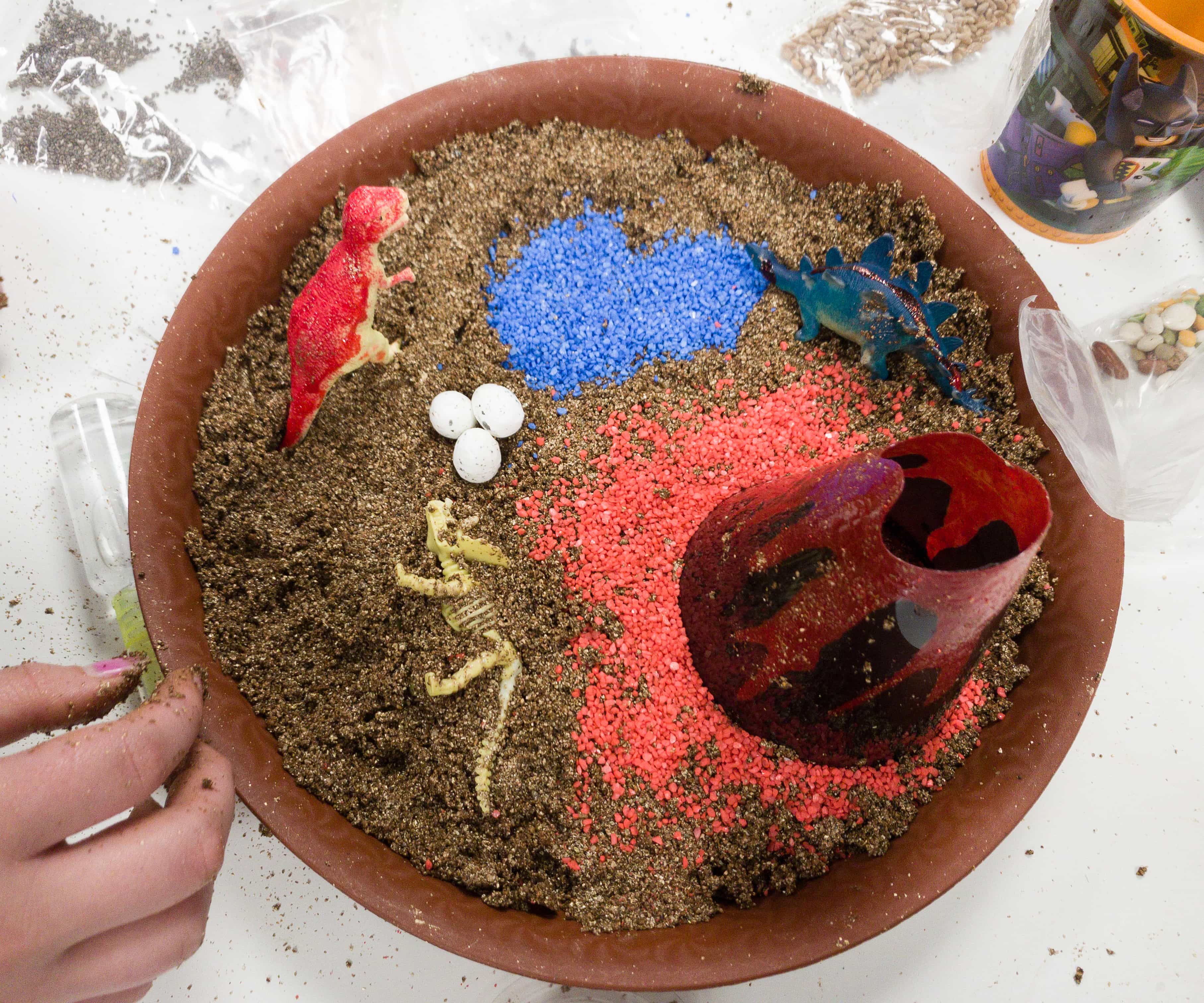 We scattered the red gravel at the foot of our volcano, then we added our dinosaurs, eggs, and the fossil.
We also added the seeds and scattered them around the pot.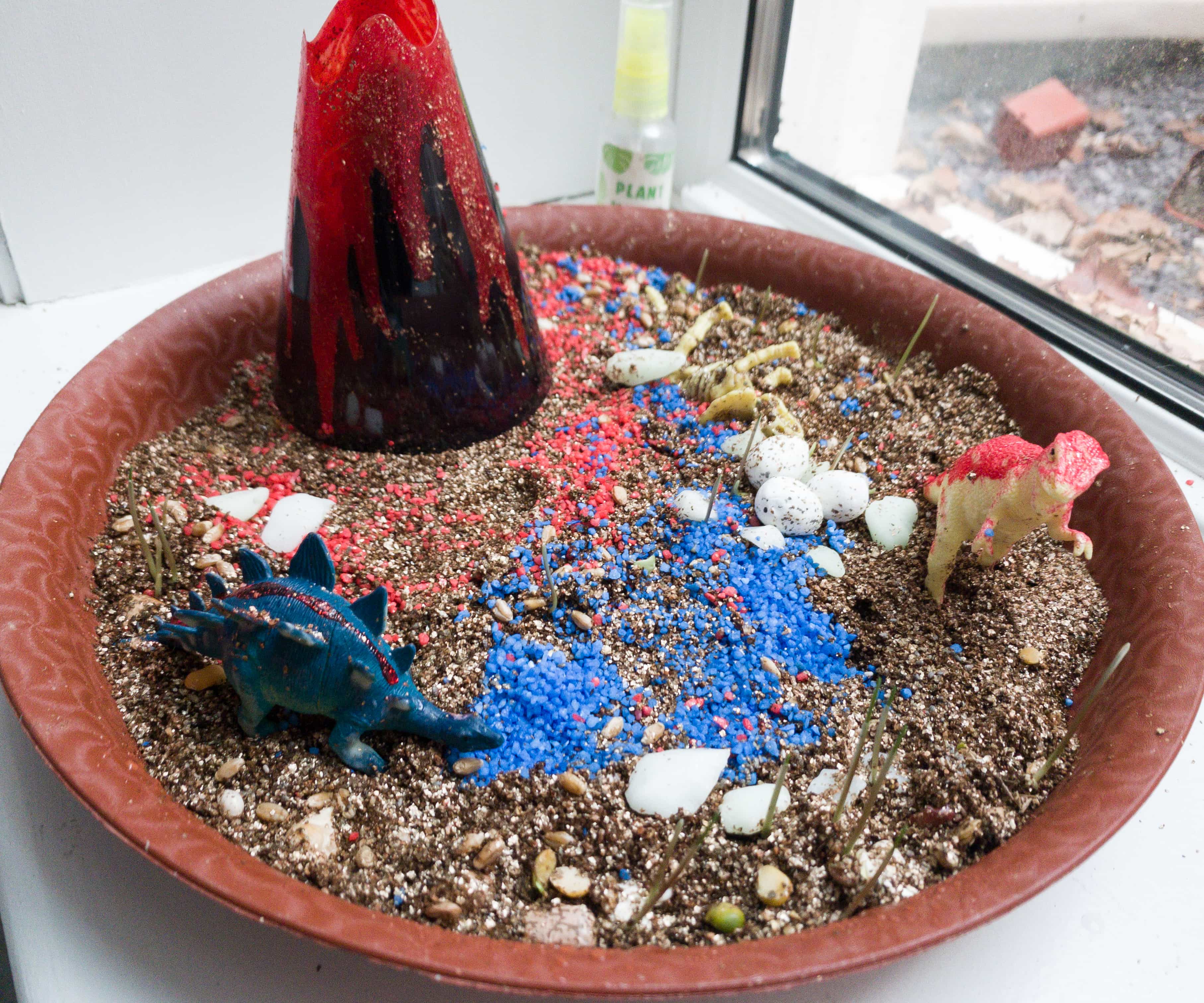 We placed it near the window so that it can get some sunlight.
We only used a third of the seeds when we built this habitat, so after several days of exposing the planter in sunlight and misting the pot, plants started to sprout!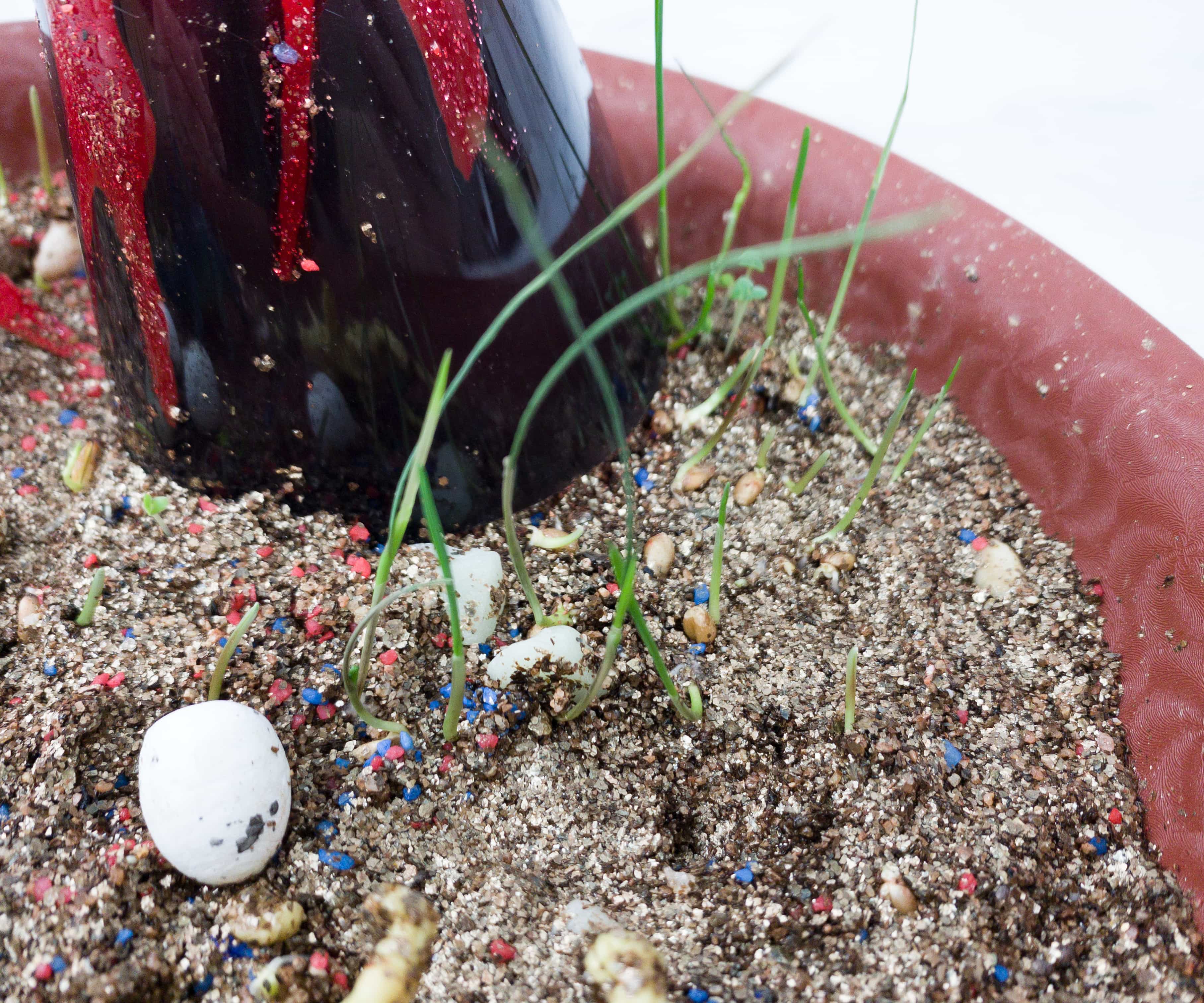 We still have some of the seeds so we can continue planting more, as the first ones grow some more!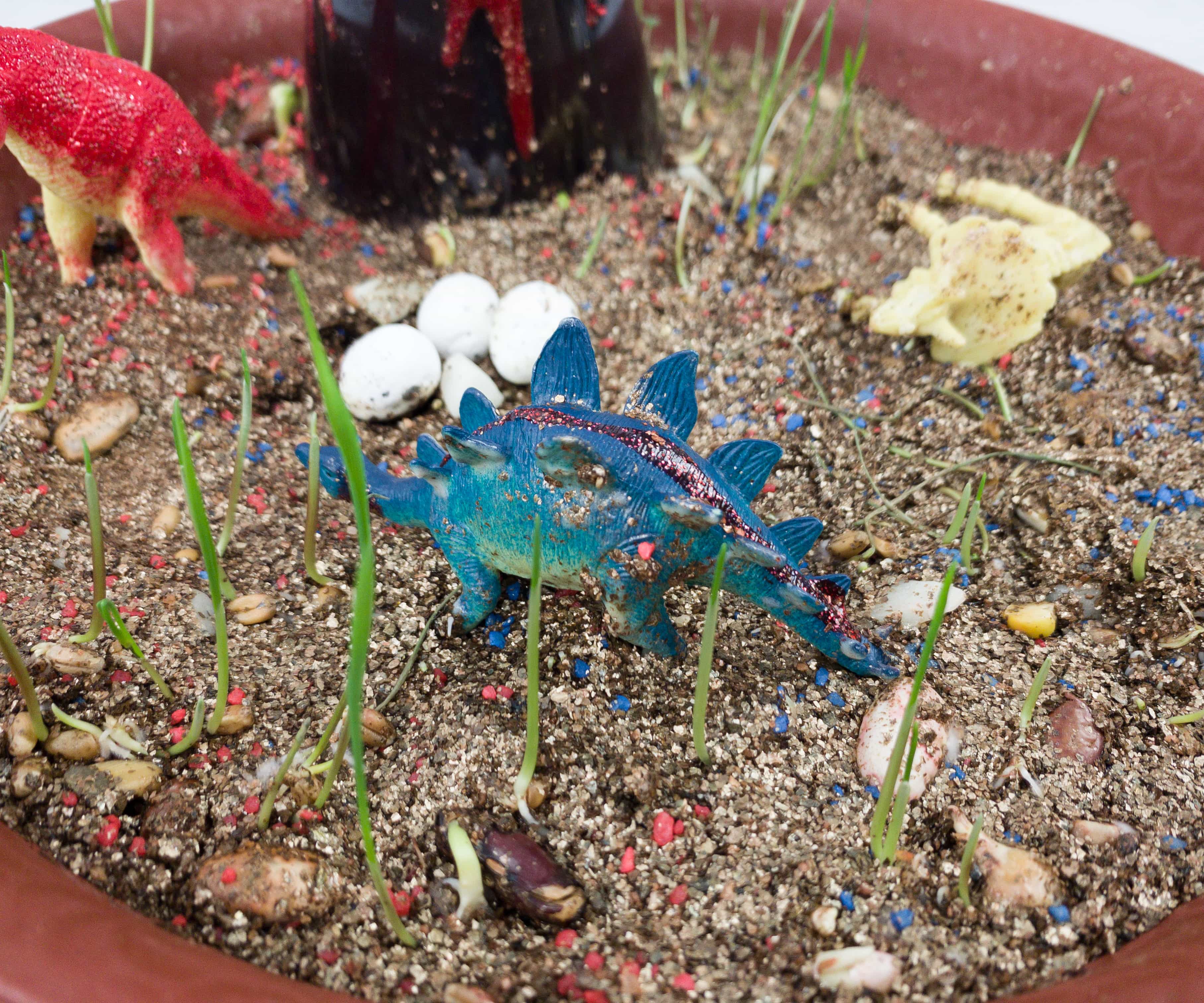 It's fun to see the plants grow day by day, and my kids are getting more excited!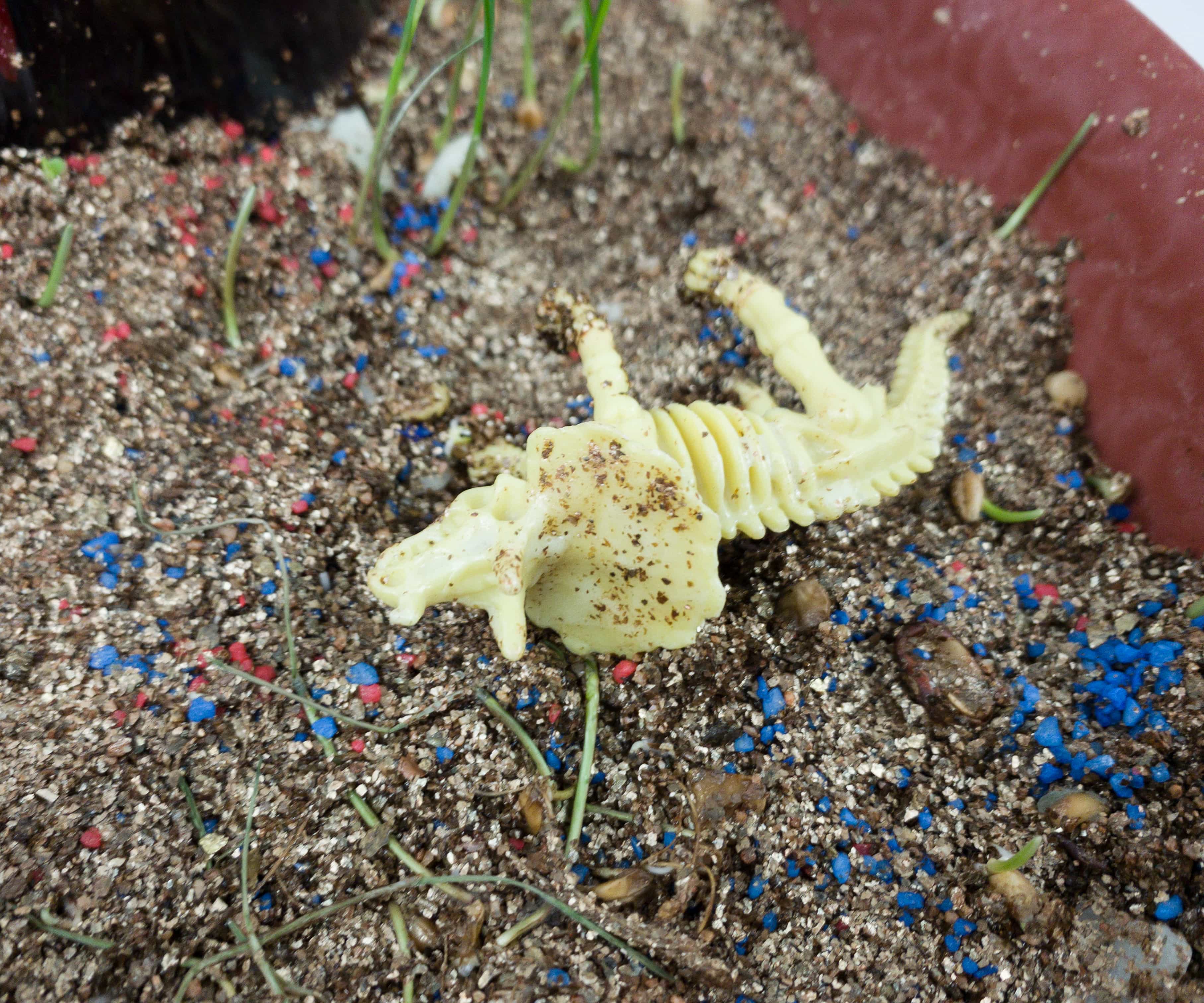 Here's the fossil, it already came out of the potting mix!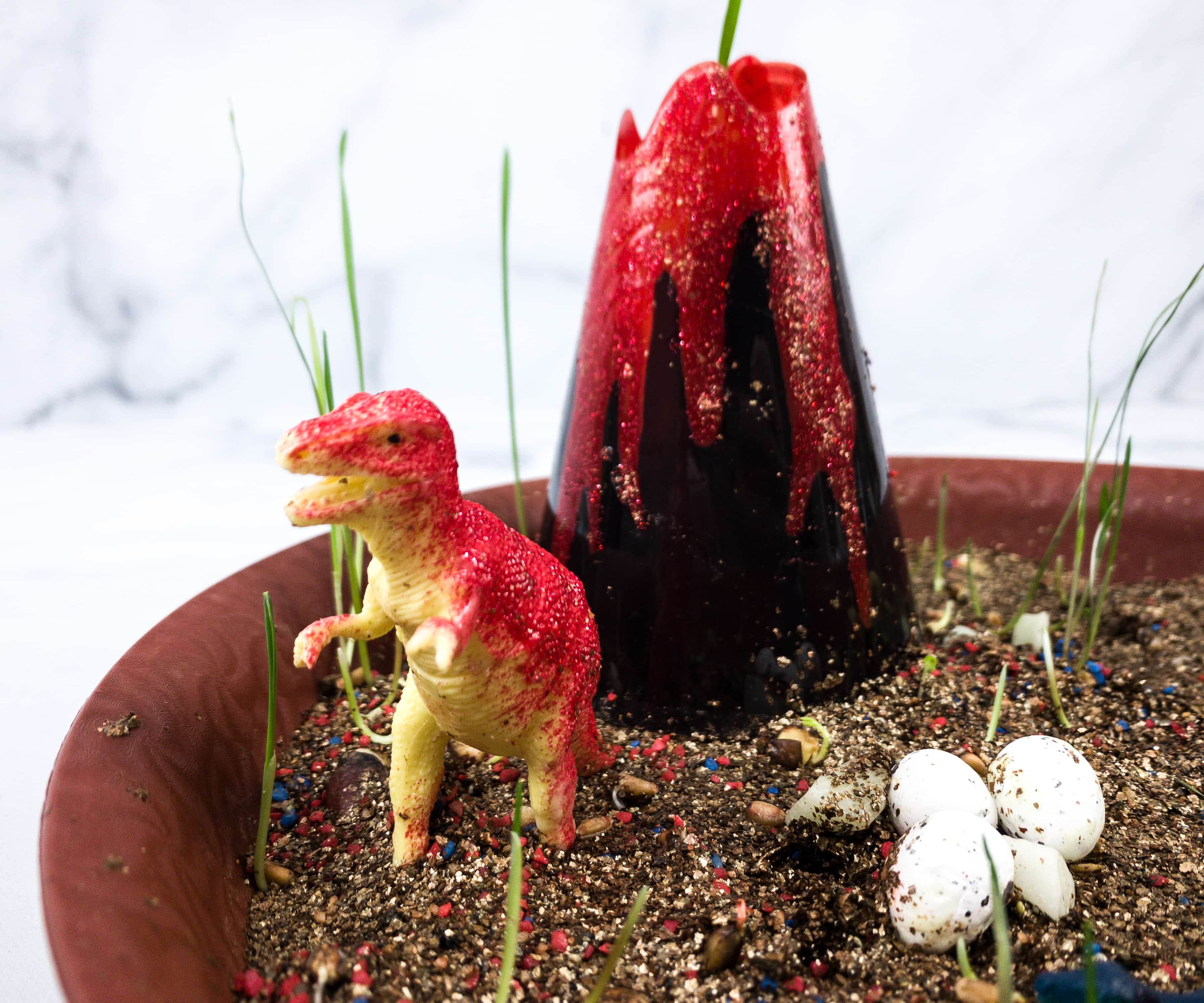 Some of the sprouts are taller than the dinosaur and the volcano itself!
Here's a look at the habitat! The plants grow fast!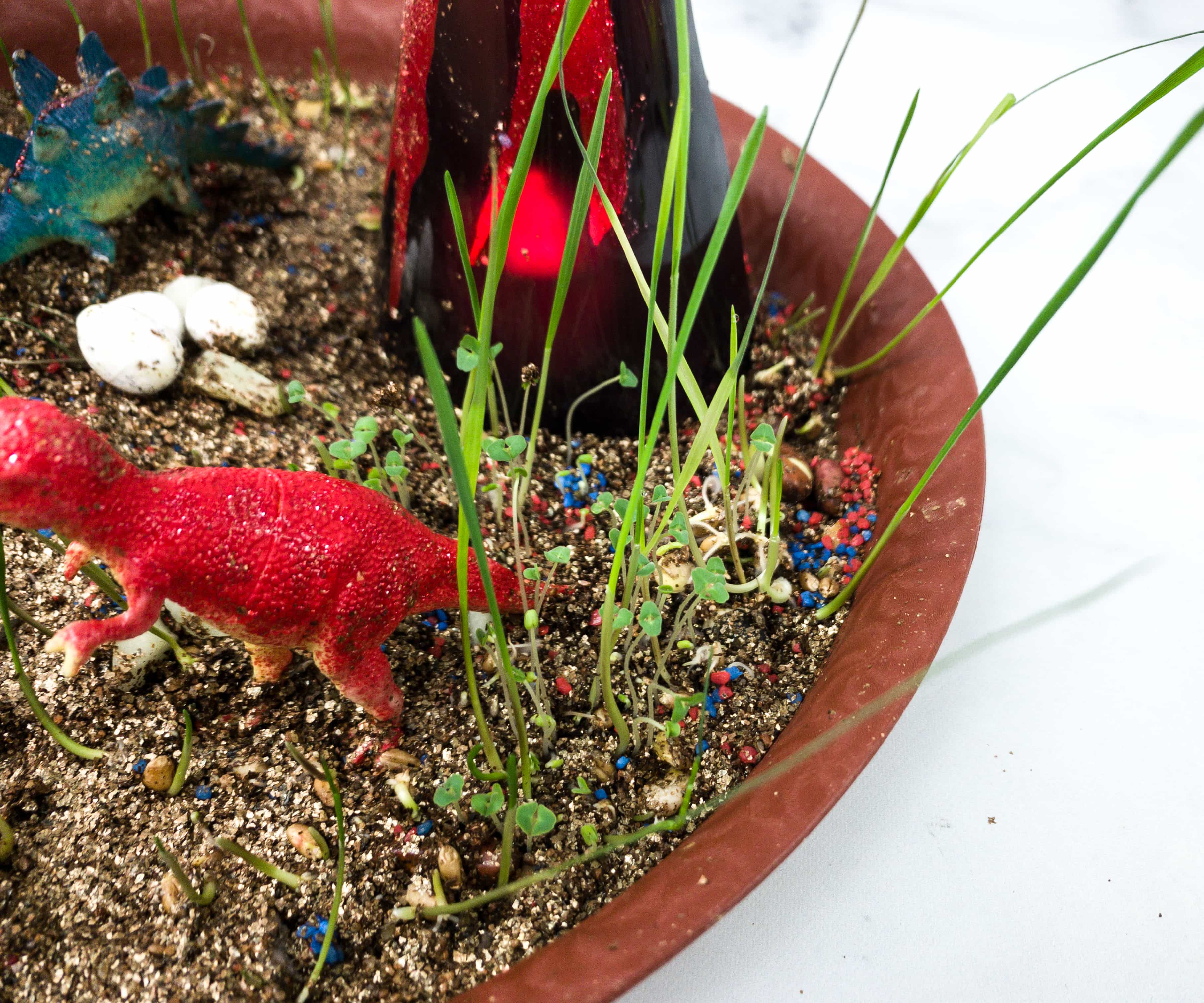 We also love seeing those little leaves sprouting!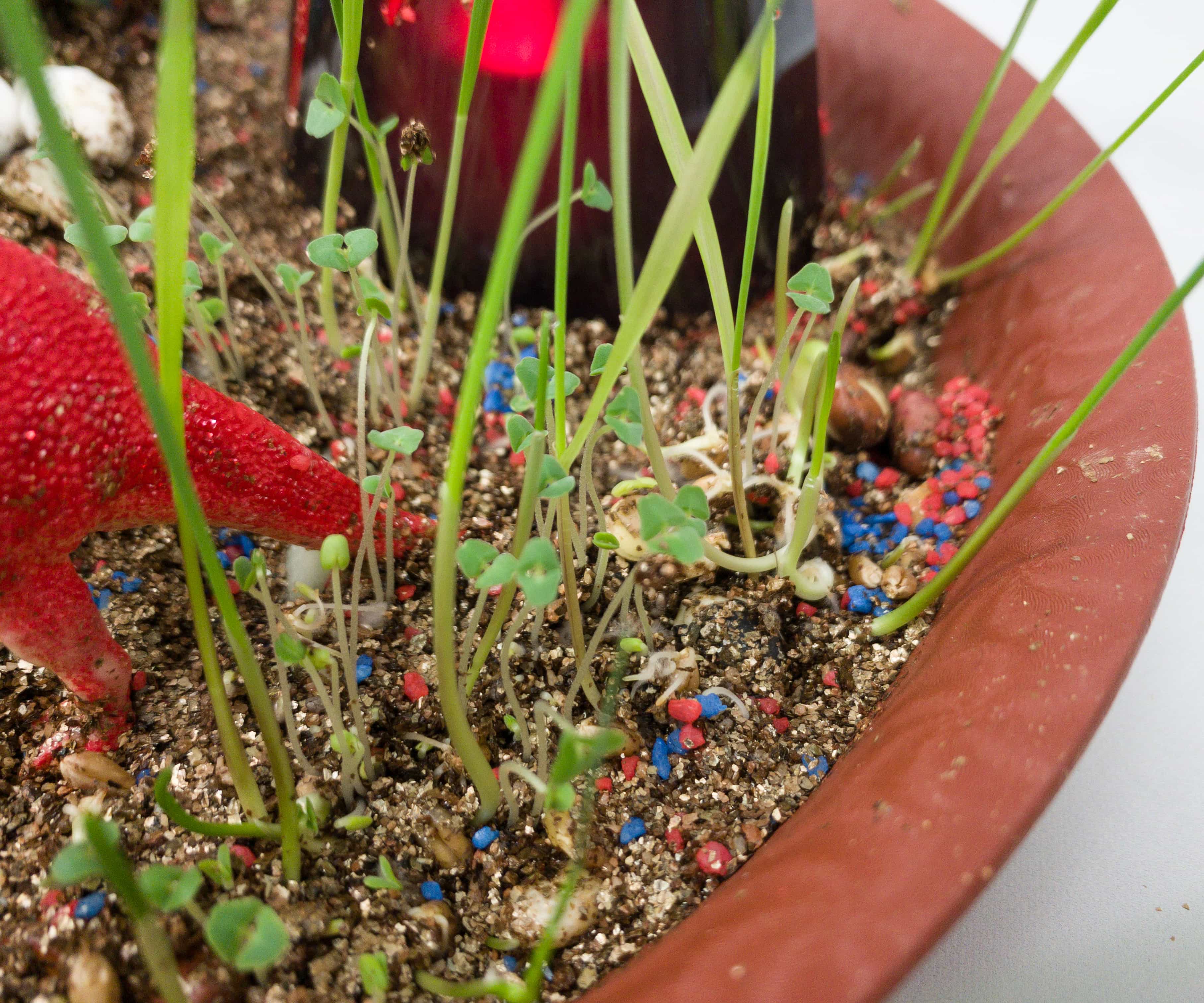 They're so adorable!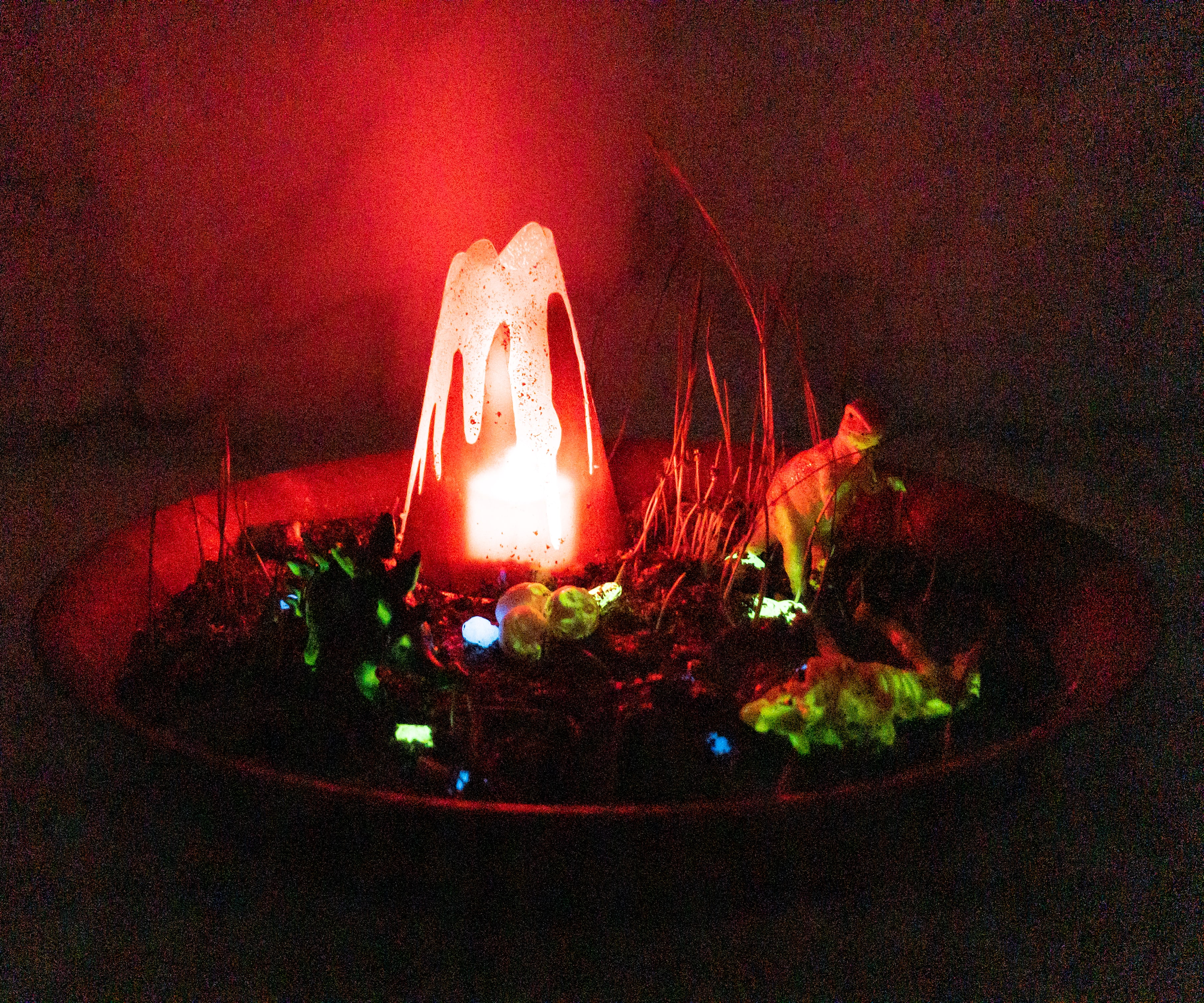 The habitat looks amazing at night! We lit up the volcano and we all love how the lava looks, while the dinosaurs, eggs, and the decorative stones glow!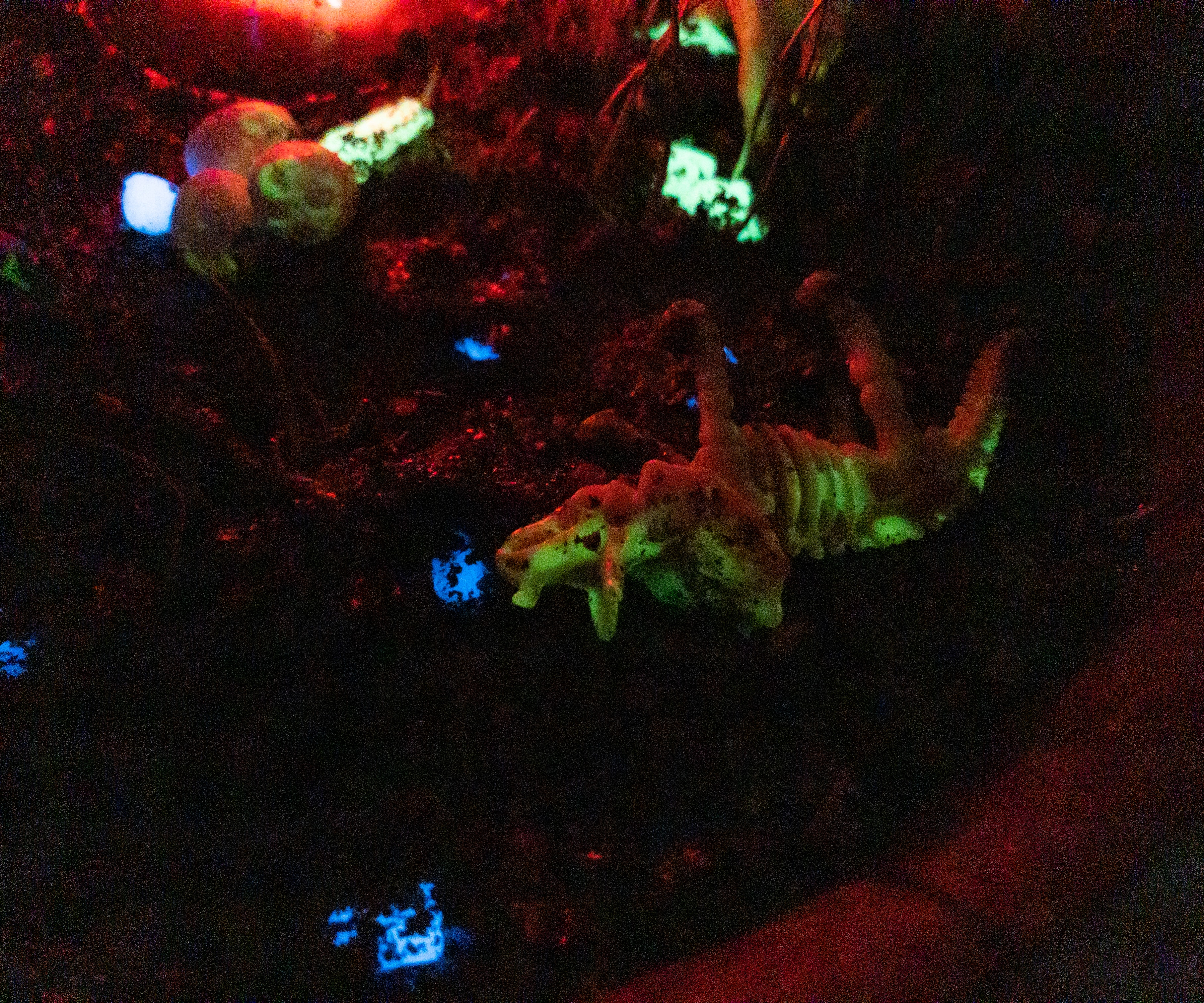 Look at the glowing stones and the fossil that was painted with the glow paint, they all shine bright in the dark!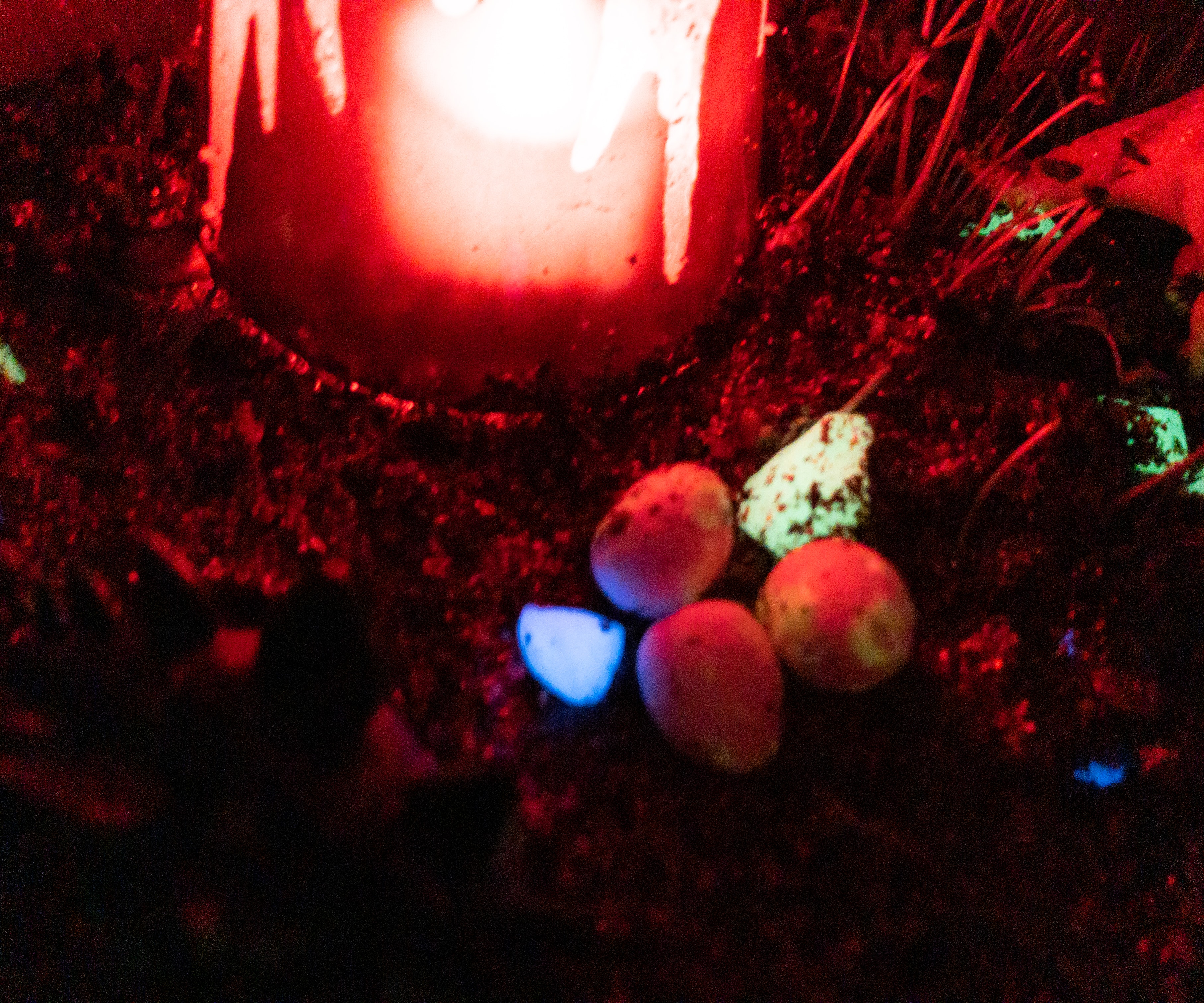 The volcano looks alive when with the red hot lava "flowing" from it! The eggs look awesome as well.
After several weeks, here are the plants, and they're all looking good!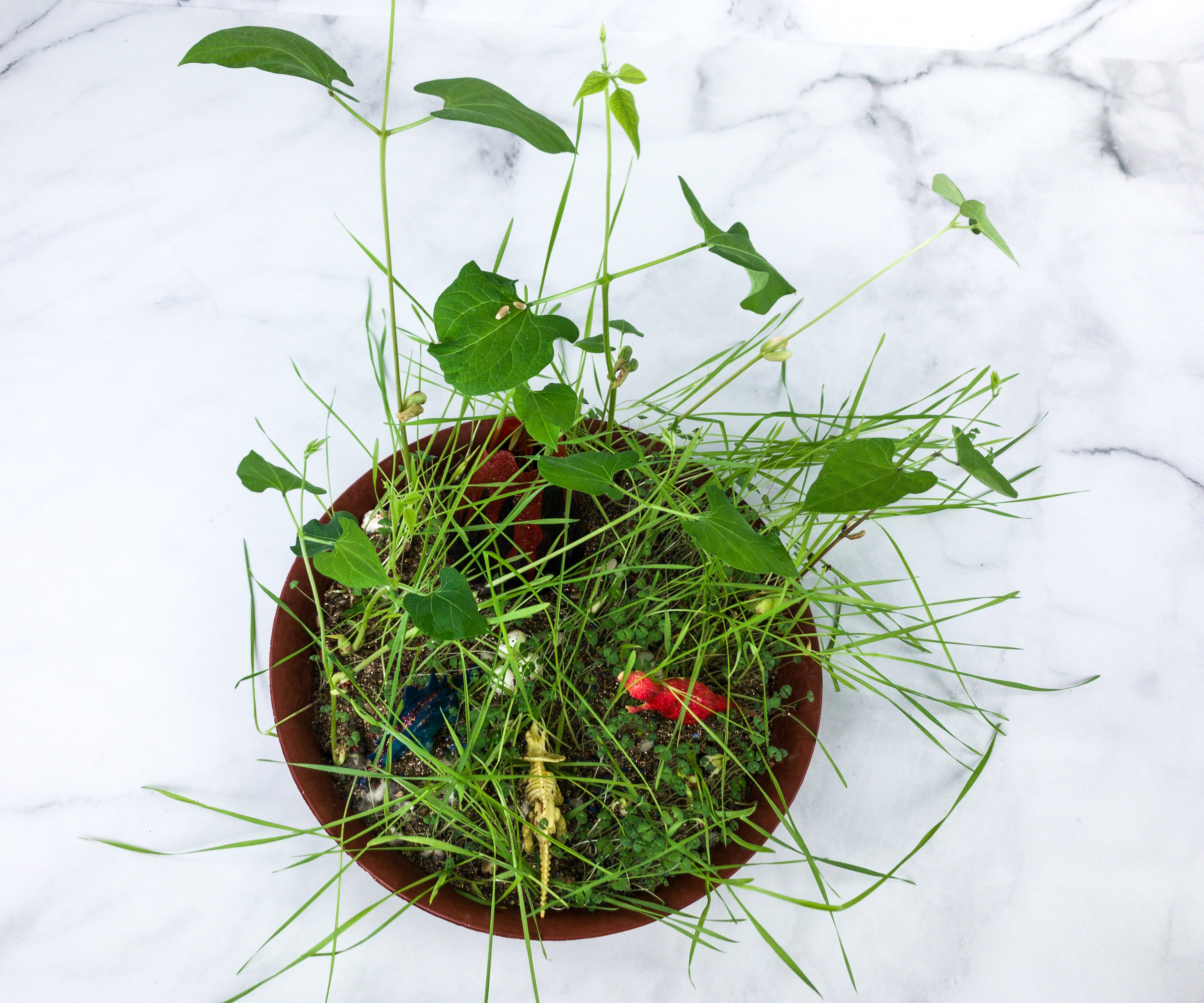 The plants are even covering up the dinosaurs and the volcano.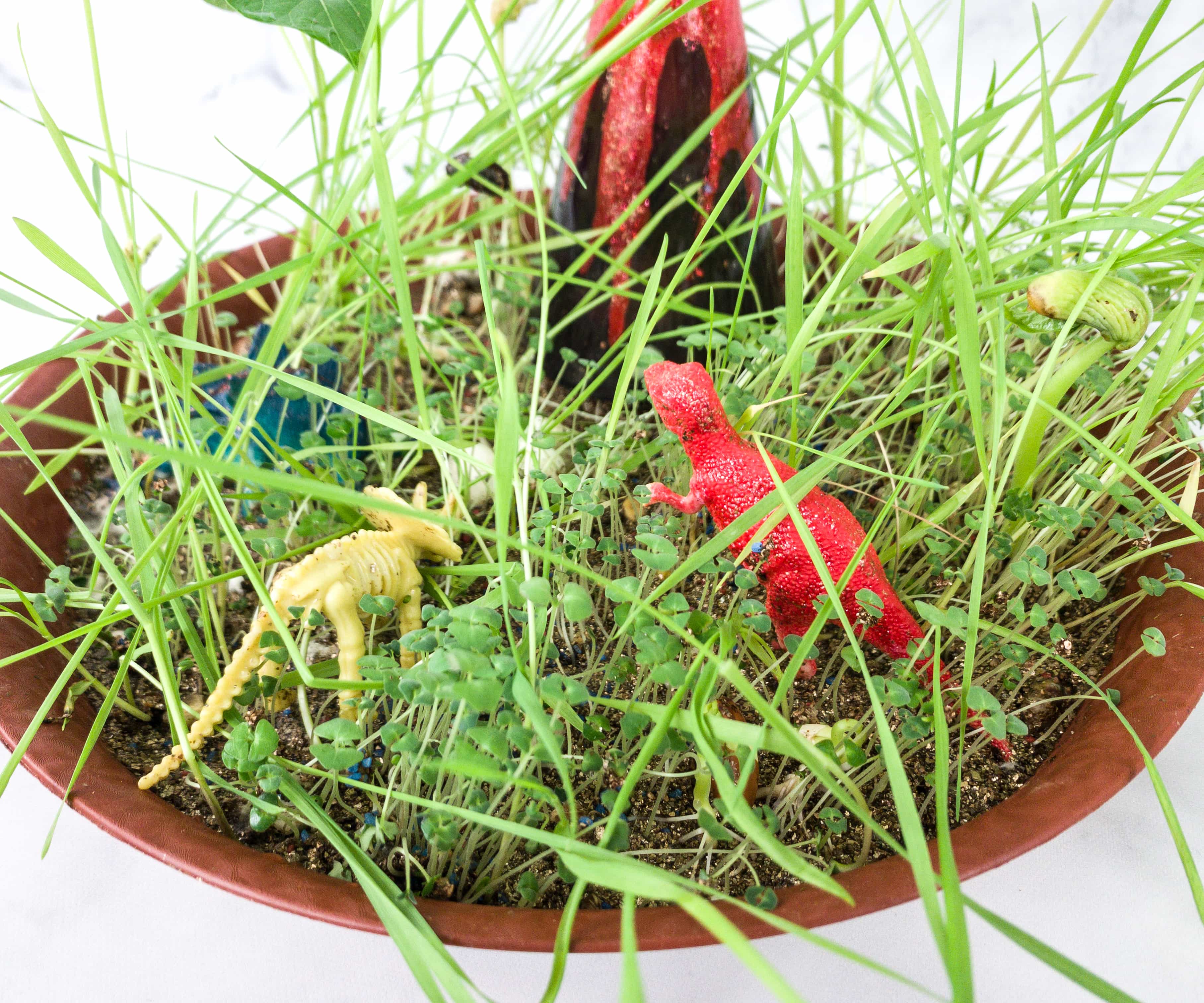 You can see the sprouts, and the kids said that if they're real dinosaurs who eat plants, they won't have problems with food. The greens are looking healthy and bright!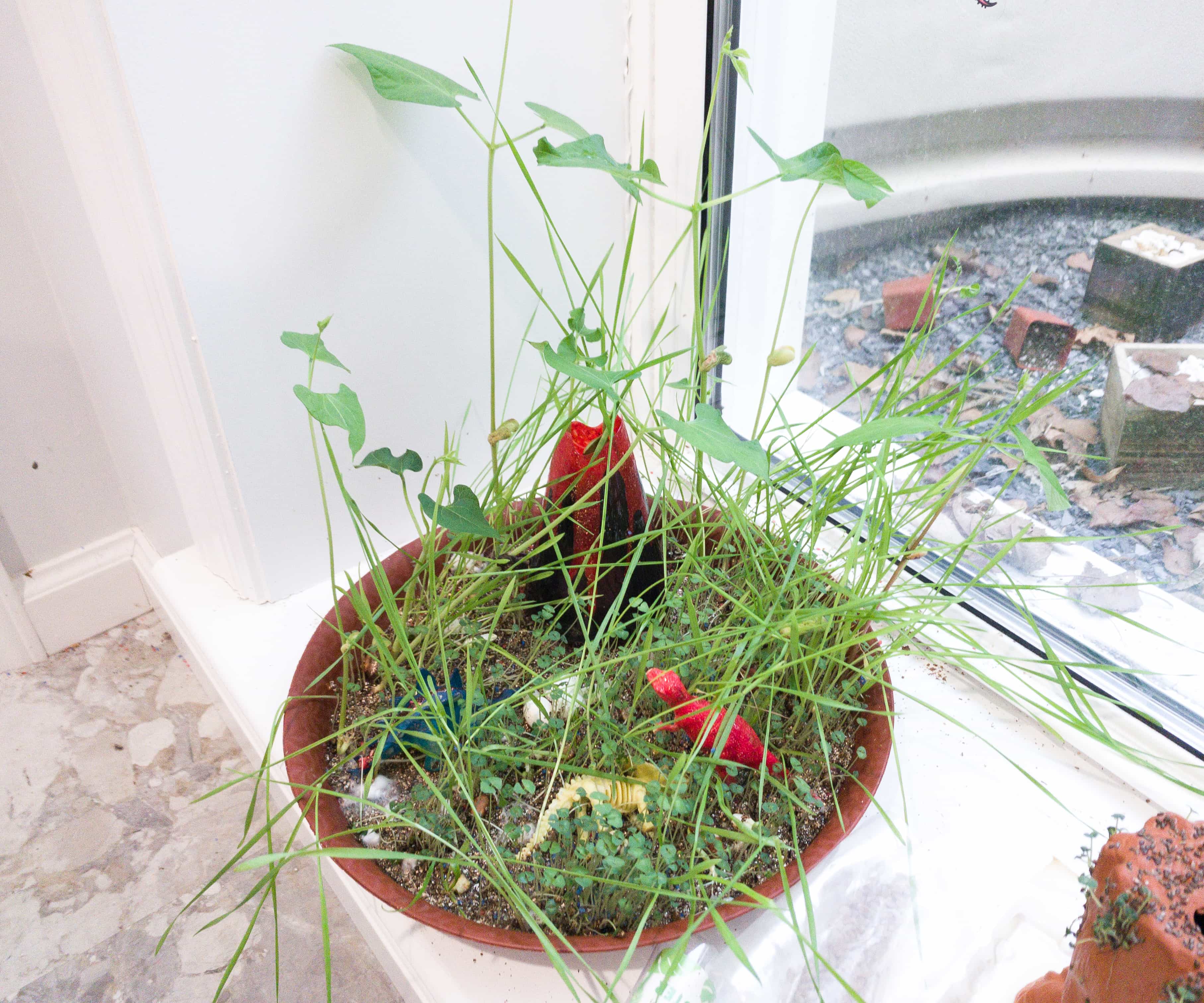 With the good amount of sunlight and a daily spritz of water, we were able to grow this amazing dinosaur habitat, and we're really proud of it!
My kids enjoyed completing this habitat! It's a combination of botany, art, and paleontology, and it's really interactive. They learned a lot about prehistoric creatures and they found everything quite interesting. We think it's a great toy for any kid who loves dinosaurs and even those who want to start growing plants! We also recommend it for a fun sibling bonding activity! Amazon STEM Toy Club's offerings are always interesting. If you're looking for new STEM-themed toys and activities, it's one of the best subscriptions out there! They offer subscriptions by age range, so you're sure to get age-appropriate toys for your kids!
What do you think of this month's box?