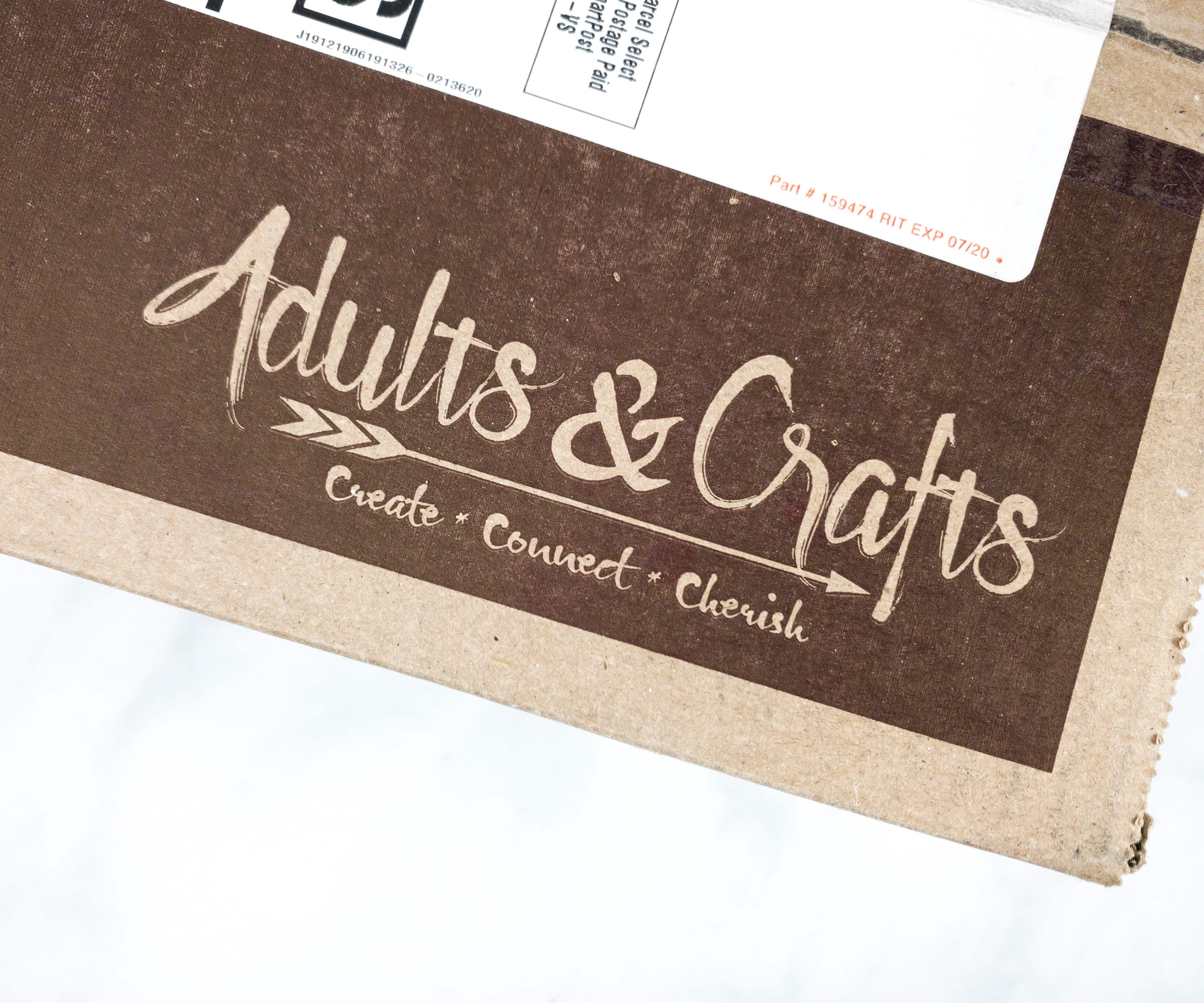 Adults & Crafts is a monthly DIY crafts subscription box for adults. For only $33 per month, you'll get a box full of materials to create an awesome craft project, plus easy-to-follow instructions. They feature a new craft and craft techniques every month, from woodworking to embossing to clockmaking and more!
DEAL: Save 10% on your first box! Use coupon code  HELLOSUB.
The tools and materials were neatly stacked in a cardboard box with the instruction leaflet lying on top.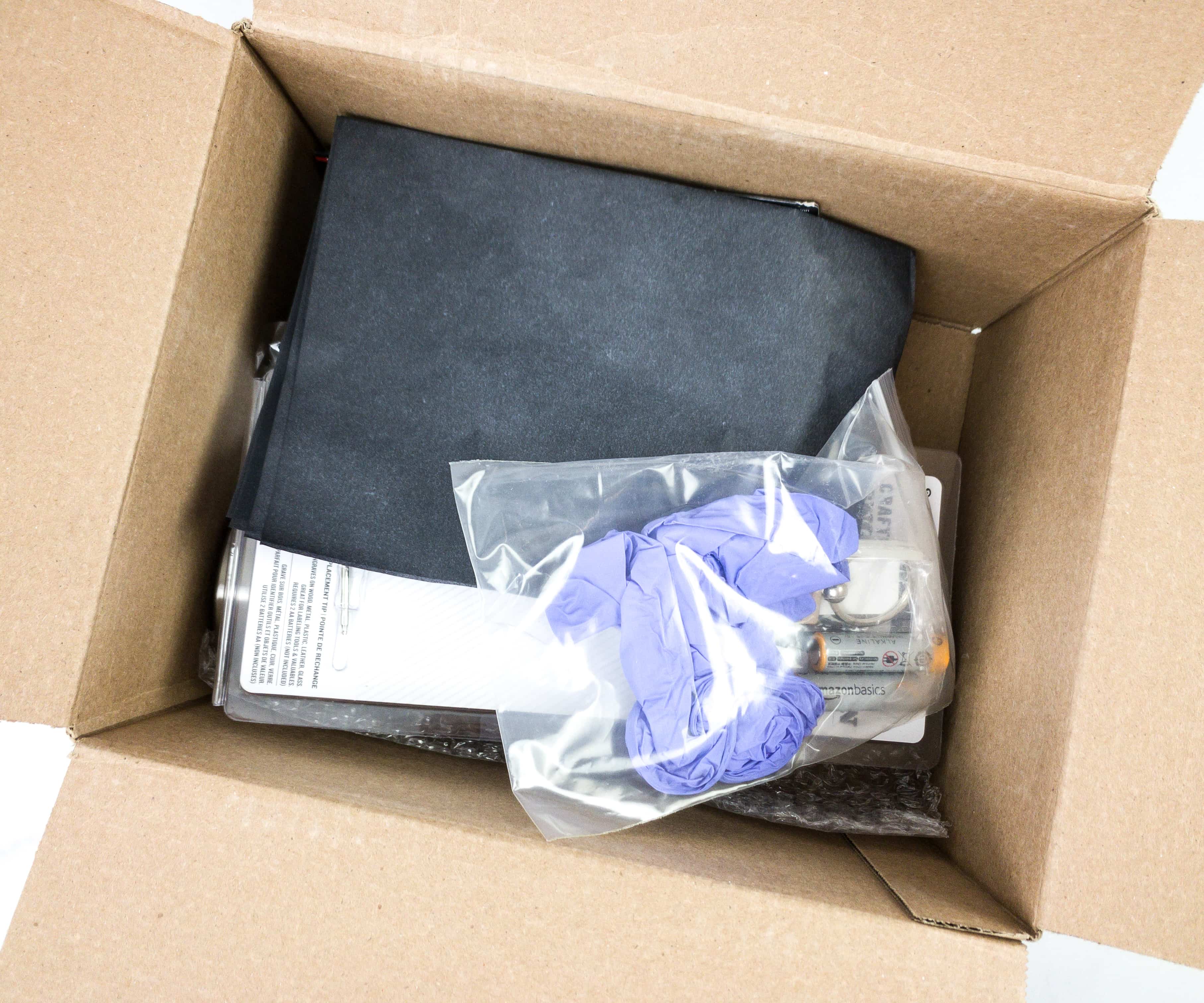 As expected, they sent a complete set of materials for this project!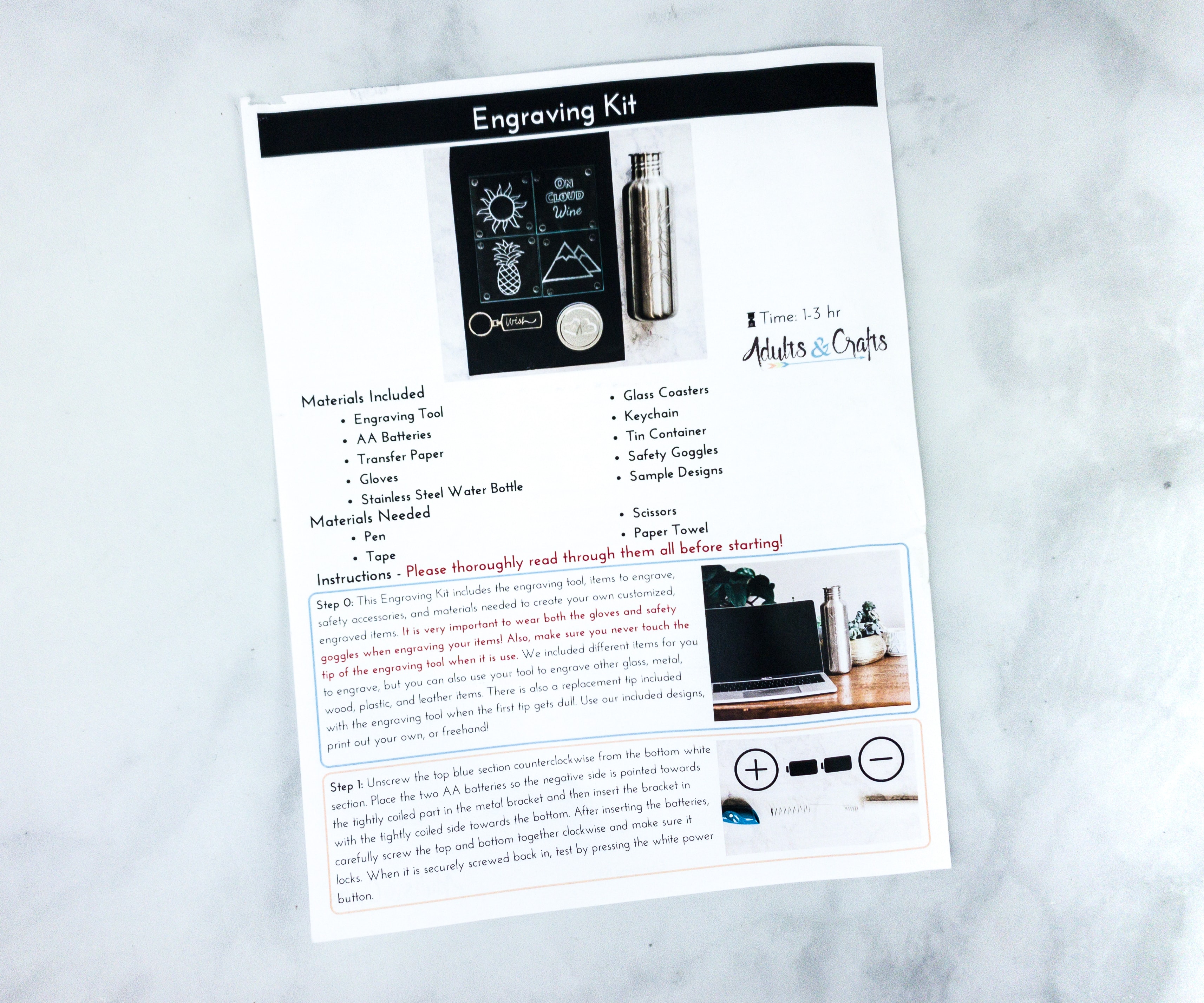 Featured on the leaflet are instructions and materials for the project. They were very easy to follow since they were written in detail.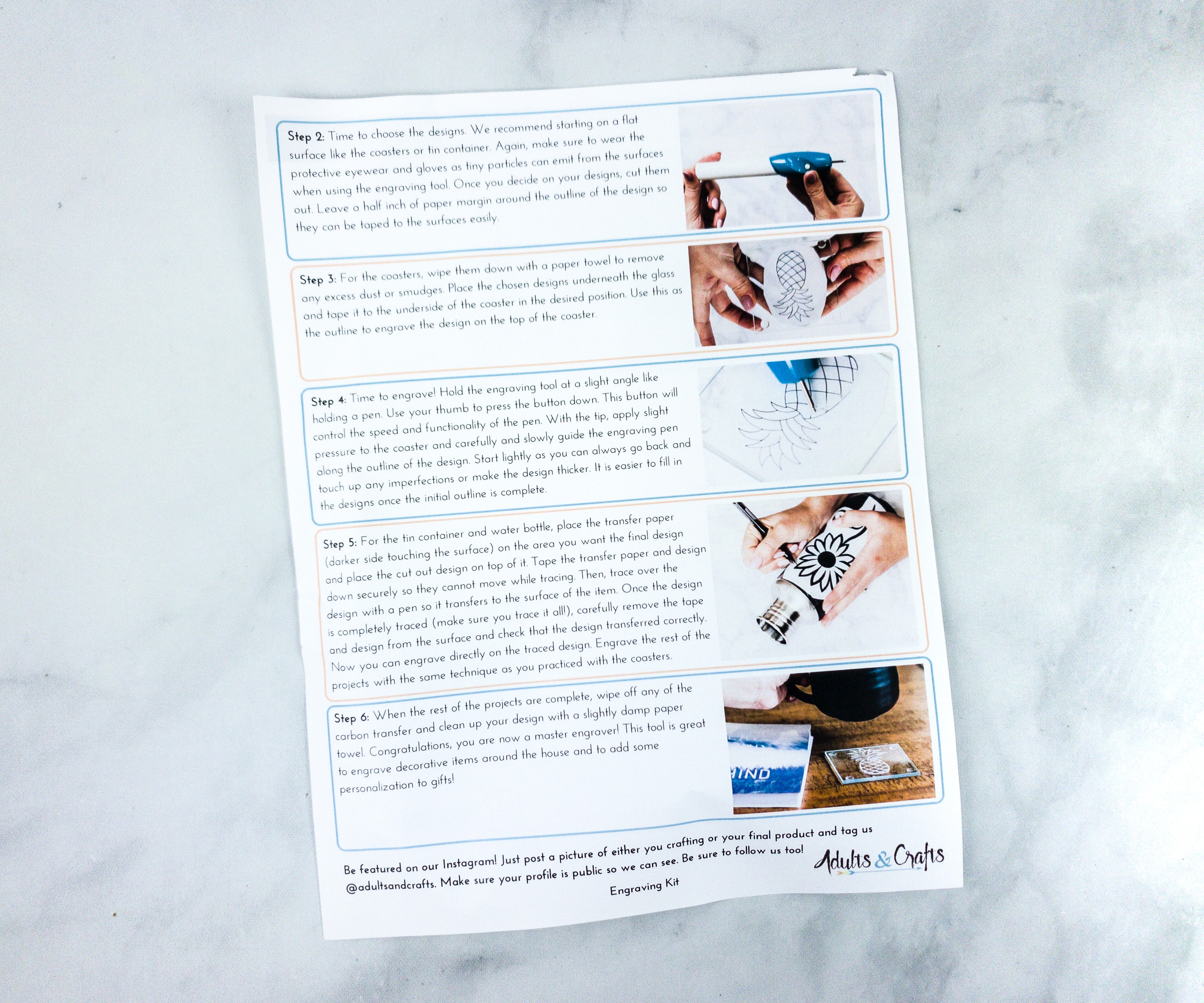 There are also corresponding illustrations for every step of the process so it was easy to monitor if I was doing it correctly or not.
Everything in my box!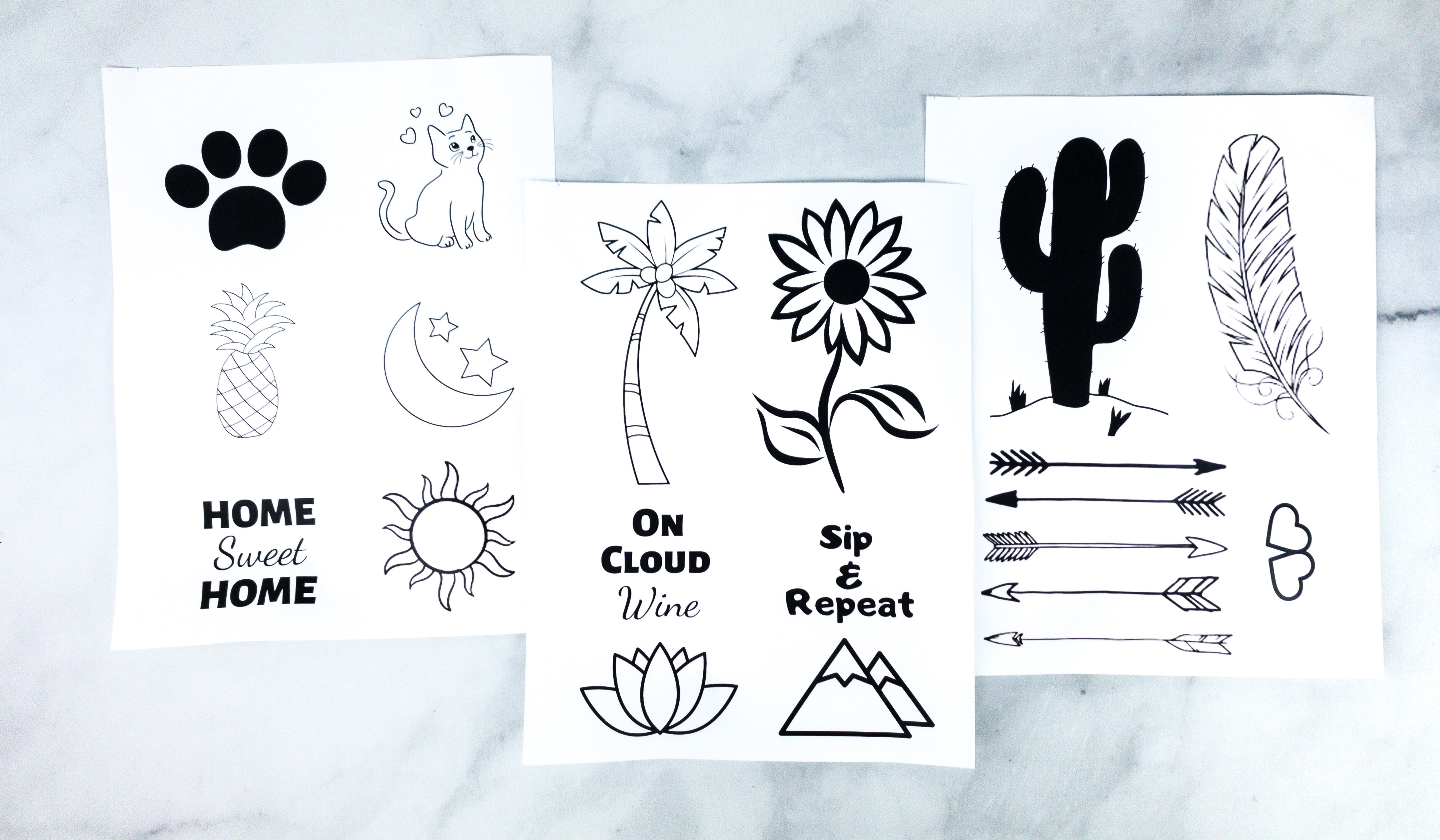 The box provided some designs that I can engrave on the items!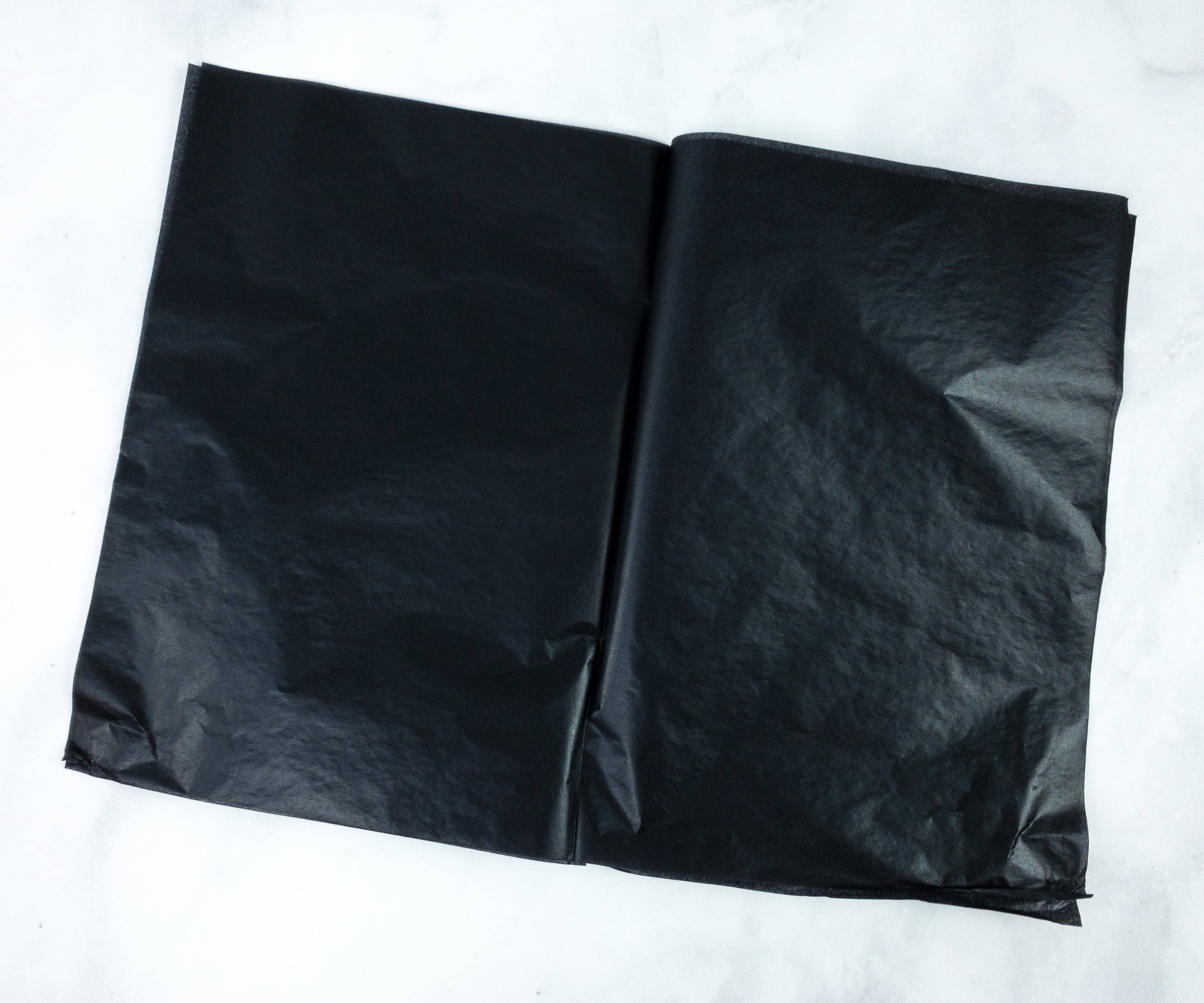 There's also transfer paper which will be very useful when engraving on metal items.
I'm dealing with engraving, and this process may result in microscopic particulates from glass, wood, and other materials that may cause skin, nose, eyes, and respiratory tract irritation, so safety gears are needed.
To protect my eyes, I got a pair of goggles.
I also got a pair of rubber gloves to protect my hands during the process. However, they did not include a mask, which will be more useful as I'm more worried about breathing in glass and other particulates than getting them on my fingers.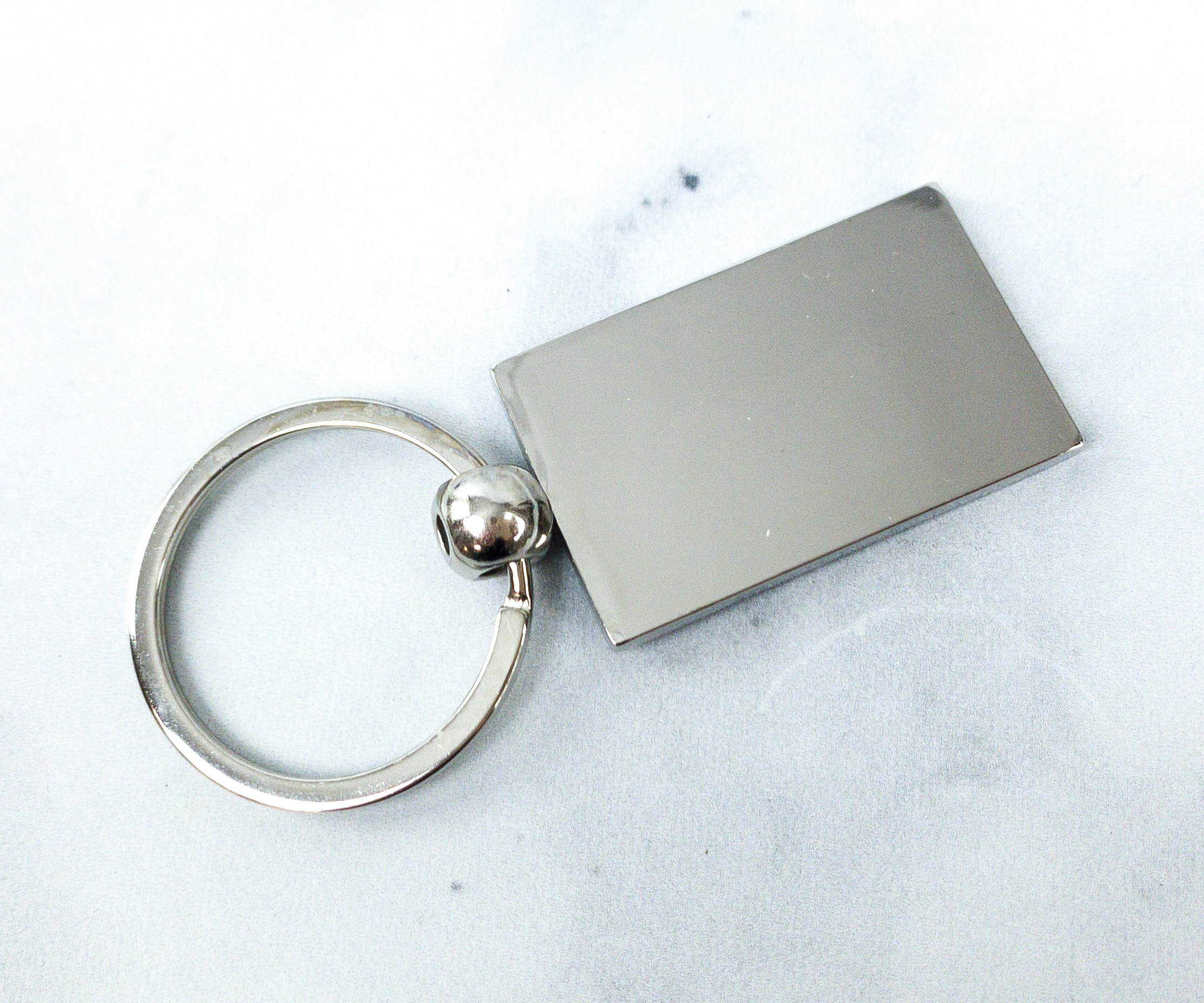 I also got a metal keychain. This will be easier because it is a flat surface.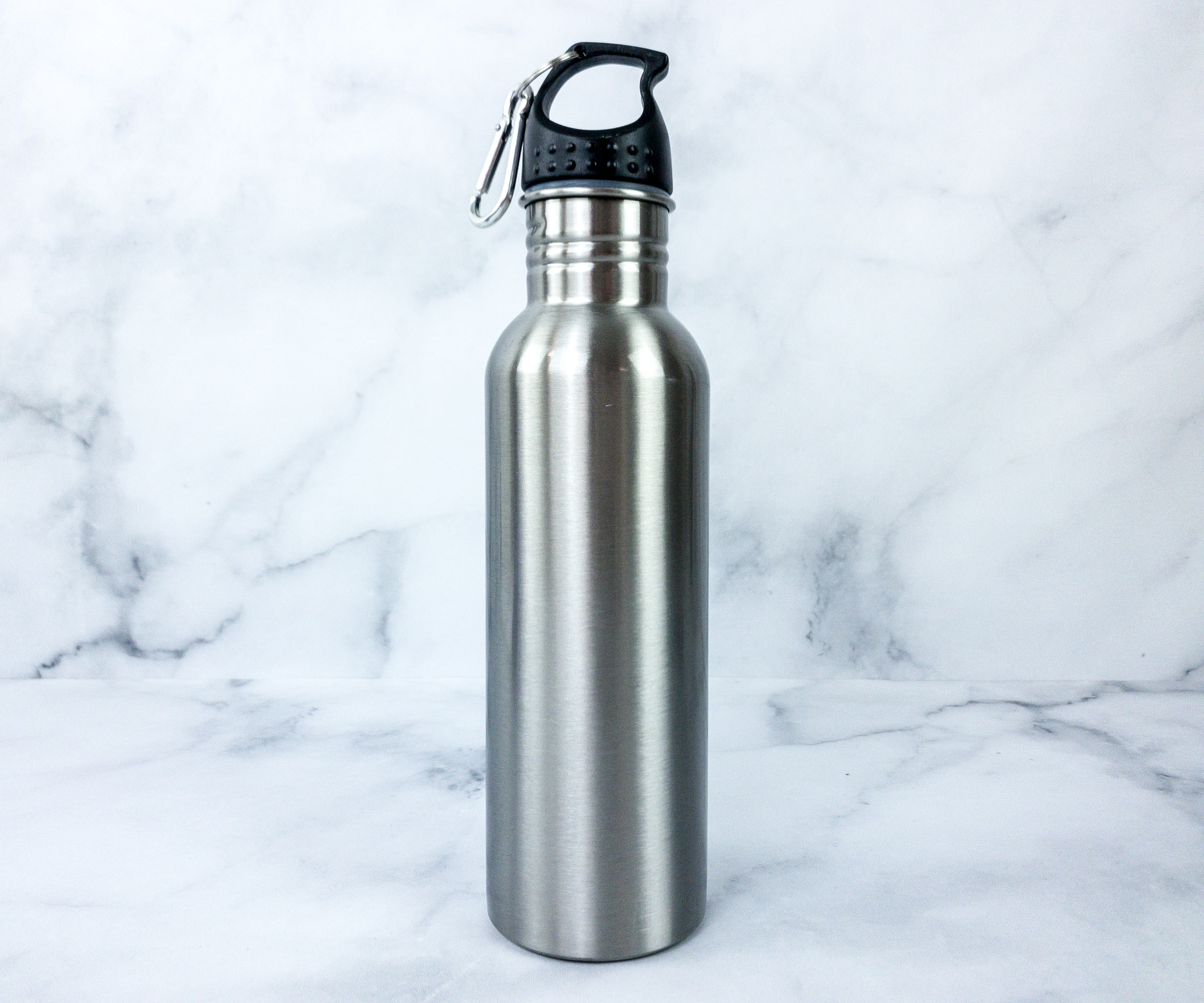 I think engraving this stainless steel water bottle is more challenging as it has curves, not a flat surface, and it's metal.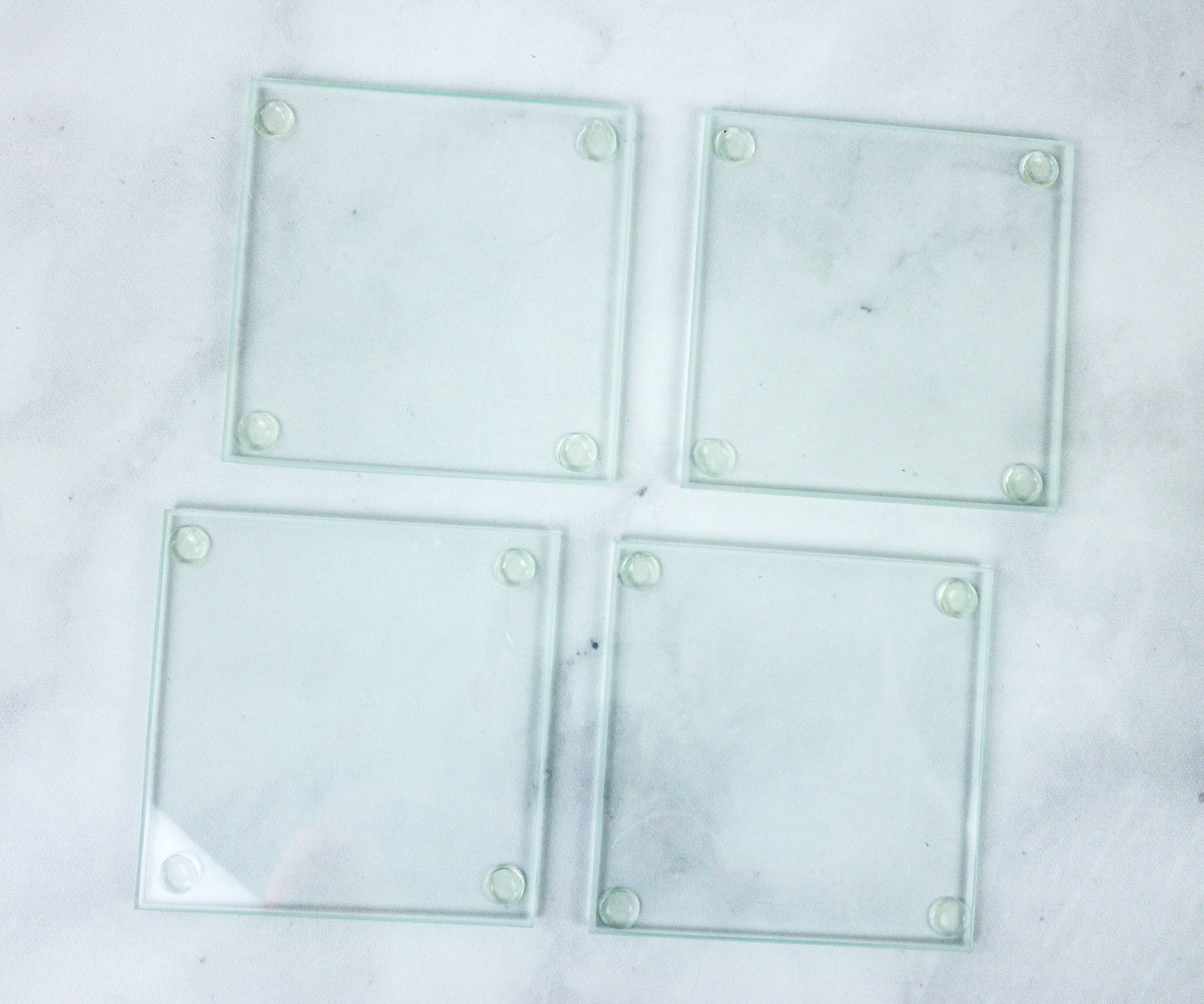 The set of four coasters is made of glass. These will be easier to transfer the design to compared to the metal items.
There's also a tin container that can be used for storage.
Darice Crafter's Engraving Pen. 
Darice® engraving pen is perfect for decorating glass, metal, plastic, leather, wood, and labeling projects. Package comes with one replacement tip. Engraving pen used 2 AA batteries, not included in package.
The back of the packaging includes instructions on how to use the pen.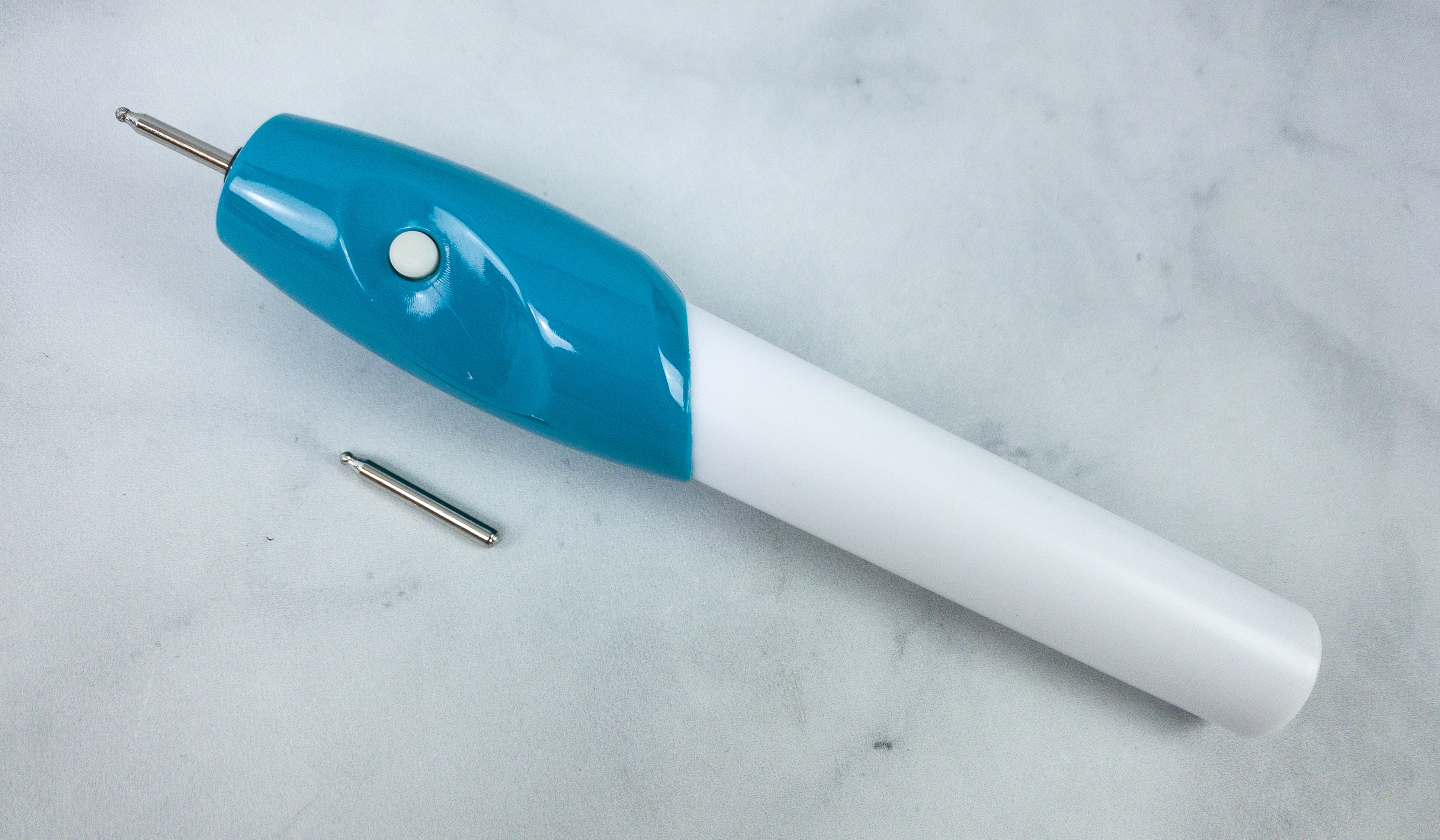 The engraving pen also comes with an extra tip so you can replace the first one when it gets dull.
The shape of the engraving pen makes it easier to handle. It's just like holding an ordinary pen, and you can control it easily. The button that makes it work is also located near the tip of the pen.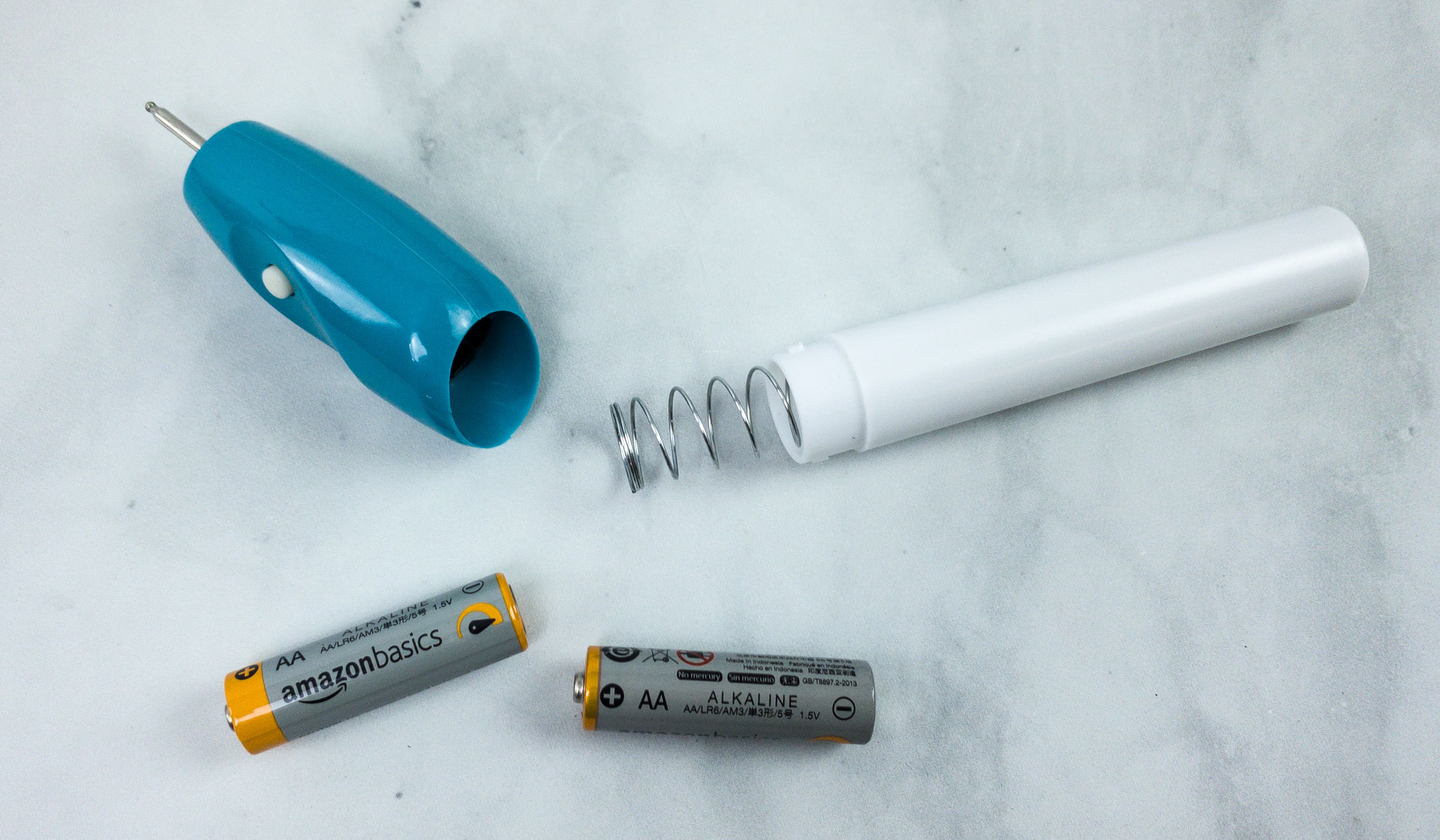 The pen works with 2 AA batteries.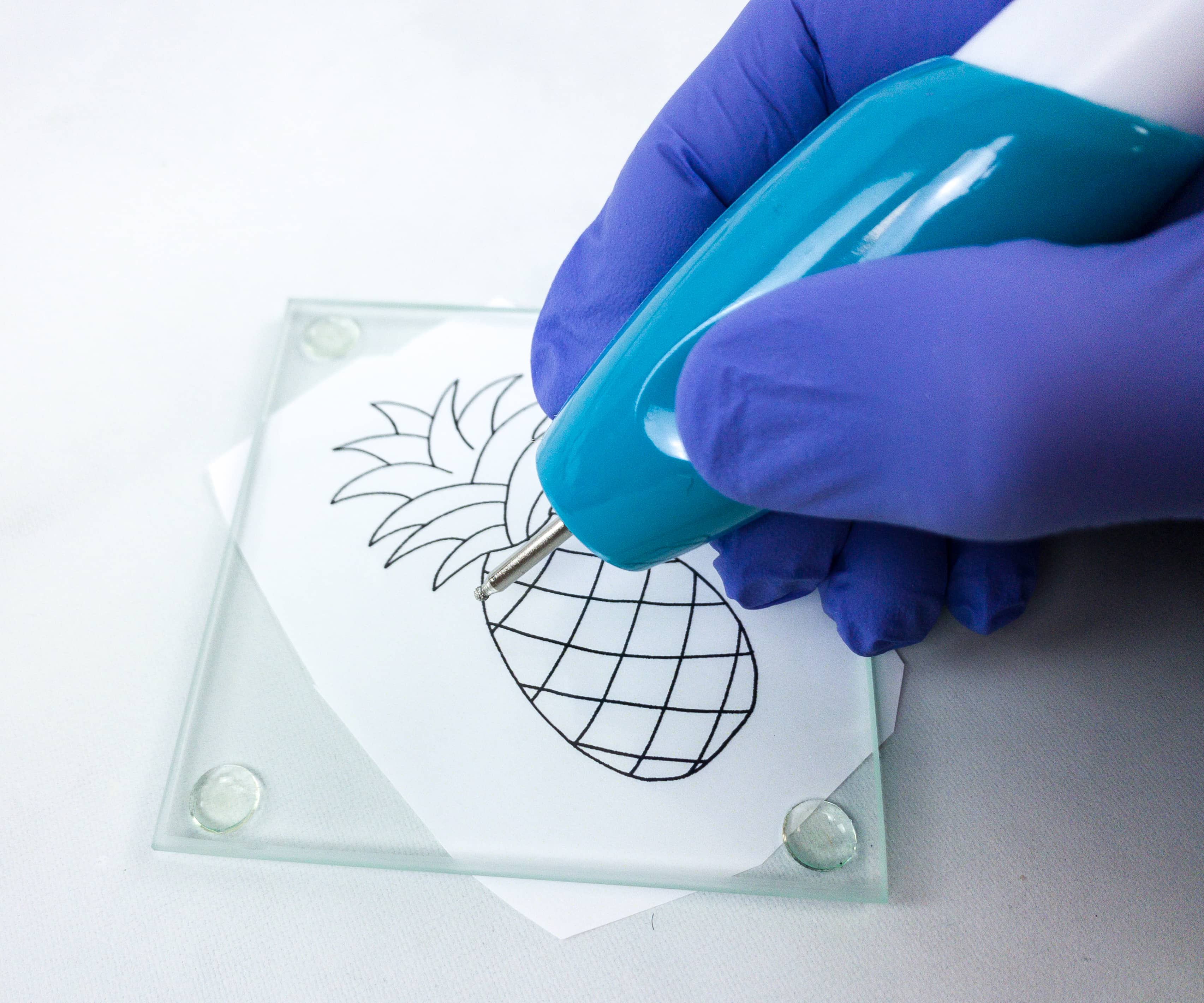 I tried engraving the coasters first, and I used the pineapple design provided by the box.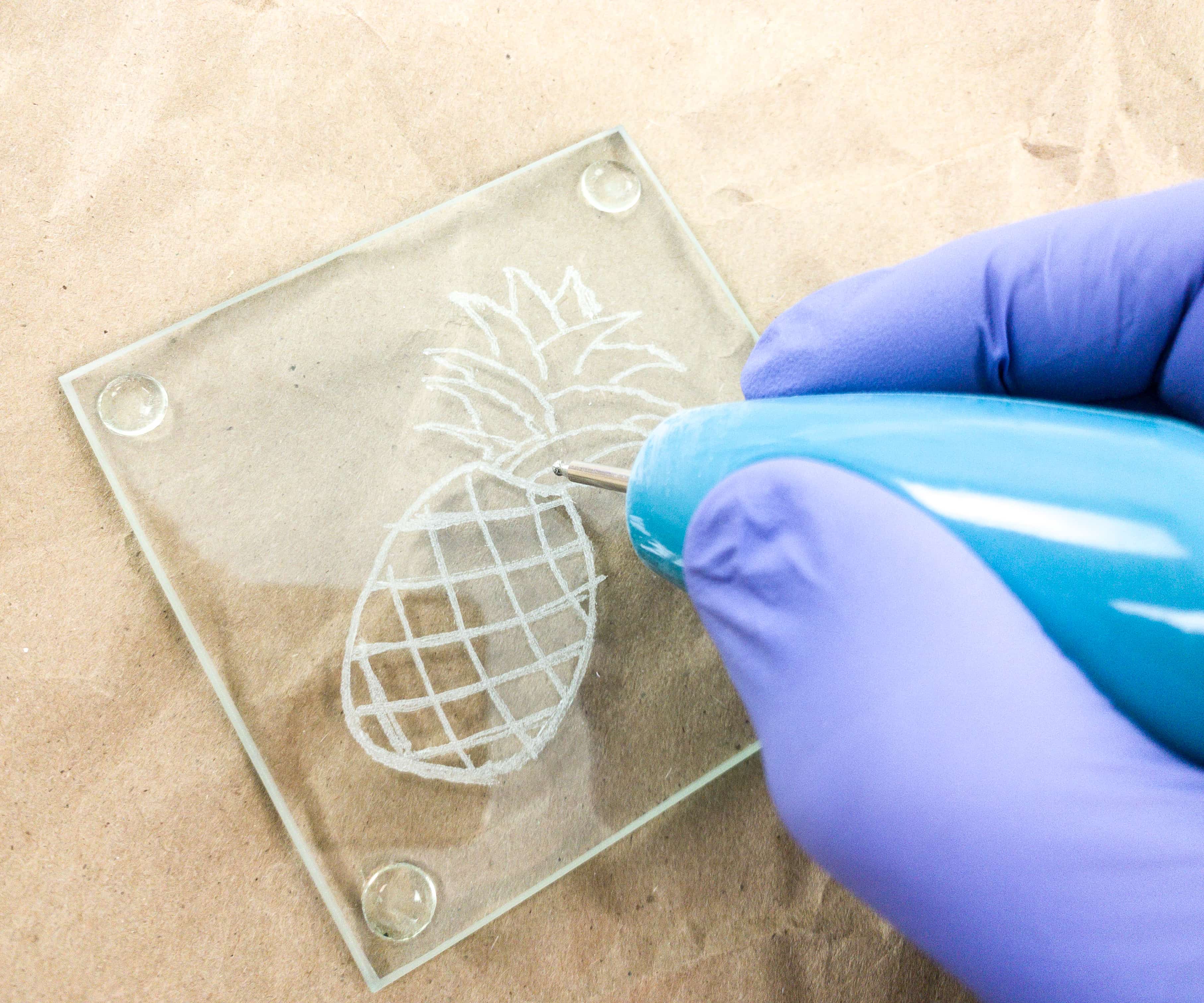 Because the coaster is clear, you can just put the design beneath it then start tracing it using the engraving pen.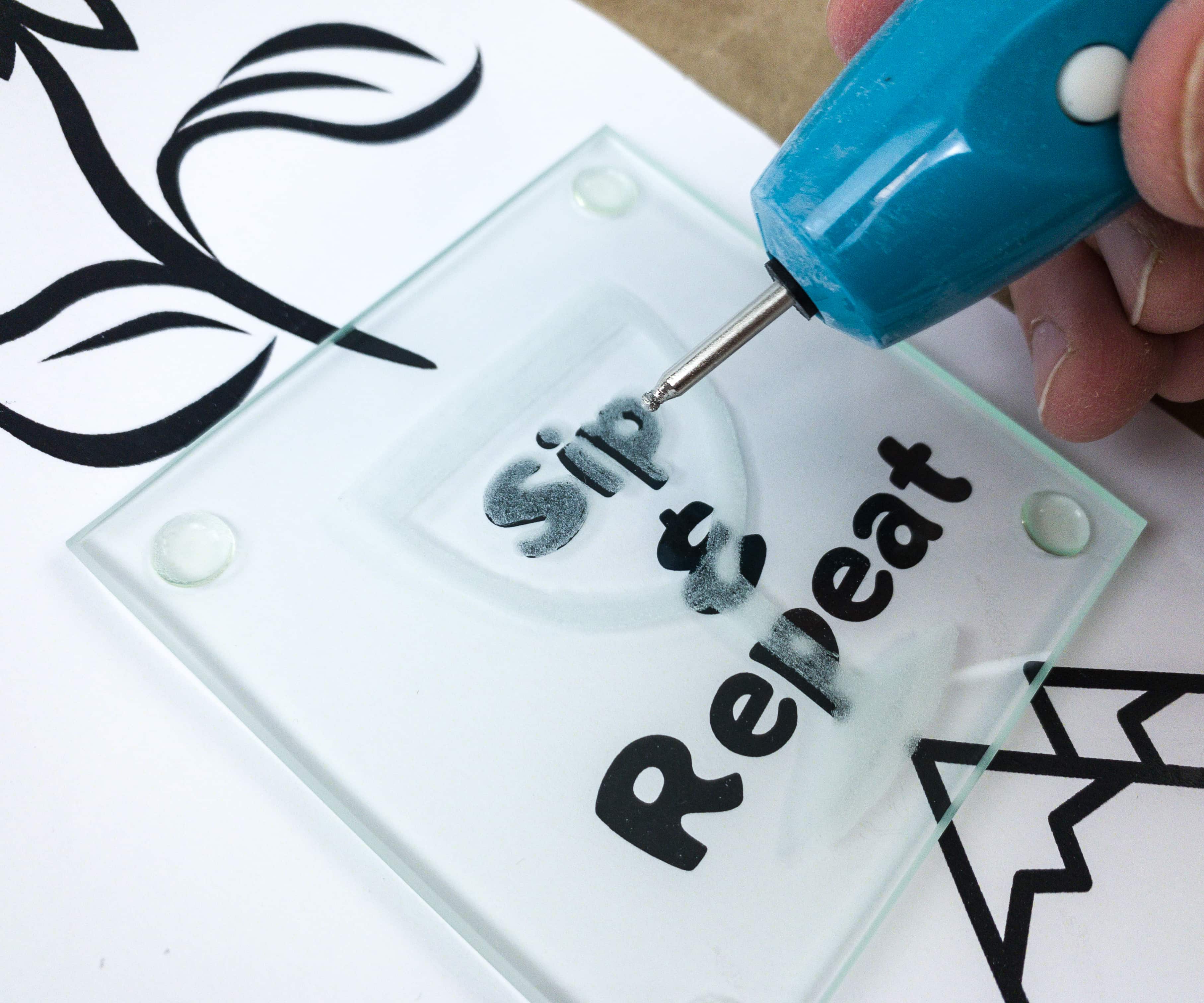 My second coaster has the word "Sip" from the "Sip & Repeat" design!
Here are the finished coasters.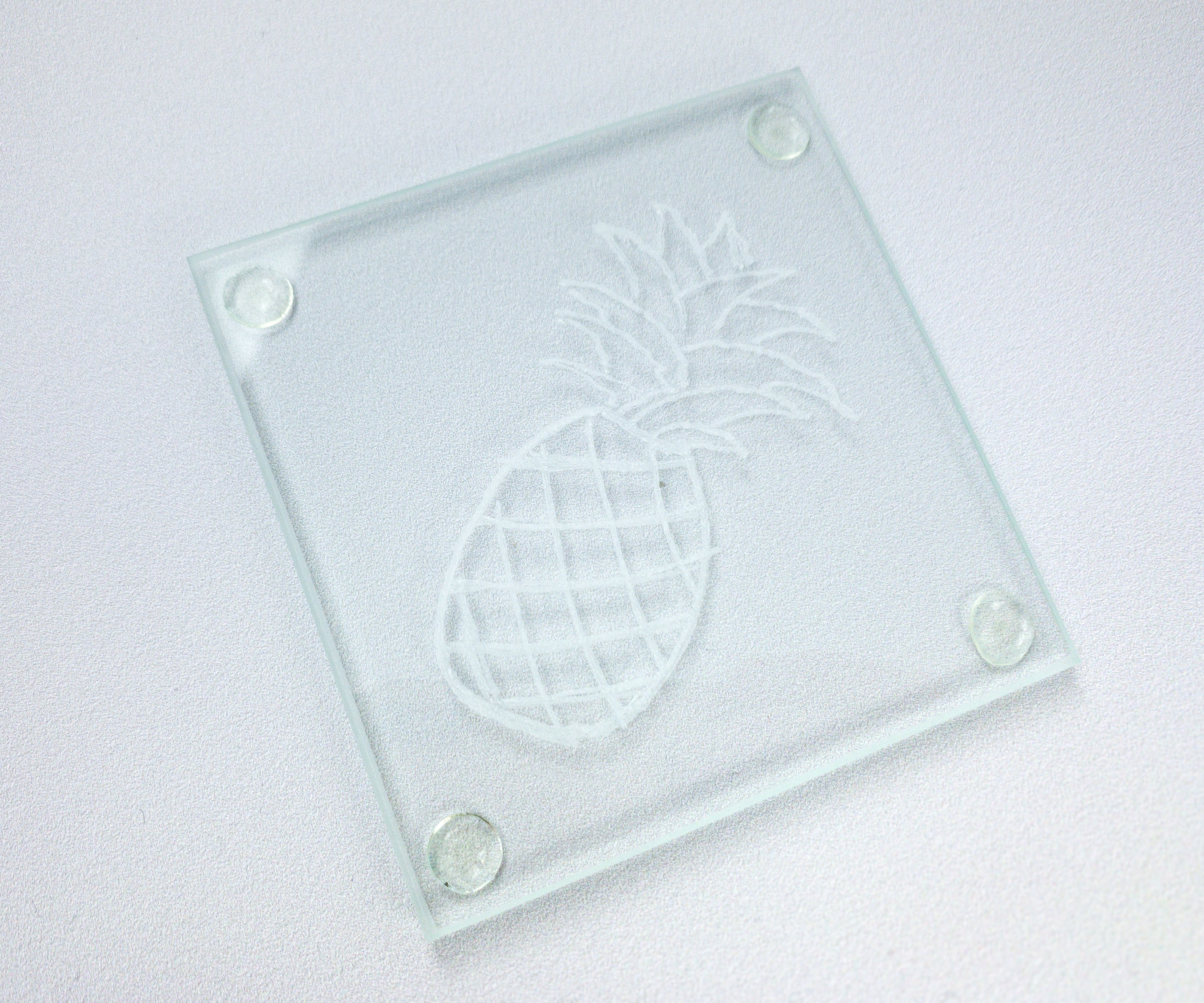 The first one looks cool with the pineapple engraved on it.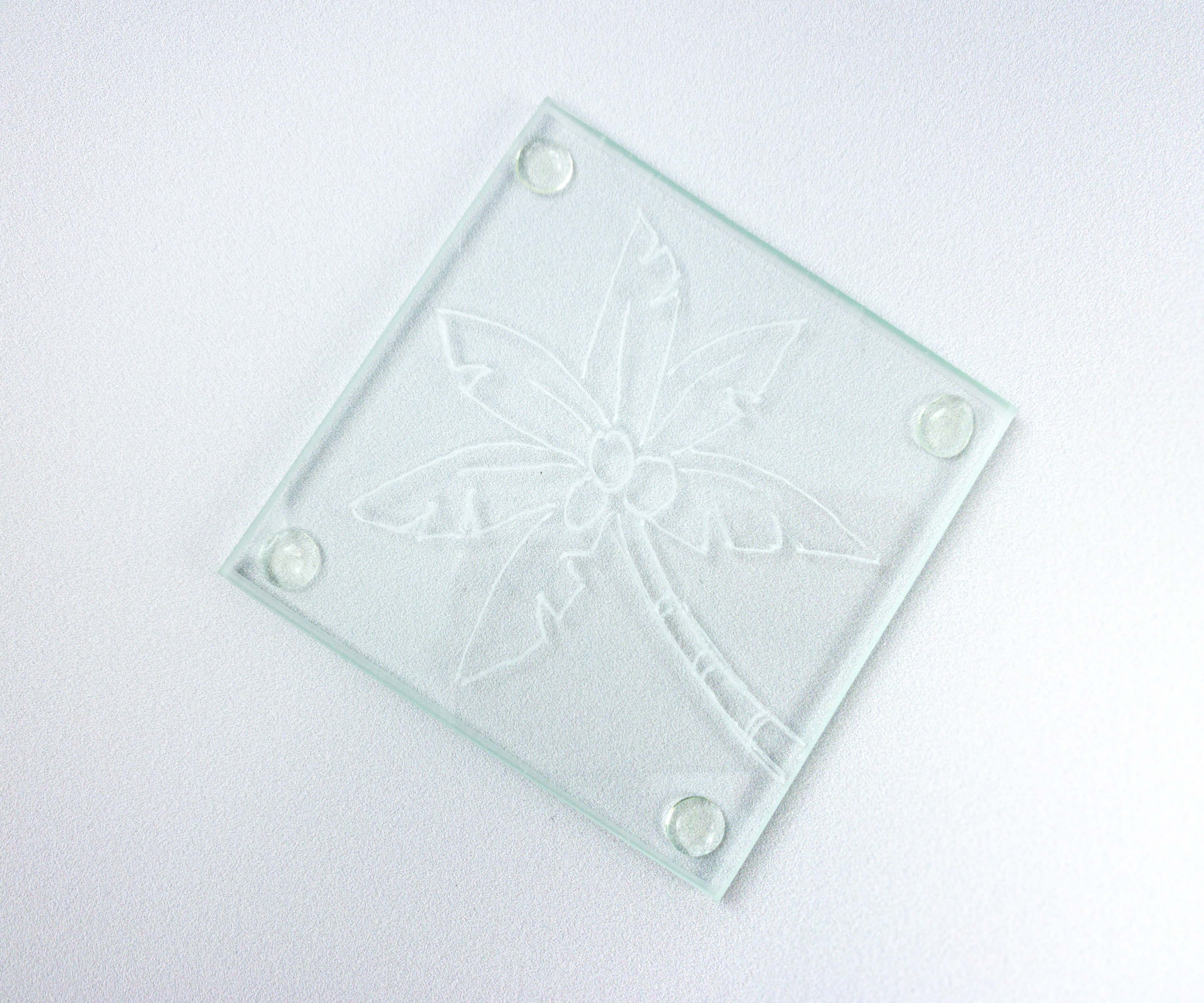 The coconut tree is really adorable! It reminds me of the summer Island life!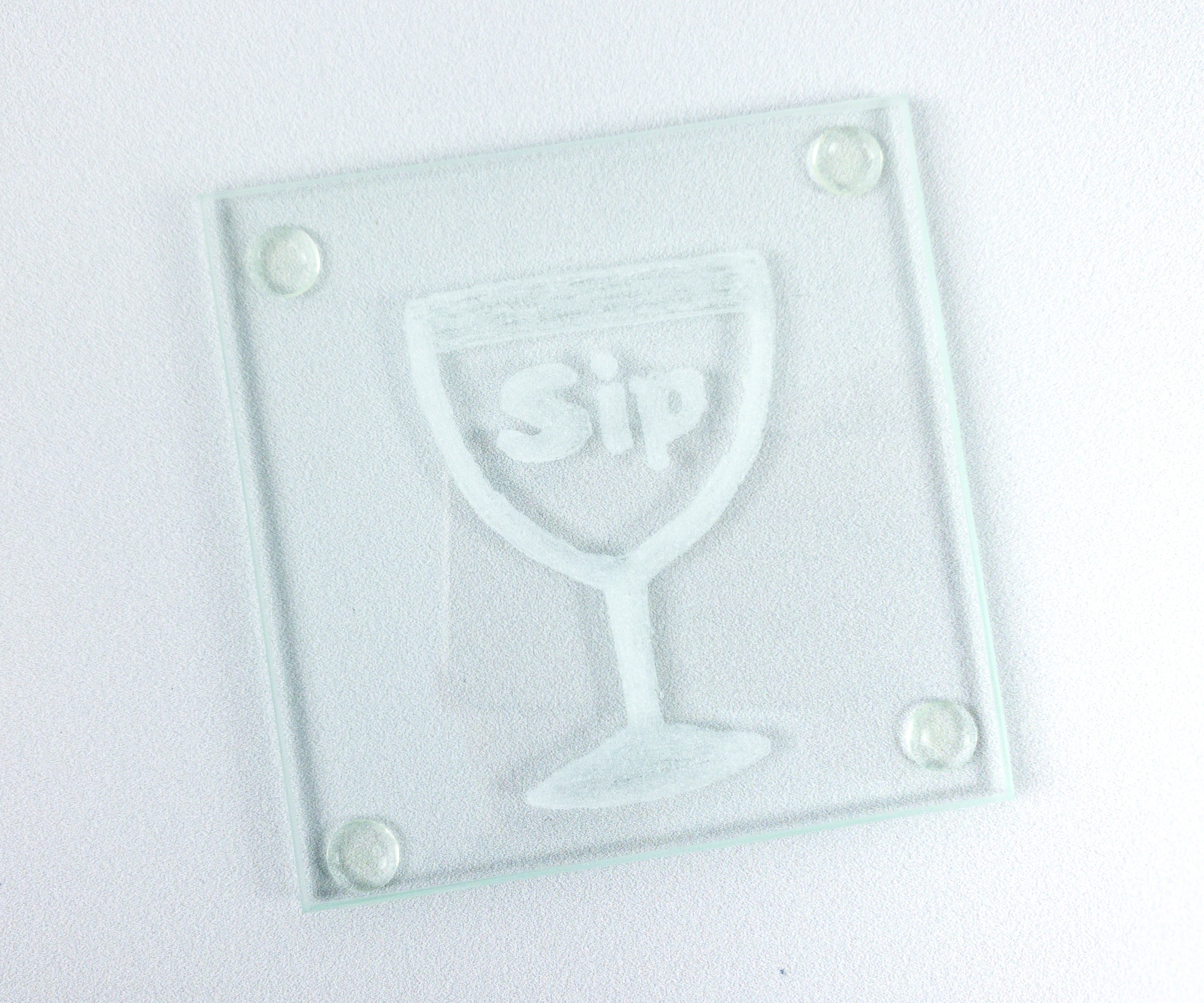 This one is cute, it's like the coaster is inviting me to take a sip of my favorite drink!
Another summer-themed design! The sun is looking cool on this glass coaster!
For the stainless steel bottle, I chose the cactus design.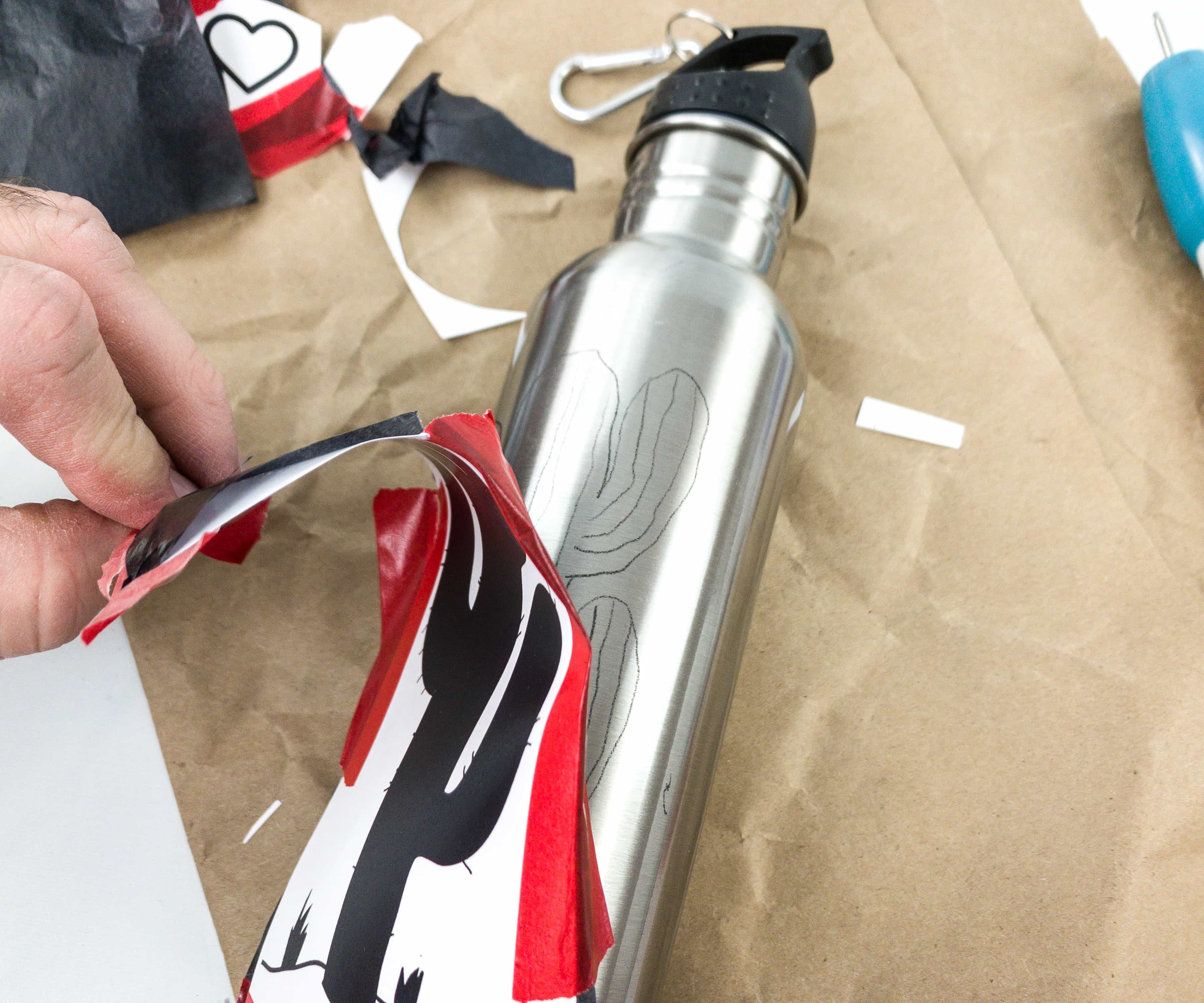 First, I put the transfer paper on the surface, followed by the design I chose and traced the pattern. I made sure that the design transferred correctly to the surface of the metal bottle before finally engraving it using the engraving pen.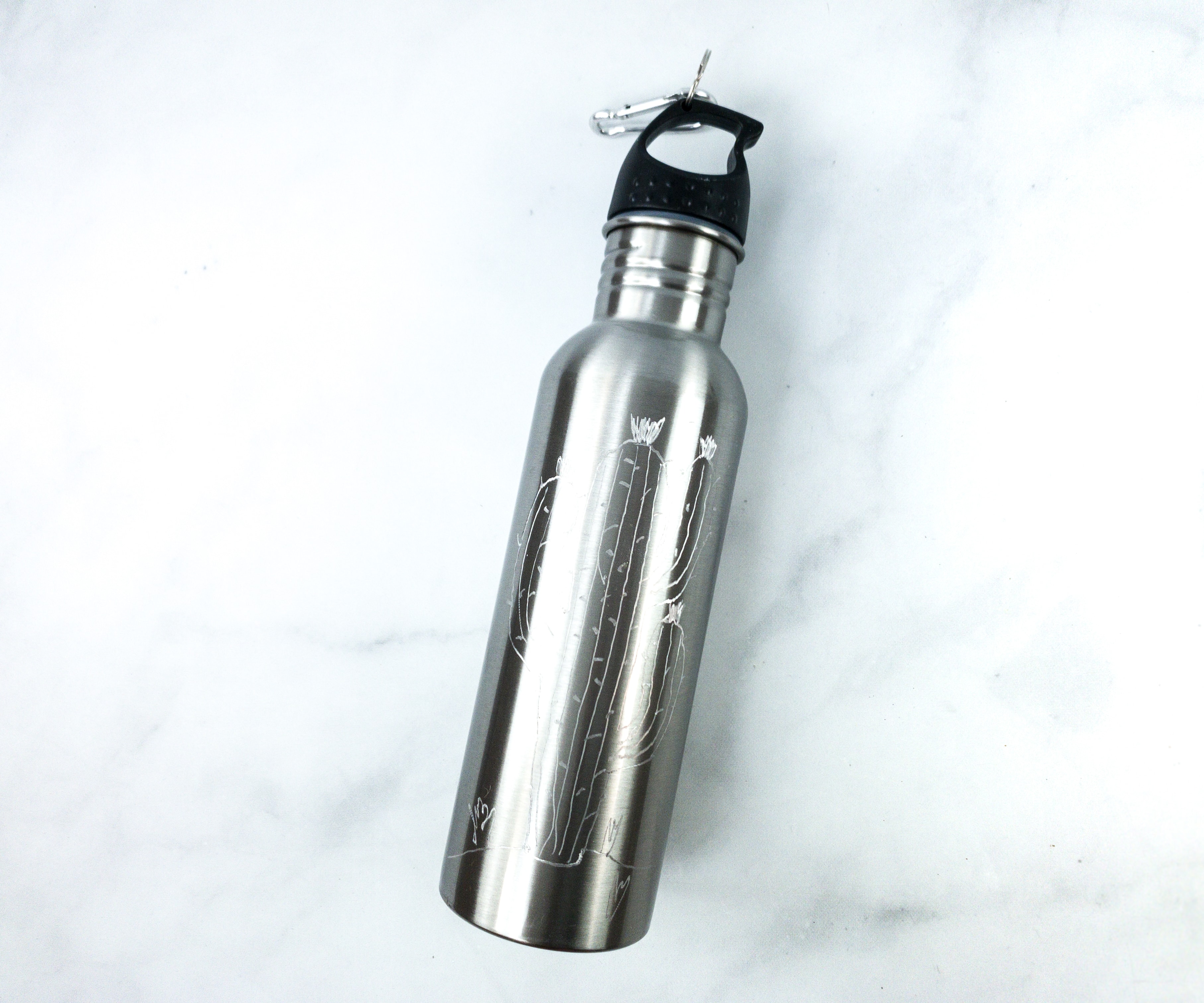 It takes more time to engrave on metal but the finished product is worth it!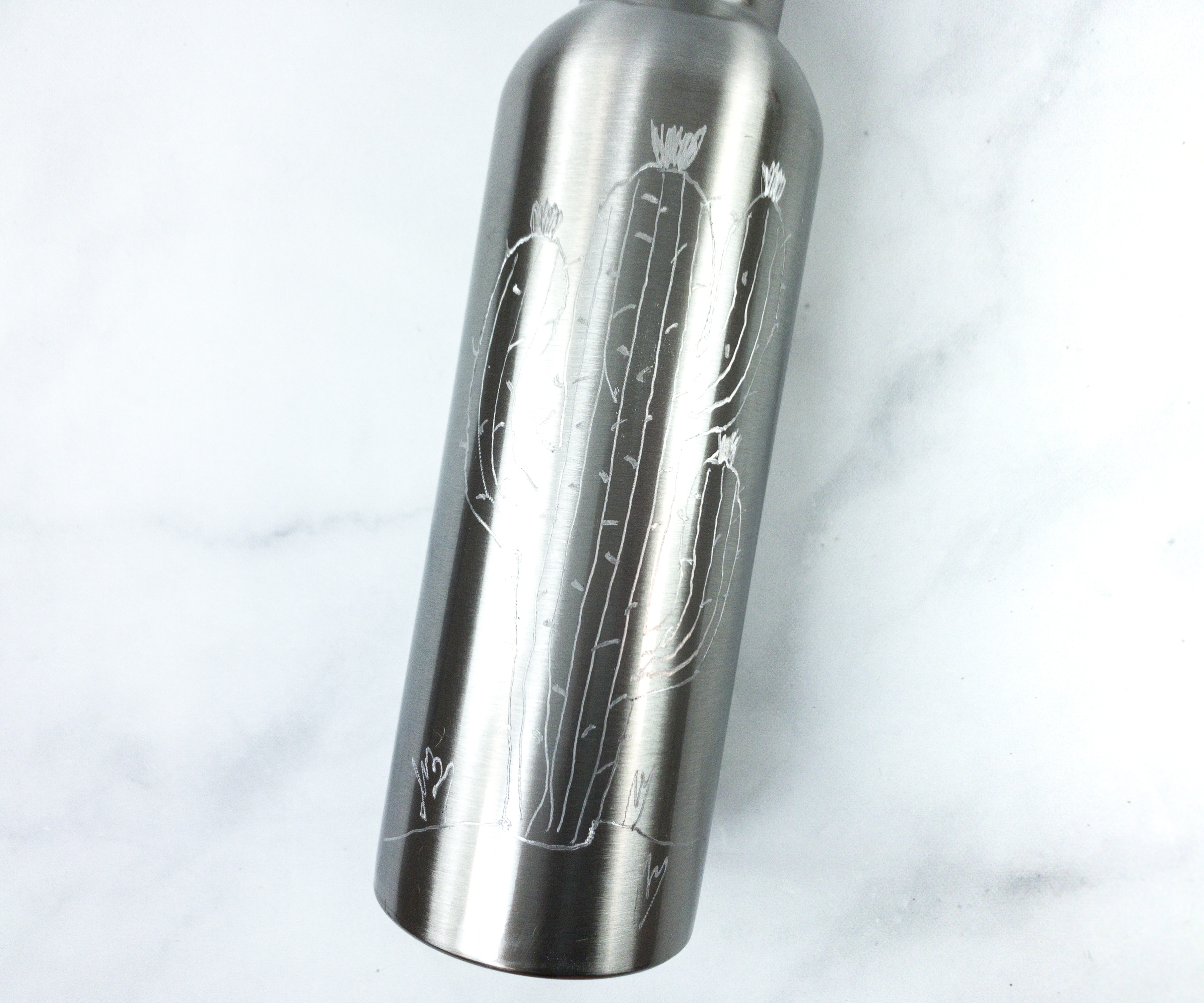 It's also amazing that I got to do it as detailed as possible!
I engraved the hearts on the tin's lid.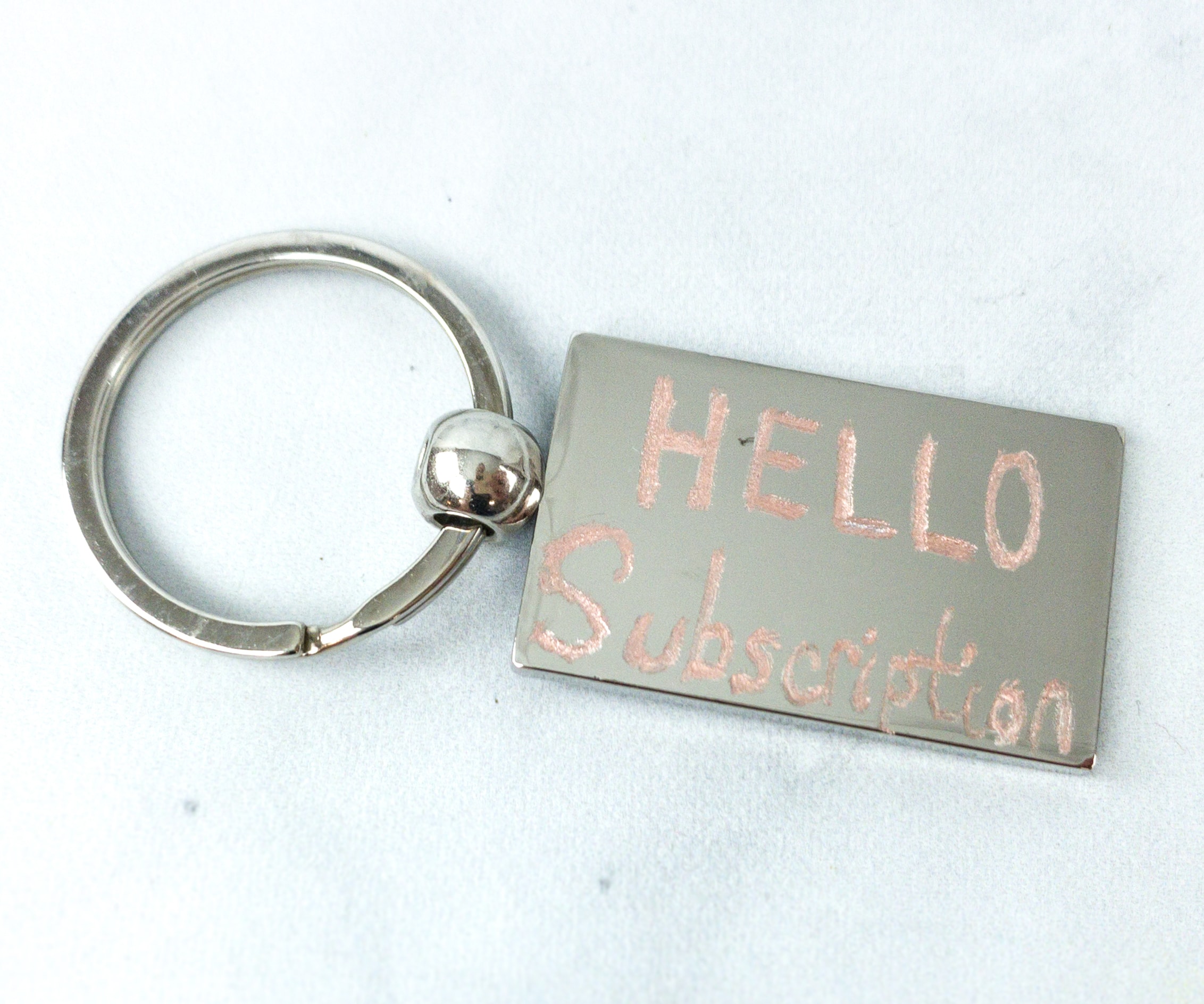 The design that I made on the keychain is truly personalized, as it's my very own design! I think I need practice on lettering!
And there's Hello Subscription's cool logo at the other side of the metal keychain!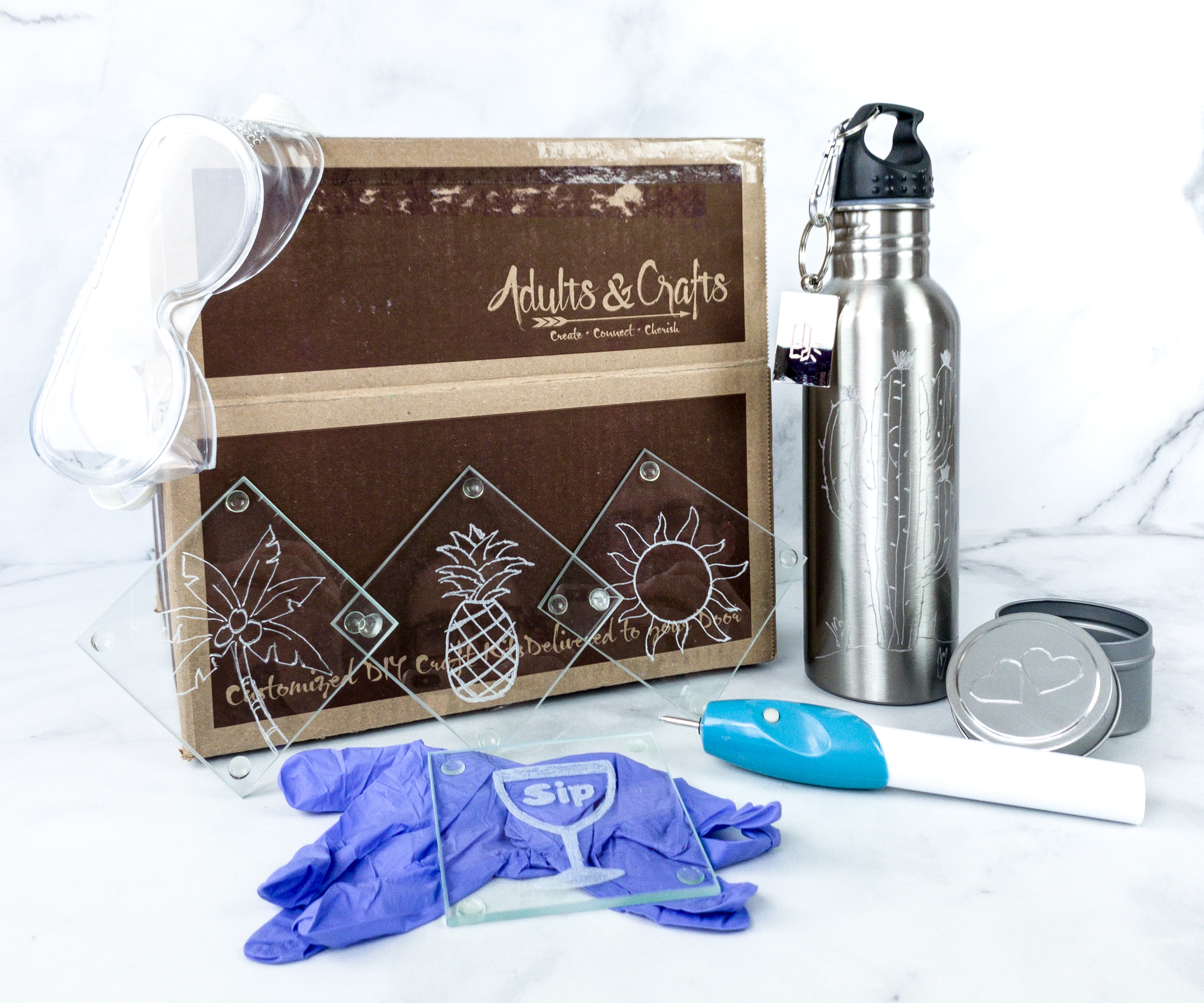 Here are all the final products for this Engraving kit! For the two remaining coasters, I used the coconut tree and the sun designs. I also put hearts on the lid of the tin container.
This is yet another fun Adults & Crafts box! I've tried painting and building stuff in the past boxes, and this time, I engraved designs on different items! I finally got my own engraving pen so I can engrave stuff easily and even label things. They won't easily fade unlike when making designs using just pens or markers. This DIY engraving kit is amazing, and the box even provided items that I can engrave like metal keychains, tin containers, and even my own stainless steel water bottle! For those who are interested in DIY crafts, this subscription is a great match!
What do you think of this month's box?