The new Vine Oh! Summer 2020 Oh! Happy Day! Box is available for pre-order now!
Normally available for $59.99 per box ($171+ value) with 2 bottles of premium custom wine, full-size rejuvenating products, delicious treats and fun unique gifts.
DEAL:  Save $10 Off + FREE Extra bottle of wine in EVERY box + FREE VOESH Collagen Socks + FREE Shipping on Oh! Happy Day! Box. Use coupon code HELLOWINE to sign-up!
Here's the spoilers for what's in the Oh! Happy Day Summer 2020 Box: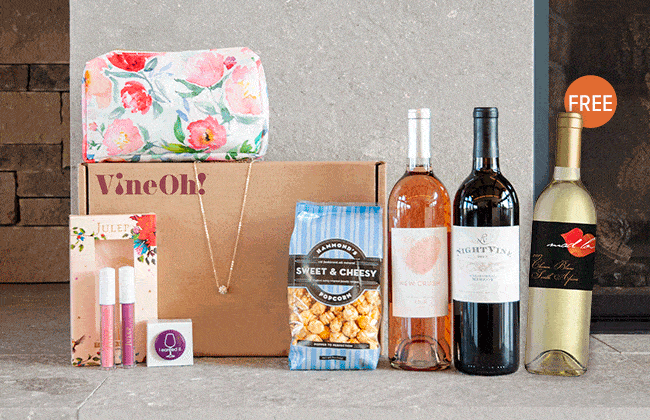 Jules Smith Pavé Ball Necklace – Retail Value $55

Perfect for layering or on its own
16" chain with 3" extender, hypoallergenic

Julep Hydrating Lip Gloss Dup – Retail Value $38

Non-sticky, creamy gloss that is enriched with ingredients that hydrate, naturally plump, and color the lips in just one swipe
Colors: Muse & Flirt

Tickled Pink Cosmetic Bag – Retail Value $15

Fully lined, this bag is just the right size for holding exactly what you need for your daily makeup needs and on the go touch-ups.
Assorted designs

Capabunga Wine Cap – Retail Value $5

Just slip the cap over the top of your open wine bottle for storage. It sits right on top of the bottle so it fits in the fridge door, but it is also liquid tight so you can store the bottle on its side.
Made from food grade silicone. Designs vary.

Hammond's Sweet & Cheesy Popcorn – Retail Value $5

Hammond's Sweet & Cheesy Popcorn is a popcorn treat that mixes the flavors of sweet, rich caramel with salty, savory cheddar cheese!
A 5-oz. bag of popcorn. Preservative free. Kosher.

2 Bottles of Premium California & South African Wine – Retail Value $21-26 each
Total Retail Value of the Oh! For Me! Box – $171+
About the FREE collagen socks:
VOESH Collagen Socks – Retail Value $5 

These spa socks are infused with a collagen-rich emulsion that holds extreme soothing properties, instant plumping action and hydration benefits. They are great for softening calluses and are the perfect regimen for tired, sore feet
Toe section of the socks have a tear away design so that you can paint your toes while treating your feet