TheraBox is curated by practicing therapists with the aim to inspire happier lives. Each box includes 4-6 wellness products sourced from vendors that produce natural, organic, and feel-good items. They also incorporate at least 1 happiness boosting activity inspired by research in mindfulness, psychology, and neuroscience to rewire the brain for more joy and positivity.
DEAL: Get 10% off your first order! Use coupon code HELLO10.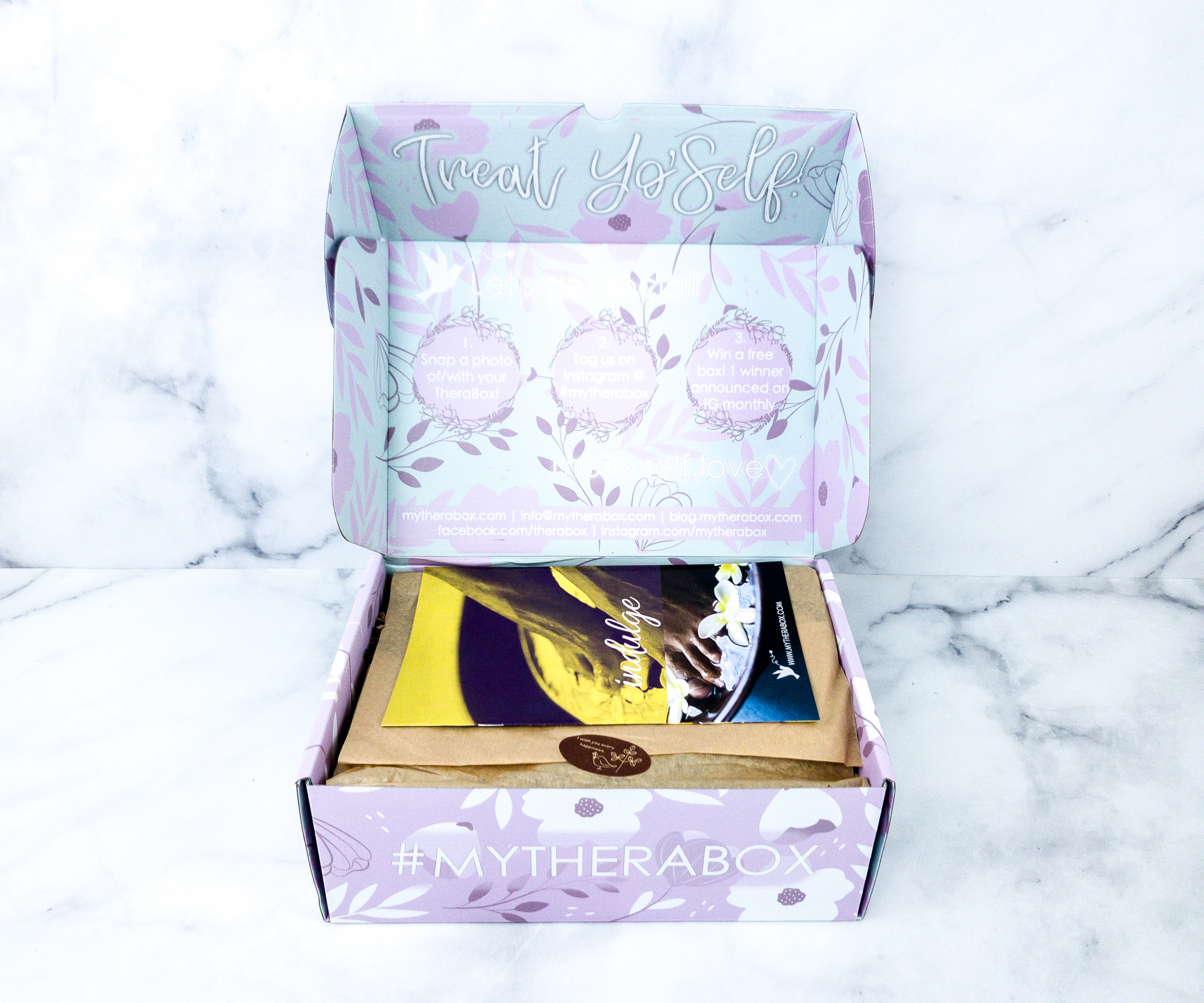 Even the interior of the box is filled with gorgeous prints!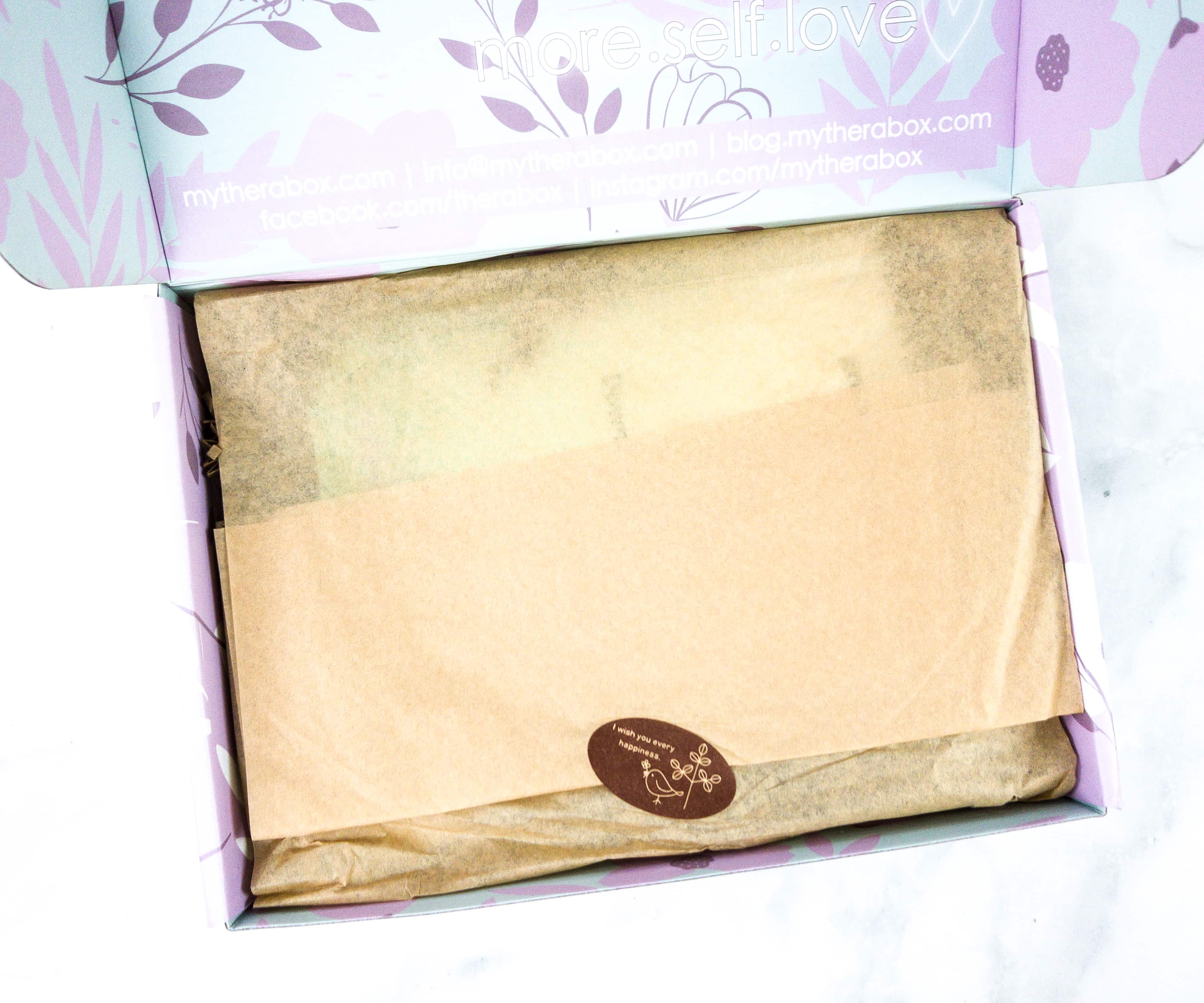 The items were wrapped in a tissue paper, sealed with a sticker.
All of them arrived in great condition, as they were cushioned by the squiggles.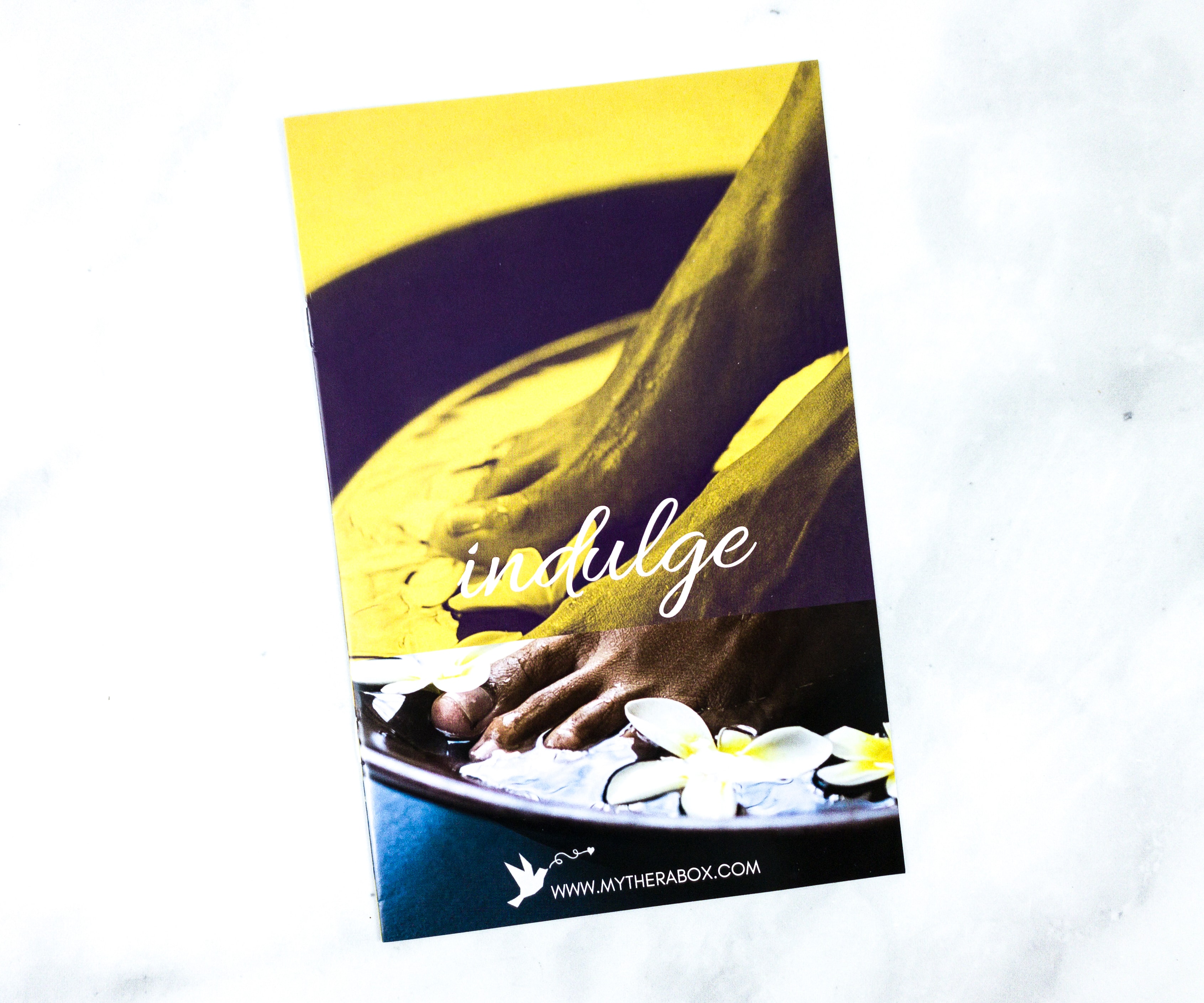 Every box comes with a mini-magazine. This month's box theme is INDULGE!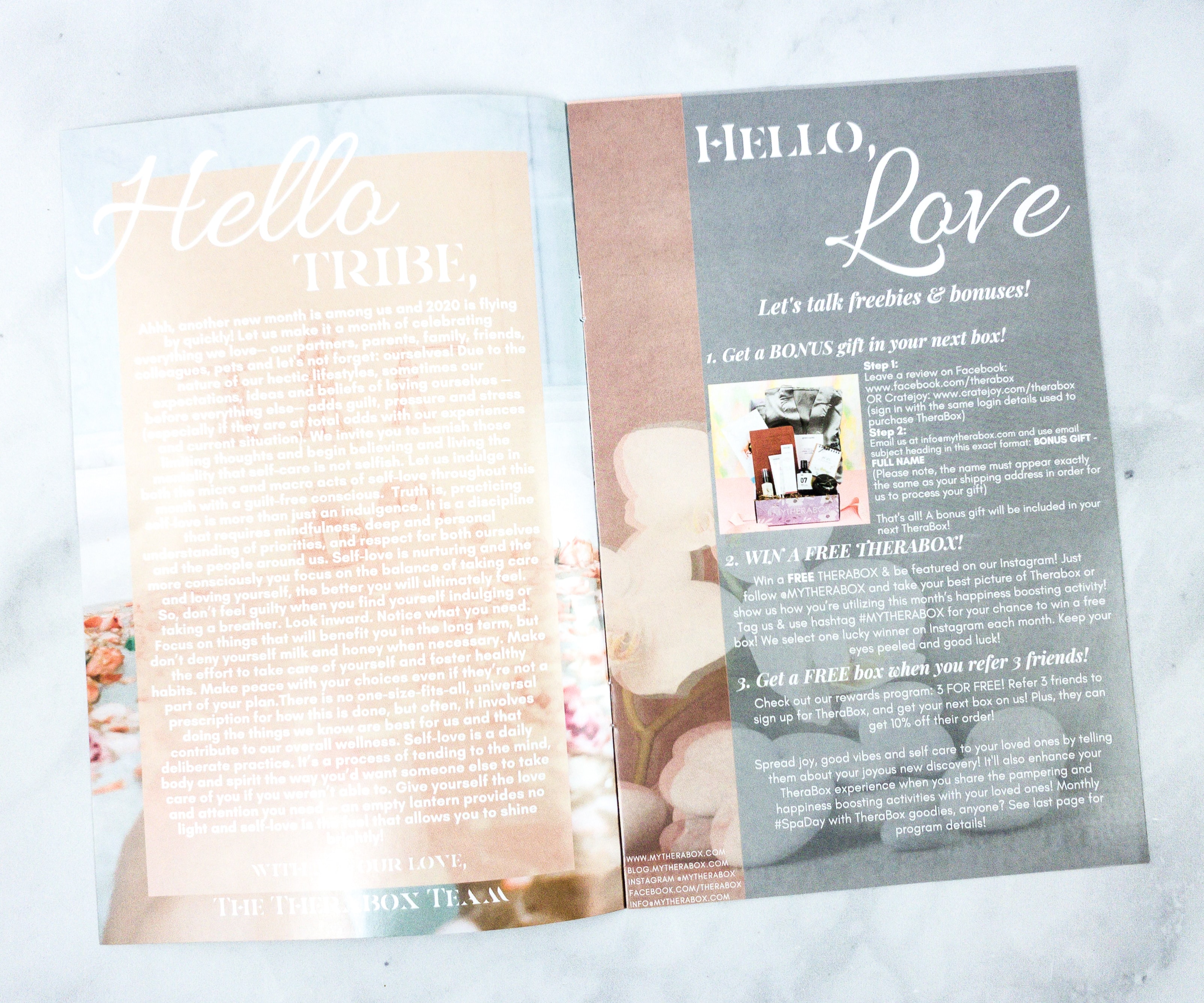 Featured on this part of the booklet is a message from the Therabox Team!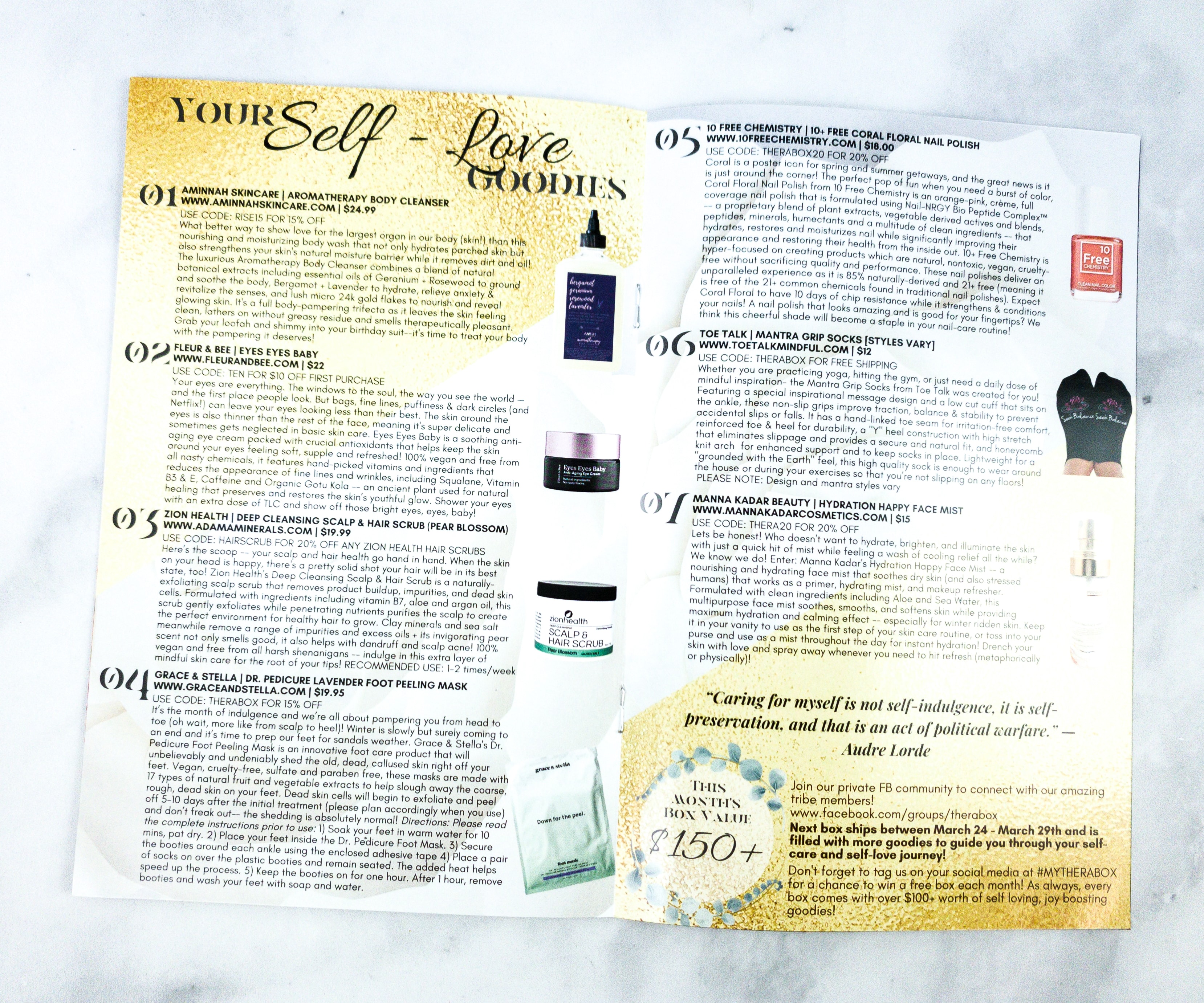 They included a photo of all the items in the box. The description for each item is lengthy and informative.
There's a feature about a happiness boosting activity, and they also answered FAQs regarding the subscription.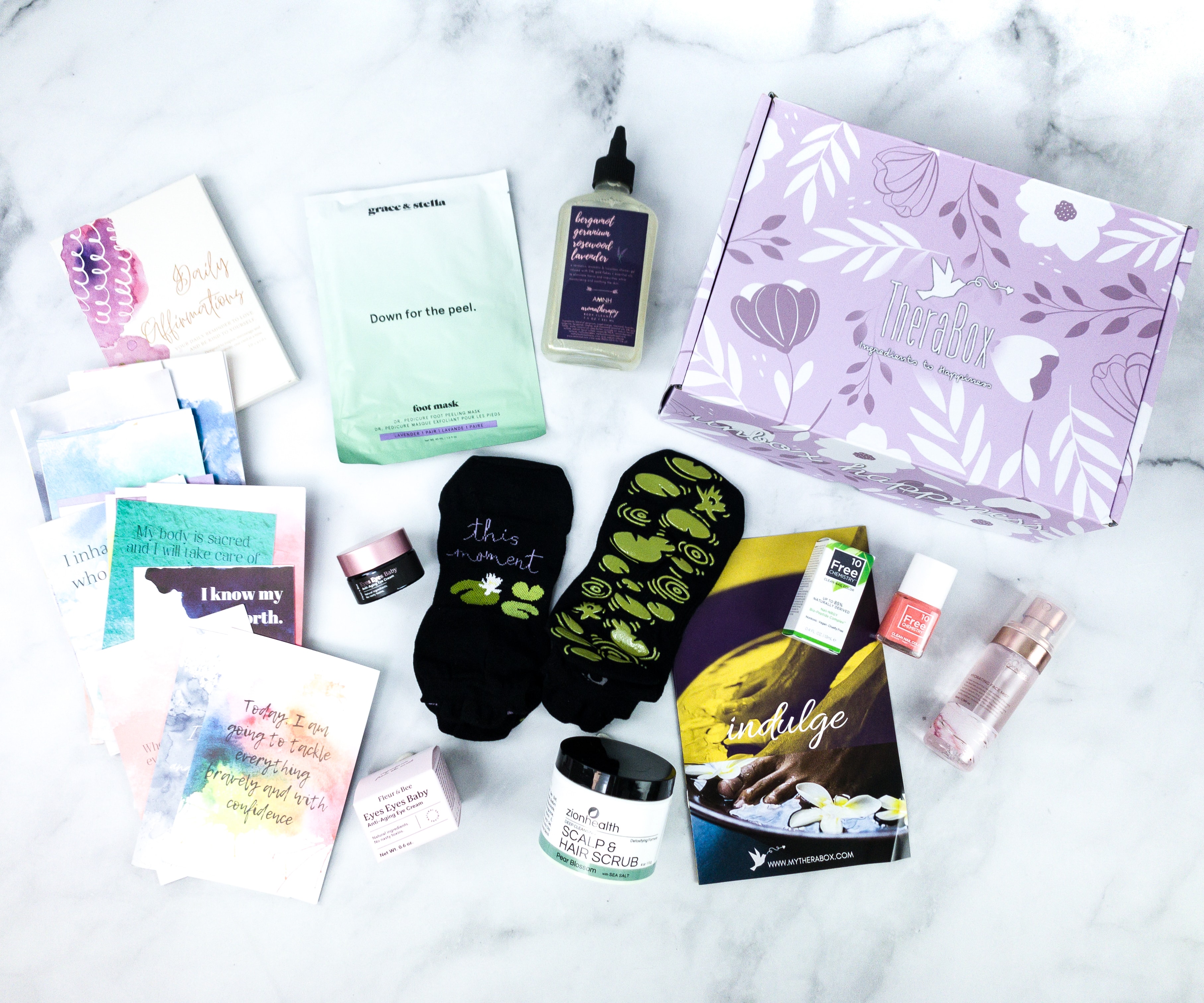 Everything in this month's box!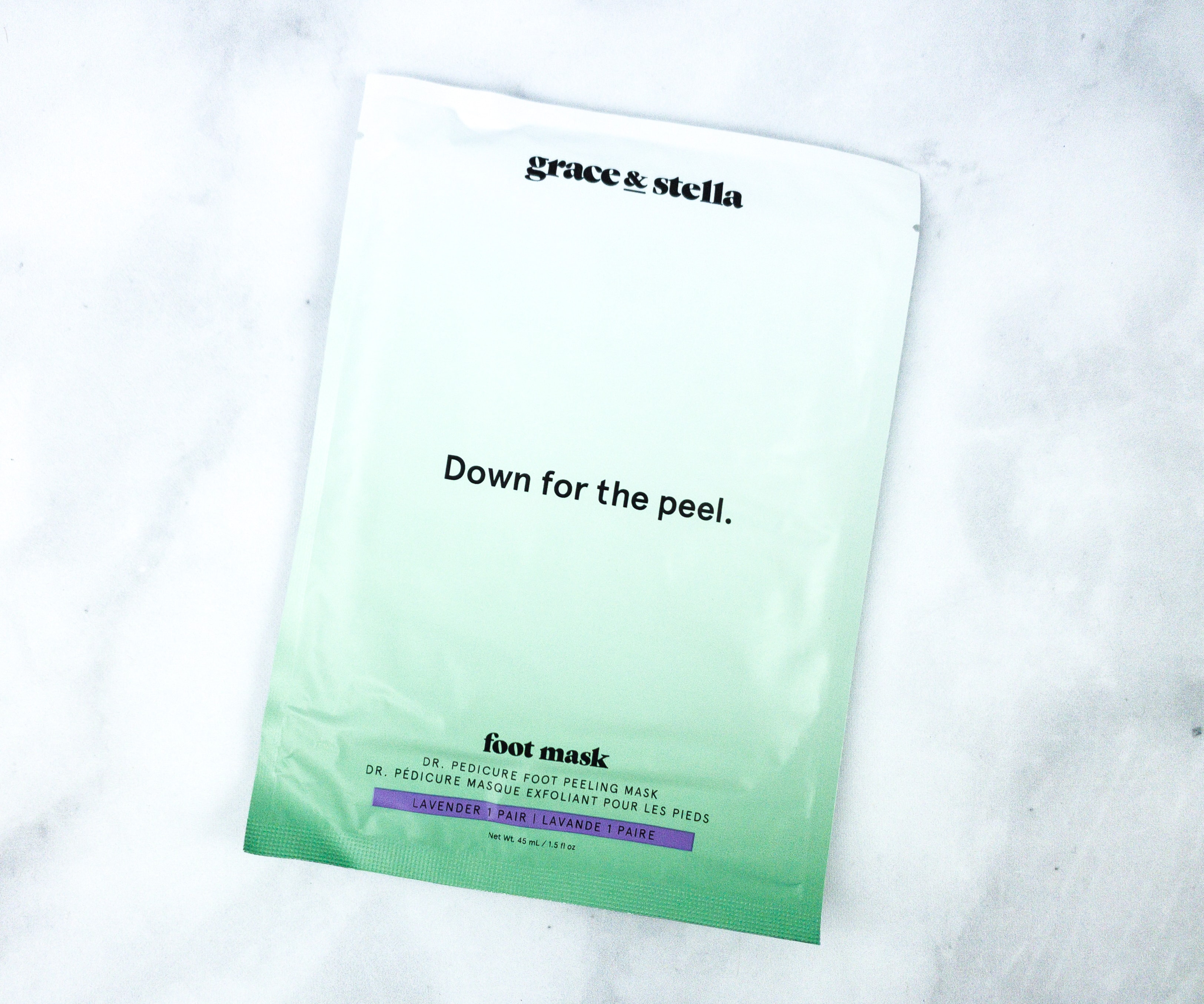 Grace & Stella Dr. Pedicure Lavender Foot Peeling Mask ($19.95) Masks are not just for the face! Some of them are created specifically for the feet to keep them smooth and soft no matter what season. This one is infused with lavender, which has a calming effect!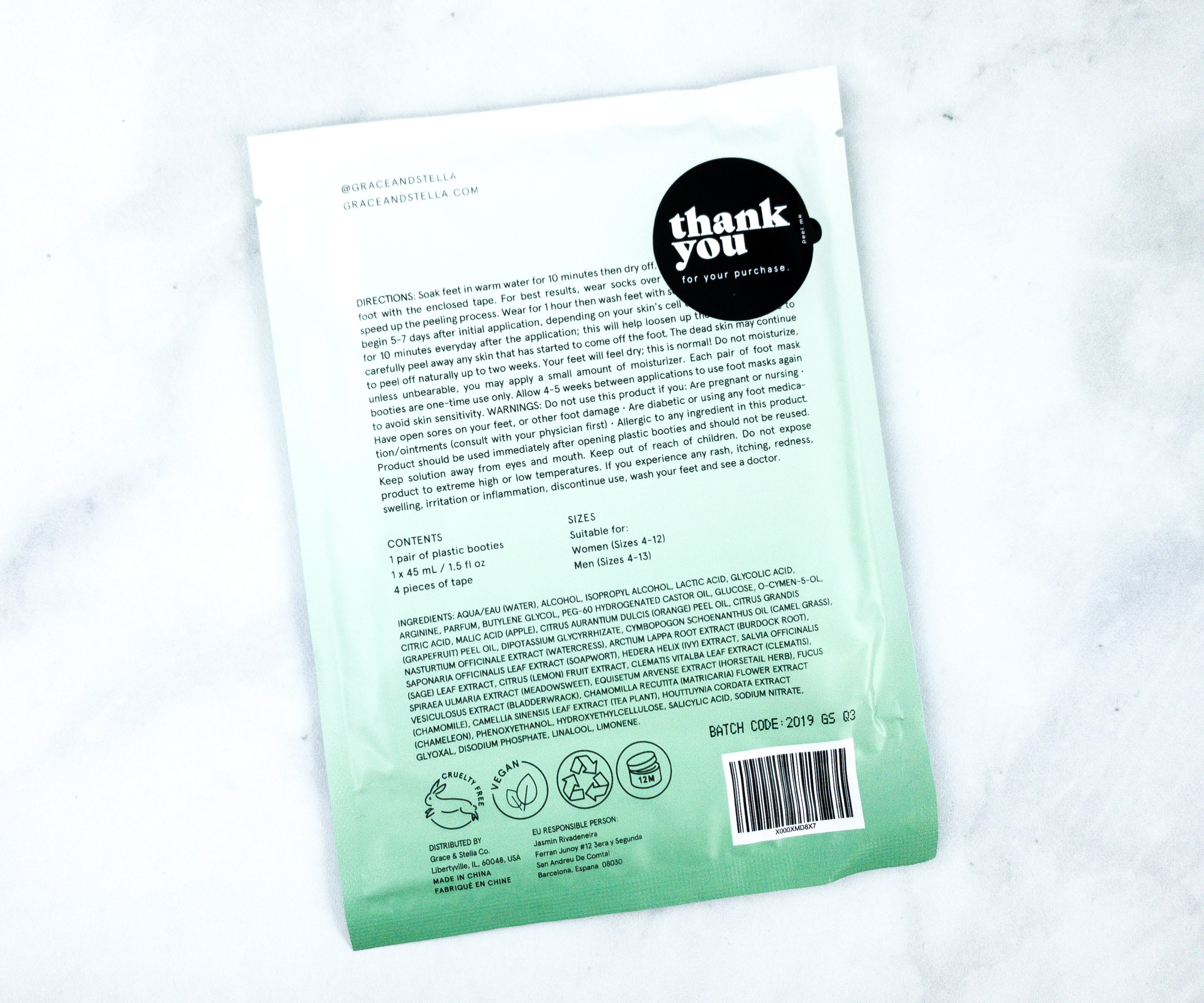 These masks help remove dead skin and calluses off the feet, leaving them feeling fresh and relaxed. They look like plastic socks and you need to wear them for an hour to get the best results. Afterward, remove the masks and wash your feet with soap and water. They sure are soothing!
Toe Talk Mantra Grip Socks ($12) This pair of cute socks is one-size-fits-most. It's made with a bamboo blend, making it extremely soft and lightweight yet durable.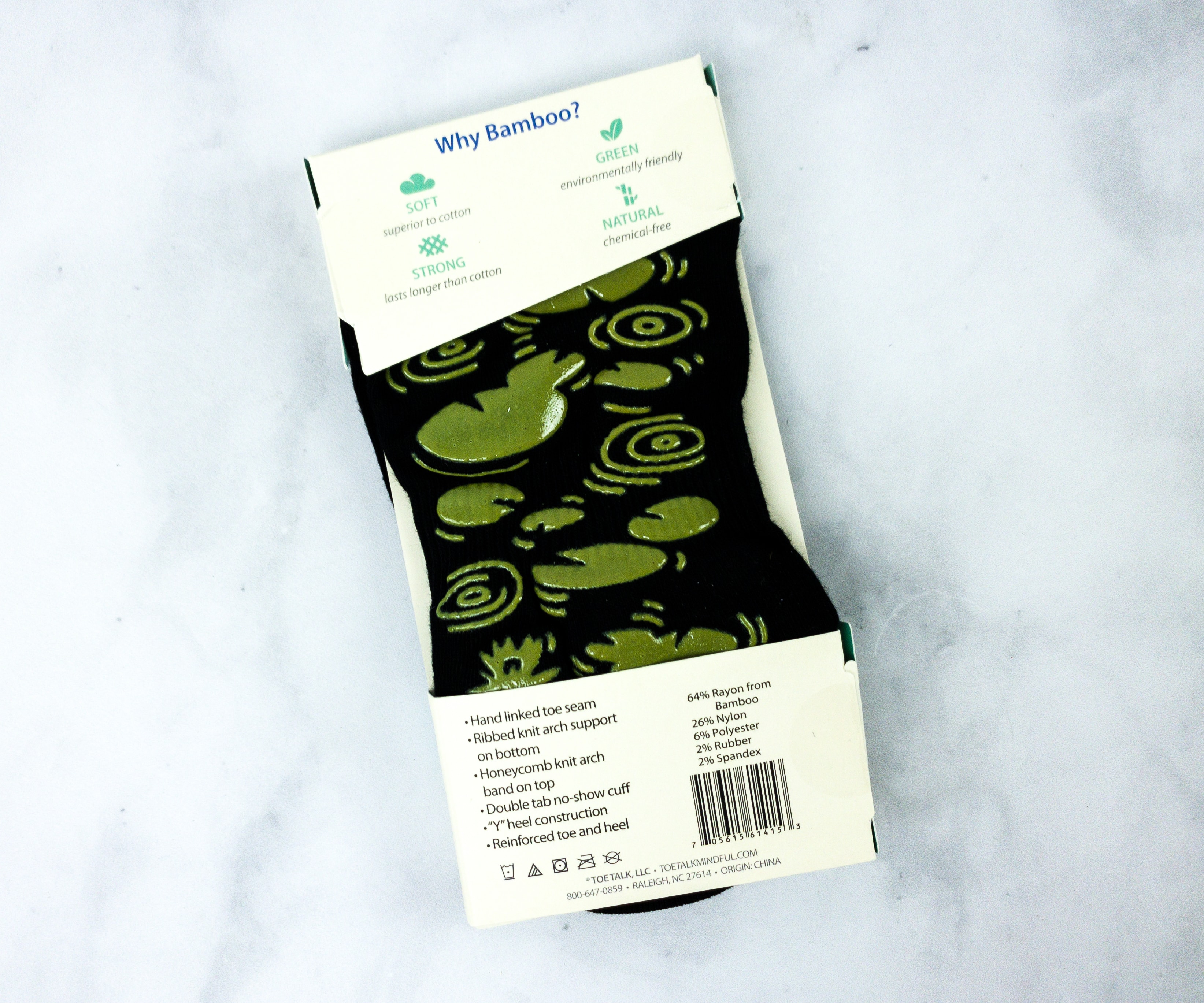 The label listed the breakdown of the materials used for these socks, including 64% rayon from bamboo, 26% nylon, 6% polyester, 2% rubber, and 2% spandex.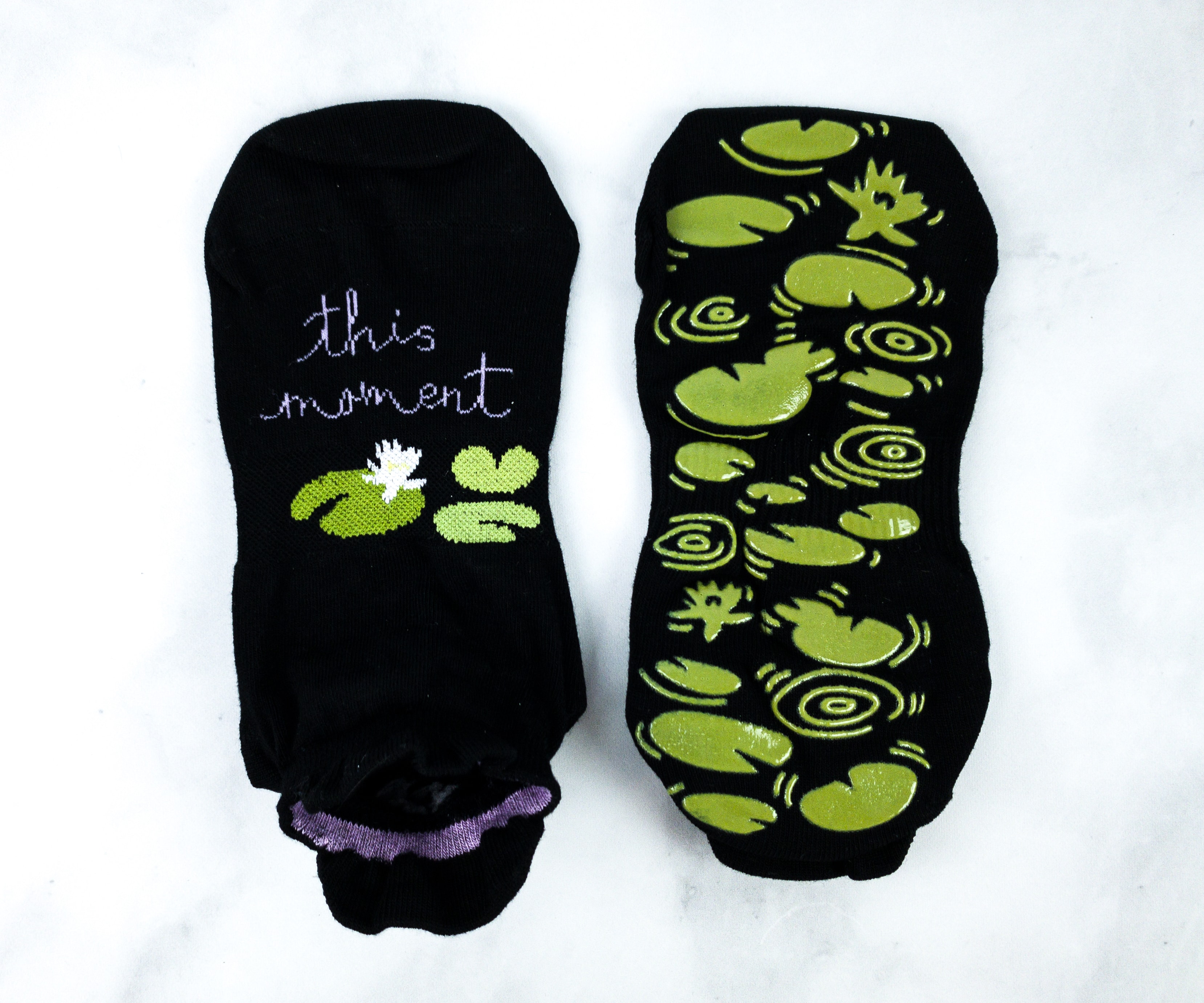 They have reinforced toes and heels for durability as well as non-slip grips to improve traction, balance, and stability!
The Happy Shoppe Daily Affirmation Cards ($18.99) Self-care is a must and these affirmation cards make great daily reminders for you to love and be kind to yourself!
There are 30 4″ x 6″ cards in the set!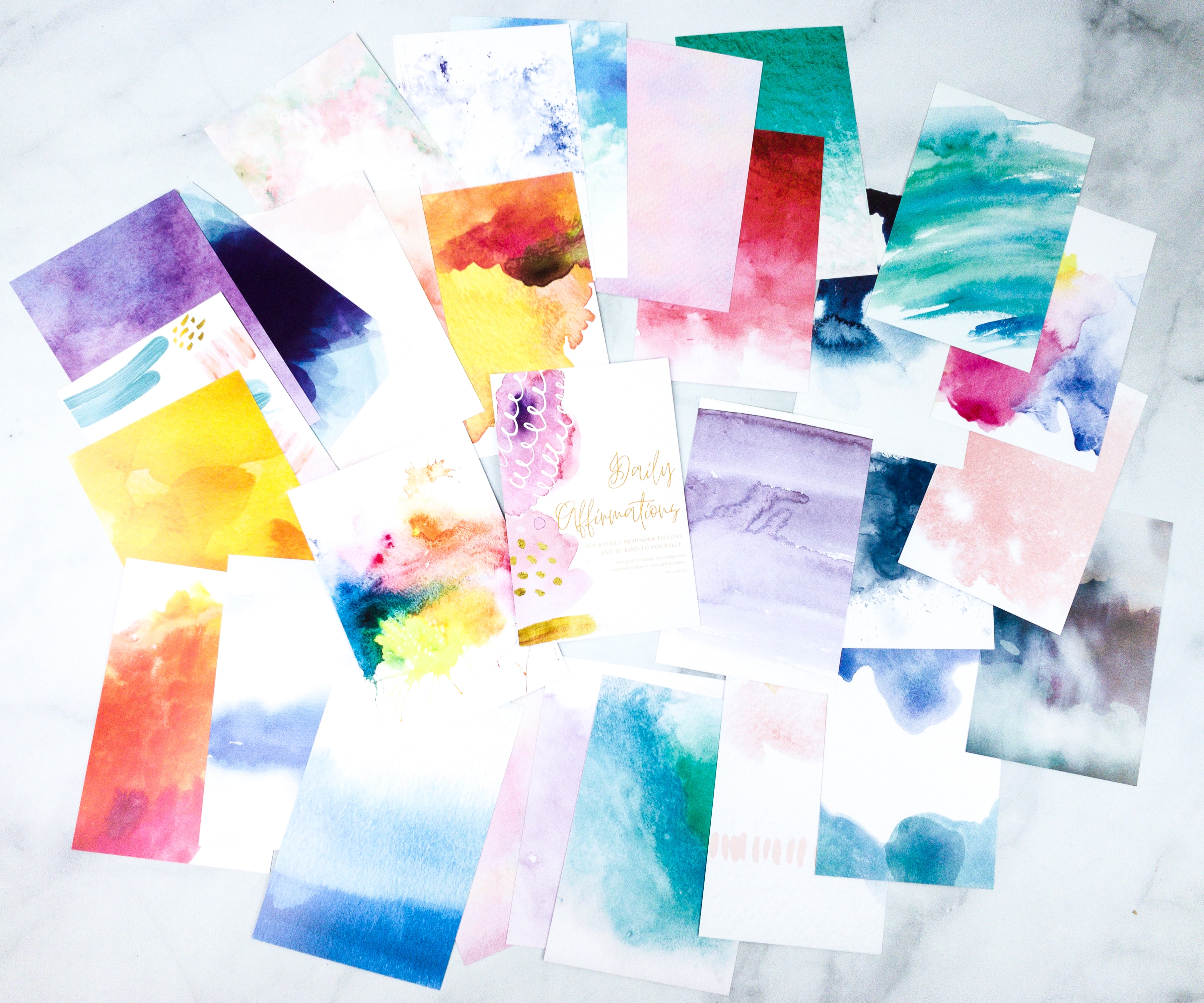 Each card comes with a different artwork plus a message of affirmation to get you through the day!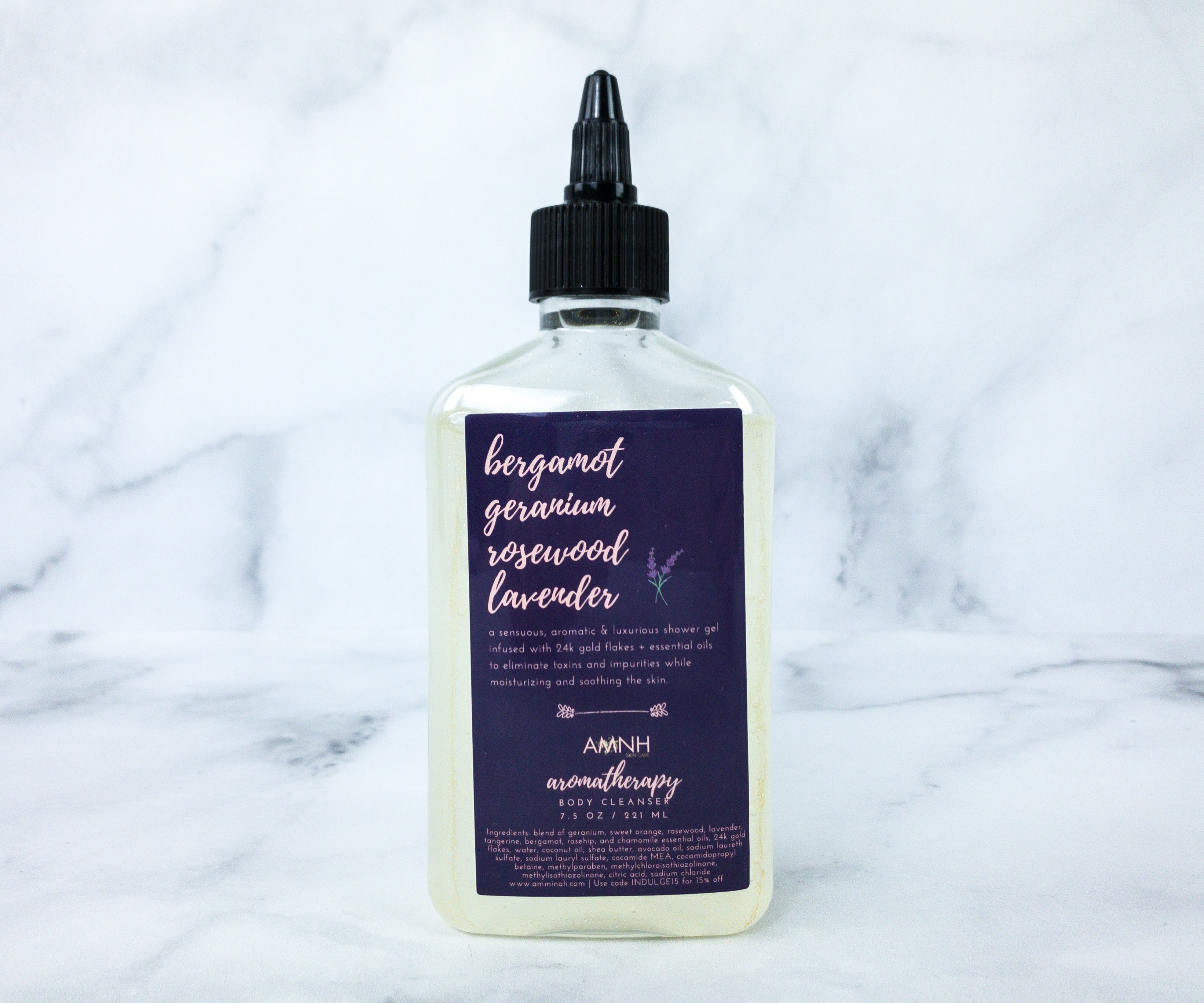 Aminnah Skincare Aromatheraphy Body Cleanser ($24.99) Formulated with essential oils, this body cleanser removes impurities while moisturizing and soothing the skin. It's also infused with 24k gold flakes that give it a luxurious feel. The formula is gentle and it also smells so good! It doesn't leave a sticky residue on the skin either, unlike other body cleansers.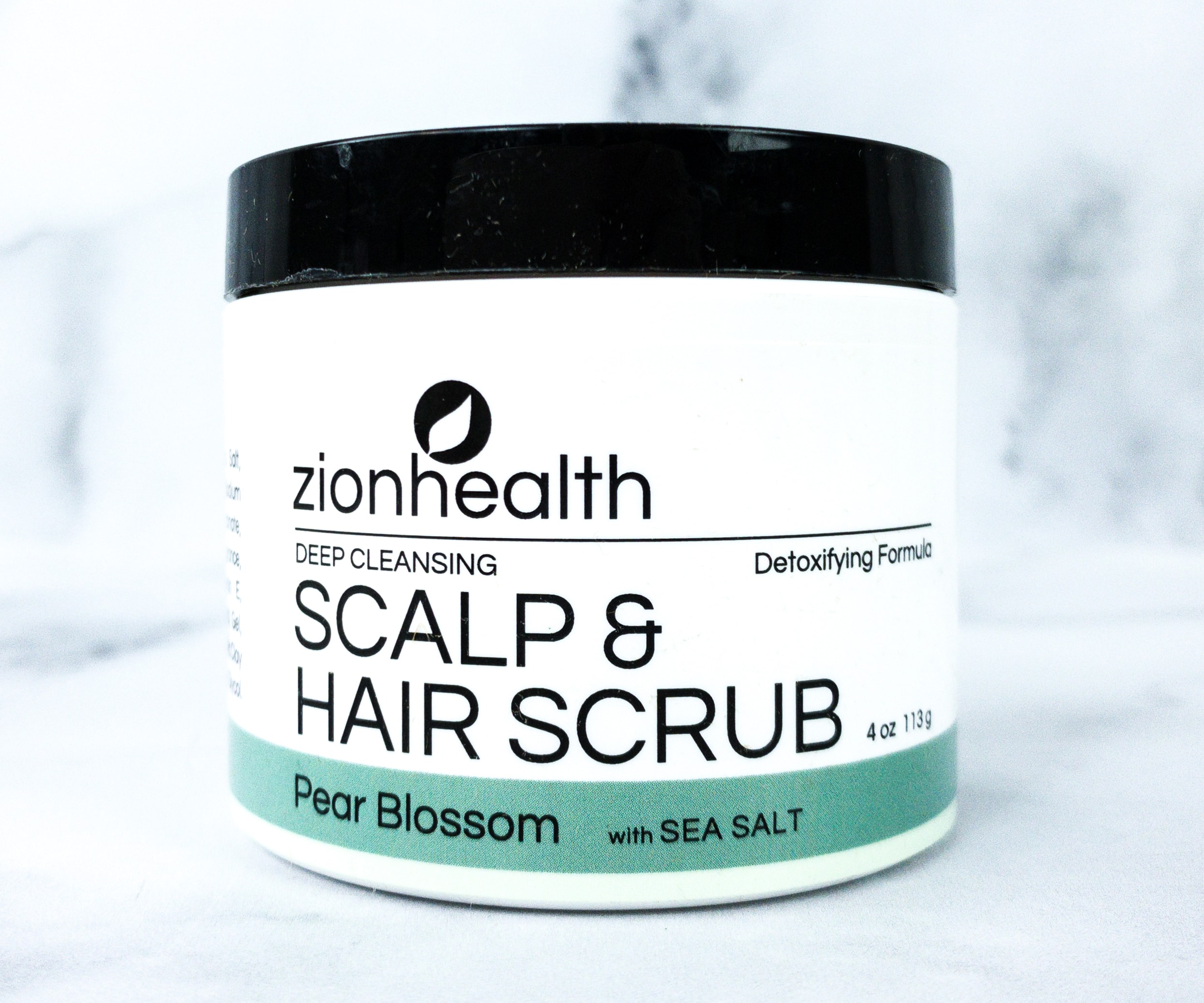 Zion Health Deep Cleansing Scalp & Hair Scrub Pear Blossom ($19.99) This hair scrub with sea salt helps bring fragile and damaged hair back to life! The formula contains argan oil which promotes strong and silky hair and sweet almond oil that softens the hair and seals in moisture.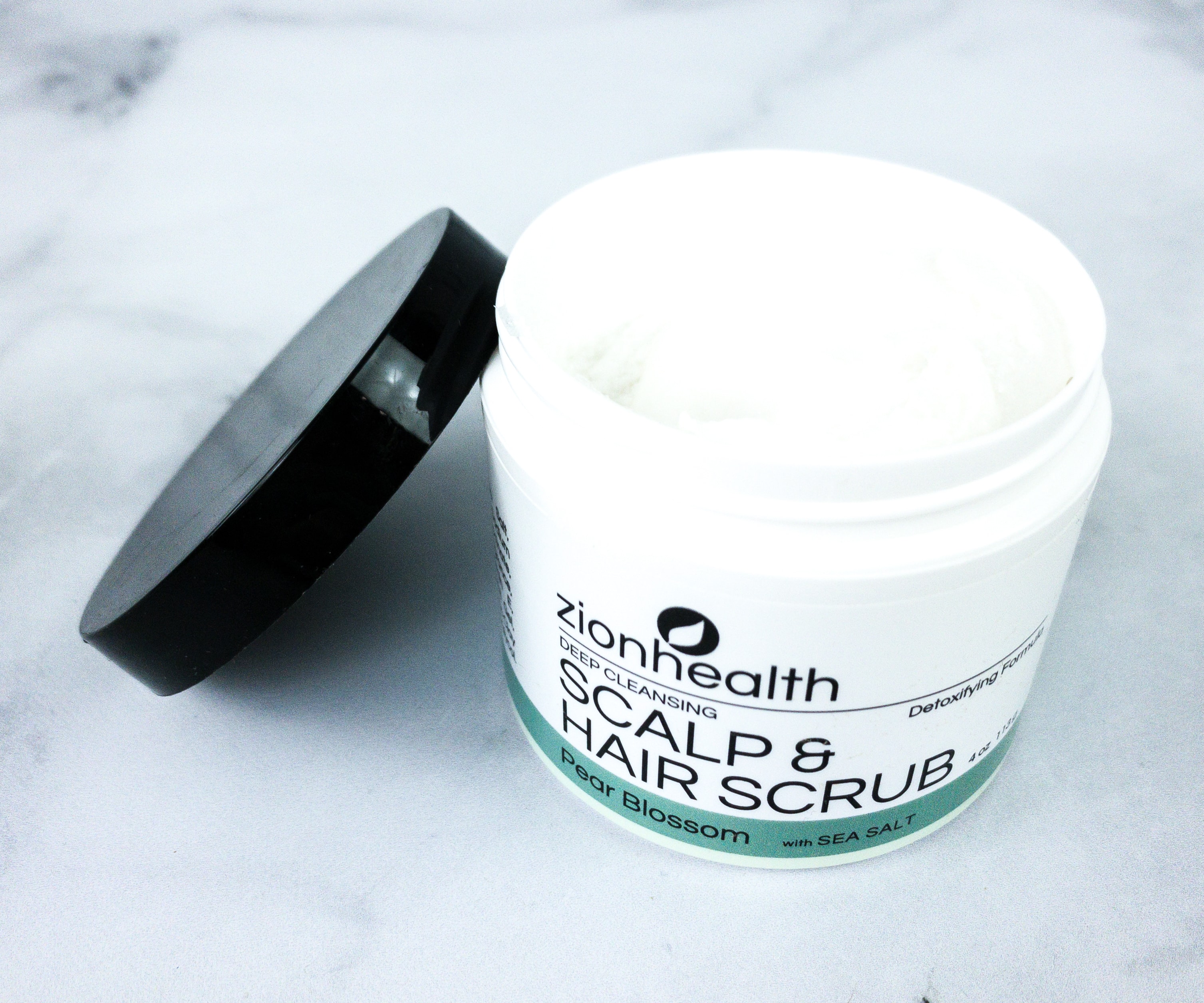 It cleanses and repairs the hair, bringing it back to its former glory. The hair scrub is ideally used once a week. All you need to do is apply it on wet or damp hair, then massage and rinse. You can also use a conditioner afterward.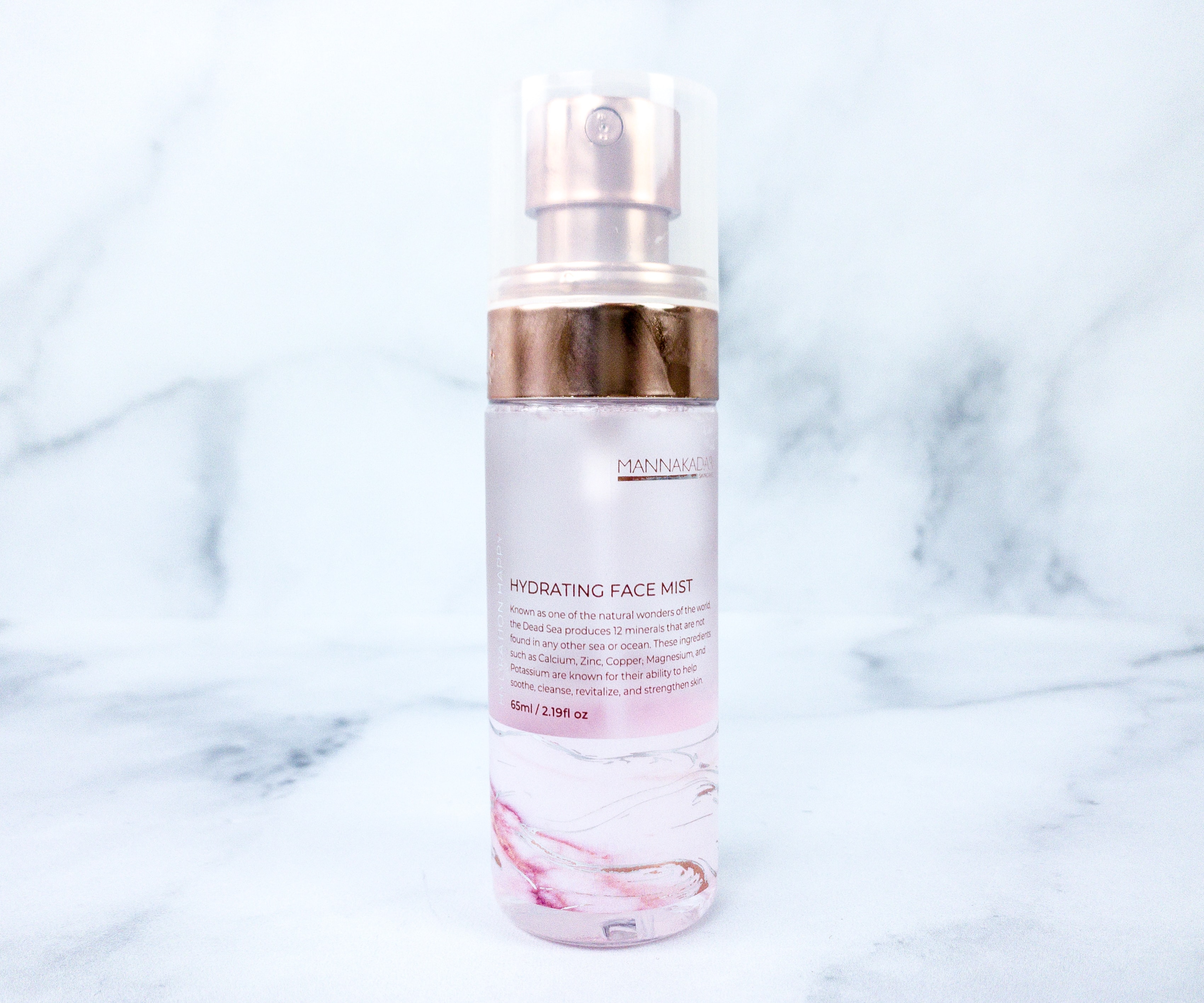 Manna Kadar Beauty Hydration Happy Face Mist ($19) It's a nice face mist that works as a primer before applying makeup. You can also use it to freshen up in the middle of the day or as a hydrator for your nighttime skincare routine. I like the hydrating yet gentle formula, which contains sea water, aloe leaf extract, and jasmine flower extract. It also gets absorbed by my skin pretty easily!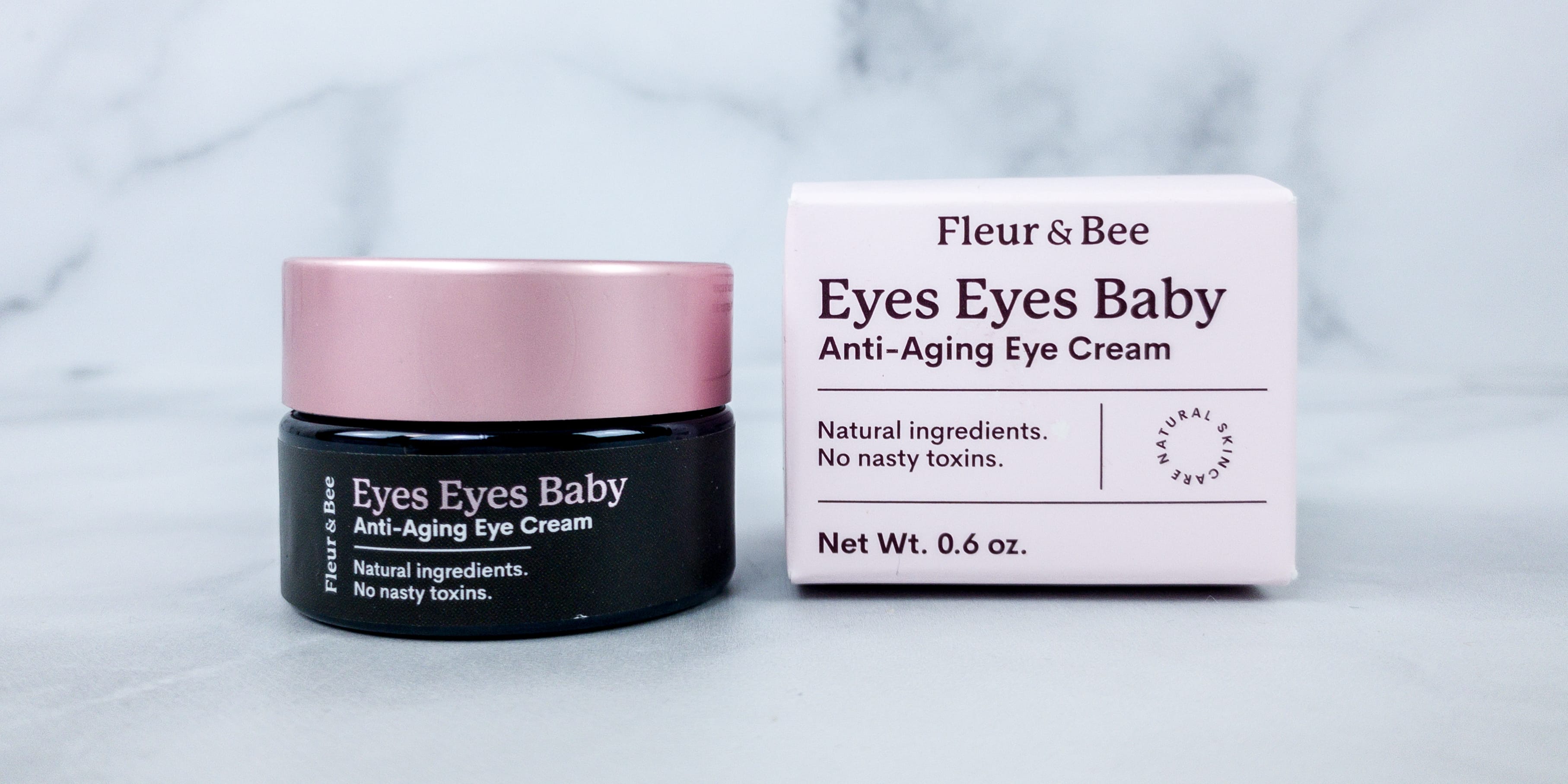 Fleur & Bee Eyes Eyes Baby ($22) To help keep fine lines and wrinkles at bay, they included this anti-aging cream in the box! The formula gives a blurring effect that softens the appearance of fine lines and wrinkles!
Formulated with caffeine, it also boosts tired-looking skin and decreases puffiness in the undereye area. Creamy and lightweight, a little of this product goes a long way. It also works even under makeup!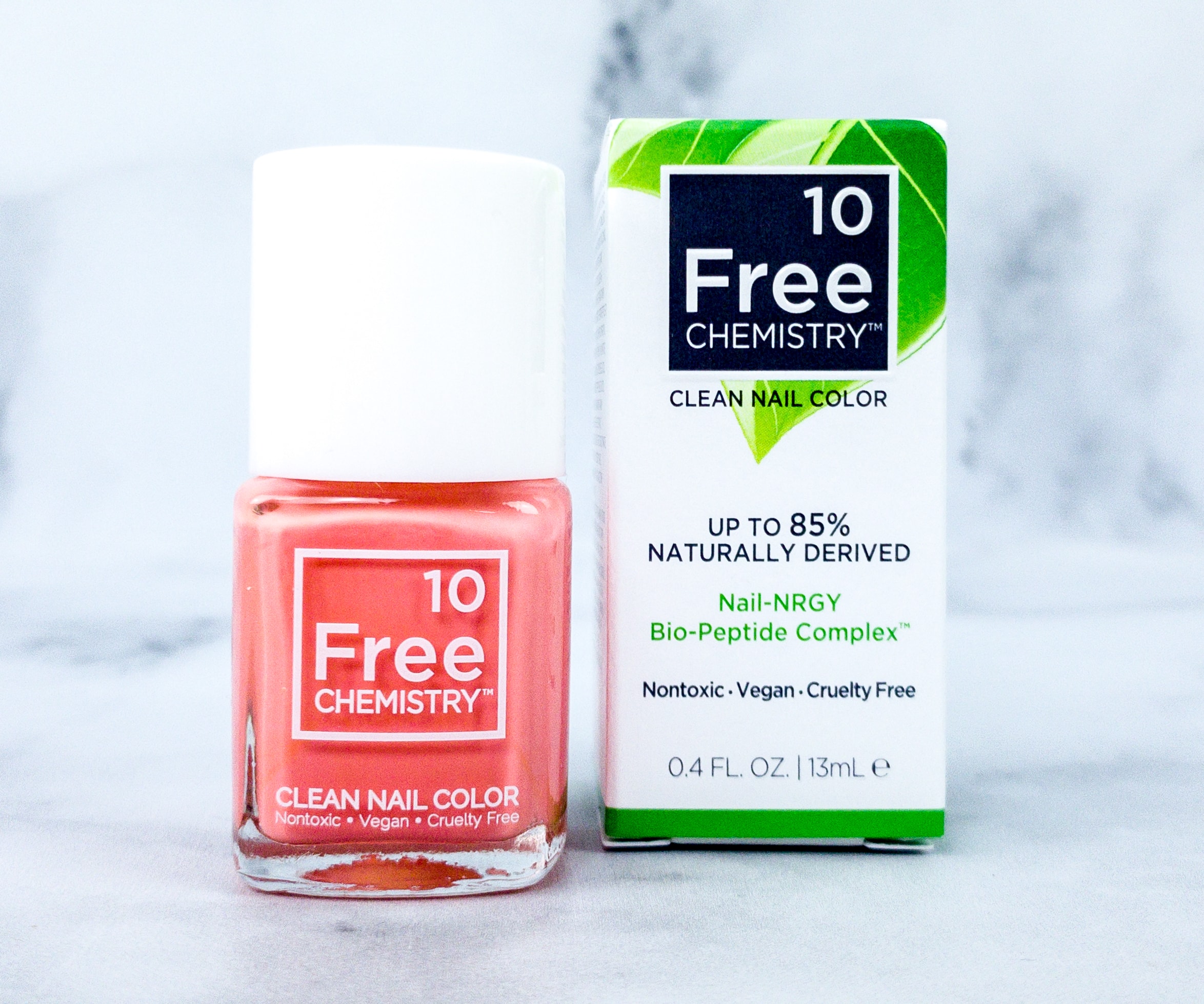 10 Free Chemistry 10+ Free Coral Floral Nail Polish ($18) This nail polish is vegan and cruelty-free! It also has an amazing formulation that significantly improves overall nail appearance. I really like the shade Coral Floral. It's something fun and vibrant and definitely something I could use to brighten up my mood!
It was an amazing box! I am so happy with all the items included! I find that they're all very usable and I enjoyed everything! My favorite has got to be the Daily Affirmation cards because it's something unique that not every subscription box would just think to include. I like how reading a card or two helps me get through even the toughest of days! It's like a gentle reminder everyday that we can do this thing called life. This box has been really wonderful and I can't help but look forward to the next one! Hoping we could will more items like those amazing cards in the next box!
What do you think of this month's box?