Sunday lawn care subscription box has a new product in their add-ons line-up – the Green Seed Blends!
Meet our 5 new grass seed blends!

All of our grass varieties are selected for success and resilience in your lawn. We've crafted unique blends to match your climate and conditions. From cool season, to shade, to warm season, we have your grass covered.

Our 5 lb bag covers 1,250 sq ft. for seeding new lawn, and 2,500 sq ft. for overseeding.
Sunday offers simple and smarter lawn care delivered straight to your door. Sunday is custom made based on your lawn's soil health & your local climate.
Full Season Smart Lawn Plans starts at $129, and will include 3 shipments of pouches + soil testing kit.
NOTE: Starting 9/1 and effective to 12/31, Sunday will change its Smart Lawn Plan to only one shipment (the winter box). With that change, ALL Smart Lawn Plans drop in price to $69-$169 depending on the size of the lawn. The regular seasonal price starts at $129.
DEAL: Get $10 off your order + a FREE Soil Test! Use this link to sign up and the coupon code HELLOSUB10 at checkout.
Here are the Grass Seed Blends available: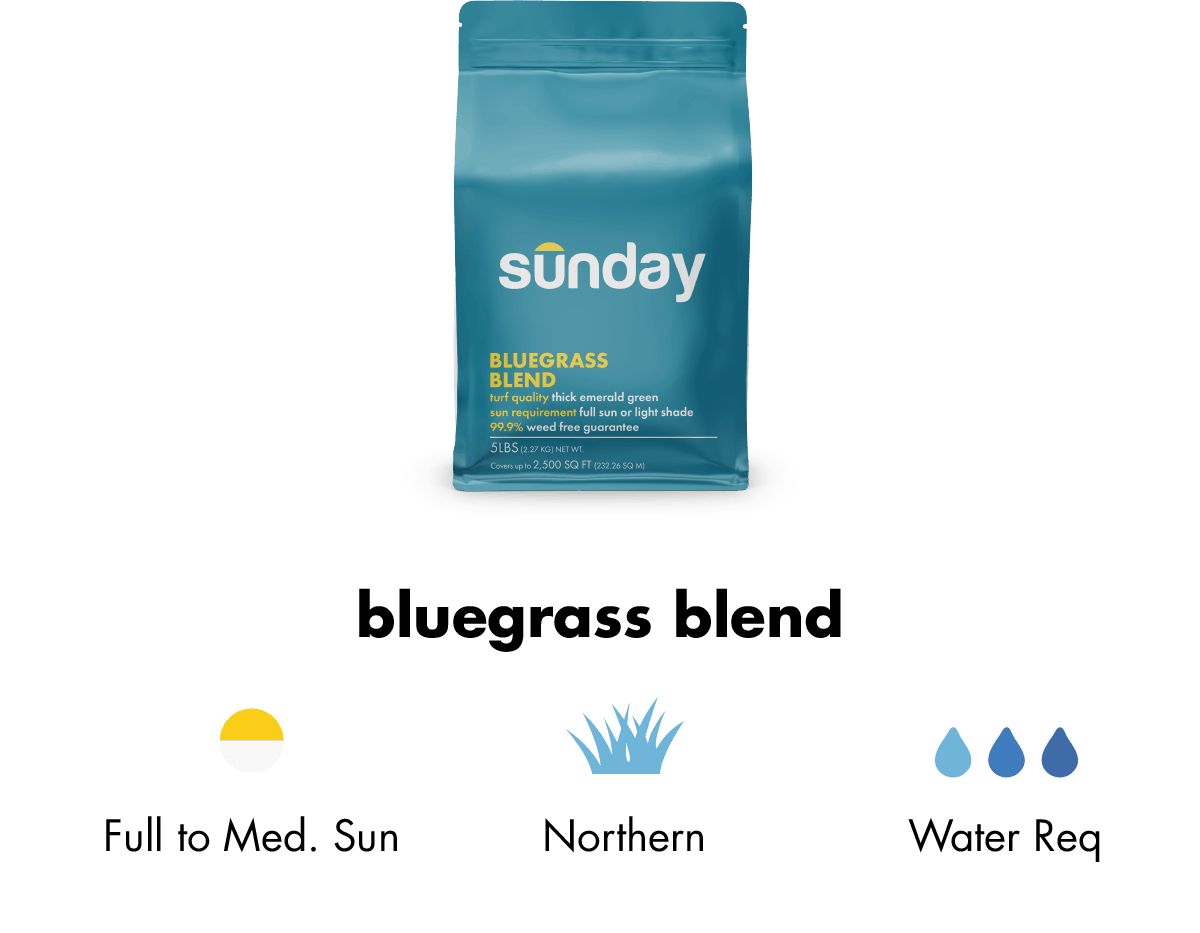 SUNDAY BLUEGRASS BLEND – 5 LBS
Elite Bluegrass blend – 5lb bag
Blend of 3 elite Bluegrass cultivars and 2 perennial ryegrass cultivars.
Excellent cold weather tolerance.
Beautiful lush green grass.
Recommended grow zones: Northern
SUNDAY TALL FESCUE BLEND – 5 LBS
A heat and drought tolerant cool-season grass blend.
Blend of 3 hearty Tall Fescue Grass cultivars and 9% Bluegrass.
Fescue is deep rooting and drought tolerant.
Ideal for high traffic lawns.
Recommended grow zones: Northern and Transitional
SUNDAY SHADE BLEND – 5 LBS
Shade blend for lawns with lower light conditions.
Blend of 5 grass types.
Designed to thrive in lower light conditions.
Lower maintenance blend.
Recommended grow zones: Northern and Transitional.
Best all-around choice for a warm season grass.
Turf quality – Medium blade, rich green
Sun requirement – Full Sun
Shade tolerance – Low
Drought tolerance – High
Water requirement – Low
Nutrient need – High
Root depth – Medium
Heat tolerance – High
Growing Region(s) – South
SUNDAY CLOVER LAWN BLEND – 5 LBS
Clover lawn blend for a lower maintence and ecofriendly lawn. 5 lb bag
Blend of 3 hearty Tall Fescue grass types and Dutch White Clover.
Clover helps fertilize your lawn by providing nitrogen.
Clover can help crowd out weed growth.
Eco-Friendly and low maintenance.
Bees love clover!
Recommended grow zones: Northern and Transitional
About Sunday:
Here's how it works:
CUSTOM

Every Sunday Smart Lawn Plan is based on your soil, climate, and lawn. Plans even include a soil test to zero in on any soil deficiencies.

EASY

If you can use a hose, you can have a Sunday lawn. We ship you exactly what you need, right when you need it. You just hose it on!

SMART

With ingredients like seaweed and molasses, Sunday lawns are made for people, pets, and the planet.
Here's what you'll get:
1 – 3 shipments of nutrients
all tools needed
free soil test
unlimited lawn support
1 – 10 nutrient pouches
You can also add-on extras to your subscription:
Are you getting Sunday?