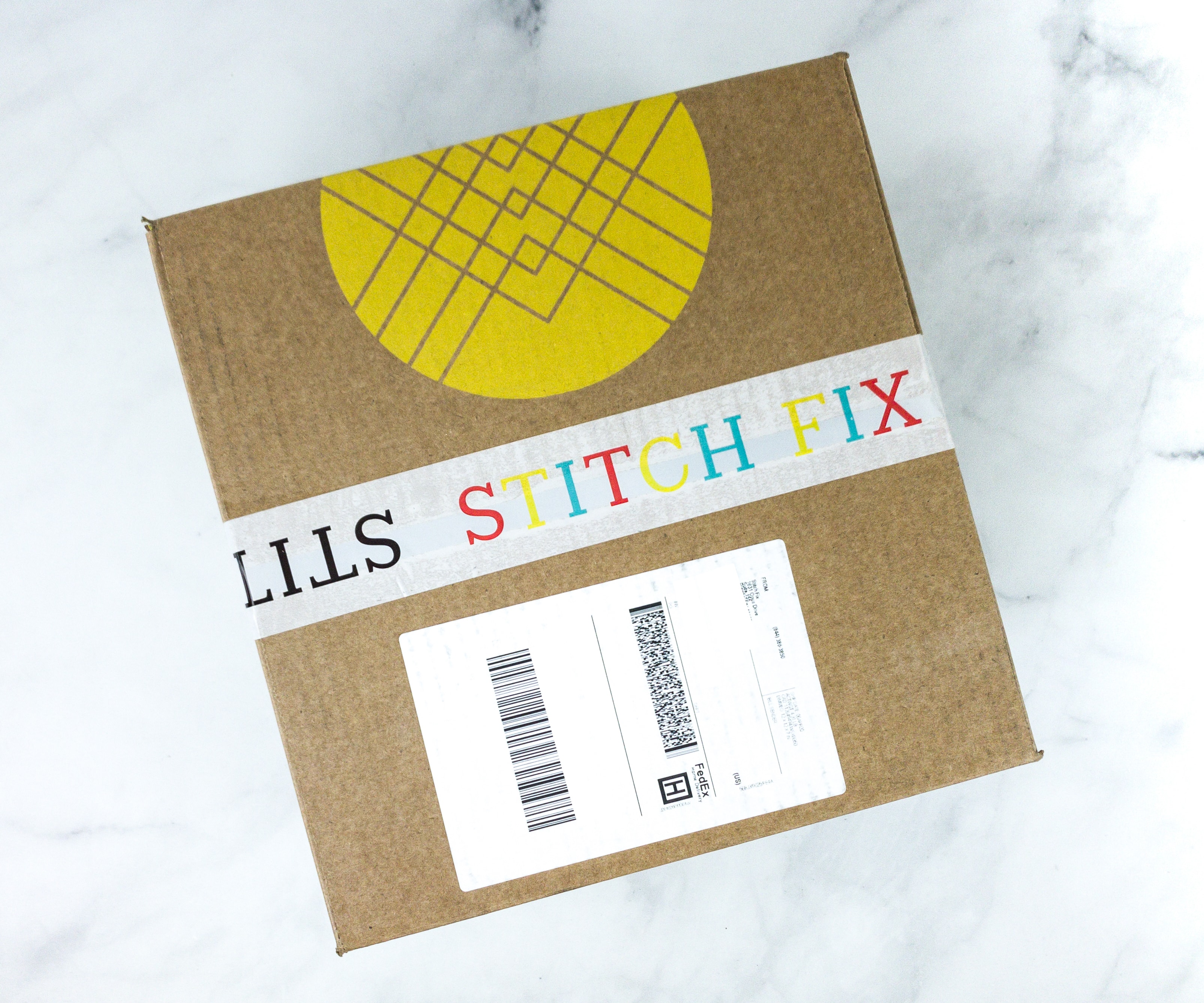 Stitch Fix Kids is a personal styling service for kids clothing ranging from sizes 2T to 14. At $20 styling fee for each box, you'll get 8 to 12 items with retail price ranging from $10 to $35 when it is shipped to you. You will be asked to share some styling preferences first when you sign up for this box so that the items included will be curated accordingly. If there are clothes that don't fit your child, you can always return them by the return envelope included in the box. If you do decide to keep all of the items, you will get 25% off on the whole box.
This is the review of Stitch Fix Kids for Girls.
The items arrive in a brown box sealed with a Stitch Fix tape.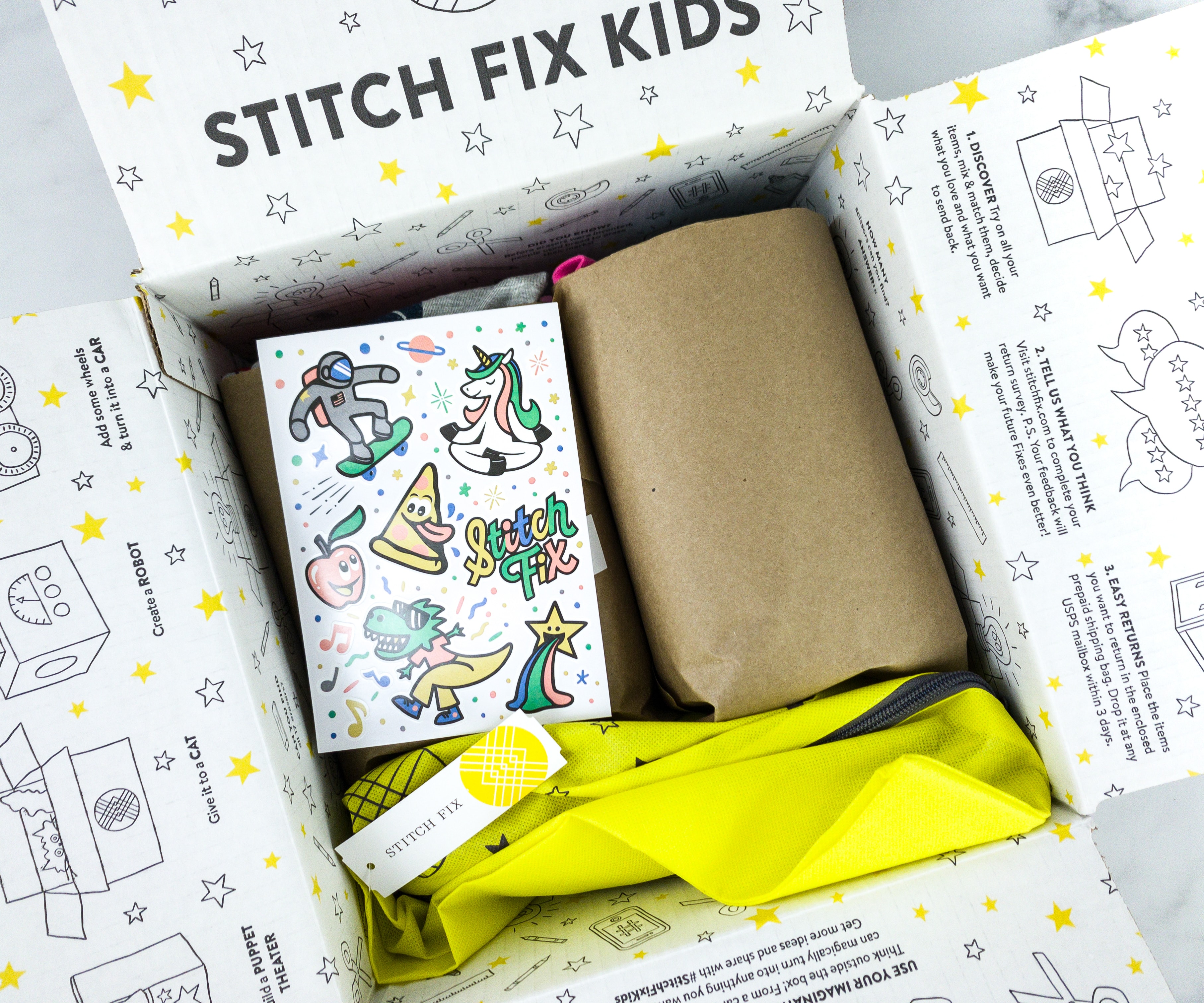 When you open the box, you will see an envelope on top with the rest of the items hidden away. The flaps of the box contain everything you need to know about how the service works.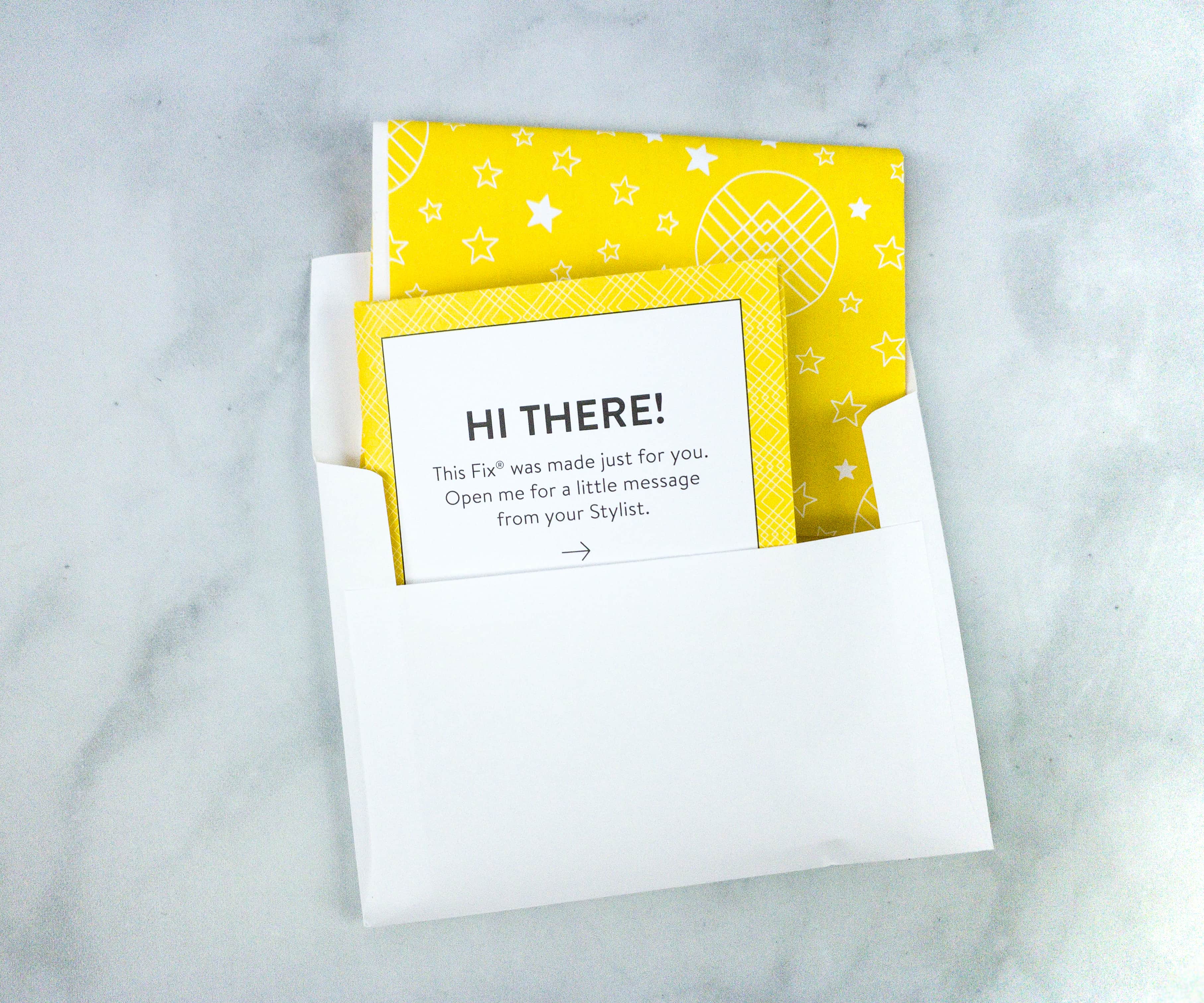 Here's the envelope containing cards! It includes a welcome card with a short message from the stylist!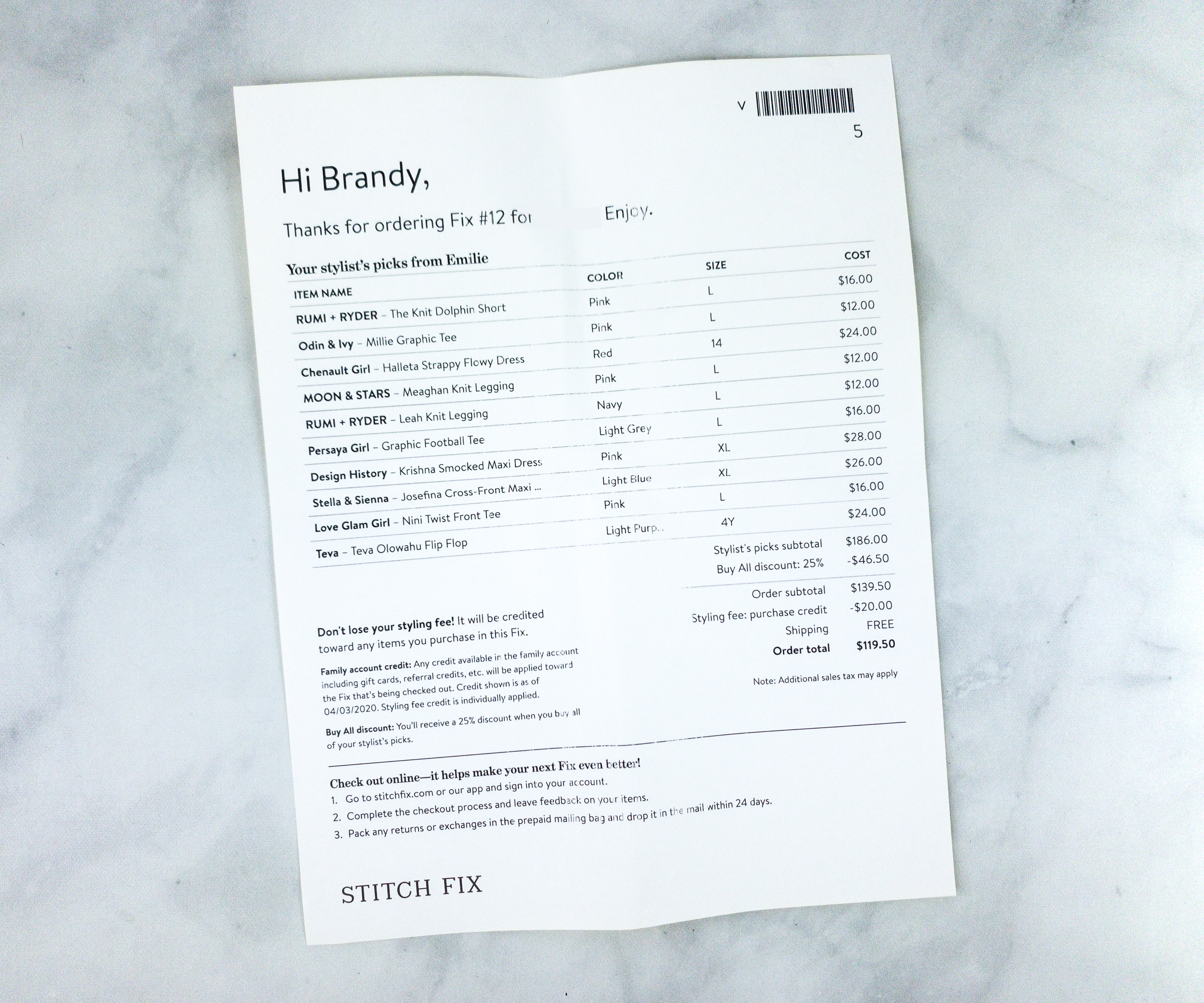 There is also a list of all the items included in this box, their size, and their price. This way, it will be easier for you to compute how much you'll be paying if you'll get individual items.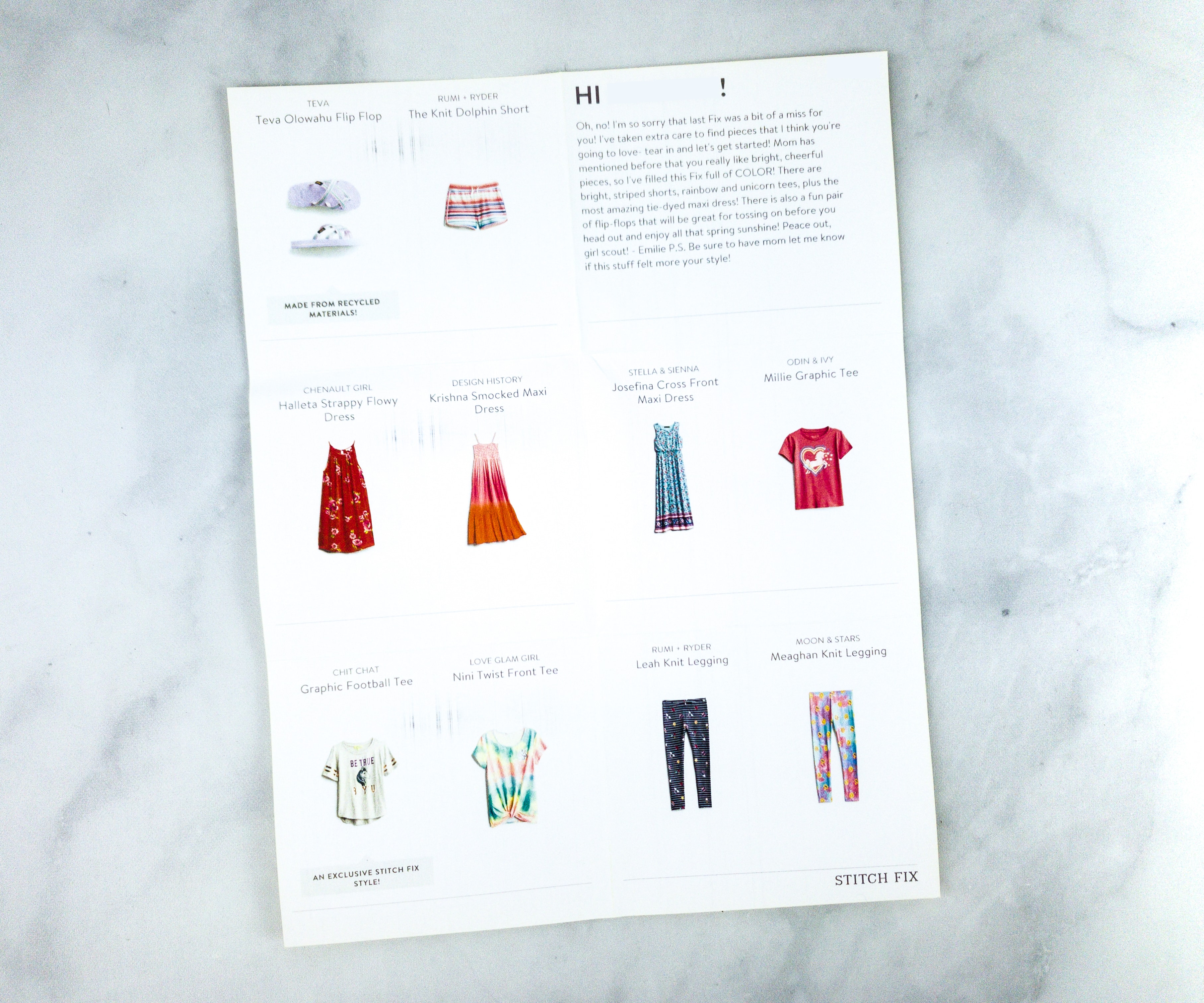 Flip the sheet over and you will see photos of the items inside this box.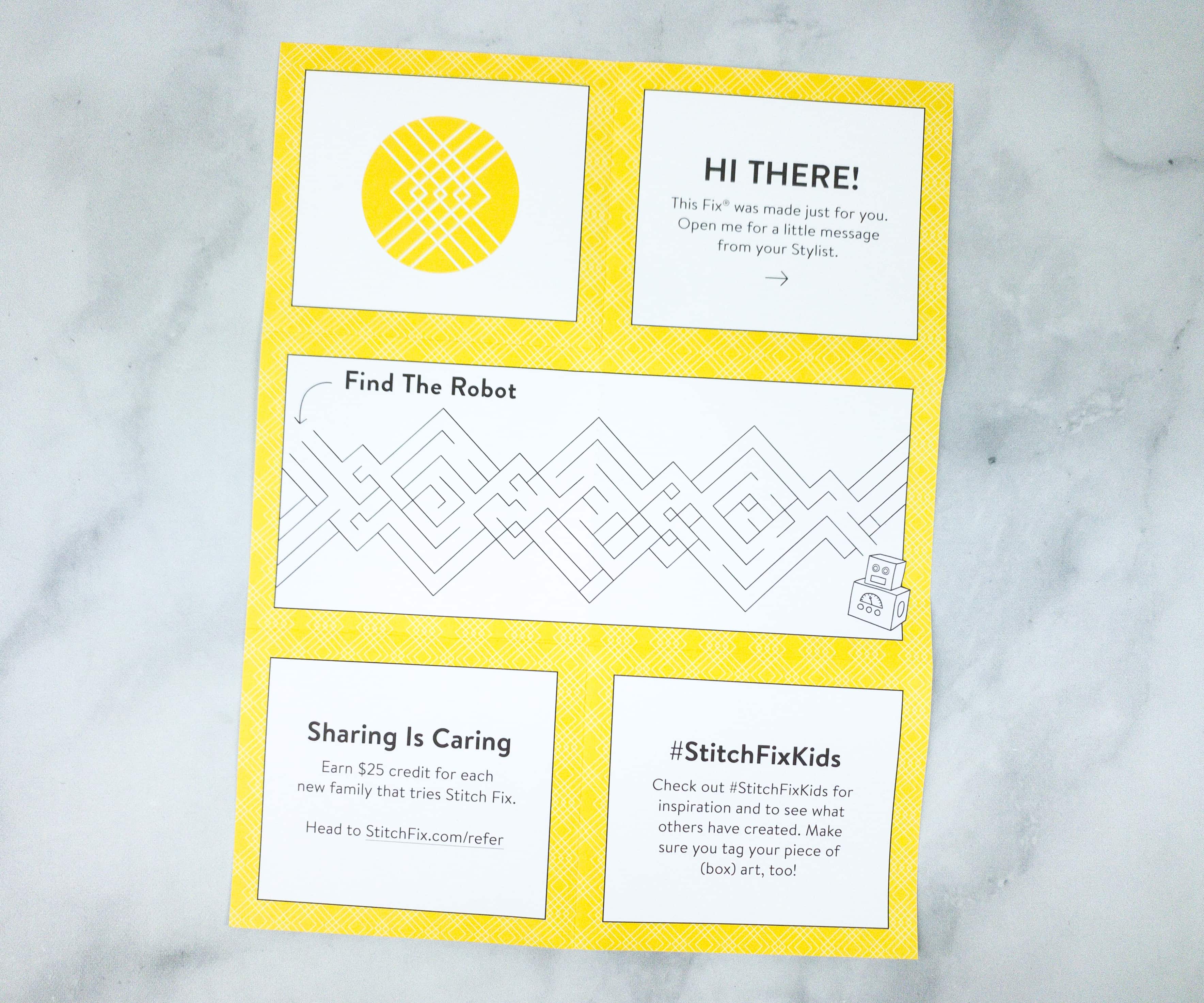 There's also a mini-game for the kids!
StitchFix started it off on the right foot with this cute set of StitchFix stickers.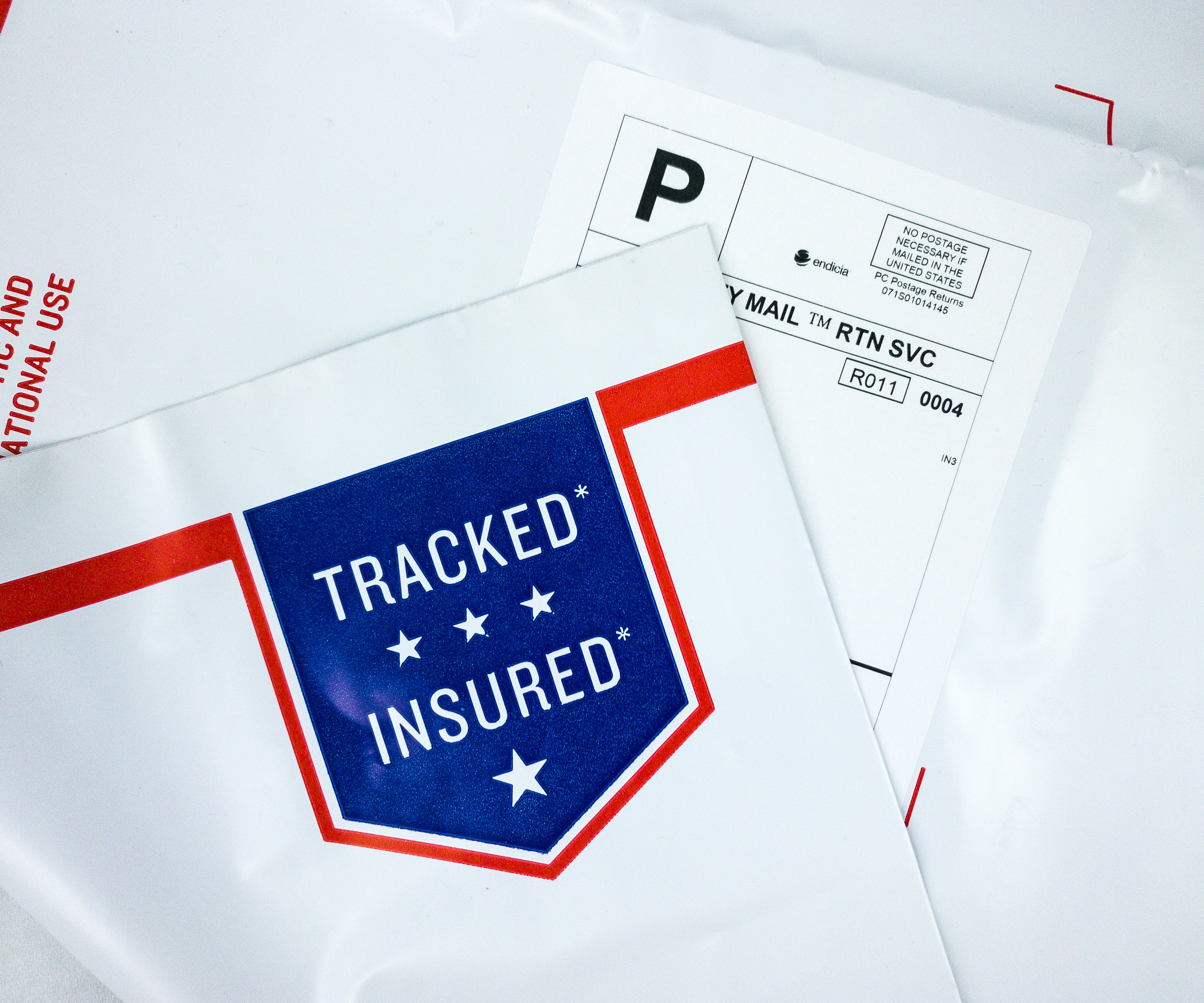 The return envelope is already included in the box so you can return what you don't like/doesn't fit easily.
All the items are wrapped in bright yellow paper with a colorful Stitch Fix sticker.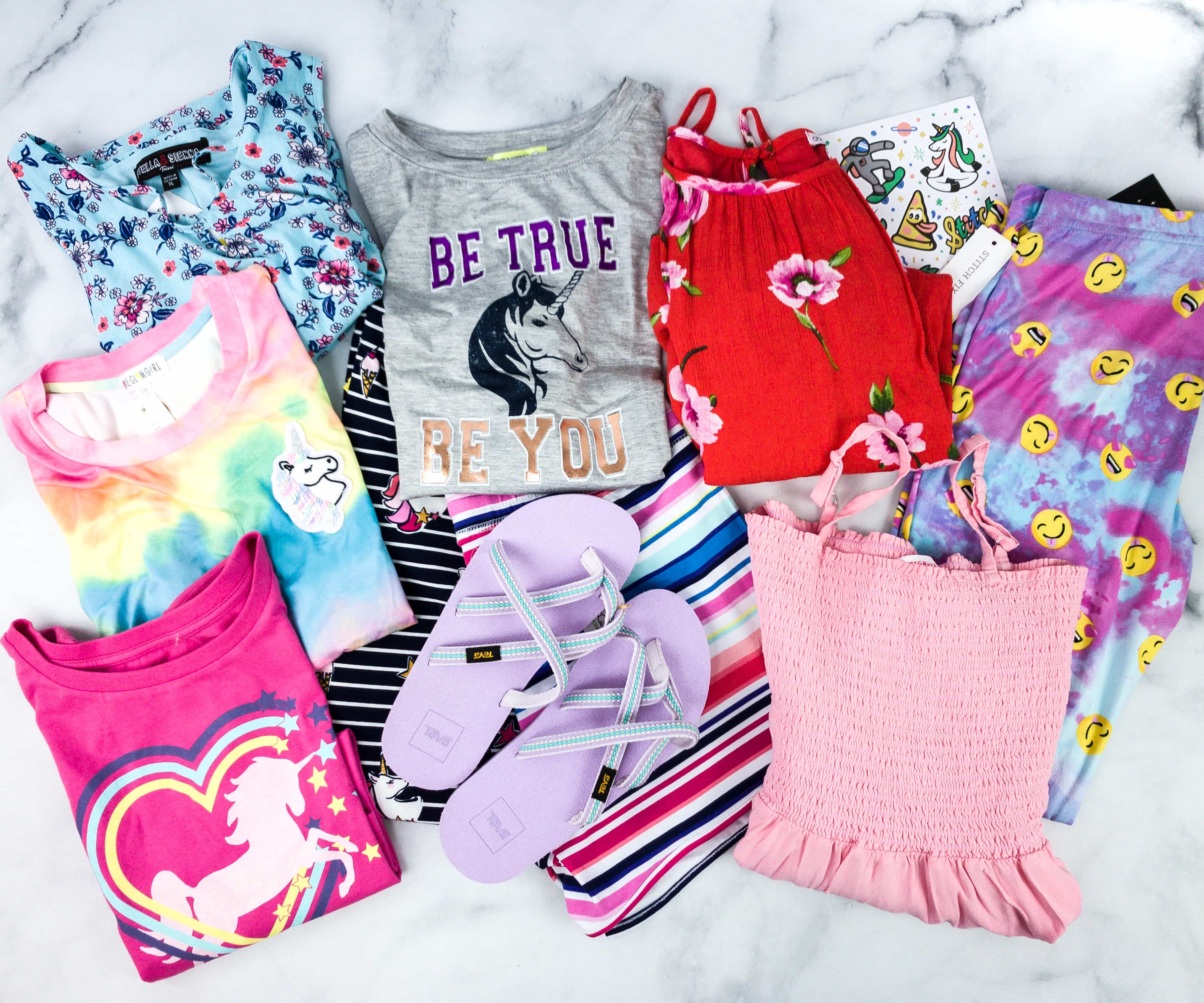 Everything in my box!
Teva Oluwahu Flip Flop ($24) As always, the footwear was packed in a vibrant yellow reusable bag that zips up in the middle.
We got a cushy pair of sandals in lavender, featuring colorful thong straps!
We like the cute cross straps that ensure that the flip flops are secured and won't easily slide off my kid's feet. The sandals also have a contoured mush footbed.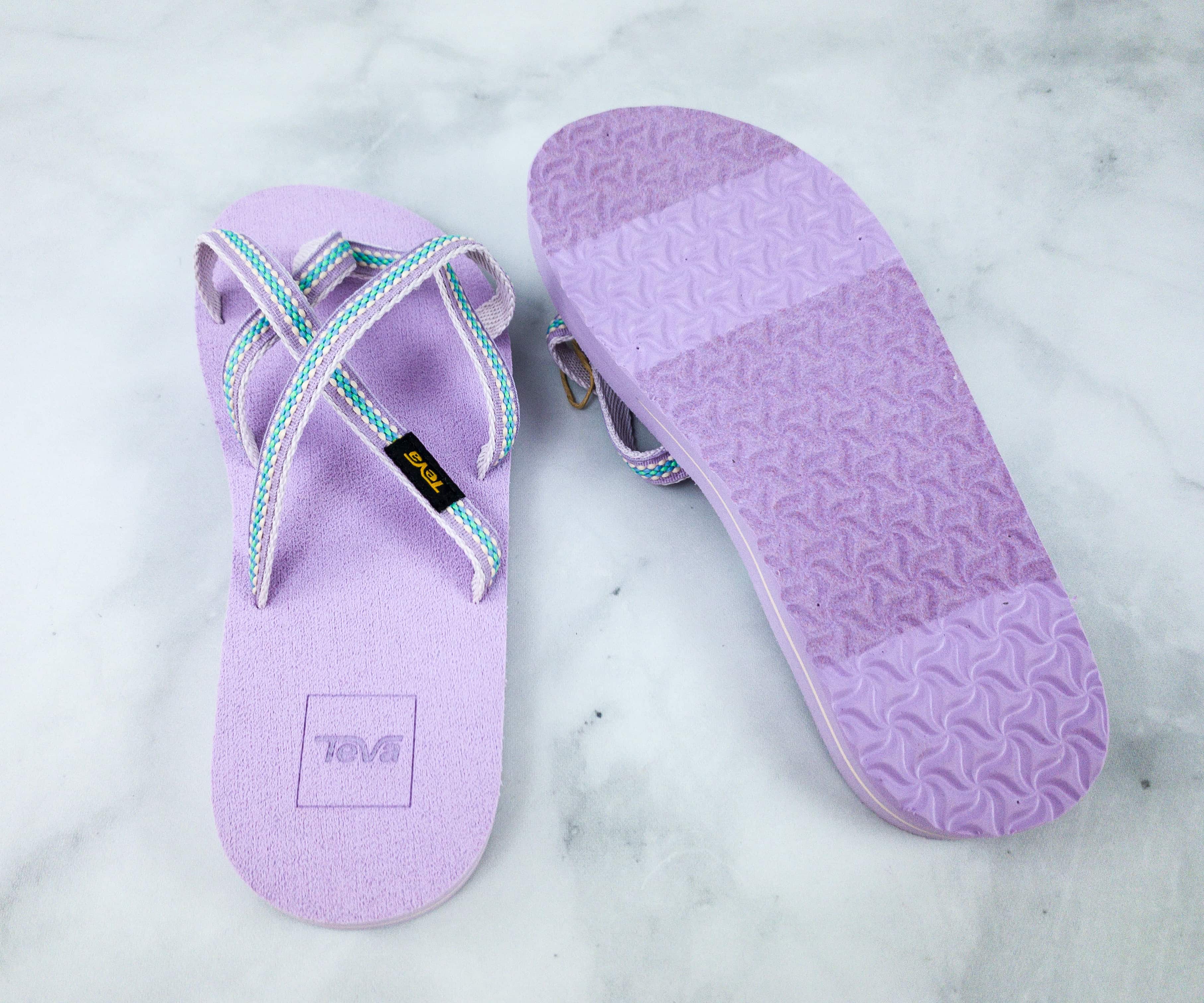 It also has synthetic soles and EVA outsoles that come with a Mush traction pattern. The color is really nice! It's the perfect flip flops for this season and even the next!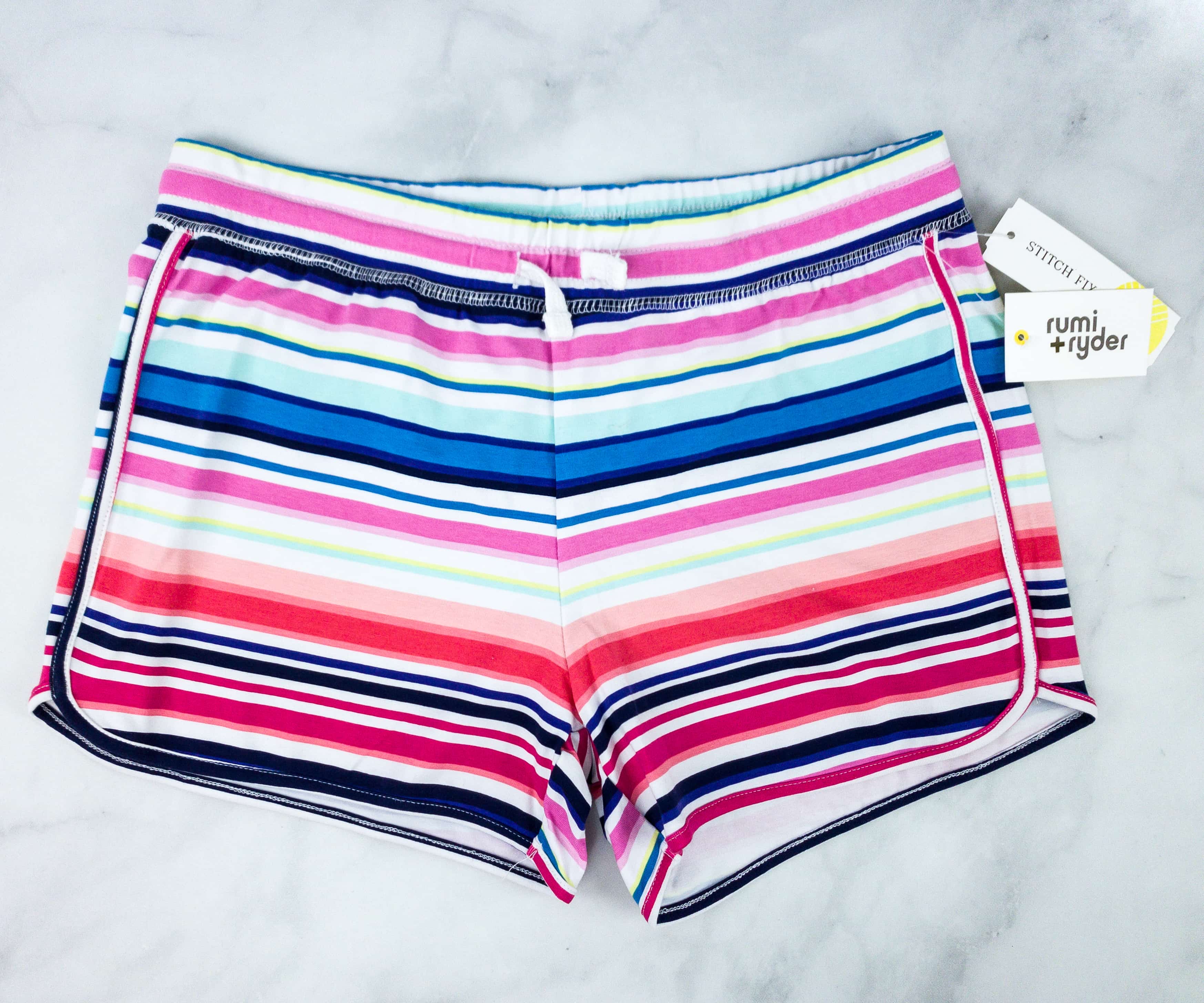 Rumi + Ryder The Knit Dolphin Short ($16) It's a cute and colorful dolphin short, which features contrasting binding and rounded corners.
It has an elastic waist with a white drawstring that makes it easy to adjust and secure on the waist. It's totally trendy and comfy!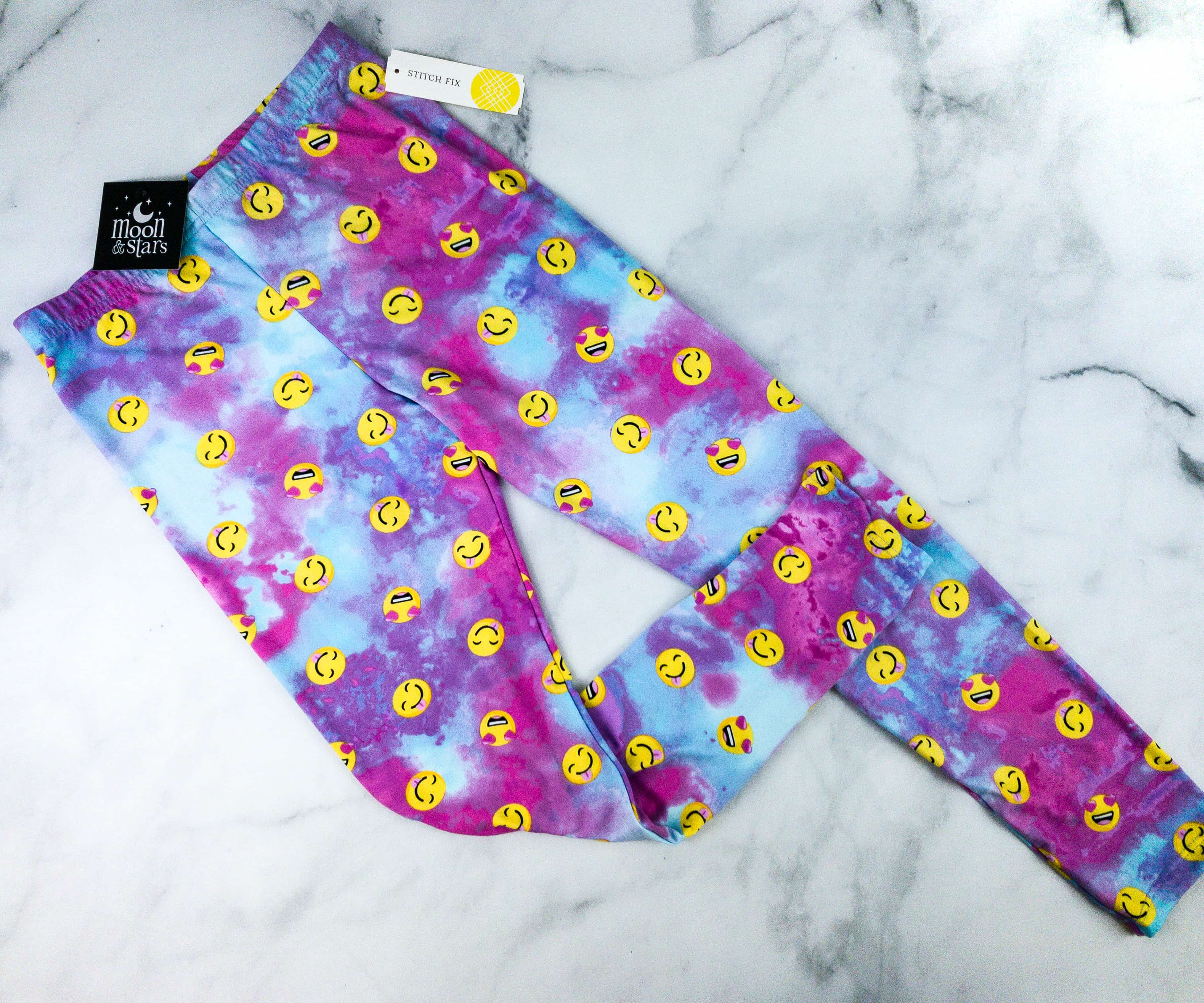 Moon & Stars Meaghan Knit Legging ($12) My daughter loves leggings and she's excited that there are pairs of cool and whimsical leggings in this box! It's comfortable and easy to wear, that's why it's one of her favorite pieces of clothing!
This one comes with different emojis. The mix of colors is also awesome! ??
Rumi + Ryder Leah Knit Legging ($12) Here's another cute legging, and this time it features black and white stripes with emojis and other adorable images, like our favorite unicorn!
The print is really high-quality! What we also love about leggings is that they're really easy to mix and match with shirts, long blouses, and even with various footwear!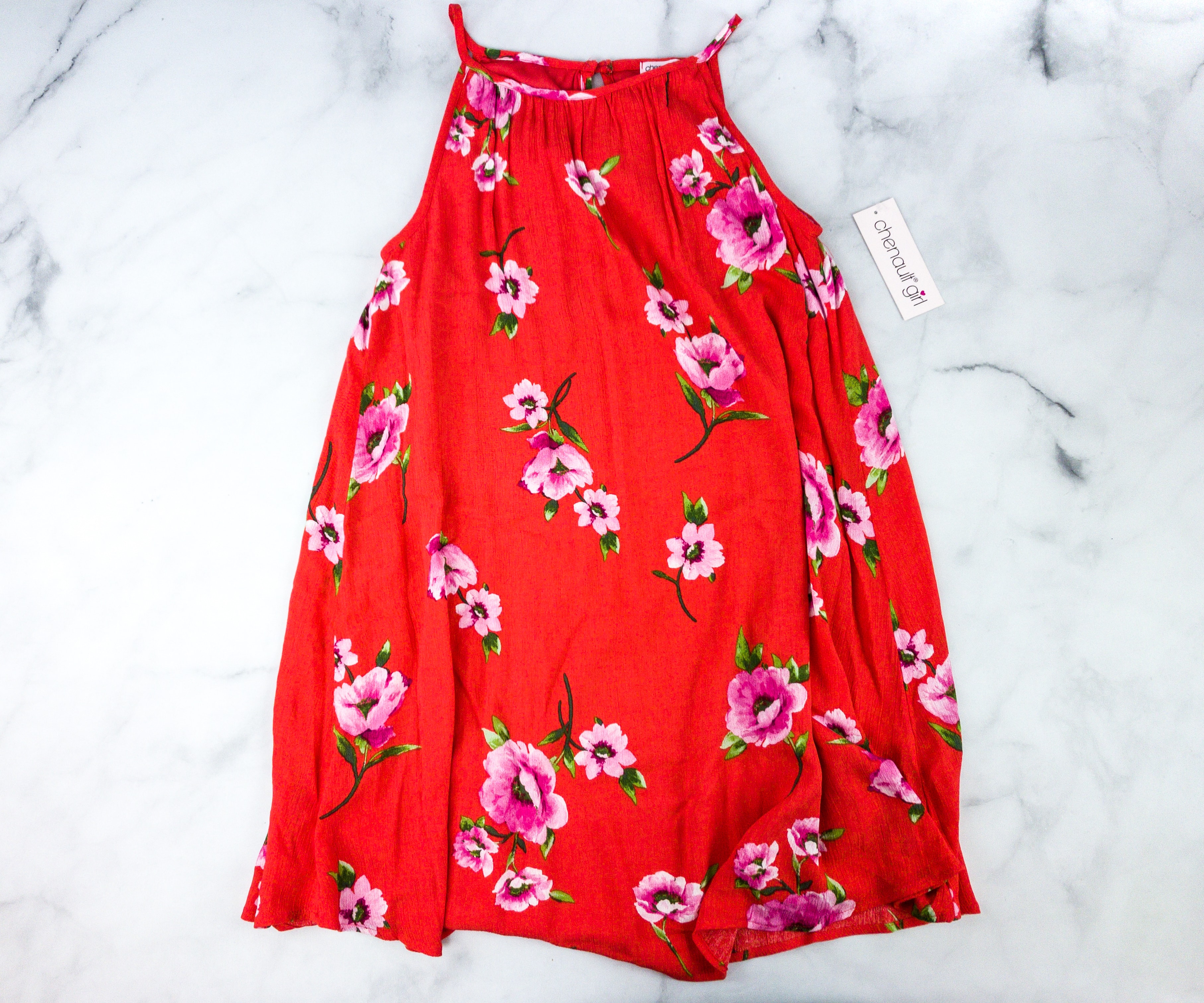 Chenault Girl Halleta Strappy Flowy Dress ($24) Dainty dresses are perfect for spring! They are really easy to wear, plus you can match it with many types of accessories to make you trendy even in sweaty days.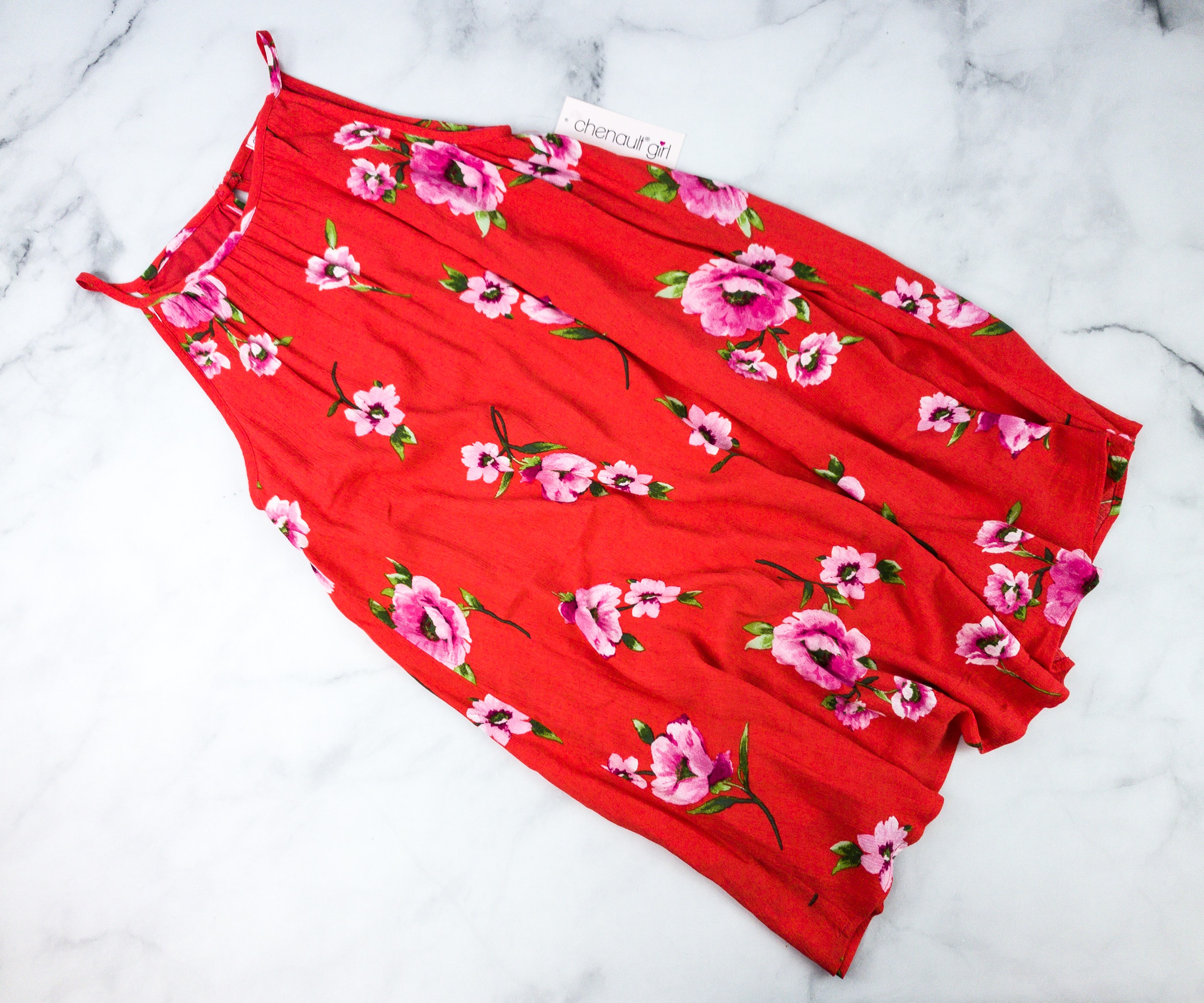 This free-flowing dress is brightly colored, and the floral details are simply mesmerizing!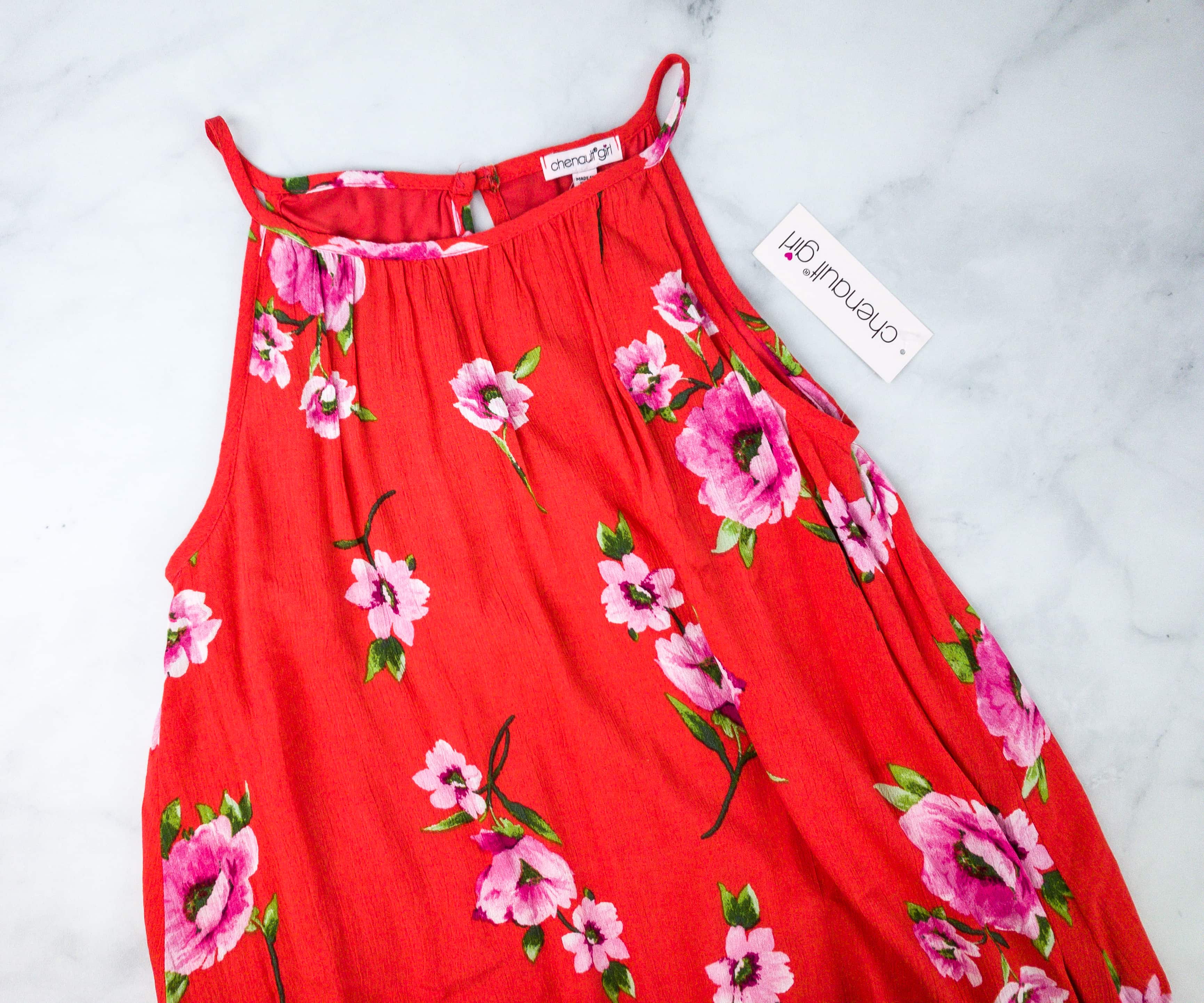 You can also pair this with a nice sweater especially when it gets cold at night.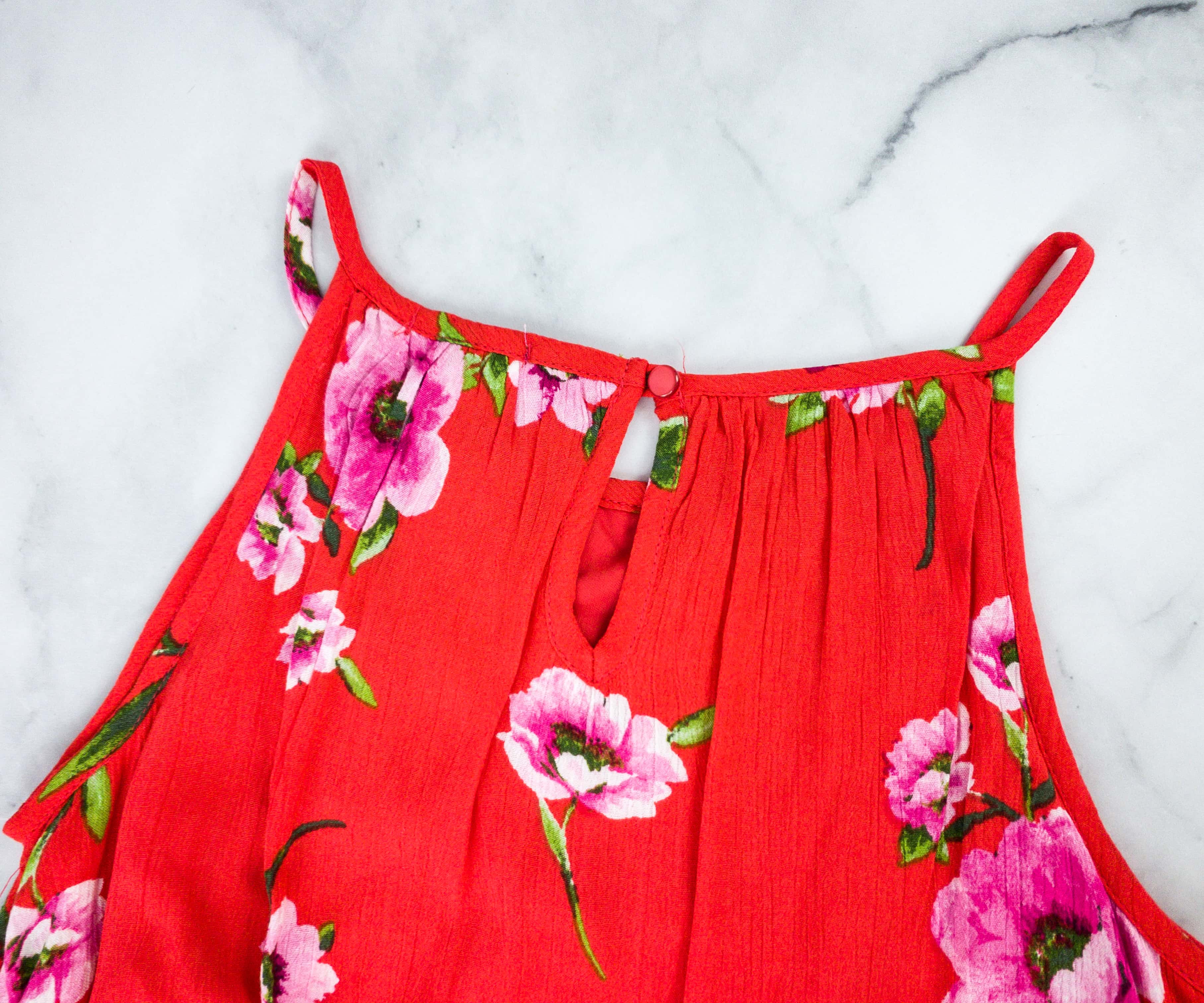 The back has single button closure, which you can unbutton to make it easier to wear. We also love the soft fabric which is cool and breezy.
Design History Krishna Smocked Maxi Dress ($28) Here's another pretty dress to sport in spring! It's a maxi dress with fun and vibrant colors.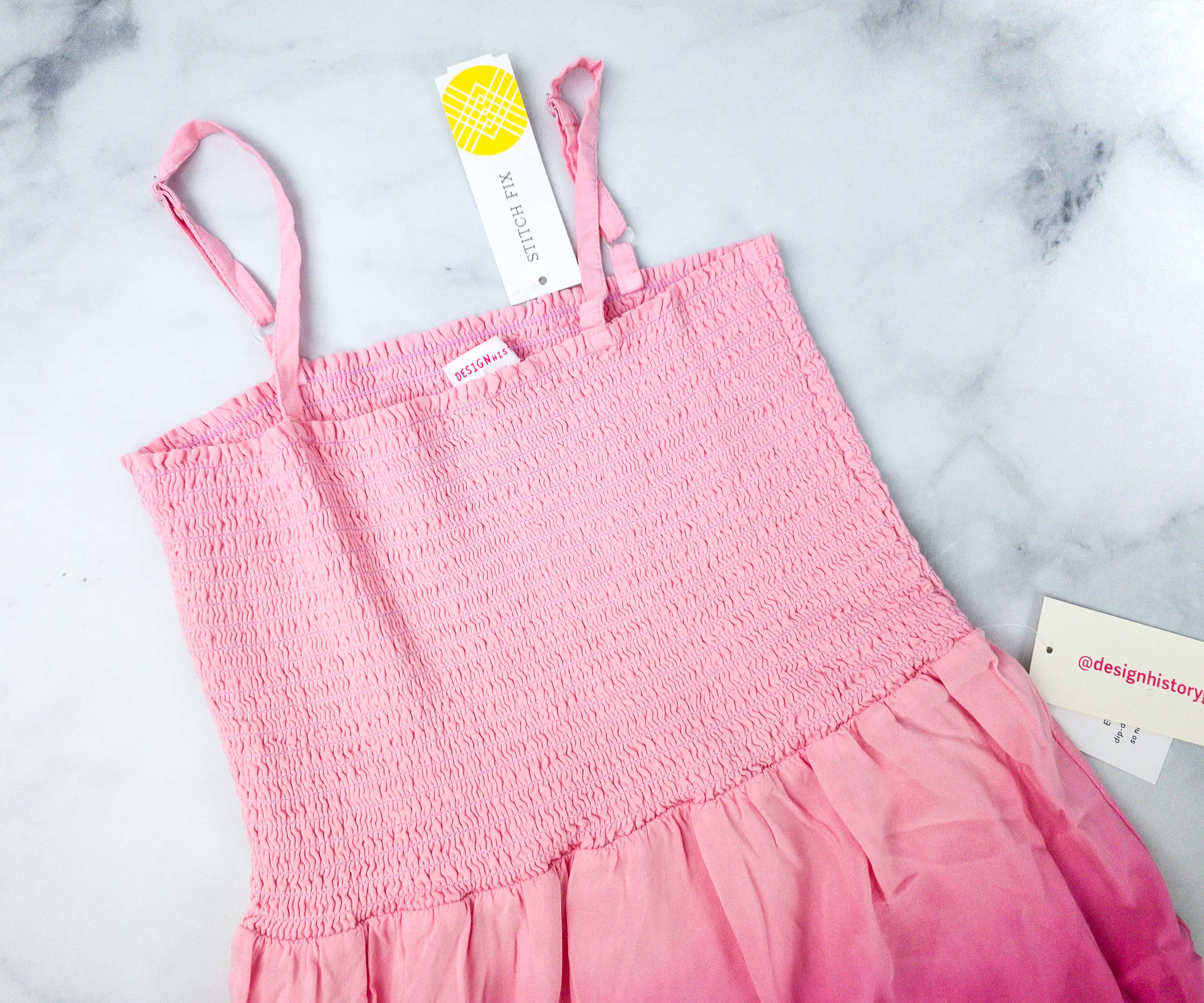 The bodice of the maxi dress is made with elastic, which makes it stretchy and comfortable to wear.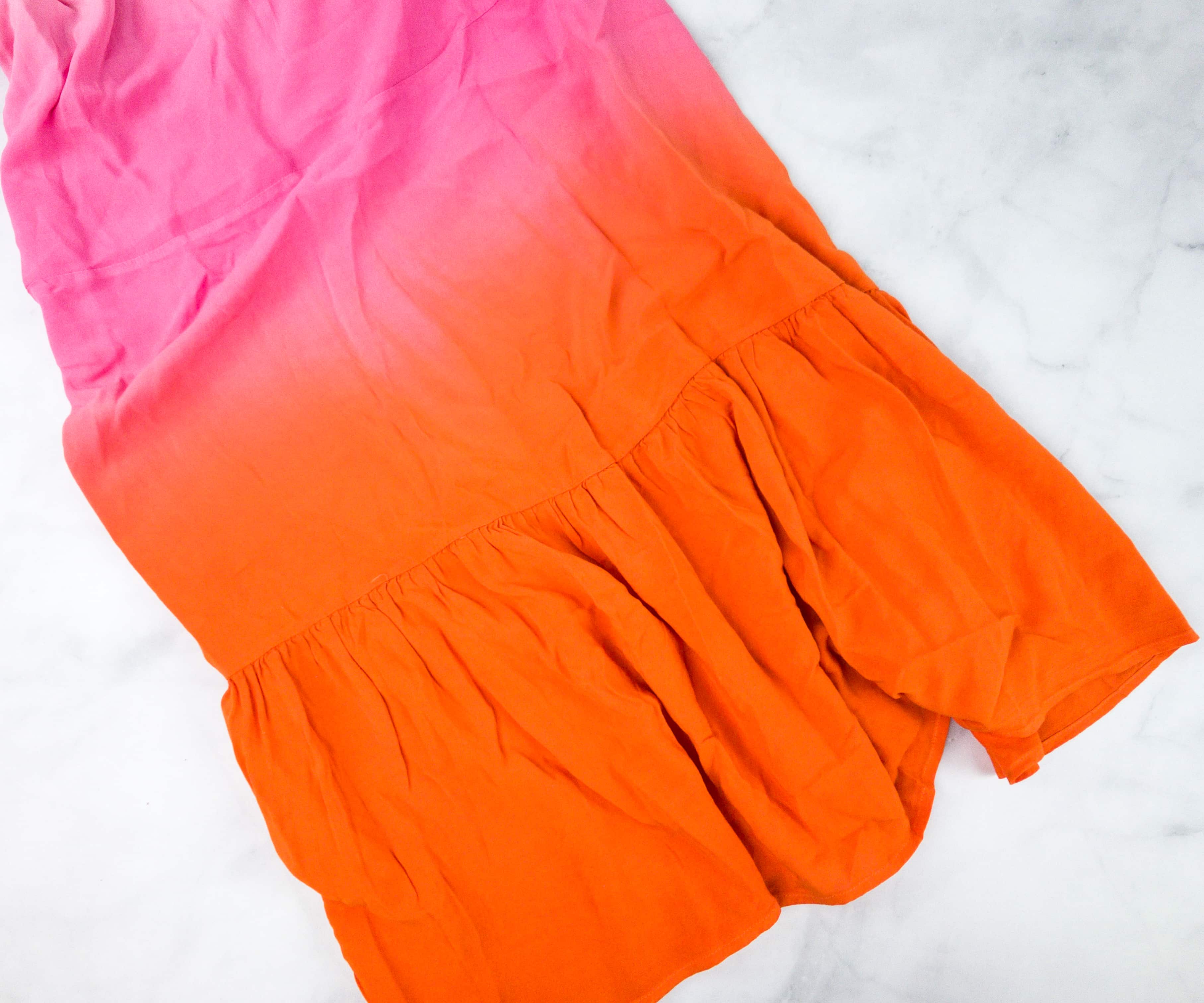 The color of the skirt is dyed out and we love the look of the pink transitioning to a vibrant orange shade. It's really beautiful! My daughter loved this amazing detail!
Stella & Sienna Josefina Cross Front Maxi Dress ($26) Another maxi dress is this light blue one, with tons of floral prints. You really can feel the spring vibe on this piece of clothing!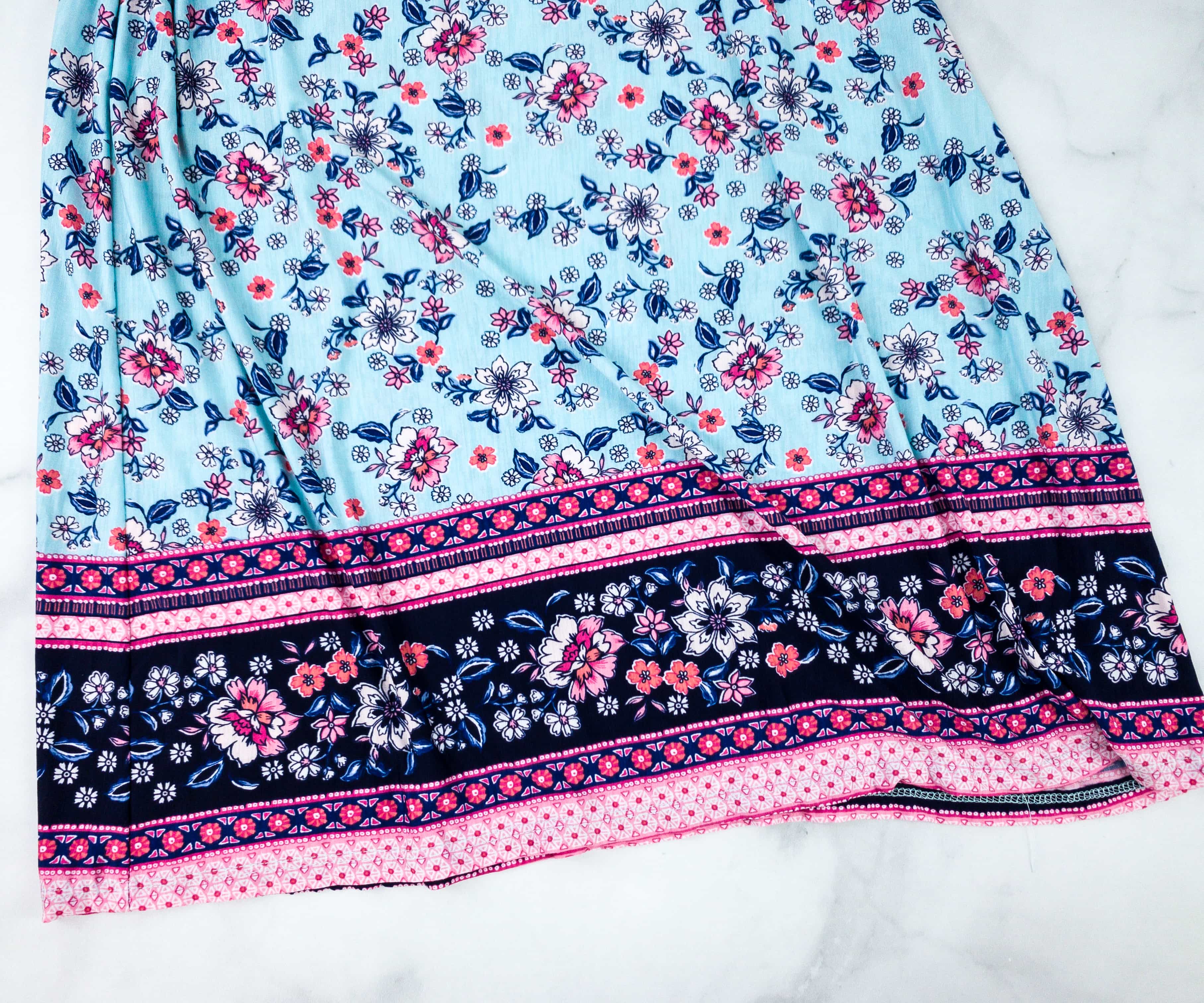 The highlight of the dress is actually the bottom part, which includes the skirt part's hem. The floral patterns are really pretty!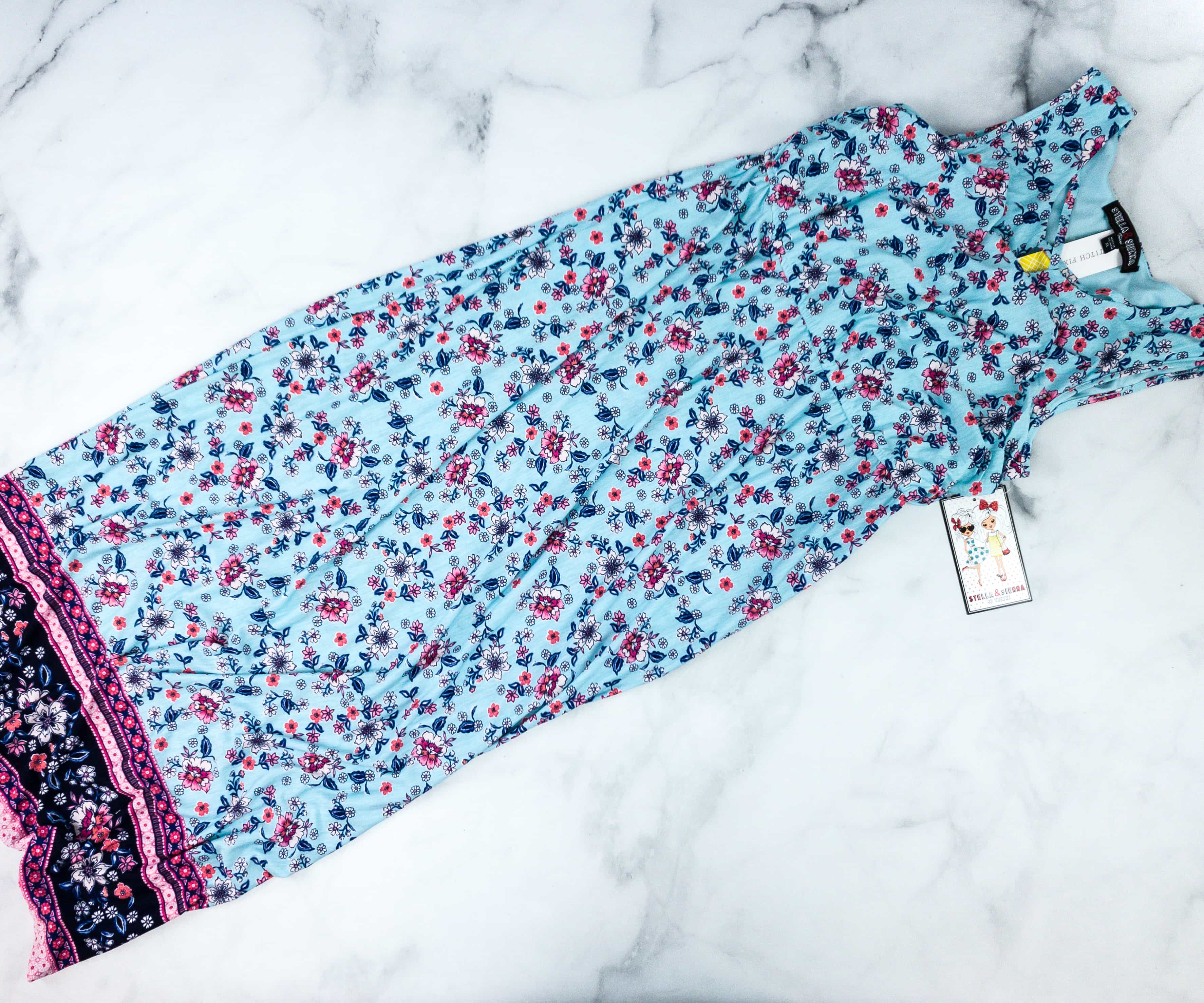 The fabric is also nice. It's soft and flowy! Paired with the sandals in this box, my daughter already has the perfect spring outfit!
Chit Chat Graphic Football Tee ($16) It's a gray football tee, featuring a unicorn design at the center. Each sleeve has two stripes that add a sporty but chic touch to the whole look.
We love the metallic-looking fonts that accompany the beautiful unicorn image!
Love Glam Girl Nini Twist Front Tee ($16) This is definitely one of the most unique tops we've seen from this box. My daughter loves the colors!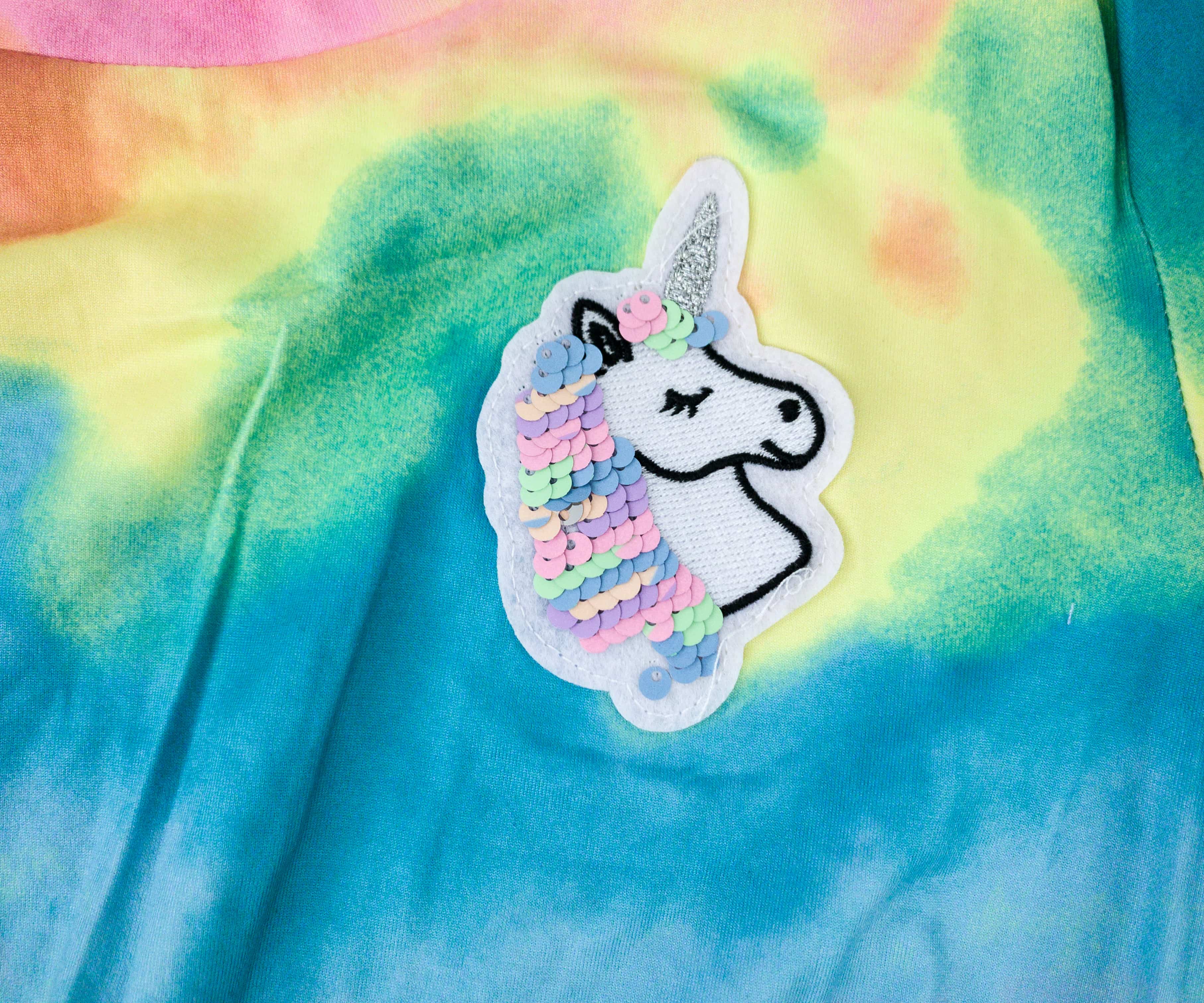 It also has a pretty unicorn patch at the left chest part, with a mane made with colorful sequins!
The hem is also trendy, it looks similar to a tie-knot top!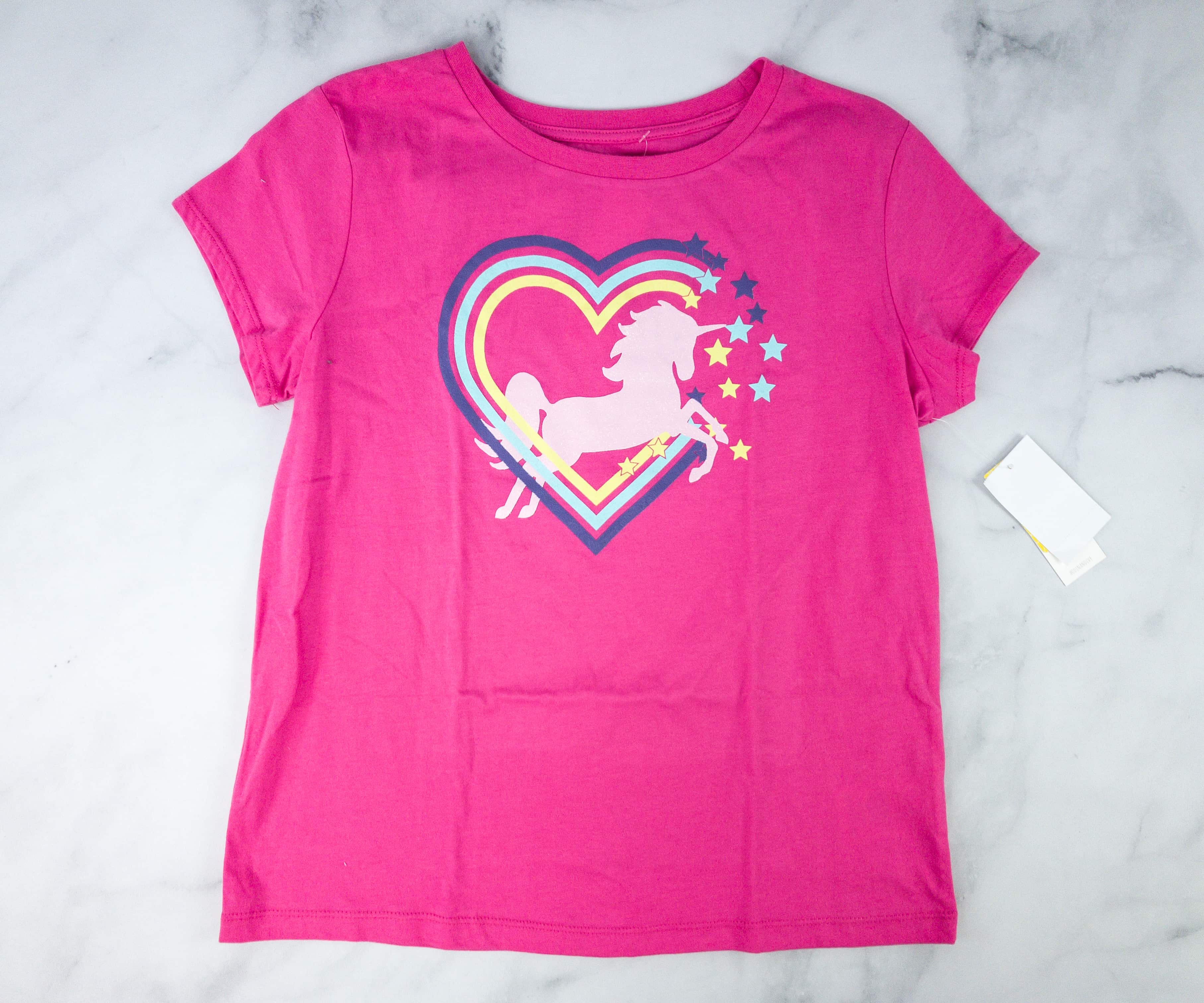 Odin & Ivy Millie Graphic Tee ($12) This bright pink shirt is another pretty top that will go well with leggings! The print features a unicorn, heart outlines, and some stars.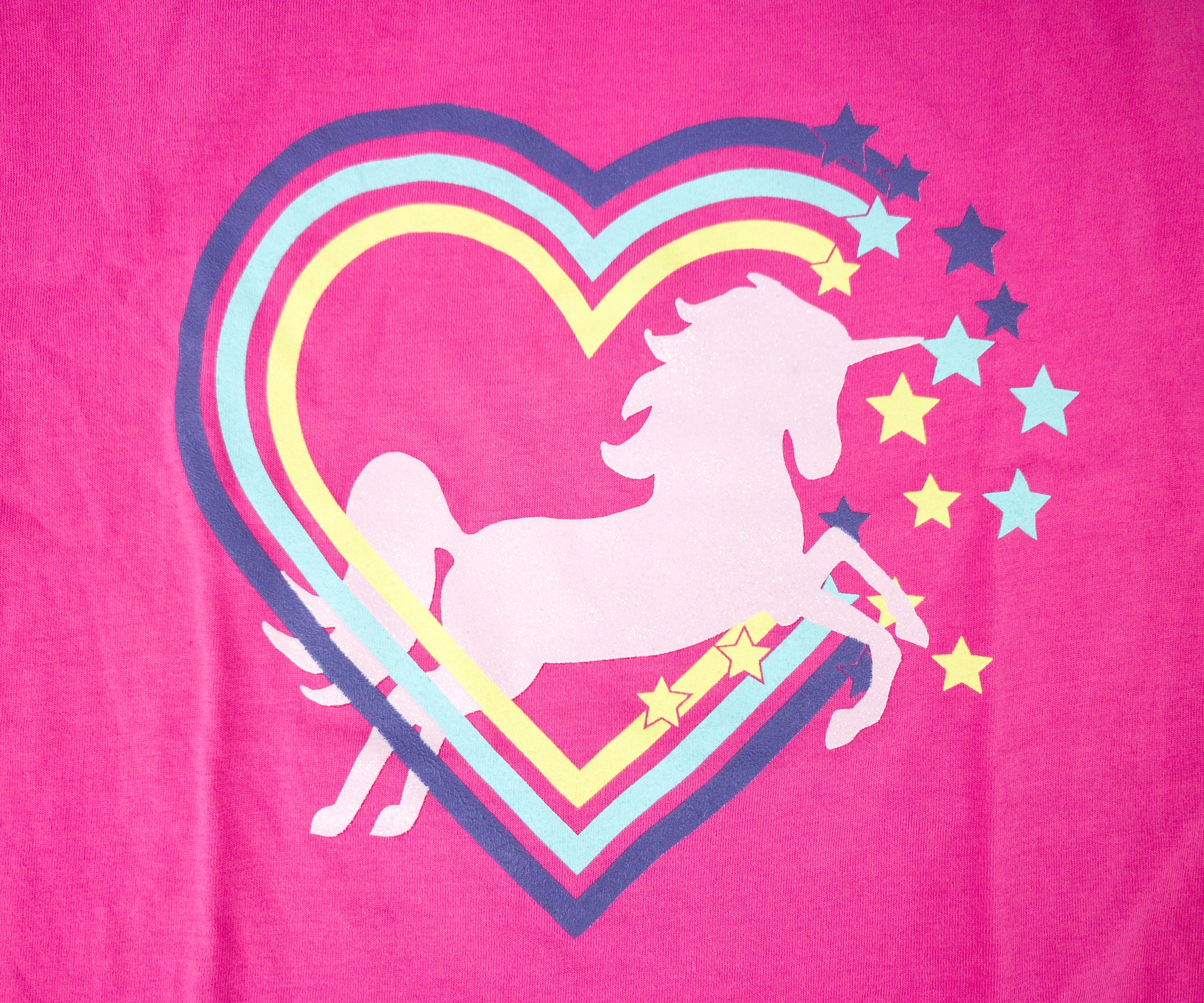 That unicorn silhouette is perfect! Surrounded with such bright colors, there's no wonder this is one is a hit with my daughter.
My daughter was so thrilled with this month's clothing pieces from Stitch Fix! She got fun and colorful tops and bottoms, which are all appropriate for the season. There are even maxi dresses with pretty designs and comfy fabric. Her favorites, of course, are the two leggings! She loved not just their cute look, but also their comfortable fit. The flip flops also look great with all the clothing pieces in this box. Overall, we love this fix so much! They make it effortless for us to build my daughter's wardrobe with pieces that she actually loves!
What do you think of Stitch Fix Kids?