STICKII Club is a monthly sticker subscription. This subscription is $10 dollars a month, and you get an envelope full of sticker sheets, sticker flakes, and a few extra stationery items, like notepads or custom-shaped paperclips. Shipping is $1 to the US, $1.75 to Canada, and $2.50 international.
The paperclips will now be 'sometimes treats' and not in every pack this year. However, there will always be 10 items total in every pack with 6 guaranteed sticker sheets plus 4 other items (STICKII notes, sticker patches, stationery, or just more stickers!)
There are 3 choices for this subscription – Cute (kawaii, warm, pastel); Retro (vintage, earthy, nostalgic); or Pop (bright, trendy, cool). You can even change your order every month if you like, as long as you do it by the cutoff date.
This is a review of the Retro Pack!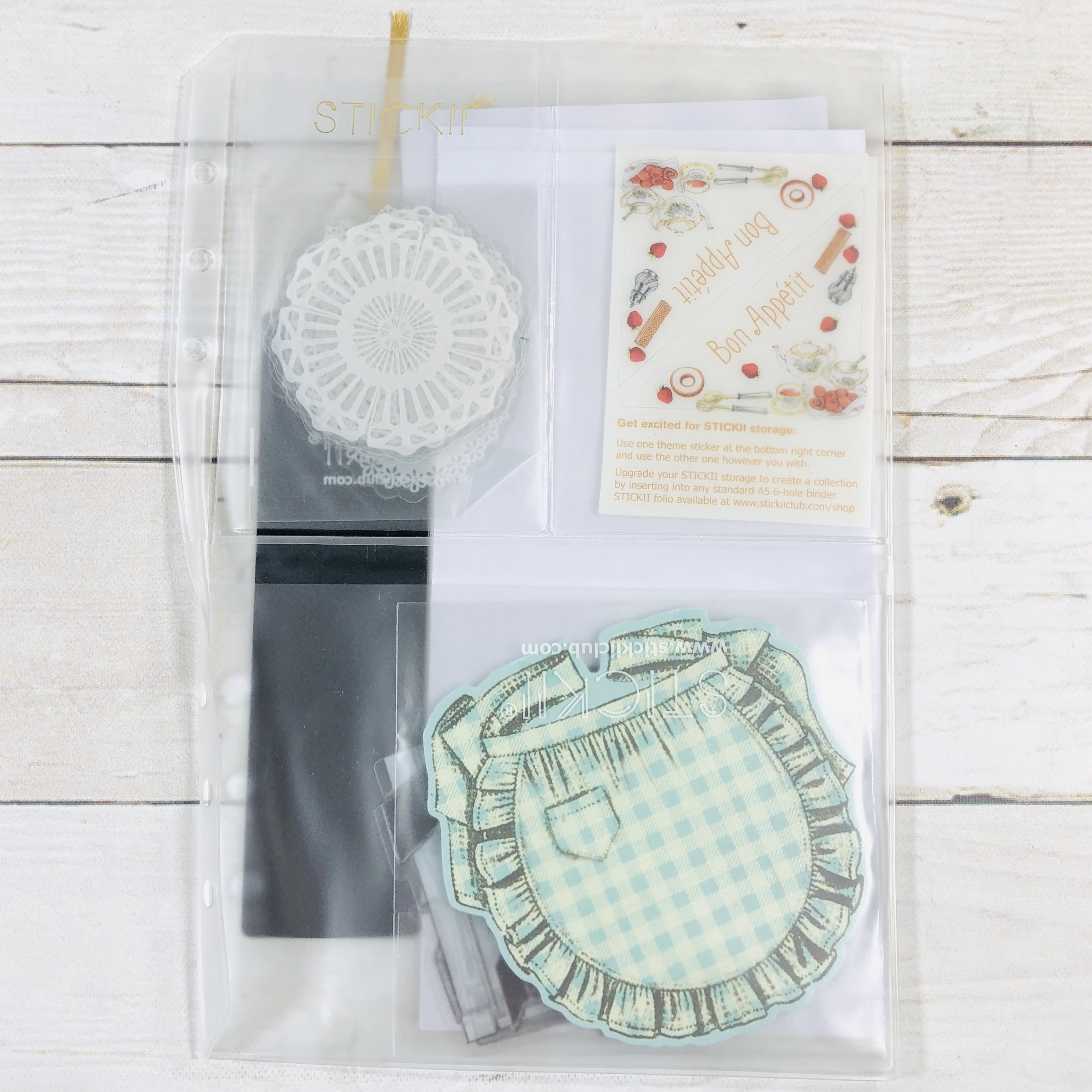 My items arrived in an envelope and everything was tucked into this vinyl holder.
I received two stickers that have the theme listed. I used one on the corner of my holder so I can quickly grab the stickers I need when looking for past packs. The second sticker can be used however you wish. You can store the vinyl holder in an A5 folio.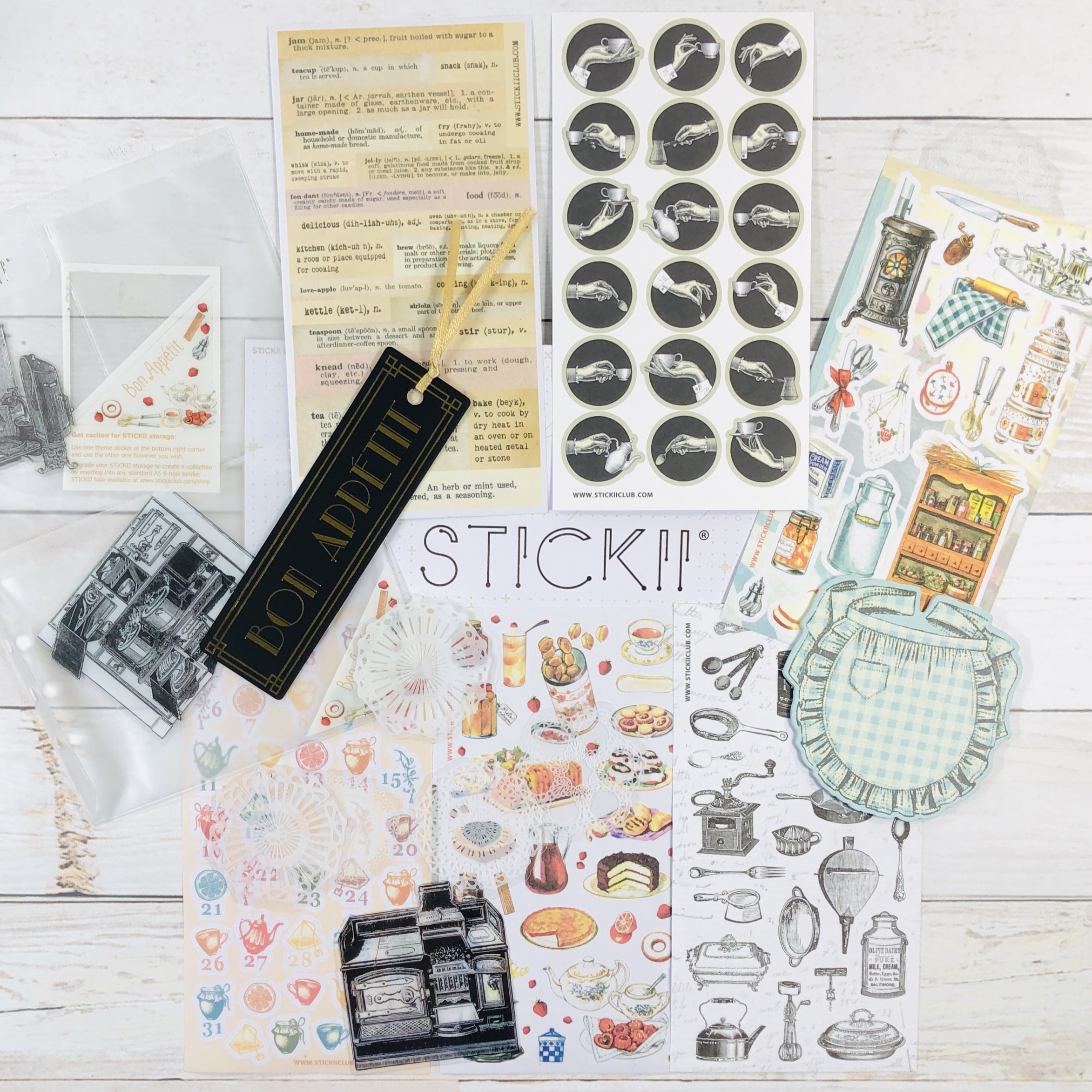 Everything in my RETRO Pack – Bon Appetit!
Doily Sticker Flakes are loose stickers and these are kind of hard to see since they are clear with white details.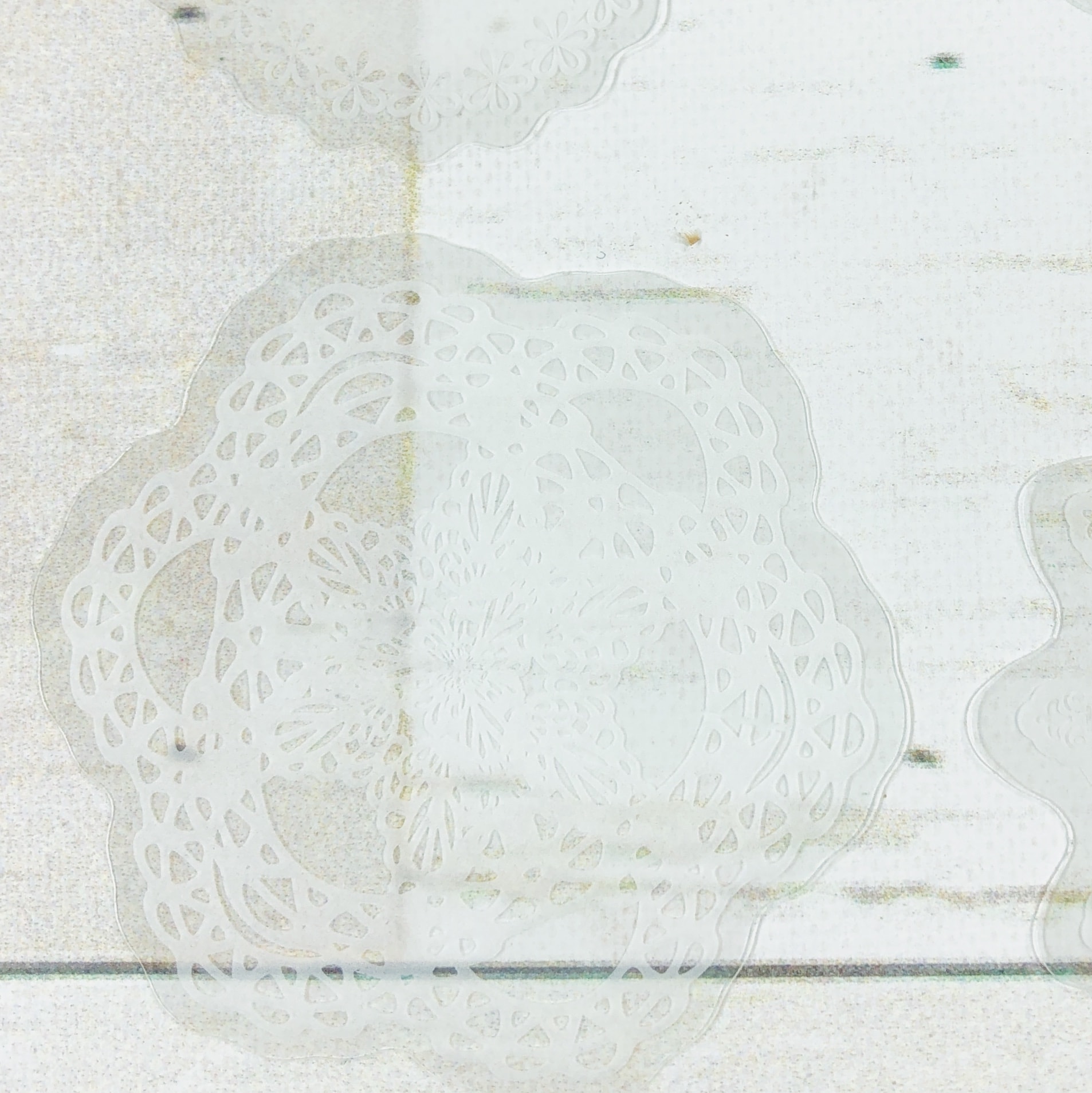 These look like paper doilies! There were 8 stickers total and they are about 2″ across!
Apron STICKII Notes There are 20 pages in the mini sticker pad. The design looks like a blue gingham apron and the pad is about 3.25″ across.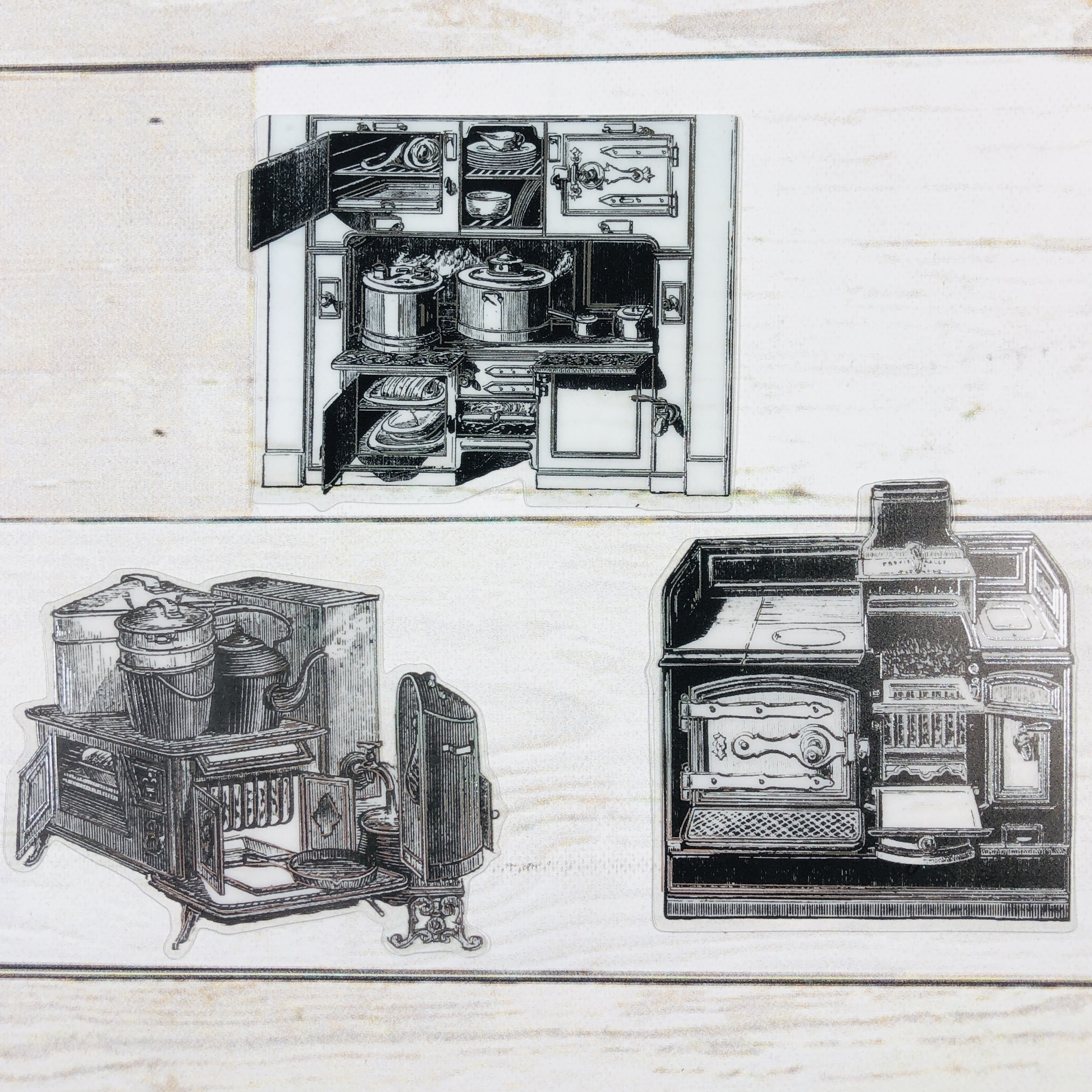 Kitchen Cooker Sticker Flakes are large – about 2.25″ x 3″! I once rented a house with a coal stove and never could cook with it but this reminds me of that happy time.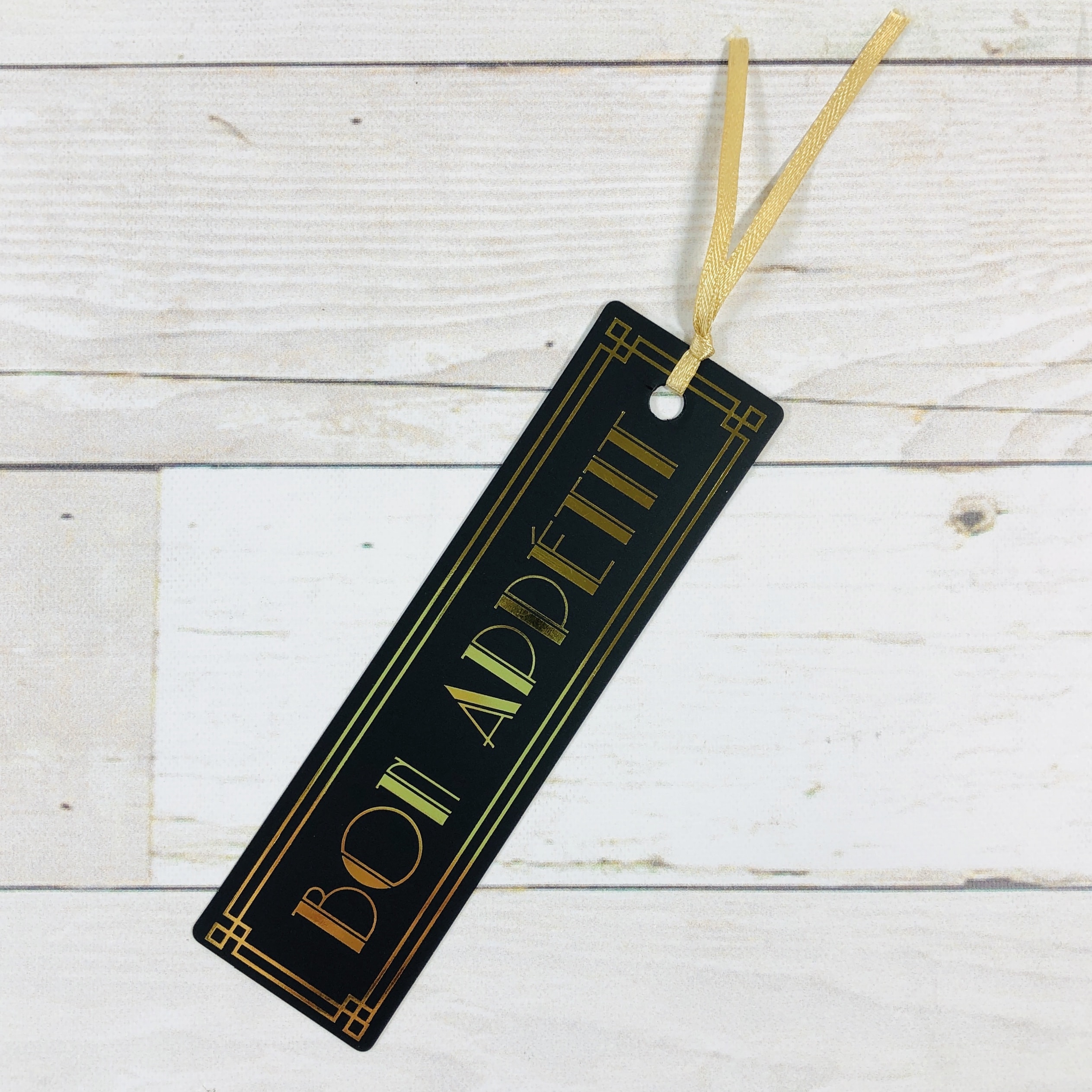 Bon Appétit Bookmark reminds me of The Roarin' Twenties with its Art Deco look about it. The bookmark is vinyl with gold metallic lettering and a golden ribbon and measures 5″ x 1.25″ not including the ribbon.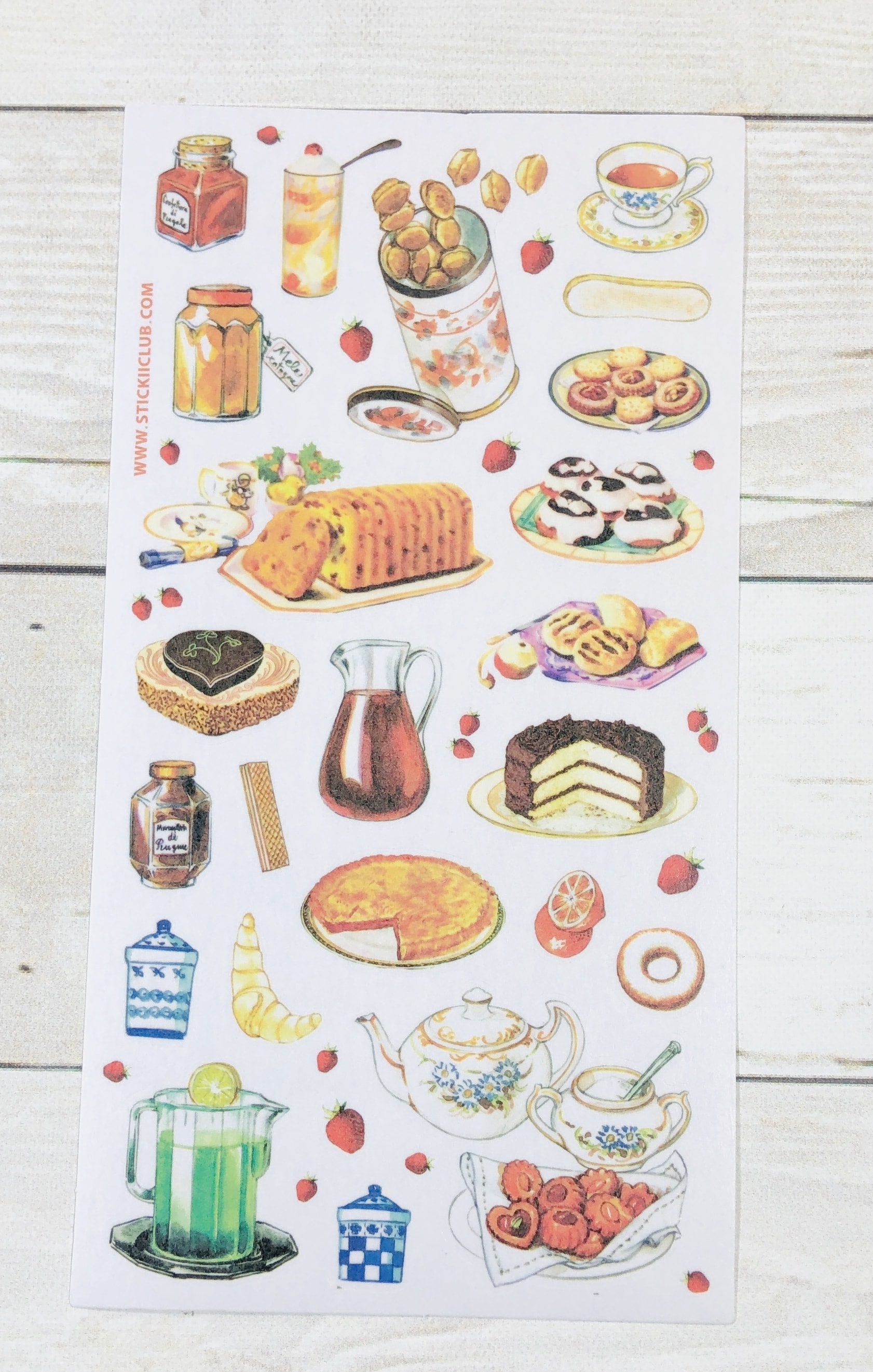 Tea Time Snack Stickers have all manner of sweets and some refreshing drinks. Printed on washi paper.
Baking Stickers has teapots, measuring spoons, and baking ingredients. Textured washi paper with silver metallic accents.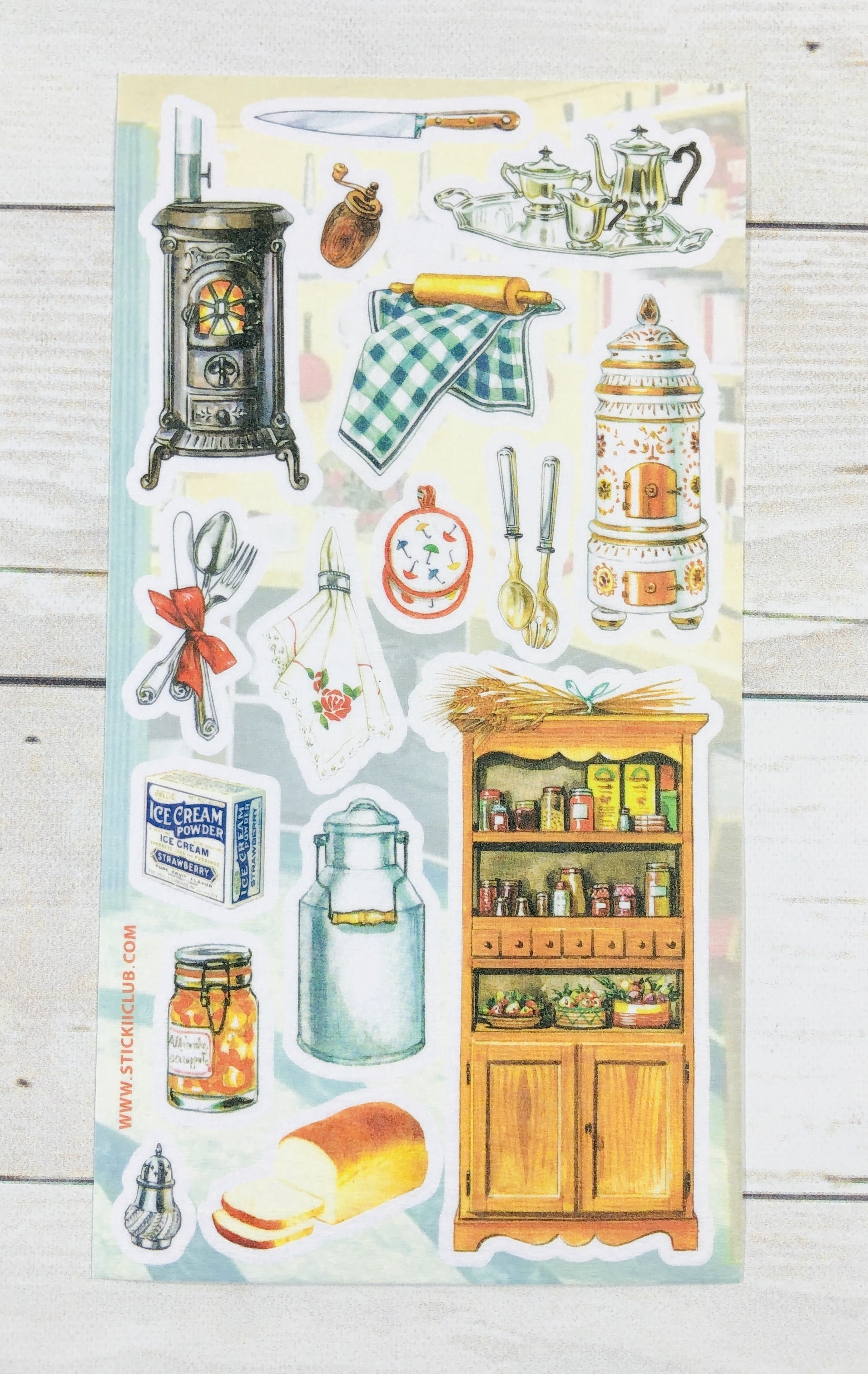 Cozy Kitchen Stickers feature a cabinet, stove, and a tea service set. Textured washi paper.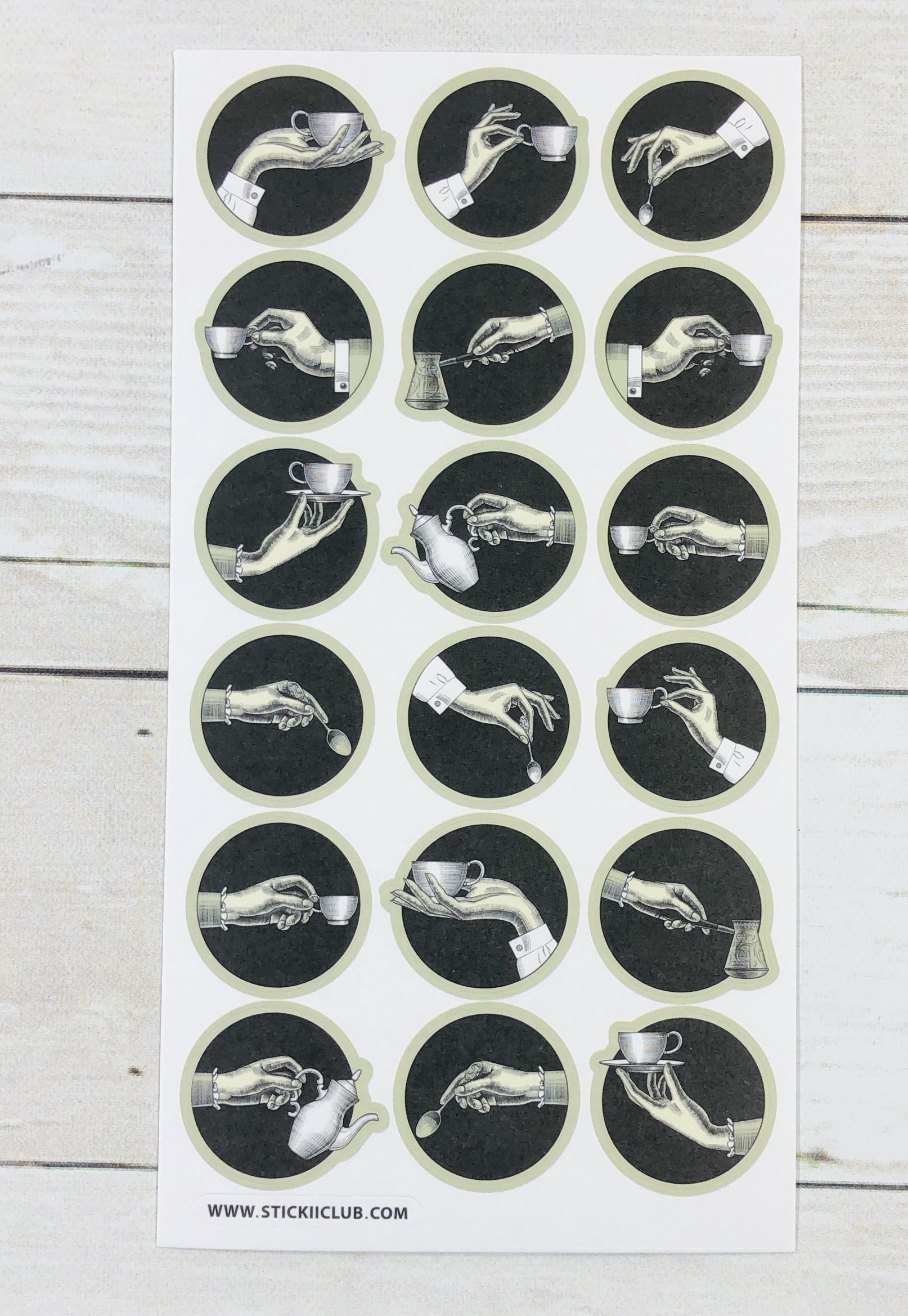 Tea Time Stickers have elegant hands holding cups, stirring spoons, and pouring tea. Printed on paper.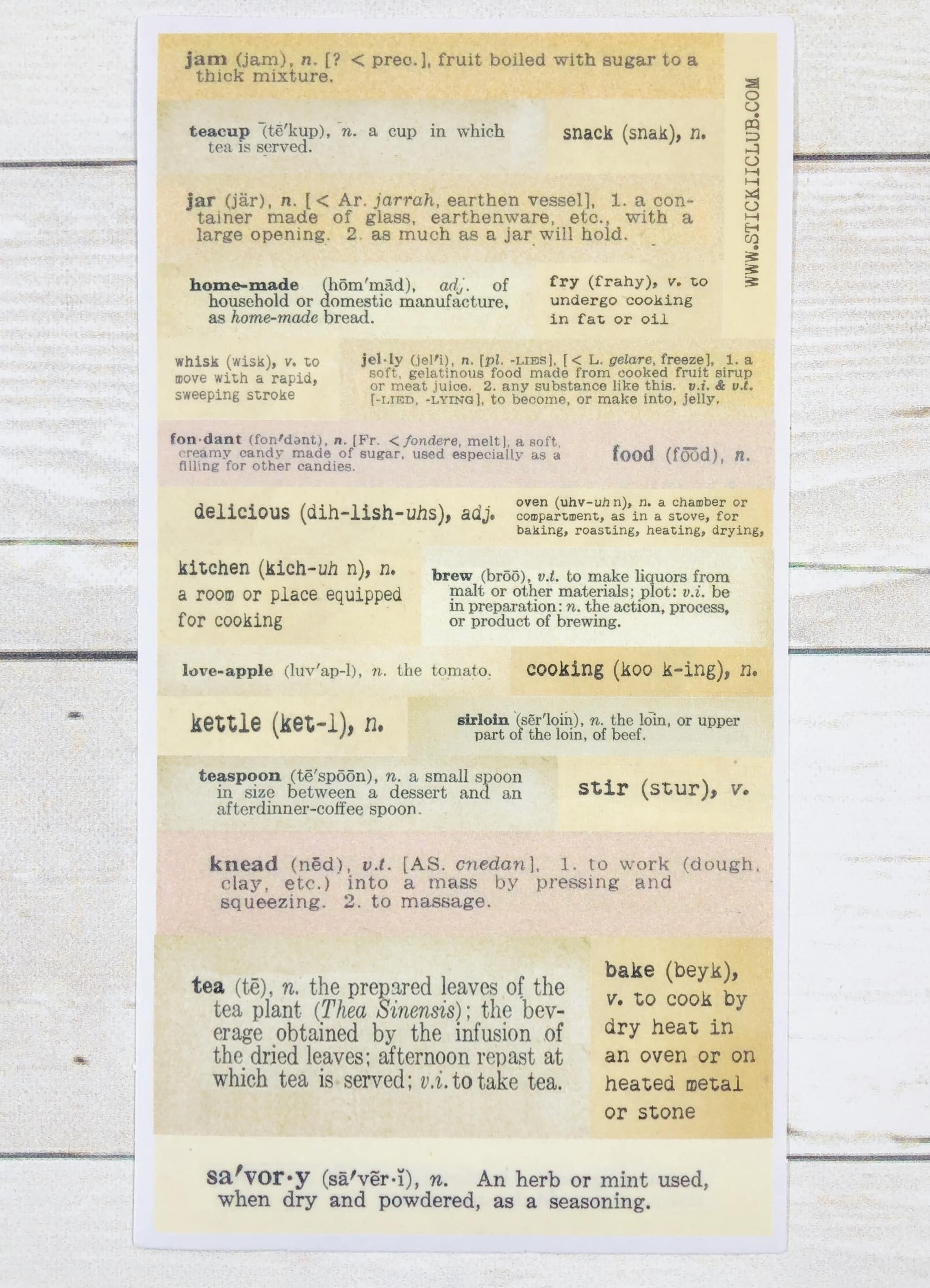 Kitchen Definitions Stickers have an old-fashioned typeface and list what I think are common words used in the kitchen. Well, except for love apple. I've never heard of a tomato referred to that way! Printed on washi paper.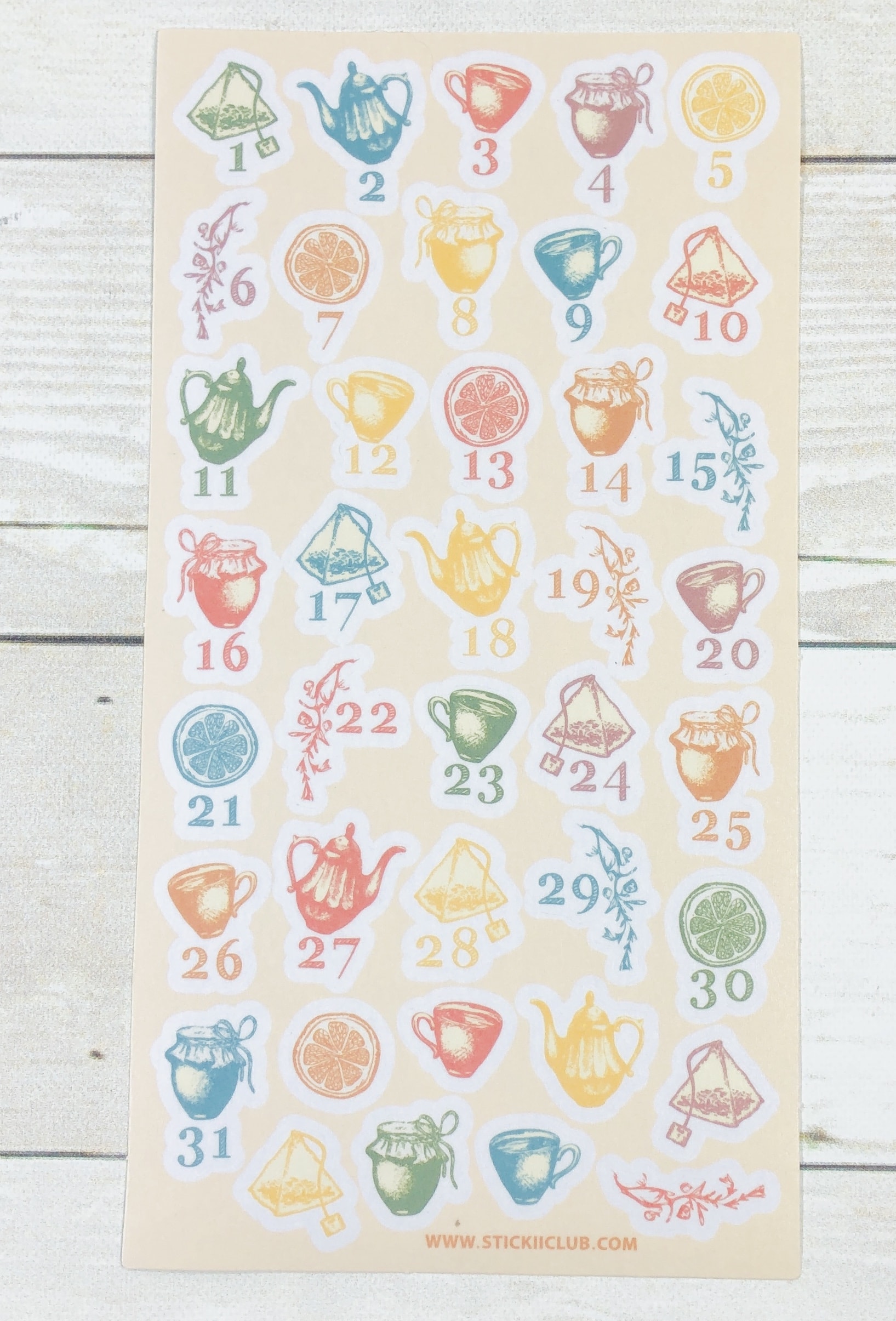 Tea Stickers Tea is my #1 favorite beverage and to see teapots, teacups, teabags, and more makes my heart happy. Printed on washi paper.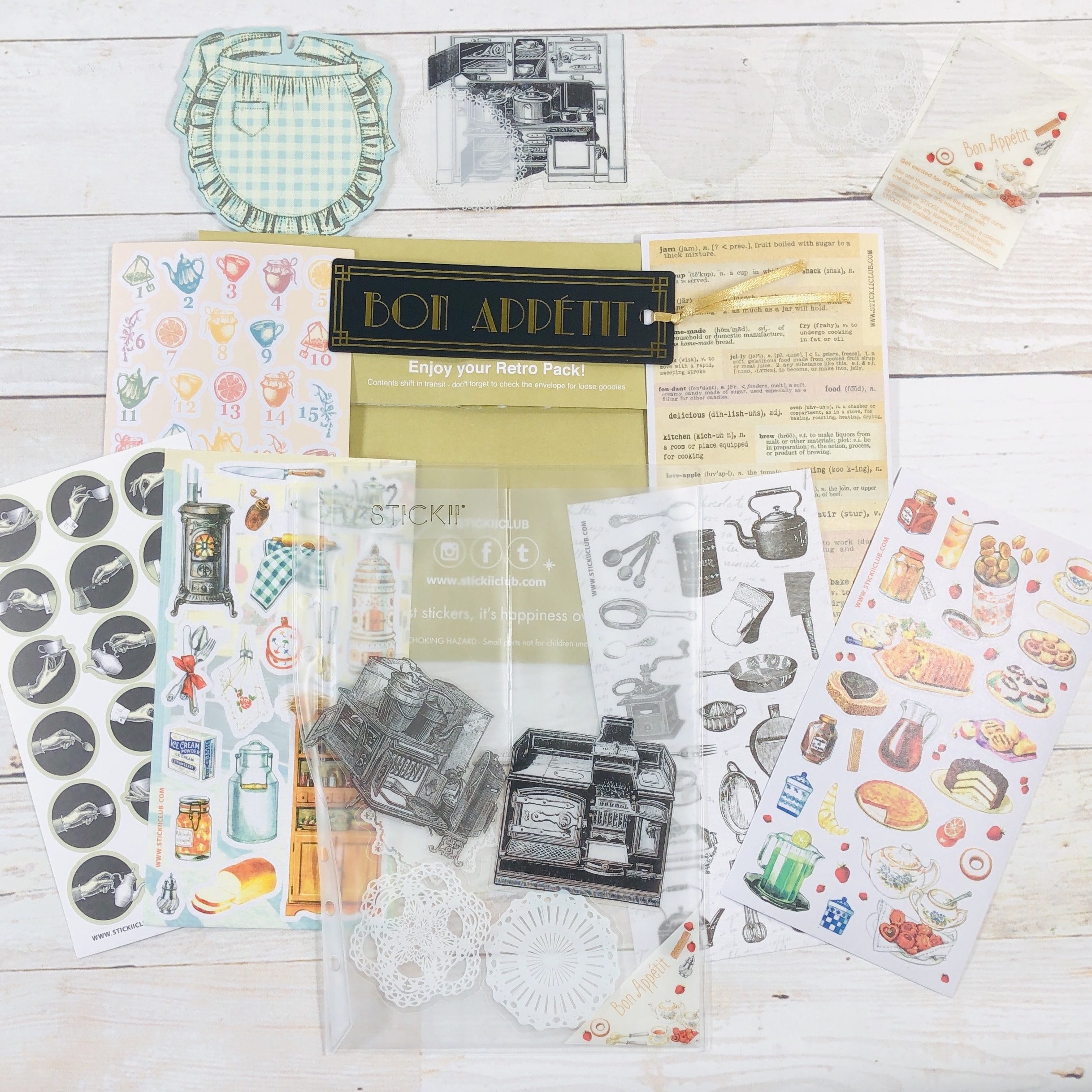 What a tasty theme for the April STICKII Retro pack! I love tea and I think most of the stickers had something related to camellia sinensis so this was a marvelous set of stickers for me personally. Of course, if you drink coffee then I'm sure they work almost as well for that brew. The old fashioned kitchen stickers were also cute and the notepad is sweet. I share the stickers with my daughters and we put them on our planners, letters, and even cell phones cases. You can usually buy individual stickers sheets, accessories, or even complete packs in the month following their release, so if you like this month's retro set then check out the STICKII online shop in May to snag some of your favorites.
Let us know what you think of this month's STICKII pack!