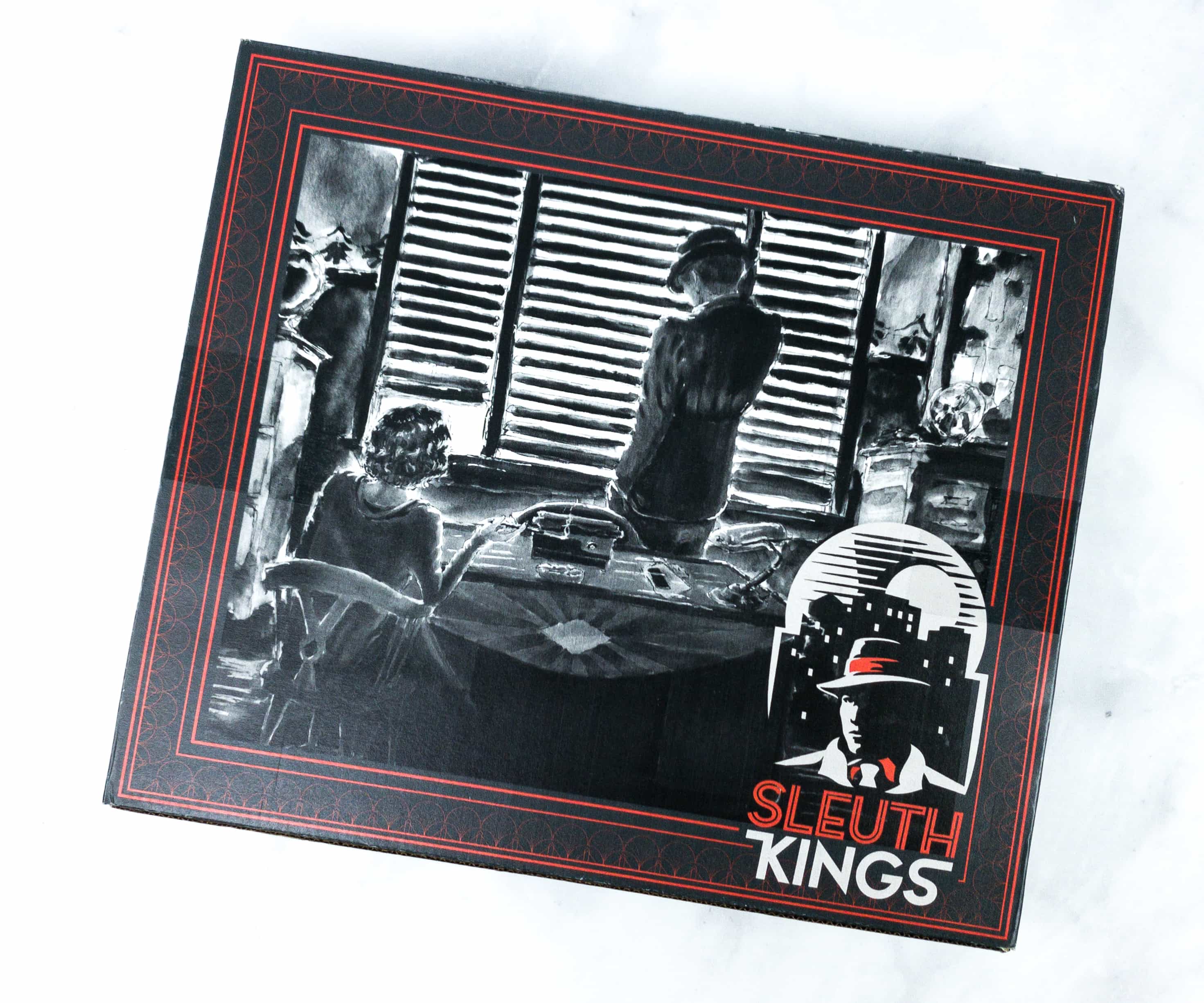 Sleuth Kings is an interactive monthly mystery box. Every month, a physical case file arrives full of evidence, puzzles, ciphers, and more. Plans start at $29.95 per month and they also have 3-month and 6-months prepay options. You will work hand-in-hand with Sullivan King, the lead detective, via email as you solve the case.
Each month's case is a new, stand-alone mystery that takes approximately 2-3 hours to complete. Each case includes an epilogue -a  follow-up letter from the client as well as a small gift. For every 4 cases you solve, you'll be rewarded with a FREE bonus case that revolves around the hunt for Sullivan's father.
DEALS:
Get $8 off first purchase Use coupon code HELLOSK .
Get 10% off of your order! Use coupon code HELLO10.
This the review of Mystery Box Case 029 LOVE HURTS.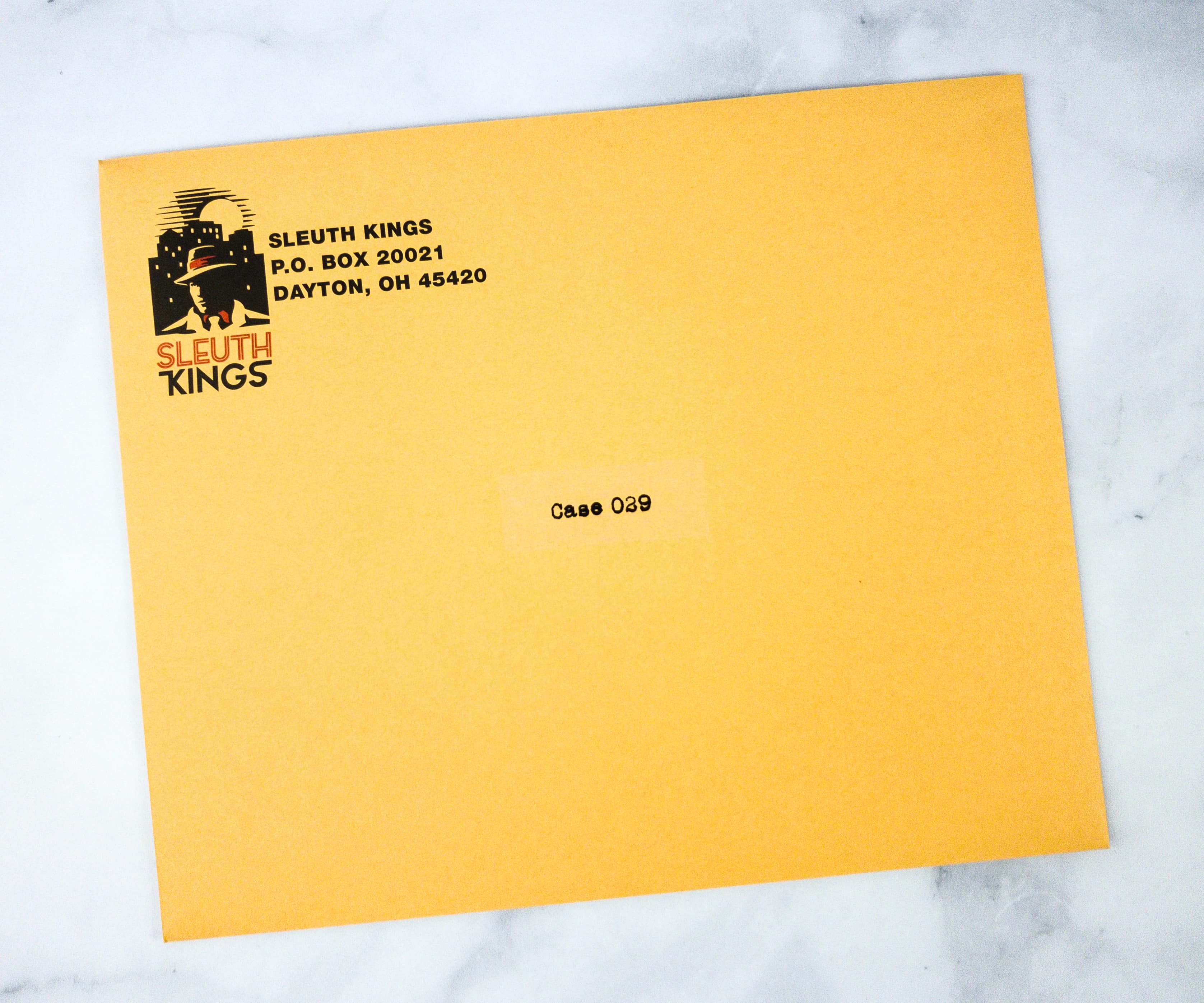 The mystery comes in an envelope. The only things written on it are the Sleuth Kings P.O. box address and the case that you will be working on.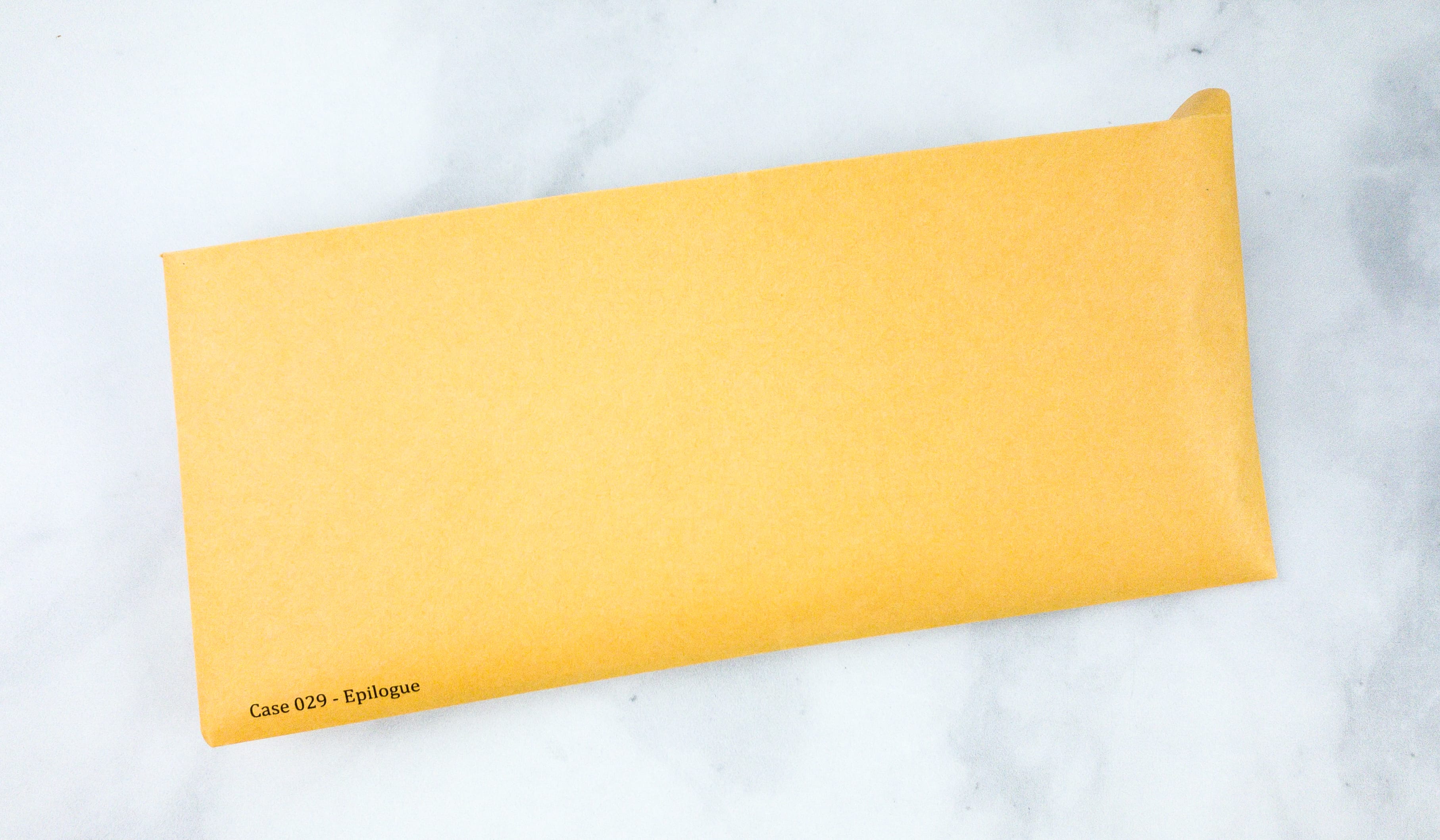 The epilogue is included and separated in another envelope.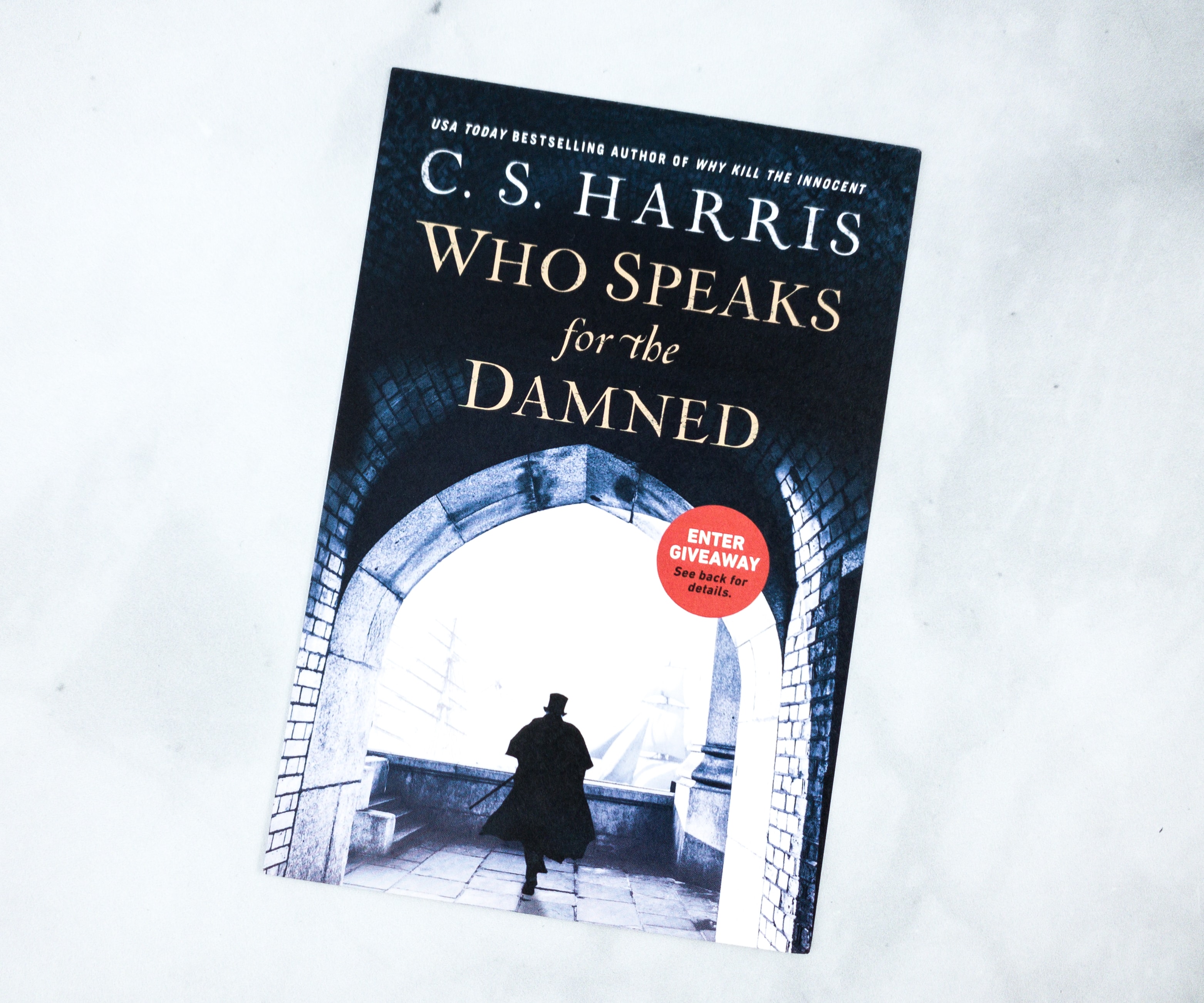 There's also a promotional card for C.S. Harris' new book, Who Speaks for the Damned.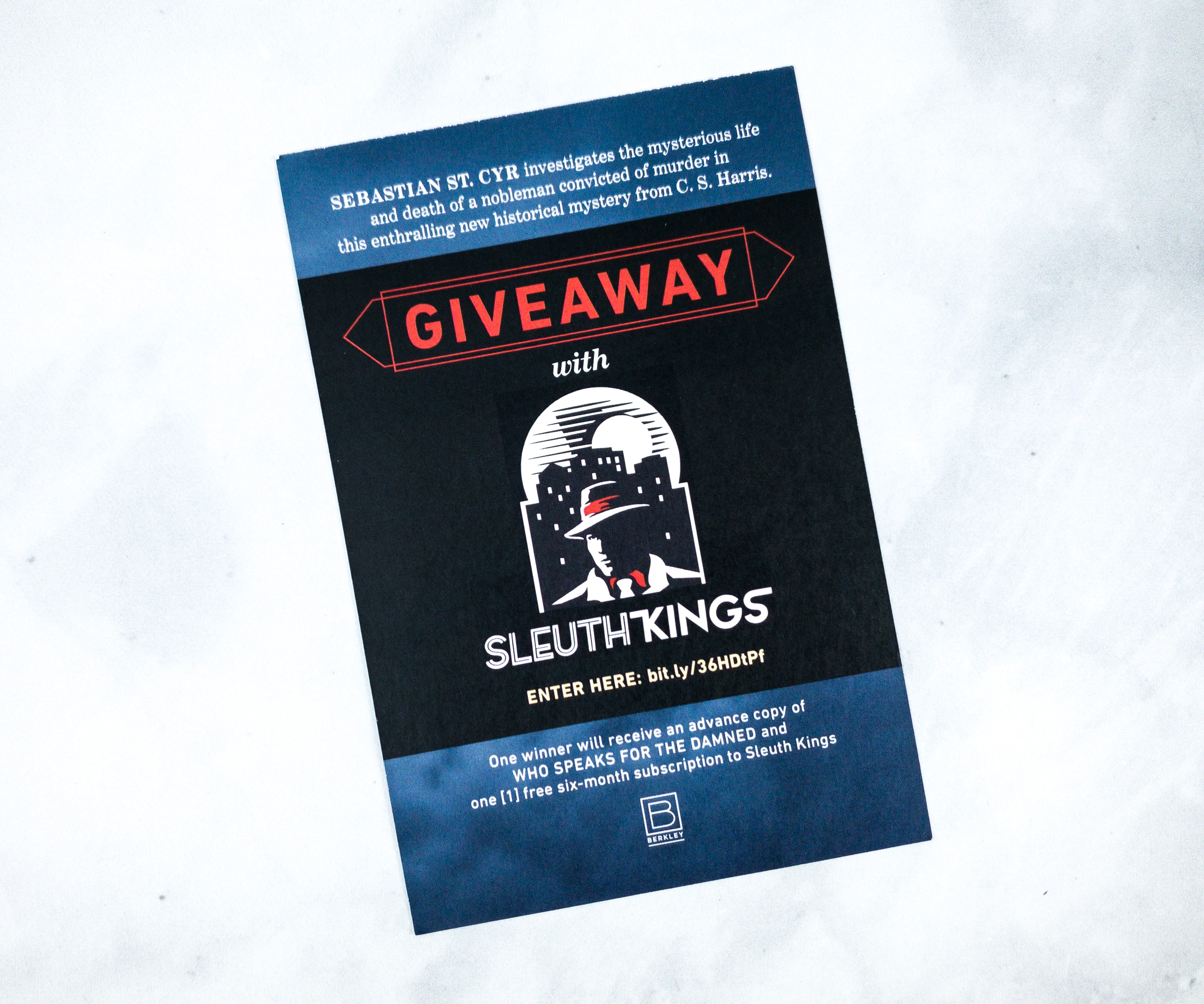 On the flip side, they included the mechanics on how you can join to win an advance copy of the book and a free six-month subscription to Sleuth Kings!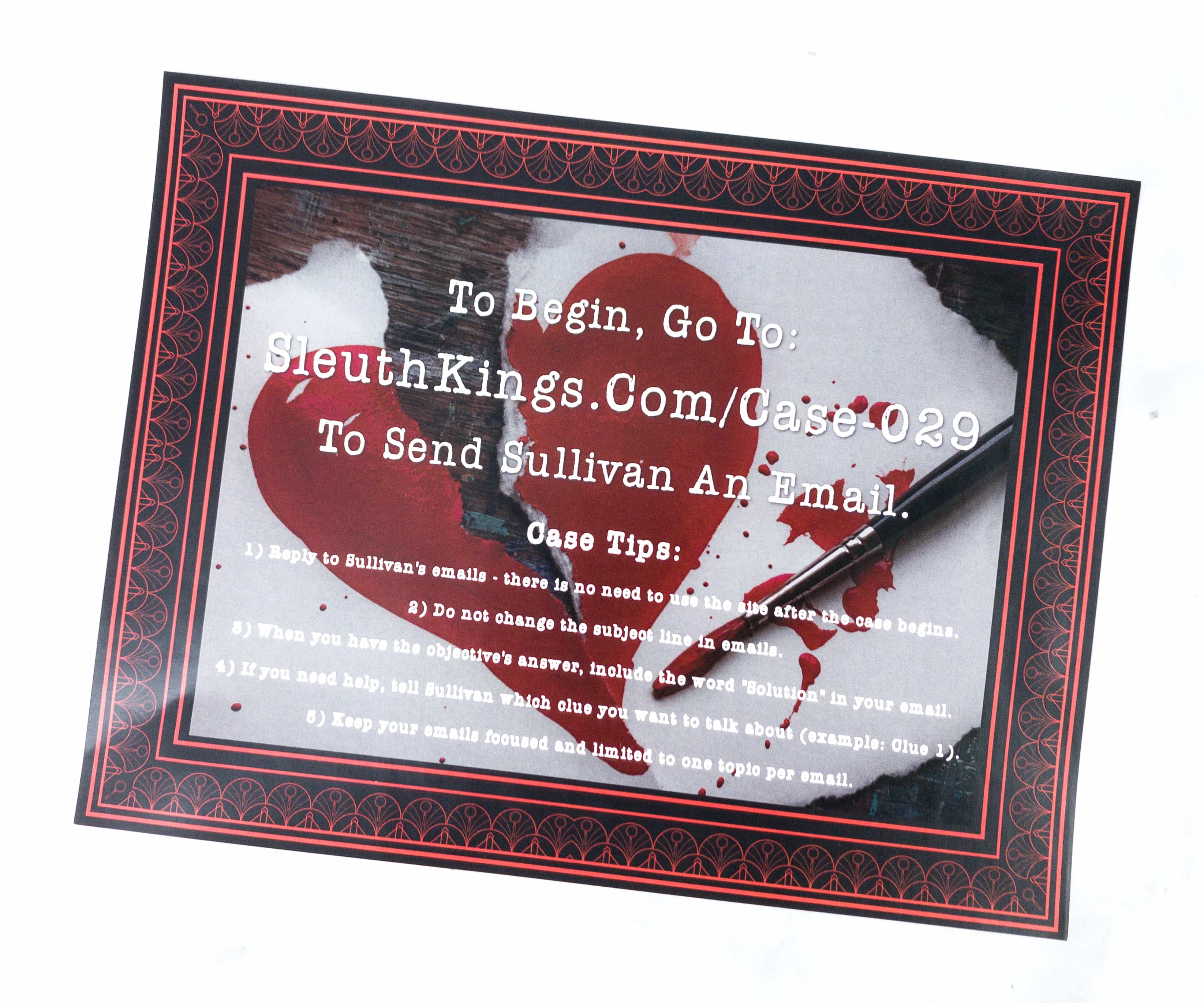 To begin with your adventure, you need to login to their website and send Sullivan an email.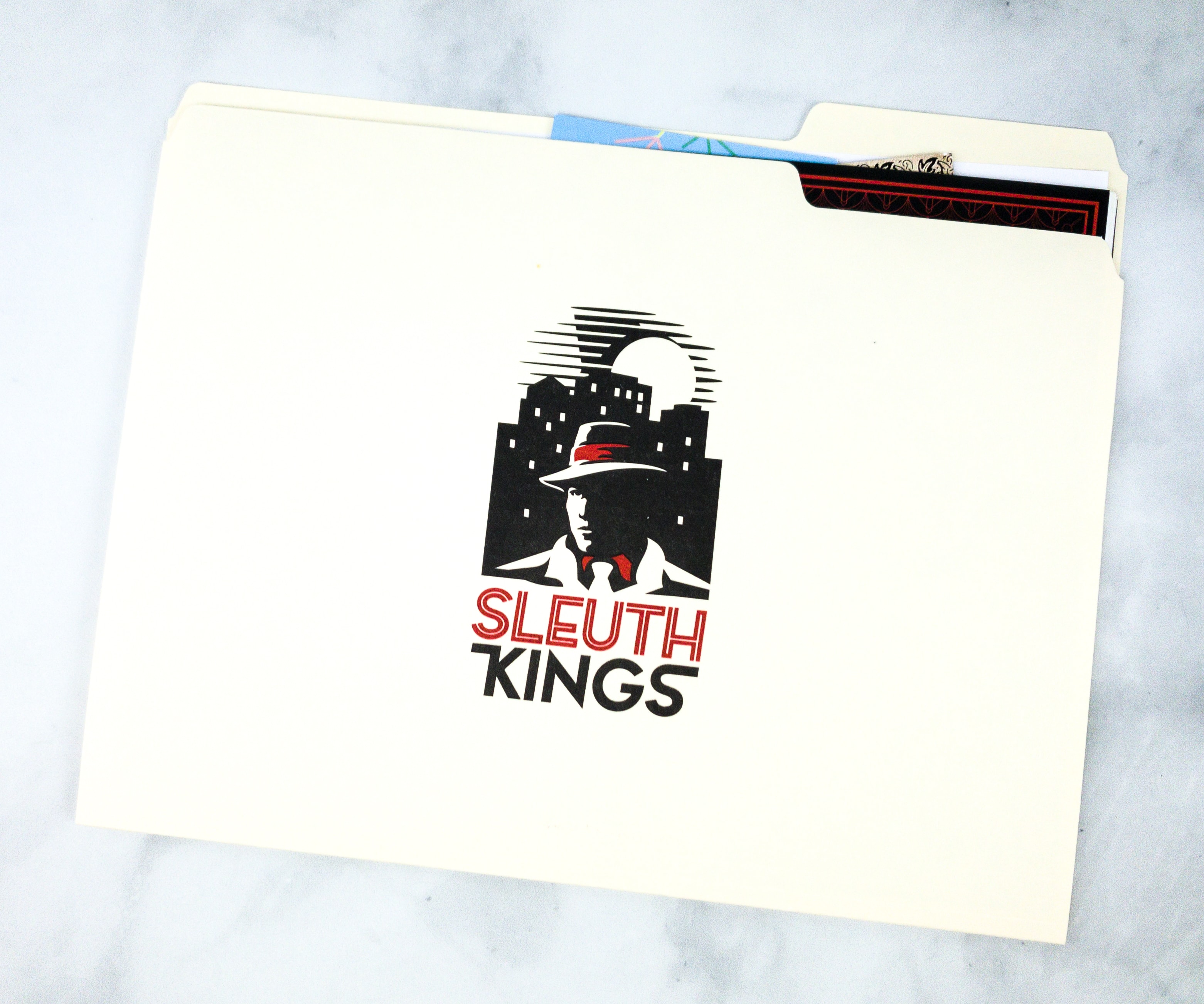 The files are neatly arranged in a white folder, with Sleuth Kings branding in front. All the files are organized inside the folder, they are even separated by paper clips.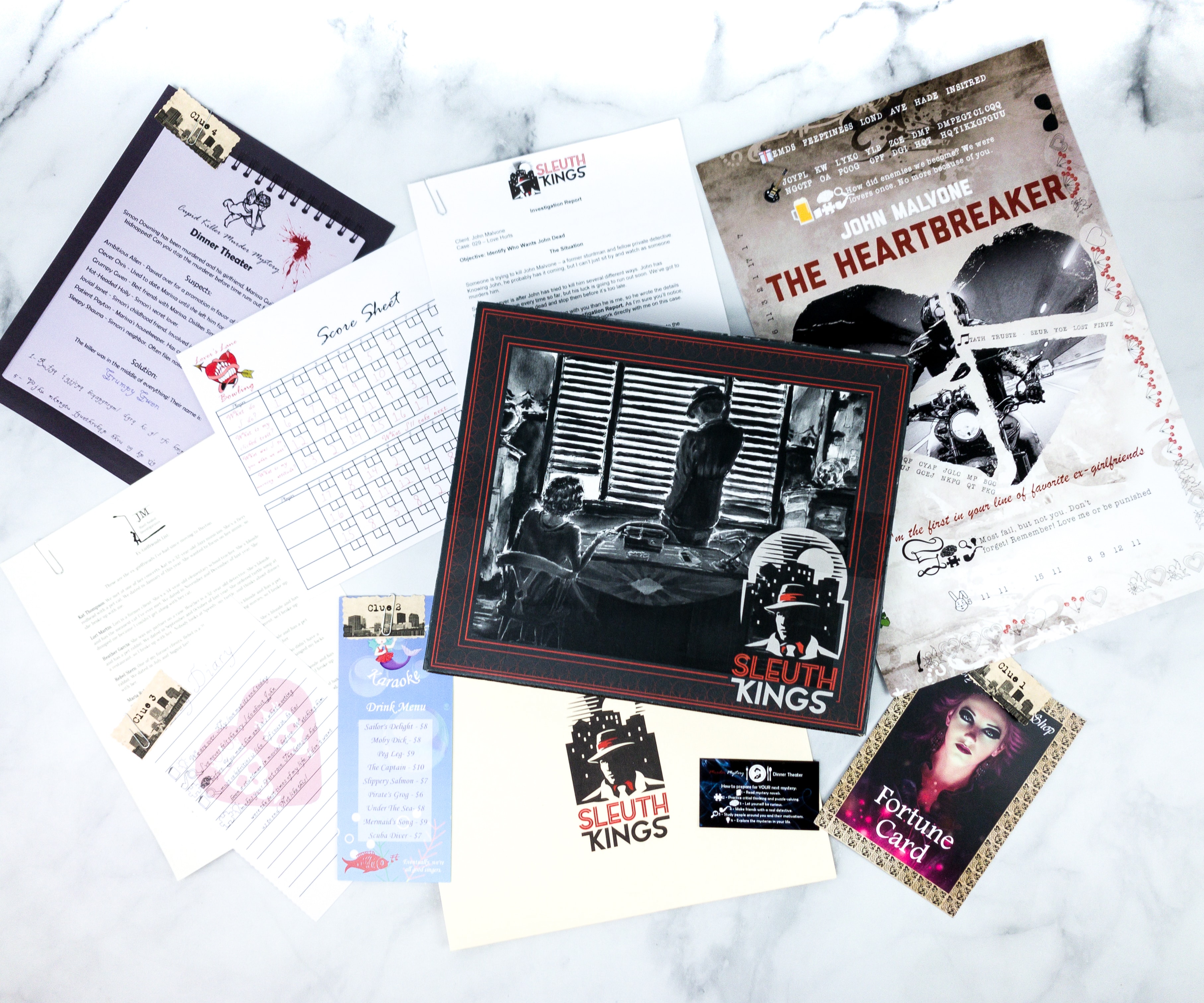 Everything in my box!
The case objective is written in a card, and we will be working to identify who wants John Malvone dead.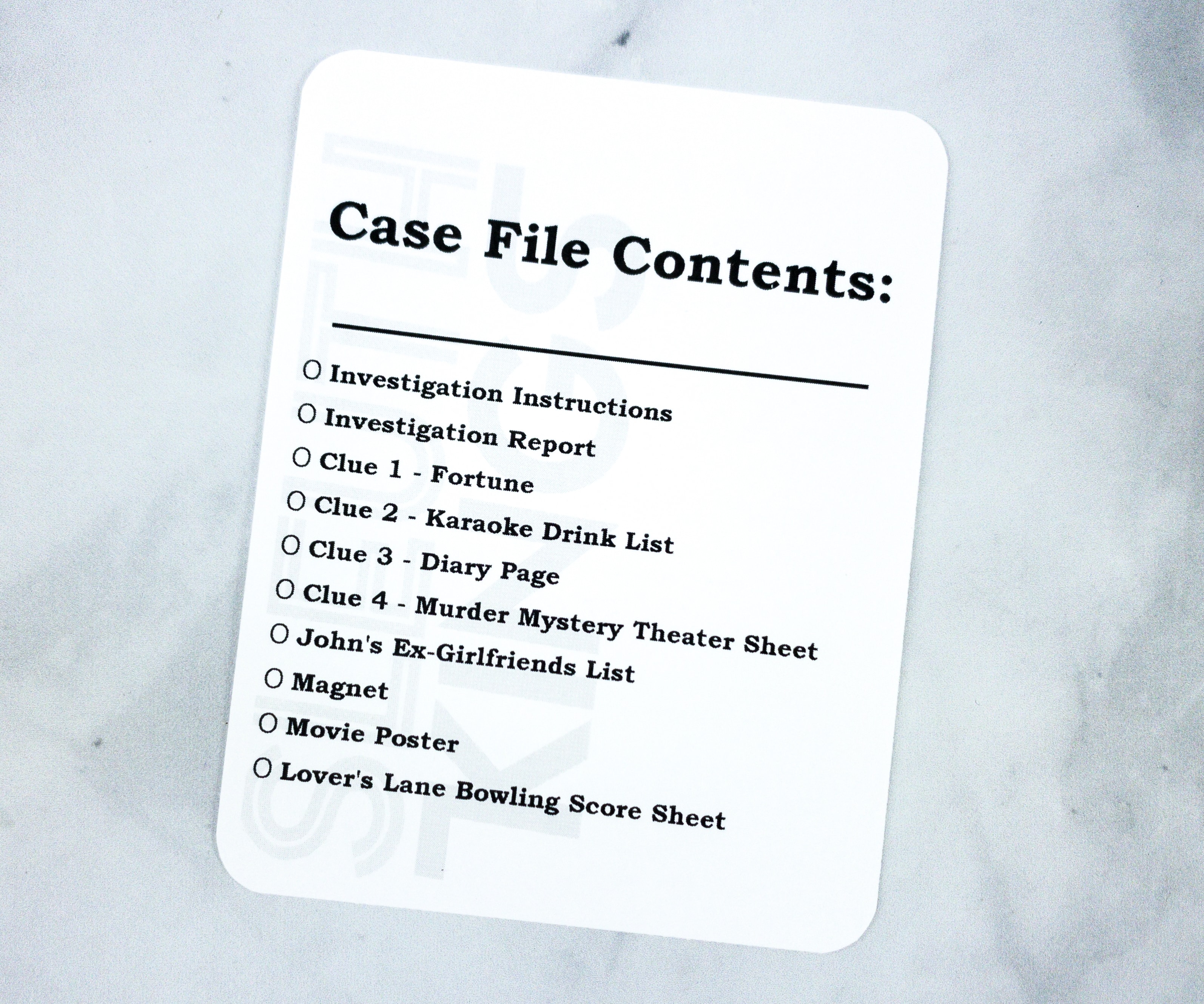 It also lists the contents of the case file: investigation instructions, investigation report, clues, and more.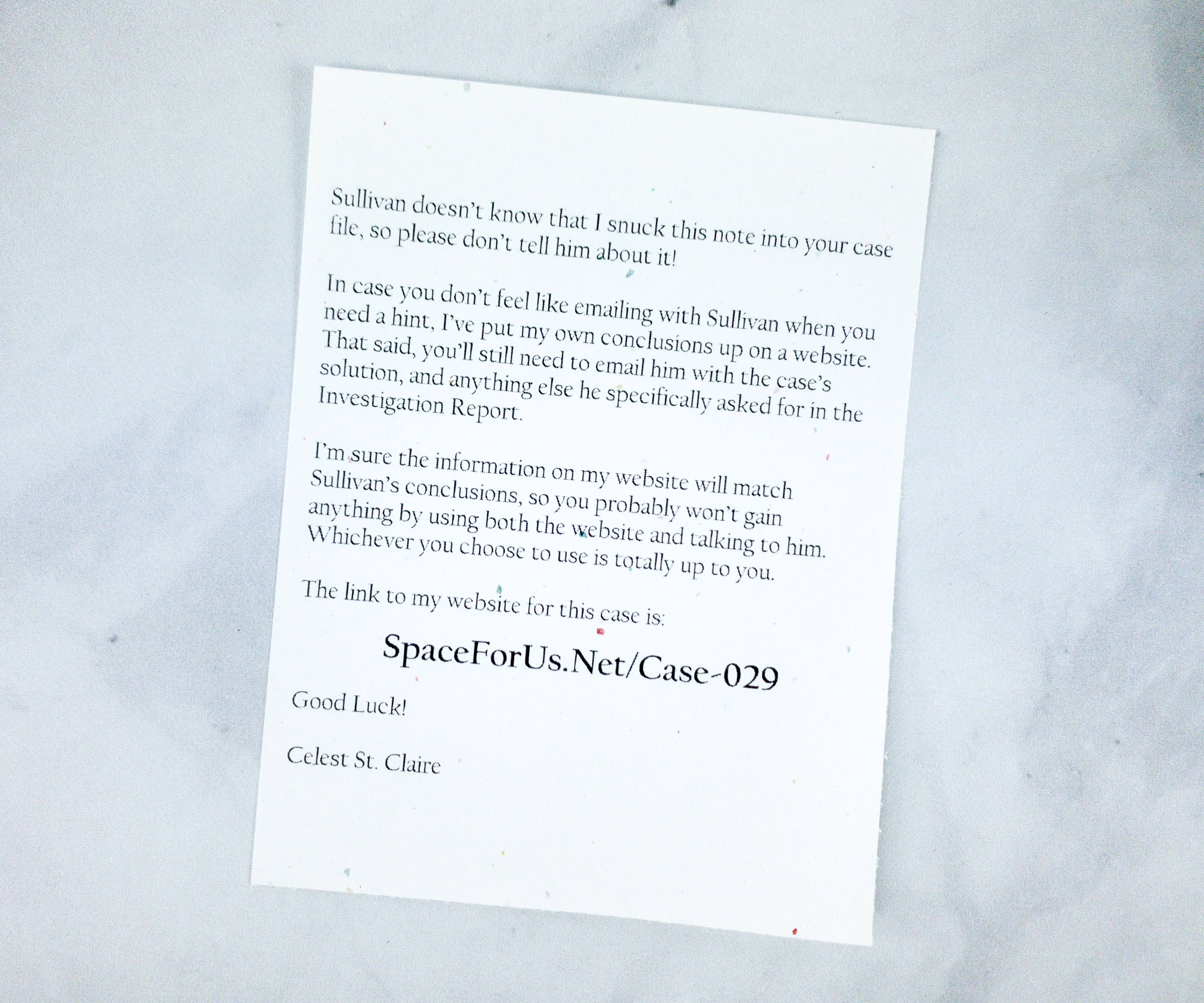 We also got a snuck-out letter from Celest St. Claire. We can use her help in solving this case by taking a look at the information on her website.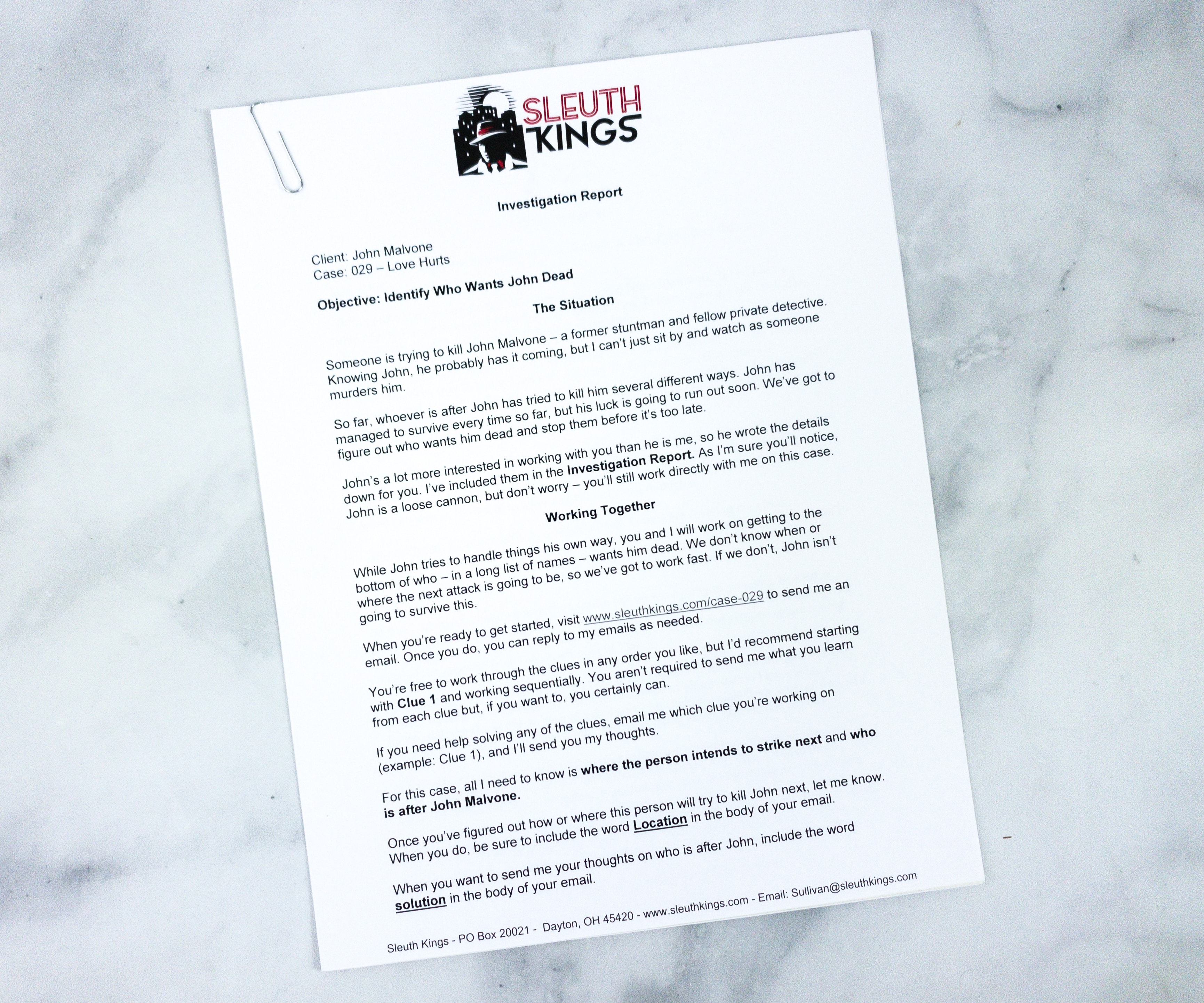 The investigation instruction sheet names the client, the case you will be working on, and the whole situation. And for this Valentine-themed case, our client is John Malvone, from one of the past cases and a fellow private detective!
I suggest you read them thoroughly to fully understand the case and also to know where to start the whole investigation.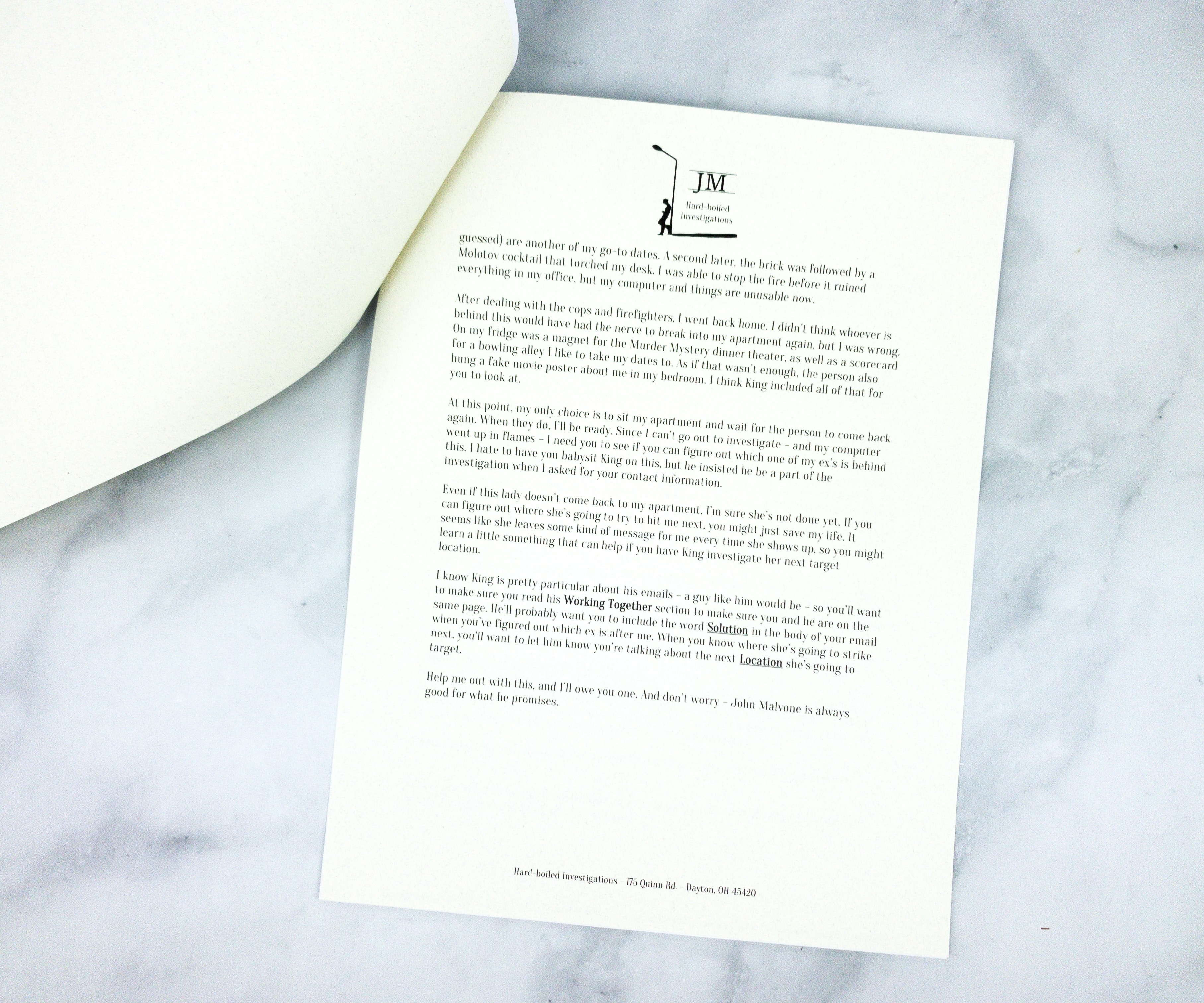 In this case, we just need to know who among John Malvone's exes wants him dead, and where she's going to strike next.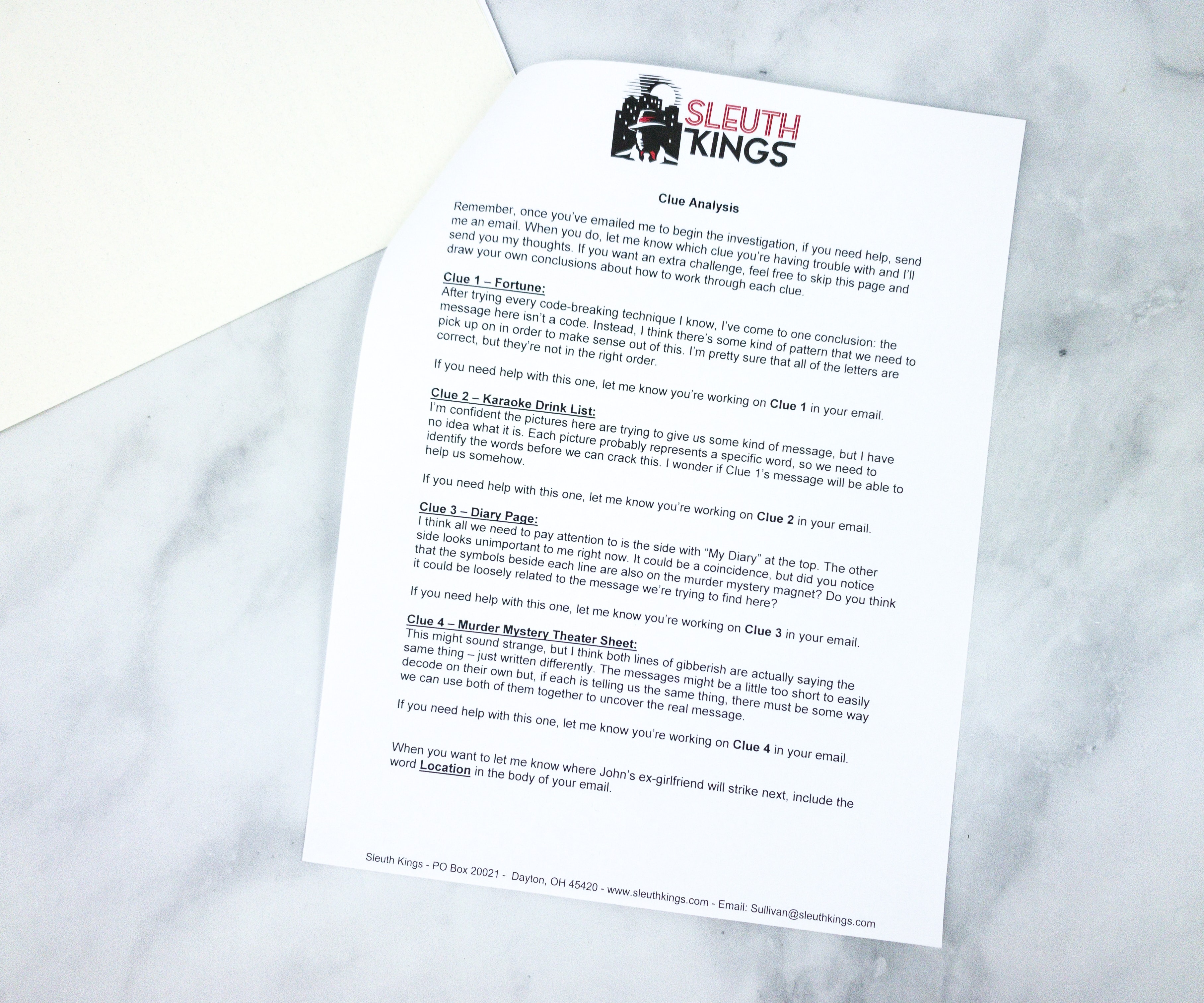 There are also clue analysis, where each clue item's use is hinted or explained.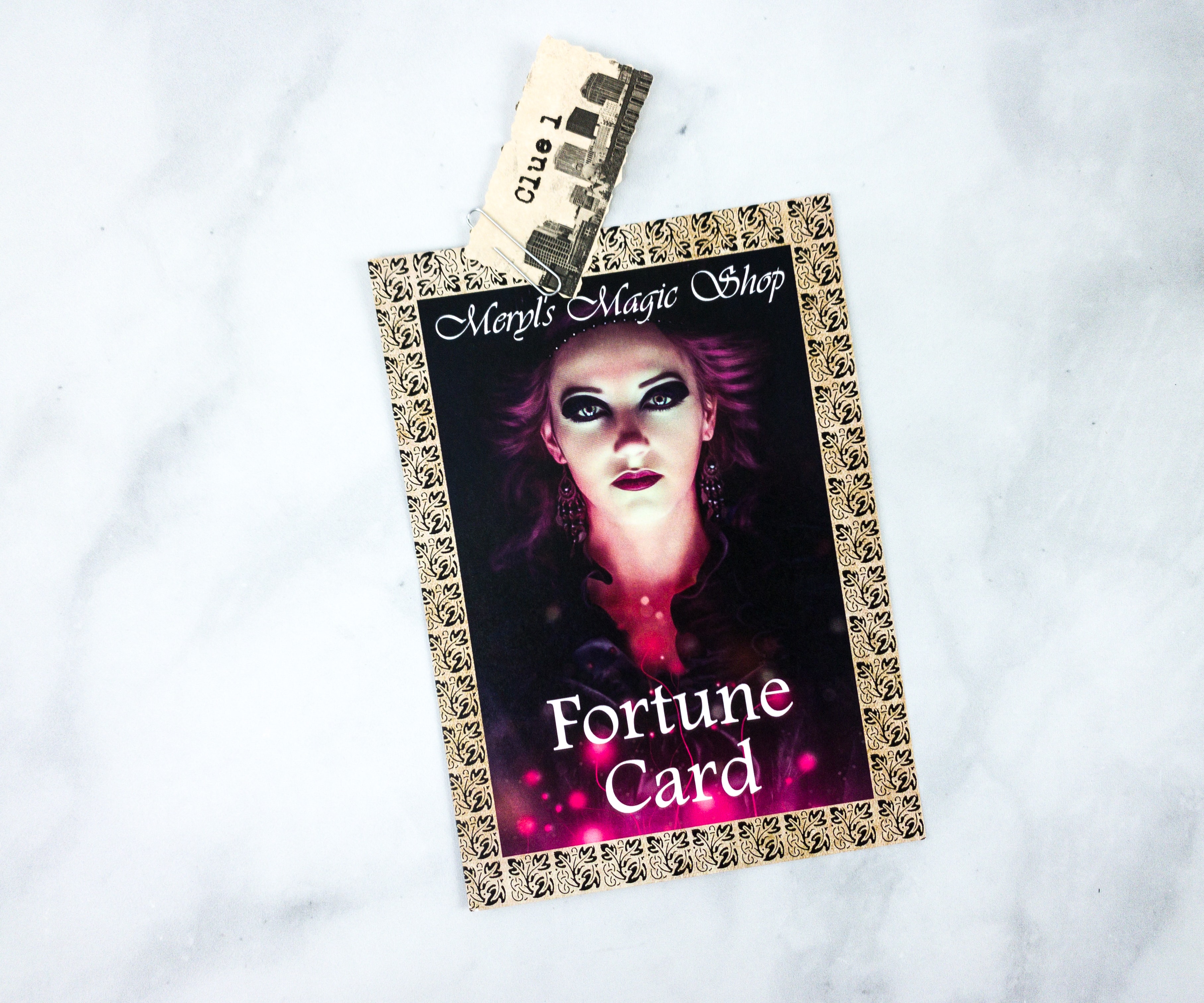 The first clue is a Fortune card, from Meryl's Magic Shop.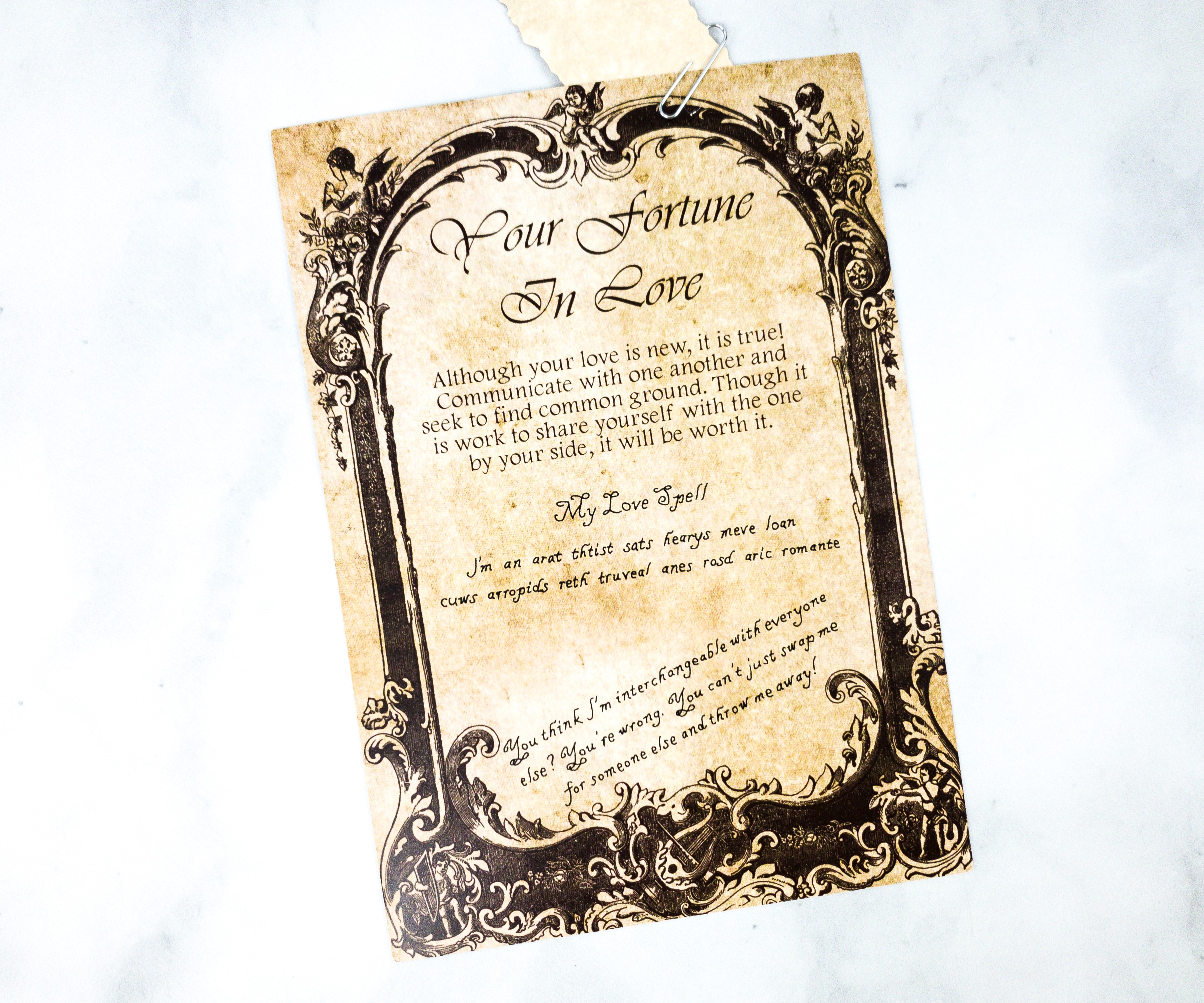 The back of the card has something to say about "Your Fortune In Love," a "love spell" that doesn't make any sense. There's also a message from the suspect!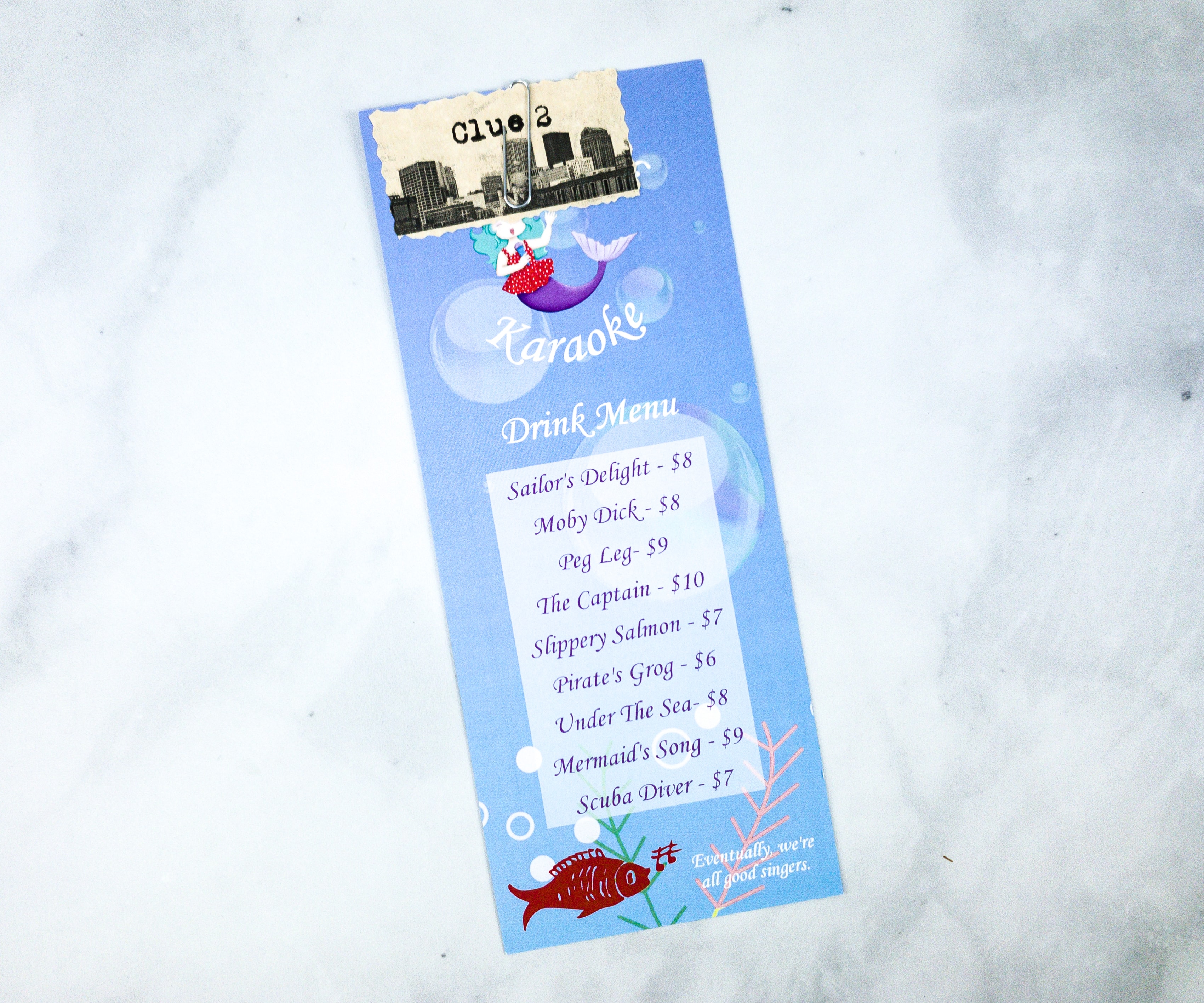 The second clue is a Karaoke Drink List. It lists different drinks, and most of them have something to do with the sea. The prices are included as well.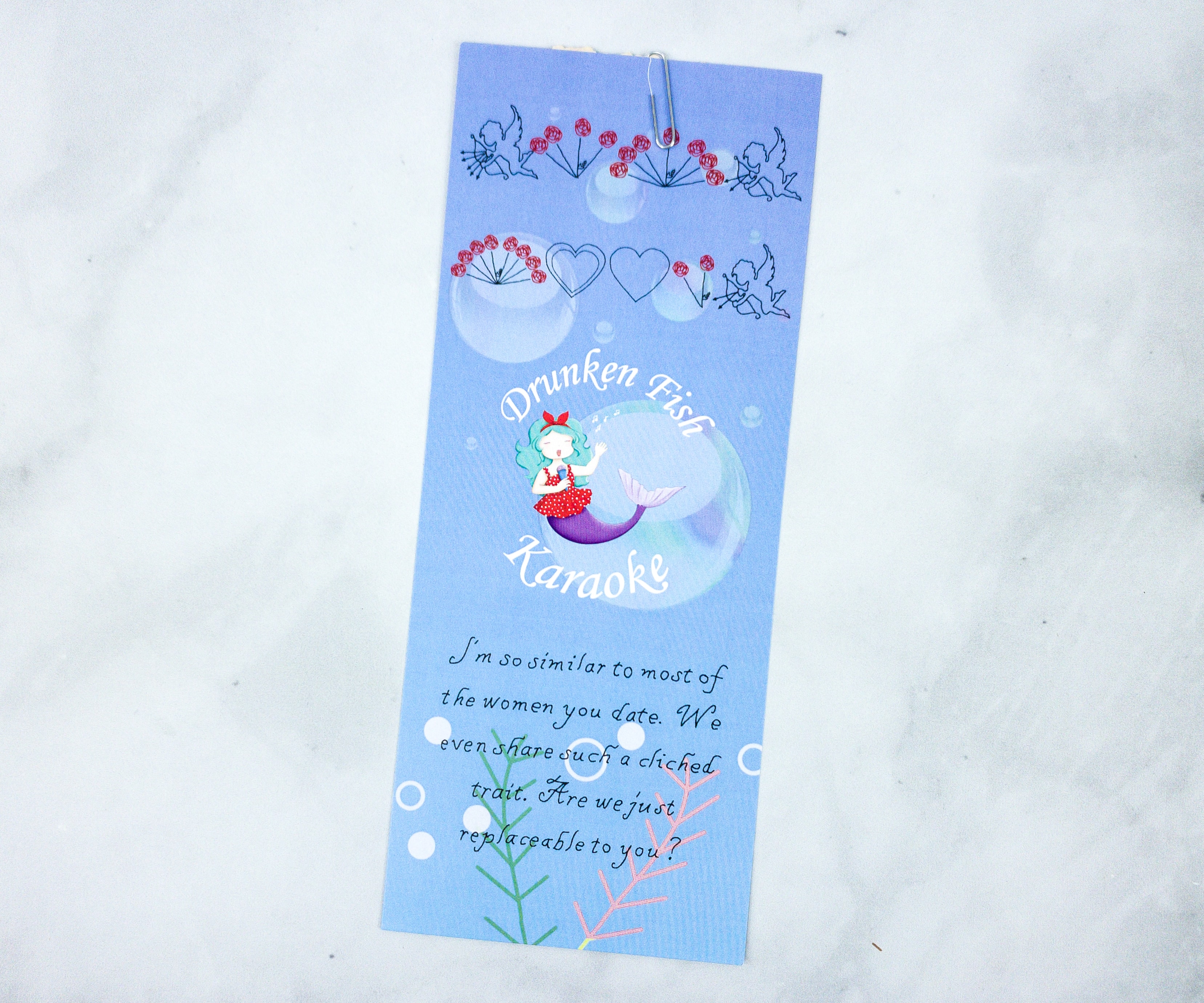 Like the first clue, this one has a message on the backside.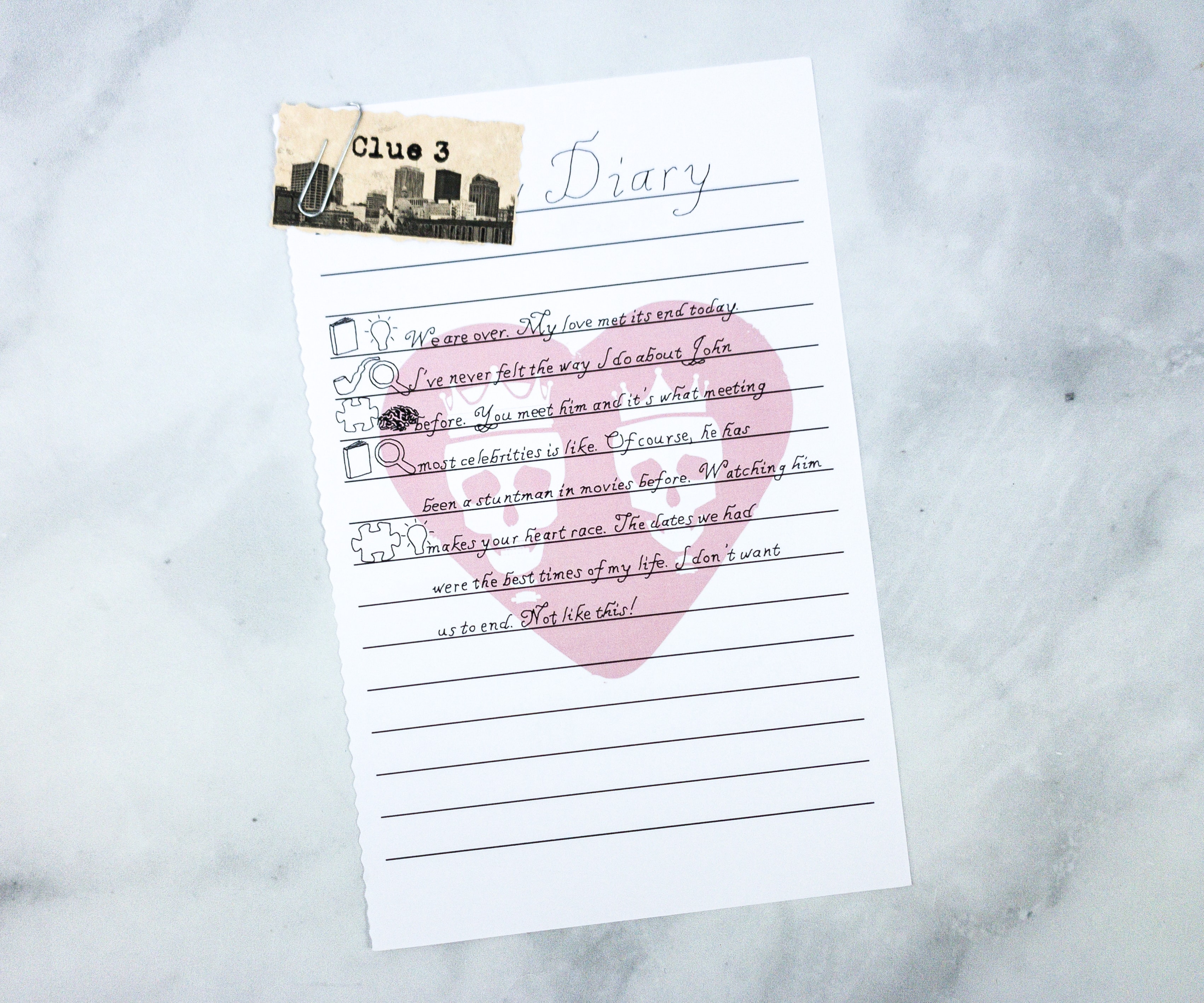 The third clue seems to be a torn-out page from a diary. Also, we noticed that on every line that is written on this page, there are symbols like a book, a light bulb, pipe, magnifying glass, and a puzzle piece.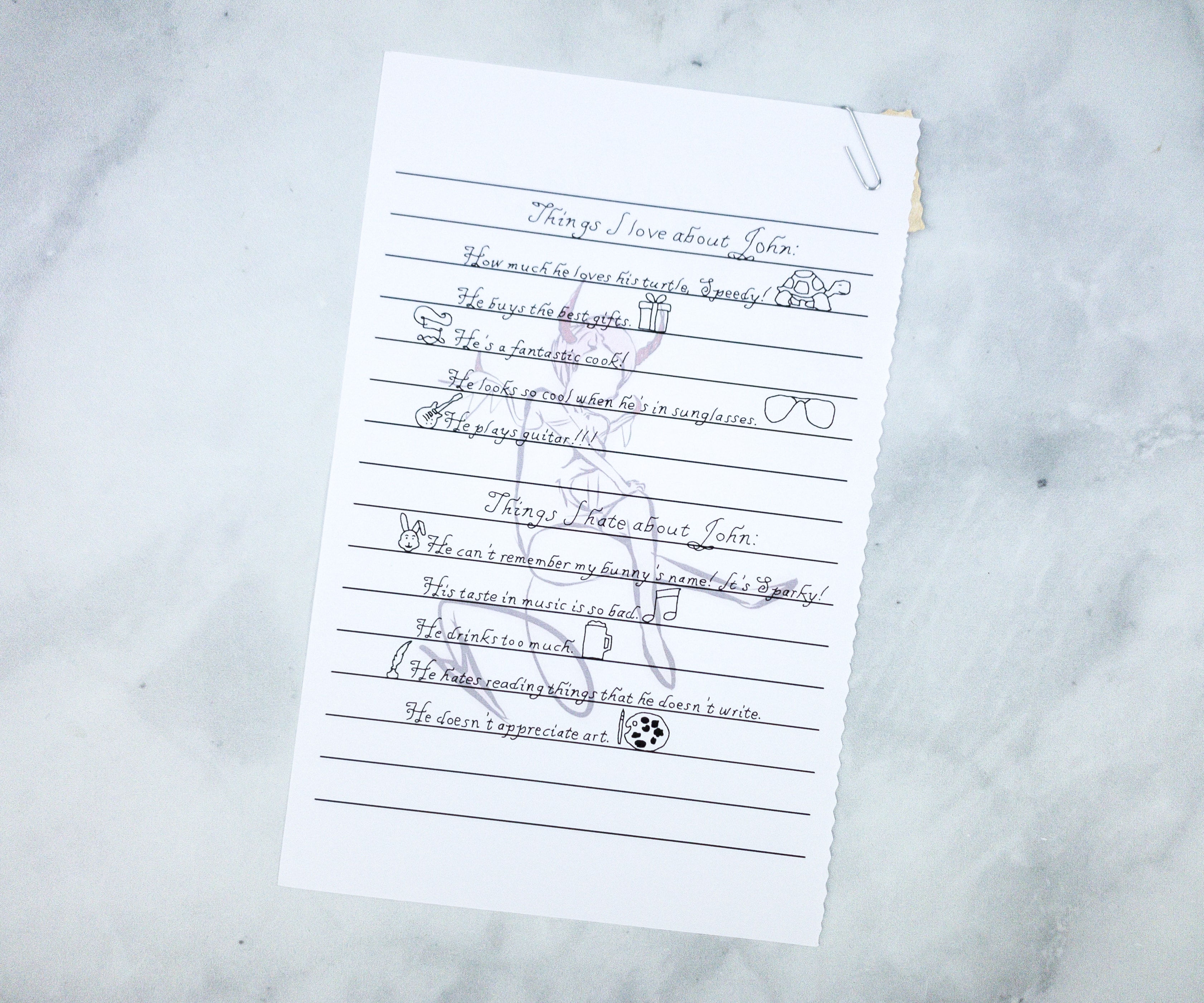 The back also has more writings and it's all about John. There's also another set of characters like a turtle, gift box, shades, a note, a mug, and a paint palette.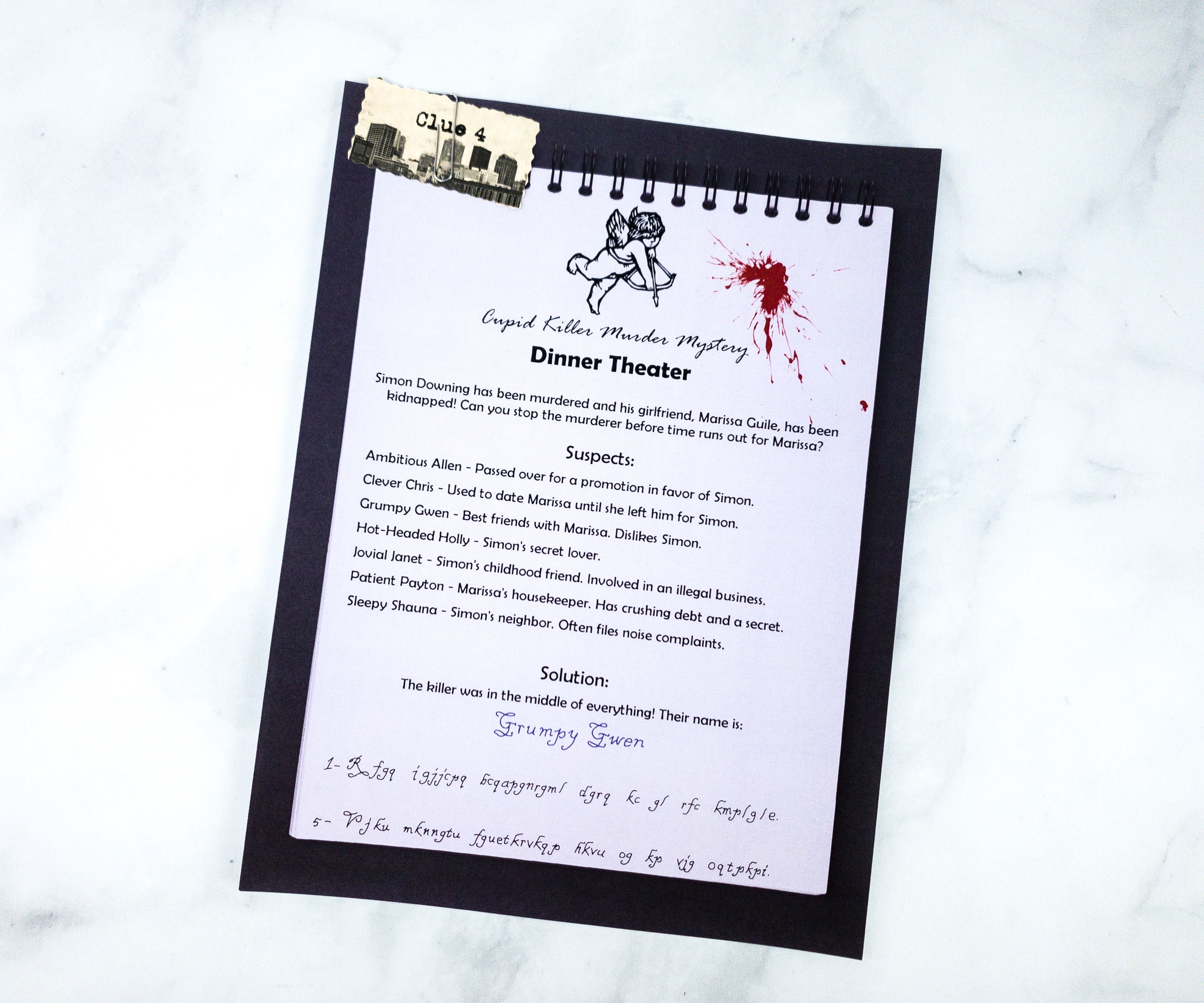 The fourth clue is a Murder Mystery Theater Sheet, from the Cupid Killer Murder Mystery. There are also random letters at the bottom of the page.
We also got John's ex-girlfriends' list!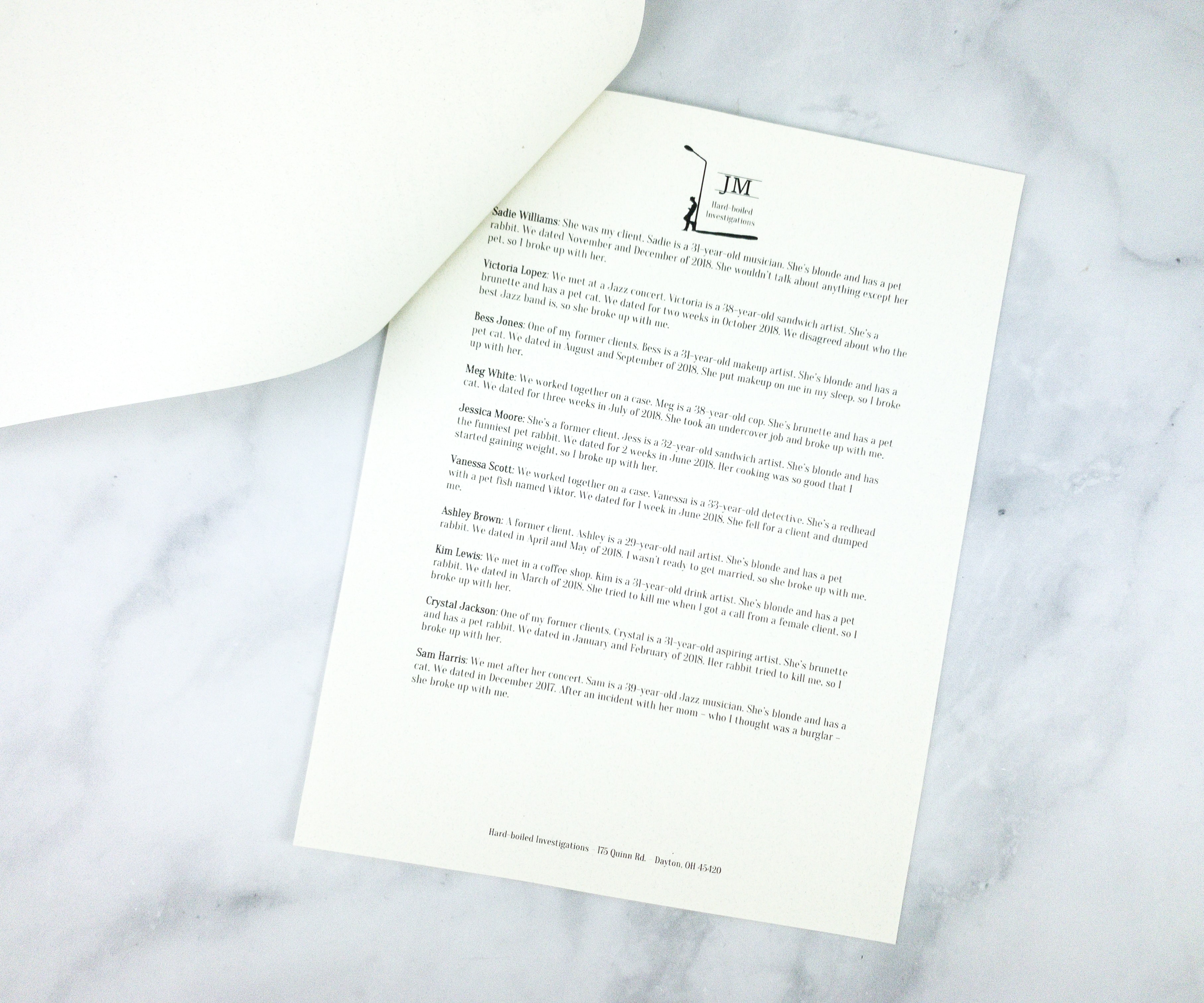 There are 20 persons listed on this! Wow, we have to find out who among these people wants revenge and wants John dead!
There's also a magnet that has the same symbols from the notes. It also came from the Dinner Theater.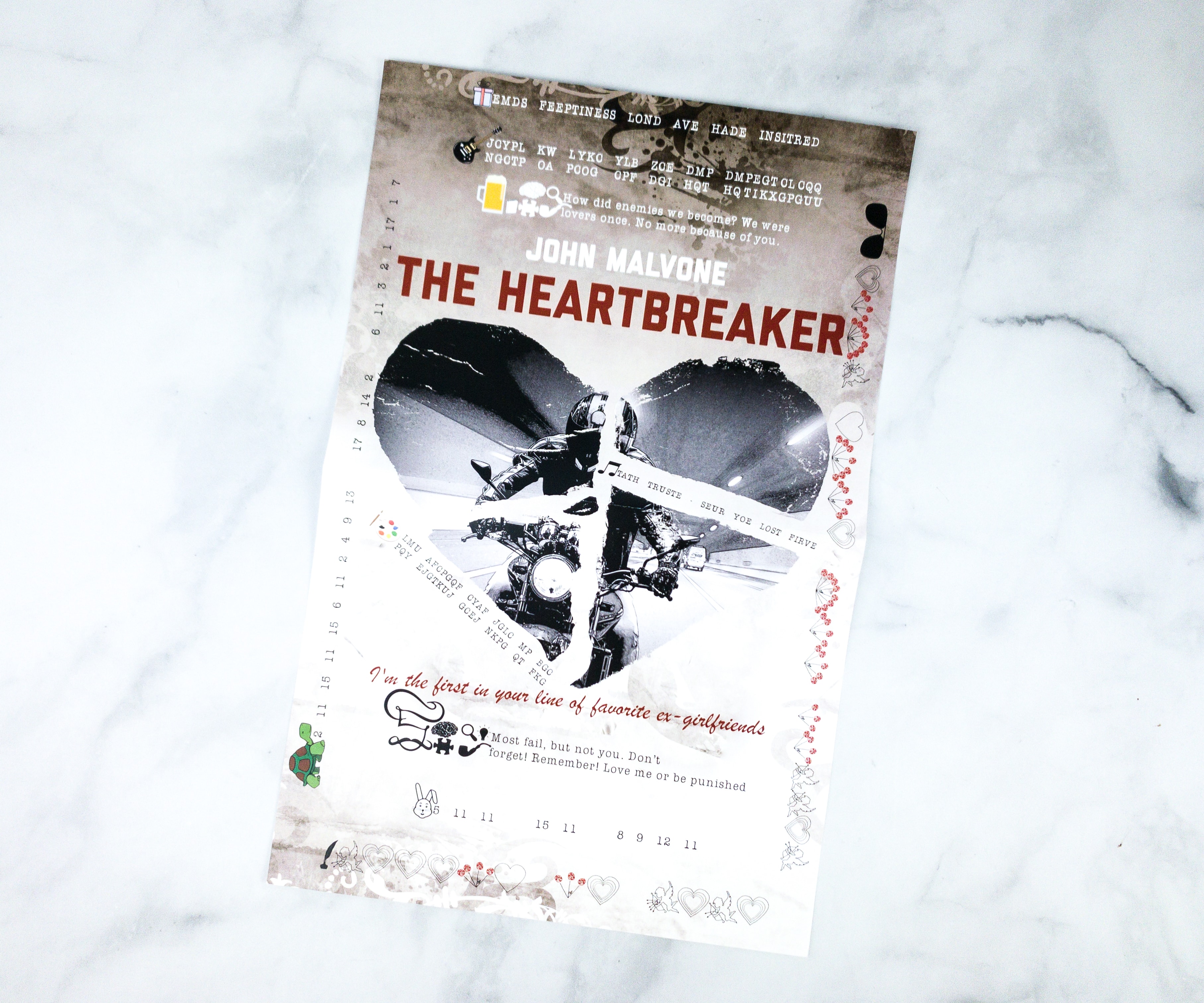 A movie poster from one of the movies that John appeared in is also included, and it's the movie The Heartbreaker. There are random numbers on one side and at the bottom of the poster.
A Lover's Lane bowling score sheet has numbers, which doesn't look like real scores to us. And instead of players' names, there are questions listed.
After solving the case, we can finally open the Epilogue envelope. Inside is a letter from John Malvone and a bandana! He found out that his ex-girlfriend, Rebel Stern, is the one behind all these. She planned on killing him and even hurting his bike, Nikki. The police took her, and also, a mechanic has taken action on his tampered bike.
John's favorite bandana has the American Bald Eagle on it, a red bike, with the abbreviation U.S.A. on top, and images of the eagle and the flag on each corner.
This month's case is actually easy, but still fun and engaging! I also like how they're bringing back characters from past cases to join us again, and this time, they're playing as the clients. I guess John is really charismatic to have too many ex-girlfriends and even has one who wants him back and took a long time to move on! Sleuth Kings is really amazing when it comes to making puzzles and challenges, we're already making ourselves ready for the next one!
What do you think of the Sleuth Kings box?