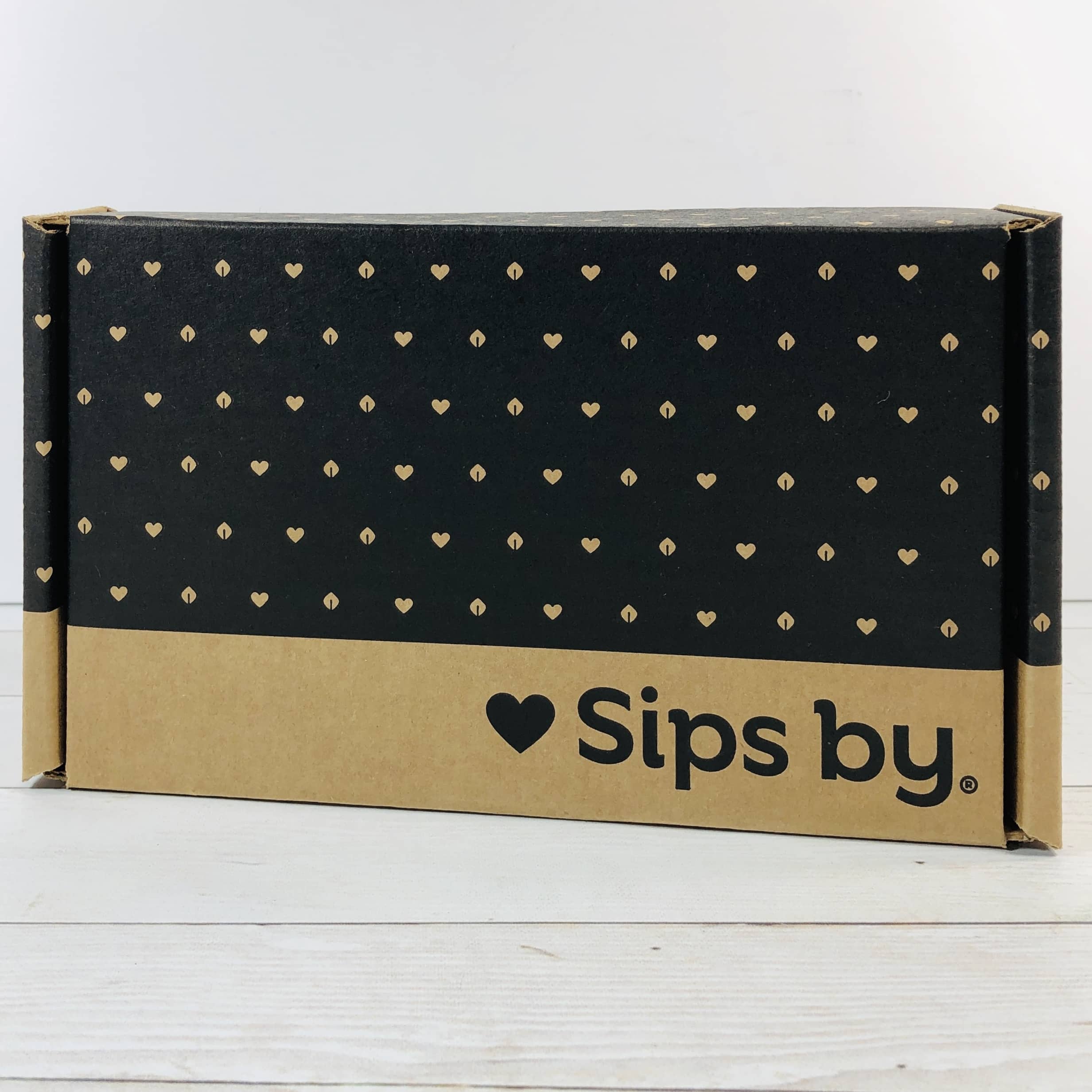 Sips by is a personalized tea discovery service that matches you with premium teas you'll enjoy thanks to their Steep technology. When you sign up you provide answers to the Sips by tea quiz, and they will then send 4 premium teas from different brands from around the world! Sips by sends enough tea to make 15+ cups or 45+ re-steeped cups. Disposable tea bags are included in your box for loose leaf teas. Sips by is $15 a month and shipping is free to the U.S. but they also ship worldwide for a fee!
Once you take the tea profile quiz, we build a tea profile for you.  You'll be matched with teas that best align to your preferences, and be able to review the teas you receive on a month-to-month basis, until you decide to skip a month or cancel your subscription.  Your reviews will continually improve the accuracy of your tea profile.
DEAL: Get 50% off your first monthly box! Use coupon code HELLOSUBSCRIPTION.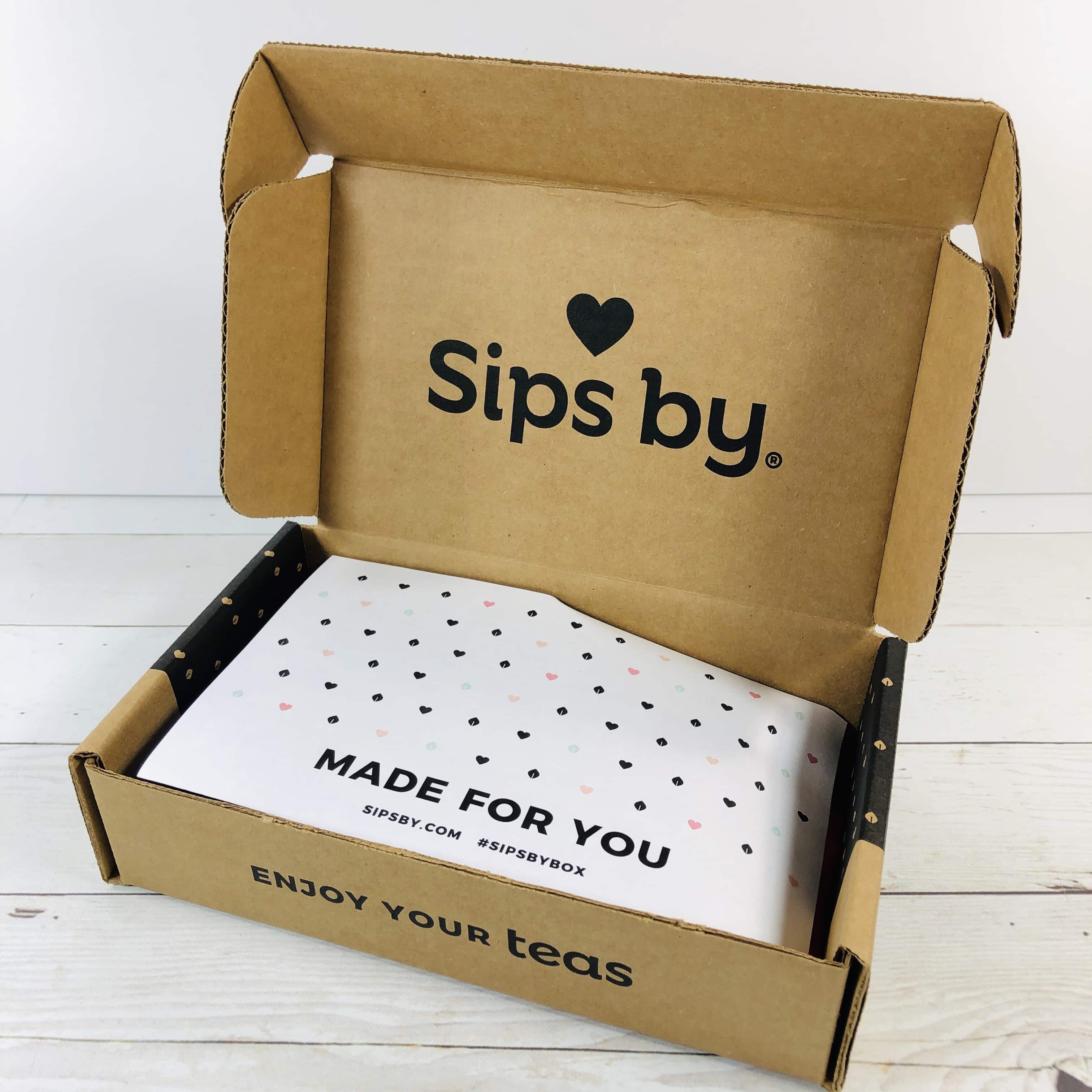 I am a life-long tea drinker and was super excited to see what I got in my Sips by box! Sips by sends teas from both large global brands and smaller tea shops and farms. They have 150+ tea brands that they work with!
The tea quiz is very detailed and asked if I wanted loose leaf or tea bags, and I like both!
It also asked what type of flavors I like in my tea. I prefer classic black tea but am up for fruity tea, the occasional chai, and an herbal infusion here and there.
It was very impressed to see that they asked about an aversion to stevia or if I have food allergies. It even asked about avoiding products known to react with SSRI's! I also picked the types of tea I prefer, such as green or black. It was such a comprehensive quiz and I appreciate the thought that went into the survey.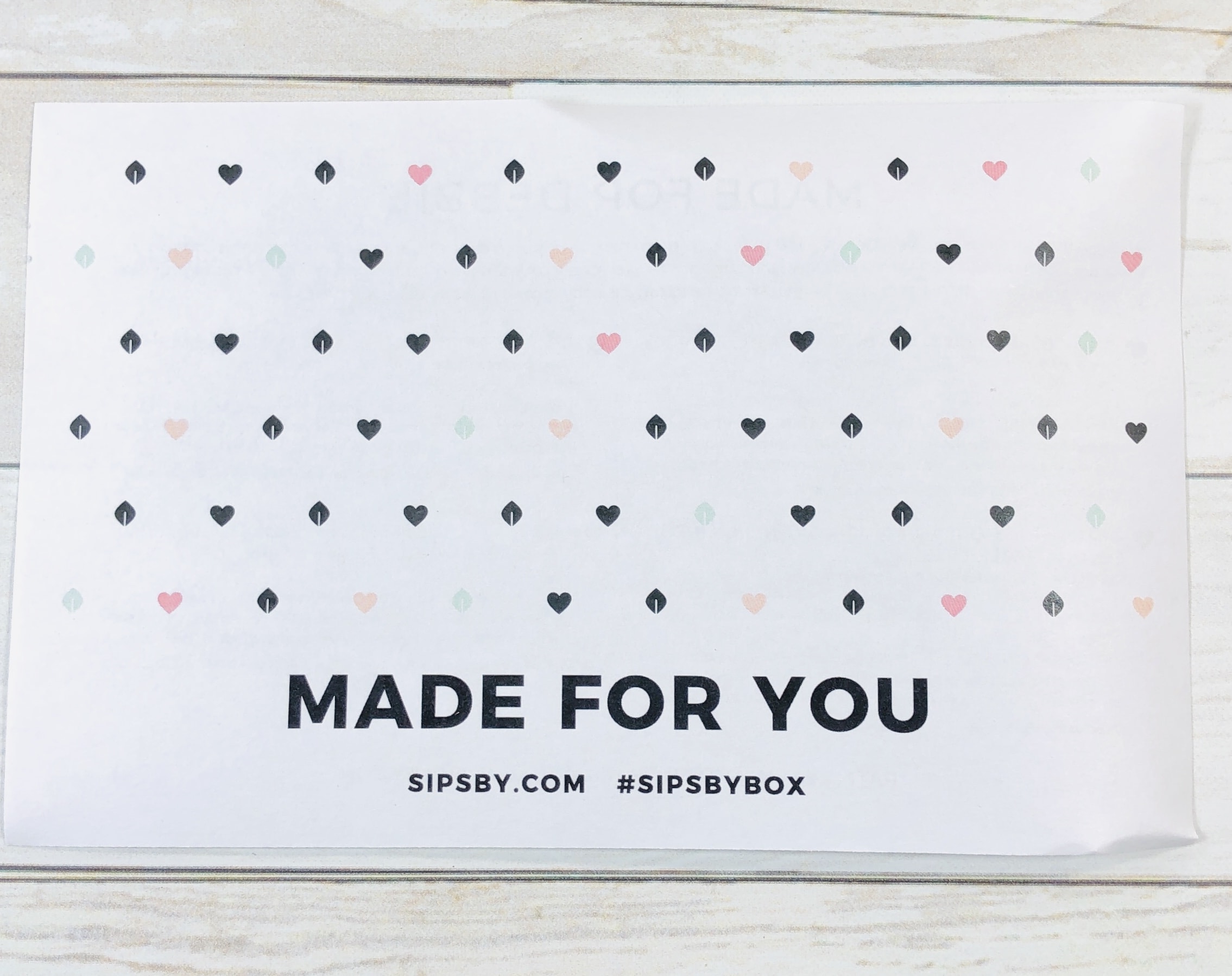 Yay, time to try my teas!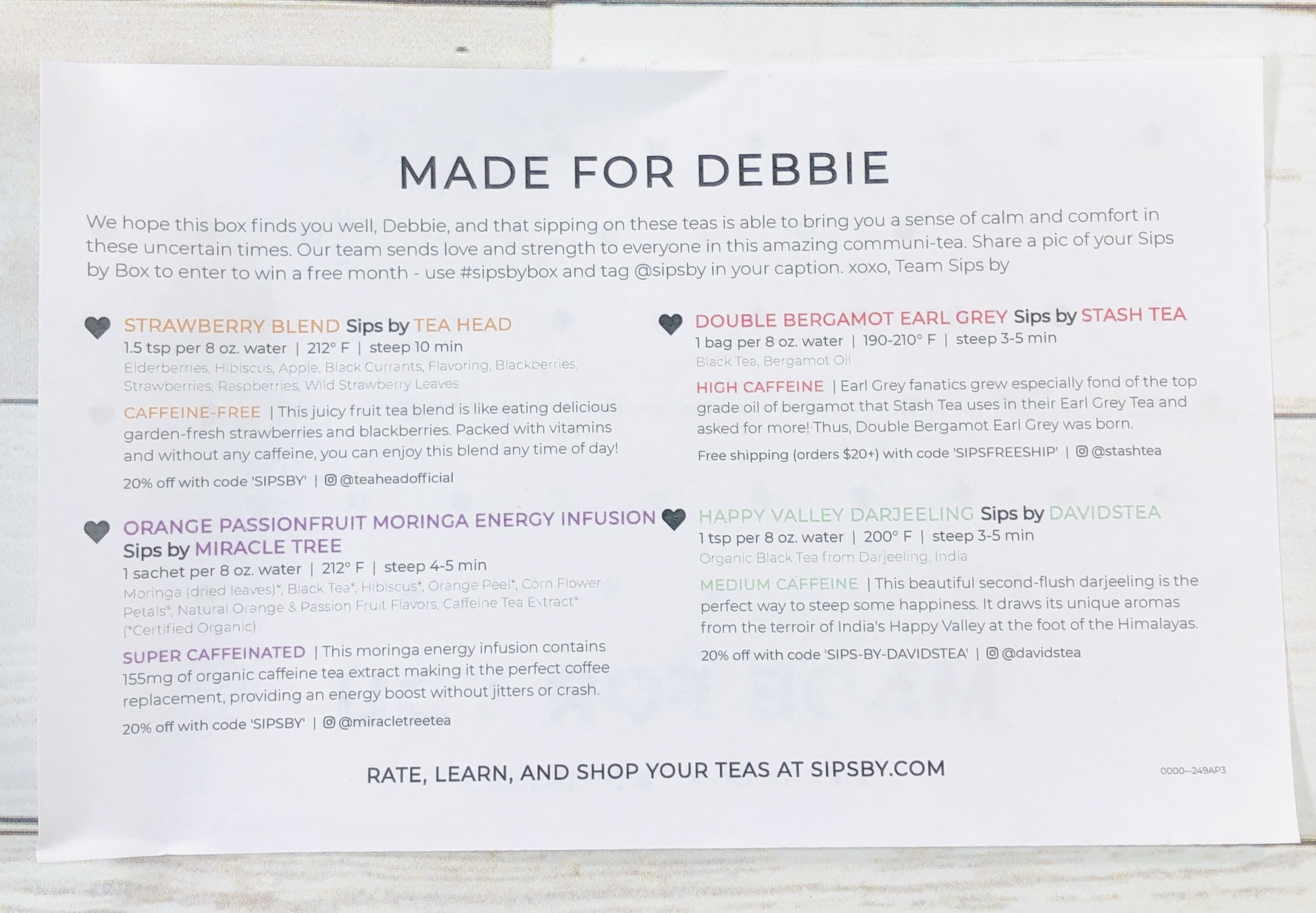 I loved the info on my card! It gave the tea name, amount of tea and water to use, water temperature, steeping time, and serving suggestions. They also had coupon codes so I can stock up on my favorites! Make sure to rate your teas so Sips by can tailor future shipments to your preferences!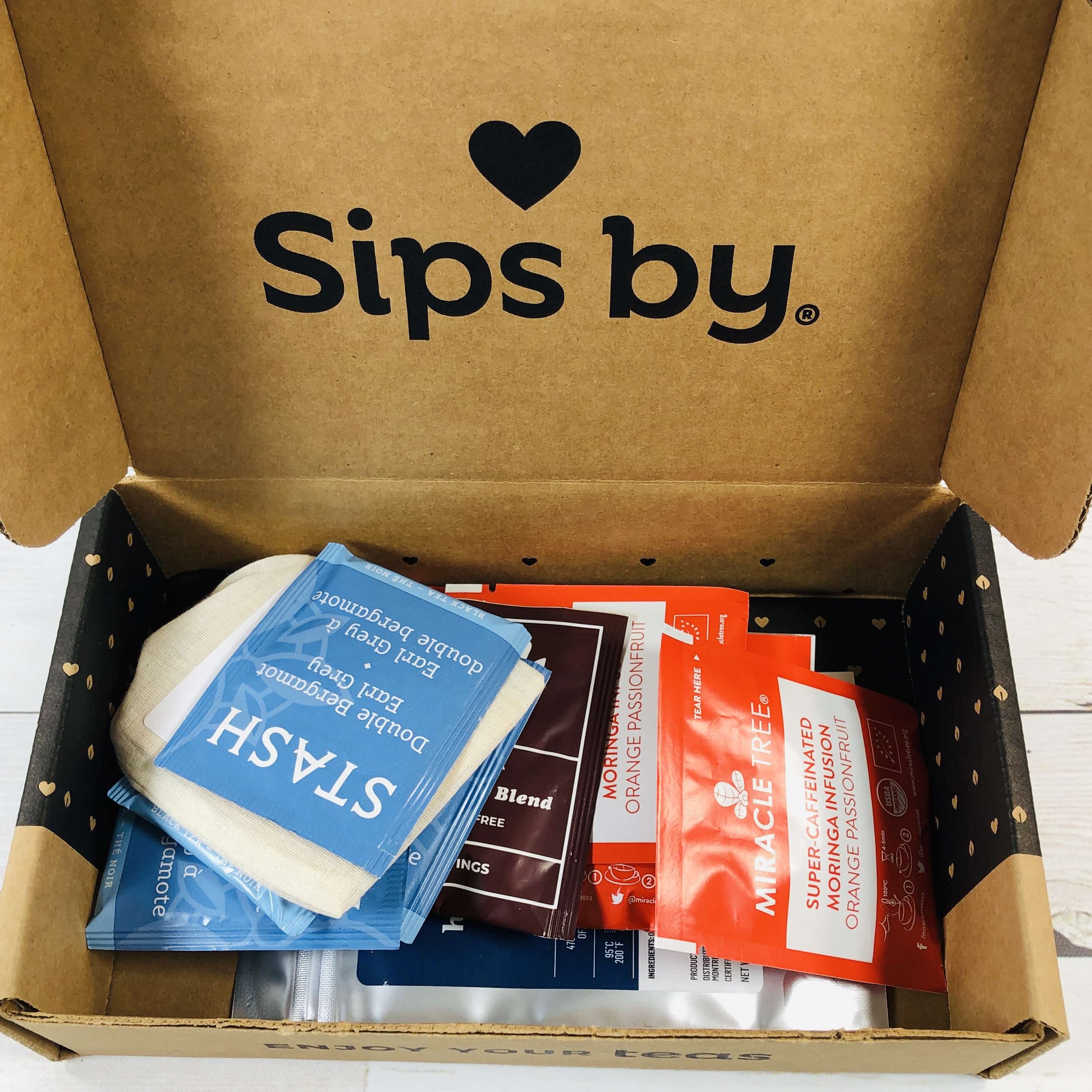 Look at all of this tea!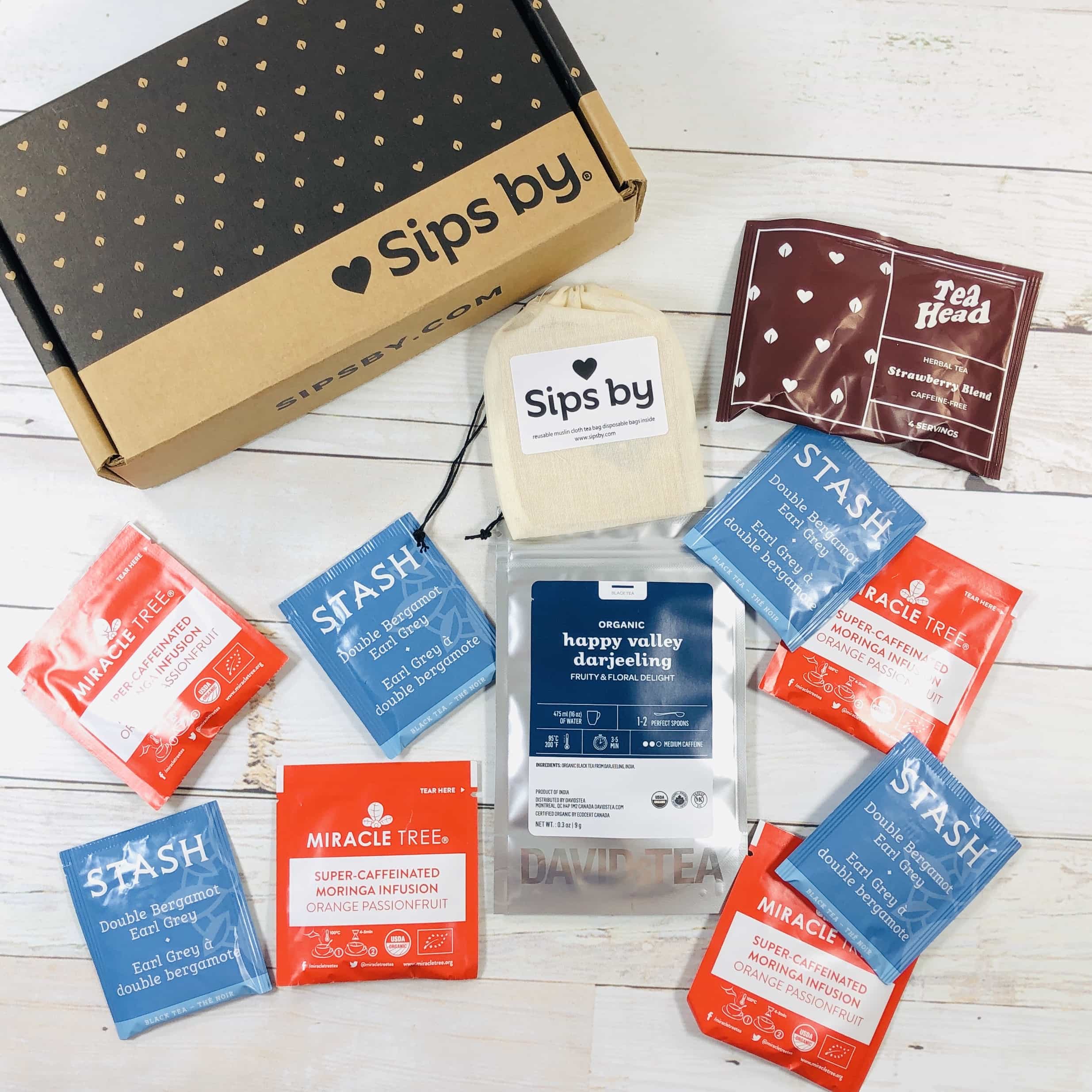 Everything in my box!
Sips by sent a reusable muslin drawstring tea bag filled with…
…disposable tea bags! Some of the teas I received were loose leaf and you can use these to make your own tea bags, or use a tea strainer, French press, or tea system.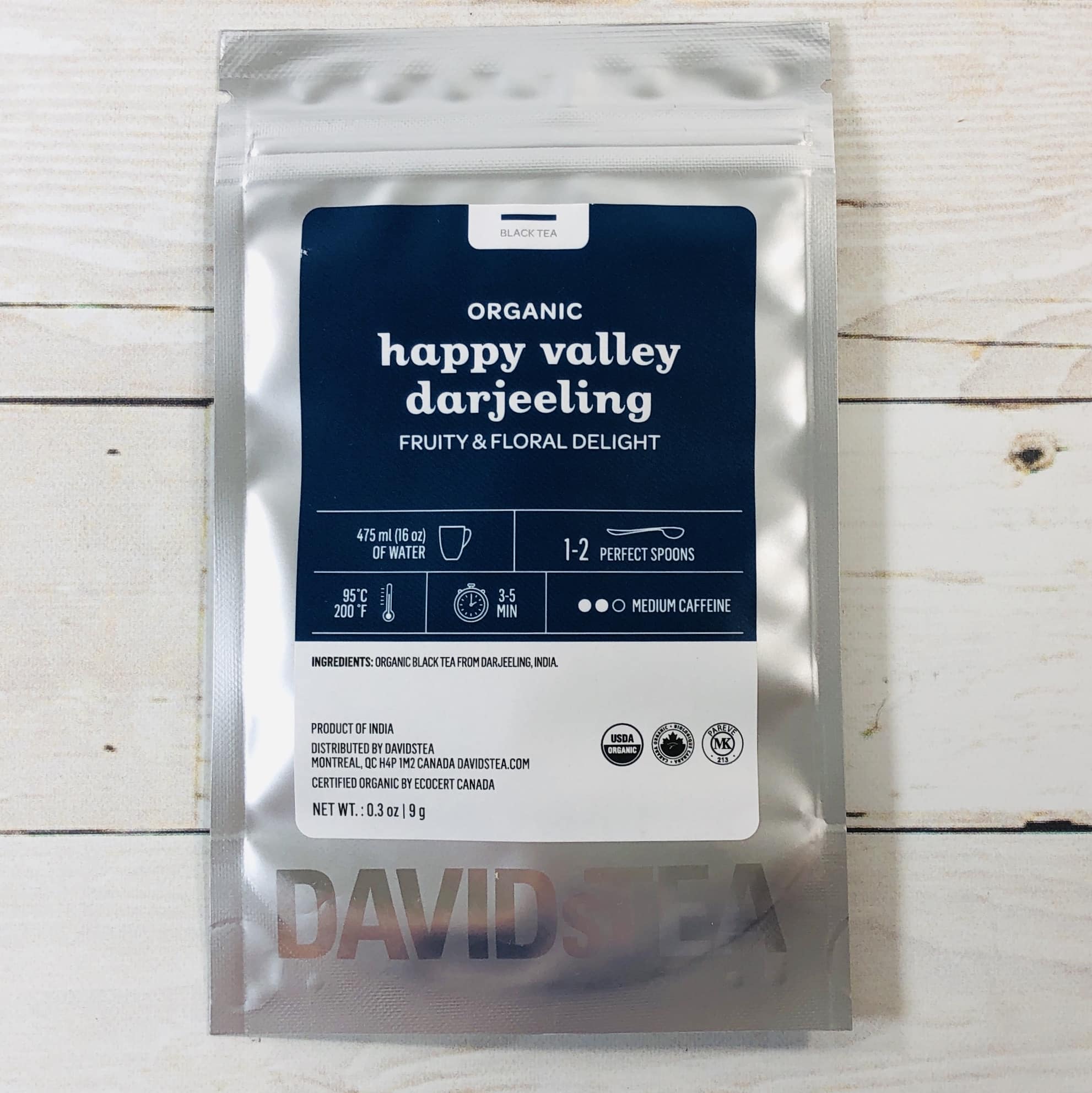 DAVIDsTEA Happy Valley Darjeeling Tea So many times I try Darjeeling and think, yeah, it's ok. This is the real deal, the scent alone (after steeping) is amazing!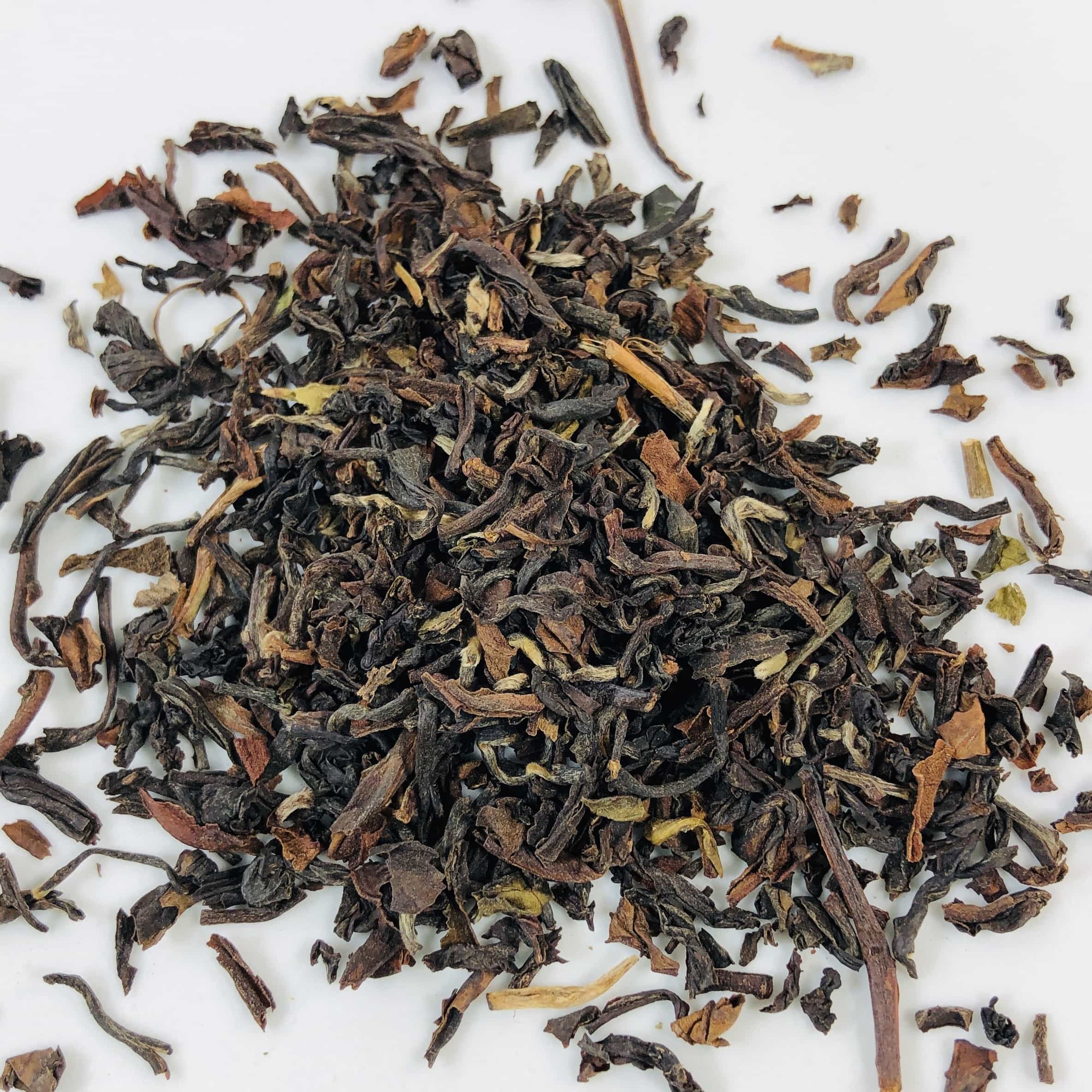 It is made of organic Darjeeling leaves grown at 6800 feet in India. Directions said to use 1 "perfect spoon", which is actually a little more than 1 teaspoon of tea, and I steeped it with almost boiling water for 5 minutes. The floral scent that came from my cup was beautiful and I added a bit of sugar and milk to tame the mild astringency. Thank you Sips by (and DAVIDsTEA) for restoring my trust in Darjeeling tea.
Tea Head Strawberry Blend Tea We have had a couple of unseasonably cool evenings in my area and I thought it was the perfect time to try this caffeine-free herbal tea.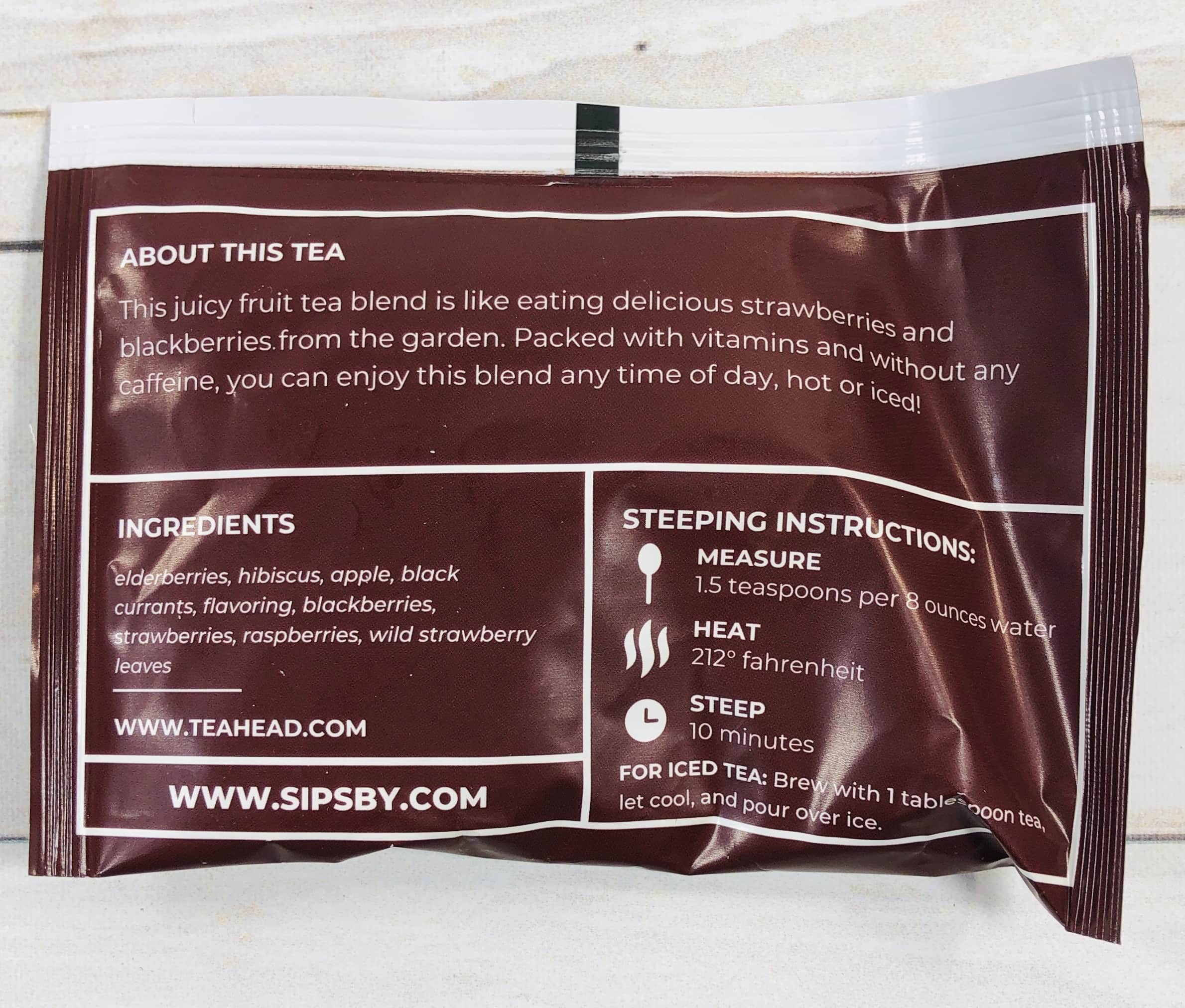 The ingredients include immune-boosting elderberries, blackberries, and strawberries and should be steeped for 10 minutes.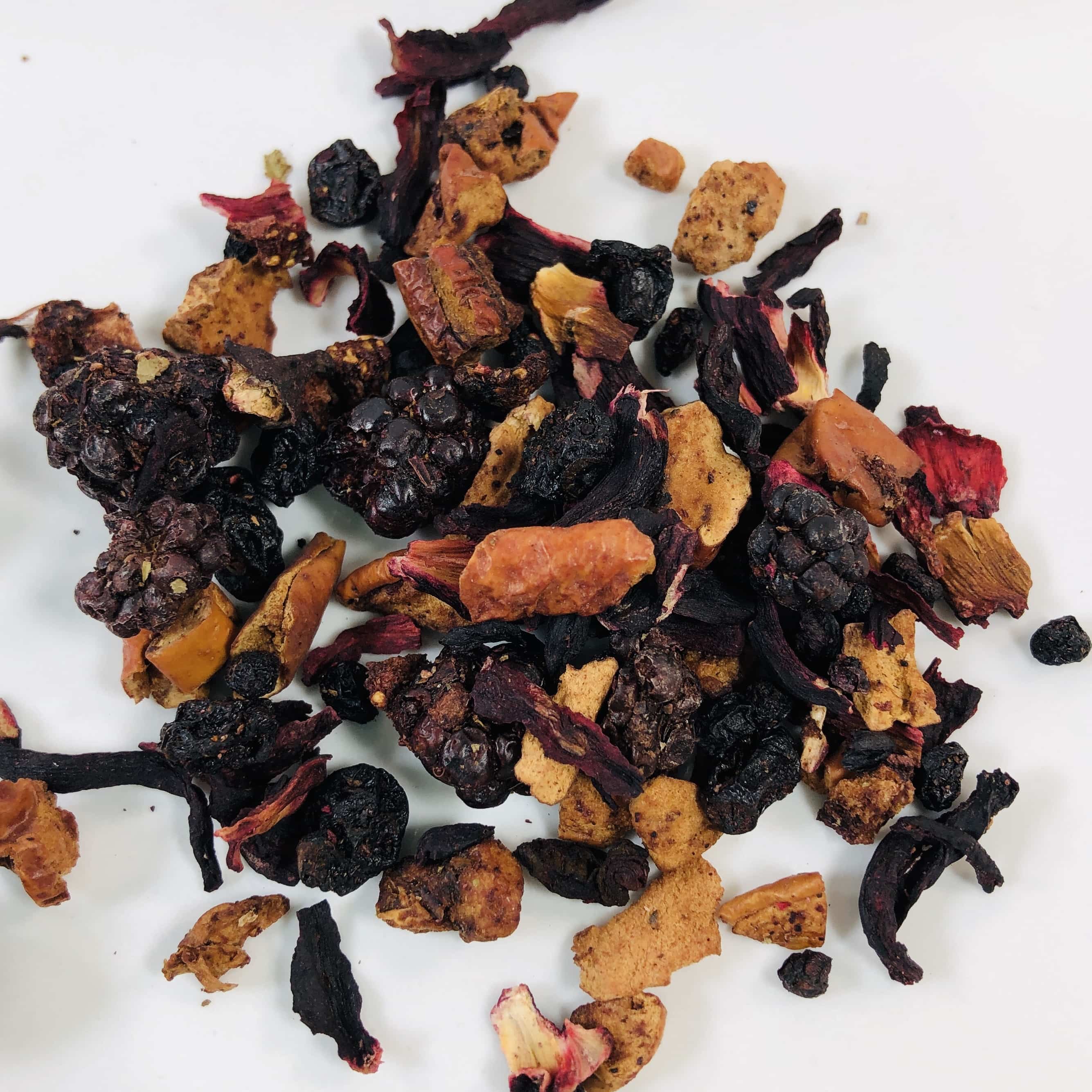 The hibiscus gave it some tartness and the color in my cup was a beautiful rosy red. The flavor was subtle and juicy, very fruity. I added a bit of sugar and called it dessert.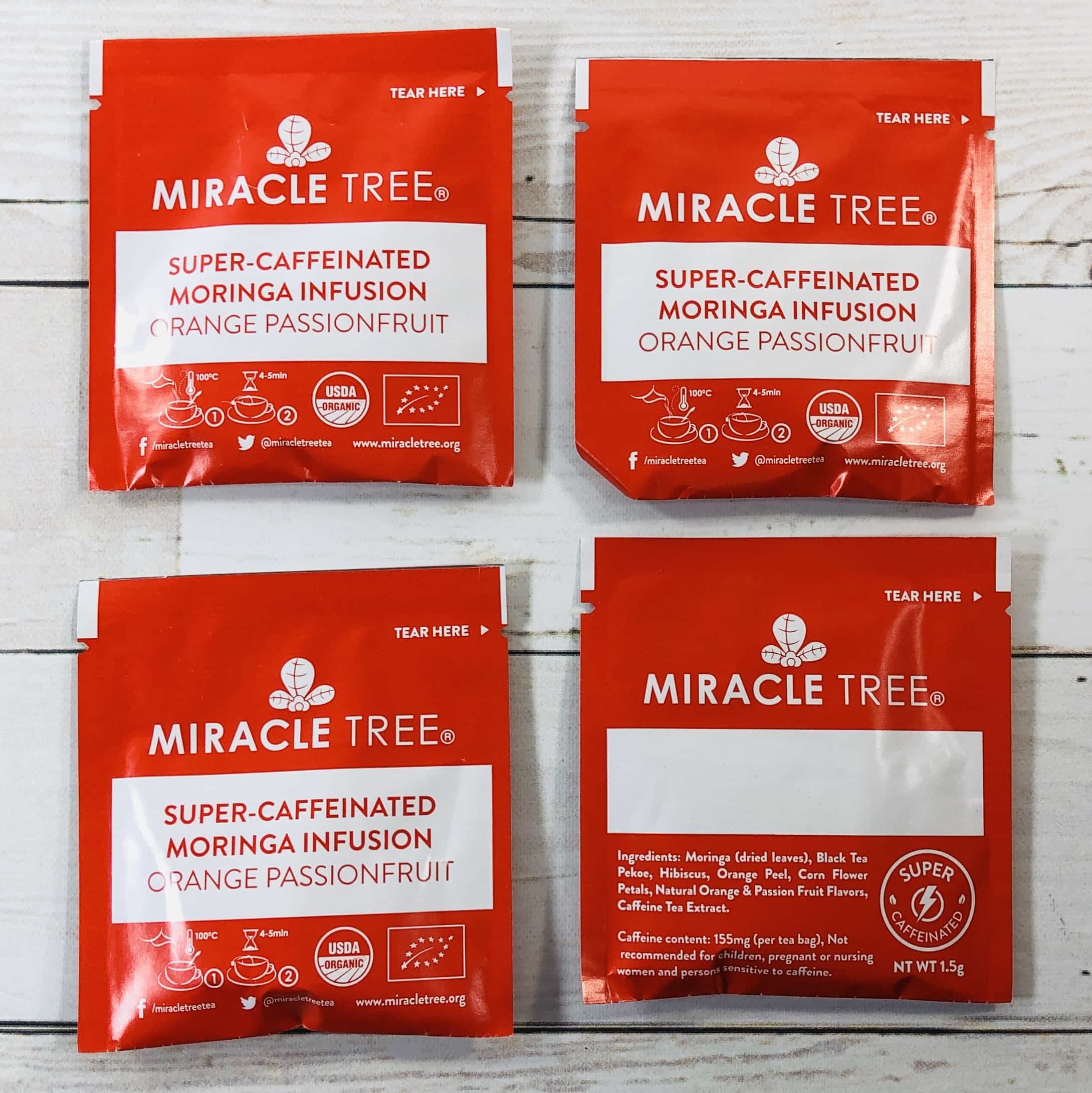 Miracle Tree Orange Passion Fruit Moringa Energy Infusion Tea has more caffeine than coffee; in this case, it's equal to the amount in a cup of coffee AND a cup of tea. It also has moringa, which is a superfood and a source of nutrients such as vitamins and minerals. I don't need that much caffeine in my drink so I shared a cup with my husband. It wasn't as strong in flavor as I was expecting, and I really liked the tropical notes and low tannins. I would prefer this without the extra tea extract, and would love to try other teas from this brand.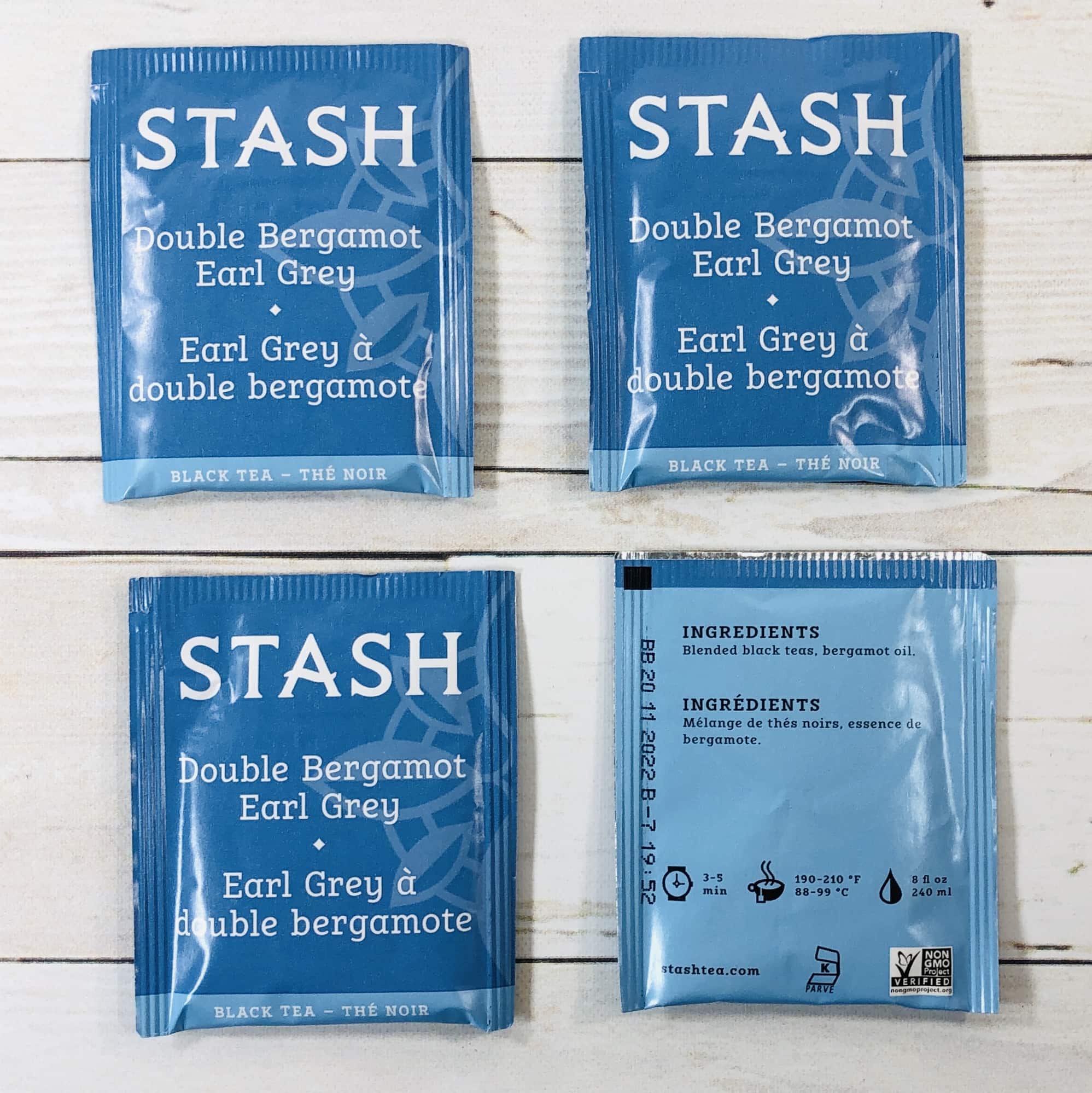 Stash Tea Double Bergamot Earl Grey Tea I love Stash Tea and have sipped this brand for over 30 years! (Their peppermint tea is the very best and the only mint tea I love.) Earl Grey fans get an extra strong burst of that citrus flavor in this bag and yet it is still not over the top strong. For the past few days I have steeped one of these bags, added milk and sugar, and curled up with a book in the afternoon. Pure bliss.
Sips by did a wonderful job curating my April tea box! I had a basic black tea, some flavored black teas, and a fruity herbal. I think this was a great assortment and loved choosing something based on the time of day or my mood. I am always happy to see Stash in my box and the other three brands were new to me so what a cool way to discover those brands!
What do you think of Sips By? Let me know in the comments along with your favorite type of tea!