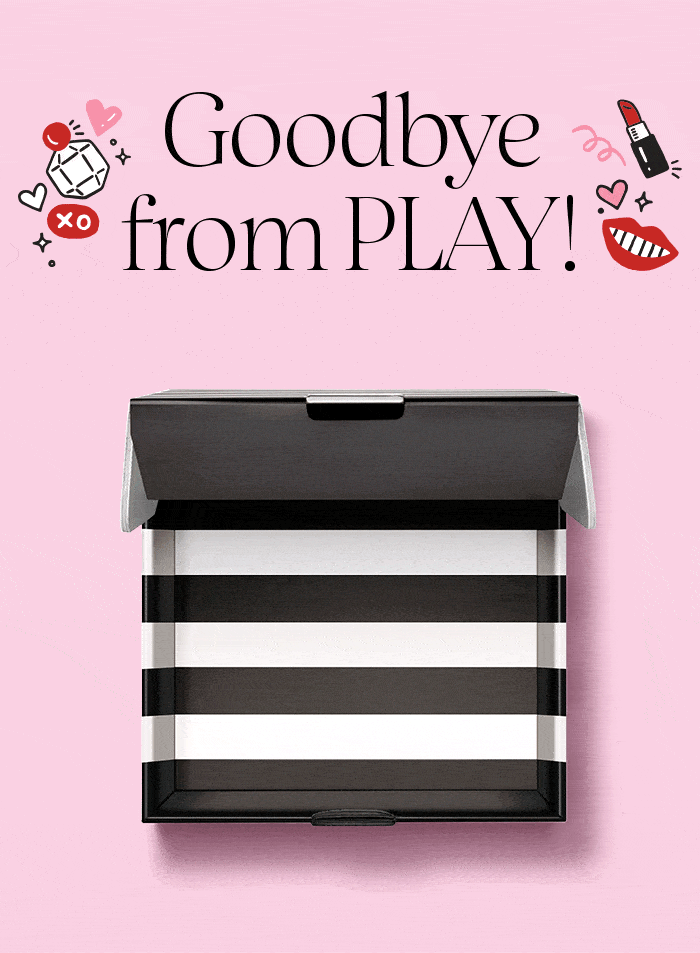 The Play! by Sephora subscriptions are ending and April 2020 will be the final box in the subscription.
After years of helping you discover new brands and try the buzziest products, PLAY! is ending to make room for something even better. Thank you for letting us into your lives (and your mailbox). We hope you found some new favorite products and learned a few tips and tricks along the way. Goodbyes are never easy, but we promise you'll love what we have in store for you next.

If you're a subscriber with questions about this change, be sure to check out our FAQs for more information.
Sephora has the remaining past Play! By Sephora boxes available for $10 each.
See the entire list of beauty subscription boxes to find subscriptions like Play! by Sephora.
Here's more from the FAQs:
Q: When is the last PLAY! by SEPHORA box?
A: The final PLAY! by SEPHORA subscription box will be this month (April 2020). We're looking forward to introducing new and exciting ways for our clients to discover brands within the growing Sephora Favorites category, giving them more beauty choices than before.
Q: What are you replacing PLAY! by SEPHORA with?
A: We are expanding the Sephora Favorites kit program with additional ways to discover brands that fit your needs.
Sephora Favorites LUXE box is the first new launch of the program. Available April 28 on sephora.com for $25.
Clients can expect two additional lines under this new program, launching later this year. Stay tuned! You can review all current Sephora Favorites kits 
Q: When does the PLAY! by SEPHORA subscription end?
A: April is the last box you will receive as part of the PLAY! by SEPHORA program. Once your April payment has been processed, you will not receive any additional charges for your PLAY! by SEPHORA subscription. The Sephora Favorites LUXE set is the first launch of the new program and will be available on April 28 on Sephora.com for $25. For more information on all current Sephora Favorites offerings, visit 
H3. Will Sephora ever bring back the PLAY! boxes/another subscription service? A: We do not have plans at this time to launch another subscription program.
Q: Why are you launching the new Favorites Kits in the middle of coronavirus?
A: We know that having a sense of community during this challenging time is more important than ever, and we hope to find new ways to meet our clients where they are. We are all in this together, and with greater value and more choice, we believe the Favorites sets have something for everyone to enjoy.
Q: Are the PLAY! by SEPHORA boxes/Favorites sets safe to order during coronavirus?
A: Yes. We make sure that all products meet safety standards before they are shipped. According to the Centers for Disease Control, there is likely very low risk of spread from products or packaging that are shipped over a period of days or weeks at ambient temperatures.
Q: Did you cancel the PLAY! program because of coronavirus?
A: No. Sephora is ending the PLAY! by SEPHORA subscription box program to make room for new ways to discover brands with Sephora Favorites sets, giving clients more beauty choices than before. We will be launching three new sets, starting with our LUXE set on April 28.
Q: Why did only some subscribers get an extra sample in their box?
A: An extra sample was provided to long-time subscribers of the PLAY! by SEPHORA program, as a small thank you for their loyalty.
Q: Why am I unable to subscribe to the PLAY! program, but you're still selling old boxes? Are these products old/expired?
A: No. The PLAY! boxes currently for sale have some of our clients' favorites and are the last chance to get these offerings before we retire the program.