Pet Treater Dog Pack is a monthly dog subscription! Every month you receive at least one bag of treats made in the USA or Canada along with one toy each month for $15 and free shipping. Small, medium, and large dog options are available. Subscribers have access to secret deals and add-ons. It's formerly known as Mini Monthly Mystery Box for Dogs and Pet Treater Dog Box Mini. Pet Treater Dog Pack is a smaller version of Pet Treater's Deluxe Dog Pack.
DEAL: Get 10% off your first month with coupon code DOGPACK10.
The items arrive in a pouch instead of a box.
There's a card that features this month's Pick of the Litter. You can also share the photos of your dog enjoying their favorite Pet Treater goodies to get a chance to be featured on the next month's Pick of the Litter.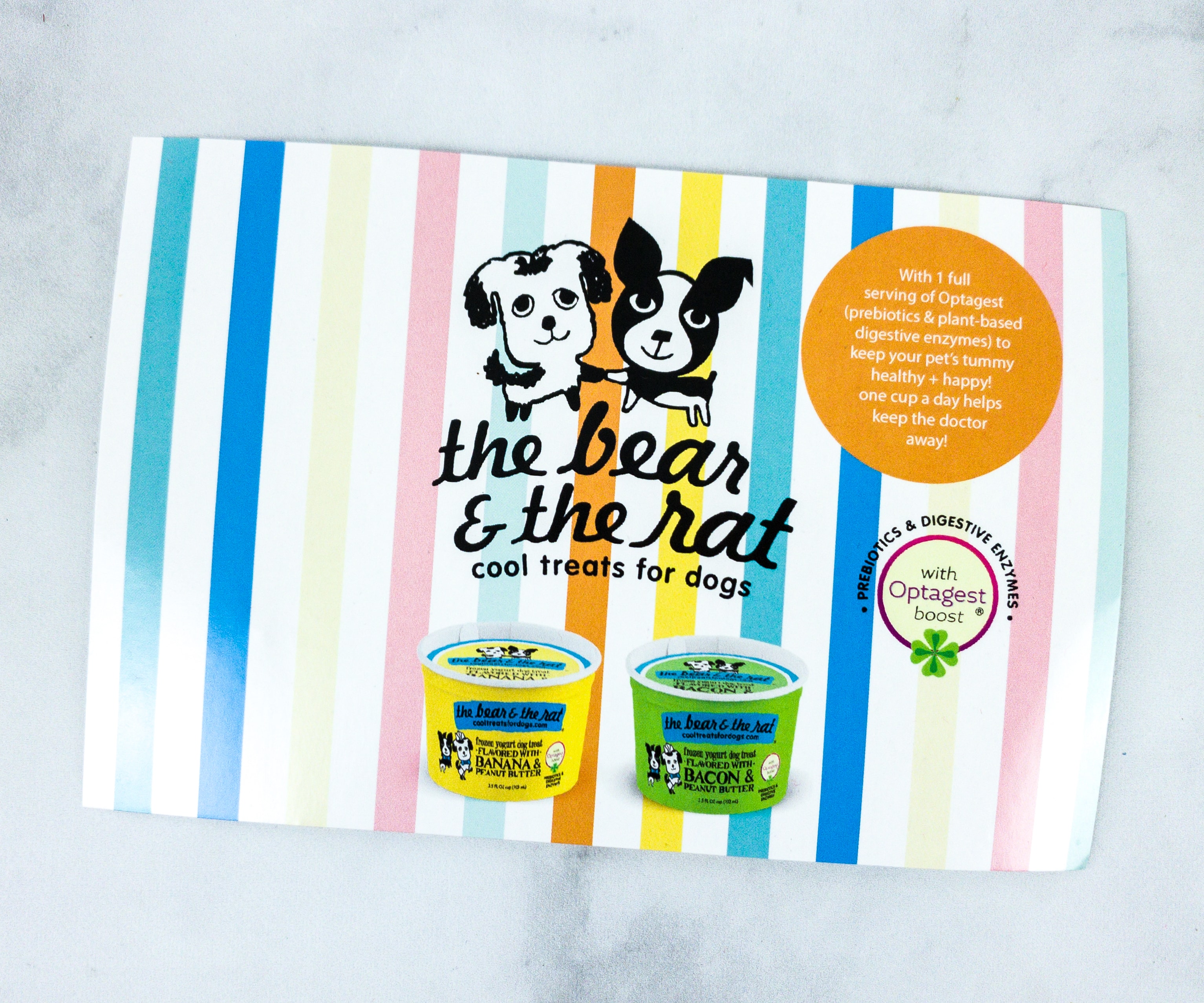 There's also a promotional card for The Bear & The Rat, which offers cool treats for dogs.
The back of the card features the manufacturer's coupon that provides $2 discount on your next The Bear & The Rat purchase.
Everything in our March 2020 Pet Treater Dog Pack!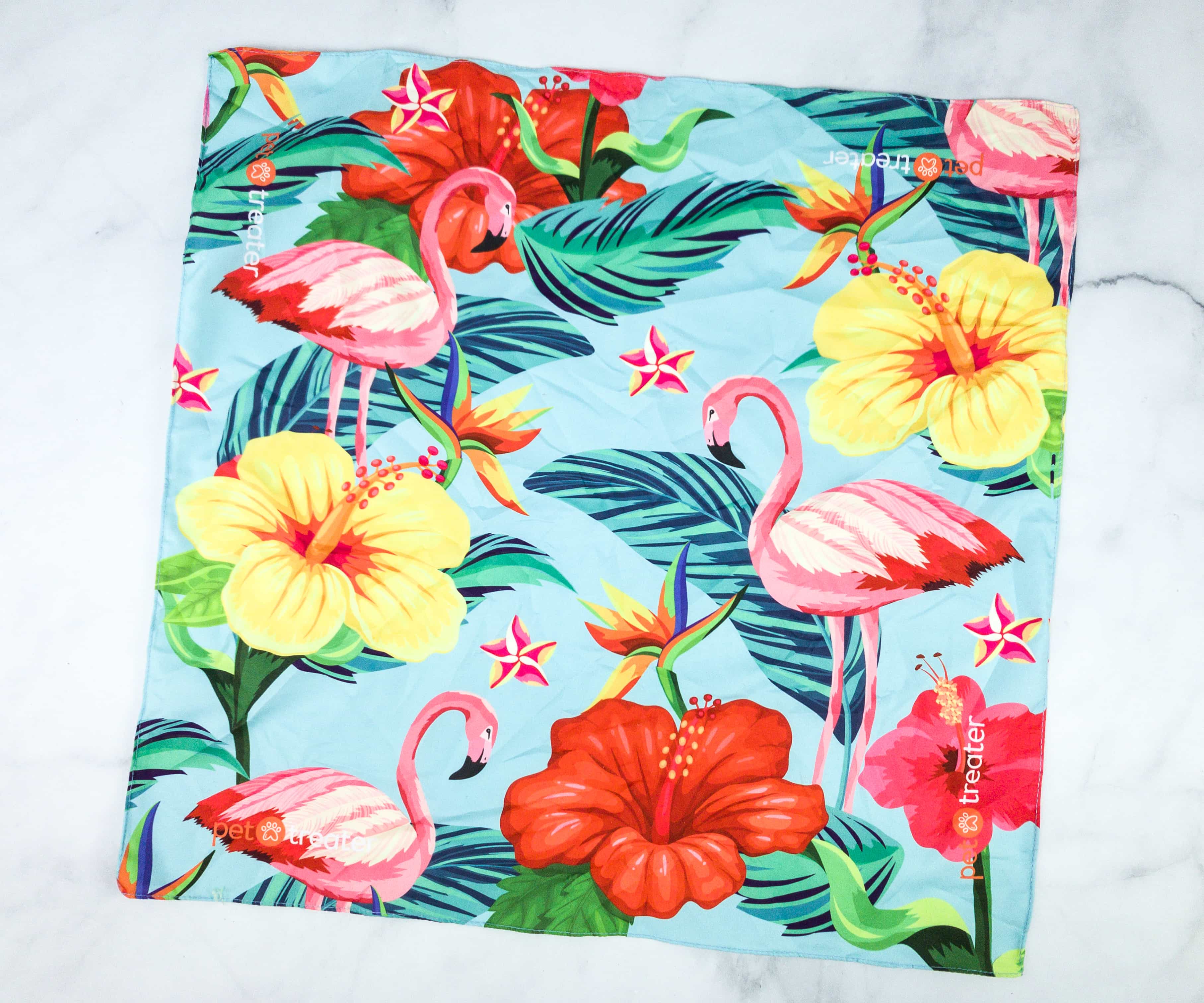 Bandana. The bandana is made from premium quality fabric. It features a powder blue base color and bright tropical design that reminds us of summer.
The print features an image of a lovely pink flamingo surrounded with yellow, red, and pink hibiscus flowers.
This bandana is soft and lightweight, plus it's easy to tie and adjust around my pup's neck!
BT's Baked Shop Cheesy Bacon Cowabunga. It's an all-natural gourmet dog treat, made with fermented steel-cut oats, three gourmet cheese, ground wheat flour, and natural bacon bites.
This dog snack is corn and soy-free as well, making it ideal even for dogs who have sensitive stomachs.
The white and orange icing made the cookie look like a beach ball!
The cookie was crunchy and chewy as well. Our pups enjoyed it so much!
Exclusively Dog Natural Dog Bone Salmon & Mango Flavor ($2.54) This bone-shaped dog snack is made from real salmon and mango!
It's a nutritious dog treat packed with protein, fat, and fiber. It also has flaxseed, rye and rice flour, and rolled oats.
This cookie looks so yummy. It was also crunchy, based on the sounds that our pups made while munching on it. You can break it down into smaller pieces or give it to your dog as is!
Trusty Pup Rope Buddies. This month's featured toy is a parrot-inspired plushie made from premium-quality fabric.
The label lists the features of the toy!
It has an extra tough knotted rope in the middle for reinforcement. It also features a trademark chew guard technology for extra durability.
It even produces a crinkle sound that pups really enjoy. It's a strong plush toy, ideal for gnawing and tug-of-war games!
Suns Out Tongues Out Duck & Mango Gourmet Treats for Dogs. We got another tropical-themed dog snacks, and this time they're made with a combination of duck and mango!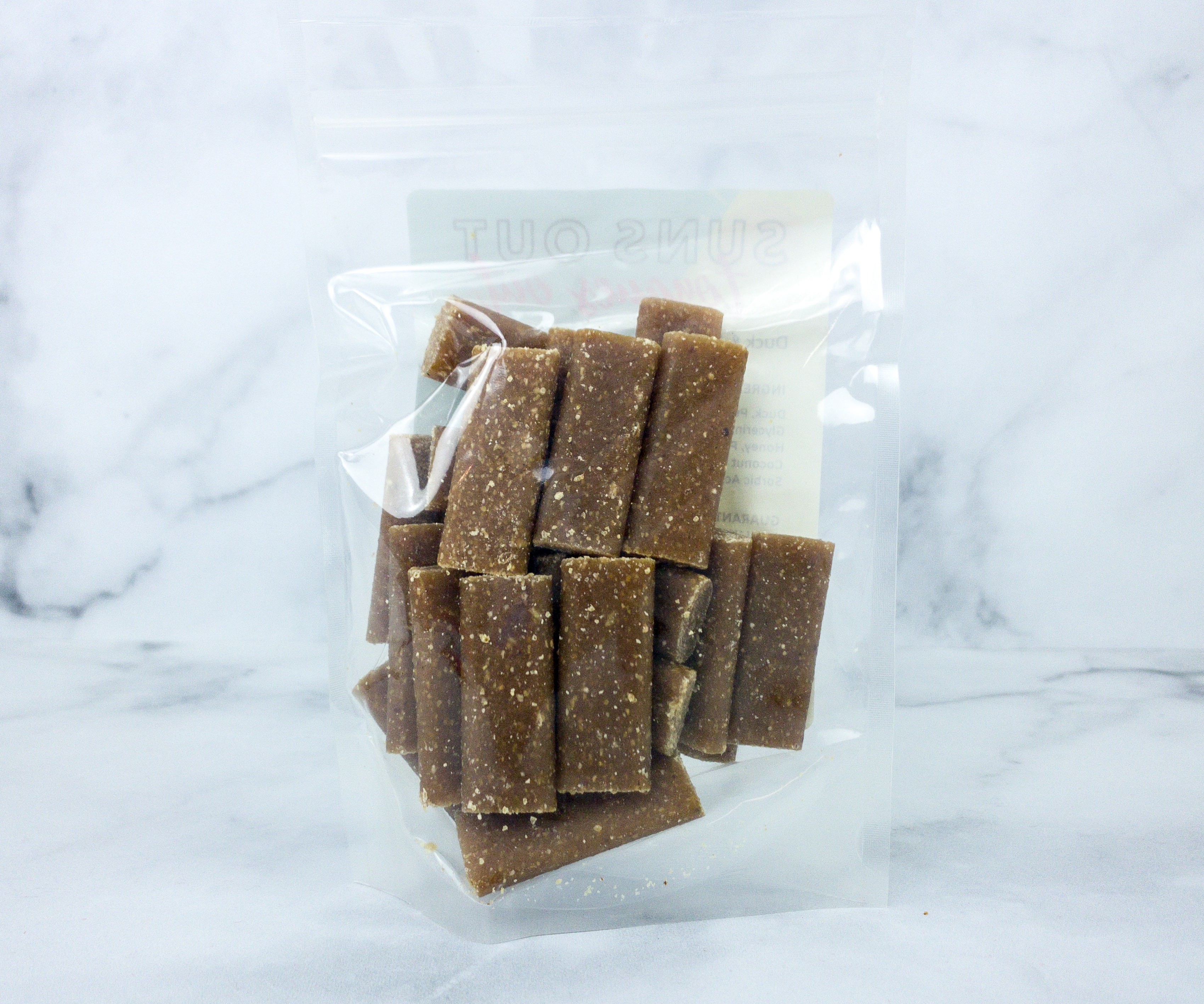 Duck is rich in iron and protein, while mango is high in fiber.
Inside the bag are rectangular treats! They're all chewy and tough, ideal either as a snack or as a training reward.
We got a bunch of yummy dog treats and a durable dog toy from this month's Pet Treater Dog Pack! Our pups were definitely satisfied with the snacks, especially with the duck and mango gourmet treats. They also loved playing with the parrot plushie! As always, the bandana is really pretty and well-designed. So far, we have no problems having our dogs wear the bandanas from this subscription because the bandanas are always soft and lightweight. My dogs are happy and I'm happy, this box deserves a double paws up!
What do you think of this month's Pet Treater Dog Pack?