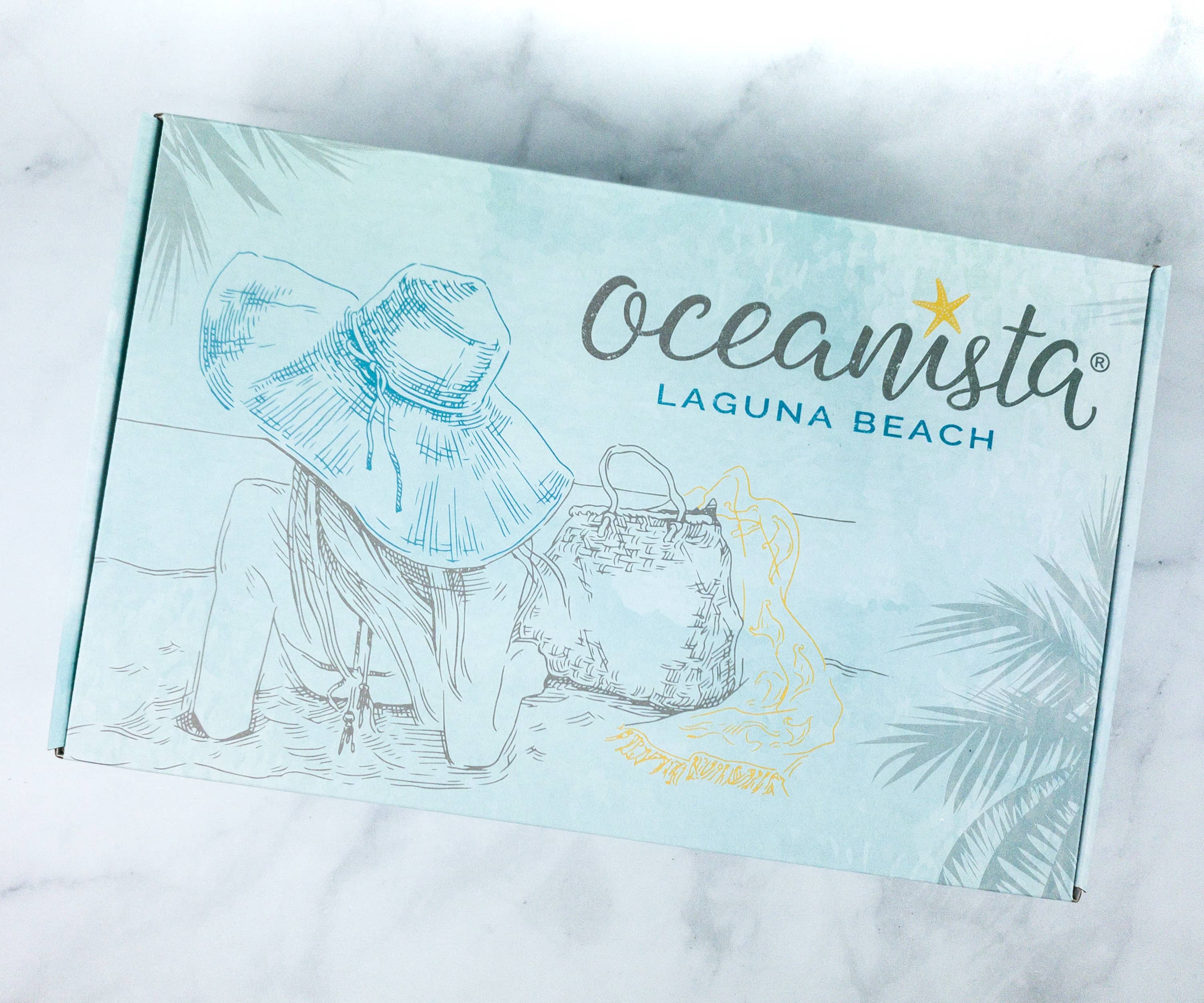 Oceanista is a quarterly subscription box curated for beach lovers! Each box contains 5-8 full-sized beach boutique products, which may include jewelry, beauty, art, clothing, and more. It costs $85 a season, and you can get discounts if you opt for a prepaid annual subscription. Shipping is $4.95 to the US, $9.95 to Canada, and $16.95 international. You can also send this box to a loved one or any fellow beach-lover as a one-time gift!
DEAL: Get $10 off your first box or annual subscription! Use coupon code HELLO10.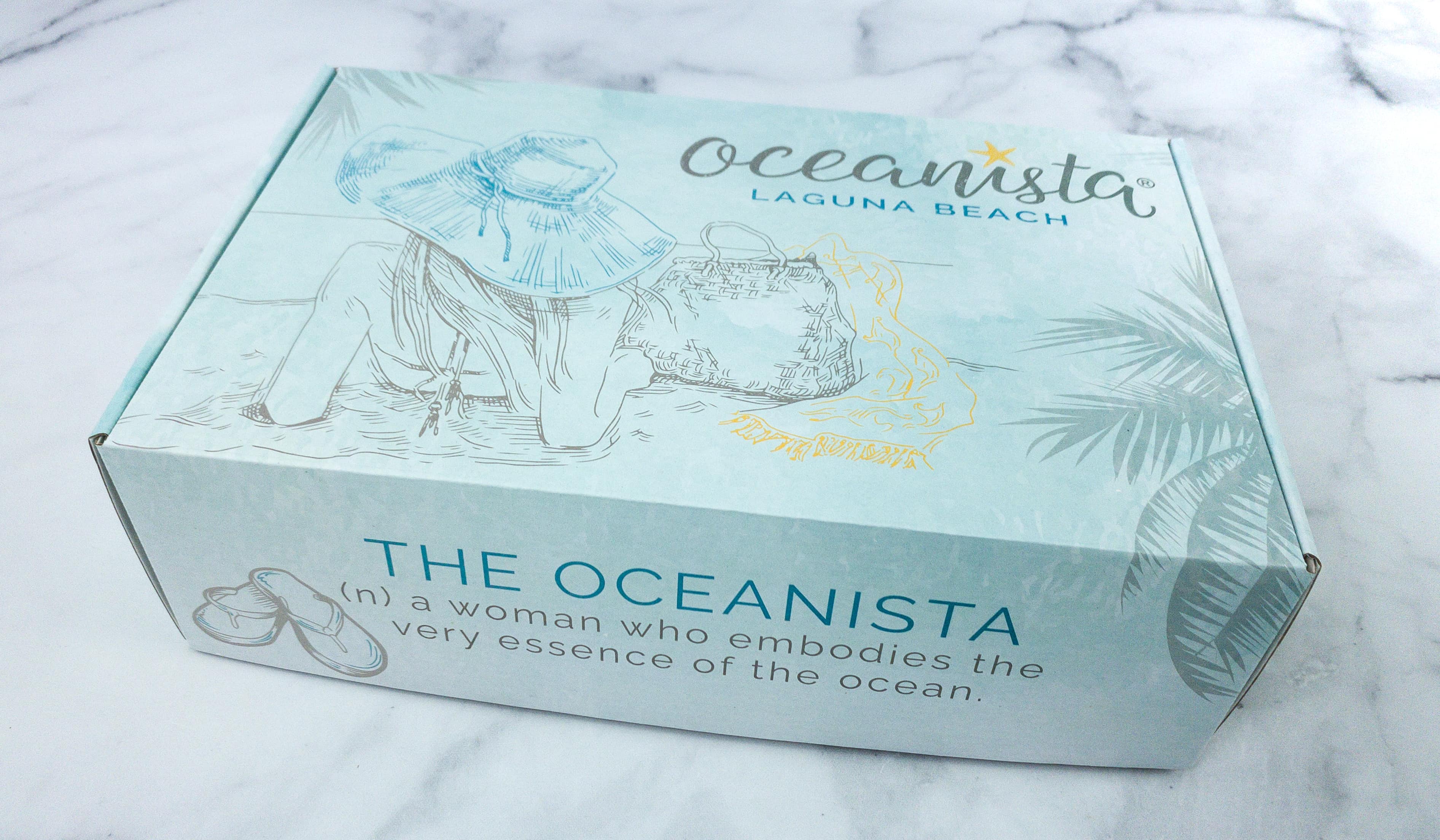 This month's box is gorgeous! It has an illustration of a woman lounging on the beach. There is also a definition of The Oceanista on the opening flap.
The Oceanista

(n) a woman who embodies the very essence of the ocean.
Upon sign up, subscribers need to fill out a profile that includes skin tone, clothing and shoe size, and ring size.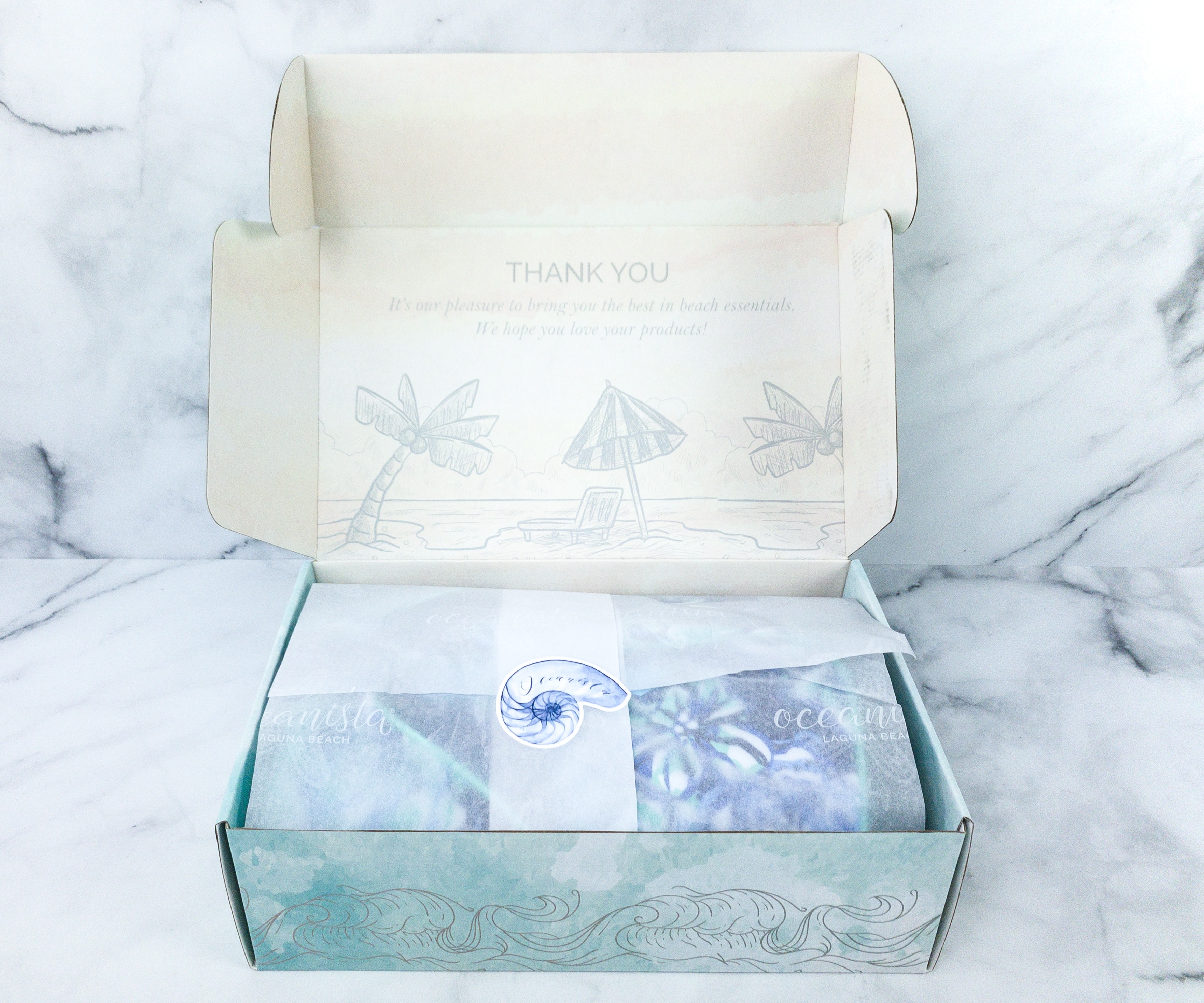 The items were wrapped in tissue paper.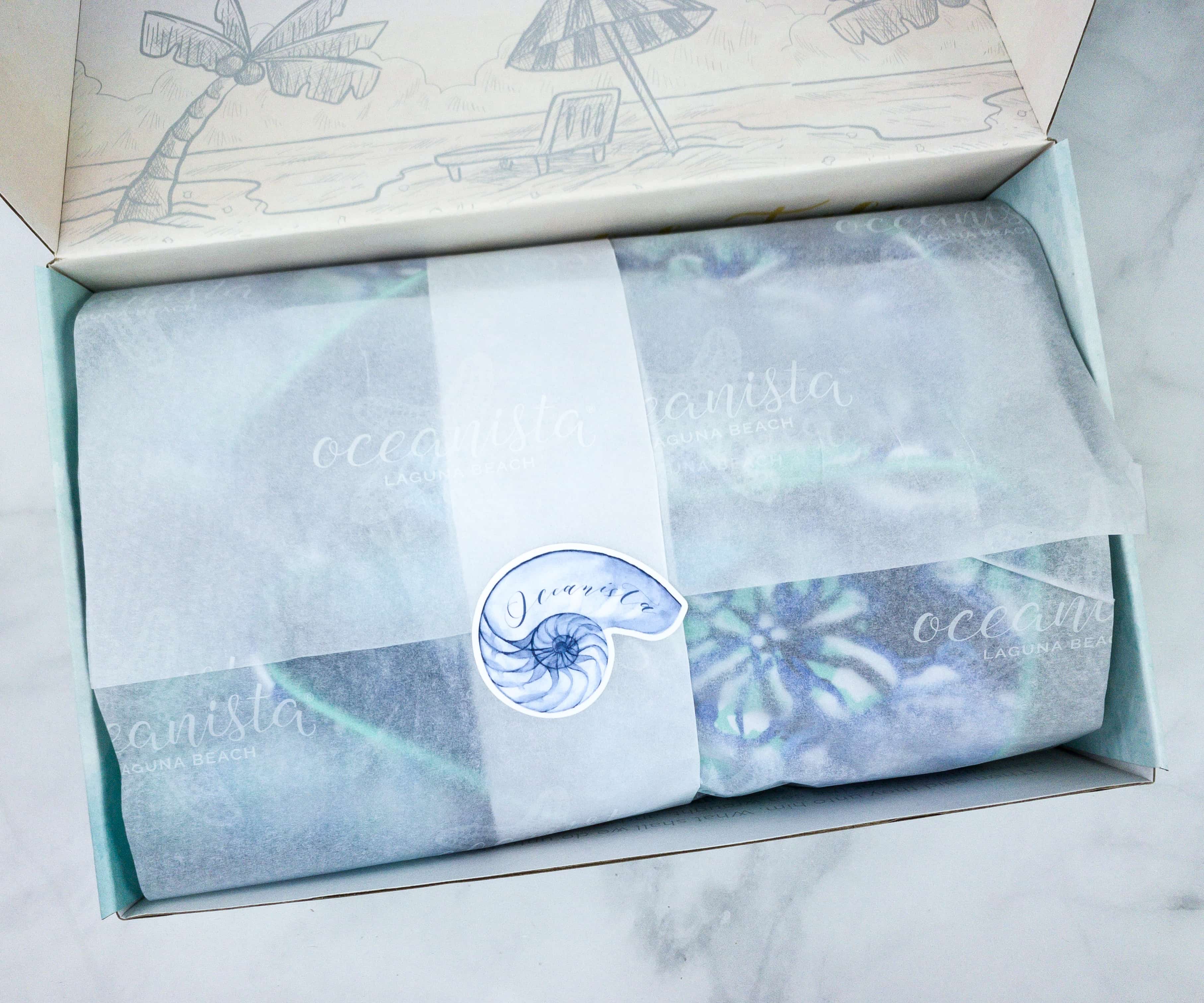 The sticker features a seashell design. It adds a more beachy vibe to the box!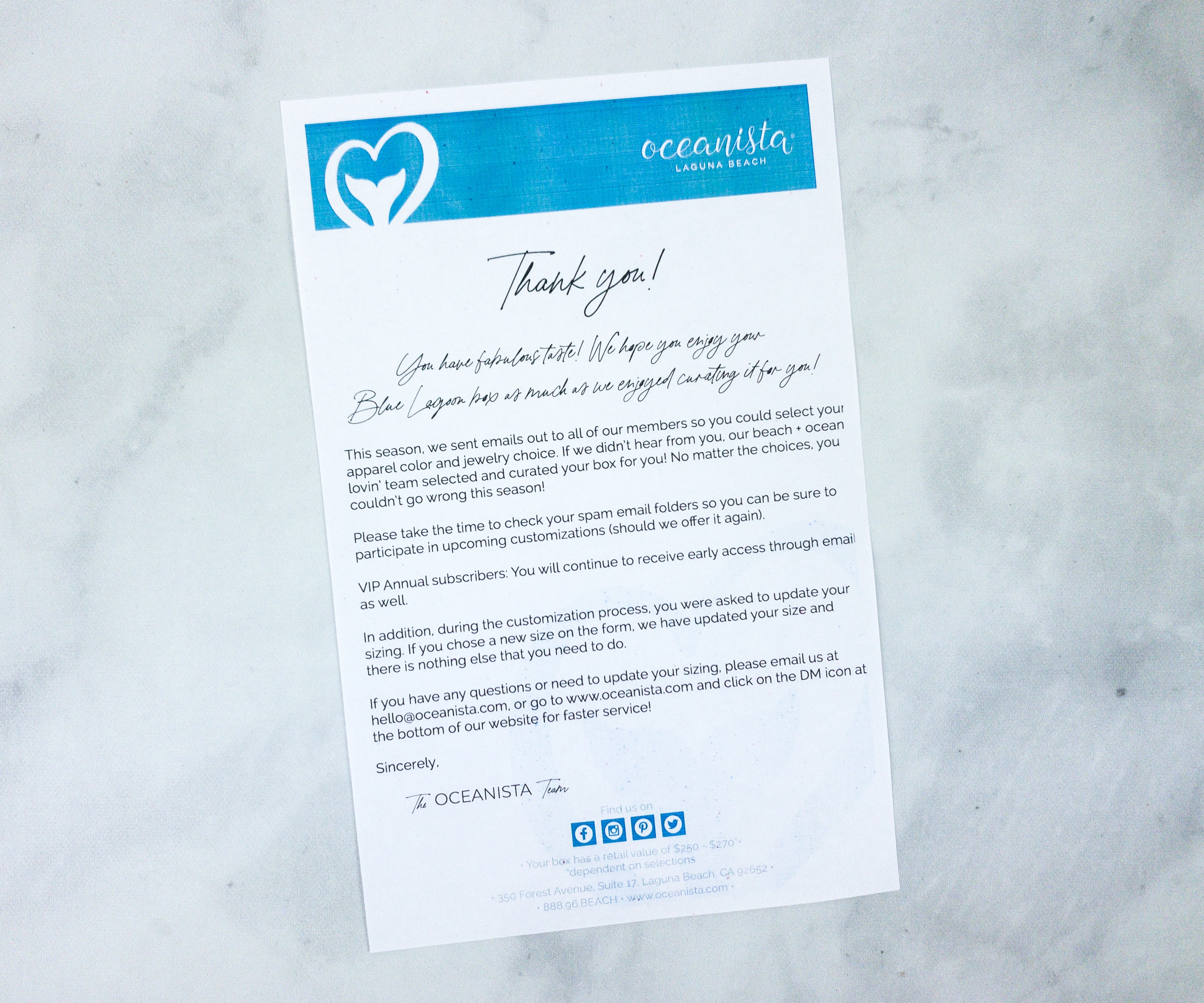 We also got this letter from The Oceanista Team!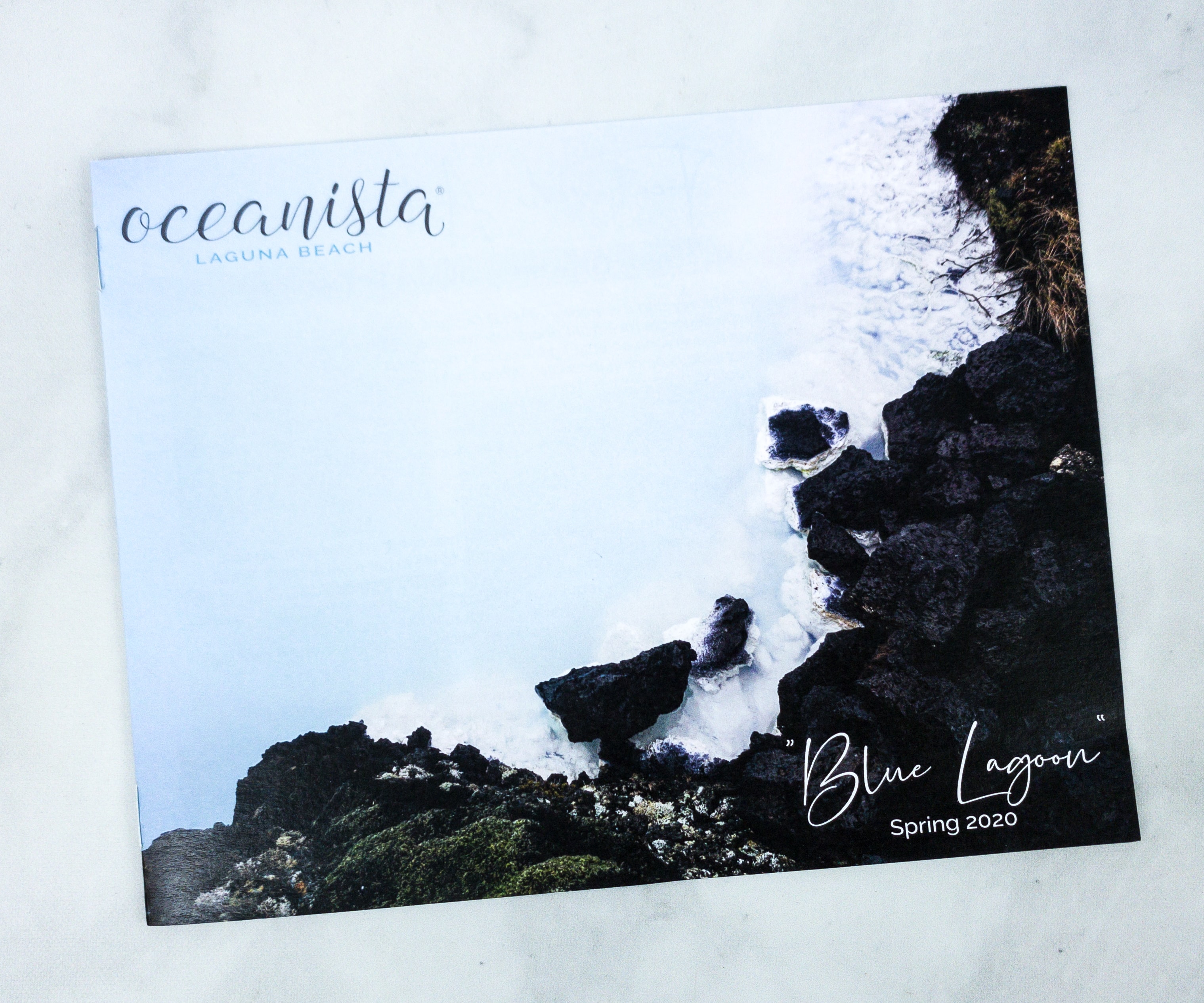 This season's box theme is Blue Lagoon!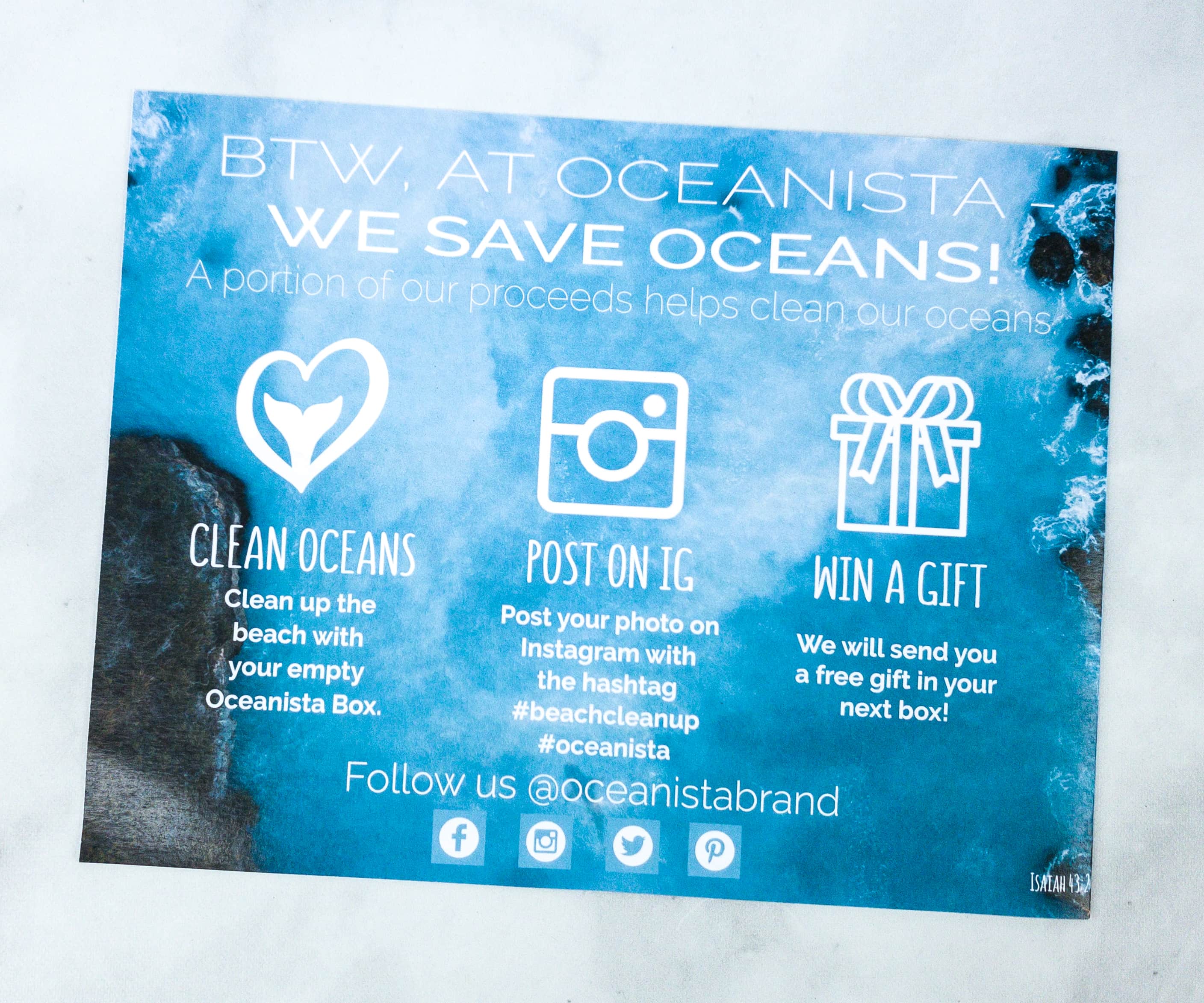 The back of the booklet states that a portion of their proceeds is used to help clean our oceans!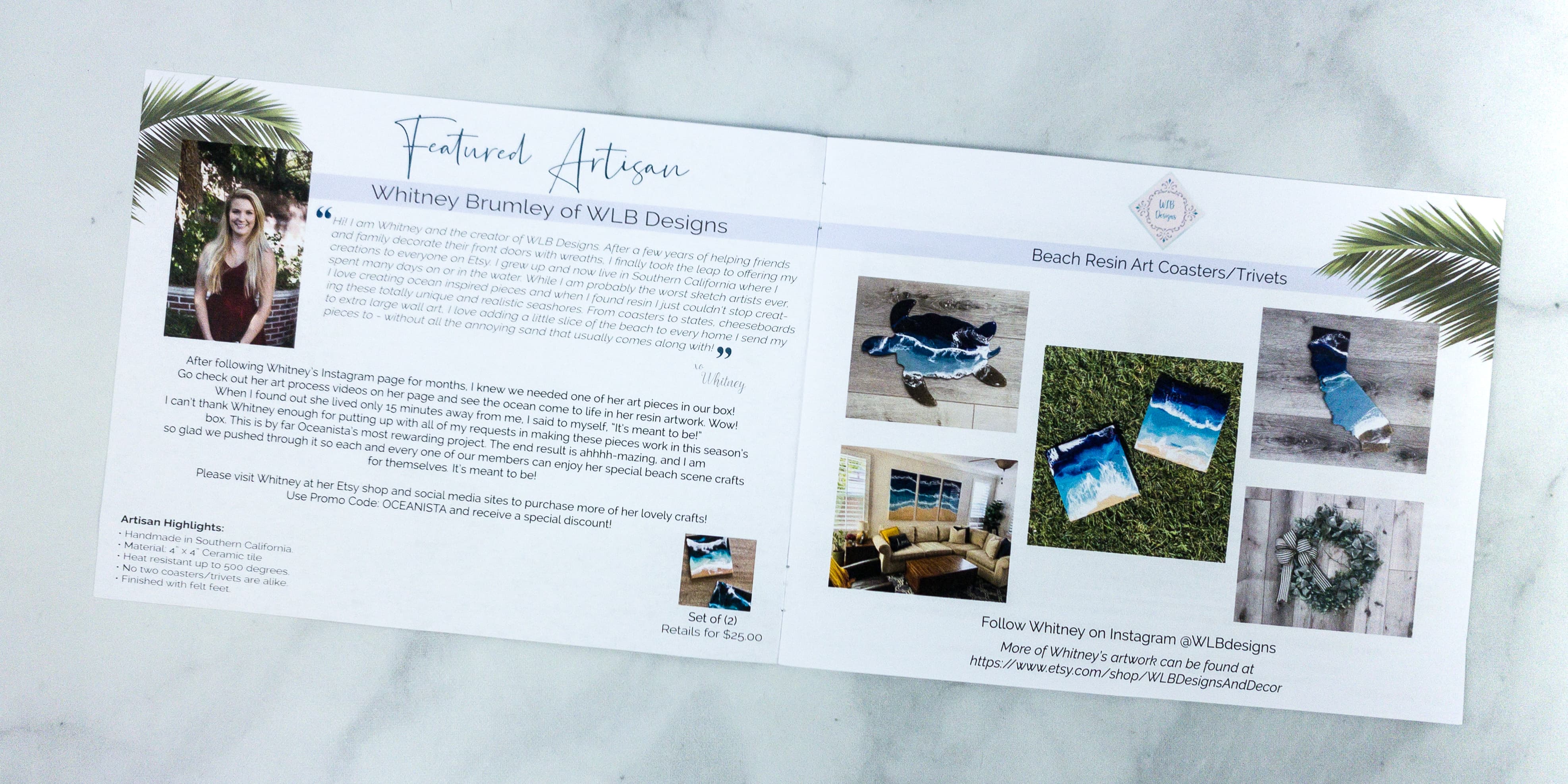 There's a featured artisan for each season and for spring, it's Whitney Brumley of WLB Designs.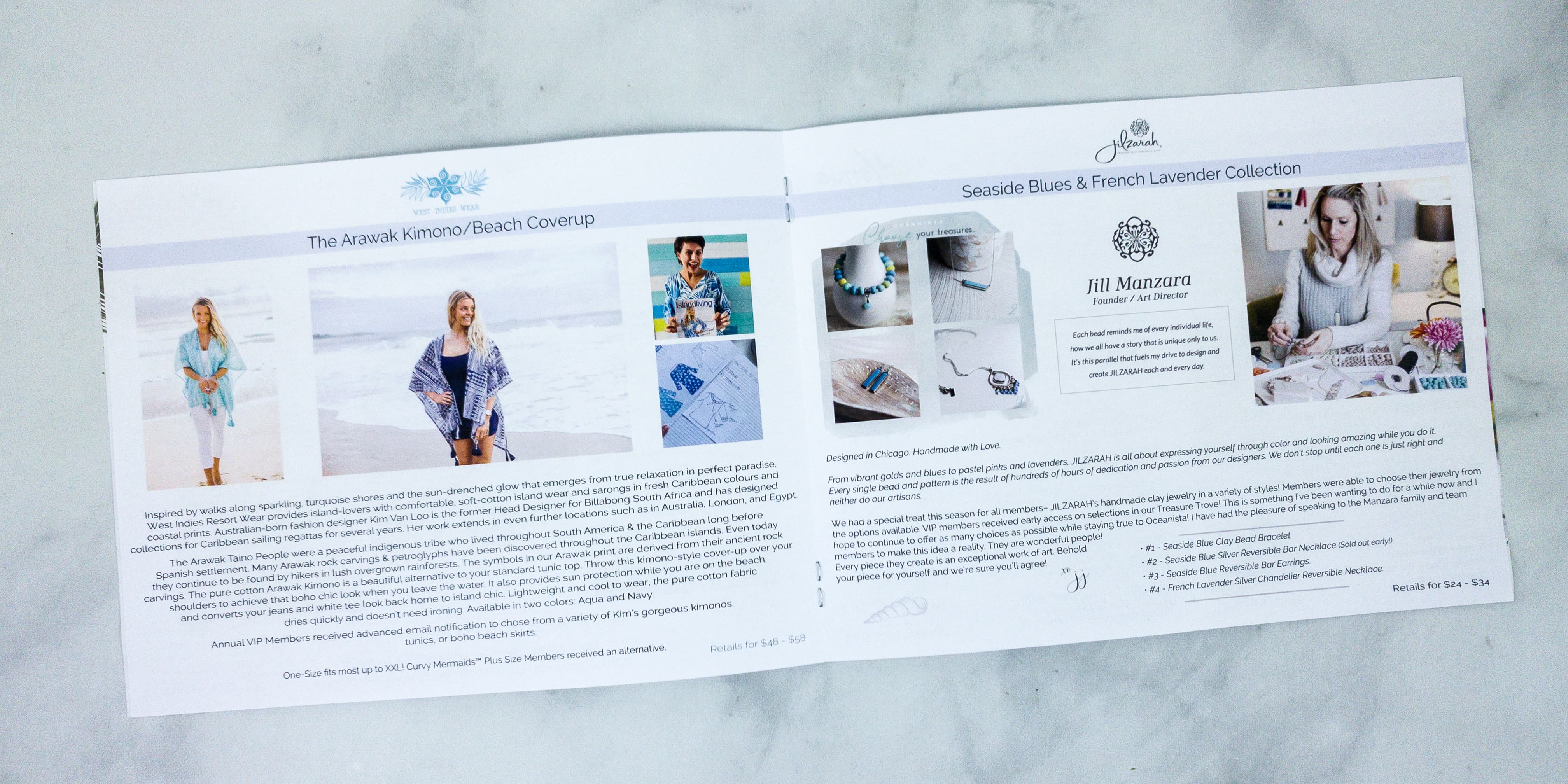 All the items in the box are also listed in the booklet, along with a brief description and retail prices.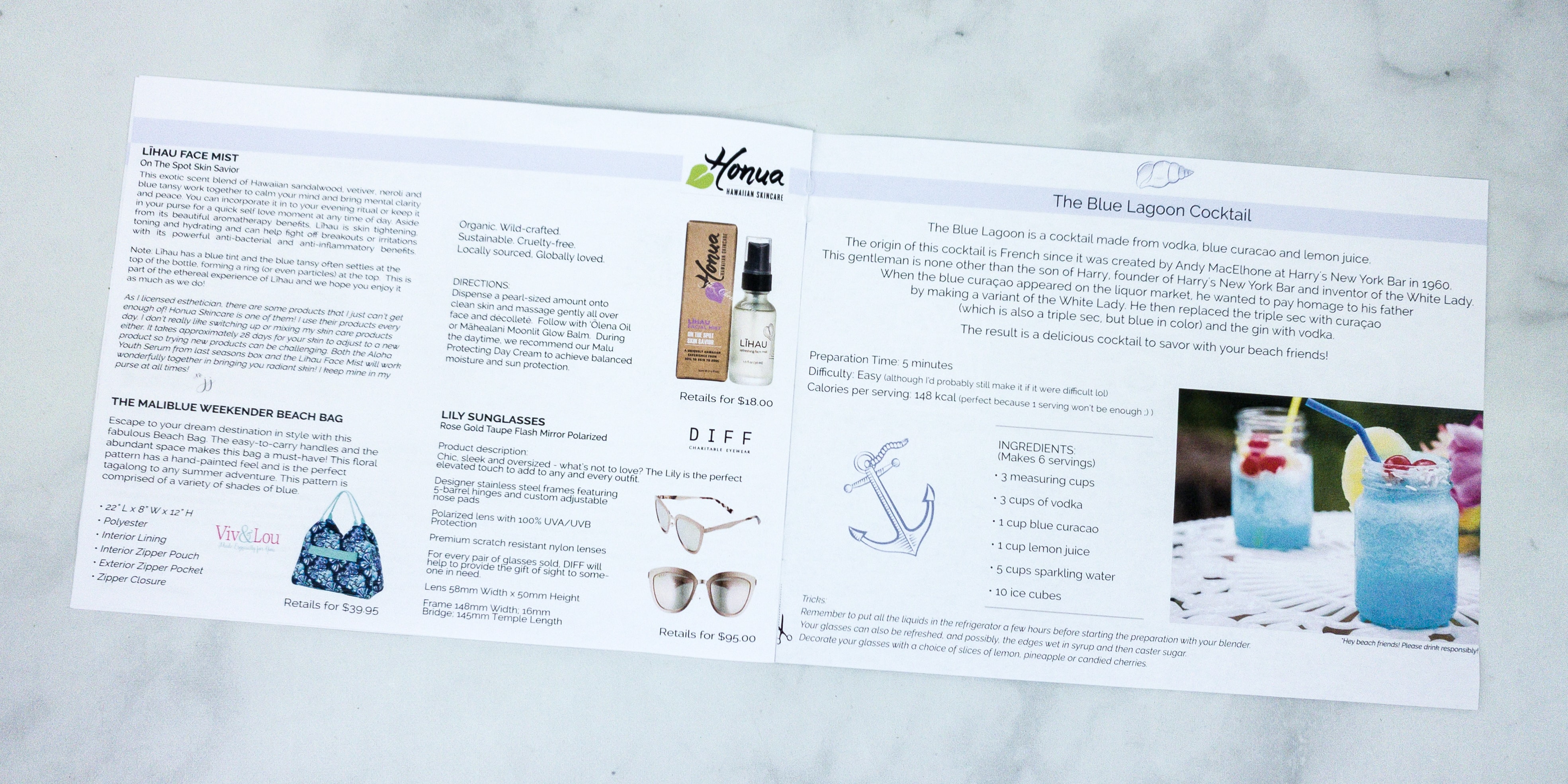 This one also has a recipe for The Blue Lagoon Cocktail!
Everything in the Spring 2020 Oceanista Box!
Viv & Lou The Maliblue Weekender Beach Bag ($31.95) The bag was tied up with a blue ribbon. It's one of the biggest items in the box!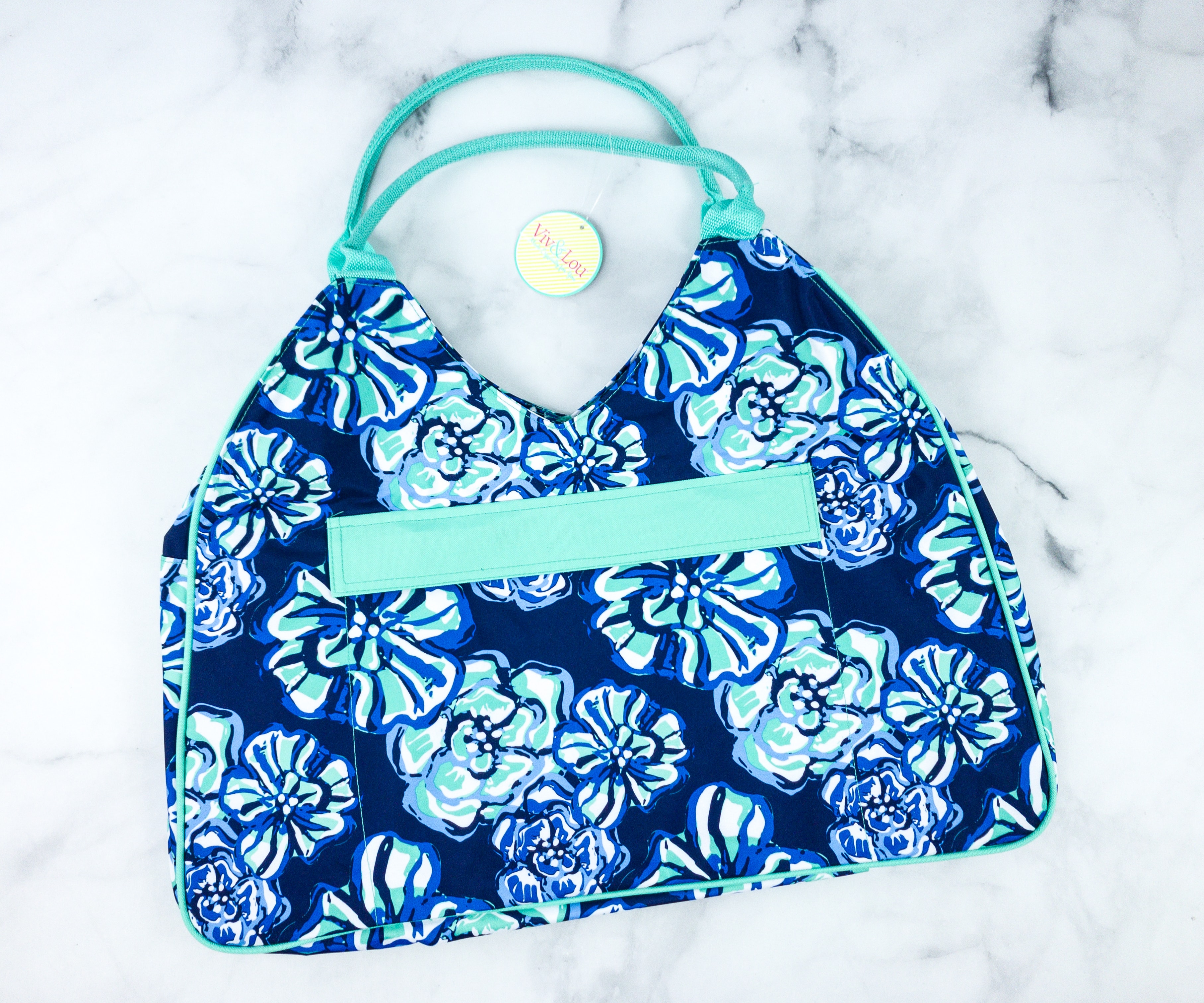 It's a lovely anchor bag, with a floral design in blue and sea green which look so cool on the eyes.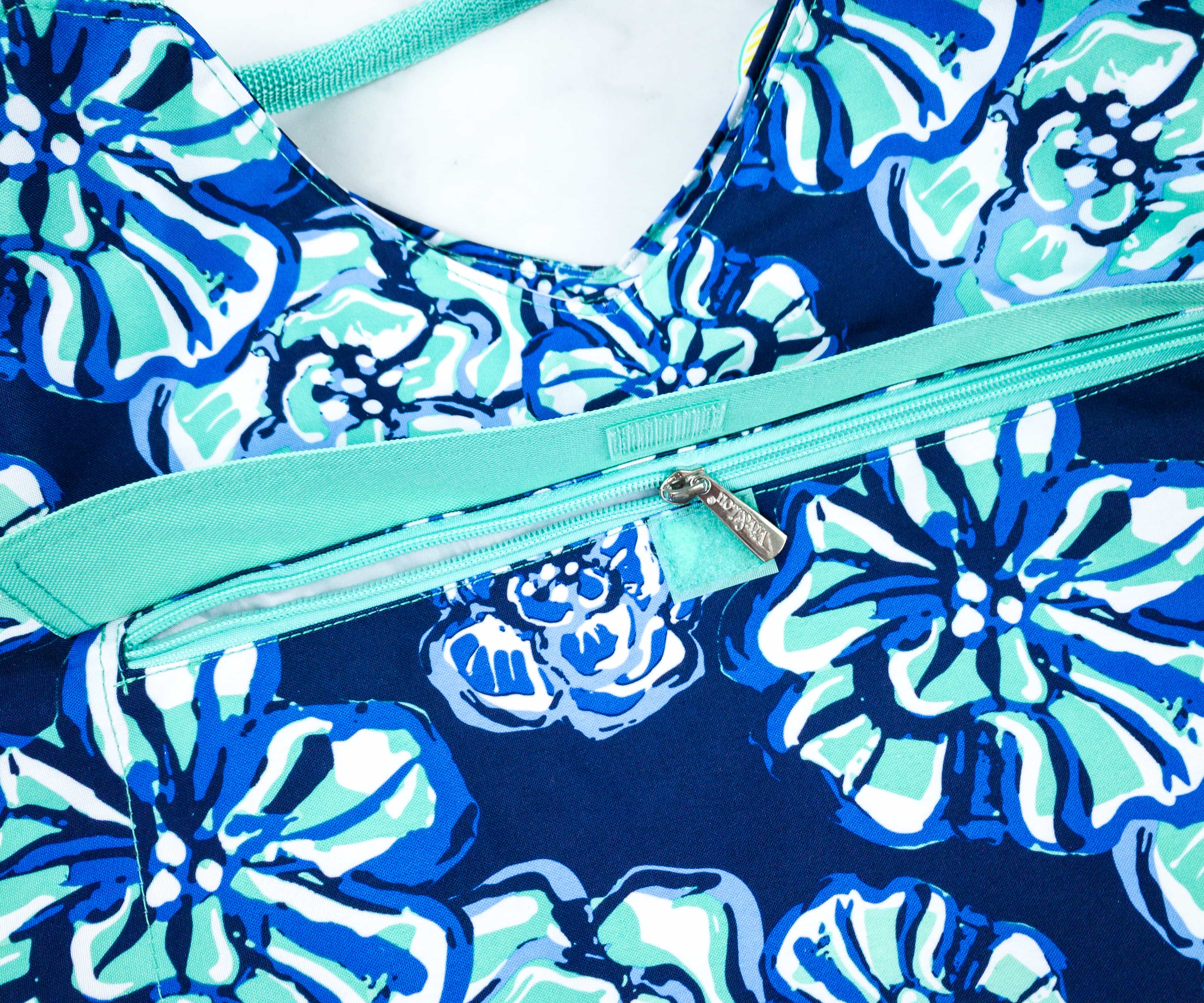 There is a zippered compartment in front where you can store all your essentials.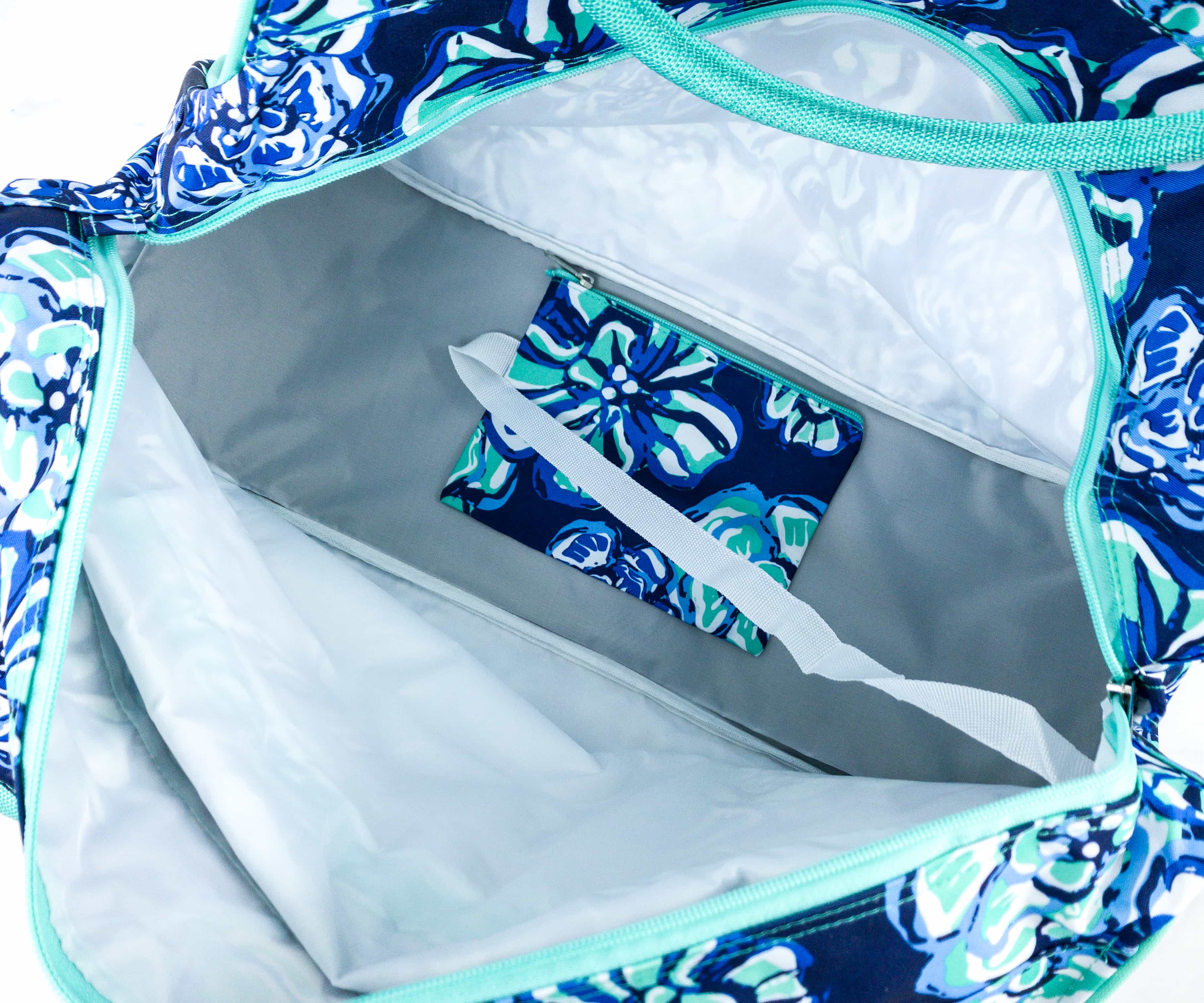 It's spacious inside! The interior of the bag is lined with a waterproof fabric making it easier to clean up, especially since whenever we're on the beach, I tend to harvest all the sand!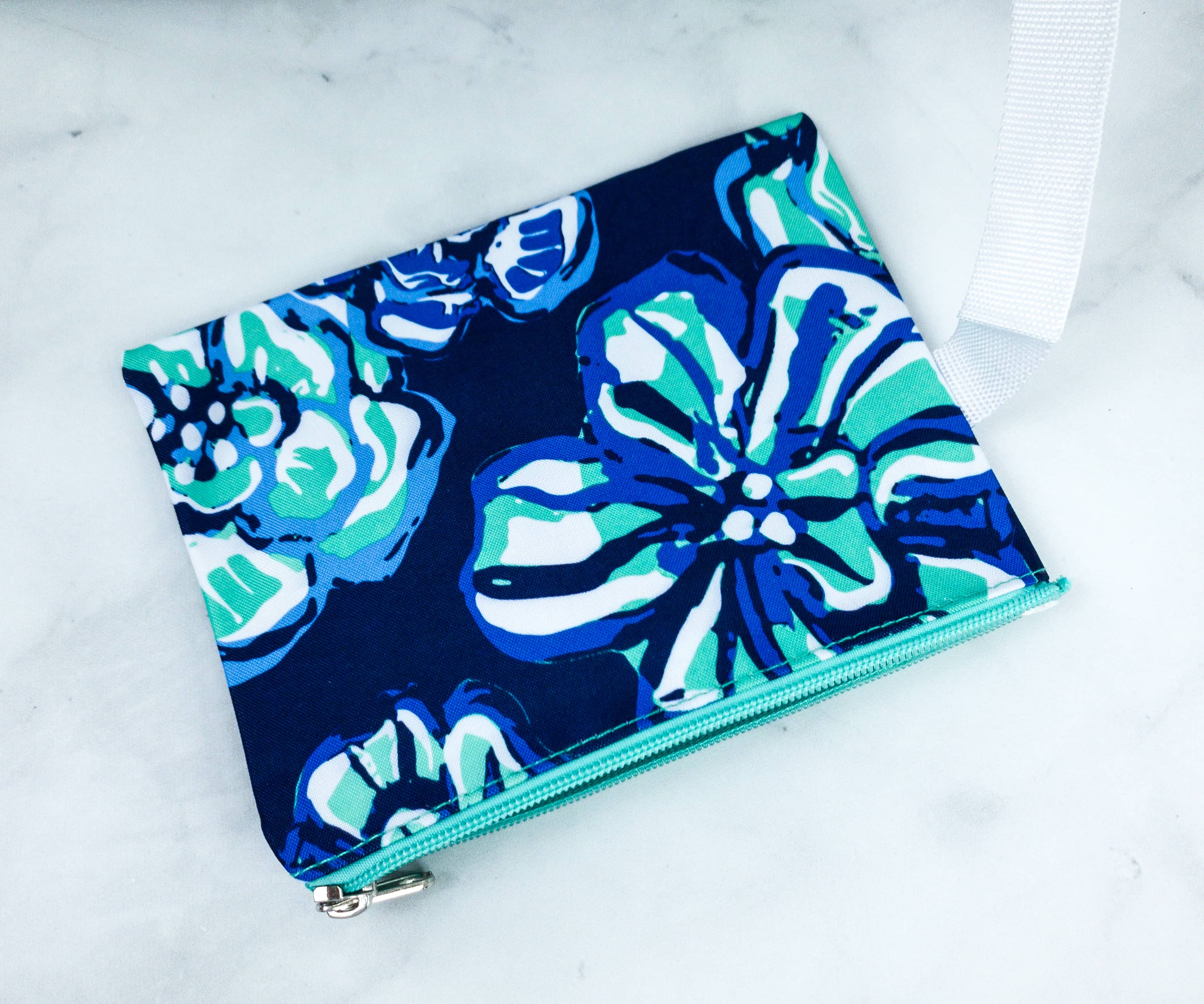 It also includes a small pouch bearing the same floral pattern. It's connected to the bag as well.
You can store your coins here or even small accessories, so you can easily grab them when you need them.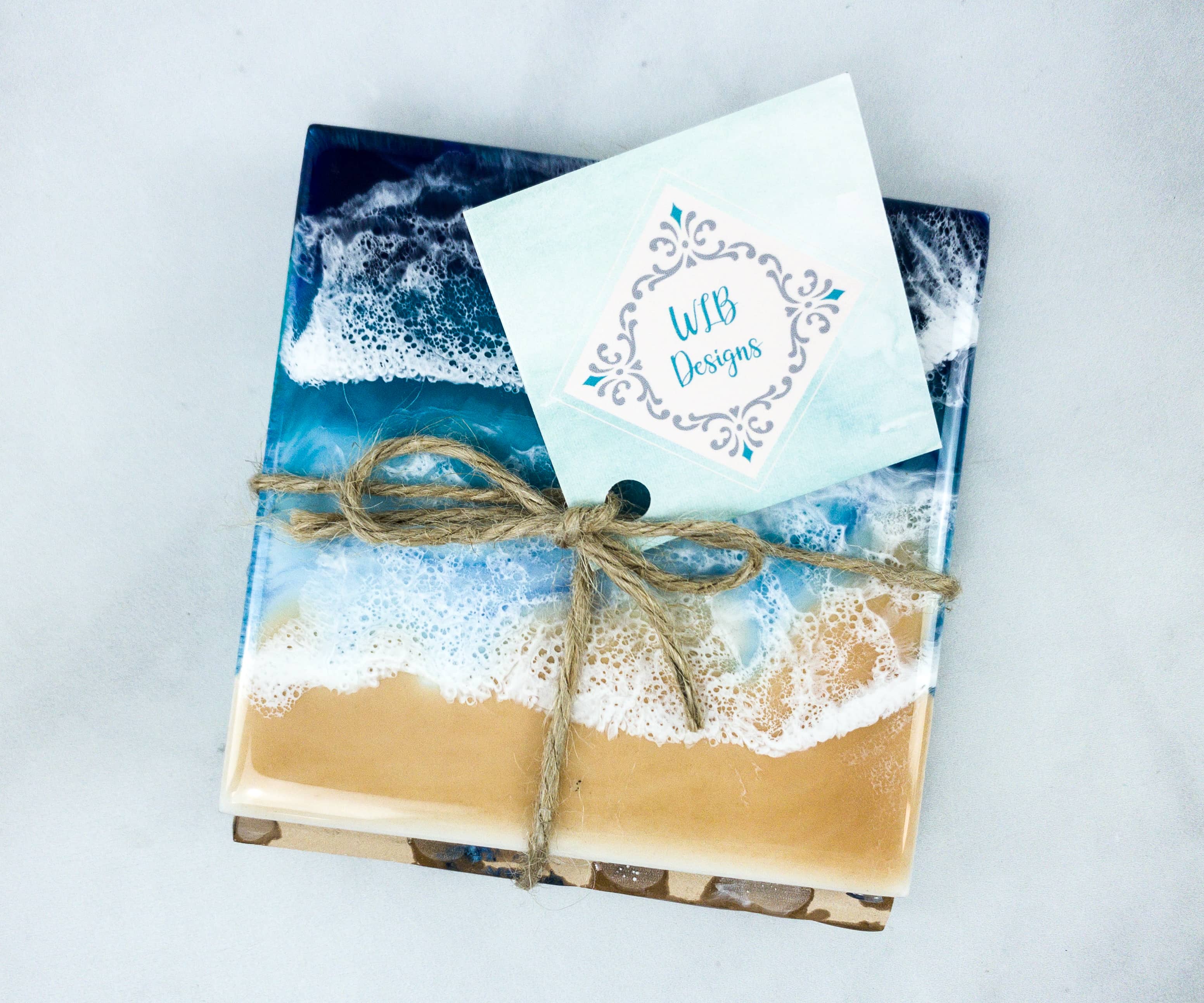 WLB Designs Handmade Beach Resin Art Coasters/Trivets ($25) These beautiful coasters featuring beach images are perfect for adding a touch of the beach life in your own home.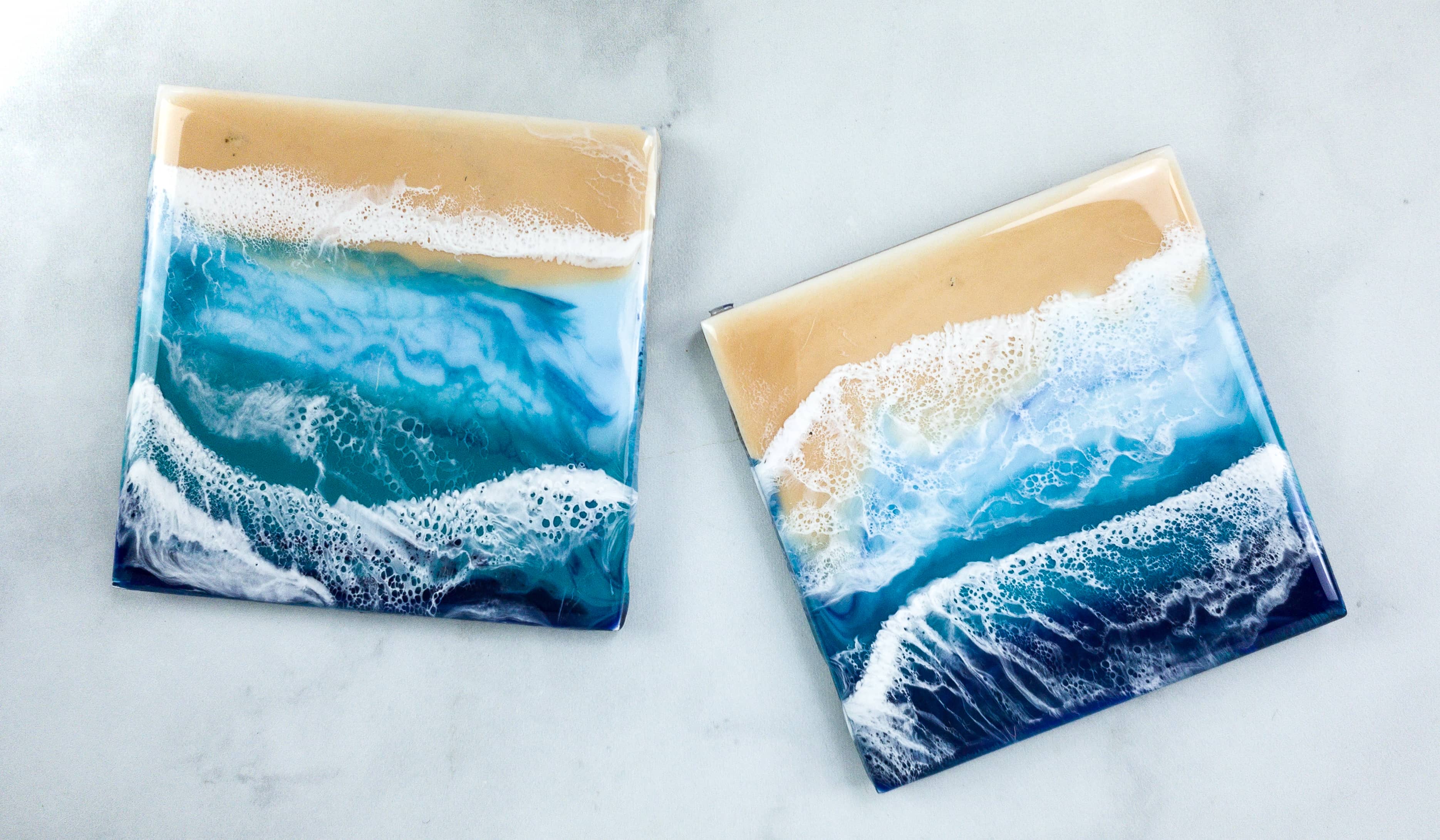 These coasters don't just add design to your table, but they also protect the surface from moisture coming from the bottom of a glass or bottle! They're perfect to use in summer or beach themed parties, or just about any day you miss seeing the beach!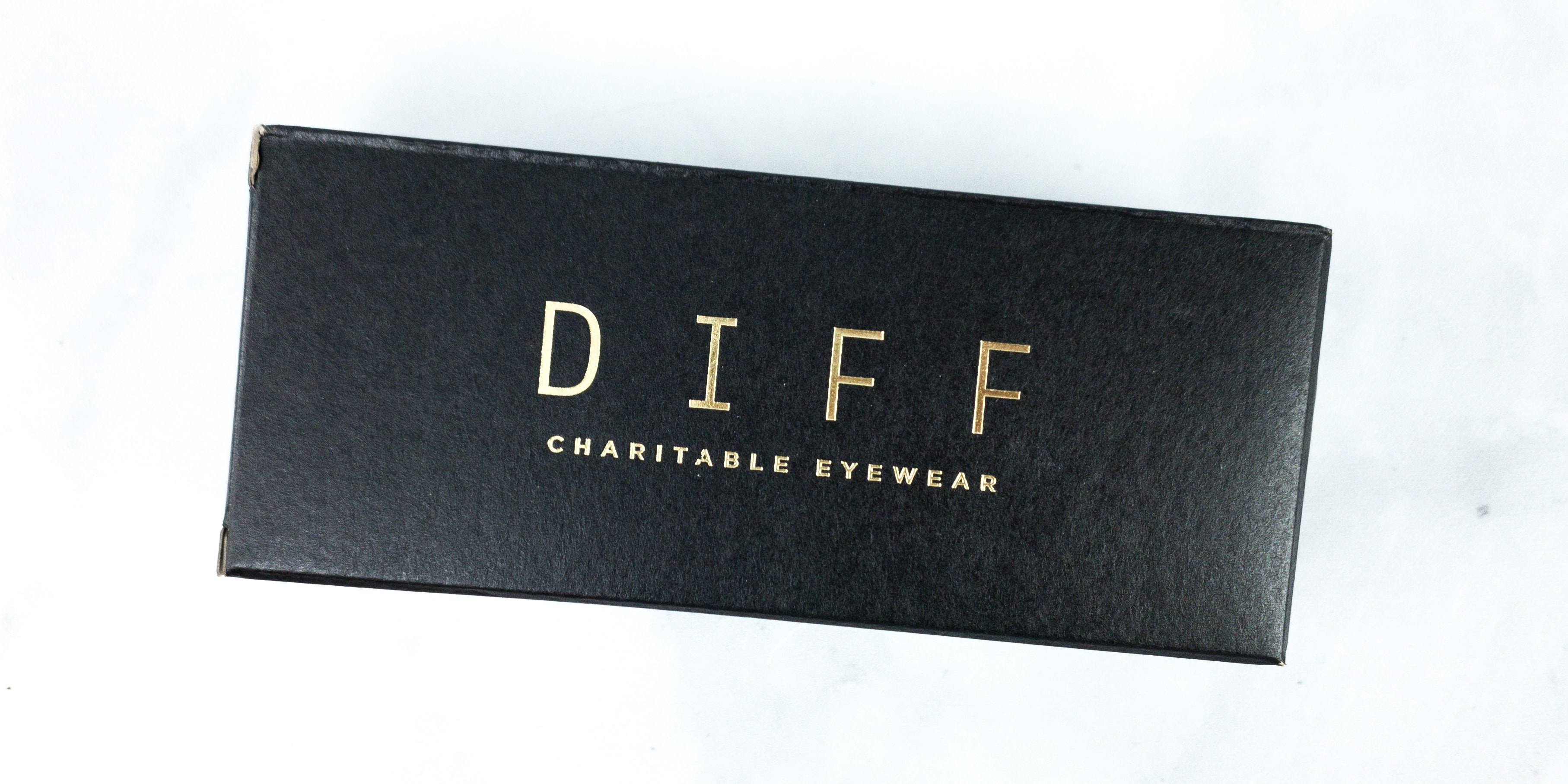 DIFF Eyewear Lily ($95) A beach get-up is not complete without some fashionable eyewear! There's one in this quarter's box, and it was packed in a black box with gold foil branding.
Upon opening, there's this leather case with the brand name embossed on the enclosure.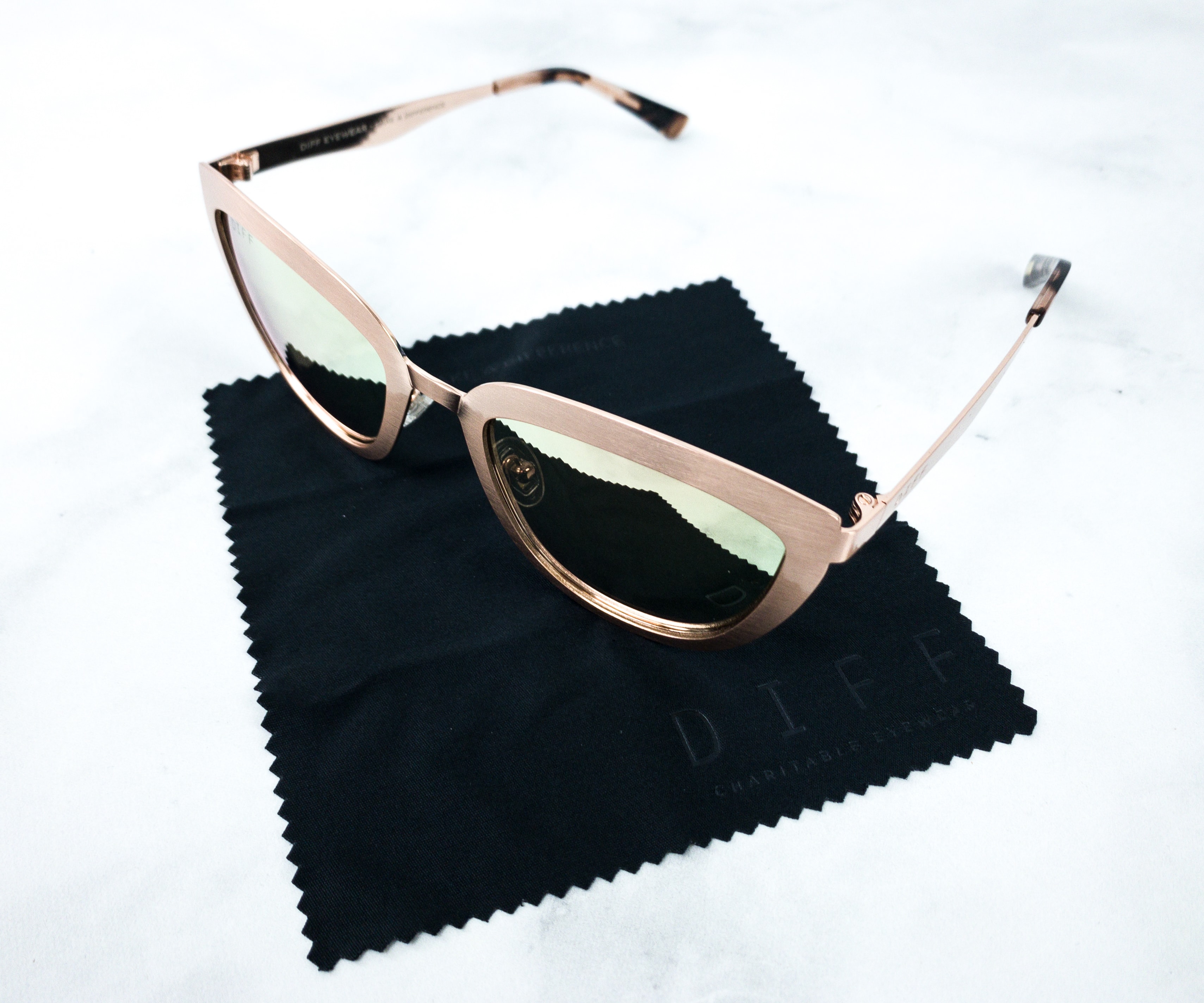 It contains a sunglass and a cleaning cloth!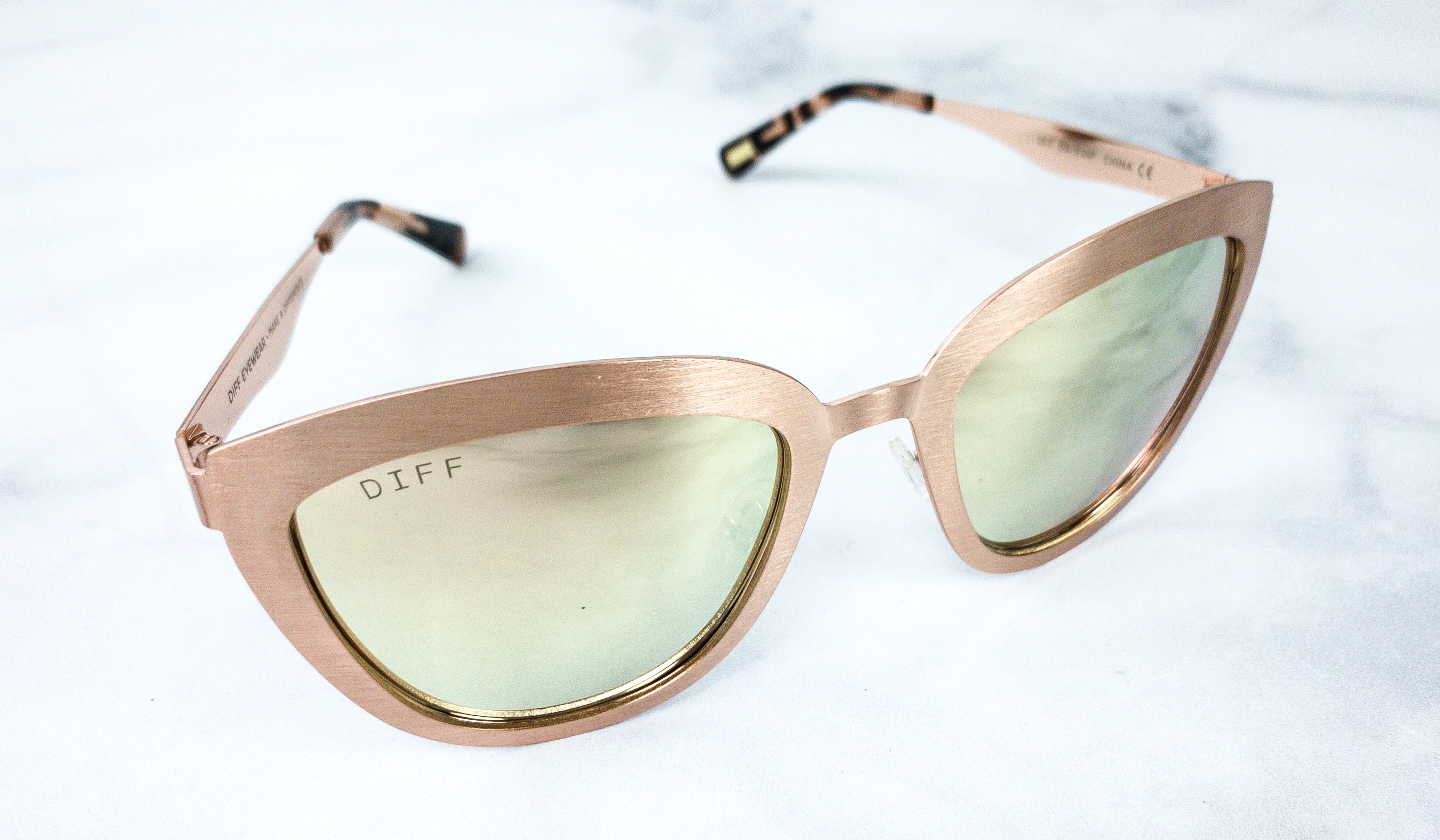 The sunglass is stunning! It's metal, with a rose gold hue!
The semi cat-eye makes it perfect for any face shape because it balances out facial features.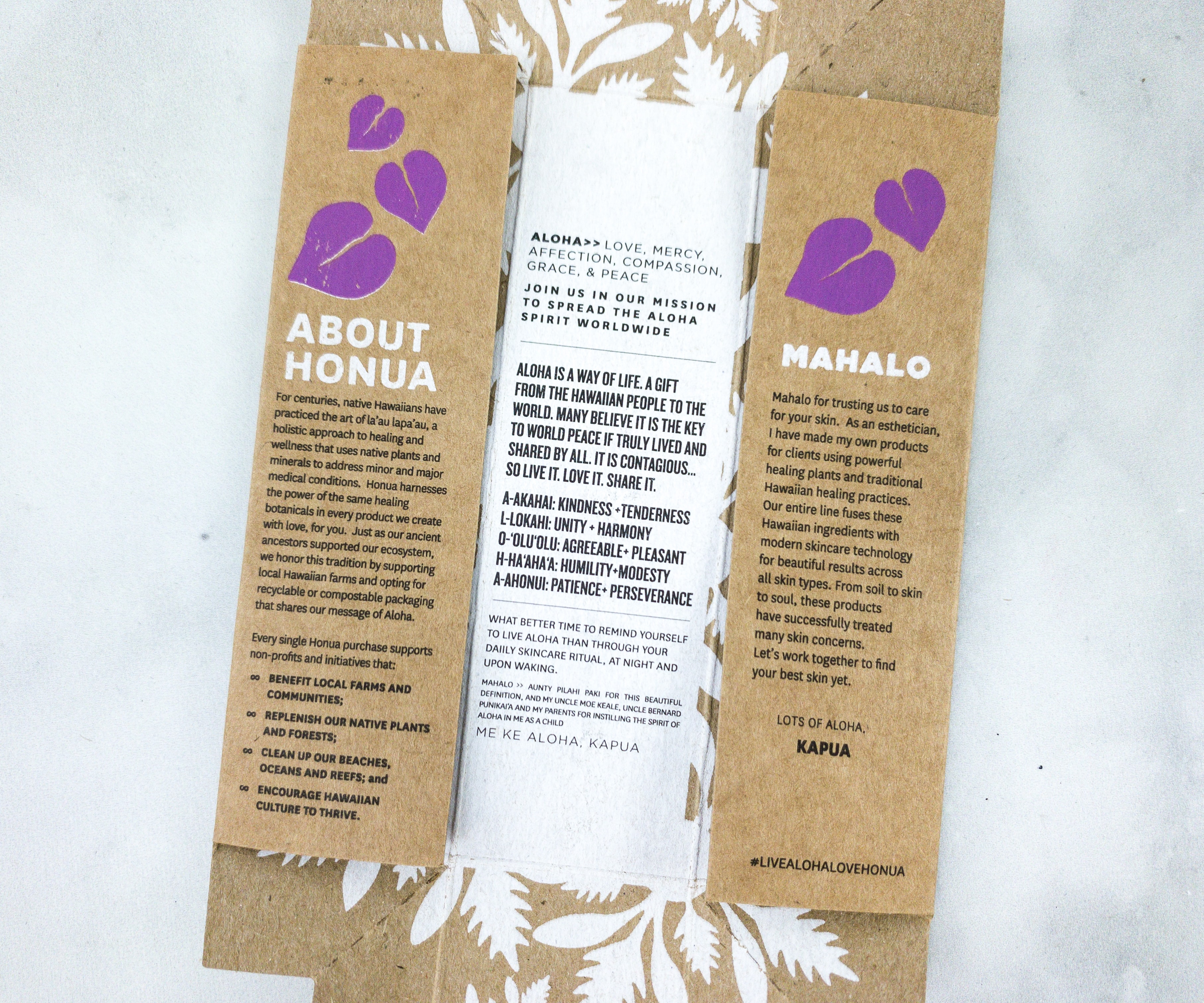 Honua Skin Care Lihau Refreshing Face Mist ($18) Facial mists are awesome because they help me freshen up, whether I'm on the beach, at work, or just at home. This one smells so good as it contains a blend of Hawaiian sandalwood, vetiver, neroli, and blue tansy!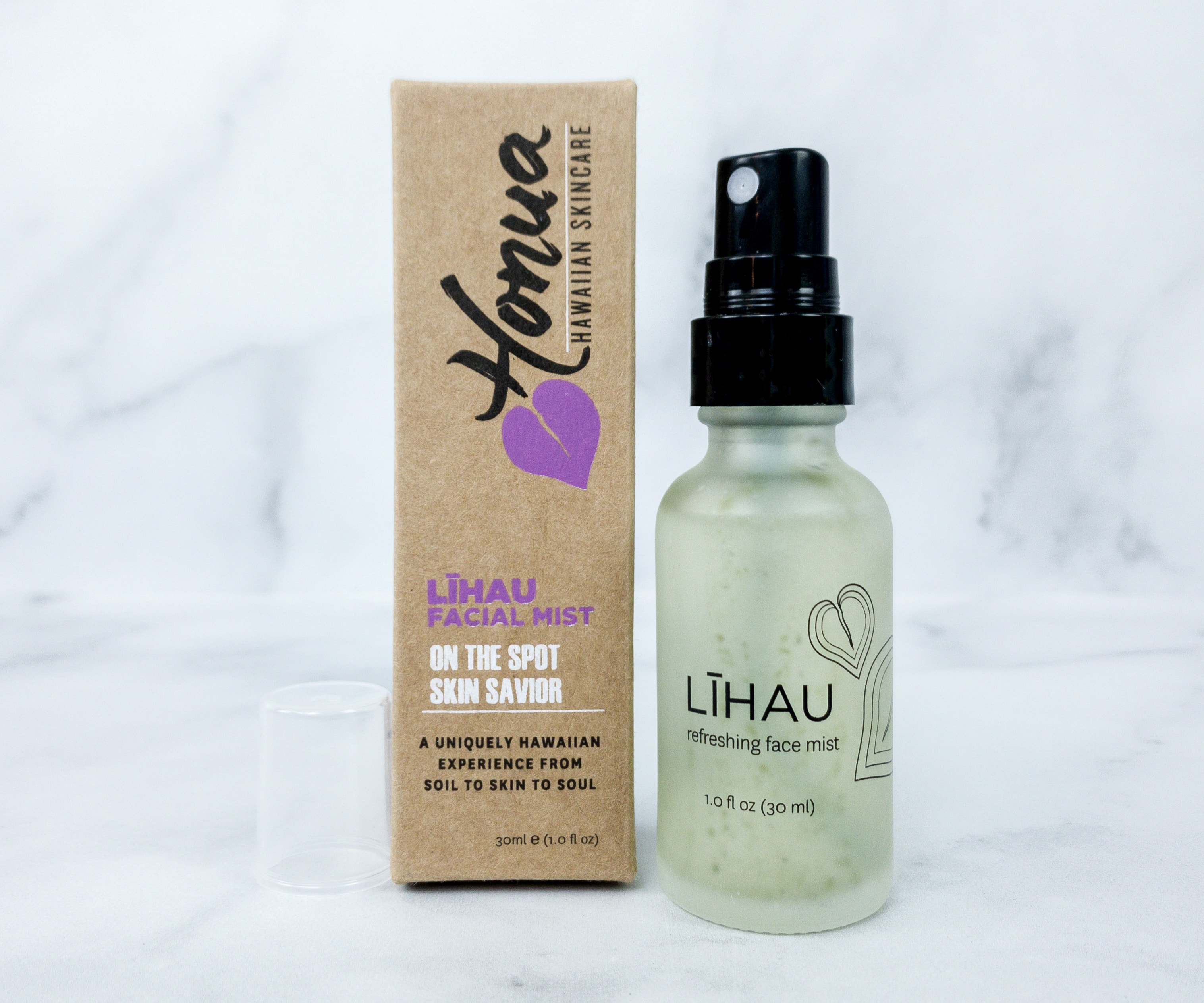 This facial mist helps tone, tighten, and hydrate the skin. Formulated with anti-bacterial and anti-inflammatory ingredients, it even fights off skin breakouts and irritations. A quick spray makes my skin easily rejuvenated and less dull!
Jilzarah Seaside Blue Reversible Bar Earrings ($24) The earrings were packed in a blue organza pouch!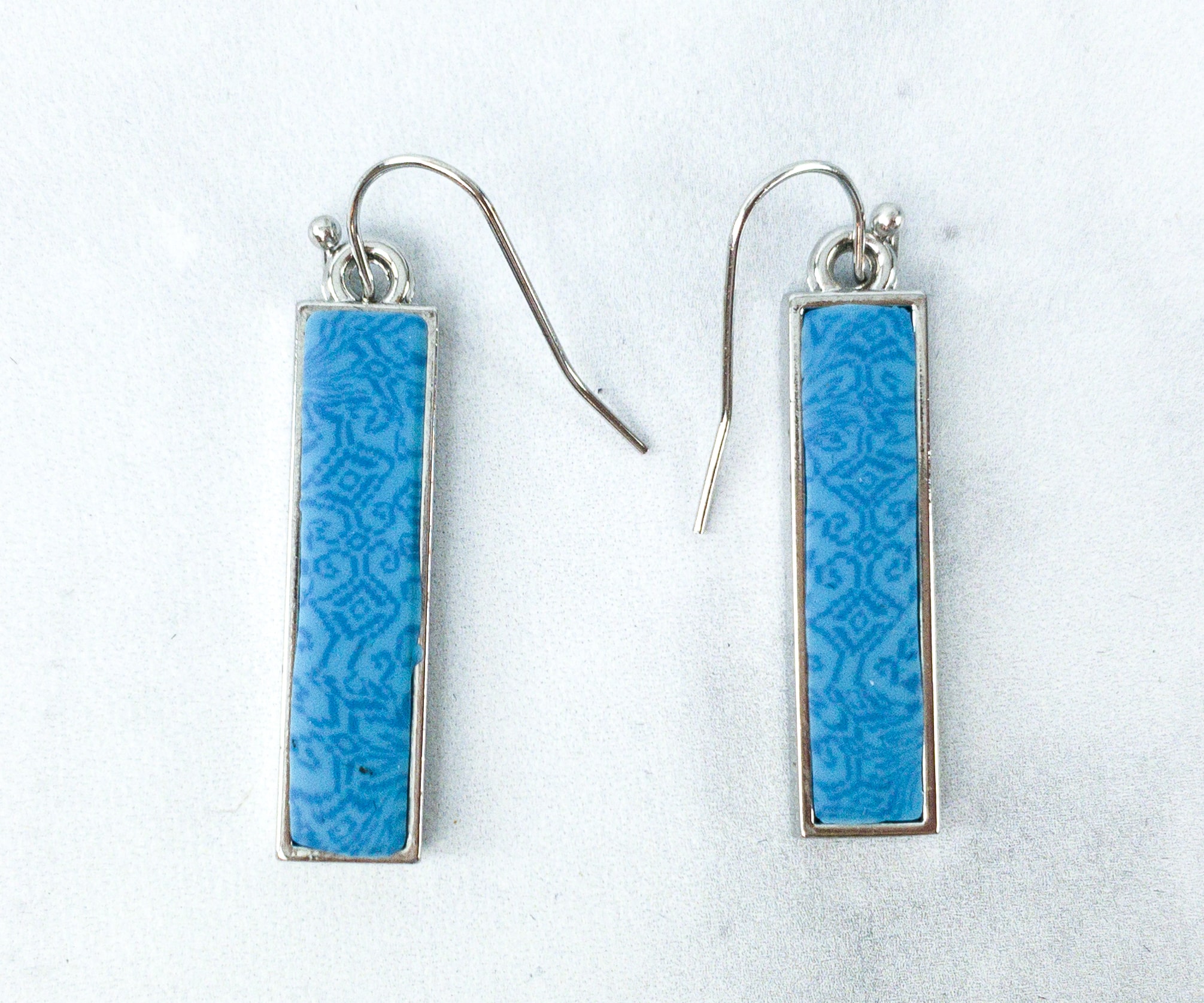 These elegant silver-plated bar earrings come with handcrafted polymer clay inlay. The aztec-inspired design on the clay is just stunning.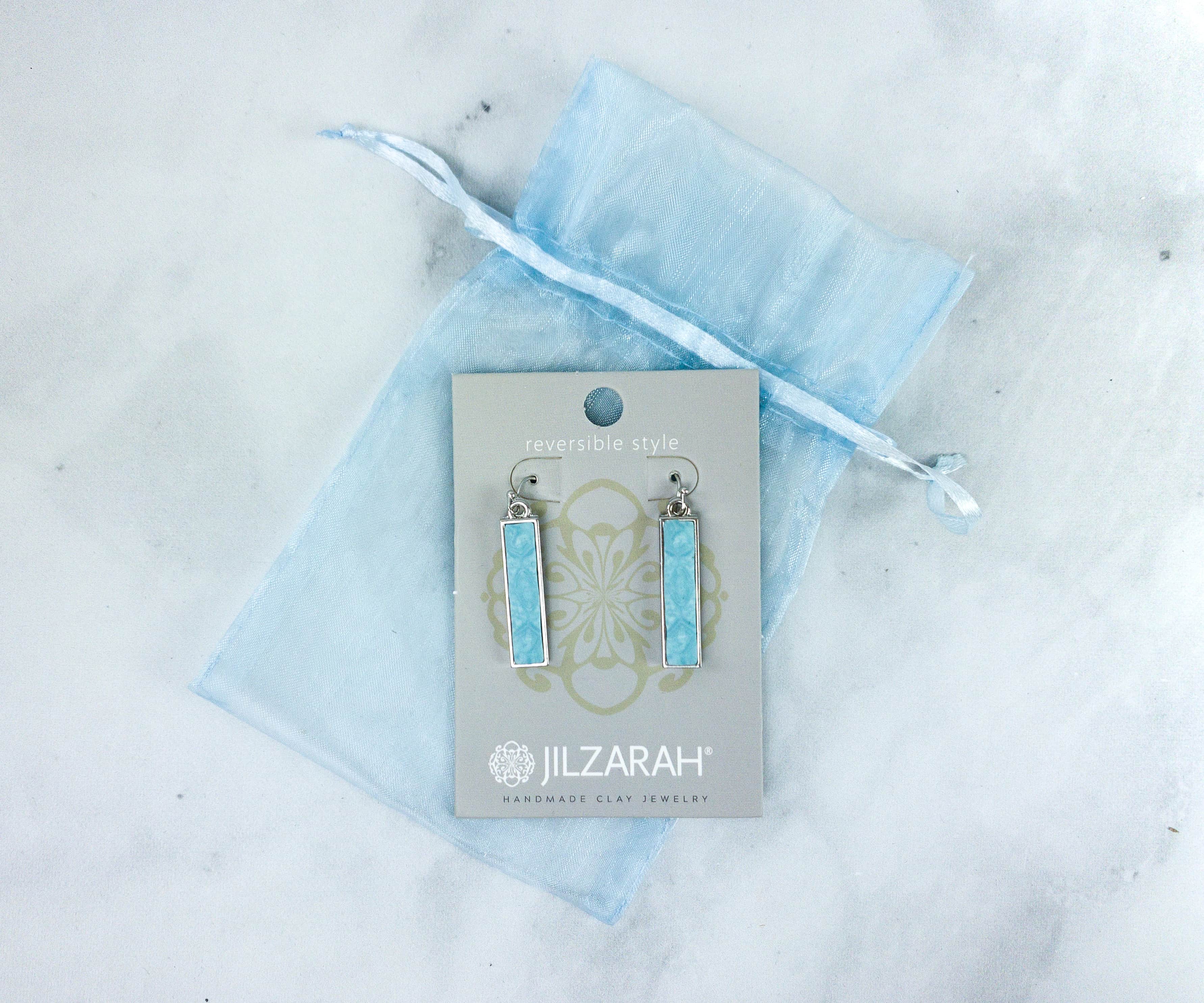 I also got a second pair. It's the same earring but with a different design for the polymer clay inside.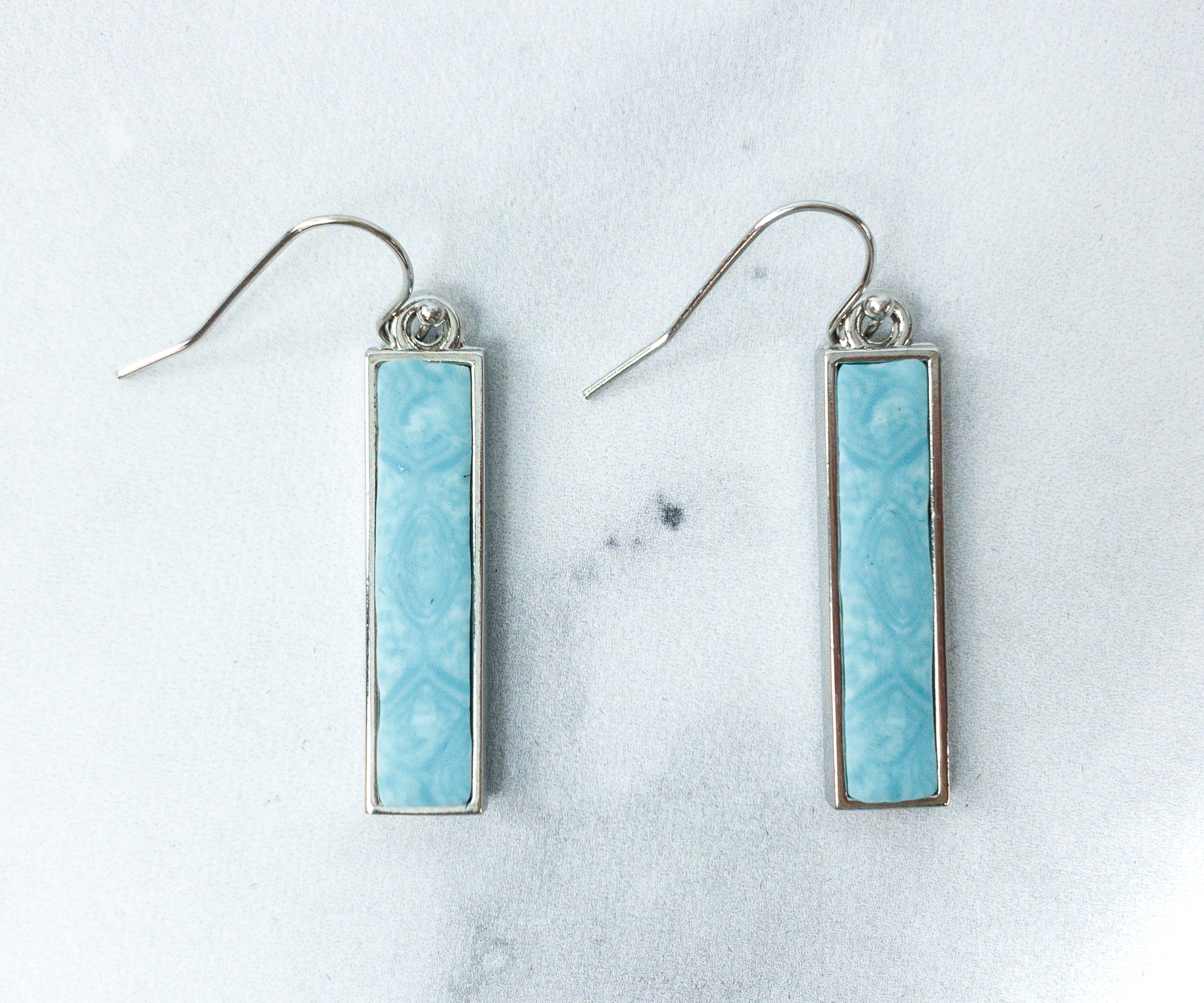 This one has a lighter blue color and the design reminds me of crystal blue waters! It's elegant and stylish and I really like it!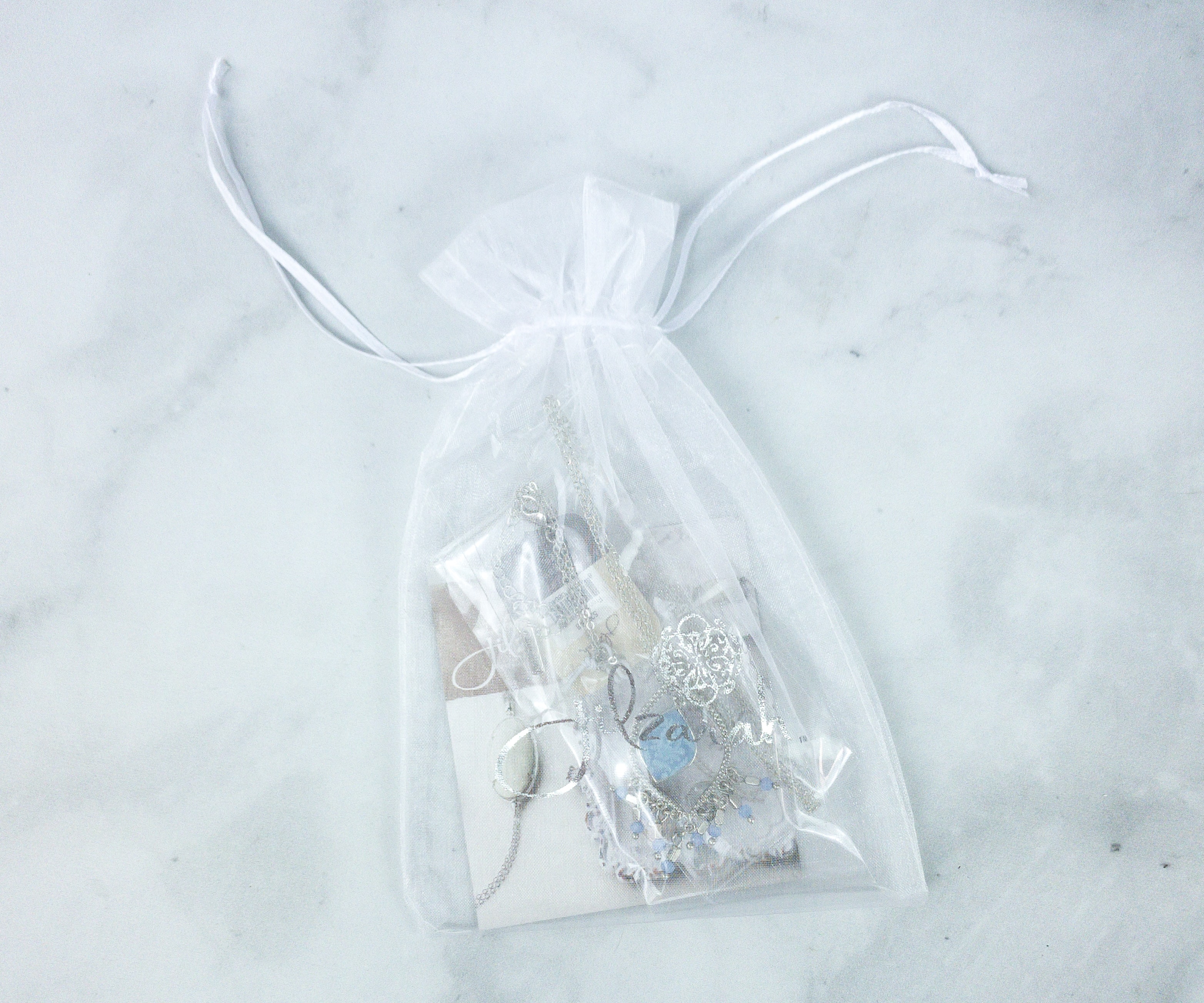 Here's another organza pouch and this time it contains a necklace!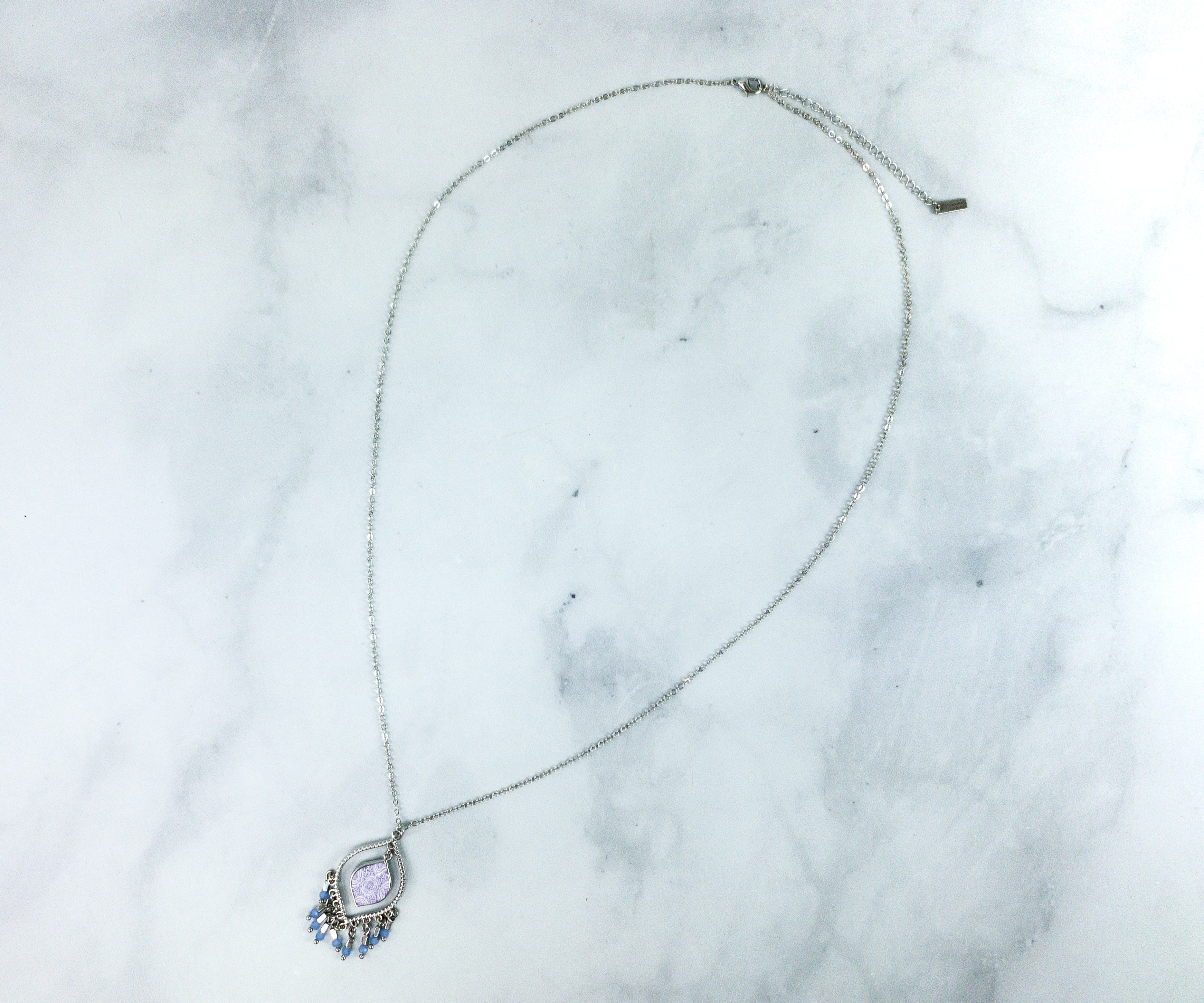 Jilzarah French Lavender Silver Chandelier Reversible Necklace ($34) This necklace is silver-plated to protect it from the usual wear and tarnishings. It has a lobster closure as well as a built-in 3-inch extender if you want it to hang lower.
The pendant is adorned with abascus cut crystal-style glass spacer droplets.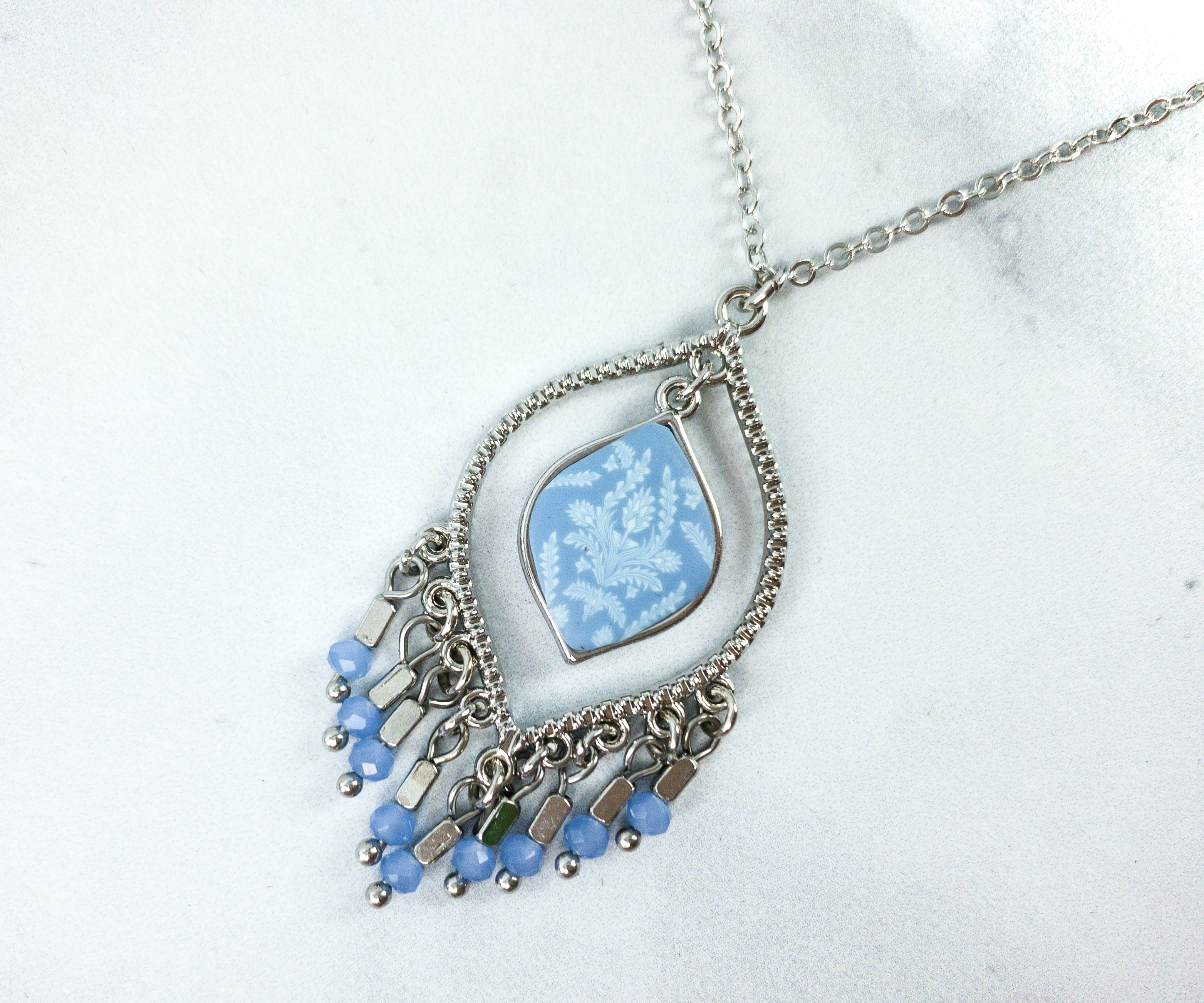 The inner frame bezel contains double-sided handcrafted polymer clay inlays. The other side has a purple design while on this side is a lovely light blue pattern.
West Indies Wear Beach Coverup. I really love the turquoise color of this cover-up! It's so fun and vibrant!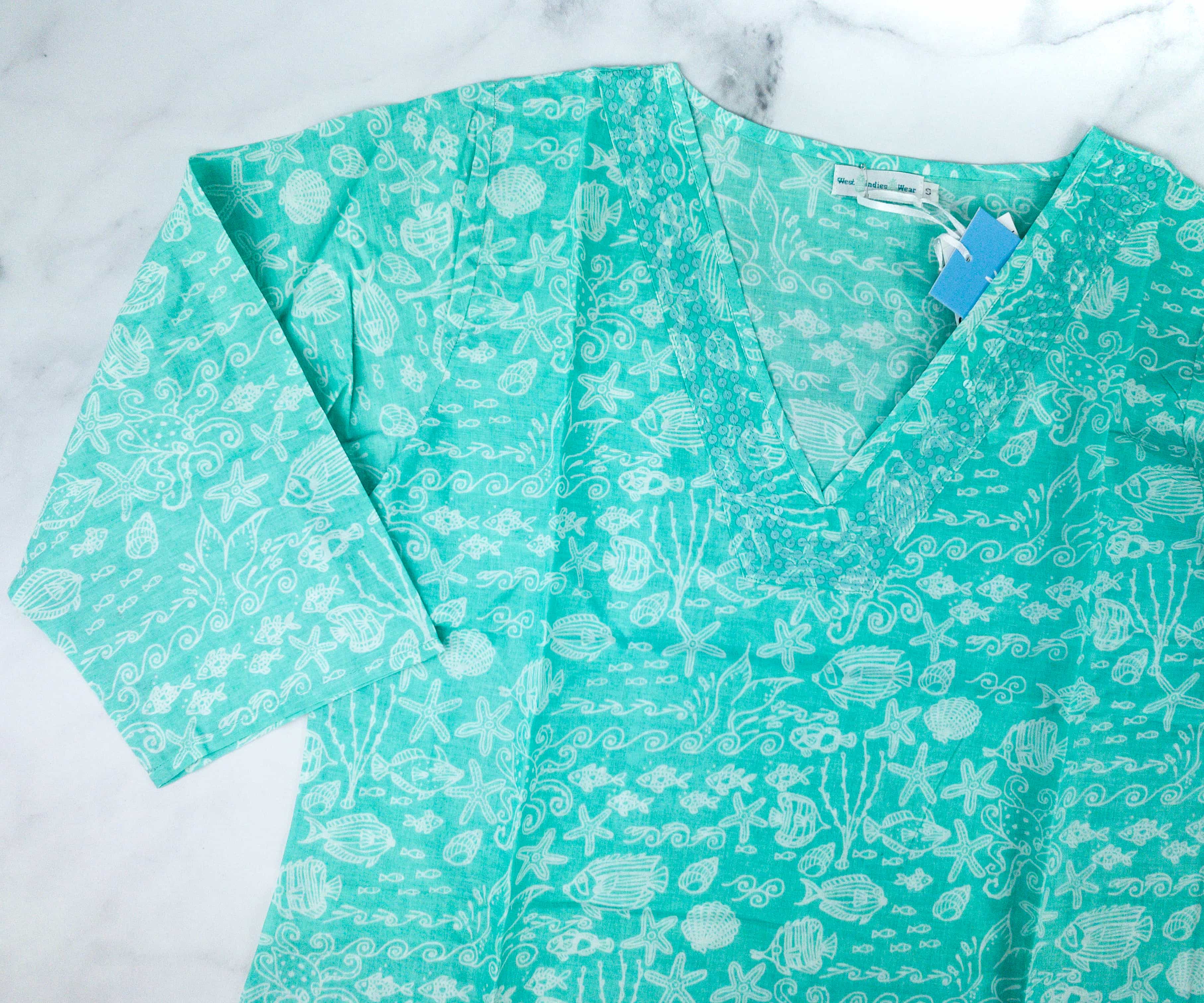 It has a v-neck cut and 3/4 sleeves so you can wear this comfortably to lounge around!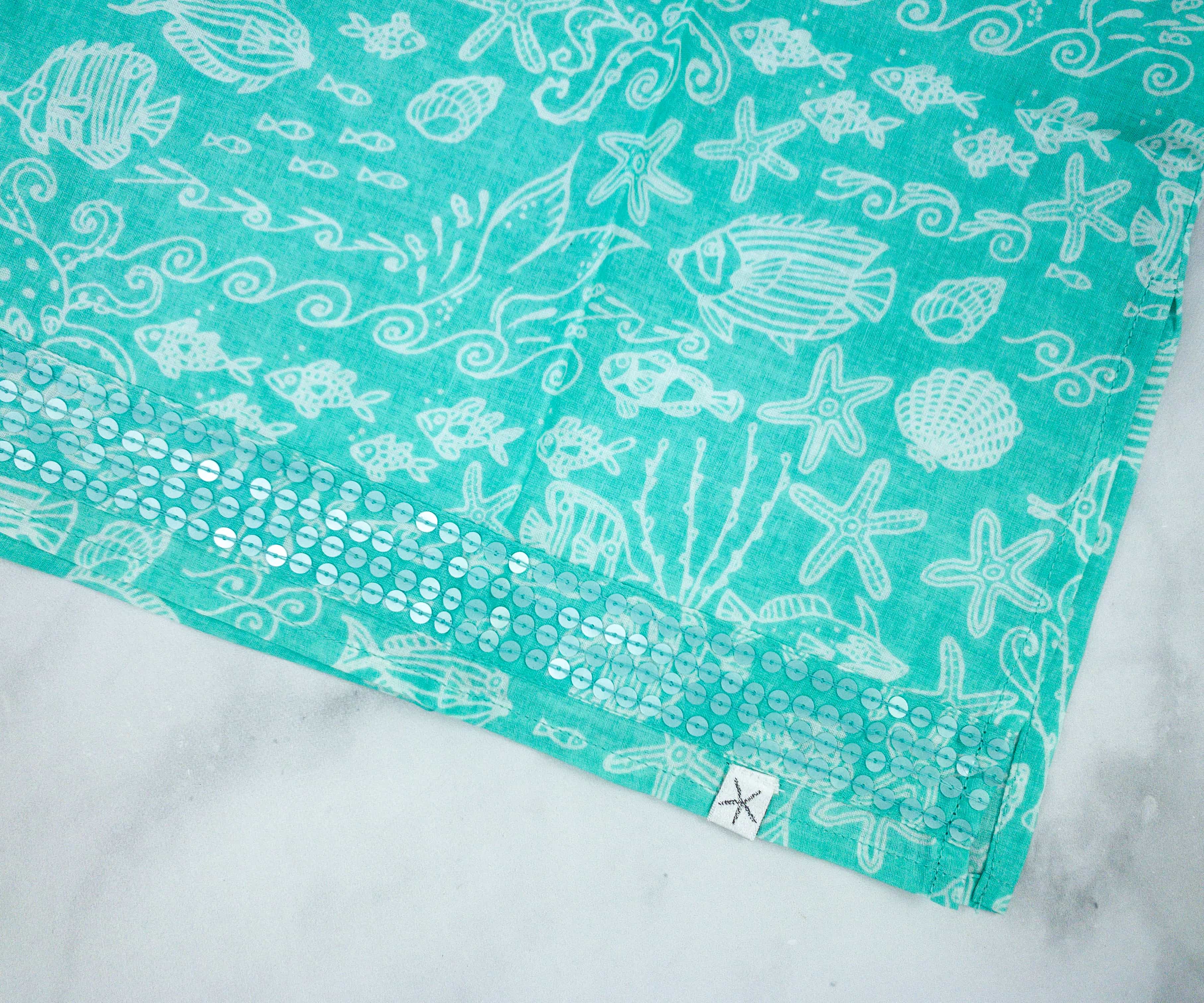 The hemline is adorned with sequins with the same color as the fabric to give an additional dimension to the whole look.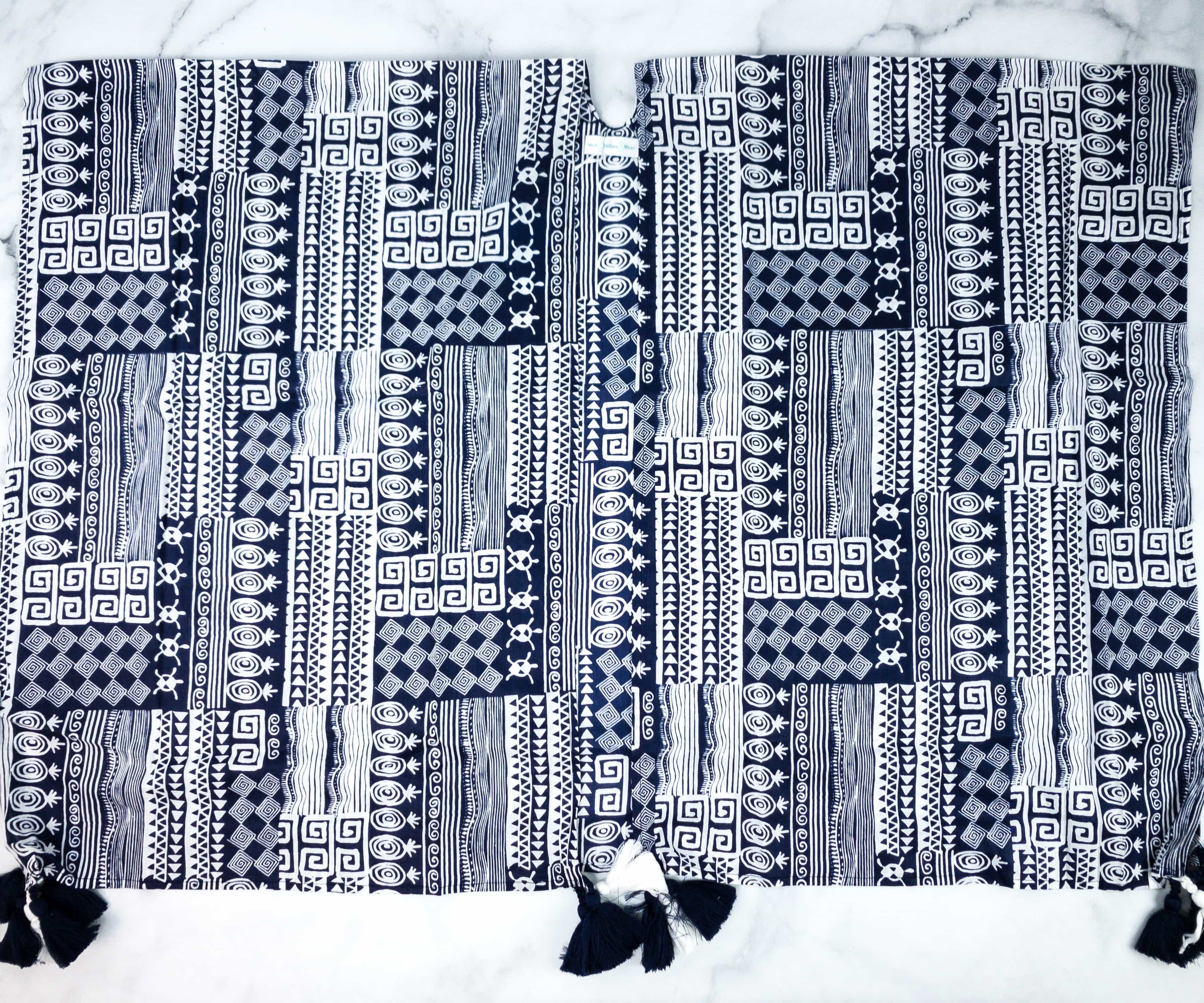 West Indies Wear The Arawak Kimono ($48) Here's another cover-up, a cute kimono featuring different prints. It's made with 100% breathable cotton knit fabric so it's light and airy!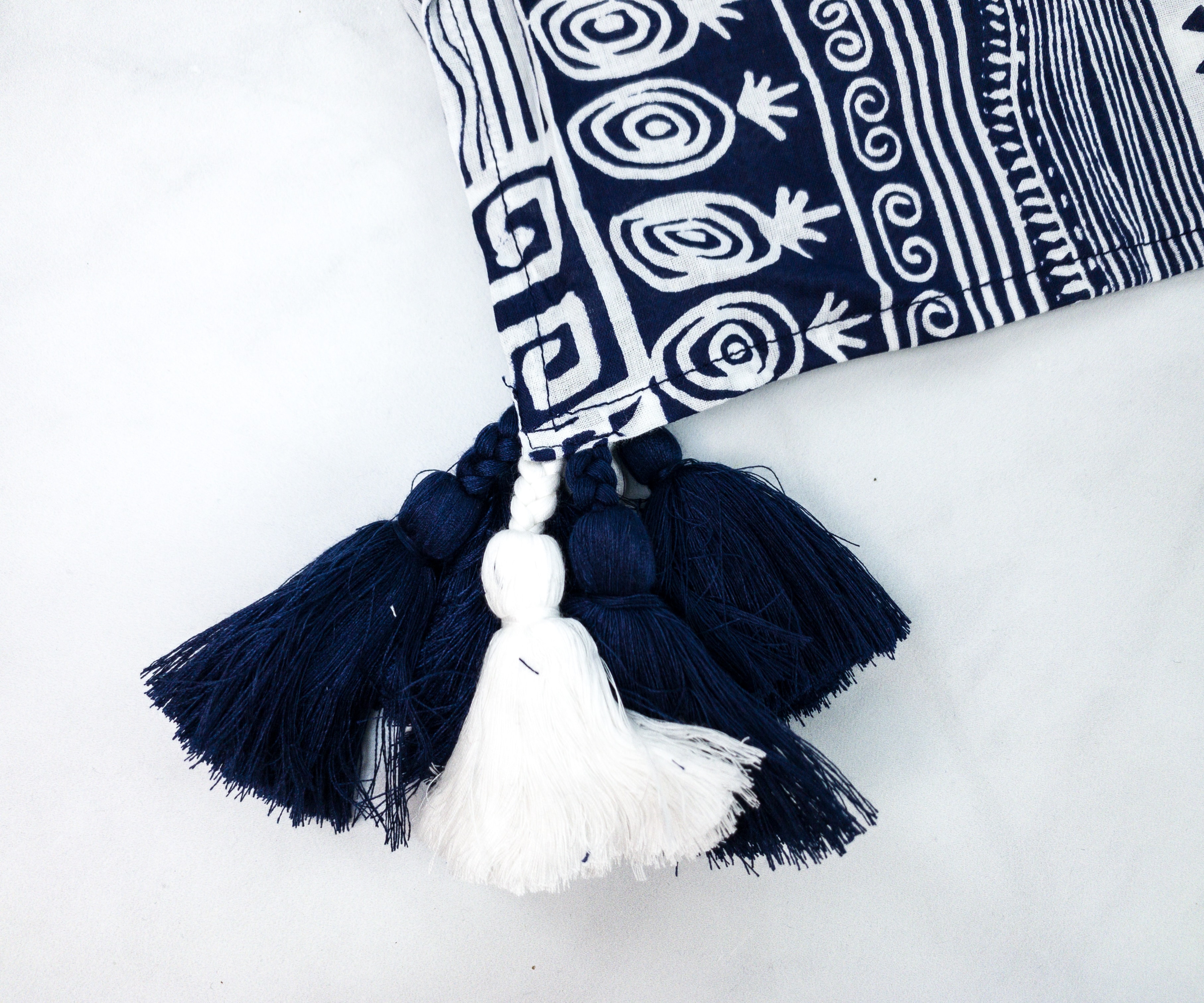 It has these cute tassels on the bottom to add flair to the whole look. The color I got is lovely. It's a dark navy blue and white combination.
I really like kimonos as they're very versatile. Aside from being a beach coverup, these are great to wear on regular days as well.
The beach has always been a happy place for me and this box just makes me feel good because the items are something I could use whether in the beach or even just at home to remind me about the beauty of the beach. This month's Blue Lagoon theme is really great! I find that the items inside this box are cohesive and can be worn together, it's all just a matter of mixing and matching! I really liked the kimono and I'm thinking of wearing that together with the necklace from this box and match it with a plain white top. All in all, I'm really happy with this month's curation! This box just made my love for the beach grow!
What do you think of the Oceanista Winter box?