Nicely Noted is a monthly greeting card subscription. With every mailing, you'll receive a collection of handmade letterpress cards plus the stamps to send them. This is art to give away, not to keep! This subscription is absolutely perfect for anyone who wants to start (or continue) sending letters in the mail to family and friends. A monthly subscription is $20, with free shipping.
DEAL: You can get 20% off from your first month by using the code NICE20.
The packaging is simple, but what's important is that the items arrive in great condition. Everything fits a small white envelope.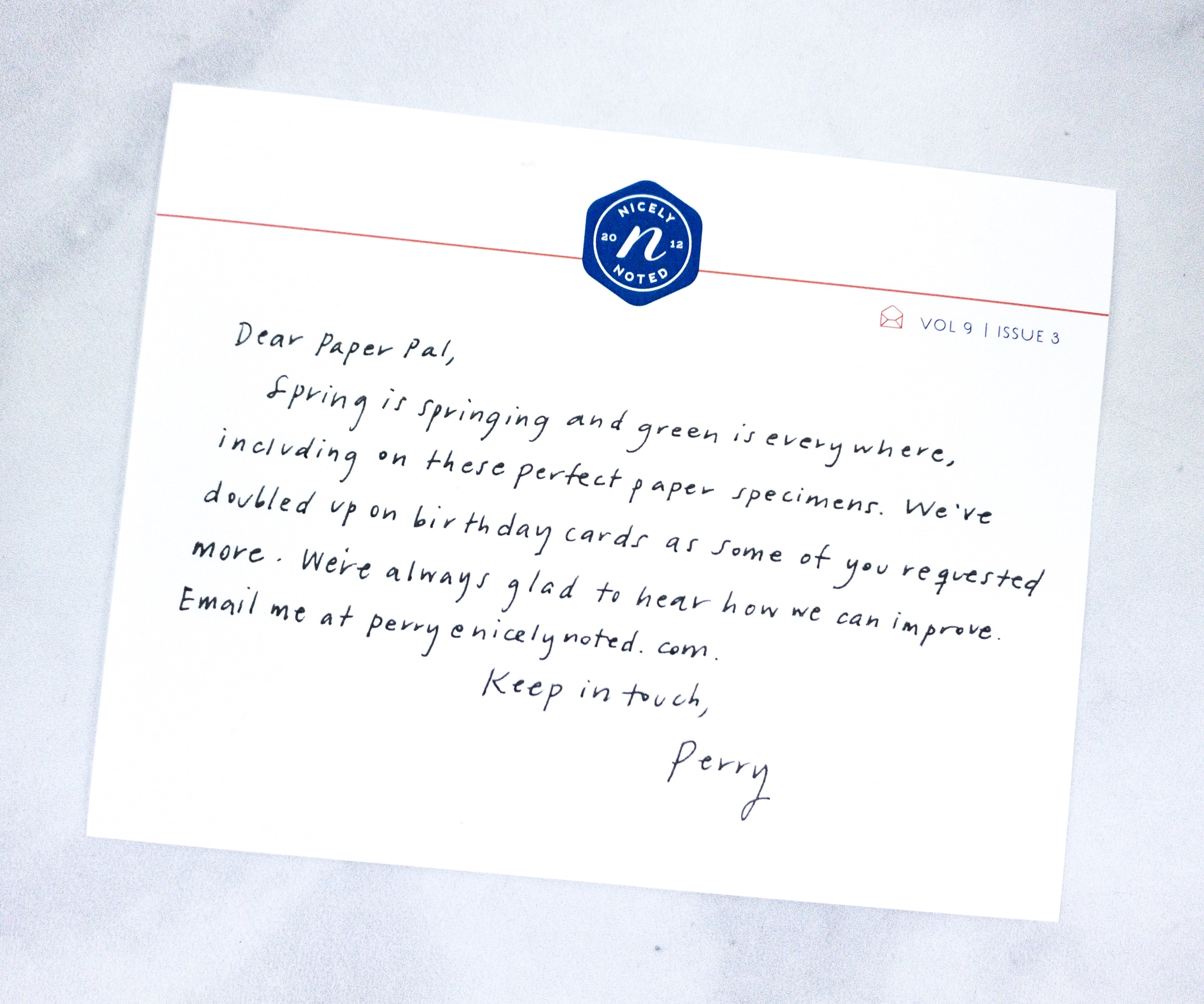 There's a letter from Nicely Noted.
The card features artists behind this month's collection of letterpress cards. It's nice that Nicely Noted introduces their artists and the stories behind them too.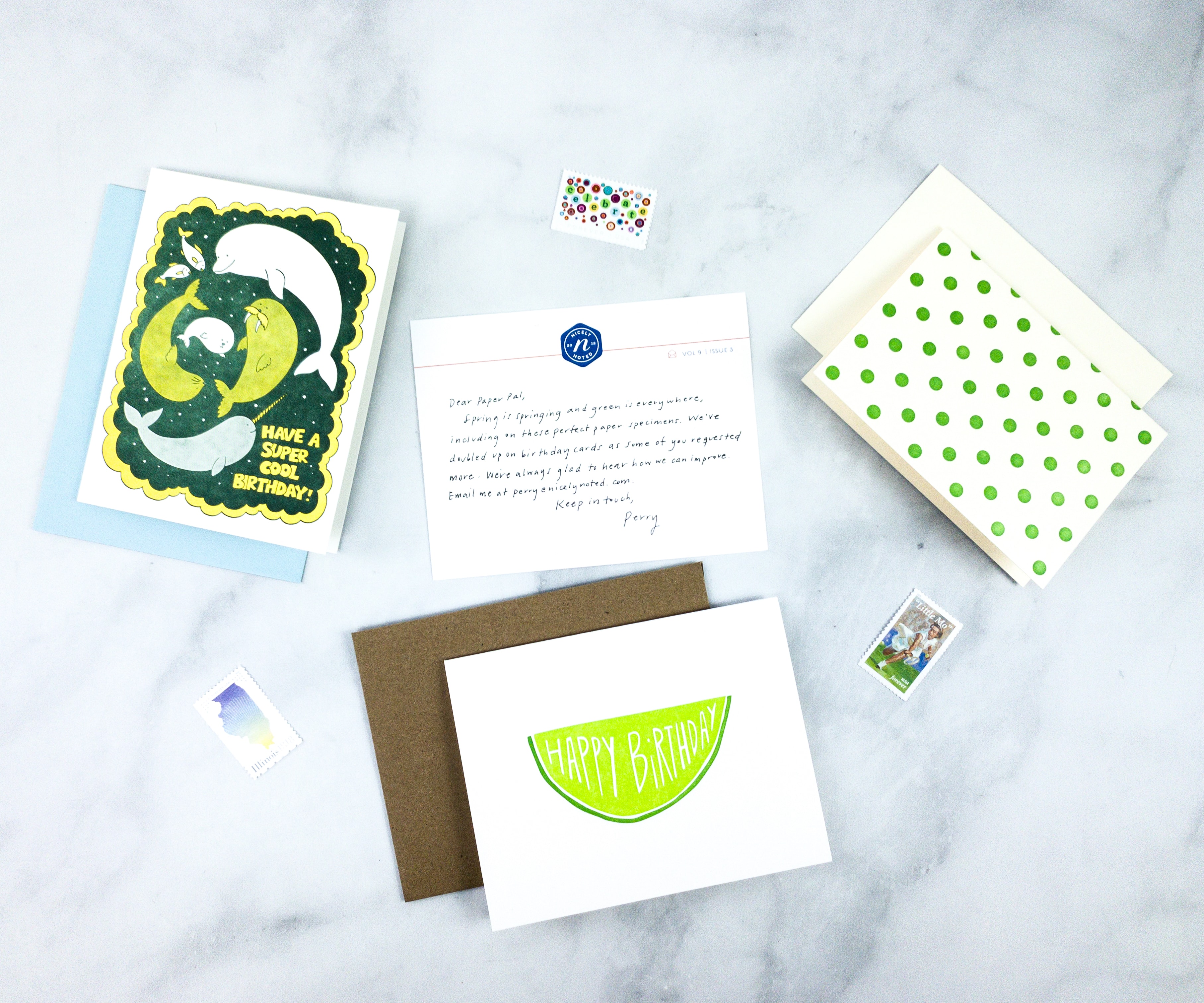 Everything I received this month!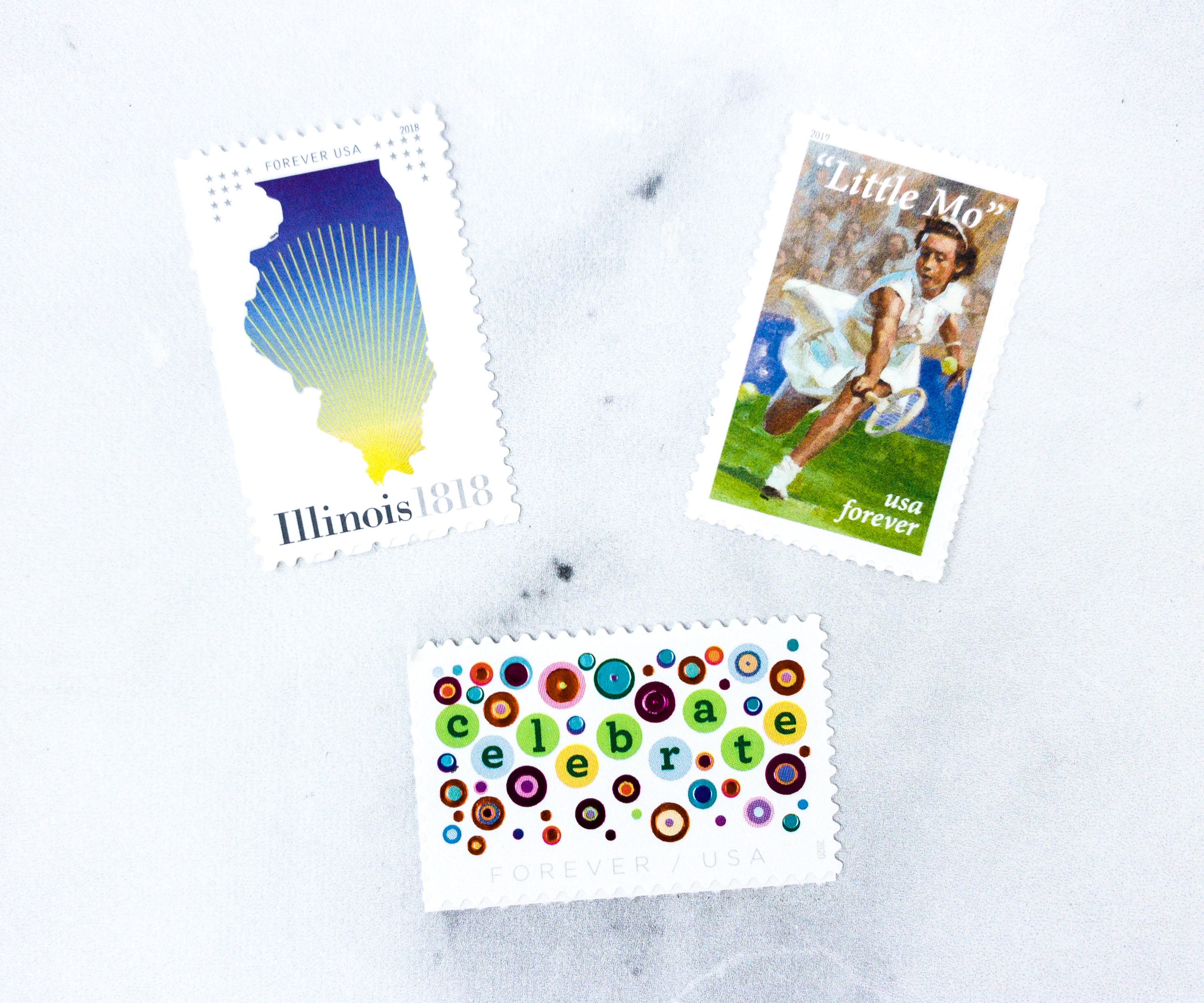 Mail Stamps. With every mailing, you will receive 3 stamps that you can mix and match with the cards. For this month, I got stamps that feature "Little Mo", a celebration stamp, and the state of Illinois!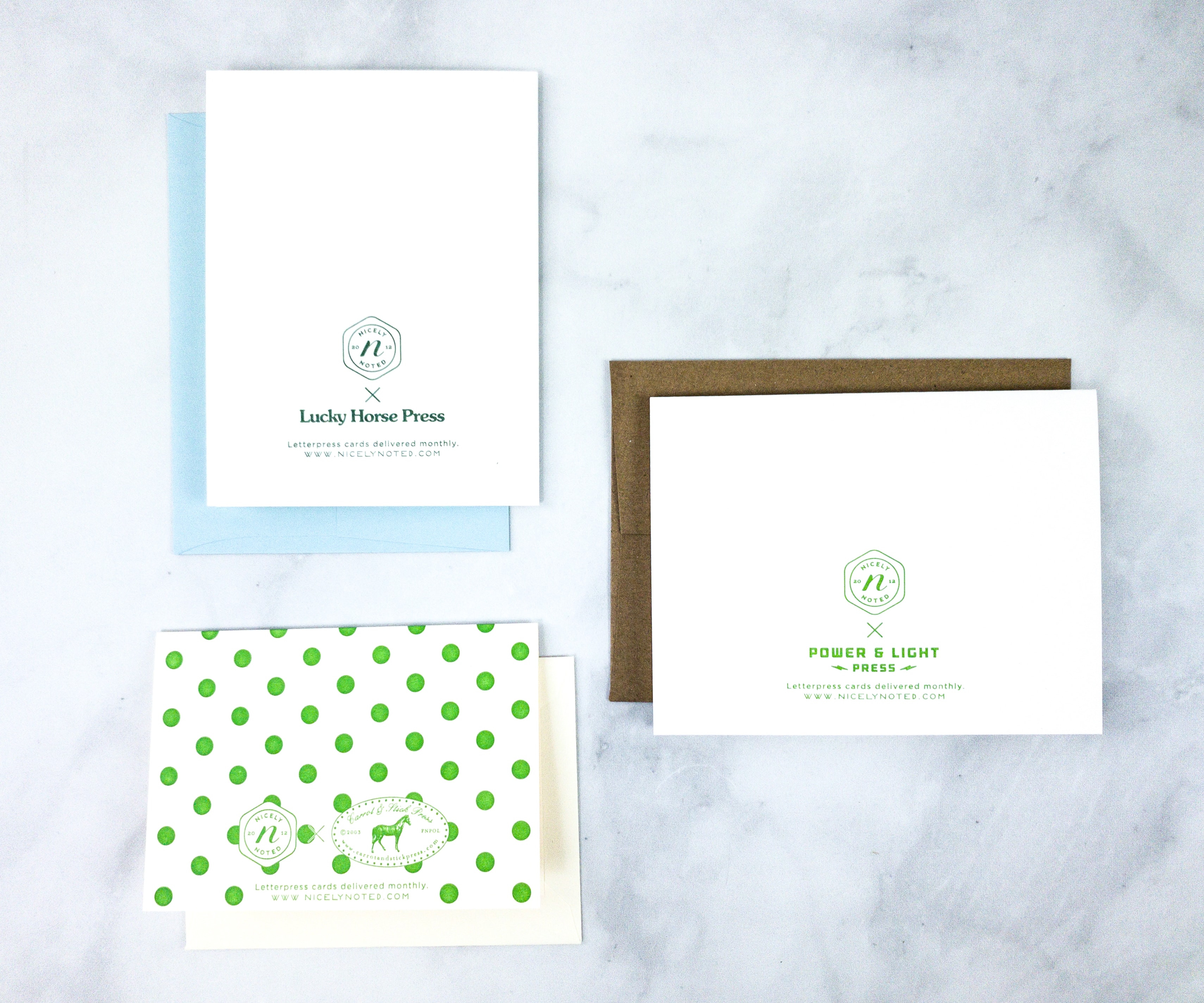 Here are the three cards I got this month, complete with envelopes.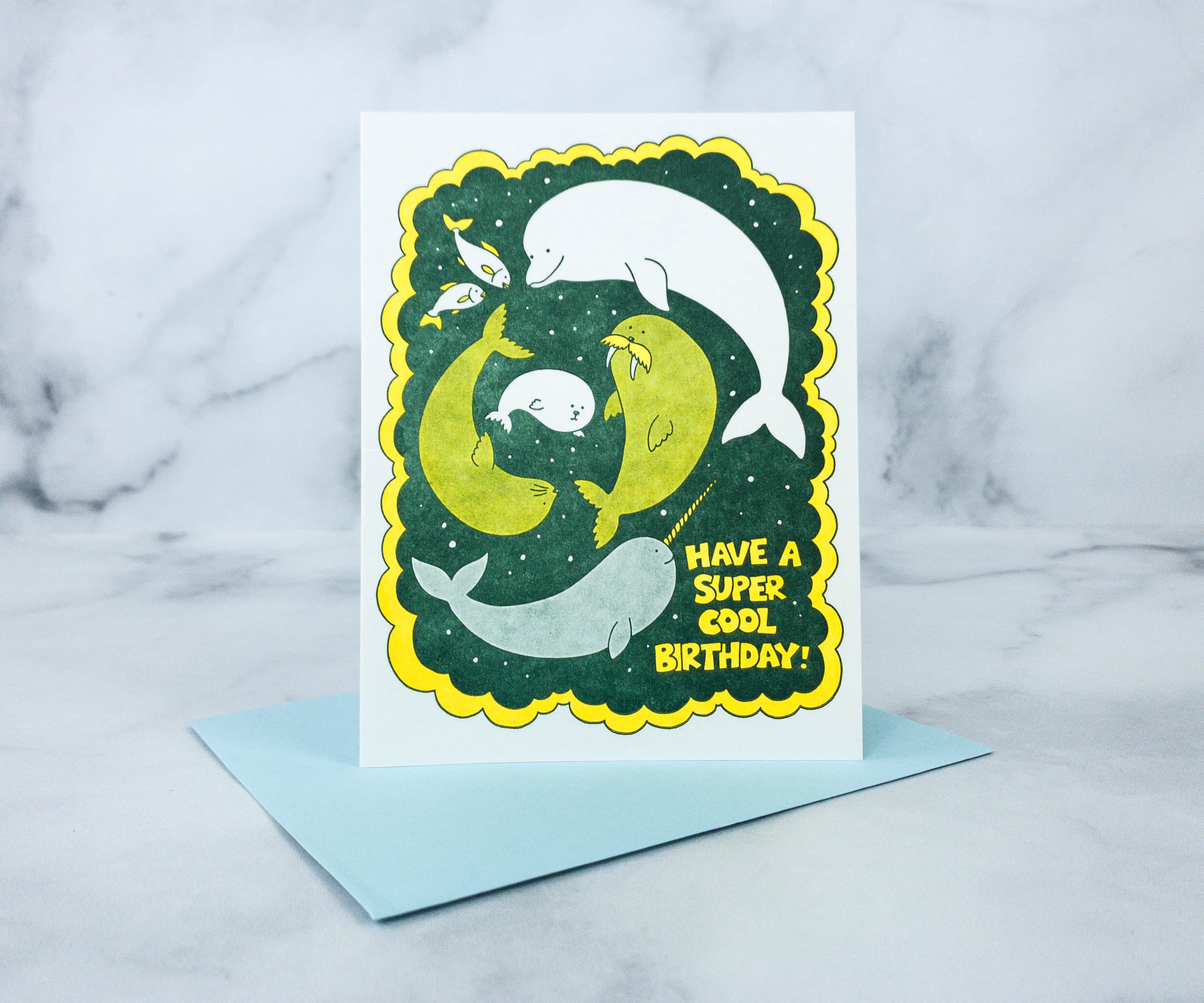 Lucky Horses Press Super Cool Birthday ($5) This is a really cute card that wishes the receiver a "SUPER COOL" birthday! Designed by Michele Lee from Lucky Horse Press, the card features a school of whales, and they're not just a single type of whale! There's a dolphin, a narwhal, a seal, and more!
Power & Light Press Birthday Lime ($5.50) Another birthday card is designed by Kyle Durrie from Power & Light Press. It's a cute illustration of a lime slice with a "Happy Birthday" text in the middle. I really like the simple yet bright design which will definitely bring a smile to the celebrant's face! Well, the slice looks like a wide smile too!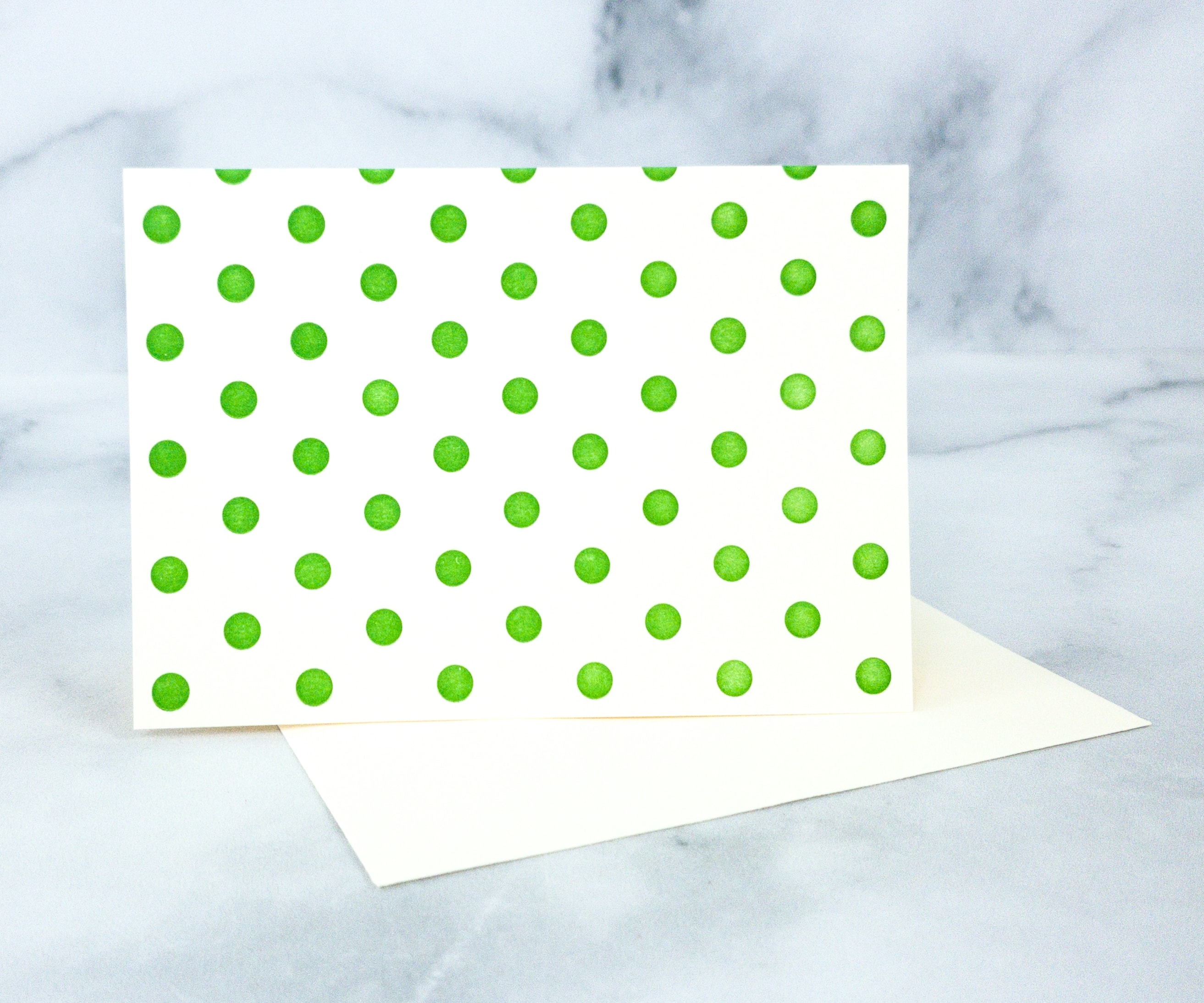 Carrots & Stick Press Pale Green Polka Dots. This "Thank You" card by Susie Gelbron of Carrots & Stick Press is adorable! It has a classic, retro vibe, and I love it! It reminds me of a cool summer dress that flows with the sea breeze! Well, anyone who will receive this card will feel so much appreciated and special!
Nicely Noted is a wonderful subscription for anyone who likes handwriting messages and sending greeting cards. Each month, there are 3 well-designed cards that you can send to friends and loved ones. They didn't disappoint this month, with a couple of cute birthday cards plus a thank you card with a classic polka dot design. The set also comes with their own envelopes and stamps, so all you really have to do is write your message and send them!
What do you think of this month's cards?