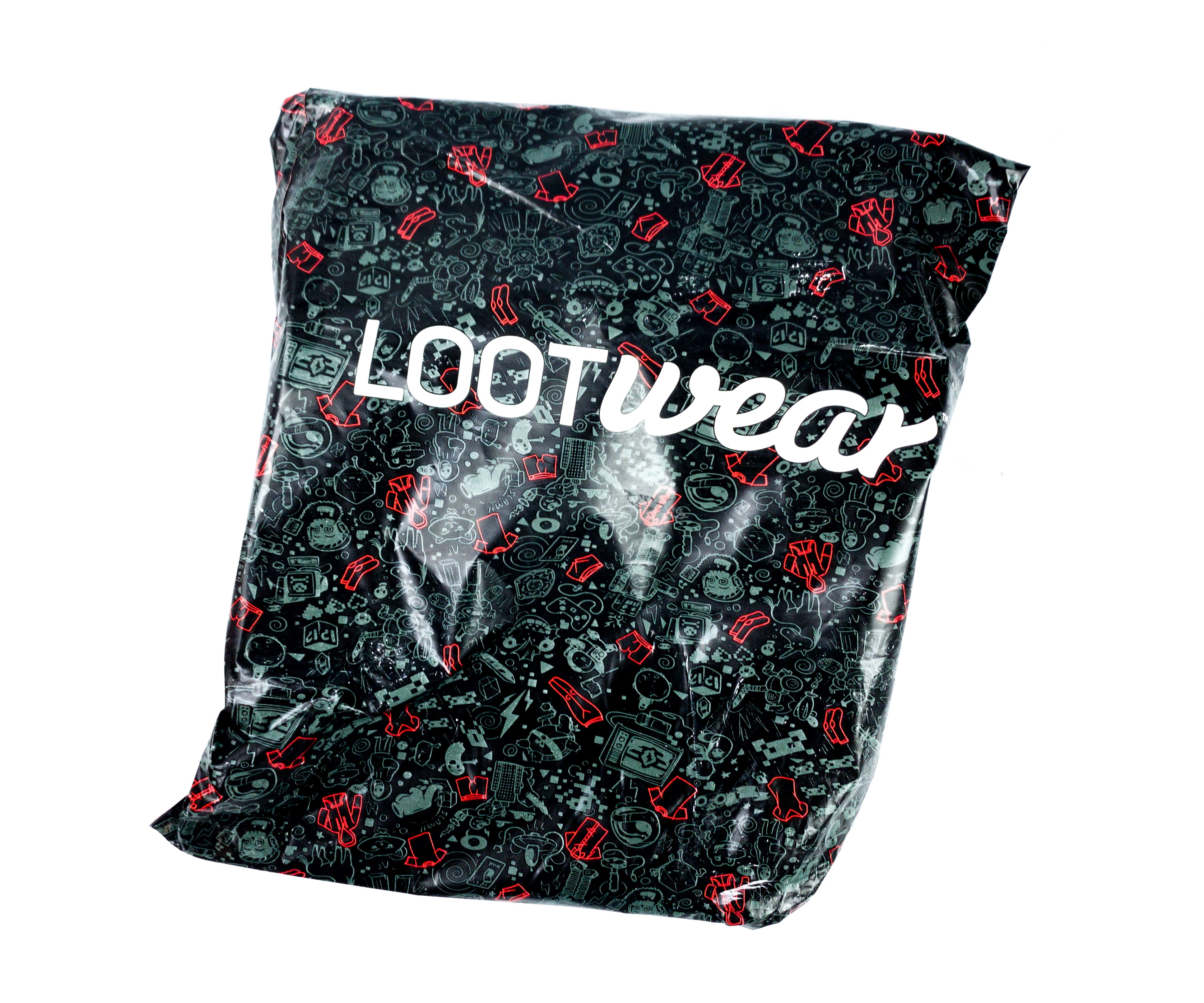 Loot Socks is one of the Loot Wear collections of monthly subscriptions from Loot Crate with exclusive geek and gamer premium wearable accessories with a monthly theme. Every month you'll get 2 pairs of epic geeky socks for $9.99 per month (or less with a longer subscription)! Month to month, the $9.99 price is great for 2 pairs of socks. It drops to $8.49 for both on a one year plan – and you can now skip months you're not interested in!
DEAL: Save 15% on Loot Wear subscriptions when you use this link and coupon code HELLOSUBSCRIPTION15. [Does not apply to Wizardry Wear] Get $3 off your first month with coupon code SAVE3. [Not valid on Undies]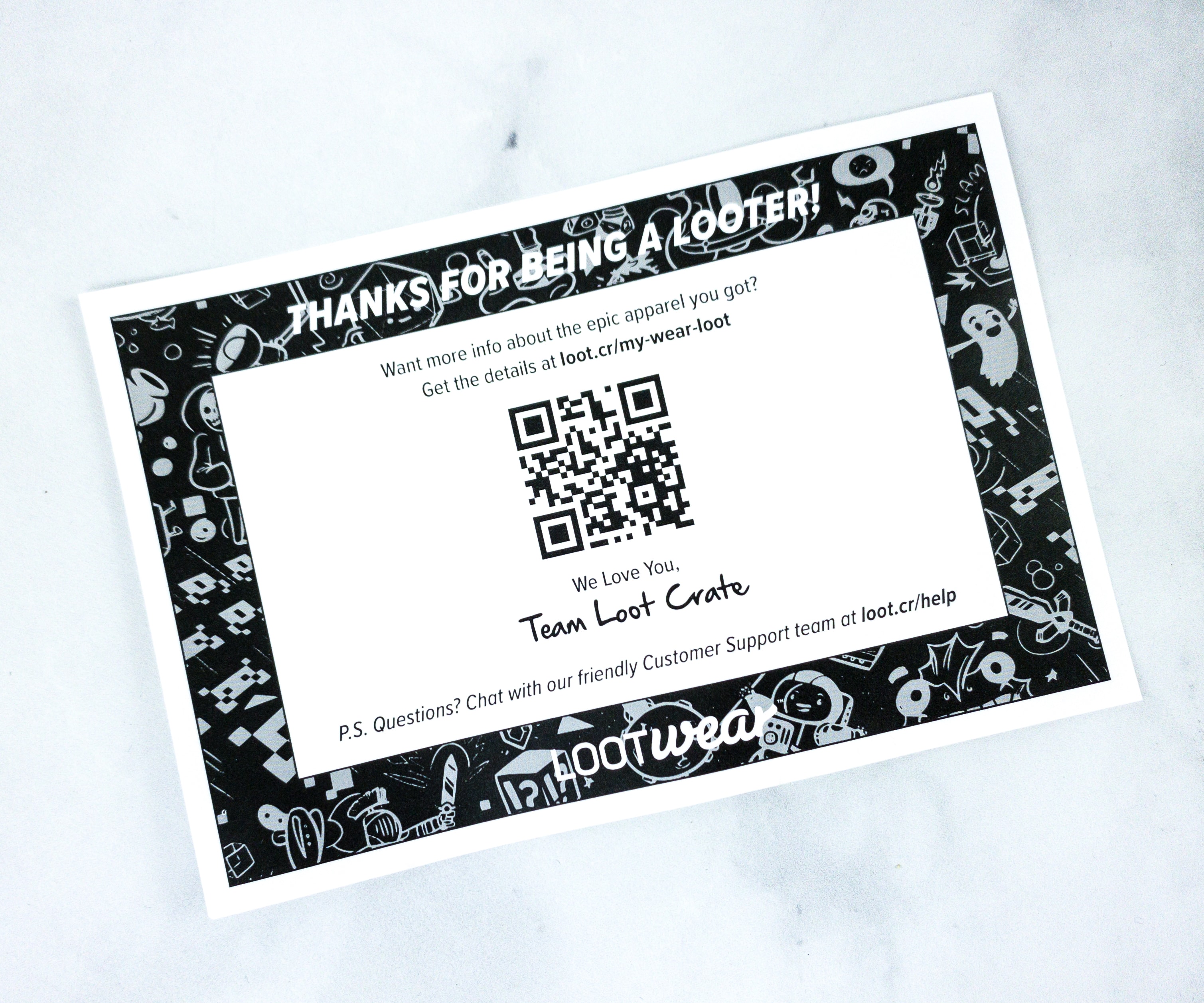 This month's pack includes an exclusive card that contains a QR code that we can use to learn more about this crate.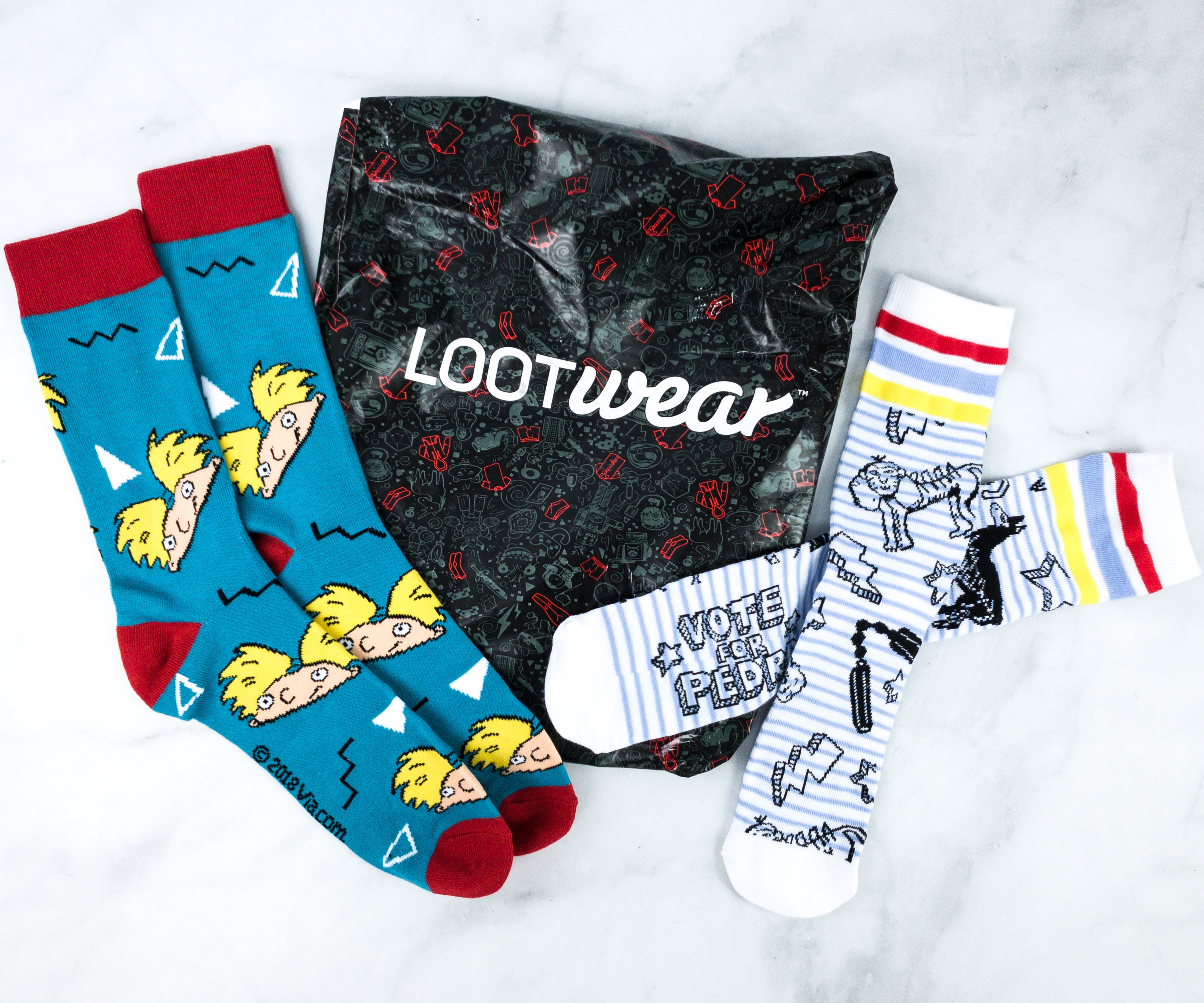 Everything in the pack!
This month's Loot Socks are crew-cut style socks that fits shoe sizes 6-12.
The Hey Arnold! socks are made with 98% polyester and 2% spandex while the Napoleon Dynamite socks are made with 97% polyester and 3% spandex.
Loot Socks: EXCLUSIVE Hey Arnold Socks. These Hey Arnold!-themed socks are thick and soft, with a blue base color and reinforced red cuffs, heels, and toes. The vibrant colors give me a retro vibe!
There are images of Arnold's head all over the socks, plus some geometrical figures. It's really eye-catching!
Loot Socks: EXCLUSIVE Napoleon Dynamite. You'll definitely never go wrong with stripes, as they always look so cool and stylish at the same time!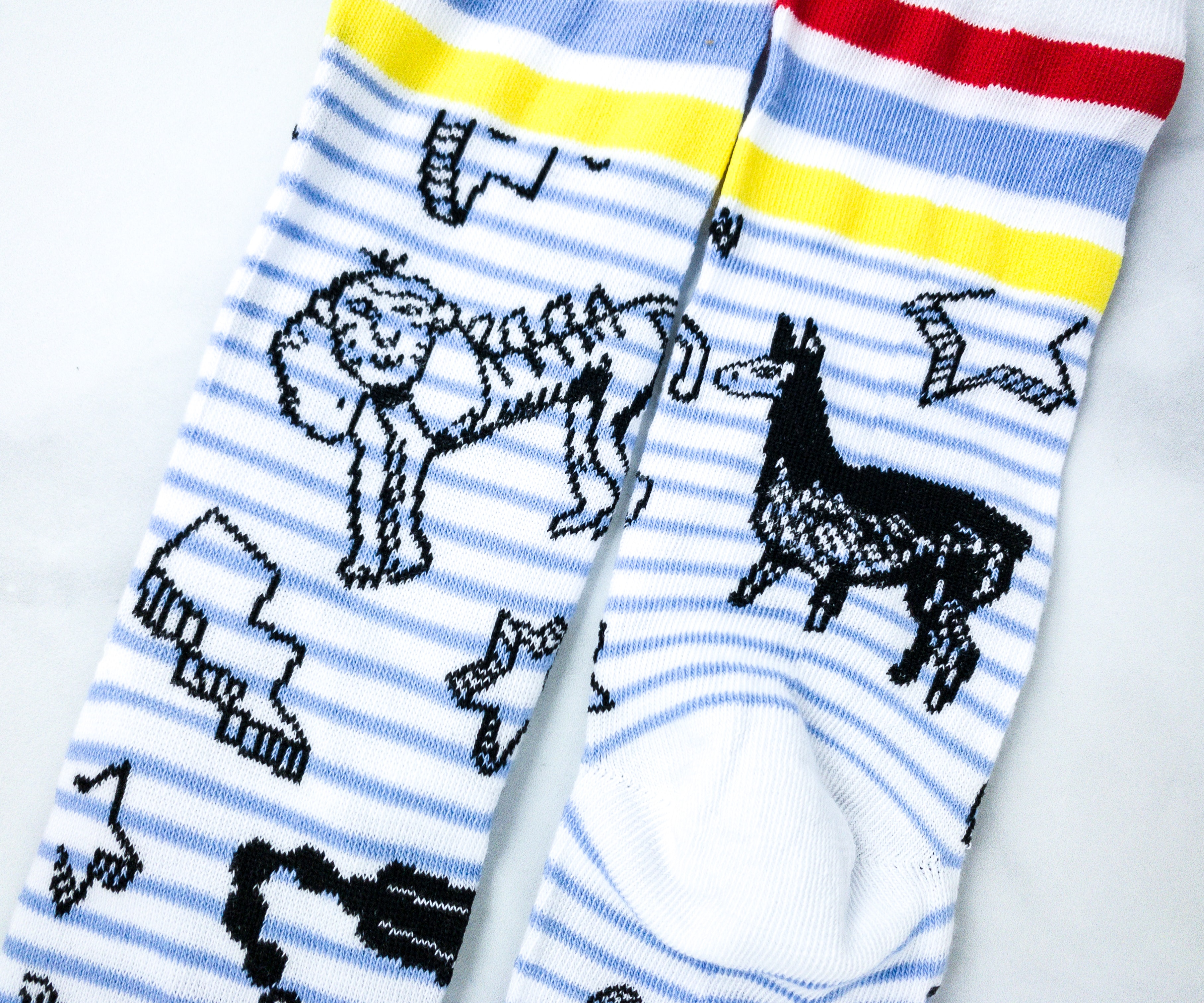 These socks feature a white base color with light blue stripes all over There are also red, blue, and yellow stripes near the cuffs!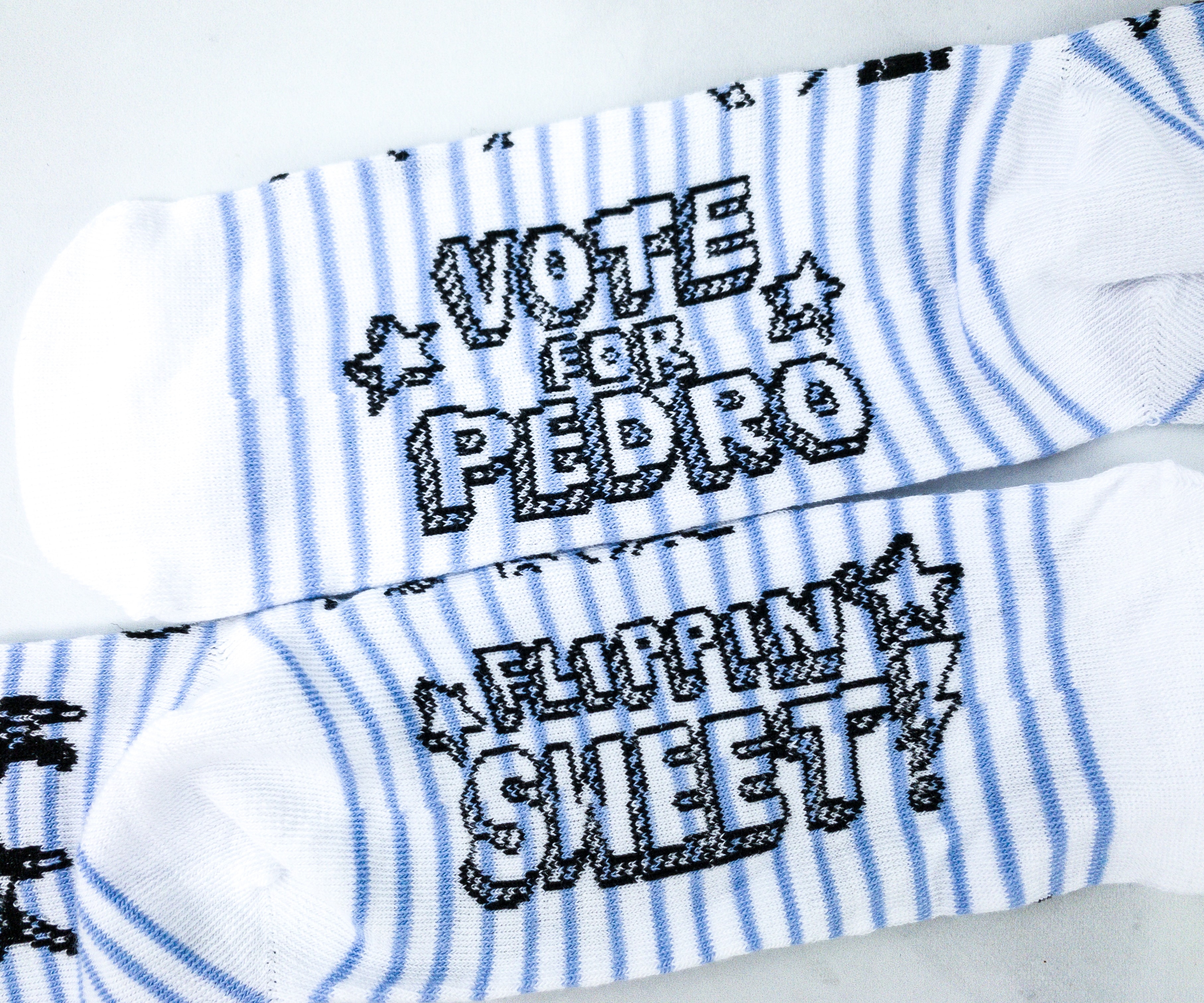 They also feature a cute print on the sock's soles: Vote for Pedro on the first and Flippin' Sweet on the second sock.  They're so cute and very comfortable to wear as well!
We love receiving Loot Socks in the mail! All their designs are fun and the quality is just impressive. This month's pair fit perfectly with the theme. As always, the socks are soft, breathable, and comfortable enough to wear all day long! If you love wearing or collecting geeky pairs of socks, this is definitely an ideal subscription to try. Getting two pairs of well-designed socks for less than $10 a month is truly a great deal! It's really unfortunate that Loot Crate got so behind – but we're glad to see that they're catching up!
What did you think of Loot Socks this month?